NOMATIC Navigator Tech Organizer Review
The NOMATIC Navigator Tech Organizer dons the brand's signature styling and structured feeling at the cost of some stiffness in key areas like the zipper.
Our Verdict
Unlock the Pro Summary
Save time. Get access to brief summaries of our reviews so you can browse and make decisions more efficiently.
Pros
Very water-resistant nylon shell
Varied organization, with loops, mesh, and zippered pockets
Rigid structure good for protecting electronics inside
Cons
Curved shape is not the most space-efficient
Zippers have a lot of resistance
Tight access to divider pocket when the loops are packed out
Recent Pack Hacker Video
Technical Details
Weight (lb)

0.57 lb (0.3 kg)

Denier

420D

Dimensions

9 in x 5.75 in x 3 in (22.9 x 14.6 x 7.6 cm)

Notable Materials

Nylon

Manufacturing Country

Vietnam

Warranty Information
Buying Options
$64.99
$64.99
Full Review
Get up to 20% off NOMATIC • Join Pack Hacker Pro
The digital nomad carries with them a full tech toolbox at all times, matched only by the extensive suite of software they probably have on their laptop. In this toolbox, there's a lot of bits and bobs used to connect one gadget to another. It may all seem alien to the outsider, but to the digital nomad, it's well-organized chaos that makes complete sense for their needs.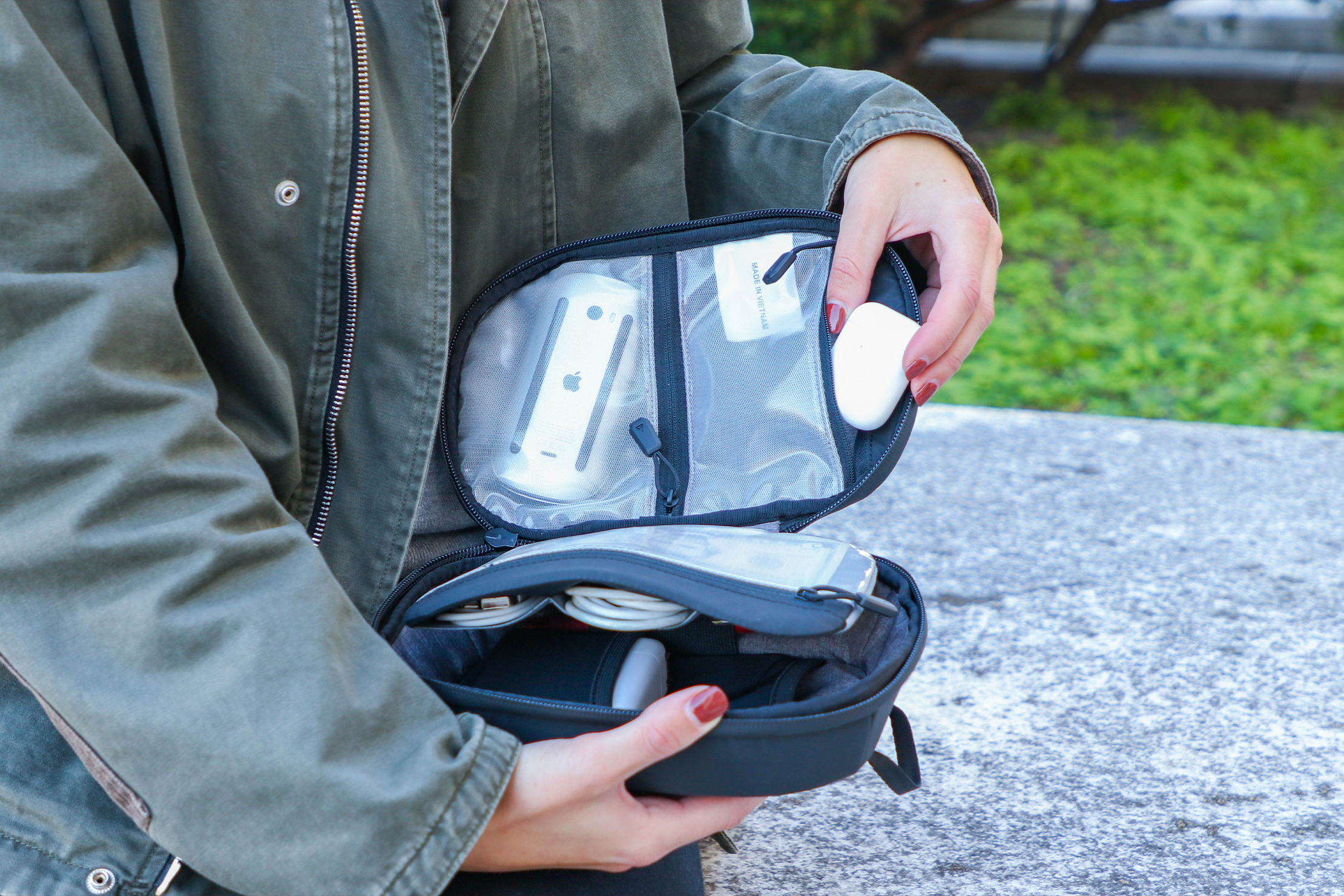 Tech organizers are one way we tame this small universe of tech accessories. Since we ourselves are fans of the digital nomad lifestyle, these have been indispensable to us in much of the same ways as Dopp kits or packing cubes. The example we have in this review is NOMATIC's Navigator Tech Organizer. The brand brings to the table a signature futuristic, shell-like appearance we're a fan of in their other gear. Preserving that brand identity appears to be the least of the Navigator Tech Organizer's problems. However, does the design have practical merit? Does it affect how it handles? How much organization is actually inside? The answers to that and more in the review below.
Materials & Aesthetic
The Navigator Tech Organizer is one slick-looking, well, tech organizer. We've probably hammered this description in a lot of our NOMATIC reviews, but we'll say it one more time: its futuristic design is very striking to look at. A lot of brands don the all-black aesthetic, but some nail it with their own unique twist. Hold up the Navigator Tech Organizer next to most of NOMATIC's lineup, and it's clear that the design language translates really well into different sizes and form factors.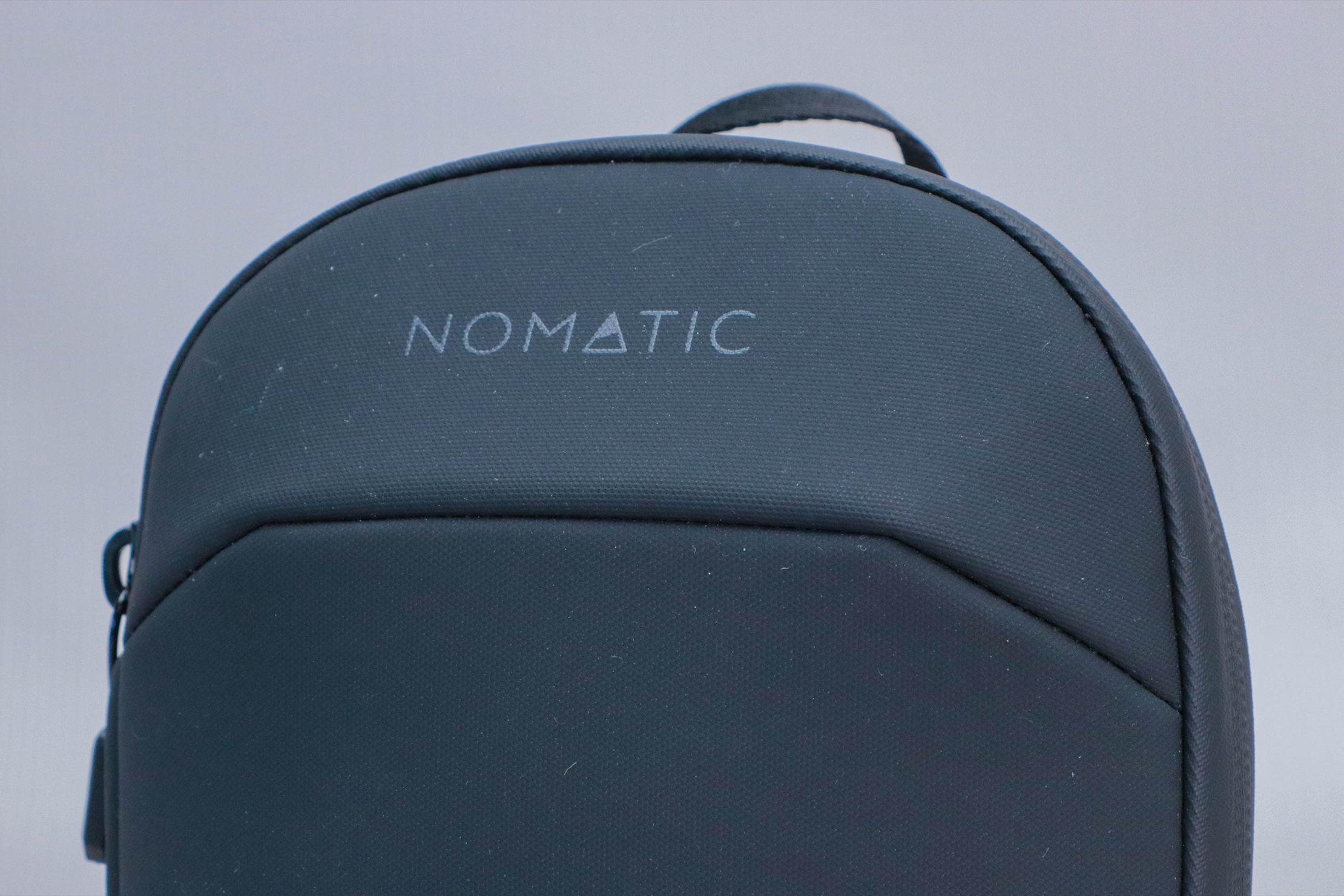 Needless to say, we're fans of the design; it's reminiscent of a lot of high-quality headphone cases. However, whether that techy vibe also translates well in terms of practicality (i.e., space and efficiency), we'll get into later on. For now, let's take a bit more time to appreciate the build and quality of this organizer.
One of the signature characteristics of NOMATIC's gear is how structured and rigid they are. That's not to say they're unbendable like coconuts because they definitely do exhibit flex. But, if there ever there was travel gear whose outer fabric deserves to be called a nylon "shell," NOMATIC's gear definitely does. They even coated it with a water-resistant carbonate coating to fend off accidental splashes, whether it's from light rain or spilled coffee. By all accounts, NOMATIC has done a good job with the Navigator Tech Organizer's protection. However, we observed some water soak into the fabric, so we don't recommend throwing this into the pool with you.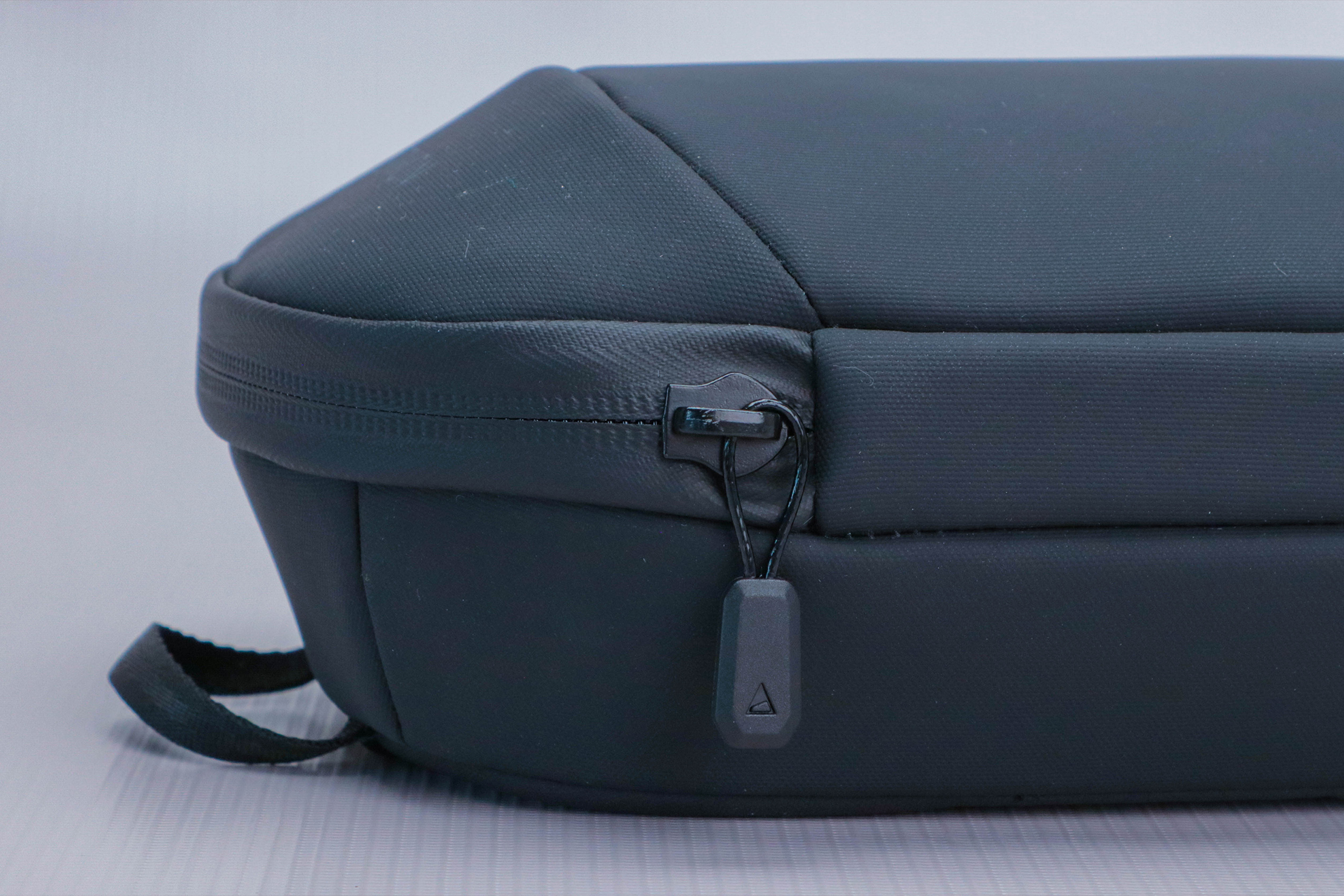 One aspect of the water resistant-ness of the Navigator Tech Organizer that could use some tweaking is the Zoom zipper. Despite our reservations about Zoom zippers (we've had some experiences of them failing in other gear), there are really no major issues with this particular one. Our gripe here is that it has a lot of resistance in its travel, especially around the bends. This may be because it's a fairly beefy reverse coil zipper, but we've seen similar zippers perform better.
Usage & Features
There's no exterior pocket to speak of, so we're frequently open and close the Navigator Tech Organizer. This is honestly the biggest way the zipper affects how the organizer handles. We typically like to zip up our organizers when we're using them in a more public place like a cafe, and a stiff zipper makes doing that more hassling than it needs to be. However, it's not the end of the world by any means, especially since we eventually developed a trick to overcome it.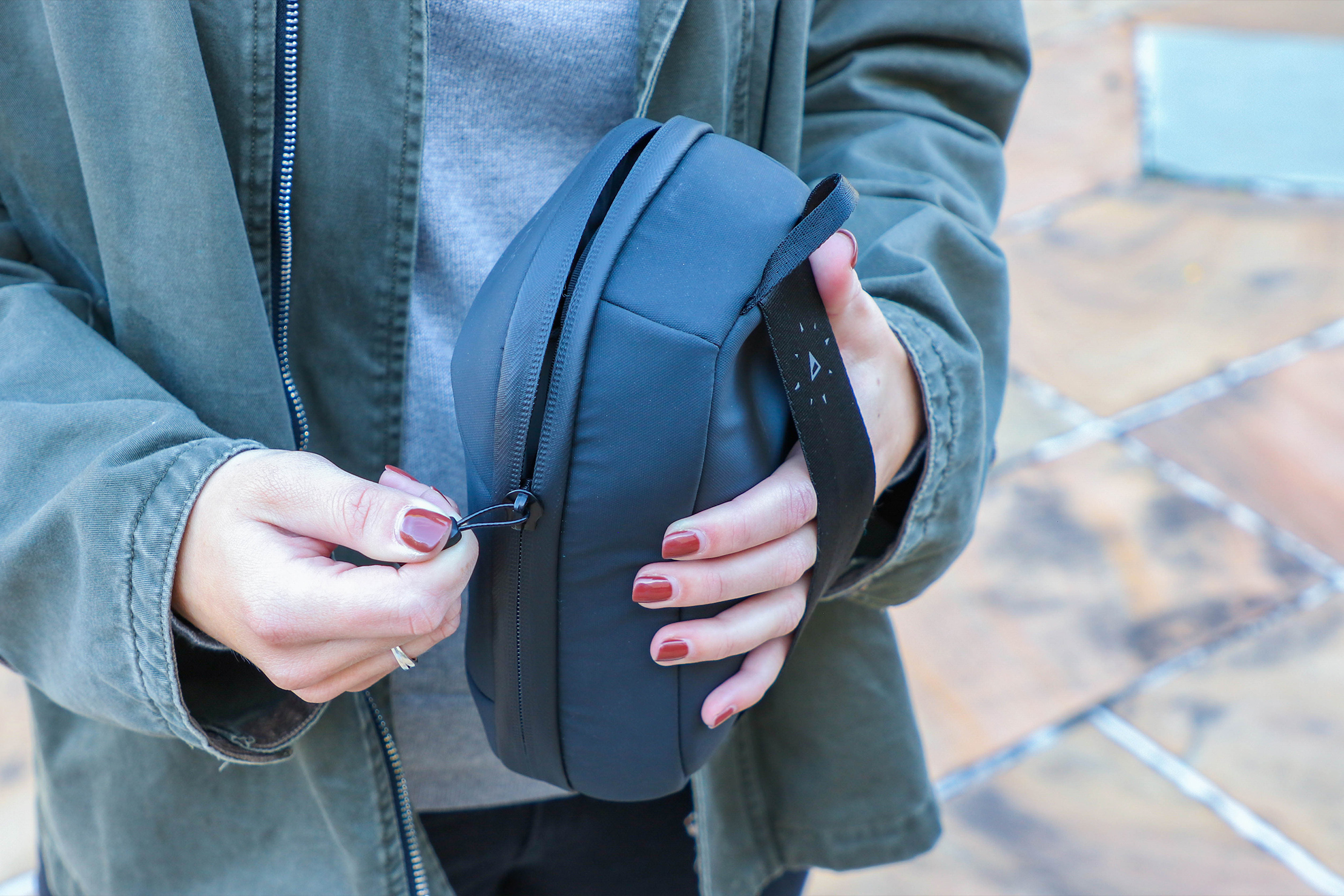 The organizer's back has a vertical nylon strap that we can slip our hand into, camcorder-style. Using this handle makes it much easier to open and close the stiff zipper, though it does mean it's a full two-handed operation. Above the strap, there's also a handy nylon loop for hanging the organizer on a desk-side hook. If we had a hook on the wall next to our desk, the Navigator Tech Organizer could even make for a decent mini tech cabinet.
The Navigator Tech Organizer opens up fully clamshell-style, giving us full access to the bucket-like halves. The first half—that would be the left one—has a top and bottom zippered mesh pocket. This makes both of them a secure spot for small accessories that can slip out of simpler liner pockets. Items like memory cards, thumb drives, and small adapters sit well inside pockets like these.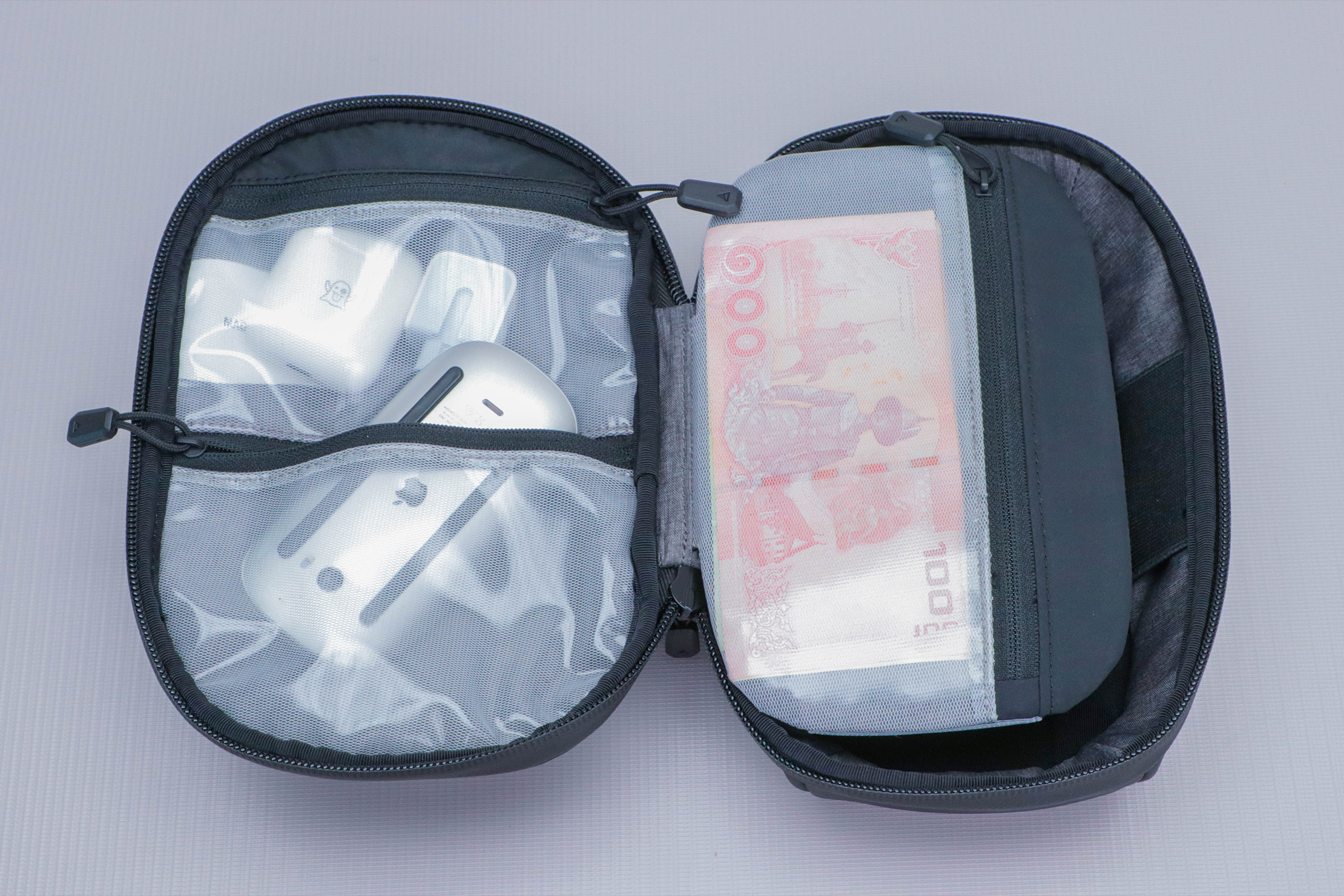 Given the curved bucket shape of this half and the available space it has, we opt to put chunkier items in the pockets. We're able to fit an Apple Magic Mouse and an AirPods case in each pocket. The curved shape of the mouse, in particular, is well suited to the curved shape of the compartment. However, this shape also means that a bit of space is potentially wasted inside your bag. In contrast, something more rectangular like the Topo Designs Tech Case may be more suited to a similarly rectangular travel backpack.
As a side note, we appreciate that NOMATIC elected to use a white mesh to give the interior a bit of visibility. The whole interior is predominantly black, which makes tech accessories (let's face it, a lot of them come in black by default) sort of blend in. Thankfully, the white mesh somewhat mitigates this, and we generally don't have trouble fishing for any of our accessories.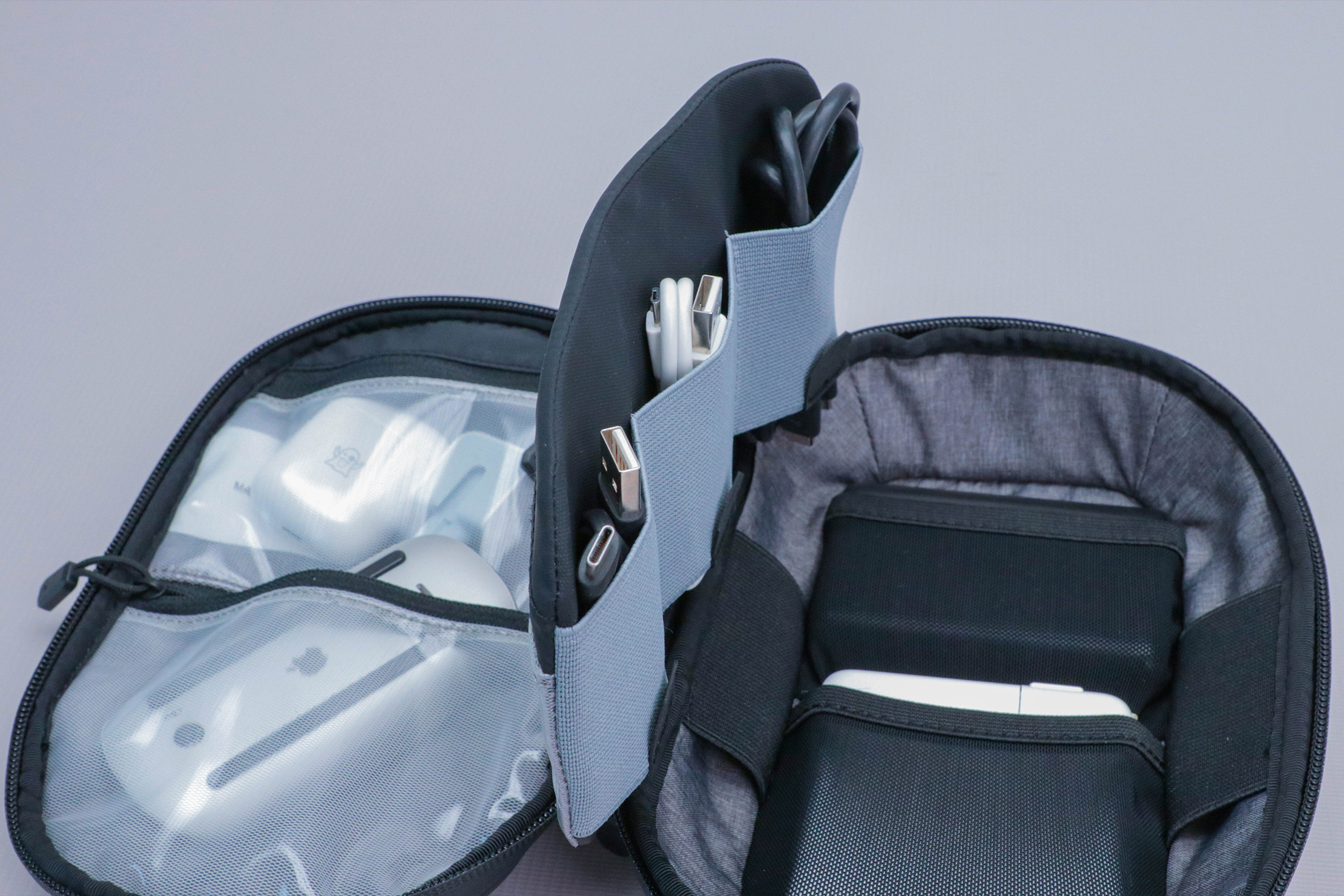 In the middle of the Navigator Tech Organizer is a rigid divider. This is a feature we highly approve of because it makes the most out of the available space. On one side is a wide zippered mesh pocket for cash, travel documents, cards, and mostly flat items that don't have bulk. That lack of bulk is worth emphasizing because on the opposite side are elastic loops.
These three loops are wide enough for relatively beefy charging cables like the ones in the photo above. Pack all three loops out with similar cables, and the divider starts to bow. This makes access to the opposite mesh pocket trickier, hence why we don't put anything too bulky there. The elastic loops come with a Hypalon pull to make fitting items inside them easier, and we can appreciate the small but nice touch the material brings.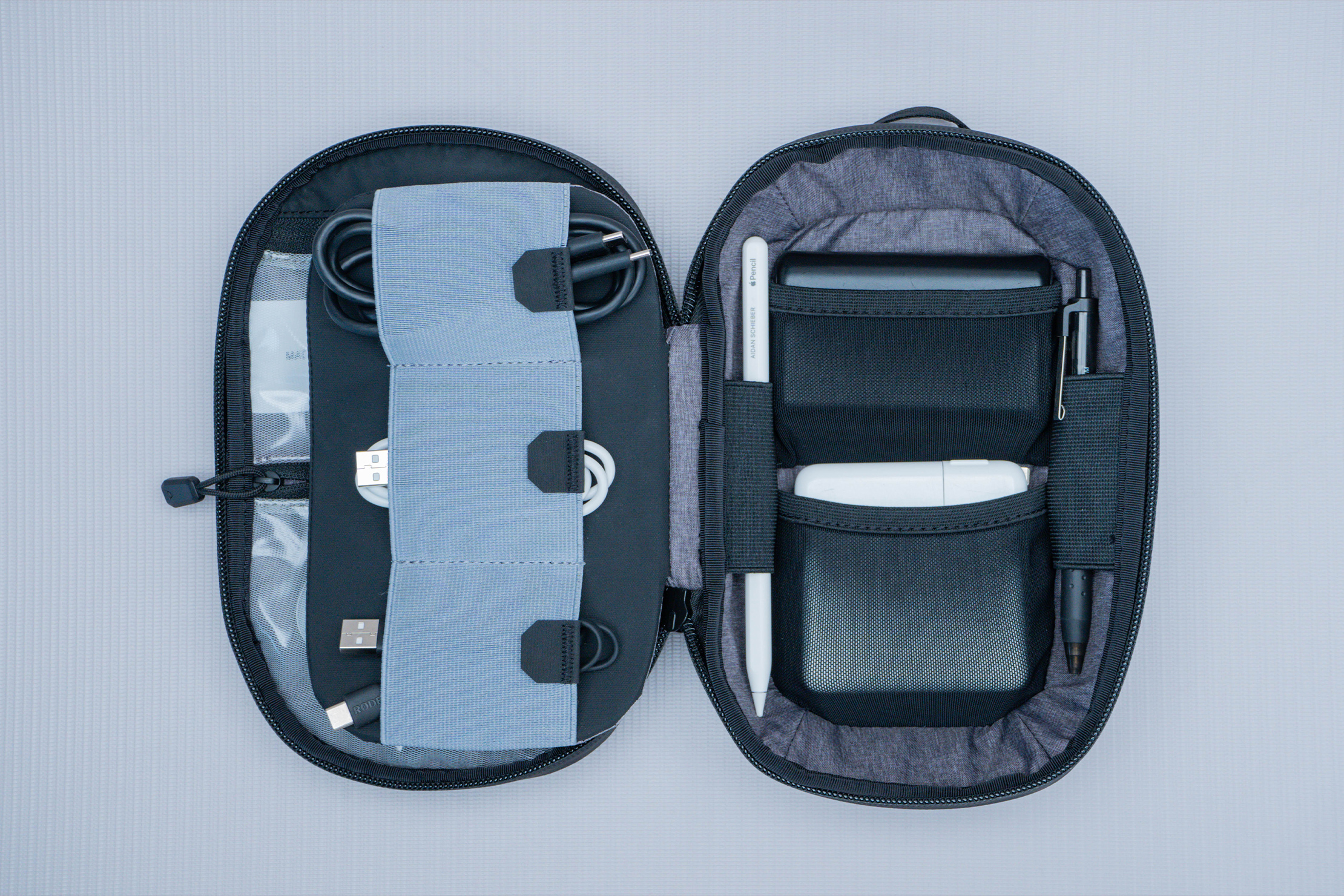 Lastly, we come to the rearmost pockets, where there are more mesh pockets. These don't have a zipper, so they're ideal for bulkier items like a MacBook or smartphone charging brick. The lack of a zipper isn't an issue as neither of the chargers got thrown out even with heavy jostling. Flanking the mesh pockets are pen loops, two in total. That's more than enough for our needs since we typically carry one regular pen and a stylus at the most.
Something worth noting is that items in the elastic loops of the divider can conflict with whatever's inside the mesh pockets. Combined with a rather stiff zipper, bulkiness is something we have to watch out for in order to keep the organizer's accessibility as smooth as possible.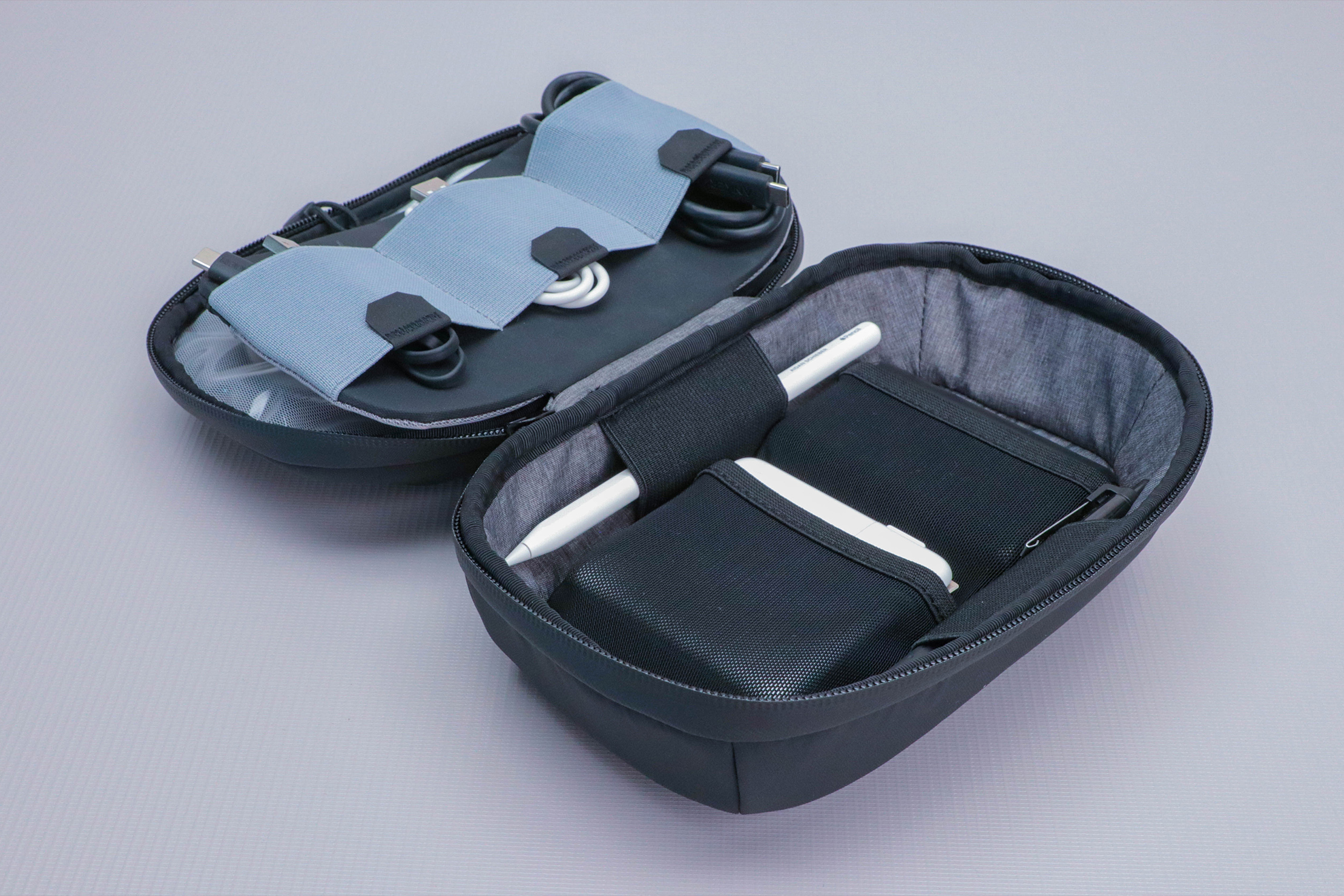 Our key takeaway from the Navigator Tech Organizer is that while it does feel stiff in some areas, it's still a well-rounded organizer. The shape does make for good aesthetics, and make no mistake; it's a well-built case. On the flip side, its structuredness and curved shape made it a little tricky to fit inside a cramped bag despite the nylon shell having a bit of compressibility. This is in addition to the stiff zipper and bowing middle divider. Still, it's a capable tech organizer, and if you're a fan of the structured design, it's easy to see these as nitpicks rather than deal-breakers.
Usage Timeline
Initial Usage
Condition: Excellent
Has a diverse set of loops, mesh, and zippered pockets
Structure feels rigid but is still flexible
See-through pockets have fairly visible interiors
2 Weeks of Use
Condition: Excellent
Zoom zipper is clunky to unzip, so using the back handle as support is super helpful; however, it's difficult to open quickly without it
Bucket-like design is set up so bulky gear slots in nicely, but it doesn't leave a ton of extra space for loose items
Water-resistant material adds peace of mind for protecting tech inside
Zippered mesh pocket on divider is tight to access when the opposite side's mesh loops are filled with cords
Access the Pro Community Discussion
Get your questions about the NOMATIC Navigator Tech Organizer answered from our team and the Pro Community right here on the page. Plus, join discussions with other members about gear, guides, and more.
Other Organizers & Pouches Reviews