Nomadix Original Towel Review
The Nomadix Original Towel excels in almost every category as far as beach towels are concerned, though the size impacts packability.
Our Verdict
Unlock the Pro Summary
Save time. Get access to brief summaries of our reviews so you can browse and make decisions more efficiently.
Pros
Large enough to lay on comfortably
Dries quickly in open air
Loop makes hanging simple
Cons
Gets damp fairly easily
Sand sticks to it easily
Size makes packing into small packs difficult
Recent Pack Hacker Video
Technical Details
Weight (lb)

1 lb (0.5 kg)

Dimensions

72.5 in x 30 in (184.2 x 76.2 cm)

Unpacked | Folded: 9.25 in x 7.5 in x 1.25 in | Rolled: 6.75 in x 3.75 in x 3.75 in

Notable Materials

Recycled Polyester, Nylon

Manufacturing Country

China

Warranty Information
Full Review
You might wonder why we're reviewing a full-sized beach towel. If you must know, even here at Pack Hacker, clad with our minimalism and sleekness, we enjoy a day at the beach and a funky towel to boot. On paper, the size of the Nomadix Original Towel is ideal for sprawling out or multiple people, and the colorways are a ton of fun. Does its size work in tandem with other features, or will we be left wanting more? Let's dive in to find out.
Materials & Aesthetic
The Original Towel is crafted from certified post-consumer recycled plastic, which is a great shout as far as sustainability is concerned. There are many things in life that you wouldn't want to be crafted from recycled materials, like the front end of your car—but for a beach towel, let's go for it. All the less plastic produced is an excellent shout in our book.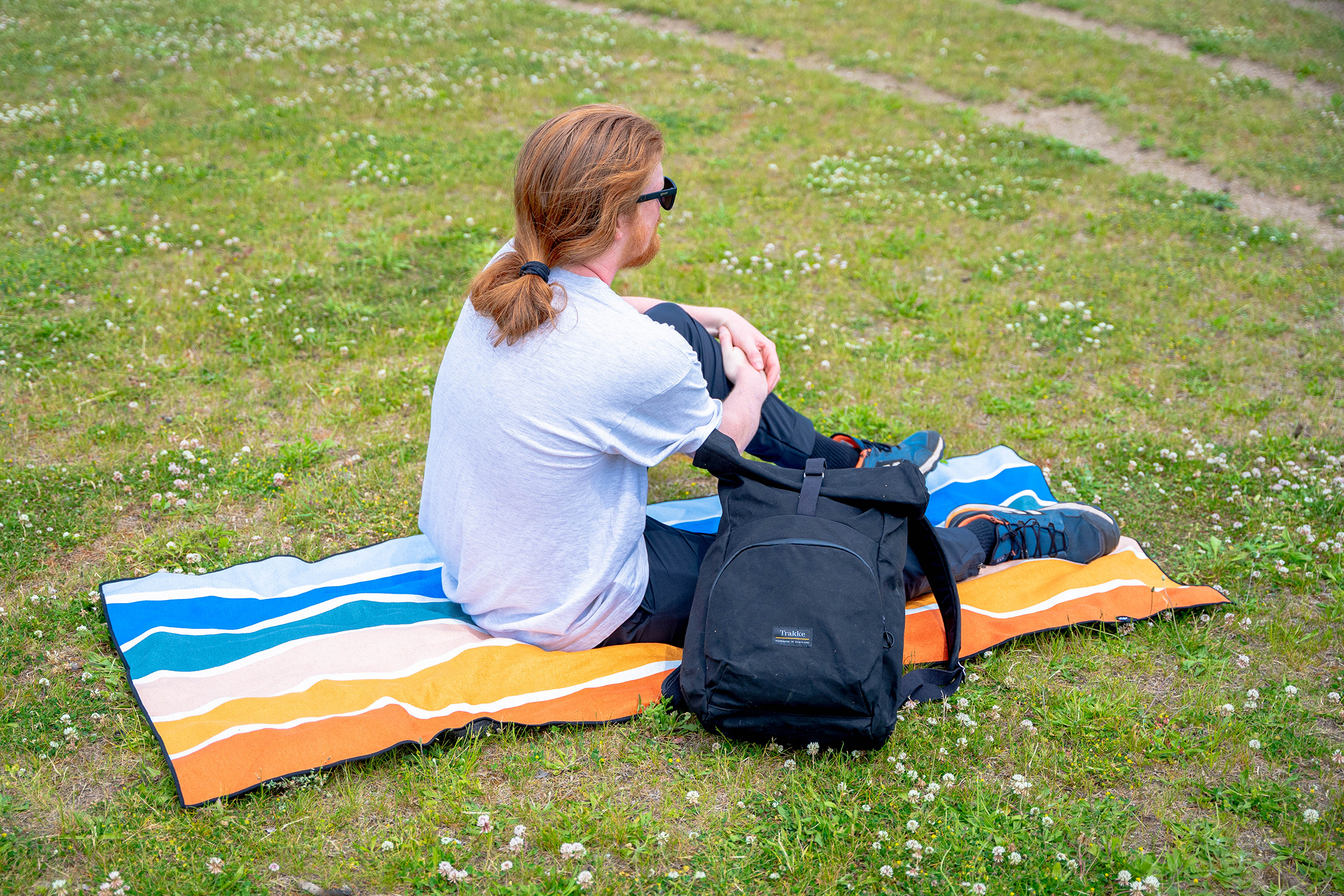 The primary towel material is crafted from a 90/10 mixture of polyester/nylon, which gives the towel a comfortable, soft, and durable feel. It isn't fluffy like a bathrobe, but it has an inherent softness that feels comfortable holding onto and using as a towel.
When unfolded, it measures 72.5 inches long and 30 inches wide. That means that it's the same width as a standard bath towel but roughly 16.5 inches longer in height. It's just over 6 feet tall, which is great for sprawling out at the beach or after you overeat at a picnic.
The biggest draw of this towel is the colorways. We opted for a basic five-color design with white bars in between each color. The colors are vibrant yet earthy and haven't faded in use, even after a spin in the washing machine. There's bound to be an option that matches your daypack, sling, or even your eyes.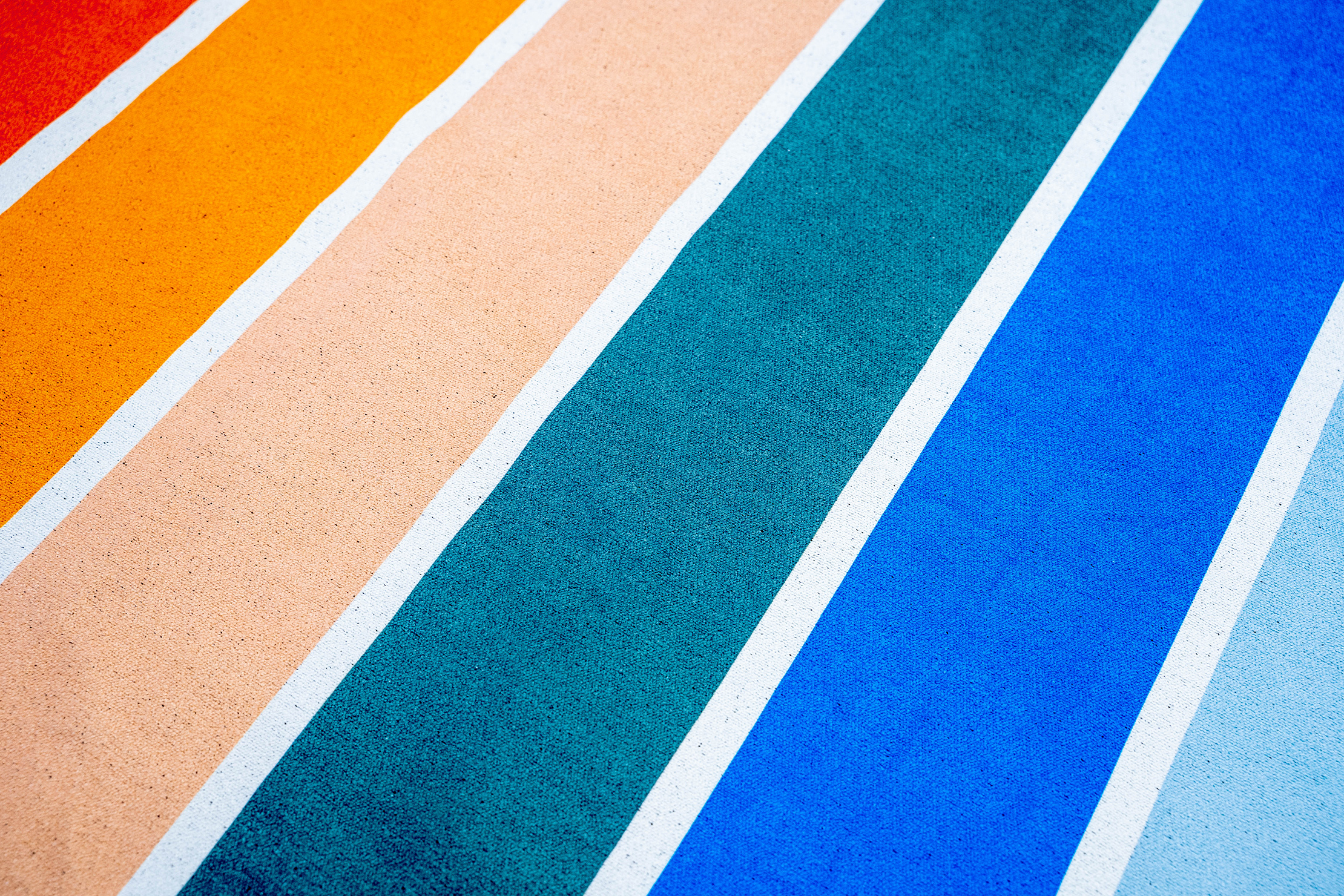 As far as colorways go, there are a ton of options. At the time of writing, there are 192 different colorways on the Nomadix site for the Original Towel. This has changed since the day we got the towel, so we expect it to change in the future, too. The colorways range from basic, colorful designs to flags from different countries and designs depicting various National Parks. There are seemingly endless options (if endless, to you, means 192), and if you can't find one you like, you may need to invent a towel brand.
The Nomadix is machine washable, and we had no issues with the colors running into other clothes when we washed it. We placed it into the washer with like colors, as the tag indicates. Instead of drying it, we just hung it out to air out. We didn't measure how long it took loose moisture after washing it, but we did after using it outside, which we will get to in a moment.
The towel has a little black tab on the side with the logo and the words' Own Less. Do more.' on the other, which is a homage to their mantra that this is the only towel you will ever need. Other than the black tab, the logo isn't to be seen anywhere else on the towel.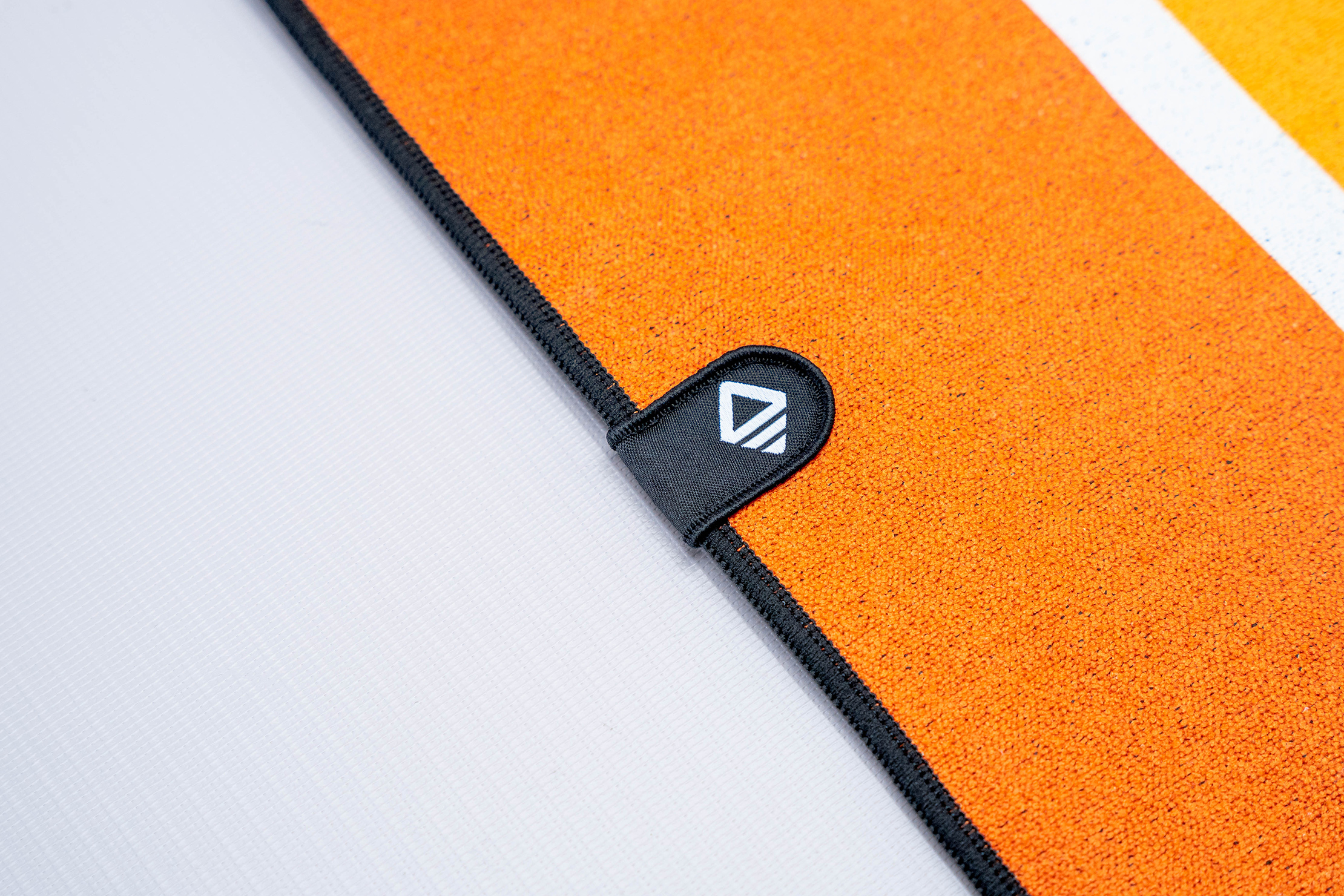 There's a little fabric loop on the back side of the towel where you can hang it from a hook or corner. It doesn't feel durable but feels strong enough to hold the towel even when it's sopping wet. It's placed in the middle of the towel (horizontally) so that the least amount of towel possible is hanging down to the ground, which is a smart idea. We often lay it out across a clothesline for more coverage when hanging it to dry, but the loop works just as well.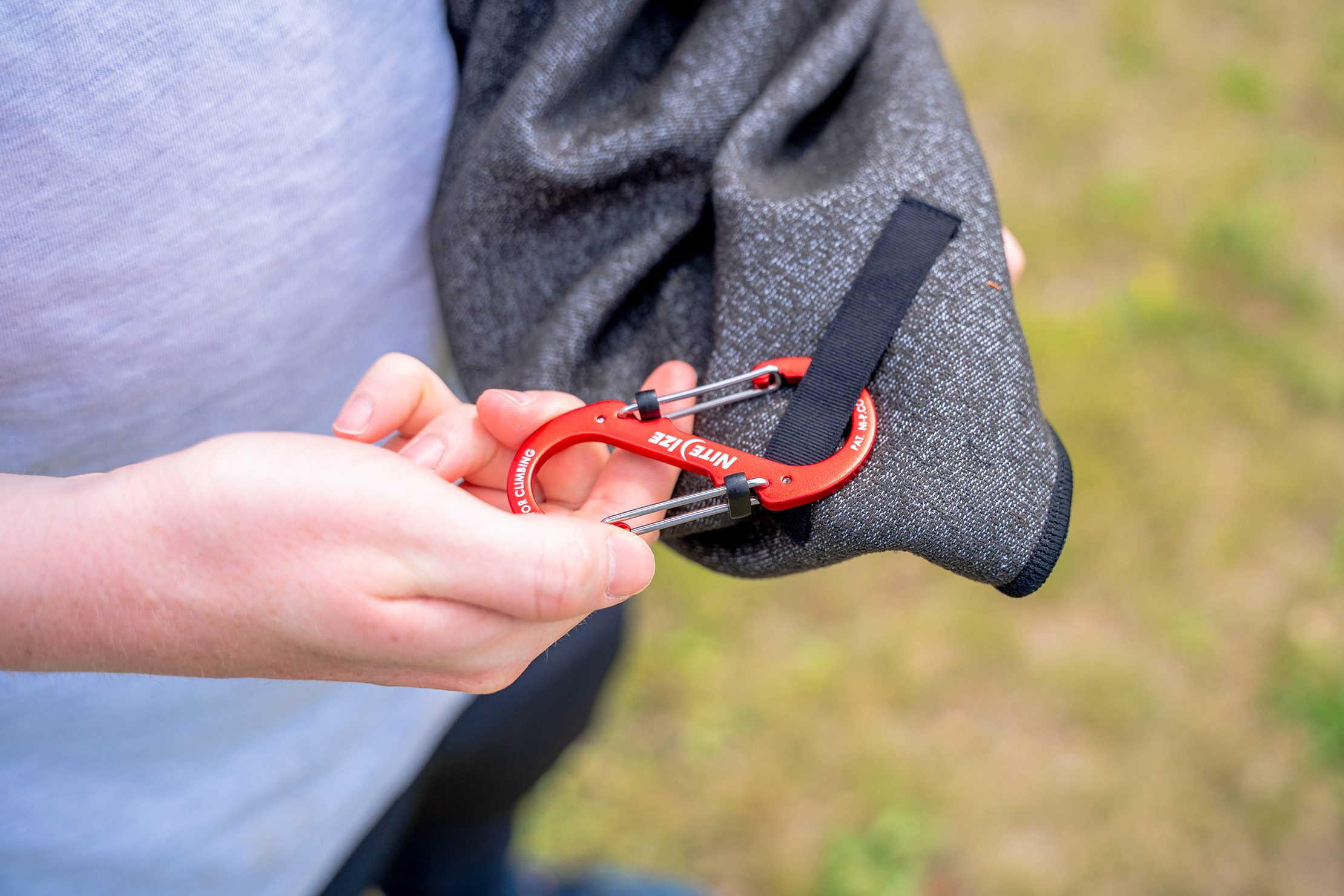 The loop also makes it so you can hook the towel onto your pack if you're out hiking and it gets wet. You don't want to throw it inside your pack to get your gear wet, so if you have a carabiner, like the Nite Ize S-Biner SlideLock, you can fasten it to the exterior of your pack to dry while you hike. Depending on how tall you are and where attachment loops are on your bag, the ends may barely touch the ground.
Usage & Features
As far as usage goes, we dragged the Nomadix Original Towel from city parks in Detroit to Lake Superior's rugged and rocky shores without much issue. One of the first things that we noticed is that it soaks up water pretty well, which is both good and bad depending on how you look at it. If you're drying water off your body, it's a good thing because you'll get dry quicker. It isn't the best thing if you're using the towel as a make-shift blanket to sit on while on the beach or enjoying a picnic in the grass. Damp sand got the towel noticeably wet, but it didn't affect things enough not to use it.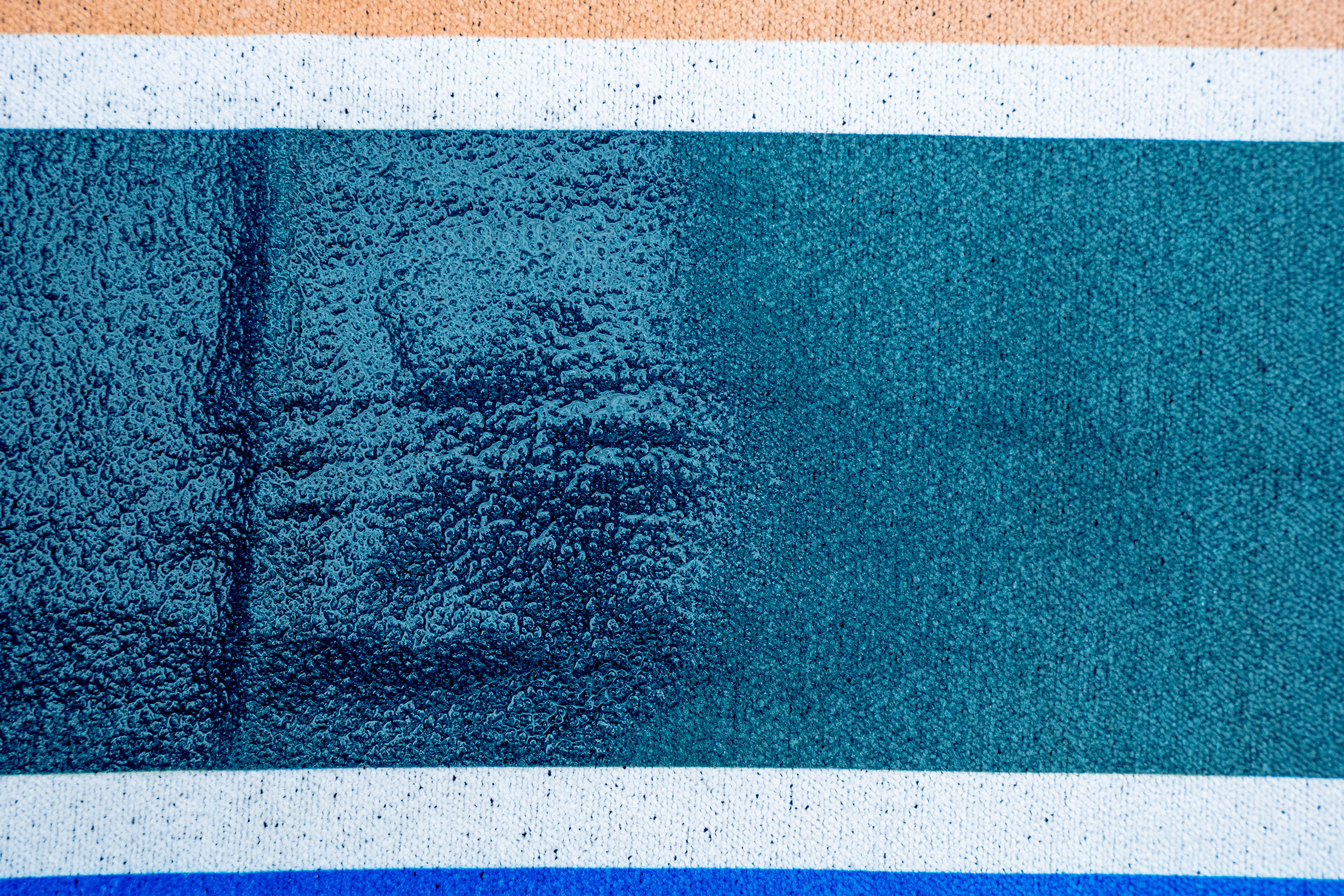 Once the towel is wet, it takes a while for it to dry. After being soaked, it took about two hours to dry completely while hanging outside with a breeze. It took less than an hour to dry outside after just getting damp, but there wasn't as much of a breeze on that occurrence.
The Nomadix picks up dirt and sand pretty well, too, but it shakes off much easier than with other towels we have used in the past. With a standard beach towel, it almost feels like dirt and sand can make their way into the towel's fibers, but with the Nomadix, it feels like they're just sitting on the top and bottom of the towel. We find it easy just to get up, shake it out, and head off on our way. This isn't always the case with beach towels, so the Nomadix Original Towel excels in that regard.

Overall, this towel's effectiveness for your next trip comes down to size. The size is great for sprawling out, doing yoga, and using it as a light blanket if things get chilly in the evening. Whereas its larger size lends it a hand in all of those things, its size makes it a lot less packable. Even when folded up, it is roughly the size of a sweatshirt, which is a lot larger than other towels we've tested, like the Matador Ultralight Travel Towel or the Sea to Summit Pocket Towel. The Nomadix excels in all aspects of being a towel apart from packability and weight, but if those are key features for you, the Original Towel might not be for you.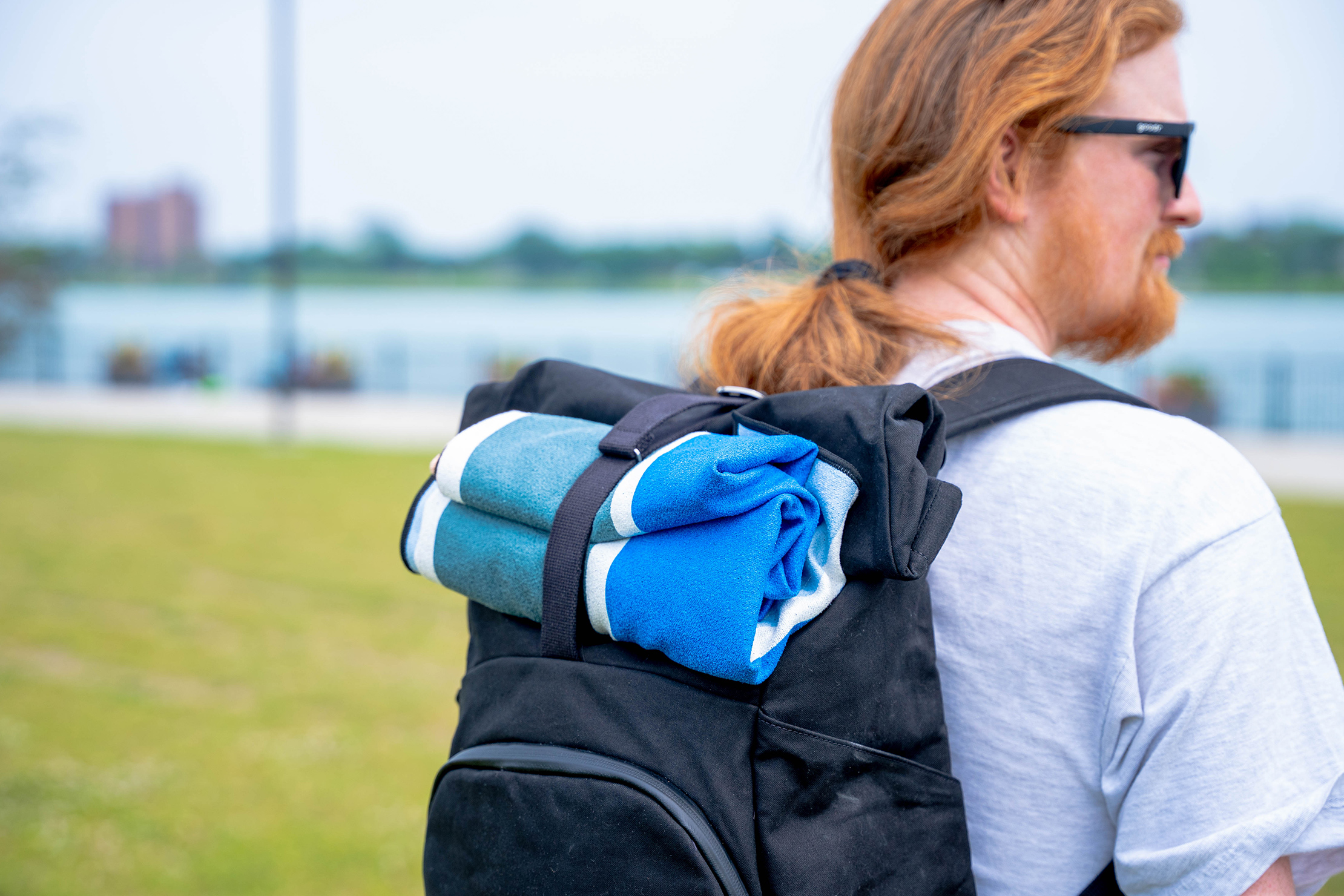 We're really happy with how the Nomadix Original Towel performs repeatedly, but we wish it was a little smaller. If it packed down easier, we could justify bringing it on more trips. But if size isn't as much of an issue for you, it's a great towel with multiple uses while traveling.
Usage Timeline
Initial Usage
Condition: Excellent
Towel is heavy, but feels sturdy
Materials are soft and airy
Colors are nice, but not too bold
2 Weeks of Use
Condition: Excellent
No loose threads or abrasions
Color hasn't faded, even after a cycle in the wash
No residue from mud or dirt
Access the Pro Community Discussion
Get your questions about the Nomadix Original Towel answered from our team and the Pro Community right here on the page. Plus, join discussions with other members about gear, guides, and more.
Other Toiletries & Personal Care Reviews