Nomad Goods Traditional Passport Wallet Review
The Nomad Goods Traditional Passport Wallet's leather material will loosen over time. Still, the well-integrated Tile tracker is a welcome modern touch.
Our Verdict
Unlock the Pro Summary
Save time. Get access to brief summaries of our reviews so you can browse and make decisions more efficiently.
Pros
Neatly integrated Slim Tile tracker
Built-in SIM card and removal tool pockets
Abundant number of pockets for cash, cards, and tickets
Cons
Tile Tracker can be tricky to remove
Card slots get looser over time as the leather breaks in
Tight fit for cards reduces ability to stack
Recent Pack Hacker Video
Technical Details
Dimensions

6.97 in x 4.96 in x .94 in (17.7 x 12.6 x 2.4 cm)

Notable Materials

Leather

Manufacturing Country

China

Warranty Information
Full Review
One of our favorite stories to hear about other people's travel experiences is how often they find old buildings from centuries past, but with modern interiors. Among our favorites has to be stories of 10th-century castles around Europe you can actually stay in. But hold off on the candles and firewood because these authentic castles are equipped with electricity, heating, plumbing, and, yes, even Wi-Fi. Just because it's traditional doesn't mean it has to be stuck in the stone age.

Such is the subject of this review: the Nomad Goods Traditional Passport Wallet. Few materials have better ties to the word "traditional" than leather, and this wallet wears it proudly. Inside, however, your passport doesn't sit lonely, with plenty of slots and pockets for cards, cash, a SIM card, and even an included Tile Slim tracker. The layout is kept basic, but it's a feature-rich passport wallet nonetheless. Interested? Let's dig in and see what lies underneath the leather.
Materials & Aesthetic
When someone says "traditional," it's hard not to think of leather or wood. We have a soft spot for nostalgia-inducing materials like those, and we won't say no to a bit of a vintage vibe. Some things just never go out of style, and the Rustic Brown-colored leather Nomad Goods uses here lands firmly in that category. Pair it with something like the WaterField Designs Outback Duo Laptop Brief, and you've got a rockin' combo. Now, if only they could make a passport wallet with a woodgrain finish, too.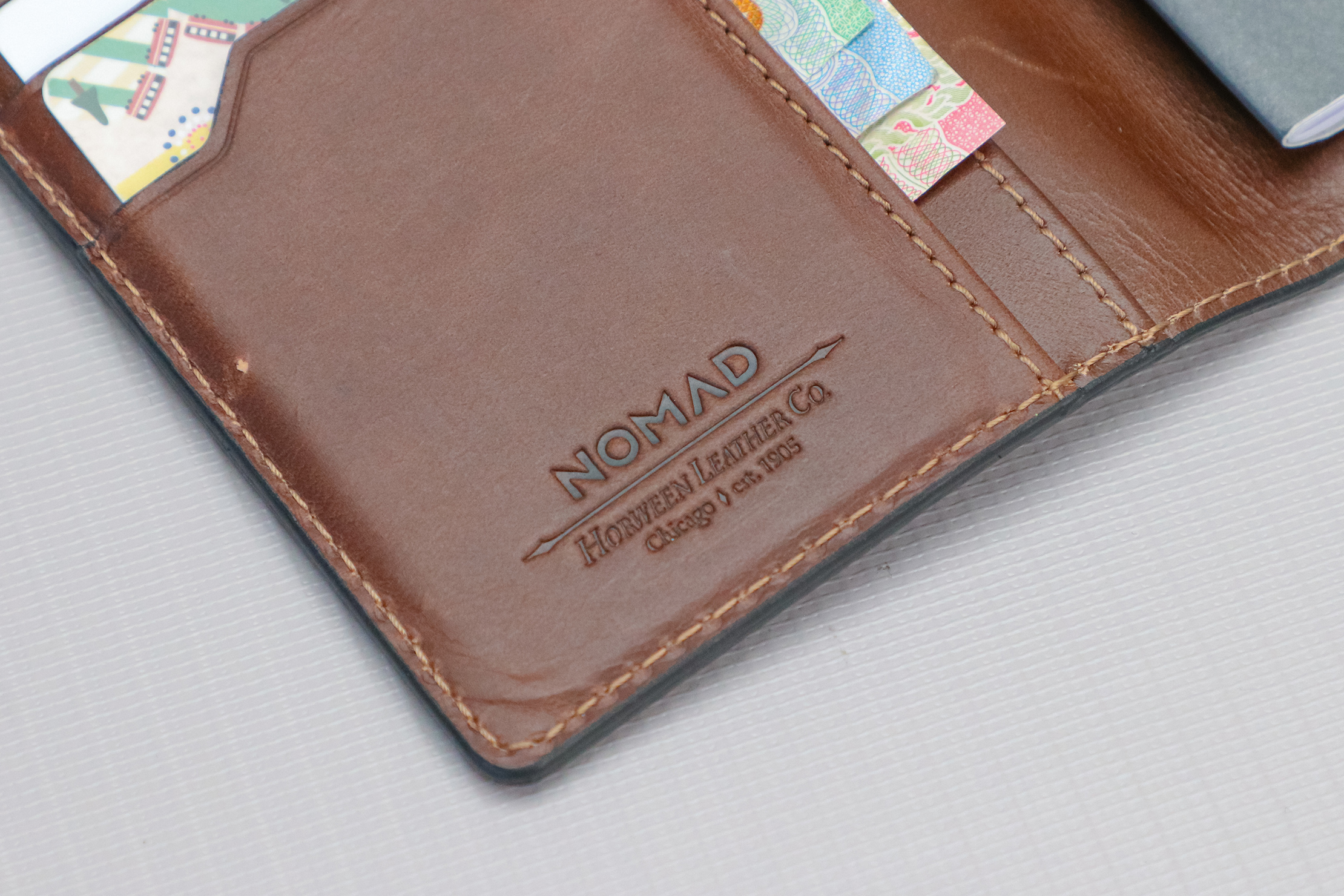 Not only does the Traditional Passport Wallet look the part of a leather wallet, but it also feels genuinely good in the hand. We've only had it for a little over two weeks, and already the 100% vegetable-tanned Horween leather has developed a nice patina that will only age better over time. That said, we understand that patina isn't everyone's cup of tea. The markups only get more visible the more you use the wallet, especially around the hinge where most of the stress gathers.
The outside of the Traditional Passport Wallet is bare, without any distinguishing features to speak of. There are no logos, stencils, or cuts to indicate up from down. We sometimes find ourselves opening the wallet in the wrong orientation because of the bare design. However, there is something equally satisfying about a plain symmetrical design such as this. If nothing else, it's good for security, not at all signaling to anyone that it contains invaluable documents.

Moving onto the more practical side of things, the Traditional Passport Wallet isn't all style and no substance. The leather has good thickness and structure—it's more than up to the task of preventing bends and crumpling of what's inside. The edges are reinforced with stitching, with no rough edges to sully the styling and quality of the wallet. The only real knock against the Traditional Passport Wallet's fit and finish is the patina, which comes part and parcel with most leather-based gear.
Usage & Features
Size is a typical talking point for passport wallets, so this is where we'll start. In terms of size, the Traditional Passport Wallet is still quite the unit—definitely the size of what you'd expect from a wallet that's designed to take in a standard-issue passport. That said, it's still smaller than other products with a similar use case, like the Fjallraven Passport Wallet. We'd say it's still pocketable, especially for pants equipped with larger pockets. But, it may be a bit of a squeeze for skinny jeans and other tight-fitting clothes. We sometimes carry our passport wallet as a supplement to our usual everyday wallet; thus, carrying it inside a sling or daypack where it remains easily accessible is a good option as well.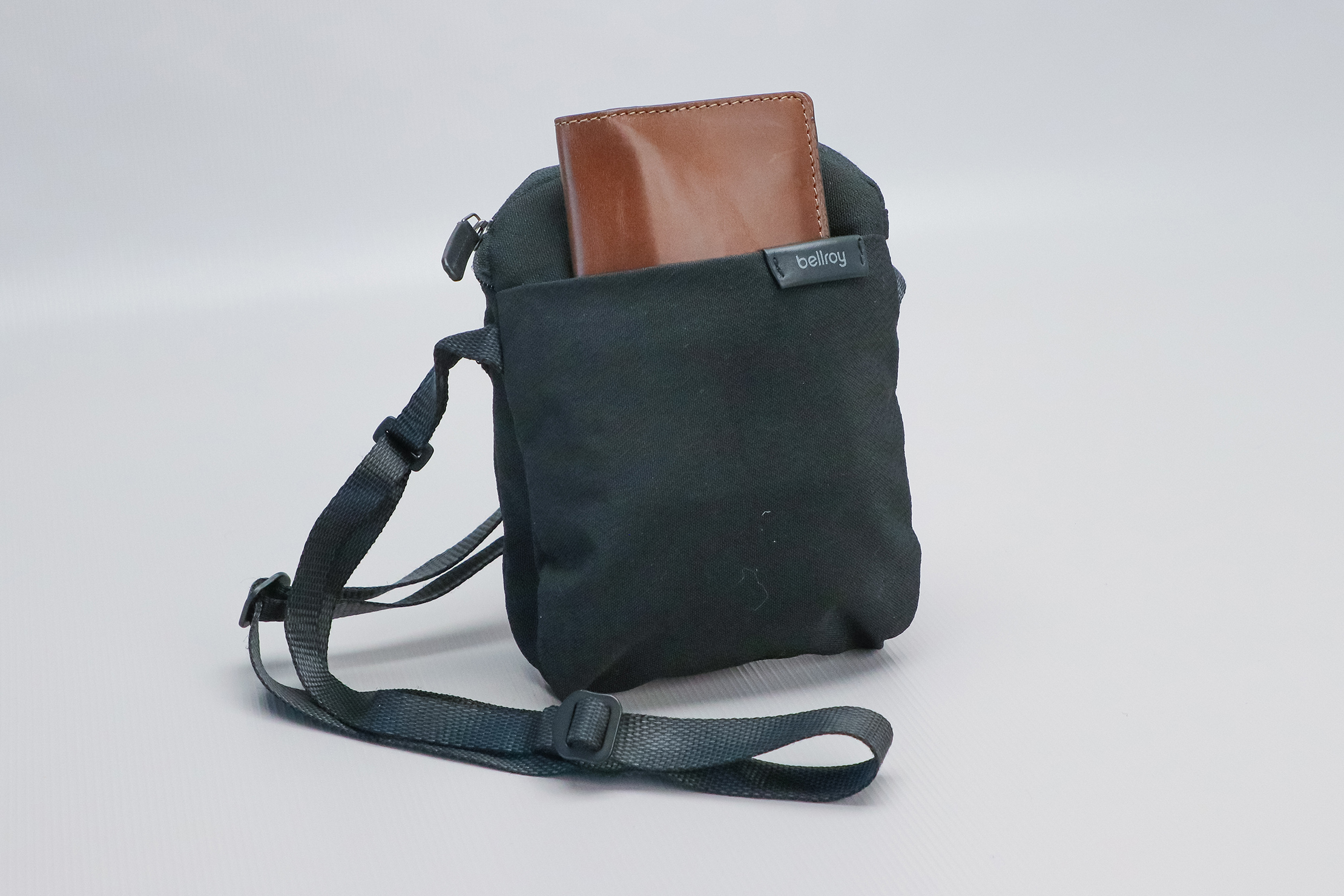 The wallet opens up like a traditional wallet, with no zipper, loop and hook, or snap fastener locking it in place. This isn't a con per se, and plenty of passport wallets opt for this style of opening to keep accessibility fast and easy, which is a good thing. If there's one thing to watch out for when using any passport wallet, it's that airport security will sometimes require you to remove your passport. Luckily, the Traditional Passport wallet does fairly well in this regard.
But before we get into how a passport fits into the Traditional Passport Wallet, we'll need to discuss its layout. When empty, the wallet's interior is fairly uniform, with an all-leather appearance that doesn't show any liner fabric. There's a cascade of five card slots and two layers of wide inner pockets on the left. On the opposite side, there is another wide inner pocket, plus a slot for tickets and passes. This is a basic layout, but it's relatively well-equipped compared to the likes of the Pioneer Passport Wallet and Herschel Supply Co. Raynor Passport Holder.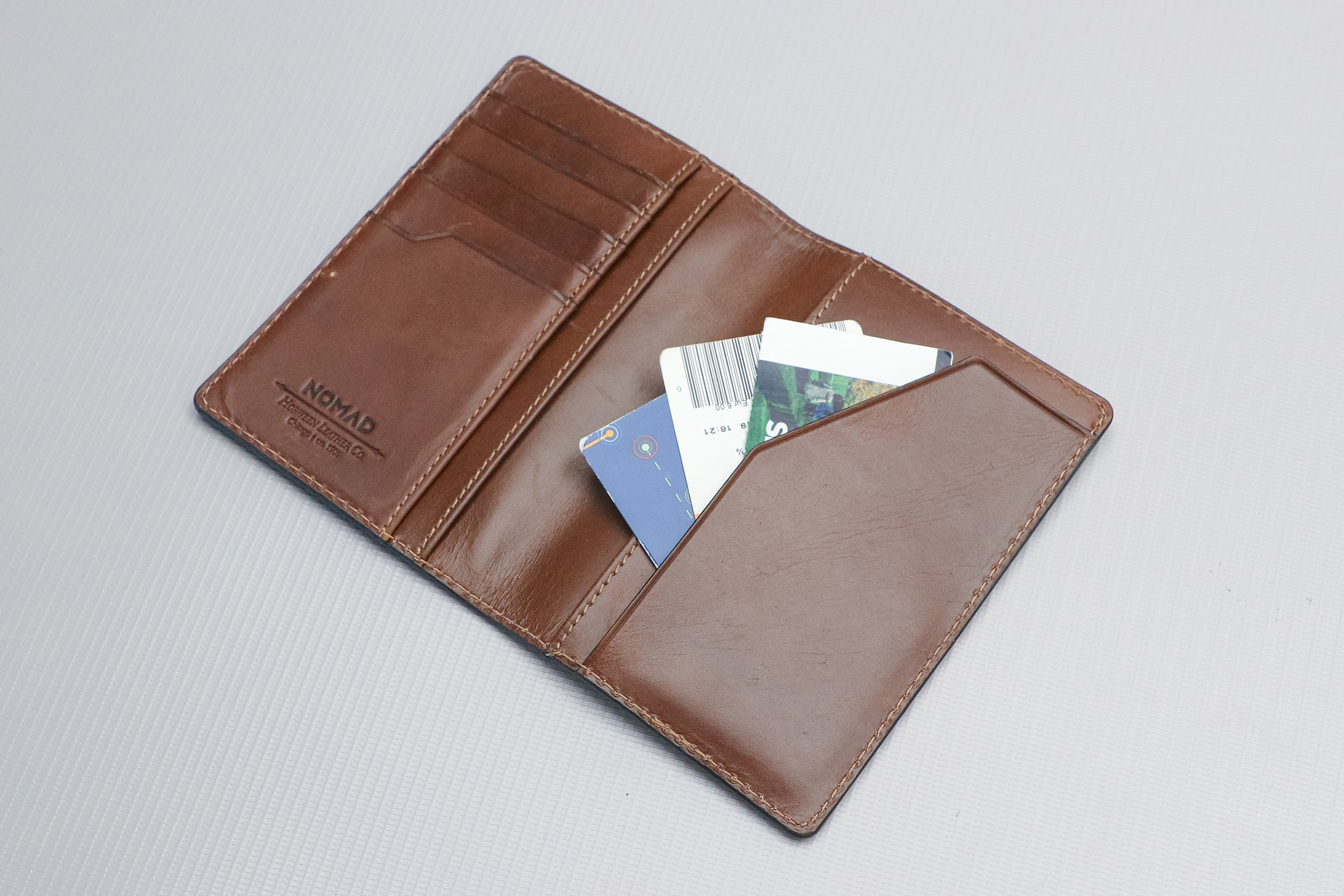 The cascading card slots are five in total; however, we tried hacking this by stacking two cards on each slot to really maximize the space. Unfortunately, even with our relatively thin dummy cards, fitting ten cards is tight. Depending on what type of cards you use and how thick they are, there's definitely room to play around with stacking. Also, as the leather breaks in, the slots will get looser as well. All of this is to say that, straight out of the box, the only sure thing is that each slot is good for one card, for a total of five, which is plenty for our use.
The three inner pockets are good for much wider items like cash and other IDs that are otherwise too big for the card slots. The length of the pockets is too short for tall currencies like US dollar bills, and even shorter ones like the Japanese yen still require folding. However, many of them can fit, and folding them in halves or thirds maximizes the available space even further. Furthermore, these pockets have soft liner fabric that makes inserting and removing cash smooth and easy.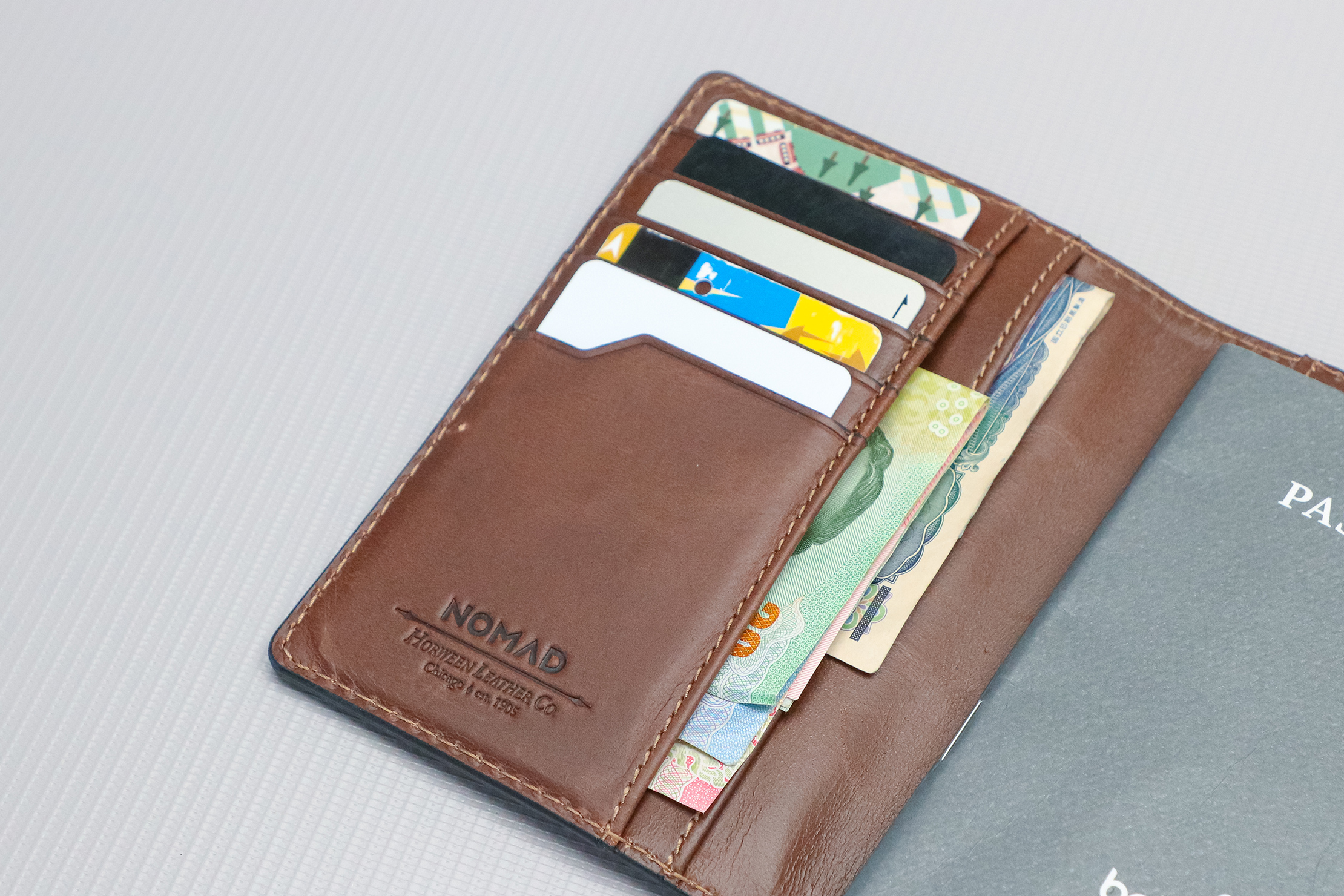 A passport's rear cover slots into the right-side inner pocket, so it hangs like a built-in book. You can also insert the front cover into the left-side inner pocket for an even more secure fit. However, as mentioned earlier, airport security sometimes makes you take out the passport entirely, so a secure fit might slow down removal.
Tickets and boarding passes get their own dedicated area. The right-most slot is open along the top and left side, which allows for easy access. Even when the wallet is closed, tickets can still peek out of the top, where you can pull them out. Simple yet effective, we reserve this slot completely for tickets and documents that are quickly used in transactions. It's the least secure slot of the Traditional Passport Wallet, given its mostly open design.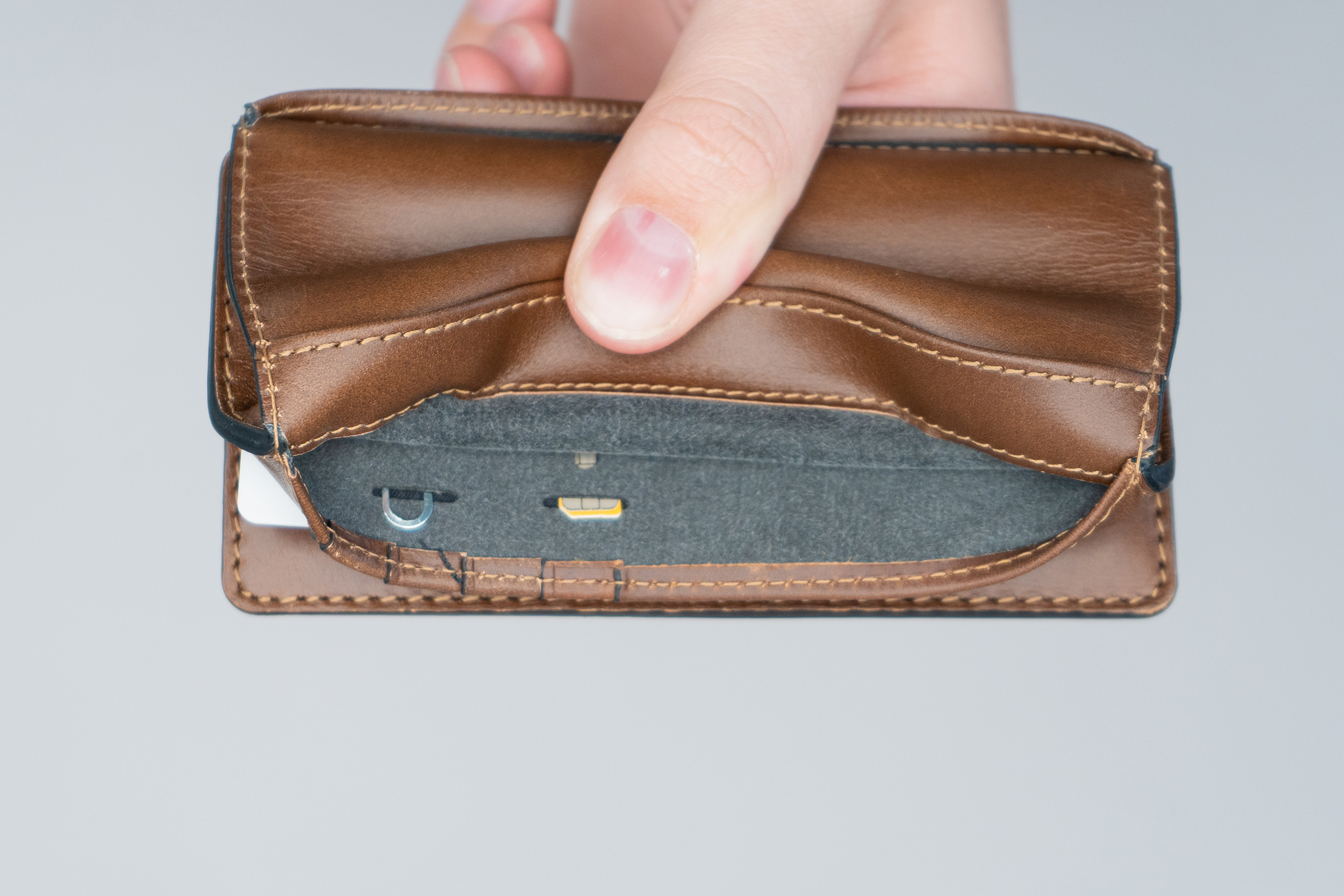 There are some hidden goodies, too. Within the forward-most left-side pocket is two small slots; one for a SIM card and a SIM removal tool. Some of the most hard-to-store gear we often encounter are small items like SIM cards, so having a dedicated pocket for it is a really useful feature. We simply swap out SIM cards during the flight to and from our destination, and the SIM that gets swapped out of our phone gets a nice and secure place to stay, along with the tool necessary to take it out—nice!
Last but certainly not least is one of the key features Nomad Goods has tucked away inside the Traditional Passport Wallet: a Tile Slim tracker. Yes, the wallet not only features a hidden pocket inside the right-side inner pocket, but the Tile Slim also comes included. This handy little gadget is a tracker that transmits its location via Bluetooth and through a network of other Tile users. The data is handled anonymously, in case you're wondering.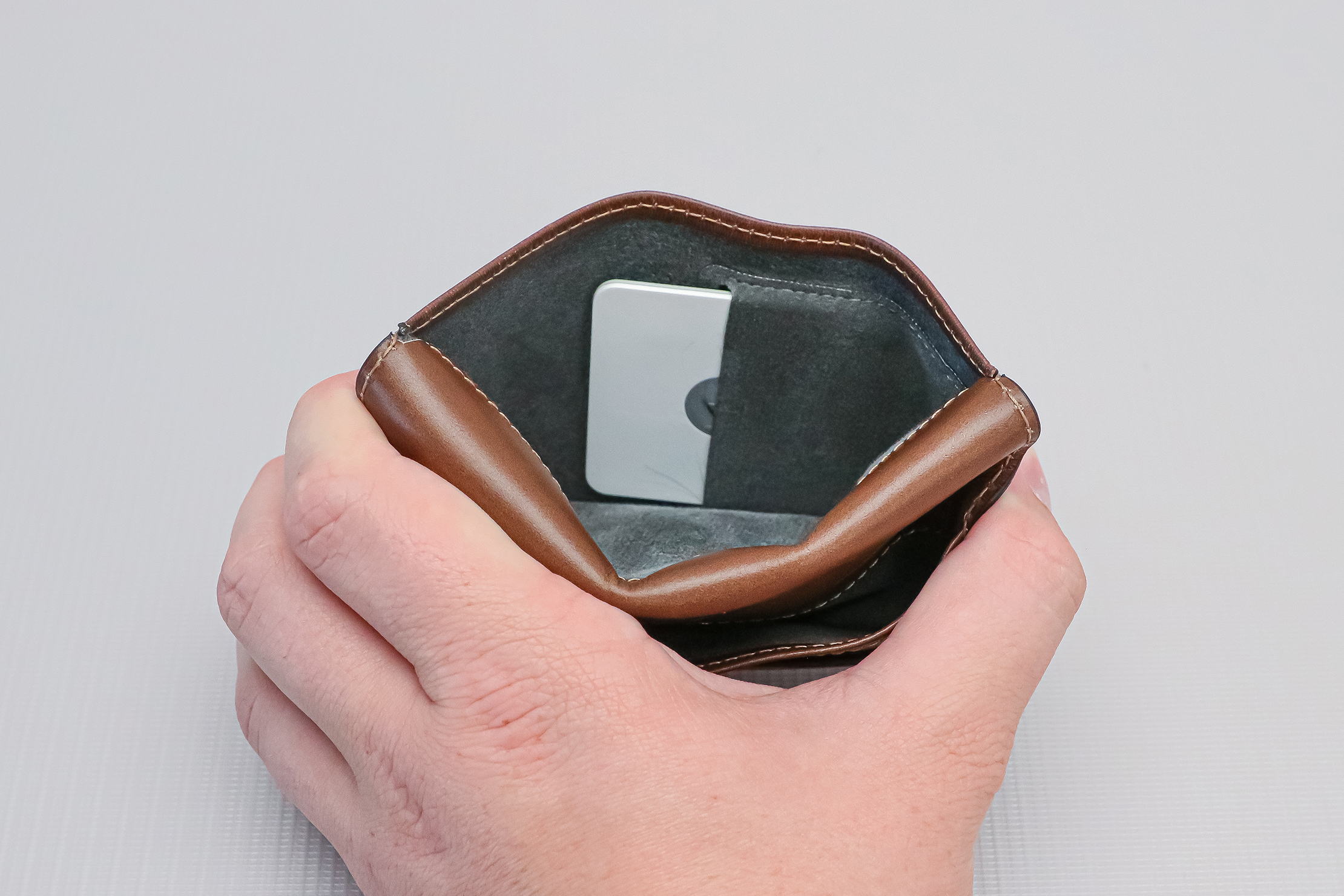 The Tile itself is very well integrated and stealthy, so you won't have to worry about it taking up one of the card slots. Nomad Goods quotes the lifespan as approximately one year, after which it'll need to be replaced—which is fortunate since the pocket for it is quite tight and in a tricky spot. Needless to say, you also need a smartphone with the Tile app installed to take advantage of the tracking feature. Simply sync it with the app and presto! The Traditional Passport Wallet's chances of going perpetually AWOL is diminished significantly.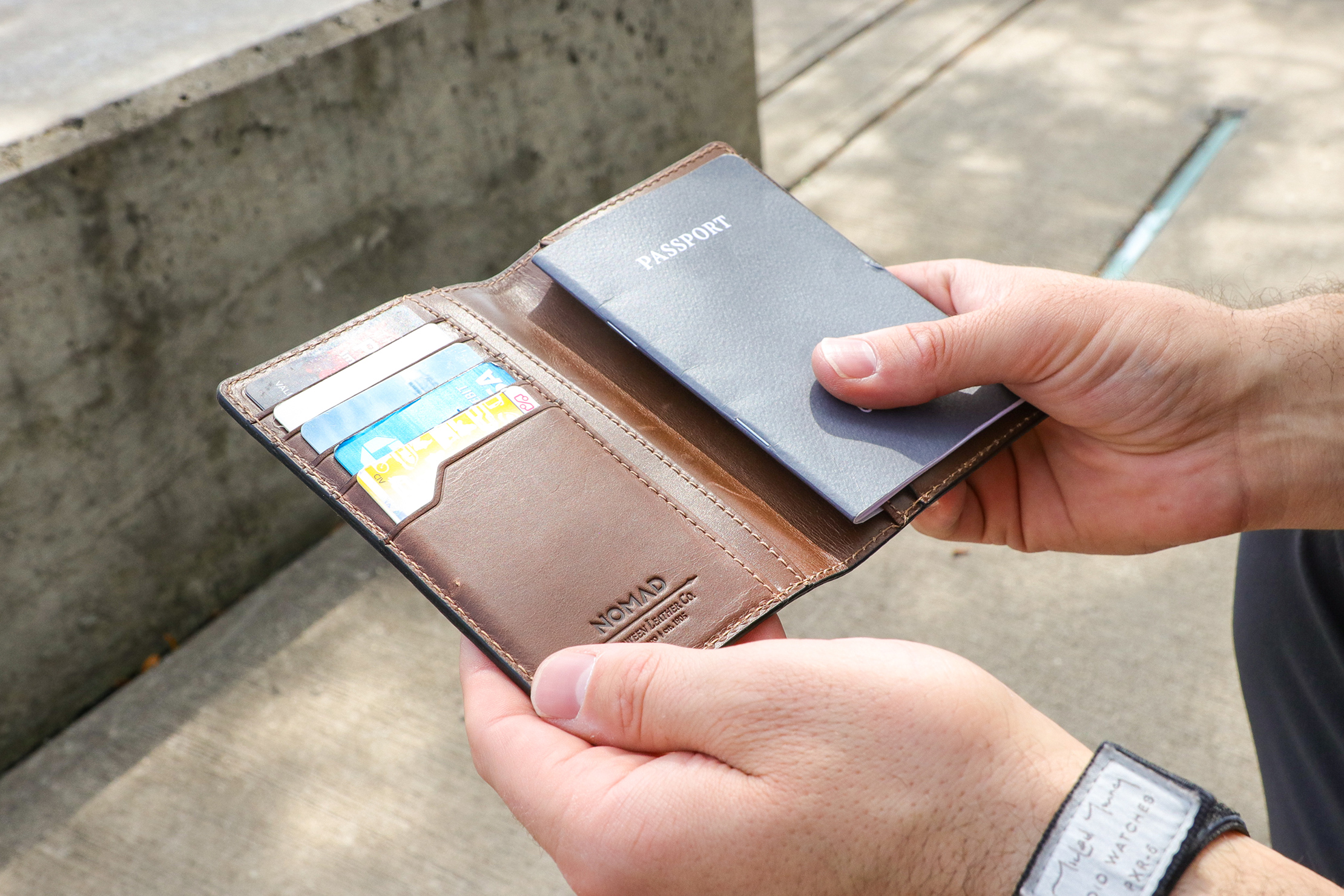 Despite the vintage styling courtesy of the Horween leather, the Traditional Passport Wallet is quite the feature-rich wallet. The included Tile Slim tracker alone dispels any doubt that this "traditional" wallet is devoid of modern amenities. As long as you're a fan of leather and patina, the Traditional Passport Wallet is a solid choice that's well-equipped to handle a passport, cards, cash, a SIM card, and even getting lost.
Usage Timeline
Initial Usage
Condition: Excellent
Designed to fit a Tile inside
Has five card slots
Leather should break in nicely over time
2 Weeks of Use
Condition: Excellent
Wallet is already starting to gain some nice patina after 2 weeks of use
Can hold up to 10 cards, but we found this to be really tight
Tile Tracker is a nice touch and it's integrated well
Simple layout & design—more basic than refined
Access the Pro Community Discussion
Get your questions about the Nomad Goods Traditional Passport Wallet answered from our team and the Pro Community right here on the page. Plus, join discussions with other members about gear, guides, and more.
Other Organizers & Pouches Reviews