Nite Ize DoohicKey Ratchet Key Tool Review
The Nite Ize DoohicKey Ratchet Key Tool adds convenient ratchet functionality to its screwdriver, though it feels unwieldy compared to smaller multi-tools.
Our Verdict
Unlock the Pro Summary
Save time. Get access to brief summaries of our reviews so you can browse and make decisions more efficiently.
Pros
Ratchet functionality works well at this size
Has four different screwdriver bits
Larger size makes it easier to grip
Cons
Carabiner fell off our keychain once
Recessed nuts unreachable by built-in wrenches
Relatively large compared to other compact multi-tools
Technical Details
Weight (oz)

1.66 oz (47.1 g)

Dimensions

0.94 in x 4.06 in x 0.39 in (2.4 x 10.3 x 1 cm)

Notable Materials

Stainless Steel

Manufacturing Country

China

Warranty Information
Full Review
Get up to 20% off Nite Ize • Join Pack Hacker Pro
There is a lot of functionality built into multi-tools, hence the "multi" part of their name. There's your usual lineup like a screwdriver, a pry bar, bottle opener, cutter. But once in a while, brands throw something in to set themselves apart, maybe a flashlight, a compass, or even a pair of scissors. Granted, these will be miniaturized versions of these tools, but they do the trick when you're in a pinch.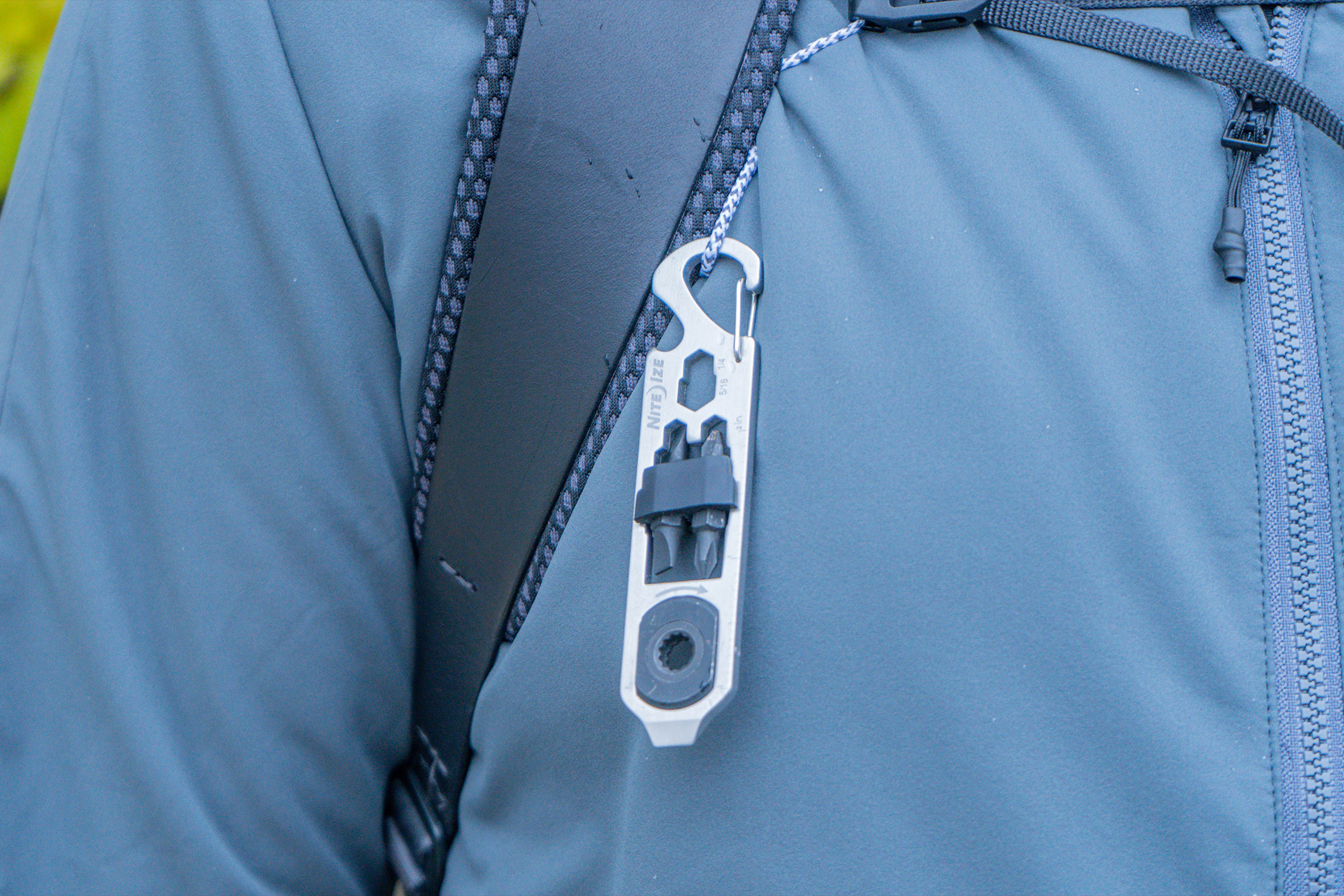 What caught our attention with Nite Ize's DoohicKey Ratchet Key Tool is, well, the fact that it has ratchet functionality (plus that quirky name). We only typically see ratchets with larger handheld tools like full-size screwdrivers or all-in-one ratchets for cars. However, at the size of the DoohicKey, just how well does this ratchet feature work? Let's find out.
Materials & Aesthetic
This isn't the first DoohicKey to grace us with its presence. The original DoohicKey Key Tool is a handy little thing that featured a modest set of tools. It's a pretty simple design with only the carabiner's gate as the sole movable part. On the other hand, the DoohicKey Ratchet looks like a souped-up version, packed with even more tools.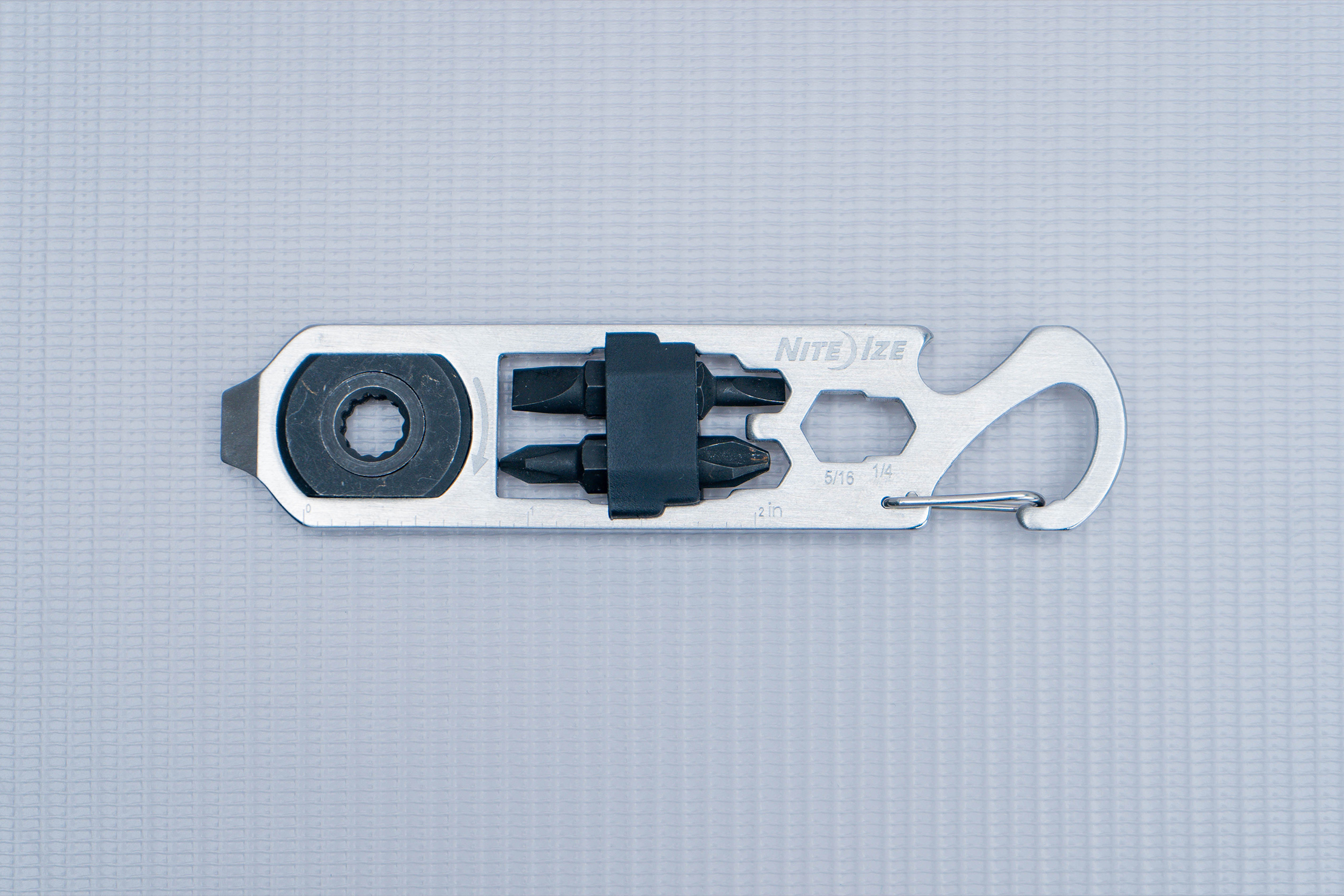 It's still nothing too crazy, all things considered. But once it's hanging off a keychain, there's no hiding the fact that it's a multi-tool. The original DoohicKey's black finish and smaller size help it blend with the rest of our keys and accessories. In comparison, the DoohicKey Ratchet's shiny stainless steel body and chiseled surface do little to hide its true nature.
Mind you, this isn't to say that the DoohicKey Ratchet is unsightly. The utilitarian look is still okay by our standards, and there's only a small white logo to top it off. Our only gripe is with the tool's size; it makes the multi-tool stand out even more. Ultimately, it comes down to personal preference where you want the DoohicKey Ratchet to hang out. Regardless of where you put it, though, it can hold its own against the elements. Even the embedded screwdriver bits holder is firmly held in place, so there's only a small chance that it will get lost.
Usage & Features
As small as the DoohicKey Ratchet is, it's still quite the unit when we put it up against a slew of compact multi-tools we've tested. You can see in the photo below just how much bigger it is compared to multi-tools like the Gerber Gear Shard, Leatherman Style PS, and the original DoohicKey. The good news is that this larger size works in favor of the DoohicKey Ratchet, though it also works against it in some ways, as we'll see later on.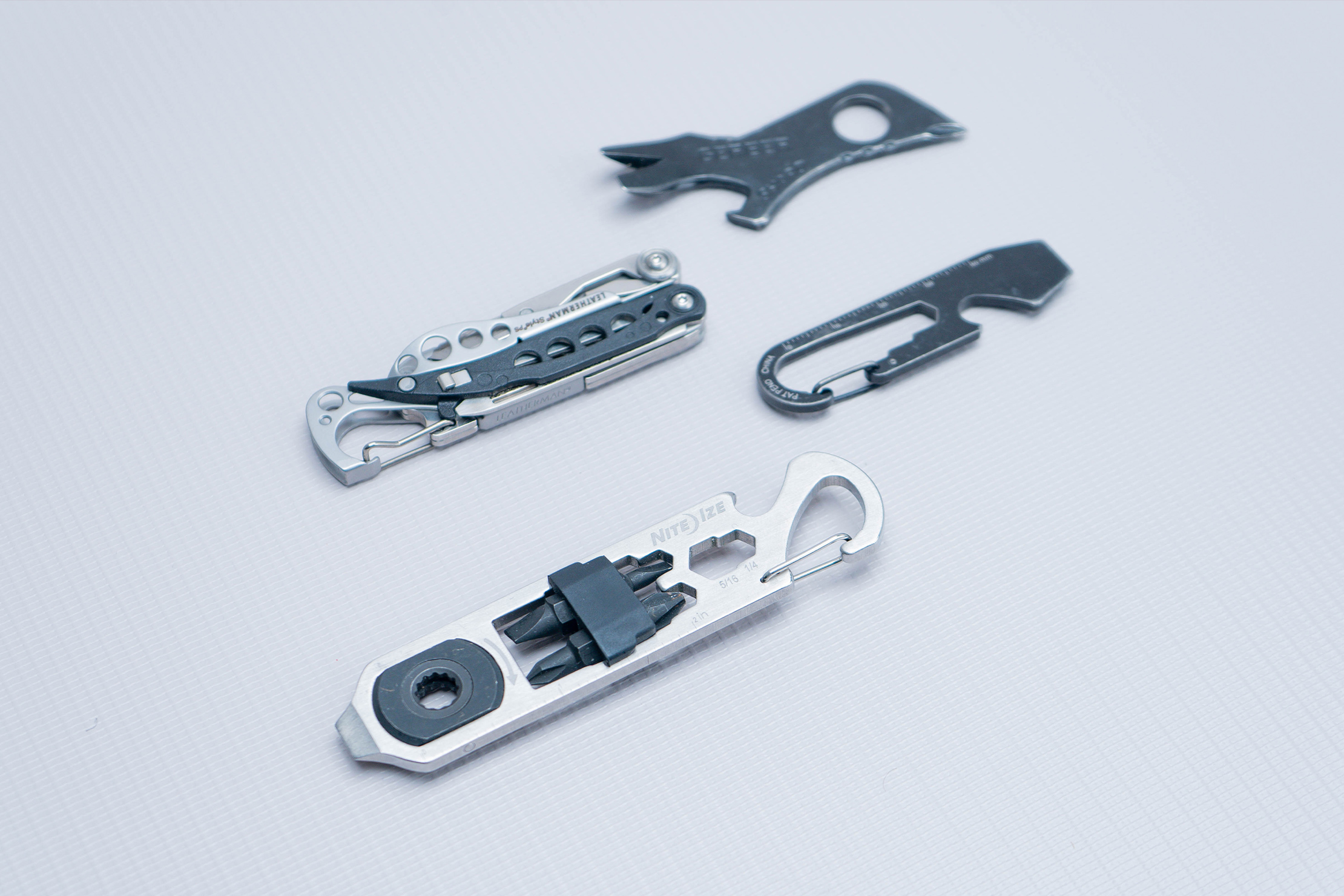 But what are the tools and features of the DoohicKey Ratchet? On one end, there's the carabiner that primarily serves as a way to hang the tool off attachment points. Be it a carabiner, belt loop, or a backpack D-ring; we have no problem finding a place to hang the DoohicKey Ratchet. That said, we did encounter one instance where it fell off our keychain, though thankfully, we caught it in time. We're not entirely sure why this happened, as the carabiner's gate feels sufficiently strong. However, we suspect that the bulkier size may have something to do with this. We've put it inside our bag ever since, just to be safe.
Speaking of the bulkier size, this could be a factor in getting it through airport security. For their part, Nite Ize bills the DoohicKey Ratchet as travel and airport friendly. However, in our experience, it still boils down to the TSA officer's judgment whether to allow this or not, as they have full discretion in these matters. Fortunately for us, we didn't encounter any such issues, and we were able to bring the DoohicKey Ratchet wherever we went. As always, your mileage may vary.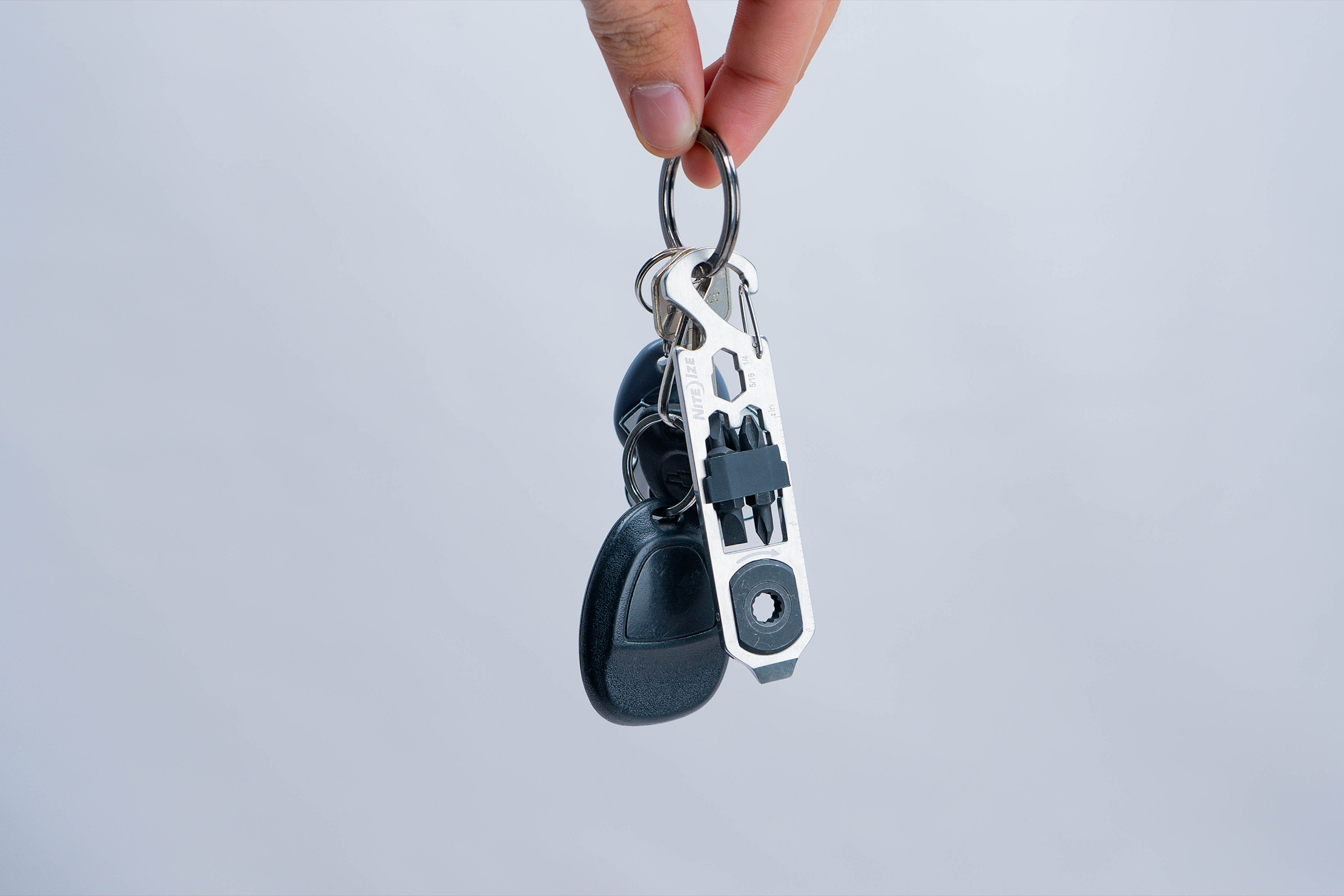 Continuing with our tour of the DoohicKey Ratchet Key Tool, there's a bottle opener opposite the side of the carabiner's opening. Just next to it, in the middle of the body, are the 1/4" and 5/16" wrenches. If you need something smaller, there are also 5 and 5.5 mm wrenches built in where the screwdriver bits are housed. These are the more solid fixtures of the DoohicKey Ratchet, and they're pretty straightforward to use. Because the wrenches are in the middle of the tool, we can only use it on nuts where there's enough clearance for the tool to fit around. This means recessed nuts are a no-go for the DoohicKey Ratchet—it only works with protruding ones.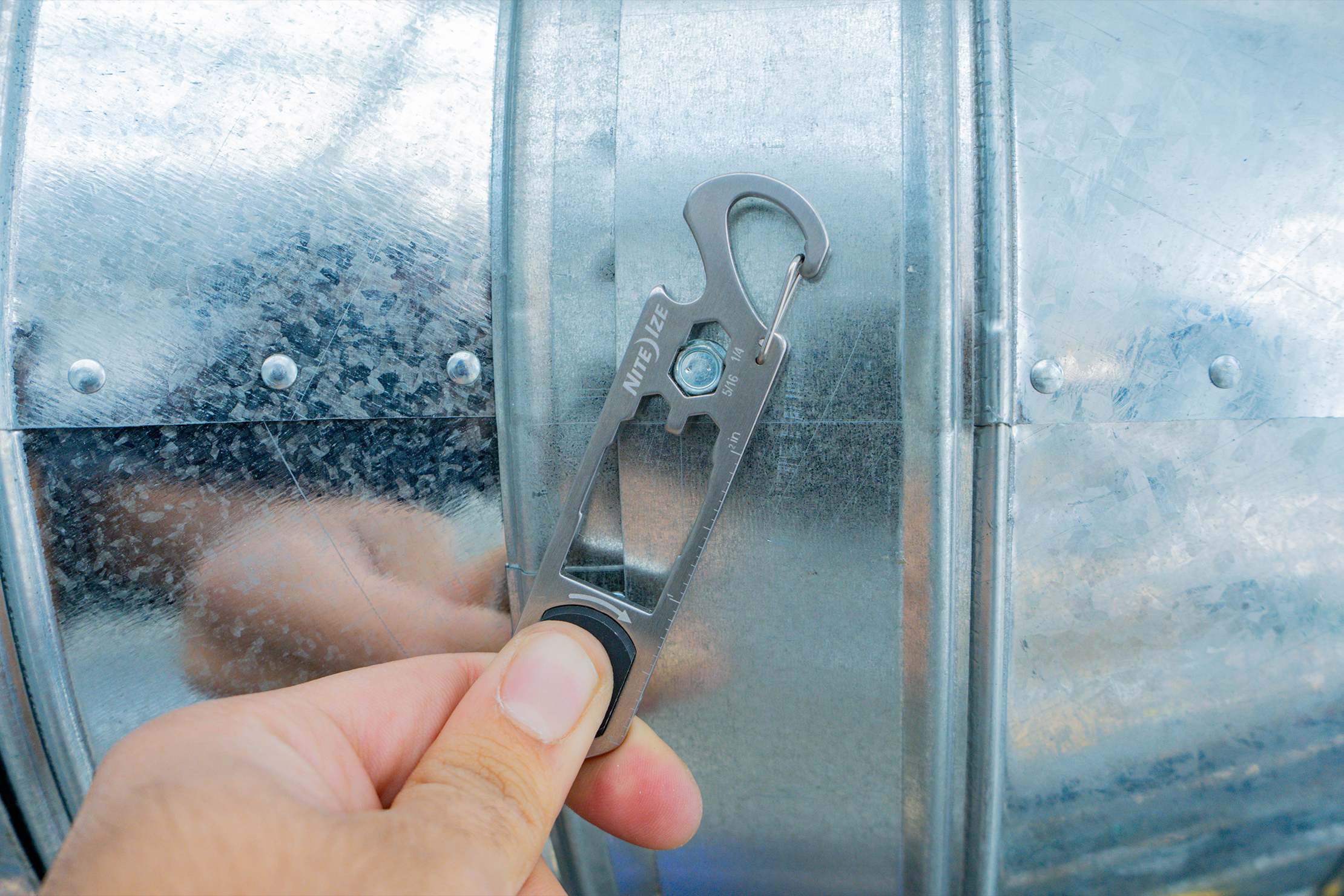 There's also a ruler on one side of the DoohicKey, featuring both imperial and metric measurements. The measurements only go up to 60 mm and 2 inches, though, so we wouldn't use it to measure anything larger than a well-behaved puppy willing to stand still for us. On the opposite end of the tool is the pry bar, with a slightly pointed end for easy scraping or getting underneath tight-fitting can lids.
Right in the middle of the DoohicKey Ratchet are a set of screwdriver heads, two Phillips, and two flathead bits. The Phillips bits are #1 and #2, respectively, while the flatheads are 3.5 and 5.5mm. To save space, each type is end-to-end, with a small metal bead in the middle for locking them to the ratchet. As far as screwdriver functionality is concerned, the DoohicKey Ratchet is pretty well-covered. They're just the right size for most everyday screws and even some gadgets like laptops that need small bits.
The bits are stored in a small rubber holder, firmly held in place by small tabs on each side. It takes a fair amount of force to twist the rubber off the metal body. Once it's out, it's just a matter of sliding the bits out of their slots and inserting them into the ratchet.
Slotting in the bits is somewhat tricky at first, especially if you have big or oily hands. The good news is that the bits are quite secure in the ratchet, thanks to the metal ball holding them in place. Depending on whether you're loosening or tightening, you'll have to flip the tool to change the direction of the ratchet. As with the wrenches, screws that are too recessed may not be reachable, so you'll have to pick your battles.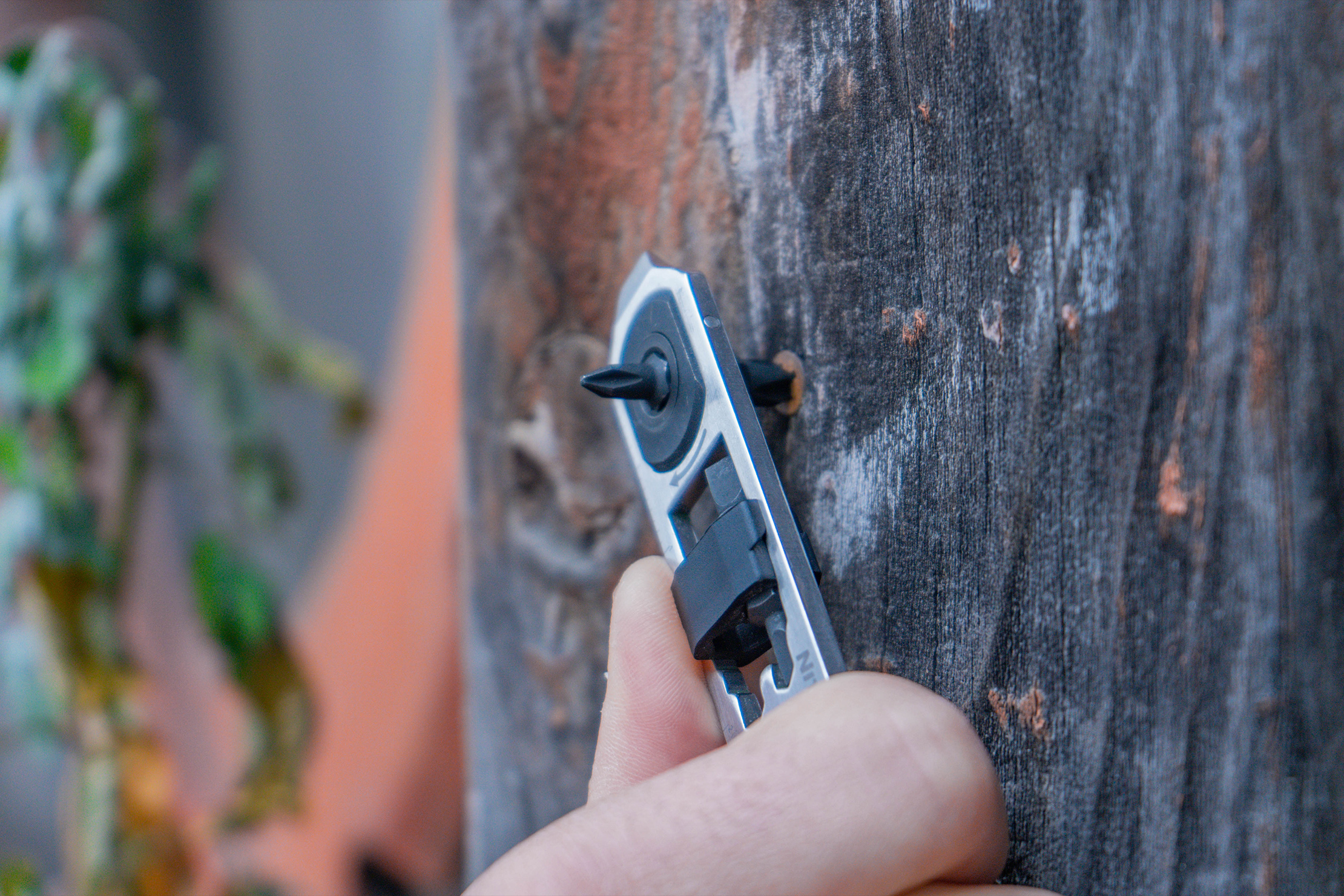 Using the DoohicKey Ratchet as a screwdriver is made easier thanks to the ratchet. We mostly used it to make small tweaks to our bike on the road, and there it performed well. There's also something oddly satisfying about the clicky sound the ratchet makes. But more than the sound, the extra length of the tool's size makes it easy to grip and rotate. Smaller isn't always better in this regard, and those of us blessed with big hands can appreciate the extra grippy-ness.
Usage Timeline
Initial Usage
Condition: Excellent
It's quite small, but the stainless steel construction is solid
There's at least nine built-in tools here
The included flathead and Phillips bits are held fairly securely in the middle
2 Weeks of Use
Condition: Excellent
Quite a bit larger than other small multi-tools we've tested, but you need extra grip to get the ratchet
Bulky on a keychain and carabiner even fell off once
Ratcheting feature works well, which is great considering it's the primary selling point
Access the Pro Community Discussion
Get your questions about the Nite Ize DoohicKey Ratchet Key Tool answered from our team and the Pro Community right here on the page. Plus, join discussions with other members about gear, guides, and more.
Other Miscellaneous Reviews