Mountainsmith Apex 20 Review
The Mountainsmith Apex 20 Hiking Backpack holds a water bladder and more, though top pockets cause the bag to sag, and the back panel is quite stiff.
Our Verdict
Unlock the Pro Summary
Save time. Get access to brief summaries of our reviews so you can browse and make decisions more efficiently.
Pros
Roomy front and main compartments for bulky gear
Flexible cushion straps comfortable to carry
Removable hip belt
Cons
Filling top pockets causes the bag to sag dramatically
Hard to unzip quick-access pocket
Very stiff rear panel can rub lower back
Recent Pack Hacker Video
Technical Details
Capacity

20l

Weight (lb)

1.9 lb (0.9 kg)

Dimensions

19 in x 10 in x 7 in (48.3 x 25.4 x 17.8 cm)

Notable Materials

ROBIC®, Nylon, Recycled Nylon, YKK Zippers, Woojin Hardware, EVA Foam

Manufacturing Country

Vietnam

Warranty Information
Full Review
It's no surprise to see a hiking backpack from Mountainsmith when you consider that love for the Colorado outdoors, and a desire for durable gear for backcountry pursuits, sparked the company's founding. The Mountainsmith Apex 20 is for days on the trail, whether for a day hike, a picnic in the park, or as a daypack for a camping trip.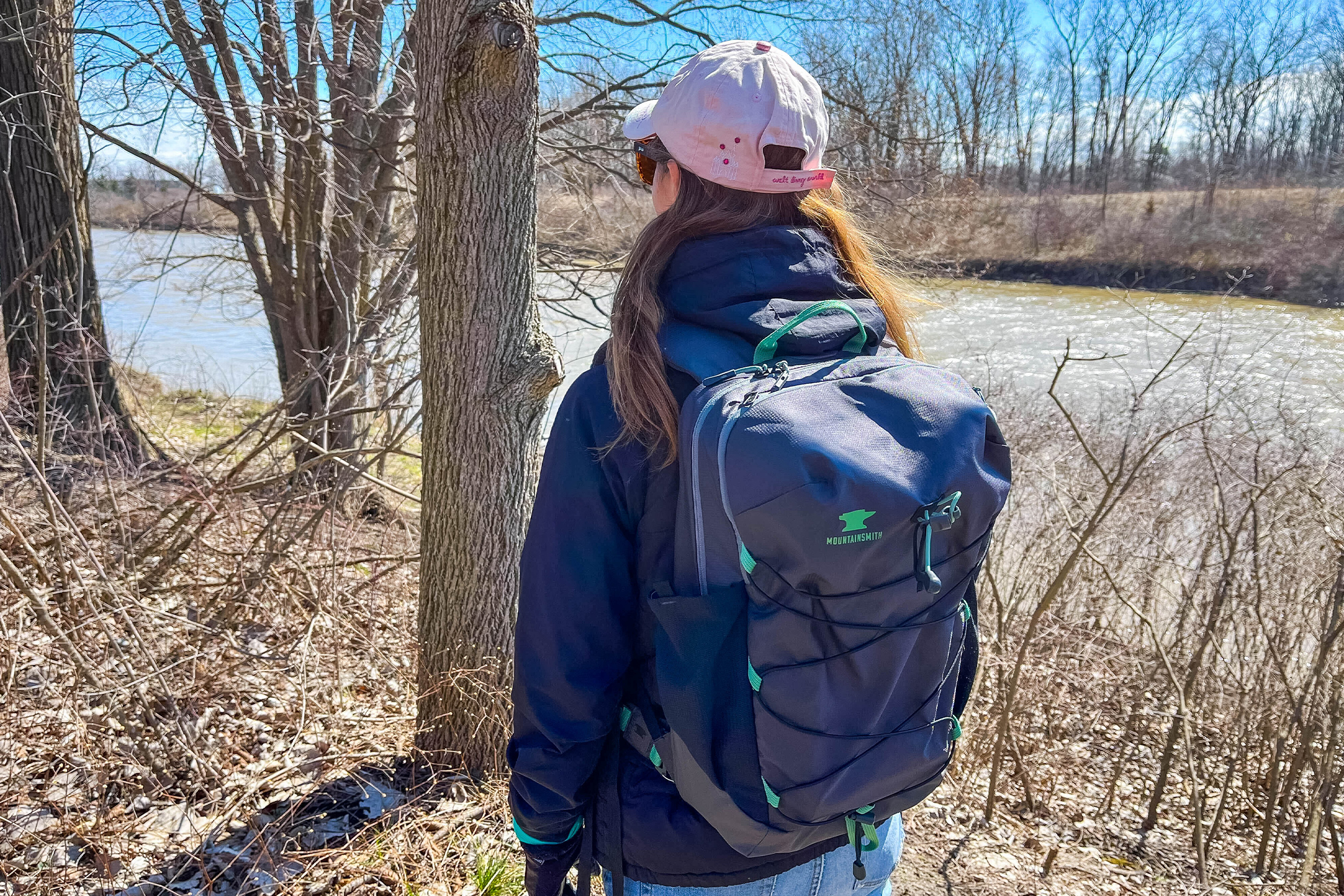 That's because instead of a laptop sleeve and admin panel, the 20L Apex includes a pouch for a hydration bladder, dedicated pass-throughs, and an adjustable harness system so you can carry extra layers, snacks, and drinks as you tramp through the woods.
So will it be your new favorite bag to take to the backwoods? Let's find out.
External Components
Since the Apex 20 is a hiking backpack, it makes sense that Mountainsmith uses 210D Robic Dynajin Nylon Ripstop material on the pack's exterior. It's lightweight, and the ripstop means that any snags from passing tree branches or bushes won't turn into huge tears down the front of the bag. Instead, the rips should stop, thanks to the grid pattern of the fabric. The Robic also has extra abrasion resistance and durability over standard ripstop. The materials make sense since Mountainsmith backs the pack with its Forged for Life Guarantee. They make all of their products to last a lifetime, and the guarantee states, "if something we've made fails in any way, we'll take care of it by either repairing or replacing it. For your entire life." For something you'll take trekking through the woods, that's great to know.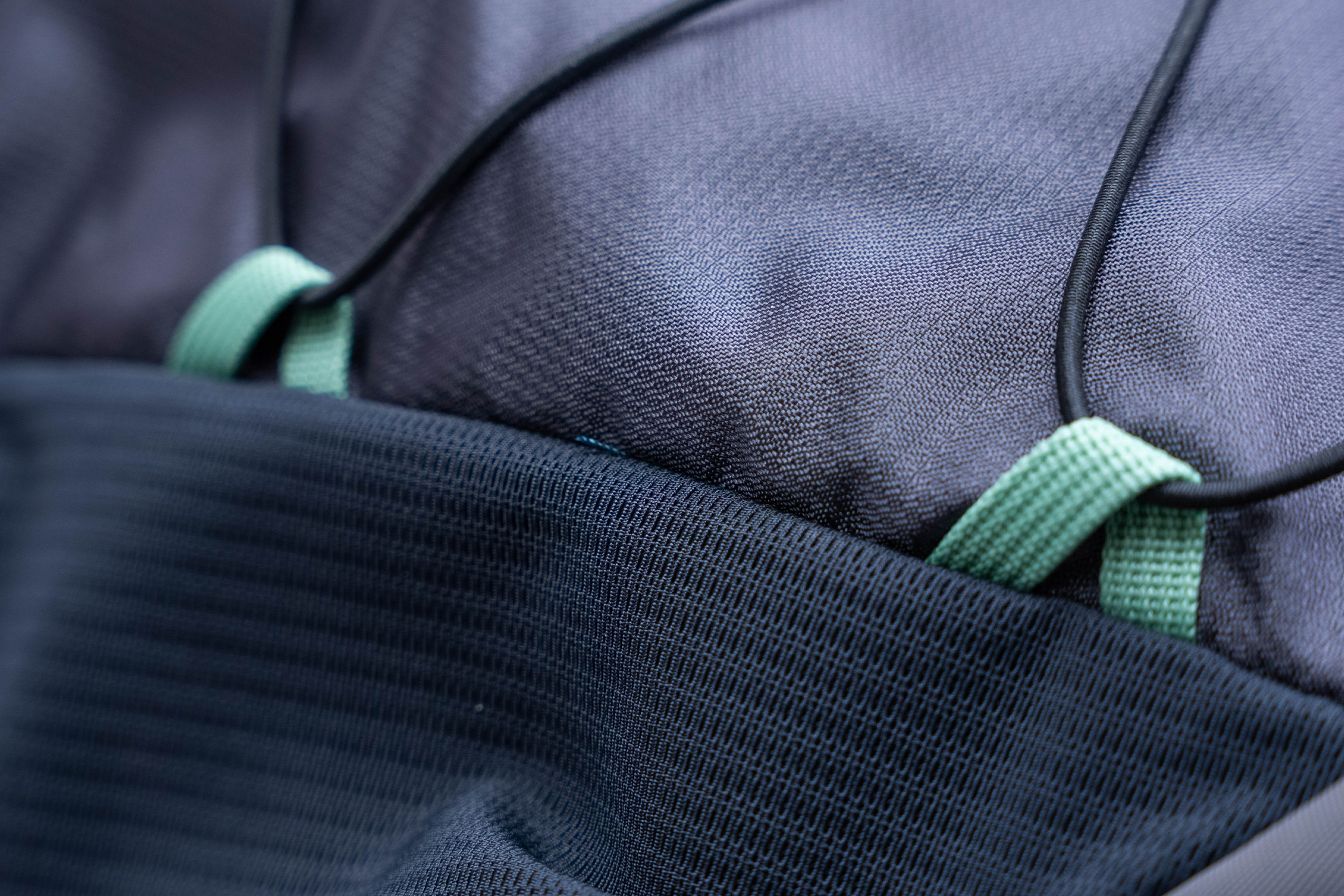 Along the bottom and back panel is thicker 420D nylon, so it can take the brunt of the impact and dirt when you set it on the ground for a break. And on that nylon is APEX 20 printed in a contrasting color in all caps on the right-hand side. There's also the Mountainsmith name and logo in a contrasting hue on the top left corner of the front of the pack.
We're testing the Phantom colorway, which is a charcoal gray with seafoam green accents. As of this review, the Apex is also available in Smoke Blue, an icy grayish blue with coral accents.

Also along the front of the bag are a few external components to help you carry what you need for a day outdoors, from a bungee crisscrossing the front for compression or to stash your packable rain jacket after the skies clear (to avoid putting a wet coat in your pack), to a webbing tool loop on the bottom where you can secure a trekking pole or ice ax. An elastic keeper at the top locks it into place with an ITW toggle to push to adjust the grip. That toggle is extremely stiff, though, and you have to use quite a lot of force to depress the button. Of course, that won't be a problem if you have one piece of gear you usually stick in there; once you adjust the width, there's no reason to change it.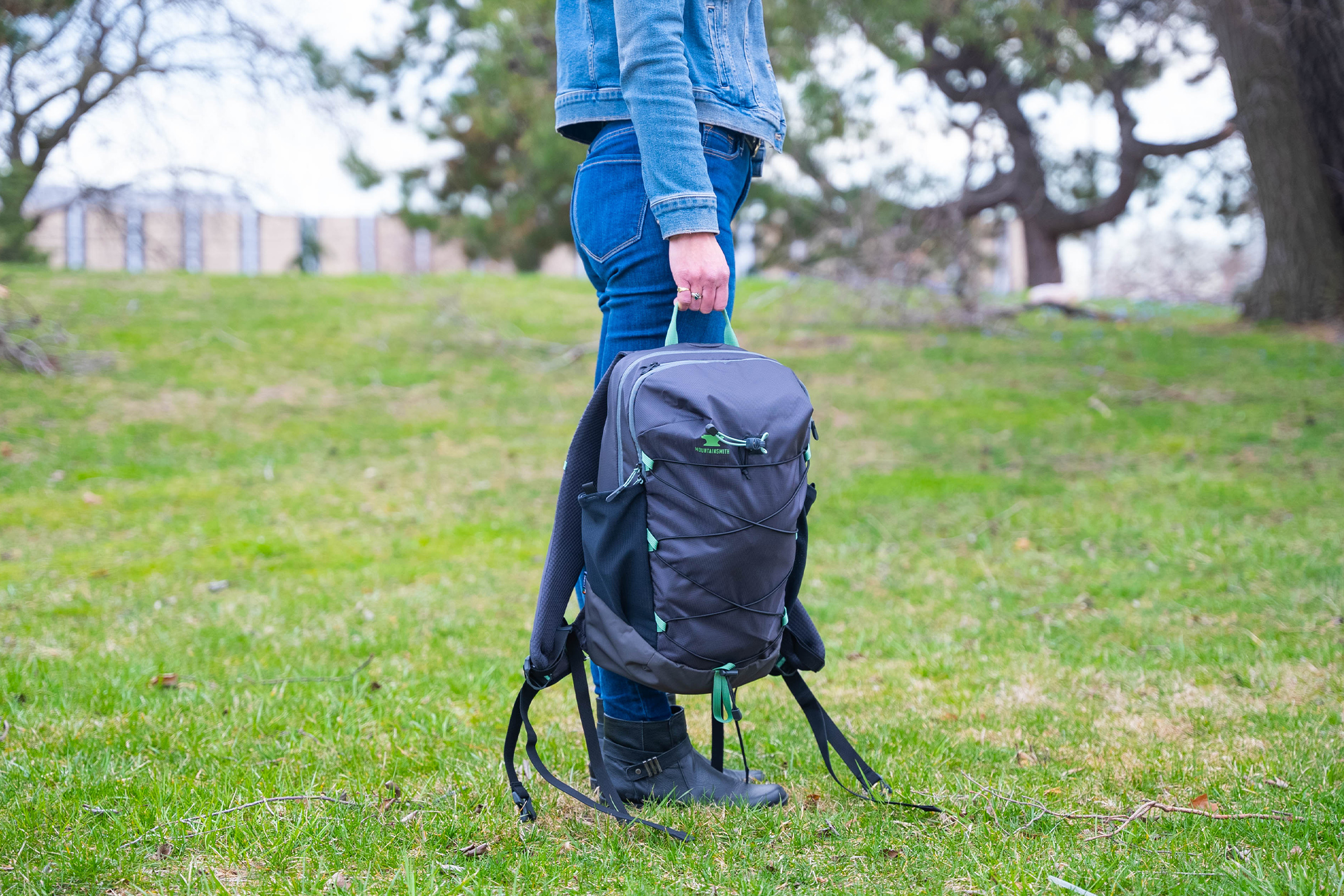 A large carry handle in the contrasting color sits between the shoulder straps atop the bag. It's a simple piece of webbing folded in half, and it works well for pulling it out of the car when you hit the trailhead or hanging the Apex on a hook at the end of the day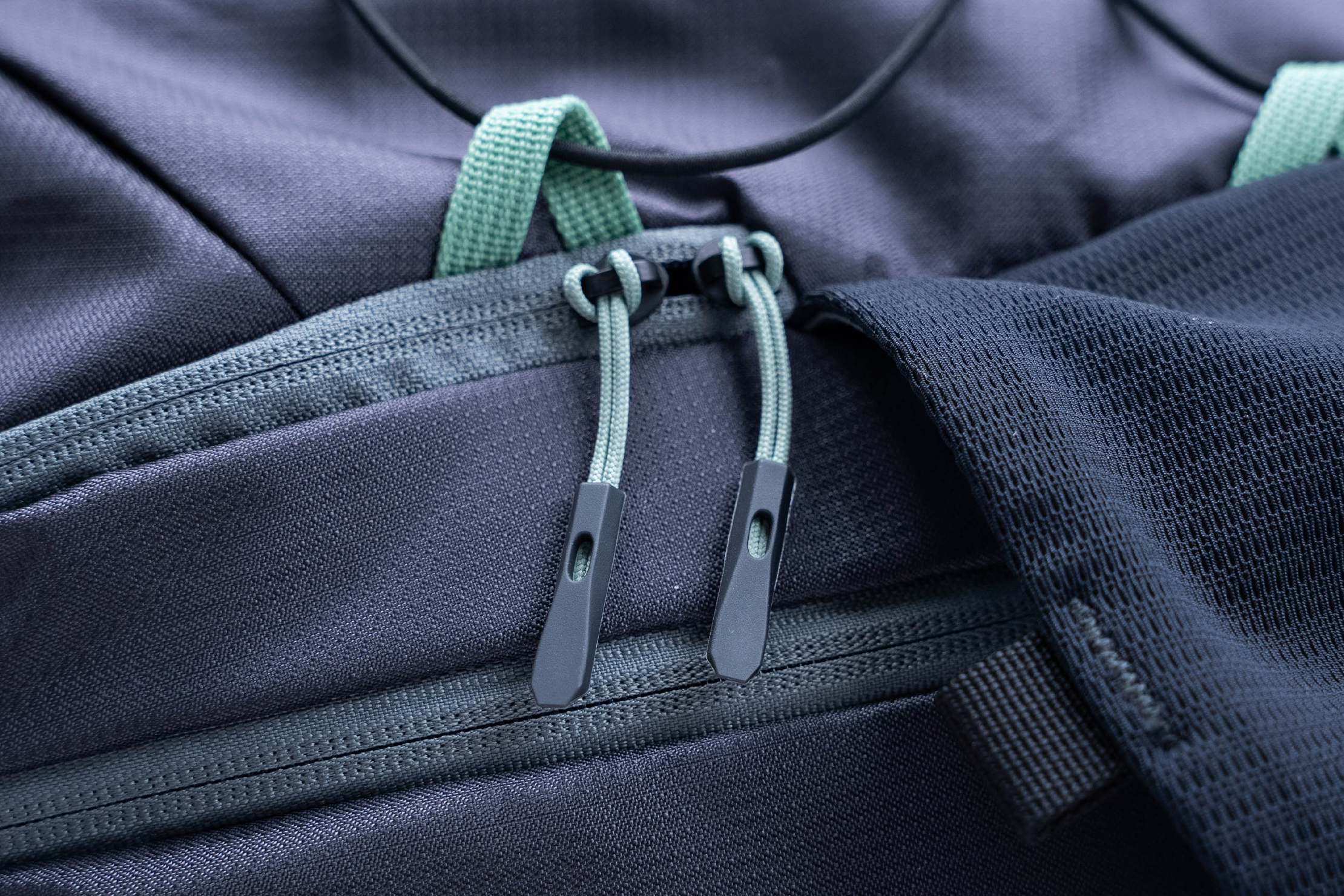 The internal zippers and the top quick-access pocket zipper are YKK, while the zippers for the front and main compartments do not have a brand name stamped on them. However, the zipper pulls for those two sections are not the same metal tabs as the smaller zippers. Instead, they have accent-colored cords that end in sizable plastic pulls to be easy to grip. All of the zippers work well, although the quick-access zipper can be difficult to undo if that pocket sinks inward—more on that issue in a bit.
The remaining hardware on the bag—including the sternum strap buckle, adjusters for the shoulder straps, and the toggle on the bottom of the bungee—is from Woojin and performs well.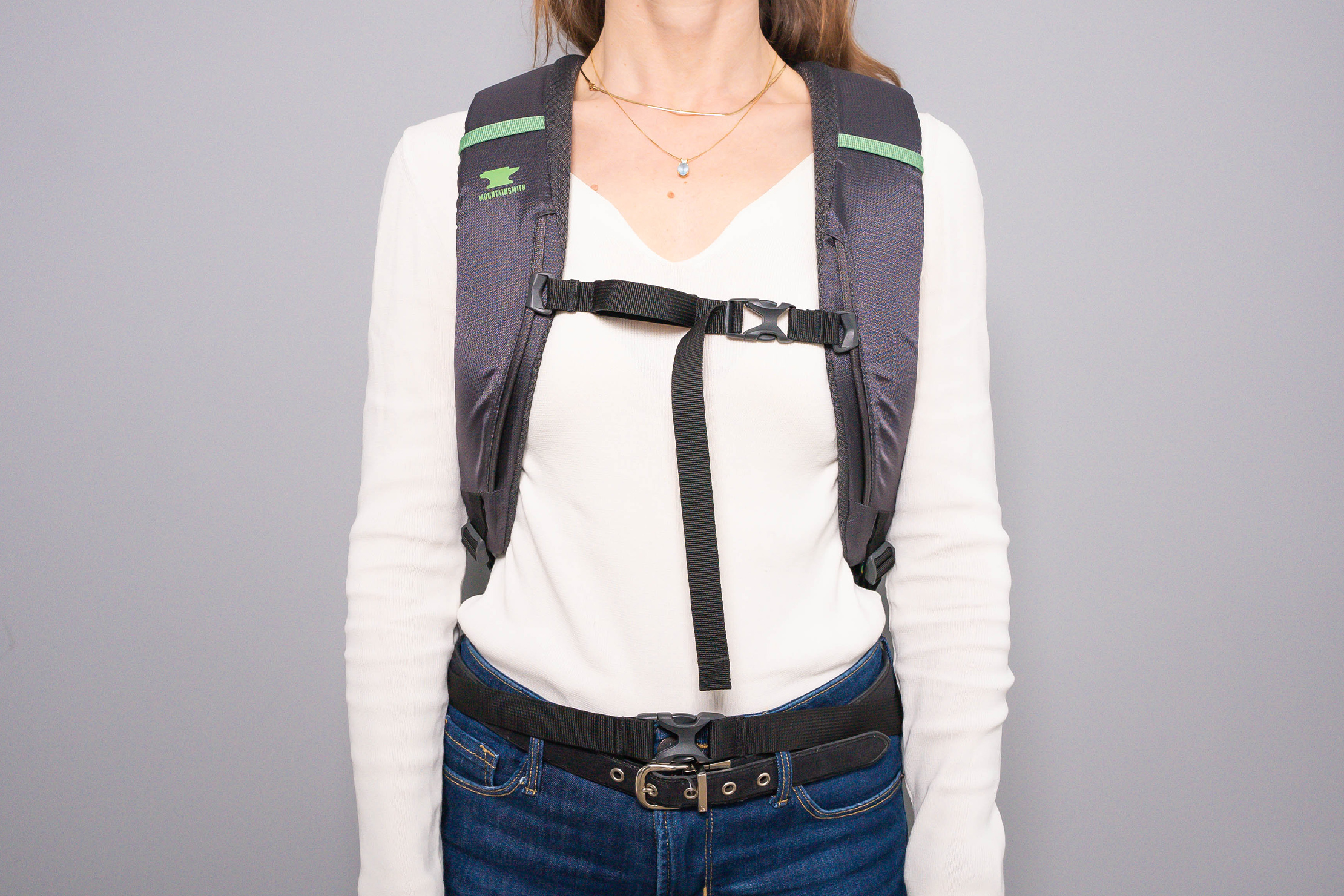 The harness system brings what you want in a hiking backpack to the table, beginning with comfortably cushioned shoulder straps. The padding ends about an inch from the top of the bag, so the straps can move with your body instead of pulling at your shoulders and neck. Plus, the undersides feature breathable mesh to alleviate overheating if you're hiking Hocking Hills in the middle of July.
The back panel also aims to help you avoid a sweaty back with a "no contact breezeway" between the panels of molded EVA foam. Although we have no doubt it gets the job done, the back panel includes a frame board that's also quite stiff. While it provides support throughout a long hike, it doesn't mold very well to your back, so you won't be able to forget it's there.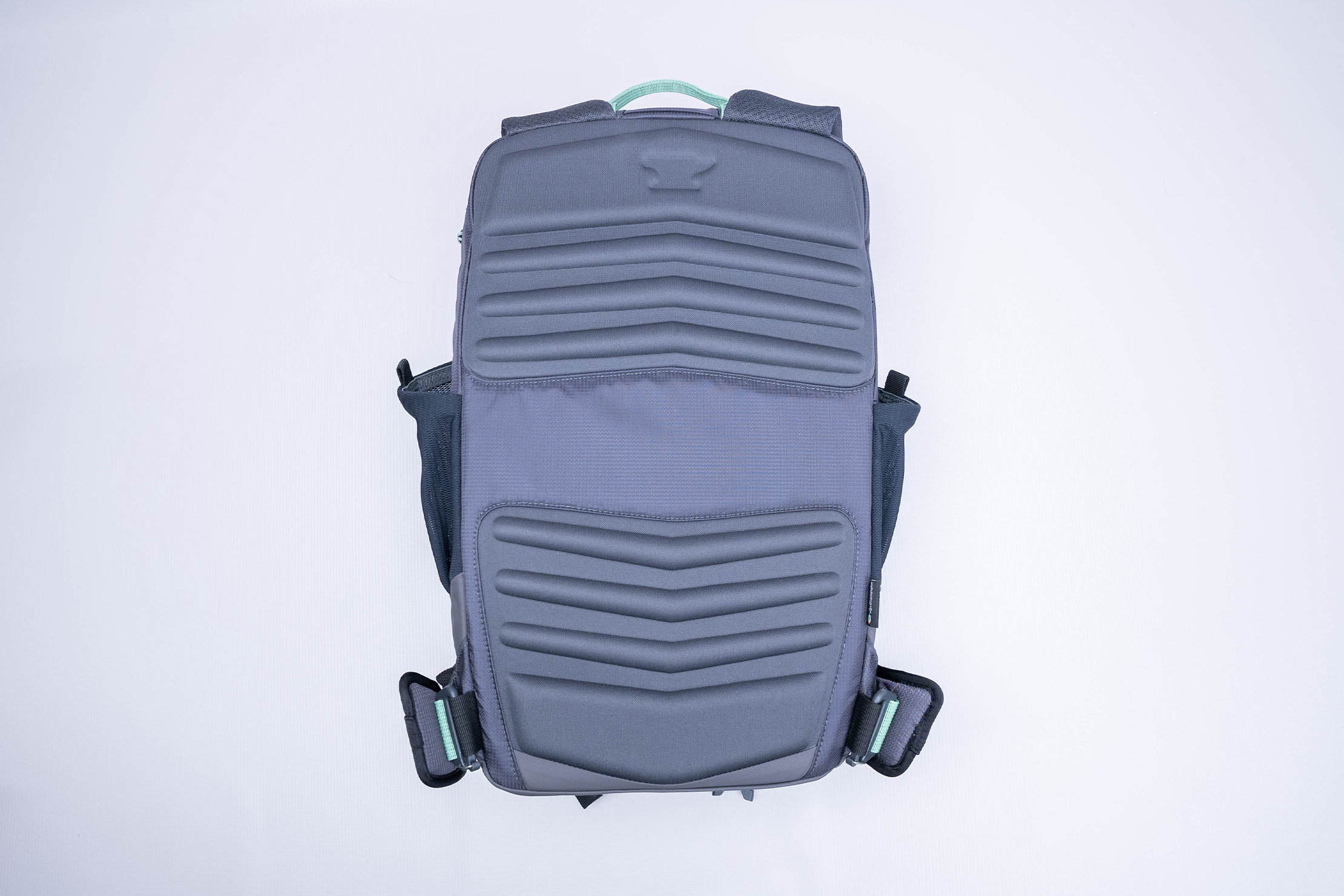 However, you'll want to remember some additional outdoor-friendly features of this backpack when you decide to hit the trail with the Apex. Each shoulder strap includes a thin webbing strap to hold a hydration tube in place, and a sternum strap on a sliding rail helps you find the right fit. We like that it's easy to adjust, yet stays in place where you set it, no matter how many times you put it on and take it off.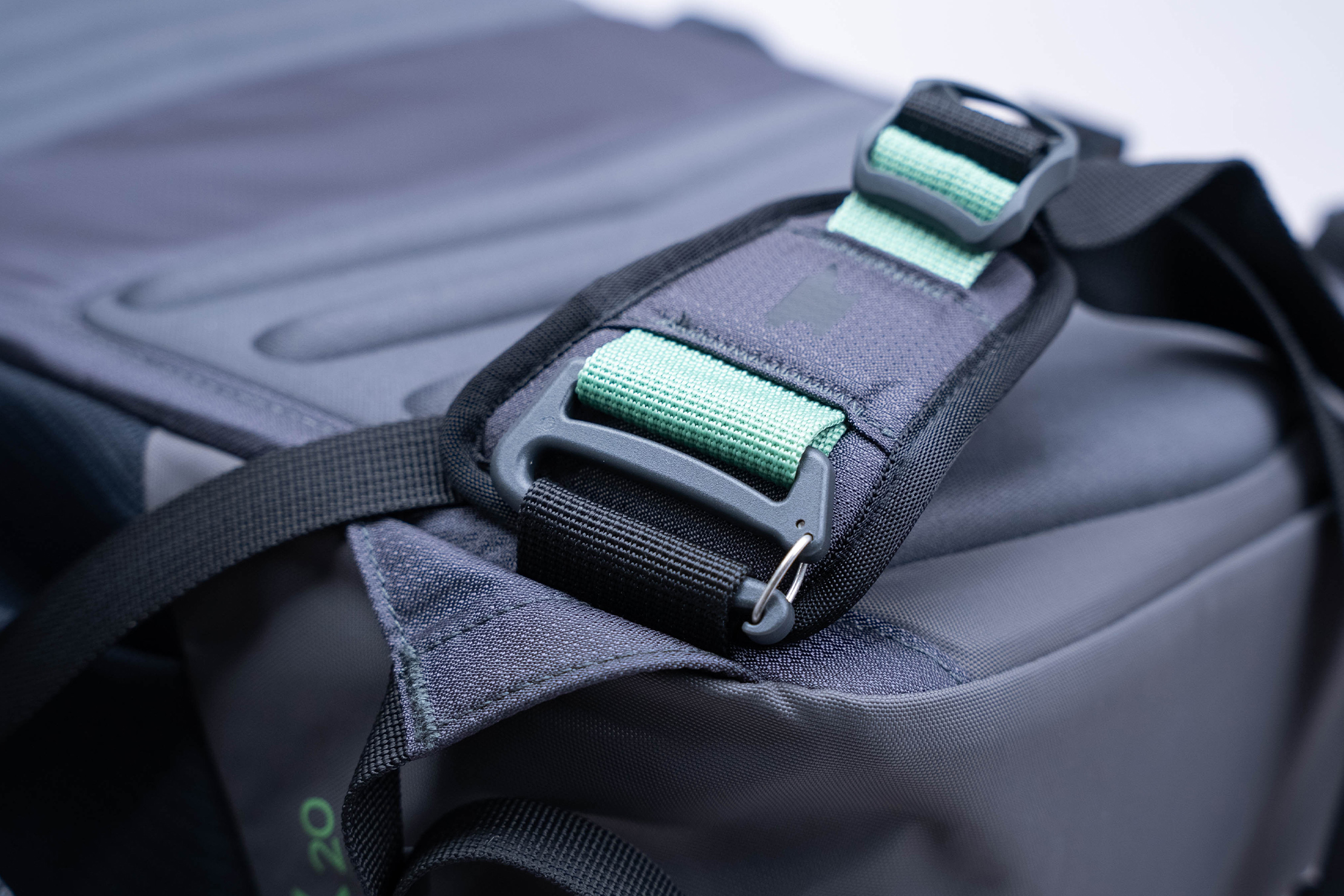 There's also a removable hip belt, which is awesome because while you may find the extra support handy, it may not fit others in the right place. It includes a small piece of hip padding that tapers as it comes forward and then a straightforward webbing belt to wrap around your waist. Each side locks onto a webbing tab with gatekeeper clips, so it locks into place if you want it, and there's not a large dangling buckle left behind on the bag if you don't.
Fit Notes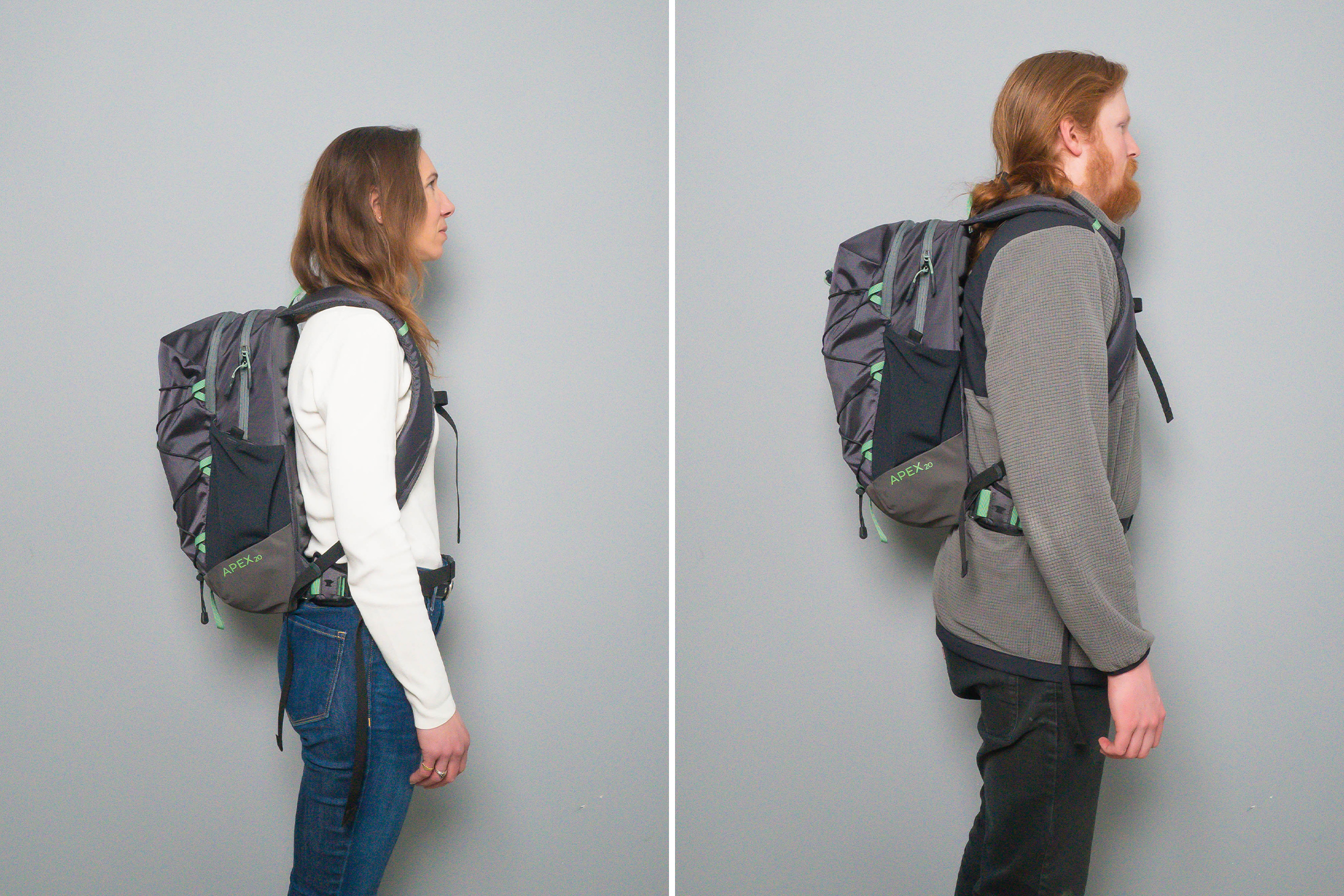 There's no denying that this is an outdoorsy, casual backpack. While it will fit in al fresco situations and at cafes and shops in the towns and villages surrounding hiking destinations, you won't be slinging this around a fancier restaurant for dinner. Or, if you must, you should tuck it under the table so you don't wrinkle the chair covers. So while it doesn't sport the sleekest aesthetic, it looks like exactly what it's designed for—a day-hiking backpack.
It is pretty comfortable, depending on your size. With the rigid frame sheet, users with shorter torsos will likely feel the back panel pressing below the waist and may not find the hip belt hits at the right spot. However, the shoulder and sternum straps are adequate to carry what fits inside a 20L bag, especially as you drink from the hydration bladder and, presumably, lighten your load as you get tired.
Inside The Pack
Inside the Apex 20, though, we're going to nit-pick a bit. Let's start with places you can stash your gear around the bag.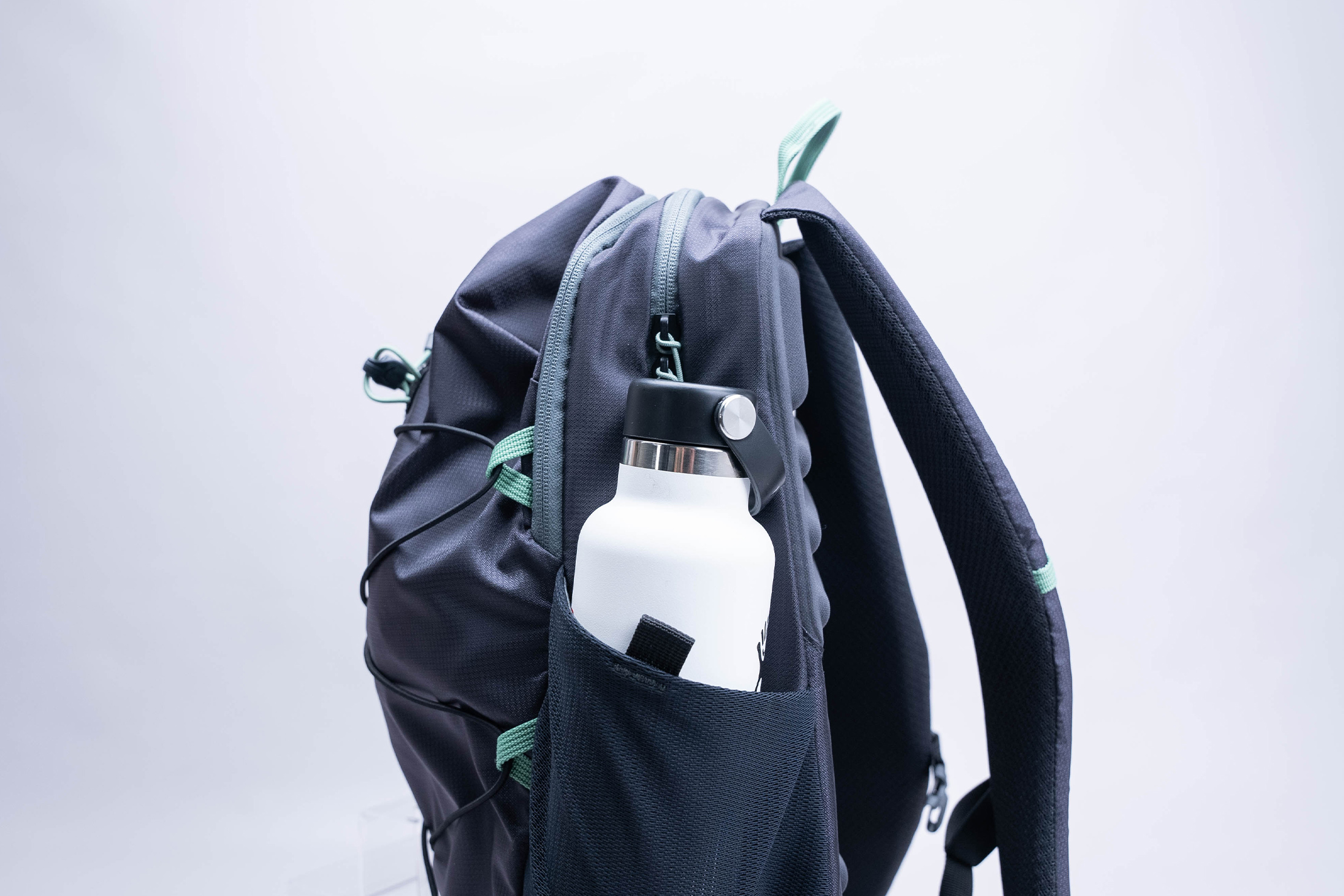 On either side, stretchy mesh bottle pockets topped with snug elastic hold your bottle tight. There is also a small webbing tab at the top to pull it open, and these travel water bottle pockets have no problem accommodating whatever size container you want to hold inside. So if you're heading out for a long, hot hike with family or friends, you can offer to carry hydration for everyone, as long as you don't mind being the group camel.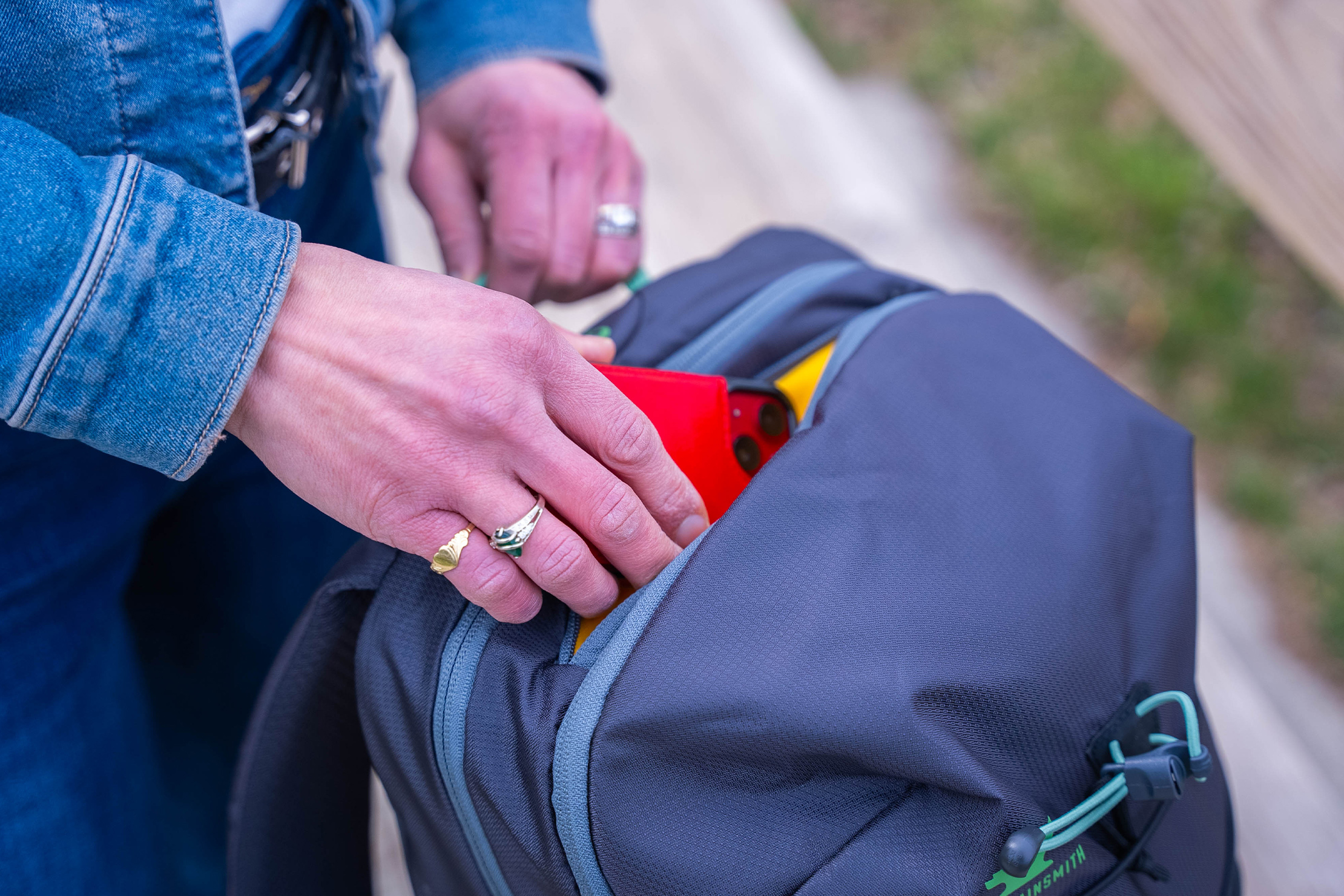 Atop the bag is a shorter zipper that opens to reveal a softly-lined quick-grab pocket. It easily fits a phone, sunglasses, and even your AirPods or hand sanitizer. However, what it can hold isn't the problem; what happens when you load it up is the issue.
Remember we mentioned that the fabric is extremely lightweight Robic nylon? Well, it seems so light that it can't support the weight of what you stash in this pocket, even if it's just a phone. Putting gear in here sags down the top of the bag, and the front compartment compounds the issue.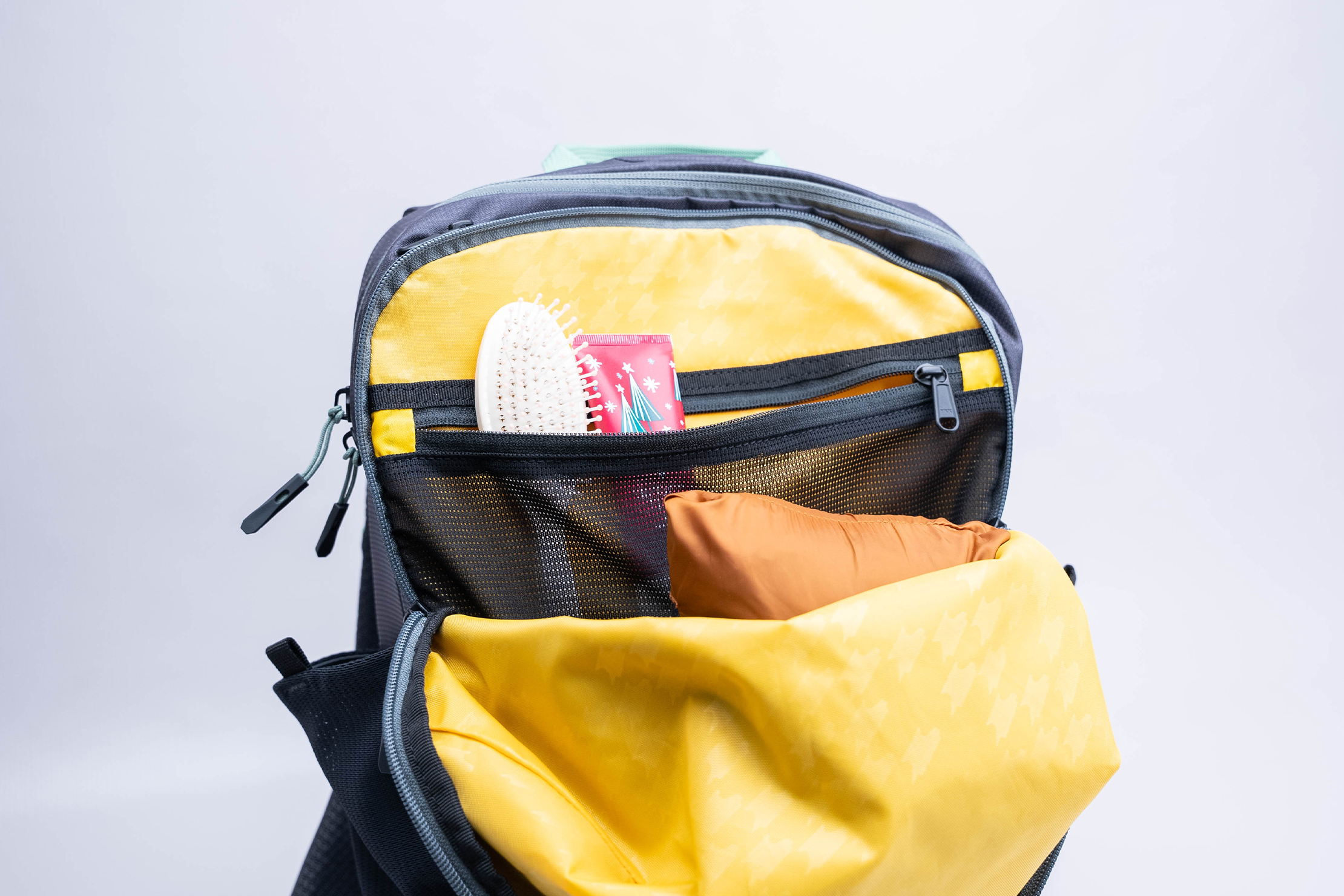 That front section opens via a dual-sided U-shaped zipper that runs from about the first bungee loop on one side to its mate on the other. You'll find Mountainsmith's signature gold liner when you open it, so it's easy to see deep into the bag. That's helpful since this front compartment runs quite deep, all the way to the bottom bungee, which is almost the entire height of the pack. So you can fit quite a bit in here and put it to use organizing your gear. Maybe you want to pop a swimsuit and flip-flops in here (in a dry bag, of course!) in case you stumble upon a forest stream or waterfall and want to take a dip. Or maybe this is where you store potato chips for your midday lunch so they don't get squashed.
What you may not want to do is put too much in the wide zippered mesh pocket at the top. It's hanging from the front side of the quick-access pocket, which, in turn, is attached to another mesh pocket in the main compartment.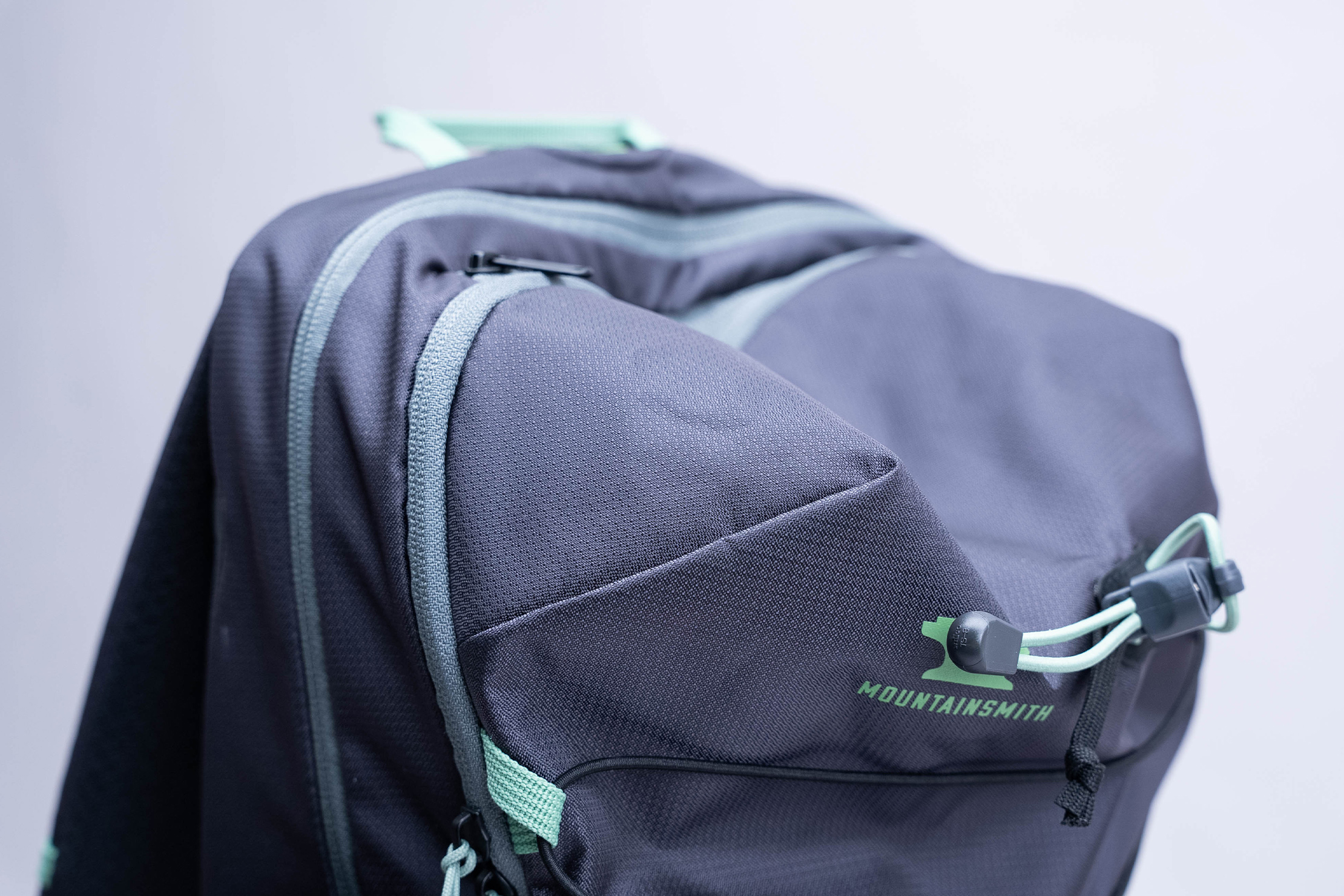 When you unzip both the front and main compartments, the narrow section in between (which includes the quick-access zipper) supports three pockets. So when you pack them, the entire top of the bag collapses inward. It doesn't take much for this to happen, either. Putting a phone and a wallet in any of the three pockets will pretty much do it. Needless to say, we prefer to use one pocket and take care not to overload it. The sagging interferes with zipping and unzipping all three areas, so we just didn't find it worth the hassle.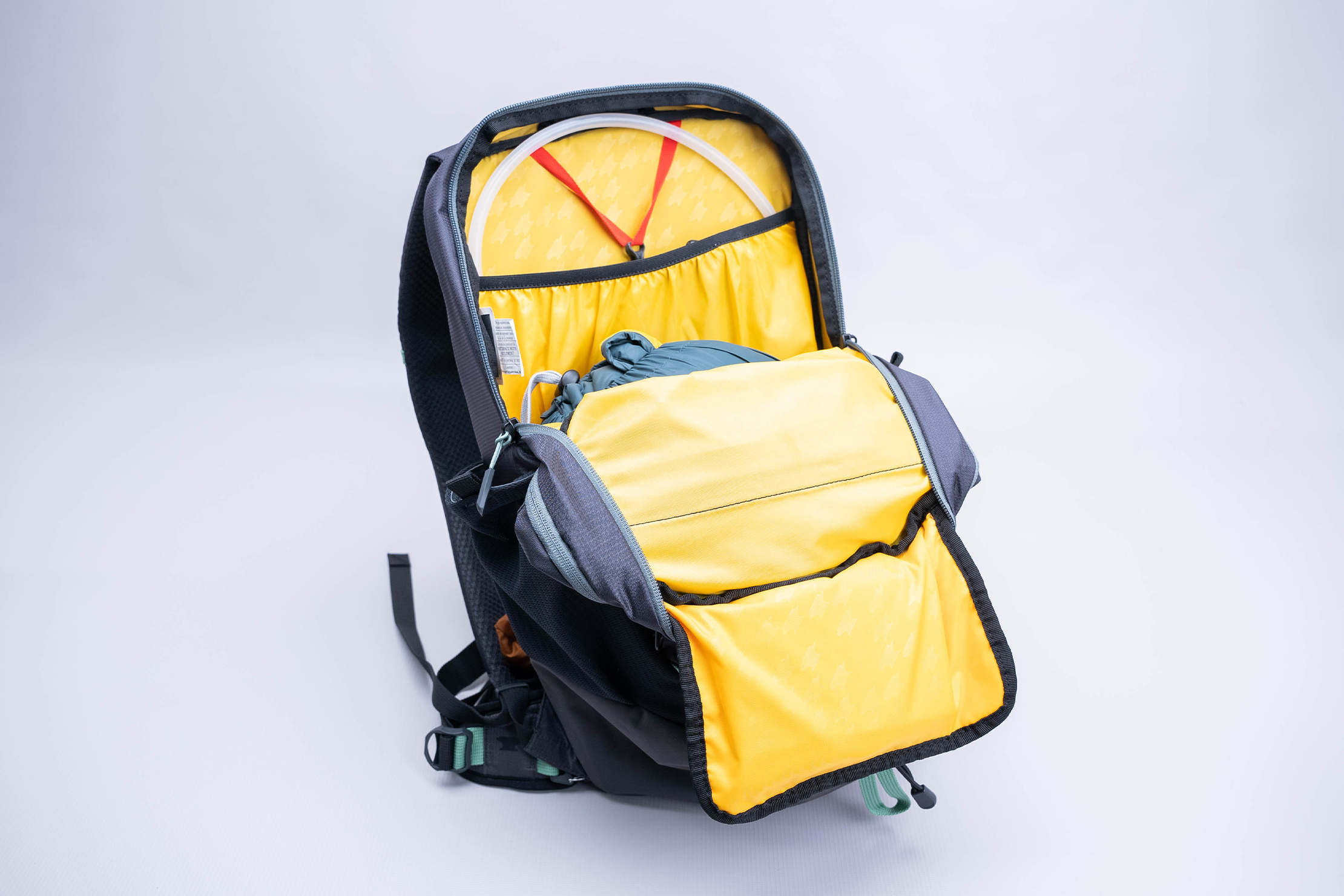 OK, enough griping. Onto the main compartment! It opens via a dual-sided zipper running from the bottle pockets on either side of the bag for a spacious opening where it's easy to slide in a soft-sided cooler, a packable jacket or hoodie (or three!), a picnic blanket, a travel towel and more.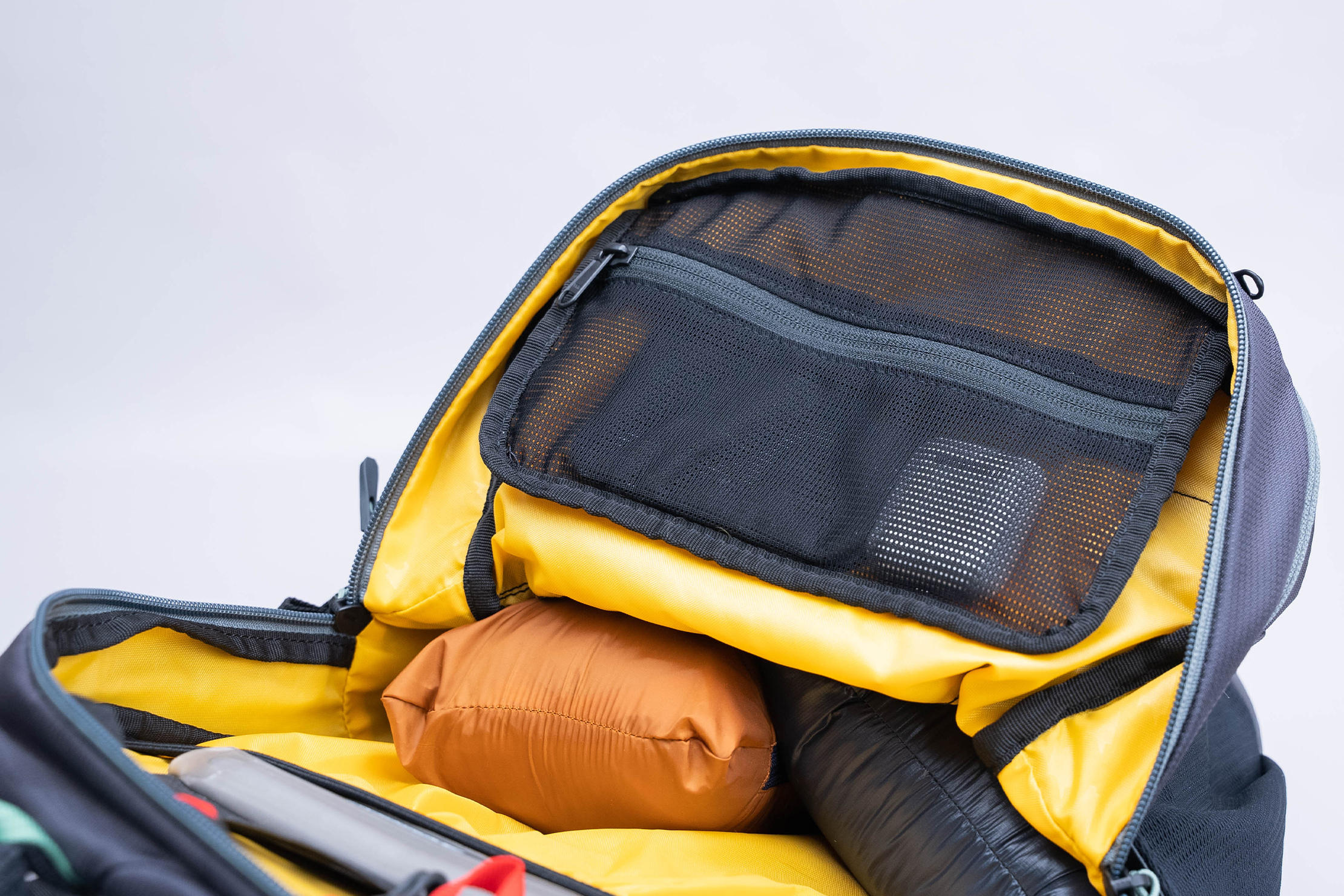 As mentioned, a zippered mesh pocket at the top is the exact size and shape of the top quick-access pocket. Mountainsmith calls this the Inner Sanctum™, yet we don't think it's so ground-breaking as to be worth a trademark. It's a zippered pocket, so you don't have to scrounge at the bottom of the bag for small gear. Many brands do it, and we think many do it better than the execution on the Apex.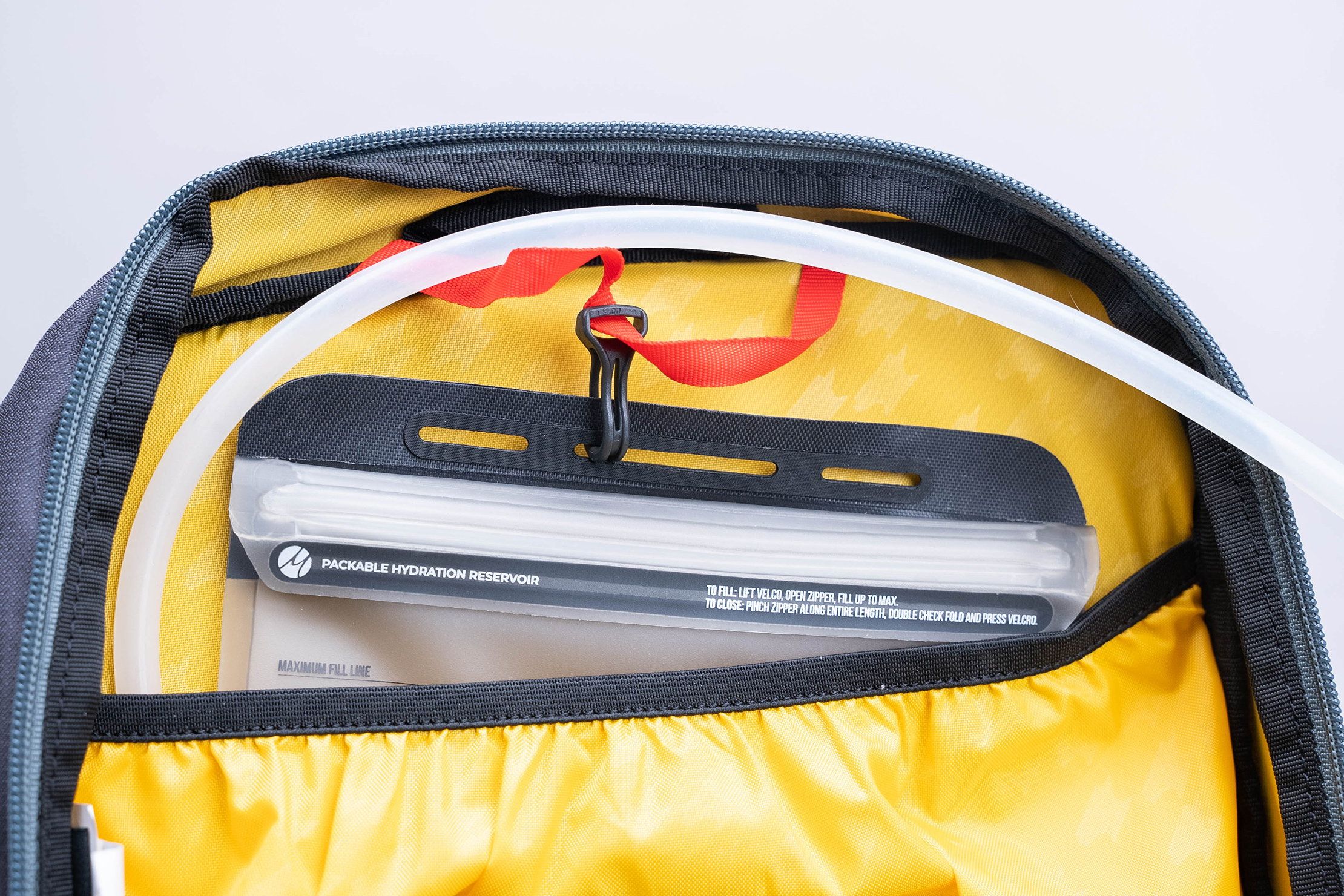 On the opposite side is a liner pouch topped with elastic to slide in a water bladder. A clip at the top slides along a thin V of red webbing to hold it upright. Centered above the hook is a pass-through for the tube, which must go over a piece of nylon before exiting under a flap on the back panel to ensure water doesn't leak into your bag if you get caught in the rain when not using the bladder sleeve. The flap is marked with an H2O icon on the back panel to indicate why it's there.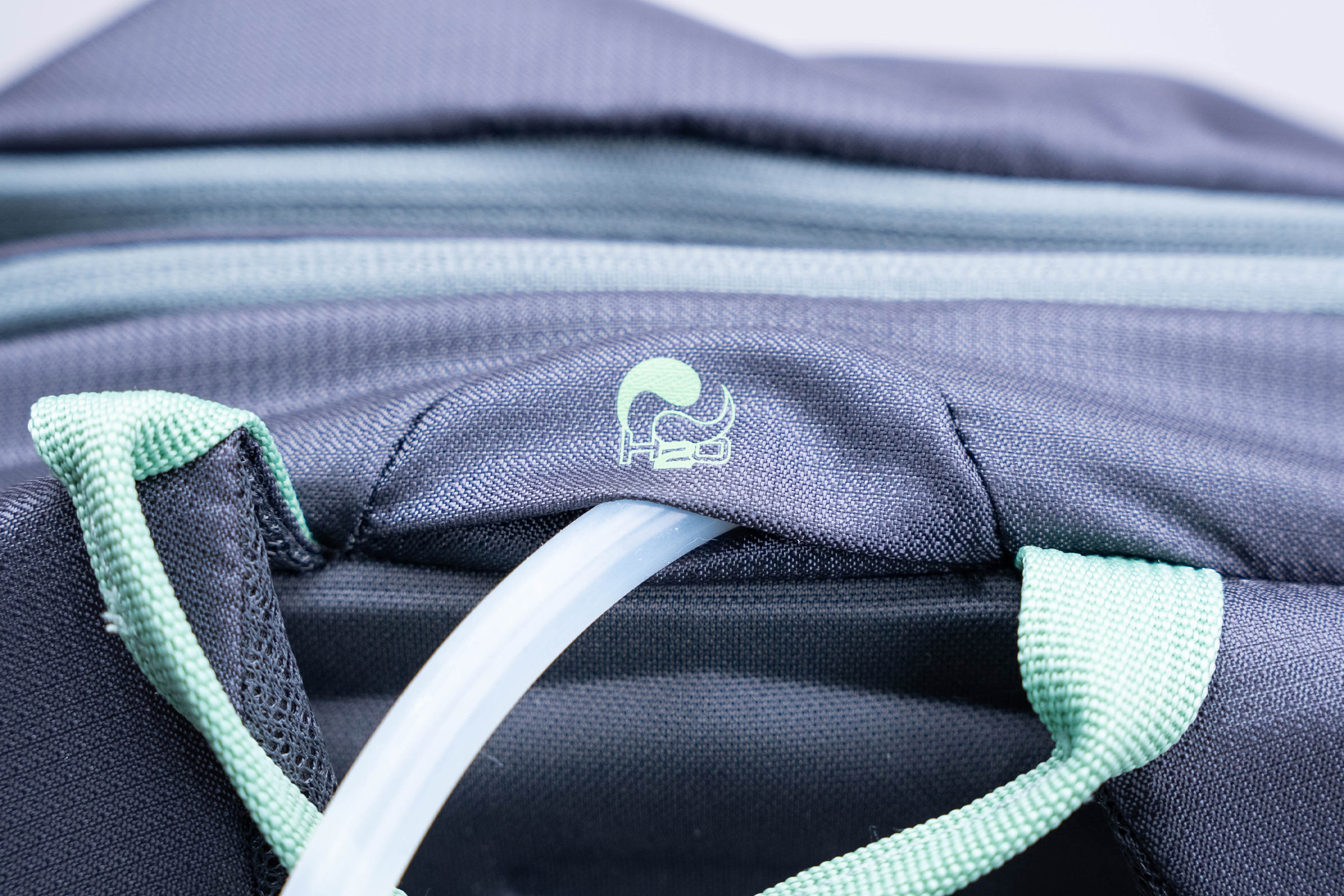 In a pinch, you can also slide a laptop in this pouch, though the only padding is on the back panel, so you may want to use a protective case or sleeve for added protection.
However, this bag isn't meant to be locked away in a commuter train and office, so head out into the great outdoors and start exploring. If you pack it right—using pouches instead of the hanging pockets to hold smaller gear, except to perhaps keep your phone or point-and-shoot camera handy to snap a shot of a passing deer—we think you'll find it a pleasant hiking companion and one you bring with you on adventures for years to come.
Usage Timeline
Initial Usage
Condition: Excellent
Shoulder straps padding seems really comfortable
Interesting design of back panel with horizontal panels and ridges
Loving the Phantom colorway and its seafoam green accents
2 Weeks of Use
Condition: Excellent
Stuffing main and front compartments keeps top pockets from sagging
Hydration bladder and tube work well with dedicated pass-through and pouch
Top elastic toggle difficult to depress
Access the Pro Community Discussion
Get your questions about the Mountainsmith Apex 20 answered from our team and the Pro Community right here on the page. Plus, join discussions with other members about gear, guides, and more.
Other Bags & Luggage Reviews