Matador Freerain22 Waterproof Packable Backpack Review
Matador's Freerain22 Waterproof Packable Backpack is bristling with features that betray its packable nature—in a good way.
Our Verdict
Unlock the Pro Summary
Save time. Get access to brief summaries of our reviews so you can browse and make decisions more efficiently.
Pros
Comprehensive harness system for a packable bag
Very secure rolltop and water-resistant design
Well-made with quality materials
Cons
Lots of straps to manage
Rolltop accessibility plus a zipper slows down access
Can be difficult to cinch compression sack after packing up
Recent Pack Hacker Video
Technical Details
Capacity

22l

Weight (oz)

10.6 oz (300.5 g)

Denier

70D

ROBIC® nylon; 50D nylon mini ripstop; 210D bonded nylon thread

Dimensions

19.5 in x 10.5 in x 7 in (49.5 x 26.7 x 17.8 cm)

Unpacked | 3.75 in x 3.75 in x 5.75 in - Packed

Notable Materials

ROBIC®, Ripstop Nylon, Nylon, Hypalon®, YKK Zippers, YKK Buckles, Polyurethane

Manufacturing Country

Vietnam

Warranty Information
Buying Options

$100.00
Full Review
Get up to 20% off Matador • Join Pack Hacker Pro
Whenever we're planning a trip, one of the most fun/stressful parts is picking out which bag to travel with. Do we one-bag it and go for the large travel backpack? Do we bring a daypack to try and cut down on overpacking? Or do we go for an outdoor adventure backpack and roll with it whether we're in the city or in the woods? You can also consider doing combinations, not to mention extras like slings and pouches.
There is an alternative solution: packable bags. They're bags you can bring alongside your main bag that don't take up too much space when compressed. In a way, you can think of them as pack hacking manifested in bag form.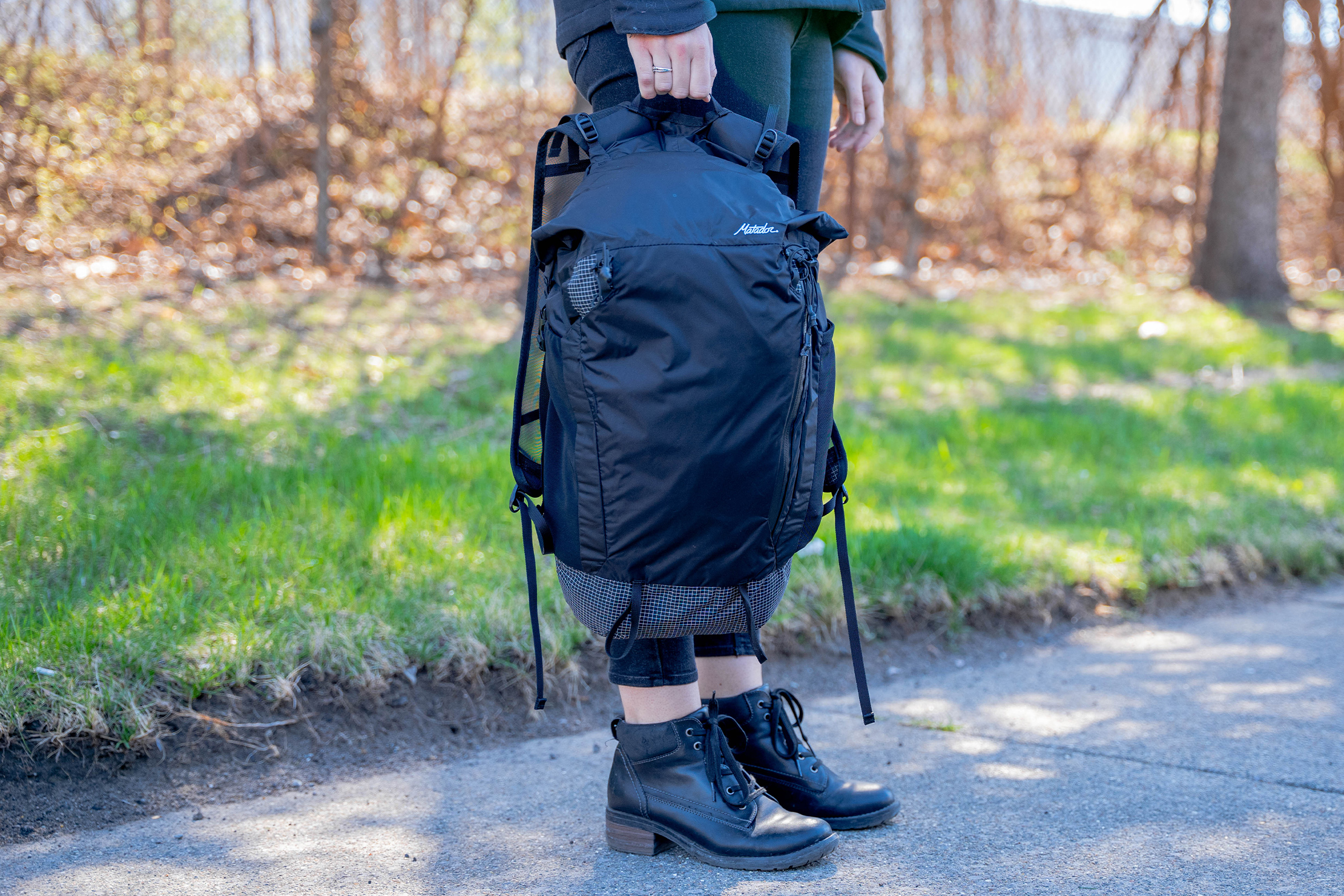 Among these packable bags is Matador's Freerain22, and it's one of the more feature-rich ones out there. It's pretty much expected for packable backpacks to have less of the creature comforts of typical backpacks. Features usually left out include a structured back panel, liner fabric, and straps that aren't shoulder straps.
Yet, the Freerain22 doesn't feel any less compromised than its full-fledged counterparts. It has a complete harness system that includes load lifters. Additionally, there are attachment points for hiking equipment, dual water bottle pockets, and a secure rolltop opening.
That all sounds great, but there's bound to be a catch or two, right? Well, let's find out and see.
Materials & Aesthetic
As far as packable bags come and go, the Freerain22 does an astonishing job of not looking like one. Once we have it fully loaded up, it looks like a full-fledged outdoor backpack, the kind you'd expect to have tools and equipment hanging off it. It has a relatively tall and narrow profile. Part of that comes courtesy of the rolltop layout of the bag. On the whole, a tall and narrow profile is ideal for hiking where you want to keep things more centered.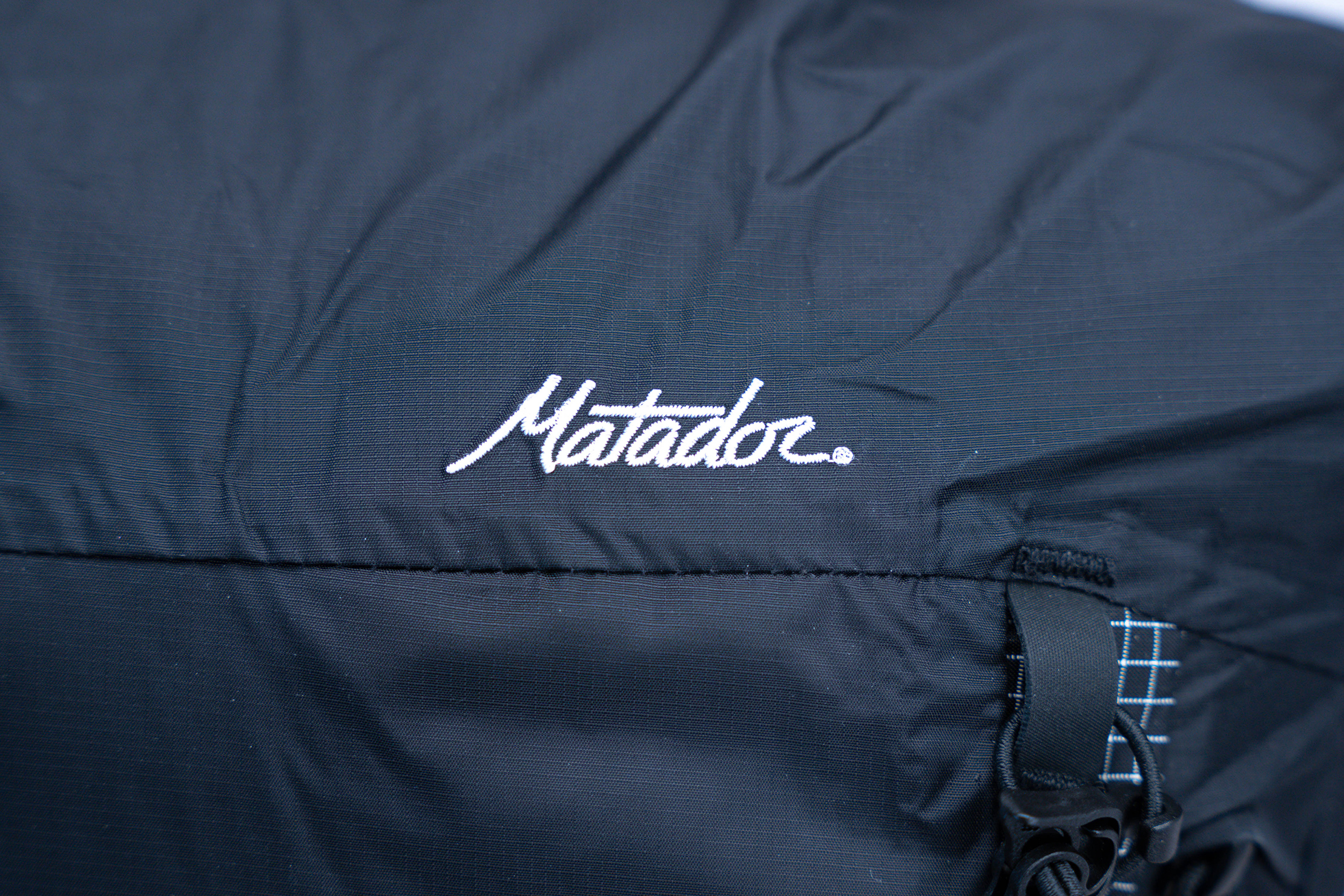 Mind you, the Freerain22 does not have the boisterous kind of outdoor styling that may come off as gaudy to some. Rather than doubling down on the outdoorsy nature of the bag, Matador opted to keep the looks sleek and subdued. It stays true to the brand's usual choice of black-on-black fabric, something we definitely approve of.
There are two main fabrics on the Freerain22. At the bottom is a 70-denier ROBIC nylon ripstop with PU waterproof coating. At the top, you get a 50-denier nylon mini-ripstop with UTS waterproof coating. As the name suggests, the latter fabric has a more subtle ripstop pattern, unlike the former, which fully shows it. Despite the mention of waterproof coating, the Freerain22 isn't fully submersible, so we wouldn't dunk it in a river. Raindrops and splashes, though, will bead off nicely.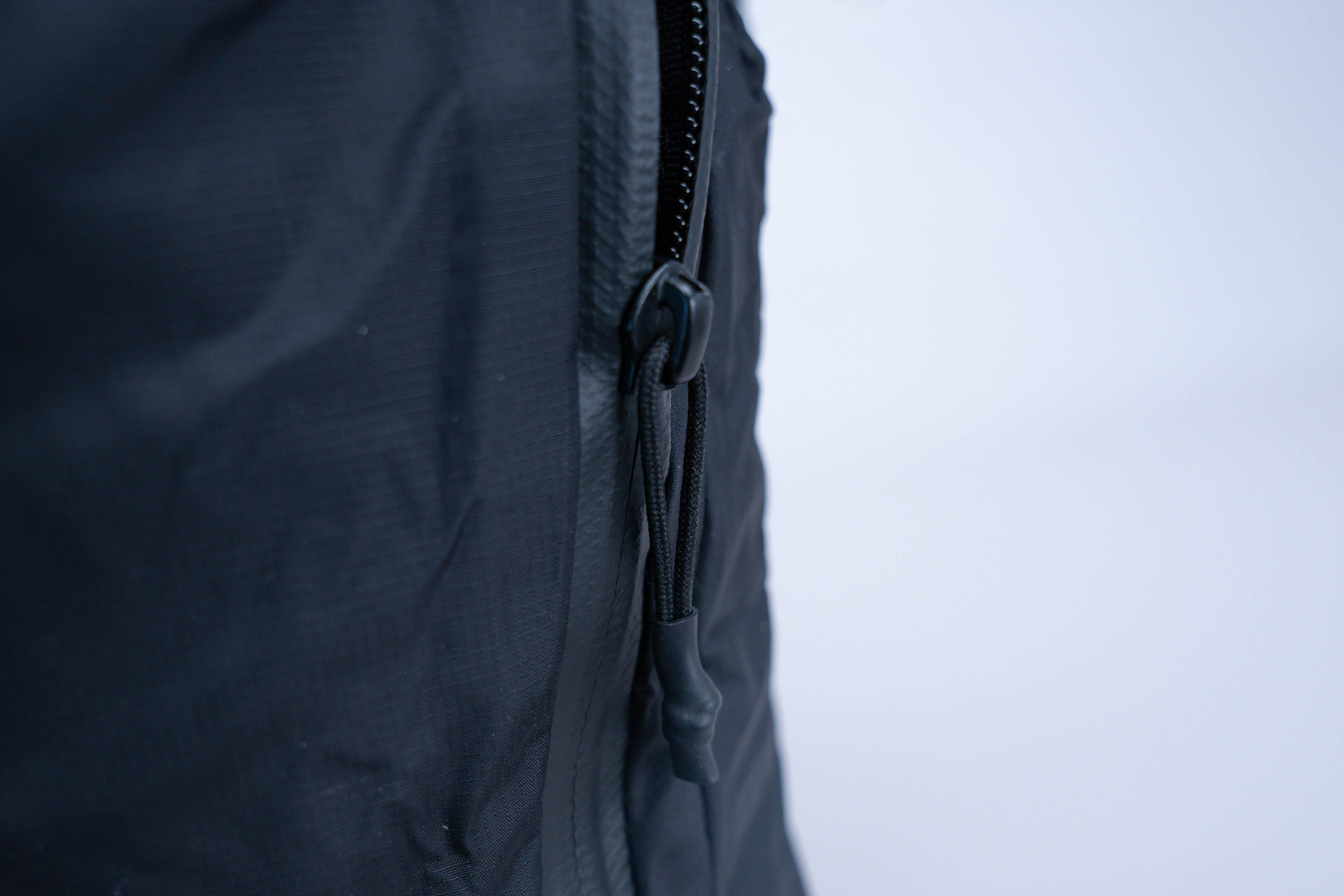 For those unfamiliar with ripstop fabric, the basic idea is that this checkered pattern stops rips (hence the name) in case one happens in a grid. In return, ripstop fabric is usually much lighter than, say, thick ballistic nylon. This has its obvious advantages for packable bags, especially in the Freerain22, where it needs to be both compressible and durable.
The Freerain22 features other noteworthy ingredients, including No. 5 YKK PU-coated zippers, YKK and Duraflex hardware, and Hypalon loops. This all-star cast of materials, as well as the quantity of them, really makes the Freerain22 feel uncompromised despite being a packable bag. Now, let's see if that continues when we get to the harness system.
External Components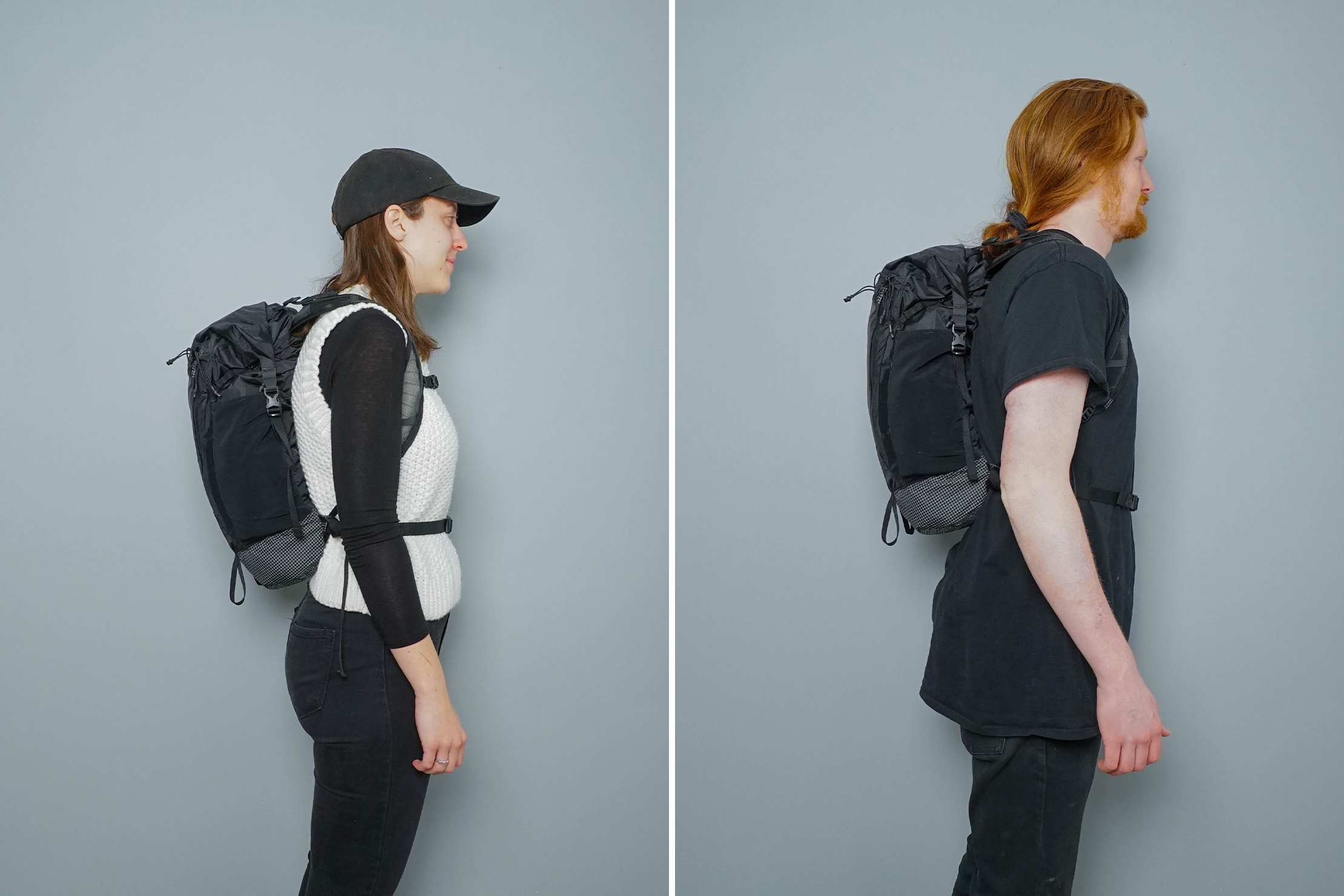 Arguably the most eye-catching feature of the Freerain22 is the pair of translucent shoulder straps. It looks pretty neat at first glance. However, that's quickly followed up by the thought of, "Oh wow, that doesn't look very supportive." That's where you'd be wrong, though not completely.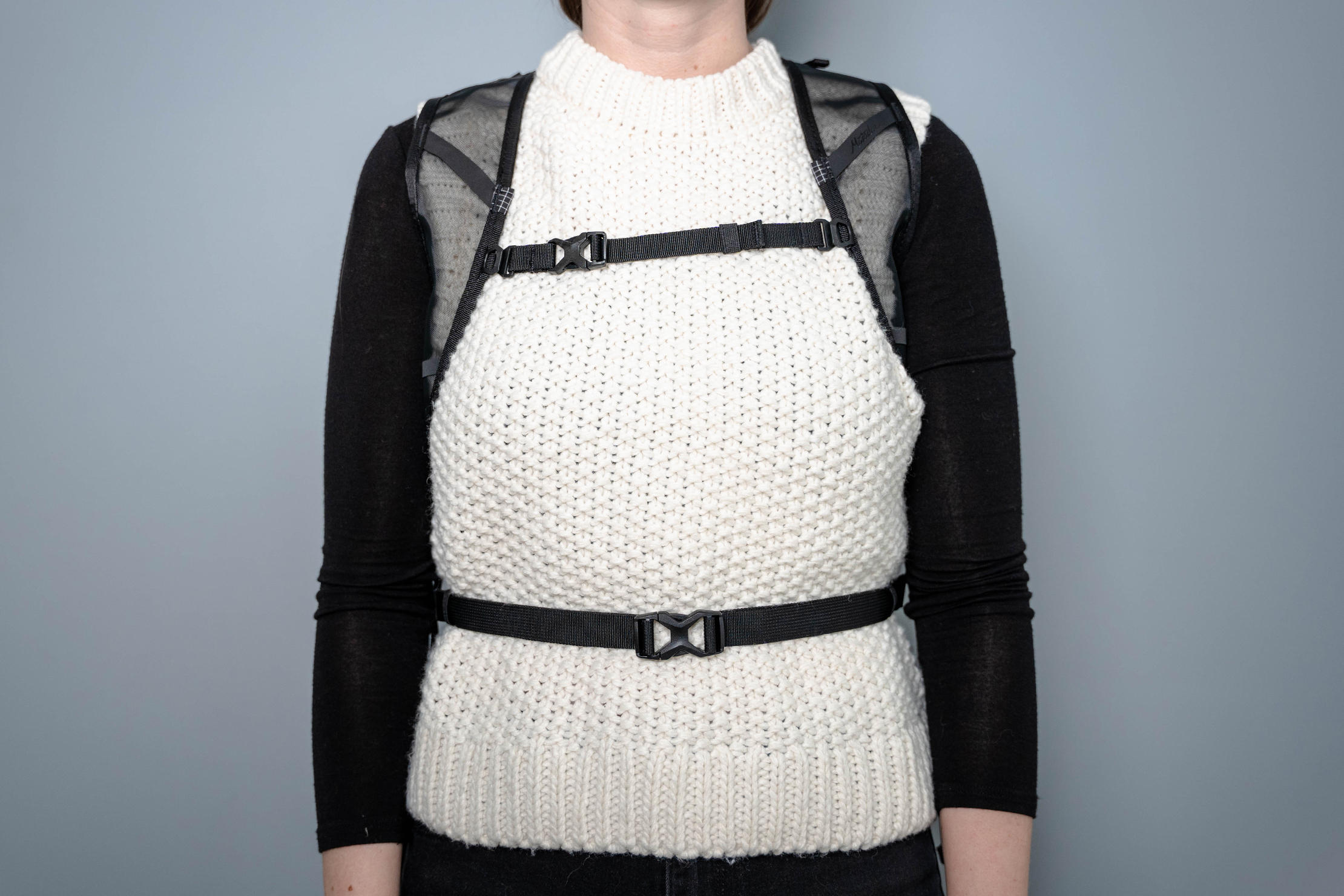 The shoulder straps have no padding. Instead, the straps are made of very thin mesh material. Not the stretchy kind, mind you; the mesh here is a kind of stiff-feeling nylon. Surprisingly, despite the lack of any padding, the wear is pretty comfortable. Part of that is because the straps have a decent amount of width to distribute the weight across the shoulders. Additionally, by sheer thinness and mesh-iness, heat has little to no problem escaping.
The shoulder straps aren't bare, either. There are soft-feeling Hypalon loops for attaching accessories and a removable sternum strap. The sternum strap is mounted on a daisy chain of loops on either side through clips. By all accounts, its mounting is secure. However, we had one moment where the right side came off. The clip has a fair amount of lip that should prevent this, but it could still happen under the right circumstances.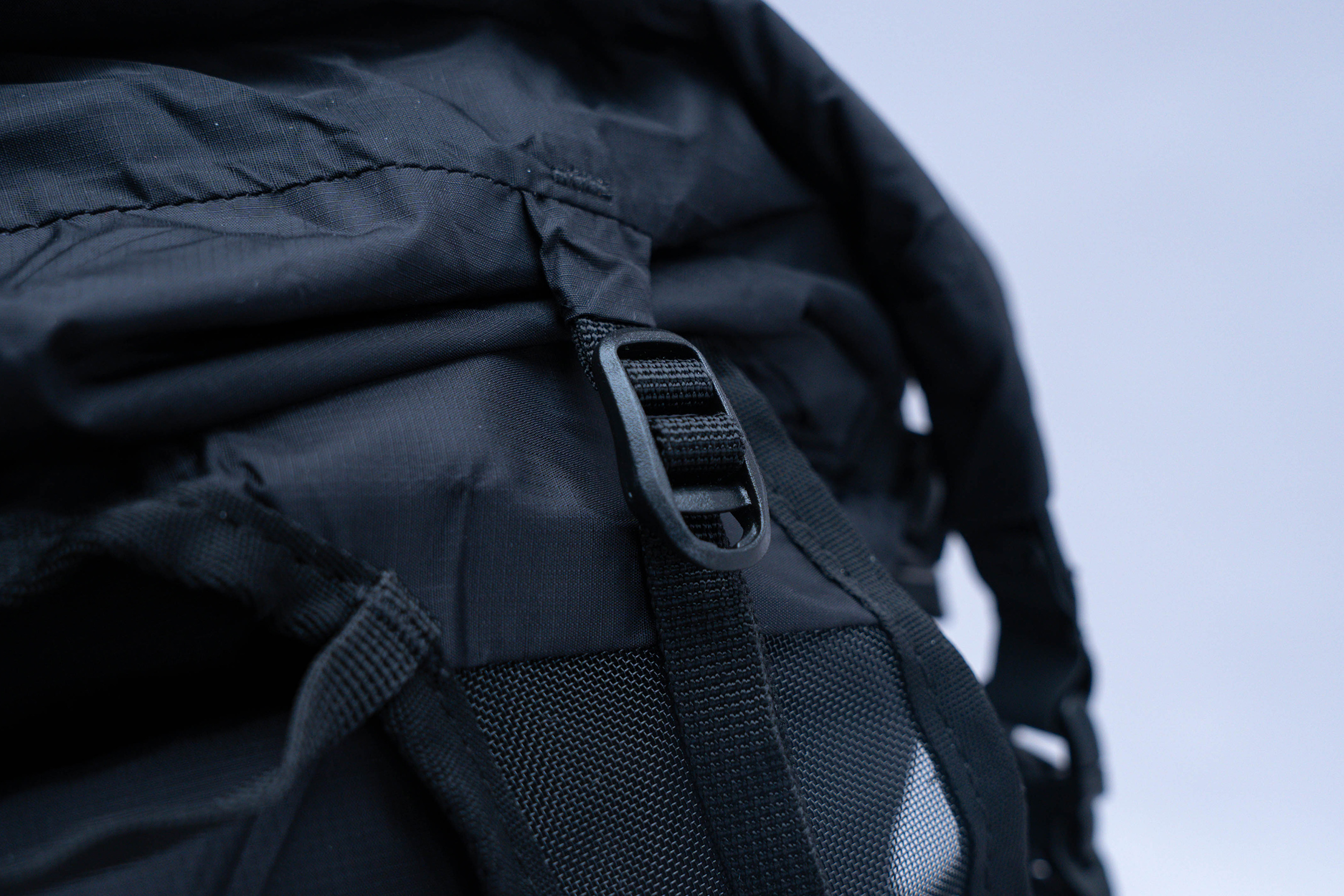 There are also load lifters on each of the shoulder straps. We only usually see this on bigger bags like Aer's Travel Pack 3, so having it on a 22-liter backpack may come as a surprise. However, given that this is an outdoor backpack—and a relatively unstructured one at that—this is a very welcome feature that keeps the wear feeling more dispersed.
The Freerain22 also has a removable hip belt that attaches to two built-in loops near the bottom. The strap itself feeds through the loops and threads into itself. There are no fancy clips or VELCRO here, but it works fine and feels just as secure. We find hip belts like this one to be unnecessary for day-to-day use, though they offer extra stability if you're doing something more active like hiking or biking.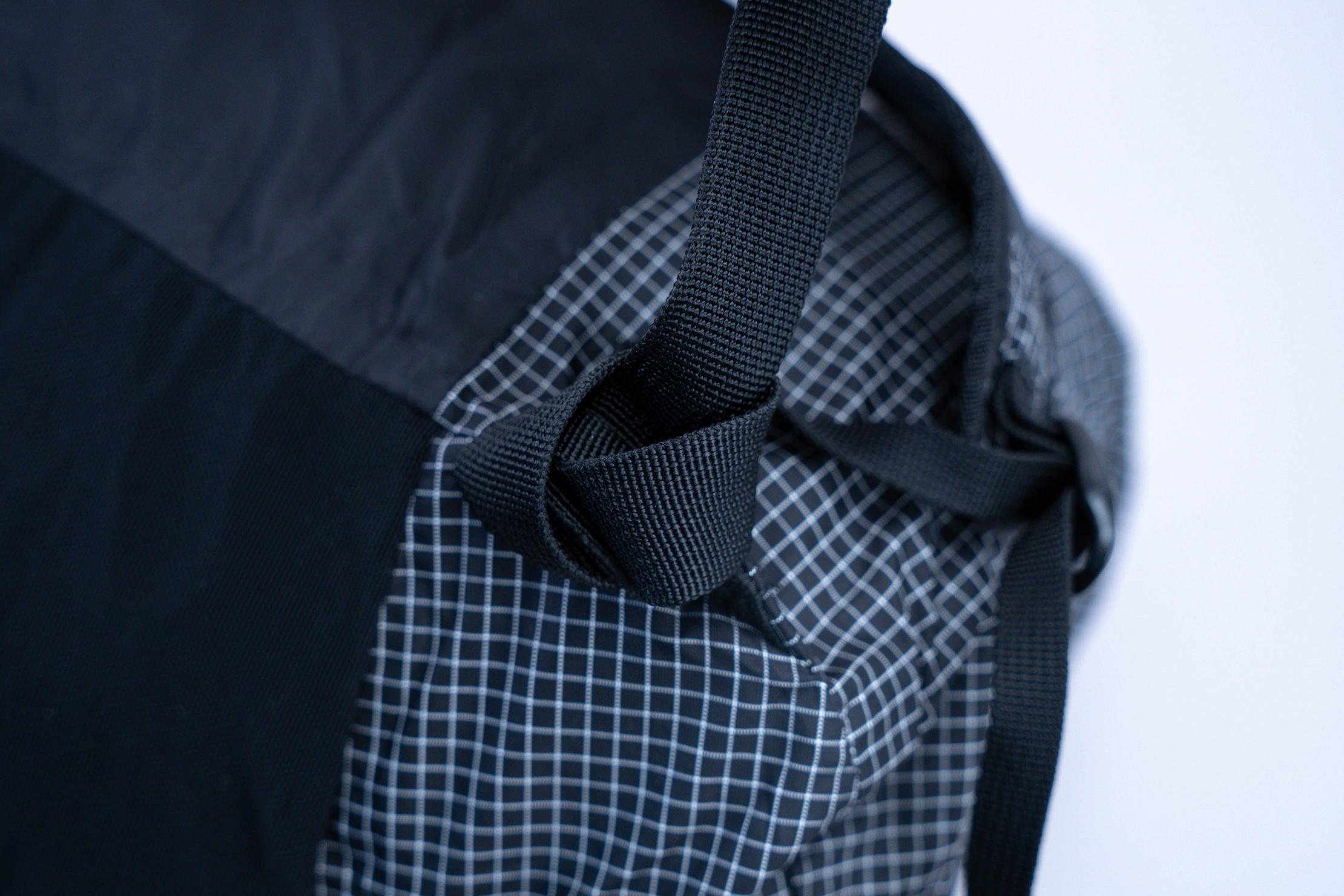 In general, the fit is very secure thanks to the number of straps Matador was able to get on the Freerain22. For a packable bag, it's very rare that you even get a hip belt, let alone load lifters. The negative with all these straps is that you get a bit of an unkempt look, though there are strap keepers on the hip belt and sternum strap to keep the mess to a minimum.
At the front are two dangling loops at the bottom and two cinched loops at the top. These are for attaching long and bulky gear like hiking poles and ice axes. In case you're thinking of fitting other types of gear like a tripod, the cinch cord has a lot of adjustment. However, your mileage may vary depending on how well you can fit the other end into the corresponding bottom loops.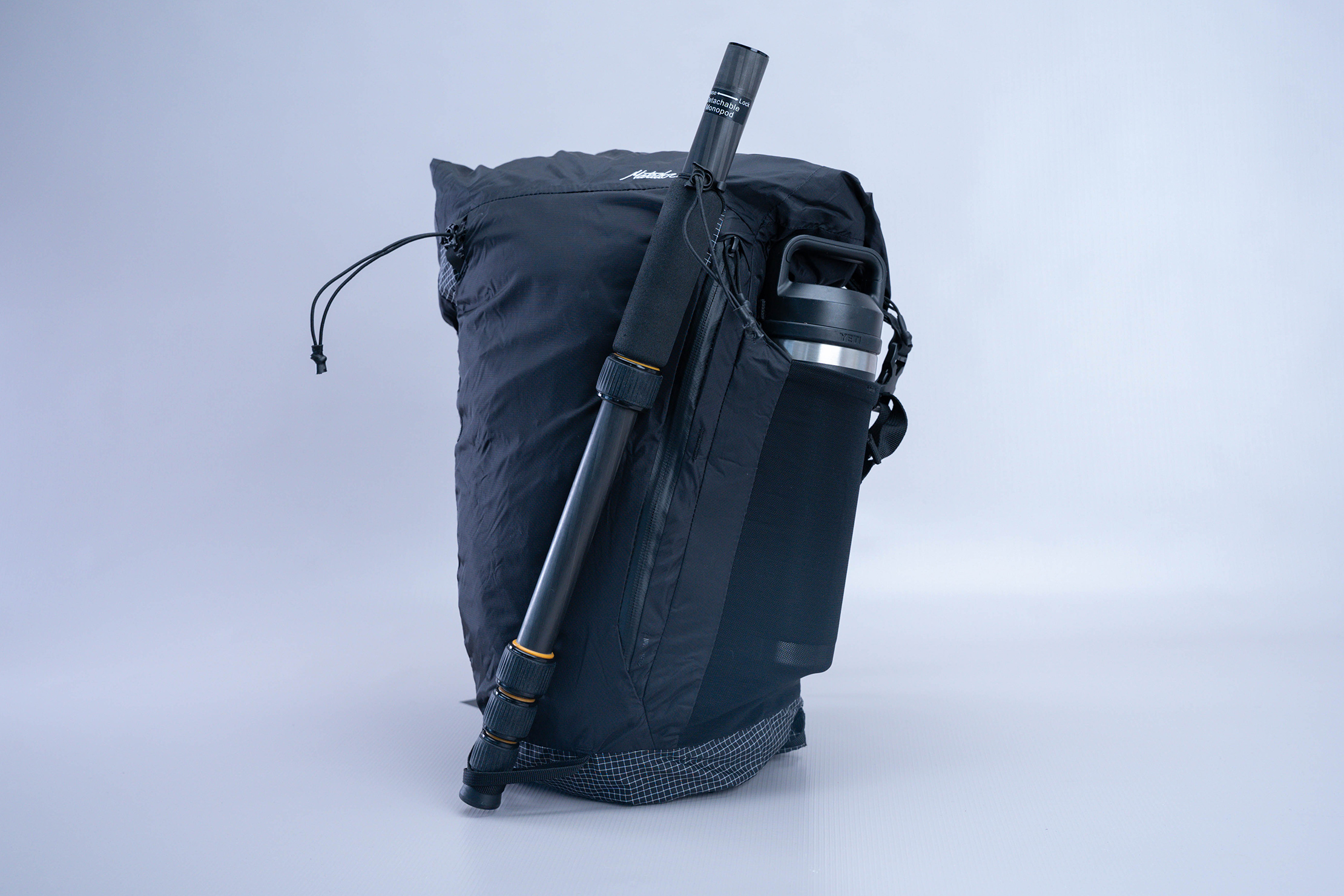 Lastly are the two water bottle pockets. They're tall and use stretchy mesh, so they stay flat when unoccupied. Our 18-ounce YETI Rambler fits snuggly inside, which also means it's quite secure and at minimal risk of falling out. Anything bigger, though, likely won't fit.
Inside The Backpack
First up is the front pocket. It's a side opening type, guarded by a reverse coil zipper. It has a ton of room, again, considering that this is a packable backpack. We don't have a problem fitting our everyday carry items like our smartphone, keys, and wallet. Despite having less structure than a non-packable backpack, our items don't jut out and create unsightly lumps.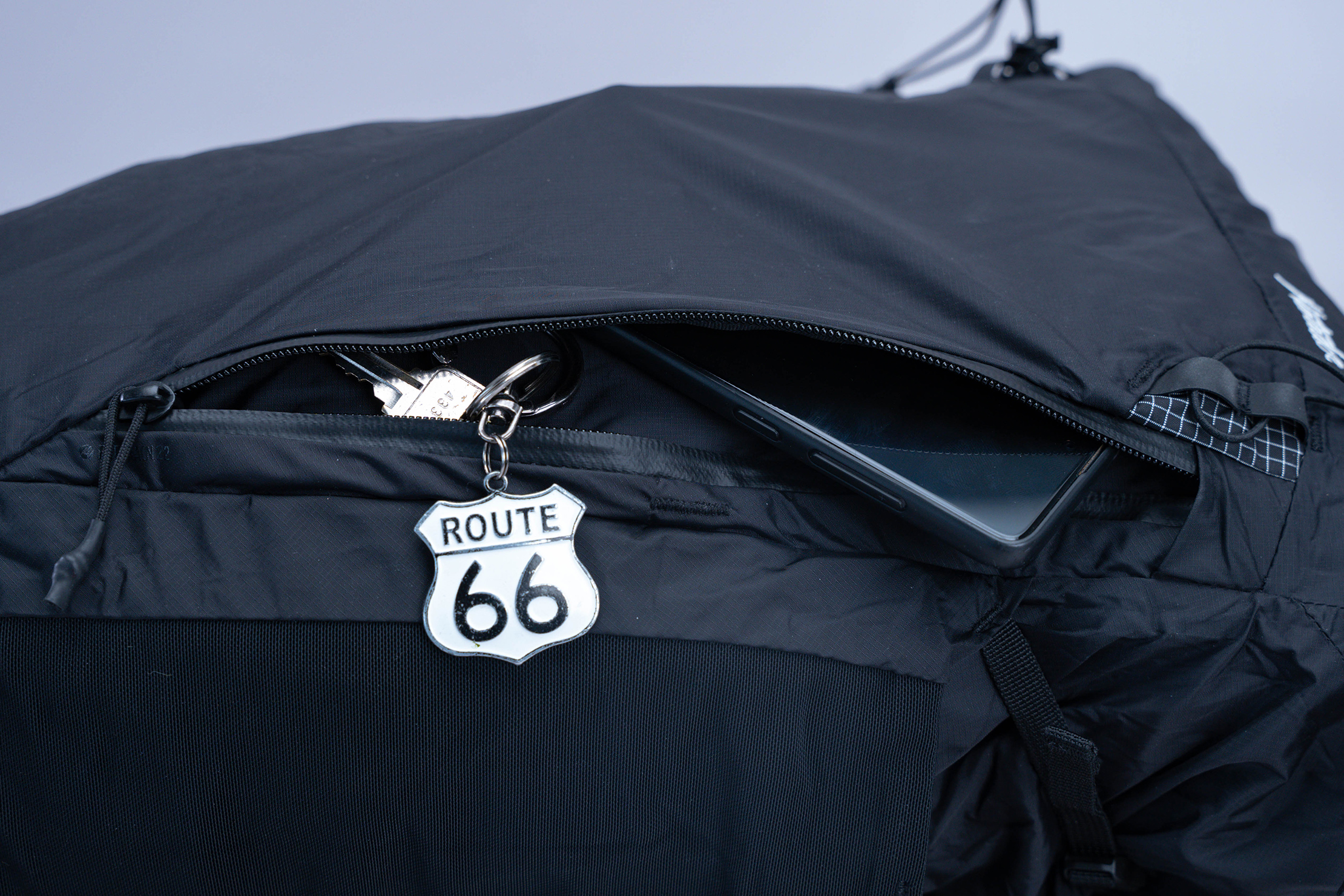 There's not much to see in the front pocket. On the other hand, this means there's not much to complain about, either. Not only is the interior roomy, but the space is also spread widely, so you can fit something like a notebook in case you're the type to write analog-style. If we were to nitpick, we'd say the interior is dark since it's all black, though we understand that an additional layer of bright liner would add bulk.
Now we move on to the main compartment, starting with how its rolltop works. This isn't our first encounter with a rolltop by any means, but we often find each implementation different from the next. On the Freerain22, the very edge of the rolltop is zippered, with a female and male half of a buckle on each side. Having a female and male half means you can roll the top and then clip it to itself. Or conventionally, you can roll, then clip each half to the corresponding other half found on each side of the bag's body.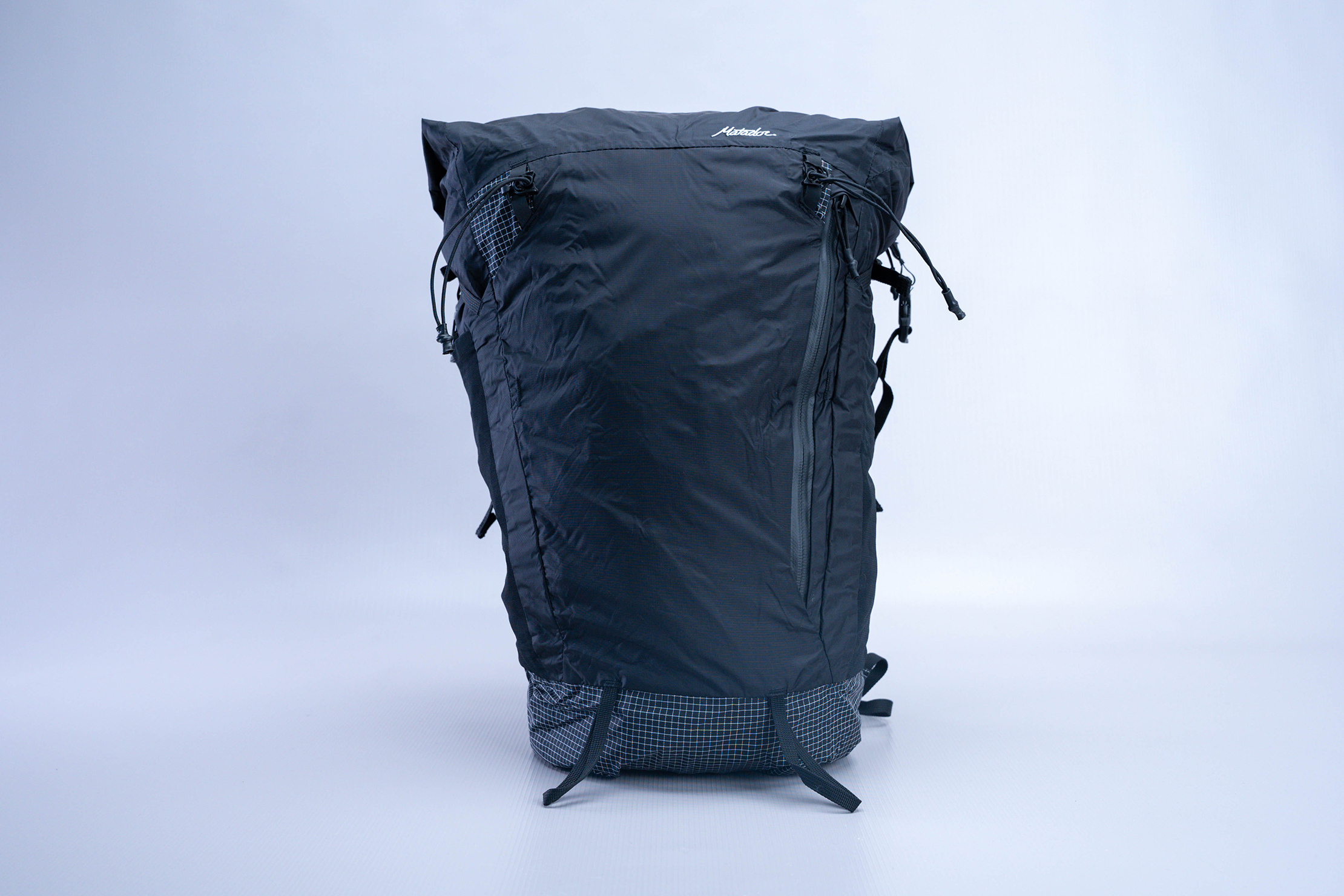 In our testing, we found that clipping the roll into itself was great for whenever we were in a hurry and needed to close the bag quickly. On the other hand, clipping into the side is best for a more secure carry. Tightening the strap of the buckles really brings the top down. Additionally, there are also two compression straps, one on each side just above the water bottle pockets. We don't use these as much as we thought we would, but they can be helpful if you want to minimize the bag's unstructuredness further.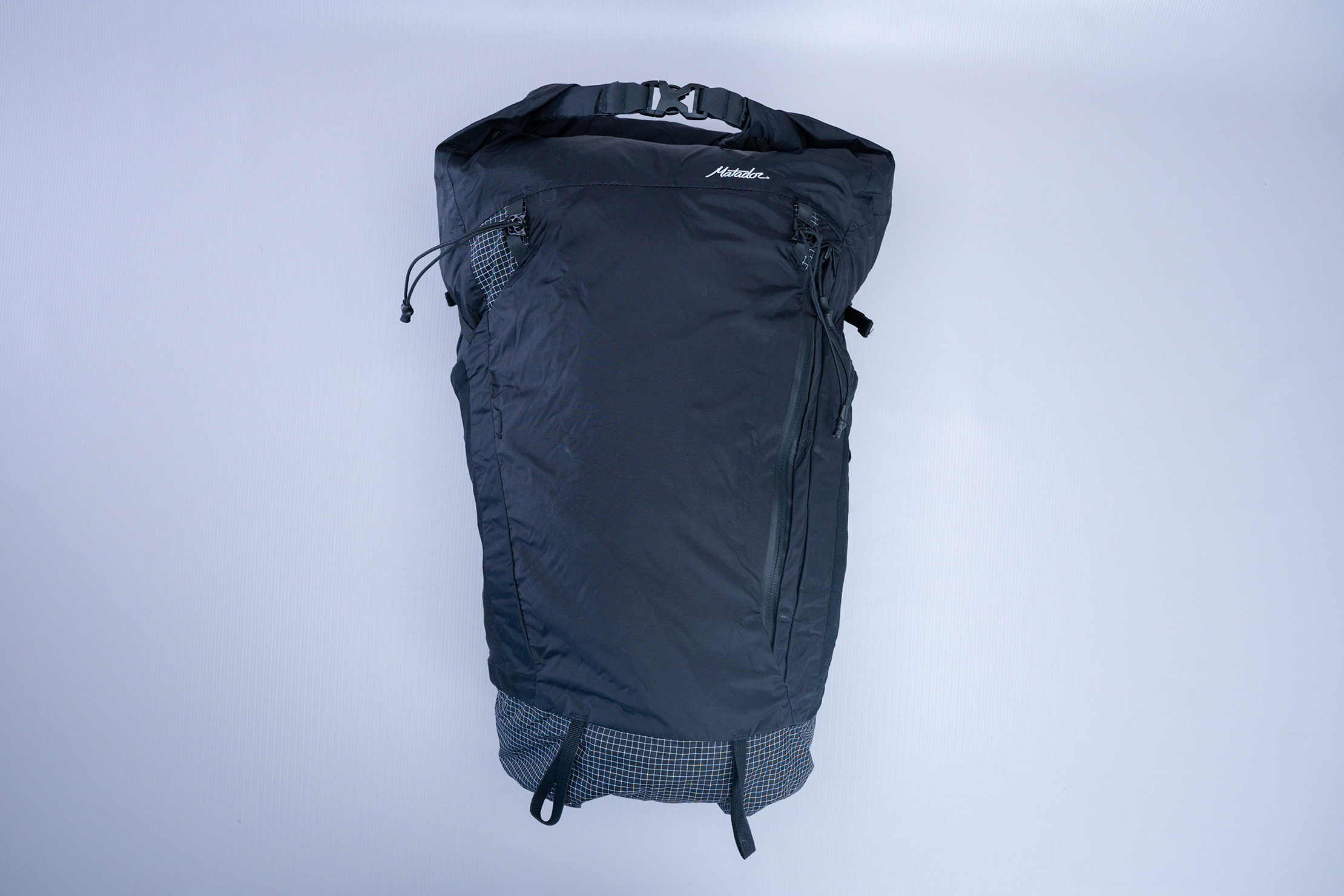 Inside we find an all-black interior with some noticeable seals around the seams. It looks like they're taped, though this isn't the kind of tape you'd use for arts and crafts; this is very much more purpose-built than that. They serve as a sort of last-ditch barrier in case any moisture comes through the seams. Whereas a layer of waterproof liner may serve a similar purpose, this is a space-saving alternative. Other than that, it's just an empty cavity to put items in.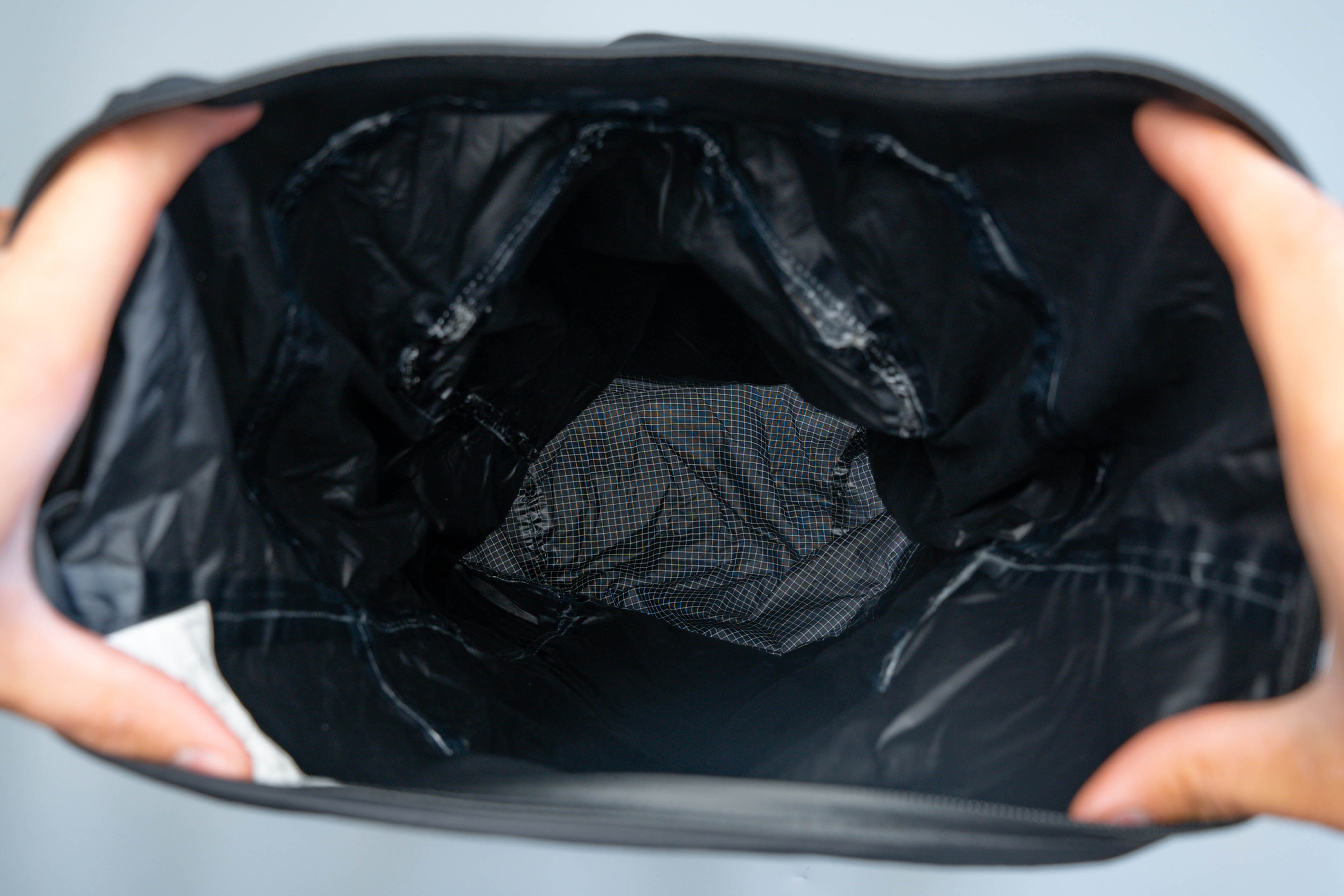 As a 22-liter backpack, you can fit a whole lot inside the Freerain22. We're able to stuff two packing cubes, a tech pouch, a jacket, and our sleeved 13-inch MacBook inside. Since the Freerain22 lacks a lot of structure on its own, our laptop acts as a stand-in back panel insert. We definitely recommend using a separate sleeve since the bag lacks internal cushioning for device protection.
The packing experience is what you'd expect of a rolltop: items go in from the top and stack on top of each other. You can really make full use of the 22 liters of space because you still have the zipper to secure the top even if you max it out and can't roll at all.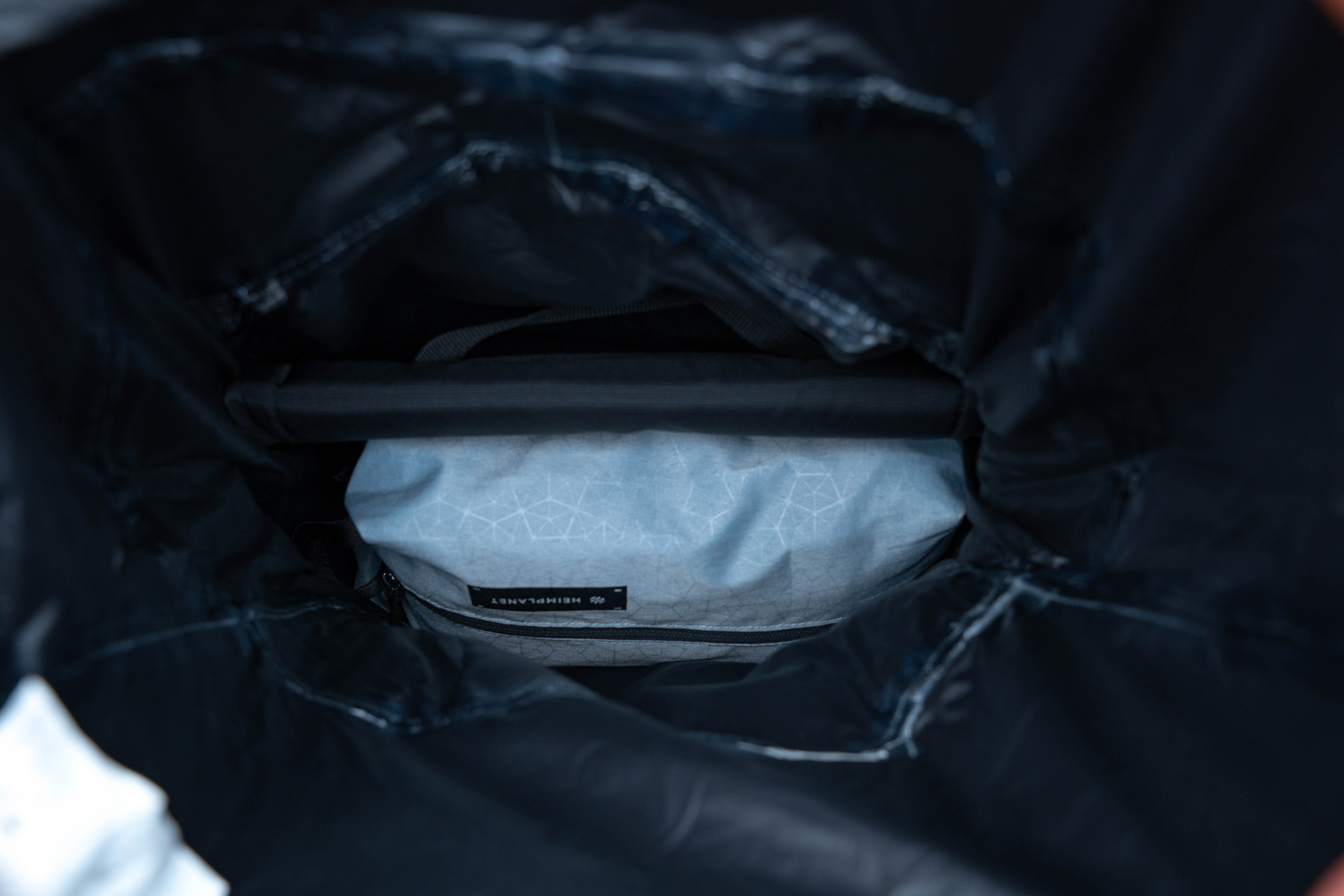 The recommended number of rolls is three. You can roll further, but then it starts eating into the shoulder straps. We find ourselves doing this a lot when we're not carrying that much but want to really tighten the roll as much as possible. Fortunately, this doesn't compromise carrying comfort all that much, especially if you loosen the load lifters.
Accessibility is not on the level of a clamshell or horseshoe-style opening typically found on other travel backpacks and daypacks, respectively. However, in return, you do get more adjustable volume and secure closure. Again, this clearly highlights the more outdoorsy design of the bag, where it sacrifices some day-to-day ease of accessibility.
Finally, let's get into how the Freerain22 compresses. It packs into a separate small mesh pouch. We're typically more fond of packable bags with pouches tethered to the bag itself. Better yet, there are packable bags that compress into their own pockets. However, given the rich set of features of the Freerain22, we'll let this small detail slide. That said, compressing the Freerain22 isn't as easy as we hoped it would be.
The procedure goes as follows: First, lay the bag flat while ensuring the many buckles and straps are also lying flat. Fold the bag into thirds lengthwise until it's as narrow or narrower than the pouch's width. Roll the whole thing as tightly as possible, then stuff it into the pouch.
The tricky part about this last step is that after you've stuffed it into the pouch, you have to hold it down. Meanwhile, you'll have to cinch the pouch's cord with your free hand. Needless to say, it's harder than it sounds, and we recommend either getting a friend to help or growing a third arm. It's not impossible to do alone, but extra help is appreciated.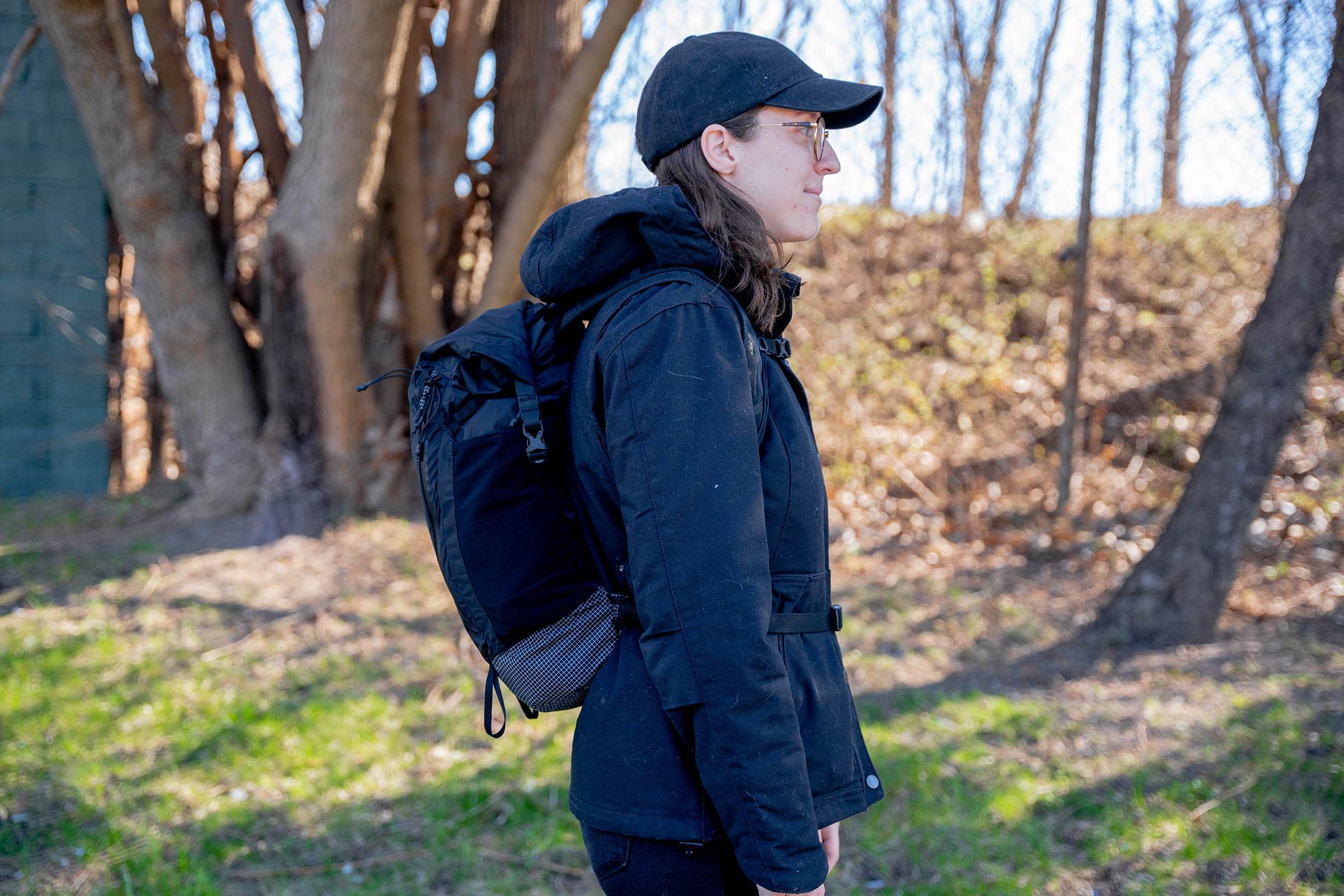 The Freerain22 is a good pick for anyone looking for an extra backpack to take on their adventure. There are just some adventures where an urban-focused travel bag wouldn't be suitable. Some sacrifices have been made in terms of packability, accessibility, and comfort. However, for the number of bells and whistles you get on the Freerain22, Matador did a very commendable job.
Usage Timeline
Initial Usage
Condition: Excellent
Doesn't look like a packable bag when it's fully deployed
Tons of different materials used despite the packable design
Compresses really well for its capacity
2 Weeks of Use
Condition: Excellent
Profile can get floppy if not fully packed out
Made with waterproof materials and coatings but not submersible
Water easily beads off the bag even in heavy rain
Lot a dangling straps; some have keepers, but not all
Access the Pro Community Discussion
Get your questions about the Matador Freerain22 Waterproof Packable Backpack answered from our team and the Pro Community right here on the page. Plus, join discussions with other members about gear, guides, and more.
Other Bags & Luggage Reviews