L.L.Bean Mountain Classic Cordura Pack Review
The L.L.Bean Mountain Classic Cordura Pack has a timeless style and plenty of open space for gear storage. We only wish the internal pockets were bigger.
Our Verdict
Unlock the Pro Summary
Save time. Get access to brief summaries of our reviews so you can browse and make decisions more efficiently.
Pros
Big outside pocket for more gear storage
Two external water bottle pockets
Durable CORDURA Nylon shell
Cons
Fabric welts can make it difficult to unzip pack
Mesh water bottle pockets stain easily
Some internal pockets are too tight for bulky gear
Technical Details
Capacity

22l

Denier

1000D

Dimensions

19 in x 11 in x 5 in (48.3 x 27.9 x 12.7 cm)

Notable Materials

CORDURA® Nylon, YKK Zippers, Duraflex Hardware

Manufacturing Country

Vietnam

Laptop Compartment Size

16"

Warranty Information
Full Review
Classics become classics for a reason—whatever it is they do, they do it well. When looking at the L.L.Bean Mountain Classic Cordura Pack, it's not hard to place where you may have seen something like it before. On a big yellow school bus, perhaps? Maybe in a long, fluorescent hallway? How about on a field trip?
Yes, this backpack brings back all sorts of memories. Though it may look like your standard textbook and binder transporter, there are a few things that elevate it beyond a middle schooler's wildest dreams. Let's take a closer look at its construction and features to find out how.
Materials & Aesthetic
The L.L.Bean Mountain Classic Cordura Pack is pretty much the definition of the word "backpack." No, seriously. If you Google image search "backpack," you'll find a ton of products with a similar design. That doesn't mean that we'd call this backpack ordinary—we're just saying that the look may be something you're pretty familiar with already.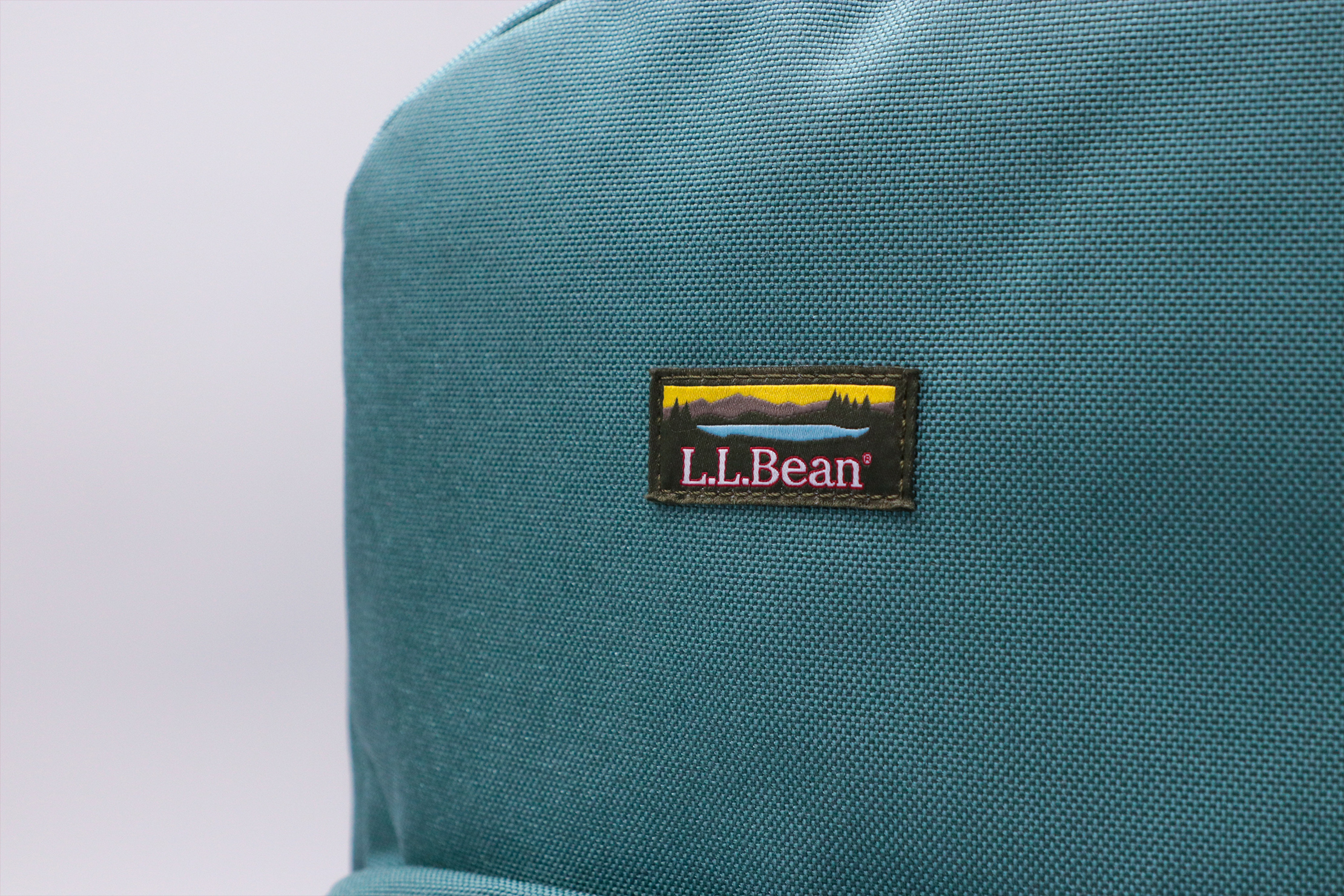 Though we think of ourselves as fairly monochromatic people, we dig this pack's nature-inspired colorways. At the time of writing, there are a handful of options. Most are made with two complementary colors (similar to our pack pictured here), though there's a solid black one if you prefer to keep it simple. The L.L.Bean patch on the front is subtle and adds to the earthy feel of the bag, and there's a secondary stripe of L.L.Bean branding on the shoulder strap as well.
Since it's made with 1000D CORDURA nylon, you can take it with you on the go with less worry about damage. Though there are daypacks out there that are made with even more durable materials (for example, the Aer Fit Pack 3 has a 1680D CORDURA Ballistic Nylon shell), this is a pretty solid step up from the thinner nylon you may think of when you see a backpack with a similar style.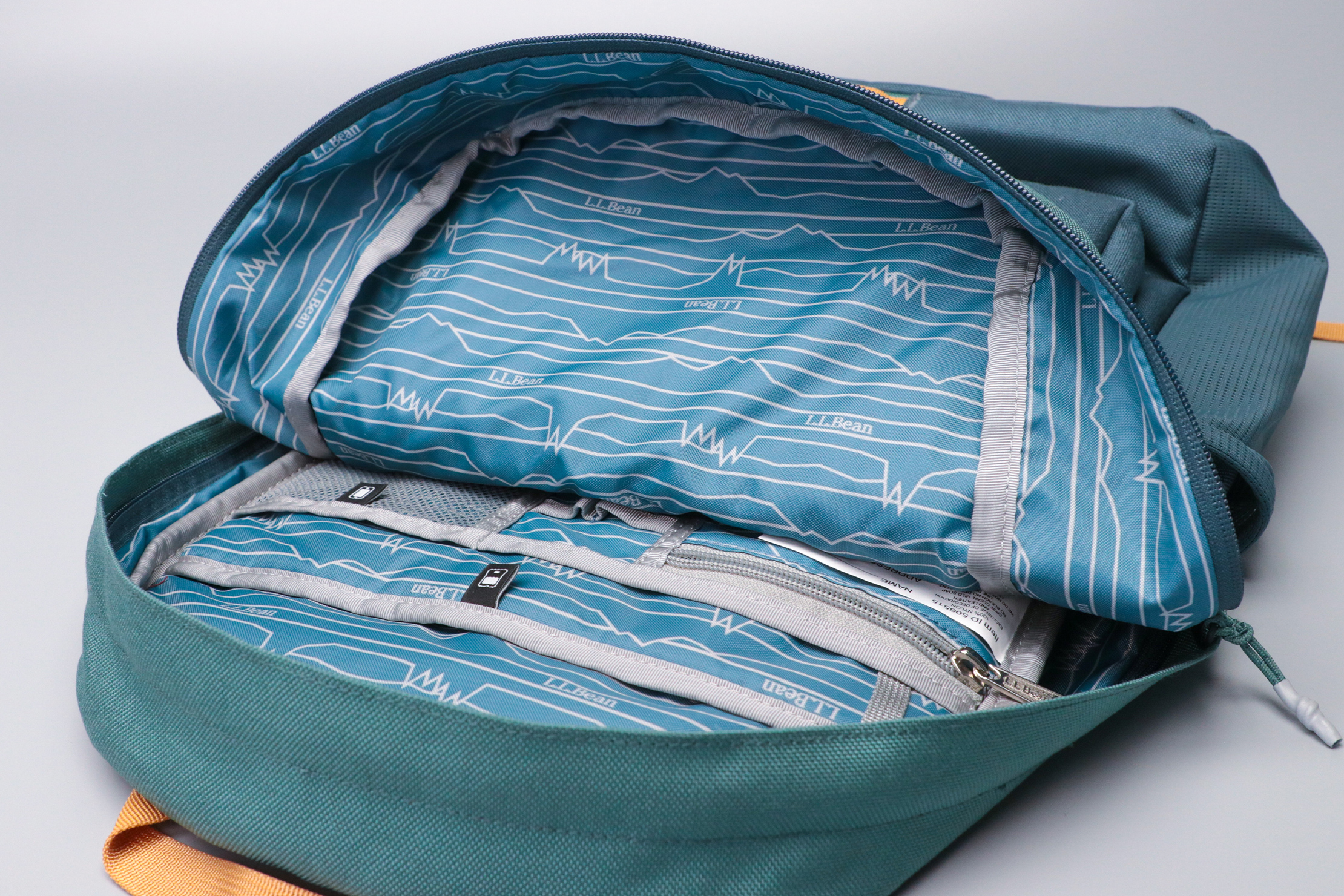 YKK zippers are a great go-to in our books, and a decently sized fabric welt (the bit of extra fabric that sticks out from a bag and covers a zipper) hides the hardware from view for a sleeker look. We found that the fabric sometimes got in the way of zipping and unzipping the bag, though it wasn't enough of a nuisance that we'd knock the bag for it. There's also a bit of rubber wrapped tightly around the bottom half of the zipper pulls, which helps prevent fraying and keeps the material tightly knotted.
The inside liner features a simplistic mountain range pattern. We can't vouch for the liner of other colorways, though we've seen a few previous iterations with similar nature-related designs. They're really hammering in the earthy themes, bridging a gap between city style and outdoor functionality.
Its slightly boxy, classic design got us quite a few compliments during our testing, so it's safe to say that we're not the only ones who are picking up the throwback vibes this pack is putting down.
External Components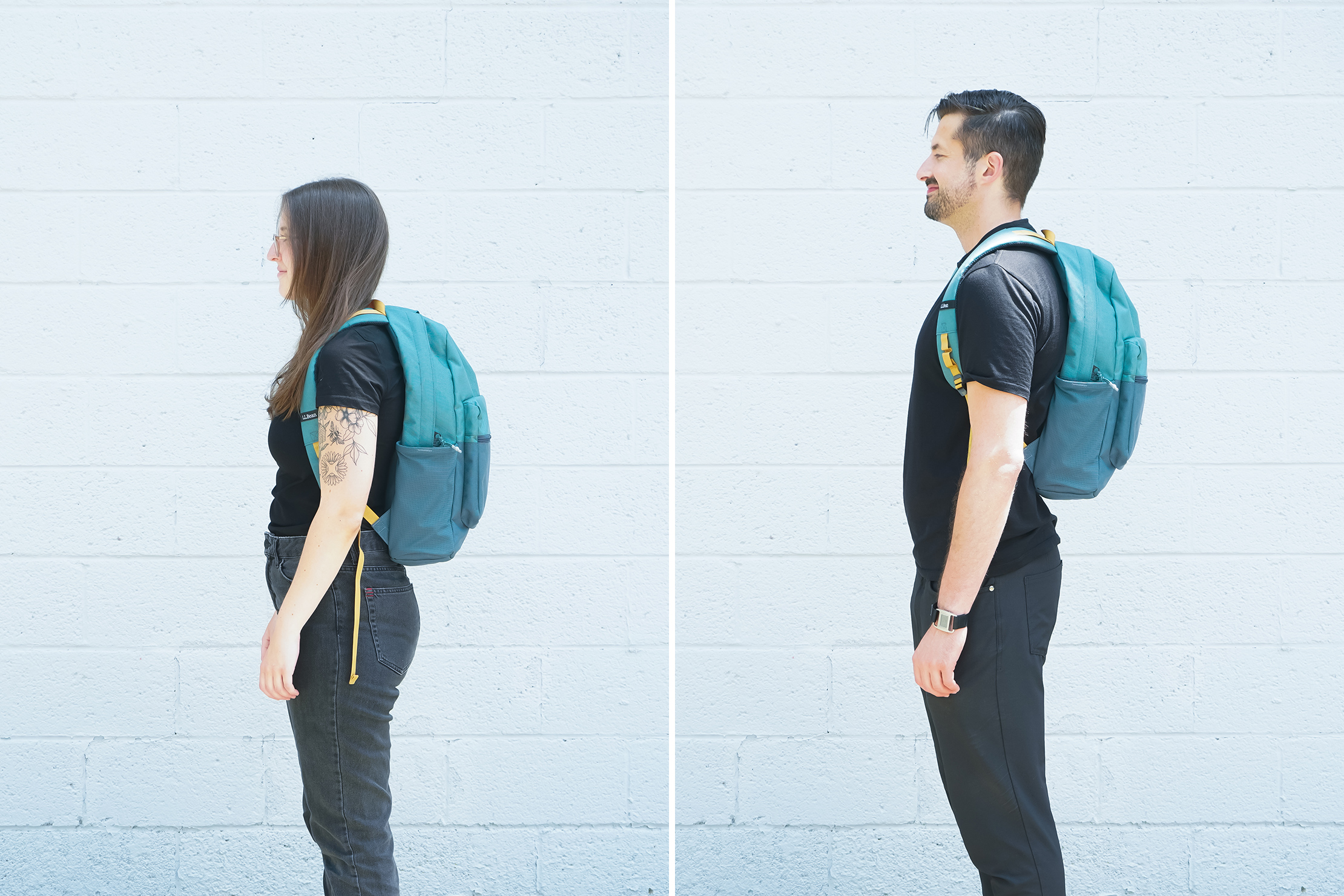 With two shoulder straps and a top handle for quick grabs, there's not much else to be said about this pack other than that you wear it like…well…a backpack. The shoulder straps are mesh and well-padded, which adds comfort during long days of wear, though there's no similar padding on the back panel. However, it's still comfortable to wear when packed full because the shoulder straps keep the pack feeling lightweight.
Two soft mesh water bottle pockets on either side give you space to hydrate to your heart's content. You can be a nice person and carry a friend's water bottle for them, or you can carry two of your own. The top seam has enough elastic to add structure, but the pockets are by no means tight around the top, so keep in mind that your bottle may fall out if there's enough wiggle room. They are deep, however, so even taller water bottles like the Avana Ashbury or a YETI Rambler fit inside comfortably.
There's what looks like an oil stain on one of the mesh pockets, and it's pretty noticeable because of the material's light color. While we can't say where the stain came from exactly, it's worth noting that the mesh is pretty absorbent if you're going to be using this pack anywhere and everywhere.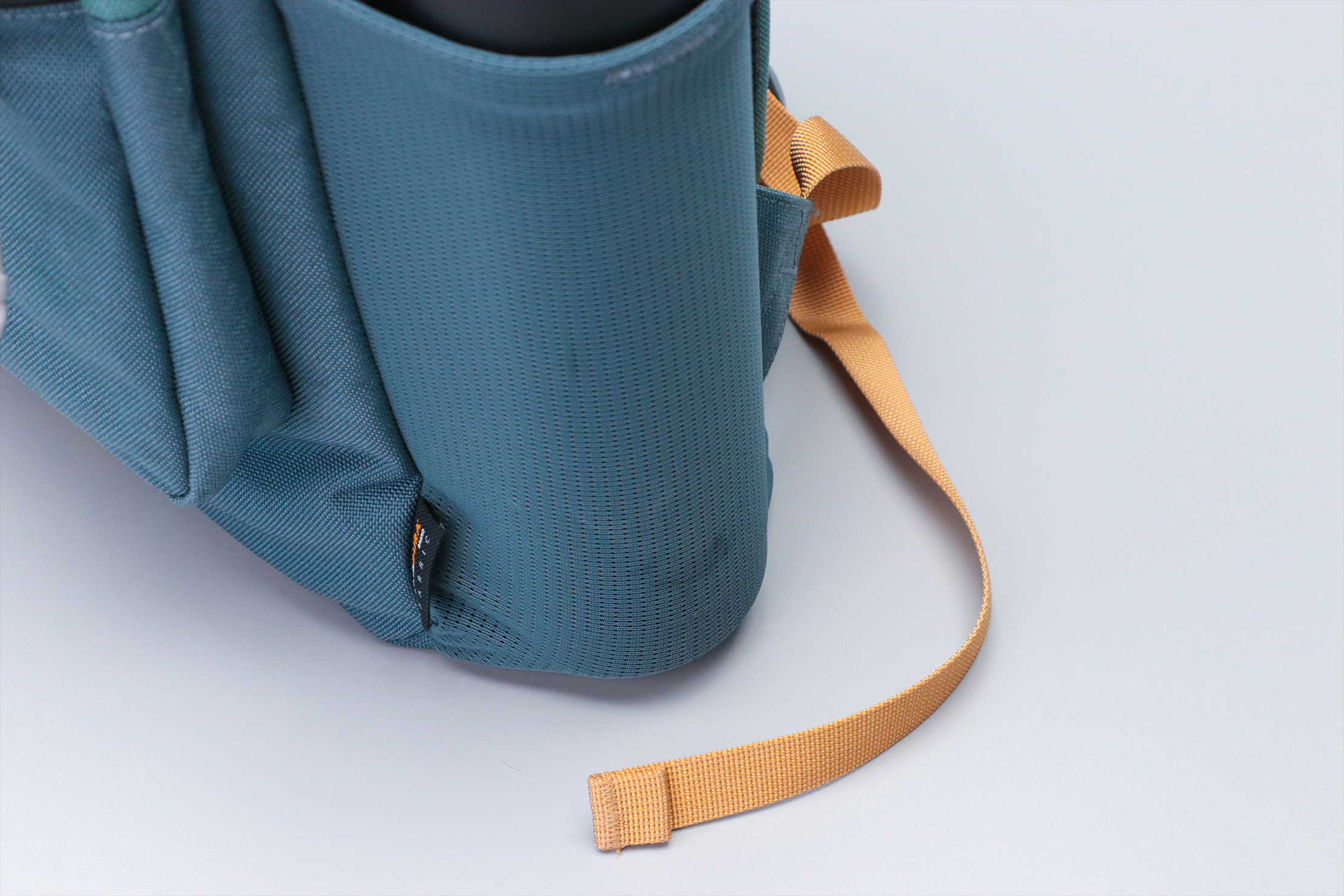 One of the more unique features is the loop on the front of the pack, way down at the base. We're not entirely sure what this is for, but based on our experience, we can assume it's for attaching gear via a carabiner. We didn't end up using this much because we felt that it looks a bit odd to have something dangling way down off the bottom of the backpack. It's nice to have the option, though there are two bottom loops and one top loop on each shoulder strap that do a similar job.
Now, let's take a look at the inside and how it held up during our testing.
Inside The Pack
Remember how we said the outside of the backpack is a classic? Well, the inside is the same. With 22L of open space in the main compartment and minimal organization, you're free to pack your gear however best suits your trip. Heading to the beach? Make sure your towel is right on top. Commuting to the office? Put your Food Bunker Silicone Containers next to your Very Important Files and Folders without worrying about being strapped for space. Or, if you're looking to cram as much gear as you can in for quick access during a road trip, this backpack has you covered there too.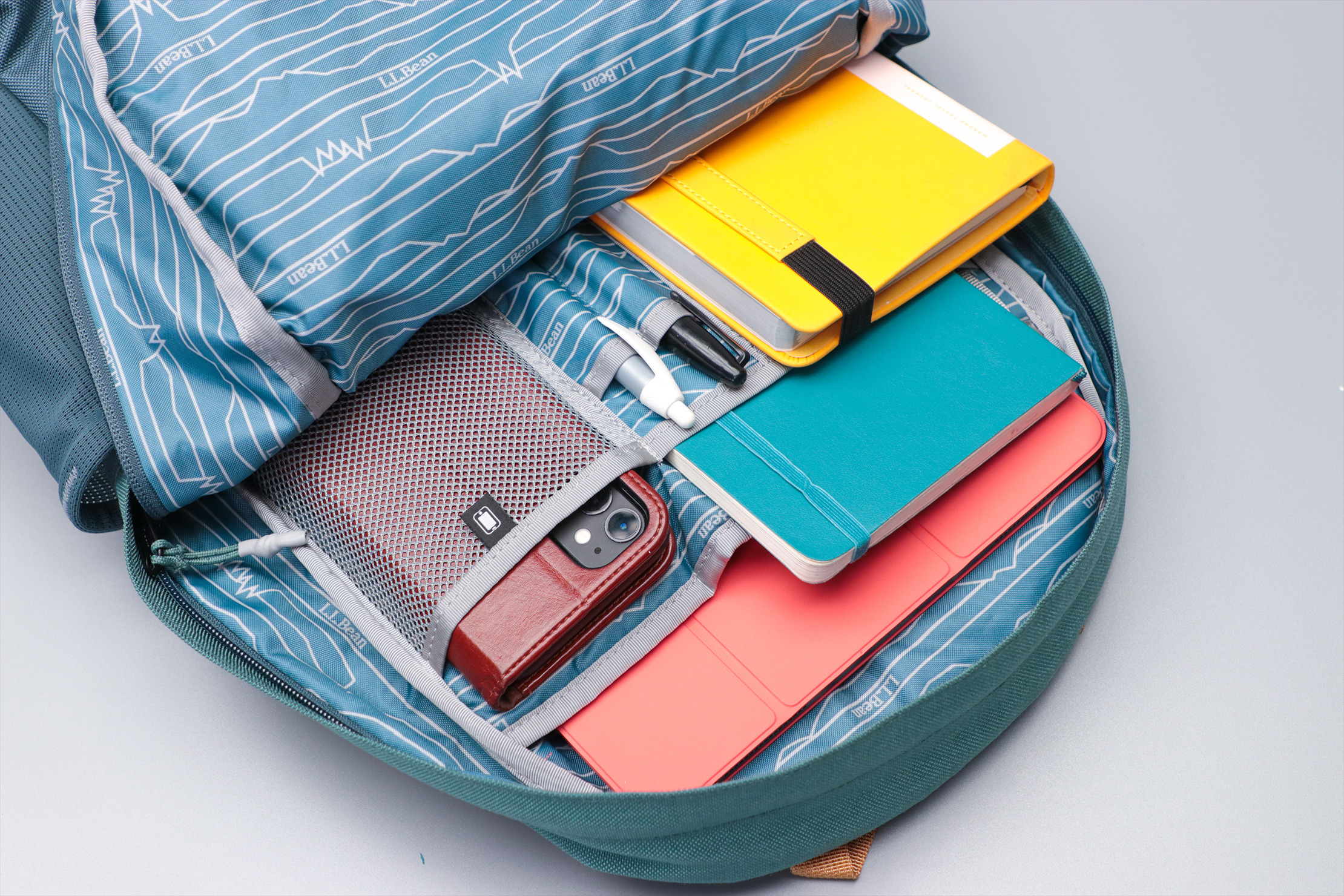 The laptop compartment fits a 13" MacBook comfortably, though a 15" is cutting it pretty close. It slides in there eventually, but it takes a bit more effort to get it past the fabric welt that covers the zipper, and it fills up the space pretty much all the way. Padding on the sleeve adds protection, though it would have been nice to see a suspended laptop compartment to protect against damage if you set the pack down too hard.
As for other organization options, all of the internal pockets are on the outside of the laptop compartment. The largest pocket has a key leash with a plastic clip to keep your keys in one place, though it's too short to use your keys while they're still attached. It is, however, sized to fit in the pocket without bumping along the bottom or getting in the way of anything else you want to put in there.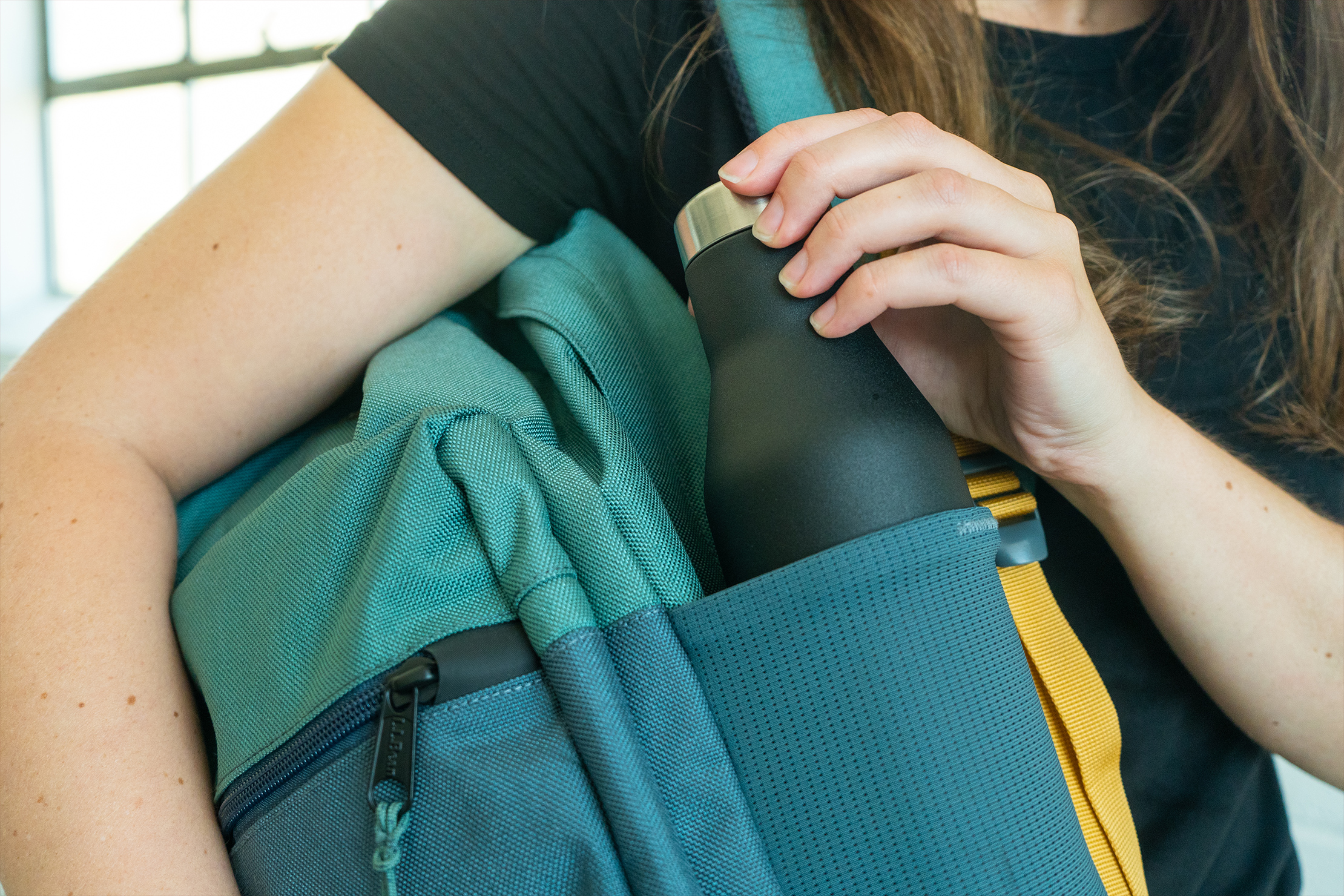 On the front of this largest pocket is a YKK zippered pocket that's kind of a wildcard. On the one hand, it was nice to have a spot to put small gear that could easily slip out of open pockets if the bag tips over. On the other hand, the pocket itself is pretty thin, and if you put anything round or bulky in there (chapstick, dental floss, etc.), it sticks out into the pack and ruins the flat, organized vibe the main compartment has going for it. Then again, the two pen silos next to it can also ruin that vibe, so it's small potatoes in terms of design flaws.
The last internal pocket is entirely mesh and fits up to an iPhone 12 Pro Max. You can put whatever you want in here, obviously, but if you forget that it fits your phone, there's a little tab with a phone graphic to remind you. There's a similar tab on the laptop compartment as well, so it's safe to say that you'd be hard-pressed to forget where that stuff goes.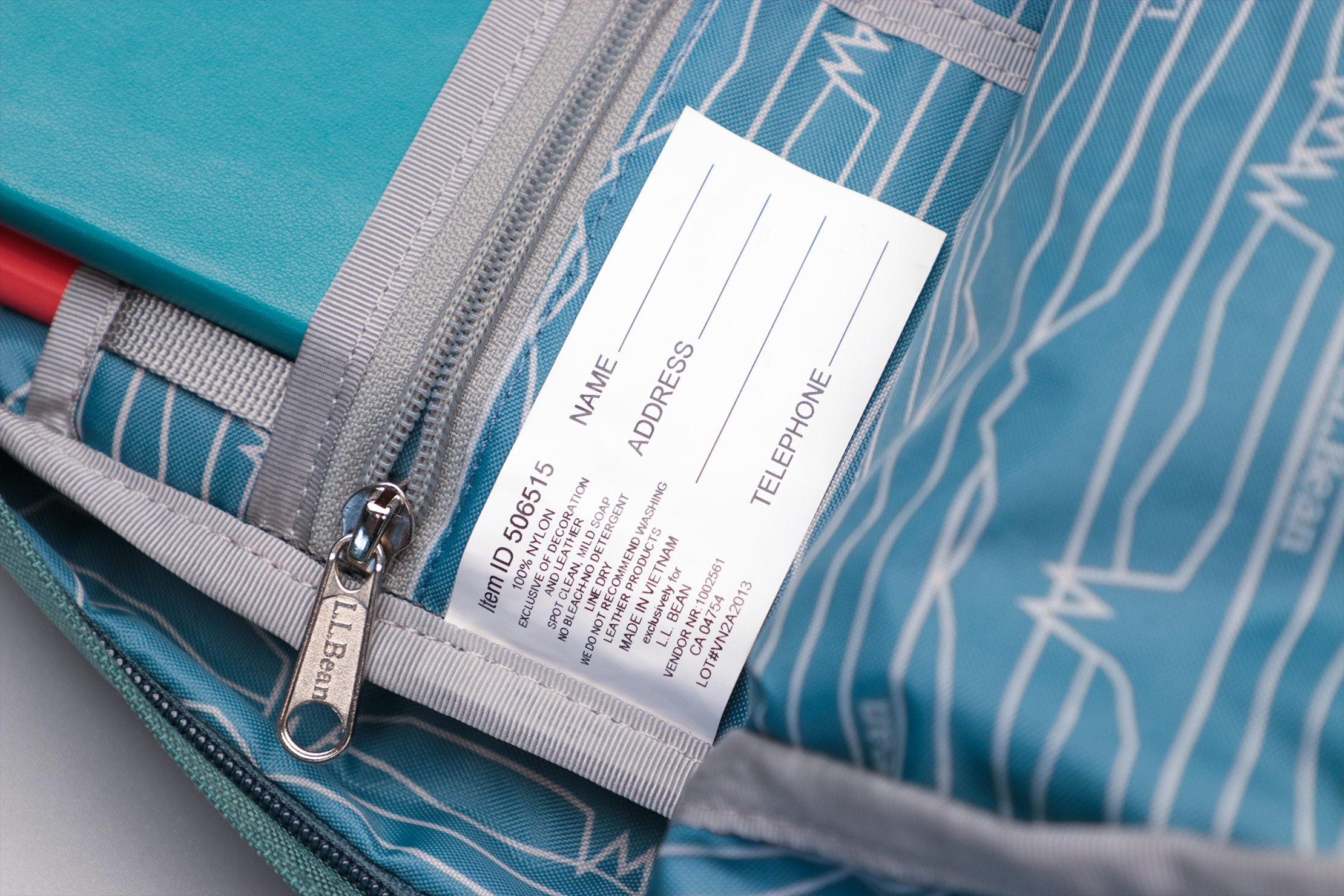 Oh—we can't forget one of our favorite little details! The internal tag that lists all of the backpack materials is attached to the seam front of the zippered pocket, and it features a space to write your name, address, and telephone number. This is a familiar feature on school backpacks, but it's something we totally forgot about until we saw it here. We don't always like being reminded of how old we are, but this one gets a pass.
Once you've filled every pocket with your EDC gear, the rest of the pack is up to you. Pick out some packing cubes to keep your stinky, worn clothes away from the rest of your stuff, or shove everything in willy-nilly and hope for the best when it's time to find that tiny adaptor cord at the bottom. But, if you want to keep the essentials close at hand to avoid losing them in the abyss of your bag, there's one last pocket for that.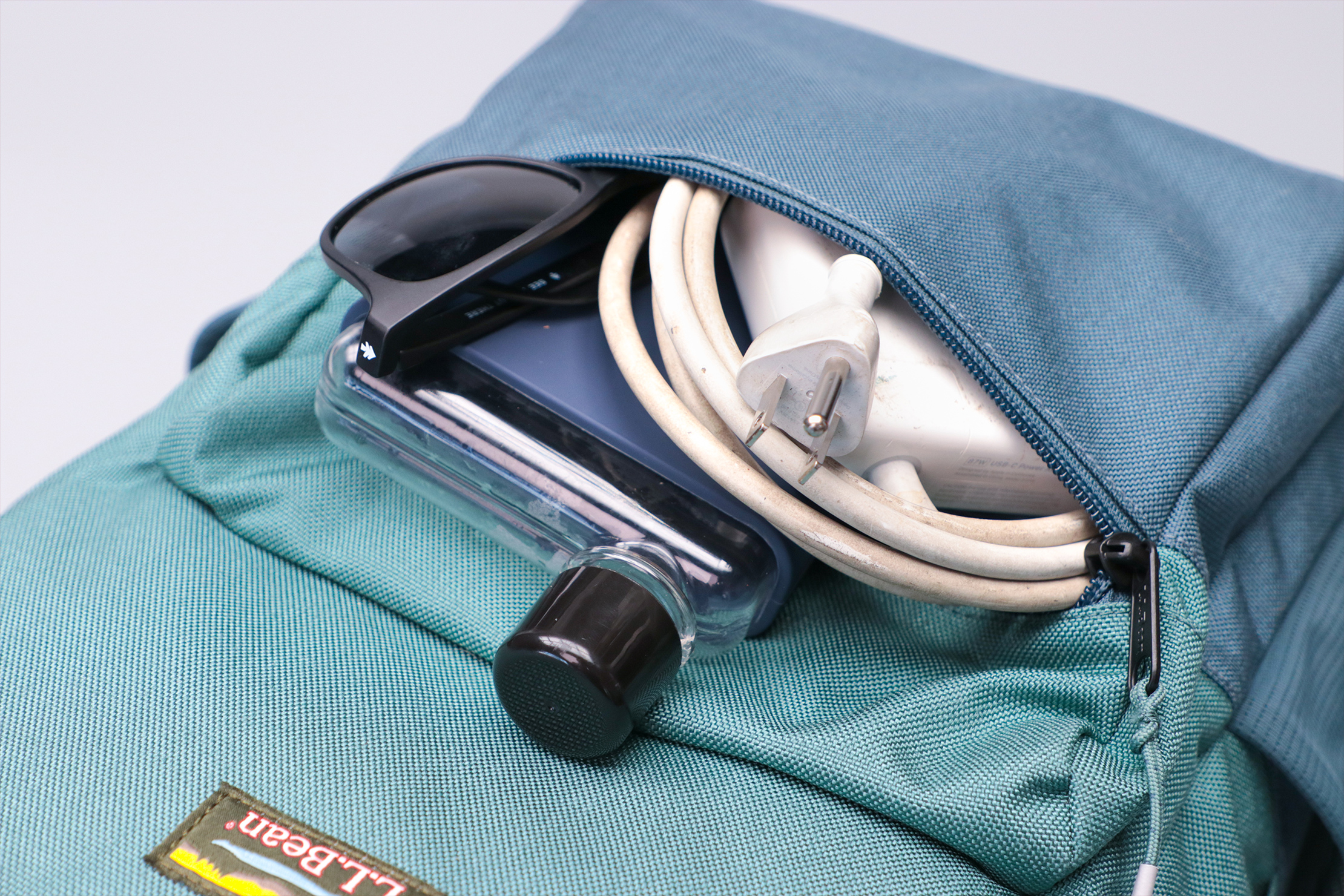 The front zippered pocket is about half the height of the full bag and gives you quick access to things like your phone, keys, or wallet. Yes, we know some inside pockets are designed for these items specifically, but sometimes we don't feel like unzipping the entire backpack just to get to one or two things—so sue us (please don't).
With this hefty pocket, you can store frequently used items without choosing which essentials have to get sacrificed to the main compartment. It can even fit a small notebook if you're the kind of person who needs to get an idea on paper the second it pops into your head. We used this pocket the most out of any of them and didn't run into any storage issues.
All-in-all, the L.L.Bean Mountain Classic Cordura Pack amps up a classic in ways we can definitely get behind. It meets the standards of grown-up people who need grown-up bags without losing its charm. So, whether you need a new daypack for work or play, this backpack stands up to the challenge.
Usage Timeline
Initial Usage
Condition: Excellent
The twin water bottle pockets look quite slim, but are stretchy
There's a built-in key leash near the top of the main compartment
The mesh on the shoulder straps is cushy and comfortable
2 Weeks of Use
Condition: Excellent
Fabric welt can make the bag hard to zip and unzip
Key lash is a little too short to use while the pack is on, but it keeps the keys from getting lost in the pocket
Internal zippered pocket is best for flat items while the mesh can hold bulkier things
Outside zippered pocket can hold large amounts of gear
Two water bottle pockets are deep and secure
Access the Pro Community Discussion
Get your questions about the L.L.Bean Mountain Classic Cordura Pack answered from our team and the Pro Community right here on the page. Plus, join discussions with other members about gear, guides, and more.
Other Bags & Luggage Reviews