IKEA DROMSACK Messenger Bag Review
The IKEA DROMSACK Messenger Bag offers simple functionality at a reasonable price, though the craftsmanship is a little suspect as a result.
Our Verdict
Unlock the Pro Summary
Save time. Get access to brief summaries of our reviews so you can browse and make decisions more efficiently.
Pros
Reasonably-priced
Bright liner offers a lot of visibility
Recycled fabric for a more sustainable approach
Cons
Front flap velcro slows down access
Front pockets don't have any closure, gear can slip out
Spotty stitching throughout bag (some loose threads already visible)
Recent Pack Hacker Video
Technical Details
Capacity

14l

Weight (lb)

1.3 lb (0.6 kg)

Dimensions

11 in x 15 in x 4 in (27.9 x 38.1 x 10.2 cm)

Notable Materials

Polyethylene, Recycled Polyester

Manufacturing Country

Vietnam

Laptop Compartment Size

15"
Full Review
Finding and buying the right every day bag on a budget is no easy feat. Thankfully, IKEA is here to help with the DROMSACK Messenger Bag, and we're here to help by telling you what we think after two weeks of testing!
Yes, you read that right: IKEA. You're probably envisioning a vast warehouse full of reasonably-priced, easy-to-assemble furniture—but believe it or not, the brand has also been dabbling in the affordable bag and travel accessories sector.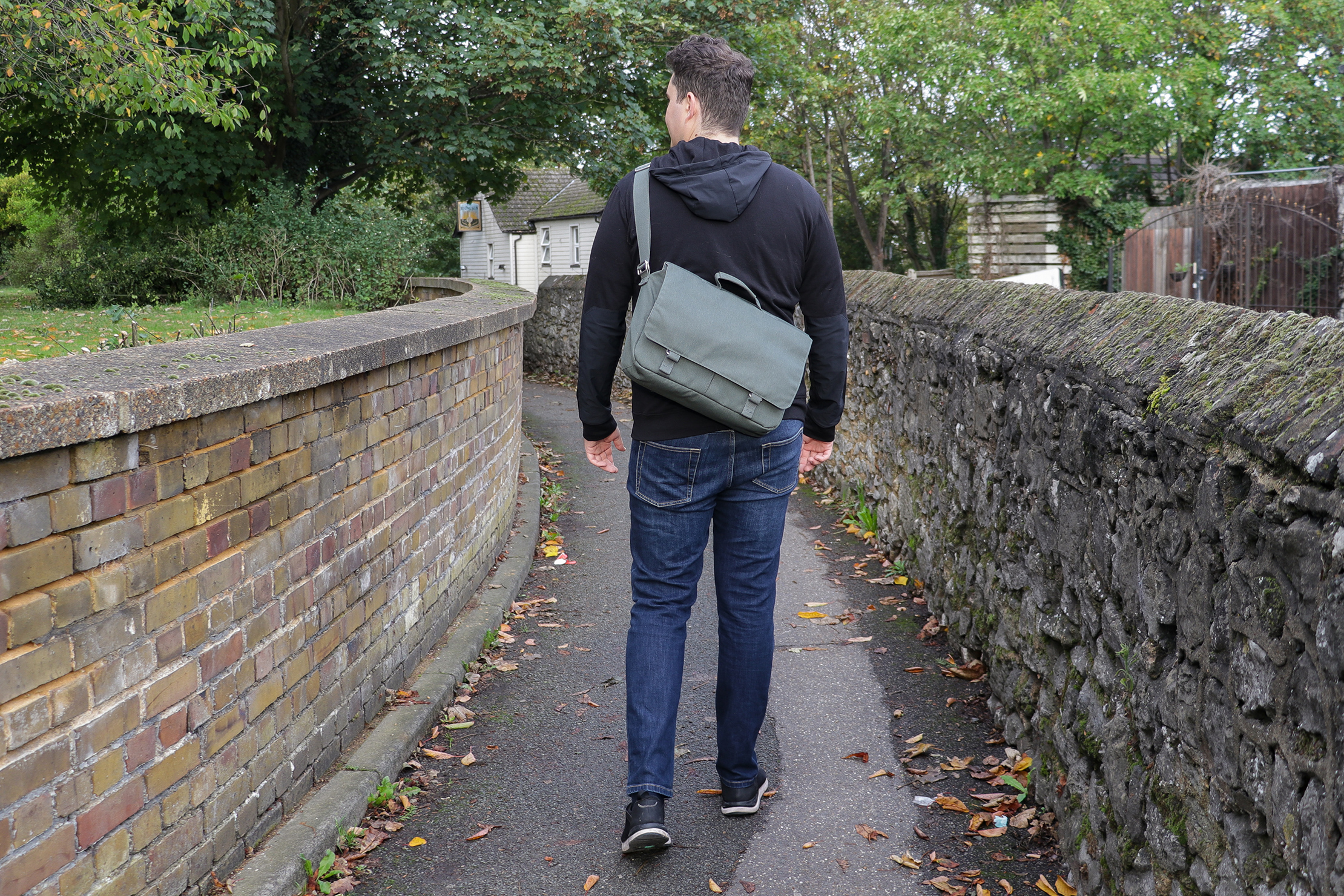 Some of the ones we've been testing include the VARLDENS Backpack 36L, the FORFINA Toiletry Bag, and of course, the DROMSACK Messenger Bag—which is as simple as messenger bags come. It offers you the most basic organization and functionality necessary so you're only paying for what you need, and nothing that you don't.
If this bag has piqued your interest, read on to hear more about our experience (no assembly required)!
Materials & Aesthetic
This bag is a little underwhelming in its appearance, as there's not much going on with the outside. That said, 59% of our followers are fans of its look according to our Instagram poll—so while it's not the most exciting, it does seem to have the classic charm of a standard messenger bag.
At the time of this review, you can pick up this bag in two colorways—Olive and Beige. We've been testing the Olive ourselves, which has a more heritage vibe to it if you're a fan of this aesthetic. It works best when worn casually, as it's not the most sophisticated bag we've ever seen. That said, if you commute to a more informal work environment then this just might be your new bag for the office.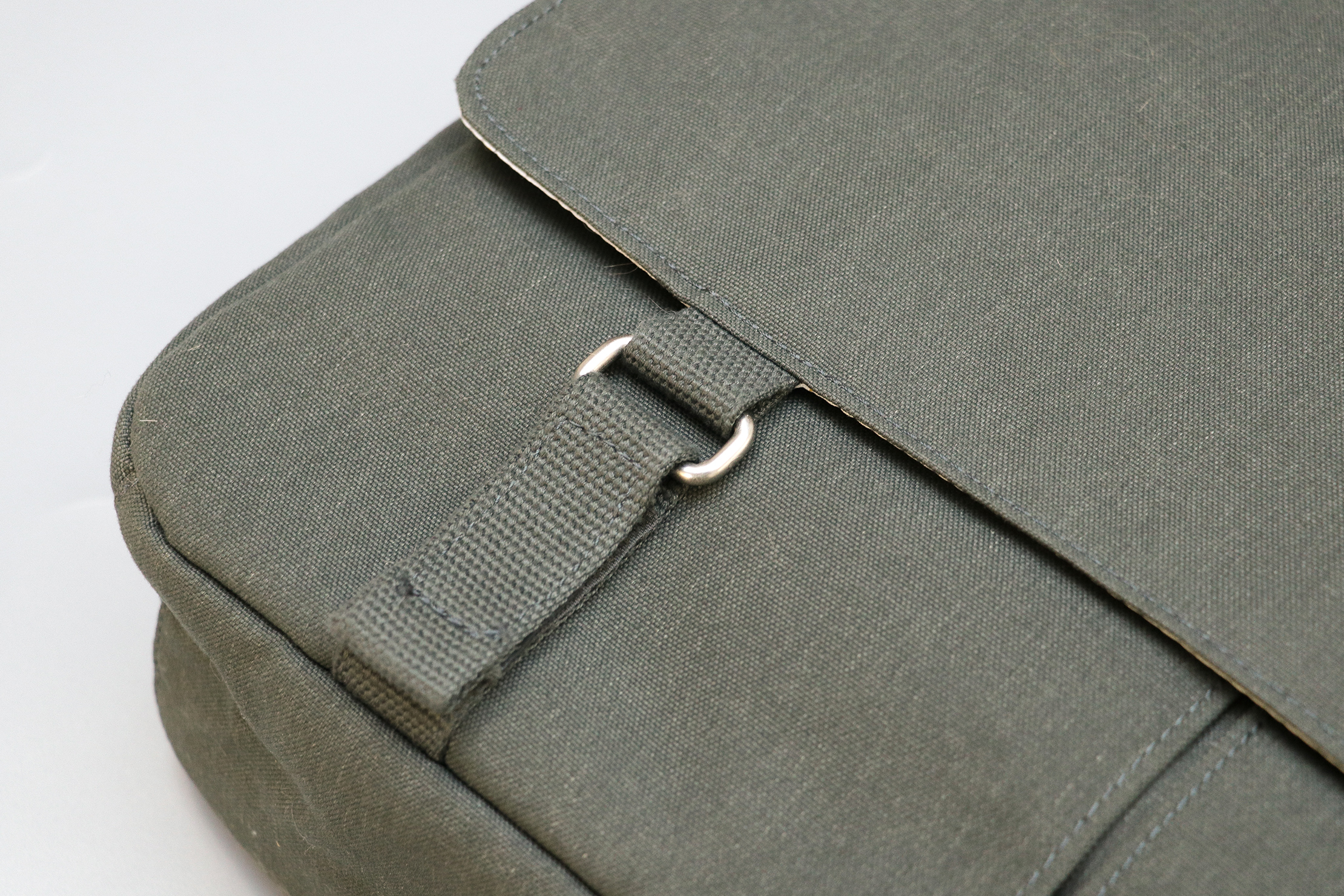 IKEA opted to keep branding on the outside of the bag to a minimum—and by minimum, we mean absolutely none. While their big blue and yellow logo is a classic, it wouldn't be the best look on the outside of a muted colorway like the one we've been testing. Thankfully, the only logo you'll find is located on the inside, so this bag keeps a clean look and doesn't stand out in the crowd if that's something you look for.
The DROMSACK Messenger Bag is made with 100% polyester fabric that doesn't feel the most rugged or luxurious in hand—it feels almost canvas-y, and picks up fluff the same way a regular canvas material would. That said, it does offer a high-quality look for a bag of this price. Plus, IKEA states that at least 90% of this material is recycled, and if you're familiar with us here at Pack Hacker, you know that we love to see brands take a more sustainable approach. Kudos to you, IKEA!
Considering this is a budget-bag, we're not surprised to see that the hardware is unbranded. Like the material, the buckles and adjusters don't feel crazy durable, and we've had issues with them in the past on the FORFINA Packing Cubes. They've been working just fine so far, but we're still a little wary.
External Components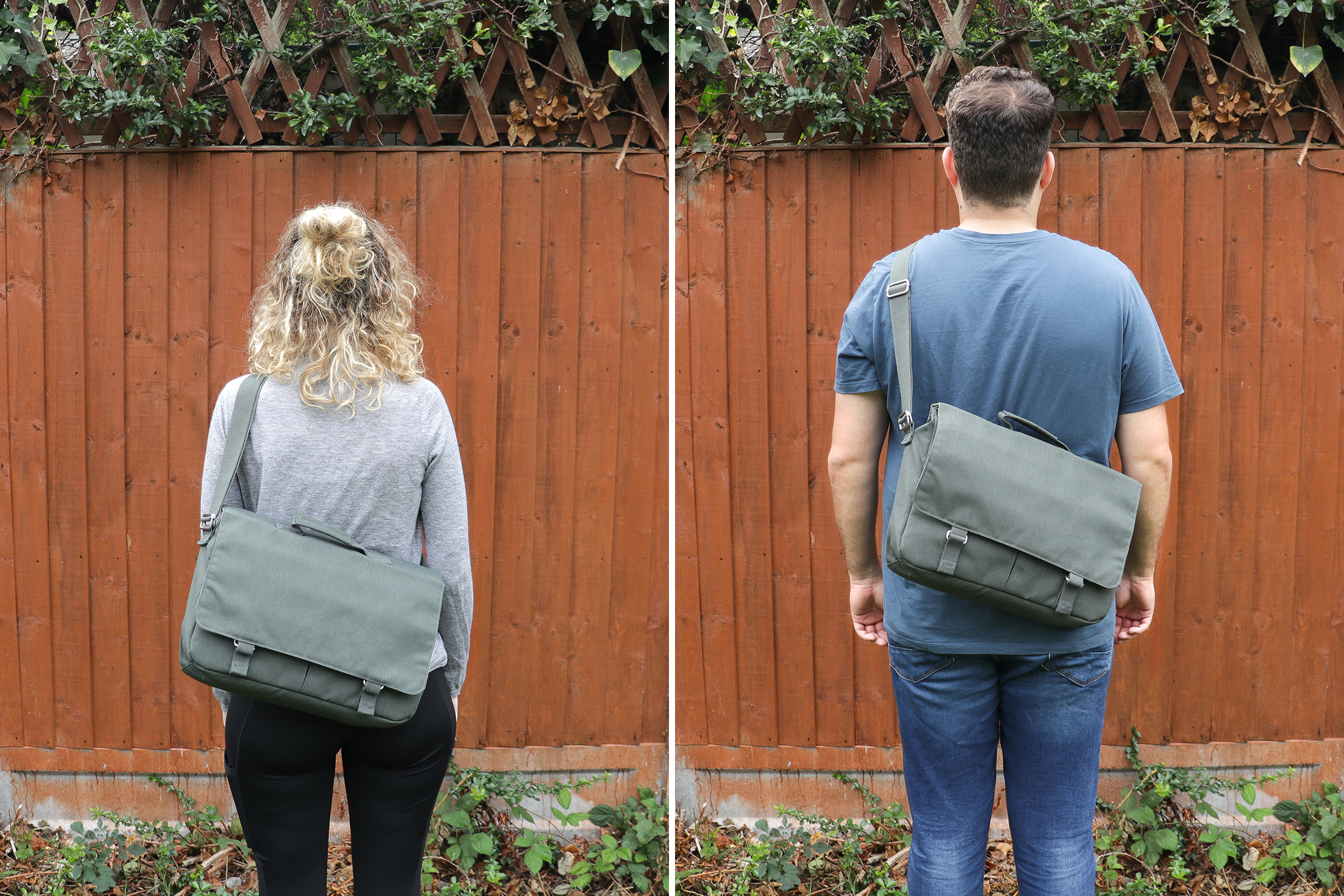 The DROMSACK's shoulder strap isn't anything special, as it doesn't feature any cushy padding or mesh lining to keep you comfortable on longer wears or with heavier loads. That said, we're not typically carrying anything too crazy inside, so it's worked well enough for our purposes. We also appreciate how well the adjusters manage any excess strap, so we don't have any dangling to worry about.
The shoulder strap is also removable via adjusters at the end that hook onto adjusters directly attached to the bag, so you can detach it entirely and store it away when it's not needed (like when you want to carry this thing as more of a brief than a messenger bag). We haven't had any issues with them disengaging, though a G-hook would feel a touch more secure. Overall, we wouldn't say this strap is bad—it just isn't the most comfortable strap we've ever tested. Again, it's what we'd expect for the price point.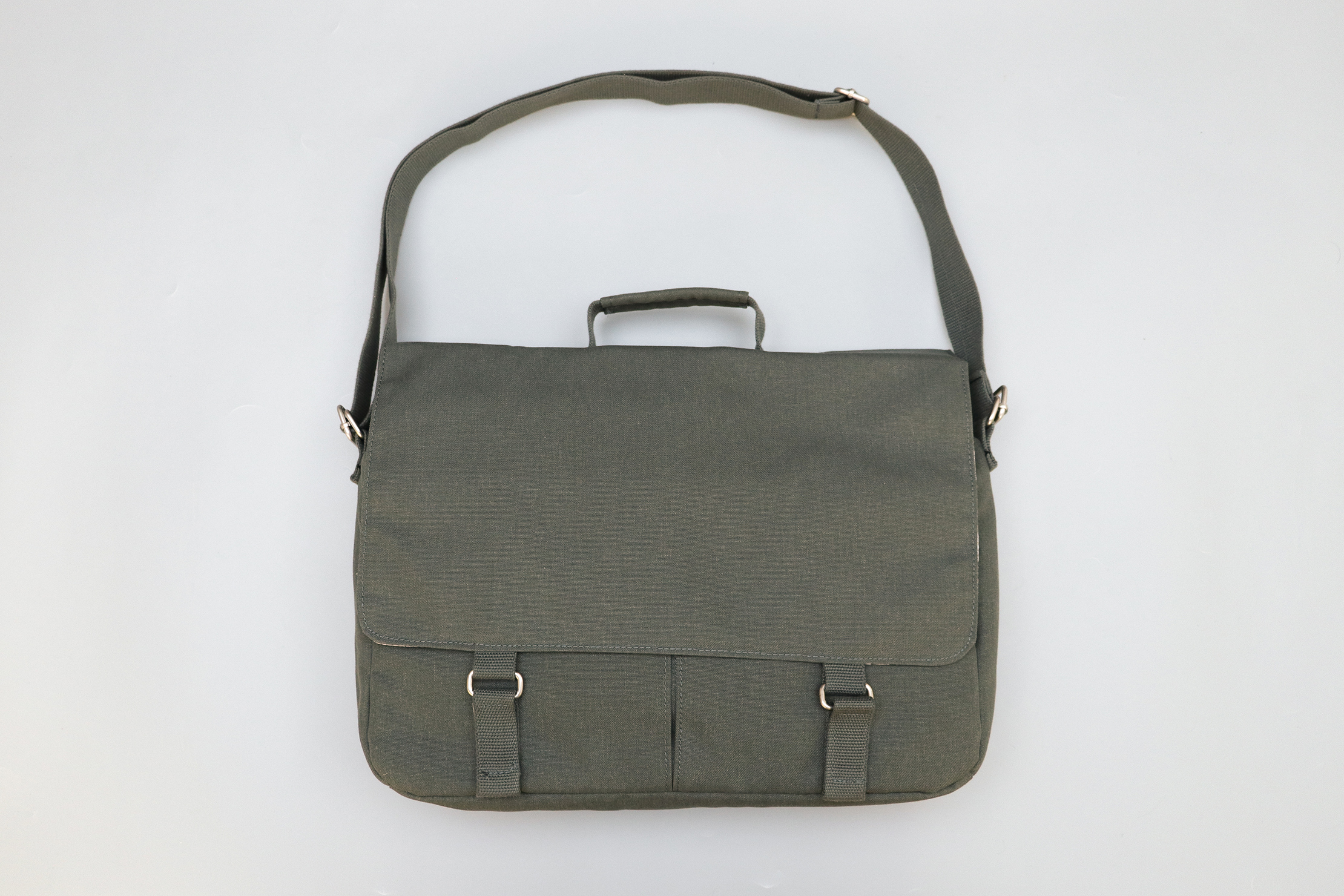 The handle at the top is ideal for when you're just grabbing this bag out of the car, out of an overhead bin, or for when you need to move it from place to place. It's just some folded nylon-webbing material so it's not super comfortable for lengthier carry, but if your shoulder ever needs a break, feel free to use this handle to carry the bag briefcase-style.
As with most messenger bags, you won't see any water bottle pockets on either side of this bag, so you don't have a place to store one externally. There's room to keep one in the main compartment (which we'll cover in the next section), but as we've said before, you might be hesitant to keep water so close to your laptop and other gear you don't want getting wet. It hasn't been a huge issue for us during testing, but if a water bottle is essential in your lineup, it may be for you.
Inside The Bag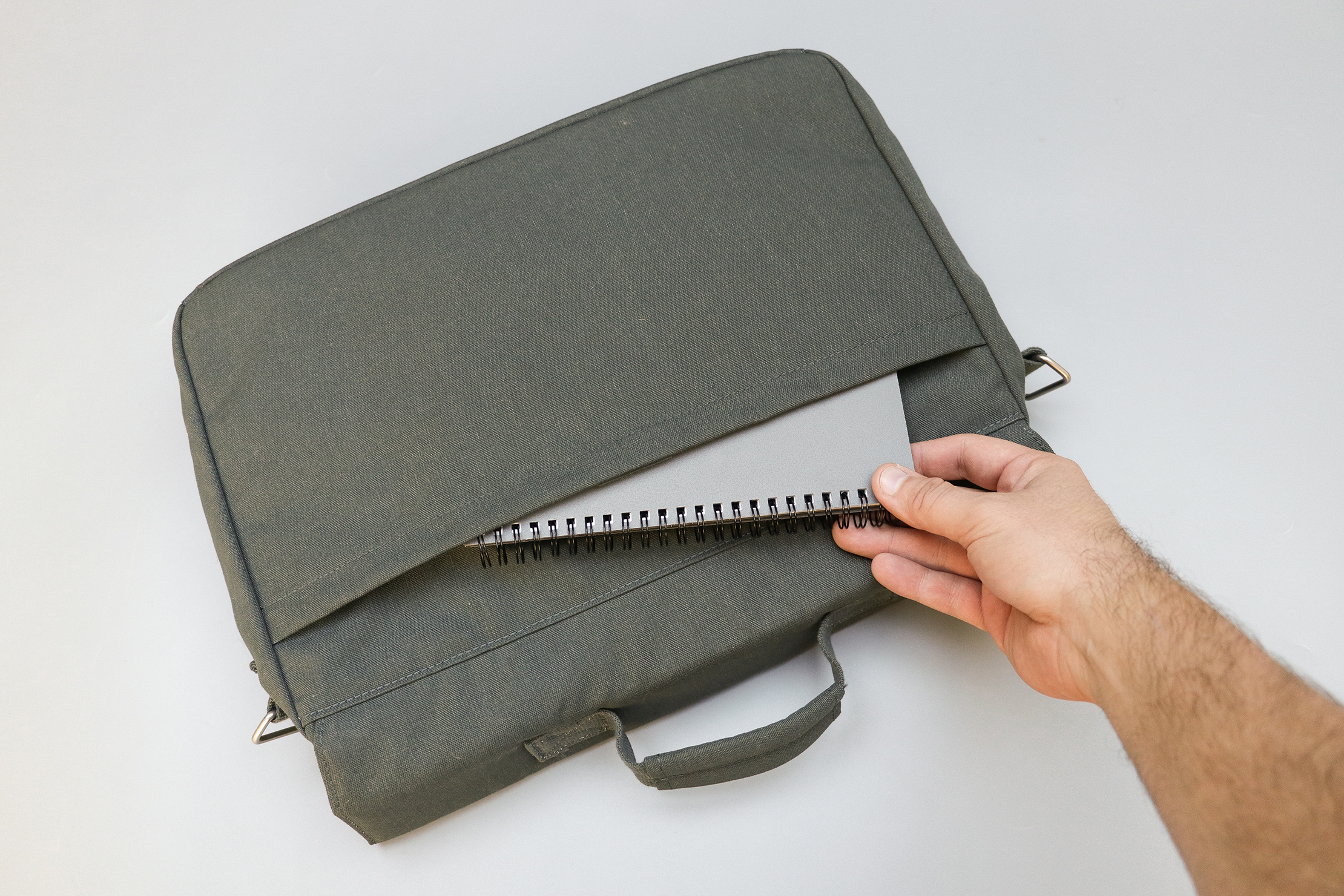 Before we get into the main compartment, we just want to mention this sleeve on the bag's back panel. It secures with velcro, which we're not typically a fan of since it feels cheap and isn't the fastest mode of access.
That said, this opening has been relatively easy to disengage when we need to slip stuff inside, whether it's a notebook, documents, or other flatter items. We say flatter items as anything too bulky can poke into your side when you're wearing this thing crossbody or over one shoulder, but you can keep whatever you'd like inside. We won't stop you.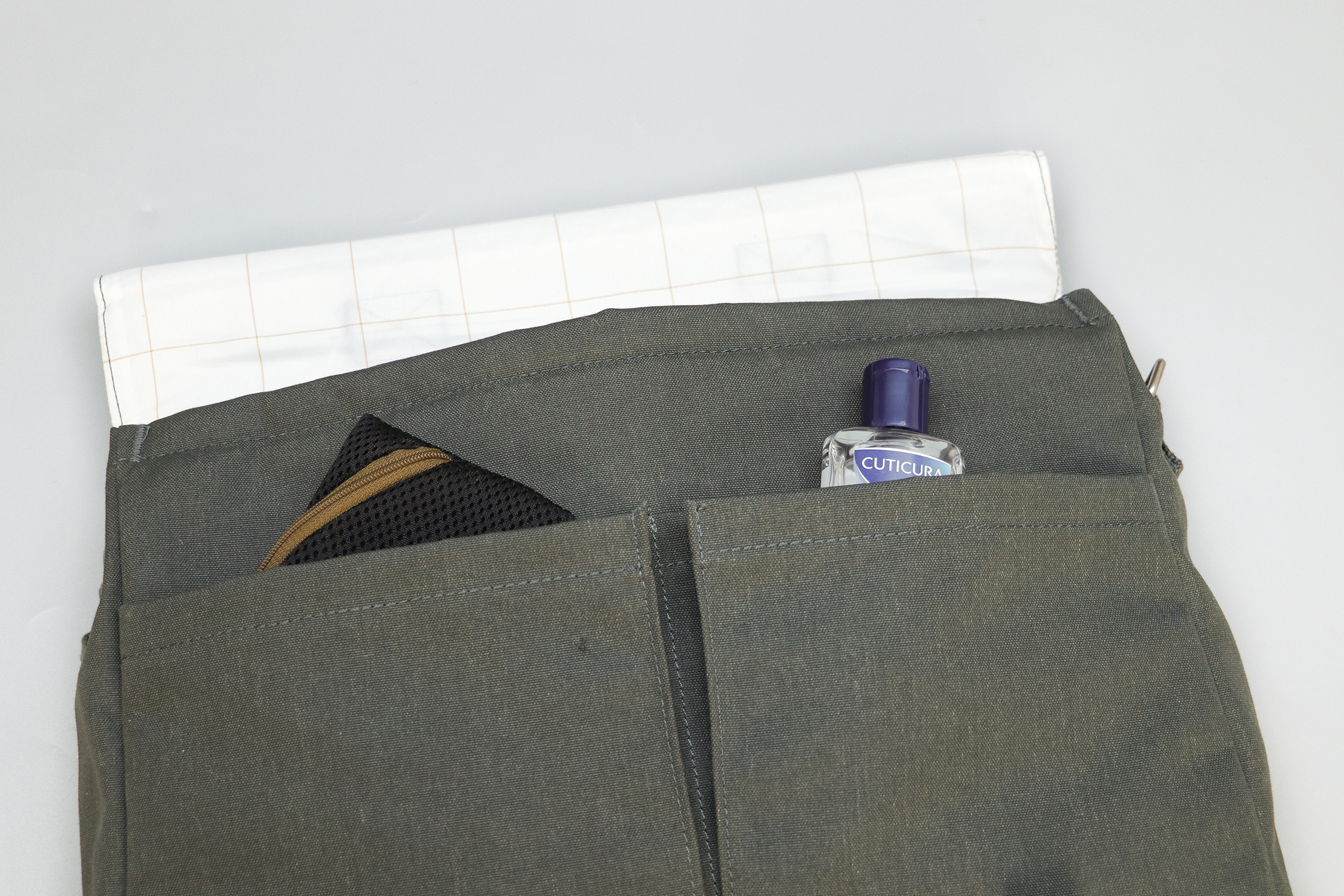 The front flap of the bag is also secured by velcro, but this set up is much more time consuming to disengage in order to reach the pockets and compartment beneath. It contrasts heavily with something like the quick-and-easy MagLatch on the Peak Design Everyday Messenger 13L (V2) (though the DROMSACK is much cheaper in comparison). Once you are able to get inside, the first thing you'll see is a slot on the front flap to store cards (if you're not already keeping them in your wallet), as well as two larger pockets you can use to segment your other gear.
Our biggest warning with these pockets is that they don't have any closure, so if you're keeping something valuable inside, it could slip out and through the opening on the sides of the bag if it were to get overturned. It's unlikely, and we haven't experienced it during testing, but it's something to note either way.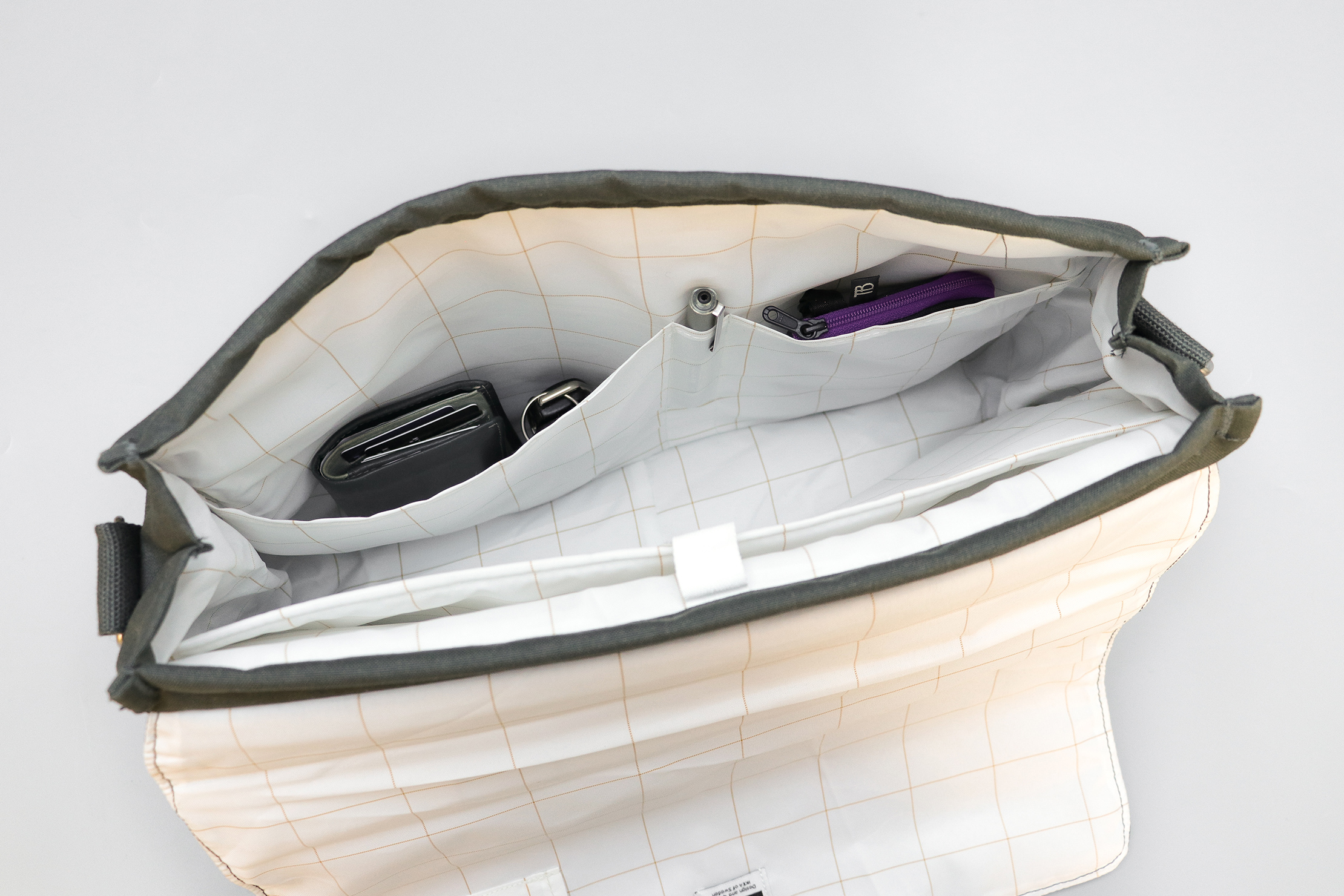 Speaking of, the main compartment is lined with a bright white liner in a grid-like pattern that makes everything inside easy to spot. A white liner like this one will inevitably start to look a little worse for the wear after a while, but so far, it's still looking pretty clean.
Organization-wise, you have two medium-sized liner pockets that are more secure spots to store stuff like your wallet or keys than the previous pockets we mentioned. We don't love that we have to go in and out of this compartment to grab more frequently-used gear like this but we'd rather have slower access to our wallet than no wallet at all.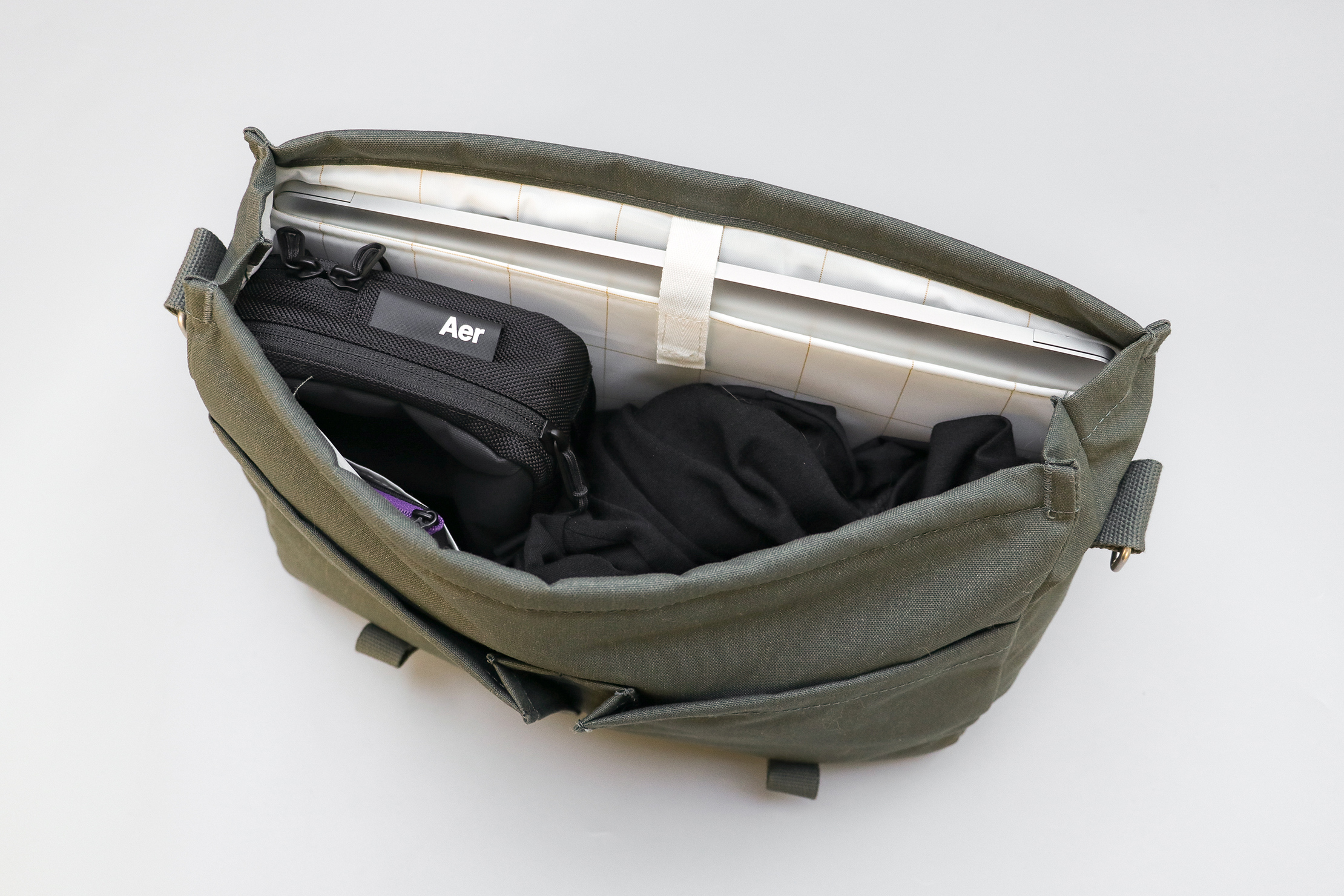 On the opposite wall is the dedicated laptop sleeve that is advertised as able to accommodate up to a 14" laptop. We've been able to keep a 15" MacBook Pro inside ourselves, but not when it's inside even a thinner protective sleeve. Thankfully, there is some padding built into both sides of the dedicated sleeve to help cushion your tech when it gets jostled around while you're on the move.
Then you have some free space to use for larger items, like a light jacket for when the wind picks up, a water bottle (since there isn't a spot for it on the outside), as well as any tech pouches you're bringing along to organize your accessories—check out our Budget Packing List for other affordable items to swap/add in as well.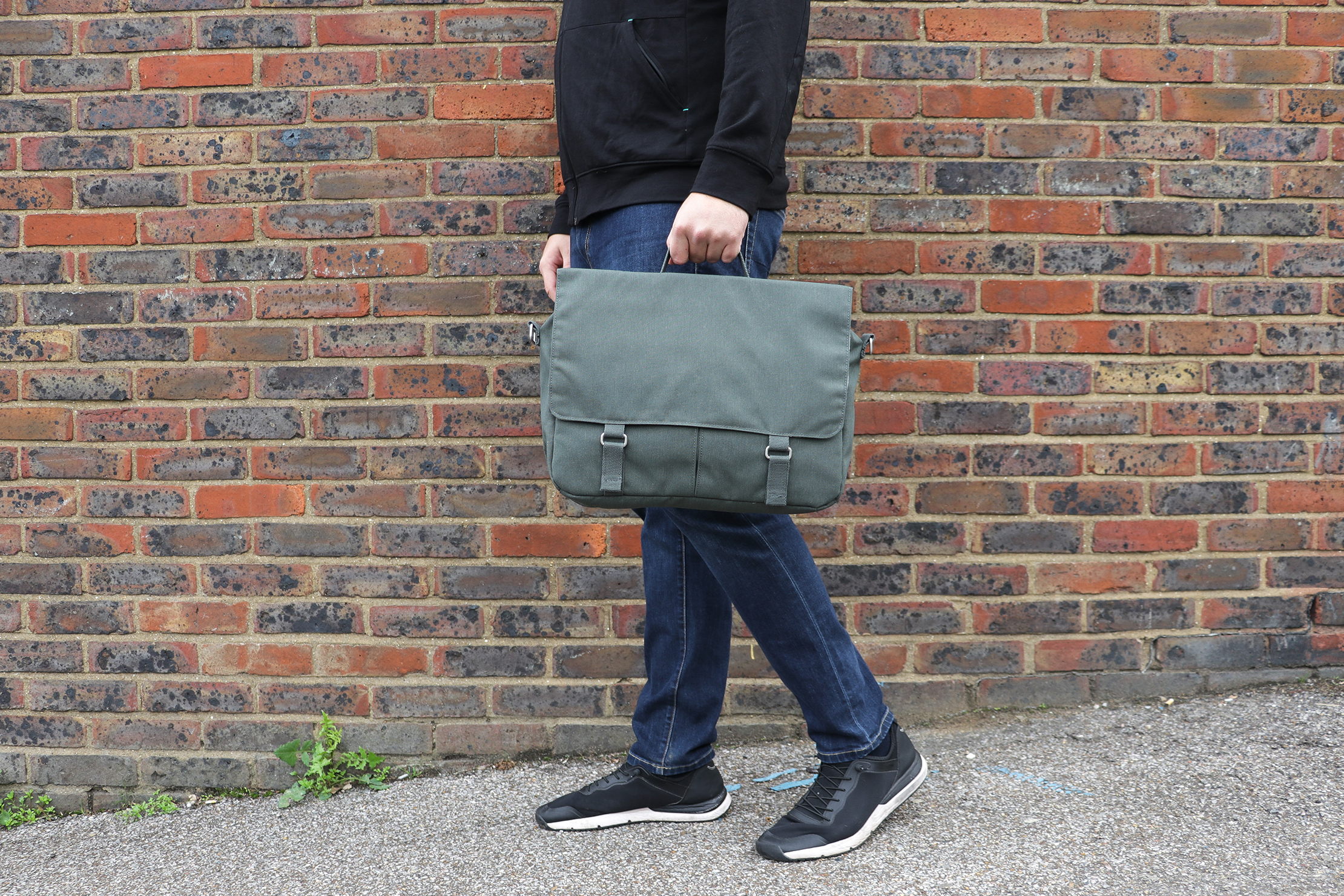 This bag still keeps a relatively slim profile so it doesn't look overly bulky at your side when you're hauling more than usual and lies flat when you're carrying an especially light lineup. It's not winning any awards durability-wise, but it can carry enough and holds up just fine for everyday use.
Usage Timeline
Initial Usage
Condition: Excellent
It's not the quickest bag to gain access to due to the velcro buckles on the front
The white lining inside makes it really easy to see what's going on, though it's likely to get a little dirty as time moves on
We're digging the aesthetic and it certainly looks and feels nicer than its budget price would suggest
2 Weeks of Use
Condition: Good
We've noticed a couple of loose threads and suspect stitching around the bag, nothing major but definitely worth pointing out
The velcro buckles at the front of the bag take a bit of time to open, but it got quicker as we used the bag more
We've found the somewhat basic shoulder strap to be reasonably comfortable, though we haven't been lugging around anything too heavy
Even though it's a budget bag, we've actually really been digging the look of it, we like how it looks on and the colorways are nice and subdued
Access the Pro Community Discussion
Get your questions about the IKEA DROMSACK Messenger Bag answered from our team and the Pro Community right here on the page. Plus, join discussions with other members about gear, guides, and more.
Other Bags & Luggage Reviews