Hyperlite Mountain Gear Metro Pack Review
The Hyperlite Metro Pack is intentional in its light, durable, and water-resistant materials, but you're not going to have much built-in organization or structure.
Our Verdict
Unlock the Pro Summary
Save time. Get access to brief summaries of our reviews so you can browse and make decisions more efficiently.
Pros
Lightweight, durable, water-resistant Dyneema material
Packs flat when storing away for later use
Tons of space to pack out
Cons
Very little offered in the way of organization
Material is slippery, can cause shoulder straps to slide down
Not much padding or structure for support
Recent Pack Hacker Video
Technical Details
Capacity

30l

Weight (lb)

.54 lb (0.2 kg)

Dimensions

27 in x 10 in x 10 in (68.6 x 25.4 x 25.4 cm)

Fully Unrolled

Notable Materials

Dyneema®, ITW Hardware

Manufacturing Country

United States

Warranty Information
Full Review
Hyperlite Mountain Gear is a brand that values strong simplicity in their gear—they strive to provide products that are high-performing at their core without needing an abundance of extra add-ons and accessories.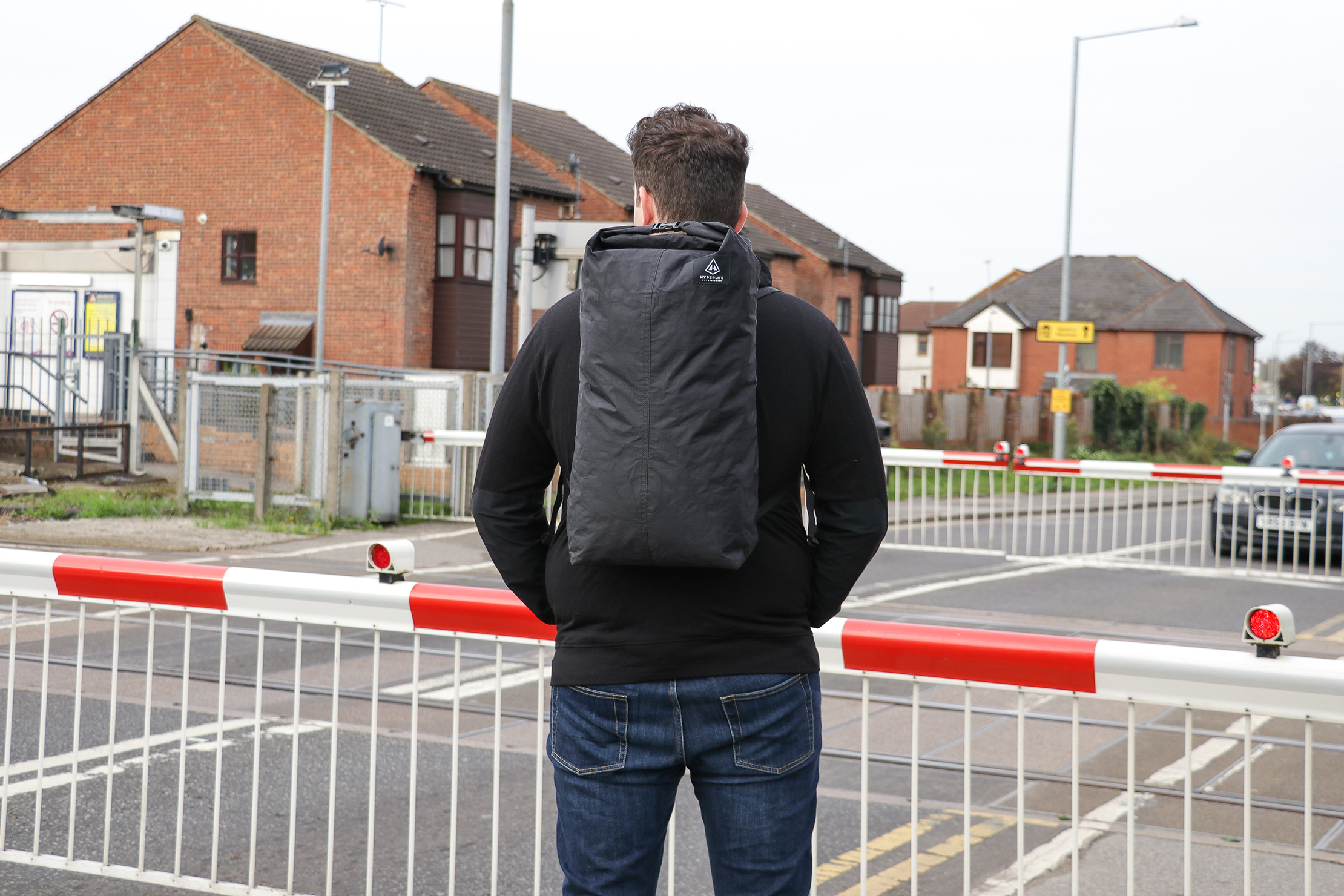 They're staying true to their name with the Metro Pack, a large, simple daypack constructed with a super-lightweight (one could even say it's hyperlite), super water-resistant, and super durable Dyneema material. We've been wearing this pack all over Essex, England the past two weeks.
Hyperlite is an outdoor-focused brand, so you may be wondering: how do they stack up with an urban offering? Read on to find out!
Materials & Aesthetic
The Metro Pack's aesthetic walks the line between urban and outdoorsy, receiving a particularly low score on our Instagram poll, coming in at a measly 16% approval rating. We weren't expecting anything crazy high—it gets pretty wrinkly which isn't the best look. It also has a subtle futuristic vibe to it, so perhaps this bag is just ahead of its time.
Your colorway options with this pack are pretty black and white. Literally, you can only choose between Black and White at the time of this review. We've been testing the Black colorway ourselves, and like the technical look it offers the bag (it also blends in more than the almost-blinding White colorway).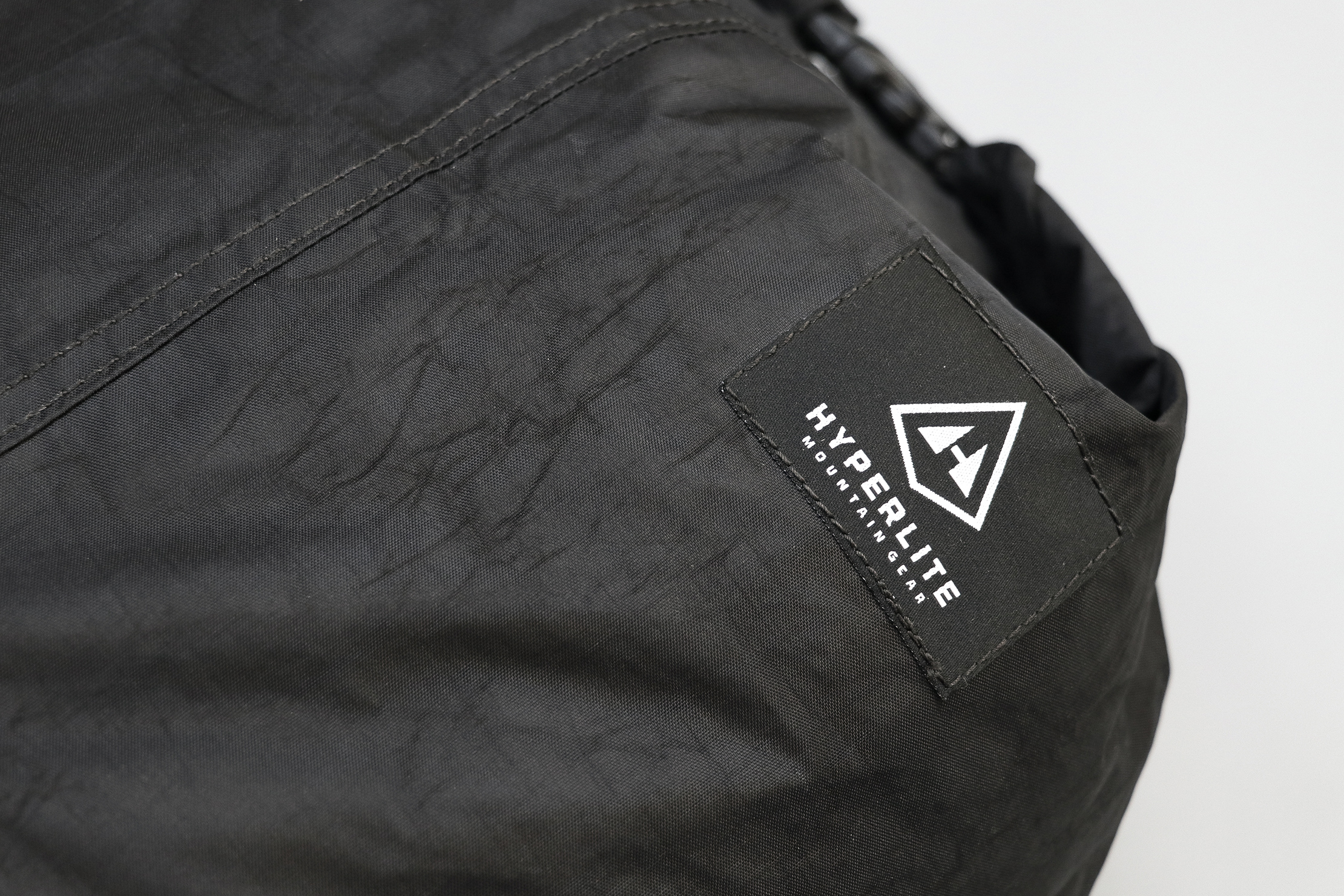 In terms of branding, Hyperlite isn't shy. They have their logo on a large, white-on-black tag on the front of this pack where everyone can see it. That said, it doesn't really stick out on the Black colorway we've been testing. If anything, it adds to the urban aspect of the bag we mentioned earlier.
One of the most prominent aspects of this bag is its DCH150, or Dyneema Composite Fabric hybrid, material. It's incredibly lightweight, clocking in at only about half a pound (0.54 lbs, or 7.05 oz), so you can save the weight for the gear you're going to pack inside instead. The material varies slightly on the White colorway, with DH50 that's even lighter at 0.43 lbs (7.02 oz). Both are also highly water-resistant—even in heavier showers, water runs right off and away from your gear.
There is one downfall with this material, and that's how crinkly it is. This bag crunches quite a bit when you're moving it around which can get annoying, and looks and feel pretty wrinkly. If you're digging its functionality, these downsides might not bother you, but they're definitely something to note if you're more concerned with style.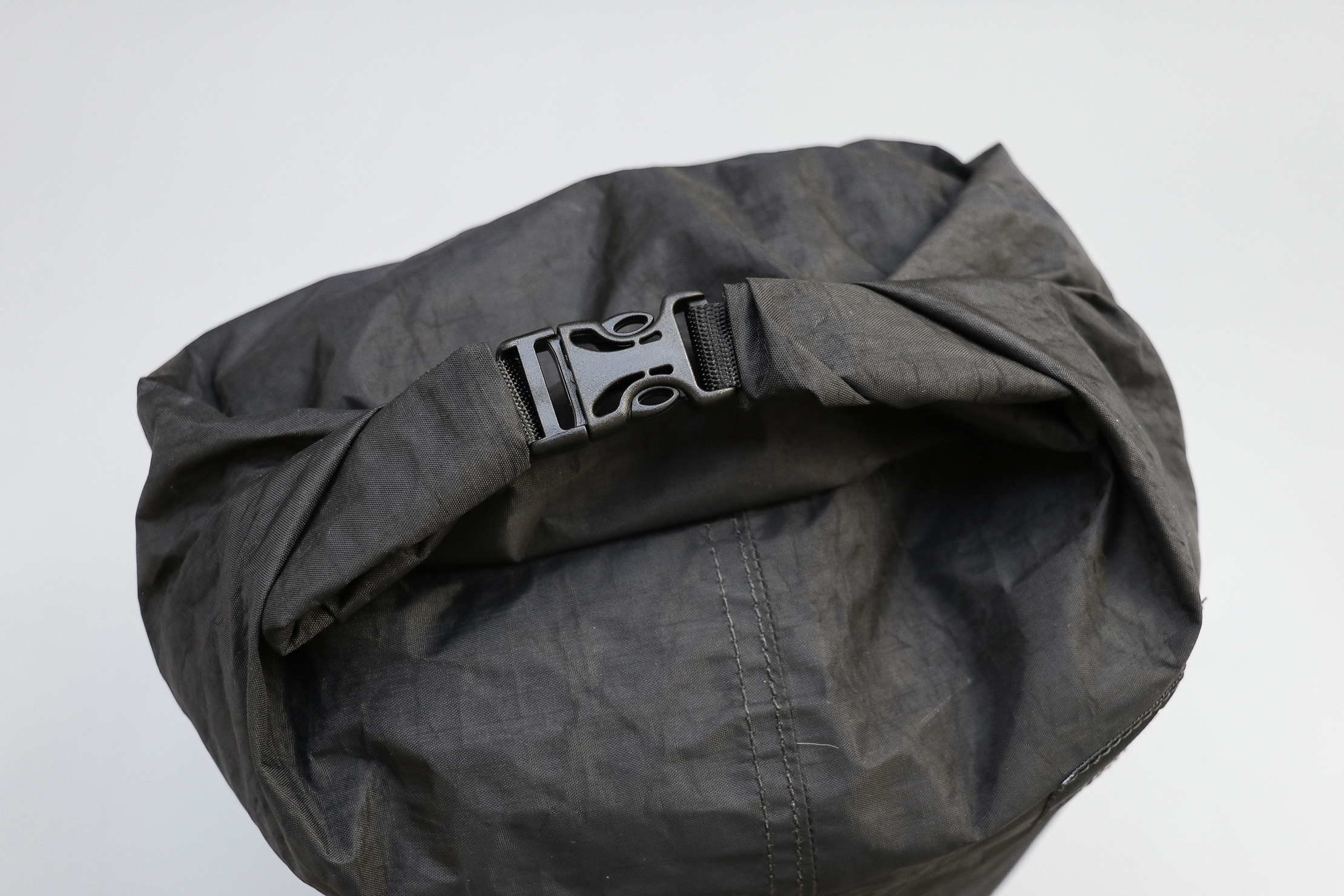 While you won't find any zippers on this bag, you will find ITW Nexus buckles and strap adjusters, all of which have been working nicely during testing. Our only note is that while the strap adjusters are easy to use, the material itself is a little slippery, and can cause the bag to lose tension after being tightened (which we'll touch on again in the next section).
External Components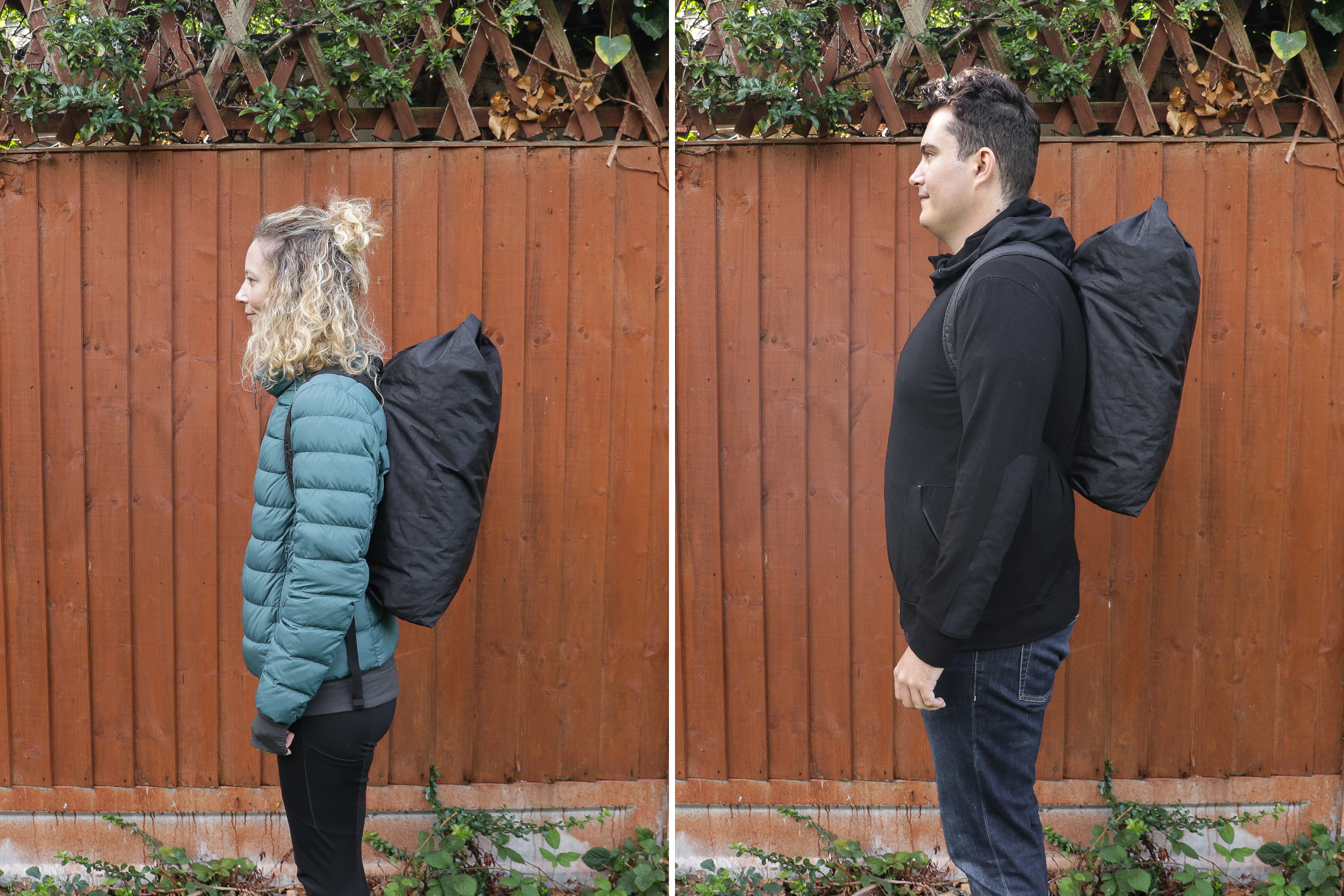 This pack's shoulder straps don't have much padding to them, or any mesh lining to help with breathability, which is the tradeoff for the bag being so light. The Dyneema material is also pretty slick and can cause the straps to slide down the shoulder if not properly tightened. We've had to tighten these straps more than we'd like to keep it secure, and it can be tricky getting the bag on and off without having to adjust the straps again.
There's no sternum strap at your disposal, but there are attachment points along the shoulder straps where you can attach one if you're looking for some extra stability, especially because of how easy it is for this pack to slide down—it would help with securing its position on your back.
Thankfully, Hyperlite sells one separately that you can pick up. However, If you feel you don't have any use for a sternum strap, you can also clip a carabiner on one of these attachment points so it's always handy.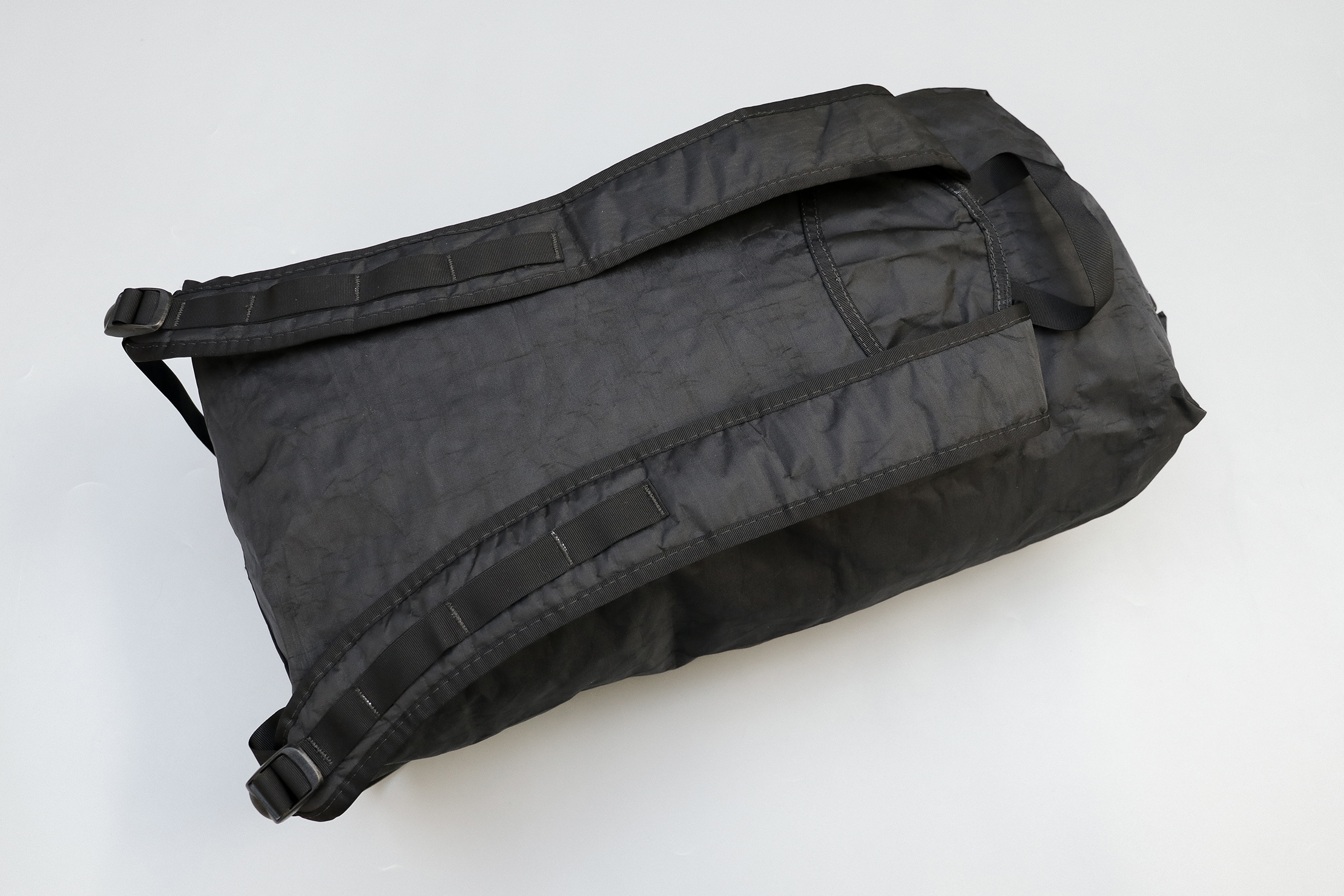 This bag is essentially one large piece of fabric, so you don't have any padding or mesh against your back, and no support or ventilation as a result. Again, this material is also very slippy, regardless of what kind of clothing you're wearing. So, you'll want to carry this bag as high up as possible to create tension in the shoulder straps and prevent it from sliding down.
You also have a small handle situated on top of the back panel that, like the harness system as a whole, is just a small piece of fabric. That said, we've found it comfortable and convenient enough for grabbing and moving the bag around, or even hanging it when needed. We've also been able to use the bag's rolltop opening as a handle as well, which we'll talk about in the next section.
There aren't any water bottle pockets on the outside of the bag, which helps it retain a relatively slim profile. Of course, that also means you don't have a spot to store one externally. There's plenty of room inside the main compartment if it's an essential item in your lineup, but you might not be comfortable stashing it alongside your laptop or other more valuable items if you're also carrying them.
Inside The Pack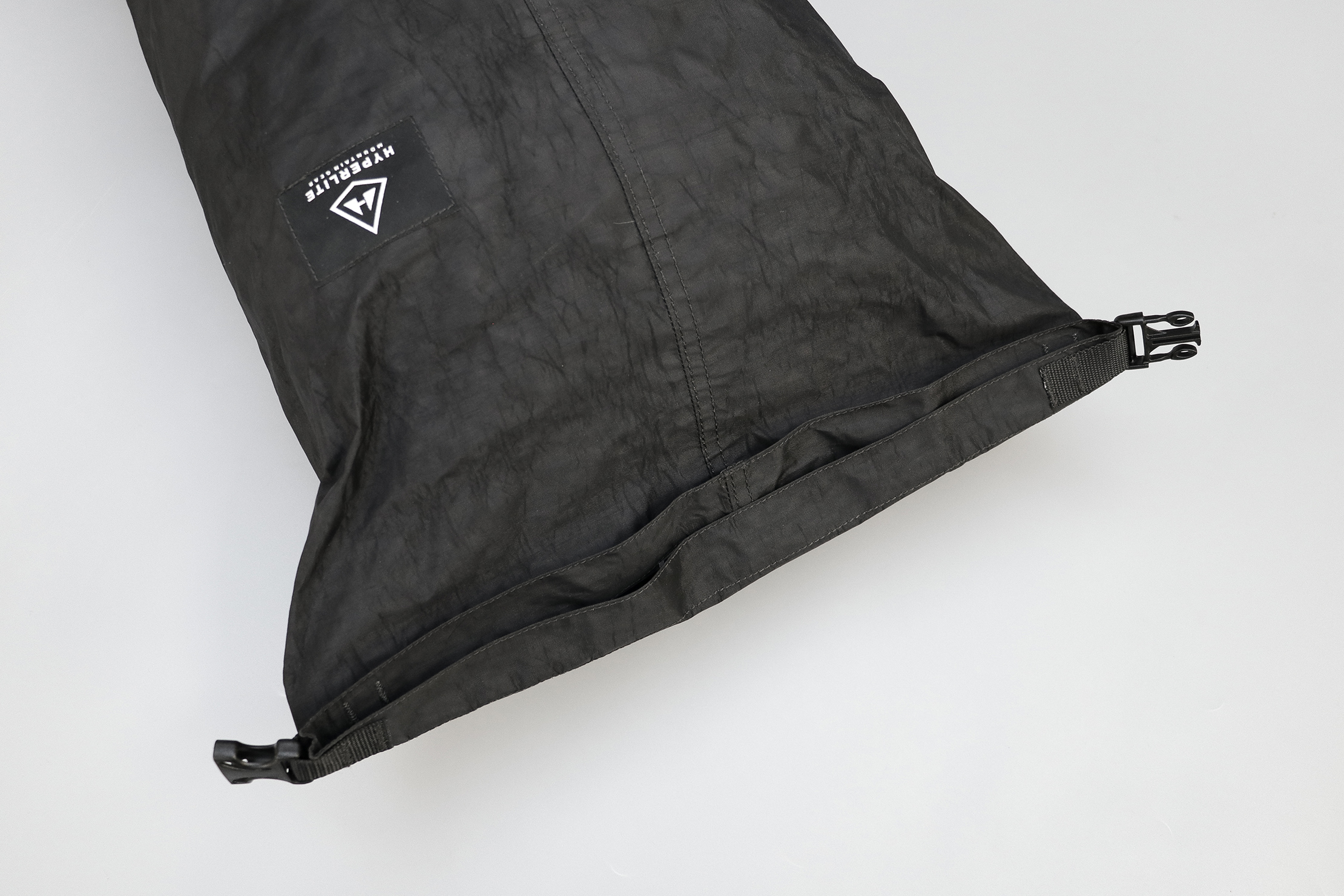 The Metro Pack's main compartment is essentially one big bucket. It has a rolltop opening that's secured with a buckle to keep it from unraveling. We've found that three folds are the ideal amount to secure the bag for our purposes, but you can roll this material even tighter when you don't have much inside for a more minimal look. The opposite is also true—you can unroll the material and pack this thing to the brim if you'd like, too.
One note is that when we do more than two folds, the logo in the top corner bends and becomes partially hidden by the overlapping material. If you're a Hyperlite fan and want everyone to know it, this is something to consider!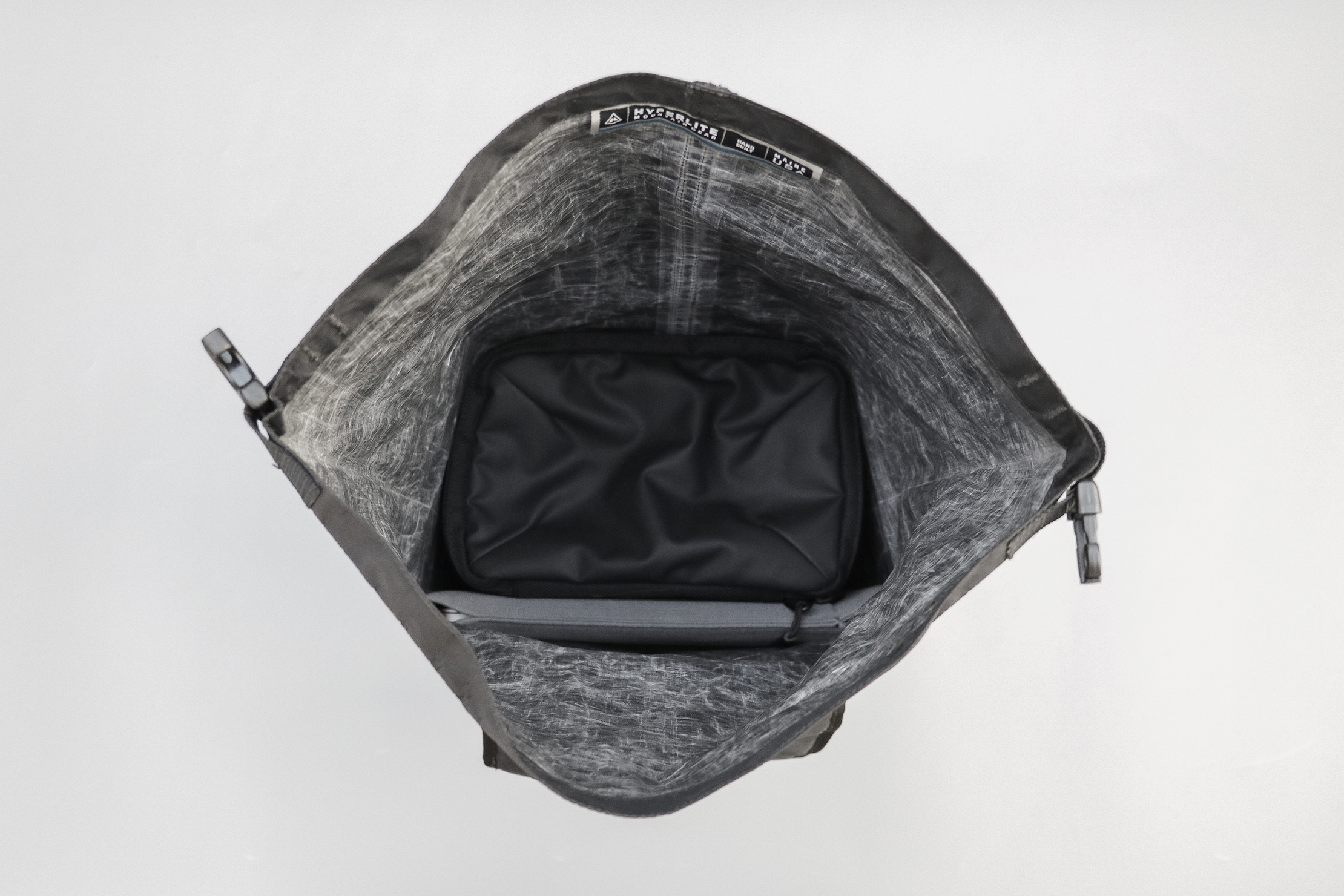 You have 30L of space inside this compartment to pack out with however much or however little you need for your everyday commute or a day trip depending on your use case. When you open it up, you'll notice there's nothing in the way of organization, so you may want to integrate some pouches or packing cubes (like the Hyperlite Mountain Gear Pods) to create more segmentation if needed or wanted. Especially since this bag is like a black hole—it's much harder to spot your gear, so you have to feel around for anything that's not directly on top.
We've found it important to be conscious of how we're packing this main compartment, as we're stacking our stuff for it all to fit. Sharpening up on your Tetris skills might come in handy here—it's more convenient to layer your more frequently-used gear toward the top so it's easier to access, and your less frequently-used gear toward the bottom. This way, you're not as constantly having to take everything in and out of the bag.
During testing, we've been keeping the Aer Cable Kit 2 inside to organize our tech accessories, along with the F-Stop Small Shallow ICU (Internal Camera Unit) to hold any camera gear we need when getting photos on the go. We've even had room to throw in the Wool & Prince Travel Zip Hoodie from our collaboration, The Travel Collection.
There's no dedicated sleeve or false bottom (or much of anything else) in this compartment, so we've also opted to keep a laptop inside the Bellroy Laptop Sleeve to keep it protected when it's getting shuffled around inside the bag. Keeping a laptop inside even adds some structure to the otherwise structure-less back panel, which is a nice bonus.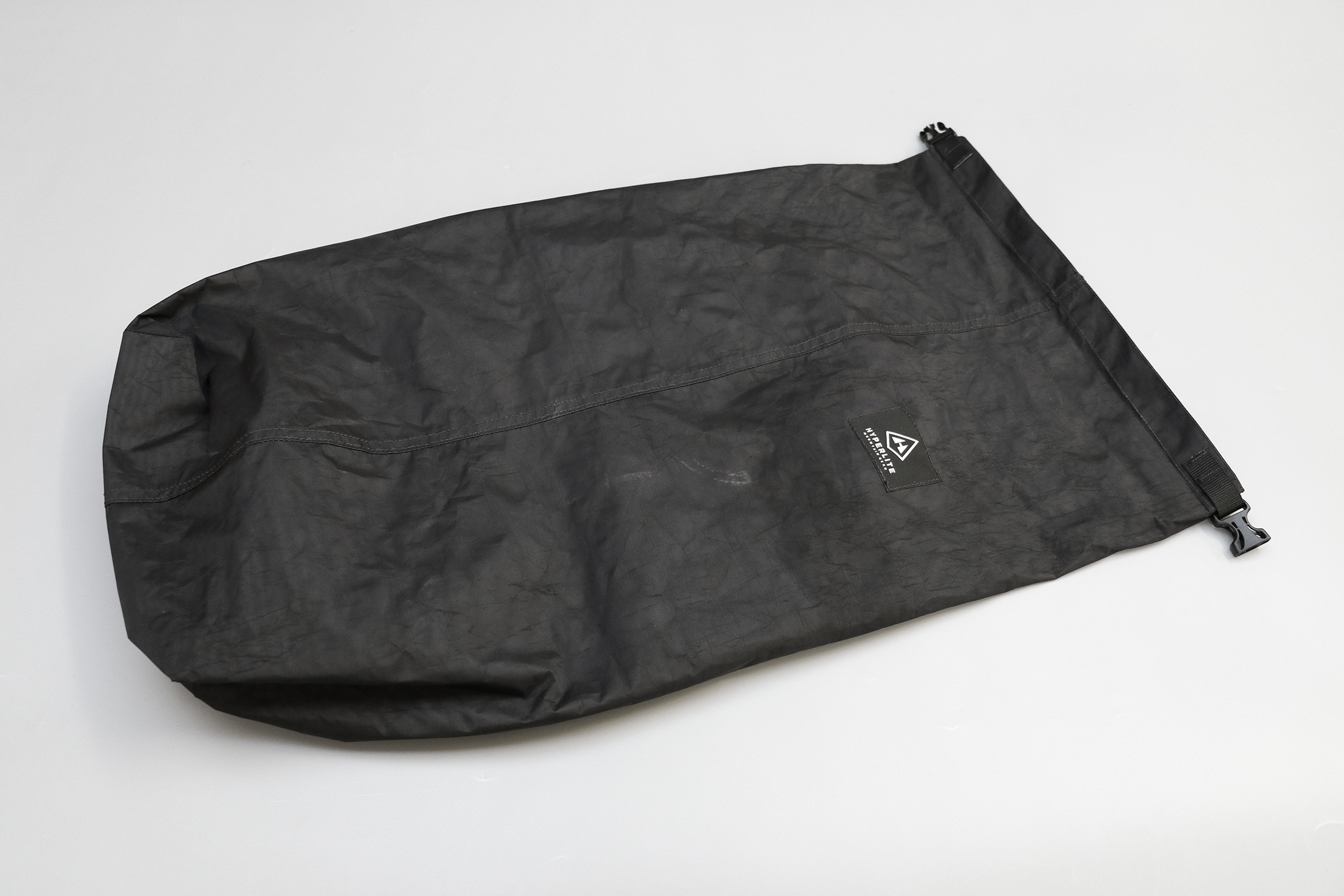 When the bag is empty, it lies completely flat and can be rolled, folded, etc. for when you're looking to store it away and use it as a daypack later on. Like we said before, its Dyneema material is incredibly lightweight, so it's not adding much poundage to your pack should you bring it along.
How you feel about this pack really comes down to what's more important to you and your use case. If you're planning to be out in stormier weather, and/or need something lightweight that won't slow you down, the Metro Pack is one to consider. On the other hand, if you're all about aesthetics and/or a super comfortable harness system, this bag might be a bit disappointing.
Usage Timeline
Initial Usage
Condition: Excellent
Packs down small when not in use
Giant bucket-style makes this a great bag for just dumping gear into
Extremely lightweight but also durable and water-resistant
2 Weeks of Use
Condition: Excellent
We've really enjoyed just how incredibly lightweight this pack is and the versatility that comes along with being able to roll the top down when you're carrying a smaller load
There's really no padding to speak of in the shoulder straps, but we've found them to be relatively comfortable
Because the main compartment is one large bucket, and there are no external pockets, we've had to use a combination of pouches and cubes to organize our gear
Access the Pro Community Discussion
Get your questions about the Hyperlite Mountain Gear Metro Pack answered from our team and the Pro Community right here on the page. Plus, join discussions with other members about gear, guides, and more.
Other Bags & Luggage Reviews