F-Stop Lotus 32L Review
The F-Stop Lotus 32L blends a camera and hiking pack with features to simplify photo-taking. It's the unicorn for some, though it may be too niche for others.
Our Verdict
Unlock the Pro Summary
Save time. Get access to brief summaries of our reviews so you can browse and make decisions more efficiently.
Pros
Ample organization and storage space, so every item has a home
Thorough harness system to balance the weight of camera gear
Customizable features to ensure the pack fits your kit
Cons
No dedicated laptop sleeve
Hydration bladder sits dangerously close to camera cube
Pack is on the larger side for 32 liters
Recent Pack Hacker Video
Technical Details
Capacity

32l

Weight (lb)

3.3 lb (1.5 kg)

Dimensions

20.5 in x 13 in x 11 in (52.1 x 33 x 27.9 cm)

Notable Materials

Nylon, Hypalon®, ITW Hardware, YKK Zippers, Thermoplastic Polyurethane (TPU), EVA, Aluminum

Manufacturing Country

China

Warranty Information
Full Review
At first glance, the F-Stop Lotus 32L looks like it was yanked off the hiking trail. However, upon further inspection, it has many unique features that make it well-suited as a travel backpack. Is this a master-of-none situation, or have you found the perfect travel camera backpack? Let's find out!
External Components
The primary pack material is 420D ripstop nylon. It's relatively lightweight but durable and has a TPU film to protect your gear from the elements. It looks sleek yet technical, which we dig.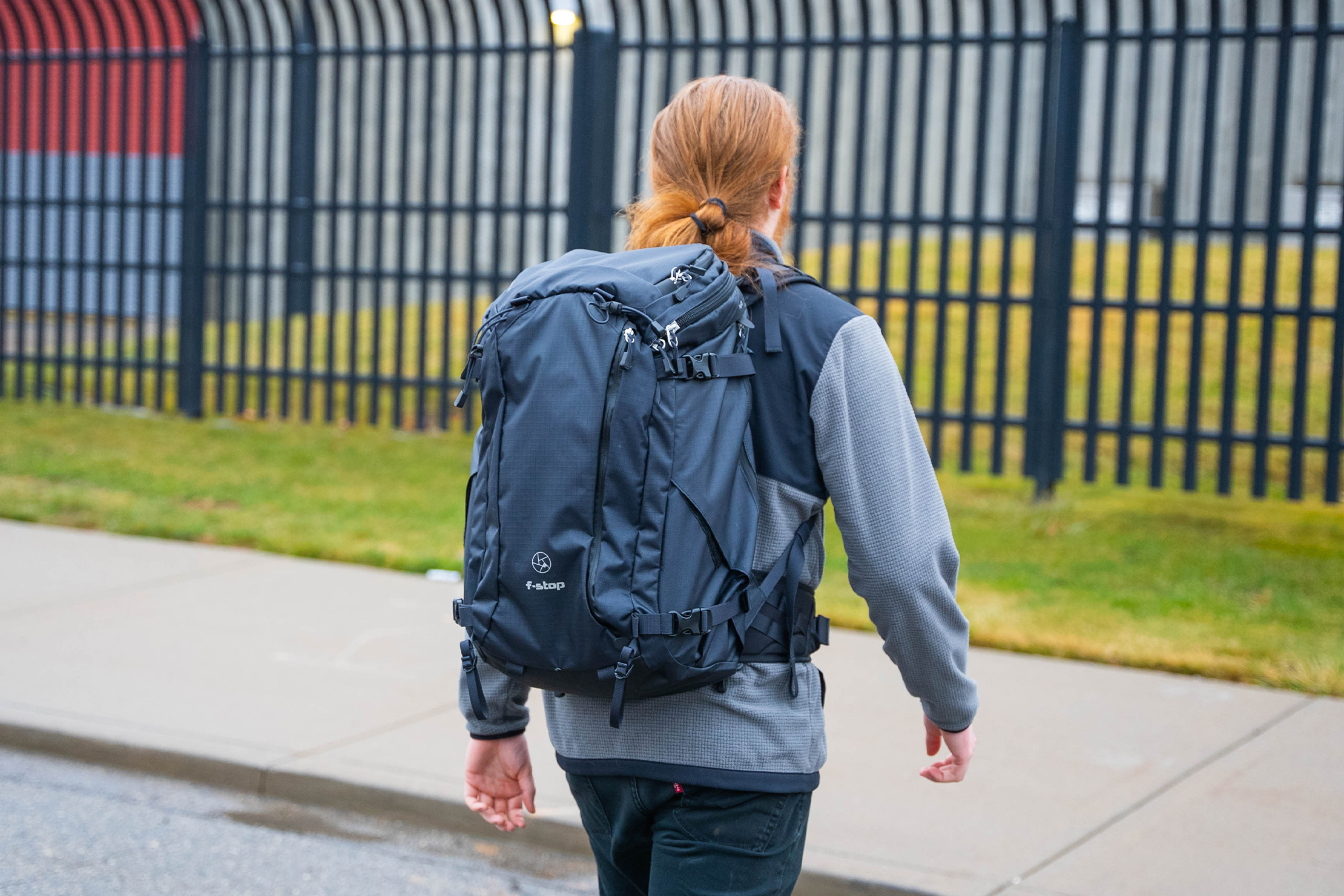 In light rain, the pack holds up extraordinarily well. In prolonged exposure, it's best to head for cover to use a rain cover to ensure your expensive gear doesn't get wet. F-Stop sells a rain cover for the Lotus, or it may come in the combo pack you choose for the pack, but most larger rain cover should work fine with a few adjustments.
As mentioned above, F-Stop sells a few combos depending on your needs. The pack alone (without a camera unit) is around $300 at the time of writing. The premium package includes three camera units, the rain cover, a packing cube set, an accessory bag, and two gatekeeper straps, all of which will run you closer to $650. Depending on what accessories you already have, a different combo might make sense for you.
The logo on the front of the pack is large. It's a neat design, but its aperture blades ensure that those around you know it's a camera backpack. This isn't a huge deal, but if you're worried about folks trying to steal your gear, this is a giveaway of what's inside.
Before going any further, we should mention that this pack is large. It carries more like a travel backpack than a daypack. Thirty-two liters is on the cusp between the two, but it carries more like something on the larger end of the spectrum.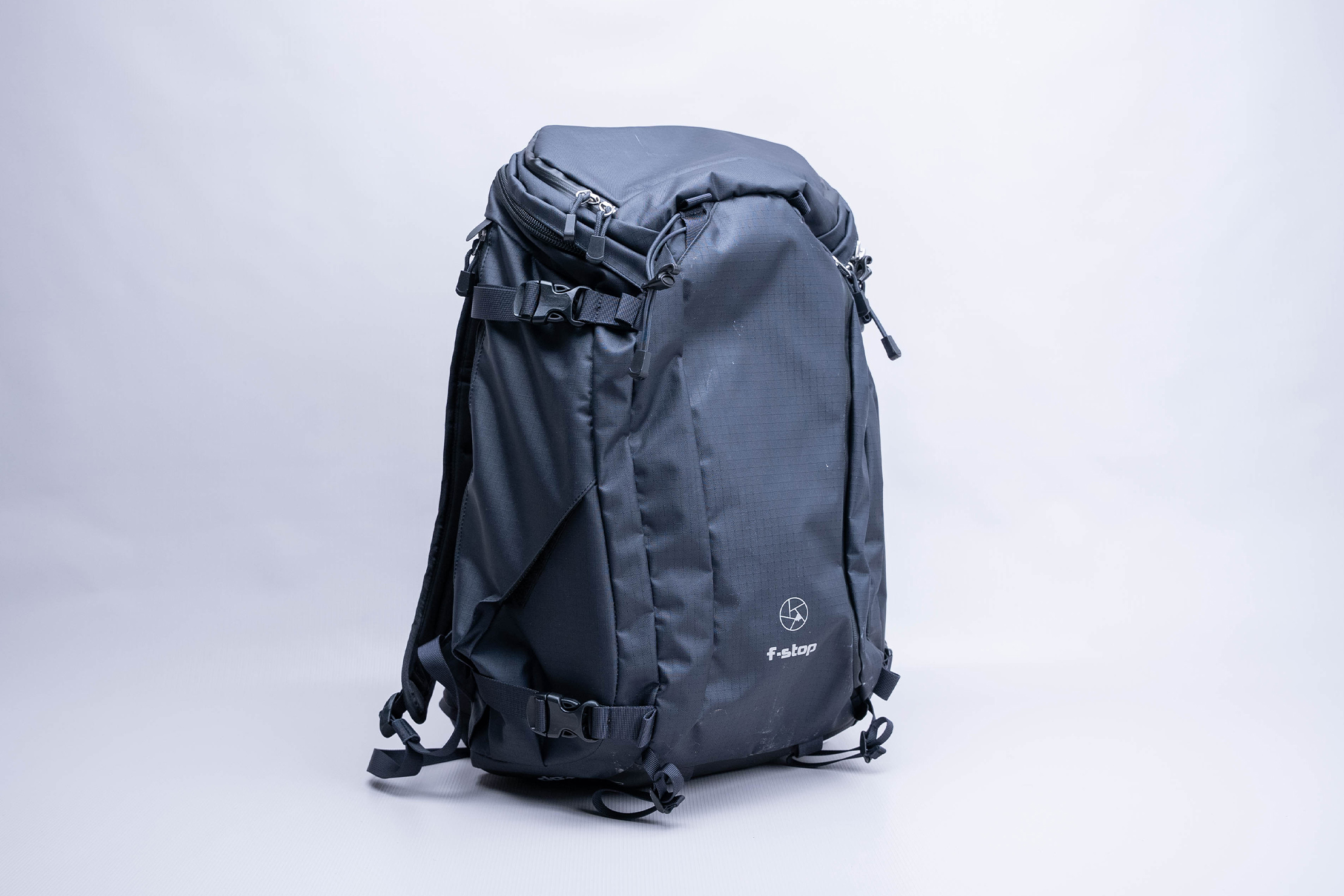 Throughout the pack, we see YKK zippers. Some have AquaGuard finishes, and some have fabric welts over them—but they all work reasonably well. Sometimes, the larger zippers with tabs over them can be bogged down by fabric, but you get used to this and can figure out how to navigate the issue with time.
The pack has buckles and hardware from ITW, which work well. The buckles are snappy and don't come undone, and the hardware is easy to adjust—no real issues to report here.
On the front of the pack are two elastic loops that secure with hard plastic adjustors. This is a way to attach trekking poles, ice picks, or other hiking gear. There are two more loops on the bottom of the pack crafted from a more structured material to hold the bottom of whatever you've stowed on the pack.

Both sides have two compression straps. They're placed pretty far apart, so you can stow tall gear between them. This is a good place for a tripod, and a fishing pole works here, too. They don't do a ton for compression due to the camera cube inside's rigidity, but they help attach gear and keep the fabric under wraps.
There are various small loops around the pack to attach extra gear. F-Stop sells gatekeeper clips that work on these loops, but you can use a carabiner or other brand clips here. This pack is very modular, so you'll figure out a system that works for you over time.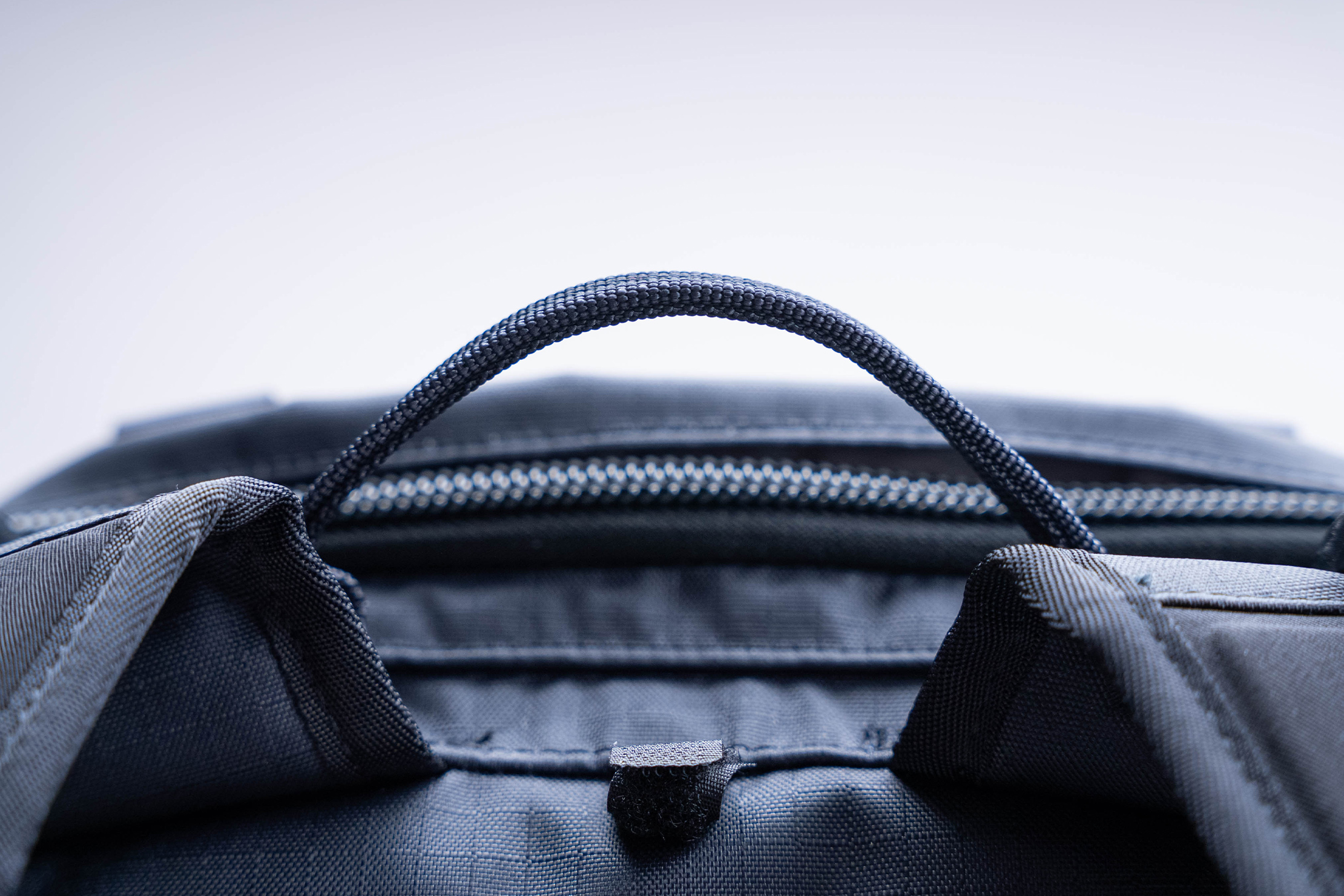 The top handle on the pack is durable and strong but has no padding. It's super thin, so we've found that it digs into the creases in your hands after only a few moments of carrying. It works; it just isn't as comfortable as other bags we've tested.
Fit Notes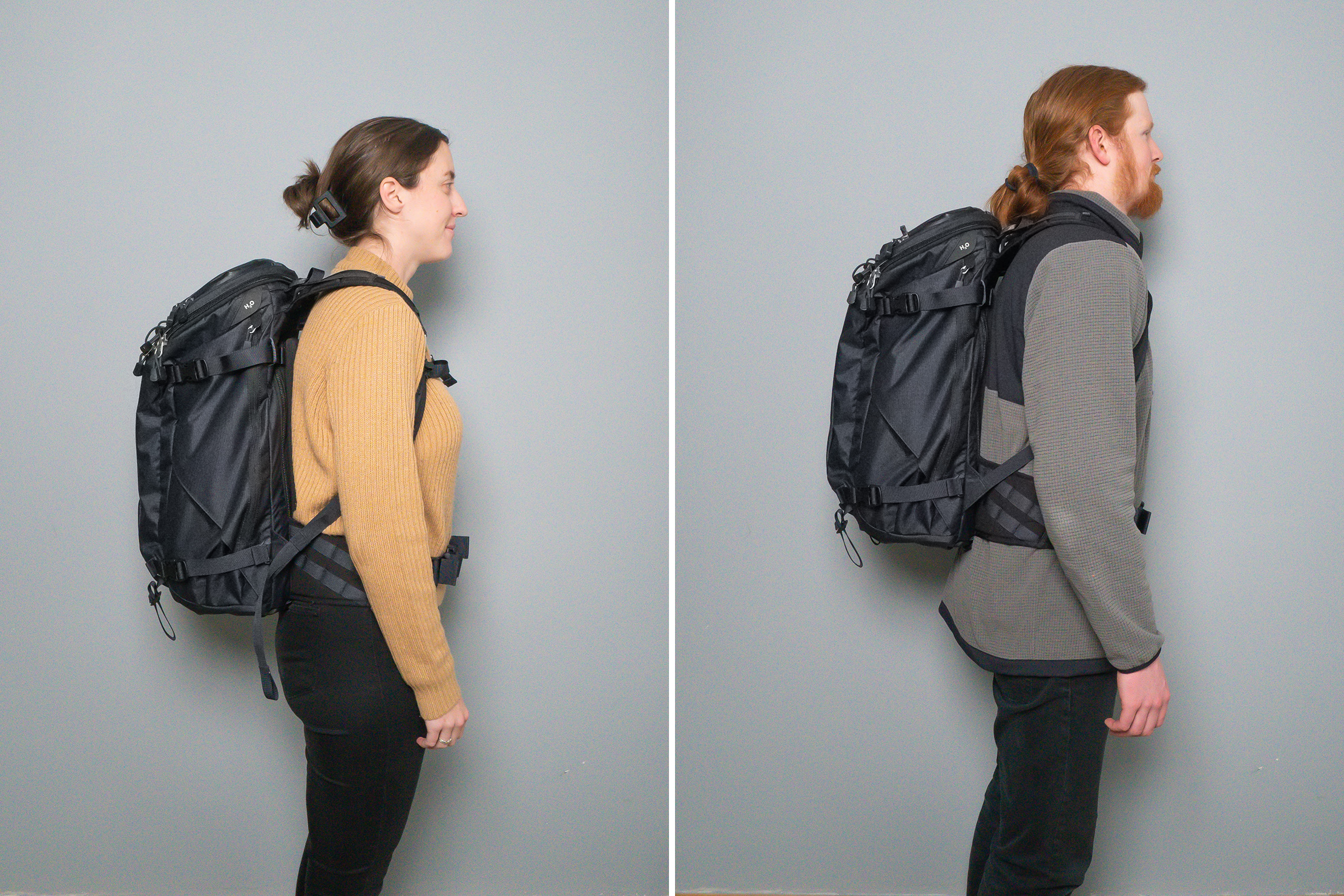 This is where we see the most similarities between the Lotus and a hiking pack.
First, it has a metal frame behind the back panel. You can access this through the main compartment, but its job is to disperse weight around the pack to keep you comfortable. The Lotus does a great job of this; overall, it's a comfortable carry. In addition to the frame, the back panel and shoulder straps are well-designed.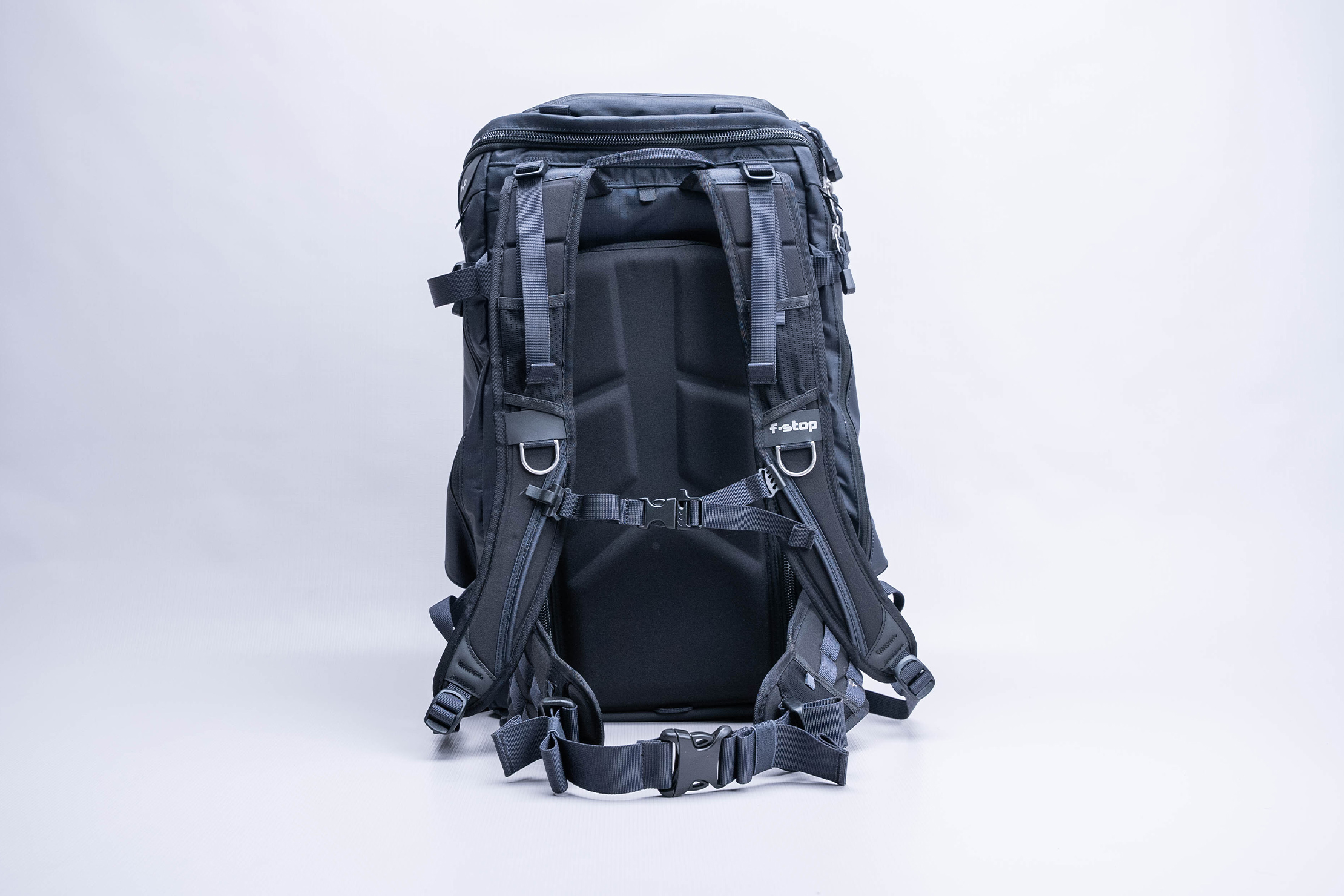 The straps are shaped like an S to mold your body better. They might not work for every body type, but they've been comfortable for us so far. On the top are load lifters to move weight around, which is essential when you've got a heavy kit on your back.
Small elastic pockets on either shoulder strap are good for stowing batteries or other small gear you might need in the field. There are metal D-rings below for attaching gear, so you have quick access. They're durable, but if you place a metal carabiner on here, it can be a little loud.
The sternum strap is on a rail so that you can make micro-adjustments. The buckle in the center has a whistle, which is a good feature for hiking or if you enjoy annoying your travel mates. The sternum strap helps shift weight around, too. It has a strap keeper, so there isn't excess strap all over the place.

The back panel is extraordinarily sturdy. It's molded and has channels for airflow to keep things cool. This is such a large pack that you'll probably get sweaty, but the back panel and shoulder straps keep things relatively aerated. It has ample padding, so it stays comfortable even when packed full.
The hip belt isn't super padded, but it has enough cushion for our liking. There's molle webbing on either side, so you can attach gear or pouches to access more gear quickly. There's a small elastic pocket on each side for small items and strap keepers to keep everything organized.
Inside The Pack
We've got two twin side pockets where the water bottle pockets might have been if they existed. They have a zippered closure, so you can't overstuff a large bottle here, but it adds protection if you use them for something other than hydration. You wouldn't be too bummed if your water bottle fell out and got scratched, but if your gimbal does, you'll be upset. The zippered closure creates a more dynamic use case than a traditional water bottle pocket. The zippers go under the compression strap, adding another layer of protection. It can be slow to access the compartments because of this, though.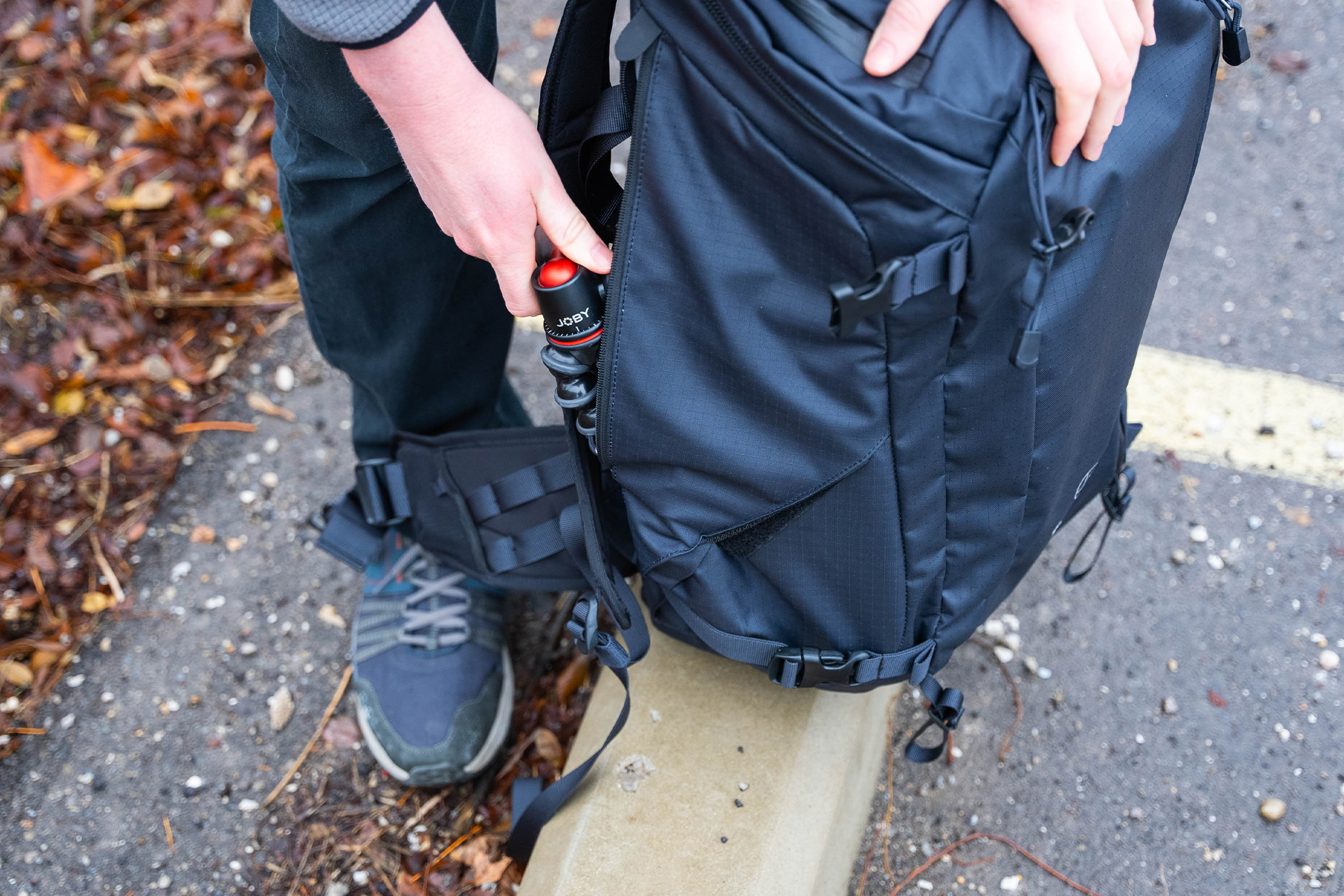 Both pockets are large enough to stow a small travel tripod, and you can make the space larger by un-attaching the hook and loop fastener on the exterior. It doesn't create an opening, but it allows for more fabric coverage to fit more inside the pocket. This is ideal for stowing a jacket or something that might need a little more space to fit inside. When expanded, the pockets look a little odd, and an exposed hook and loop fastener can get caught on things.
In between the two side pockets, there's a compartment on the front. It takes up most of the pack's face, but it can be hard to get gear inside when you've got the rest of the bag full. There's a small hole in the bottom so water can filter out should any get inside, so this is an excellent place to stow a travel jacket, umbrella, or other rain gear.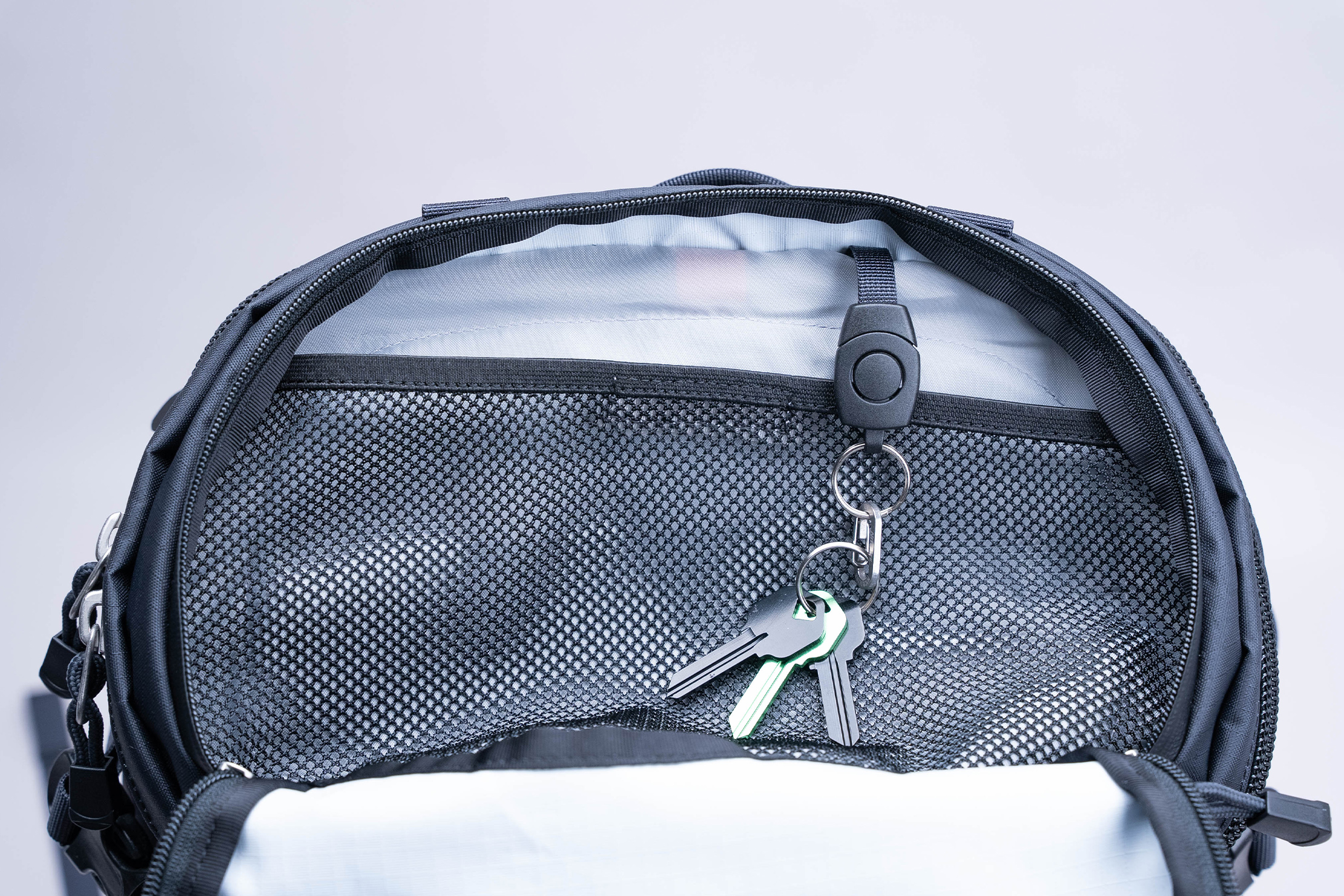 On the pack's top, there's a quick access pocket for the gear you want to be able to snag in an instant. It's relatively large, so you can stow a lot inside, but there's some organization to keep things segmented. First, there's a detachable key ring, so your keys have a home and don't get lost. It's easy to remove, even with gloves on, so you can get into your car after a long winter hike without freezing your hands. Next, a mesh divider closes with a hook and loop fastener. The closure doesn't span the whole top, so items could slide out, but we haven't had any issues.
Before we move into the main compartment, we can't forget to mention the pocket at the bottom of the pack. It's pretty well hidden—at first glance, it's easy to miss. There isn't a ton of padding here, but the pocket is isolated from the rest of the pack, so it's a good spot to stow a wet rain cover or similar items. However, keep in mind that putting a rigid thing inside can make the pack not stand up on its own or sit cockeyed.
The main compartment is accessible from two places—the back panel and a top zippered closure. We'll kick things off with the back panel.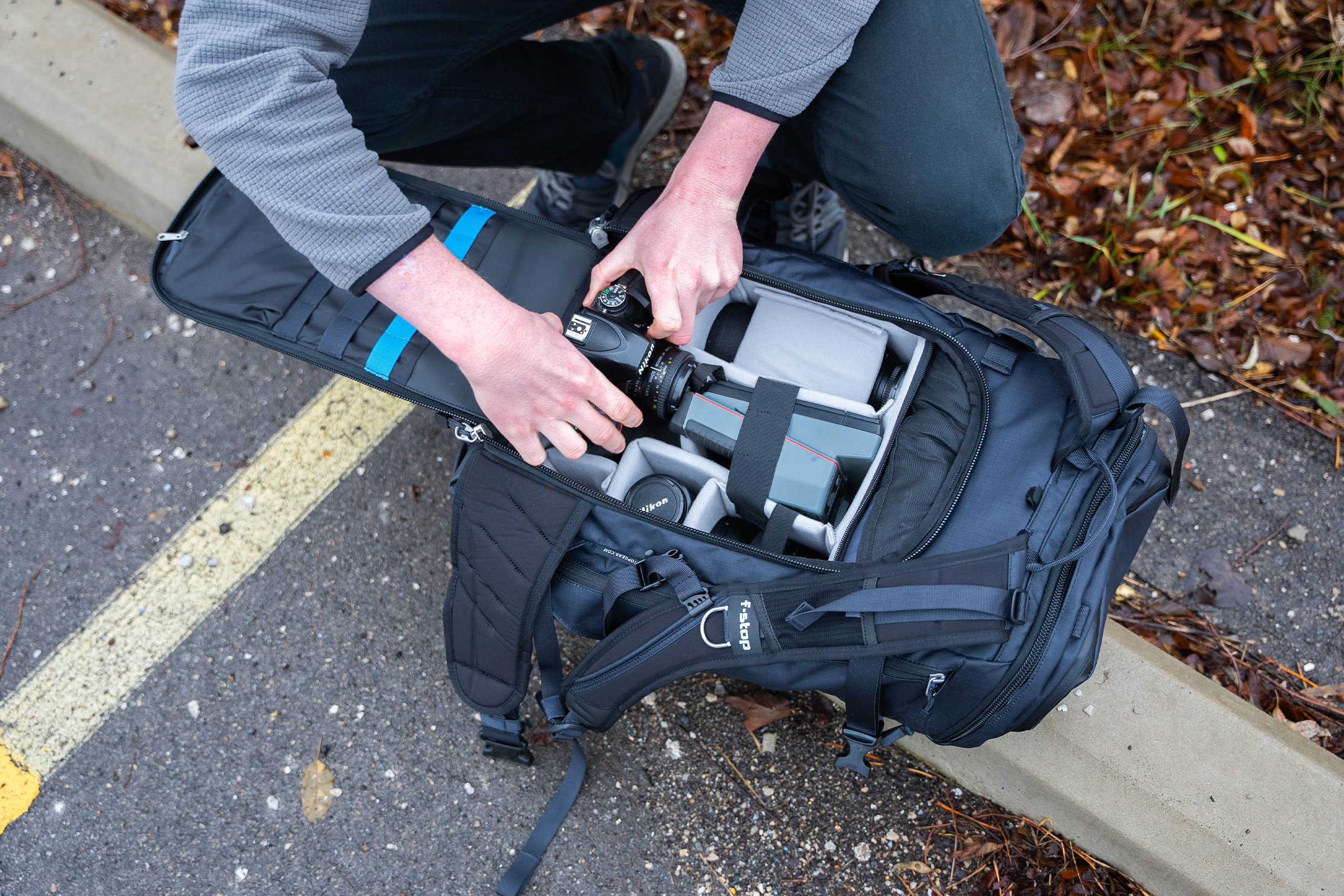 The structured portion of the harness system we went over earlier has a zipper track around its exterior. This creates a clamshell opening so you can have full access to your camera gear when need be. There's a small zippered compartment on the lid for accessories and attachment loops so you can fix small pieces of gear for safekeeping.
This is where the Internal Camera Unit, or ICU, goes. F-Stop sells multiple different-size ICUs that work here, but we dig the medium size we have on hand. This unit has enough room for a moderate-sized camera kit, but it isn't so large that you don't have any space in the main compartment for extra gear. You can fit a body, 3-5 lenses (depending on their size), and additional equipment like filters, adapters, and tripod doohickeys. The sides of the ICU secure to the walls of the pack with hook and loop fasteners to prevent it from moving should your bag get turned upside down in transit.
The ICU has a durable outer wall and padded dividers that can be organized to meet your specific needs. The model we have comes with three elastic bands that you can fasten over the top of sections where you might be worried about gear popping out. In addition to the elastic, the ICU has a cover that you can zip shut when you know you won't need anything from it, like on a plane or in your hotel room.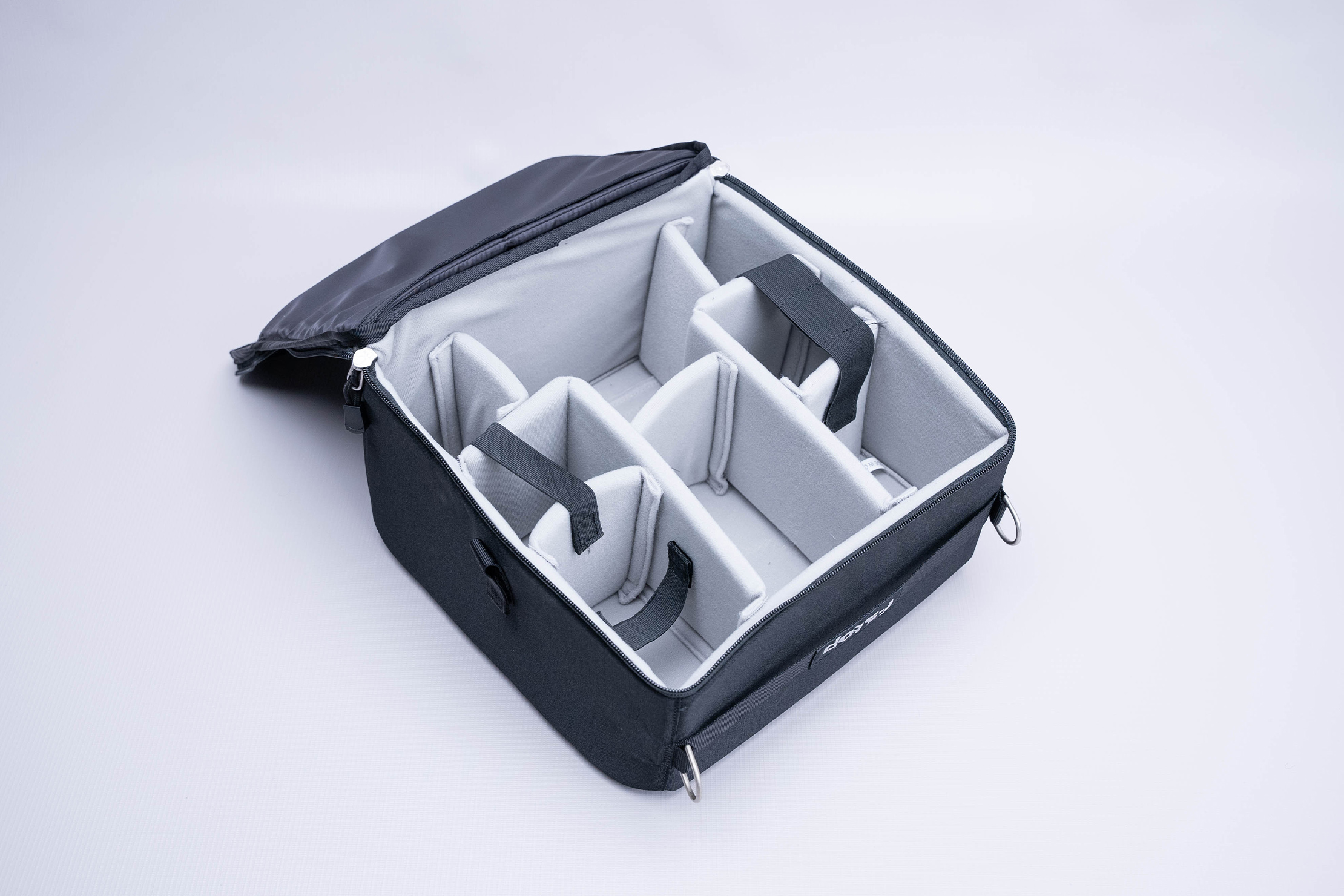 Behind the ICU is a liner pocket that works to hide gear or for a water bladder. You can also stow a tablet here, but it can be hard to access. There's a water bladder hose pass-through in the top corner that secures with a hook and loop fastener so you can hydrate on the go.
From the clamshell-style back panel opening, you can barely access the area above the ICU with the medium cube in place. However, it's easy to get to via the other access point.
The top-loading zipper runs roughly three-fourths of the way around the upper section of the pack. The lid has a fairly large zippered compartment for stowing gear you don't want getting lost in the rest of the main compartment. This is a stellar include because it's easy for small gear to get lost behind or underneath the ICU.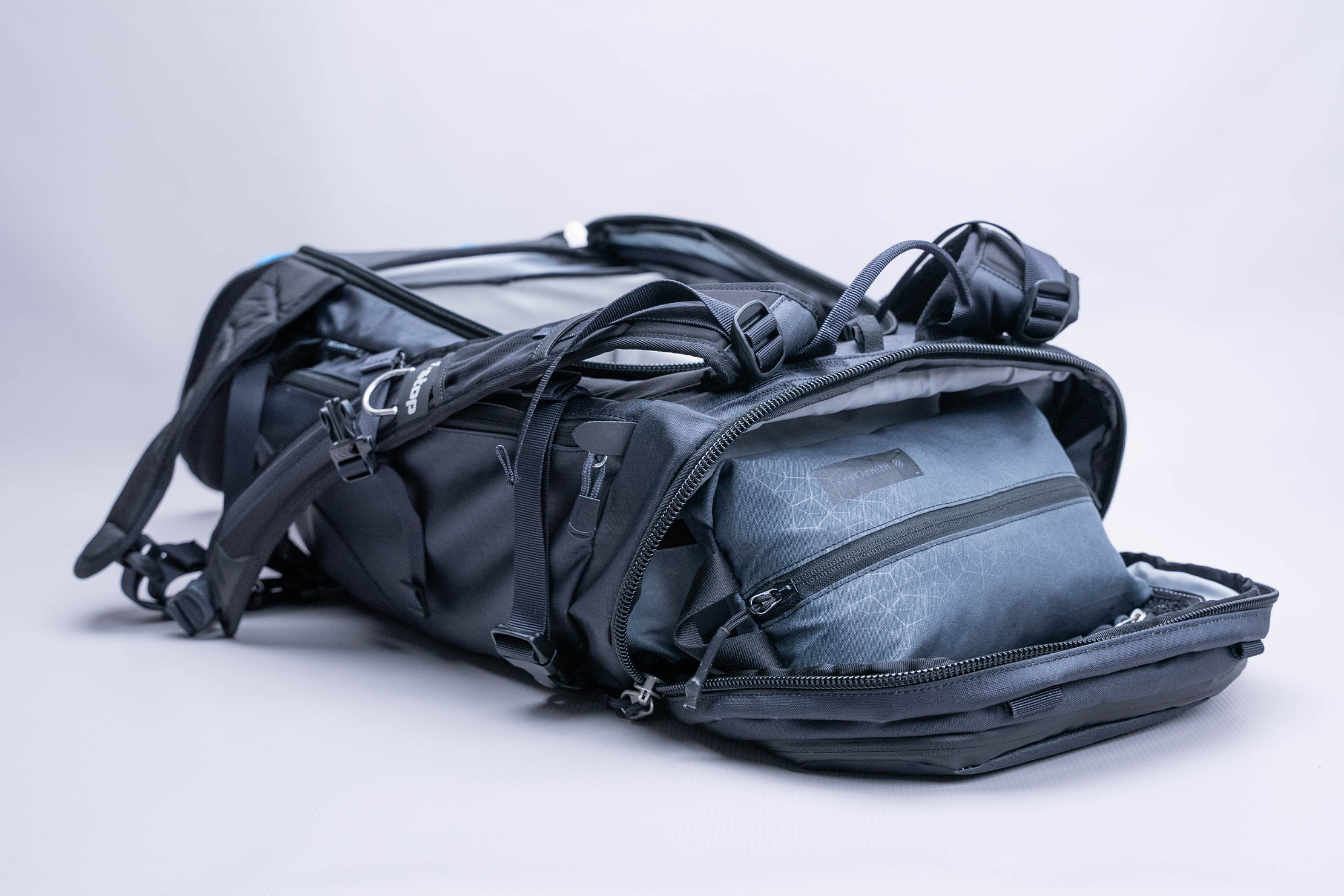 Without gear stacked on top, we can see the top of the ICU through the opening. Depending on the size of the cube you go with, you can fit more or less gear here. As we mentioned earlier, we can fit enough equipment with the medium ICU to justify using this pack for certain trips. You can get by with this pack for a weekend trip, so long as you use packing cubes and other organizers. F-Stop has its own cubes, but any will work.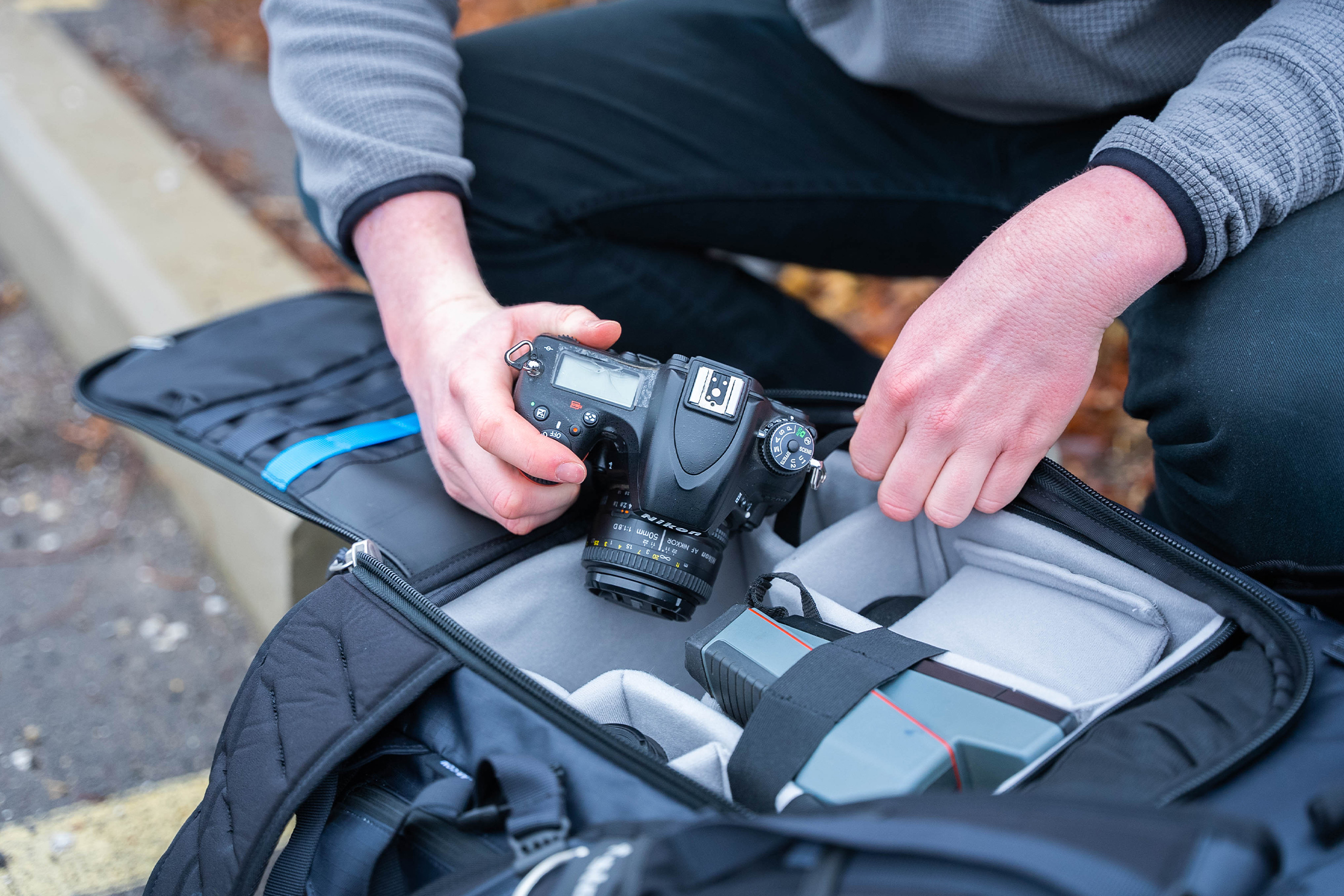 Overall, we dig this pack, but it's very niche. If you aren't a hiker or aren't into outdoor-focused backpacks, this likely the solution for your needs. If you have a huge camera kit and want a pack that will work for your gear and travel items, you might not have enough room with the large ICU for everything else. However, in most cases, this pack hits the money. It's sleek, has many features, and is a great weekender bag for travelers who love taking photos with the same setup they use at home.
Usage Timeline
Initial Usage
Condition: Excellent
The camera cube is removable, so you can pack your gear on your desk and insert it into the pack
Water-resistant materials keep your gear safe, and the additional rain cover will come in handy
The pack looks sleek and not overtly like a camera bag, which we dig
2 Weeks of Use
Condition: Excellent
Exterior materials have held up durability-wise
No issues with water permeating the pack materials or zippers
The harness is comfortable, even for long-haul treks
Access the Pro Community Discussion
Get your questions about the F-Stop Lotus 32L answered from our team and the Pro Community right here on the page. Plus, join discussions with other members about gear, guides, and more.
Other Bags & Luggage Reviews