Eagle Creek Tour Travel Pack 40L Review
Eagle Creek's Tour Travel Pack 40L tames its large capacity and soft structure with a comprehensive harness system.
Our Verdict
Unlock the Pro Summary
Save time. Get access to brief summaries of our reviews so you can browse and make decisions more efficiently.
Pros
Fully adjustable harness system
Very spacious even without expansion system
Laptop compartment has false bottom on either end
Cons
Unstructured space causes floppiness
Side handle located opposite openings to laptop and front compartments
Short on organization
Recent Pack Hacker Video
Technical Details
Capacity

40l

Expanded: 45L

Weight (lb)

2.8 lb (1.3 kg)

Dimensions

20.5 in x 13.125 in x 8.75 in (52.1 x 33.3 x 22.2 cm)

Expanded: 20.5 in x 13.125 in x 10.75 in

Notable Materials

Polyester, Ripstop Polyester, Polyethylene

Manufacturing Country

Indonesia

Laptop Compartment Size

15"

Warranty Information
Full Review
Get up to 20% off Eagle Creek • Join Pack Hacker Pro
Space is a luxury in the world of travel. We can't get enough of it, be it leg room, baggage allowance, or a hotel bed; you name it, we want the space. Those extras depend on how much we're willing to fork over, though. There's always a price to pay. The same goes for spacious backpacks. You can have the biggest backpack in the world, only for it to be let down by a flimsy harness system.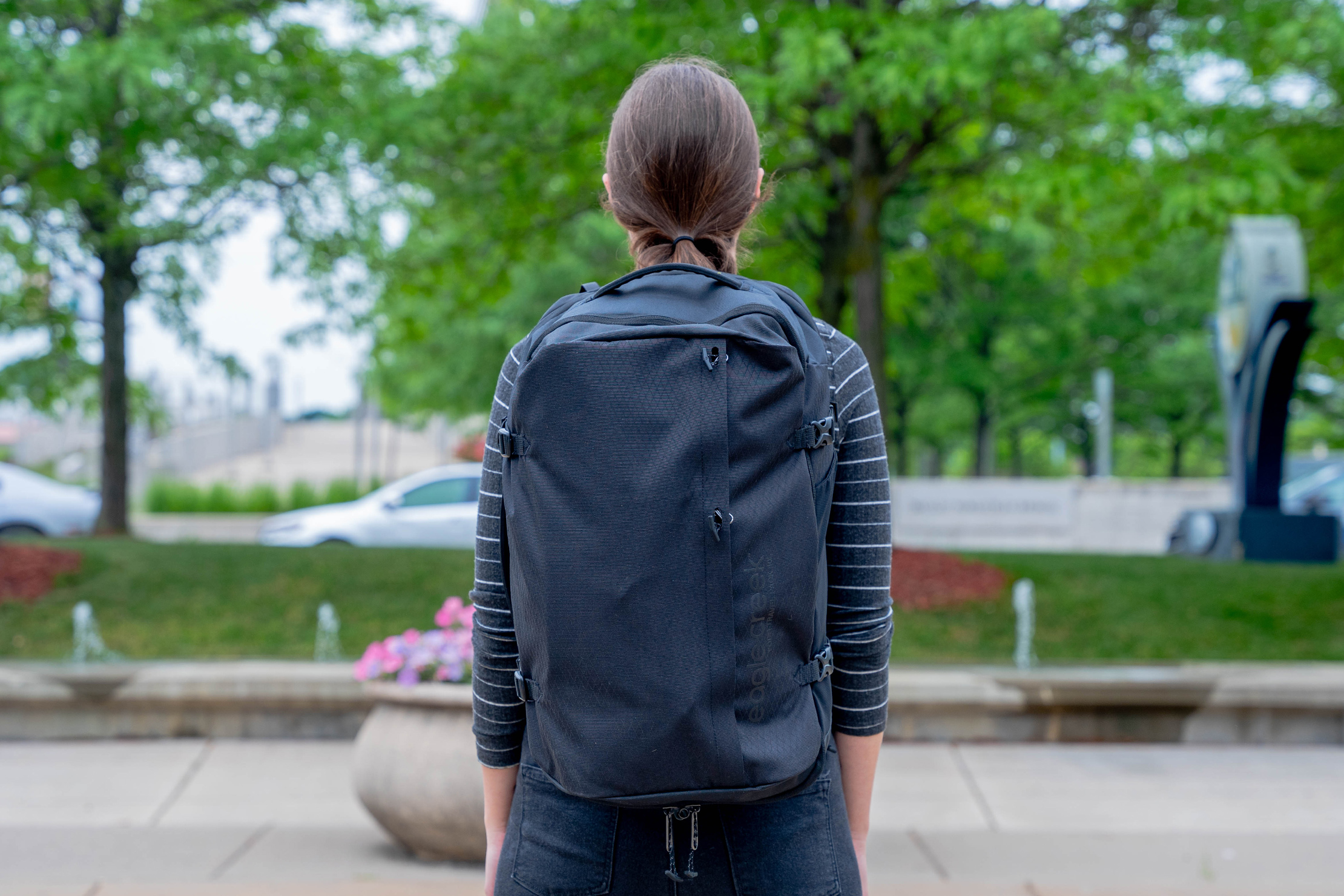 Eagle Creek understands this, which probably is why they went to great lengths with the Tour Travel Pack 40L's harness system. This bag is—quite literally—strapped from top to bottom, and they're all necessary, as it turns out. The structure is a bit floppy because of its relatively light fabric and empty interior. Additionally, since it has a lot of open space, the Tour Travel Pack relies heavily on packing cubes, pouches, and other organizers to keep gear sorted. If those are the kinds of accessories you already have or plan to use, this is the sort of bag you may find appealing.
Materials & Aesthetic
We, no doubt, chose a black-on-black colorway because "black-is-easy-to-pair-with anything." That is true in the case of the Tour Travel Pack, and it further works in the bag's favor by stealthily hiding its rather lumpy appearance. Don't get us wrong; it's still a sleek-looking bag—with its primarily plain front and diamond-pattern fabric. On the other hand, its soft structure leaves an impression on us.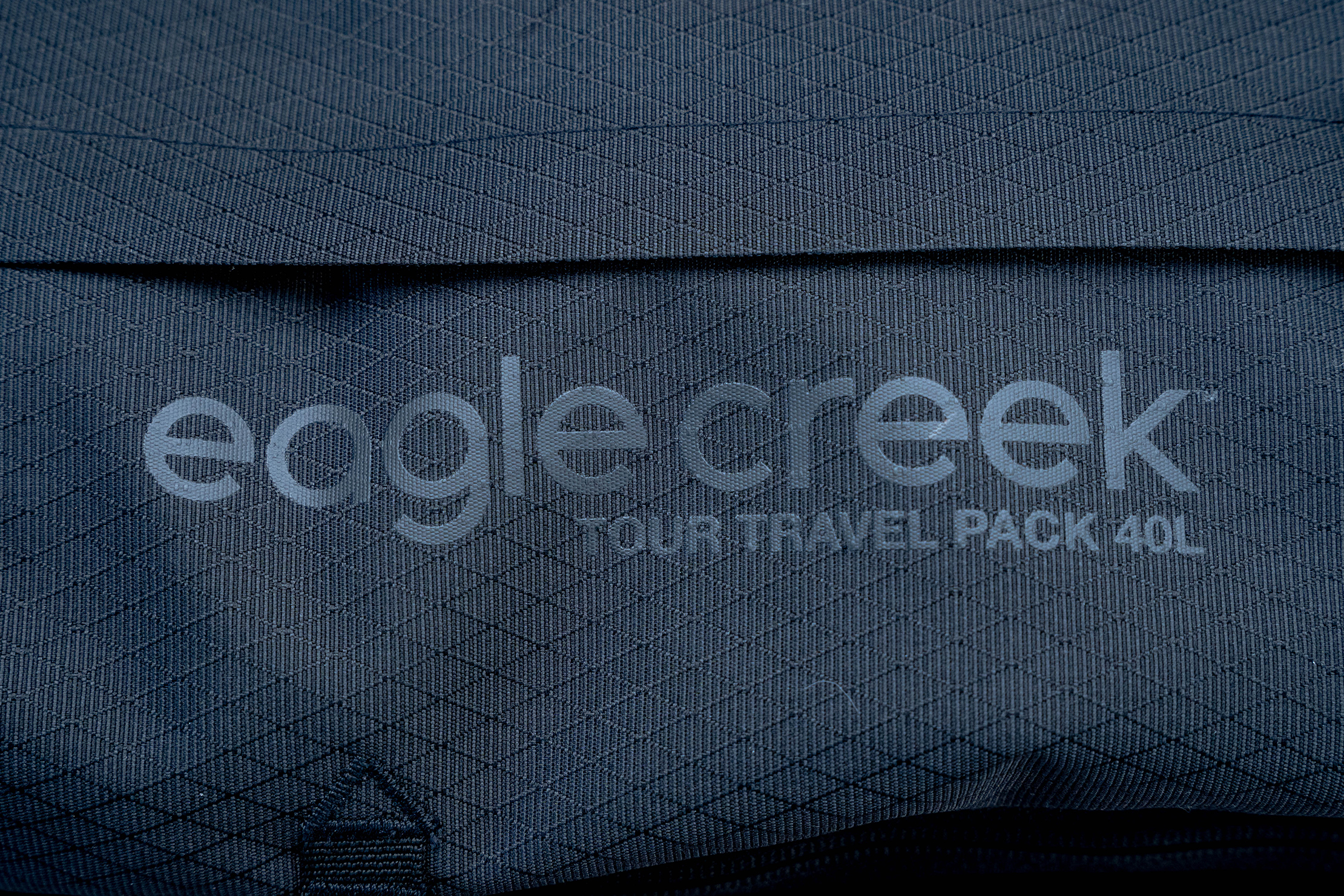 Large profile bags will always have a certain "bigness" on how they feel. It's structuredness that keeps size in check and prevents it from flopping. The Tour Travel Pack seems to be lacking in that department. It's not as well-defined as its contemporaries like the Aer Travel Pack 3, YETI Crossroads 35L, or Peak Design Travel Backpack 30L. That could be because of the materials, though we think the compartment layout is also a factor.
We'll talk more about the compartments later, but the materials are more than up to the job. The bag uses 100% recycled polyester diamond ripstop and 100% recycled 600-denier polyester. The diamond ripstop pattern is less noticeable than on X-Pac fabric, giving it a different aesthetic.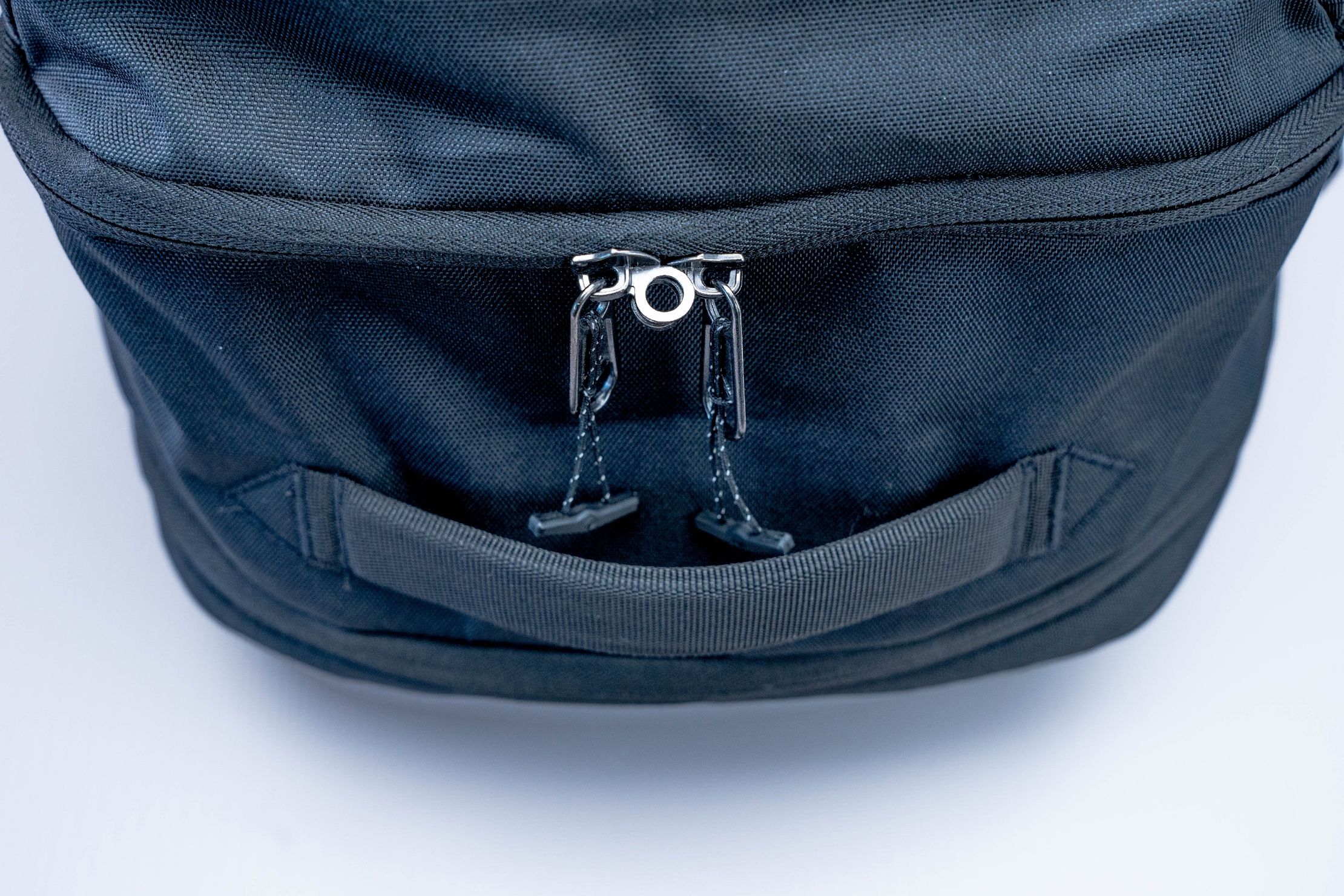 As a quick refresher, ripstop fabric features grid (or, in this case, diamond) pattern reinforcement that stops rips. Only the pattern is thicker—instead of the entire fabric—keeping the material lightweight while retaining some durability, which is why you'd often see it used for packable bags.
In our testing, the Tour Travel Pack's construction held up well, showing no signs of wear and tear. That's good news because while limpness on a large bag isn't ideal, it's only a deal-breaker if it also means it breaks easily. In case you were wondering, the hardware used is a mix of Duraflex and ITW—reputable brands for sure, and the buckles and clips on the Tour Travel Pack reflect that.
We're not quite as sure about the unbranded zippers, though. We'd be more reassured if we knew these were from the likes of YKK or even Zoom, but to be fair, these haven't had issues either. Hopefully, that remains true in the long run.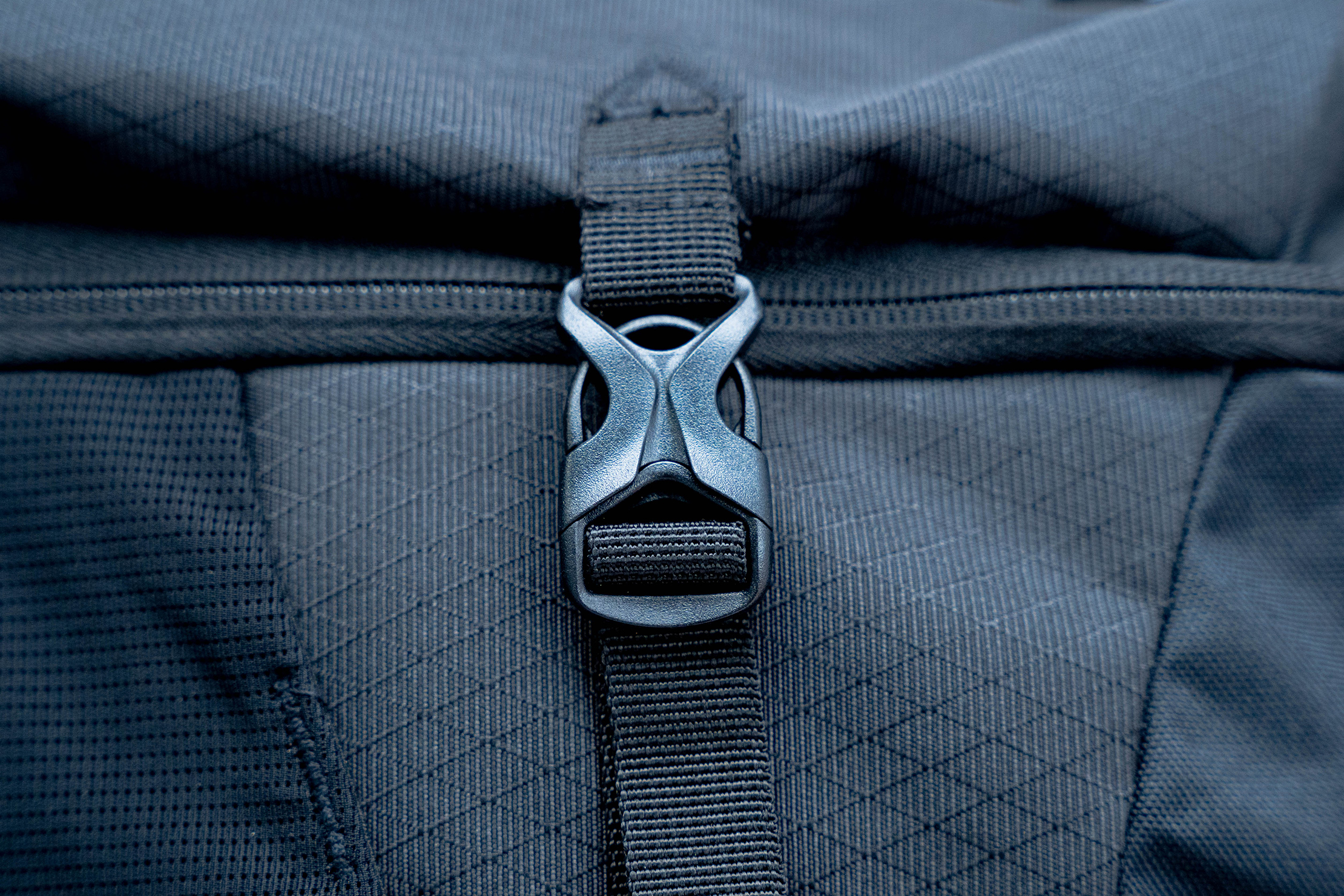 Before we jump into the external features of the bag, we'd like to note that the Tour Travel Pack comes in two variants: S/M and M/L. Eagle Creek rates both for the same capacity, expanded or not. The designation has more to do with a user's frame, with the S/M better suited for smaller frames and the M/L tailored for larger frames. Arctic Seagreen and Midnight Sun colorways are also available, in case black isn't your style.
External Components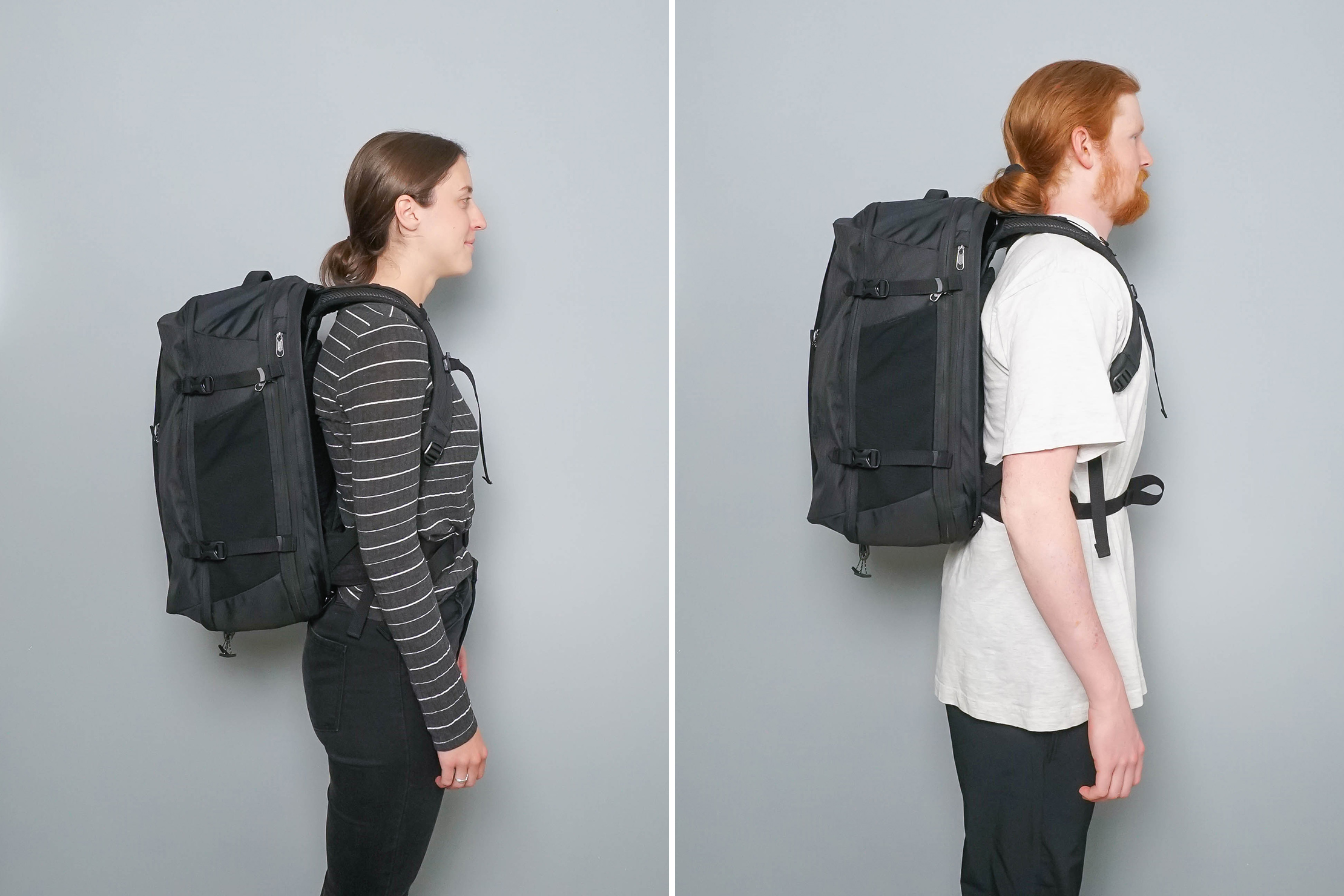 We've loosely used the term harness system for all sorts of bags, whether they only have shoulder straps or the whole rollercoaster seat treatment. The Tour Travel Pack falls squarely on the latter half of that spectrum. That's not entirely surprising since travel backpacks are usually more generously equipped than their daypack cousins.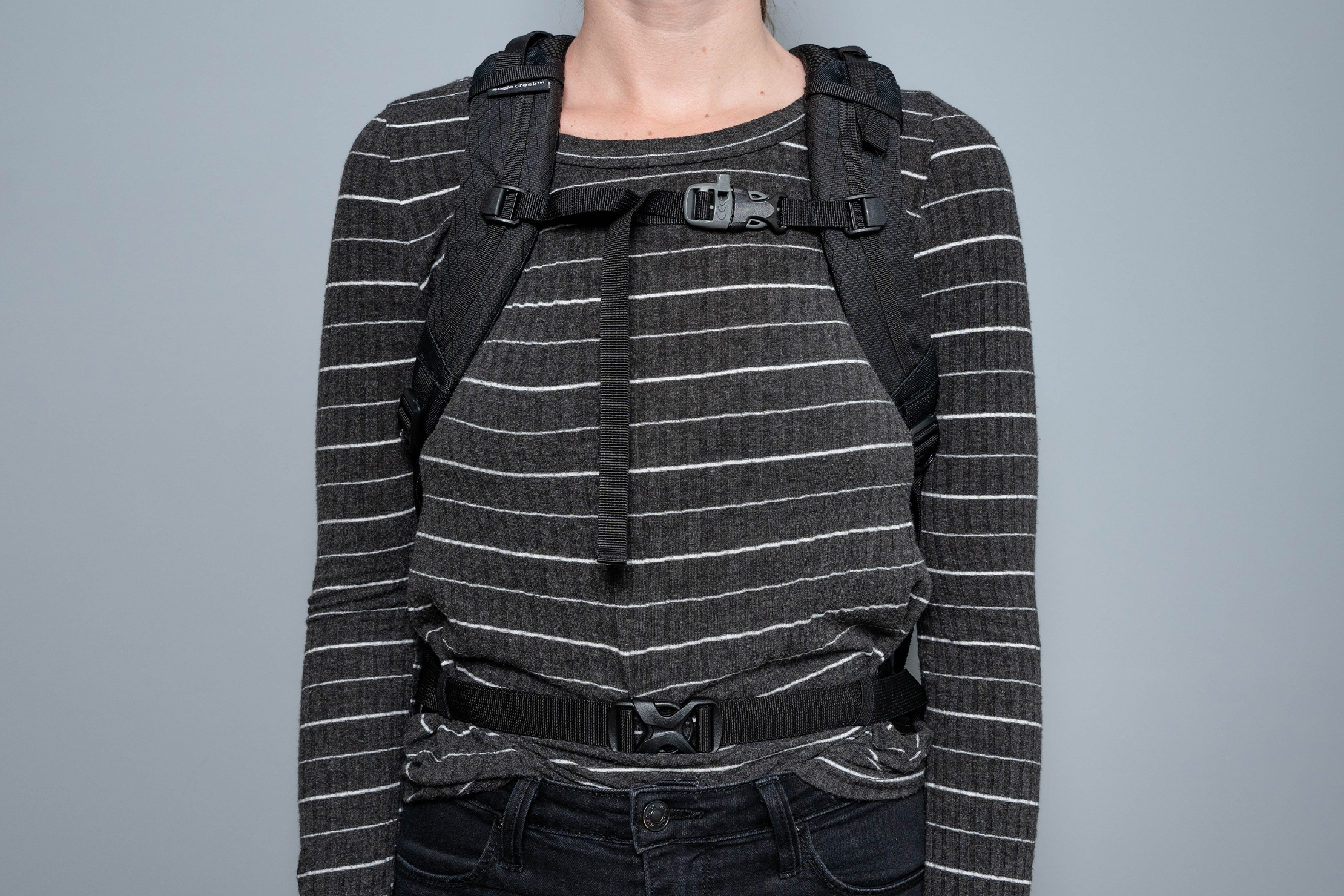 We'll start with the shoulder straps. These feature such thick padding that carrying the bag is surprisingly comfortable even when fully packed. Weight doesn't seem to be an issue as much of it is evenly distributed across both straps. Unfortunately, the fabric Eagle Creek used here feels uncomfortably scratchy. That's bad news for those with irritable skin or who love to wear tank tops. On the plus side, we don't generally pair a travel backpack with a tank top —we generally lean more towards t-shirts and other sleeved tops.
In the middle of the shoulder straps is the sternum strap. We'd argue this is also a must-have for any decent travel backpack to prevent the weight from slipping. The strap is mounted on rails, giving it maximum adjustability. In our opinion, this is the superior alternative to having sternum straps mounted on loops, as we've had mixed experiences with that style. There's also a whistle integrated into the buckle—handy for outdoor emergencies or just calling someone's attention.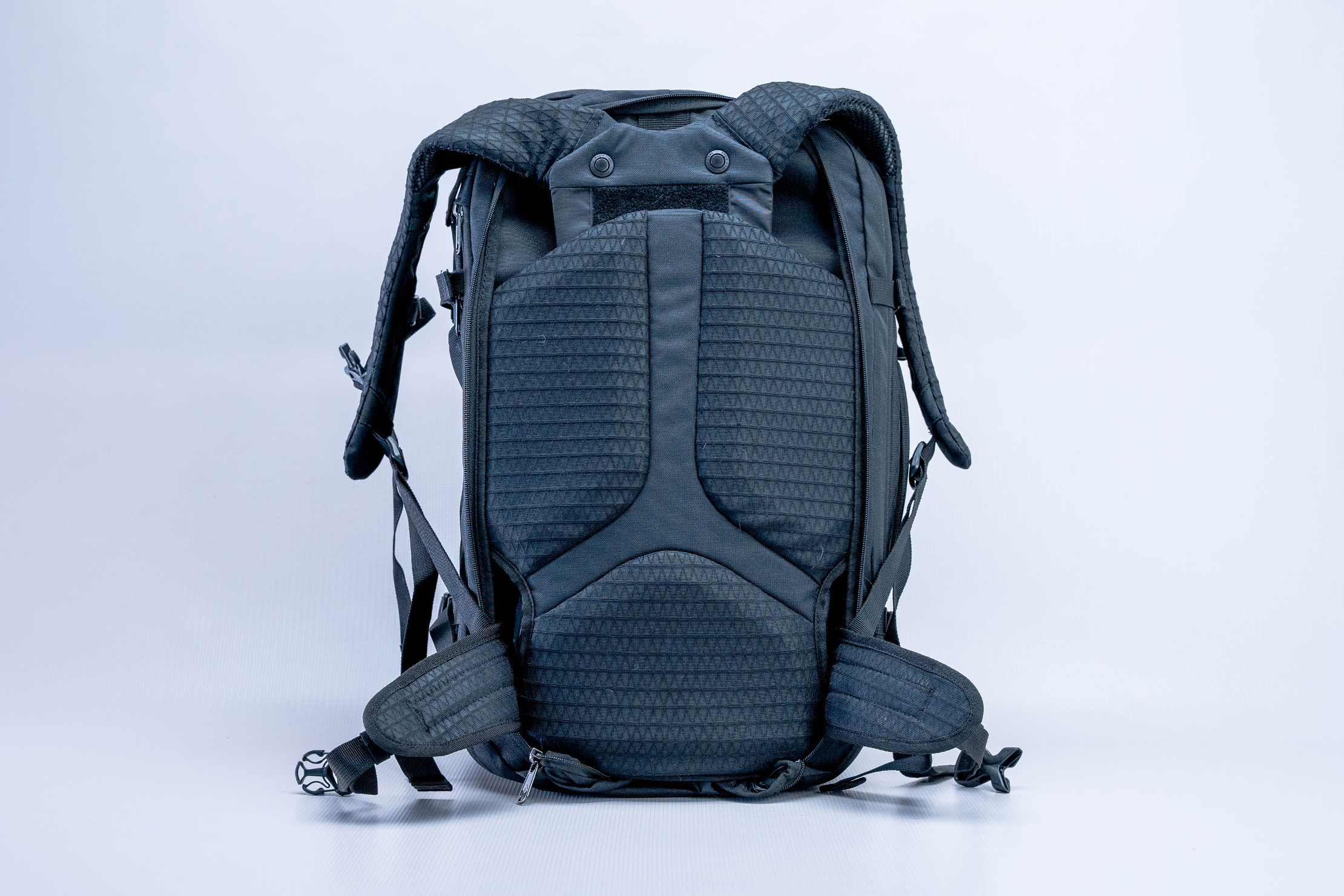 You can adjust entire shoulder strap section higher or lower by repositioning the hook and loop portion inside the back panel. We didn't fuss with this too much since the out-of-the-box configuration was already correct for us. We will say that this is a welcome feature for anyone who finds the backpack's fit to be too saggy, too top-heavy, or if you're constantly changing loads. And on that note…
There are load lifters! These are almost ubiquitous on most high-capacity travel backpacks. Essentially, they're straps for your shoulder straps that help keep the top portion of your pack from sagging too far back.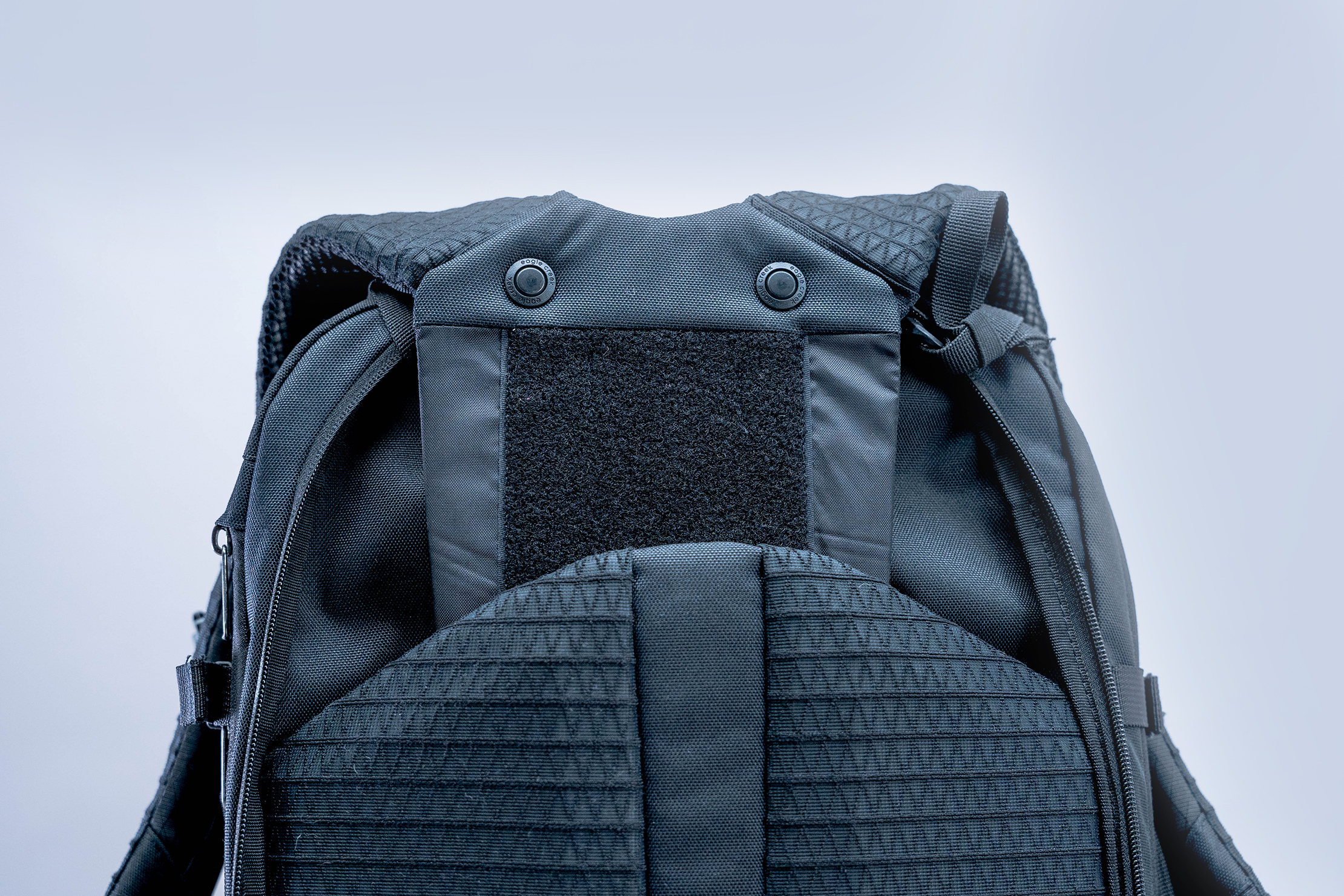 The hip belt isn't as extensive as the thickly padded shoulder straps. Wings extend from the side and hug around the hip. We prefer to adjust it so that it wraps around the waist instead. That more comfortably distributes the bag's weight and shifts some of it away from the shoulder straps.
That's a lot of straps, but Eagle Creek takes things further by making all of it stowable. At the bottom edge of the bag is a cover with a built-in rainfly. You can tuck the shoulder and waist strap into the back panel, but it's unnecessary. Lay the cover over them, zip up the edge, and presto! You've converted the Tour Travel Pack into a brief (a very large brief, mind you). Of course, the main reason why you'd want to stow the straps away is to avoid dangly messes. Straps are a pain to manage when shoving a bag in an overhead bin or a car trunk.
Oh, and we did mention the cover has a rainfly, didn't we? It works just as most backpack rainflies do: Stretch it out over the bag and let the elastic grip around it, much like how you'd cover a mattress with a bedsheet. It's simple yet effective, and it's always a nice value add to any travel backpack that lets it conquer the rain. What else can we say?
We can stow the cover and rainfly in the back panel. With all of that material, one would reasonably expect it to cause a bulge, and to some extent, that is the case. However, it's not to the degree that it's uncomfortable.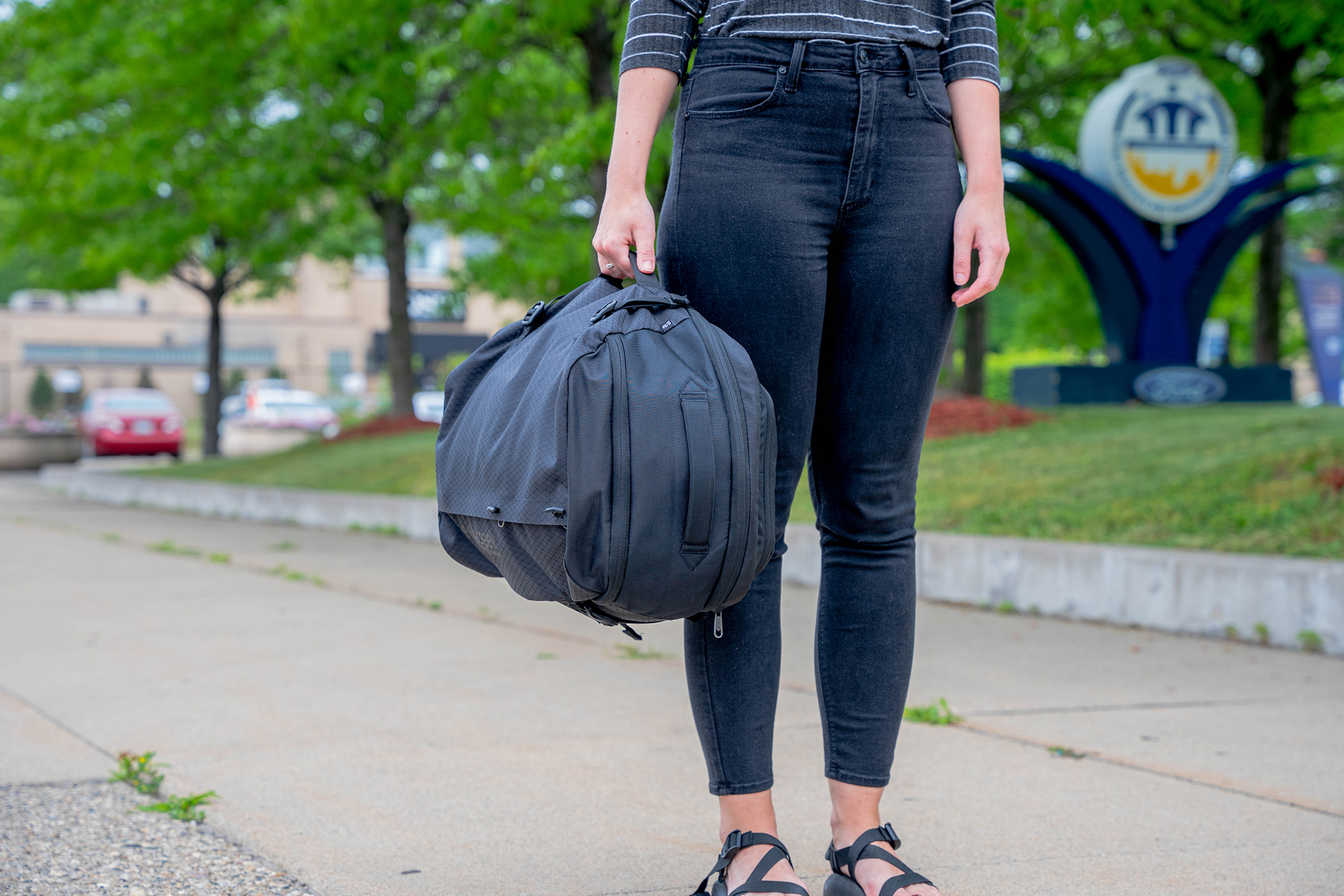 Circling back to the side handle we just mentioned, it's a standard nylon handle. It's okay to use for the most part, but its position is rather odd. It's opposite the side where the front pocket and laptop compartment faces. If you're carrying the bag briefcase style, you must flip it over to access those compartments. Then again, given the bag's 40-liter size, both the top and side handles are best suited for shifting the bag around short distances, not as a secondary means of carrying.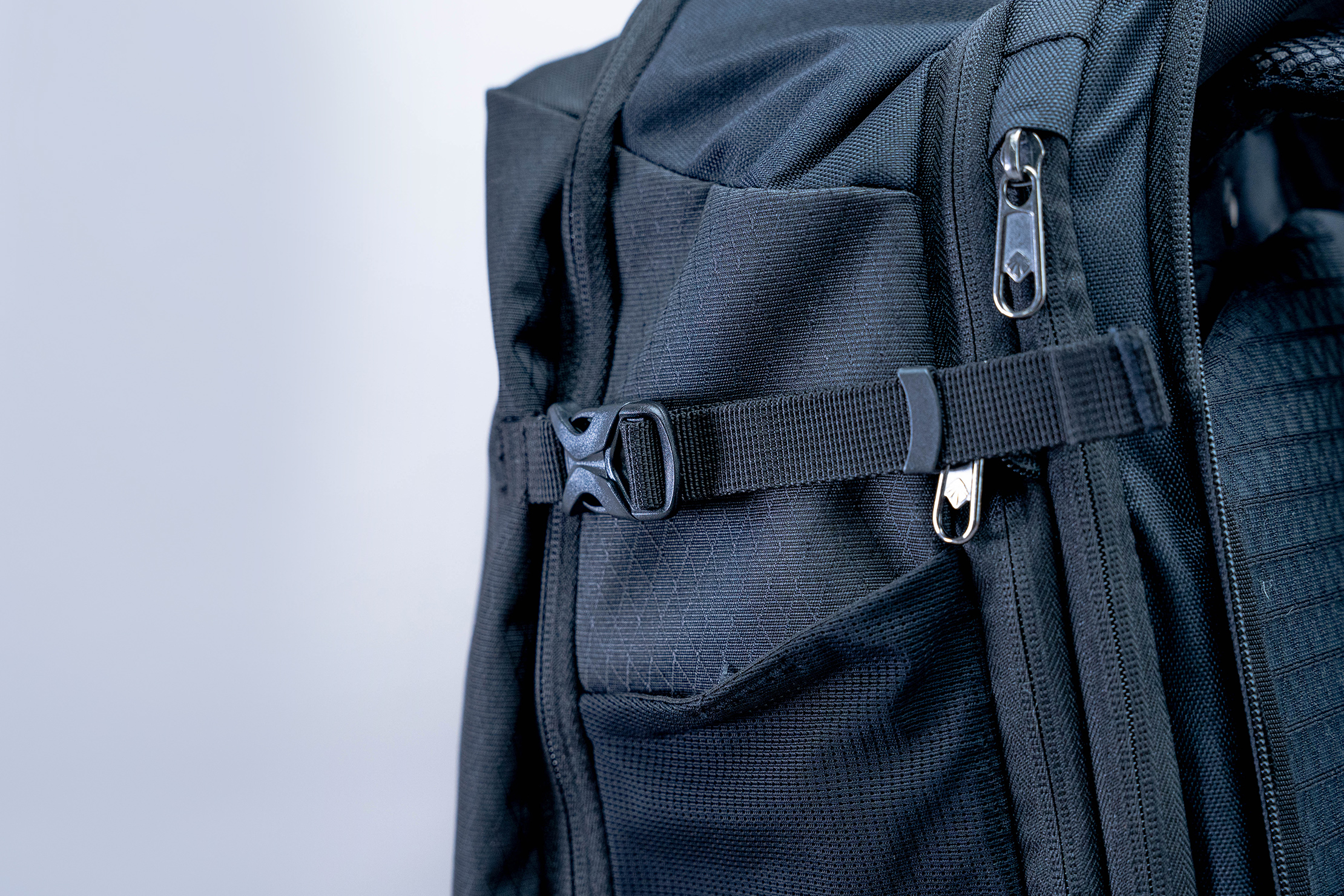 Next, we have the compression straps. There are two on each side for a total of four. The ones on the right have quick-release buckles, while there are only adjusters on the left on. It's a bit of an odd quirk having them half-and-half like this. Our nitpick is that the compression strap goes over the expansion system's zipper track, so you must maneuver around the left compression straps whenever you compress or decompress the bag. It's only a nitpick, though, and a minor one.

Lastly, we have the water bottle pocket. It's tall, made out of stretchy mesh, and the bottom right compression strap goes over it. That means it's reasonably secure, even for a slender 18-ounce bottle. Our 32-ounce Hydro Flask fits without a problem, and we attach its handle to the top right compression strap for extra security.
Inside The Backpack
There are two front pockets, the upper occupying two-thirds of the space while the lower pocket takes up the rest. Each opening has a zipper with a toggle that we can loop through holes punched into the front gusset, providing some makeshift lockability for those pockets. Mind you, they're not as secure as using a travel-sized lock. Solutions like these serve as deterrents and extra hurdles for would-be thieves.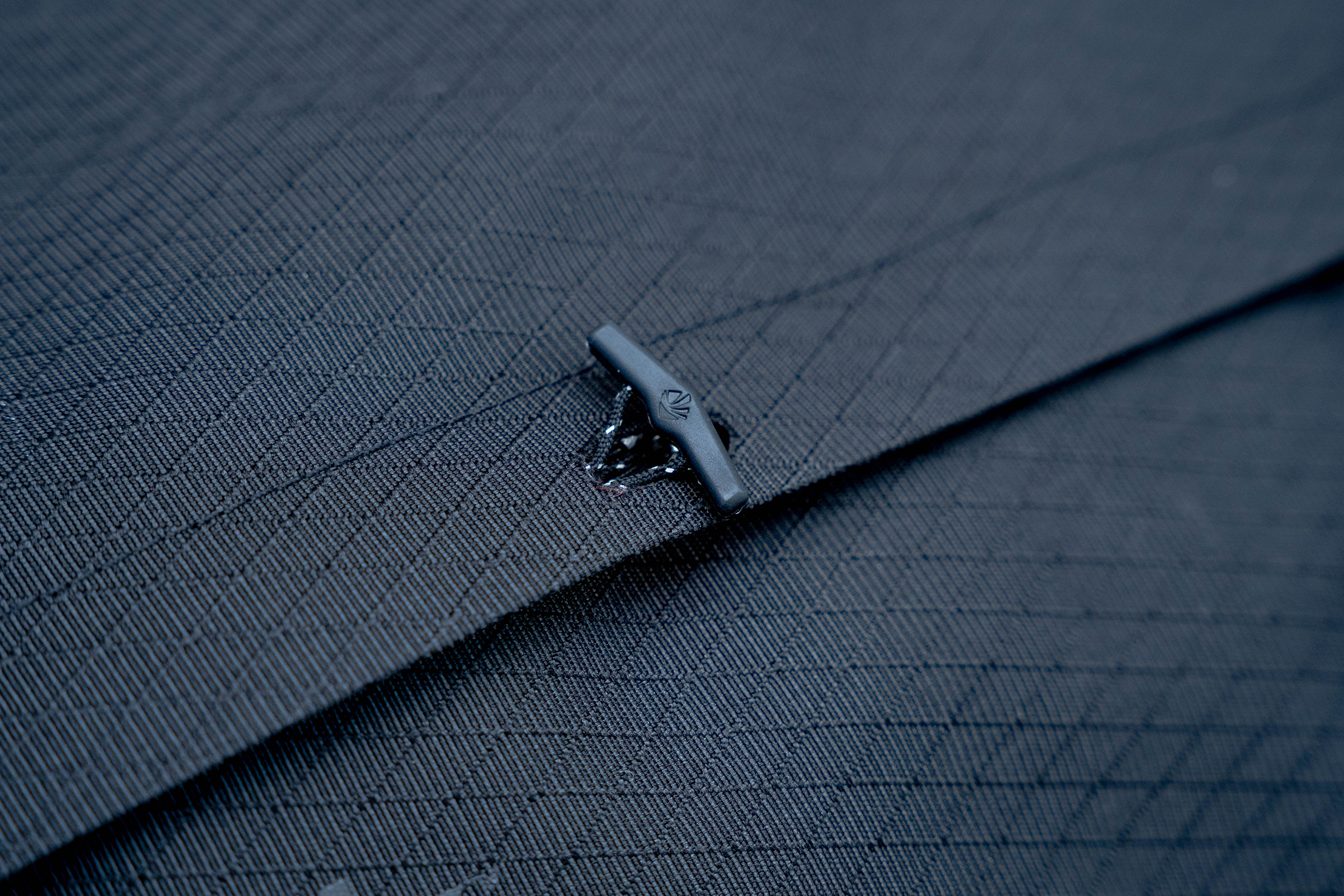 We find the upper pocket is great for gear like our passport and wallet. Meanwhile, the lower pocket's larger space is more suited for bulkier gear like our high-capacity power bank, smartphone, and gloves. There's a built-in key leash inside where you can throw on your house keys. Just remember that keys don't play well with easily scratched gear.
Access to these pockets is a bit of a mixed-bag experience. They're easy to reach when you swing the bag from your right shoulder. However, the lone side handle on the left means these pockets face down when carrying the bag briefcase-style.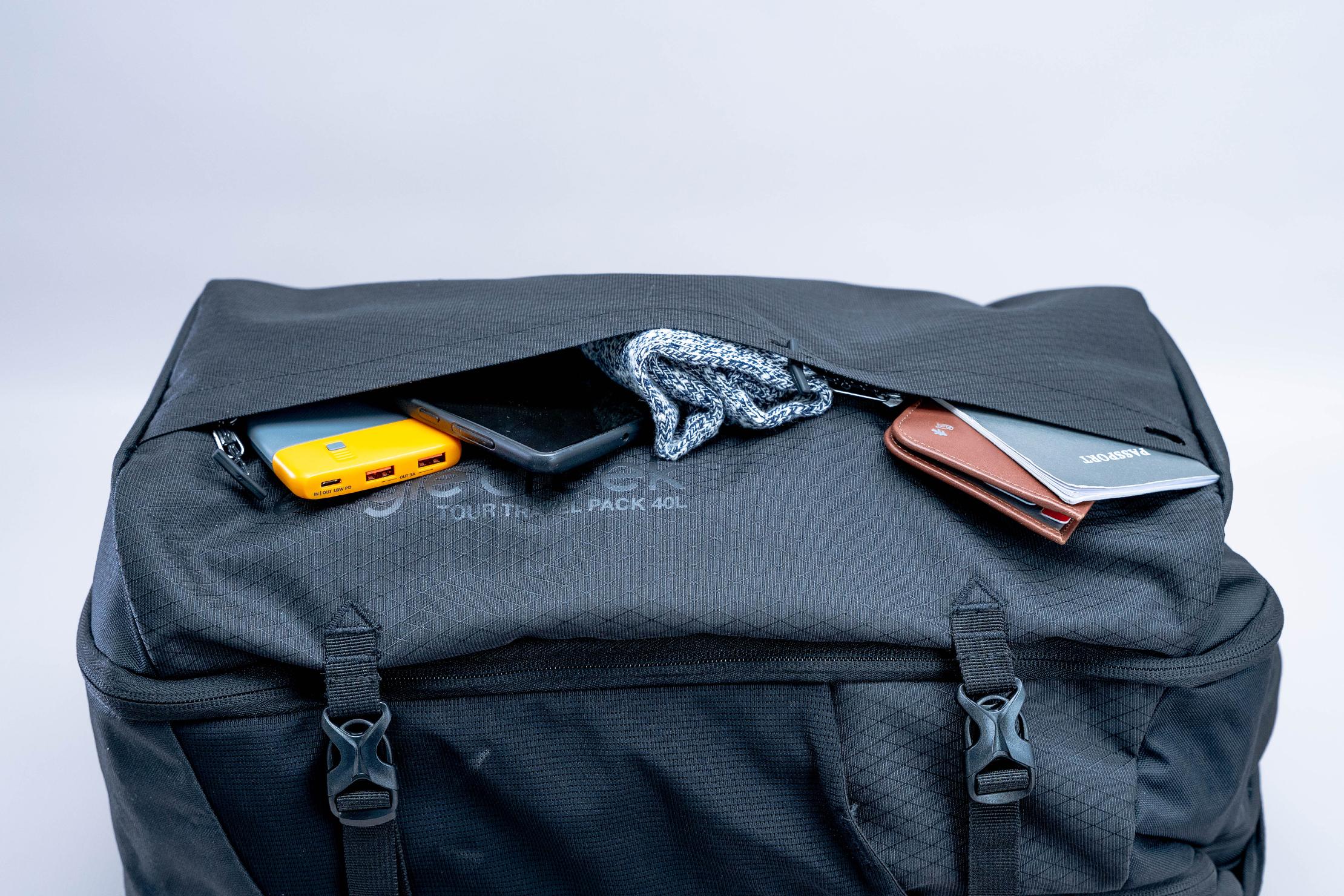 The main compartment's zippers are fully-lockable, featuring overlapping holes where you can put a travel-sized lock. Inside is a suitcase-style interior, complete with hold-down straps. Some travel backpacks omit this feature, relying instead on their brand's packing cubes for organization. Having hold-down straps is helpful if you're not into packing cubes, though, so we're considering this a plus.
We also noticed that the hold-down strap has an excessive amount of adjustability. You can loosen it much more than what you can realistically fit inside the bag. It's excessive, but it doesn't harm overall functionality.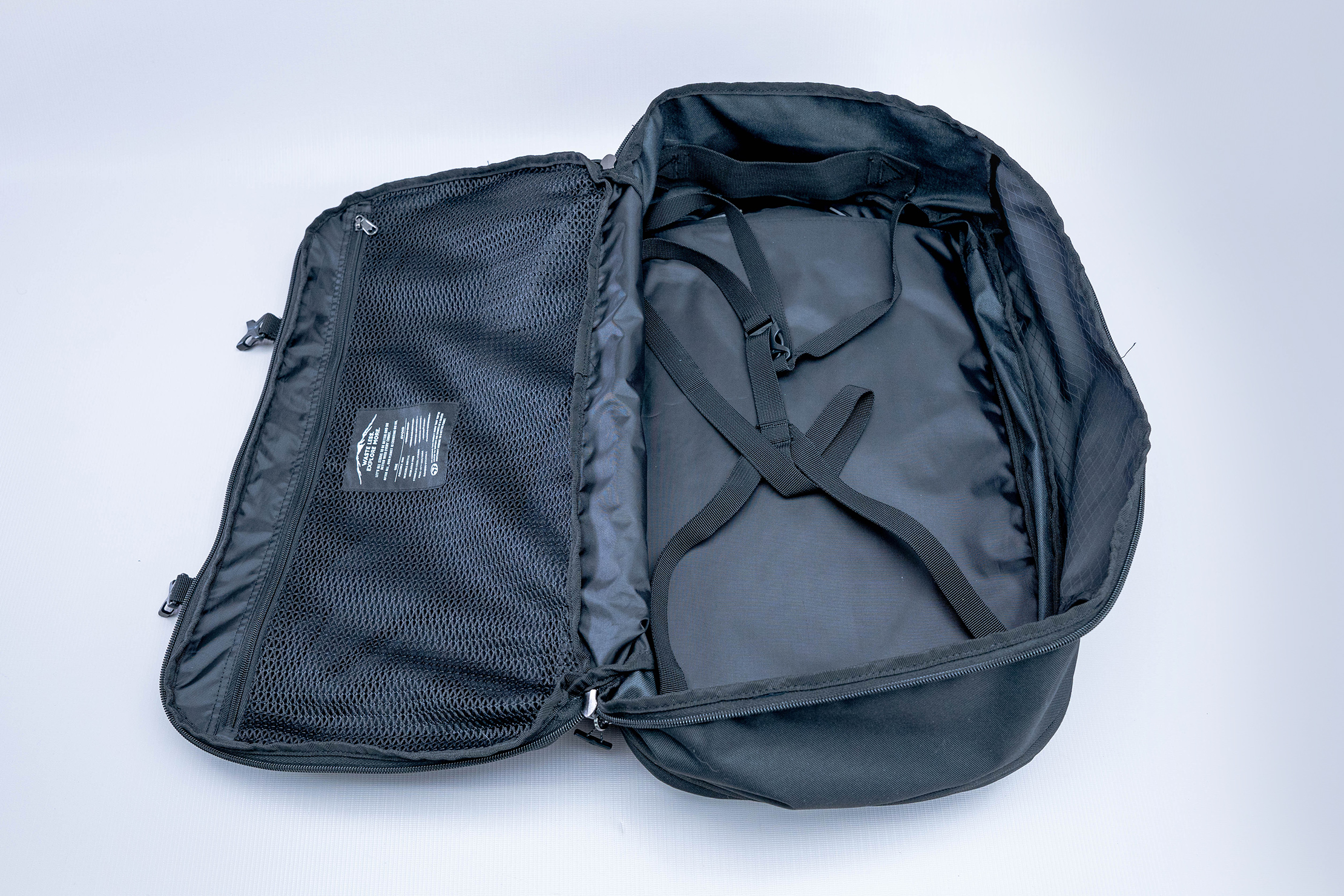 All-black fabric lines the interior. While we like a black aesthetic on the outside, it's less than ideal for liner material. Small accessories (especially black ones) may be hard to find inside a dark interior, so we wish Eagle Creek used a brighter liner.
There are two toggles at the back to attach an Eagle Creek's Pack-It-compatible accessory can attach to. Something like the Pack-It Reveal Org Convertible Pack—a packable backpack that turns into an organizer—may be a must-have for some, as we'll point out later.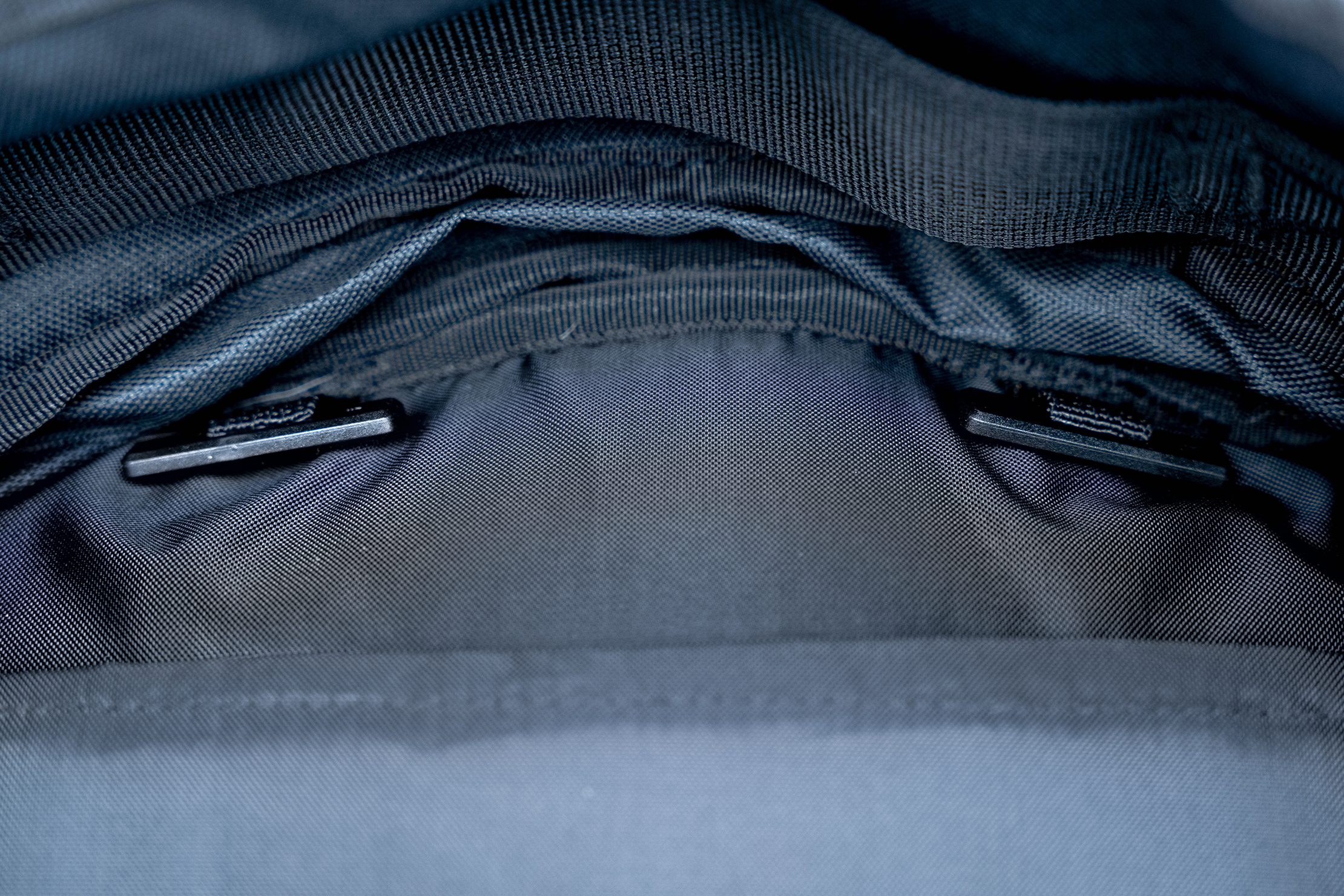 The large mesh pocket under the cover is another way to organize gear in the main compartment. Its depth allows packing cubes and toiletry bags to fit inside.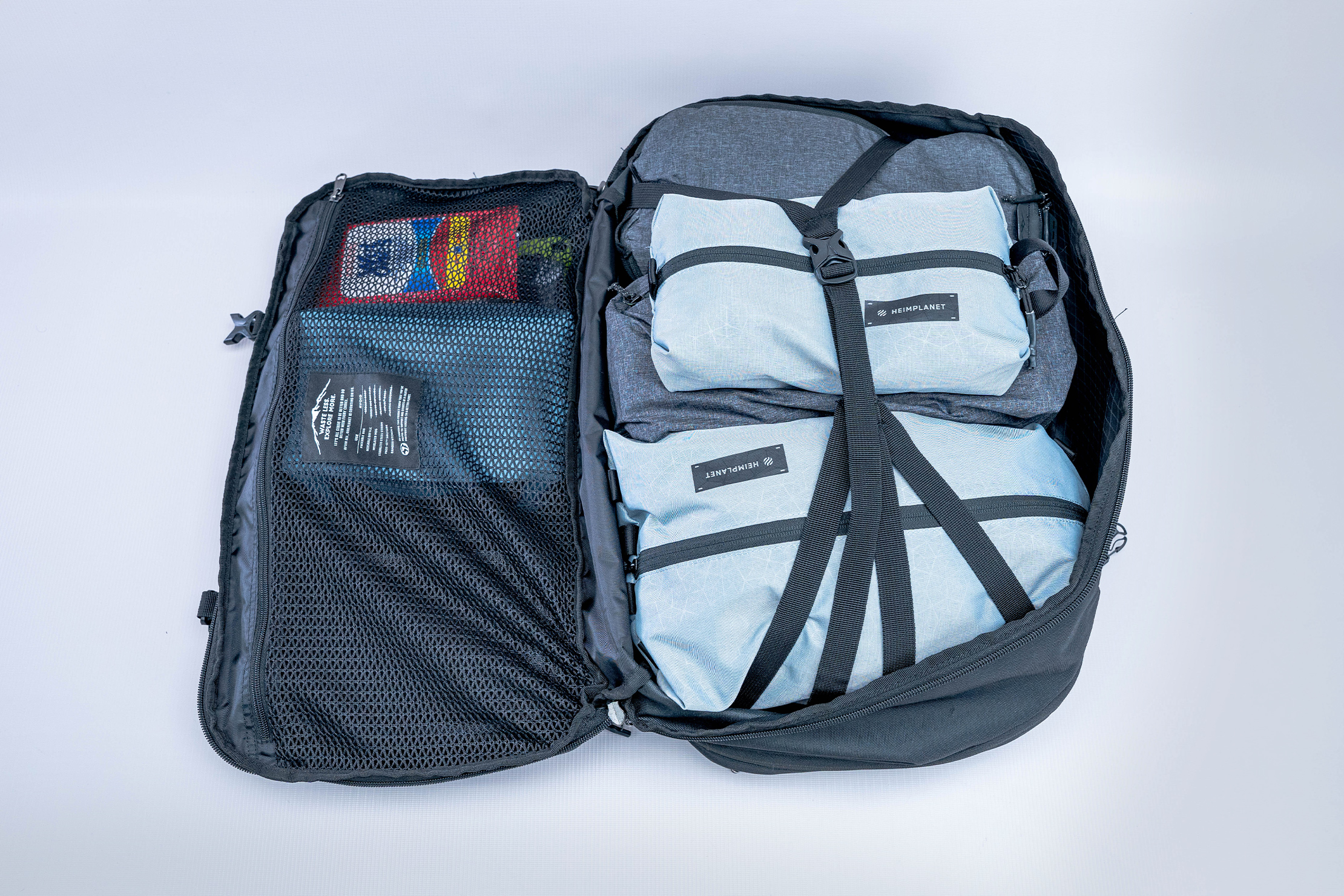 You get a side-opening laptop compartment at the back of the bag, rated for up to a 15-inch laptop. There are false bottoms at either end, and padded panels sandwich the space. We've no complaints about the level of protection here. Again, our only nitpick is that it opens opposite the side handle.

At this point, the observant among you may have noticed that the Tour Travel Pack emphasizes space over organizational features. Apart from the two front pockets, internal mesh pocket, and laptop compartment, your only other options are the addition of a Pack-It-compatible accessory, packing cubes, and additional pouches.
The openness of the bag's interior space causes part of the floppiness, which gets worse once the Tour Travel Pack expands to its full 45-liters.
To uncompress, a zipper at the back of the bag goes from one bottom corner to the opposite bottom corner, similar to other expandable travel backpacks. It, does work well. In the Tour Travel Pack's case, expanding the bag emphasizes its lack of structure. Fortunately, the default 40-liter capacity has more than enough room for a week's worth of clothes, and we never felt the need to expand the bag.
Space is a definite strong point for the Tour Travel Pack. And despite our reservations about its soft structure, it's also offset by a very adjustable harness system that makes the overall fit comfortable. The pack is a bit too reliant on additional accessories for organization. Still, if you already like using packing cubes, pouches, and organizers you already own, you'll find the Tour Travel Pack more than welcoming.
Usage Timeline
Initial Usage
Condition: Excellent
Back panel cover can be stowed away but feels clunky
Unique lockable front pockets
Deep main compartment for lots of gear
2 Weeks of Use
Condition: Excellent
Looks a bit saggy but feels super secure while wearing
Compression straps cinch the bag down super effectively, especially when there's empty space in the main compartment
Hip belt adds decent support without being bulky
1 Month of Use
Condition: Excellent
Hideaway back panel looks great, though the rain fly is not as functional as we'd like—once it's on, there's no way to comfortably carry the bag
Surprisingly comfortable even when full, though the straps can feel rough on bare shoulders
Access the Pro Community Discussion
Get your questions about the Eagle Creek Tour Travel Pack 40L answered from our team and the Pro Community right here on the page. Plus, join discussions with other members about gear, guides, and more.
Other Bags & Luggage Reviews