Eagle Creek Pack-It Reveal Org Convertible Pack Review
Eagle Creek's Pack-It Reveal Org Convertible Pack integrates as an organizer in other bags. However, the lack of structure makes it sag in daypack mode.
Our Verdict
Unlock the Pro Summary
Save time. Get access to brief summaries of our reviews so you can browse and make decisions more efficiently.
Pros
Can add organization to backpacks that lack it
Integrates into other Eagle Creek bags
Organization panel works seamlessly in daypack mode
Cons
Organization panel can flop over when daypack is unzipped
Lack of structure can give the bag an awkward profile
Thin shoulder straps can be uncomfortable for carrying long distances
Recent Pack Hacker Video
Technical Details
Capacity

13.5l

Weight (oz)

8 oz (226.8 g)

Denier

300D

Recycled Embossed Poly Micro-Weave

Dimensions

10.25 in x 16.75 in x 3 in (26 x 42.5 x 7.6 cm)

Organizer panel mode | Expanded mode: 10.25 x 8 x 1 in

Notable Materials

Duraflex Hardware

Manufacturing Country

Indonesia

Warranty Information
Full Review
Get up to 20% off Eagle Creek • Join Pack Hacker Pro
Eagle Creek has outdone themselves with the Pack-It Reveal Org Convertible Pack. It's an organizer for tech gear and other small items that converts into a full-blown daypack. Unfortunately, when we say outdone, we mean that it's a bit overkill. In our experience, multi-functional travel gear rarely excels at both carry modes, and this is no exception. While we found that the organization could be convenient if your backpack didn't have any, the daypack has a bit of an awkward profile and tends to either sag or stick out depending on the way it's packed.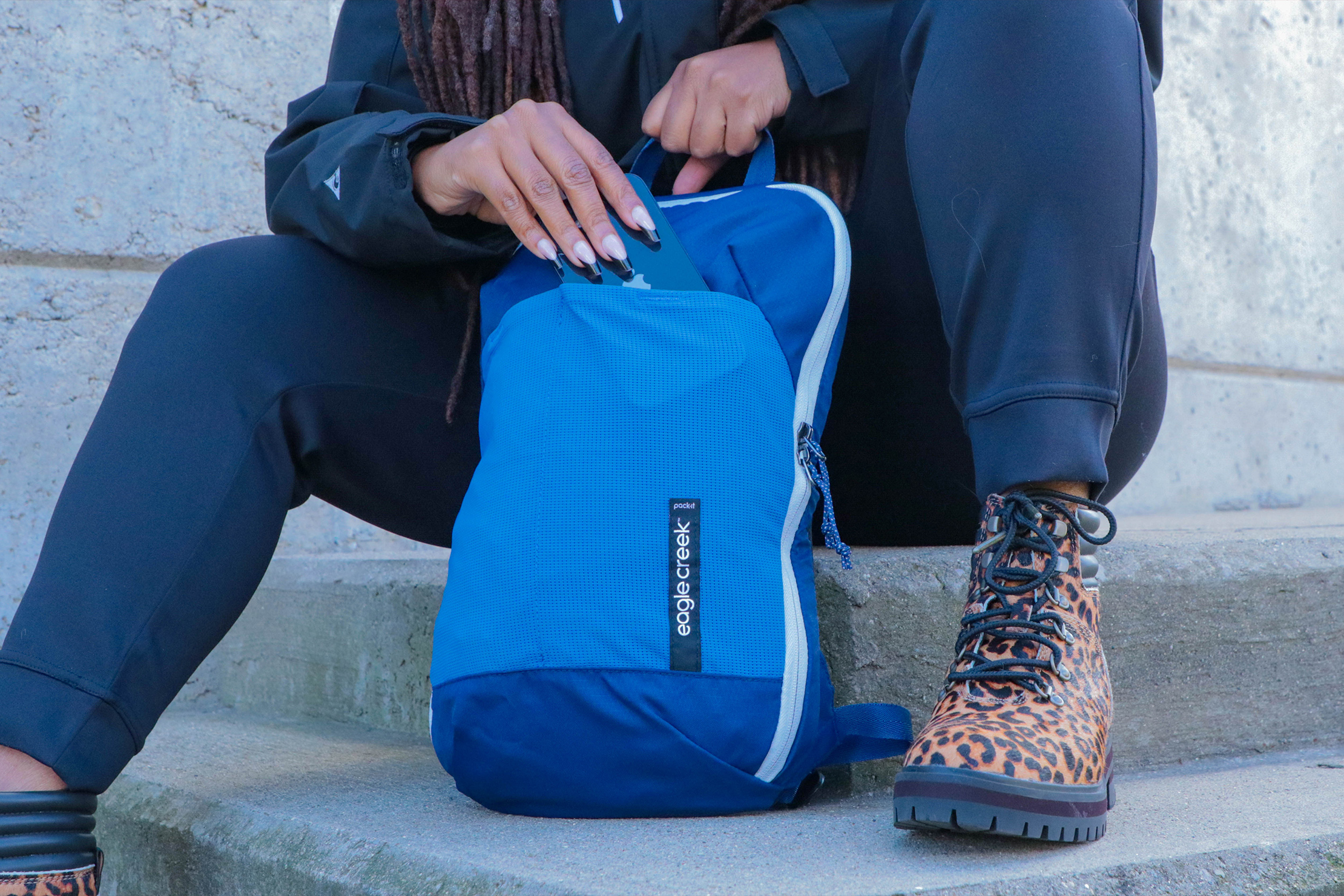 If you love innovative and interesting gear that makes for a conversation starter, then you can be that friend who's always striking up conversations about travel gear at the party. Wait till they hear about the Eagle Creek Pack-It Reveal Org Convertible Pack! There's a lot to talk about in this multifaceted invention, so let's jump in, starting with the materials.
Materials & Aesthetic
The Eagle Creek Pack-It Reveal Org Convertible Pack is made primarily out of 100% recycled 300D embossed poly micro-weave. It's a thin, lightweight material that has a sort of swishy sound to it. As part of Eagle Creek's Pack-It Reveal line, it features mesh for breathability and visibility. It "reveals" what's inside. Get it? The mesh used on this organizer/daypack is buttery soft and stretchy. We're big fans of it.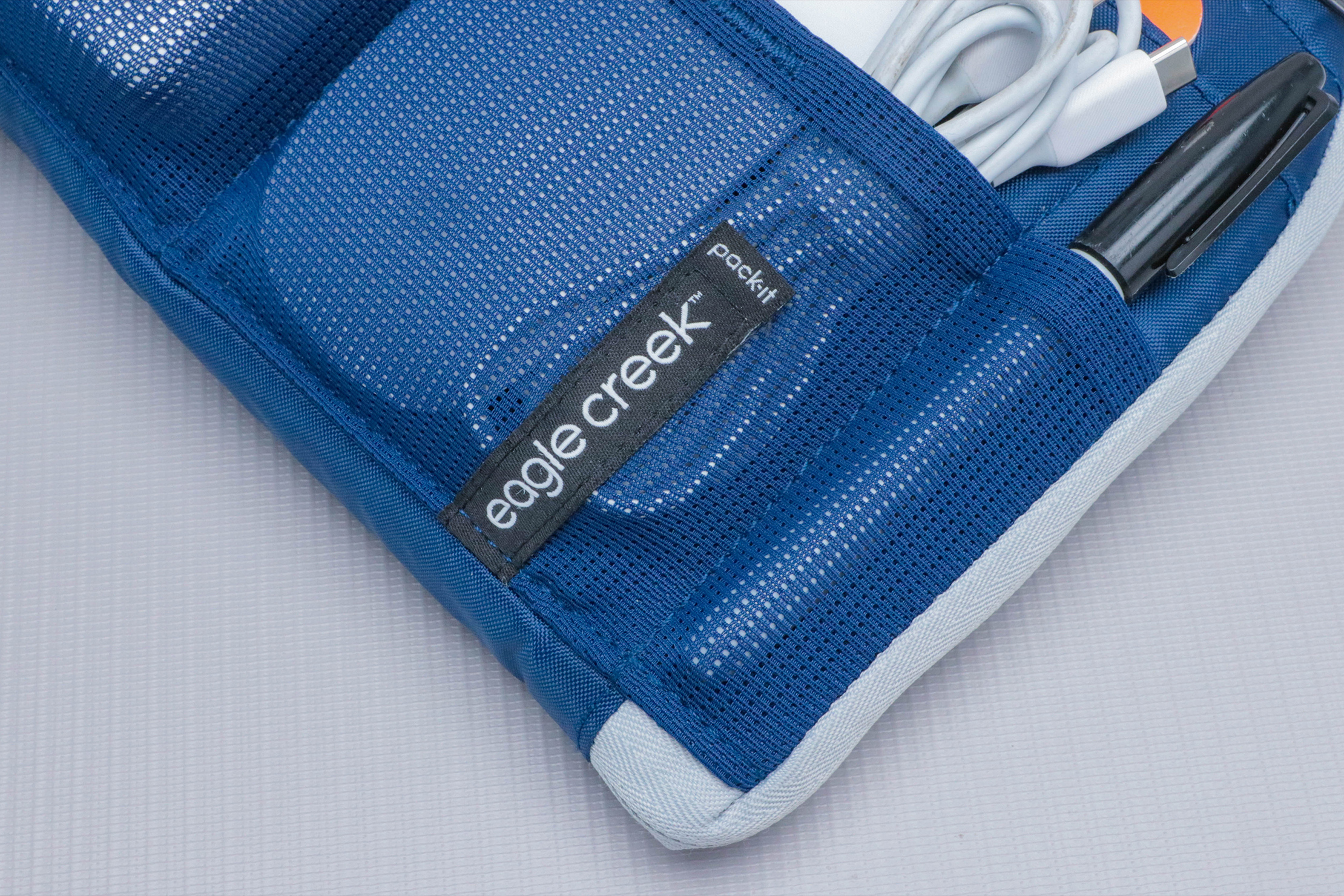 At the time of this review, this product is available in four different colors—Sahara Yellow, Black, Mossy Green, and AZ Blue/Grey. Despite not having a cool name like the other colors, we chose the AZ Blue/Grey, and it reminds us of the blue color companies use to market products to young boys for some odd reasons. In daypack mode, it gives off grade school backpack vibes while the organizer is just a mood of its own.
Both modes feature pretty minimal branding via a vertical patch with the Eagle Creek name and "packit" on it. The organizer also has another tag that lets you know it's "convertible." This makes it even more exciting to use it in case you forget. Then you see the tag and remember it's convertible. Elsewhere, the pack features Duraflex hardware and Zoom zippers, which are used throughout the Pack-It line of products. The rest of the line includes packing cubes, toiletry bags, and beyond. The zippers are self-repairing, which means they're easy to get back on track if they pull apart. Luckily we didn't have to test this feature, as we didn't have any zipper issues. They're also reverse coil, which helps keep the bag tight, locking out moisture.
Organizer Mode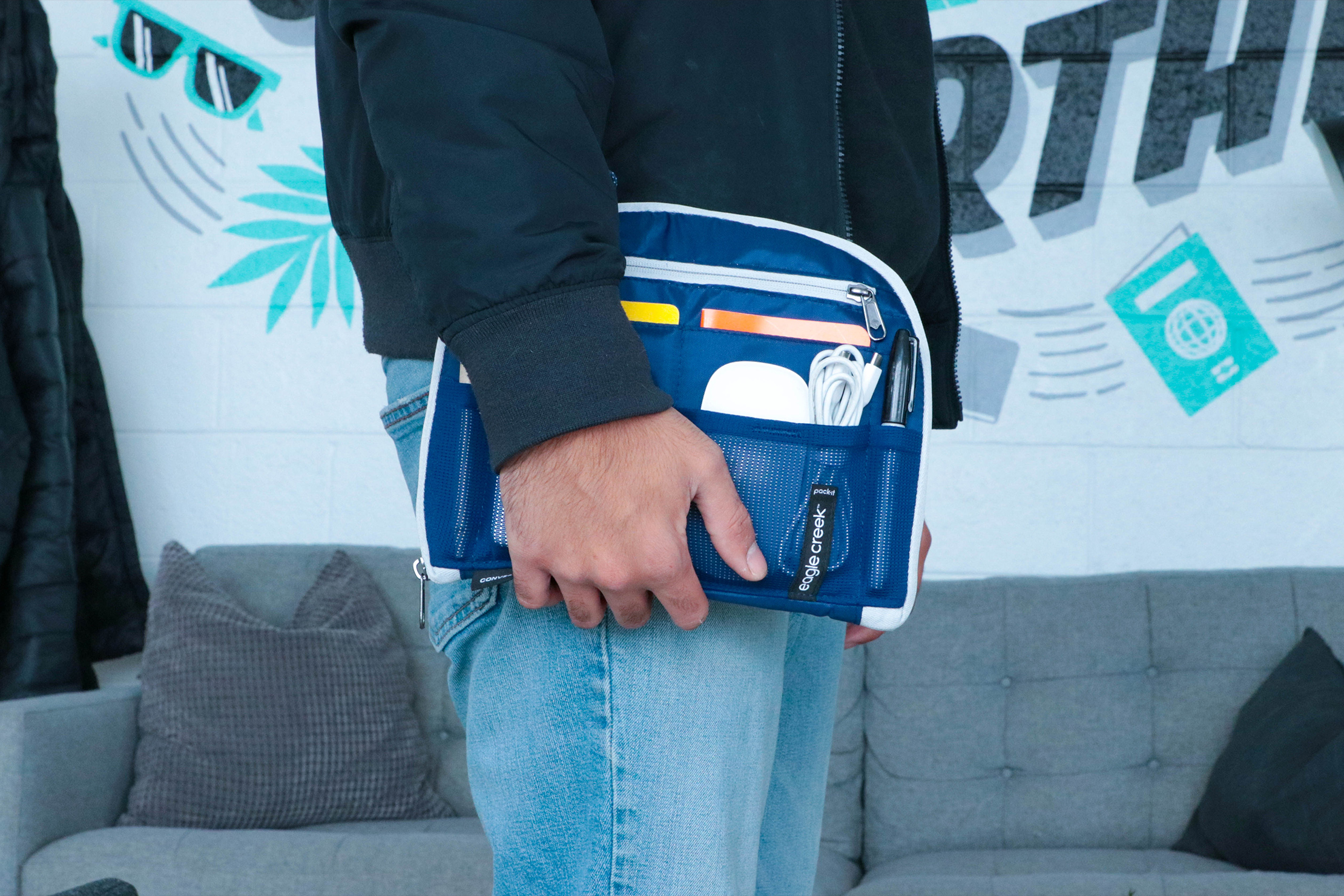 Now we'll get into some features of the Eagle Creek Pack-It Reveal Org Convertible Pack, starting with organizer mode. This style of carry could come in handy if your bag doesn't have any organization and you have several small bits of tech gear to pack. Its main features are four mesh pockets, four non-mesh pockets, and one large zippered pocket. The zippered pocket is big enough to fit something like your smartphone, travel wallet, and chapstick inside. It also includes a short key leash.
All the other pockets are directly in front of that and come in a few varying sizes. On each side there are two pen slots—one mesh and one that's normal fabric. The mesh ones are stretchy, but we found the other pen slots to be a bit tight since there's no give in the fabric. In the middle are four bigger pockets. These make a convenient spot for items like earbuds, cables, small notepads, and a mouse. Basically, it's an open-faced tech pouch. You could also use it for other items like toiletries, but the pocket sizes lend themselves better to tech items.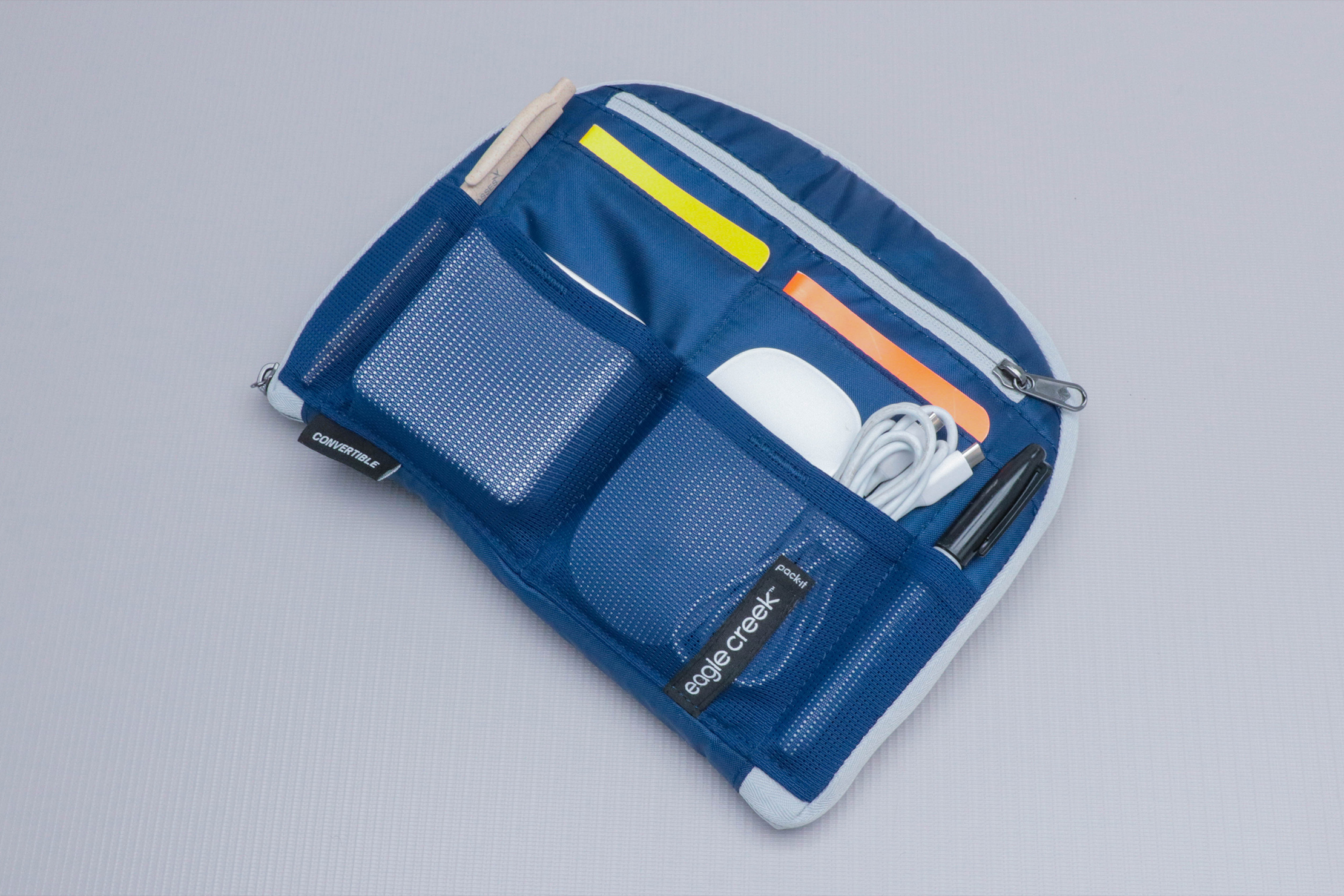 In this mode, the daypack inside feels like extra stuffing. It adds a bit of thickness to the back of the organizer that feels unnecessary. Or like, you know, something's hiding back there, because it is. This organizer has junk in the trunk in a bad way, which just makes it feel bulky.
With all that said, you could easily just use a tech pouch in a bag that lacks organization. A tech pouch may also be smaller and take up less space inside your bag than the Org Convertible Pack would. If you have an Eagle Creek backpack, however, this product is designed to be integrated easily. This is done through two paracord loops that you hook over Eagle Creek attachments. Plus, if you decided to just use a normal tech pouch, then you'd lose all the quirkiness that comes with such a multi-functional product. Right?
Daypack Mode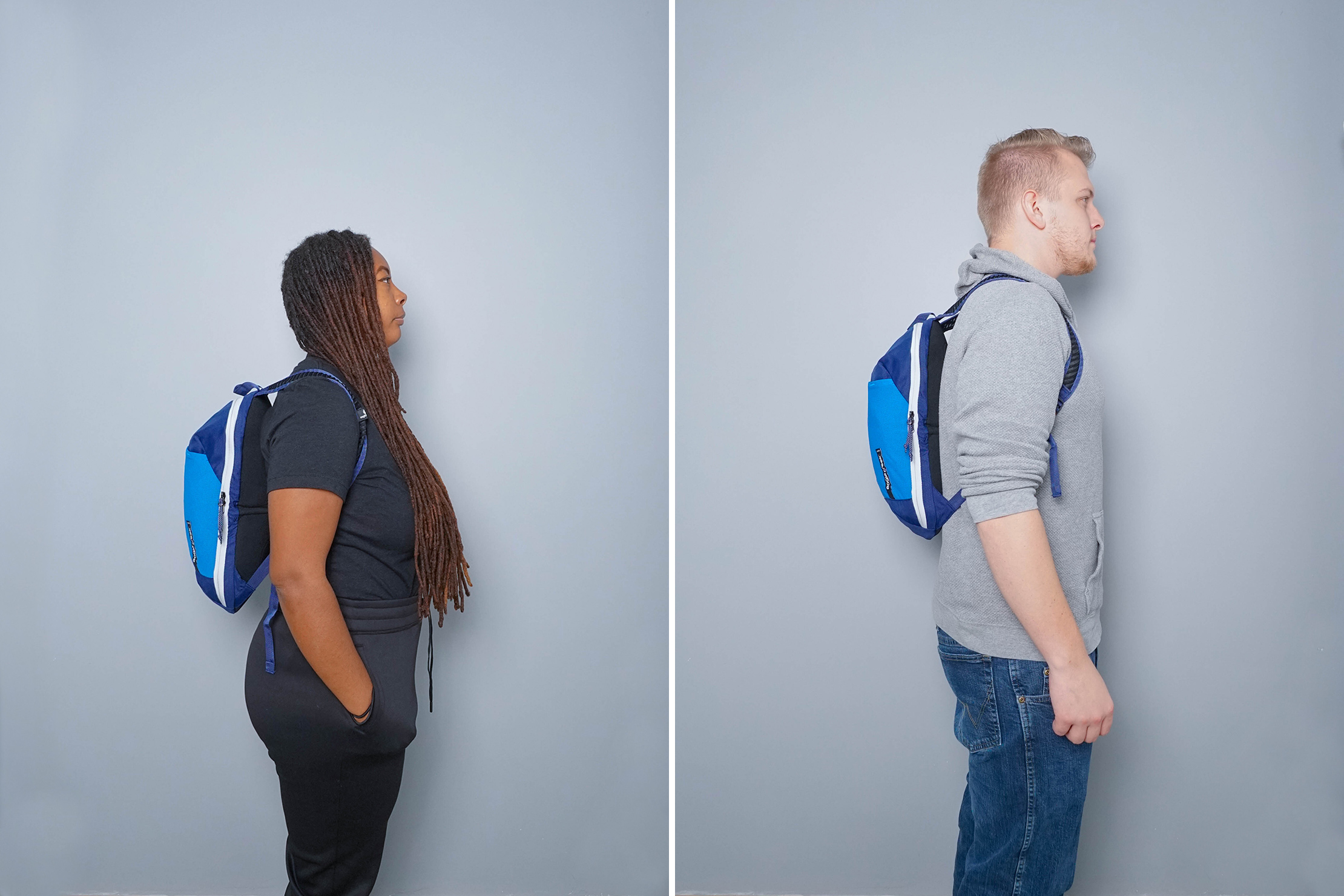 Moving right along, let's check out how this product works in daypack mode. To switch to a backpack from organizer mode, unzip the back. Then there's another zipper behind that where the harness system and rest of the backpack is hiding. This is where it gets a little tricky, because the zipper on this portion is inside out in this mode. This can make it slightly challenging to open and close the daypack section, and the transition isn't exactly smooth.
The same goes for when you're converting it from a daypack back into an organizer. It's little details like this that are all the more important to consider with multifunctional products. To switch back to an organizer, just do the whole thing in reverse. Although, you'll need some elbow grease to get all the backpack stuffing tucked in and zipped away, and we wish there was a paracord zipper here to help it along.
But let's stay here in backpack mode for a while and get comfortable. As a backpack, the organization panel sits right up against the back of the bag. This is a convenient and welcome feature, as many packable daypacks lack organization. The rest of the main compartment is open space that you can shove with packing cubes or daily essentials if you're using this as your daily driver.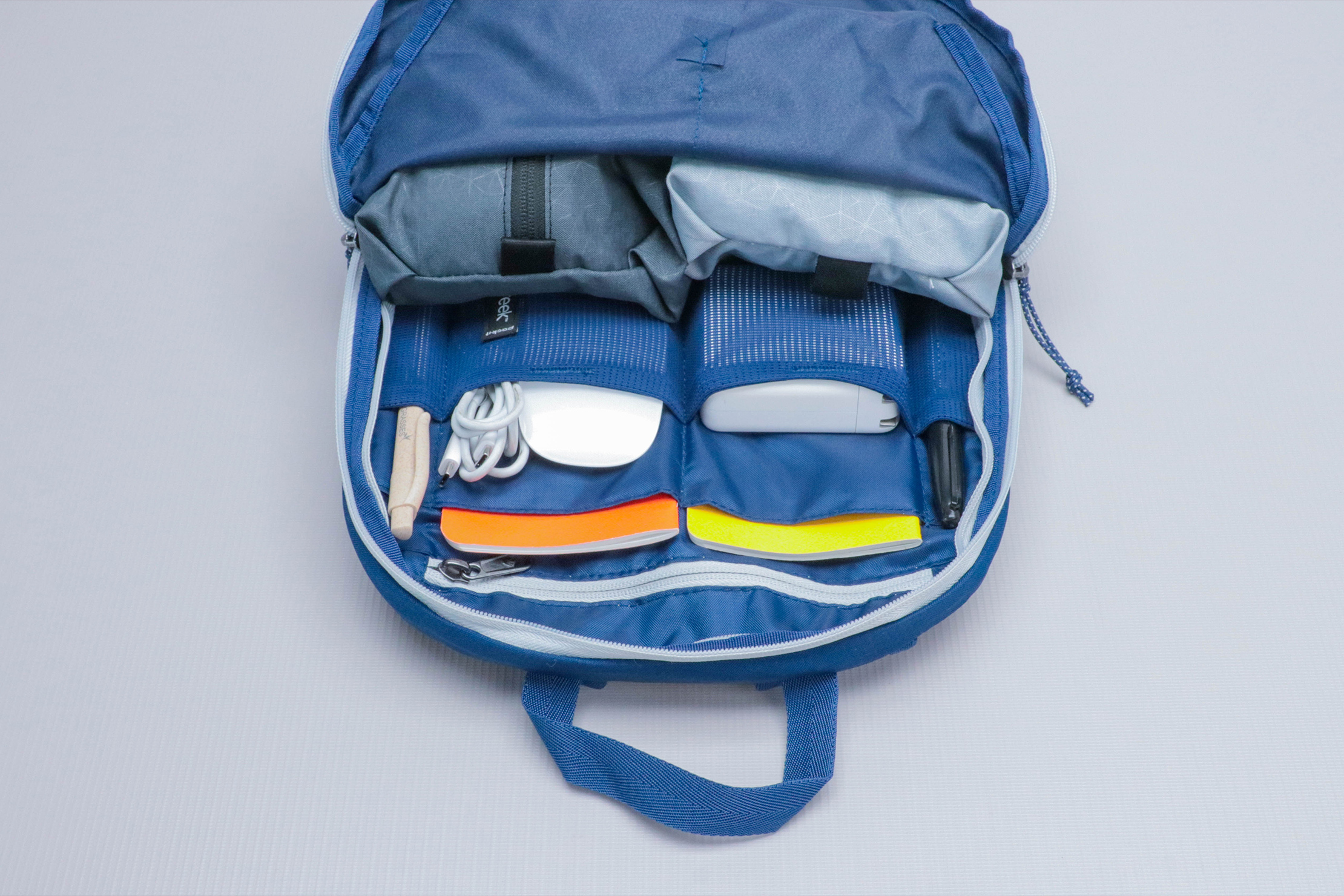 Just keep in mind that it isn't structured and will take on the shape of whatever you put inside. This can make for a pretty lumpy or lopsided bag, especially if you don't have much packed. The weight of the organizer and whatever you've packed in it can cause it to flop over when you open the bag, too. To help avoid this, don't unzip the bag all the way down when you're opening it.
On the front, the daypack has two large, stretchy mesh pockets. These are big enough to accommodate a water bottle, but can also be used for other quick-grab items like your phone or wallet. The mesh is pretty taught, so it will keep everything in place. It'll also make it difficult for pickpockets to reach your items (if that's something you worry about) since the pockets are open.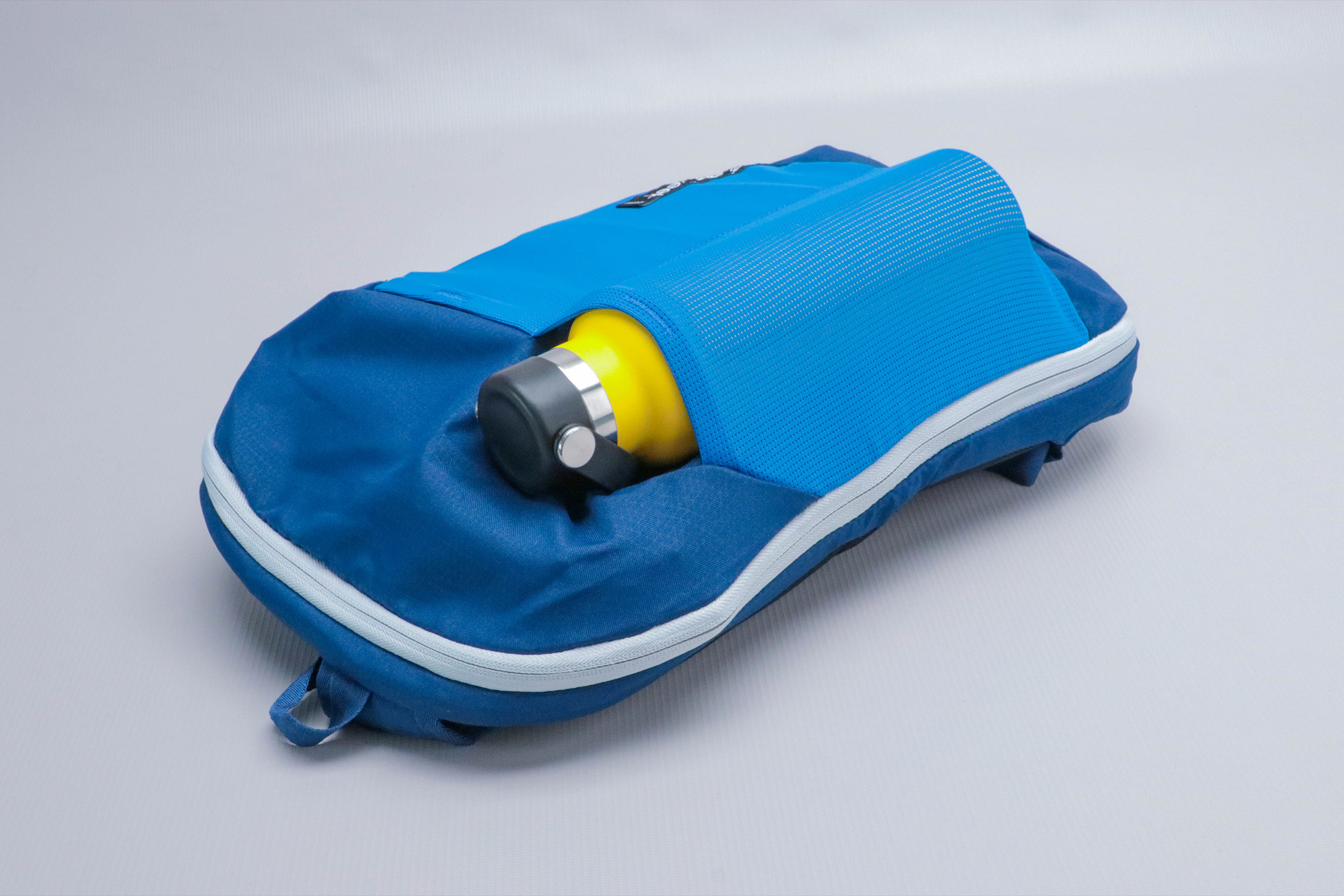 Turning the bag around on its back, there's a slightly padded back panel and thin shoulder straps. The padding back here actually comes from the thick organizer panel, which is pretty clever. When it comes to the shoulder straps, they feature mesh for breathability but can be uncomfortable during longer periods of wear. A whole day out on the town exploring a new city with this daypack might not be the greatest option. We didn't have any issues if we just wore it during our daily commute, however.
In the end, we think a packable daypack with organization on its own would be more useful. However, this product actually excels better as an organizer, which gives us pretty mixed emotions about using it. It's also not as compact compared to other packable daypacks that compress down to palm size.
Usage Timeline
Initial Usage
Condition: Excellent
Converts from an organizer to a backpack
Backpack mode benefits from all the built-in pockets
Has a diverse set of pockets for all sorts of items
2 Weeks of Use
Condition: Excellent
Back panel can be rigid in daypack mode due to organization panel
Organization panel is bulky and takes up a bit of space in your bag compared to a tech pouch
Converting it from an organizer to a daypack is not always seamless
Daypack straps are fine for carrying short distances but start to get uncomfortable after wearing for a longer period of time
Access the Pro Community Discussion
Get your questions about the Eagle Creek Pack-It Reveal Org Convertible Pack answered from our team and the Pro Community right here on the page. Plus, join discussions with other members about gear, guides, and more.
Other Bags & Luggage Reviews