Eagle Creek Pack-It Reveal Packing Cubes Review
The Eagle Creek Pack-It Reveal Packing Cubes feature mesh for easy visibility, but this also allows dust and dirt to seep through.
Our Verdict
Unlock the Pro Summary
Save time. Get access to brief summaries of our reviews so you can browse and make decisions more efficiently.
Pros
Mesh lets you see what's inside each cube
Clean/dirty cube keeps clean and dirty clothes separate
Fairly lightweight and easy to pack
Cons
Dust and dirt gets through mesh holes easily
Garment folder can be difficult to pack
Mesh can get snagged on zippers
Recent Pack Hacker Video
Technical Details
Weight (oz)

3.2 oz (90.7 g)

Medium size

Denier

300D

Dimensions

10 in x 14.25 in x 3.25 in (25.4 x 36.2 x 8.3 cm)

Medium size

Notable Materials

Polyester, Zoom Zippers

Manufacturing Country

Vietnam

Warranty Information
Full Review
Get up to 20% off Eagle Creek • Join Pack Hacker Pro
Today we're gonna talk about the Eagle Creek Pack-It Reveal packing cubes. These are made with a mesh panel so you can see everything you've got packed. We like being able to see what's inside our packing cubes, so we don't have to rely on weird color-systems. Underwear in the blue cube and shirts in the red cube? Or was it underwear in the red cube, fancy pajamas in the blue cube?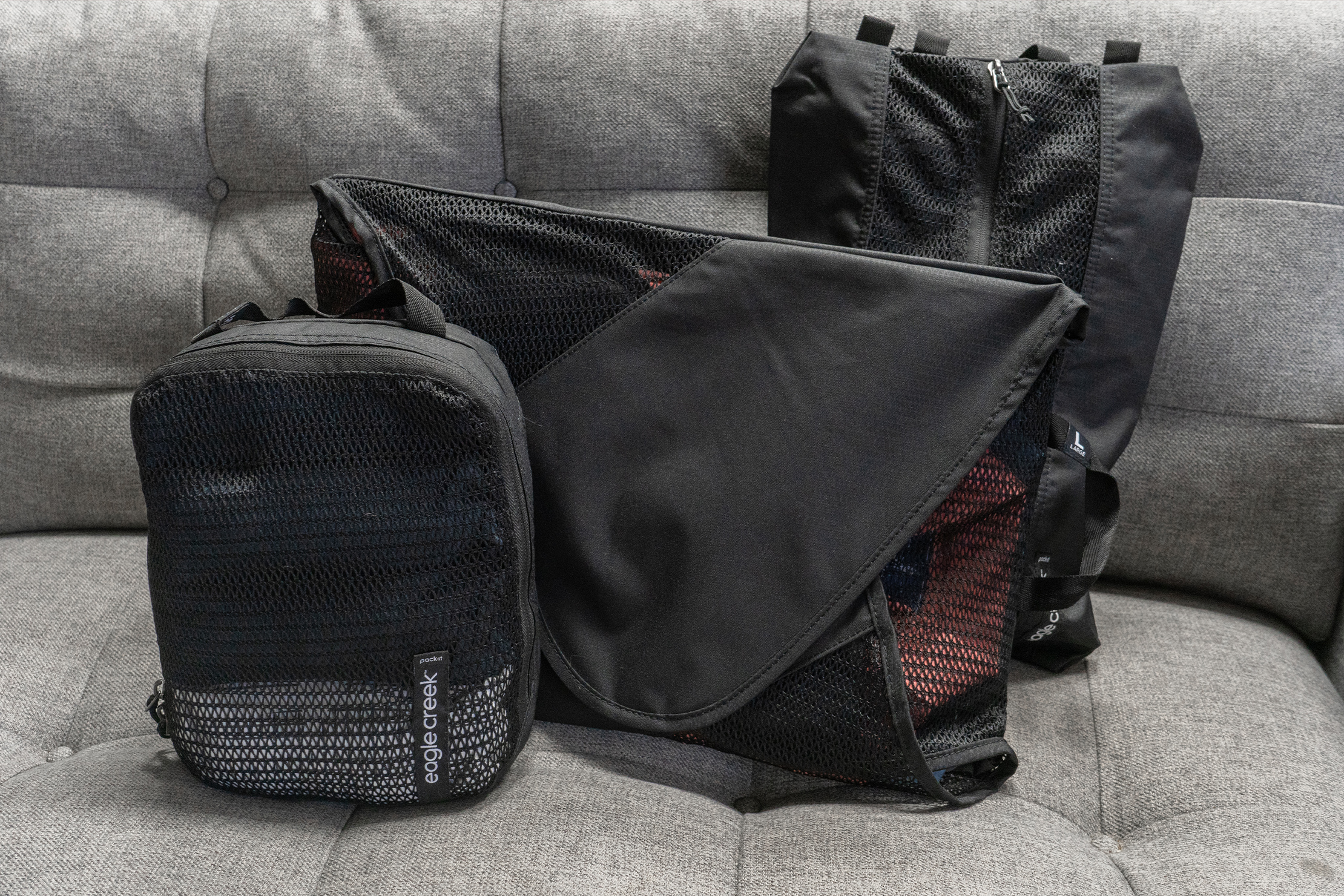 Eagle Creek's Pack-It packing cube system comes in three lines—Reveal, Isolate, and Gear. While the Reveal cubes aren't our favorite from the Pack-It system, we do like the visibility the mesh offers. That said, it can sometimes get snagged on backpack zippers, and dust and dirt accumulate inside a little too easily.
The Reveal line actually features a lot more than just packing cubes. It includes a hanging toiletry bag, laptop sleeve, tri-fold toiletry bag, and intimates cube for packing bras without smashing the cups. We tested the small clean/dirty packing cube, shoe sac, and large garment folder for this review.
Fabric & Features
One side of the Pack-It Reveal cubes is made from a recycled double-diamond poly mesh which we're assuming was named because of its diamond pattern. It's strong without being too rigid and feels soft to the touch. The other side is a poly micro-weave, which feels very similar to the mesh side, just without the holes, obviously.
This mesh is supposed to be breathable, but just be aware, "breathable" means that smells can escape easily. So if you've got some funky shoes or clothes in these, they will not contain the smell. We'll talk about that more later.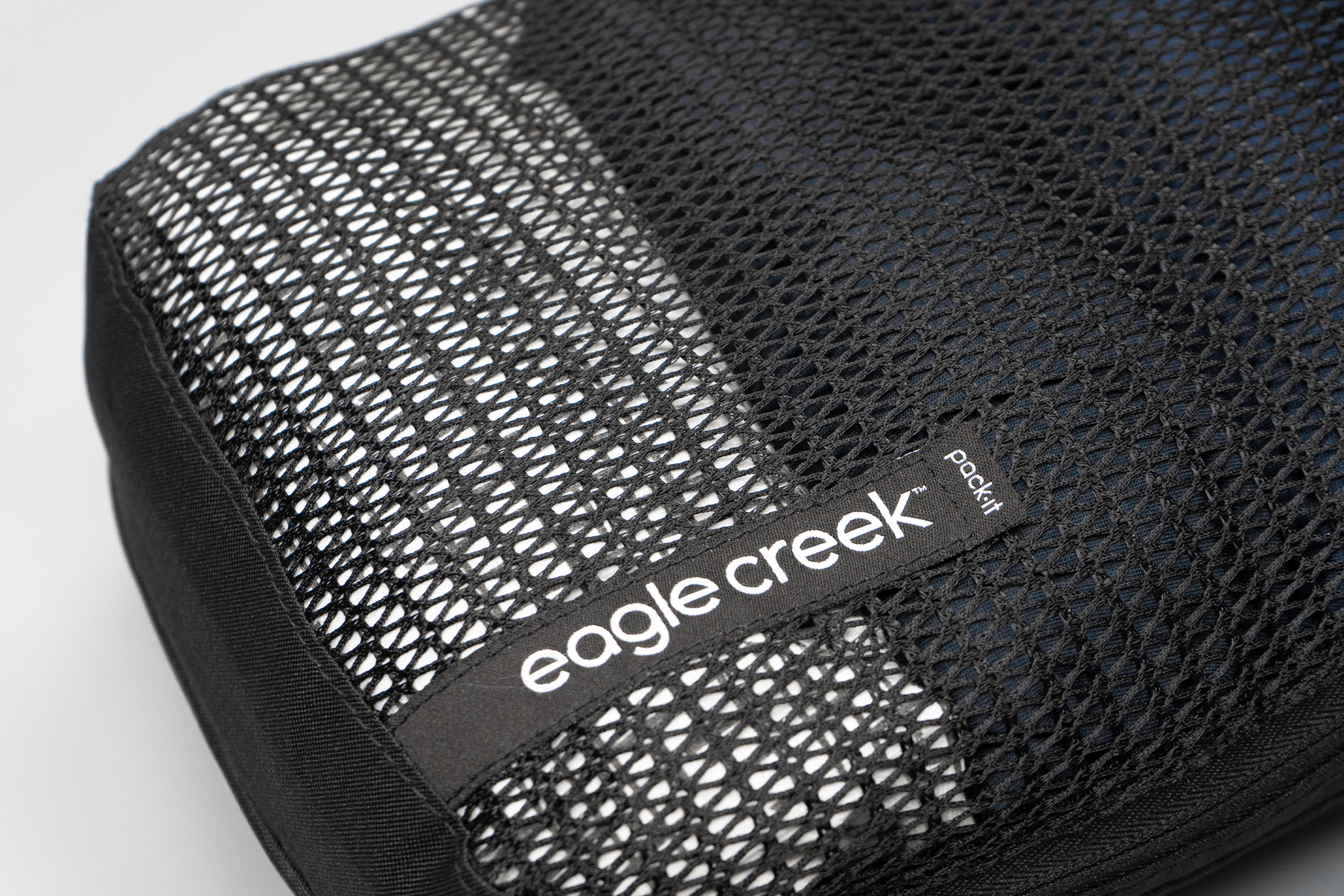 The mesh is mostly for visibility, but this may not work well if you have all black clothing in a black cube, for example. With no interior liner for contrast, looking into the mesh to a sea of black kind of defeats the purpose anyway. The material is lightweight but not slippery, so the cubes won't slide around much in your bag.
A small handle on each of the cubes makes grabbing them out of your bag a breeze. The handles also have a tag indicating the size, another helpful touch for remembering what you've got packed in each one. Socks in the small cube, t-shirts in the medium makes more sense, wouldn't you say? These cubes use Zoom zippers, which we are coming around to like and haven't given us any issues so far.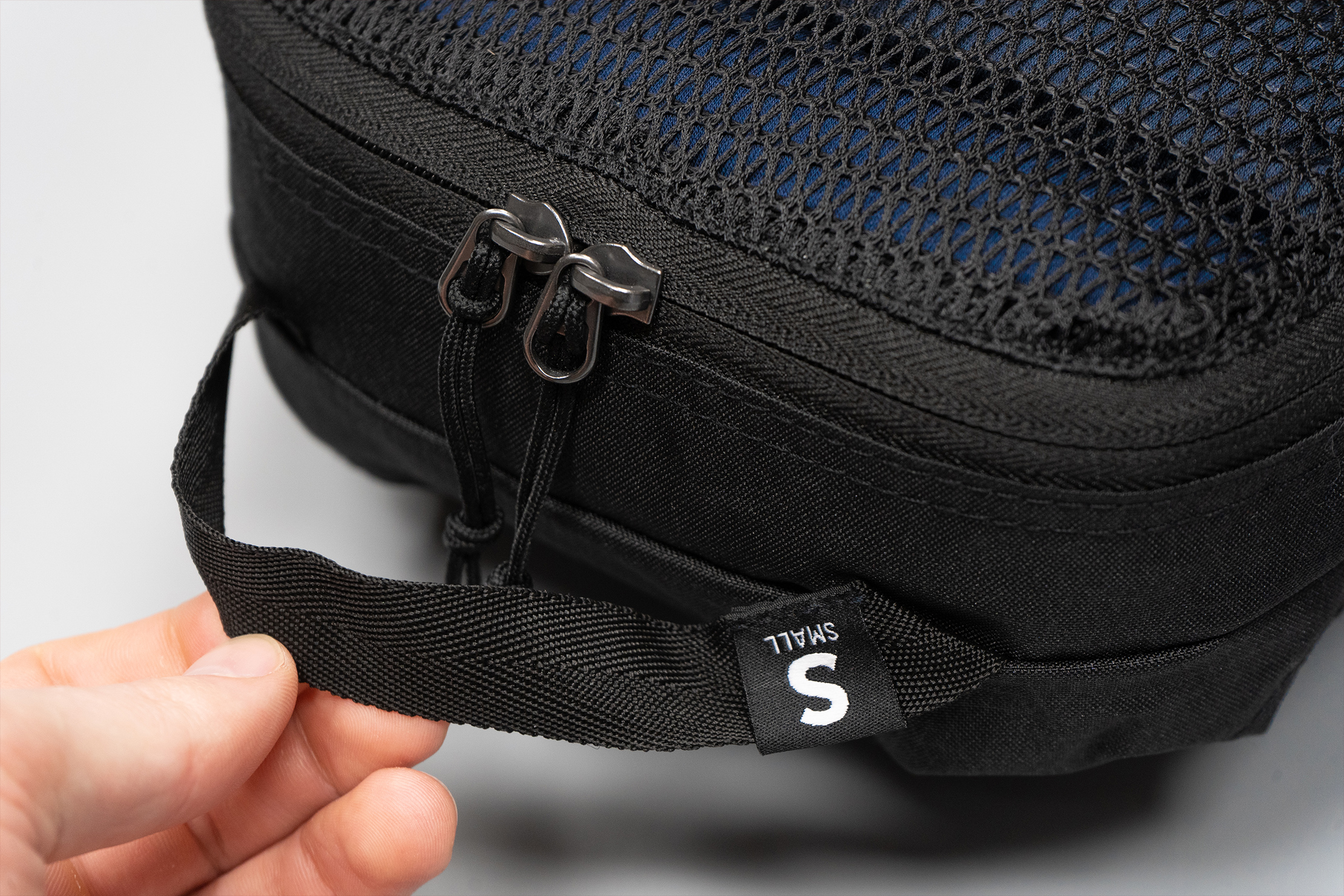 Overall, the Reveal cubes are reasonably lightweight and easy to pack. Out of the three types we tried, the clean/dirty cube was our favorite to use. Let's get into our experience with each one.
Small Clean/Dirty Cube
The clean/dirty cube is built to keep your clean and dirty clothes separate if it wasn't clear from the name. You put your clean clothes on one side, and as your trip goes on, you switch the worn clothing over to the "dirty" side. We used the small size for underwear and socks on a four-day trip, and it was great not to have to do the underwear smell test when we wanted a clean pair. Please tell us we aren't the only ones who do that… It can also fit up to three large t-shirts comfortably.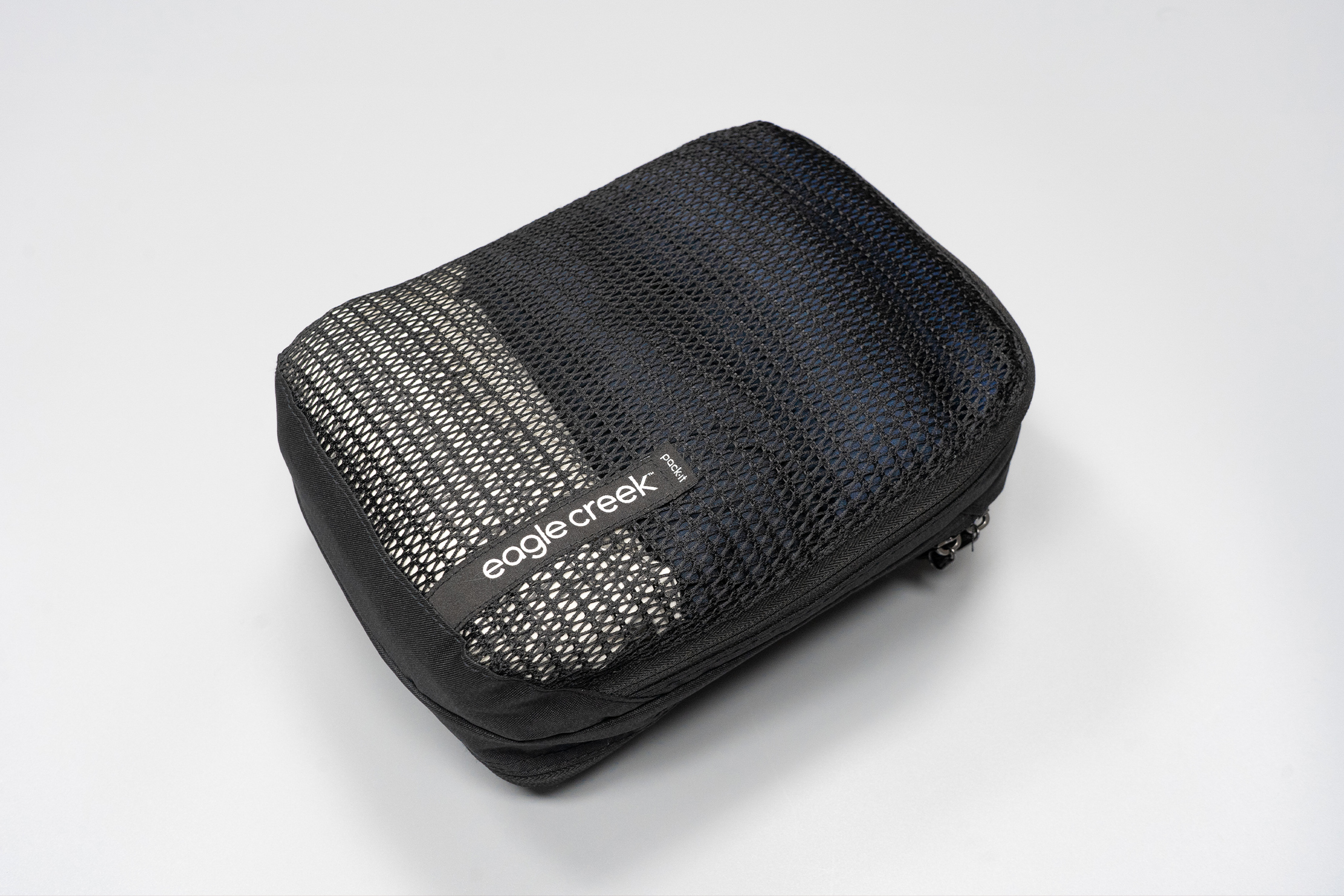 Initially, we thought having a compartment on both sides of the cube would be awkward since they would compete for space. But the middle divider is gusseted and can stretch into whichever side you need it to. This means neither compartment takes up room from the other, especially since you're just switching the placement of your clothes from one side to the next.
One compartment is completely solid, and the other is mesh. So which is for clean clothes and which is for dirty ones? Eagle Creek suggests putting clean clothes in the mesh compartment and moving them to the solid compartment when they get dirty. Ultimately, it's up to you to decide, but there's a couple of things to consider.
Let's say you are using this for underwear, and you don't want the person you're traveling with to see them when you leave the cube on the hotel dresser. You may want to pack them in the sealed side, move them over to the mesh side as they get dirty, and then flip the cube over.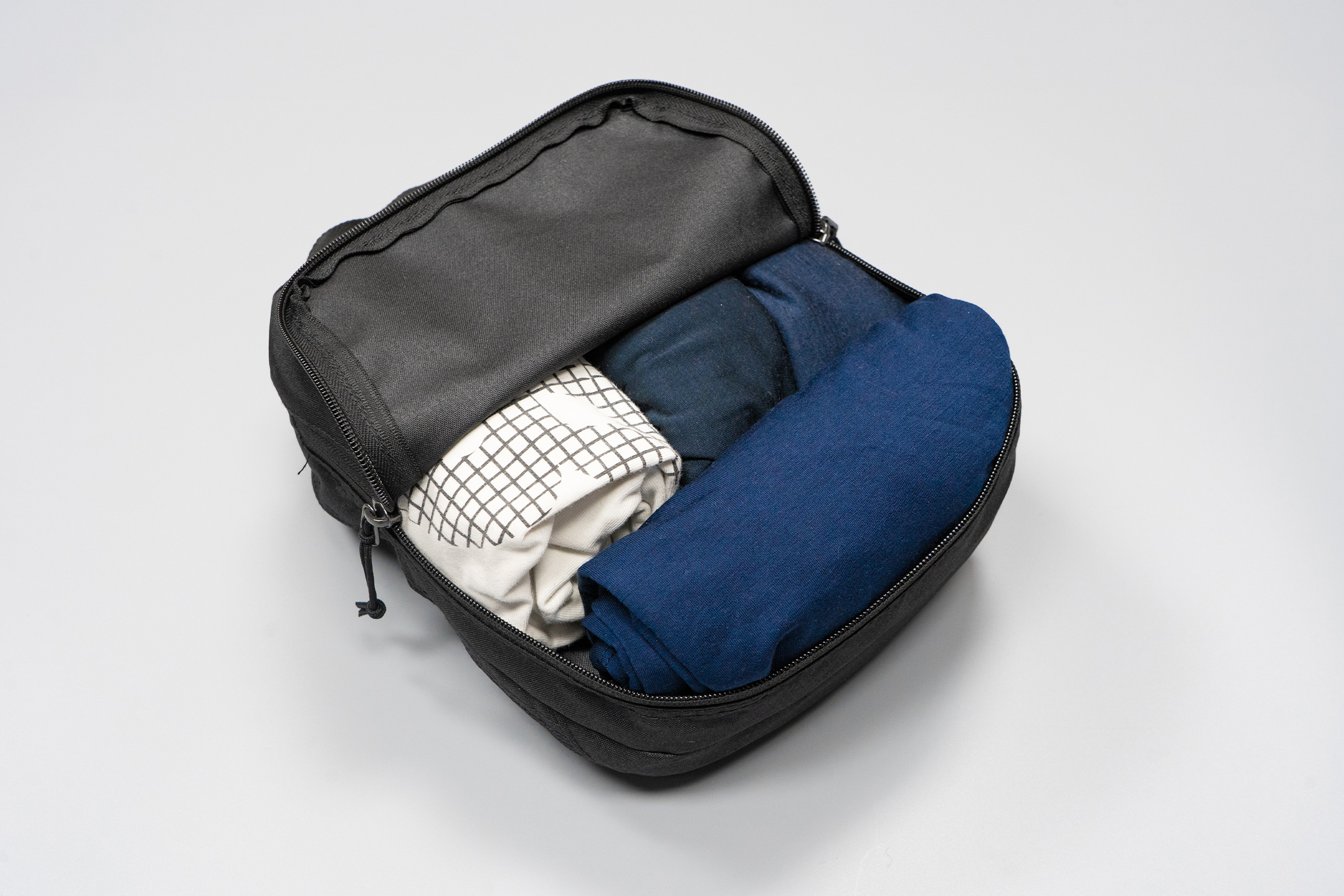 On the other hand, we noticed the mesh compartment doesn't hold in odors. The mesh is very breathable, and any funky smells will escape right out of it. This is supposed to help prevent mildew and more funk from growing inside the cube if you have any damp or sweaty clothes. At the same time, if you've got stinky socks in here and the cube is sitting out, you're going to smell them a little.
So, we're with Eagle Creek on this one. We preferred packing our clean clothes in the mesh compartment and switching them over to the sealed part after we wore them. That way, we could see what we had left to wear and "hide" our dirty stuff.
The zippers on this cube are angled, so they start at the bottom and open up towards the top. It creates a nice tub at the bottom for you to pack things into, and then the top just flaps open and out of the way.
Shoe Sac
The shoe sac is useful for separating dirty shoes from the rest of your bag with a mesh panel for ventilation. It helps air your shoes out so the stink buildup after a long day of hiking, exercising, or walking doesn't get too out of control. We're not saying it will keep your shoes from stinking (trust us, it won't), but it will cut down the funk a little bit.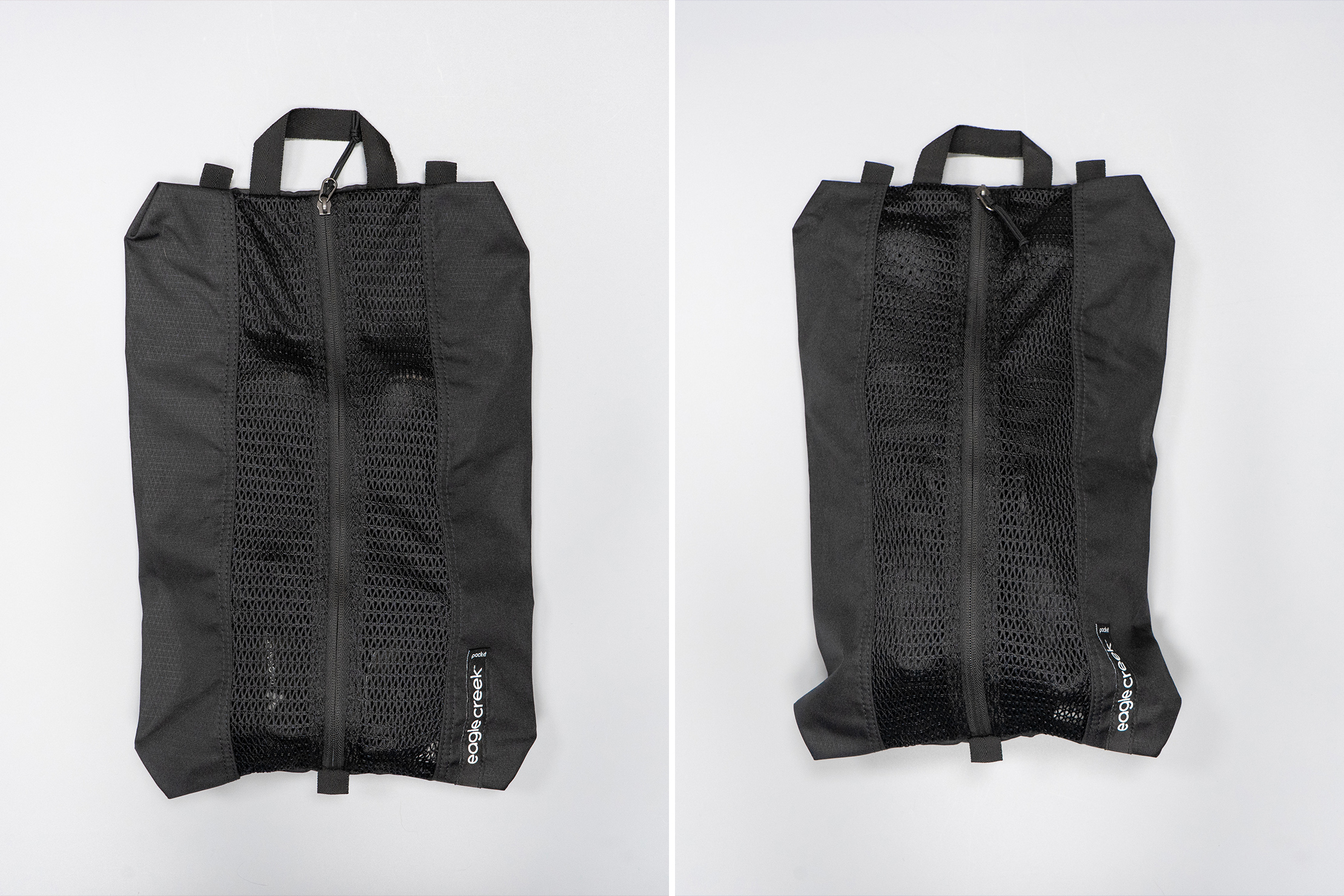 It's the same with the clean/dirty cube—you can still smell it through the mesh, but it lets some air in, so you won't have a petri dish experiment growing. We found it best to put the shoes in here and air them out on our hotel floor on our hiking trip before putting them inside our bag. You'll also find three nylon tabs on the shoe sac's outer edges where you can clip on a carabiner and hang it up.
By now, we get it. The mesh is for ventilation. When you've got a bunch of tiny rocks in your shoes from hiking, however, the mesh holes are a bit problematic. Those little rocks can easily escape out of the cube and into the rest of your bag.
This sac can fit up to a pair of men's size 13 shoes. We tried it with women's size nine shoes and a men's 10, and there was still ample space left inside. The Reveal line also has a multi-shoe cube that fits up to three pairs for when you need business, gym, and dancing shoes on the same trip.
Large Garment Holder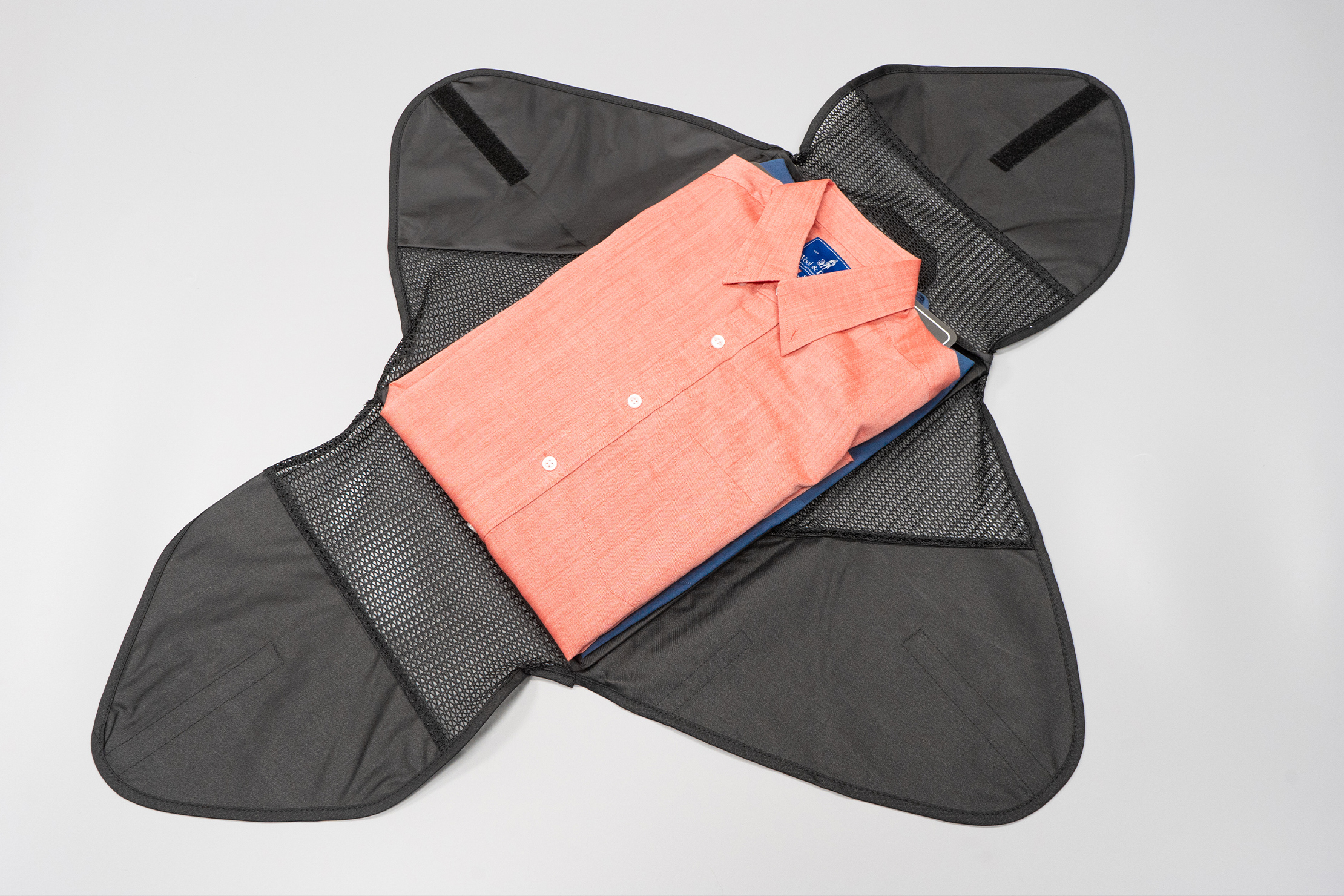 If you have a fancy dinner date or an important business meeting planned, there's the large garment holder. It'll keep your dress clothes from getting wrinkled and save you a half-hour of ironing when you're running late.
You'll have to fold everything up properly to get them inside, but luckily there are instructions printed on the insert when you open it up. Un-velcro the four closure flaps and make sure you remove the instructions before you start. You'll put the flexible plastic instruction sheet inside each shirt to hold it in place while you're folding, and then pull it out with the nylon pull tab at the top to use it for the next one.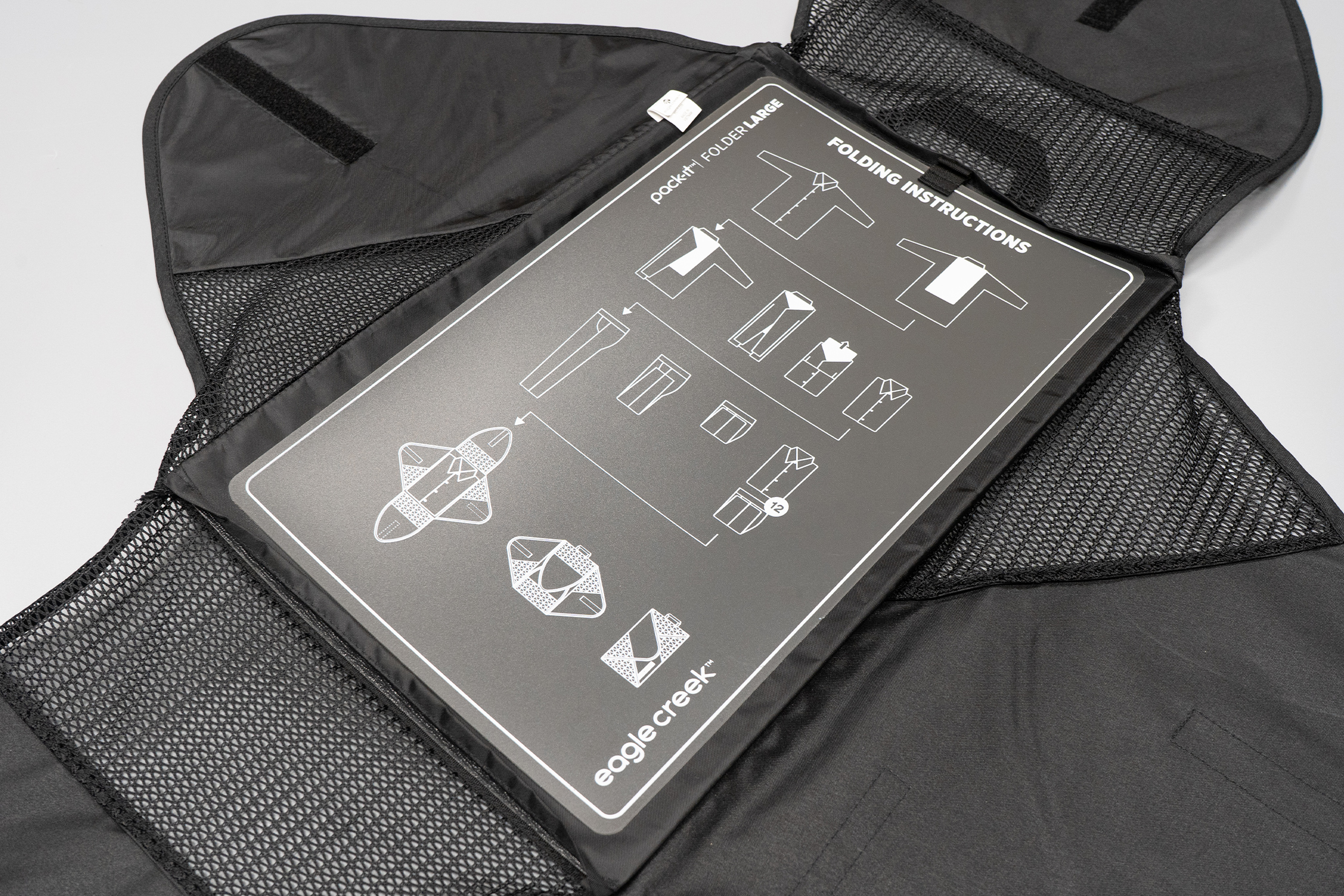 After you're done folding them all up, put the instruction insert on top to keep them in place. There's another flexible insert built into the bottom, too. Together they sandwich your clothes to keep them structured and unwrinkled. The large, which is the size we used, fits eight to 12 shirts and pants. This is all dandy if you're traveling with a rolling suitcase, as you can just set it on top of everything without it getting crumpled. However, in a travel backpack, the garment folder takes up a bit of space and can be challenging to pack due to its structure.
Usage Timeline
Initial Usage
Condition: Excellent
Large mesh window allows visibility of contents
Divider in middle, great for separating clean and dirty clothes
Comes in many different sizes and a compressible version
This line also includes different styles of garment folders, laundry sacks, shoe sacks, pouches, and organizers
2 Weeks of Use
Condition: Excellent
Mesh fabric makes it easy to see what's going on inside
Noticed a bit of dust has gotten into the cubes through the mesh holes
Access the Pro Community Discussion
Get your questions about the Eagle Creek Pack-It Reveal Packing Cubes answered from our team and the Pro Community right here on the page. Plus, join discussions with other members about gear, guides, and more.
Other Organizers & Pouches Reviews