Eagle Creek Pack-It Gear Packing Cubes Review
The Eagle Creek Pack-It Gear packing cubes are durable, stylish, and water-resistant, but we think they work better as standalone bags than packing cubes.
Our Verdict
Unlock the Pro Summary
Save time. Get access to brief summaries of our reviews so you can browse and make decisions more efficiently.
Pros
Attachment loops integrate with other Eagle Creek bags
Structured shape is good for pointy or long items like camping gear
Uses recycled materials
Cons
Not malleable and eats up a lot of space in your bag
Rigid material makes them difficult to pack
Bigger cubes may not be suitable outside of large duffles
Recent Pack Hacker Video
Technical Details
Weight (oz)

10 oz (283.5 g)

Medium size

Denier

900D

Dimensions

14 in x 10.25 in x 4.25 in (35.6 x 26 x 10.8 cm)

Medium size

Notable Materials

Polyester, Thermoplastic Polyurethane (TPU), Zoom Zippers

Manufacturing Country

Vietnam

Warranty Information
Buying Options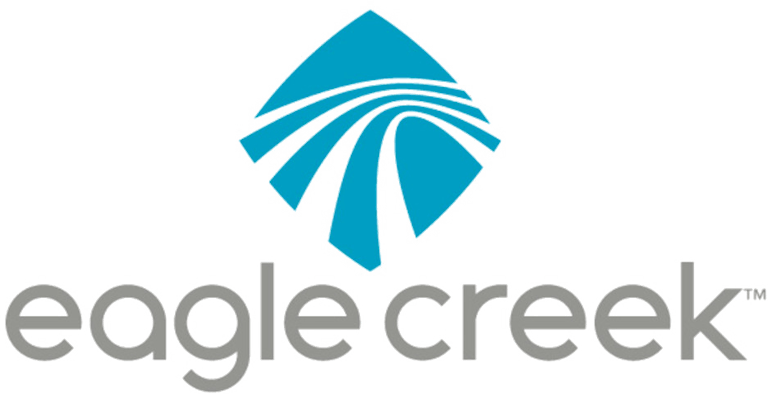 $49.95

$49.95
Full Review
Get up to 20% off Eagle Creek • Join Pack Hacker Pro
What's it going to be? Rustic camping in the Florida Everglades backcountry? Hiking the ancient Inca trails in Peru? An exciting trip to your backyard? The Eagle Creek Pack-It Gear packing cubes are a pretty neat way to carry your gear whatever your next outdoor adventure.
These ain't your grandmother's packing cubes. They're tough, rugged, strong—think less packing cube and more carrying case. You know, the kind that DJs use to transport their mixers and turntables.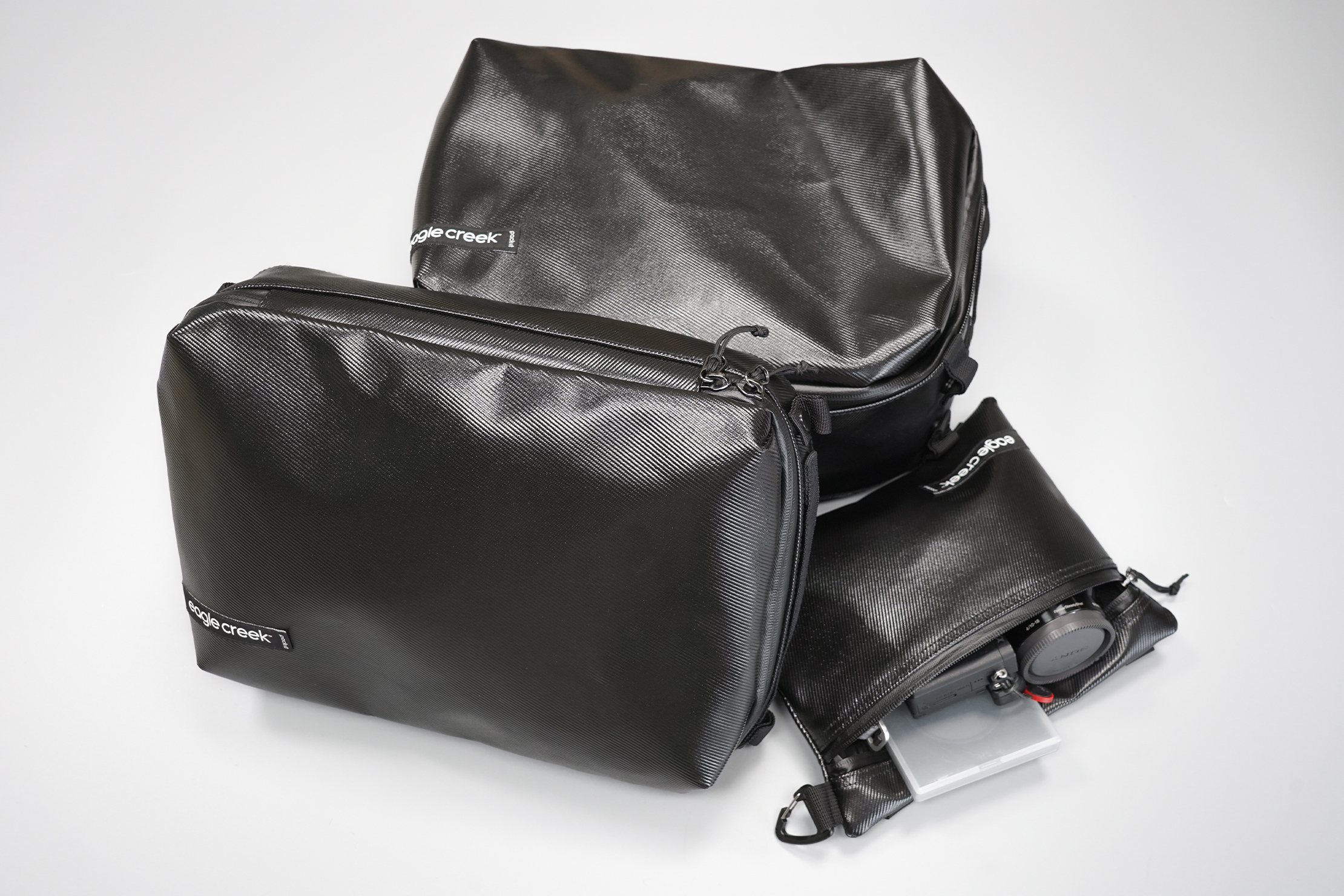 You may be thinking, "aren't packing cubes used for strategically packing things inside your bag?" Typically, yes, but Eagle Creek designed these Gear cubes so you can ditch the bag and carry them individually if you want.
This is both a good and a bad thing. On the one hand, we love the robust weather-resistant fabric on these. On the other hand, they are pretty darn tough to pack, which isn't great for one-bag travelers. They are quite bulky and take up a lot of space, so not the best for minimalist travel either. They served us best as standalone bags for our hiking or camera gear.
Eagle Creek's "Pack-It" packing cube system comes in three lines—Reveal, Isolate, and Gear. This review will focus (obviously) on the Gear line, as we've tested and reviewed all of them separately.
Fabric & Features
About that hefty outer fabric, it's made from a 100% recycled 900D poly twill with a TPU laminate coating. For those of us who aren't marketing robots, that means they are incredibly sturdy, made with recycled materials, and are water-resistant. Eagle Creek has ramped up their sustainability efforts, and most of their products now use some form of recycled materials.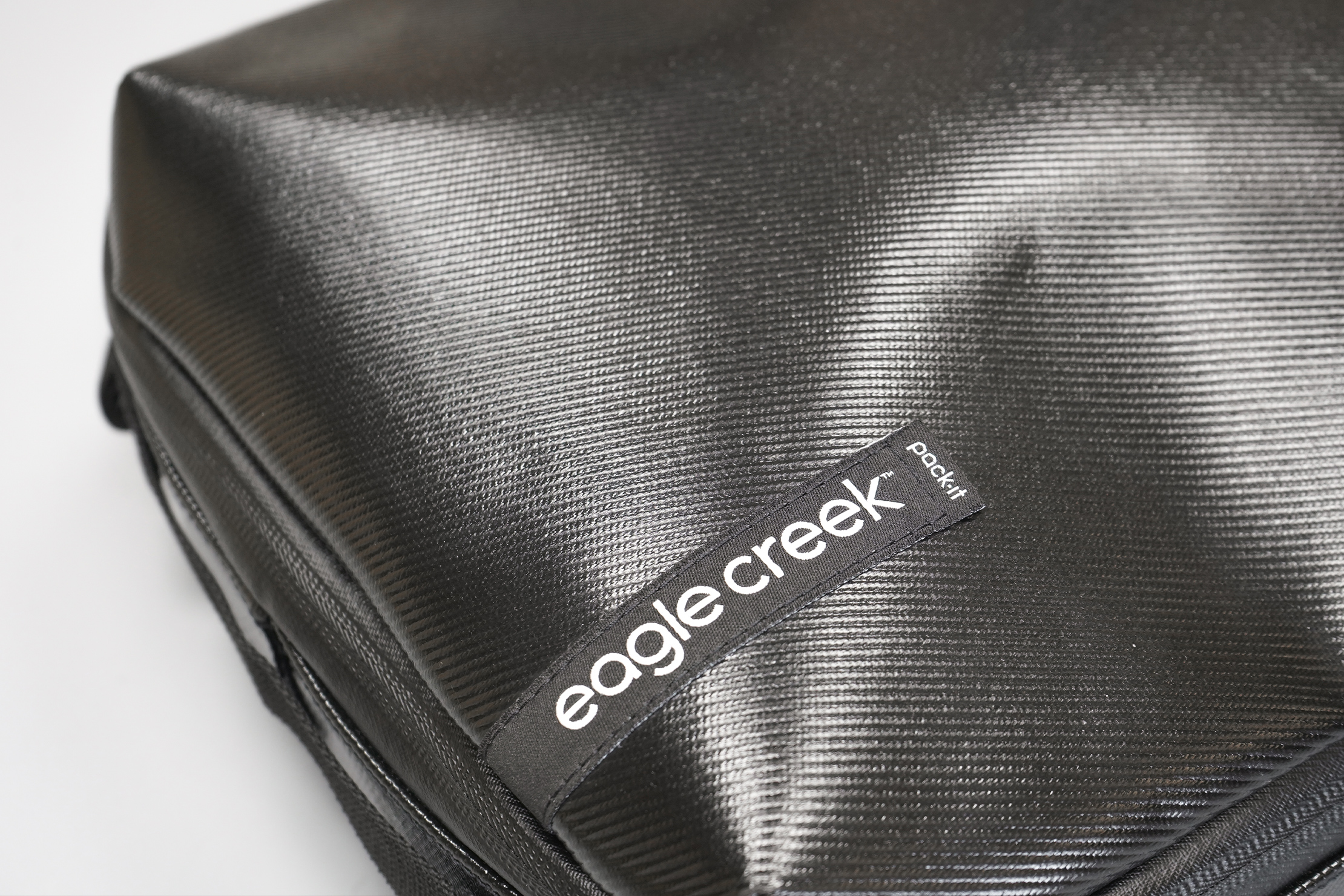 The TPU coating gives the cubes this faux patent leather look like they are dressed up for a night of clubbing. We dig the material's look, but it is rigid, making it hard to slide into your bag. This may not be a problem if you're traveling with a duffle bag, but packing them in a backpack can be a bit challenging.
Beyond its sexy look, the material does a decent job at keeping moisture either in or out. If you've got anything wet (like a used beach towel or rain tarp), put it in here to keep your other stuff from getting wet. These also work particularly well for any gear with long or pointed edges since the fabric is structured. So, if you need to pack tent poles for your camping trip, for example, the cube's shape won't change much.
With no liner on the interior, you can see all the seams and snap fastener bits. This isn't a big deal as it adds to the raw, rugged feel of these, but a colored liner for some contrast would have been nice. If you're like us and have black gear inside a black cube, it's hard to see everything going on inside. If you're going for the "Mossy Green" or "Sahara Yellow" colorway, though, it won't be that much of a problem.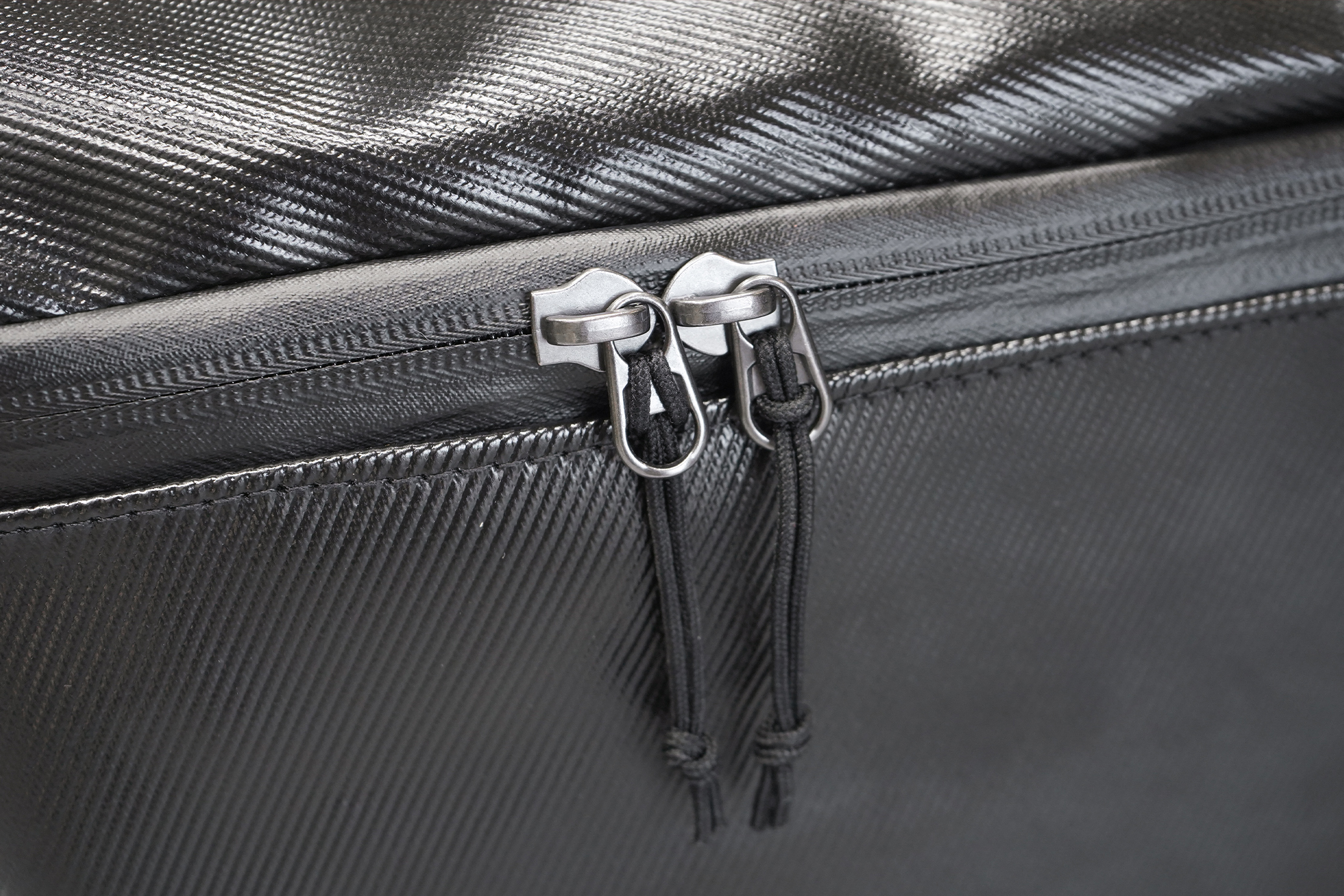 All the cubes feature weather-resistant Zoom zippers, and paracord zipper pulls. Little snappy loops on the sides of the cubes can be used to attach them to other Eagle Creek bags or clip on accessories. We tested the beefy medium X3, medium gear cube, and small gear pouch for this review. Let's get into each one.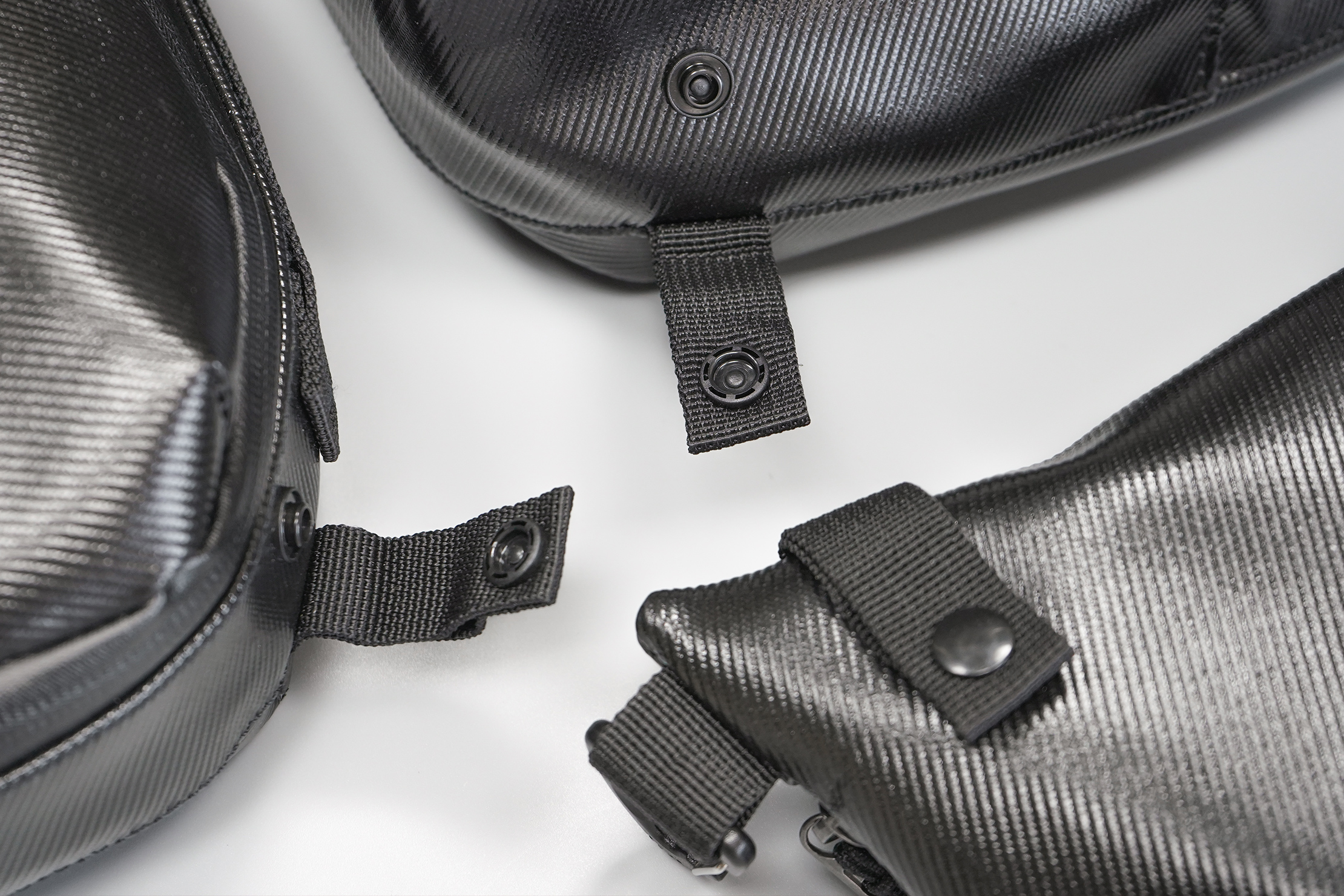 Medium X3
This thing is pretty freaking huge. It's almost the size of a children's rolling suitcase. You could easily carry it as a handbag, and no one would bat an eye. We used it as a standalone bag on a road trip to hold shoes and a packable daypack. Having it in the car and popping it out of the trunk when we needed to grab something was pretty convenient.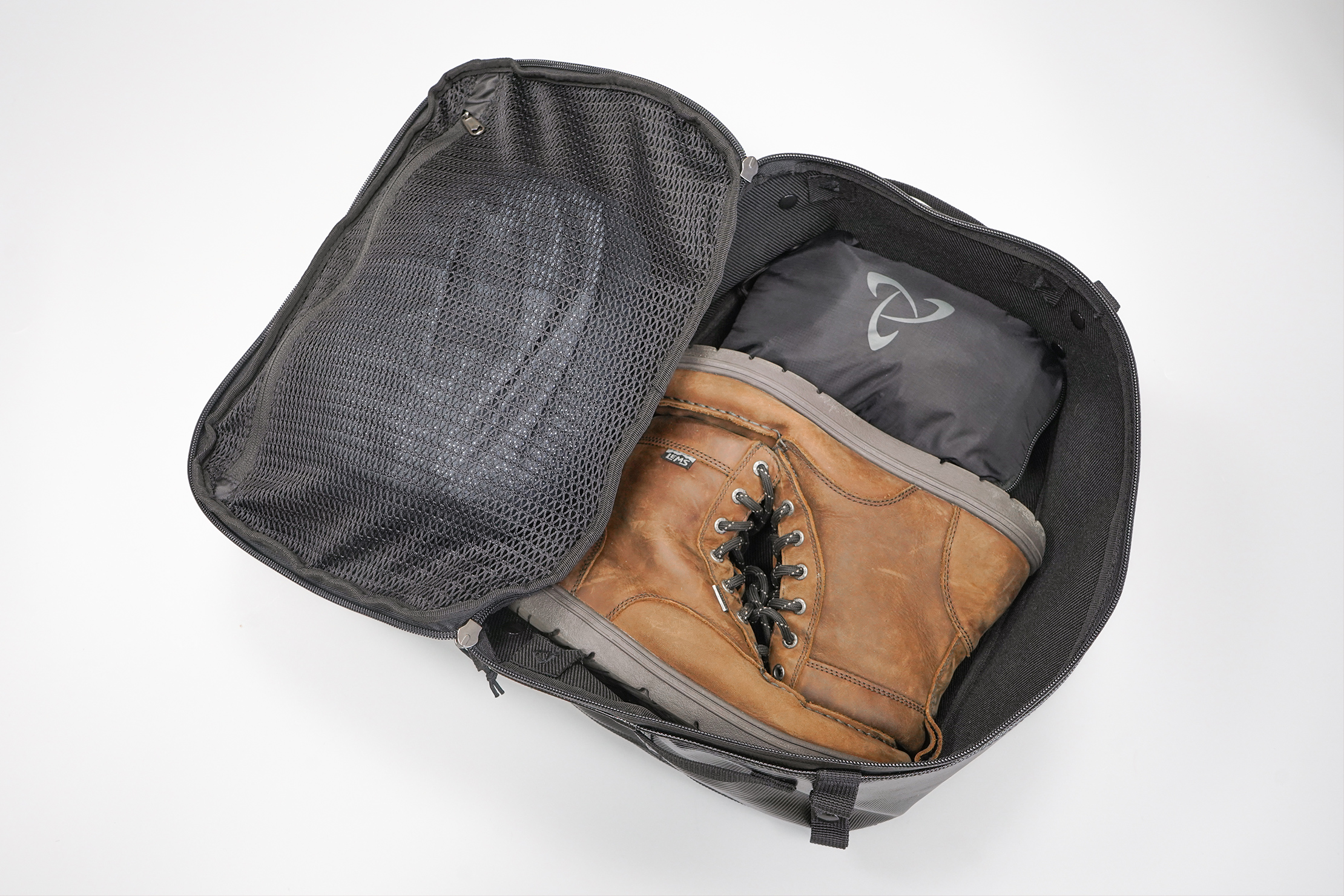 It also came in handy when we needed a "bag" to carry a bunch of gear home from the office. The grippy handles on both sides of the cube made it easy to use this way. With a cube this big, you need to be able to grab it from both sides, whether you intend to carry it in a duffle or as a bag itself.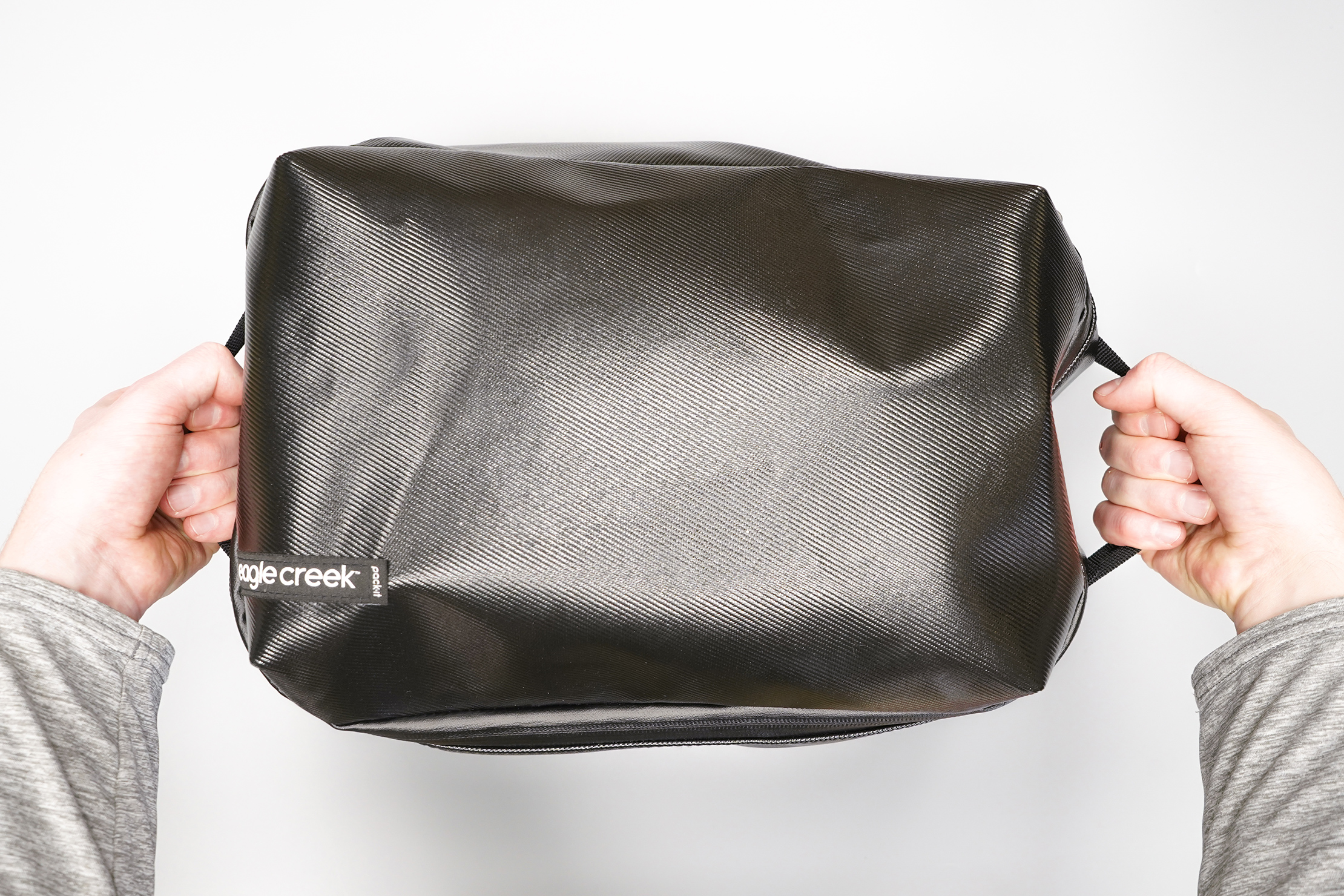 There are four snappy loops on the outside of the medium X3 for clipping on accessories like keys or a carabiner. Inside the cube, opposite the cavernous main compartment, is a large mesh pocket that's good for stashing small items you want to keep track of. We wouldn't recommend filling it up with too much stuff or placing large objects in here. The mesh is not very tight, so it will give the outside of the cube a bit of a bulge (or cut into the cube) if you've got the pocket too stuffed. Since it's designed to hold outdoor gear, the mesh doesn't feel luxuriously soft, but it's not too stiff either, which is nice. There's also a little zipper garage on the pocket, which we would assume is to deter moisture. We didn't really notice a difference either way.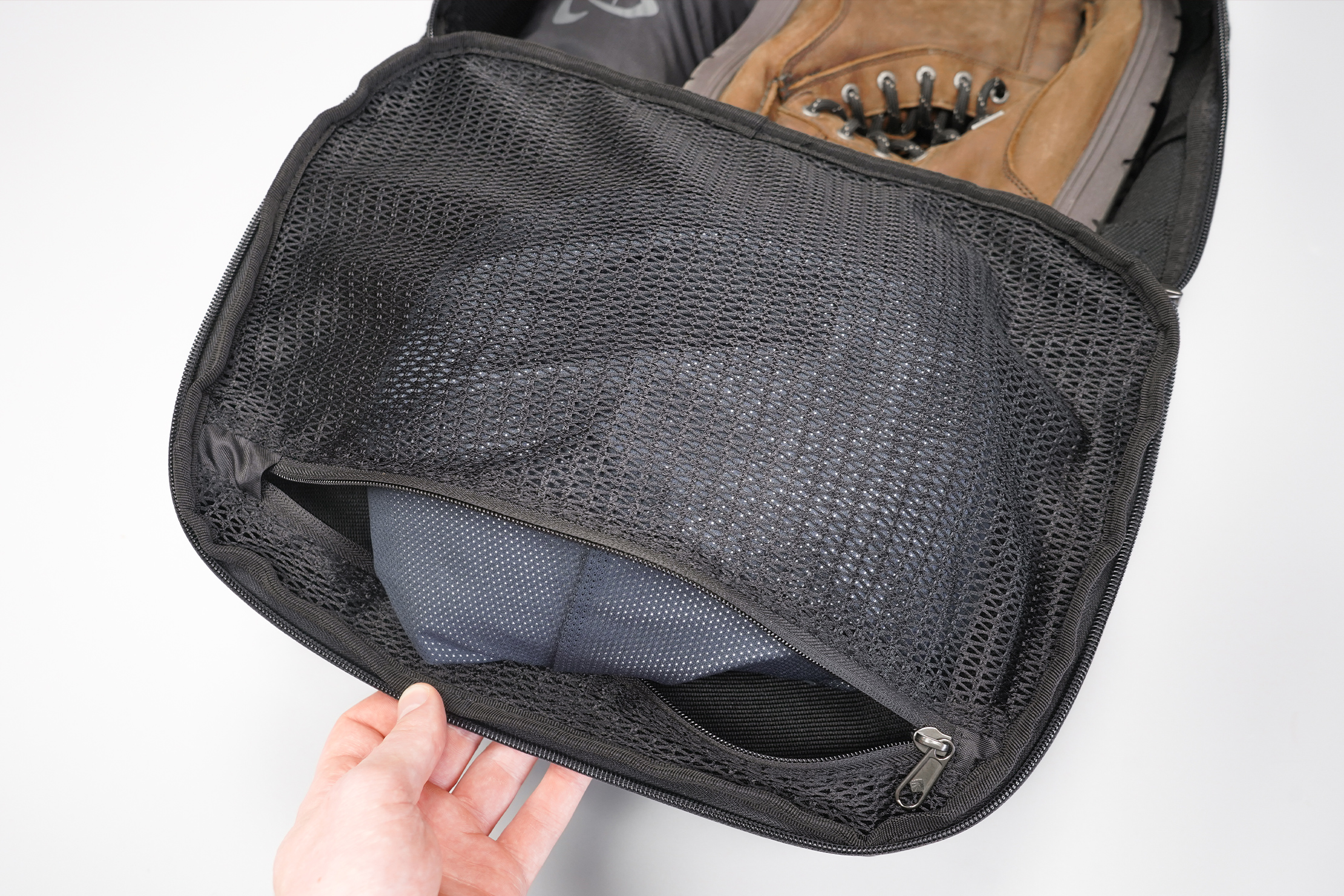 We're sad to say that this cube doesn't fit in some of our favorite travel backpacks. We tried putting it inside the 40L Eagle Creek Wayfinder, and it took up almost the whole bag.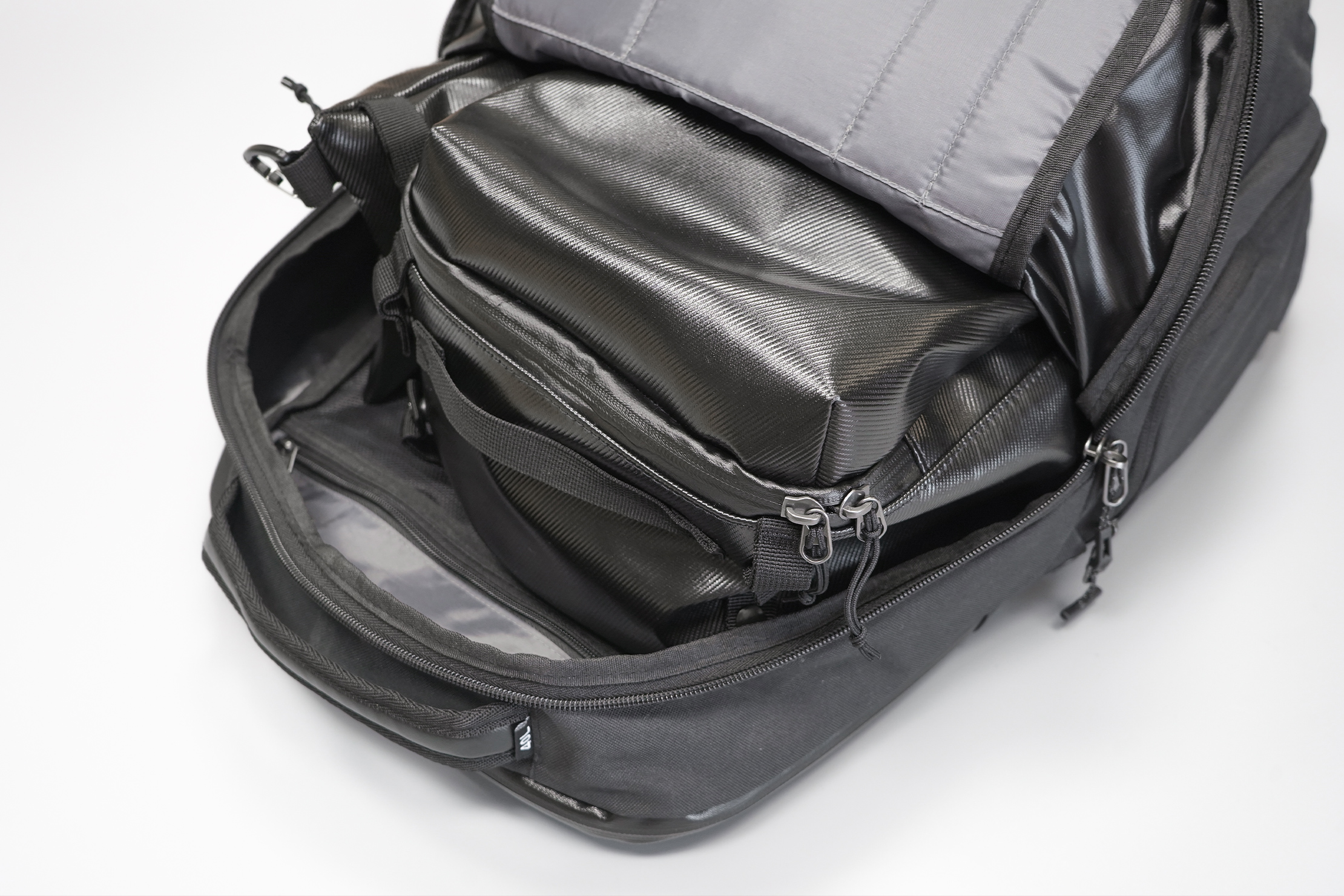 So is the Medium X3 Gear packing cube for you? Maybe not if you're flying with just a carry-on. Definitely, yes, if you're a travel journalist making content about hiking some unknown mountain in Japan and you want a dedicated bag for DSLRs, camera lenses, and GoPros. Also, yes, if you want a separate bag for supplies while on a road trip.
The X3 is about twice the medium gear cube's size, which we'll talk about next, and three times the capacity of the small gear cube (which we didn't test).
Medium Gear Cube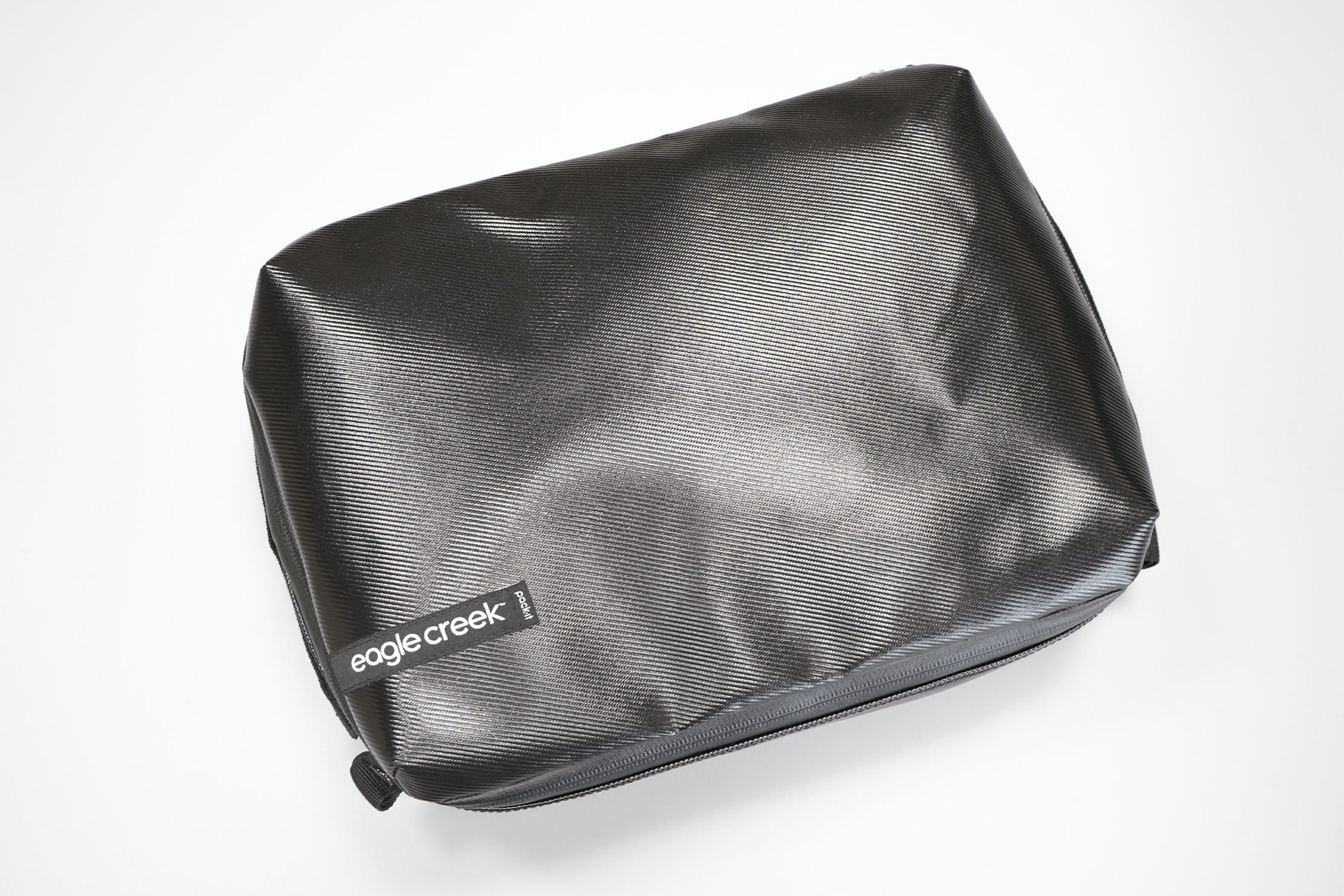 This one is the same as the X3, just in a smaller size. Instead of four snappy loops, it only has two, but it still has a large mesh pocket on the inside and two handles on the outside.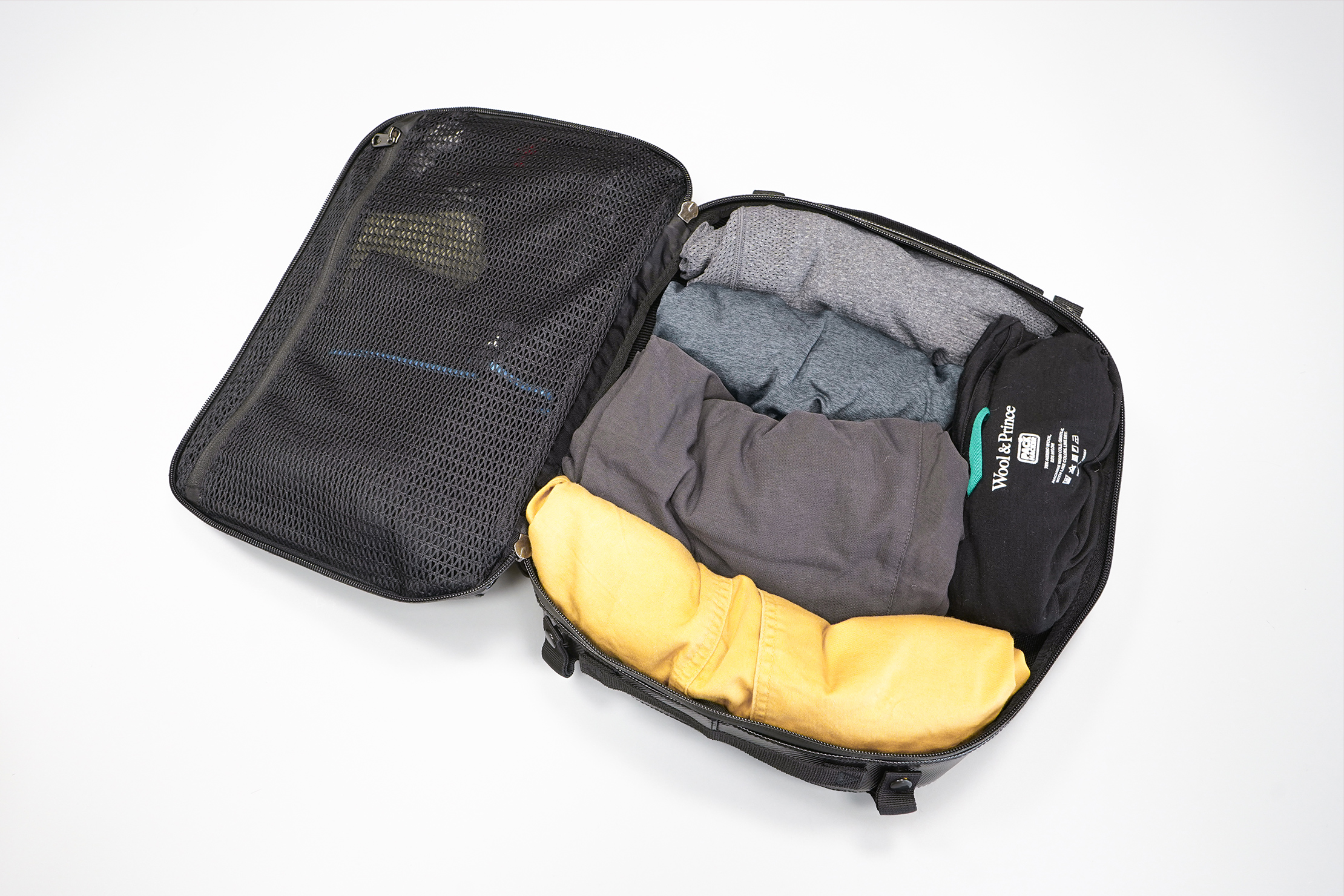 It could be used for clothing and stuck inside a backpack, but it still takes a bit of maneuvering to get it in and out. We were able to fit a pair of pants, shorts, and about four t-shirts, but it's still best suited for outdoor gear.
Small Gear Pouch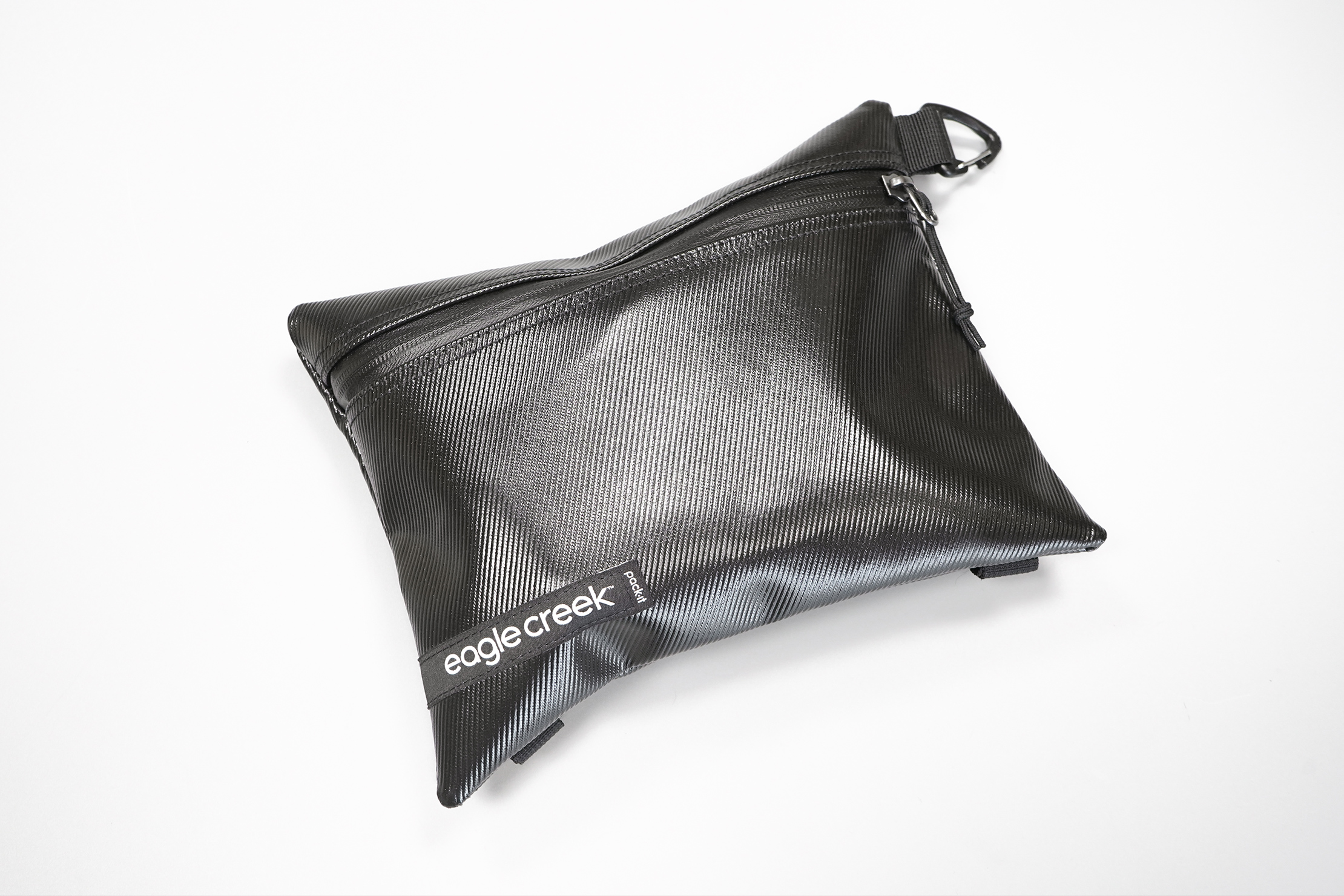 This little pouch was pretty hit or miss for us. We don't want to take away from the awesome water resistance that it offers smaller outdoor gear, but we wish it were more malleable. It's pretty tough to stick it inside of a bigger packing cube, for example, since the shape stays the same whether it's full or empty.
If you're big on packing light and want something that won't take up space in your bag, this is probably not the pouch for you. But maybe you want a nice pouch to keep your fancy nail clipper collection in. Or you have an elaborate first aid kit that you need a carrying case for.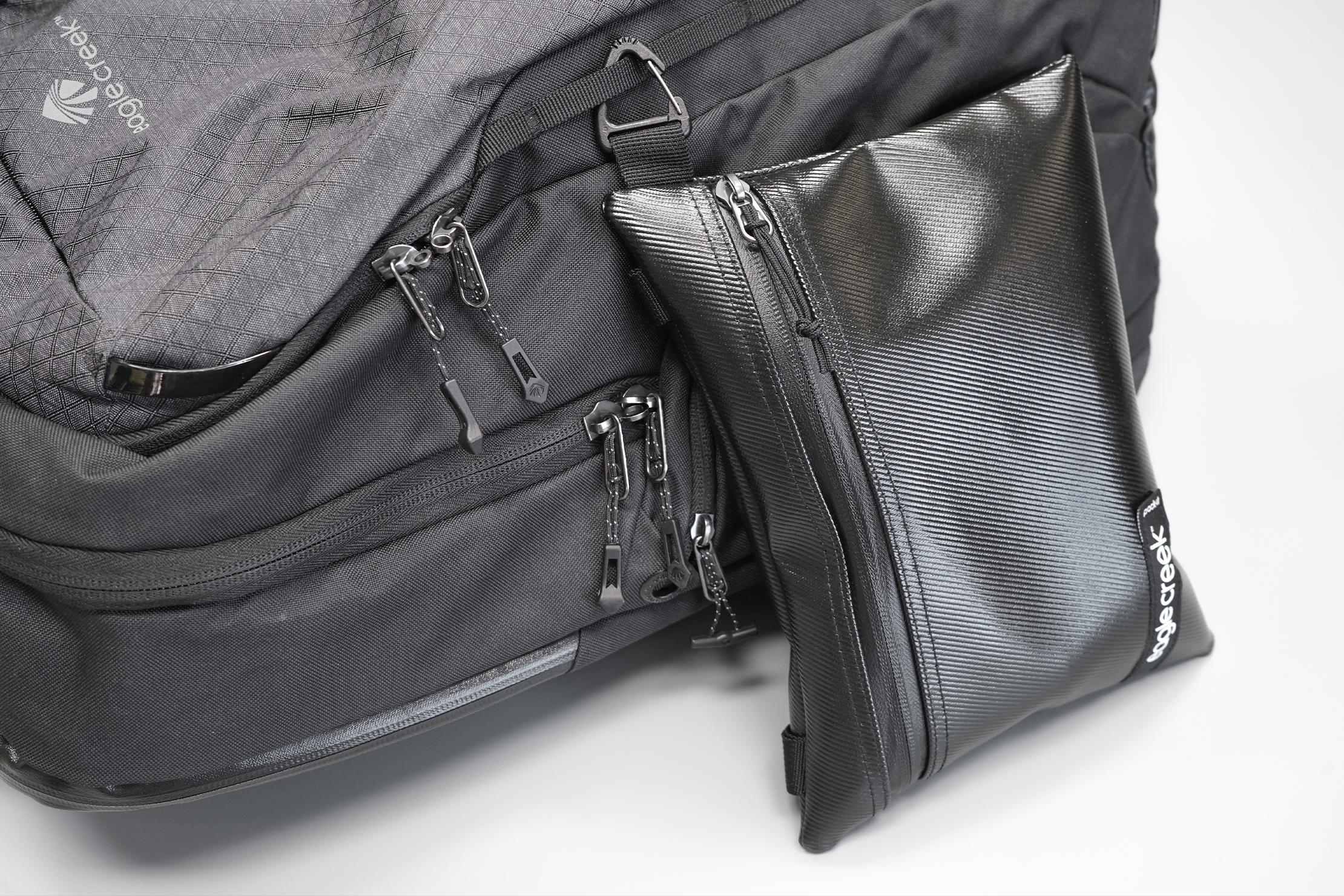 It has four attachment loops on the back. This one makes more sense to integrate into other Eagle Creek bags since it's flat and less bulky than the others. The little spring clip on the outside can also be used to clip it on as an accessory pouch.
Eagle Creek's Pack-It Gear line also includes a "Quick Trip" pouch, which it turns out is not a packing cube at all. It's a toiletry bag. We see you, Eagle Creek, redefining packing cubes. Quite literally.
Usage Timeline
Initial Usage
Condition: Excellent
Extremely water-resistant and durable packing cubes
Internal zipper mesh pocket to keep items separate
Webbing handles for easy carry
This line also has different styles of pouches
2 Weeks of Use
Condition: Excellent
These packing cubes pack a punch, but we've found them to be a bit bulky for our use case—especially when trying to travel minimally.
Access the Pro Community Discussion
Get your questions about the Eagle Creek Pack-It Gear Packing Cubes answered from our team and the Pro Community right here on the page. Plus, join discussions with other members about gear, guides, and more.
Other Organizers & Pouches Reviews