Cote&Ciel Isar M EcoYarn Grey Review
The Cote&Ciel Isar M EcoYarn Grey has an ergonomic, fashion-focused design, but lacks in functionality as a result.
Our Verdict
Unlock the Pro Summary
Save time. Get access to brief summaries of our reviews so you can browse and make decisions more efficiently.
Pros
Densely-padded, comfortable harness system
Compresses and expands depending on storage needs
Convenient level of organization
Cons
Bulky and heavy for its size
The back compartment is difficult to access
Buckles already starting to chip after two weeks of testing
Recent Pack Hacker Video
Technical Details
Capacity

24l

15L when compressed

Weight (lb)

3.7 lb (1.7 kg)

Dimensions

23.6 in x 12.2 in x 7.87 in (59.9 x 31 x 20 cm)

Notable Materials

Polyester, YKK Zippers, Metal

Manufacturing Country

China

Laptop Compartment Size

15"

Warranty Information
Full Review
We've tested tons of different bags from loads of different brands for a bunch of different use cases over the years: travel, EDC, hiking, climbing, picnicking, you name it. But what category does the Cote&Ciel Isar M EcoYarn fit into?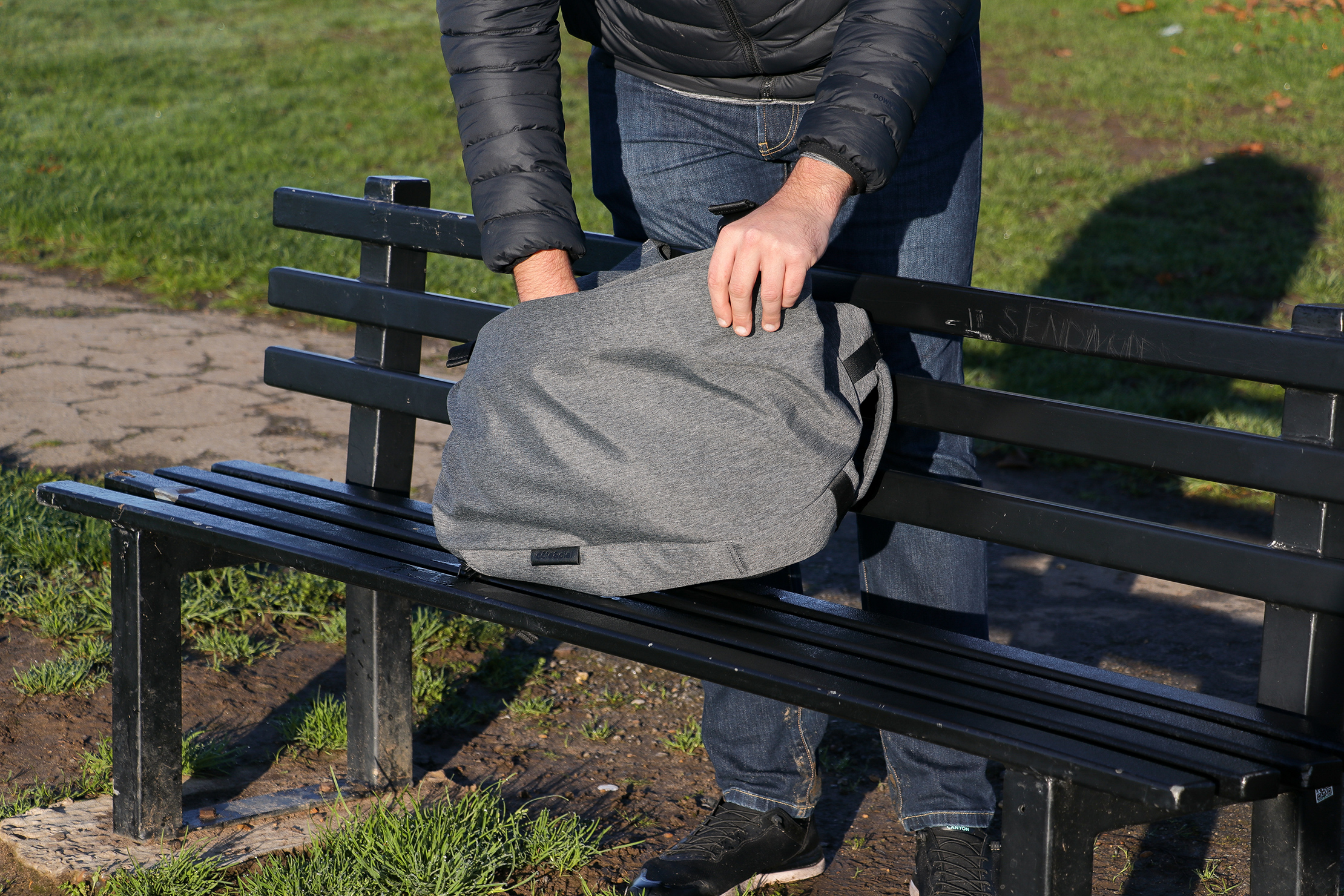 Founded in 2008 in Paris, Cote&Ciel channels its efforts into creating what they believe to be stylish, capable bags and accessories for everyday use. The Isar M EcoYarn is just one daypack that exemplifies the futuristic aesthetic and features they bring to the table.
After two weeks of testing, we've got a lot to say. Head into the review below to read about our experience!
Materials & Aesthetic
This daypack has a rather abstract construction that gives it, how do we put it: a very unique look. Its aesthetic has polled especially poorly among our followers on Instagram, coming in at a mere 10% approval rating. You might not be a fan of its look, but you may find there are other redeemable components to this bag, so don't bow out just yet.
At the time of this review, the Isar comes in three different sizes, four different materials, and five different colorways. You can pick it up in small, medium (the size we've been testing), or large, depending on your storage needs, and in ballistic nylon, nylon, coated canvas, or EcoYarn (the material we've been testing) depending on your use case. You also have colorway options like Black, Ballistic Blue, and Mountain Ore Red, depending on which fabric you choose.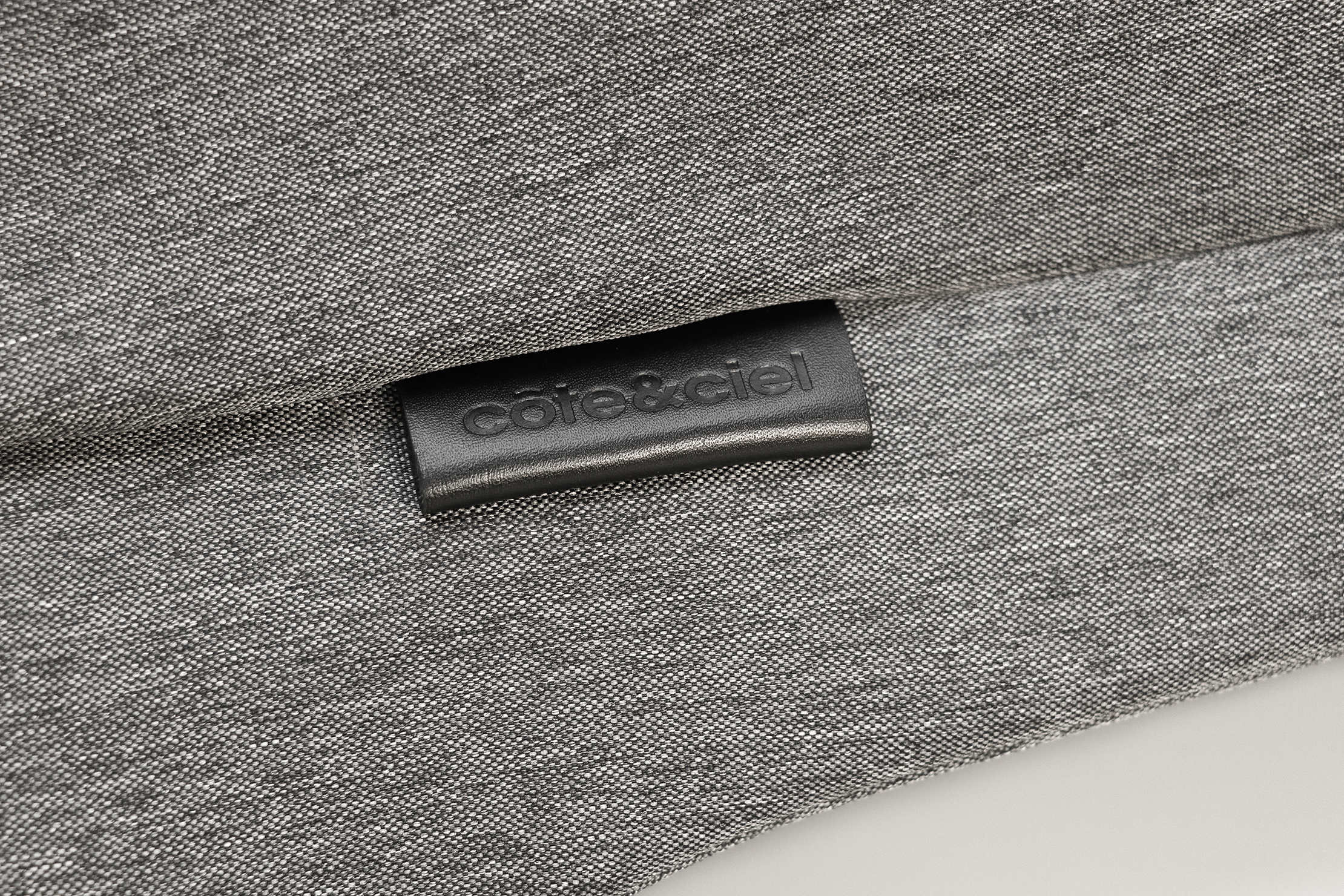 This bag's design makes a big enough statement on its own, so excess branding isn't really necessary. That said, the Cote&Ciel logo is embossed on a small leather tab along the pack's front for a subtle yet sophisticated accent.
What is EcoYarn, you ask? We had the same question. The brand doesn't offer a ton of information about it, other than that it's a durable, sustainably-sourced polyester fabric. It feels pretty thick, but we wouldn't say it feels all that luxurious of a material—we've also noticed a dark mark on the back panel that seems like it's here to stay. Otherwise, it's held up well enough during testing which is a good sign.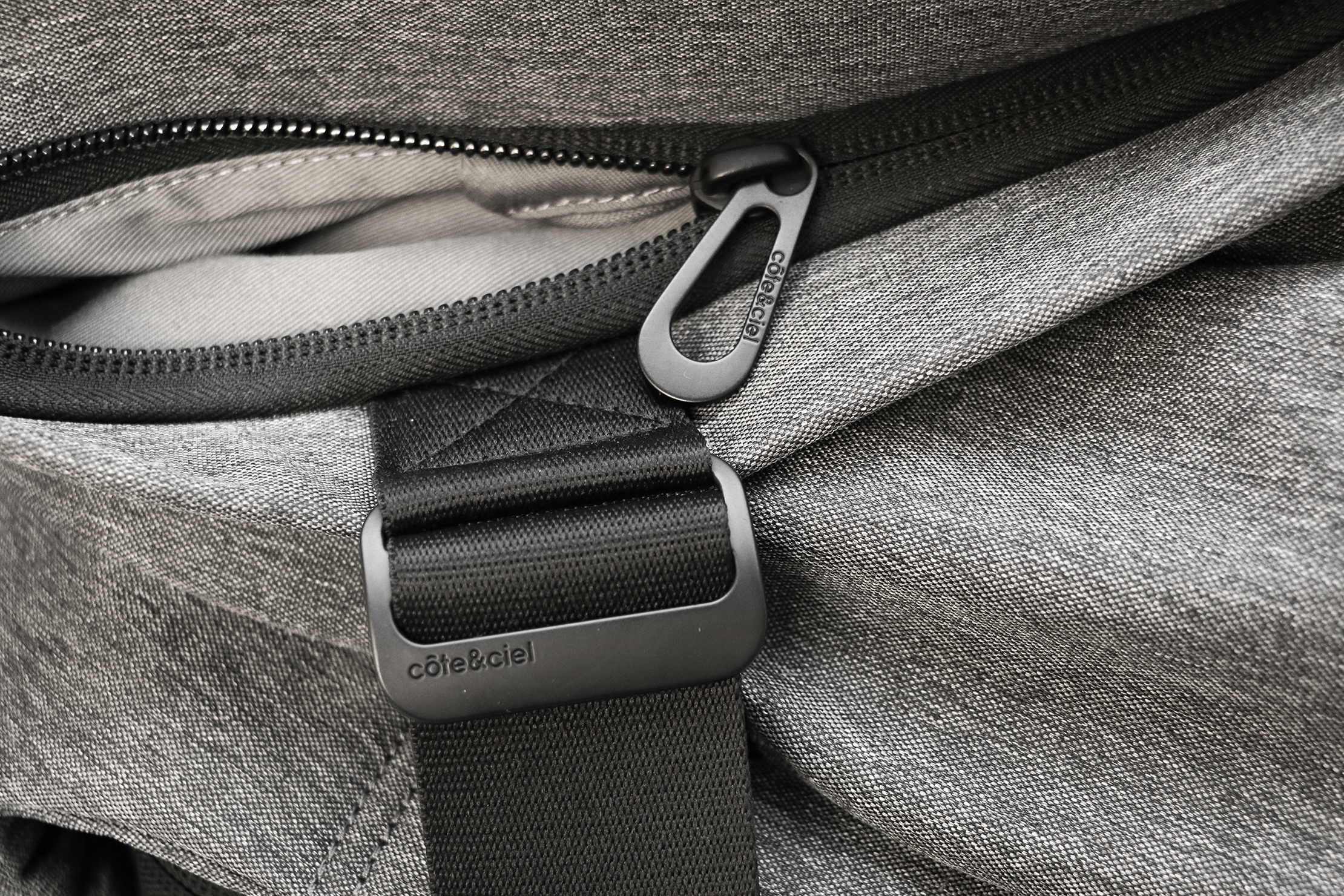 You can (almost) never go wrong with YKK zippers, and Cote&Ciel knows this. We haven't had any issues with their functionality so far, but we do have a nitpick with access to the back compartment—stick around to see what we mean.
Unlike the zippers, the hardware on this bag is unbranded, so we're not quite sure where it comes from. We like that its metal, but the adjusters are rather heavy and add to the bag's overall weight. We've also noticed that the paint has started to chip some, specifically the adjuster toward the bottom of the bag.
This happened during our testing with the Cote&Ciel Isarau Small sling as well. It's mostly aesthetic damage, and overall, we're still happy with the look this hardware provides—we're just a little disappointed with its durability.
External Components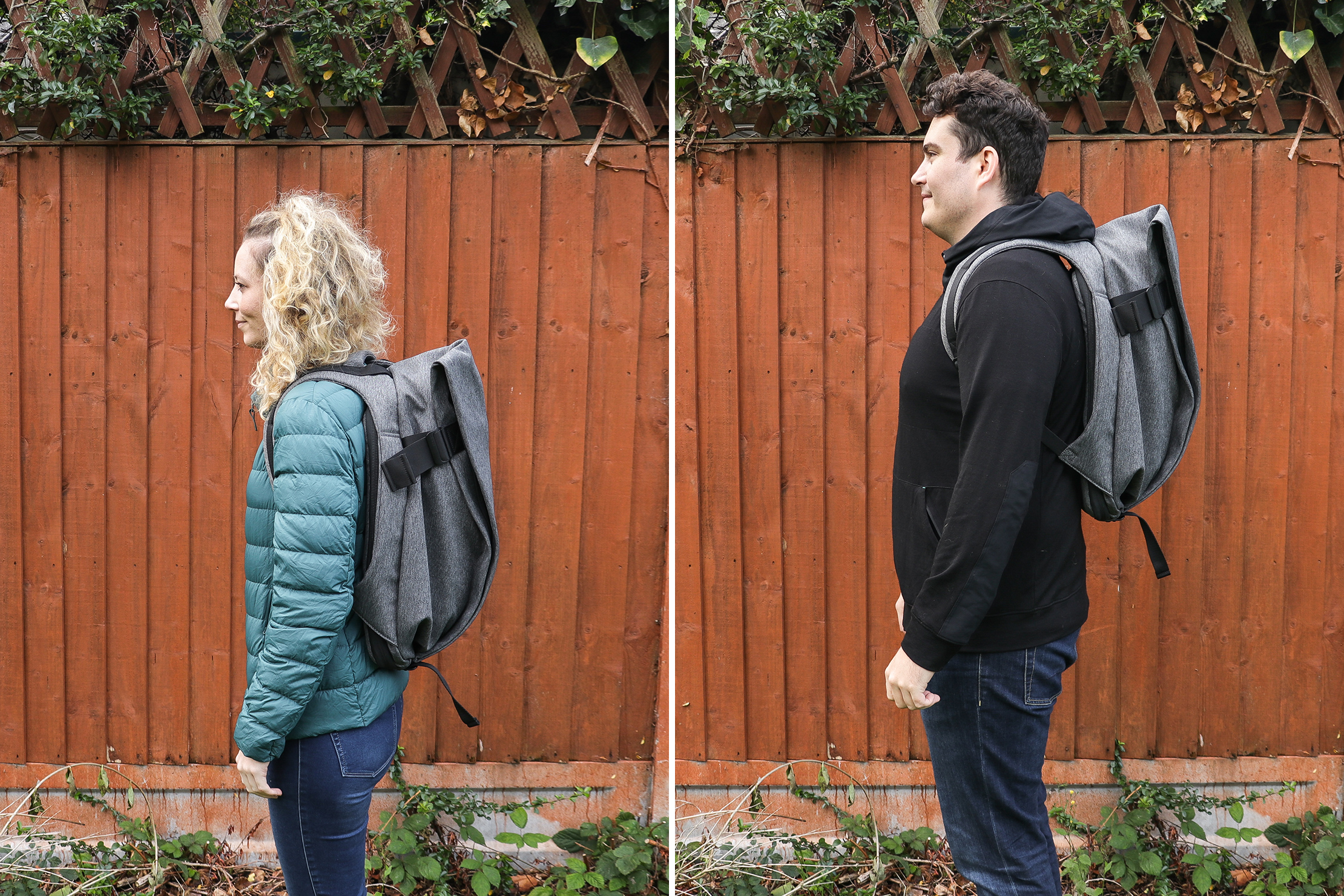 This bag's harness system is well-built for a pack of its size. We will say that we've found its carry caters more to taller frames since it's a pretty tall bag itself. We've tested it on our smaller team members and noticed that the shoulder straps in particular sit a bit wide. Your mileage may vary, of course—it all depends on your frame and body type, but it's something to note.
The shoulder straps are heavily padded and cushion the shoulders comfortably. You can loosen and tighten them to however they best support you—though we've noticed that the adjusters do tend to lose tension throughout the day, so we've had to readjust a few times. There also aren't any elastic keepers, meaning you may have some dangling strap to deal with.
In case you were wondering about them, we also want to point out this bag's extra fabric around the shoulder straps. They kind of look like small wings, but unfortunately, the bag doesn't come with flying functionality (a bummer, we know). Truthfully, they don't serve much of a purpose other than adding to the pack's overall aesthetic.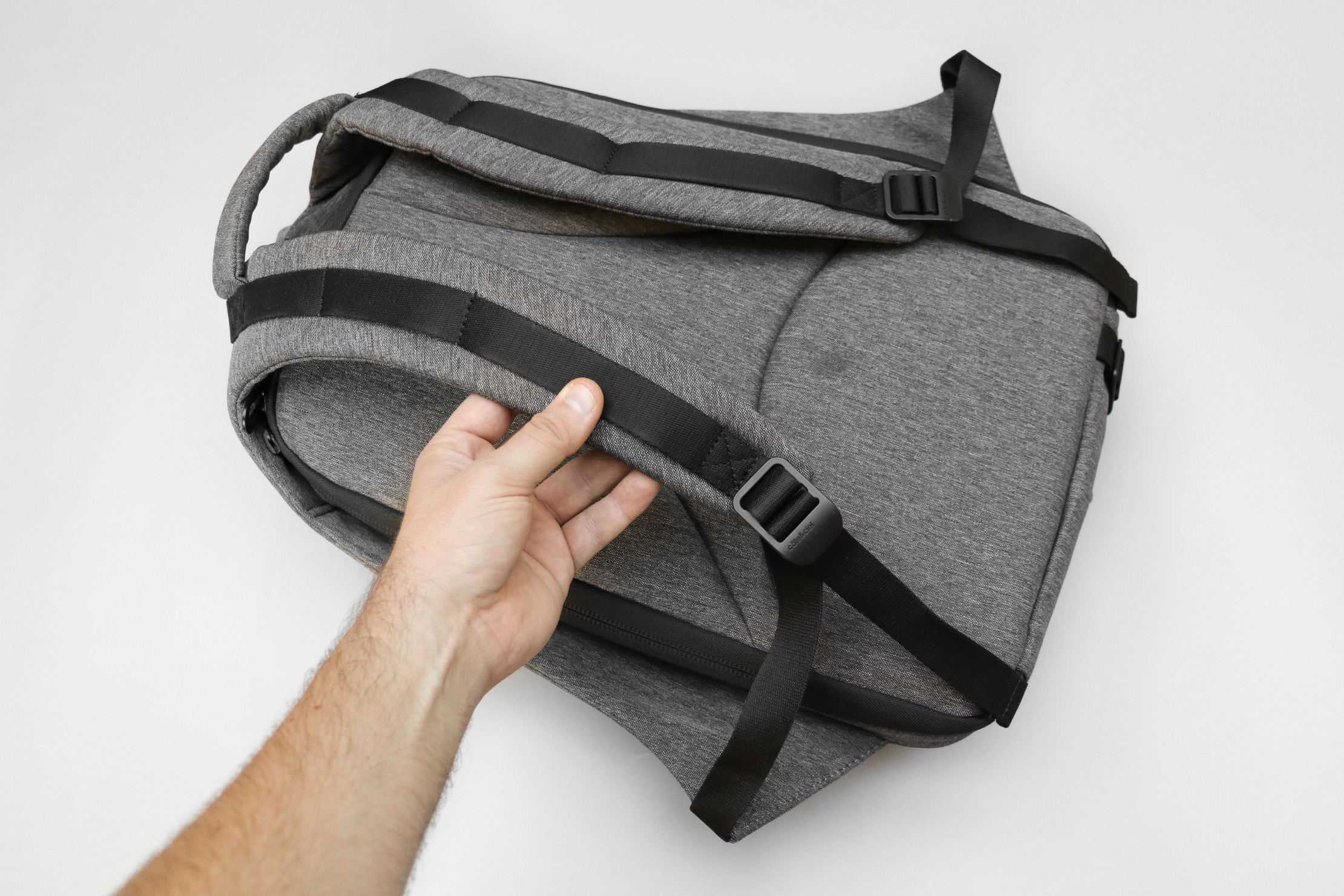 There's no sternum strap on this thing or a hip belt, nor are there separate ones for purchase through Cote&Ciel's website. Considering its size and that it only carries 15-24L, neither has been necessary during testing. We've been comfortable enough with the padding overkill that is this pack's harness system. Of course, your mileage may vary.
Like the shoulder straps, this bag's back panel also features dense, comfortable padding. There are even built-in air channels to help keep you ventilated on longer wears and when you're out in warmer weather. Again, this is where that dark mark we mentioned earlier lies. We're not sure where it came from, but it's not going anywhere—if we're going to deal with a stain, we're glad it's at least in a spot that no one's going to see it but us.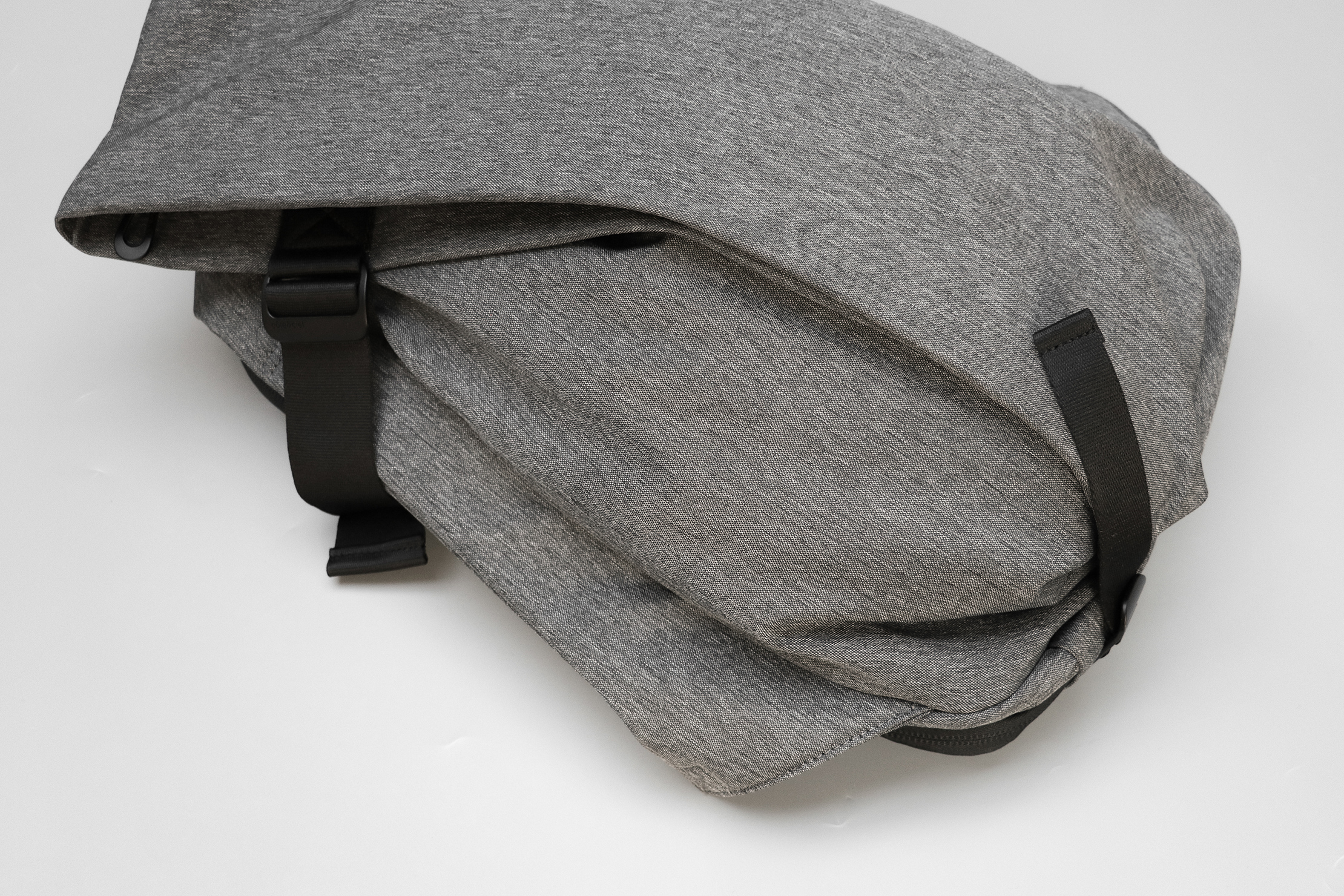 Instead of being attached to the top of the pack, the Isar's handle connects directly to the top of the shoulder straps. Like the rest of the harness system, it's also comfortably-padded and convenient for moving the bag around from place to place.
You'll notice some compression straps on the front of the bag as well. These allow you to cinch the bag down when you're carrying a lighter haul for a more minimal look, as well as expand the front's compartment's capacity when you need the space. Unfortunately, these straps are also lacking elastic keepers, meaning there's nowhere for the excess strap to go. It's not the end of the world, but their absence does detract from the bag's overall sleek aesthetic.
Inside The Pack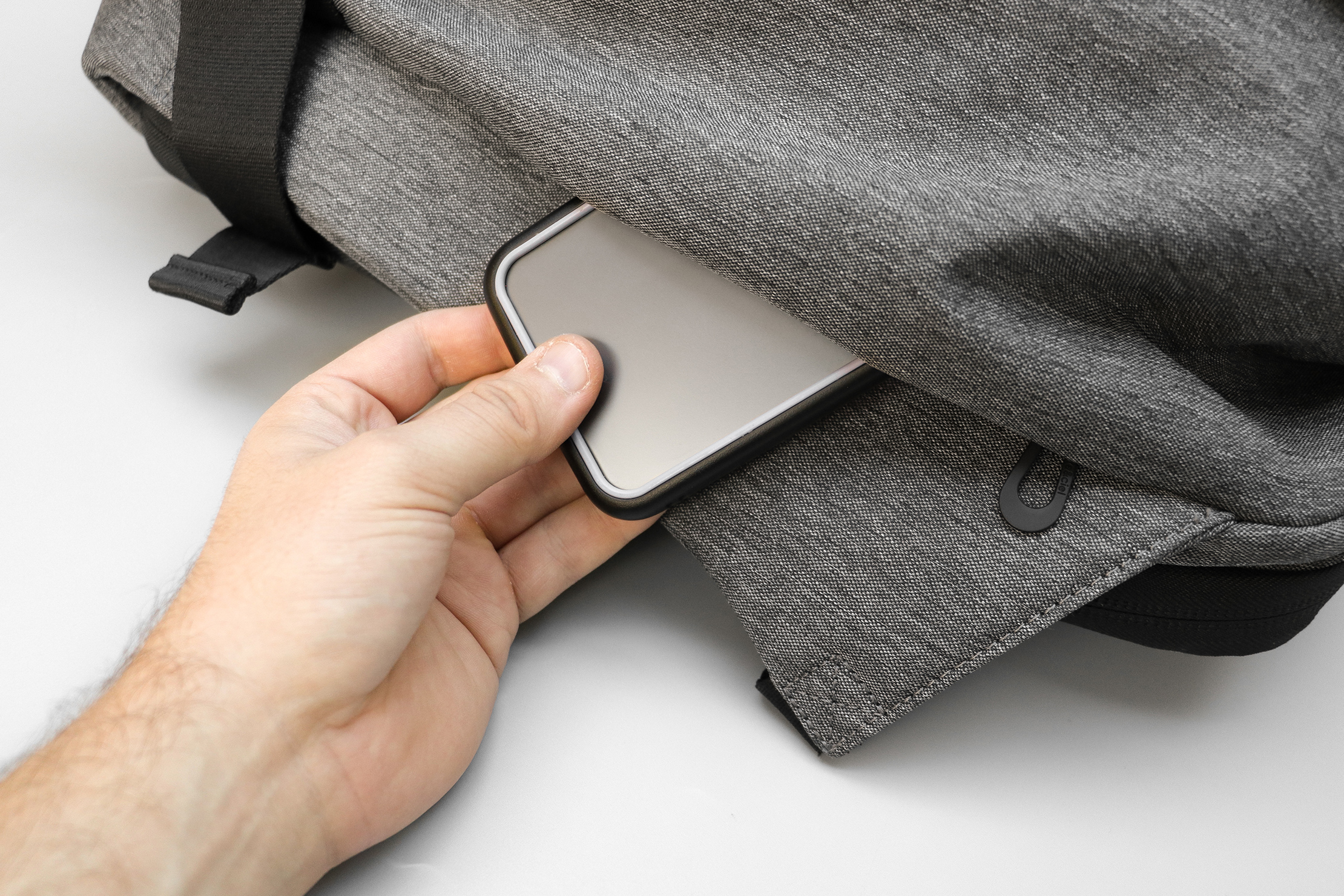 In terms of pockets, the only external one at your disposal is a quick-grab pocket on the bag's side. Its zipper is hidden by excess fabric to deter any pickpockets and add a cleaner look since this is a more fashionable bag (depending on your taste). It makes access a little difficult, but once you have it open, you can comfortably fit your more frequently-used gear, like your phone or passport, and be confident they're safe and secure.
Other than that, you have the front compartment—that's what we've elected to call it anyway, though we're not sure if this is, in fact, the main one since there is another, separate compartment with a fair amount of space (which we'll talk about next).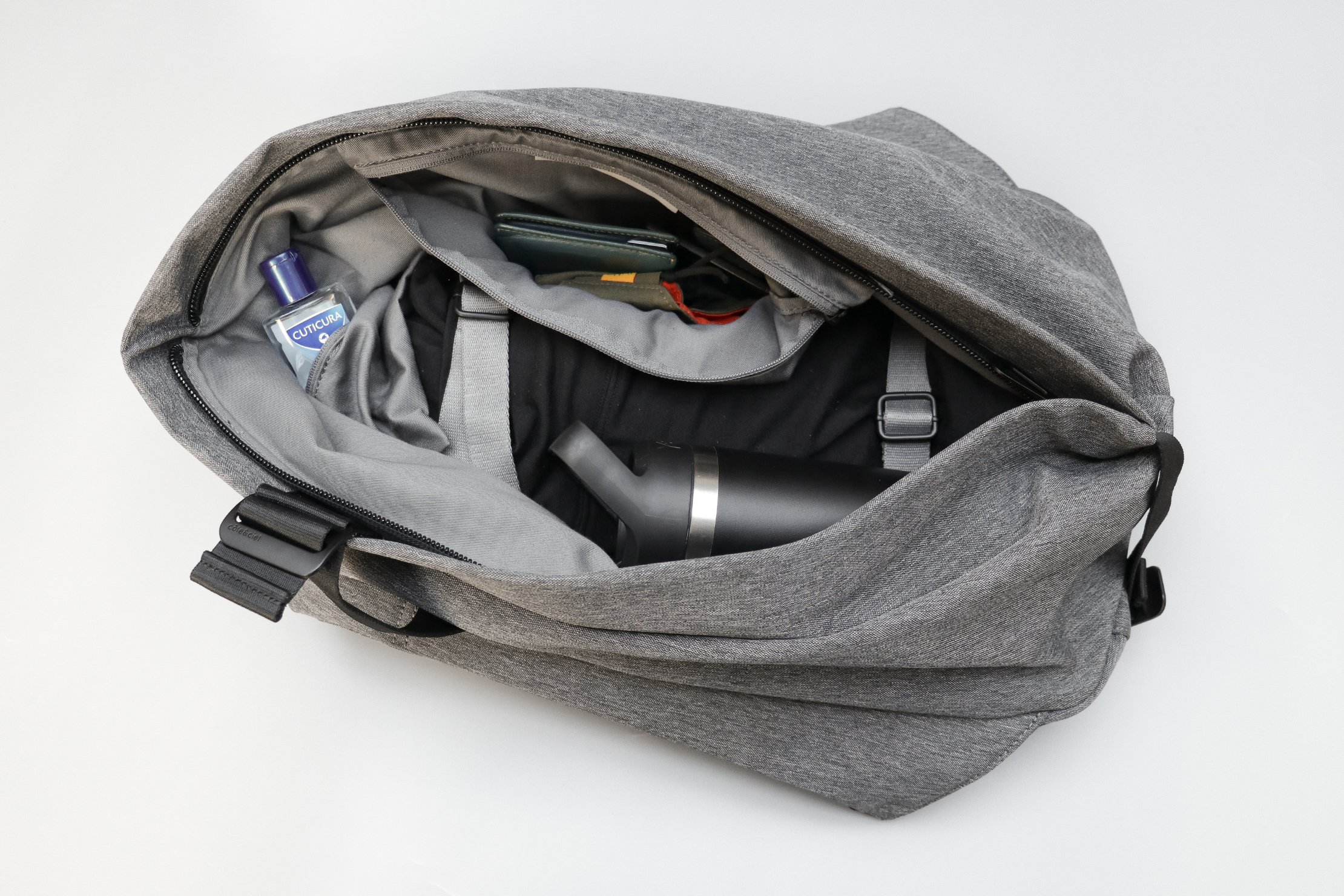 Inside, you'll find a small zippered pocket against one side. We've been using it as a second quick-grab pocket for whatever else we opted not to keep in the first one—a wallet, face mask, keys, and the like. You can use it for other things, too, like pens, personal care items, and other small accessories if you're carrying them.
It's hard to spot, but at the very top of this compartment is an even smaller zippered pocket that can fit your tinier valuables—an important flash drive, back up batteries, or a small amount of emergency money, for example. We haven't gotten much use out of it during testing since it's not the easiest pocket to access, but if you can find a use for it, by all means.
The remaining space is yours to fill with your other, bulkier everyday gear. For reference, a light jacket and a water bottle(like the YETI Rambler 18oz Bottle we've been using) fit nicely. If you're looking for more segmentation, packing cubes can help you achieve this. You can even strap them into place via the compartment's internal compression straps. This keeps them secure and also helps with slimming the bag's profile some.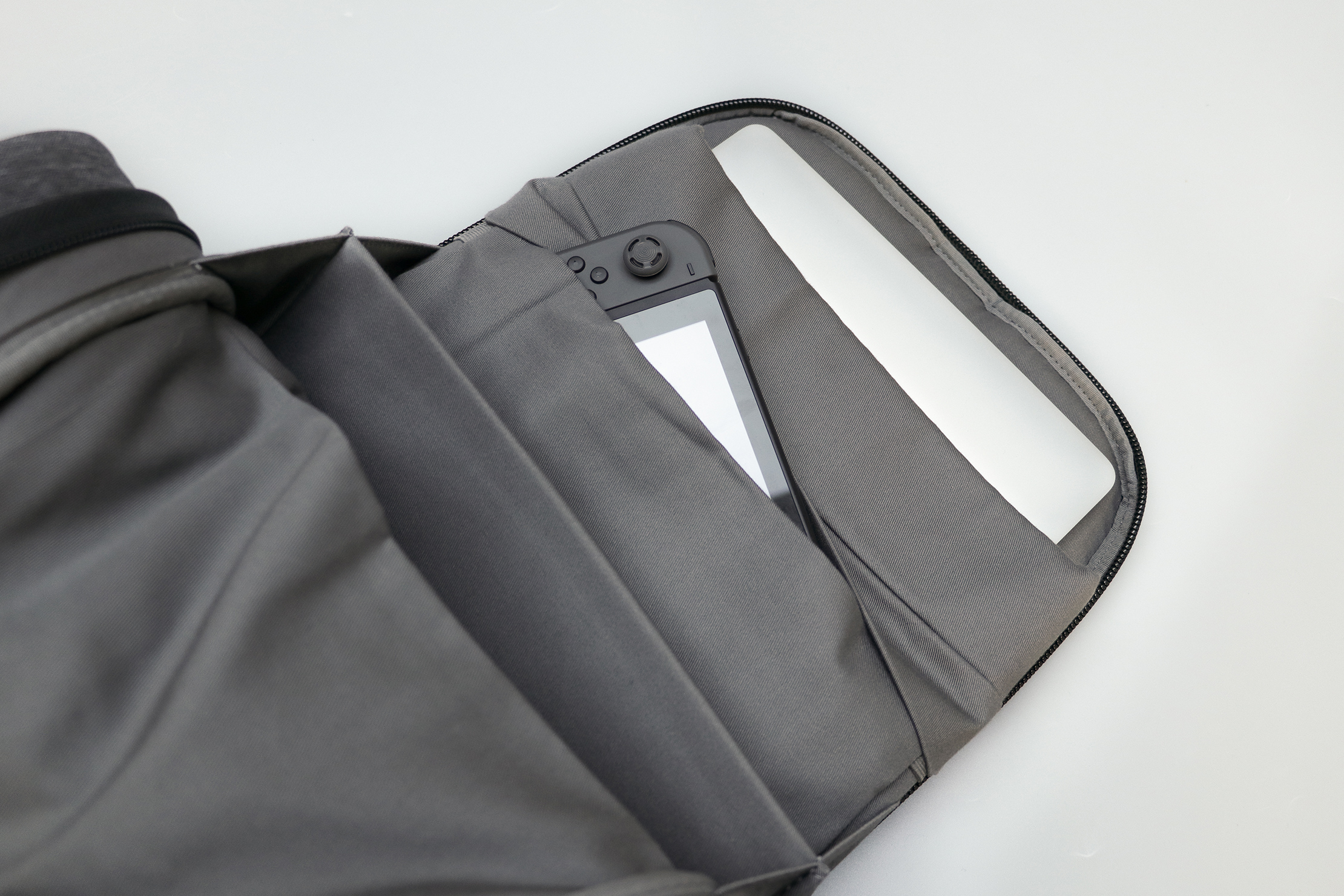 Lastly, there's the back (main?) compartment. Our biggest gripe is how much of a hassle it's been to open up during testing. Because of where its opening is situated, you have to fold the shoulder straps entirely out of the way to get inside. Otherwise, you'll be fighting with the big, bulky shoulder straps when unzipping and when trying to get stuff out.
This compartment features more organization than the previous one, starting with the sleeve against the back wall that can fit up to a 15″ laptop. It's super densely padded itself, but your laptop also gains support from the padding on the back panel, meaning you have all the cushioning you need to protect it on your journeys. There's even a false bottom to safeguard your tech from accidental drops, so a separate protective sleeve hasn't felt necessary. But, if you appreciate the peace of mind, don't let us stop you.
In front of this sleeve is a pouch covered by a fabric welt but doesn't possess any actual closure. It's not very deep and has a little bit of stretch to it. We haven't seen many pockets like it in other bags; however, that's not to say we haven't found a use for it—it's the perfect size for stashing a Nintendo Switch. Gamers, rejoice!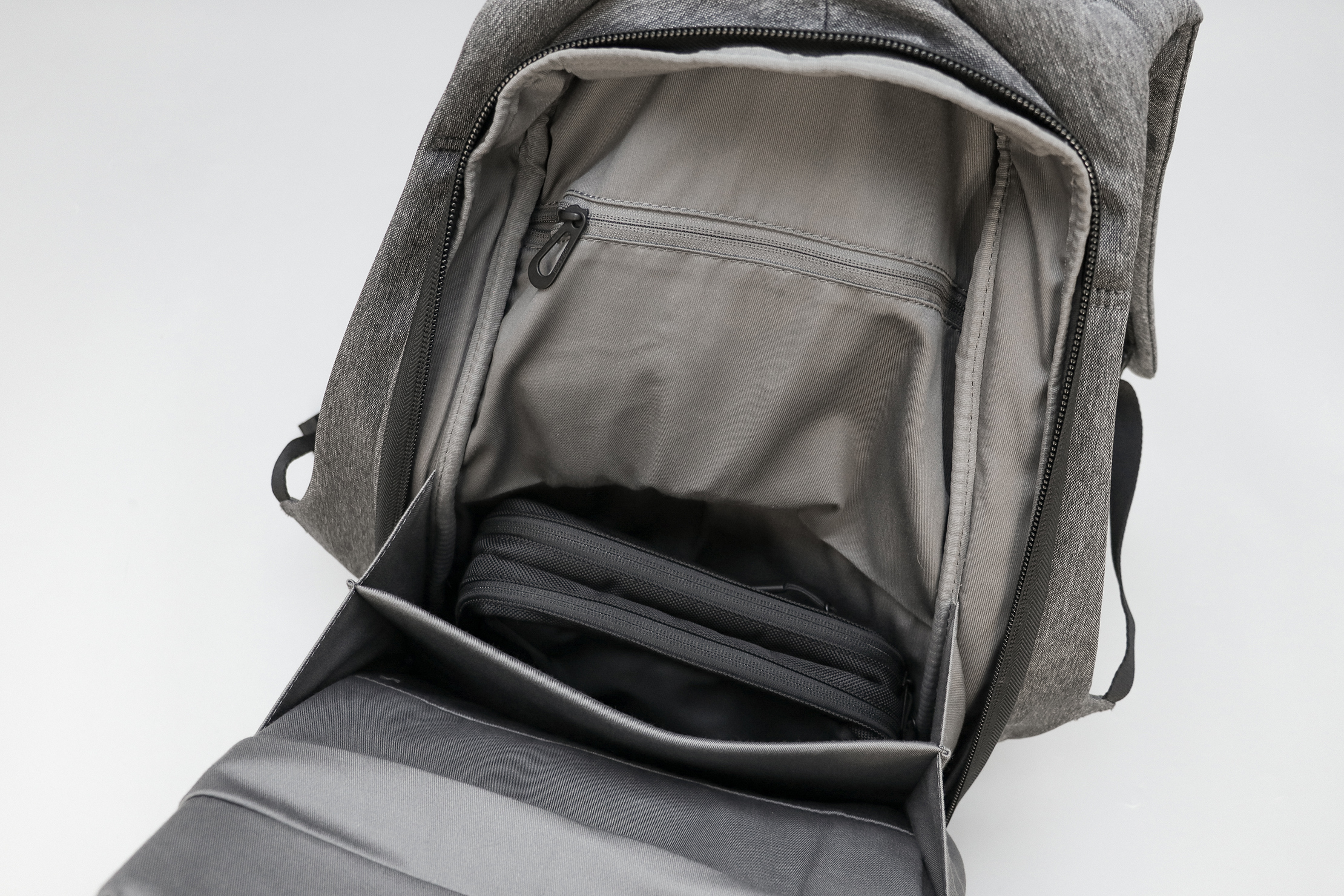 Smack dab in the middle of this compartment is a built-in divider. On one side, you can use the space to store your tablet, but keep in mind this part of the bag does not have a false bottom—so, a protective case is recommended.
On the other side, there's room to keep a tech pouch, like the Aer Cable Kit 2 we've been using. If you keep a bulkier item like this here, be aware that there's only a thin fabric lining separating this section from the front compartment. Because of this, something like a tech pouch may eat up space in the front. This isn't a huge deal, though. At least, it hasn't been for us. We've just had to decide where space is most necessary, and you'll have to do the same.
Finally, there's another medium-sized zippered pocket against the wall that's size enough for larger cables, like a MacBook Pro charger and adaptor. You can use it for any cables you'd like or other tech accessories if you don't plan on using a pouch. We've essentially been using it as a third quick-grab pocket, which you're also welcome to do.
Usage Timeline
Initial Usage
Condition: Excellent
Laptop compartment offers thick padding and a good amount of tech organization
Main compartment opens up to a wide-open duffel-style area that can also be expanded for extra capacity
Look and shape of this bag seems a little odd but also gives it a sort of futuristic look
2 Weeks of Use
Condition: Good
We've found the shoulder straps can interfere with opening the back compartment, and they also got in the way when taking our laptop out
The bag is a little too bulky for our liking, and it's very heavy for its size
We've expanded the front compartment a few times to stuff larger objects like a hoodie inside, we really like how this works and certainly comes in handy
There's a small dark mark on the lower back panel, we're not sure where it's come from but it looks like it's there to stay

Mark On The Cote&Ciel Isar M EcoYarn Grey
Access the Pro Community Discussion
Get your questions about the Cote&Ciel Isar M EcoYarn Grey answered from our team and the Pro Community right here on the page. Plus, join discussions with other members about gear, guides, and more.
Other Bags & Luggage Reviews