Cote&Ciel Isarau Small Review
There's a lot to like about the Côte&Ciel Isarau Small—like its organization, expandability, and sleek look—but we've already noticed aesthetic blemishes.
Our Verdict
Unlock the Pro Summary
Save time. Get access to brief summaries of our reviews so you can browse and make decisions more efficiently.
Pros
Simple, effective organization
Expandable
Comfortable to wear on your chest
Cons
Coating on the zipper has started to scratch off after a month of testing
When compressed, the straps stick out
The metal buckle jingles
Recent Pack Hacker Video
Technical Details
Capacity

5l

Weight (lb)

.75 lb (0.3 kg)

Dimensions

7.08 in x 15.35 in x 2.75 in (18 x 39 x 7 cm)

Notable Materials

Polyester, YKK Zippers

Manufacturing Country

China

Warranty Information
Full Review
Côte&Ciel is first and foremost a fashion-oriented brand, so it's no surprise that the Côte&Ciel Isarau Small sling bag, which can also be worn as a waist pack, has a trendy aesthetic. Throughout our month of testing, we've enjoyed how this sling has elevated our daily look. Especially in urban environments like New York City and Detroit.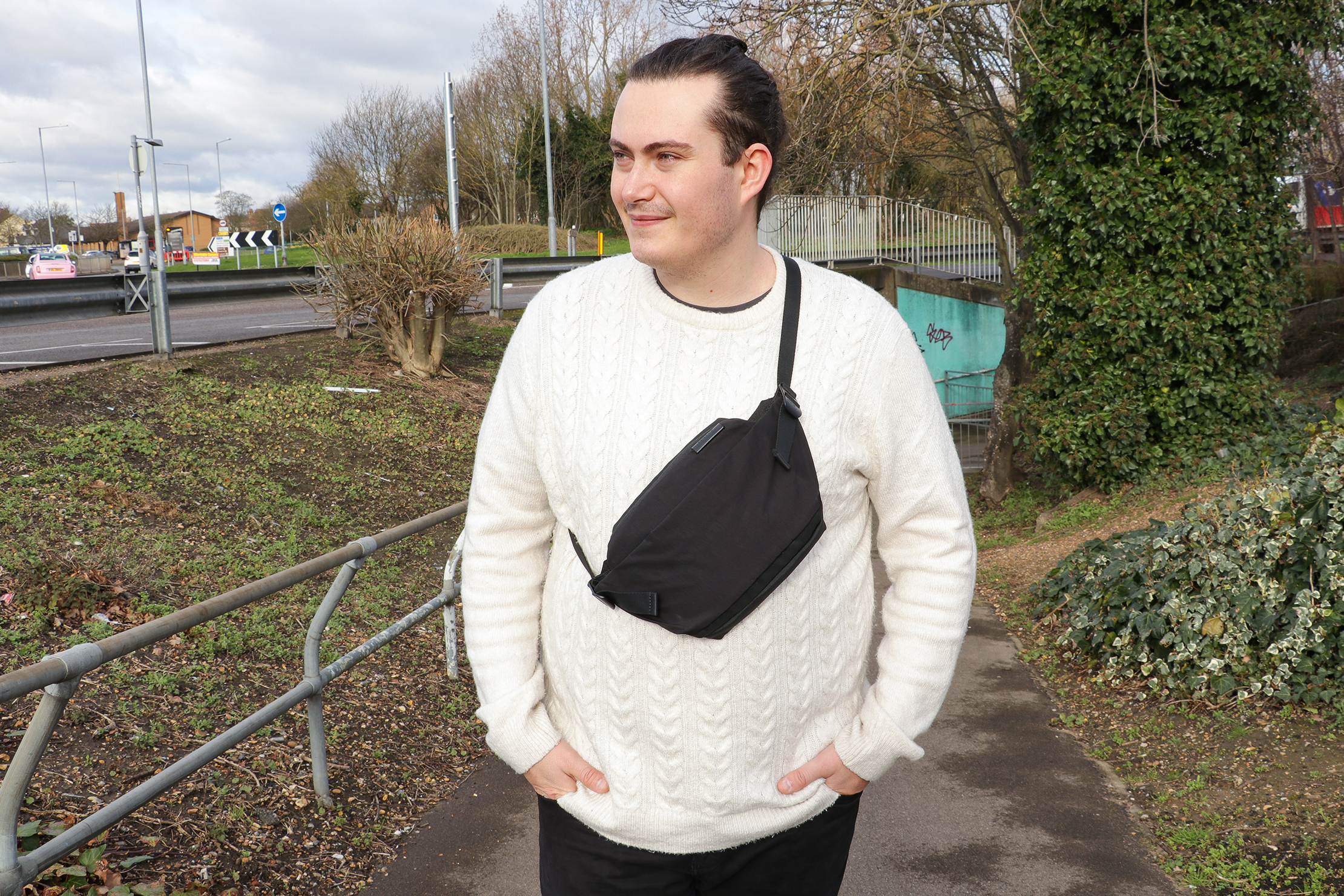 But beyond style, does the Côte&Ciel Isarau Small have anything to offer? Let's take a closer look.
Materials & Aesthetic
Since Côte&Ciel is all about that high-fashion, it has some "out-there" designs. But the Isarau Small is subdued as well as sleek. As we've already mentioned, it has been designed to be a fashion accessory (more so than some of the other sling bags we've tested) with a street-wear vibe that we're really digging.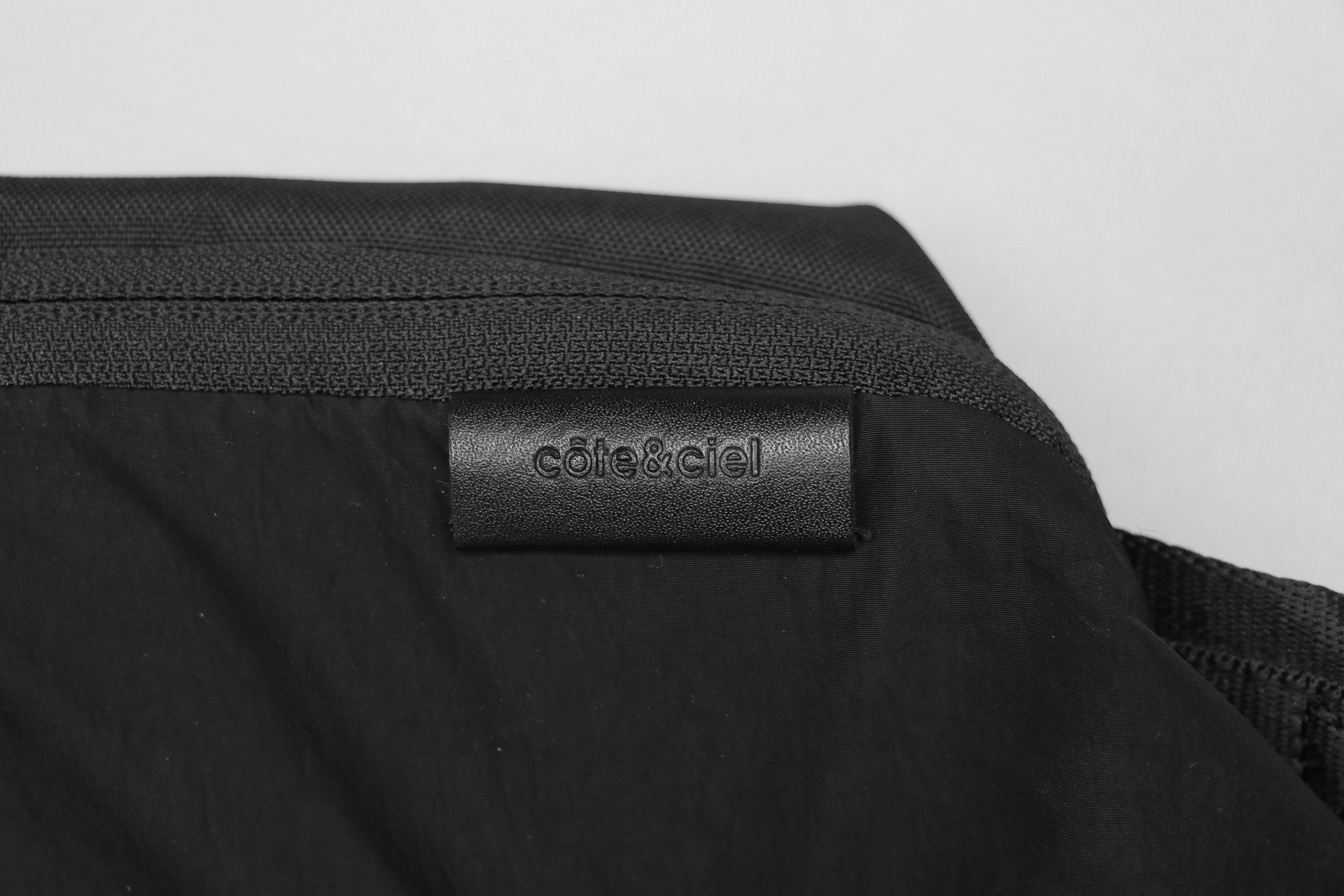 The major pop of style is the front fold, which also adds great functionality in the form of expandability (we'll talk about this more later). And the branding—a minimalistic embossed leather tag—only adds to the sling's suave look.
All of the available colorways—there are six at the time of this review—look good in that luxe, classy way.
You can also pick up a few different versions of the Isarau Small, which differ in the exterior fabric. There are leather, ballistic nylon, cotton blends, and a few others available. We've been testing the Black MemoryTech style.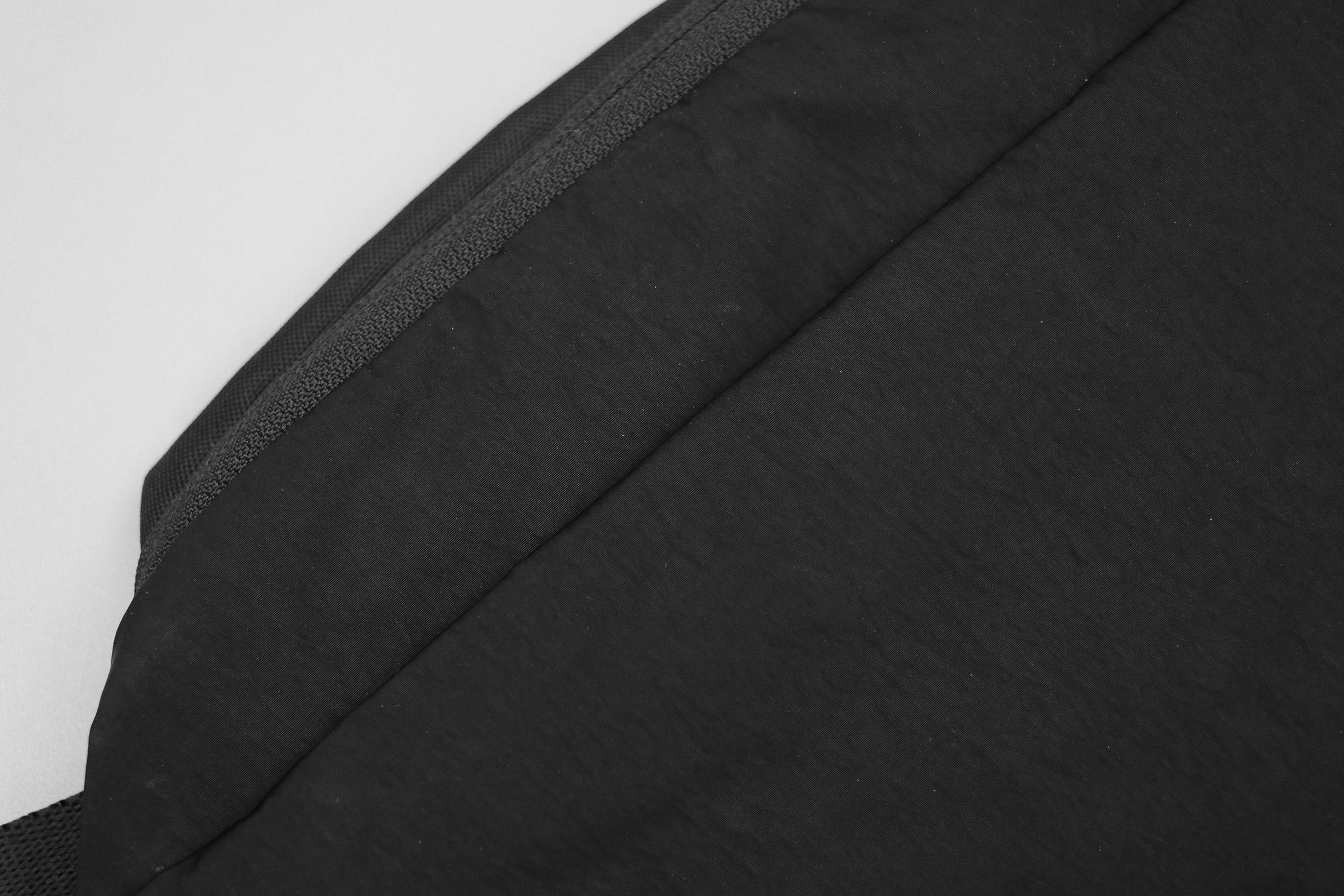 Effectively polyester, MemoryTech isn't talked about on the Côte&Ciel website or around the internet much at all, which gets our gear tester alarm bells ringing. We'll say that this polyester feels really nice in the hands—you can tell it's high-quality—but the phrase MemoryTech seems like a buzz word from where we're sitting.

So does the "EcoYarn" you'll find on the back of the sling. Again, the material feels nice. It's also quite thick. But Côte&Ciel doesn't disclose what's so "Eco" about this EcoYarn.
Marketing jargon aside, both fabrics are water-resistant. Your stuff should stay safe if you get caught in a light shower.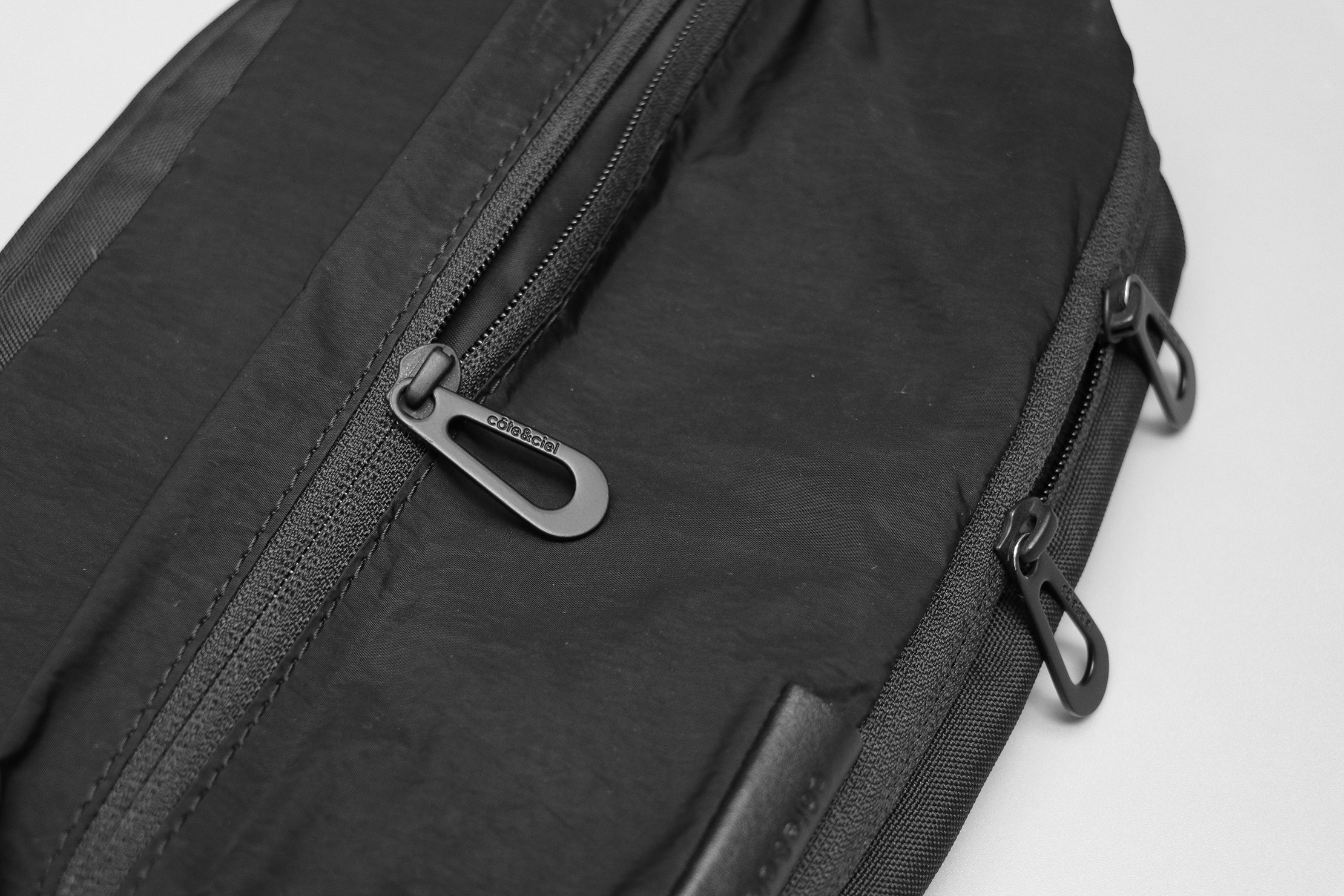 Finishing off the materials, you'll find YKK zippers. We couldn't find any branding on the hardware, but the side buckles are embossed with the Côte&Ciel name so it could be custom made. The hardware feels nice and sturdy, although we can't speak to durability since we don't know the brand. But so far, so good.
External Components
It's rare to find sling bags that have a lot going on externally. And the Isarau Small is no exception—it's (nearly) as simple as it gets.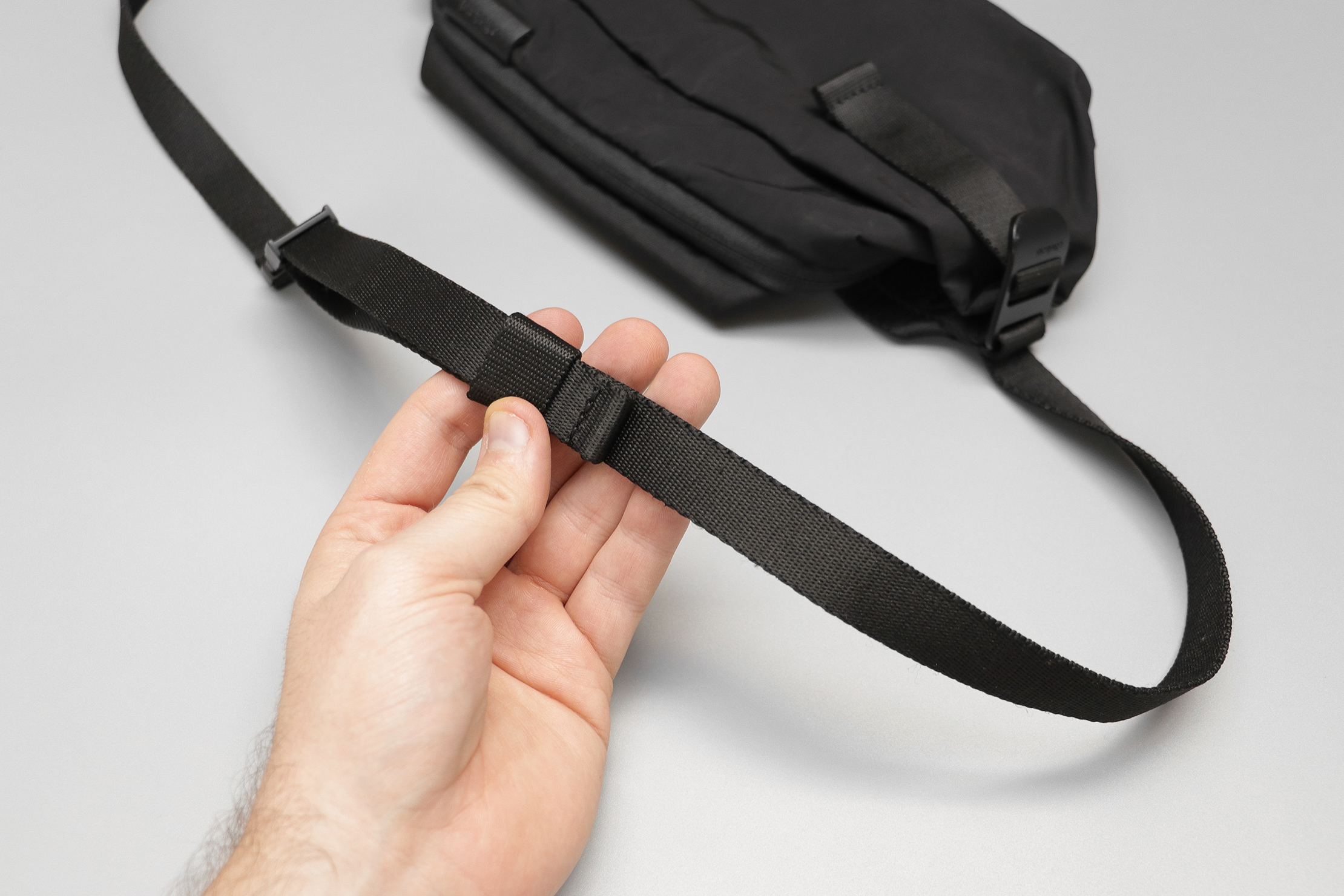 Basically, there's the simple, thin strap. You can wear the strap around your hips, rocking the Isarau Small as a waist pack. But it's specifically been designed to wear as a sling, that is slung across your chest or back. We've found it to be the most comfortable on the chest.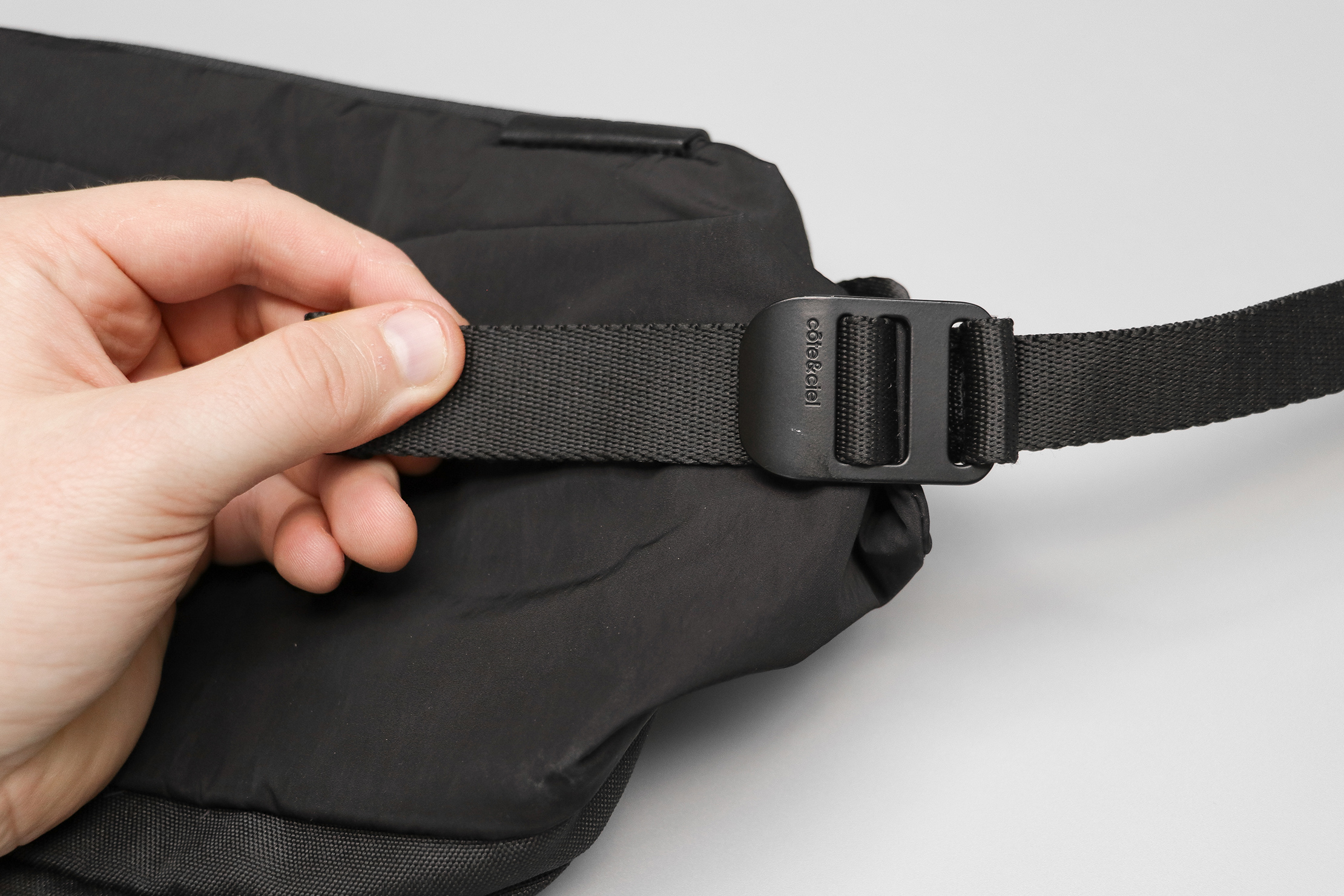 As we'll discuss in detail later, this sling bag is expandable. When it's not expanded, it wears tight across your body in that traditional sling style (it doesn't have hand-bag vibes like some other slings on the market).
You expand/compress the sling via compression straps. When you tighten the straps, compressing the sling, the excess straps dangle. There's not much as far as excess goes, so it's not too frustrating. But you know how much we appreciate a #DangleFreeExperience here at Pack Hacker.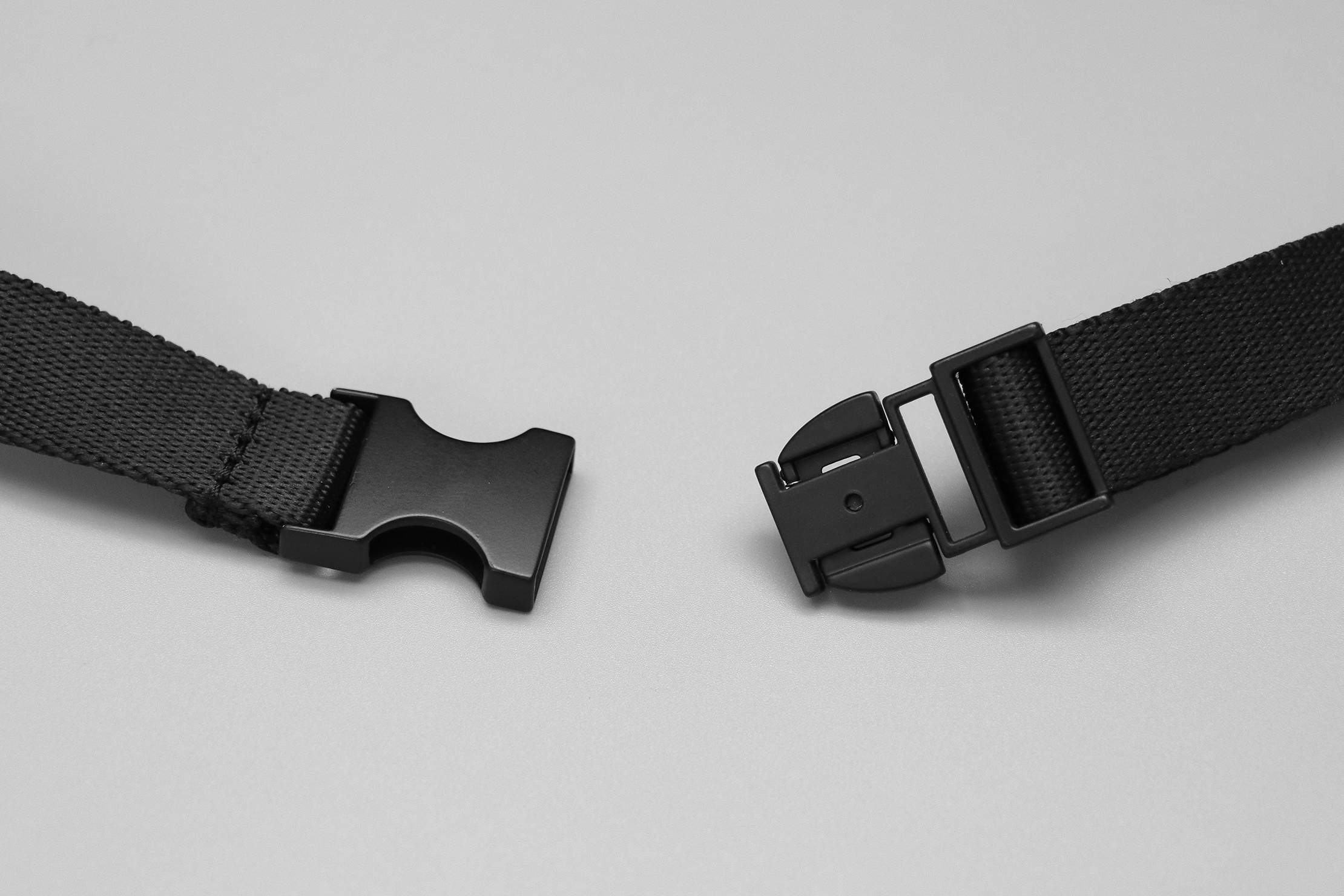 The small metal buckle looks sleek—and wears comfortably—but it jingles. It hasn't been a huge deal because we don't notice any noise when we're wearing the sling (so far), but you'll hear it whenever you take it off. Sleuthing will be particularly difficult (sorry, all you international spies reading this).
Inside the Sling Bag
The interior of the Côte&Ciel Isarau Small is nearly as simplistic as it's exterior. There are two compartments, which is exactly what we like to see for a sling of this size. Let's jump into the front one first, shall we?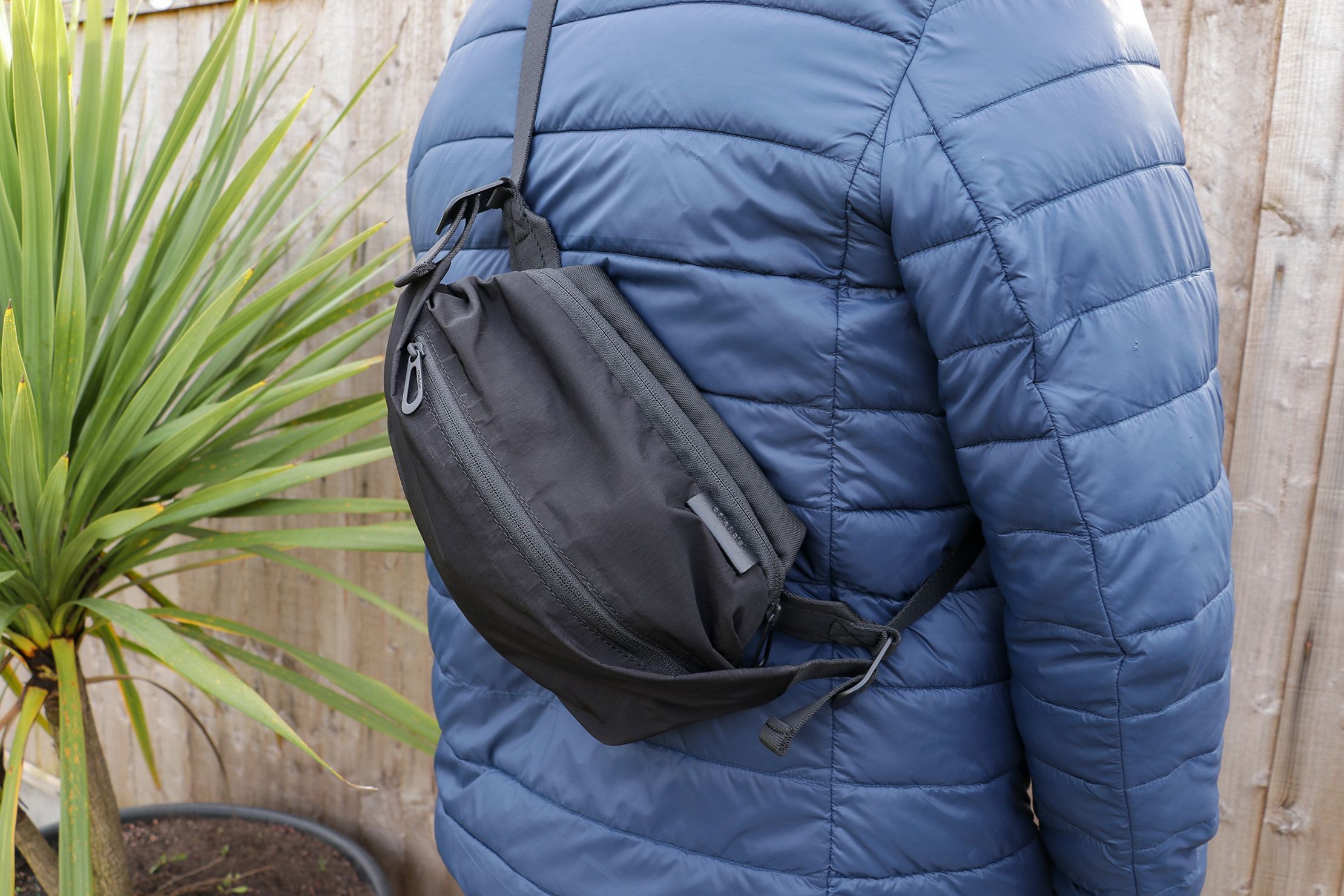 The front compartment is the expandable one. And it expands to a good size. We've been testing this sling in cold weather and have found that it'll comfortably fit a winter hat, gloves, and scarf. When it's compressed, it'll hold smaller quick-grab items, although there's no organization inside to organize said things (we don't mind this, but it's something to note). We're digging the versatility this expandable pocket offers. You can go out on winter evening, wearing all your winter garb, and have a place to stash it all whenever you get to your destination.
Of course, it works for more than the winter essentials. You could fit a packable rain jacket, a water bottle, or whatever other bulky items you have in this space. And, when you don't need the extra capacity, you can keep the sling tight against your body.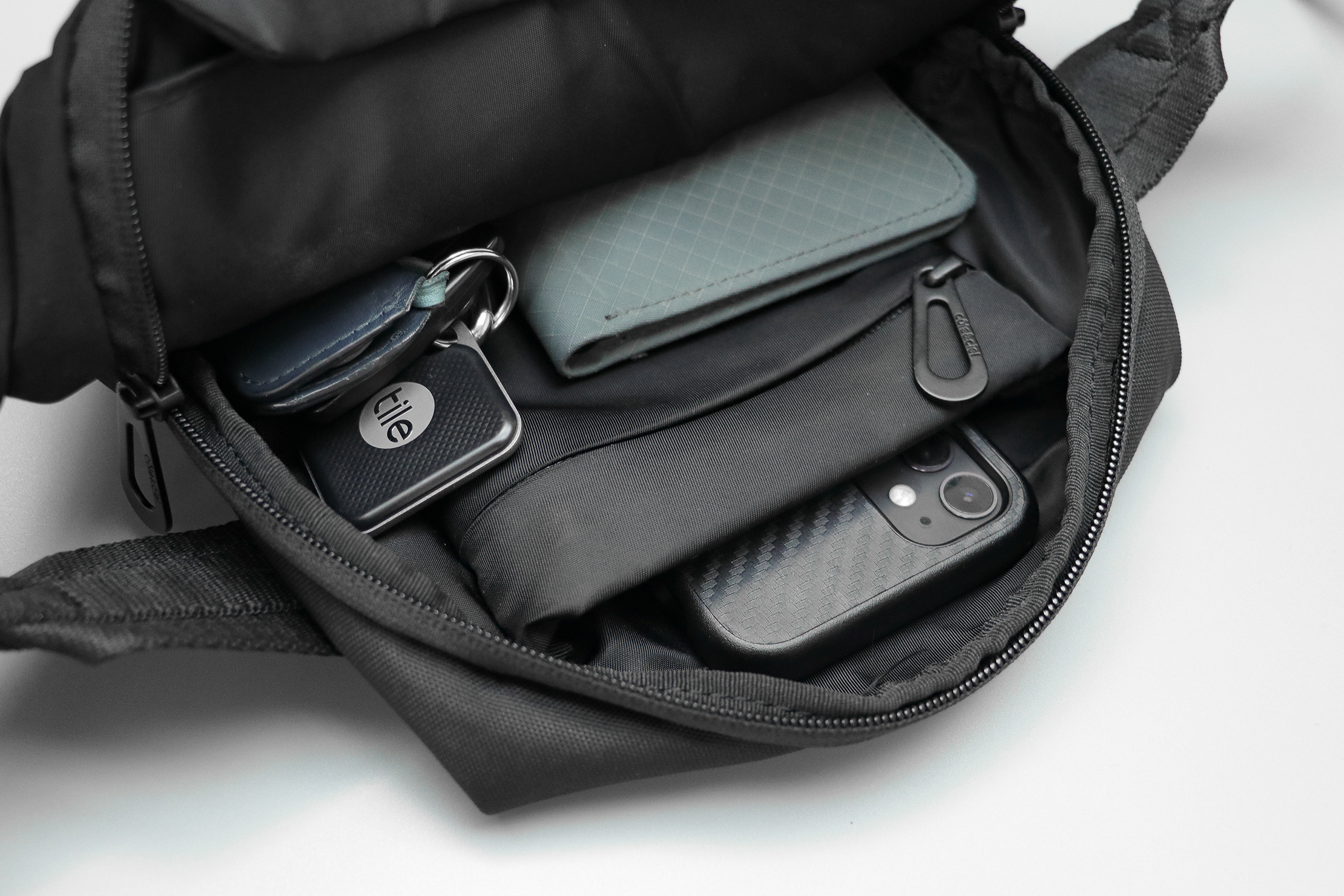 Alright, let's jump into the main compartment. The zipper extends down the sides of the sling's body, so you can get good access and visibility. When tight, the compression straps do block the zipper, meaning it'll be difficult to get in and out of this thing quickly. We think of this as a security feature—pickpockets will have a hard time discreetly getting their fingers inside of your bag. And when you don't want that extra security, you can leave the zipper pull at the top for quicker access.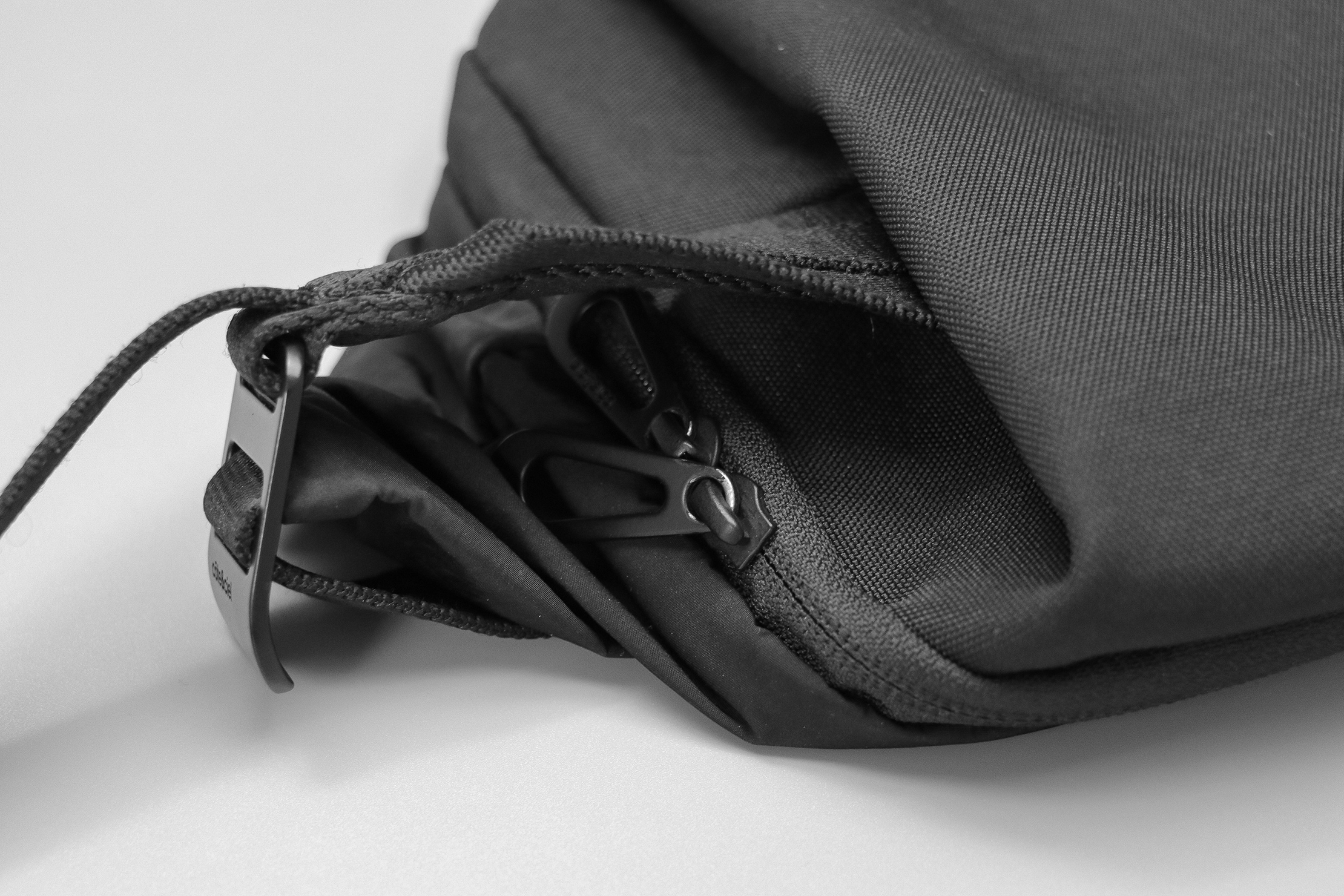 Inside, there's a small amount of organization. On the front side (when you're wearing the sling) there's a small divider pocket that's the perfect size for a smartphone. In front of that, there's a small zippered pocket. You can put whatever smaller items you have here, change, lucky charms, etc.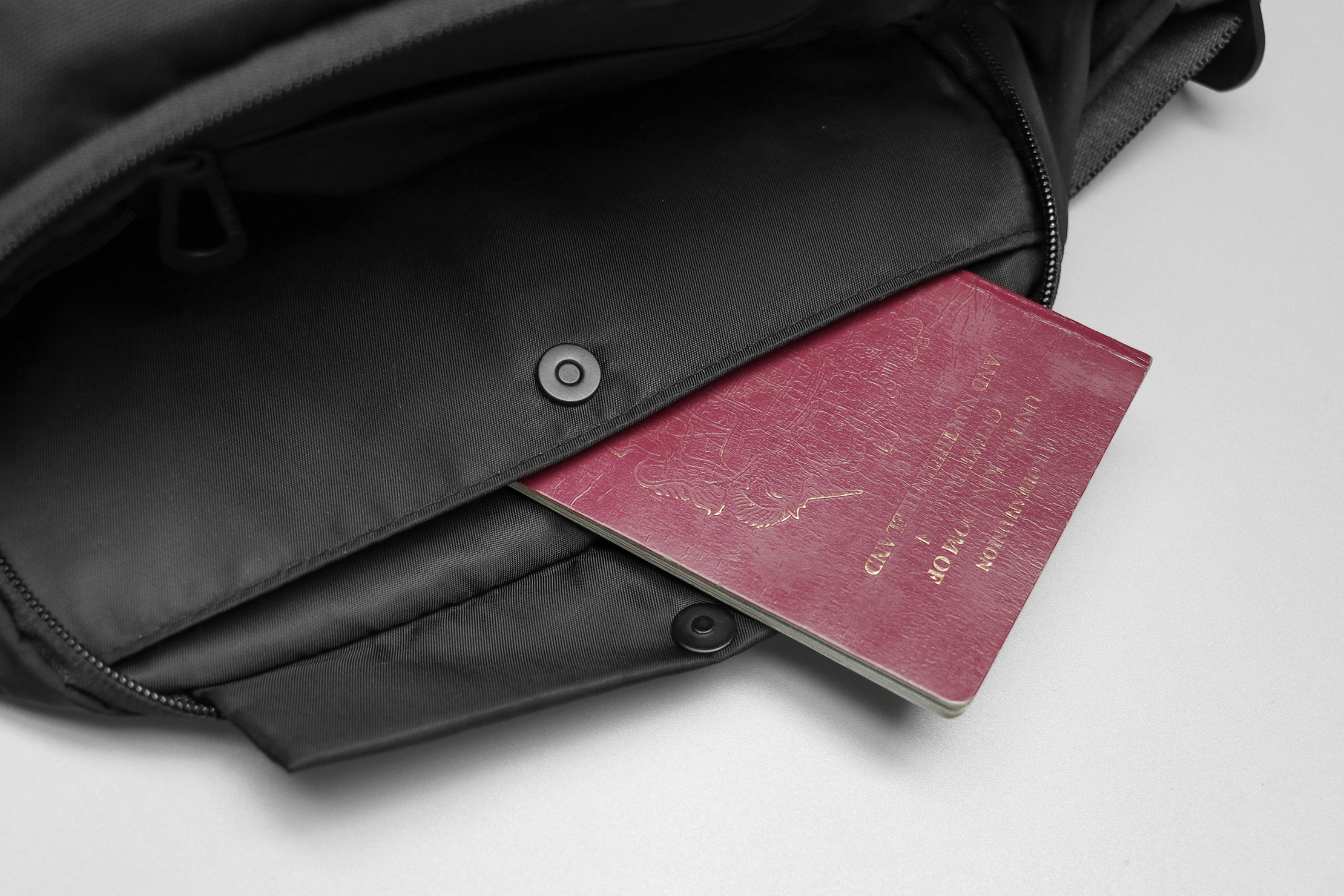 Opposite that, on the back of the sling, there's a divider pocket that closes with a magnetic snap button. It's a secure spot, so a passport, extra cash, wallet, etc would be great here. The rest of the compartment is open space to do with what you will.
The lining inside both compartments feels luxurious—it's super soft. That said, because it's black, it can be difficult to see what's going on inside. We prefer light-colored liners for visibility's sake, but it's not the end of the world in this case because of the sling's small size.
Durability & Testing
We've been testing the Côte&Ciel Isarau Small for nearly a month in New York City, Detroit, and throughout the U.K. We've enjoyed testing this sling more than we initially expected. We've always liked its sleek look, but beyond that, this thing has a lot to offer—versatility, clever organization, and its expandability frequently comes in handy.
Unfortunately, we do have some bad news. The black matte coating on the zipper pulls have already started to scratch off, revealing the silver underneath. For the Isarau Small's premium price tag, this not what we expected to see after only a month of testing. We're definitely disappointed. Other than that, everything looks good.
Usage Timeline
Initial Usage
Condition: Excellent
Expandable when you need it and compresses flat when you don't
Great organization for smaller sized sling
Compression straps dangle when fully compressed
2 Weeks of Use
Condition: Excellent
We used this thing around a cold New York City for a few days and the expandable front compartment came in really useful for our hat and gloves
The phone sleeve in the main compartment is a nice idea, and we found the zippered pocket just in front perfect holding spare change
1 Month of Use
Condition: Good
This sling is a pleasure to use and interact with, the more we tested it, the more we found ourselves digging it. Although we're not thrilled that the black coating is beginning to scratch off the zippers.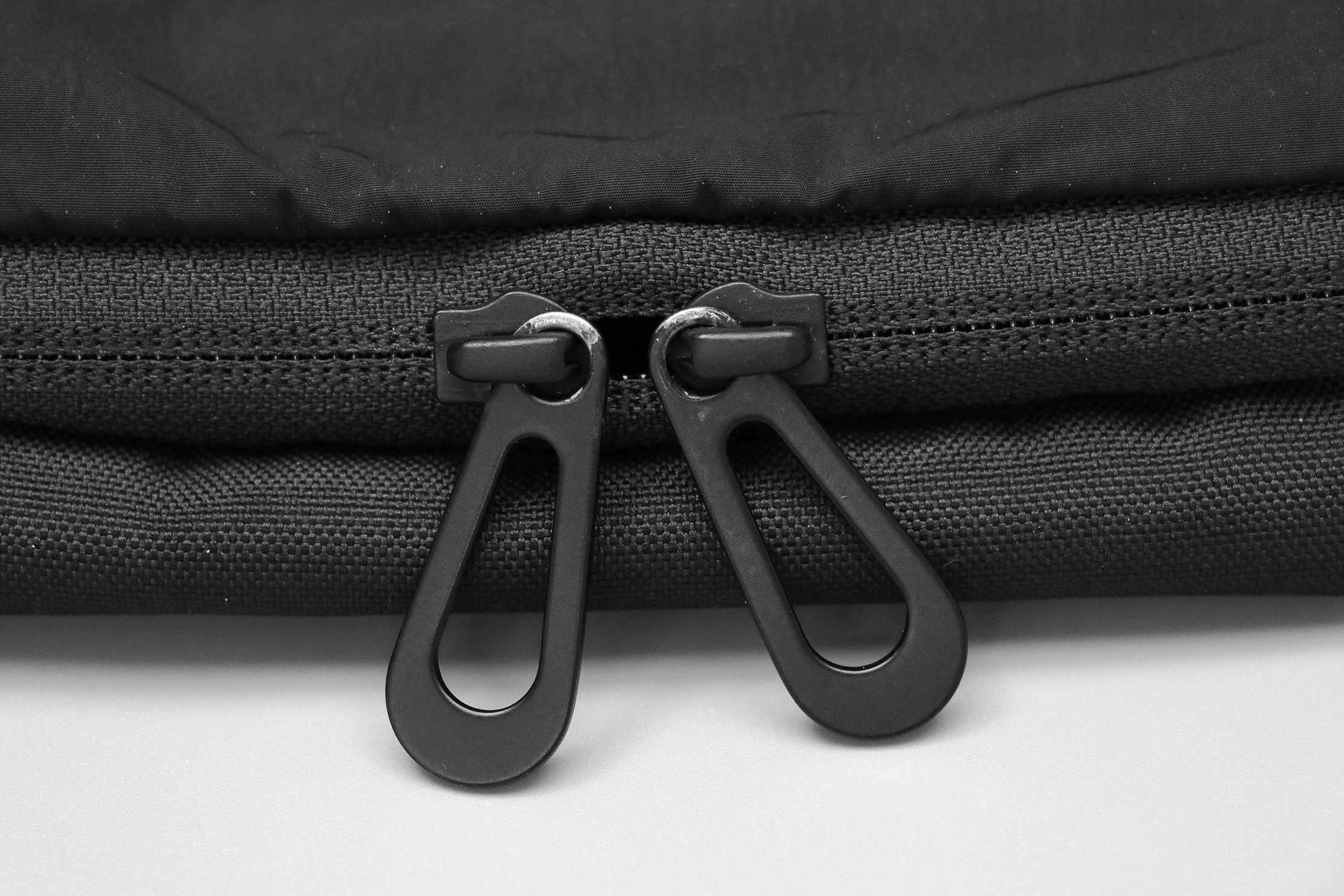 Access the Pro Community Discussion
Get your questions about the Cote&Ciel Isarau Small answered from our team and the Pro Community right here on the page. Plus, join discussions with other members about gear, guides, and more.
Other Bags & Luggage Reviews