Chrome Industries MXD Notch Sling Bag Review
A large sling bag with great internal organization, the Chrome Industries MXD Notch Sling Bag is ideal for travel—though the buckle is a bit much.
Our Verdict
Unlock the Pro Summary
Save time. Get access to brief summaries of our reviews so you can browse and make decisions more efficiently.
Pros
Great internal organization
Made of solid, durable materials
Sleek, urban aesthetic
Cons
The buckle is cumbersome and can get caught on clothing
The front pockets can be difficult to access (T-Rex arms)
The back compartment lacks interior organization
Recent Pack Hacker Video
Technical Details
Capacity

5l

Weight (lb)

.99 lb (0.4 kg)

Denier

1680D

Dimensions

6 in x 11.75 in x 1.75 in (15.2 x 29.8 x 4.4 cm)

Notable Materials

Ballistic Nylon, Polyester, YKK Zippers

Manufacturing Country

China

Warranty Information
Full Review
Get up to 10% off Chrome Industries • Join Pack Hacker Pro
When you're rocking a bag from Chrome Industries, the world will know. That's because the company, which specializes in creating gear and clothing for trendy urbanites and cyclists, doesn't shy away from designing unique, dare we say, edgy products.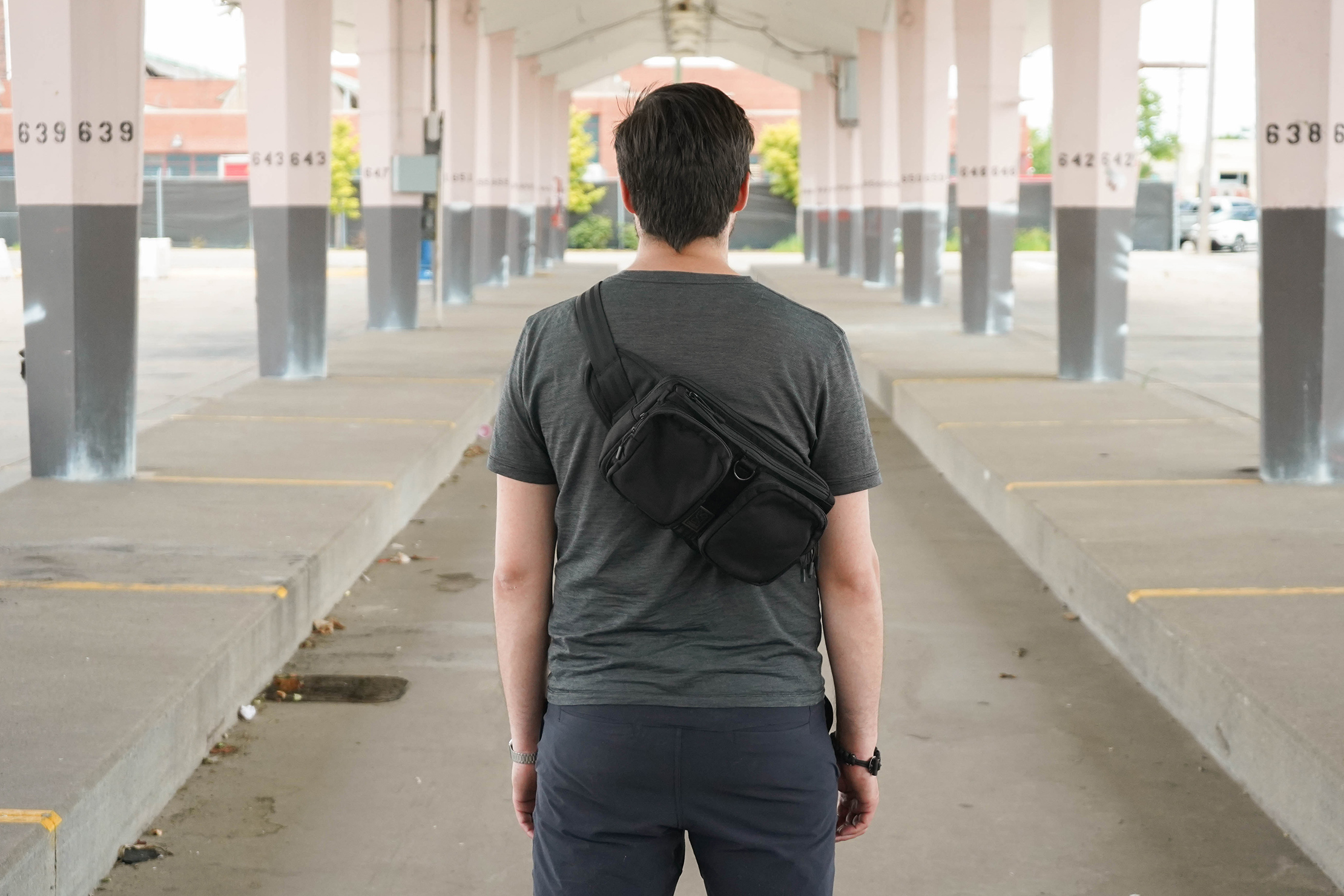 The MXD Notch Sling Bag is one such product. With a boxy shape, aluminum seat belt buckle, and two front pockets, this bag is different from any of the other sling bags we've tested. Which is definitely a plus in our books (but maybe that's only because those Dare to Be Different posters really spoke to us in elementary school).
While we've enjoyed sporting a sling bag with an innovative design, we did find a few things we think could be improved during our two weeks of testing. Let's discuss.
Materials & Aesthetic
If you're new to the Pack Hacker community, you may think we've already said all there is to say about the look of the MXD Notch Sling Bag. To that we say, ha! We're only getting started. (Also, welcome!)
This sling bag is available in two colorways at the time of this review—black and dune (brown). We like the look of both, though we're partial to the black since it goes with everything. We live by the motto time not matching bags to outfits is time well spent (that's how it goes, right?). We also just like black.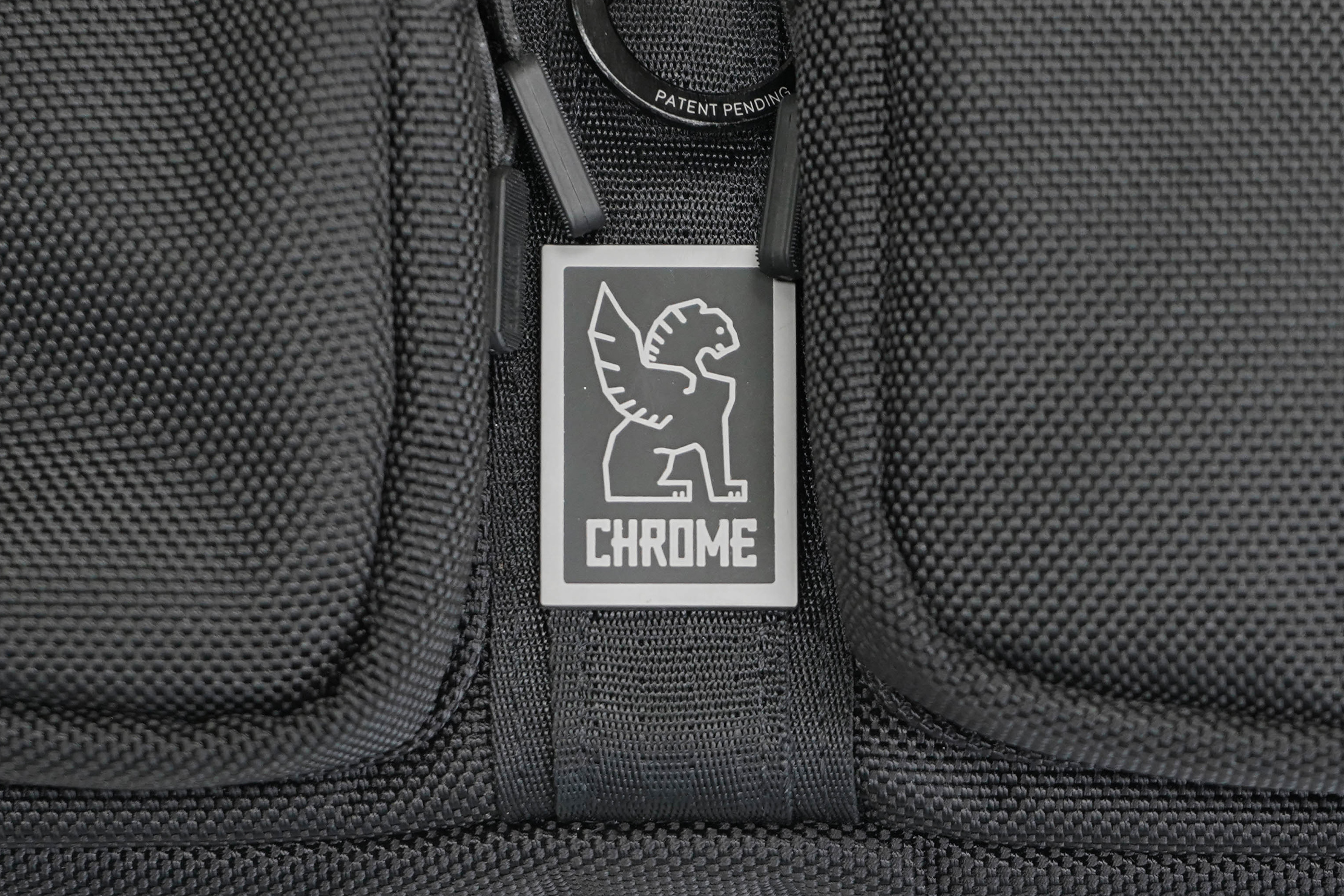 You'll find the Chrome Industries griffin on a metal plate on the front of the bag and on the metal buckle (which we'll discuss in detail later). The Chrome branding is almost as much a part of the design as the actual design of the bag, so we don't mind it. But we can see how some people may think it's a bit extra.
At nearly a foot wide, this sling bag is also large—at least, for a sling bag. And it looks big when you wear it, particularly on your chest and particularly if you have a smaller frame. This isn't necessarily a bad thing, depending on the style you're going for, but it's important to note.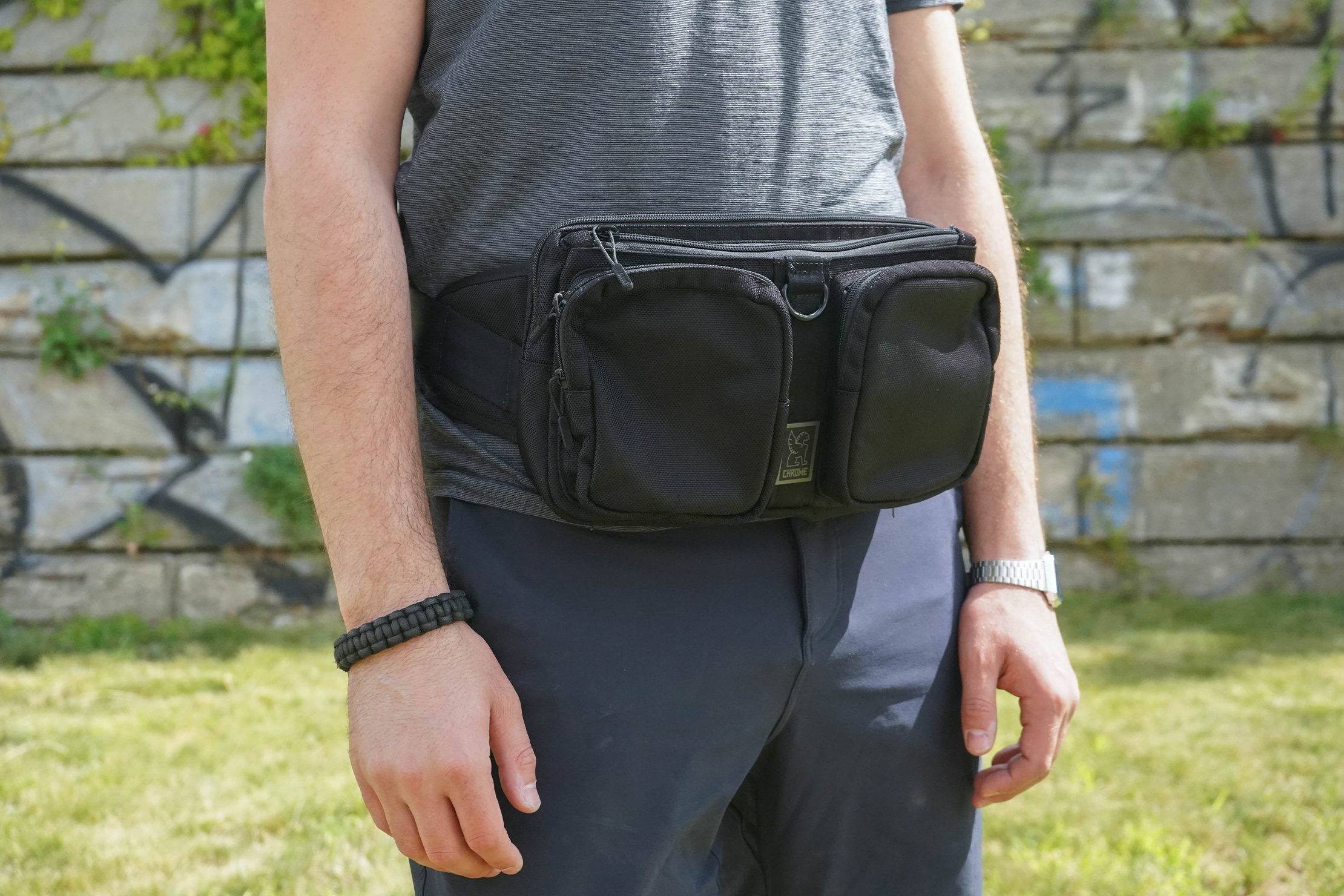 Now, the folks at Chrome claim you can wear this sling bag as a fanny pack. We don't think fanny packs are embarrassing these days—quite the opposite, actually—but wearing the MXD Notch Sling Bag as one might be. On some bodies, it spans the entire width of the hips and sits taller than the belly button. But if you can rock this thing as a fanny pack, all the more power to you.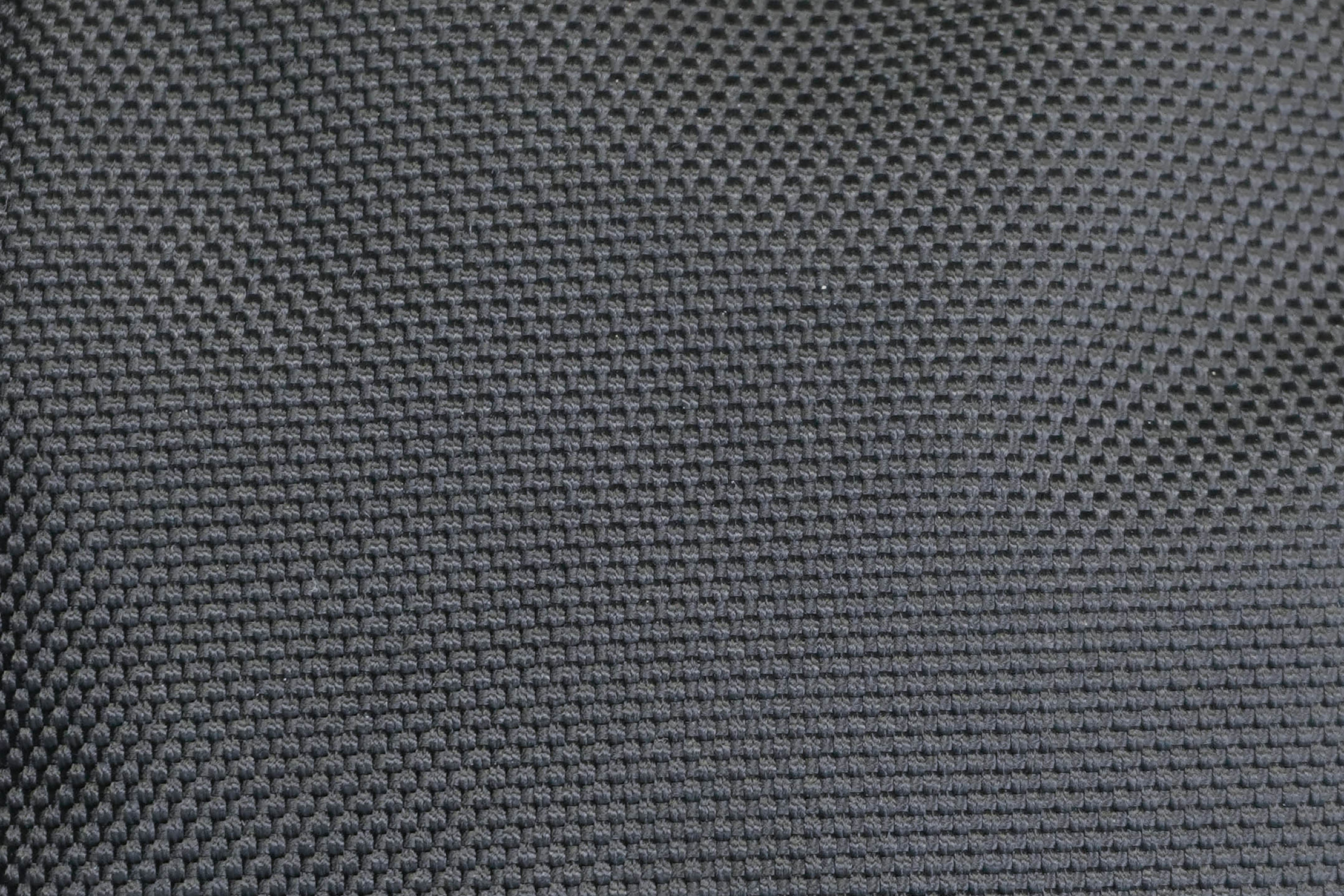 Moving on to the materials. Chrome Industries has a legacy of creating sturdy, durable bags that will last for a long time, and they haven't strayed from that here. The exterior of the MXD Notch Sling Bag is made from 1680D Ballistic nylon. Ballistic nylon was initially developed for body armor, so it's strong stuff. It's also surprisingly soft and shouldn't cause any irritation or pilling on your clothes.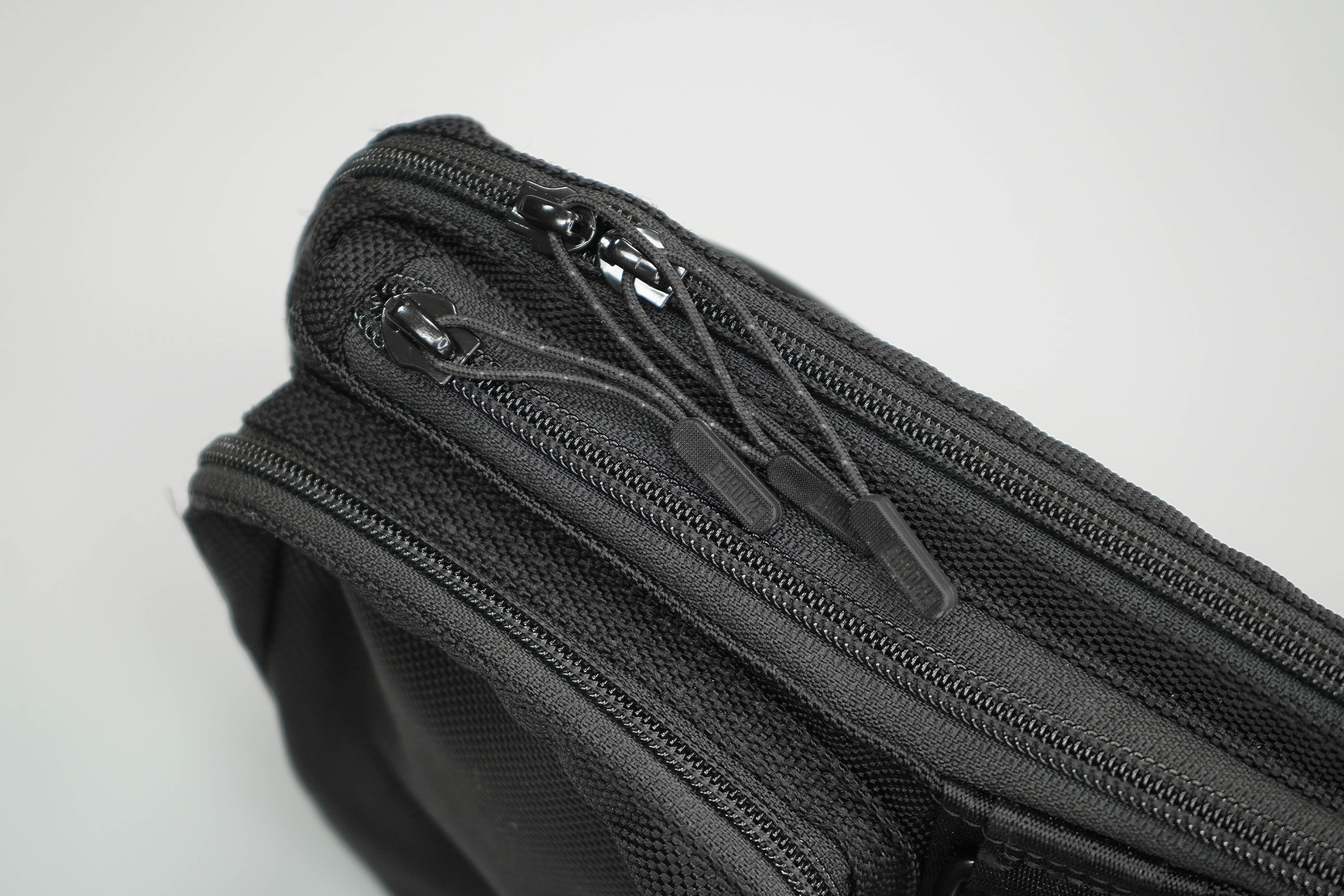 And the zippers are all YKK, so you shouldn't have any problems there either.
External Components
Let's talk about this buckle. This thing is quintessential Chrome Industries (the company refers to it as "iconic"). We think it's slick. But, and we hate to say this, it's a bit much on this sling bag. It's heavy, bulky, and not the most comfortable to wear on the back or chest. Plus, it can occasionally get caught in your shirt.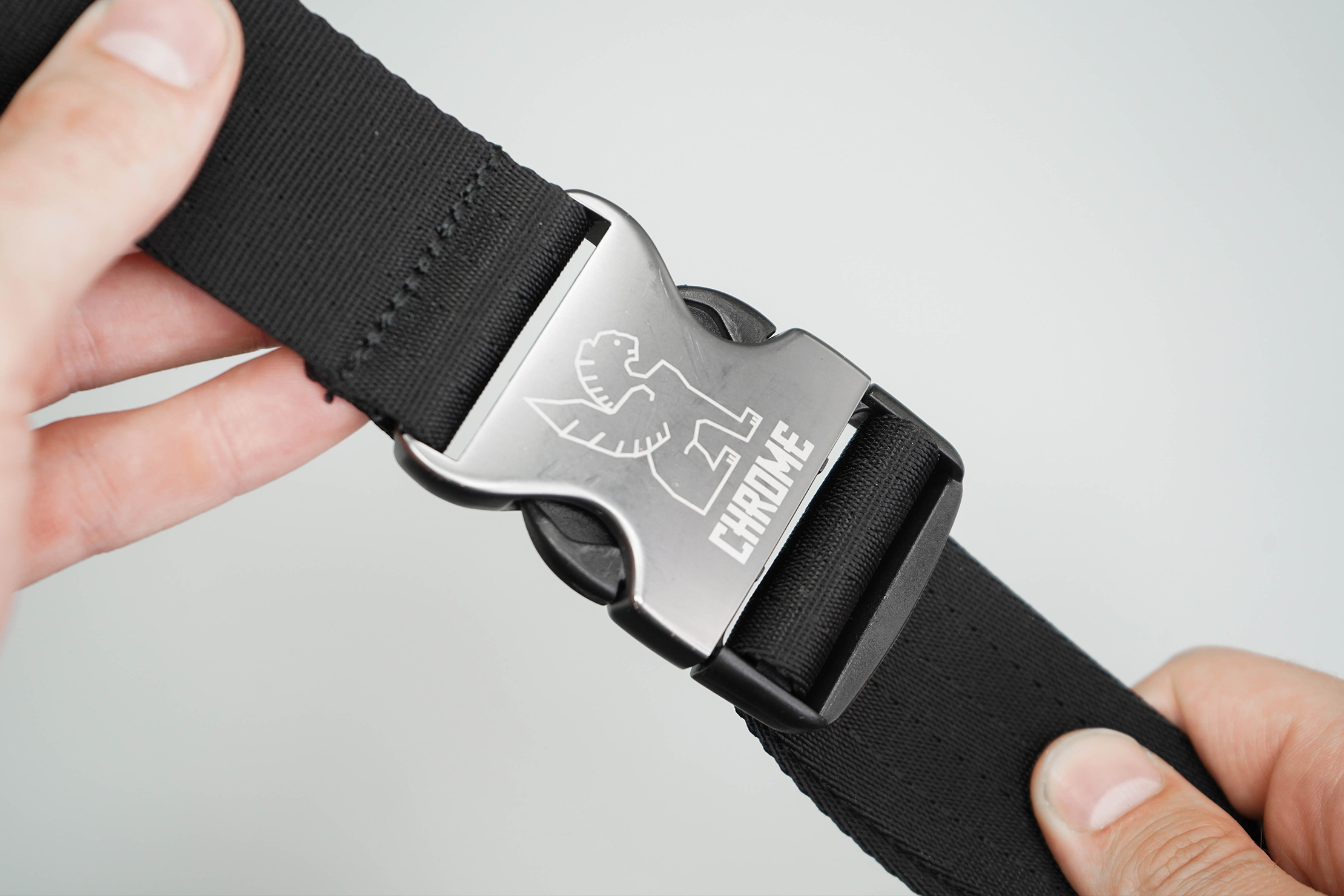 We think the buckle could be improved if it were anchored differently, possibly off-center—but hey, we're not sling bag engineers, only sling bag reviewers. As it stands, the iconic seat belt buckle is one of those classic beauty versus comfort scenarios. Whether or not it's worth it is ultimately a personal choice.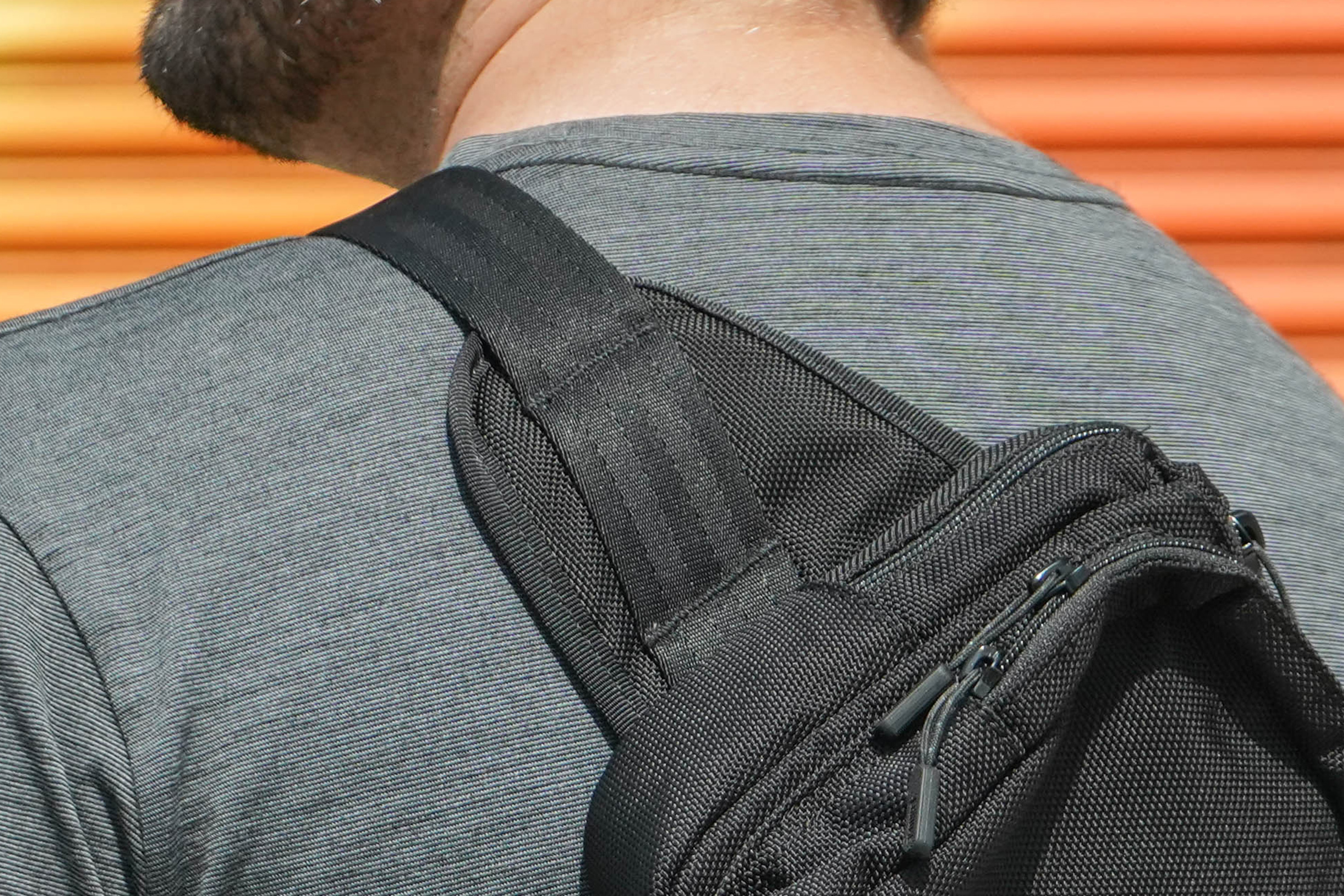 The strap, which is made from seatbelt material, is simple. It doesn't have any padding, but the attachment point on the right side is slightly padded to help keep the carry comfortable. But the strap itself is a bit long and can get messy, even with the elastic strap keeper.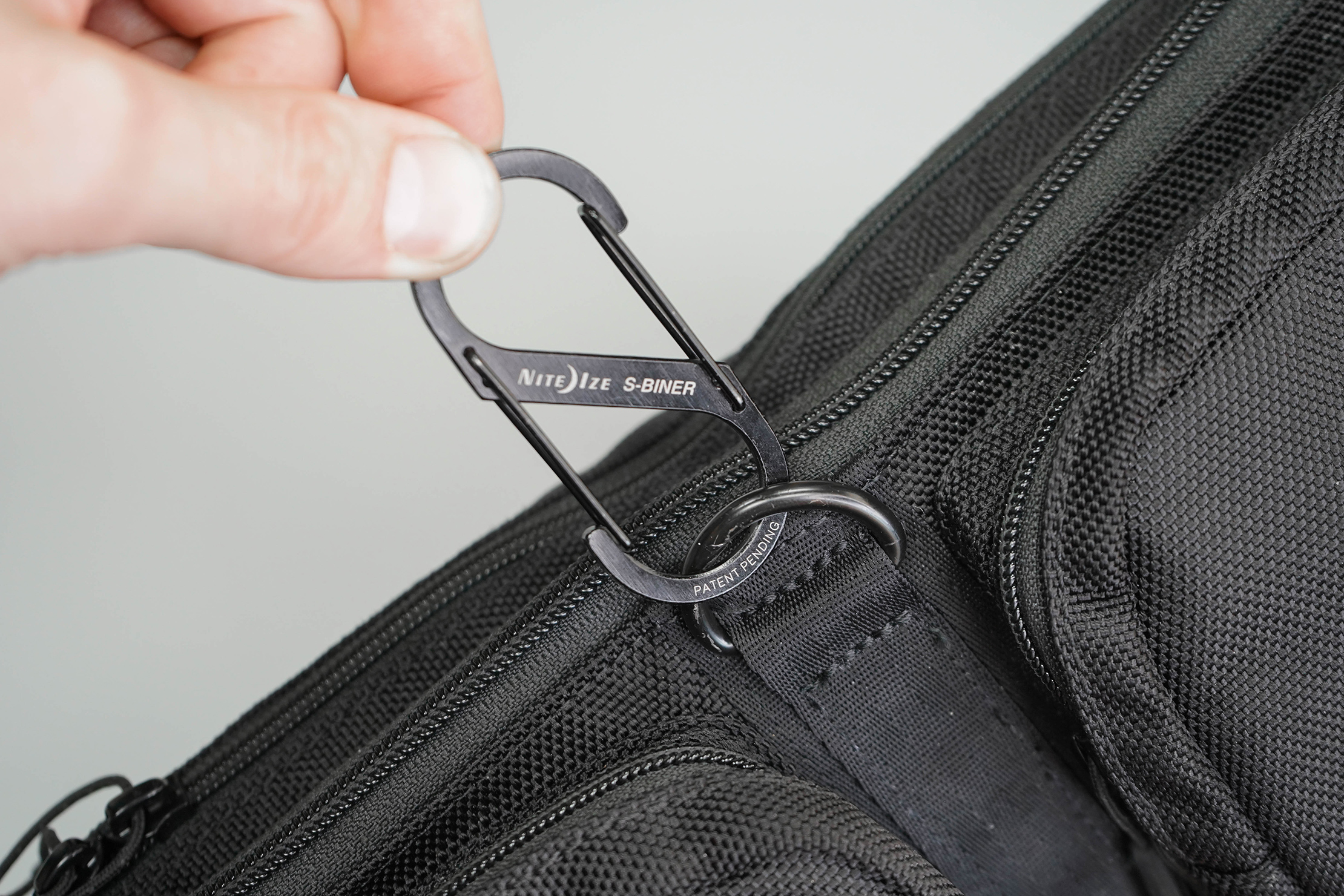 Lastly, there's a small ring on the front of the sling bag where you can hook a carabiner. We've been using one from Nite Ize, which sits nicely—dare we say, perfectly—between the two front pockets when not in use.
Inside the Sling Bag
We were initially excited to test out this sling bag because of its various pockets (what can we say, we're suckers for great internal organization). We think Chrome has done a nice job here—this sling hits the sweet spot between too many and too few pockets.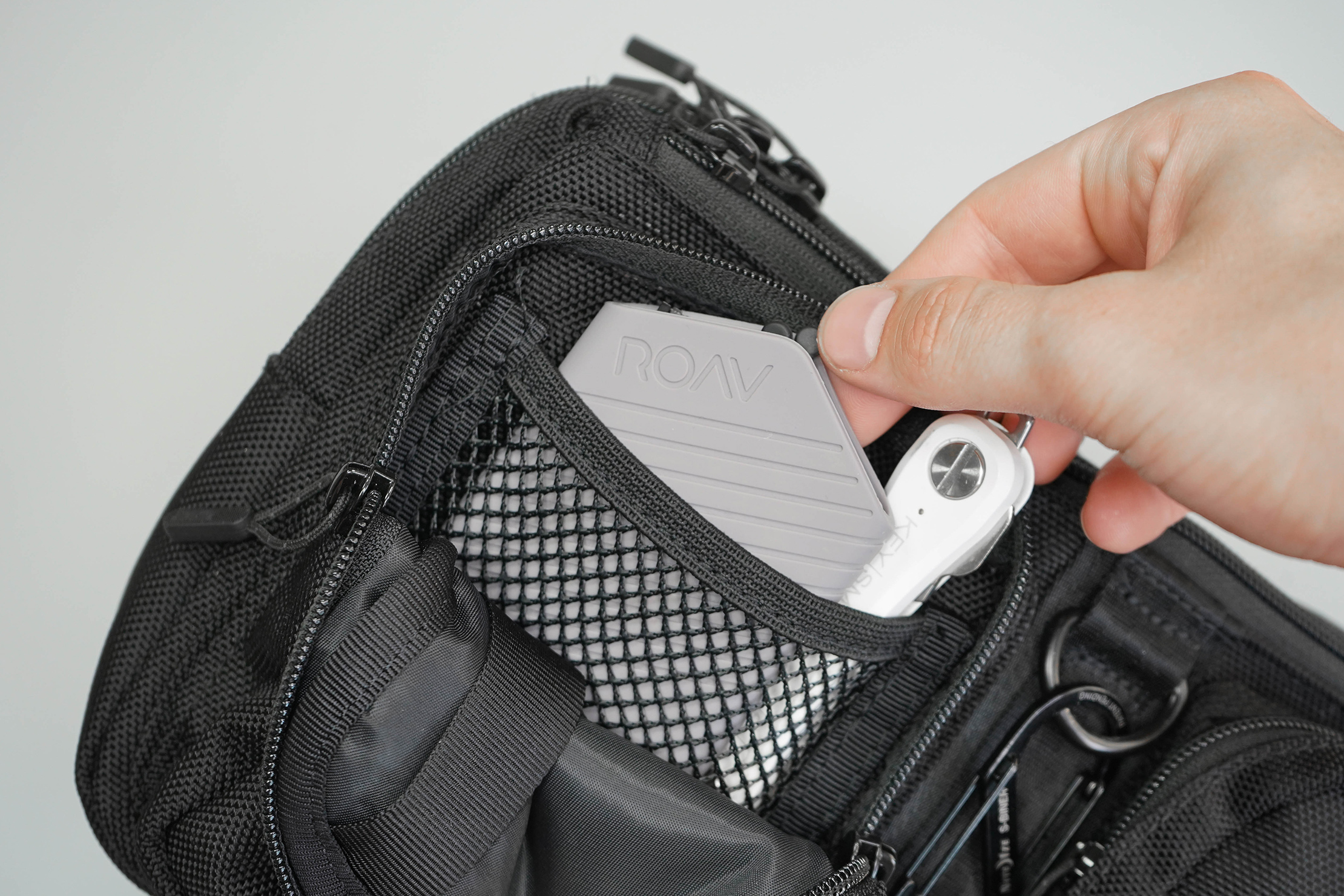 On the front of the bag, you'll find two quick access pockets that have a 3D shape and thus a nice amount of volume. Inside the one on the left, you'll find a small mesh pocket where we've been keeping our ROAV sunglasses, headphones, and a keyring. We're not huge fans of having the keyring here though, because our keys tend to overwhelm this space. Perhaps it would be better in the main compartment (but, again, not sling bag engineers).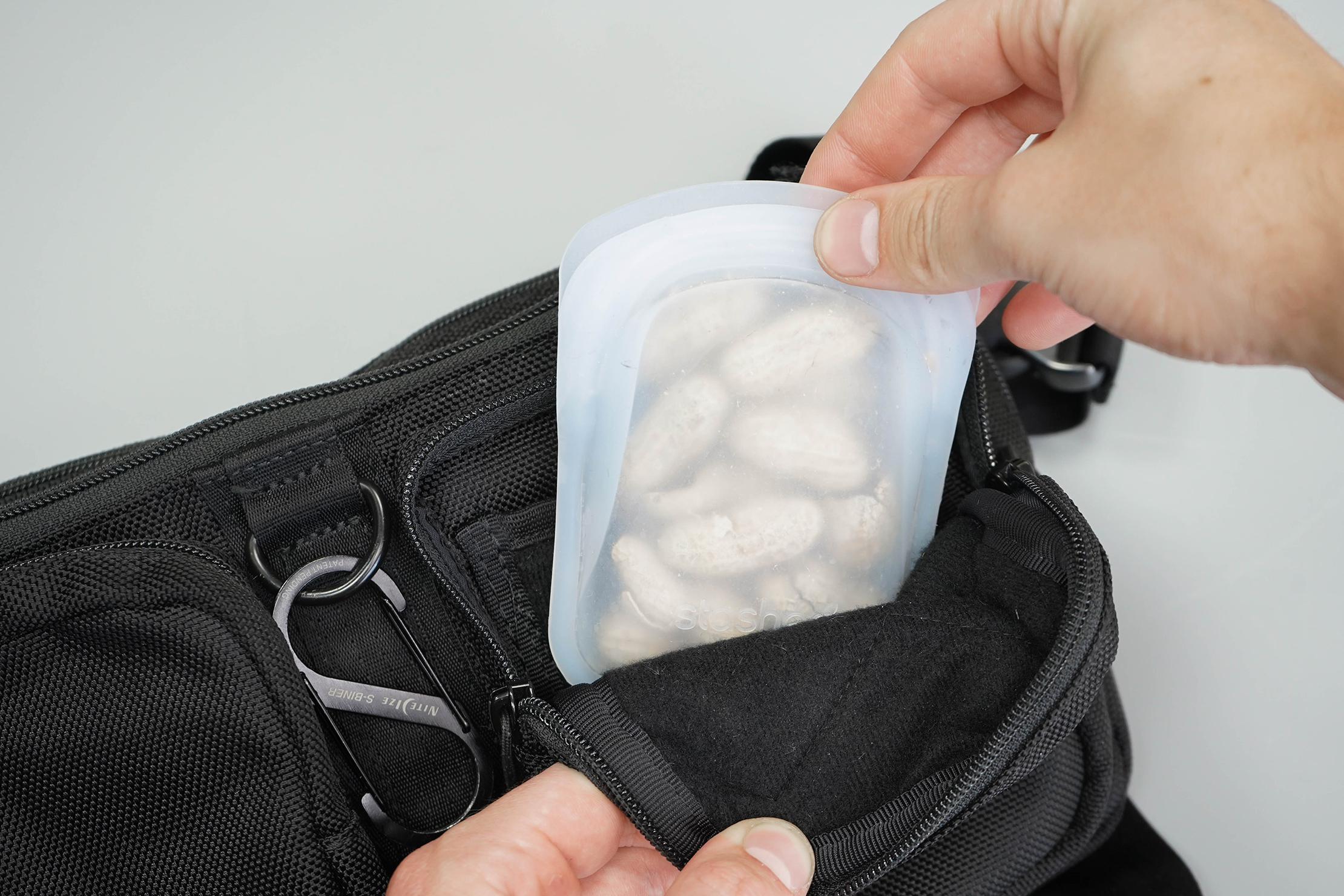 The right pocket is lined with a soft fleece. Inside, there's a small back pocket for your fragile items—sunglasses, phones, etc. This pocket also fits a small STASHER bag full of your favorite snacks perfectly. It's incredibly satisfying how perfectly it fits.
However, we've found accessing these front pockets while wearing the bag on your chest is difficult. The bag sits high, so to get inside the pockets you have to bend and raise your elbows and, long story short, you're going to wind up with a T-Rex arms situation. Not ideal, to say the least. But also, kind of funny (especially if you really lean into the T-Rex thing).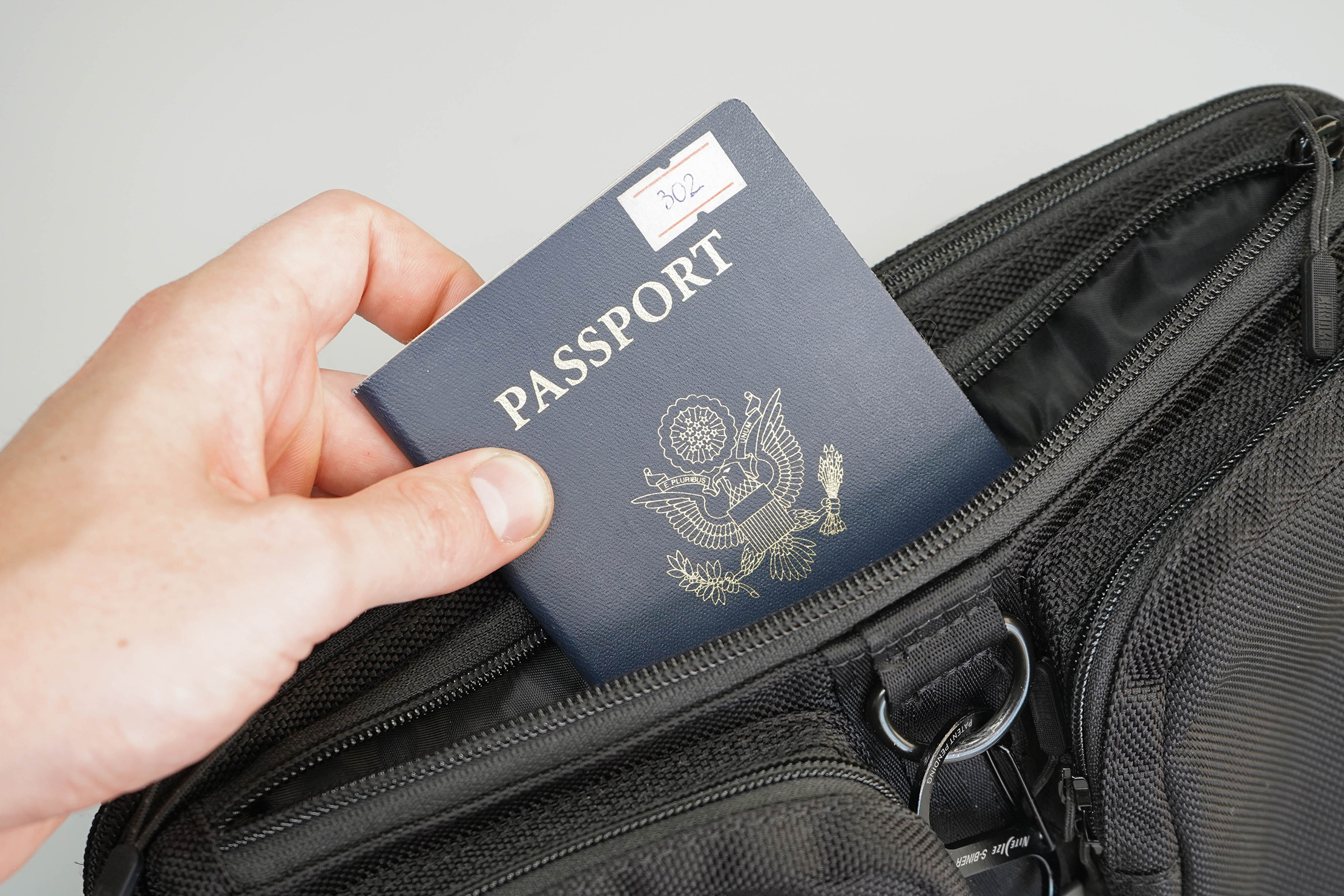 Behind the front pockets, you'll find a larger compartment with a zippered security pocket inside. The security pocket is a great place to stash items like your passport or boarding documents—whatever items you want to keep safe. Within the larger space, we've stored our plus-sized smartphone and Bellroy Coin Fold Wallet.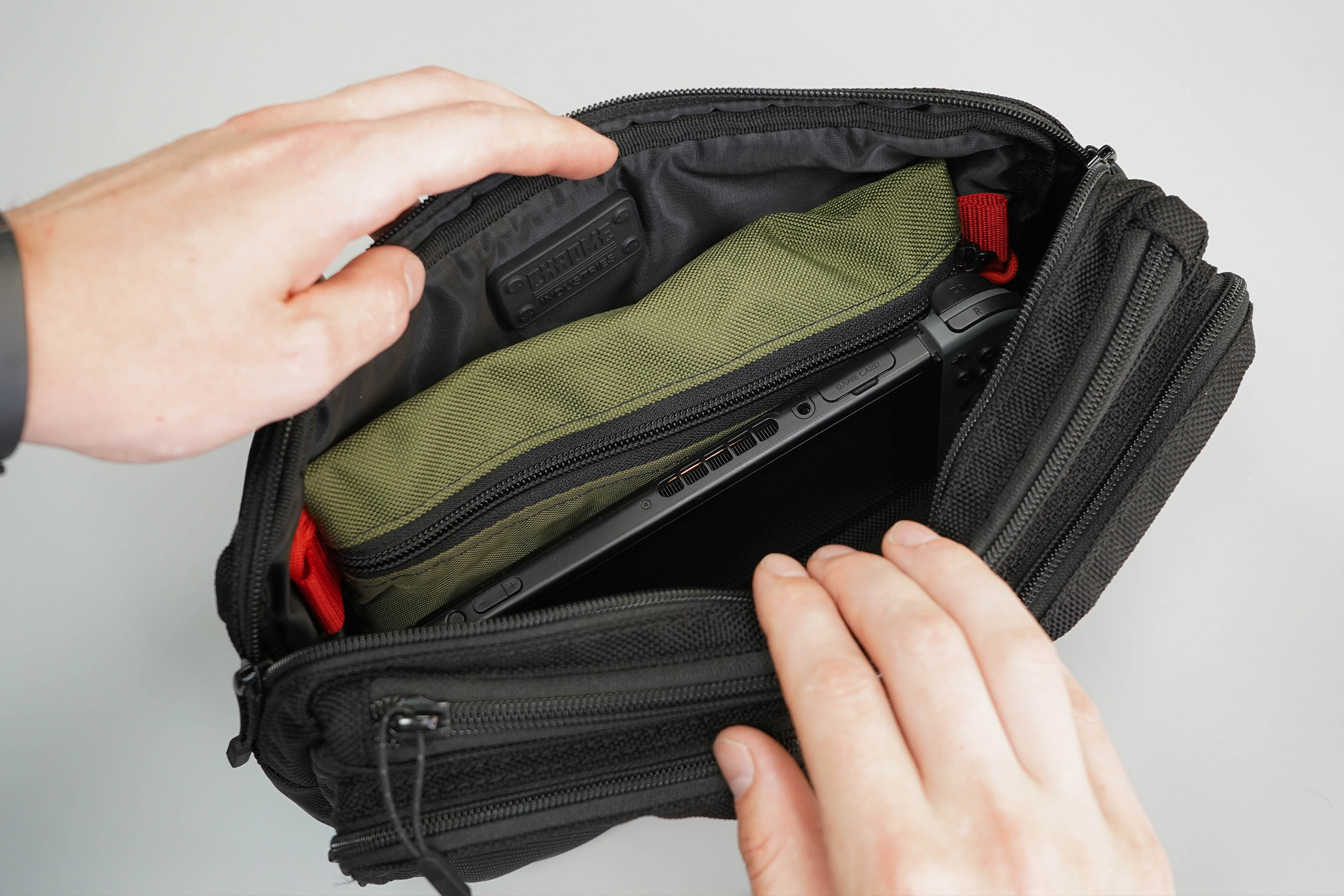 The back compartment has no further organization inside. It's a large spot to put your bulkier things. For us, that's been a Nintendo Switch, and a Topo Designs Accessory Bag stuffed with tech accessories and a power bank. We should also point out that it is large enough to fit a tablet. We've found ourselves wishing there was at least one pocket inside this compartment, but depending on your use-case, you may appreciate its lack of organization.
When full with everything listed above, this sling bag clocks in at 4 pounds, which is on the heavier side of comfortable. We wouldn't want to go heavier since a sling bag doesn't distribute the weight between your shoulders as a backpack does. Plus, it can start to look bulky, ruining that trendy, urban aesthetic we've spent so much time discussing.
Durability & Testing
We've been testing the MXD Notch Sling Bag for three weeks now around Detroit, Michigan and Minneapolis, Minnesota. It's been nice having a bag with such cleverly designed organization. And, of course, rocking a unique bag from Chrome Industries is always a good time.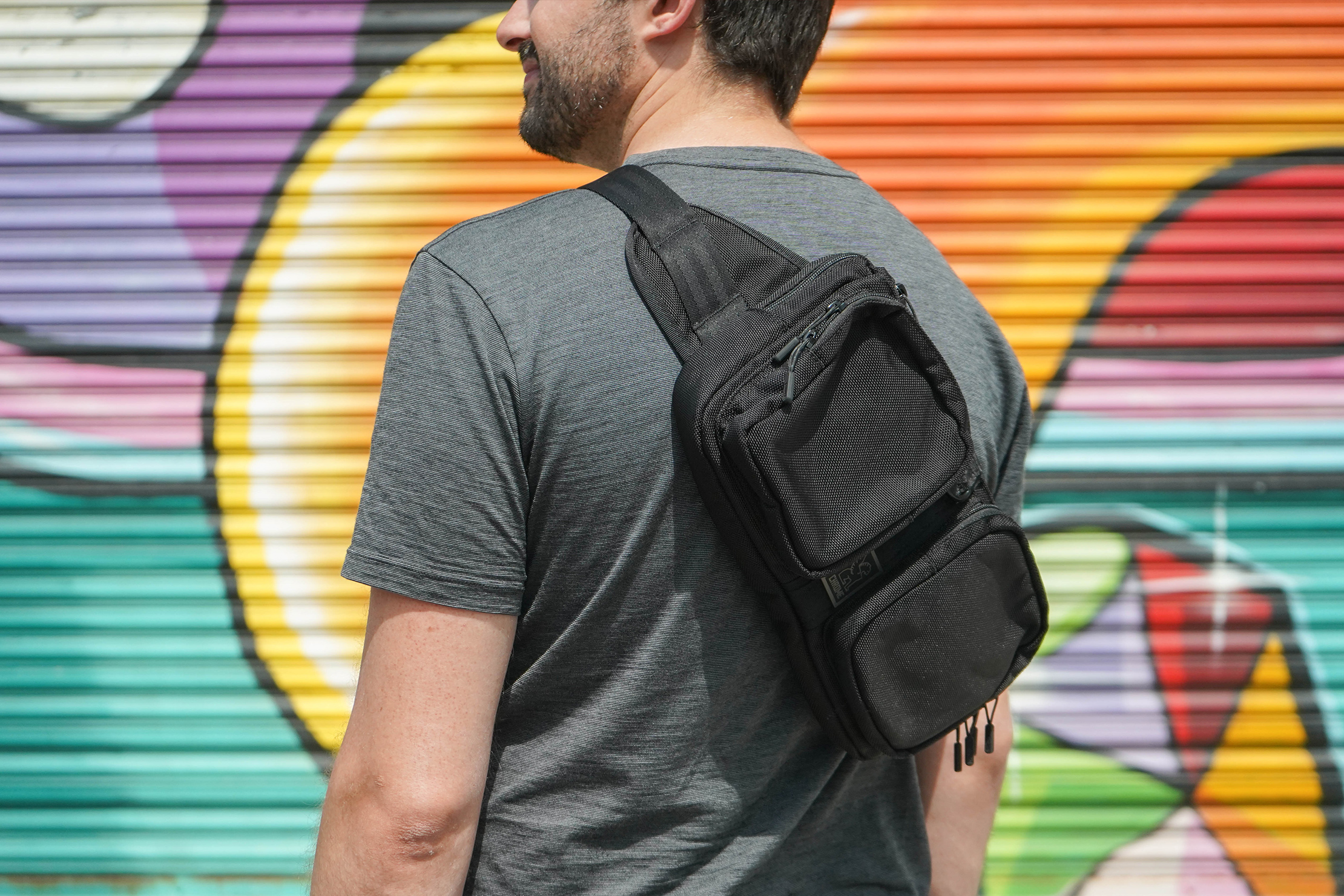 Let's talk about the size of this thing for a moment. It's on the larger end of sling bags that still work for travel. It's small enough to pack without taking up too much space in your bag, but the two 3D pockets on the front aren't exactly space-optimized. You have to really like sling bags—and use them often—to have a good time traveling with this one. If you're only planning on wearing this sling occasionally, you'll probably get annoyed lugging it around.
As far as durability is concerned, we have nothing major to report. The craftsmanship is solid, and beyond a few loose threads, we haven't noticed any issues. And, knowing Chrome Industries, we don't expect any hiccups for a long while to come.
Usage Timeline
Initial Usage
Condition: Excellent
The metal buckle is no joke
Fits a Nintendo Switch with ease
Digging the various organization styles – great for slings
The pockets on the exterior break up the "fanny pack" look that you get with other slings and waist packs
2 Weeks of Use
Condition: Excellent
Spotted a few loose threads, but nothing major.
Access the Pro Community Discussion
Get your questions about the Chrome Industries MXD Notch Sling Bag answered from our team and the Pro Community right here on the page. Plus, join discussions with other members about gear, guides, and more.
Other Bags & Luggage Reviews