CabinZero Hip Pack 2L Review
Sophisticated, sleek, and budget-friendly, the CabinZero Hip Pack is ideal for travel and EDC alike—and it's surprisingly durable to boot.
Our Verdict
Unlock the Pro Summary
Save time. Get access to brief summaries of our reviews so you can browse and make decisions more efficiently.
Pros
Looks good on a variety of body types
The perfect amount of organization
Budget-friendly
Cons
Polyester exterior not as hardy as other synthetic fabrics
It's easy to lose small items in the front pocket
Technical Details
Capacity

2l

Weight (oz)

6 oz (170.1 gm)

Dimensions

5.9 in x 16.1 in x 2.4 in (15 x 40.9 x 6.1 cm)

Notable Materials

Polyester, Duraflex Hardware, YKK Zippers

Manufacturing Country

Vietnam

Warranty Information
Full Review
If you're excited about the hip pack trend—but not quite 100+ bucks excited—then take a look at the 2L CabinZero Hip Pack. This sleek, sophisticated accessory will cost you less than $40, and, yeah, it's not full of features, but it gets the job done.
We've been testing it for three weeks now around the U.K. and have mostly good things to say. In this case, budget is not synonymous with bad.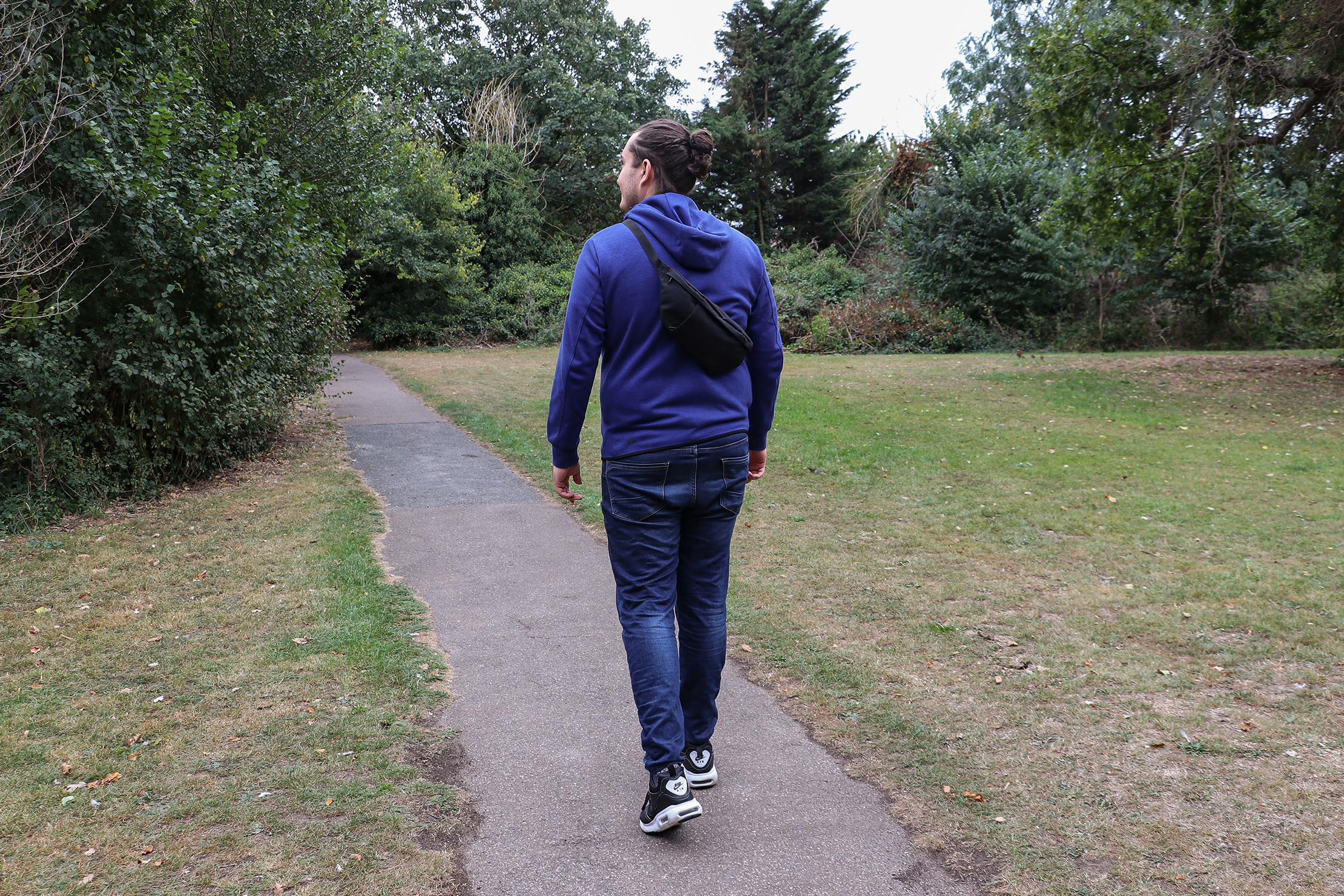 Before we jump into the review, we want to clarify one thing. We'll be referring to the CabinZero Hip Pack as a hip pack because that's what the folks at CabinZero decided to name it. But we think of it as a sling bag. It can be worn as either, although we've found it to be more comfortable slung around the chest or back.
So let's check it out.
Materials & Aesthetic
Of course, if you're still aghast that fanny packs are back, you won't like the look of this thing. The oblong, skinny shape is reminiscent of "fashion sling bags"—you know the ones you see on runways and at festivals. It's not everyone's cup of tea, but we're digging it.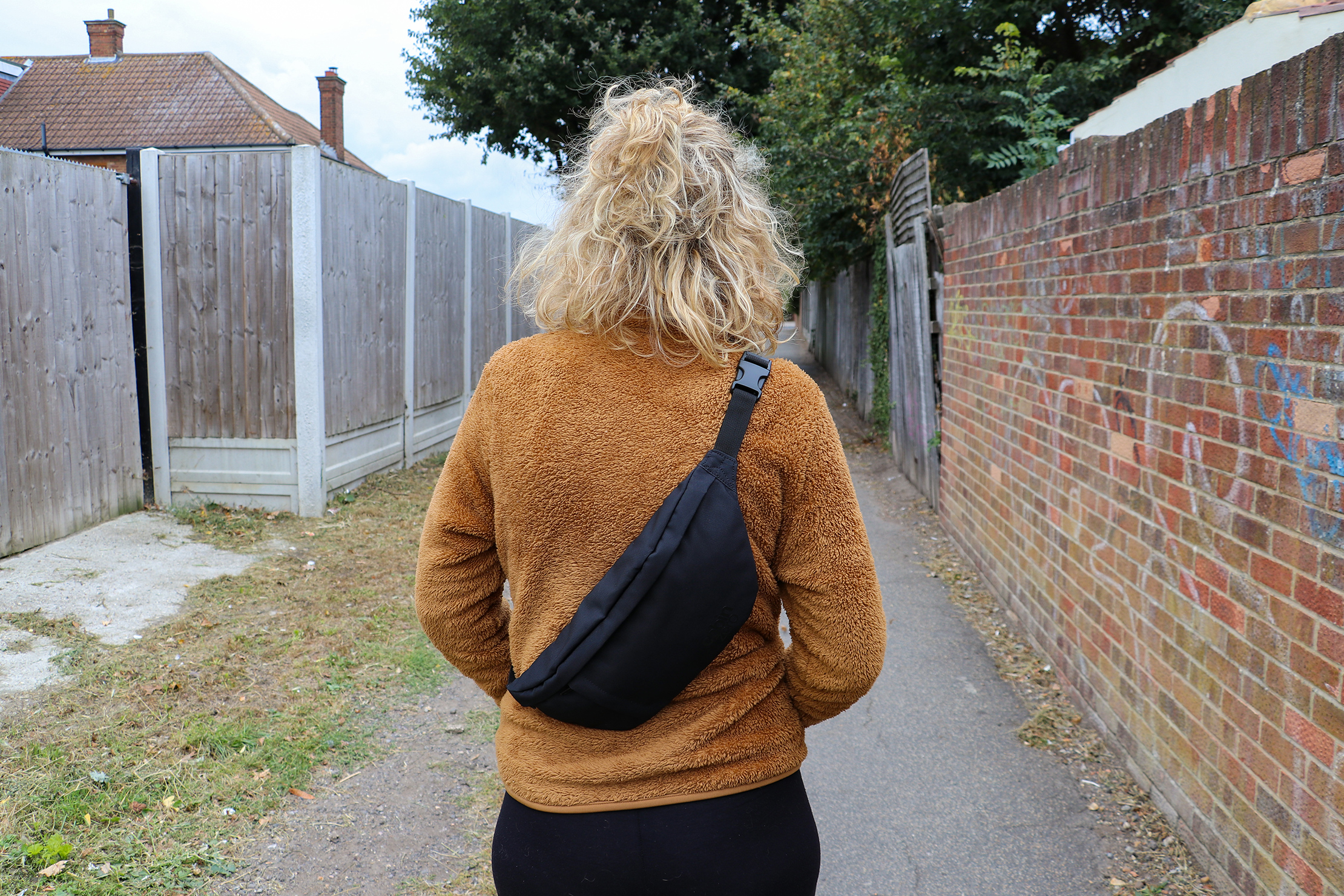 The thin, narrow design looks great on basically every body type, which is a huge plus. It's rare that an accessory will fit a 6-foot-something man and a smaller woman.
At the time of this review, it's available in 12 colorways, so you can find one that lights your fire. We've been testing it in Absolute Black, which features the CabinZero logo also in black, creating a sleek, sophisticated aura. Black always seems to make everything look more expensive and that's certainly true in this case. But if you're more of a bright pink or lime green kind of person, CabinZero has your back.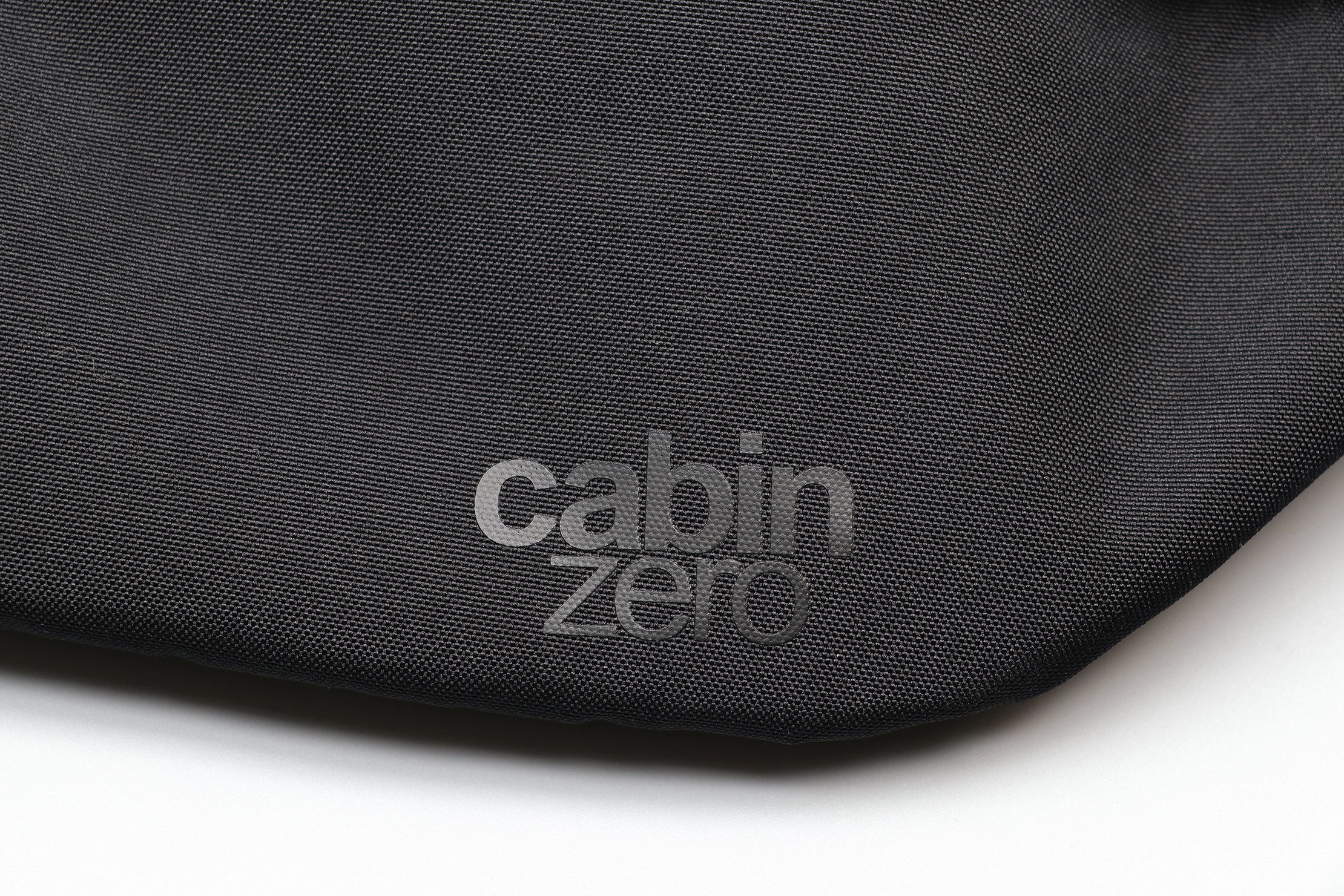 Now, this hip pack is made of 600D polyester. Polyester isn't the hardest of synthetic fabrics, but you don't necessarily need anything fancy on a hip pack. Will it last you as long as a pack made of 1680D CORDURA® Ballistic nylon? No. But it won't cost nearly as much either. Plus, polyester is lightweight. This thing clocks in at 160g, which helps keep the carry comfortable.
Sure, it doesn't feel luxurious, but it doesn't feel cheap either.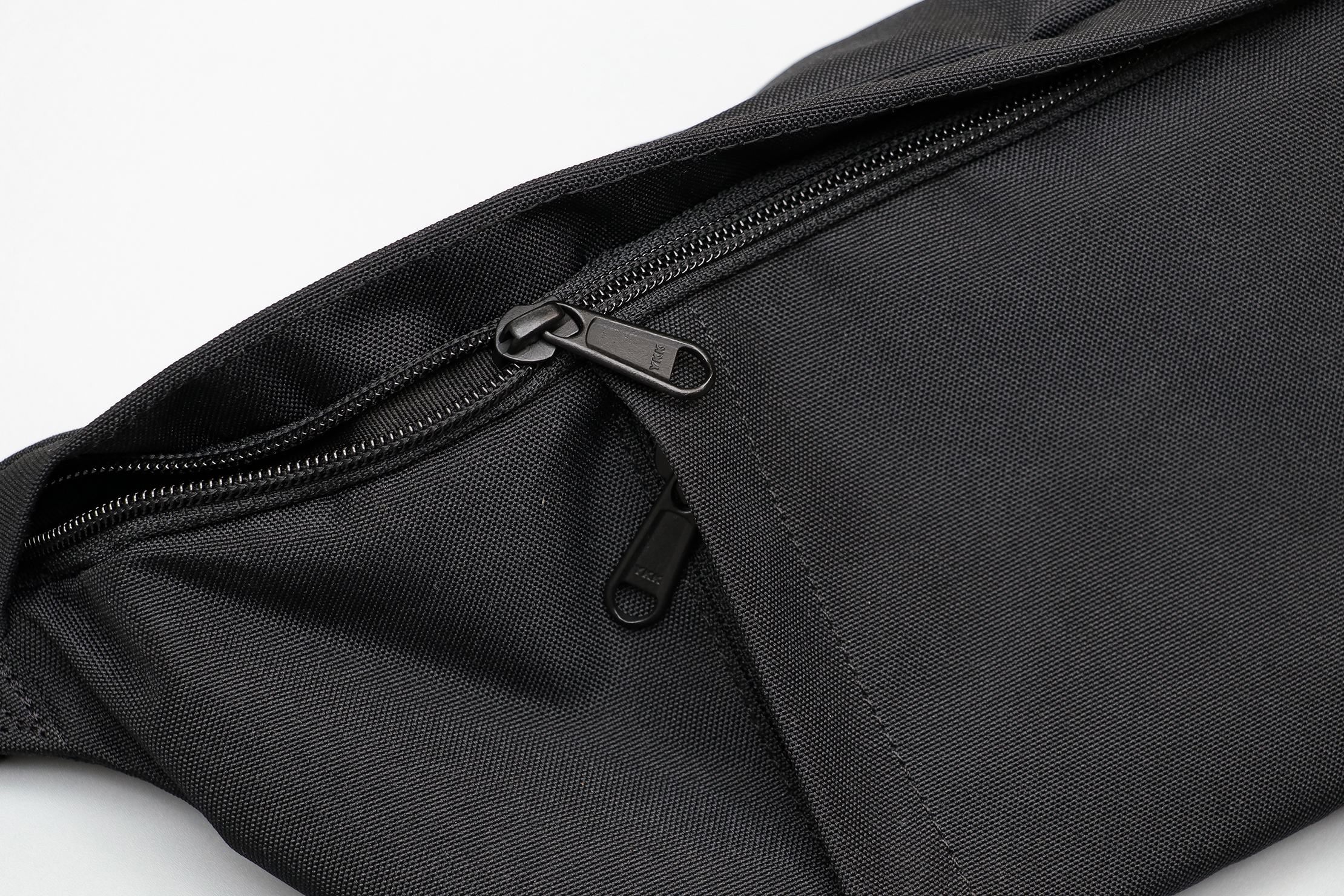 Luckily, the folks at CabinZero haven't skimped on the hardware. The zippers, which are usually the first to go on budget gear, are from trustworthy YKK. And the buckle is from equally trustworthy Duraflex.
External Components
As we mentioned at the beginning of this review, this hip pack is nothing fancy. So there's nothing fancy going on externally.
There's the simple adjustable strap that can be worn around the hips, chest, or back. You can choose to keep it tight with the bag flush against your body or loosen things up for a more casual look. You do you.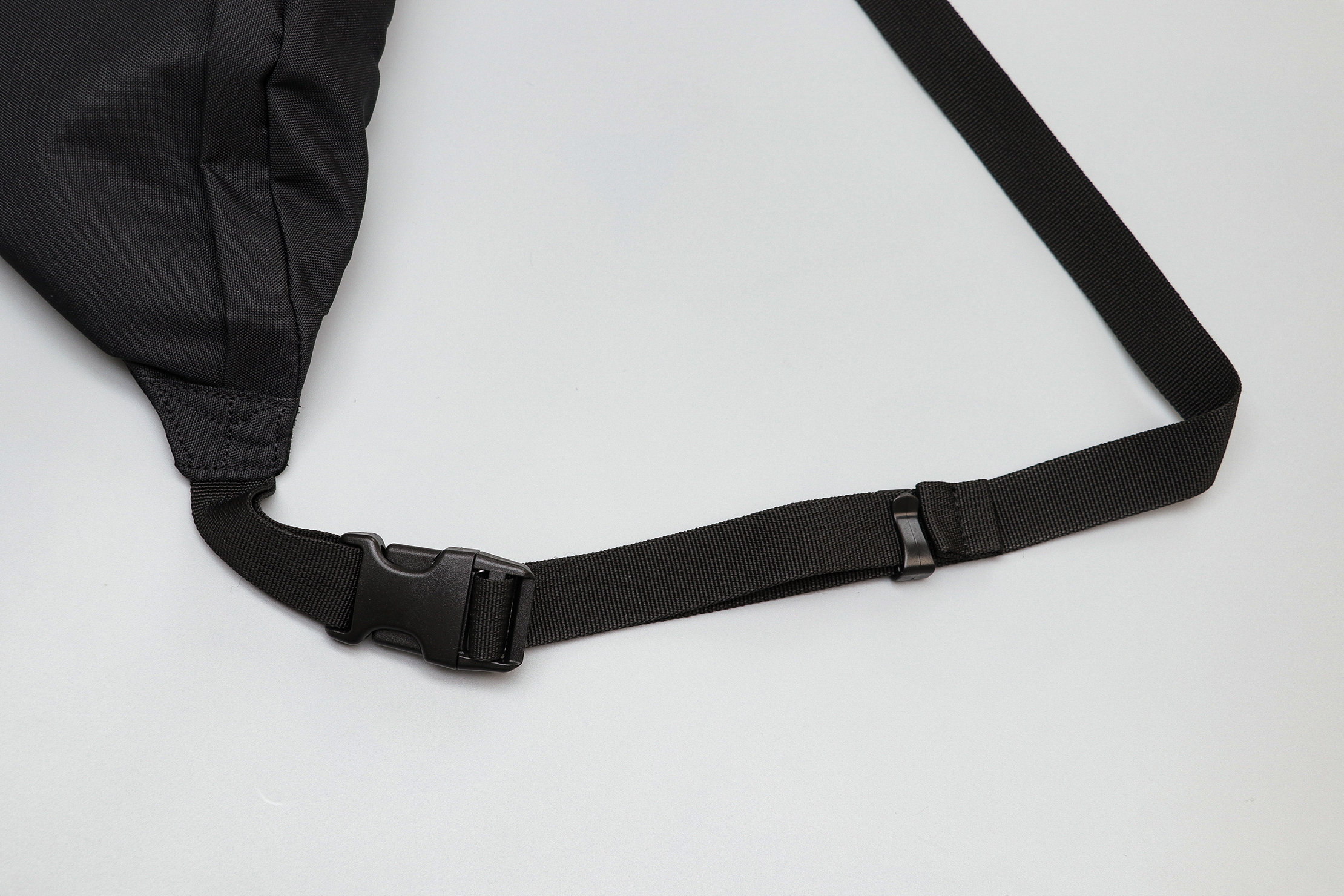 The strap keeper will make sure everything is looking tidy—no matter how loose or tight you have the strap. It's a clip, which is unusual for a strap keeper, but it works really nicely. So hats off to the design team over at CabinZero.
The buckle is off-center, which usually indicates that it's more sling bag and less hip pack—the latter usually touting centered buckles. Like we've already said, you can wear it whichever way you want. But we've found it to be especially comfortable as a sling bag.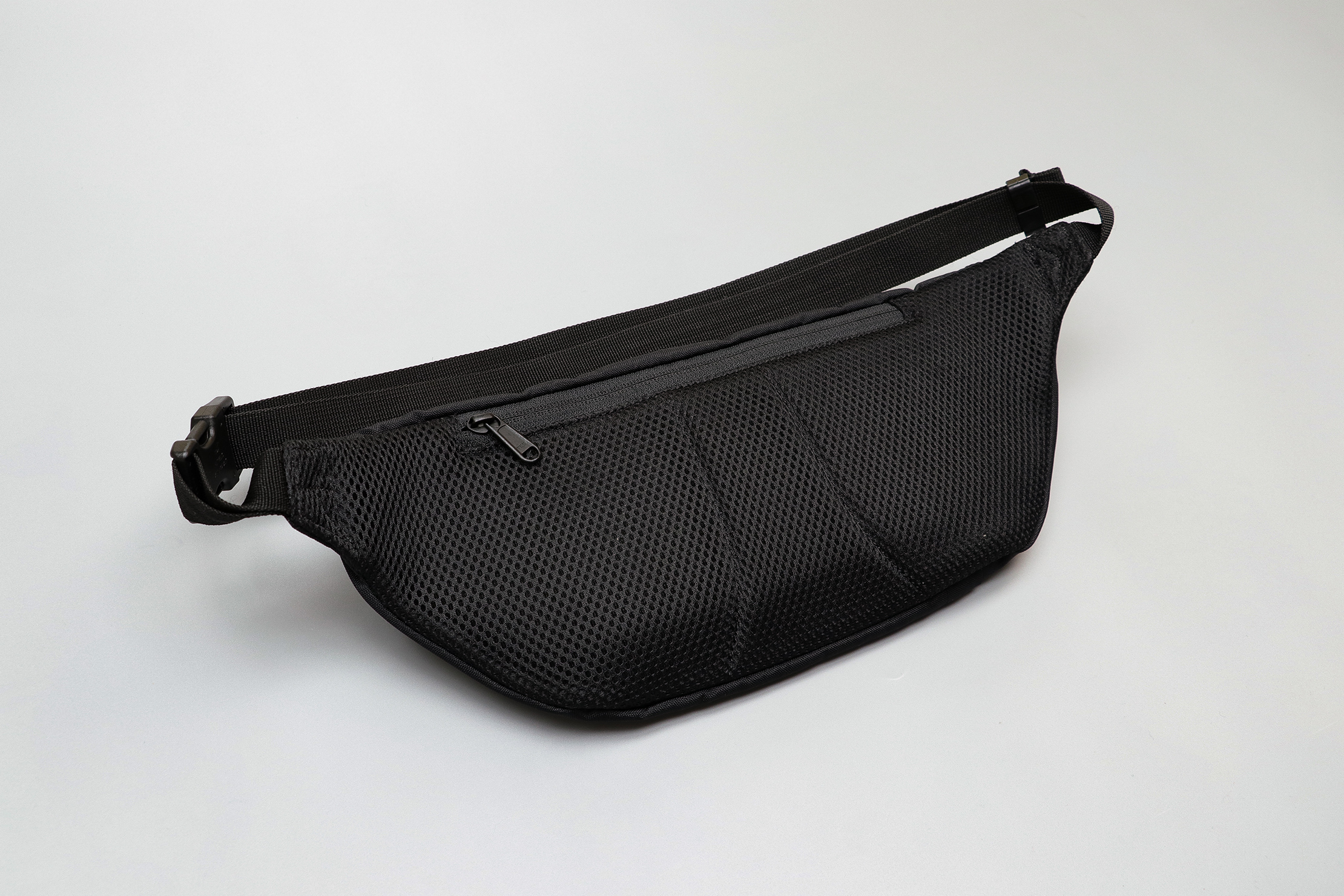 The back has a comfortable, spongy mesh to keep the sweat to a minimum and ensure overall comfort.
Again, nothing wild going on here, it's just solid.
Inside the Pack
There's a bit more going on in the interior of this pack than the exterior. First up, we've got the front pocket, which is a great place to stash items you'll want to access quickly. We've used it for our phone and sunglasses, which has worked out well.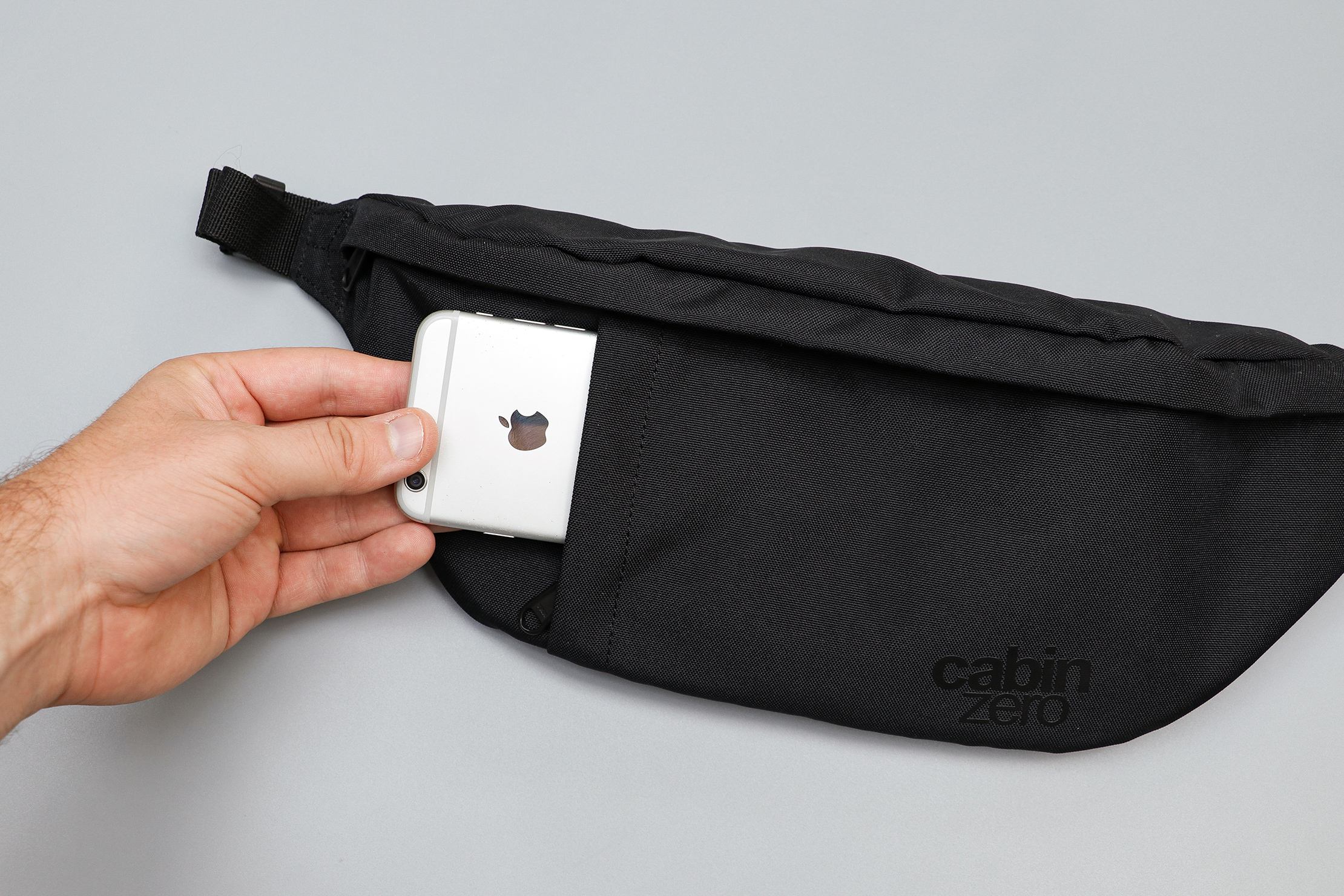 A word of warning—this pocket is long and can only be accessed on one side. If you put small items here, say marbles, you'll likely lose them. And no one wants to lose their marbles… just take a moment to appreciate that one, folks. In all seriousness, stick to putting long, thin items in this pocket.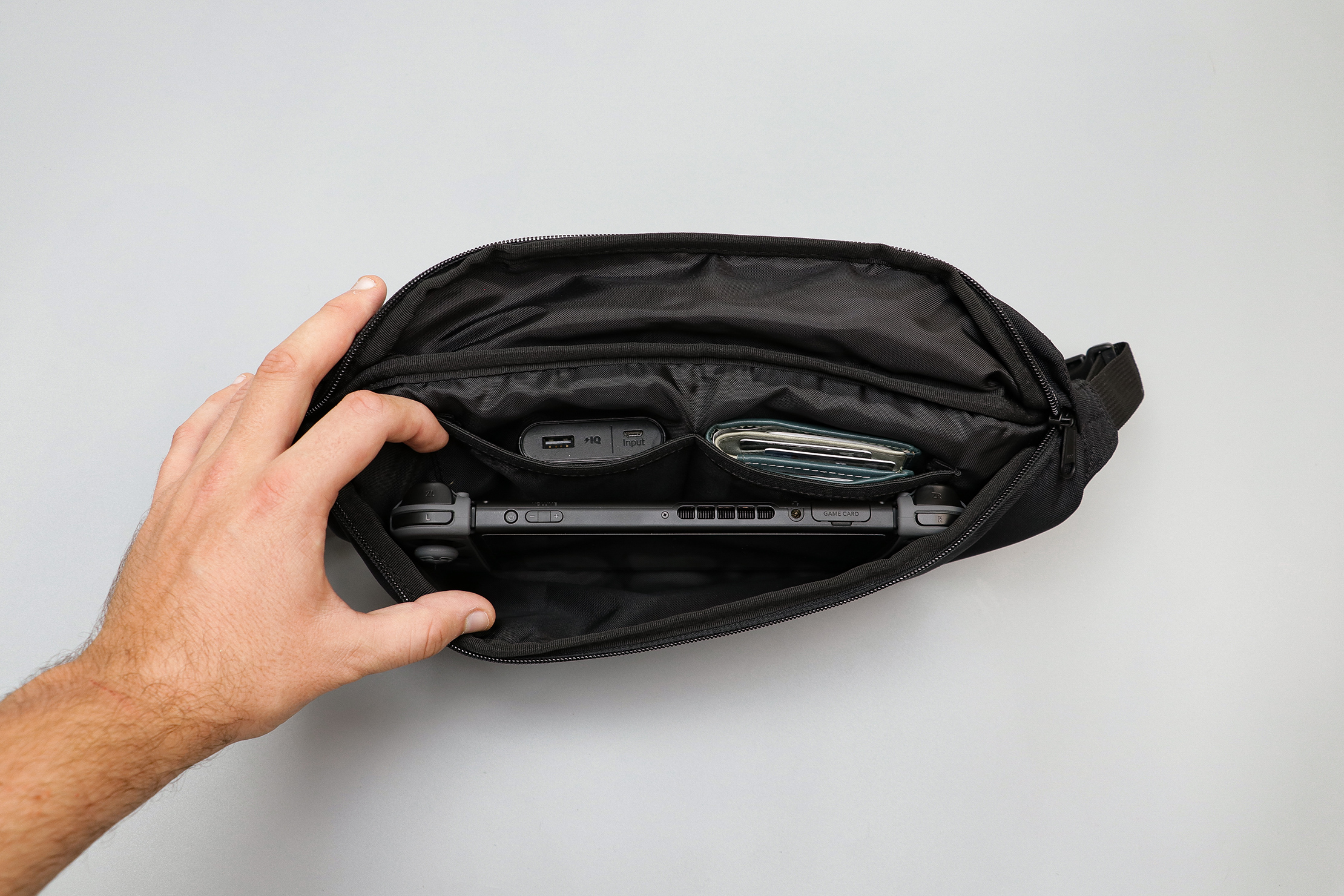 Moving on to the main compartment. Inside, you'll find two stretch pockets—and that's it. For us, that's the absolute perfect amount of organization. We've put our wallet in one of the pockets, a power bank in the other, and then whatever else we've had with us in the roomy space left over. While the stretch pockets don't seem like much, they add a lot of value.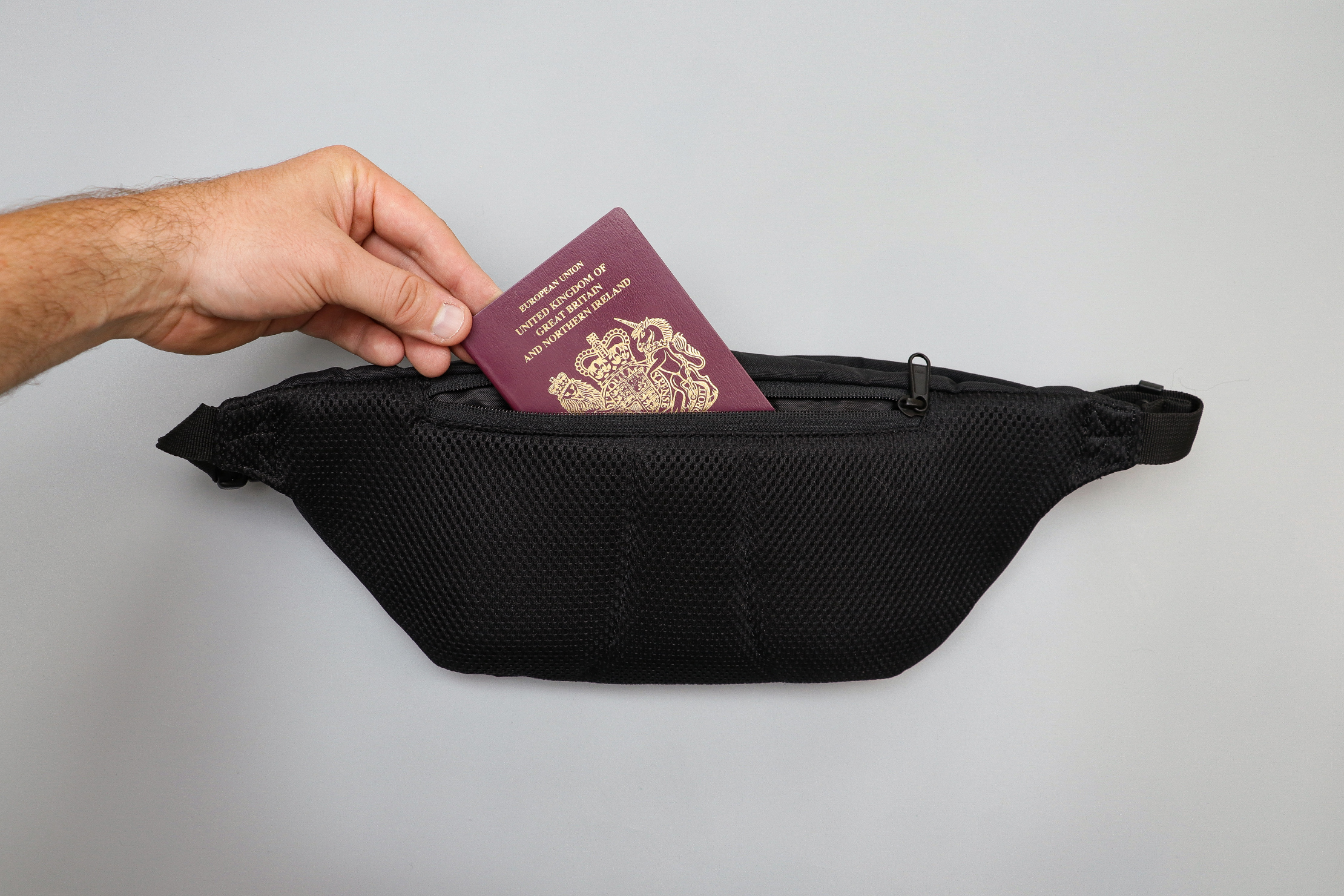 The final pocket is the security pocket called as much because 1) it sits against your body and 2) it's RFID-blocking. We don't utilize it much for everyday carry, but it's nice to have for traveling. You can stick some extra cash, your wallet, your passport inside and not worry about pickpockets or criminals with RFID-readers.
At 2L, this hip pack won't hold a huge amount of stuff. But it's the perfect size for your essentials plus a few extras. It's especially great for flights. Store your pens, a small notebook, earplugs, an eye mask, headphones, whatever you need to pass the hours, inside the hip pack and clip it to the seat in front of you for easy access.
Durability & Testing
As we mentioned at the beginning of this review, we've been testing the CabinZero Hip Pack (2L) for three weeks around the U.K. So far, so good. We have no issues with durability to report.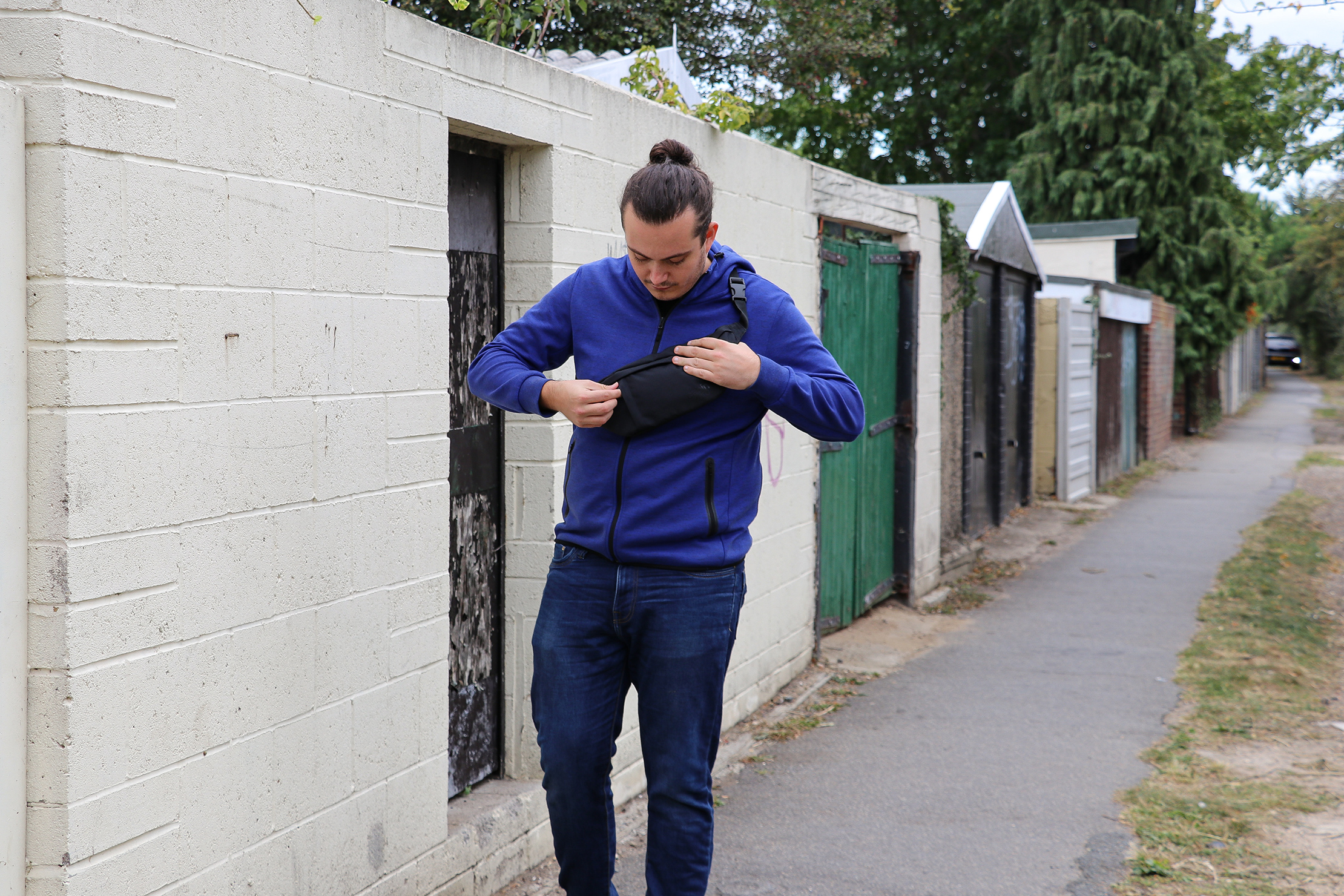 All in all, it's a solid hip pack that does exactly what a hip pack is supposed to do. If you're looking for a stylish, sleek, budget sling then look no further.
Usage Timeline
Initial Usage
Condition: Excellent
We're digging the streamlined compartments and just-right internal organization
It's available in a ton of different colors
The front pocket is great for phones, but other items can be hard to get out
Can be worn as a hip pack but it also looks and wears great as a sling
2 Weeks of Use
Condition: Excellent
Everything still looks good!
Access the Pro Community Discussion
Get your questions about the CabinZero Hip Pack 2L answered from our team and the Pro Community right here on the page. Plus, join discussions with other members about gear, guides, and more.
Other Bags & Luggage Reviews