Boundary Supply Port Kitt Review
Boundary Supply's Port Kitt is a rather left-field combo of a toiletry kit and tech pouch; niche as a package but individually capable.
Our Verdict
Unlock the Pro Summary
Save time. Get access to brief summaries of our reviews so you can browse and make decisions more efficiently.
Pros
Good option for those looking for both a toiletry kit and a tech pouch
Toiletry kit's adjustable strap balances well on a towel rack
Magnetic attachment system is secure but quick to undo as well
Cons
Tech pouch and toiletry combo is niche
Toiletry kit's lid compartment opens downward when it's hanging
Tech pouch's loops feel tight even for slender cables
Recent Pack Hacker Video
Technical Details
Capacity

5l

Weight (lb)

1 lb (0.5 kg)

Denier

400D

Tech side

Denier

210D

Dopp kit side

Dimensions

6 in x 9.5 in x 4 in (15.2 x 24.1 x 10.2 cm)

Notable Materials

Kodra Nylon, Nylon, YKK Zippers

Manufacturing Country

Indonesia

Warranty Information
Buying Options

$84.00

$100.00
Full Review
Some things, when combined, just blow the mind away. Chocolate and strawberry in one milkshake? Yes, please! Burgers and fries? We're there! Pineapple on pizza? A bit controversial, but let's check it out anyway! Even simple everyday travel gear like a toothbrush and a tube of toothpaste coming together to form Aurelle's TOOB Brush is enough to get our pack hacking gears going. Needless to say, there's a lot of potential and room to innovate when it comes to taking two existing ideas and putting them together to create something new.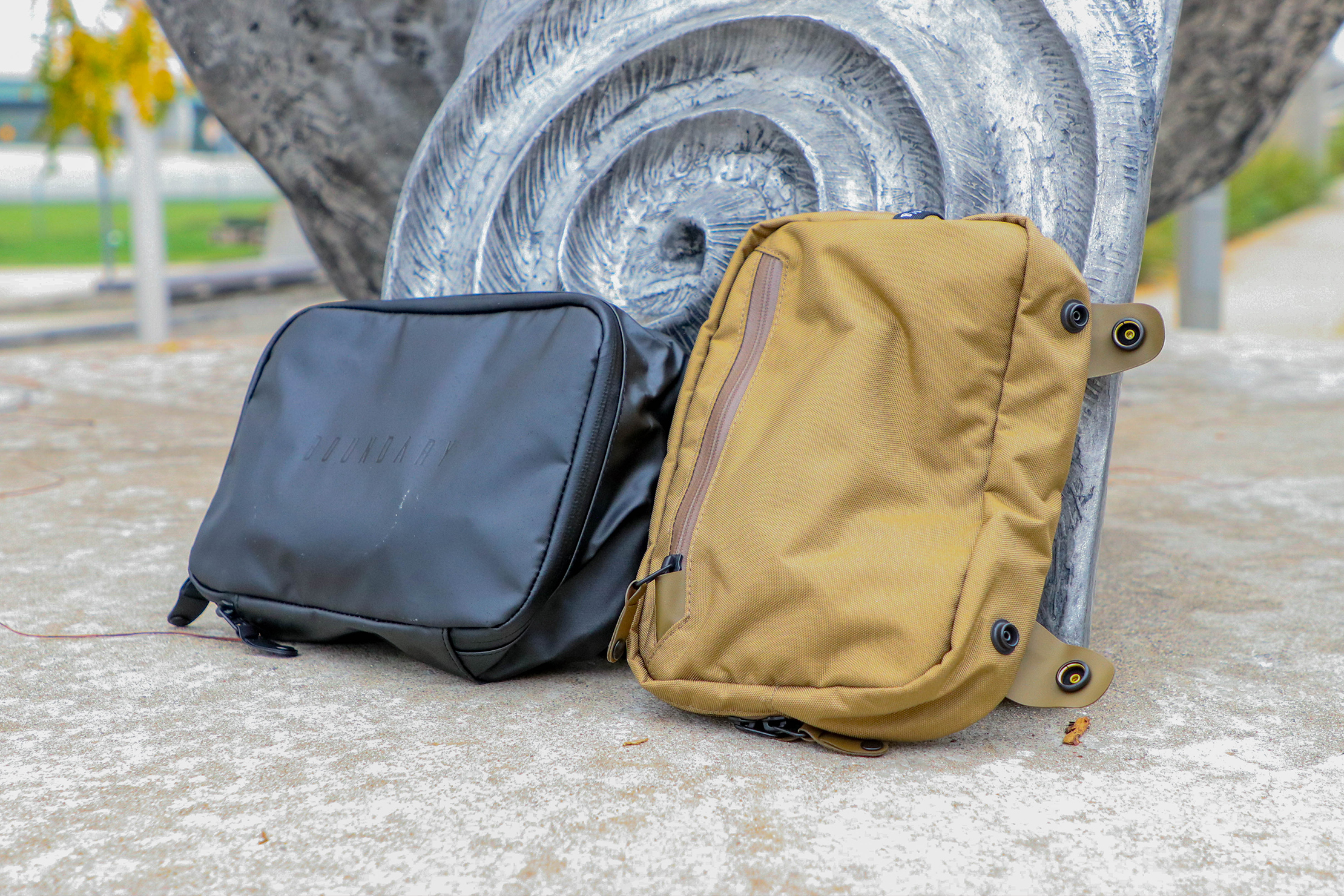 Then there are those ideas that are just out there, like the subject of this review: Boundary Supply's Port Kitt. It's a 2-in-1 kit that's made up of a toiletry kit and a tech pouch and leverages the brand's magnetic attachment system. Both halves are capable pouches on their own, and we have no complaints about the magnetic docking mechanism. Unfortunately, we do struggle to think of a situation where a tech pouch and toiletry kit have to be attached together. But, even niche use cases are still use cases nevertheless. So if this is a solution that seems to fit yours just right, read on to find out more.
Materials & Aesthetic
The Port Kitt may be one of the most unique pieces of gear to land on our desk. Since it's basically two pouches stuck together by magnets, we can take a look at them individually (and we will), but it'd be unfair not to look at it as a complete set. It's an interesting visual setup at the very least, especially if you go for opposing colorways where the tech pouch is a different color from the black toiletry kit.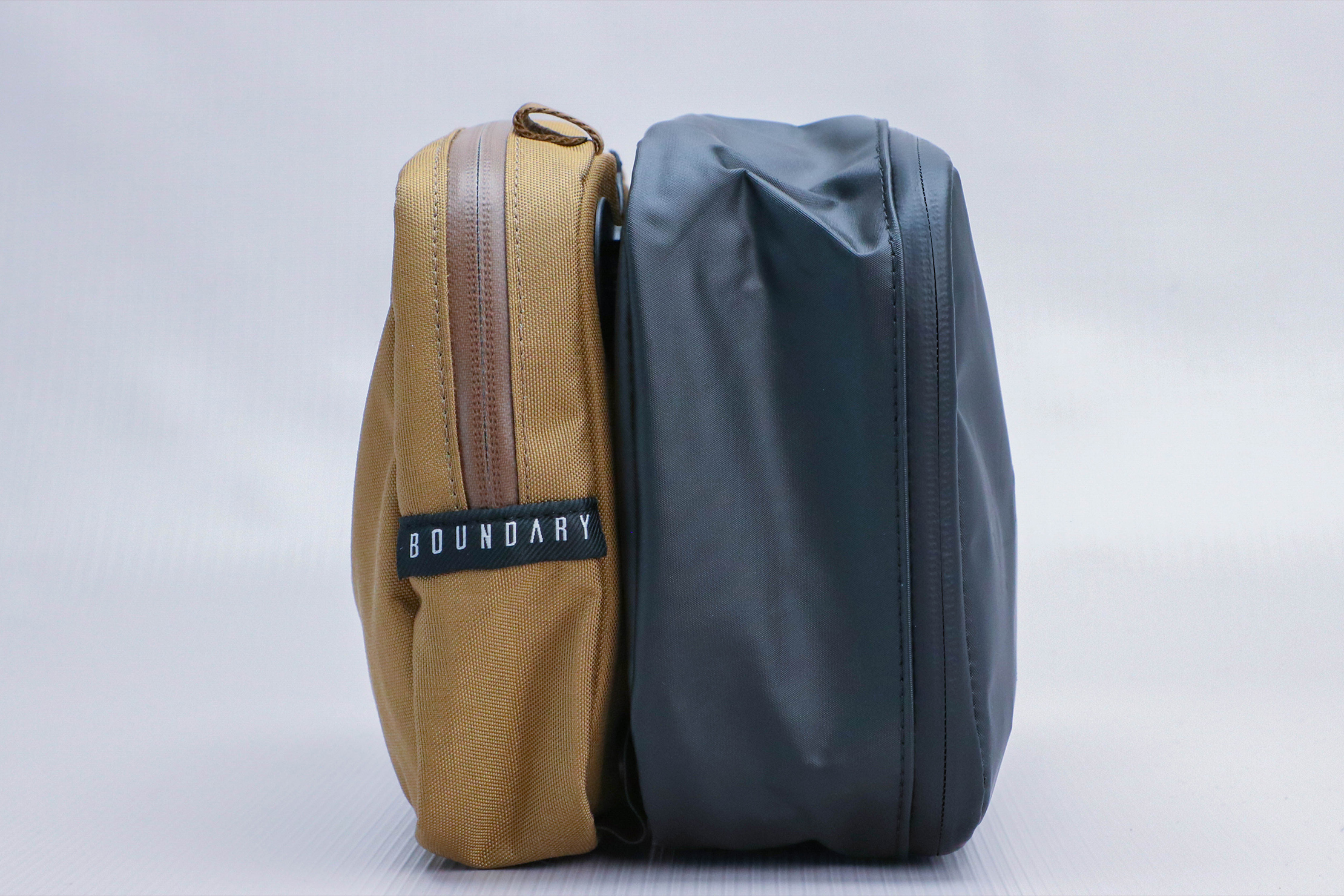 Individually, the two halves of the Port Kitt are quite good-looking pouches. The toiletry kit has a sleek finish thanks to the 210D nylon, which is fairly water-resistant. Accidental splashes are easily taken care of, with little being absorbed, if any. There's only a subtle glossy Boundary logo at the front, but nothing flashy or in-your-face.
On the other hand, the beige tech pouch has a nice almost heritage style that does a good job of hiding the fact that it's a tech pouch. That's camouflage for you and your expensive tech accessories, and it's also quite durable. The fabric is made out of Kodra nylon, a material Boundary Supply often uses in their gear like the Errant Pack. But if the beige color isn't your thing, there's also a blue and a black variant available at the time of writing. Other materials include water-resistant YKK zippers (even the tech pouch gets reverse coil zippers), strong magnets, and very tactile snap fasteners that bind the two halves securely together.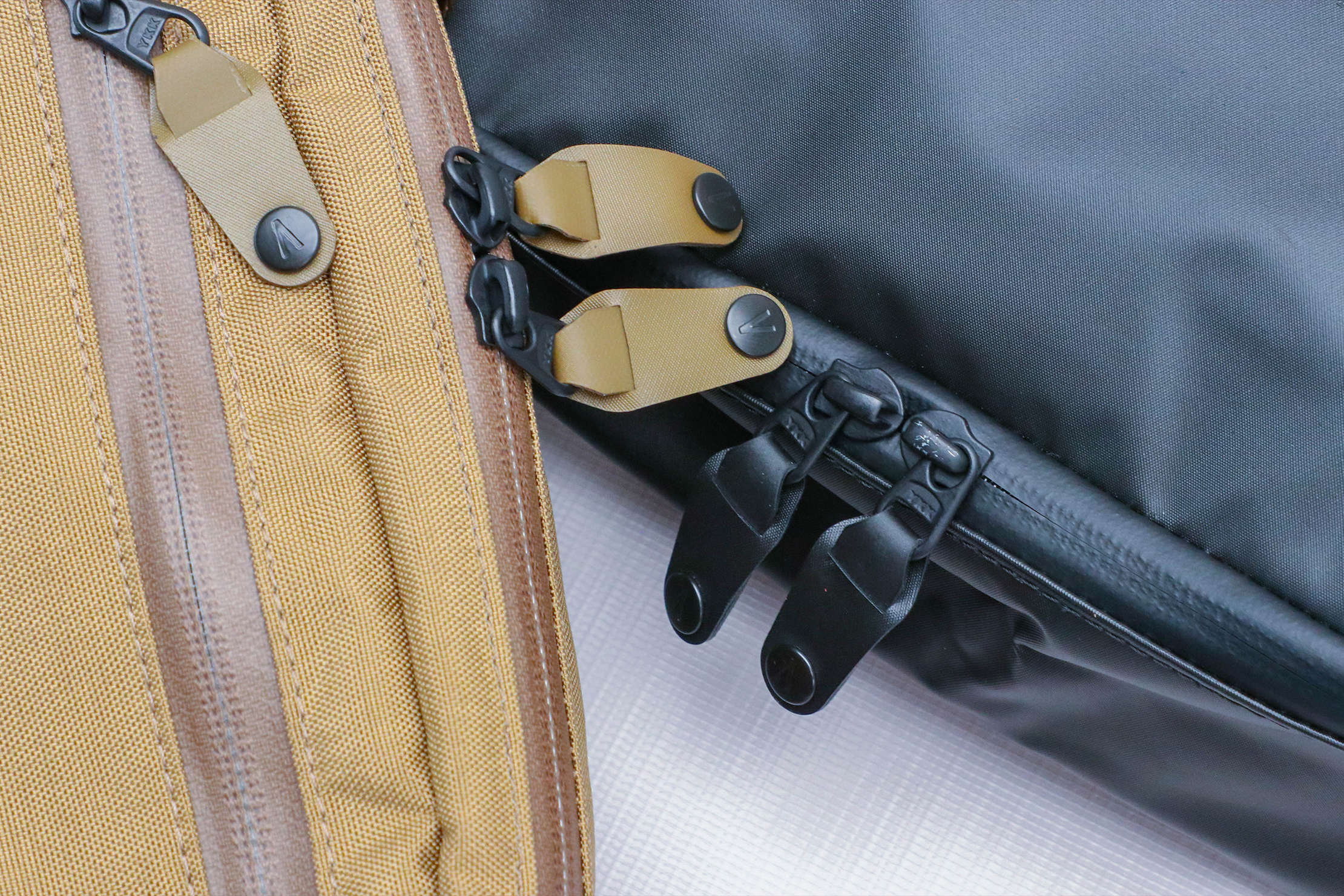 Whether it's split in two or as an absolute unit of a 2-in-1, the Port Kitt is undoubtedly well-made. We haven't encountered any tears on any of the fabrics, malfunctioning hardware, loose threads, or worn elastics. We haven't had any noteworthy problems when it comes to Boundary Supply's build quality with their gear, and the Port Kitt thankfully doesn't buck that trend.
Usage & Features
Let's first elaborate on how the Port Kitt's two halves are held together. At the back of both the tech pouch and toiletry kit are magnetic attachment points. The tech pouch has two receptacles, while the toiletry kit has two corresponding pins. The pins slide in from the inside, and they stay pretty secure until you pull them out deliberately from the receptacles. We can't credit it all to magnets, though. Just below the magnets are snap fasteners that secure the bottom halves together. The snap fasteners on the tech pouch are on small tabs, which you can secure by fastening the snaps to corresponding receptacles along the bottom of the pouch.
Most of Boundary Supply's gear have built-in magnetic attachment points that make their gear inter-compatible with each other. For example, the Rennen Recycled Daypack has two protruding pins at the top of its laptop sleeve where the Port Kitt's tech pouch can attach to. However, since these attachment points are either pins or receptacles, only certain combinations work. For instance, while the tech pouch can attach to the Rennen Recycled Daypack, the toiletry kit can't since both have pins.
The Port Kitt's tech pouch doesn't have many bells and whistles going for it. Outside is a simple zippered quick-grab pocket for frequently used accessories like memory cards and USB thumb drives. Interestingly, Boundary Supply puts a bit of extra water resistance for this pocket by having a little zipper garage at the end of the opening. Keep in mind that this is a relatively slim pocket, so chunky charging adapters may not fit well inside.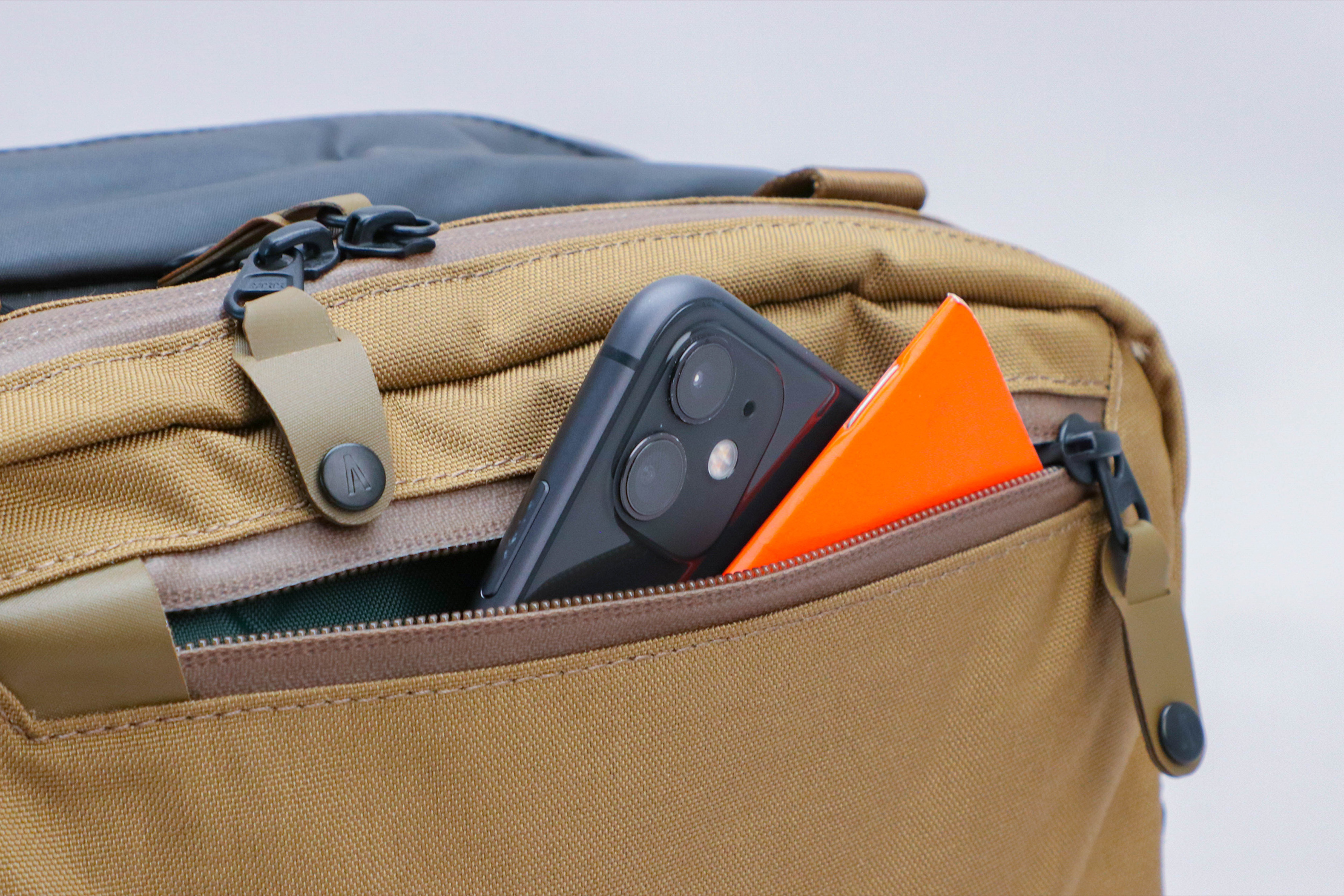 Stuff like that goes in the main compartment where there's a lot more volume. The horseshoe-style opening is accessible, but relatively speaking, this isn't the most spacious tech pouch in terms of front-to-back depth. Some accessories may still struggle to fit inside, especially once you've filled out the loops and mesh pockets at the back and front, respectively.
There are two elastic mesh pockets at the front side of the main compartment. Each one is big enough to take in a MacBook's OEM charger, which is fairly chunky on its own. There's a good amount of stretch for even beefier items, but the only accessory we had to test that out is a battery bank that's too tall to fit inside anyway.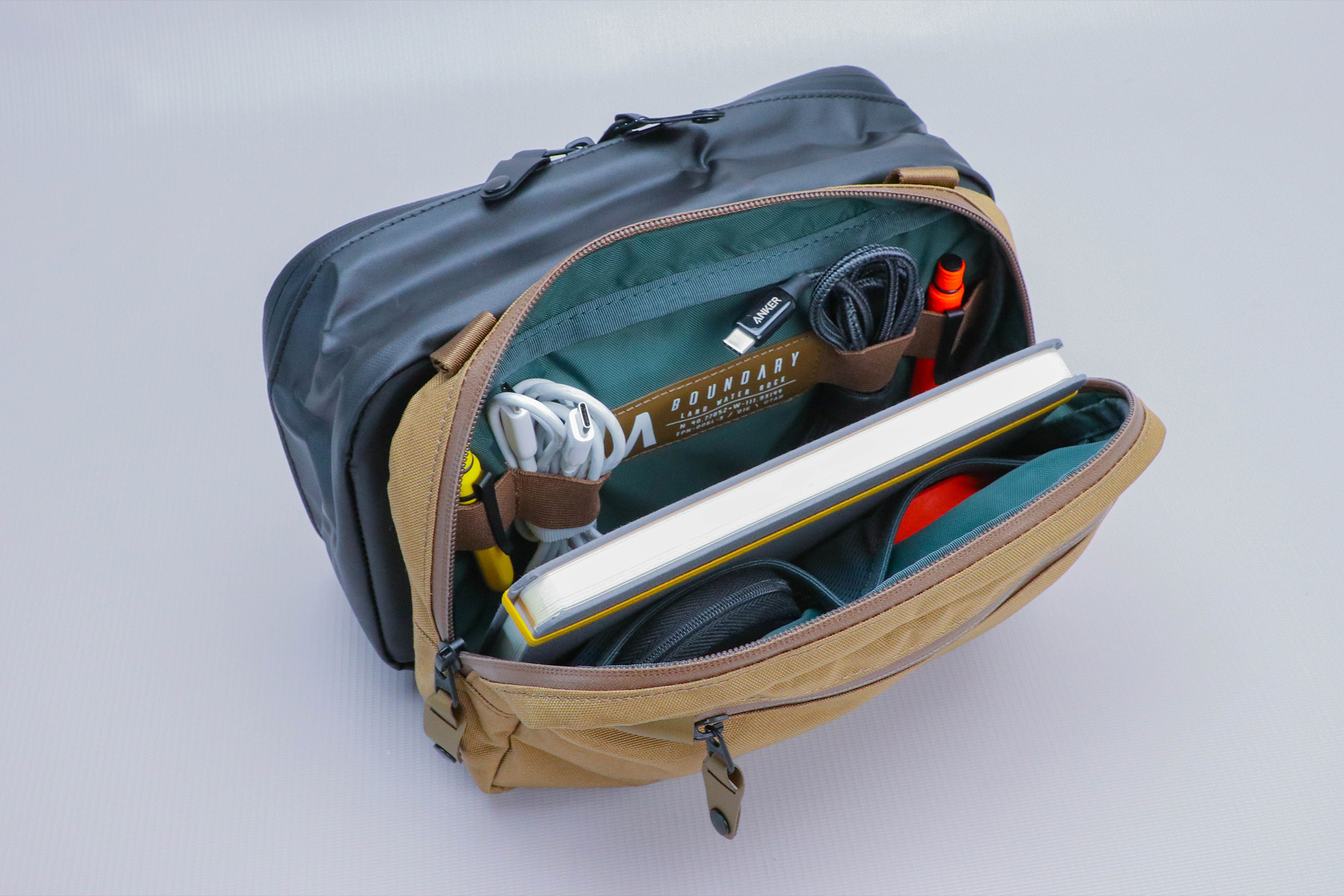 Towards the back are elastic loops, four in total, with two on each side of the stitched logo in the middle. They work well enough, but we found them to be a little too tight. Even slim USB and Lightning cables had trouble getting in and out of the loops, and it really affects the accessibility for cables like these. These loops just aren't as stretchy as we hoped they would be.
Despite the toiletry kit's more discreet and subdued styling, it's arguably the more equipped half of the Port Kitt. Okay, there's no exterior quick-grab pocket, unlike with the tech pouch, but trust us, there's a lot more going on inside. What is on the outside and around the back is an adjustable strap that's thoughtfully designed. There's a vertical nylon rail where a magnetic buckle connects; the buckle itself hangs from a separate strap.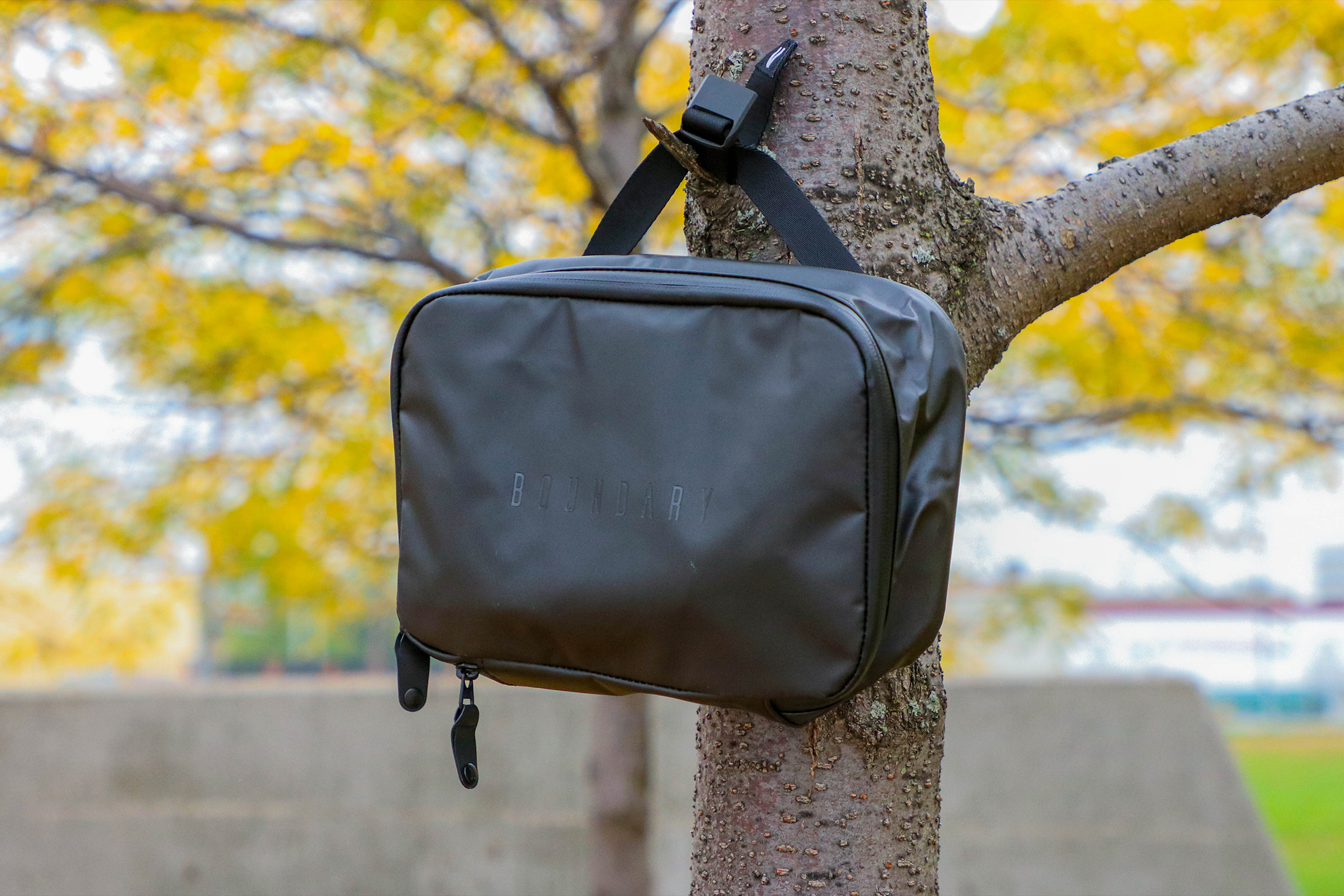 You can see it more clearly through the photo above. The buckle's strap is stitched in two places to hang on the bars of a towel rack in a more balanced way. Some toiletry kits like the Peak Design Wash Pouch hang from a hook. A single point of attachment like a hook does also work, but they're fairly easy to tilt if jolted the wrong way. As mentioned, the strap is length adjustable, so you have some freedom to move the pouch vertically.
The toiletry kit opens up fully clamshell-style, and in a way, it sort of reminds us of a camera cube, albeit smaller. The main compartment is in the style of an open bucket where you can dump toiletries in. However, the ideal approach is to use the four elastic loops at the back as much as possible. Not all of our travel bottles fit, though, so we squeezed some to the sides. There's also a dedicated loop for a toothbrush at the top, just above the other loops.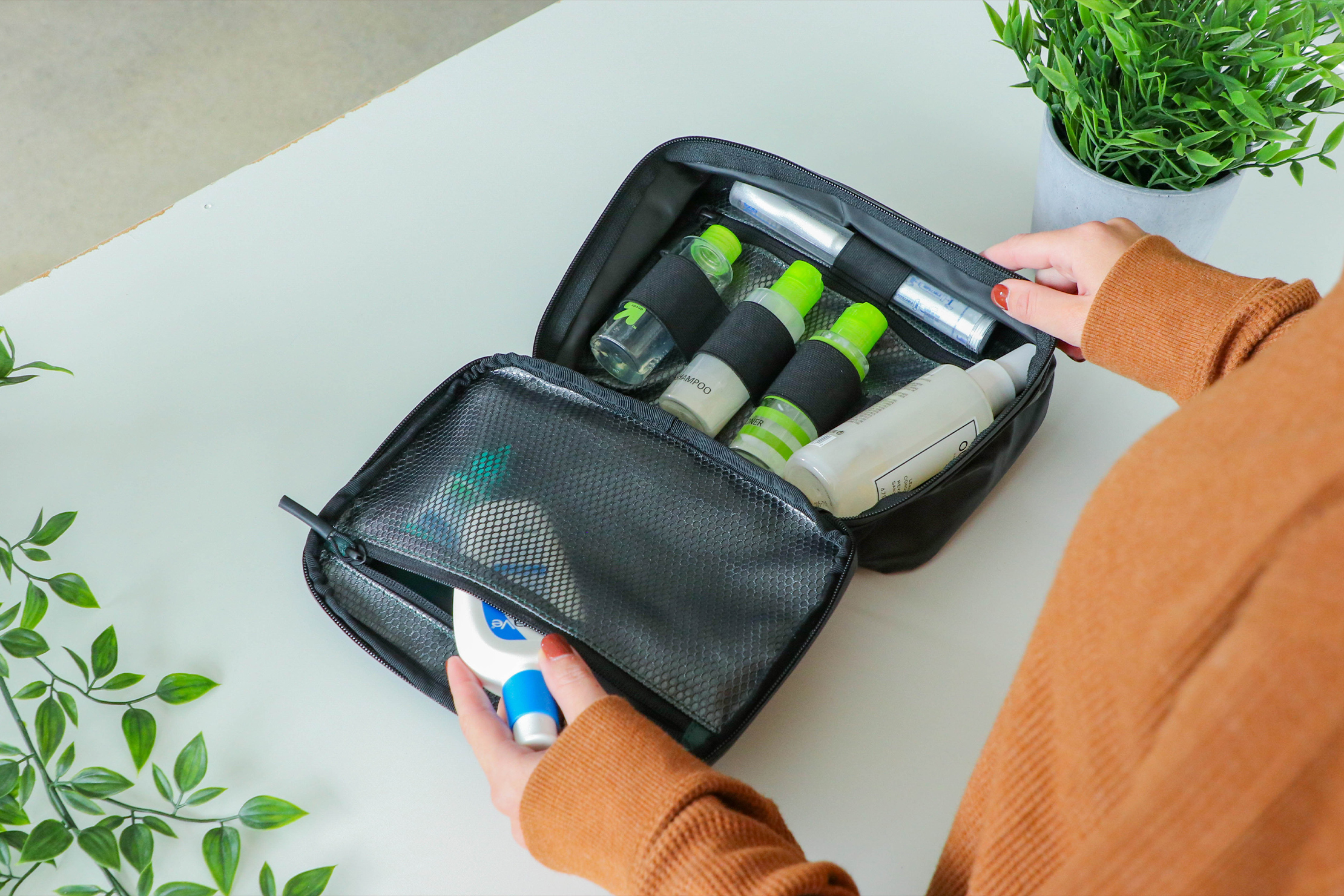 There are two zippered semi-see-through pockets for other accessories like cotton balls, cotton swabs, sachets, razors, and pocket mirrors. There's one at the back just behind the loops. In practice, though, this pocket is quite hard to access, especially once you have the loops occupied. On the flip side, the pocket has gussets that allow it to expand and have enough room for the likes of compact electric travel razors.
The lid pocket doesn't have as much volume as the back pocket, but it's still useful for storing more frequently accessed items. One flaw with this pocket is that when the pouch is hanging, this one opens and faces downward, potentially risking items inside falling down to the floor. A small lip along somewhat prevents this from happening, but we just wish Boundary Supply flipped the orientation the other way around to stop it from happening altogether.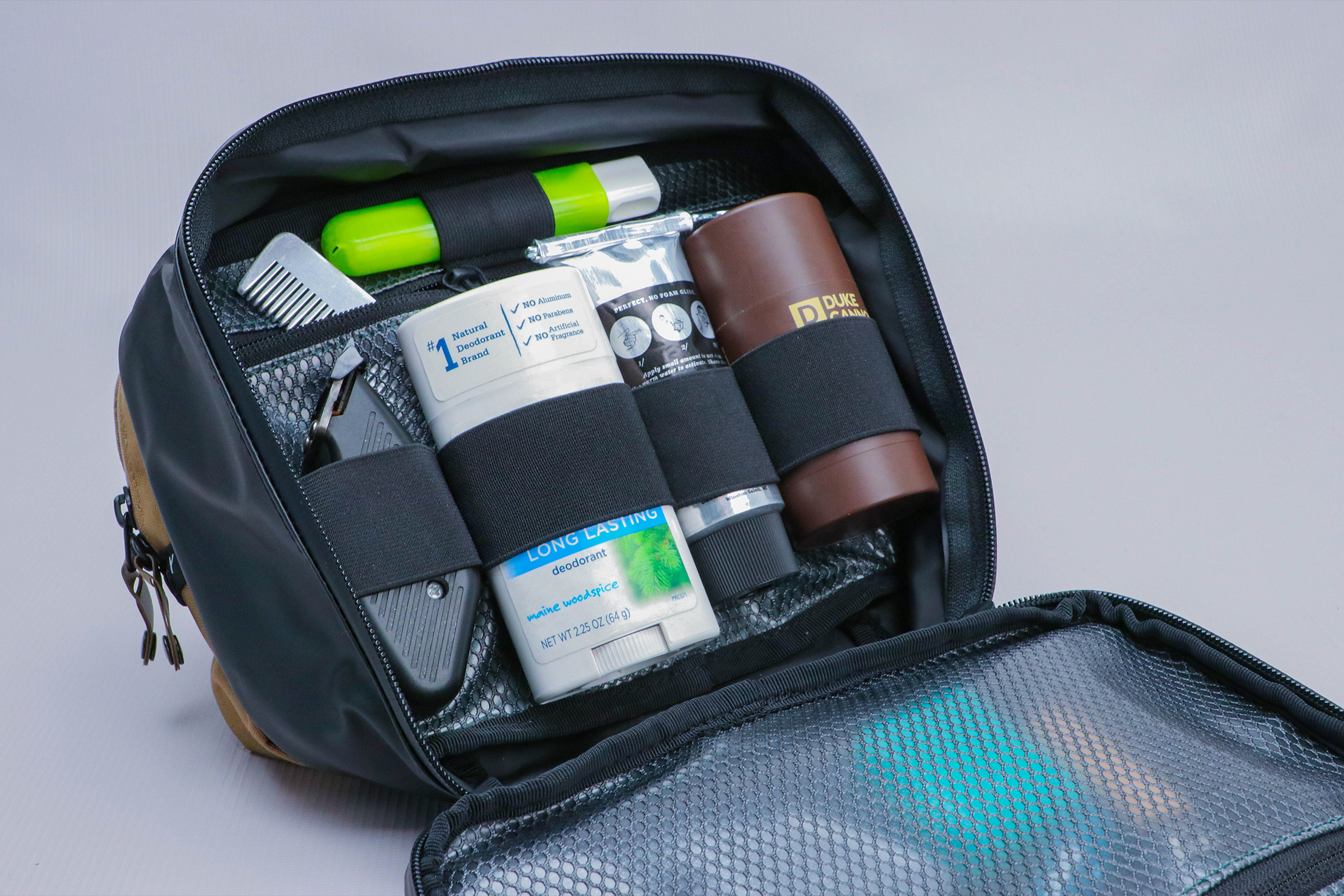 Apart from the awkward downfacing opening of the lid pocket, the toiletry kit is fairly capable of its function. The interior fabric is mostly covered by the two interior pocket's slick translucent material. Even if we accidentally spill lotion or shampoo on the material, the stain is minimal and easy to clean up.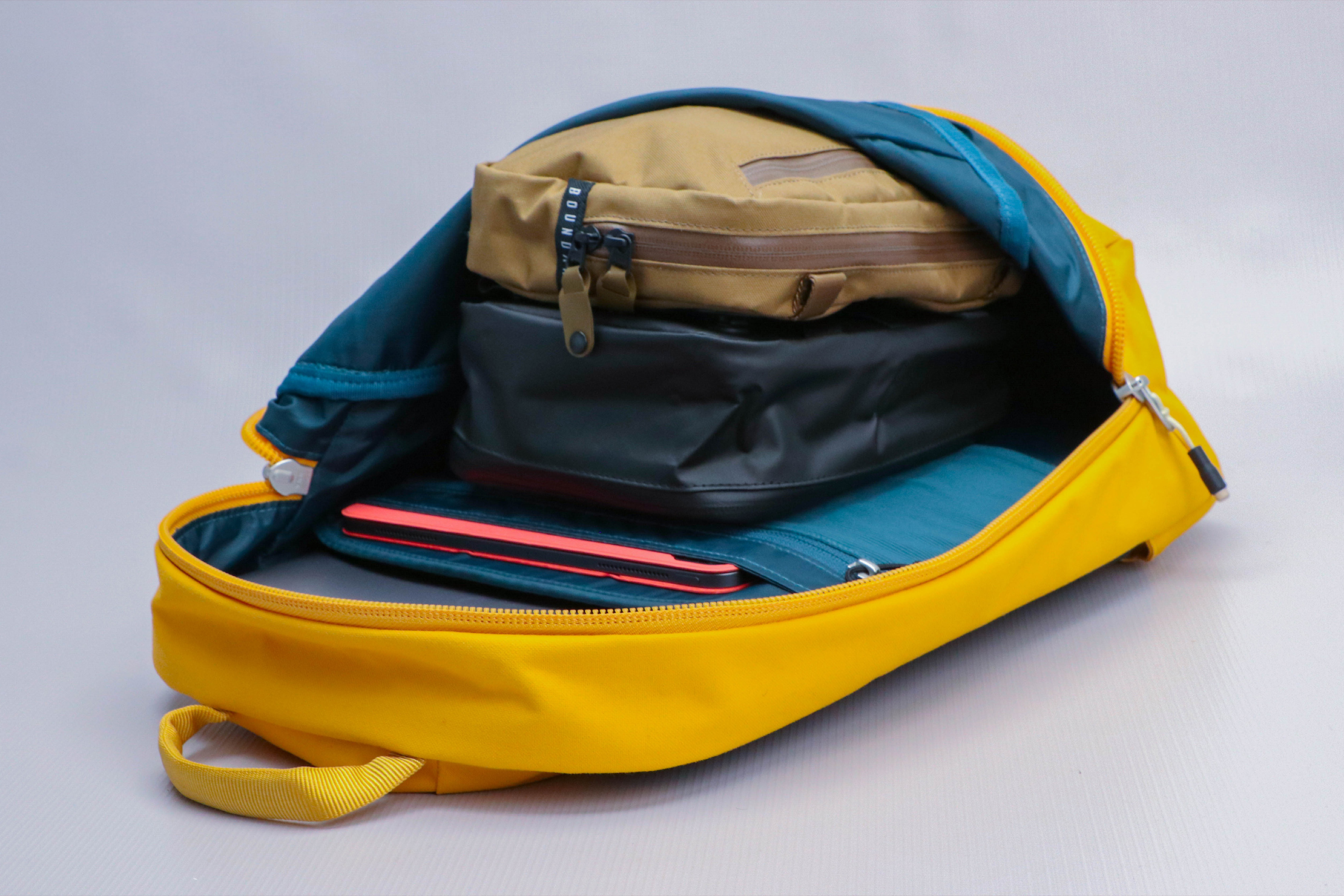 Individually, the Port Kitt's components are fairly capable pouches; not perfect, but certainly well-made and functional. However, we won't lie; we struggled to find a use case where we'd need a tech pouch and toiletry kit attached together. Brought together on a trip, yes, but having them attached isn't very convenient, especially when you consider that there's no built-in handle. Put together inside a bag, it's also quite bulky and will struggle to fit in most 20-liter daypacks. The use case is pretty niche, but if you're looking for this exact package, then it's worth considering—at the very least, you're getting two capable pouches in one.
Usage Timeline
Initial Usage
Condition: Excellent
Part tech pouch, part toiletry kit, this is a 2-in-1 solution
Combined, this is a pretty thick unit
The toiletry bag's interior is pretty basic, but the tech pouch is bit more capable
2 Weeks of Use
Condition: Excellent
Two separate pouches are nice to have, but when connected, they're a bit too bulky for easy storage in a bag
Magnetic docking system on tech pouch side can also be used with Boundary Supply bags
Material is in good condition, minus a few blemishes on the back of the toiletry bag
Tech pouch's loops can be a bit tight
Toiletry bag has limited organization, but the tub design allows for you to just dump things in
Access the Pro Community Discussion
Get your questions about the Boundary Supply Port Kitt answered from our team and the Pro Community right here on the page. Plus, join discussions with other members about gear, guides, and more.
Other Organizers & Pouches Reviews