Aurelle TOOB Brush Review
The Aurelle TOOB Brush travel toothbrush cleverly integrates a reusable tube for toothpaste. Convenient and environmentally friendly—just the way we like it.
Our Verdict
Unlock the Pro Summary
Save time. Get access to brief summaries of our reviews so you can browse and make decisions more efficiently.
Pros
Combines a toothbrush and toothpaste dispenser
Reduces need for single-use tubes
Can stand on its own
Cons
Brush head's base has a gap where grime can gather
Tube's thin black cap can be hard to unscrew with slippery hands
Tube can easily overflow during refills if not done carefully
Recent Pack Hacker Video
Technical Details
Weight (oz)

1 oz (28.3 g)

Dimensions

6.125 in x 0.5 in (15.6 x 1.3 cm)

Manufacturing Country

Canada
Buying Options

$7.95
$14.95
Full Review
The humble toothbrush and toothpaste are two common items in our toiletry kits that just go hand in hand. Having only one or the other doesn't give you a complete clean no matter how hard you try to convince yourself or your dentist. At home, it makes sense to have these as separate items since you have the available space. But for travel purposes, why not combine the two?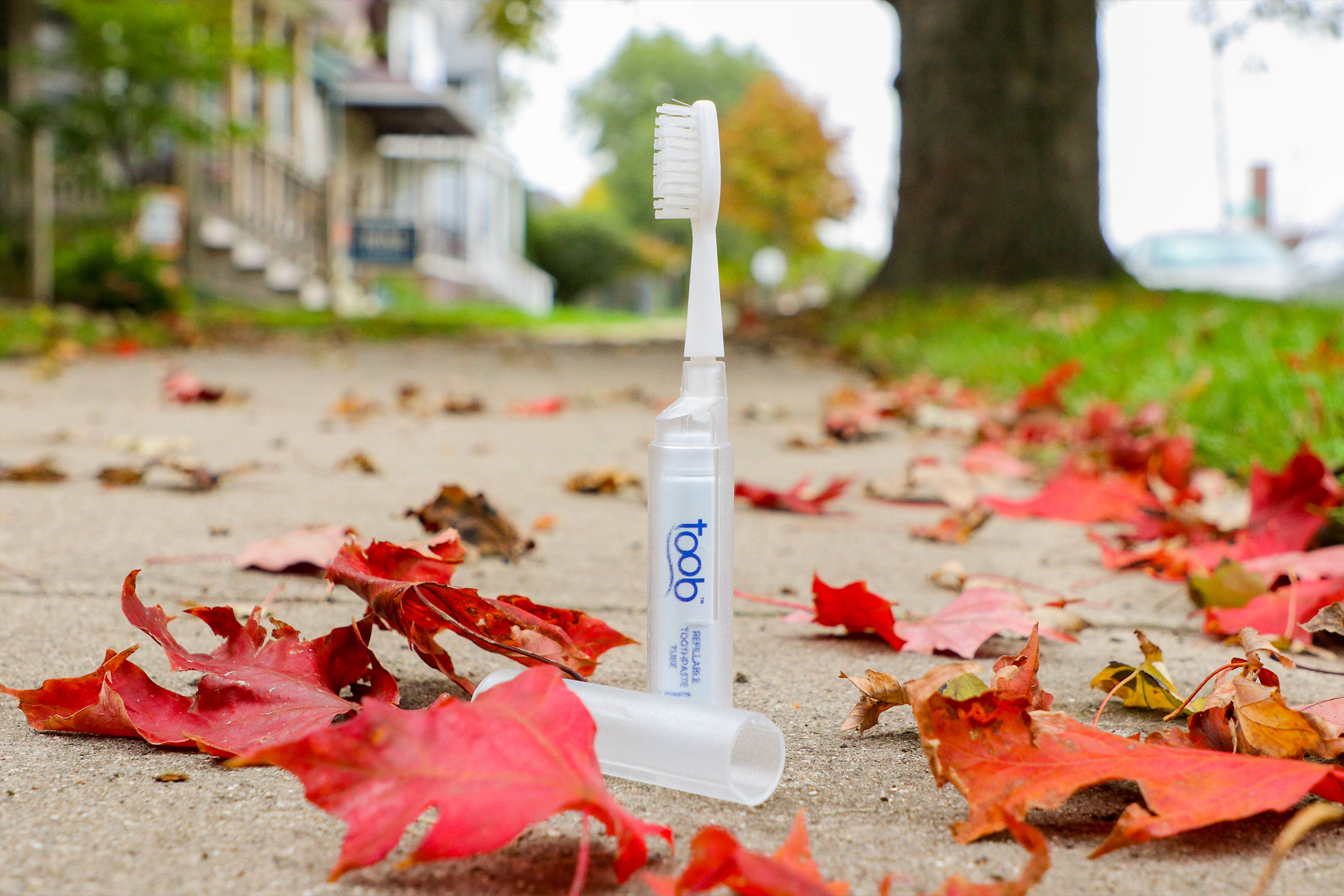 That's what Aurelle thought, and this is their answer: TOOB Brush Toothbrush. It's a 2-in-1 solution that combines a travel toothbrush with a little reusable tube that you can refill with your own toothpaste. It's an interesting concept, to say the least, especially for those always on the lookout for ways to streamline their packing list.
Materials & Construction
The TOOB looks and feels similar to most budget travel toothbrushes. From the plastic body to the seemingly removable brush head, everything feels familiar for the frequent traveler. Where things start to feel different is when you look beneath the handle. It's a bit translucent, and you can sneak a peek at the killer feature just lurking inside. We'll get into that in the next section.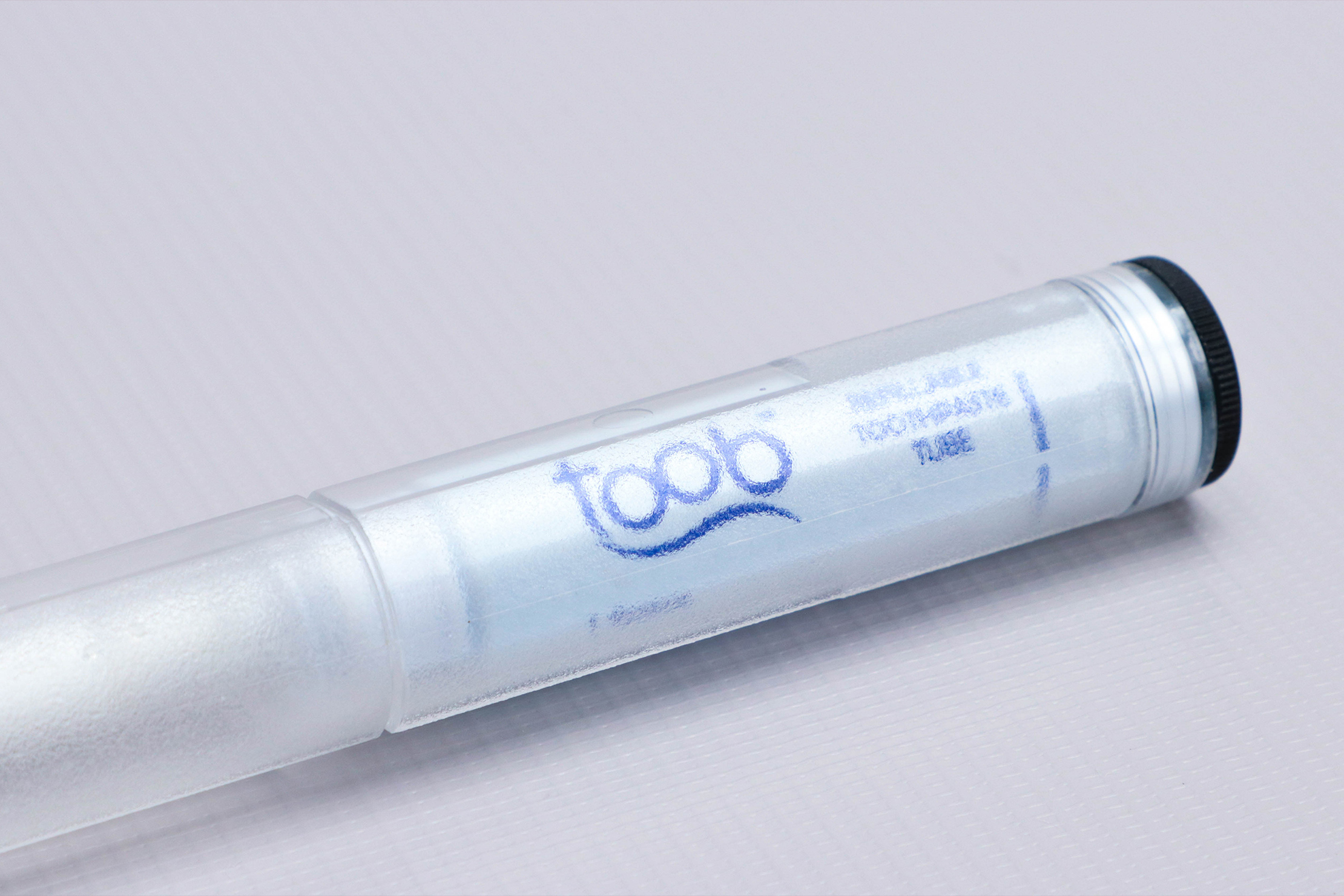 At the time of writing, the TOOB comes in two colors. We're using the white one in this review, but there's also a blue one available. These are safe choices for any hygiene product, though the translucent plastic does make us wonder if it will stain over time. Fortunately, ours hasn't, and the TOOB is still looking as pristine as our pearly whites.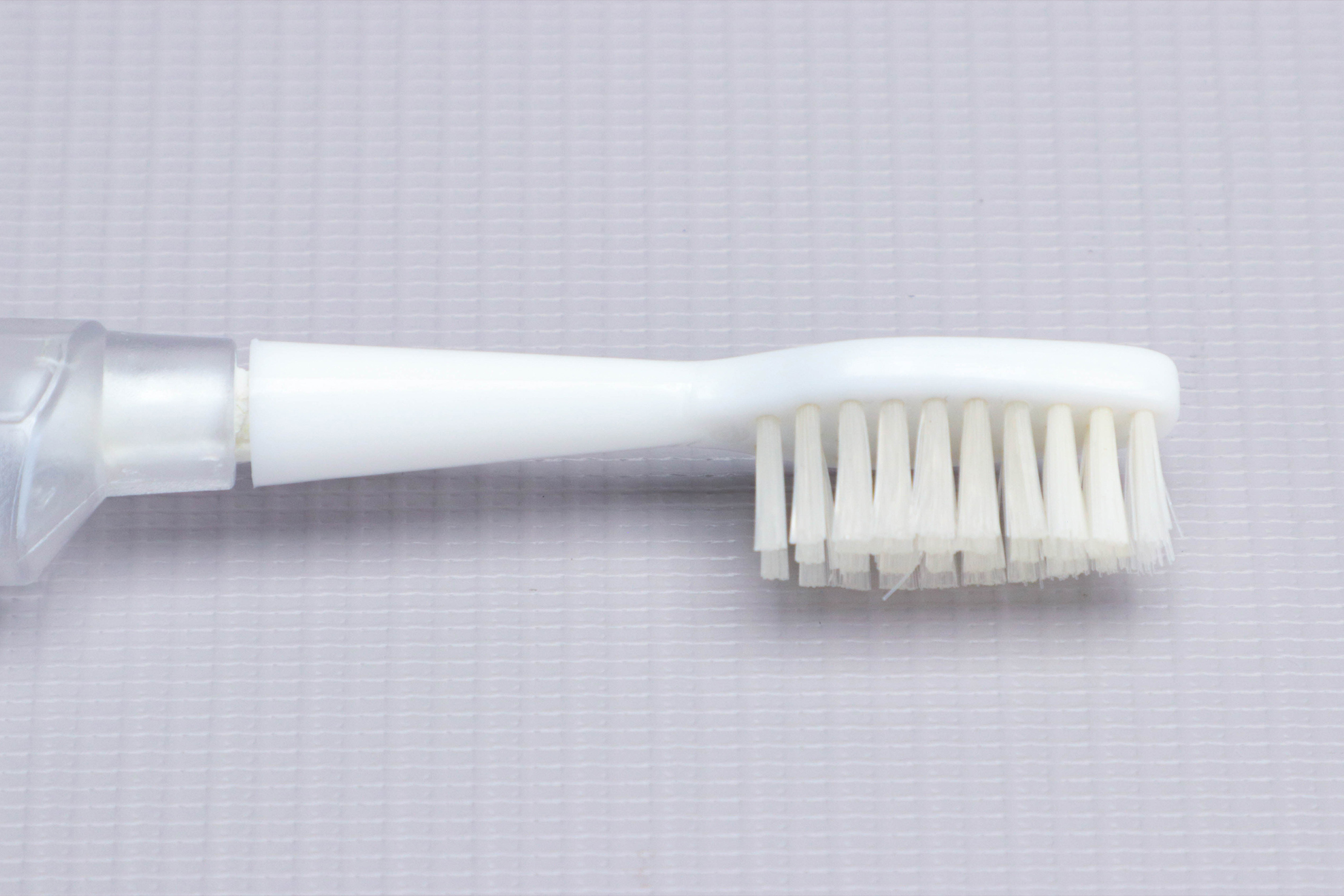 We've sampled a lot of convenience store-bought travel toothbrushes over the years. Most of them feature a hollowed-out cap that plugs into the bottom to act as a handle. These handles don't feel all that sturdy because of how thin the plastic is. In a way, the TOOB shares a similar hollowed-out design. However, the TOOB's plastic handle is relatively thick and sturdy. The rounded design certainly helps keep it strong even if you have the grip strength of a silverback gorilla.
Usage & Features
The TOOB not only looks familiar, but it also works pretty much the same way as some travel toothbrushes. The cap pops off to reveal the white brush head inside. But unlike some common travel toothbrushes, the cap doesn't plug to the bottom to form the handle. It has a hole at the end for drainage, which, according to Aurelle, you can block with your finger so you can use it as a swish cup. Keeping it on a slightly sloped surface can be a challenge because it's rounded and can roll off. Fortunately, each end of the TOOB is flat, so you can put both the brush and the cap upright.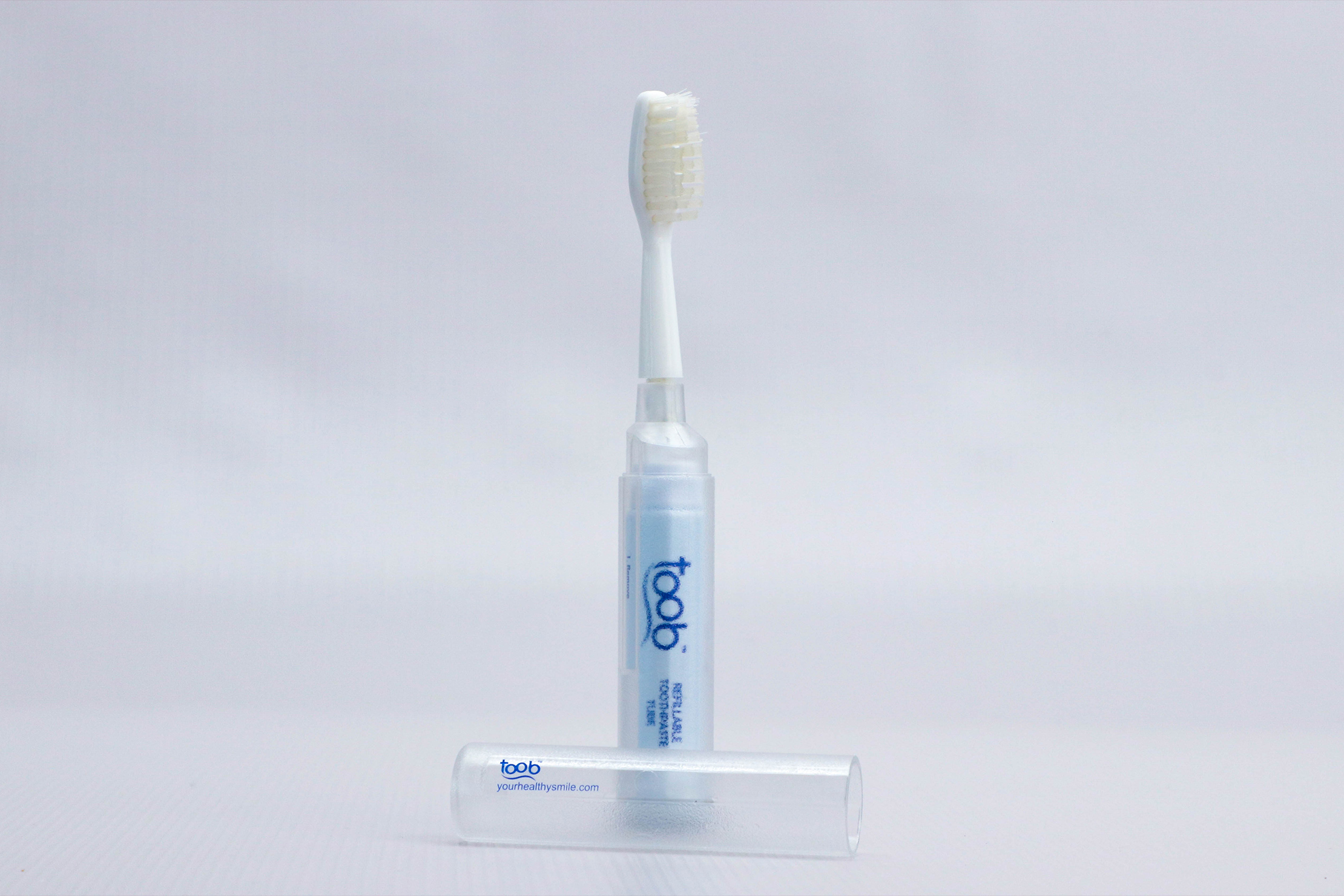 The brush head itself is also pretty standard, providing a good clean (though that part's still dependent on you and your own brushing habits). The bristles are on the firm side, though not uncomfortable to use by any means. On the flip side, the bristles remain pretty solid, and they're exhibiting little to no noticeable bowing out—a good sign for a reusable toothbrush. One thing worth noting is that there's a noticeable gap between the brush head and the handle. It's significant enough to make us think that the brush head is replaceable, but we couldn't pull or twist it off to confirm.
Everything above this sentence pretty much sums up the toothbrush aspect of the TOOB: so far, so standard. But, the most unique feature of the TOOB is arguably the built-in reusable toothpaste tube. We can't overstate how much we love using it because of how elegant of a solution it is in practice.
At the base of the TOOB is a two-part cap. The bottom-most black cap is for refilling the tube while popping off the translucent portion takes the entire tube out for use. Like the toothbrush, the tube used here closely resembles its travel-sized counterpart. The biggest upside here is that the TOOB's is entirely reusable, unlike single-use toothpaste tubes—mother nature would be proud.
Refilling the tube is fairly straightforward. Simply uncap the tube's top cap so that air has a path to escape once you start filling the tube. Unscrew the black cap at the base and connect your own toothpaste tube at home. Be careful not to squeeze too hard because the small tube is easy to fill up, and some might spill through the other end. You'll know it's refilled once the sides begin to bulge out, and you can re-cap the top and base again.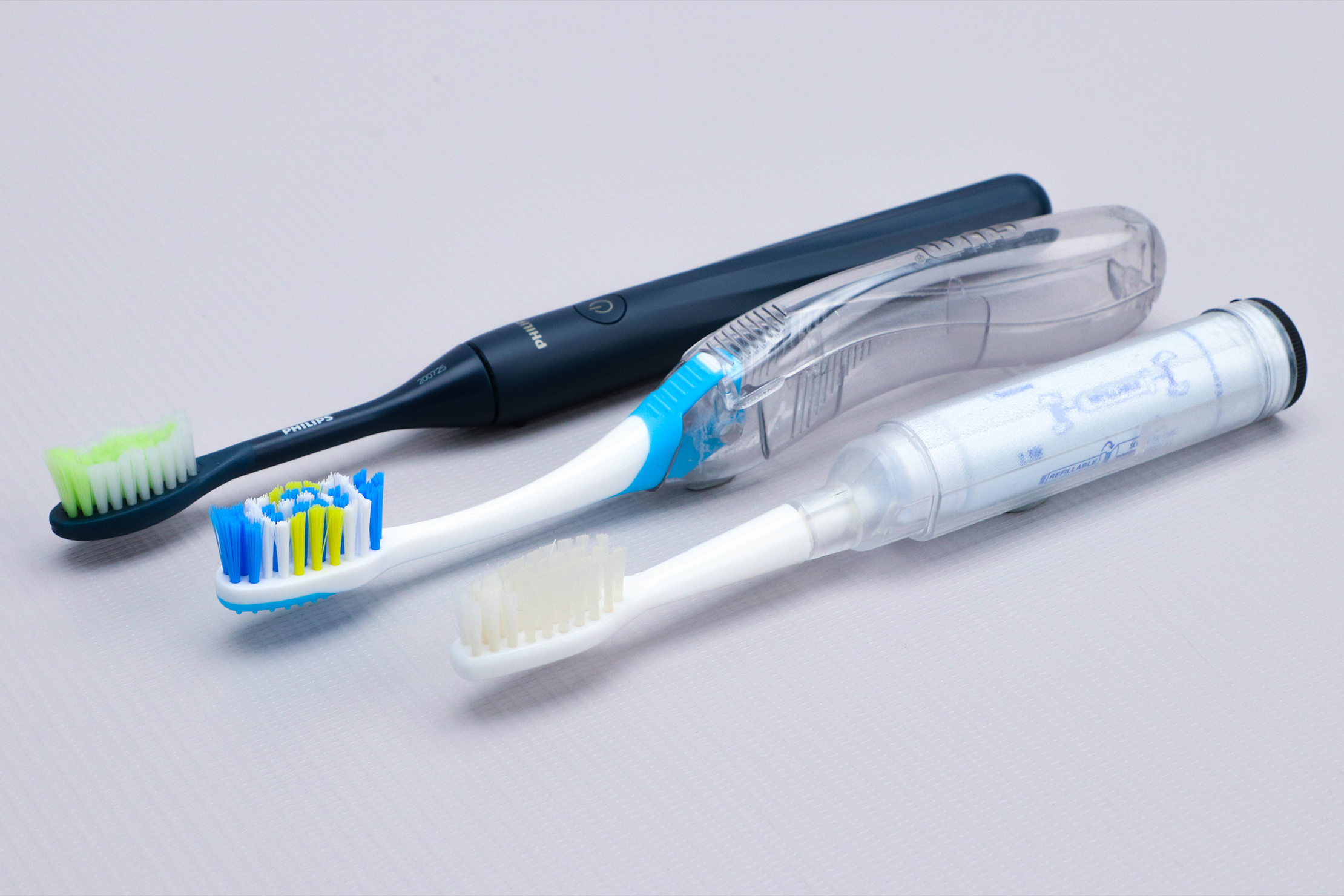 As a package, the TOOB isn't all that small or compact compared to other travel toothbrushes we've encountered. For example, the TOOB's extra length is immediately apparent compared to the folding and more compact GUM Travel Toothbrush. But remember, the TOOB combines both a toothbrush and and a tube of toothpaste, ultimately saving you space. The tube is small, but after two weeks of use (at least) twice a day, we still had a little toothpaste left. How often it requires a refill will depend on how much toothpaste you use when you brush.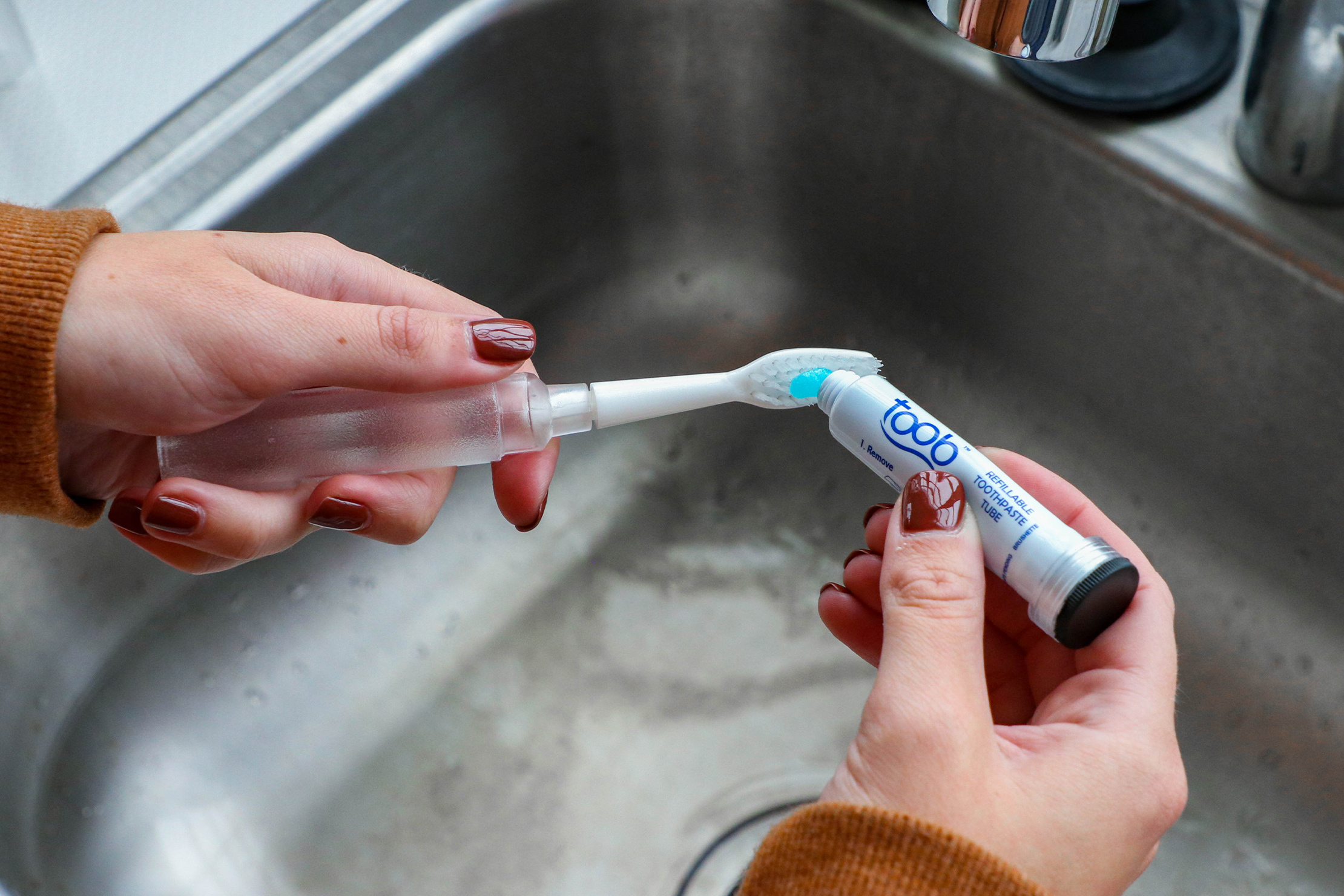 That's all there is to it, really; the TOOB simply combines the convenience of a travel toothbrush with a travel-sized toothpaste tube in a one-stop solution. That may not seem like much, but the pursuit of trimming down every spare ounce in a packing list knows no bounds for some. For us, the TOOB is a clever idea that's hard to pass up, and we're glad to add it to our arsenal as a clever hack.
Usage Timeline
Initial Usage
Condition: Excellent
Comes with a tube that you can fill with your own toothpaste
Feels light once the tube is removed
Tube refills directly by threading a tube of toothpaste to the bottom
2 Weeks of Use
Condition: Excellent
Bristles are nothing special or innovative but clean teeth well
Refillable tube lasted about two weeks with some toothpaste to spare but will vary depending on how much you use every time you brush
Flat bottom allows it to stand up straight, which is great for resting on a counter
Plastic lid and handle is thick and sturdy
Access the Pro Community Discussion
Get your questions about the Aurelle TOOB Brush answered from our team and the Pro Community right here on the page. Plus, join discussions with other members about gear, guides, and more.
Other Toiletries & Personal Care Reviews