Aer Pro Sling Review
The Aer Pro Sling's roomy main compartment is a good match for large everyday carry gear, though smaller items tend to get lost.
Our Verdict
Unlock the Pro Summary
Save time. Get access to brief summaries of our reviews so you can browse and make decisions more efficiently.
Pros
Removable strap lends customizability to carry
840D fabric lightweight without sacrificing durability
Functions as a standing desk pouch
Cons
Strap's mounting feels less refined than expected
Small gear can fall out of reach at the bottom
Need to open two zippers to access key leash
Recent Pack Hacker Video
Technical Details
100 %
Carry-on Compliance
Capacity

4.5l

Weight (lb)

.6 lb (0.3 kg)

Denier

840D

Dimensions

7 in x 11.5 in x 3.5 in (17.8 x 29.2 x 8.9 cm)

Notable Materials

CORDURA®, Recycled Nylon, YKK Zippers, Duraflex Hardware, Paracord

Manufacturing Country

China

Tablet Sleeve Size

8"

Warranty Information
Full Review
Get up to 10% off Aer • Join Pack Hacker Pro
The Aer Pro Sling trades in a few key characteristics we've grown accustomed to with the brand's gear. CORDURA 1680D ballistic nylon? That's now CORDURA 840D re/cor recycled nylon. A front pocket with YKK AquaGuard zipper that forms the visor-like facade? Nope, just a tastefully applied logo. How about a magnetic buckle? Still no? Yet, the "Pro" is in the name, so what gives?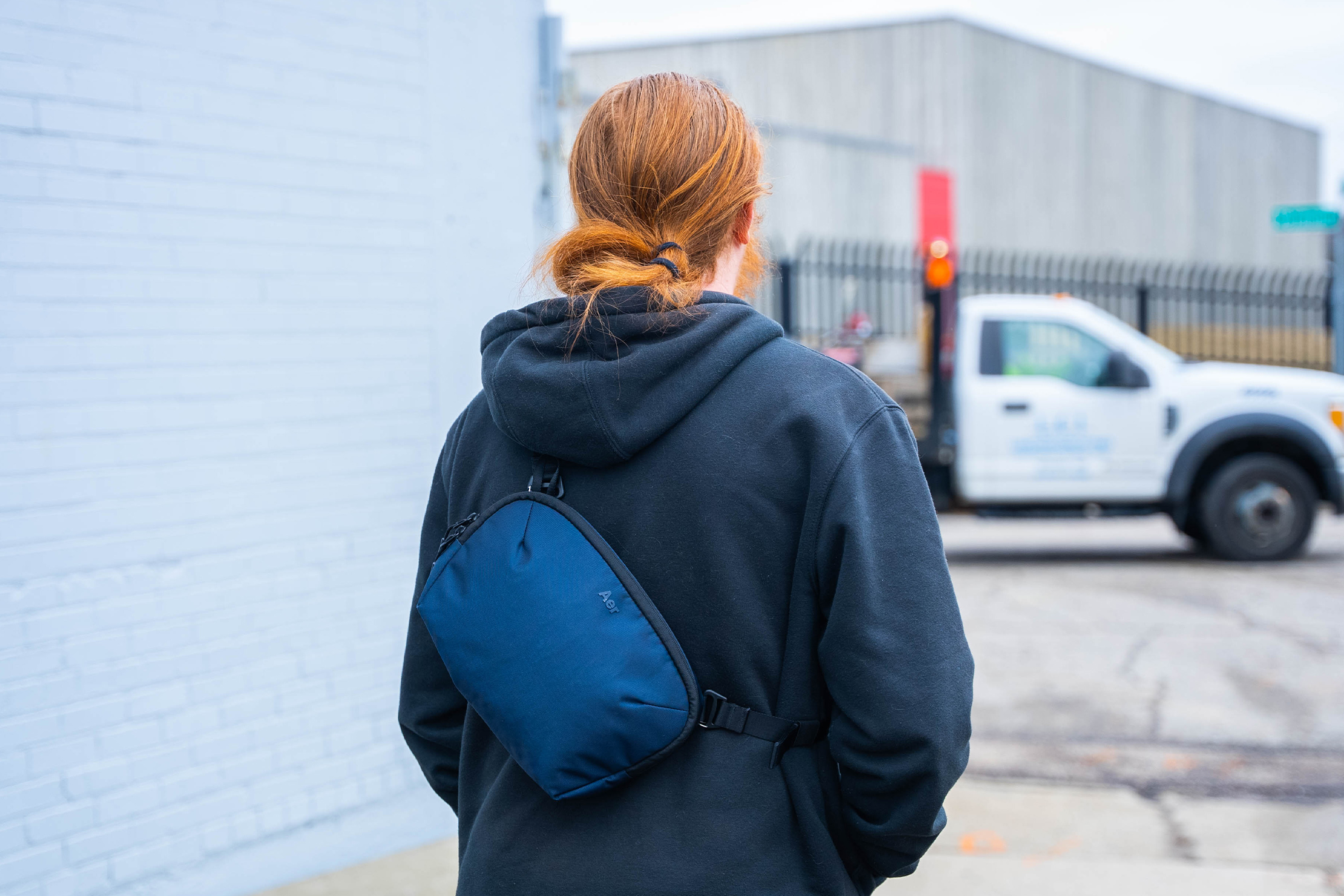 Well, the Pro Collection is designed for city professionals and focuses on sustainable materials and smart details. Perhaps it's less about more fancy features and more about streamlining their design, and we can see how it manifests in the Pro Sling.
While the included strap is rather plain, it is removable and easy to adjust. The 840-denier fabric may be half the denier of 1680D, but its lightness makes the Pro Sling easier to handle while still being overall durable. And the lack of a front pocket? You'll have to read the rest of the review to find out how that affects the Pro Sling's performance.
External Components
The first twist to unpack is Aer's decision to forgo CORDURA's 1680-denier ballistic nylon. That fabric has been a staple for a lot of their gear, and for a good reason. It's tough, sleek-looking, and gives bags good structure. Instead, they've opted for CORDURA's 840D re/cor recycled nylon. While it may not be as resilient as its 1680D cousin, it feels significantly lighter while maintaining enough durability to stand up to everyday use in the city—which is where Aer intends for you to use the Pro Sling. It's also bluesign approved, and responsibly made to meet high standards.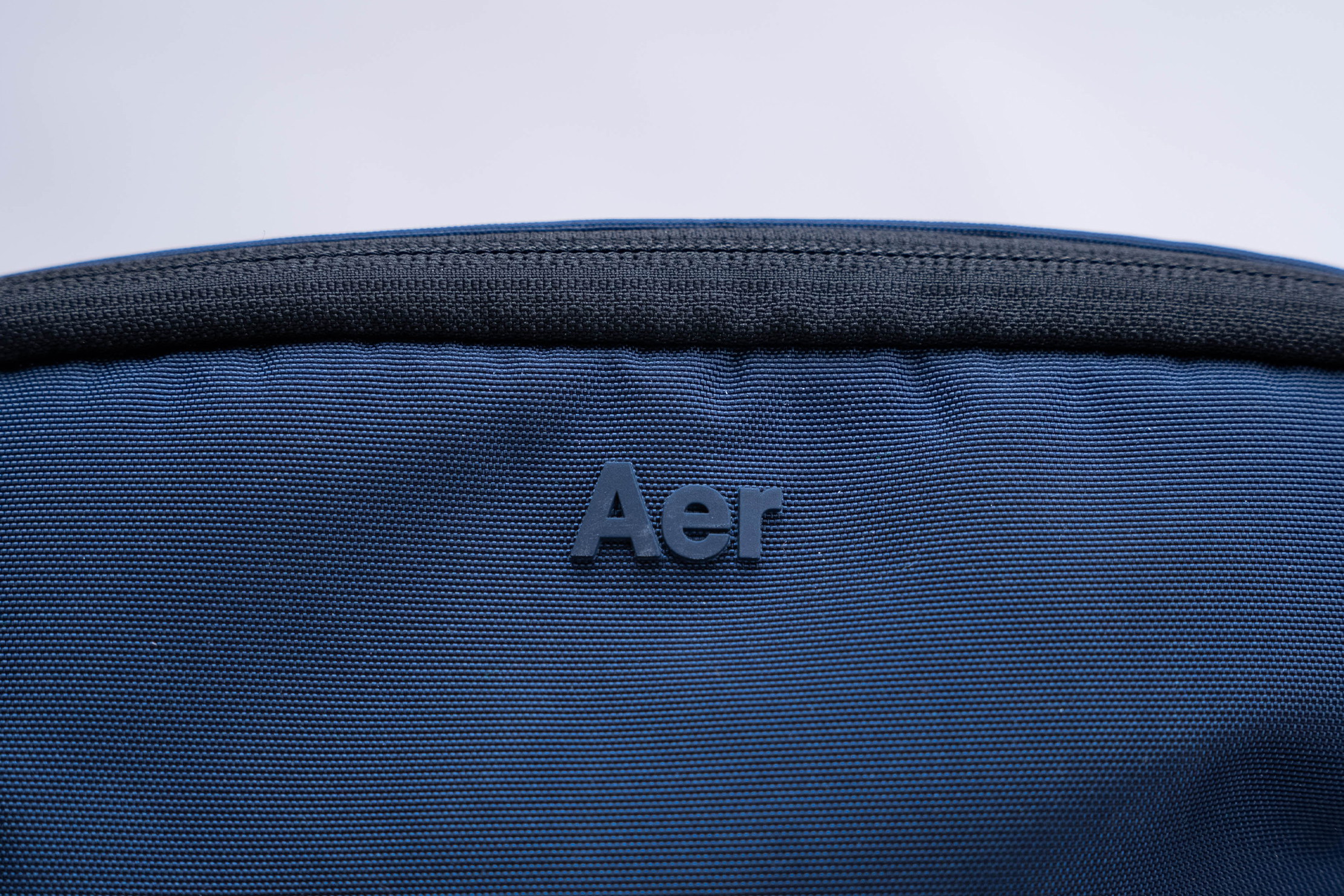 The Pro Sling uses #8 YKK zippers, with the notable absence of an AquaGuard type. Aer typically places that on the front pocket, where it would cut across the sling's front horizontally. In a way, it's also part of Aer's signature, so it's a bit surprising to see them omit this. Not to worry, though, because in its place is an Aer logo at the top. Depending on your preference, the bold typeface and prominent positioning will either feel out of place or refreshingly new. We're in the latter camp, as the typical simple tab with an Aer logo probably wouldn't do the Pro Sling justice.
Aer says the zipper pulls are a new design, though it's worth noting that the rear pocket's pull uses heat-shrink material instead. That's good attention to detail because the new pulls are relatively chunky, so they can potentially poke against your body if they land at an angle.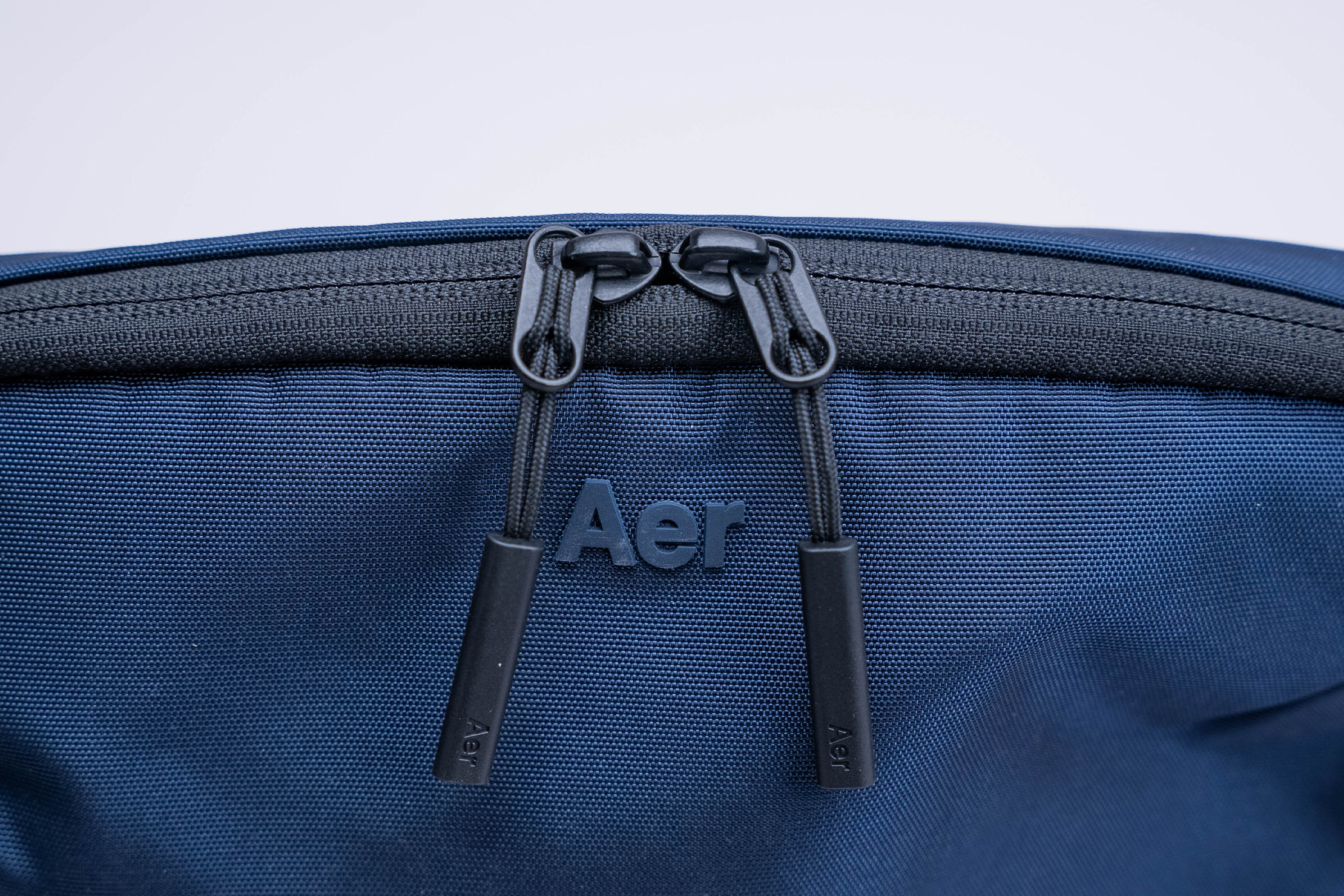 On the upper left corner of the Pro Sling is a simple loop—the same kind found on Aer's Day Sling 3. We liked using it to attach a Heroclip Hybrid Carabiner Clip so we can hang the Day Sling 3 on any table, and we're doing the same for the Pro Sling. Since it's a loop, you can, of course, attach other accessories like keychains and lanyards if you want to.
All of that said, hanging off a table's edge isn't the only place for the Pro Sling. Because of its flat base and removable strap (which we'll discuss in a bit), the Pro Sling also functions as a standing pouch on your desk. Its slim but tall shape doesn't even take that much room relative to its overall size, so it's not going to hog desk space either.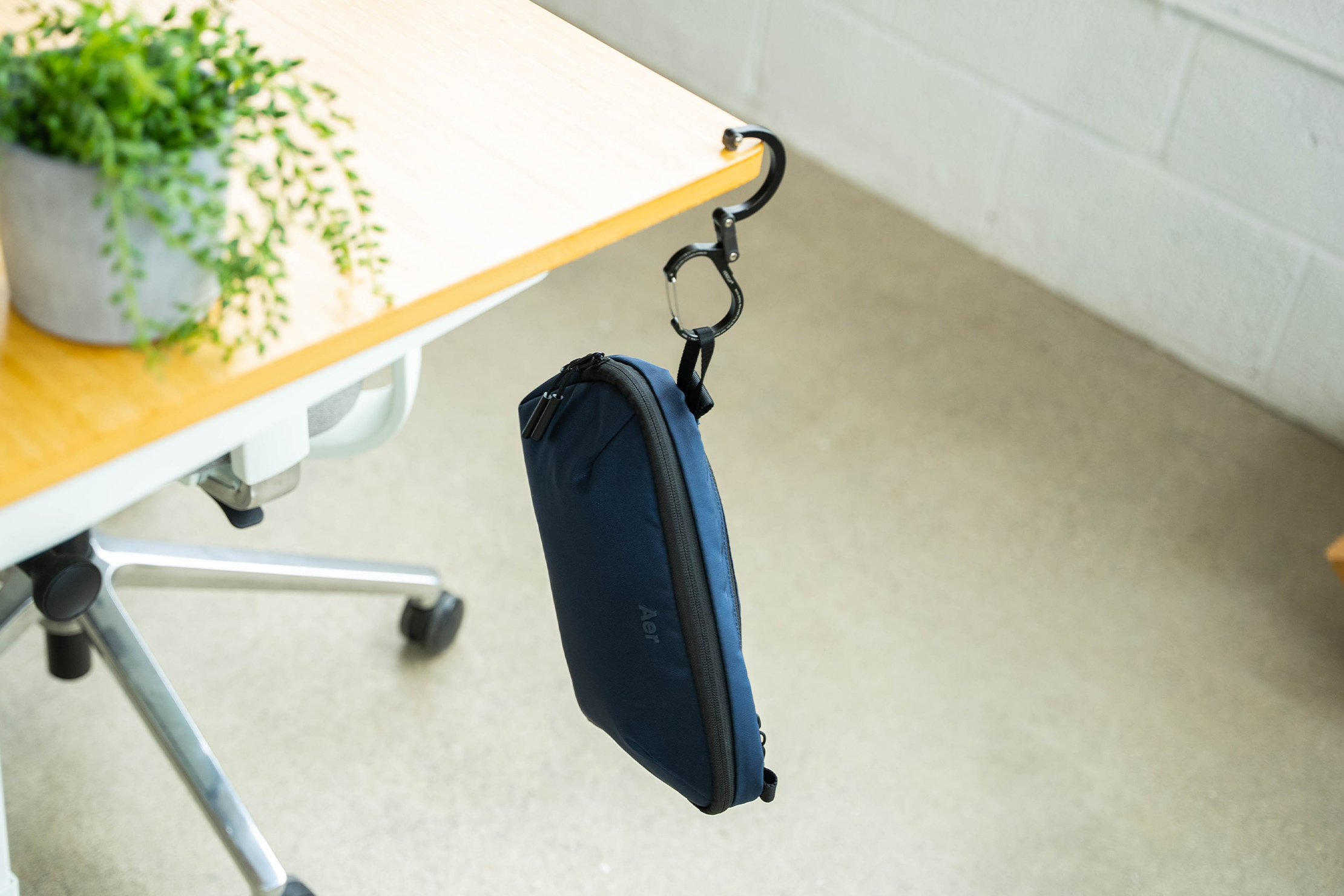 Let's switch gears back to that removable strap we just mentioned. Admittedly, it feels like an afterthought, considering that it uses simple gatekeeper clips that mount on loops. On the one hand, it's simple, and it works. On the other hand, we expect a bit more cleverness on Aer's part, whether it's easier to use clips (gatekeeper clips can be hard to remove) or stealthy gussets to hide the hardware.
If nothing else, this modularity lets users replace the included strap with their own if they have something better. Photographers may have beefier straps from their DSLRs that they may want to use, for example. Or perhaps the included strap gets frayed over time because your dog chews on it. The removability lets you swap it out easily. That said, the included strap isn't entirely devoid of any cleverness, so you may want to hold off disregarding it straight away.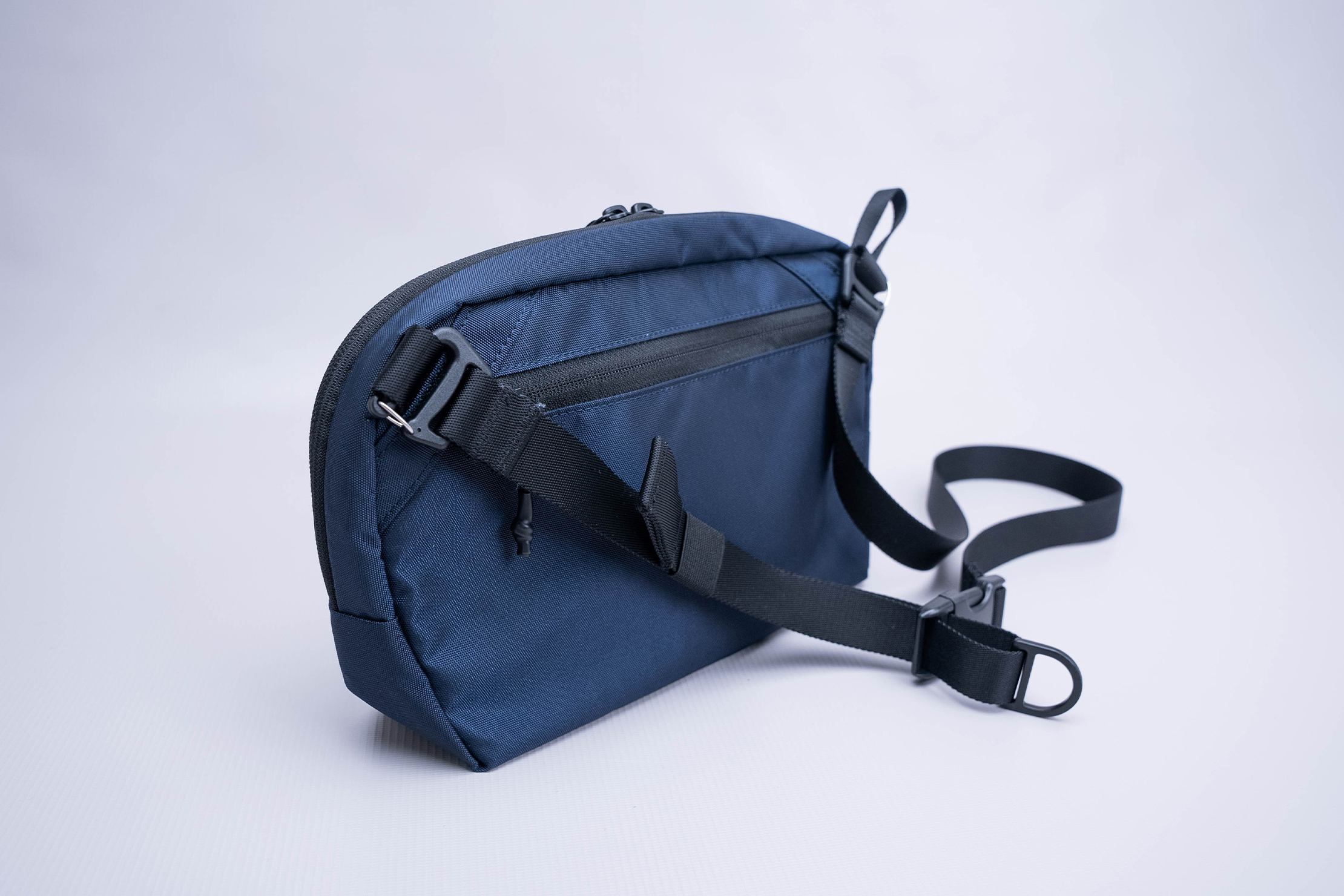 Apart from the gatekeeper clips we mentioned earlier, you get a simple side-release buckle in the middle. That's right, no magnetic Fidlock for this strap, and maybe for the better. Some users, including us, have experienced magnetic buckles on slings coming undone by accident, which is not good, to say the least. That's not the clever bit, though.
There's also a D-ring near the buckle which you can pull to loosen the strap's adjustment. Let's face it, tightening straps is easy, but trying to backtrack by feeding it through the hardware can be tedious; the D-ring is a handy shortcut that bypasses that.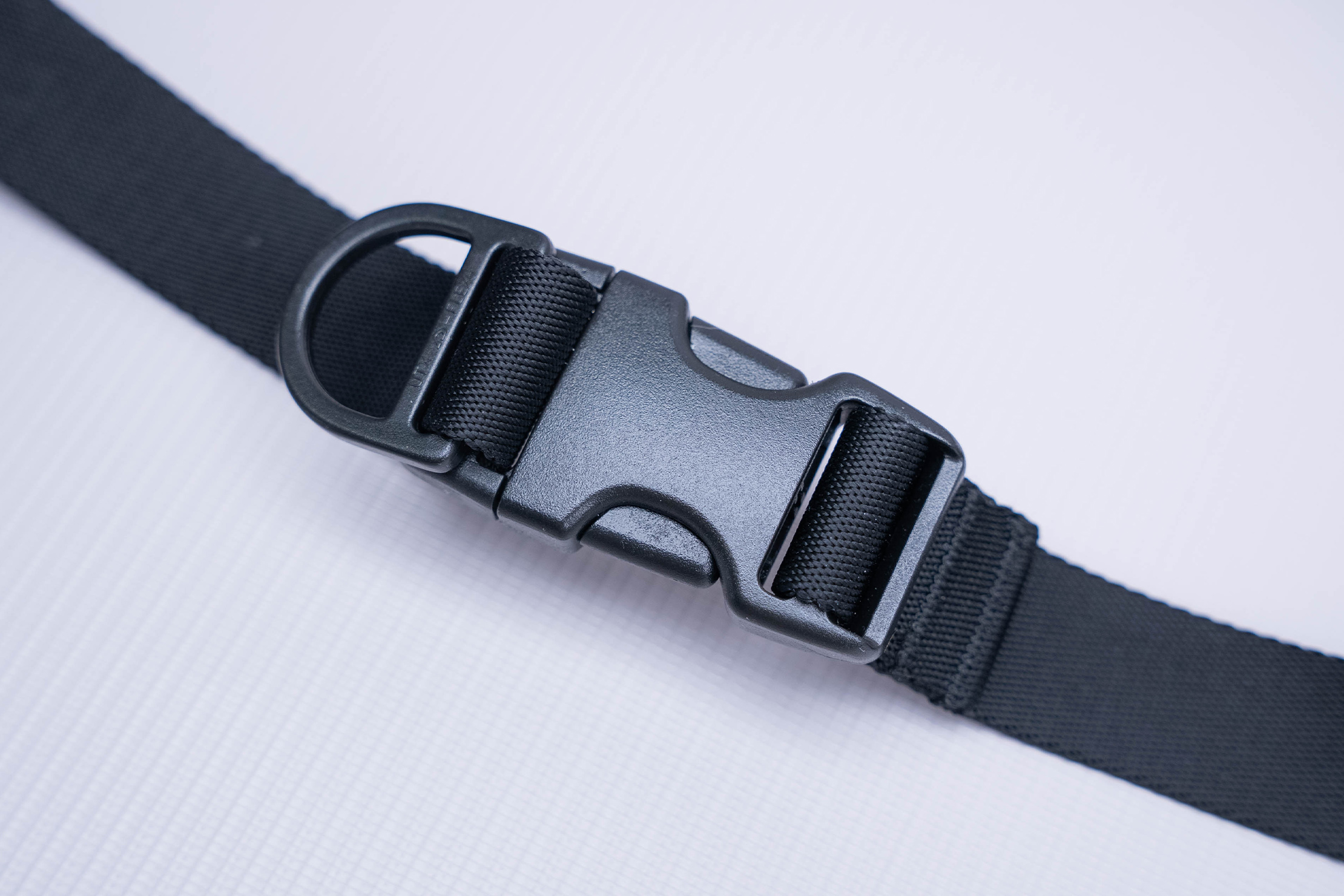 Oh, and strap keepers keep loose ends tied up for that #danglefree experience. We always use strap keepers whenever available, but we'll let you follow your heart on that.
Fit Notes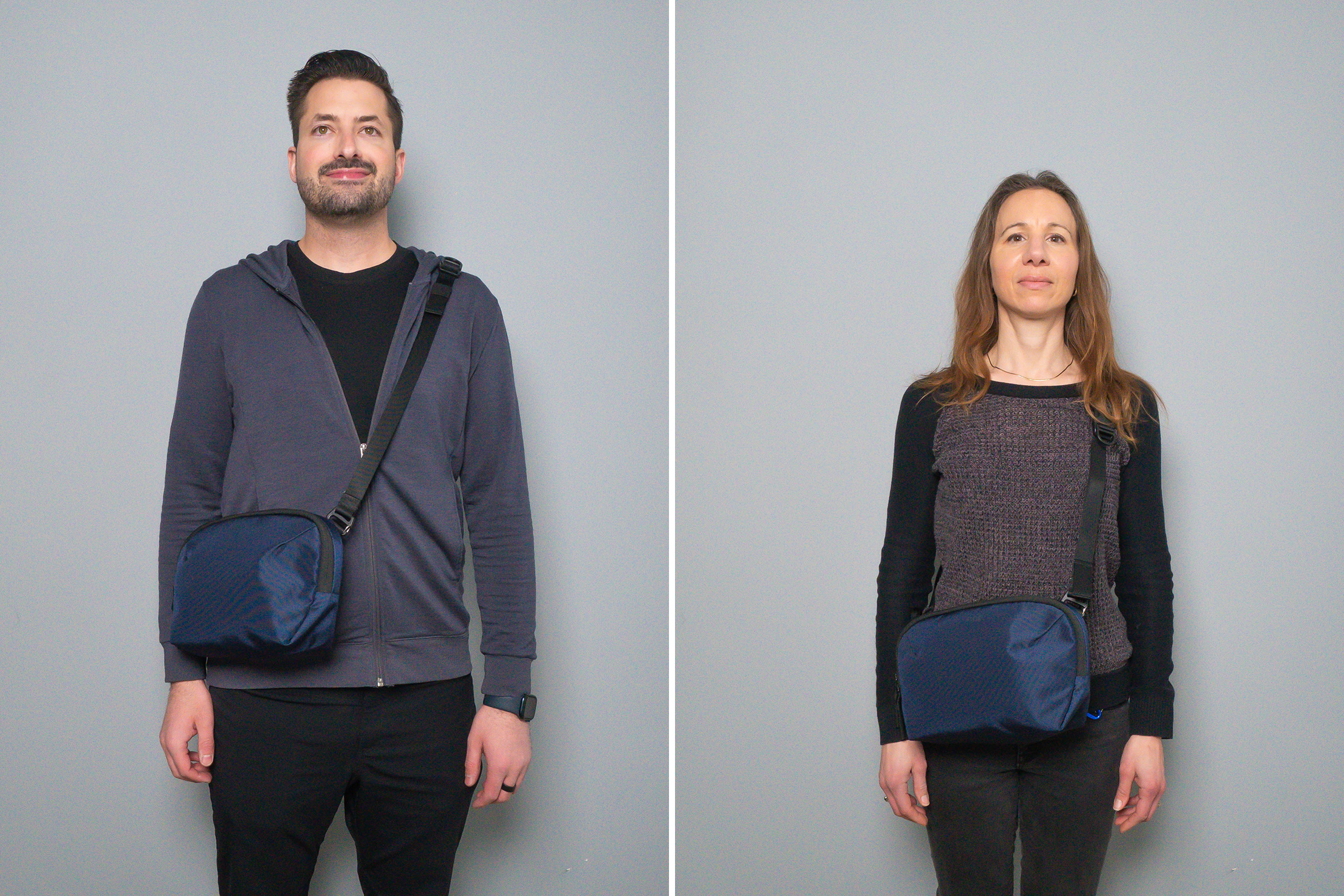 We like to keep slings riding high and close to us, using relatively tight adjustments when traveling. These situations include busy airports, crowded night markets, and packed subways. On most casual days, though, we'll take a looser fit, especially for larger slings like the Pro Sling.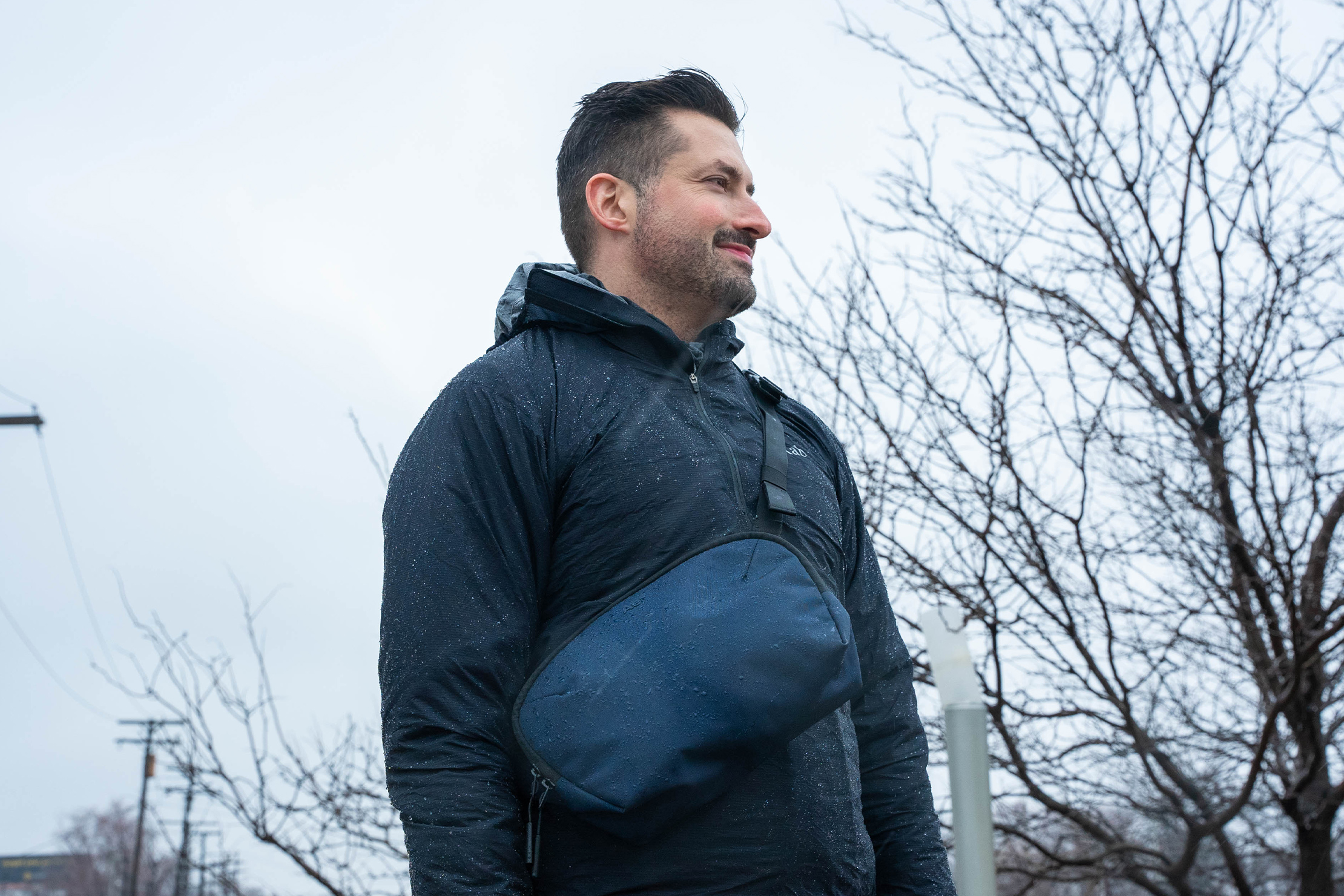 Fortunately, transitioning from a high and tight fit to a lower and looser one is as easy as pulling on the D-ring. In this more relaxed posture, the Pro Sling's flat sides allow it to rest securely beside the hip. Think of it like a slender wedge beside you; it's a much more natural-feeling shape than a boxy brick.
Inside The Sling
Okay, the Pro Sling may not have a pocket at the front, but it still has one at the back. This de facto security pocket rests against you; hence the heat-shrunk zipper pull we mentioned earlier. It's mainly suitable for flat items like passports, transit cards, cash, smartphones, and wallets.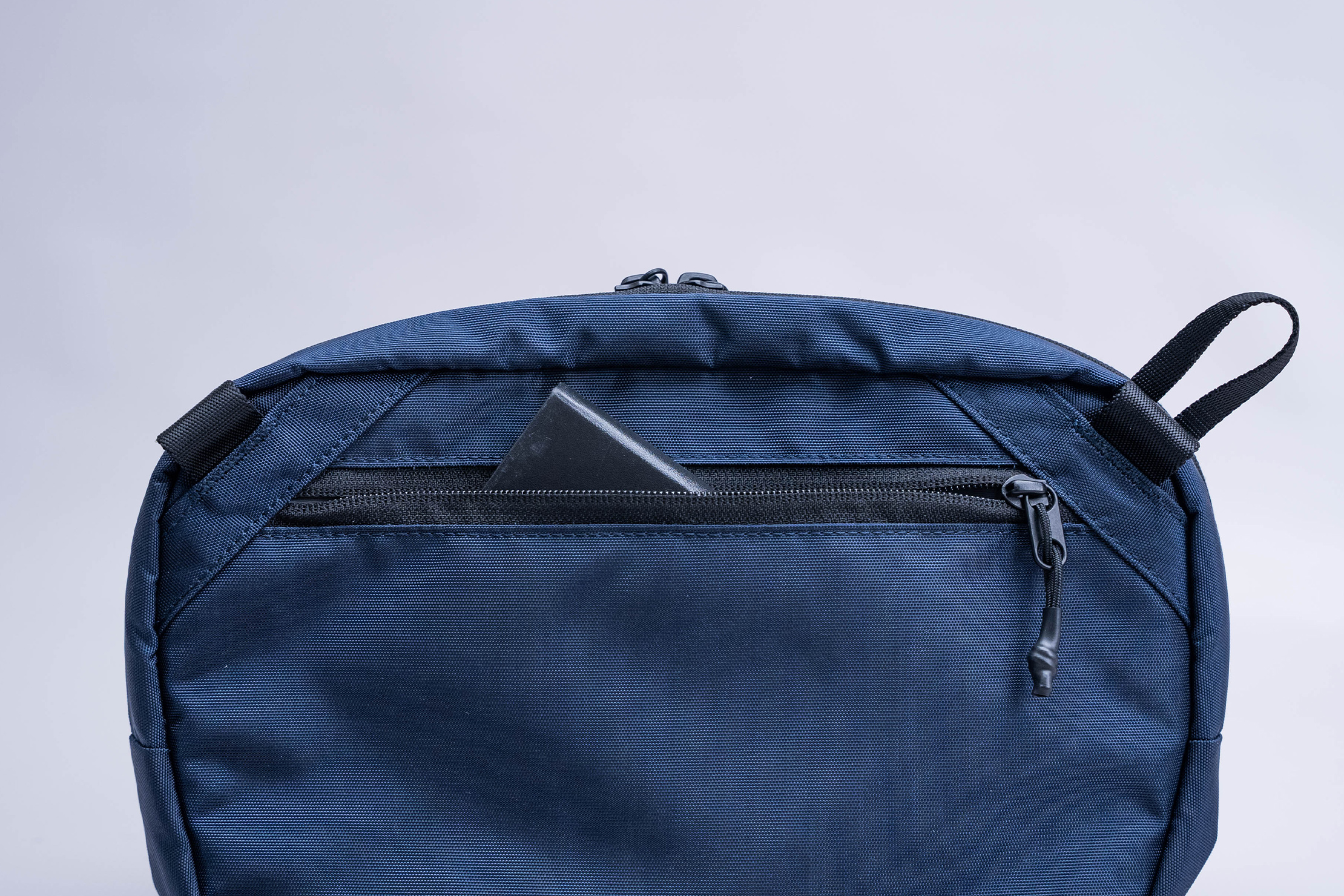 The main compartment features dual zippers. That's easy to take for granted, so let's take a moment to appreciate why dual zippers matter. Simply put, having two zippers lets you open the compartment in any position along the zipper track. So, for example, if you have the Pro Sling worn on an angle in front of you, you can position the dual zippers on the top corner closest to your chest for easier access.
It also lets you have a partial opening in case you just want a little peek of your gear inside. In comparison, having only one zipper will only let you open from a far side and start only from that side. Mind you, this feature is far from exclusive to the Pro Sling.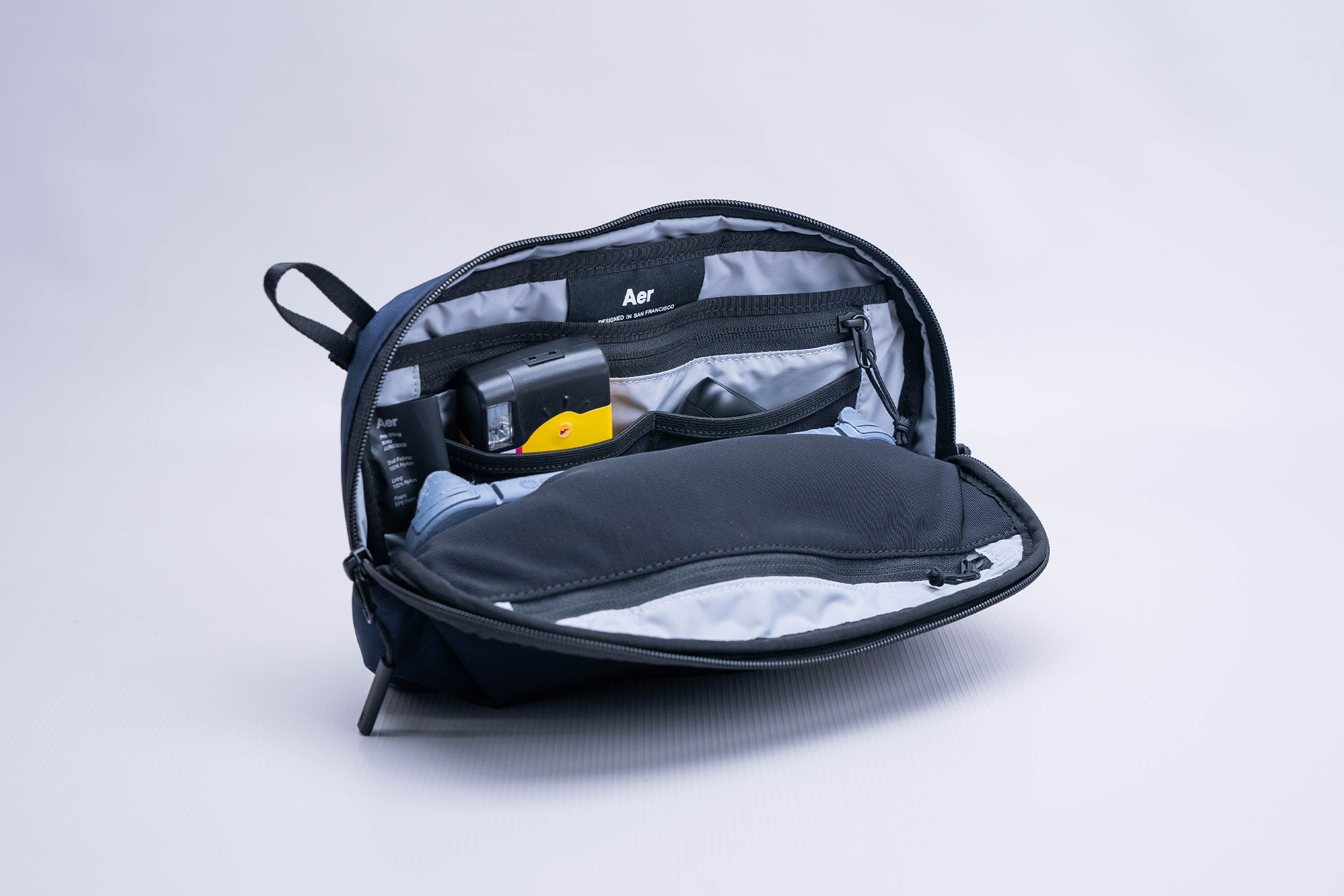 The main compartment opens in a horseshoe shape, with the zippers going about halfway down the sides. The front portion can fold down similarly to how Bellroy's Desk Caddy does, putting most of your gear in full view—most, and we'll discuss why we're emphasizing this part later.
Interior organization is about as diverse as you'd expect from an Aer sling. The Pro Sling has a zippered sunglasses pocket along the front side. It's lined with soft mesh to avoid scratching lenses, and it's high up near the top so that it's away from the crush zone—that's the area where the rest of your gear bunches up.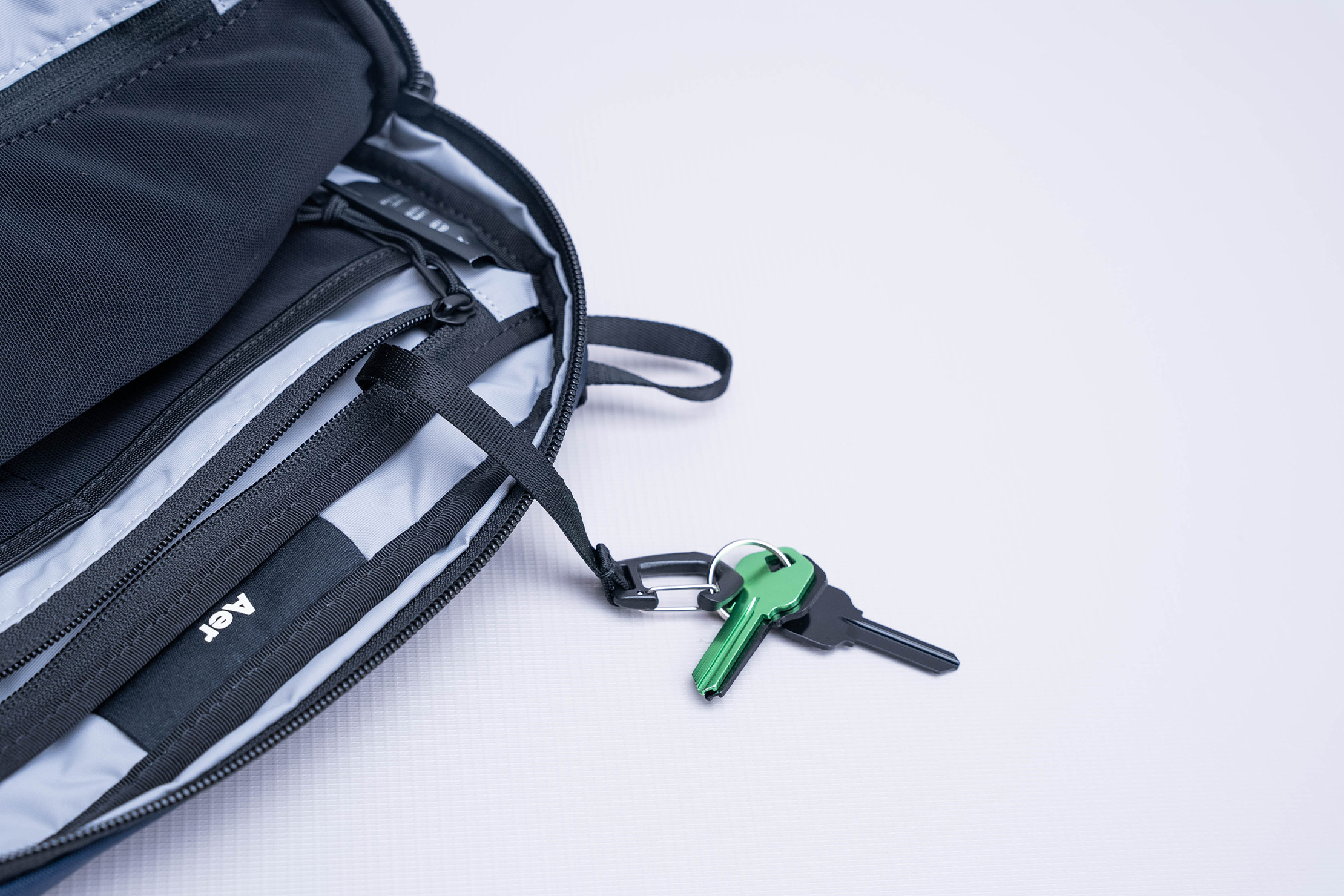 The back side is where the bulk of the organization resides. At the back, a wide divider pocket that can fit an Amazon Kindle Paperwhite or a Nintendo Switch with the Joy-Cons attached. The divider also houses a zippered pocket for loose gear like USB thumb drives, memory cards, dongles, and other small tech accessories. In front are two liner pockets with stretchy mesh to hold slightly larger items, like AirPods and lip balm, in place. Overall, there's a good variety of pockets for different kinds of gear.
That said, we don't like how Aer put a key leash inside the aforementioned zippered pocket. This puts it under two layers of zippers (the pocket and the main compartment) which is inconvenient, to say the least. Meanwhile, the Day Sling 3 and City Sling have it in their front pockets. This kinda makes the Pro Sling feel somewhat not-so-pro.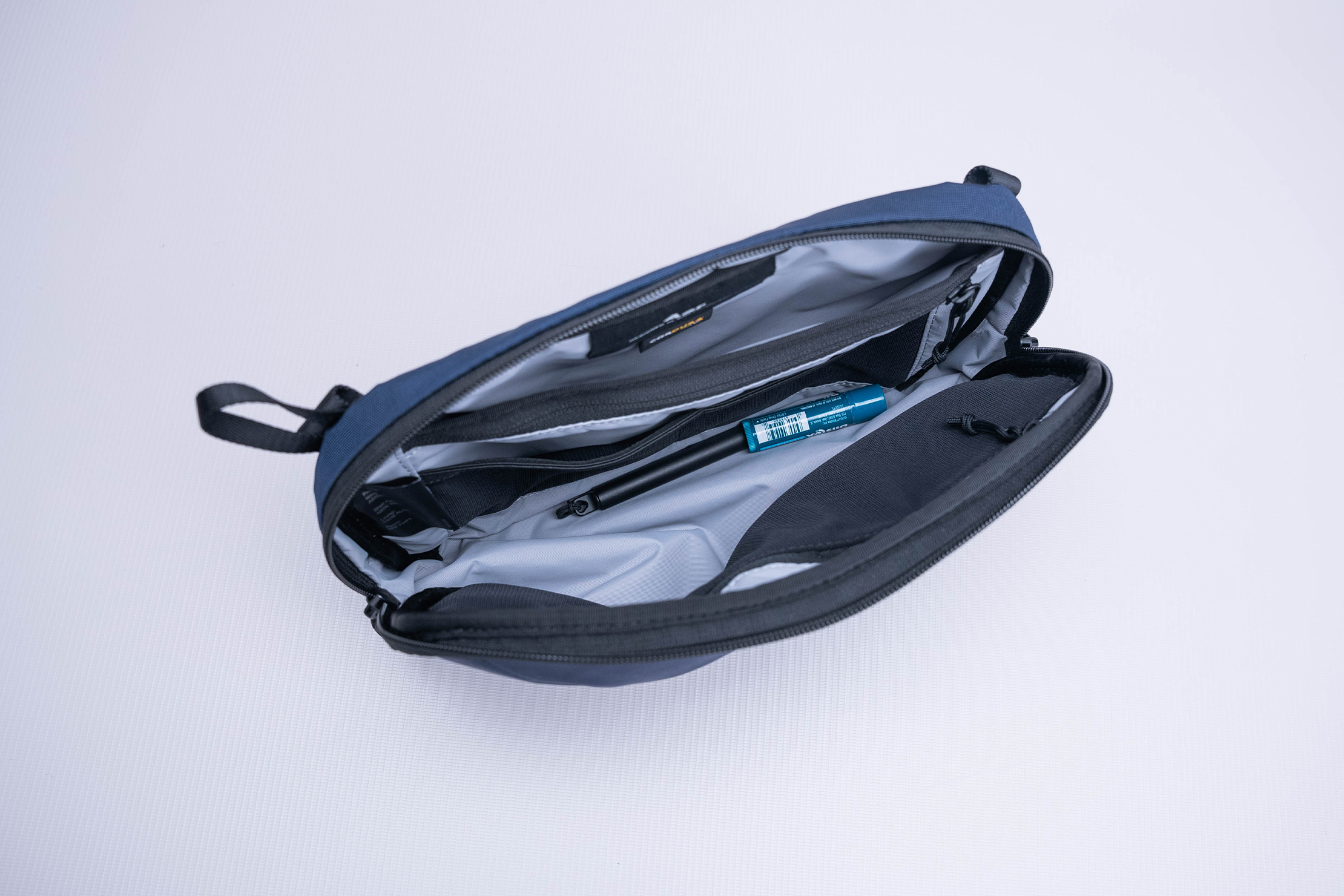 Then there's the rest of the main compartment's space. Because of the Pro Sling's narrow triangle side profile, this means most of the available space is at the bottom, as we mentioned earlier. The small, travel-sized gear we typically carry tends to settle there (other than ones already in other pockets, at least), where items like gloves, buffs, and snacks get easily obscured and lost. On the other hand, bigger, non-travel-size gear has more than adequate space to fit, and their large size will make them easier to find.
Usage Timeline
Initial Usage
Condition: Excellent
Sling stands on its own when full, which is nice
Curious to see how the tall & skinny shape works for holding gear
Great materials & lighter weight than a lot of other Aer products
2 Weeks of Use
Condition: Excellent
Dig that the sling stands up on its own
A little large for a pouch when in pouch mode
Sling is very tall and skinny, making it difficult to utilize the top space
Nice adjustability with the D Ring, though the strap attaching with gatekeeper buckles seems a bit unsolved for an Aer product
Access the Pro Community Discussion
Get your questions about the Aer Pro Sling answered from our team and the Pro Community right here on the page. Plus, join discussions with other members about gear, guides, and more.
Other Bags & Luggage Reviews