Aer City Pack Pro Review
The Aer City Pack Pro's clamshell design and efficient use of space make it a daypack that you can use comfortably as a travel backpack.
Our Verdict
Unlock the Pro Summary
Save time. Get access to brief summaries of our reviews so you can browse and make decisions more efficiently.
Pros
Simple, comfortable harness system
Liner and mesh combo pocket is an efficient design
Easy to travel with despite its more daypack-centric design
Cons
Extra horizontal depth noticeably impacts carrying comfort
Magnetic buckle works fine, but we still prefer simpler side-release ones
No side handle compared to the original City Pack
Recent Pack Hacker Video
Technical Details
Capacity

24l

Weight (lb)

2.6 lb (1.2 kg)

Denier

1680D

Dimensions

18 in x 12 in x 7.5 in (45.7 x 30.5 x 19.1 cm)

Notable Materials

CORDURA® Ballistic Nylon, YKK Zippers, Duraflex Hardware

Laptop Compartment Size

16"

Warranty Information
Full Review
Get up to 10% off Aer • Join Pack Hacker Pro
The Aer City Pack is a daypack that we note for its amount of organization fitted into a relatively small 14-liter package. While impressive, we can't quite make full use of it if we want to maximize its capacity. See, if you pack too many pockets and dividers into a relatively small main compartment, it ends up feeling too cramped. These pockets start bumping into each other, and you're left with some untapped space in between. Fortunately, the City Pack Pro fixes that on two fronts by increasing capacity and having a more balanced approach to its layout.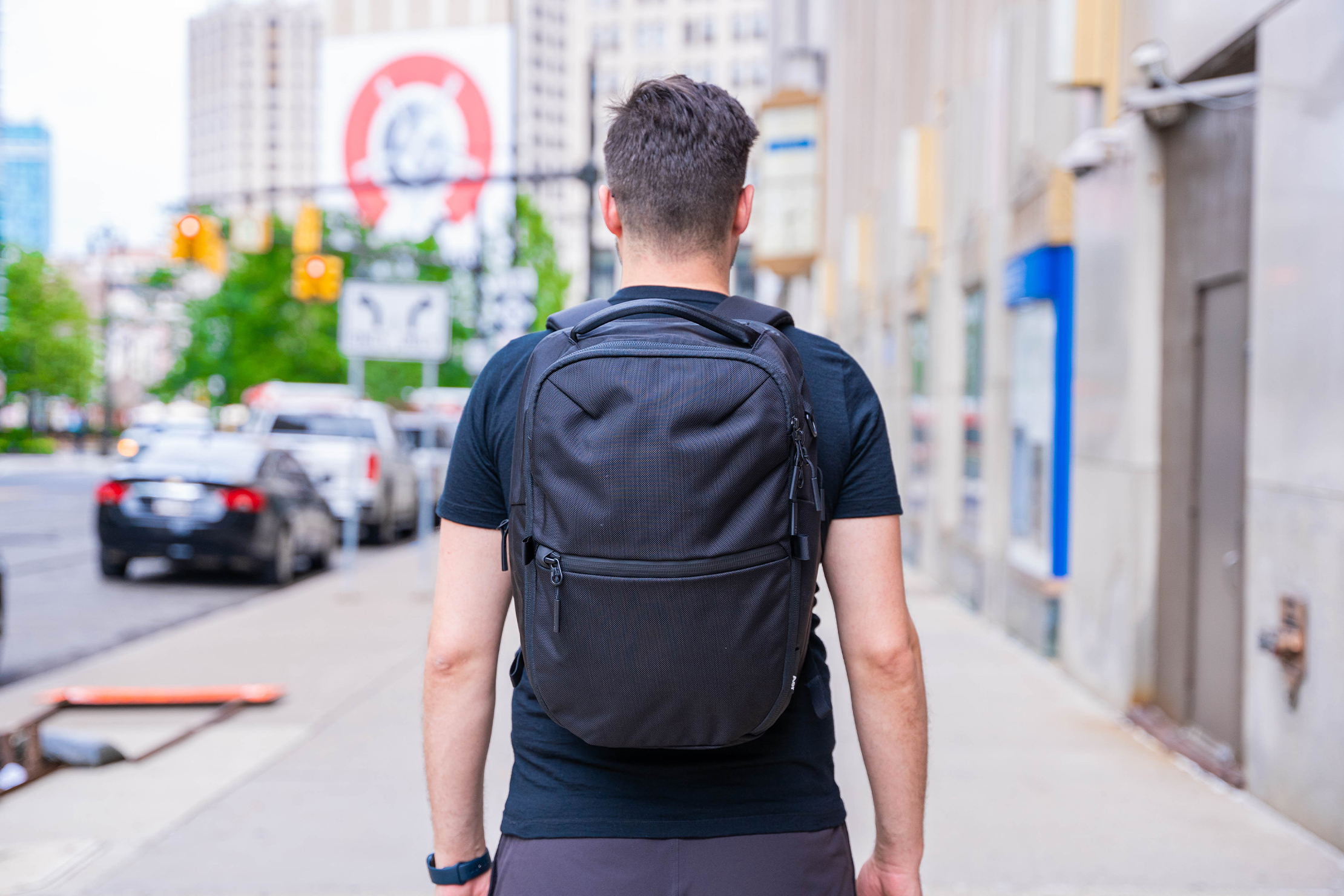 While the City Pack Pro showcases improvements over the City Pack, it also has its fair share of unique features. Despite being a daypack first and foremost, it's still more than capable as a weekend travel backpack. Forgoing the more daypack-like horseshoe-opening for a clamshell, the City Pack Pro behaves more like its bigger Travel Pack siblings. You could even make the argument that what makes the City Pack Pro stand out is how it blurs the line between daypack and travel backpack within Aer's lineup.
External Components
The first thing to note about the City Pack Pro (or any Aer bag for that matter) is the styling. It has the squared-off, boxy appearance that's all too familiar if you're acquainted with their Travel Packs or even their limited-run Lunar Pack. Look at it a bit closer, and you'll find the usual marquee features.
At the front is the AquaGuard YKK zipper track that runs across the middle of the bag. This alone is probably enough to make the City Pack Pro instantly recognizable as an Aer bag since even their small Slim Pouch has this. It's flanked by tabs that you can hold onto when zipping or unzipping the pocket. You can also hang off accessories like keychains or a luggage tag if needed.
Like the City Pack, the City Pack Pro also has a beefed-up top handle. It's super well-padded, making it comfortable to hold even for extended periods. Often we see daypacks that only have a folded-over nylon strap as a handle—or even lack a handle altogether—so we definitely appreciate it here.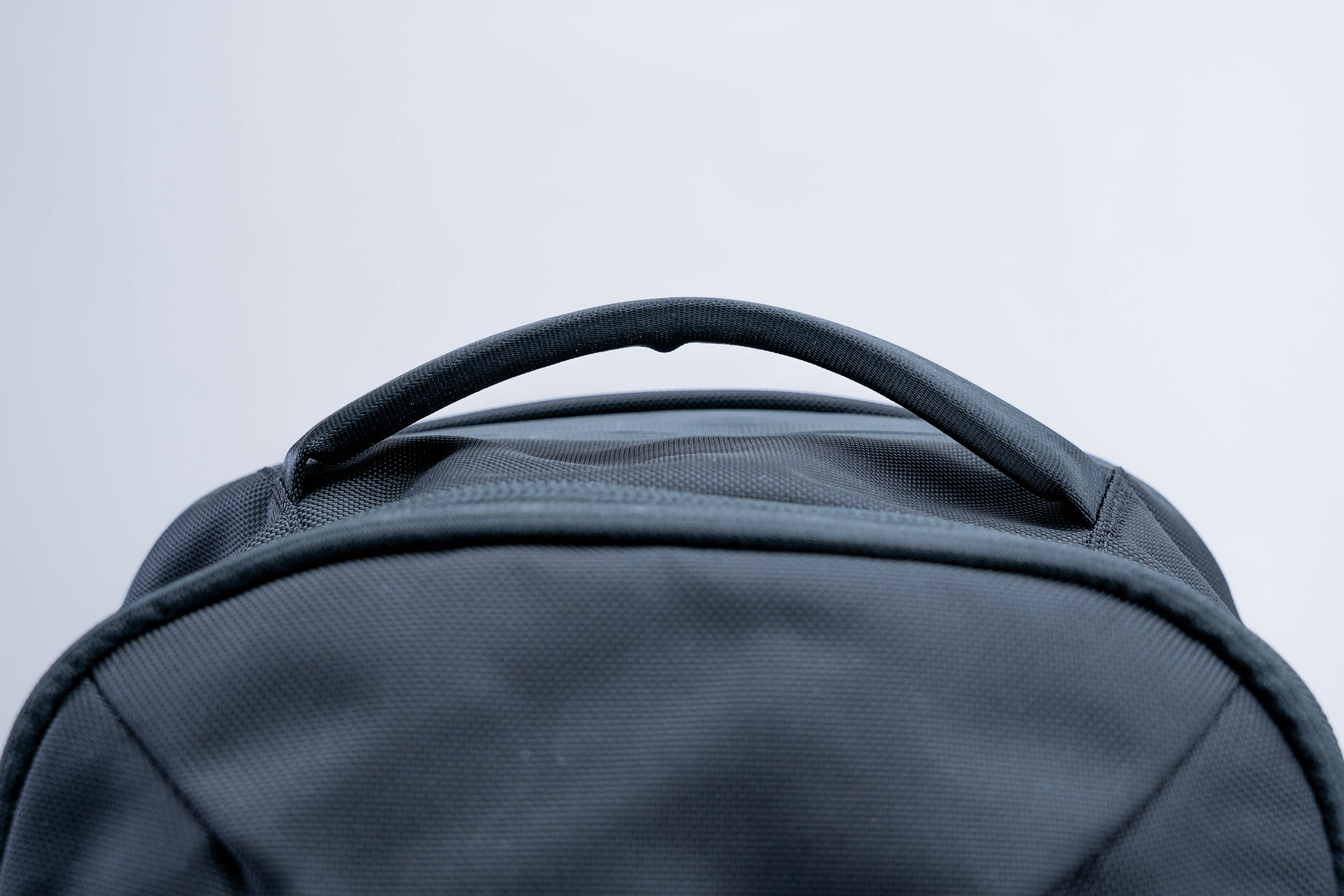 The bad news is, despite being a good ten liters bigger than the City Pack, the City Pack Pro has one less handle. In lieu of a side handle is a secondary quick-grab pocket. To us, at least, this is a worthwhile trade—we'll explain later. That said, if you like carrying your backpack briefcase-style from time to time, you're out of luck.
On the opposite side, we find the water bottle pocket. We really dig how Aer designed this. It sits flush against the bag when it's not occupied, keeping the City Pack Pro's clean looks intact. On the other hand, it also has a fair amount of stretch thanks to its gusseted fabric and an elastic built into the rim that's only visible once you expand the pocket. Our 21-ounce Hydro Flask fits inside without a hitch. Because the pocket's also quite deep, it also has a firm grip on our bottle that's enough to stop it from slipping out most of the time.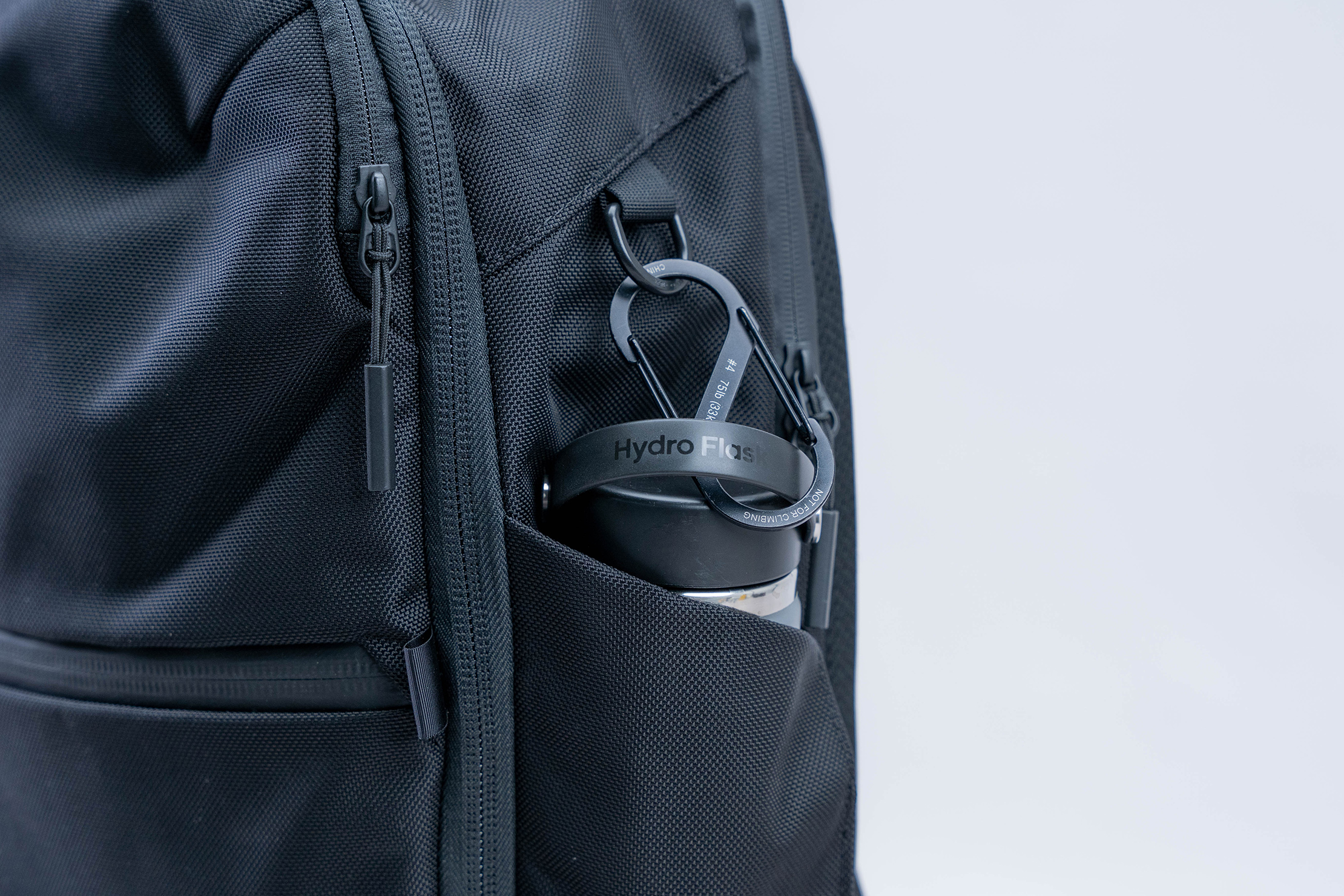 The key phrase there is "most of the time" since it can still happen under the right circumstances. Fortunately, there's a D-ring above the pocket just waiting to be used as an anchor point. We always keep a carabiner there that we can use to secure our bottle further using its handle or cap.
In case you're scratching your head wondering where the major differences are between the City Pack Pro and the bigger Travel Packs, then a clearly visible sign would be in the harness system. Whereas the rest of the City Pack Pro more or less resembles its more travel-focused counterparts, its harness system is much more simplified.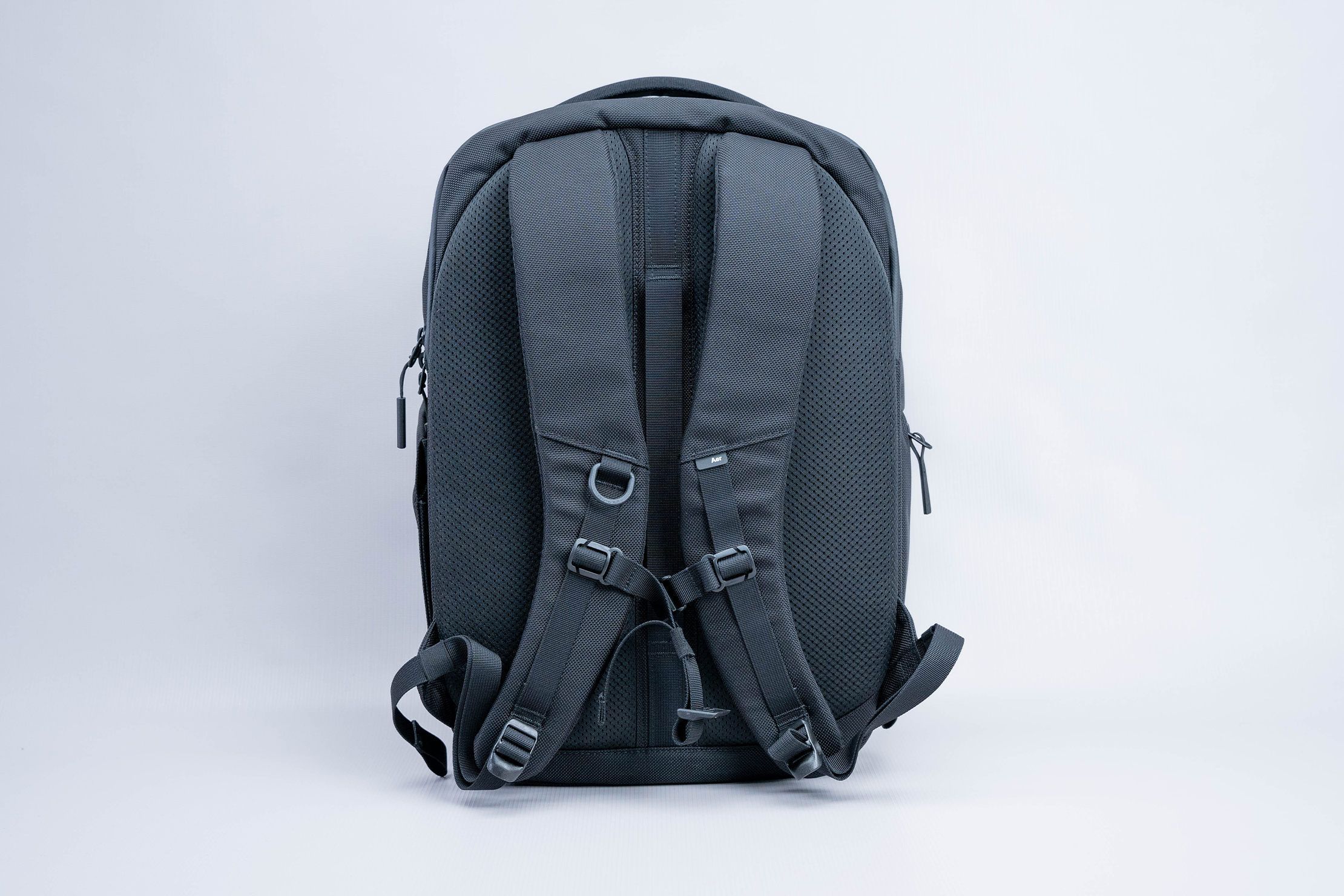 You get a pair of thick, densely-padded shoulder straps covered in mesh underneath. The thickness feels uniform all throughout the straps, even towards the bottom. However, the portion just where the strap meets the top of the bag has a noticeable gap in the padding. Instead, there's only fabric around that area that allows the shoulder straps to more freely flex and pivot according to the wearer's posture.
A more visible example of this would be the shoulder straps of the Bellroy Oslo, whose straps are attached to the bag by even thinner straps allowing it to move more freely. The tl;dr is the City Pack Pro's straps, while laden with thick padding, don't feel cumbersome to move around in.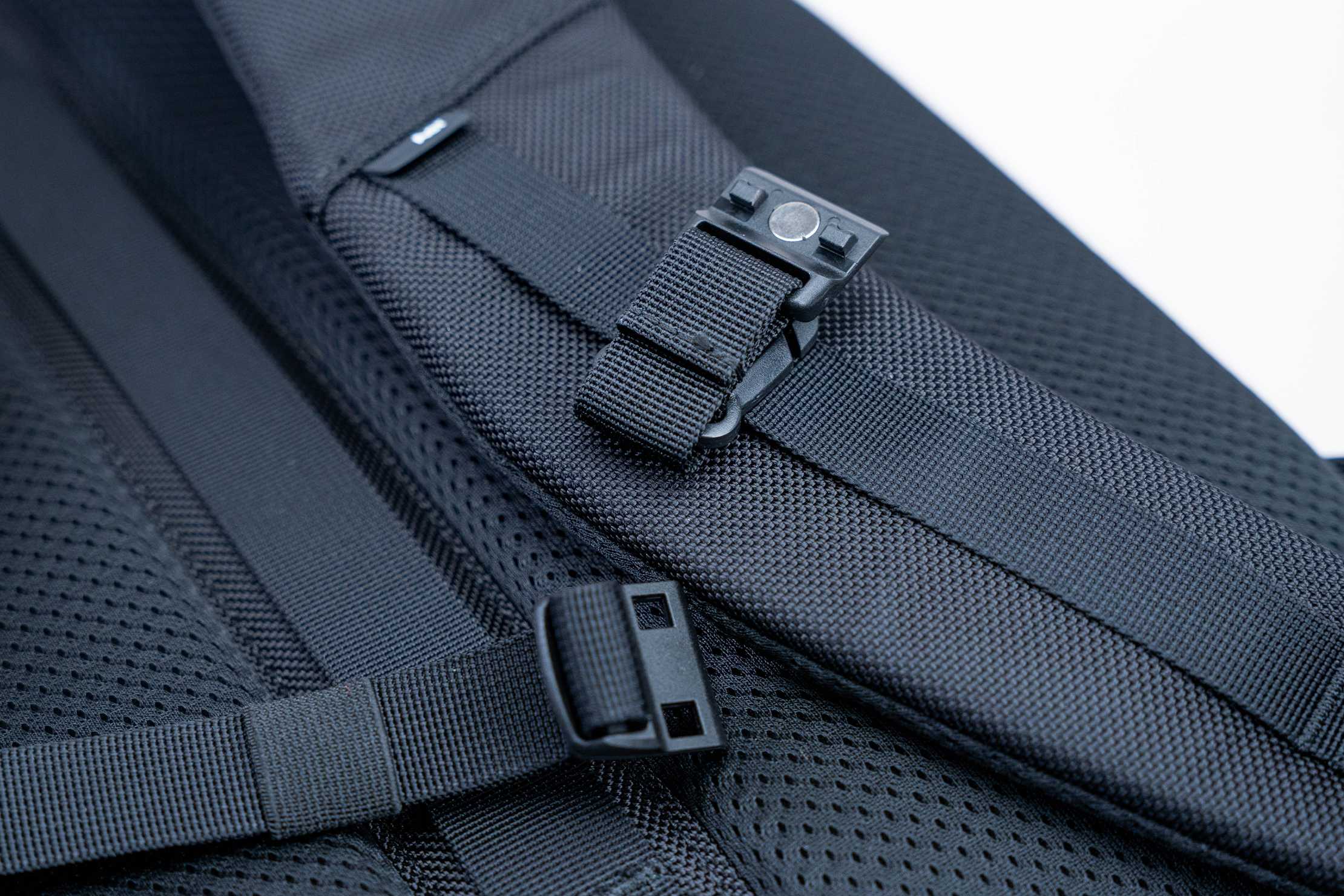 Moving down along the shoulder straps, we find another D-ring on the right in addition to the earlier one above the water bottle pocket. You don't get a third ring on the opposite side to mirror it. Instead, there's a tastefully placed Aer tag (not like the smart tracker). Right after those tidbits is the sternum strap, and we do have some things to say about it.
Firstly, Aer uses a magnetic buckle here. Let's be clear that, for all our valid criticisms on the use of magnetic buckles, they do get the job done, including this one on the City Pack Pro. We are getting more used to them as more and more brands adopt the idea. Still, if we had to choose a magnetic buckle over a side-release buckle, we'd still go for the latter for its simplicity and ease of use.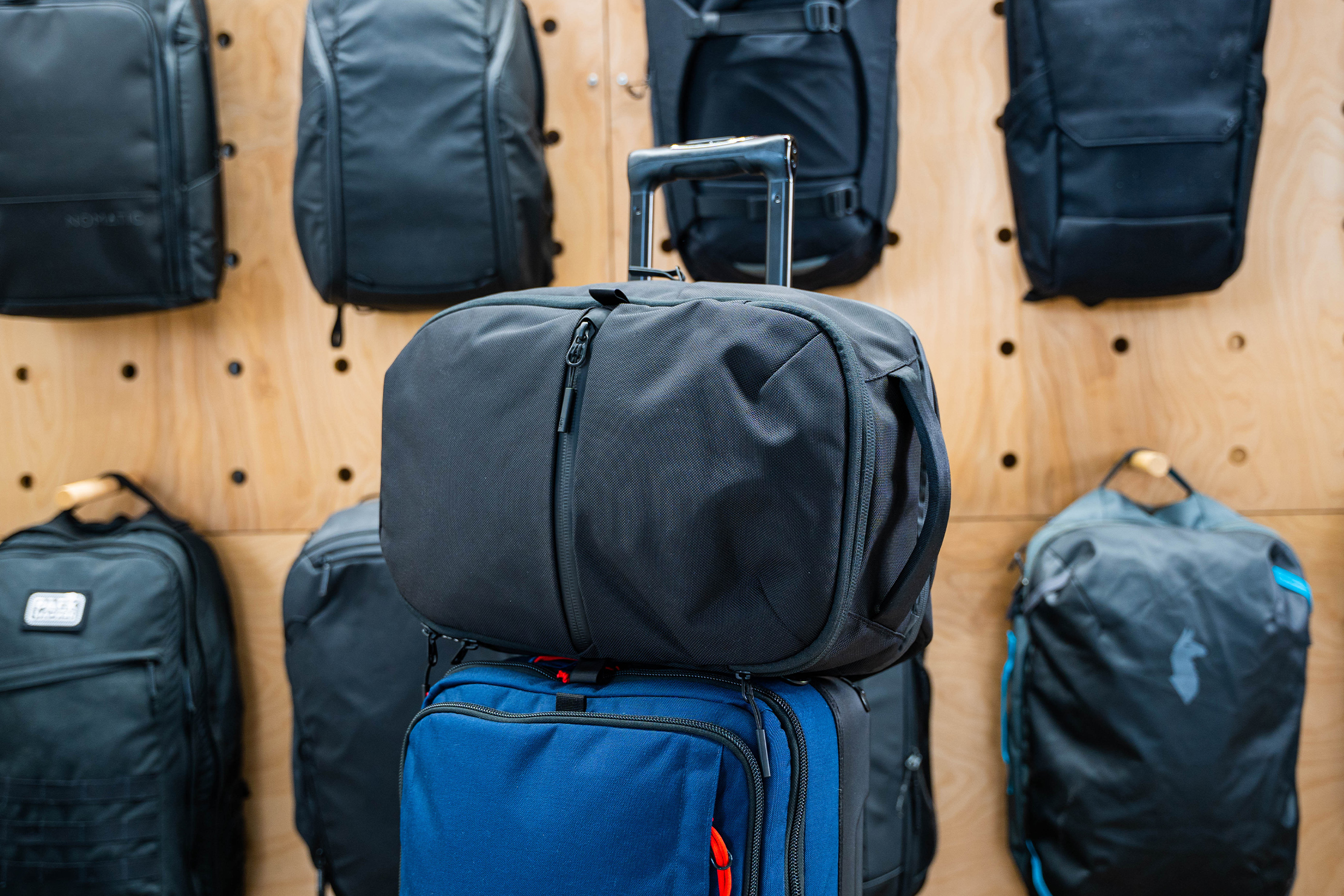 Second, we're glad to see that the sternum strap is the sliding kind. Moreover, it's also removable, unlike some sliding sternum straps that are permanently attached to their rails. Some of us like using sternum straps, and some find them overkill, especially on a daypack, so we dig having the option to remove them.
There's also the well-padded back panel to complement the well-padded shoulder straps. Two panels of meshed foam cover the back, bisected by a central air channel. It's actually less of an air channel and more of a divot where the luggage pass-through resides. The strap sits the City Pack Pro on roller luggage horizontally, but it sits in a balanced way, so there's not much of an issue there. Of course, you can also use the pass-through as a handle if you so desire.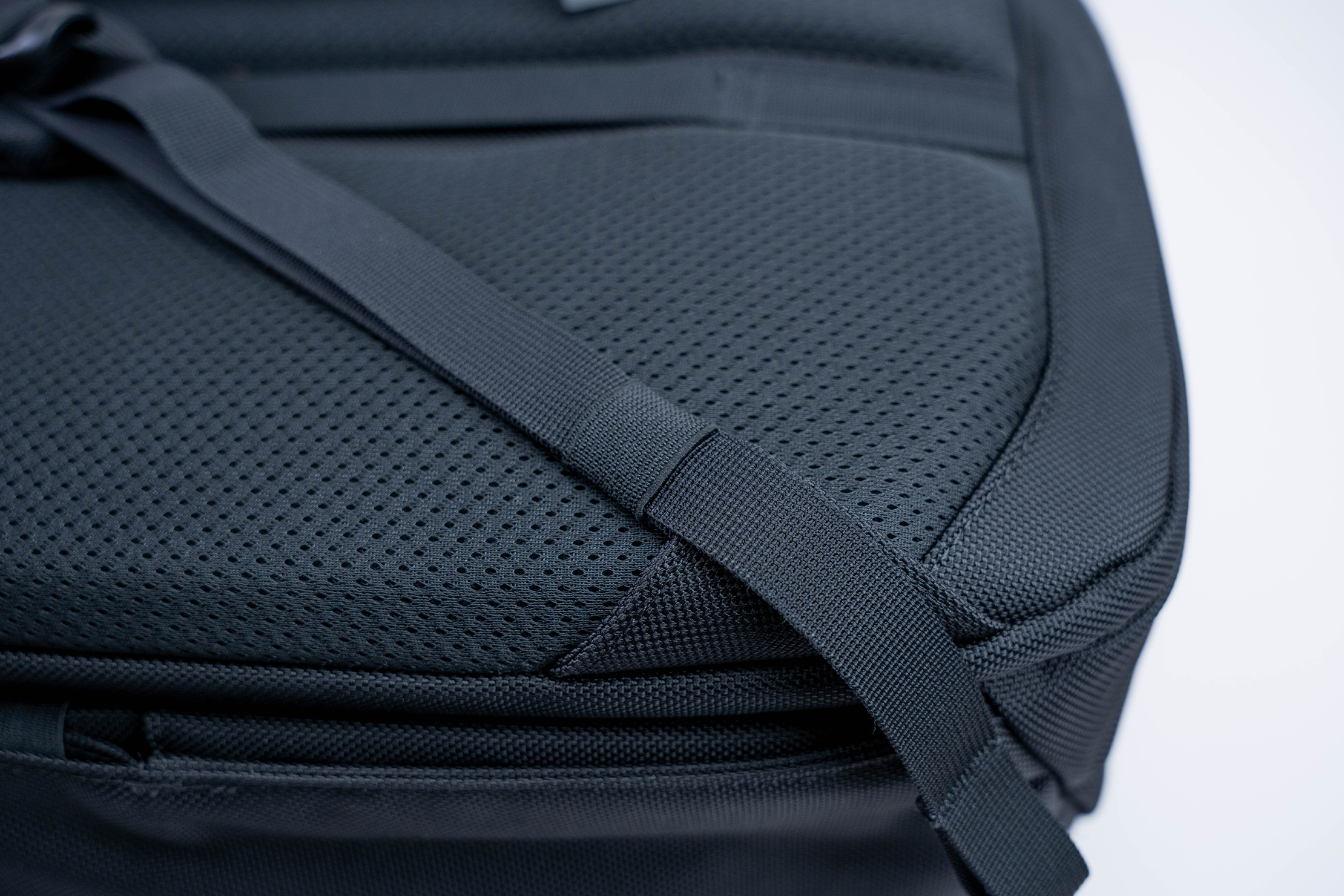 Last but not least, we'll take this opportunity to note that both the shoulder straps and the sternum strap come with strap keepers. We're not huge fans of the strappy and dangly look, and it's particularly annoying to deal with when the extra slack catches on fixtures. So if you ask us, the inclusion of strap keepers just makes practical and aesthetic (albeit subjective) sense.
Fit Notes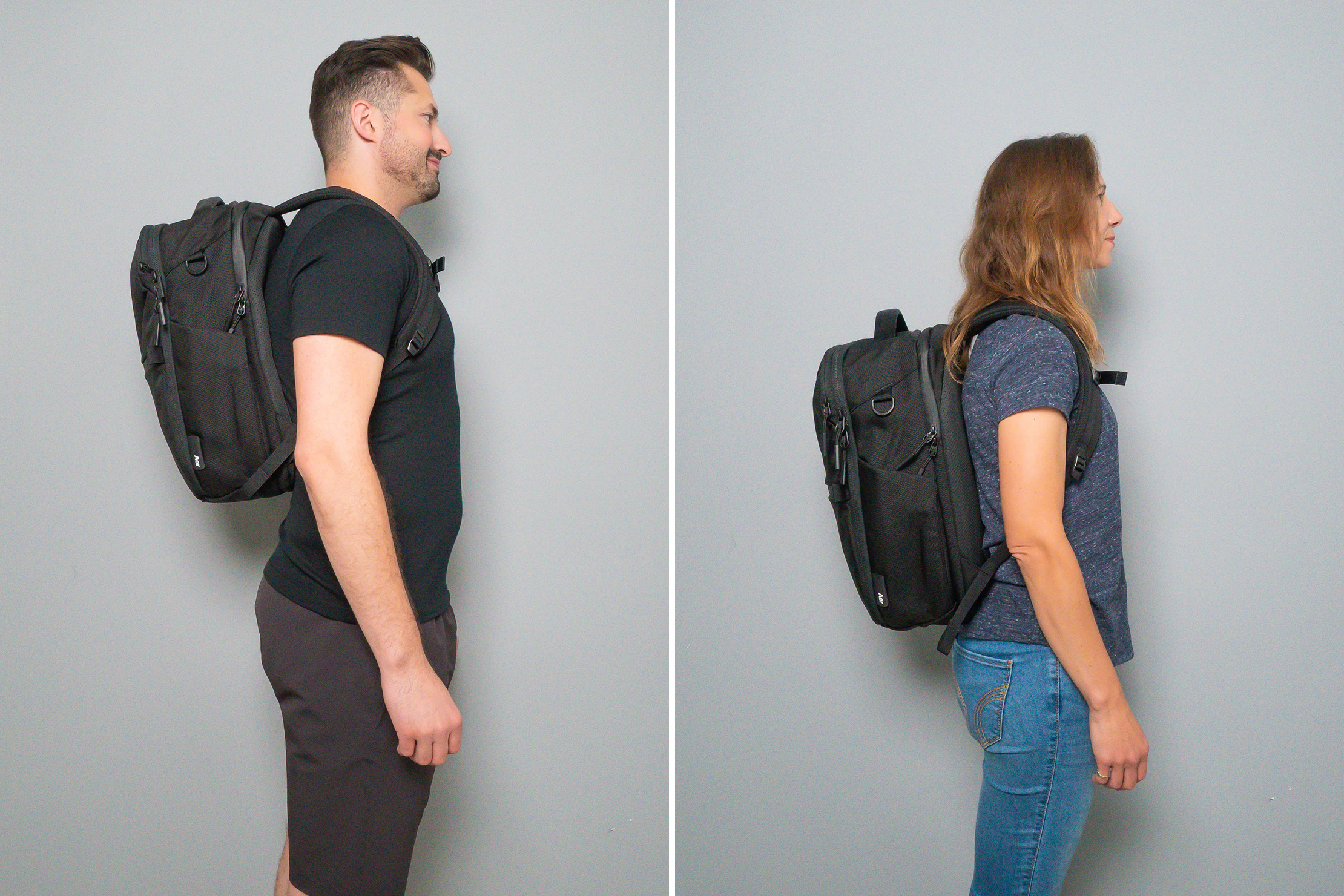 Like most Aer backpacks, you can expect the City Pack Pro to look sharp and poised in the busy streets of downtown. Don't think it's limited to the city limits, though, because the 1680-denier CORDURA Ballistic Nylon can take its fair share of abuse from the occasional outdoor excursion. We're also happy to report that there's none of that quirky jingling noise from the zippers that we've seen on some of Aer's other packs.
Now let's get down to brass tacks: comfort. For the most part, the City Pack Pro carries comfortably, thanks to its well-cushioned harness system. However, because of its extra depth, we do notice some back-heaviness that translates to sagginess. In a way, it feels much closer to the bigger Travel Packs, but since you get none of the extra hardware like load lifters, the fit isn't as tightly honed.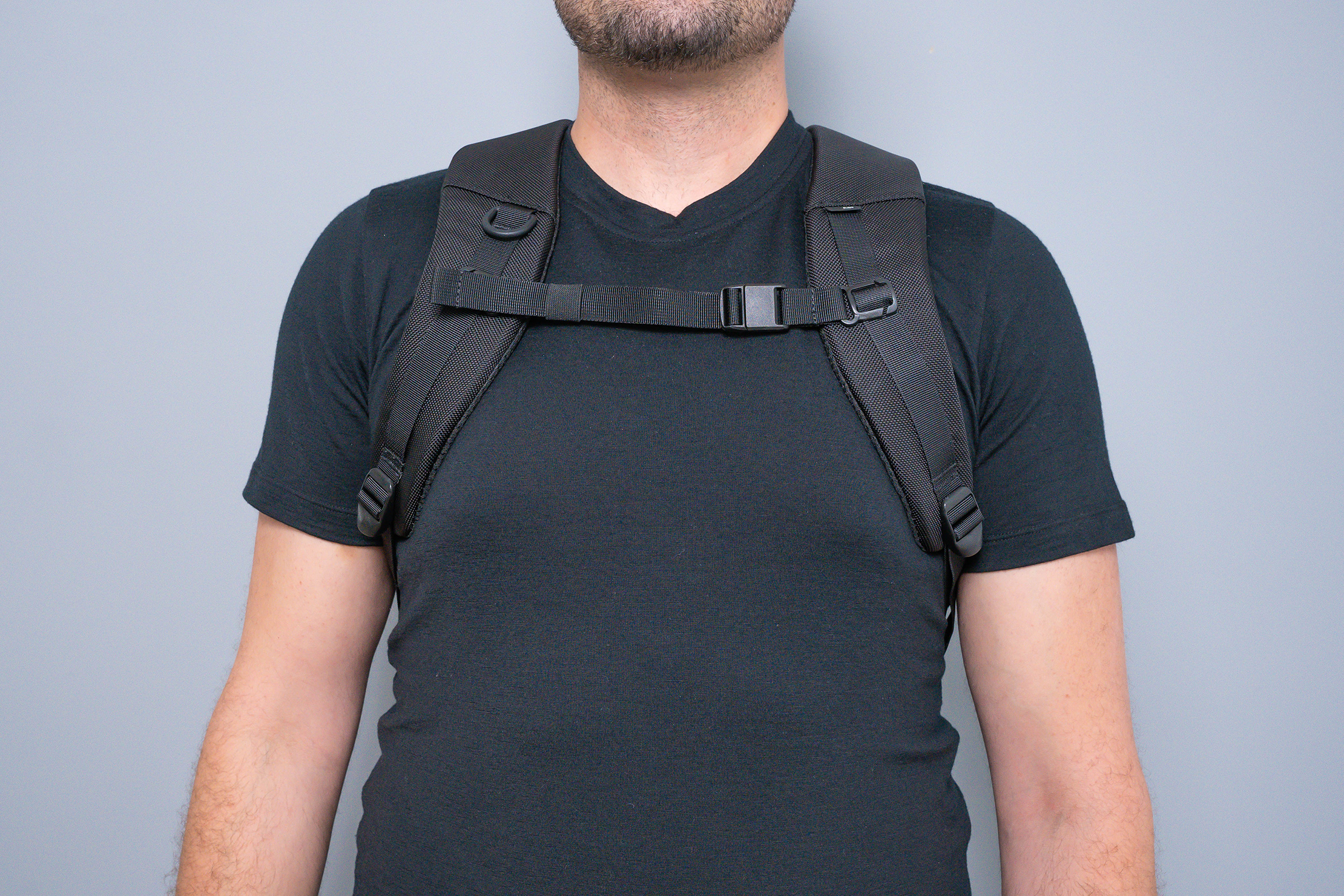 Still, the City Pack Pro's harness system manages to soften the pressure enough to make it generally comfortable to carry in day-to-day use. Plus, we think Aer's nailed the size of the bag, and we're willing to trade some of that back heaviness for the extra space it gives.
Inside The Backpack
We'll first circle back to the City Pack Pro's side pocket. Much like the opposite water bottle pocket, it sits pretty flush against the side of the bag. We even like that Aer took the effort to put a slimmer zipper pull that can be tucked under the welt of the opening for a more minimal look. The main reason, though, that we think this is a worthy trade for a side handle, as seen on the City Pack, is it's another place to stash everyday carry items.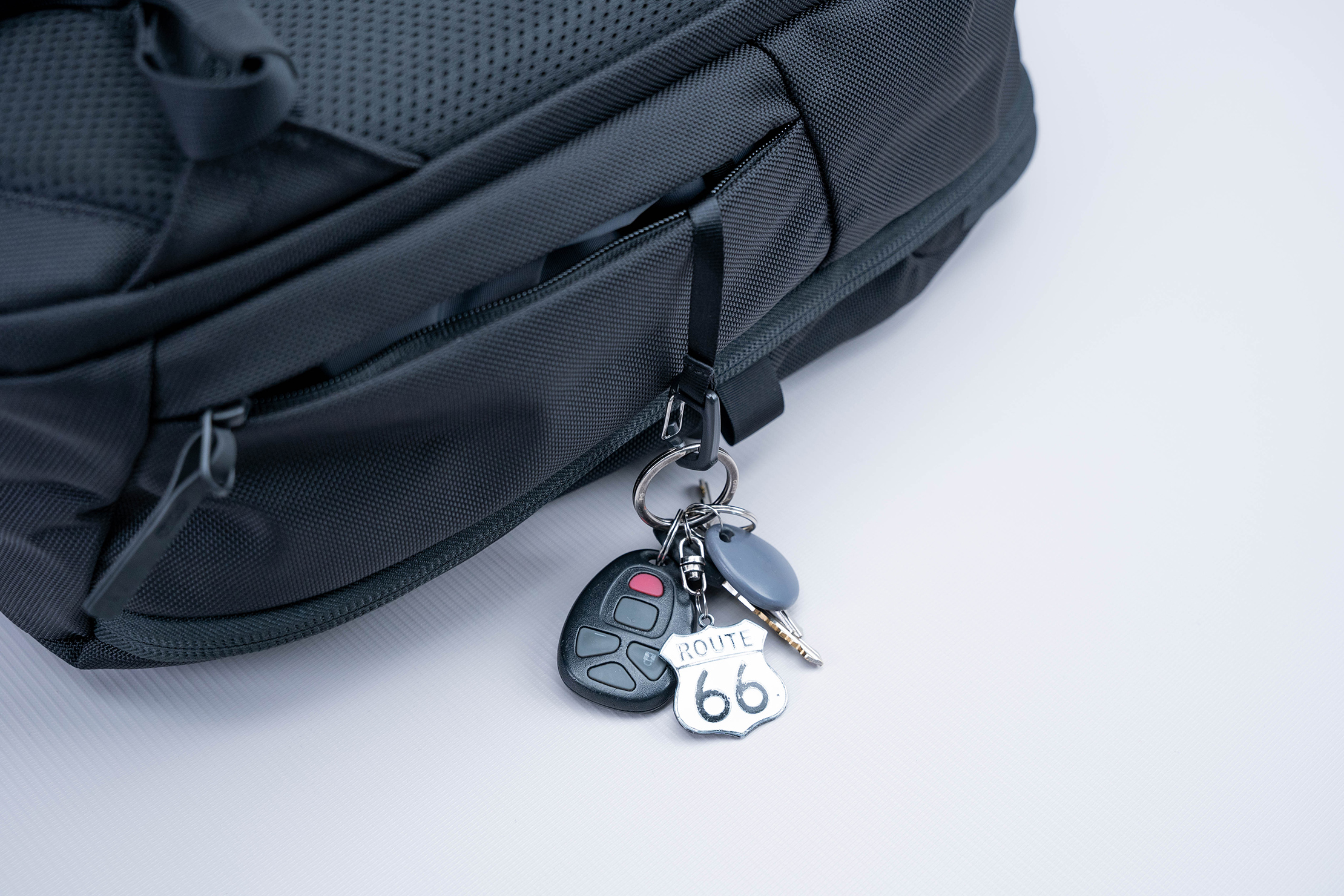 Inside, there's enough room for a few accessories, most notably keys, which can be attached to the built-in leash. A bundle of those is probably one of the everyday carry items we want to have in a separate pocket to avoid scratching other gear. Say, for example, we would like to carry a pair of sunglasses or toss in our smartphone. Those would stay in the top quick grab pocket while our keys stay in the side pocket.
On that note, we come to the top quick-grab pocket. This is more or less a standard feature on most Aer backpacks. The most noteworthy feature of this top pocket is its line with soft material designed not to scratch sensitive gear like sunglasses, lenses, and smartphone displays, among other things. There's a fair amount of room to play with, though how much exactly depends on how packed out the main compartment is. Look at it from the main compartment, and you'll see that the top pocket's a free-hanging pouch.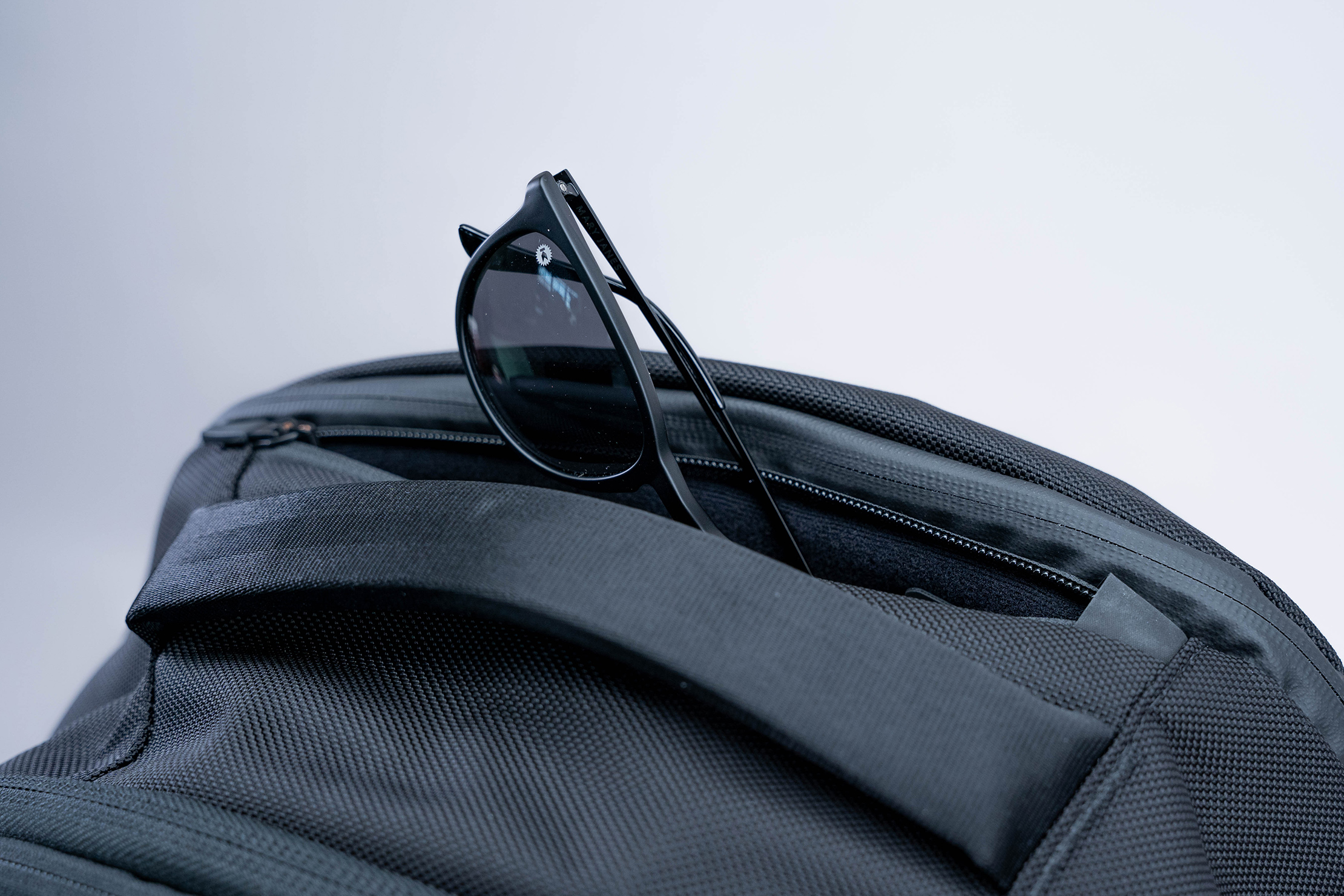 We particularly like using spacious top pockets like this one as a quick dump pocket whenever we're going through TSA. Though do be careful if you're going to throw anything very small since it is an all-black interior which makes finding smaller gear a bit tricky.
Quick side note: the top pocket uses a self-locking YKK zipper. Simply fold down the zipper pull, and it will stay in place no matter if it's pushed or pulled. This is useful for when you just want the pocket partially open to, for example, route a cable from a power bank to your phone.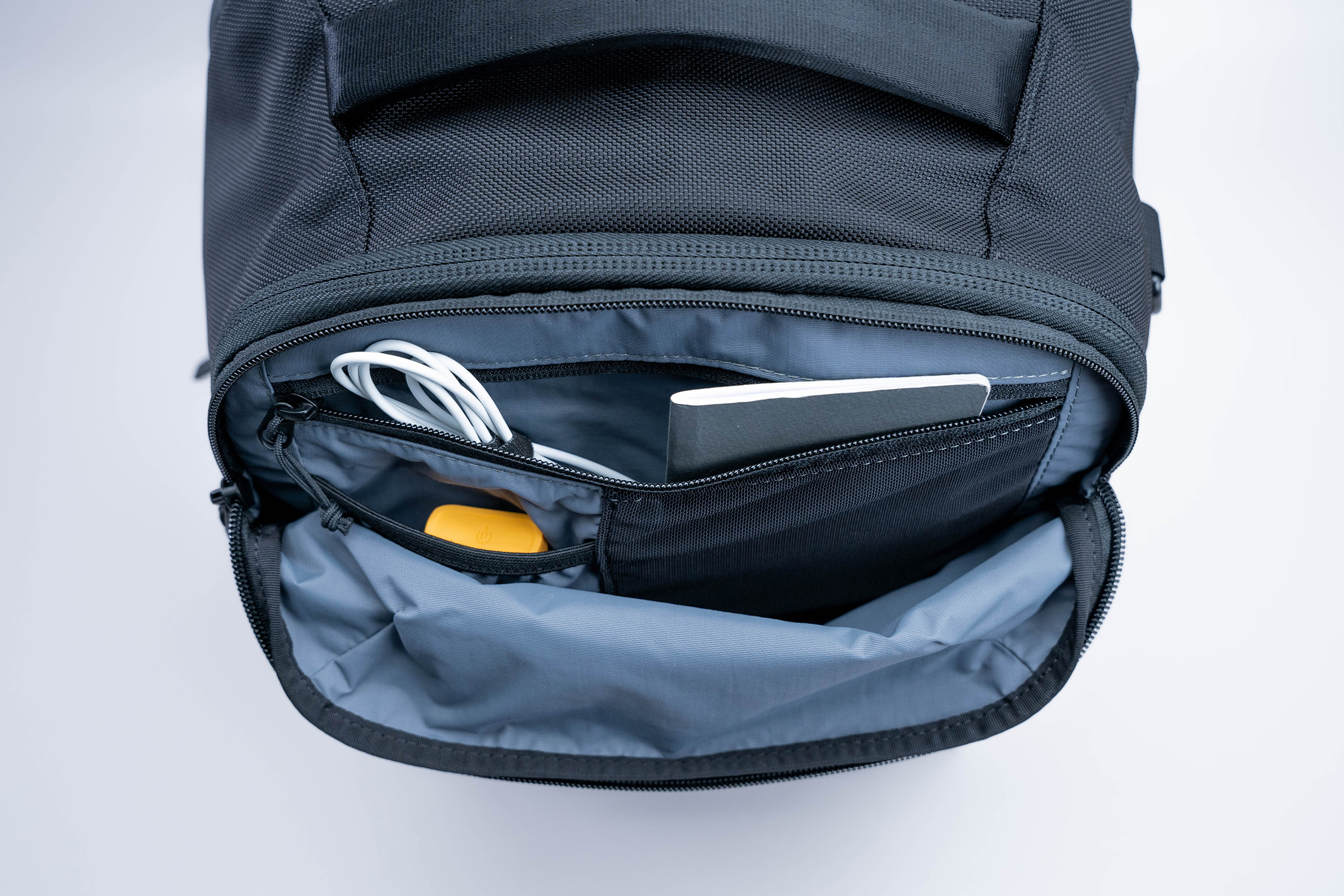 Next up is the front compartment where most of the City Pack Pro's more granular organization options reside. You get a zippered pocket, half of which is made of stretchy mesh so you can partially see what's inside. The other half where there's a liner pocket, is made of fabric. This is an interesting solution that maximizes the available space with further organization, but it's also not overboard.
The main area itself is big enough for a pouch like Aer's Slim Pouch or a tech kit of a similar size. It doesn't go all the way down, though, so don't expect it to hold super bulky gear. That's best reserved for either the main compartment or the lower front pocket that covers the other half. It's a simple dump pocket with no further organization inside, so you're free to maximize it as much as the space allows.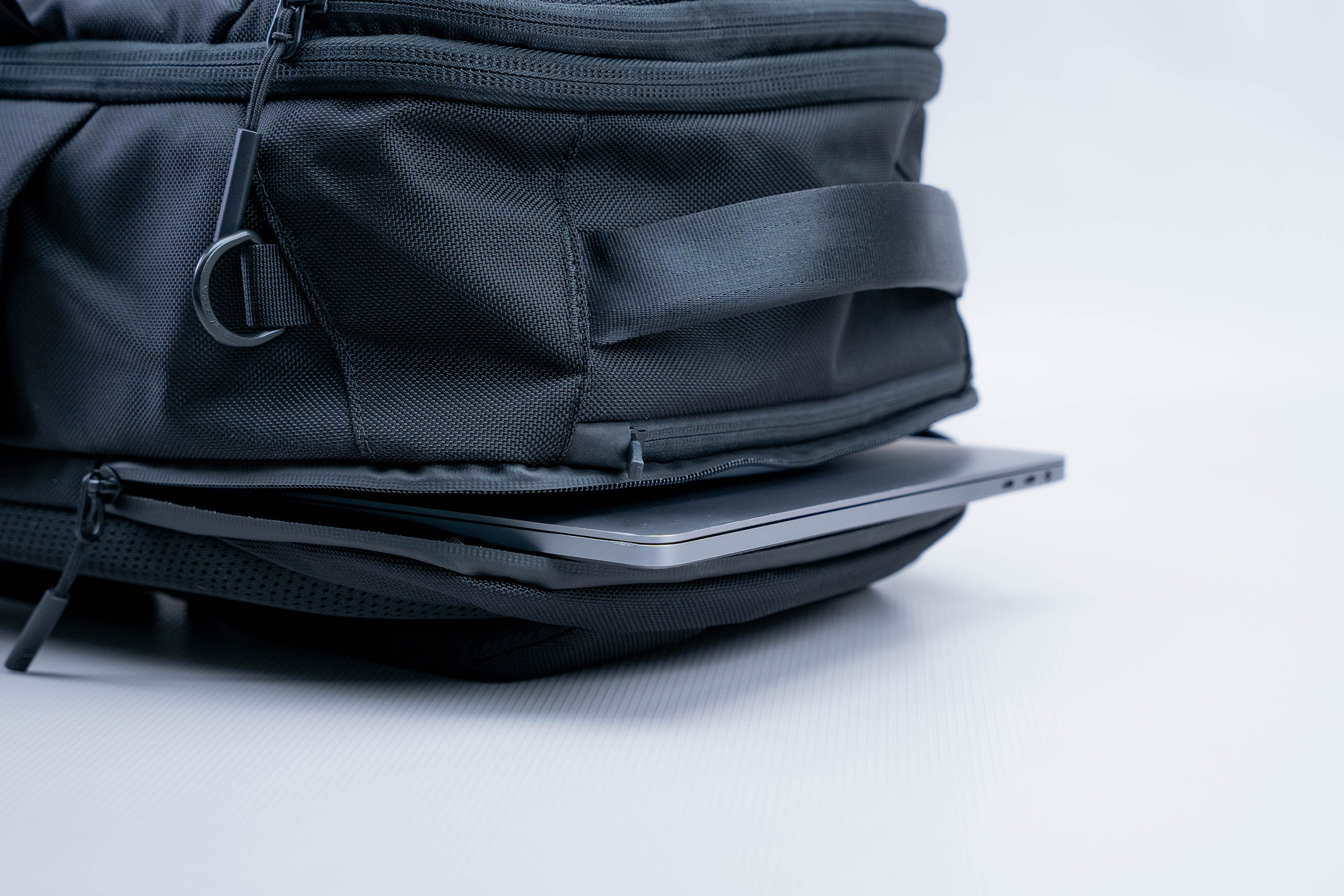 The laptop compartment gets two zippers for flexibility, opening about a third of the way down the sides in a horseshoe style. A 16-inch MacBook Pro fits in here with no problem, and there's padding on both sides, plus a sizeable false bottom to protect it from light shocks. There's also a padded divider where you can store another device in front. This is where you'd put a tablet or a travel-sized keyboard to go along with your laptop.
Up to this point, the City Pack Pro mostly resembles a much bigger City Pack. Okay, to be fair, Aer's backpacks resemble each other in general, but the City Pack siblings share a lot between themselves. Where the City Pack Pro most distinguishes itself, however, is with the way its main compartment opens.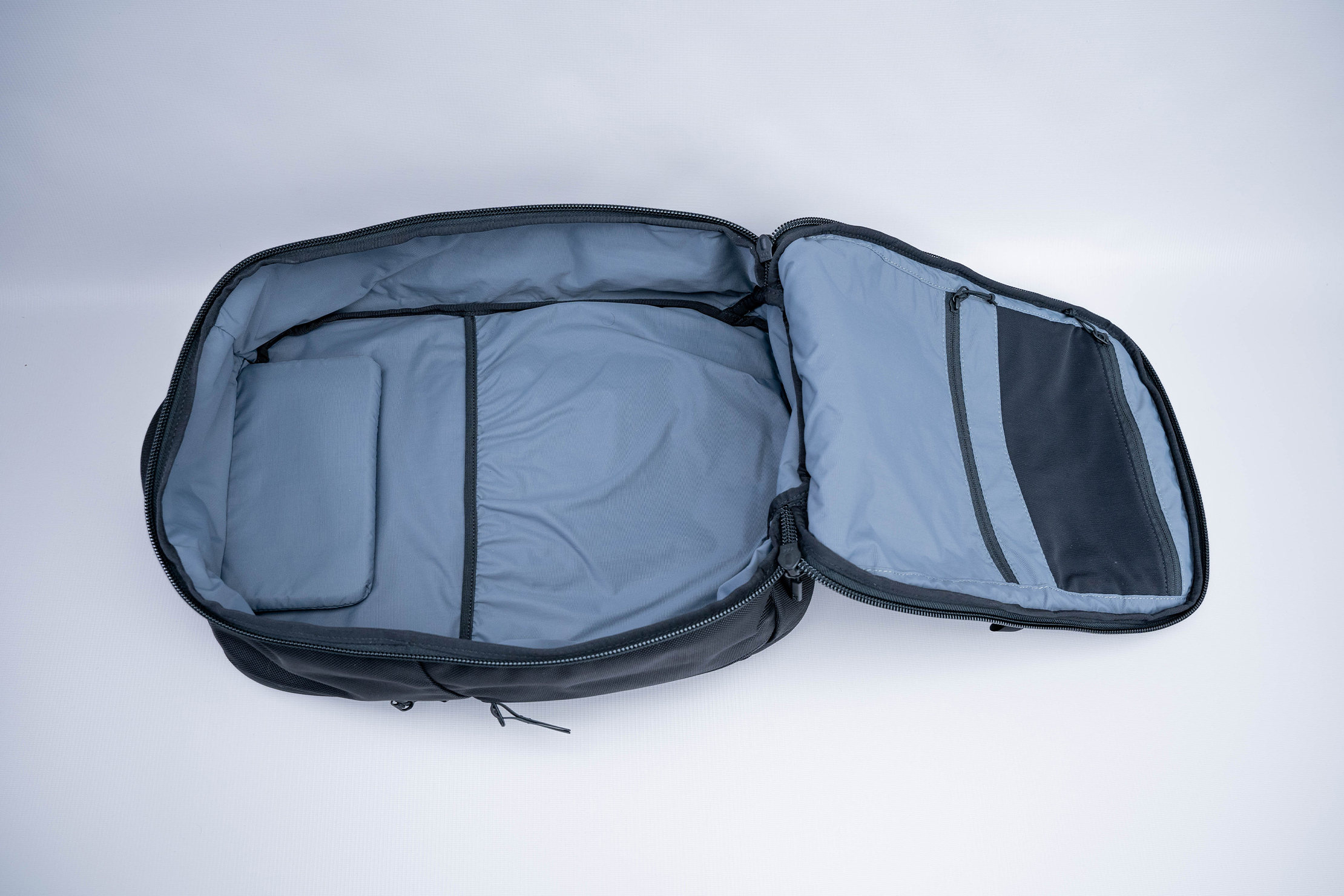 Instead of a more daypack-like horseshoe-style opening, you get a full clamshell. Yep, you've guessed it; it's just like what the Aer Travel Packs have. This makes the City Pack Pro also convenient to pack since you get wider access to the interior.
We have to say, it feels a lot less cramped here versus the City Pack, and not just because it's bigger in capacity. There's also less compartmentalization since there's a dedicated laptop compartment. This means more of the space is immediately available to be used, and you don't have to worry about putting gear in various pockets to get the most out of the capacity. Stacking packing cubes and pouches are easy, and you only need to mind the top pocket's hanging pouch.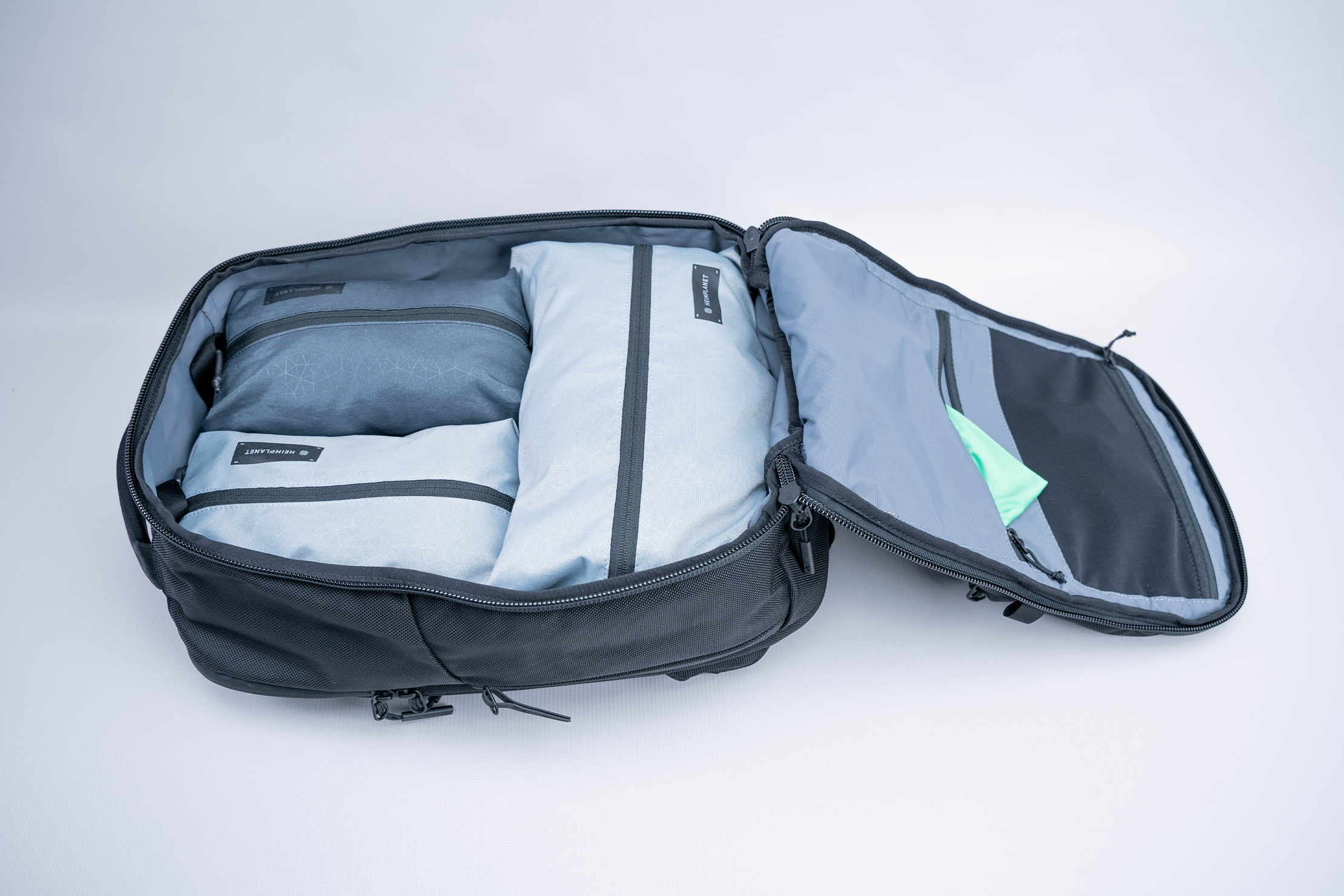 That said, you do still get some means of getting gear organized. On the front side, there's a zippered mesh pocket and a zippered liner pocket below it. Both pockets handle bulky gear relatively well, with the mesh pocket coping better because of its stretchiness. Keep in mind that they're up against the pockets on the front, so there may be some clashing.
There's also a sleeve at the back where you can store flat items like documents or less frequently used gear. Really, the key term there is "less frequently" because it's going to be buried beneath all of the gear packed into the main compartment. Admittedly, we've not found much use for this sleeve, but it's there in case you need it.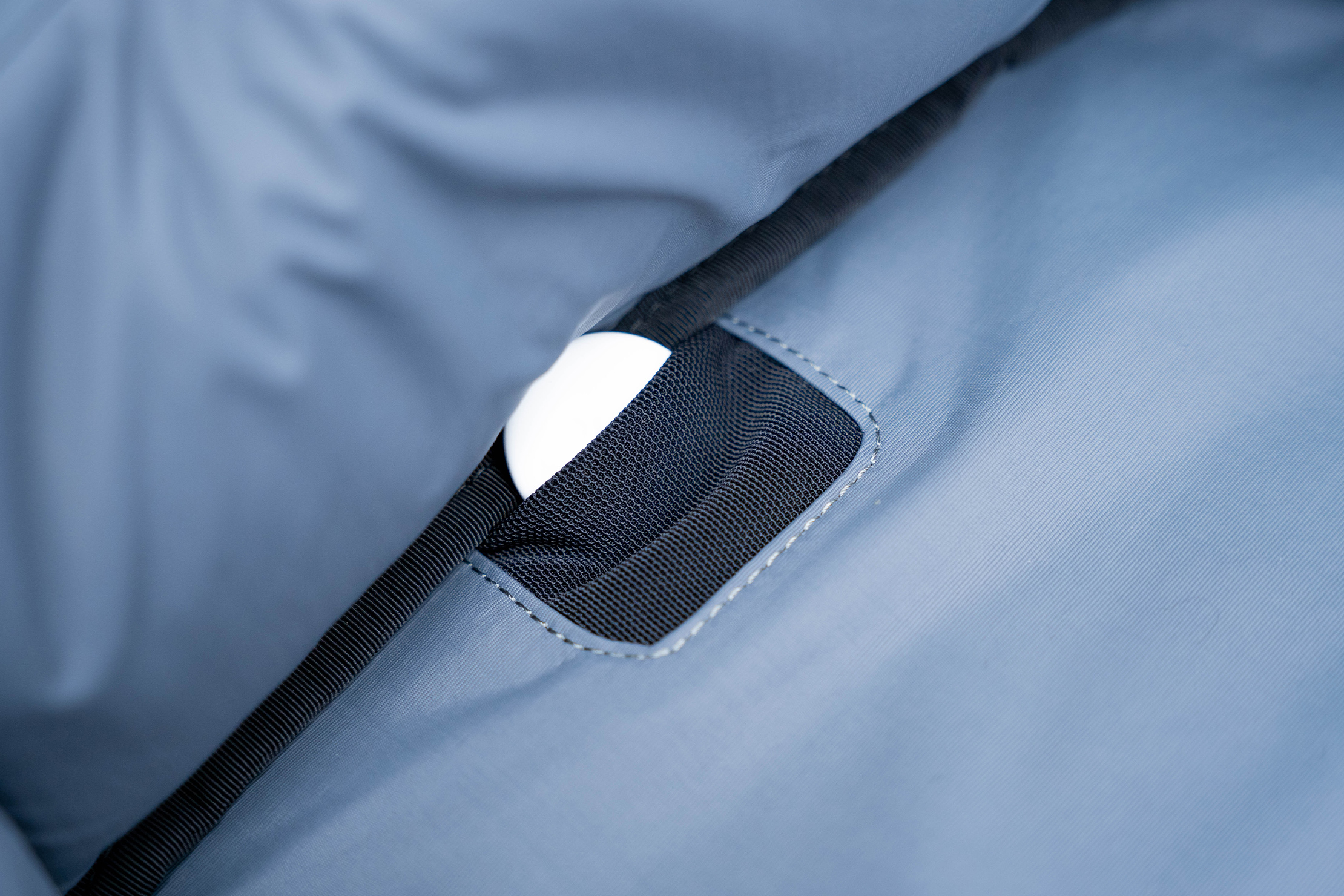 Last but certainly not least, if you take a peek behind the top pocket's hanging pouch, you'll find a tiny pocket for a smart tracker. With this, you won't have to stash your Apple AirTag or Tile tracker somewhere where it will get lost in the mix. Just remember to take the tracker out in case you're switching bags.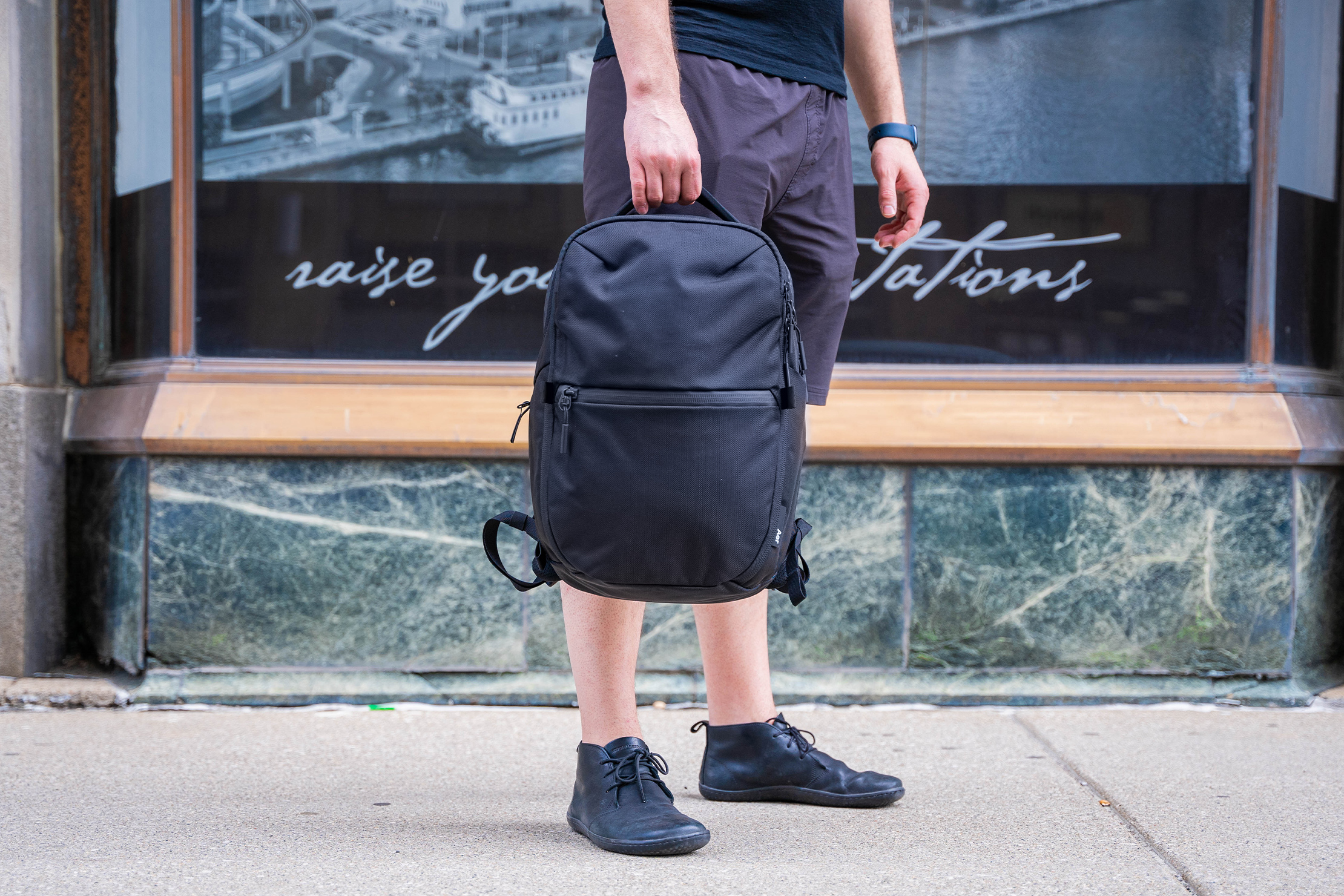 All in all, the City Pack Pro sits as a good in-between if you're on the fence about getting a daypack or a travel backpack. It's not overly done with a complicated harness system and an abundance of organization. On the other hand, it's also not starved of space, with only the minor cost of a little back-heaviness. In short, it's a daypack that can pull double-duty on short trips when you need it to.
Usage Timeline
Initial Usage
Condition: Excellent
Excellent initial impressions and already noticing some upgrades from the original City Pack
Comfortable fit
Nice organization without going overboard
Looks like a great little bag for a weekend trip—will be testing on one shortly!
2 Weeks of Use
Condition: Excellent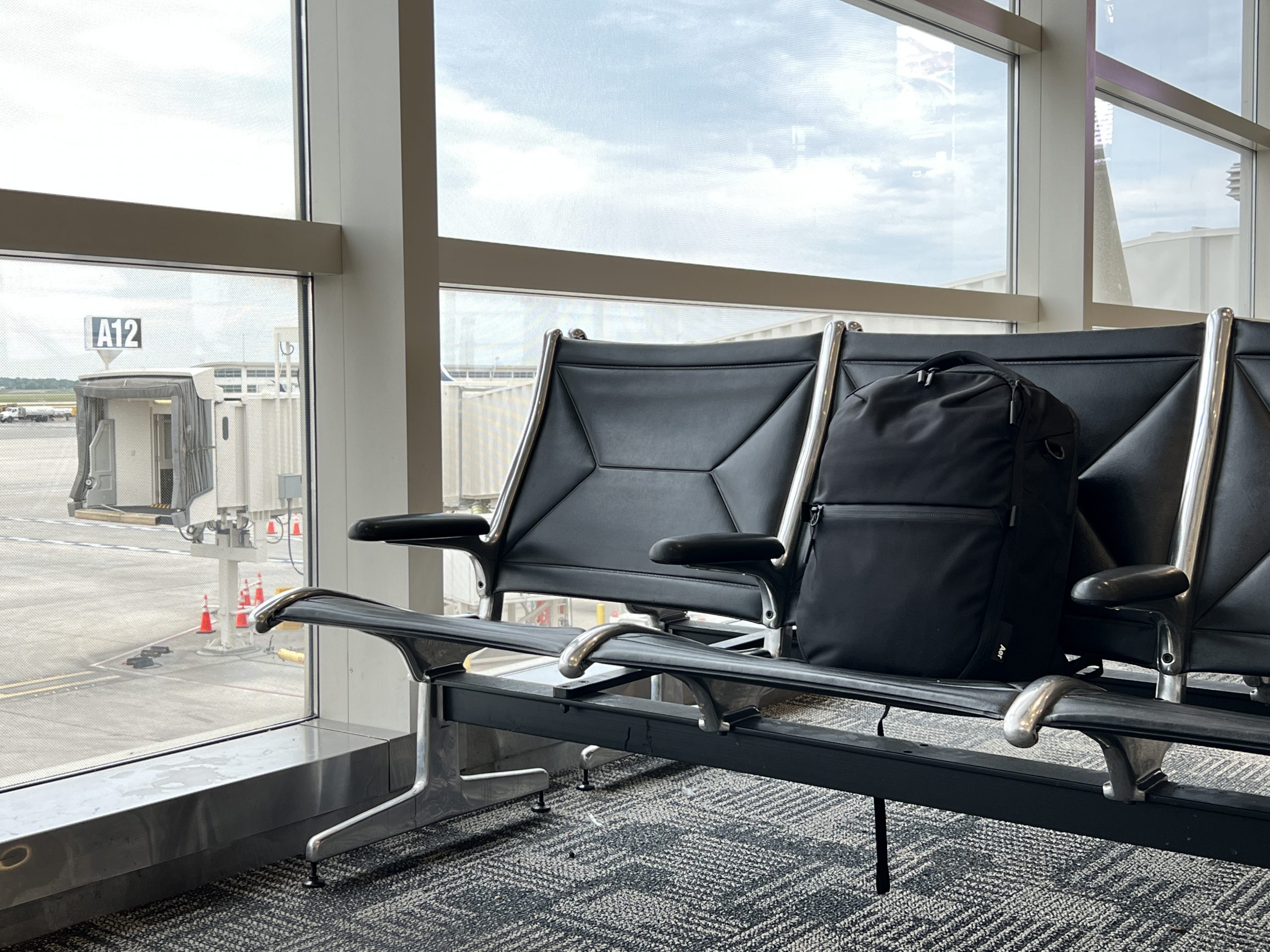 Worked well on a trip from DTW to MSP and back again—amply sized for a quick weekend trip
Front admin pocket is interesting—1/3 is liner while the other 2/3 are a stretchy mesh—this allowed the pocket to stretch but also offer a base for another pocket next to it
Comfy fit but sags down a little in the back
Still enjoy the dedicated place for an Apple AirTag.
Access the Pro Community Discussion
Get your questions about the Aer City Pack Pro answered from our team and the Pro Community right here on the page. Plus, join discussions with other members about gear, guides, and more.
Other Bags & Luggage Reviews