Aer City Pack Review
The Aer City Pack has plenty of pockets and compartments for keeping gear organized, though using all of them at once cuts into available space.
Our Verdict
Unlock the Pro Summary
Save time. Get access to brief summaries of our reviews so you can browse and make decisions more efficiently.
Pros
Comfortable back panel that shapes to the body
Dedicated pocket for an Apple AirTag or Tile tracker
Plenty of pockets for organizing gear
Cons
Hard to maximize both space and organization
Magnetic sternum strap less comfortable than a typical buckle
Water bottle pocket eats into the bag's capacity
Recent Pack Hacker Video
Technical Details
Capacity

14l

Weight (lb)

2.5 lb (1.1 kg)

Denier

1680D

Dimensions

18 in x 12 in x 5 in (45.7 x 30.5 x 12.7 cm)

Notable Materials

CORDURA® Ballistic Nylon, YKK Zippers, Duraflex Hardware

Manufacturing Country

China

Laptop Compartment Size

16"

Warranty Information
Buying Options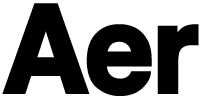 $149.00

$149.00
Full Review
Get up to 10% off Aer • Join Pack Hacker Pro
Sometimes two shoulder straps are just better than one or none, and so alongside the City Sling 2 and Split Kit is the City Pack. As the name suggests, this is a backpack designed specifically for the adventurer who likes to explore the urban jungle. At its heart, the City Pack is Aer manifesting its forte in travel gear designed with practical features in mind.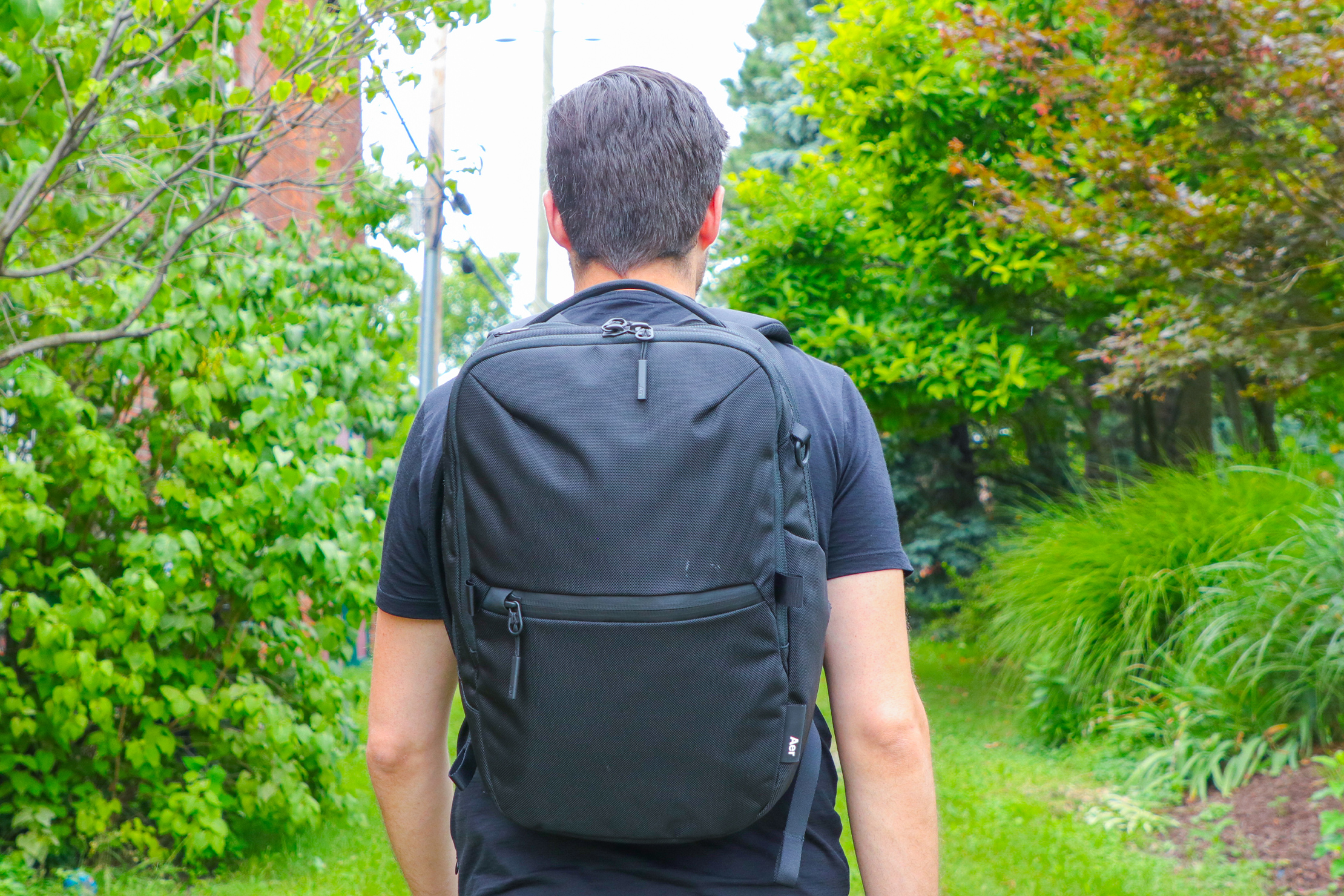 To be more specific, the City Pack has a ton of organization inside for tech items, whether big or small—remarkably so for a daypack coming in at just 14-liters. However, there is something to be said about having too much organization packed into a small package. The City Pack also carries well, thanks to a few tweaks to the standard Aer back panel we're used to seeing, which we definitely noticed during our testing. Spoiler alert: the tweak works, and our backs appreciate it. As per usual, there's a fair amount of details to go through with anything Aer-related, so let's jump into it.
Materials & Aesthetic
The City Pack wears Aer's signature styling proudly. Even in this discreet Black colorway, one can see the company's usual styling cues, arguably the most prominent of which is the front horizontal zipper. We've definitely seen this before, and bonus points if you have as well—it's very similar to Aer's own Travel Pack 2. That's brand identity for you, and for Aer's gear, the fit and finish of the product means just as much as aesthetic.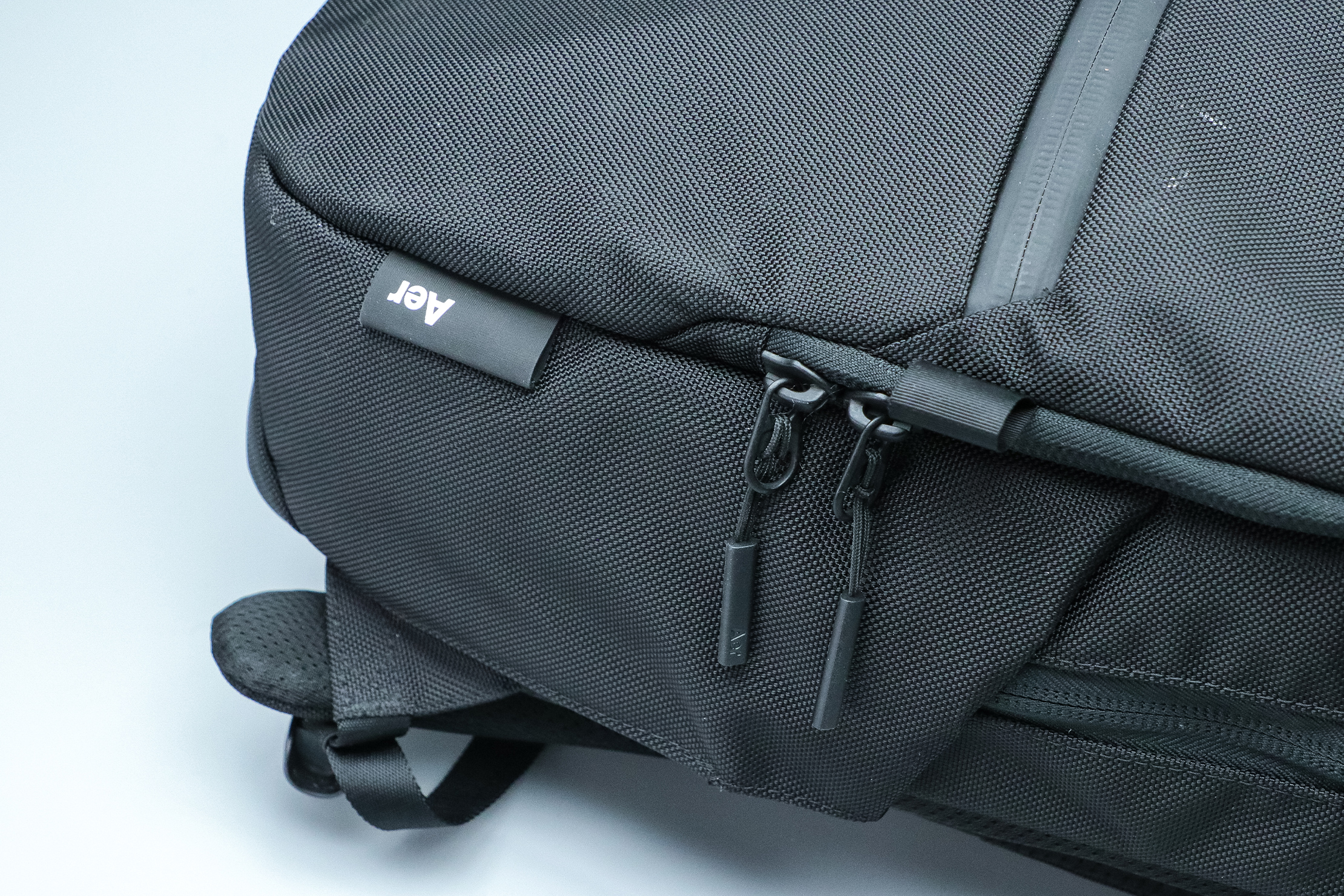 Yep, we have the usual quality materials on the City Pack: 1680D CORDURA Ballistic Nylon, YKK zippers, and Duraflex plastic hardware. We haven't had trouble with them in the past because of their durability, and the City Pack is no exception. The zippers slide along nicely, whether it's the front pocket's AquaGuard zipper or the reverse coil zipper of the top quick-grab pocket. Plus, they're not jingly like in earlier Aer products. Stains do sometimes stick to the shell, but they're easily wiped off in most cases. The hardware is also easy to adjust, which is important for keeping things comfortable.
At the time of writing this review, there's also a Gray and X-Pac version, each featuring a different fabric for the shell. The X-Pac version is made with, well, X-Pac, and has better weather resistance, while the Gray's 900D Ecoya eco-dyed polyester has a smoother texture. Each has its own practical merit, though choosing based on aesthetic preference is just as valid.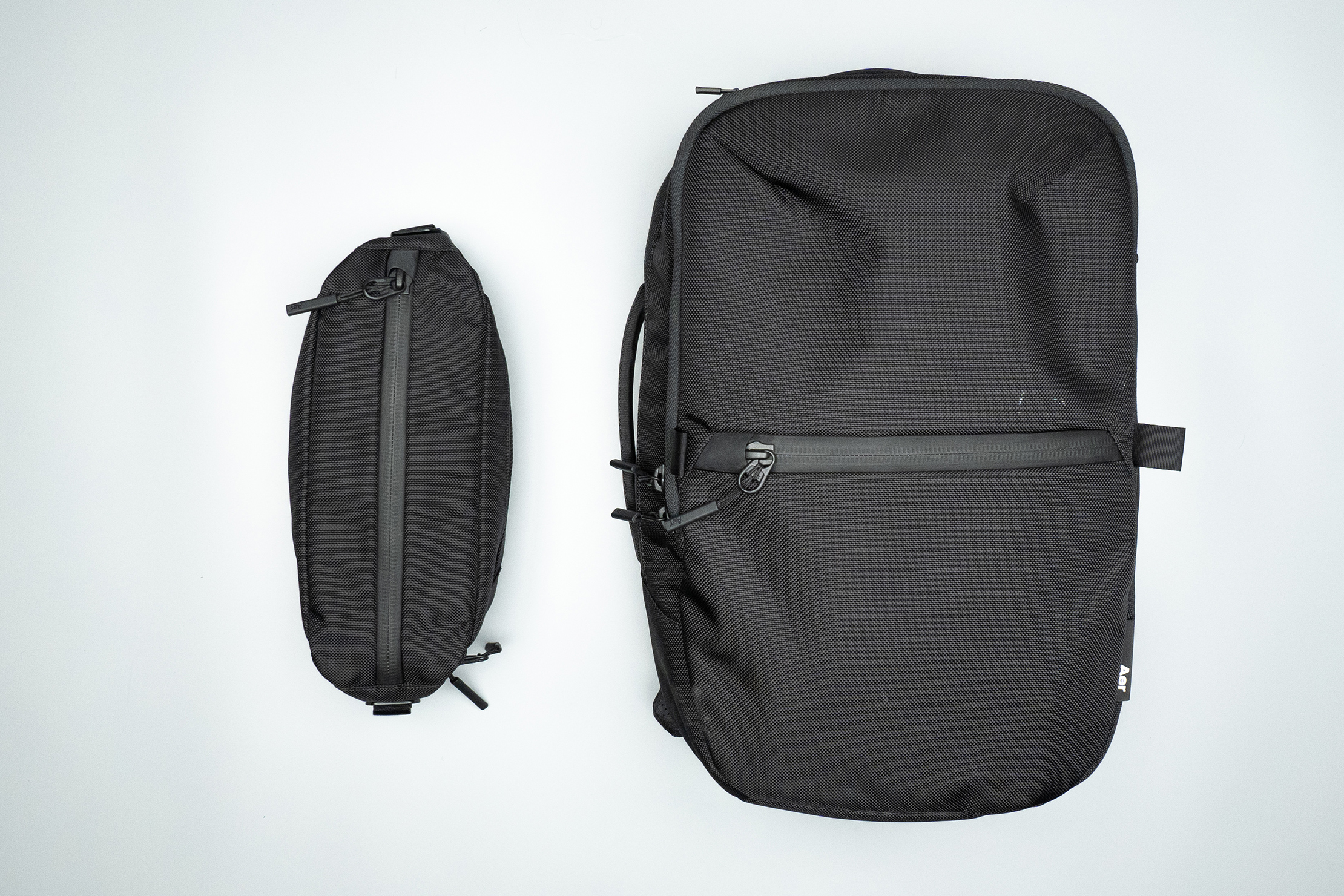 Branding appears minimal, with only small Hypalon tabs bearing Aer's name, but we overall still dig the fairly simplistic approach to styling. It's not overly different from the well-established mold of urban design, so the City Pack blends in nicely. Aer's designs are clearly working for them, and if it ain't broke, why try to fix it?
External Components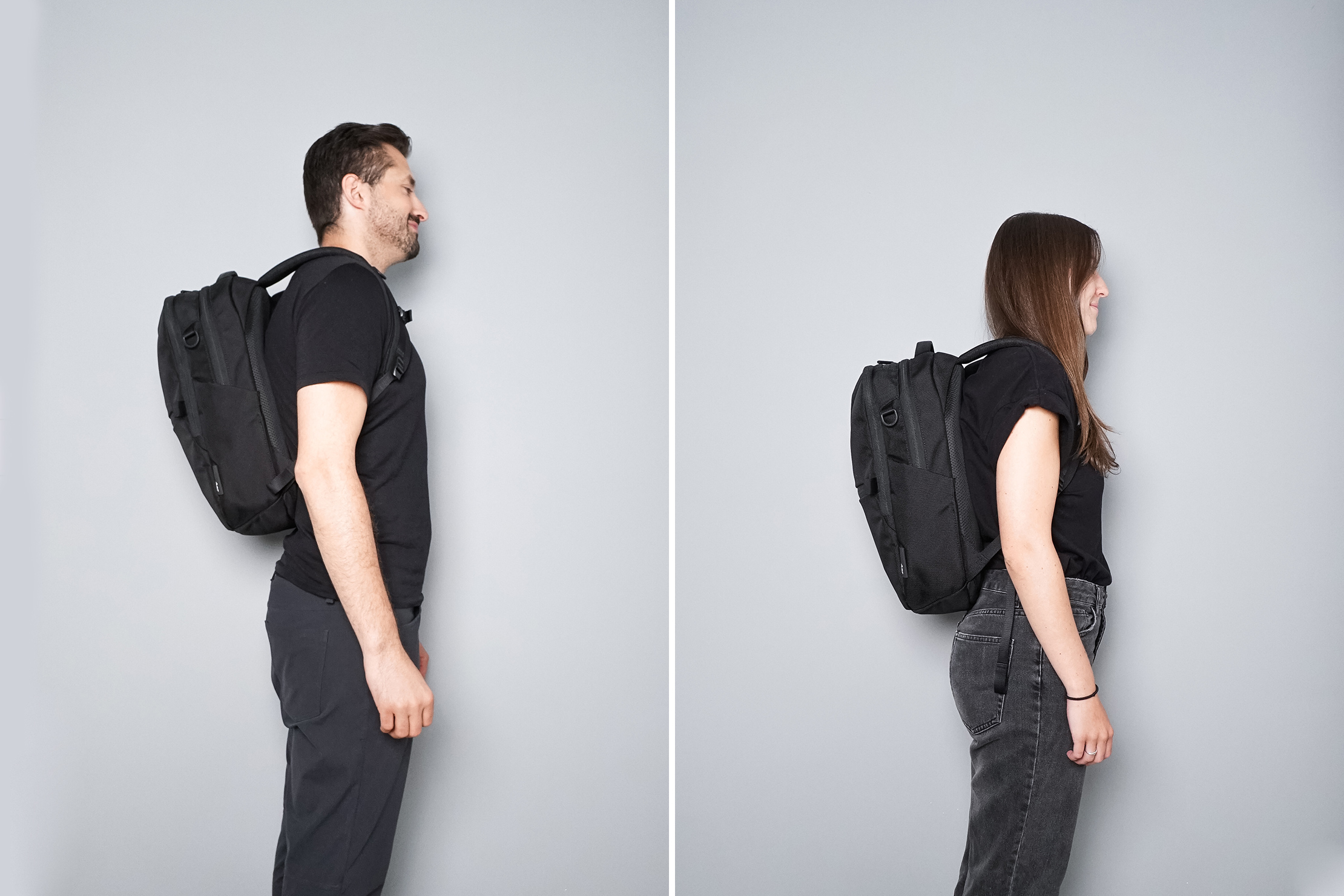 Since the City Pack is a daypack meant for day-to-day adventures around the city, the capacity isn't anything crazy. Coming in at a small but respectable 14-liters, there's enough space to keep the average urban dweller properly equipped. Though the size is relatively small, that's not to say Aer's been stingy with the harness system.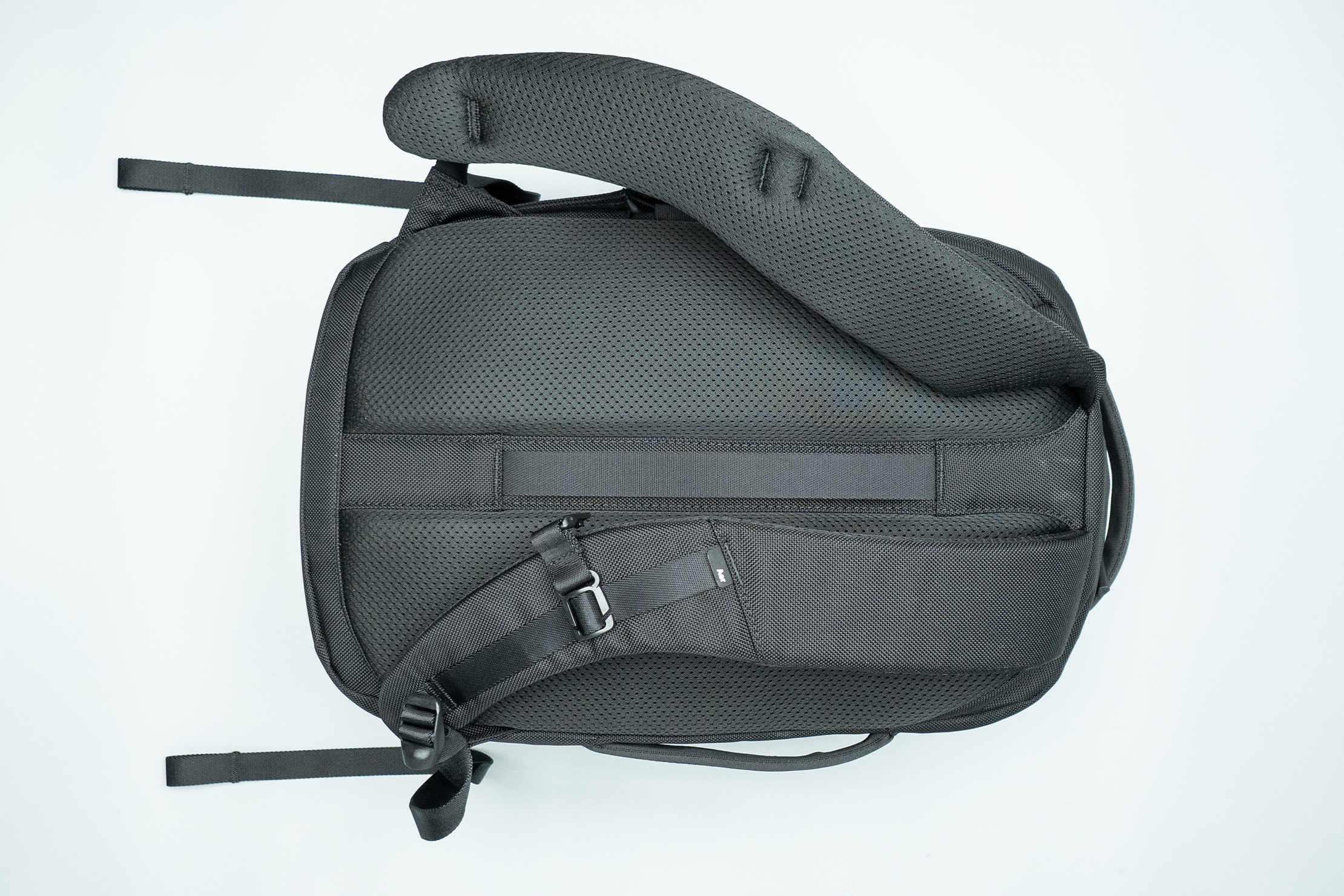 The shoulder straps are well-padded with dense foam and are covered in breathable mesh. They feel nice and cushy against the shoulders without any digging-in sensation around the edges. On the left shoulder strap is a small Hypalon tab with Aer branding, while the opposite strap has a more practical D-ring where you can hang accessories like carabiners. Of course, the straps are also length adjustable, complete with strap keepers and loops at the end for grabbing.
Below is a seatbelt-like material acting as a rail where the sternum strap is mounted. We prefer this kind of mounting for the sternum strap because it allows for a fine degree of adjustability compared to loops and anchors. The sternum strap is also completely removable, and you may want to, given the relatively lightweight capacity.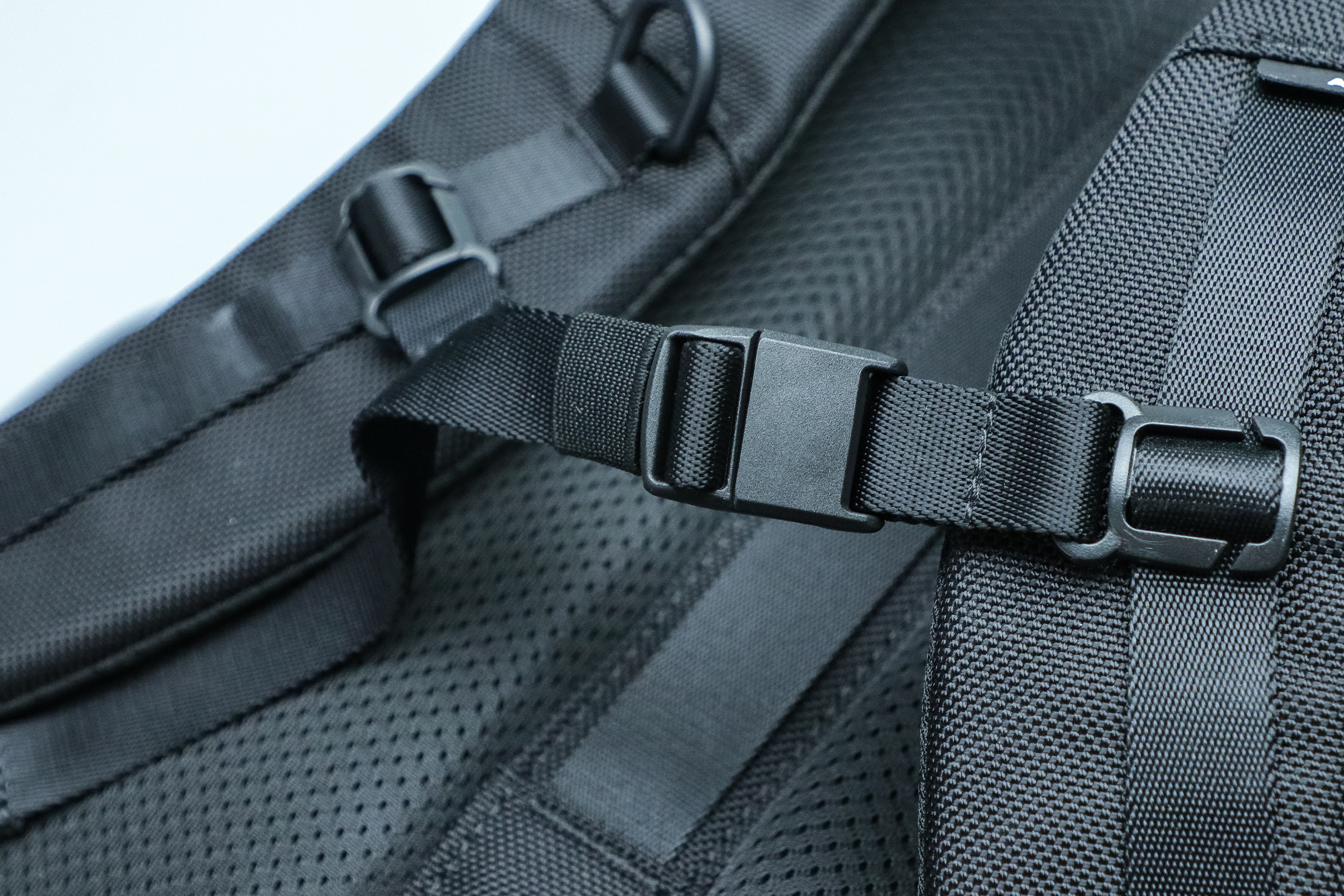 Something we don't particularly dig about the sternum strap is Aer's choice of a magnetic Fidlock buckle. While we think magnets are awesome in their own right, we find simple side-release buckles more comfortable to use on sternum straps. The magnet on the City Pack's sternum strap needs to first overlap, then hook on to lock together, which requires a bit more effort altogether. In contrast, a more typical buckle simply slides in to secure itself. It's a small detail, but something we definitely took notice of, especially when we had the bag packed tightly. The good news is that the magnetic buckle is more of a nitpick in the grand scheme of things, and it's the biggest complaint we have in terms of comfort.
The back panel has two parts of very thick padding and is covered in mesh. But the mesh isn't the only thing keeping our backs nice and cool. The two panels of padding are thick enough to create a sizable valley where air can pass through. There's also a nylon strap here so you can sit the City Pack atop your rolling luggage—handy in case a city across the pond piques your interest.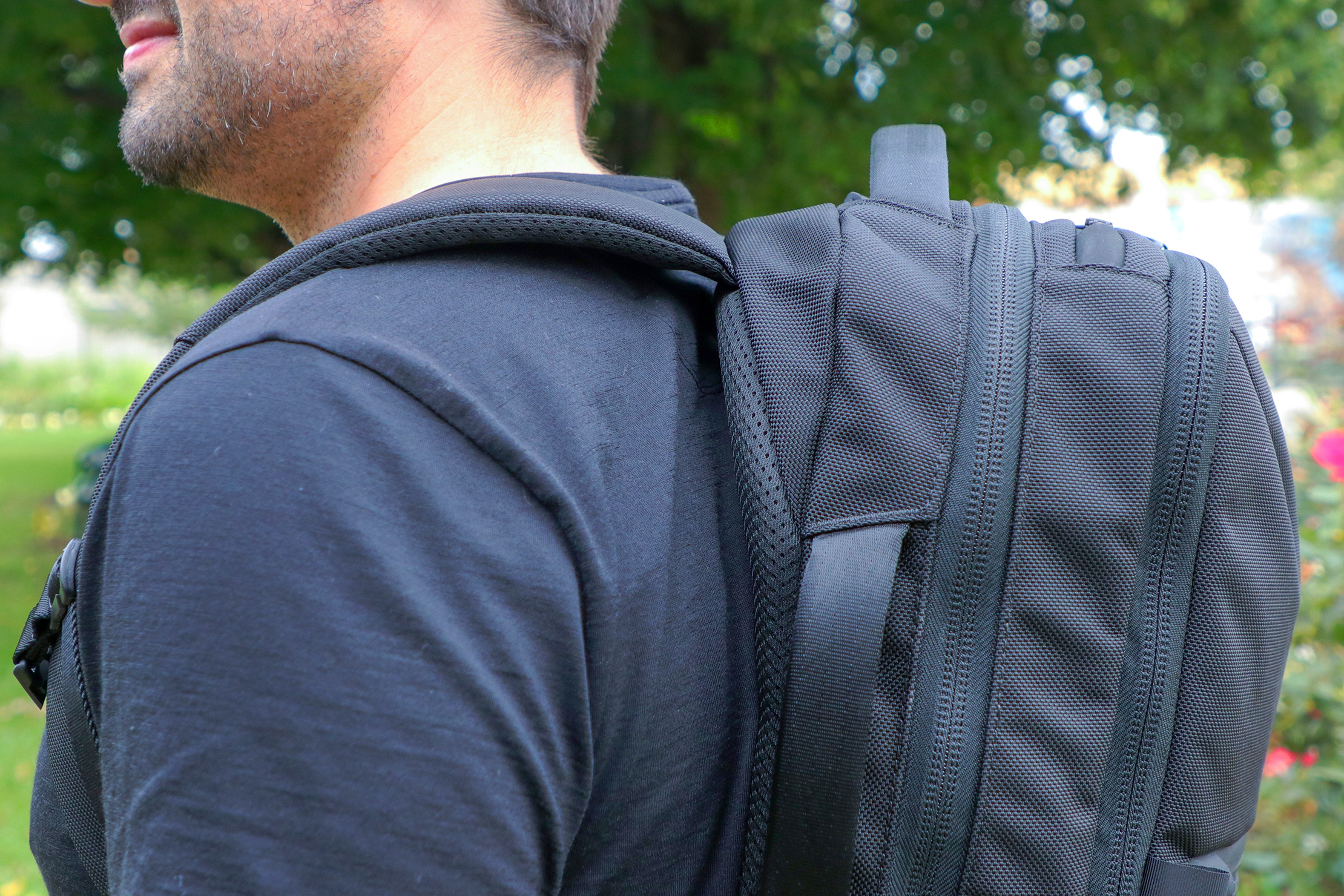 One of the key highlights of the City Pack is how the back panel contours to your back when you wear it. It has a gusset along the top, which allows the top portion to stretch forward closer. We've had Aer products that lacked this gusset, and they never seemed to sit right, especially for those of us with bigger builds. All of this is to say that the City Pack is one comfortable backpack to wear around the city.
Apart from the shoulder straps, the City Pack also has a top and left side handle for carrying by hand. We appreciate the fact that both of these handles are comfortably padded, which we've found can sometimes be lacking even on backpacks larger than 14 liters. One thing to watch out for is that the side handle is biased more towards the back, so the City Pack has a bit of a tilt when carried sideways. Not a huge deal, just something we observed.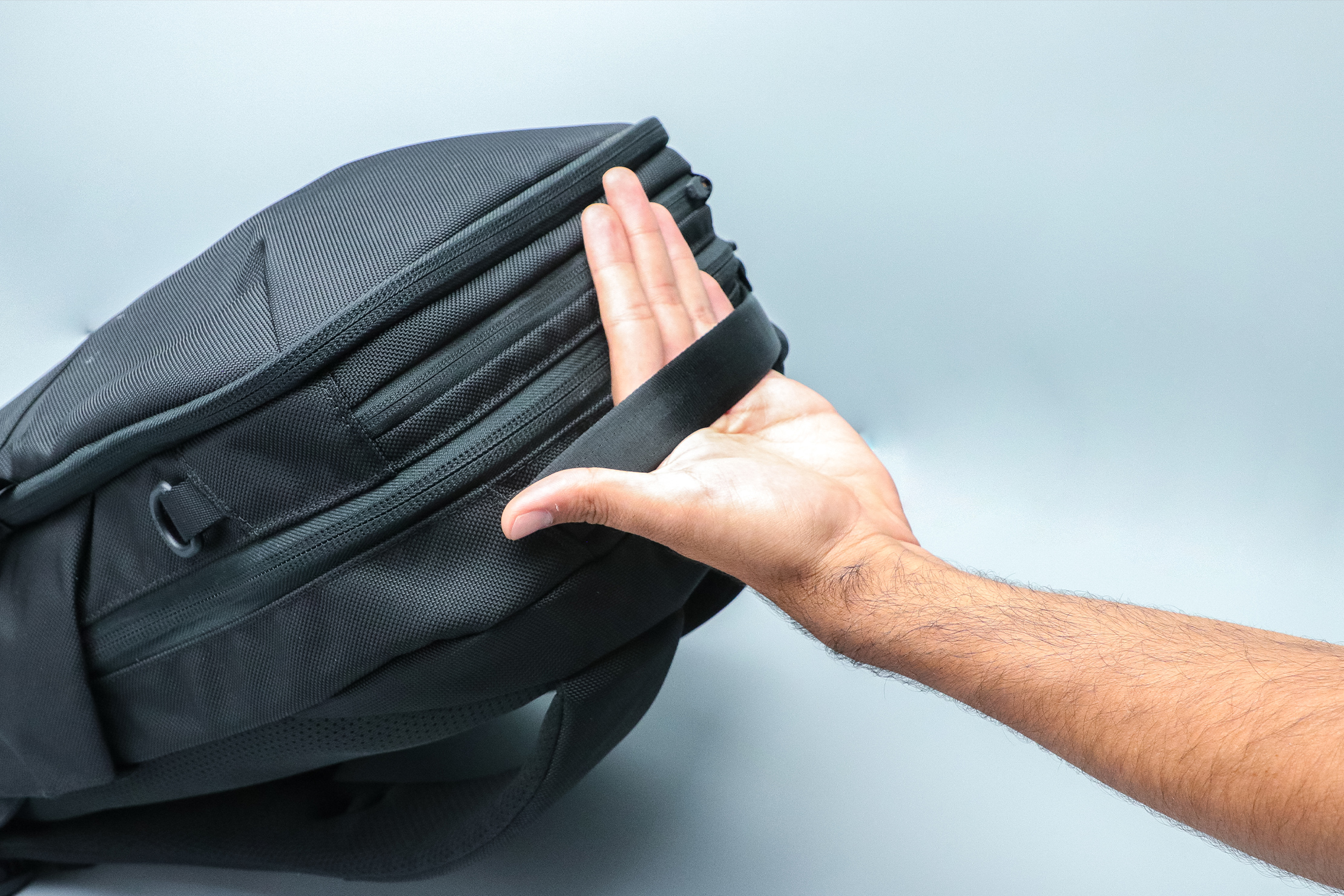 Last but not least is the right side water bottle pocket. It's not immediately noticeable because it folds flat, courtesy of a zipper. Once unzipped, there's a piece of elastic to help the pocket grip bottles. It's not much, and it remains to be seen how well the elastic will hold up over time. For now, it grips our 18 oz. YETI Rambler well enough. Below that is a gusset, though it's also relatively small, so inserting a bottle takes a bit of space away from the main compartment. Above the pocket is another D-ring, handy if you're using it to store a compact tripod. Hook on a carabiner, and that tripod isn't going anywhere without your say-so.
Inside The Backpack
First up is the front pocket, and it's headlined by the welcome sight of an AquaGuard YKK zipper with a Hypalon zipper garage. Loops flank it for holding onto to make unzipping easier or for hooking on accessories. As mentioned earlier, this kind of zipper is a staple on a lot of Aer products, and it makes the front pocket one of the most weather-resistant spaces on the City Pack. The pocket itself runs pretty deep, so everyday carry items will fit inside easily like beefy power banks, thick wallets, small notebooks, and yes, even keys.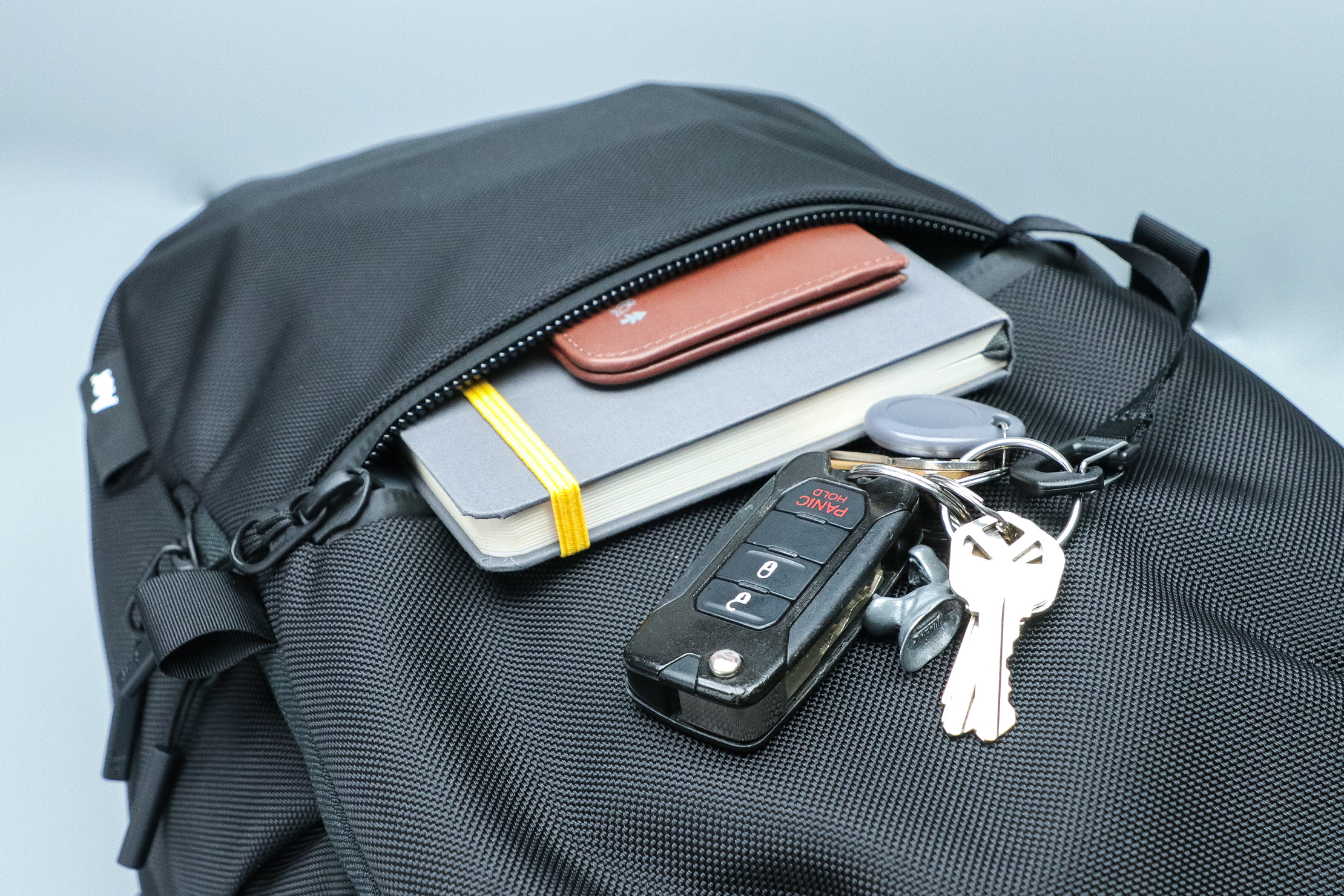 There's a built-in key clip inside with a long leash so you can realistically unlock a door without detaching your keys. The clip itself has been upgraded too; it's now a beefier carabiner-style clip compared to the Aer products of yesteryear.
At the top of the City Pack is a quick-grab pocket, and this one has a soft padded fabric interior. We make it a habit to bring sunglasses during trips, so it's nice to see a dedicated pocket where easily scratched items can go in. We also toss our smartphones in there sometimes when we need to empty our own pockets, like through airport security.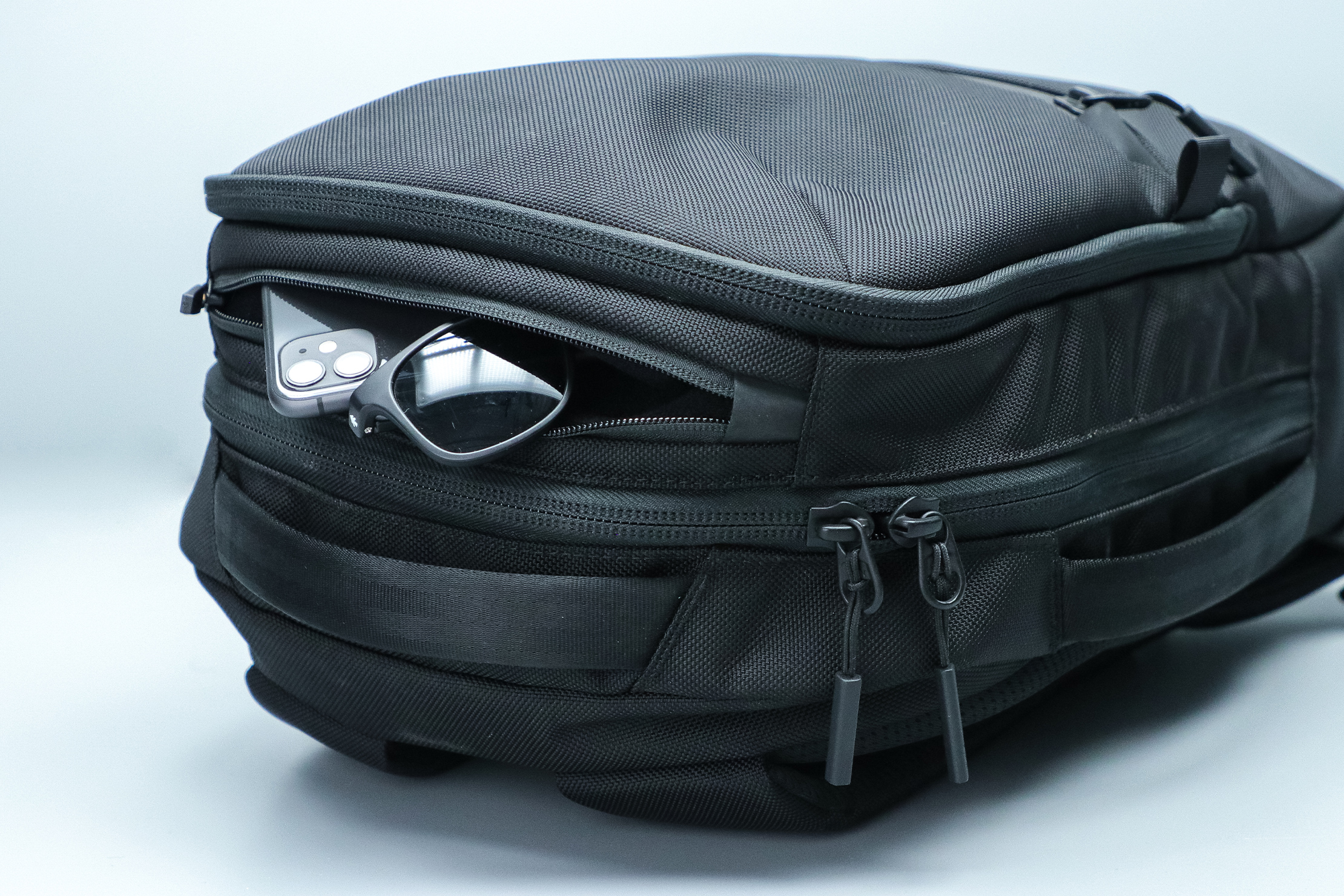 Next up is the front compartment, and already there's a commendable amount of organization in here alone. Starting from the front, there are two liner pockets, though they aren't super grippy, and things can get jostled out of them with sufficient movement or if the bag tips too far to one side.
Above those two pockets are a mesh pocket, plus three more liner pockets, one of which is a pen silo. Just behind those is a zippered compartment for smaller items like loose dongles and thumb drives. Finally, there's a tablet sleeve that can fit a 12.9-inch iPad Pro inside. All of these make the front compartment a well-organized spot for tech (sans the laptop sleeve, which is located inside the main compartment).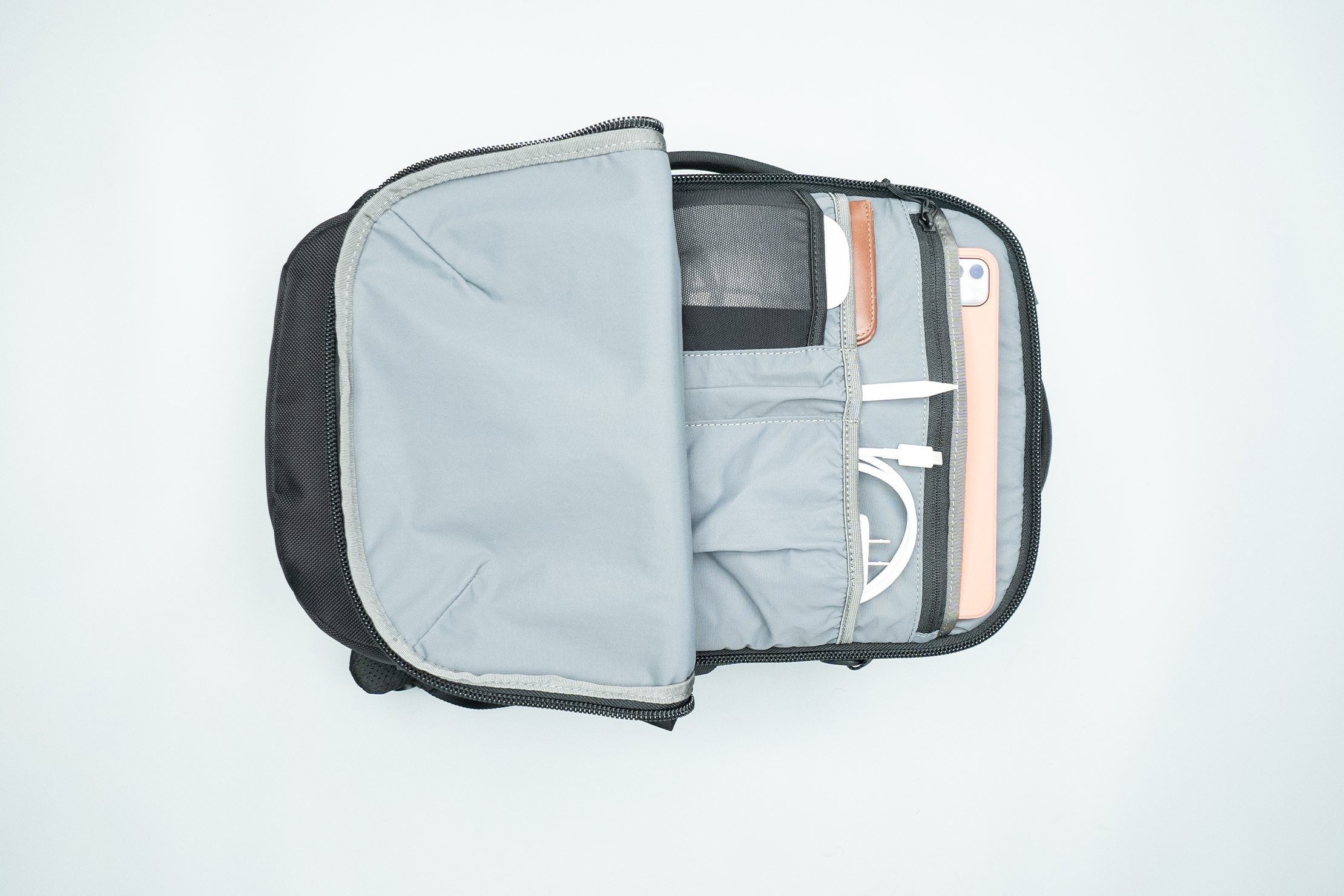 Like the front compartment, the main compartment also opens up horseshoe-style, giving good accessibility to the entire space. Inside there's a surprising amount of organization as well. We say surprisingly because, on most daypacks, it's not uncommon to see one compartment have a ton of pockets while leaving the main compartment free and open.
In the City Pack's case, Aer's put in a considerable amount of organization here. There's the well-padded floating 16-inch laptop sleeve towards the rear, plus a spacious liner pocket in front of it. On the front side, there are also two additional liner pockets. You can stuff the liner pockets as you see fit. For our setup, we used the liner pocket in front of the laptop sleeve to keep our jacket separate from the rest of the gear inside.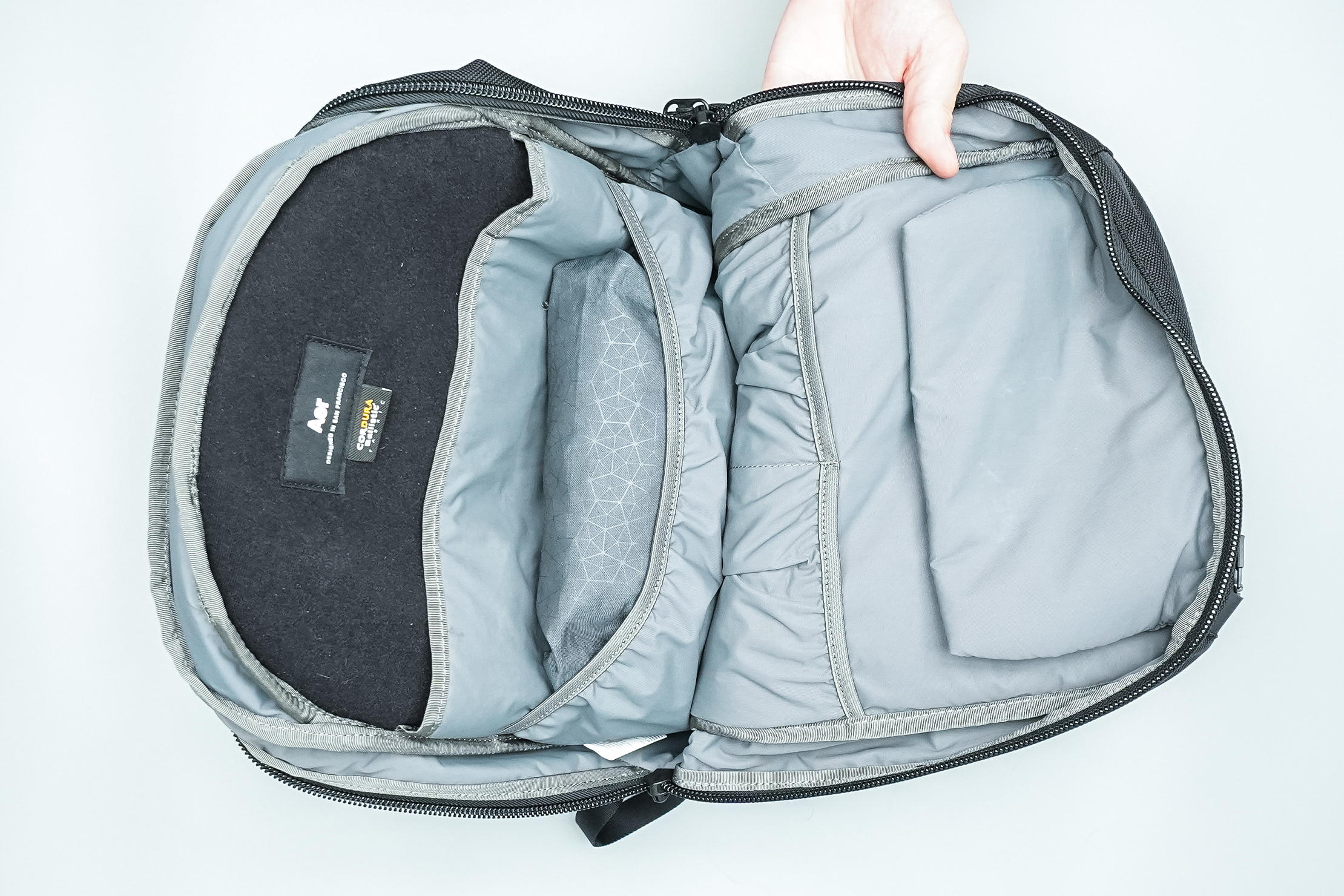 One easy-to-miss but oh-so-awesome feature the City Pack has is a dedicated pocket for a Tile tracker or Apple AirTag. This small pocket is a welcome addition as it eliminates the need for a separate pouch or holder for Bluetooth trackers. It's well-obscured, right behind the pouch of the top quick-grab pocket, making it fairly hard to spot for any evil-doer who would snatch your bag away.
With the number of pockets and compartments, there's definitely a trick to maximizing the available 14-liter capacity of the City Pack. Because there's a lot of options available for organizing and separating gear, some of them can conflict with each other. For example, using all three liner pockets in the main compartment pretty much leaves no space in the middle for pouches or packing cubes. Additionally, fully packing the top quick-grab pocket eats into the main compartment's space. We're not entirely sure if this amount of pockets are necessary, and we had a hard time using all of them at once.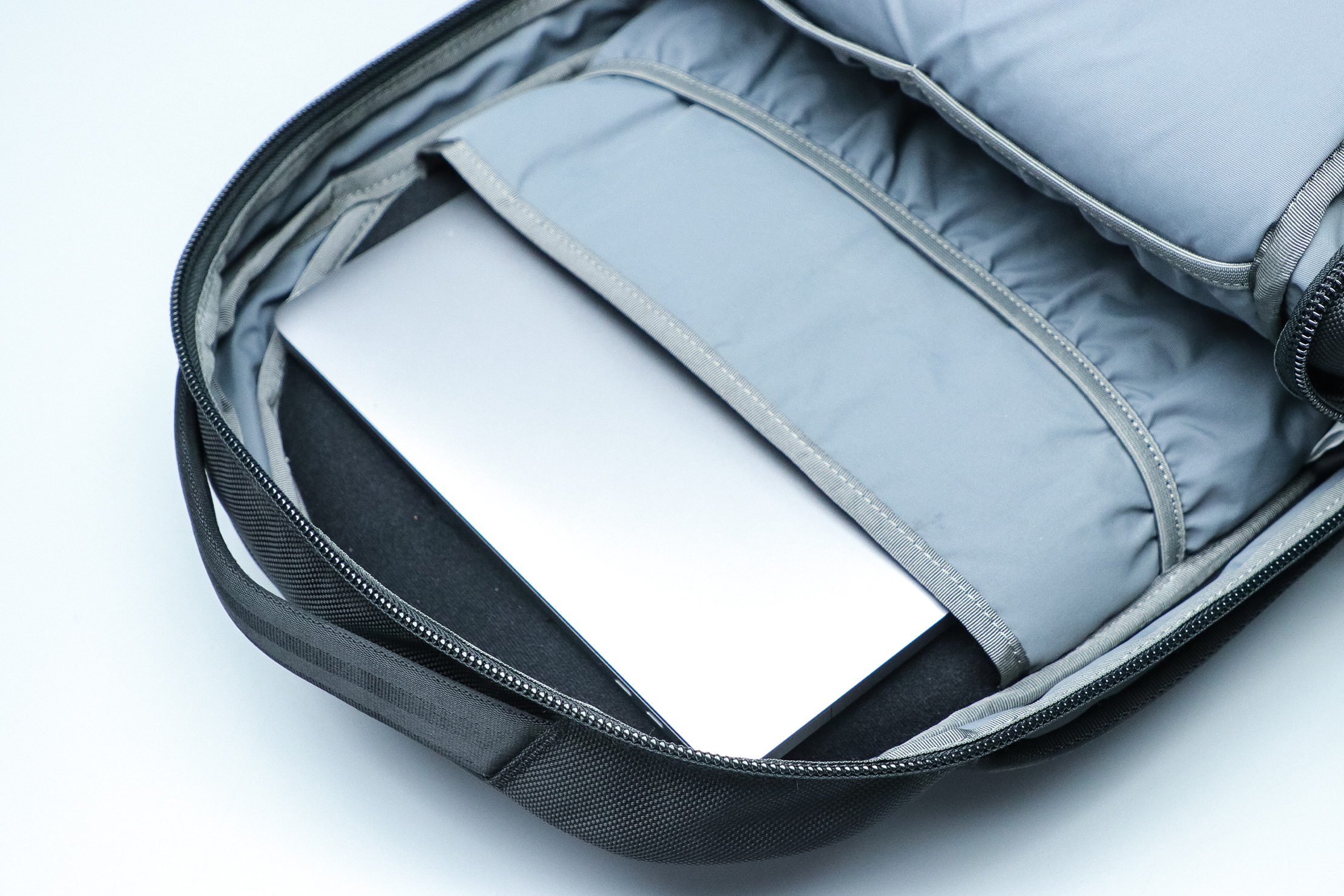 A wise person once said, "Better to have it and not need it than to not have it and need it," and we kind of see this with the City Pack. The variety of options for storing items and organizing them is great, but the caveat is that it's not the most efficient way to maximize the available space. The way we see it, some of the pockets are options you may or may not want to use depending on what gear you're carrying. However, the flexibility is at least there in case you need it.
Usage Timeline
Initial Usage
Condition: Excellent
There's a dedicated pocket for Apply AirTags or Tile trackers
The back panel as subtle curve when you look at it from the side
Well-balanced tech organization inside
2 Weeks of Use
Condition: Excellent
The additional fabric between the straps creates a comfortable fit on different body types compared to previous Aer backpacks
The bag is slim, which is nice, but there are a lot of pockets inside, and the bag can become bulky quickly
Really dig the small pocket for a Tile or Apple AirTag
Access the Pro Community Discussion
Get your questions about the Aer City Pack answered from our team and the Pro Community right here on the page. Plus, join discussions with other members about gear, guides, and more.
Other Bags & Luggage Reviews