Stop! Before you close this tab, thinking that you don't need a flashlight because you have one on your phone, hear us out. What if your phone dies? What if you're trying to conserve your phone's battery in an emergency? What if you need a brighter or longer beam than your phone can offer? What if a billionaire scared of bright lights buys the company that made your phone and puts out a software update that makes the flashlight software break so you can never use it again?
Now that we've got your attention, let's talk about flashlights. Here at Pack Hacker, we focus on travel-related gear that can help make your next trip run smoothly. That led us down the rabbit hole to find the best small flashlight on the market, and we're here to report that there isn't one. What's best for you depends on your needs, what you'll be doing on your trip, and how you plan to use said flashlight.
If you want something to work out with in the morning, you probably want a headlamp or a small bright flashlight so you don't have to lug around something heavy on your run. If you're going out into the wilderness, you should go with a small tactical flashlight to get the added durability you need to make it to the other side in one piece. To the ultralight packers reading this, you're probably looking for a small keychain flashlight or a small high lumen flashlight.
Long story short, everyone uses a light differently, and the best small flashlight for you isn't the best for everyone. This list showcases numerous models and categories to help you start your journey. We will talk about lumens a lot—which can be confusing. For reference, most smartphone flashlights are roughly 50 lumens. Let's dive in!
| Flashlight | Lumens | Throw (m) | Throw/Lumens | mAh/battery type |
| --- | --- | --- | --- | --- |
| NITECORE TINI 2 | 500 | 85.95 | 5.82 | 280 |
| Olight imini | 10 | N/A | N/A | LR41 x3 |
| Prometheus Lights Beta QRv2 Flashlight | 90 | 40 | 2.25 | AAA |
| NITECORE TIKI | 300 | 71 | 4.23 | 130 |
| Lumintop GT Nano | 450 | 306 | 1.47 | 100 |
| SKILHUNT E2A 14500 Mini LED Flashlight | 600 | 128 | 4.69 | AA |
| Armytek Wizard C2 Pro Nichia | 1600 | 113 | 14.16 | 3500 |
| Wurkkos TS21 3500 Lumens Flashlight | 3500 | 217 | 16.13 | N/A |
| Fenix E-CP Rechargeable Flashlight with Power Bank | 1600 | 222 | 7.21 | 5000 |
| Petzl BINDI | 200 | 36 | 5.56 | 680 |
| Nite Ize PetLit Collar Light | N/A | N/A | N/A | N/A |
| ThorFire LED Camping Lantern | 65 | N/A | N/A | 300 |
1. NITECORE TINI 2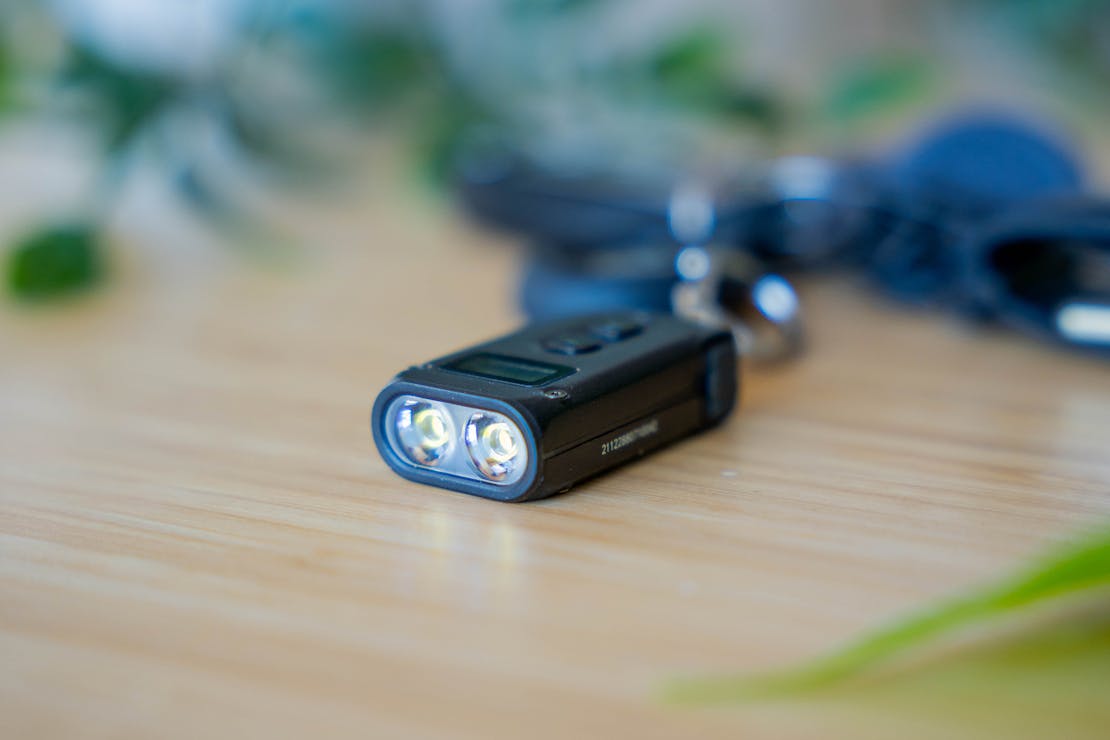 If you want something incredibly durable, bright, and easy to use that retains a small size, the NITECORE TINI 2 might be the best small flashlight for your next trip. It's available in aluminum, titanium, and stainless steel, all of which feel durable and sleek. The OLED display makes knowing what mode or power setting you're in easy, and it charges with a USB-C cable, so you don't need to add an extra one to your packout.
The light only has two buttons, which are both quite small, which may be challenging to use for some travelers. However, with a powerful 280 mAh battery and a maximum output of 500 lumens, the TINI 2 packs a punch. It comes with a key clip so you can take it anywhere.
For those looking for something rugged, technical, and powerful, the TINI 2 might be the best small flashlight for you!
Why We Like It
Incredibly small size for how much power it has
Multiple durable materials to choose from
What You Should Know
The buttons can be difficult for those with big hands to use
Lots of modes to navigate with two buttons
See Full Review & Buying Options
So there you have it! We hope you've found the best small flashlight for you, your next trip, or to give that special someone who likes lights for their collection. Until next time, stay lit!