Xero Shoes Prio Review
Lightweight, flexible, and durable, the Xero Shoes Prios are great for travel—especially if you're active. But minimalist shoes take time to get used to.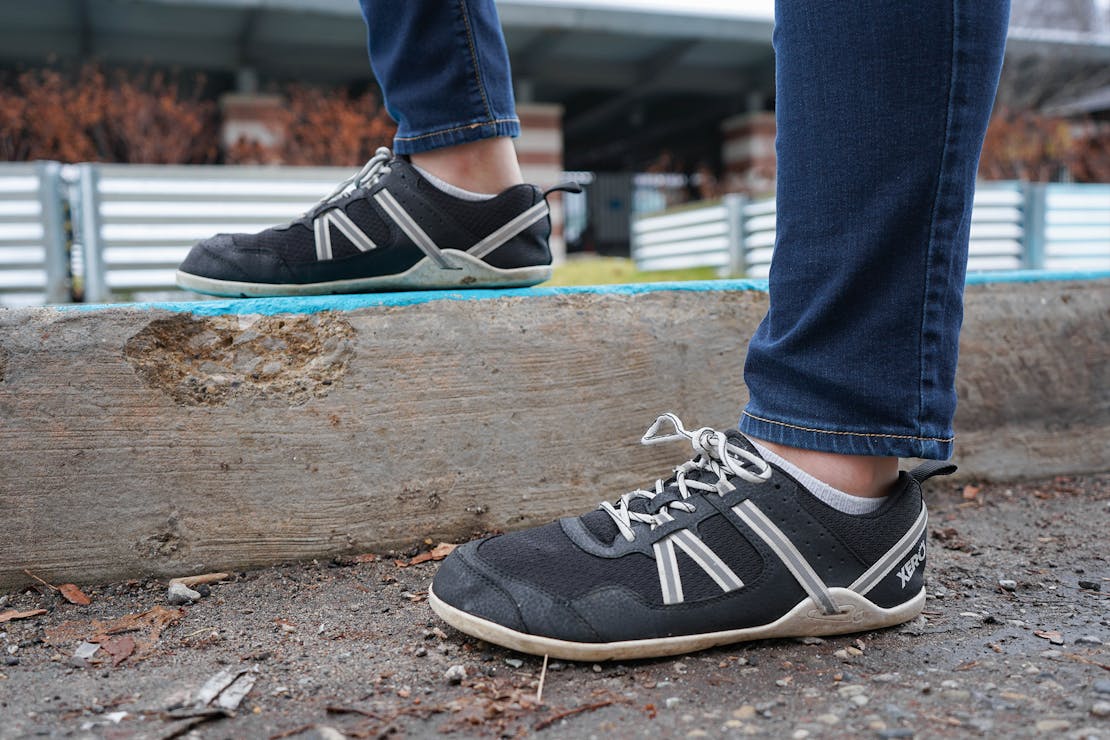 Our Verdict
Unlock the Pro Summary
Save time. Get access to brief summaries of our reviews so you can browse and make decisions more efficiently.
Pros
Lightweight and compressible (easy to pack)
Durable—still holding up after ten months of hard use
Outsole is grippy
Cons
Not ideal for winter/cold weather travel
Some of the colorways are odd
Not great for nice occasions
Recent Pack Hacker Video
Technical Details
Notable Materials

Rubber, Canvas, Microfiber

Manufacturing Country

China

Warranty Information
Buying Options

$89.99

$89.99

$89.95

$89.95
$94.99
$94.99
Full Review
If you're looking for a pair of minimalist shoes to take with adventuring around the world—or to wear exercising in your own backyard—the Xero Shoes Prios should be on your radar.
We've been putting the Women's Prios to the test for ten months as a daily driver in southeast Michigan. Plus we've taken them on multiple trips—to Albuquerque, New Mexico; San Francisco, California; London, England; Bonn, Germany; and on a road trip through Canada and into the northeastern United States.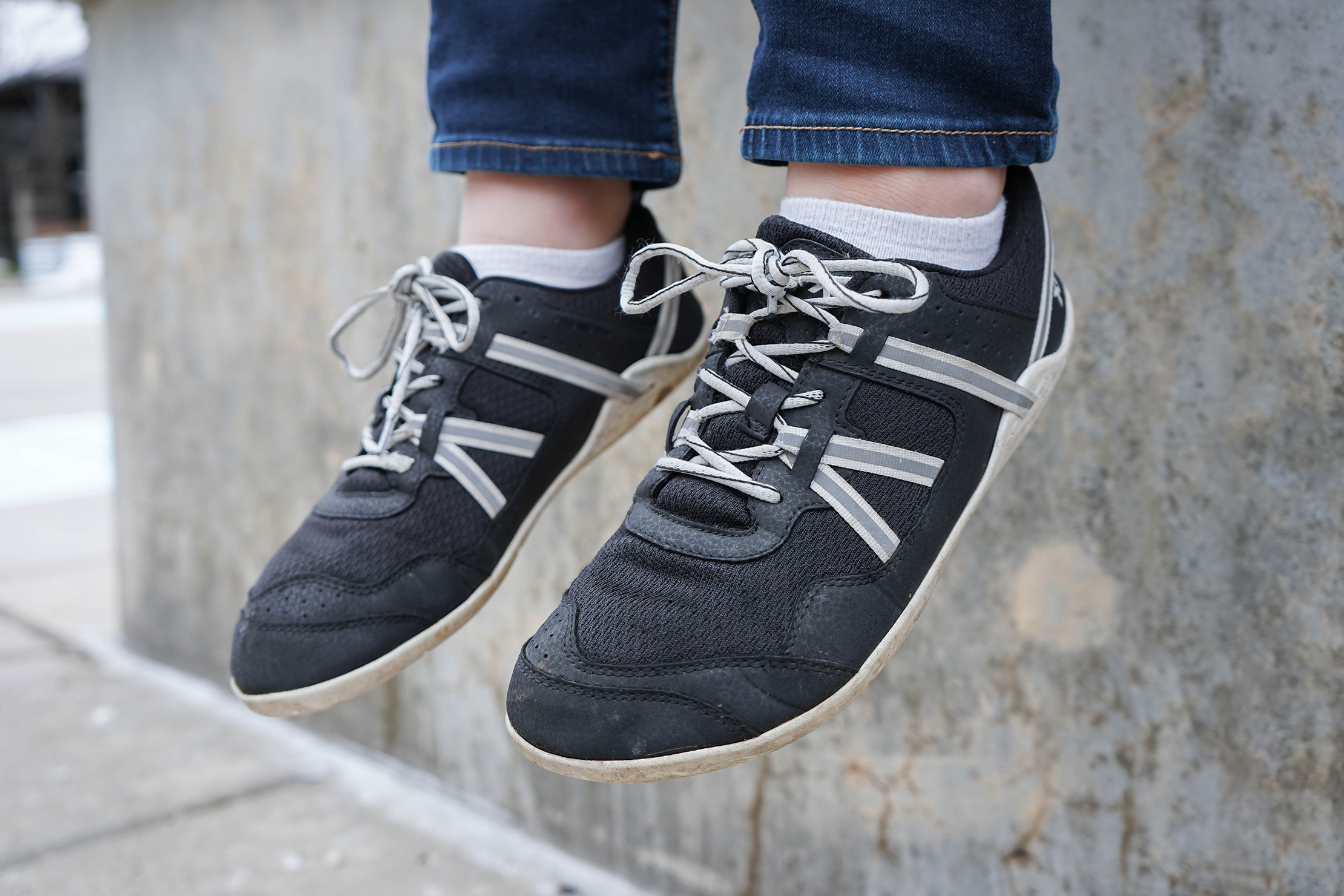 These shoes have experienced air travel and car travel, hot days and rainy days, concrete jungles and National Park trails. Oh, and they've also experienced a heck of a lot of running.
We tested the Xero Shoes Prios while training for the Detroit Free Press Marathon, wearing them during the actual event too. That's hundreds upon hundreds of miles.
Suffice to say, we know these shoes well. So let's check out the details.
Materials & Aesthetic
There's something equally off-putting and kind of cute about the Xero Shoes website. It has a homegrown quality to it that's a refreshing break from the more stylized websites with beautiful designs and over-the-top copywriting.
All that to say—the product photos on Xero's website just aren't that great. It's hard to get a feel for the shoes from these photos. The Prios look much better in person than they do on your screen…for the most part. At the time of this review, the Women's Prios are available in six colorways. (The Men's fit are available in four.) We're really digging a couple of them. The black and white ones, which we've been testing, look particularly sleek, as do the all-black ones.
But some of the other colorways are just a little bit odd. We've tested a gray and yellow pair of the Men's fit (which are no longer available), and while they do look slightly better in person than online, they still look off.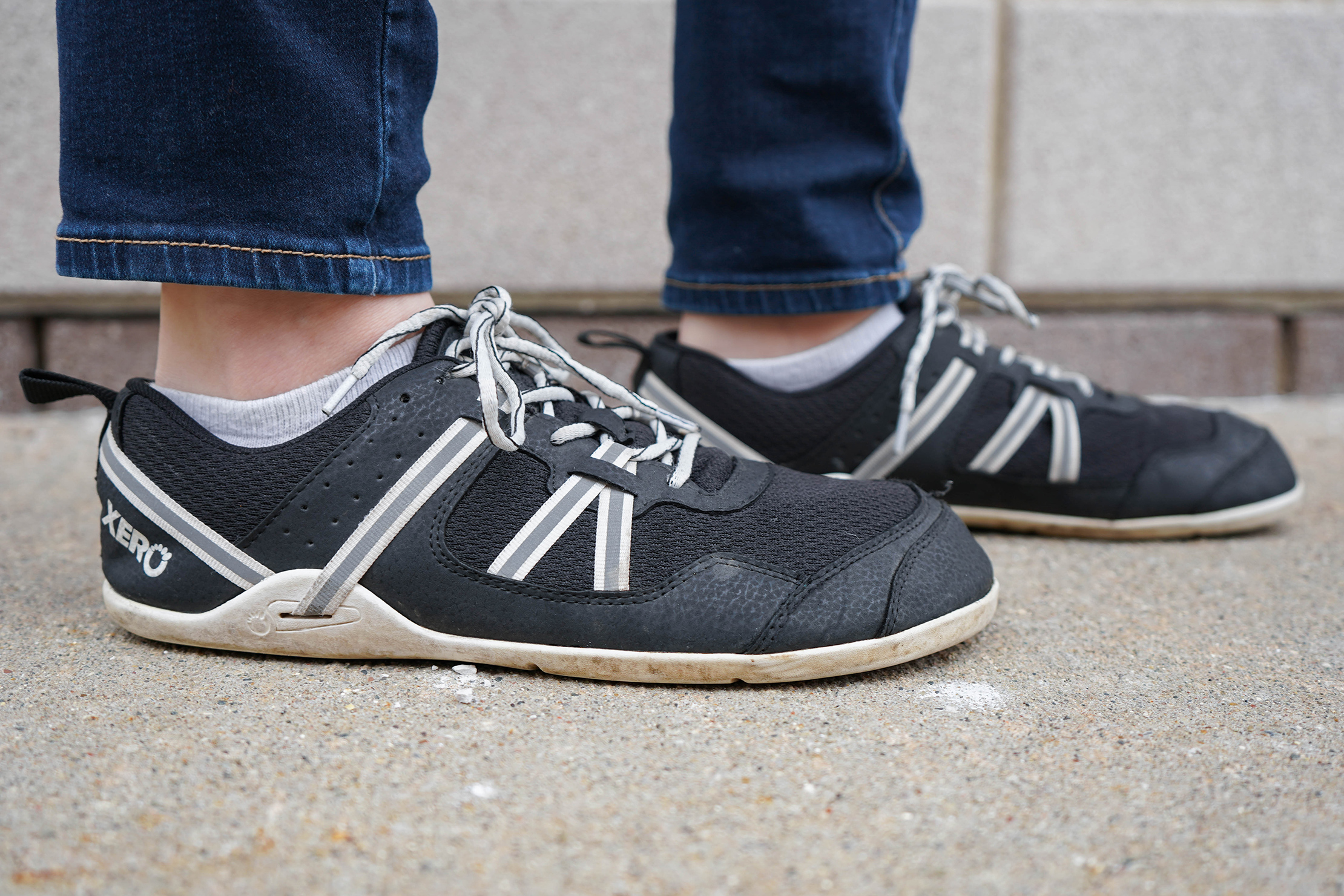 Of course, the Prios are minimalist, so function is prioritized above fashion. The wide toe box is noticeable, as is the flatness of the shoes. But, mostly, they look like athletic shoes. We've received numerous compliments on them.
One final note about style—these shoes are versatile-ish. They are tennis shoes—gym shoes, sneakers, trainers, runners, whatever you want to call them—so they're not going to work for every occasion. You won't want to wear them to a cocktail hour or a business meeting (unless you're a professional runner, work at Xero, or DGAF). But they'll work for almost everything else—casually strolling around town, working out, and being active in the great outdoors.
Alright, moving on.
The folks at Xero used all vegan-friendly materials to make this shoe, which is a huge plus for our vegan team members here and vegan friends out there.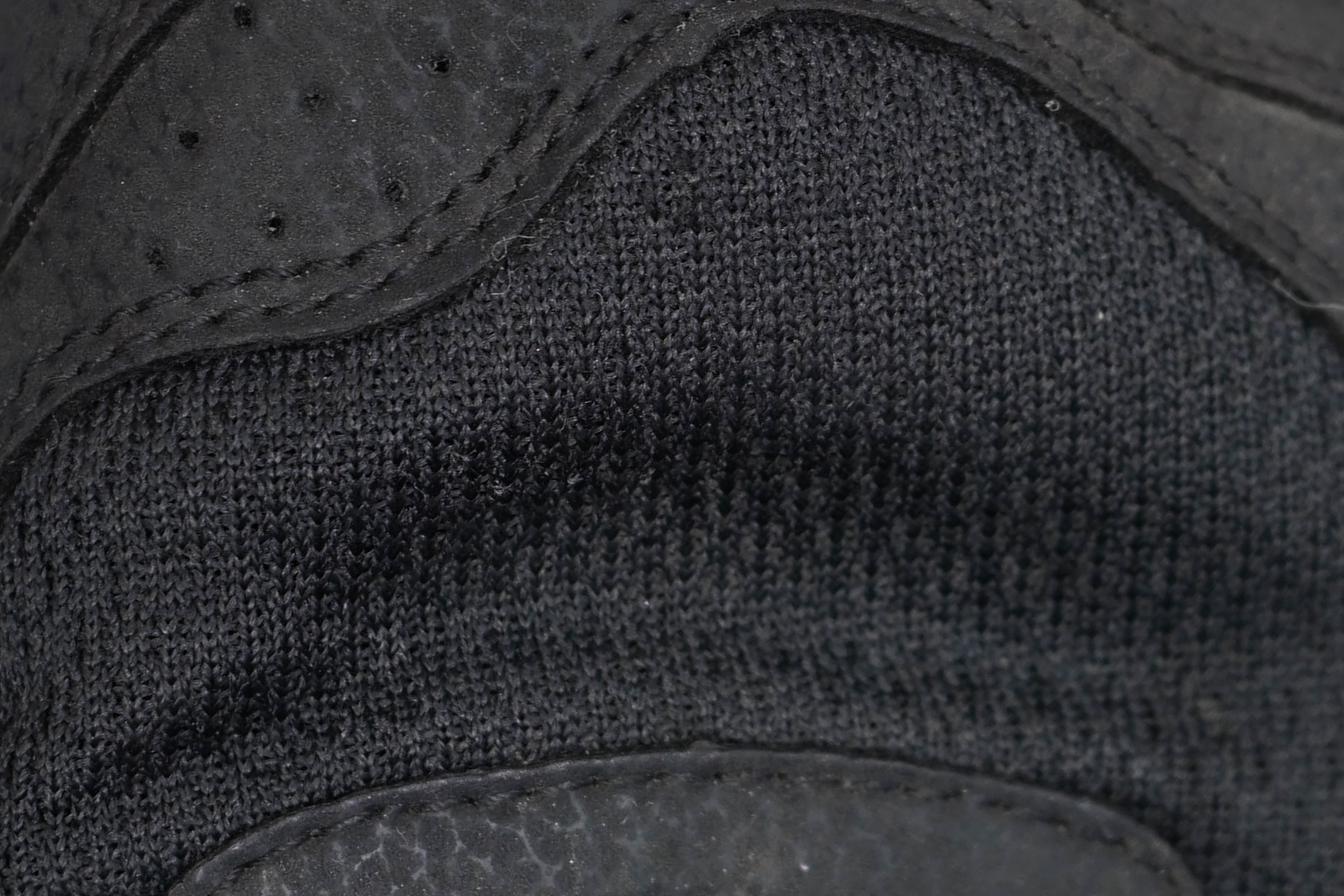 The upper has a breathable mesh, which is also a huge plus. We probably don't need to tell you how important it is for your feet to be able to breathe, particularly on long days out and about or while exercising. We can't be the only ones whose sweaty feet make our shoes smell like the inside-of-a-locker-room (…right?).
The rubber sole is the same 5.5mm FeelTrue® rubber sole that Xero uses on its sandals and other athletic shoes. It's been designed to let your feet "feel the ground" while offering protection against the gross and/or dangerous things on said ground.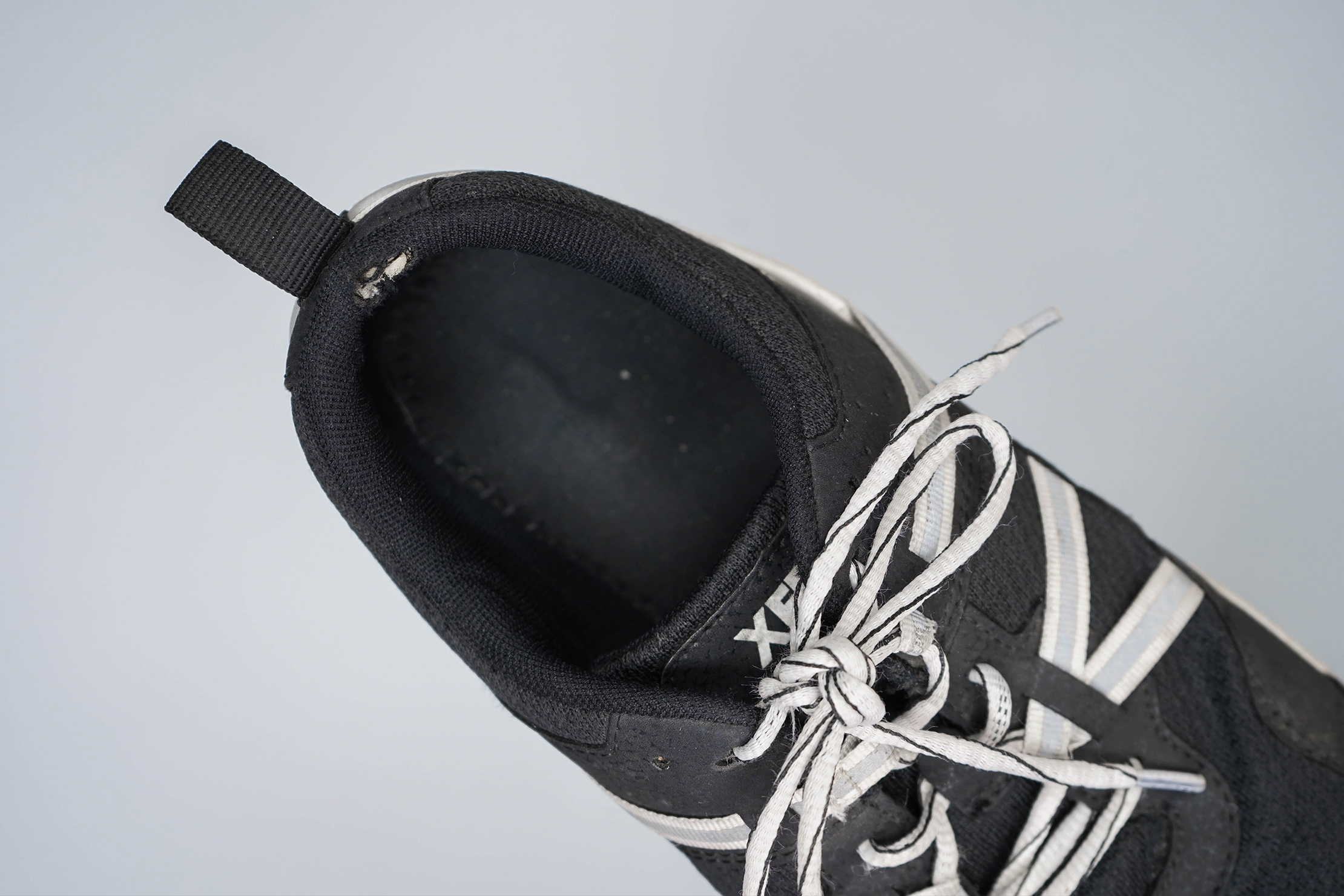 The 2mm insole is also removable. You'll actually notice a huge difference between having the insole in and out, particularly since this shoe is designed for fitness. Your running and walking form will probably change the more you can "feel the ground." (For one thing, you're not going to slam your feet to the pavement quite so hard.)
And the sole is grippy, at least for a tennis shoe. We've tested it hiking along the water-slicked, rocky trails of Acadia National Park without any problems. (Disclaimer—these shoes are not hiking boots. If you're not comfortable wearing gym shoes hiking then don't! What works for us, may not work for you.)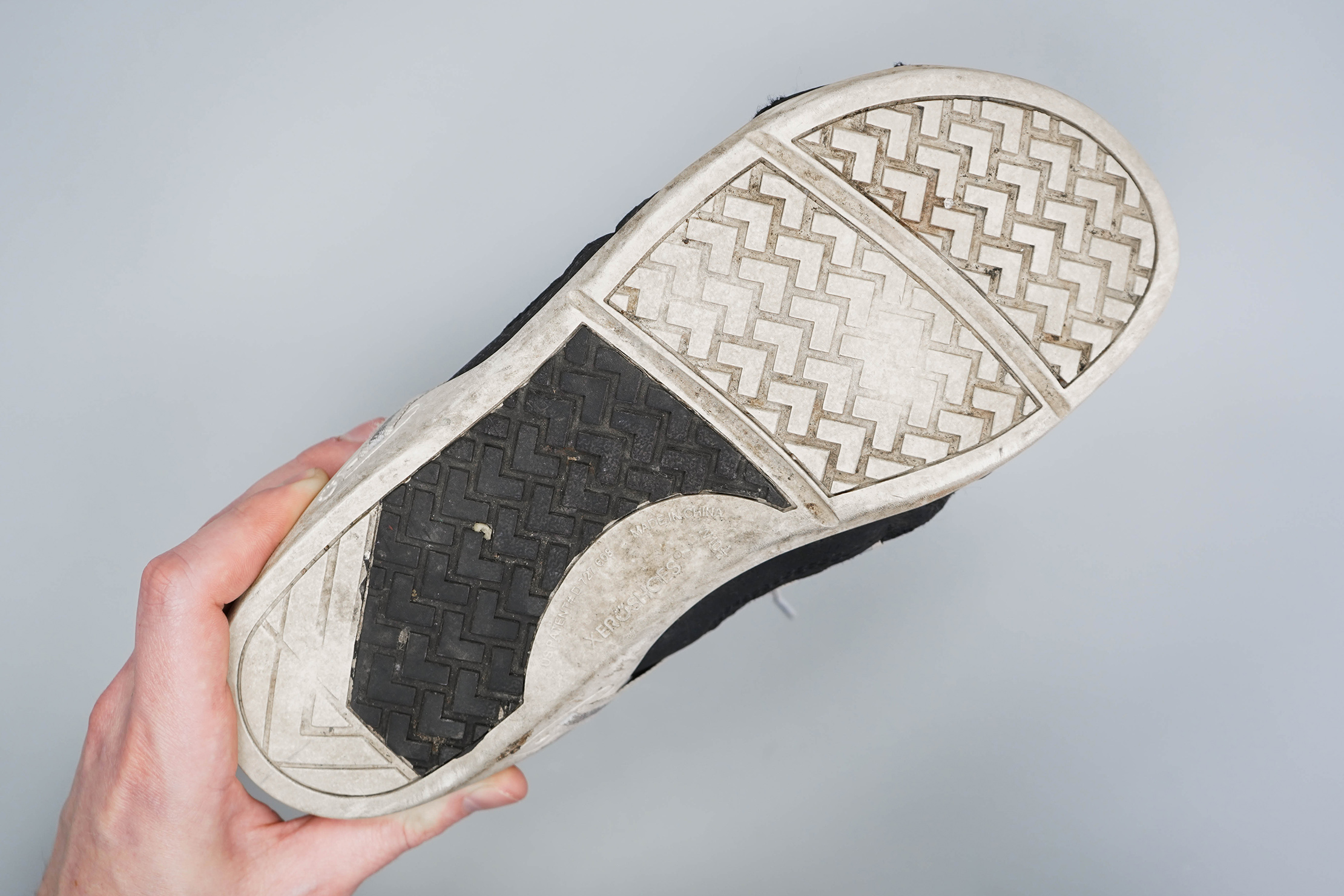 We've also tested them on slippery sidewalks in a midwest winter and haven't needed to do that awkward arm-flap thing to stay balanced. (That said, the shoes aren't the best for the cold months because the insoles aren't insulated, the upper breathes too well, and there's no water-resistance.) You should be able to navigate those beautiful, yet surprisingly treacherous cobblestone streets of wherever without so much as a close call.
Plus—there is a 5,000-mile warranty on these soles. As of this review, Xero claims that if you wear through the outsoles within 5,000 miles, they'll replace them for 60% off the retail price. But we haven't had a reason to test them on this yet, so your mileage may vary.
Features & Benefits
So on a review of minimalist shoes, we should probably talk about all of the benefits of minimalist shoes, shouldn't we? Before we get into it, just know that we are humble gear reviewers, we are not foot doctors. A surprisingly large number of us here at Pack Hacker believe in minimalist shoes (which is why we have so many reviews on them), but do your own research as it pertains to health. In this review, we'll be primarily focused on the benefits of minimalist shoes as they pertain to travel.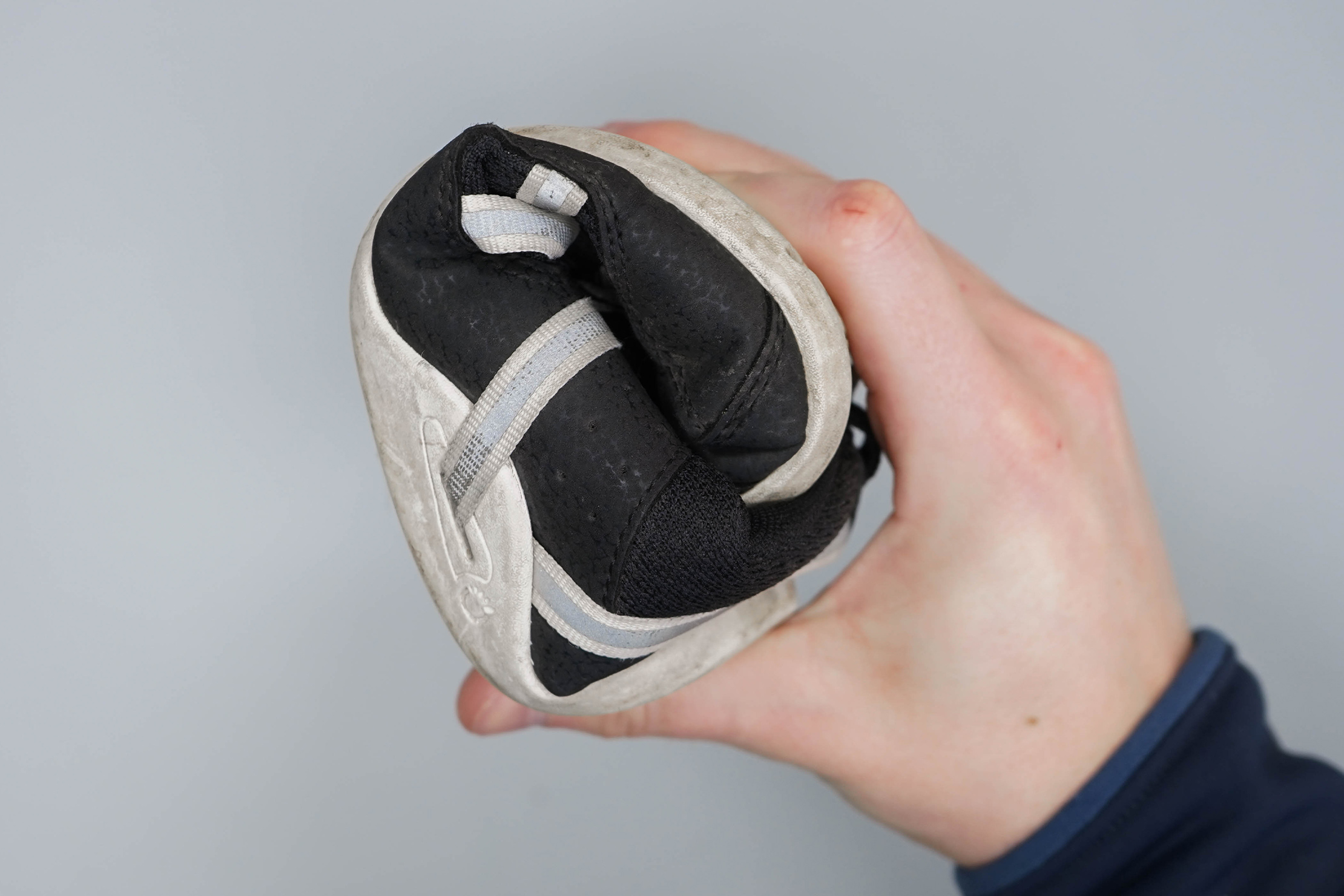 The Prios are flexible, which makes them so much easier to pack than traditional tennis shoes. Their flexibility means you can squish them into whatever leftover nooks or crannies you have in your travel bag. You can even roll them up (but we don't suggest leaving them rolled up as that may put an undue strain on the materials). This flexibility also allows you to move without restriction, making the shoes oh-so-comfortable.
And they're lightweight (the women's size 7 clocks in at 6.4 ounces each). Obviously, if you're a one-bag traveler, you know how important it is to cut ounces where you can. Even if you're not a one-bag traveler, you know that lugging a heavy pack or duffle bag is kind of the worst. Plus, you'll barely feel like you're wearing shoes when you have them on. Which, again, makes these shoes super comfy.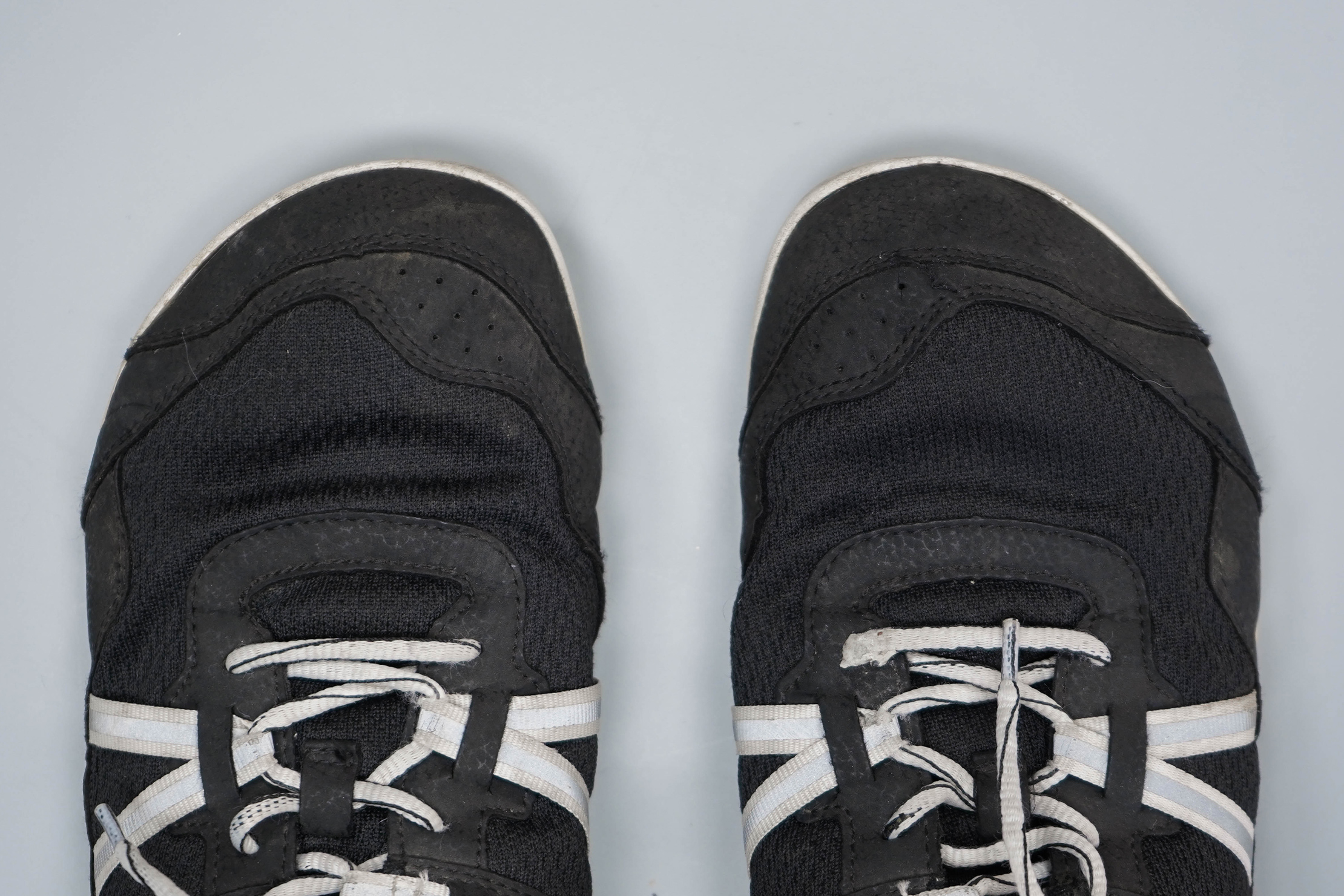 All minimalist shoes have a wide-toe box to let your toes spread out and breathe. And the Prios are no exception. Epic hikes and long travel days may cause your feet to swell—a wider toe box allows this to happen without your toes getting squashed. Plus, wide toe boxes are nice if you have naturally wider feet.
Finally, there is the "Xero-drop" sole. Almost all traditional athletic shoes have some sort of drop from their heel to their toe. The Prios don't have any drop. There are multiple reasons for this—people say it helps with your balance and posture and takes the weight off more fragile parts of your foot.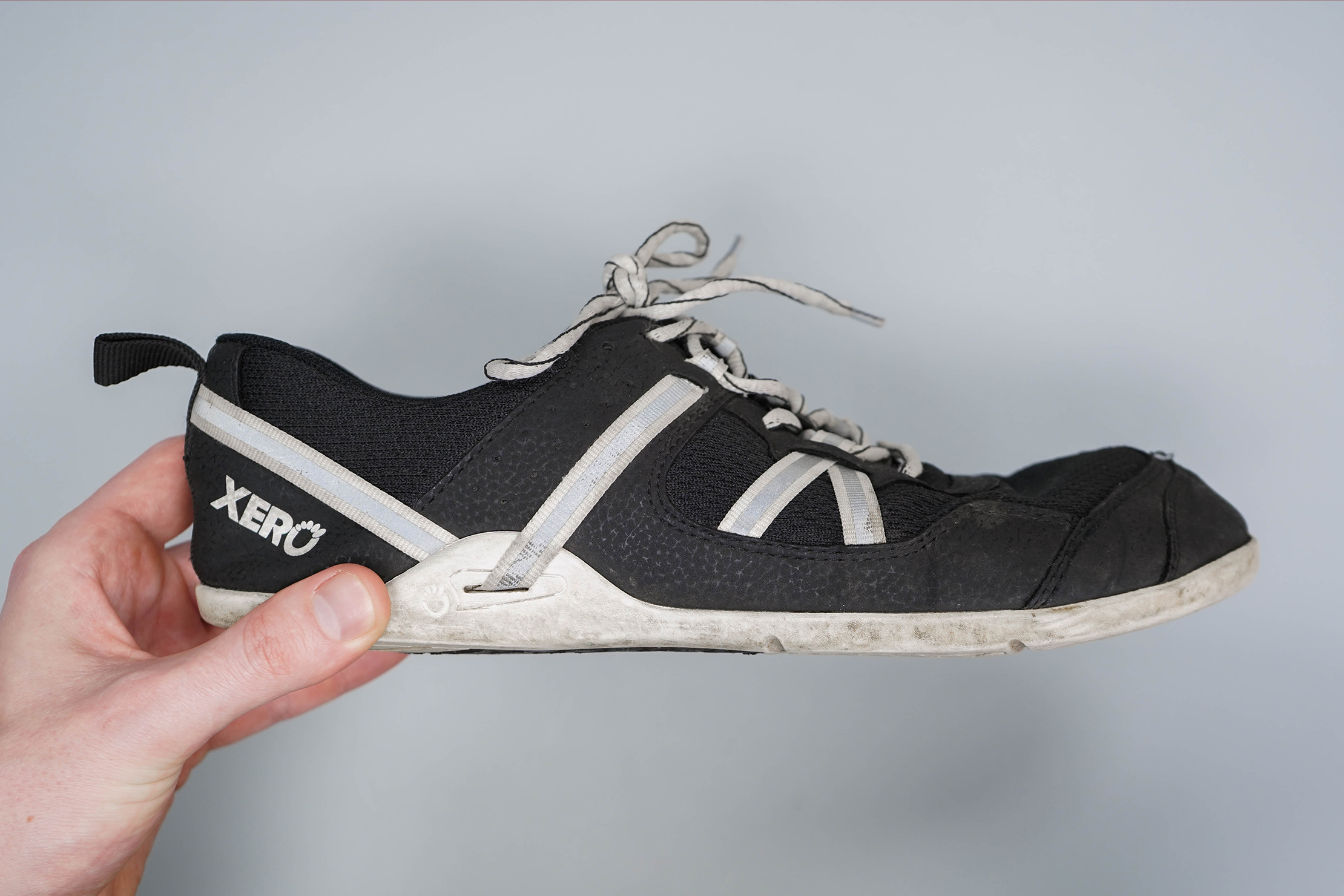 Like we said, we're not doctors, and you should decide for yourself if minimalist shoes are right for you. If you do decide to go for it, remember to ease in. Transitioning to a minimalist shoe can be time-consuming and, if you go too quickly, painful. Don't buy these shoes to run a marathon right away. Seriously—ease into it!
Durability & Testing
In case we haven't been clear already—we've put the Xero Shoes Prios through a lot during these past ten months of testing (everyday use, hiking, walking, and running). People run through their shoes marathon training all the time, so we're impressed with how well these shoes are doing.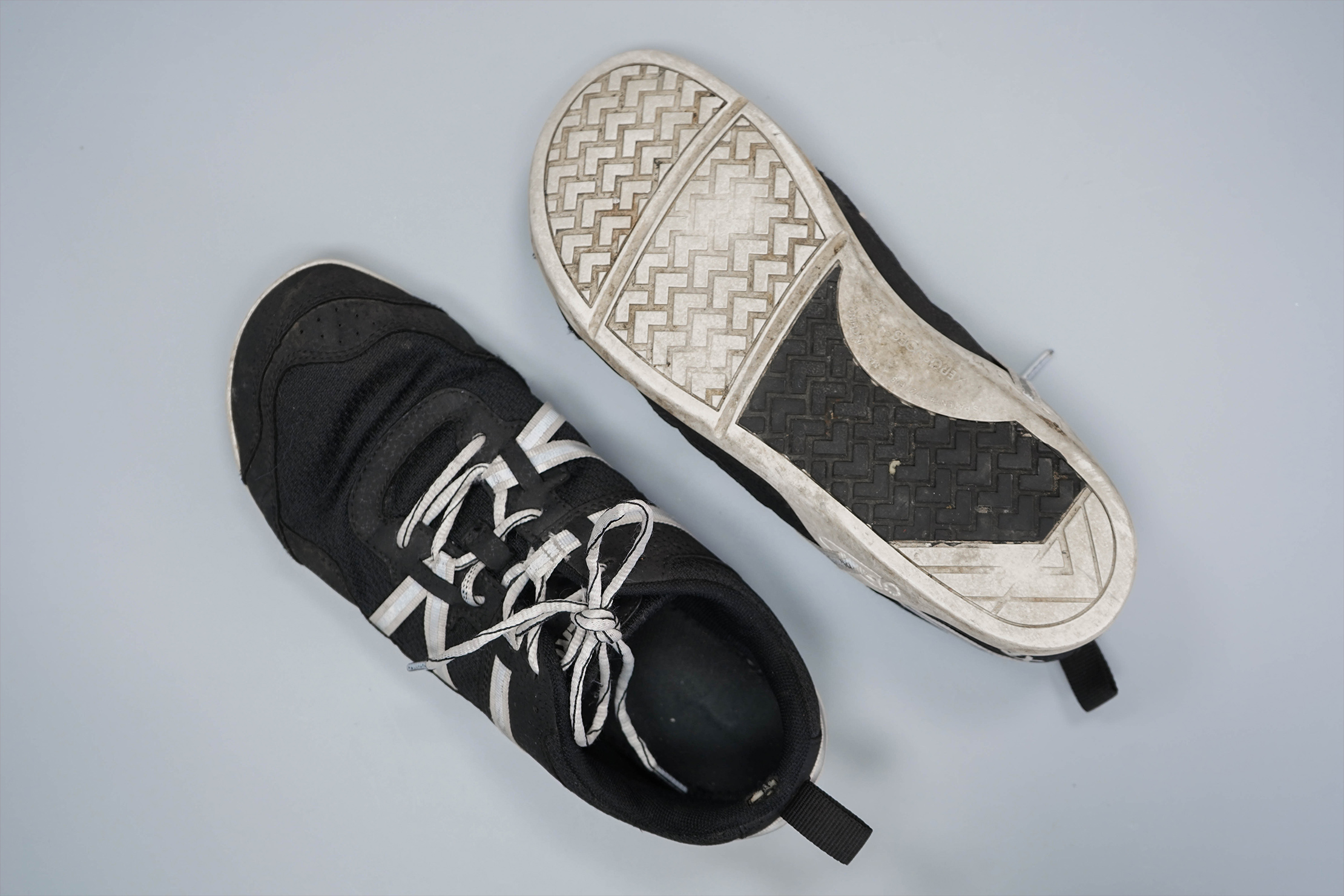 While the tread on the outsoles have smoothed out a little bit, they've held up much better than we expected. There are a few other worn places—small holes in the fabric along the heels, for example. And the shoes look a little dusty. But they're not dead yet. And, once they do die, we'll likely pick up another pair. Yes, we like them that much.
Usage Timeline
Initial Usage
Condition: Excellent
Love the black/white colorway, they look sleeker in person than online
Like that the insole is removable
Flexible, wide toe box, zero heel toe drop, lightweight
1 Month of Use
Condition: Excellent
So far, so good. Really digging these shoes for everyday wear and running.
2 Months of Use
Condition: Excellent
Decided to take the insoles out—and what a difference! You can definitely feel the ground more without them.
3 Months of Use
Condition: Excellent
We've taken the shoes with us to Acadia National Park. They've been great on the rocky, water-slicked trails—we haven't slipped (yet).
6 Months of Use
Condition: Good
The shoes were great on a trip to England and Germany. They were really easy to pack, fitting nicely inside the Deuter AViANT Carry On Pro 36.
Starting to notice a little bit of wear on the outsoles—they're smoothing out a little bit.
9 Months of Use
Condition: Good
Marathon time! The Prios crushed it—we credit the shoes for keeping us upright on mile 24. The marathon did seem to smooth out the outsole some more.
1 Year of Use
Condition: Good
A bit more wear and tear, small tears in the fabric around the heels, but nothing terrible yet. The shoes are not-so-great for winter, so they're getting a little bit of rest.
Access the Pro Community Discussion
Get your questions about the Xero Shoes Prio answered from our team and the Pro Community right here on the page. Plus, join discussions with other members about gear, guides, and more.
Other Clothing & Accessories Reviews