WaterField Designs Travel Light Dopp Kit Review
The Waterfield Designs Travel Light Dopp Kit expands to carry the toiletries you need, though it can be hard to access gear at the bottom.
Our Verdict
Unlock the Pro Summary
Save time. Get access to brief summaries of our reviews so you can browse and make decisions more efficiently.
Pros
Easy to clean
Expands quite a bit as it's filled
Loop convenient for hanging on a hook or in a bag
Cons
Metal zipper pull jangly
Hard to see inside dark interior
No organization
Recent Pack Hacker Video
Technical Details
Capacity

6.5l

(large) | 3.5L (medium) | 2L (small)

Weight (oz)

3.6 oz (102.1 g)

(large) | 2.8 oz (medium) | 2.2 oz (small)

Dimensions

12.25 in x 7.875 in (31.1 x 20 cm)

(large) | 6 in x 10.75 in (medium) | 9.25 in x 5 in (small)

Notable Materials

Nylon, YKK Zippers

Manufacturing Country

United States

Warranty Information
Full Review
Some toiletry bags are chock full of pouches, sleeves, and slip pockets, so every brush and lotion has a dedicated spot. Some Dopp kits, though, are wide open spaces for you to fill as you wish. In each case, depending on what you need to bring on your travels, you can end up with some extra unused space.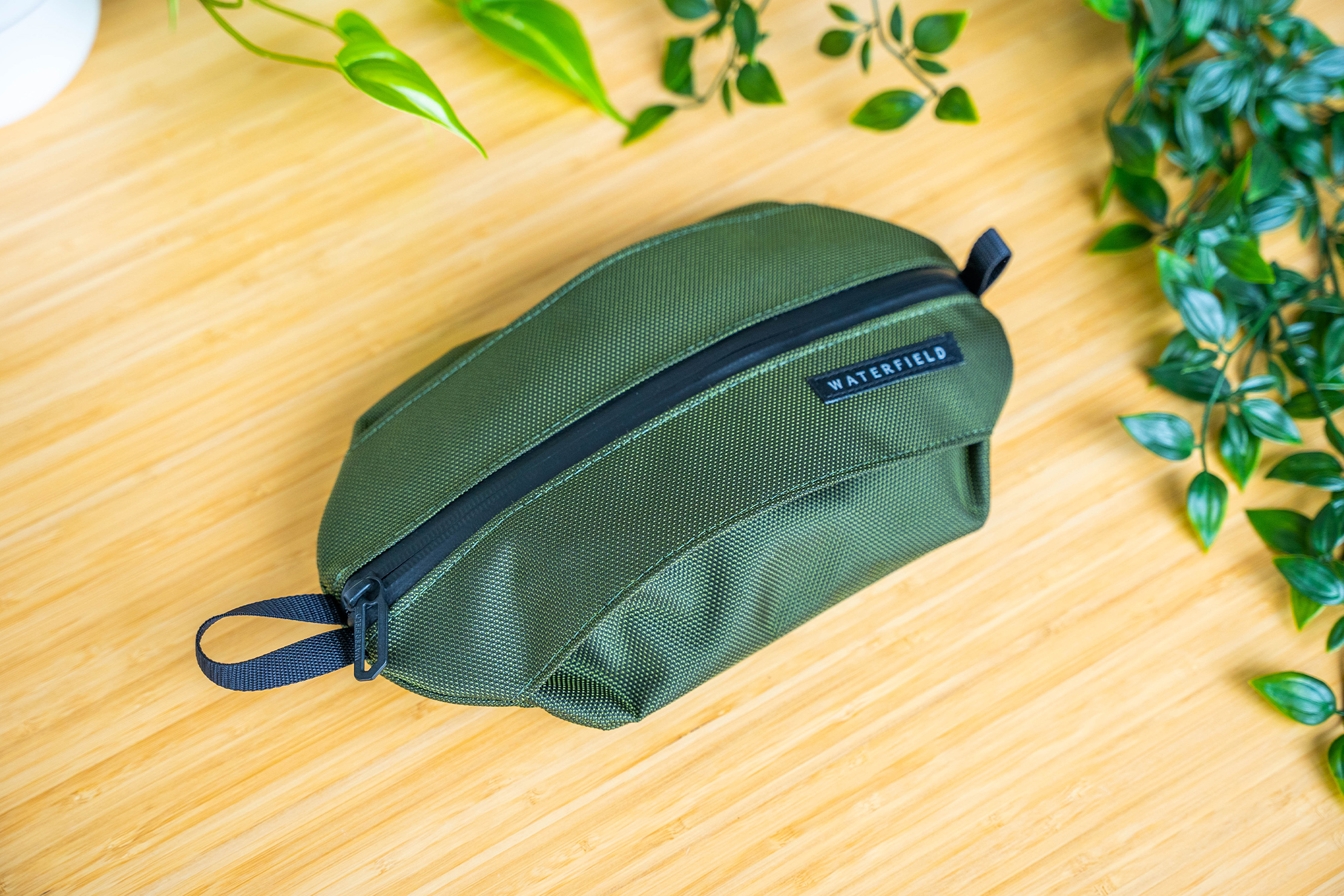 The Waterfield Designs Travel Light Dopp Kit aims to solve that issue with an open design that expands to fit your needs. How does it work in practice? Let's find out.
External Components
The Waterfield Designs Travel Light Dopp Kit comes in three sizes: small, medium, and large. We're testing the small and medium kits, as their 3.5L and 2L capacity seem better suited to one-bag travel than the large 6.5L version. However, that may not necessarily be the case due to the Travel Light Dopp Kit's design. More on that later.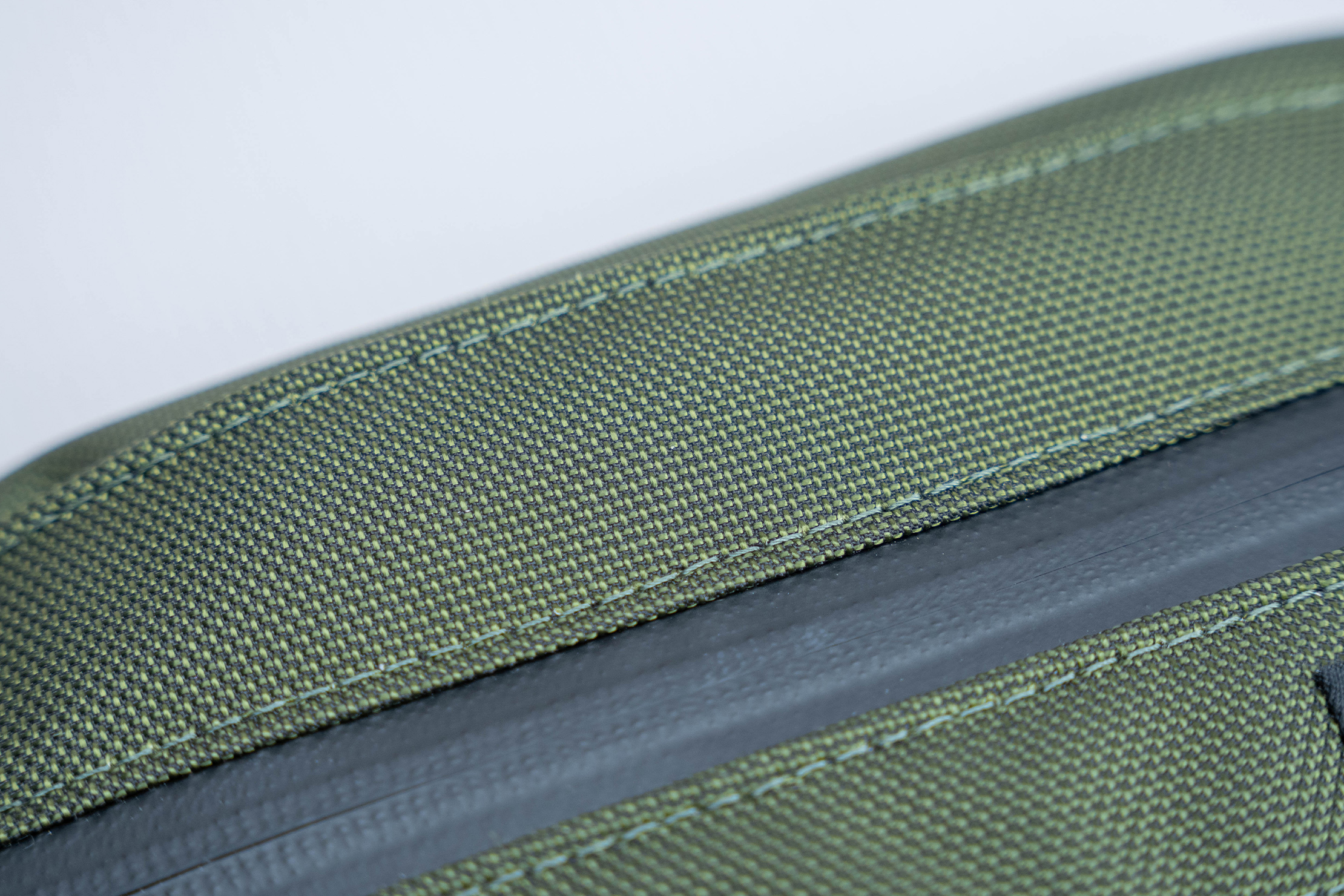 No matter the size, Waterfield Designs uses Forza Italian Textile in their construction for most of the colorways. They make it by weaving together two "yarn-dyed" nylon threads to create a basketweave pattern, so the chosen color has undertones. We have the green, an olivey-hunter shade, and you can also get it in red or blue with the Forza fabric or black ballistic nylon.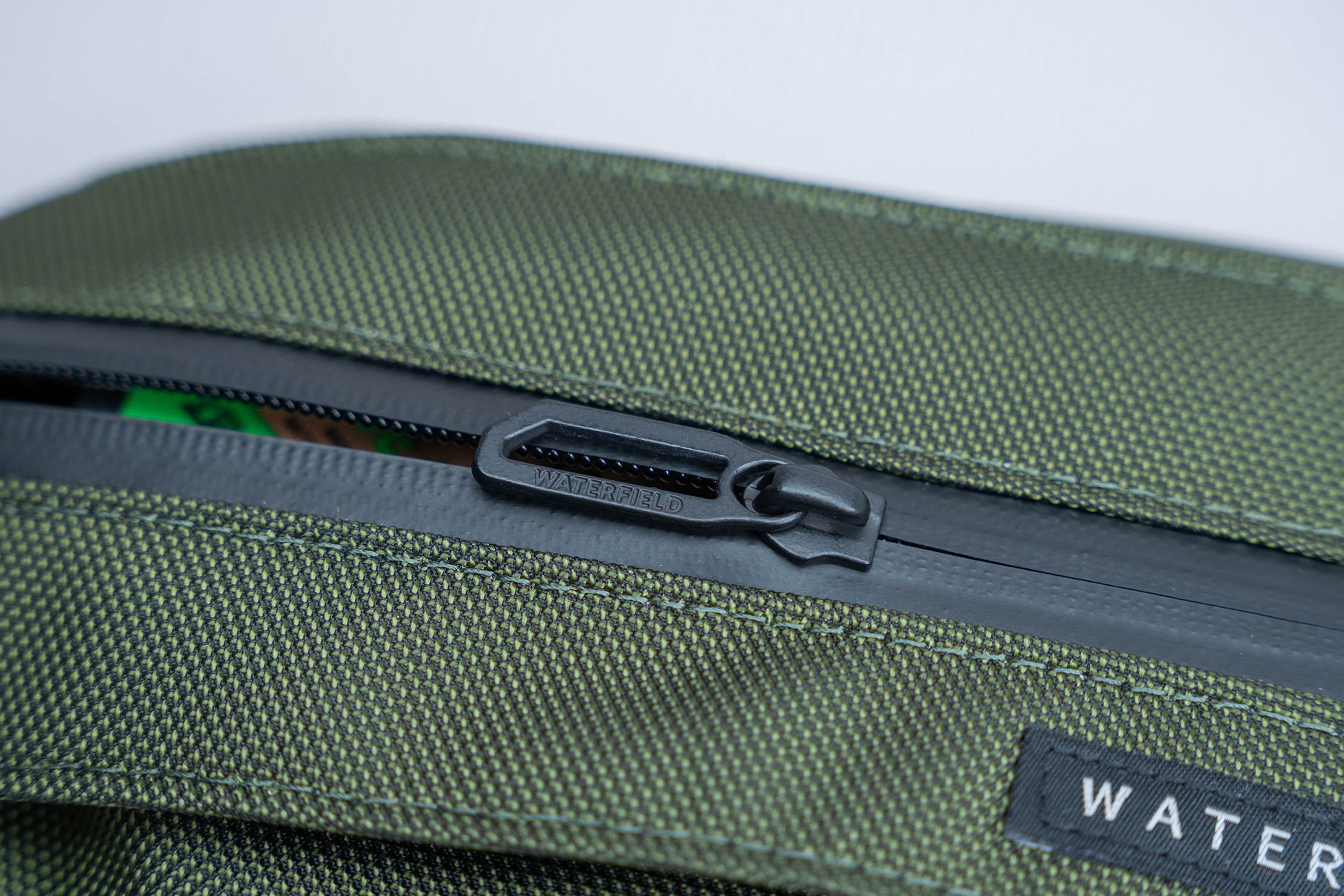 There are black accents on all four colorways. A water-resistant YKK zipper runs lengthwise down the front of the bag with a custom zipper pull featuring the Waterfield brand name. The black coating on the zipper pull is resistant to scratching, and we haven't had any issues with that yet. It is very noisy against the metal of the actual zipper, though, so you'll notice a jangling when you move the bag. While we don't see this being problematic most of the time, it can be if you're getting ready while your travel companion is still trying to sleep. In that case, best to have the case open and unpacked ahead of time if you can.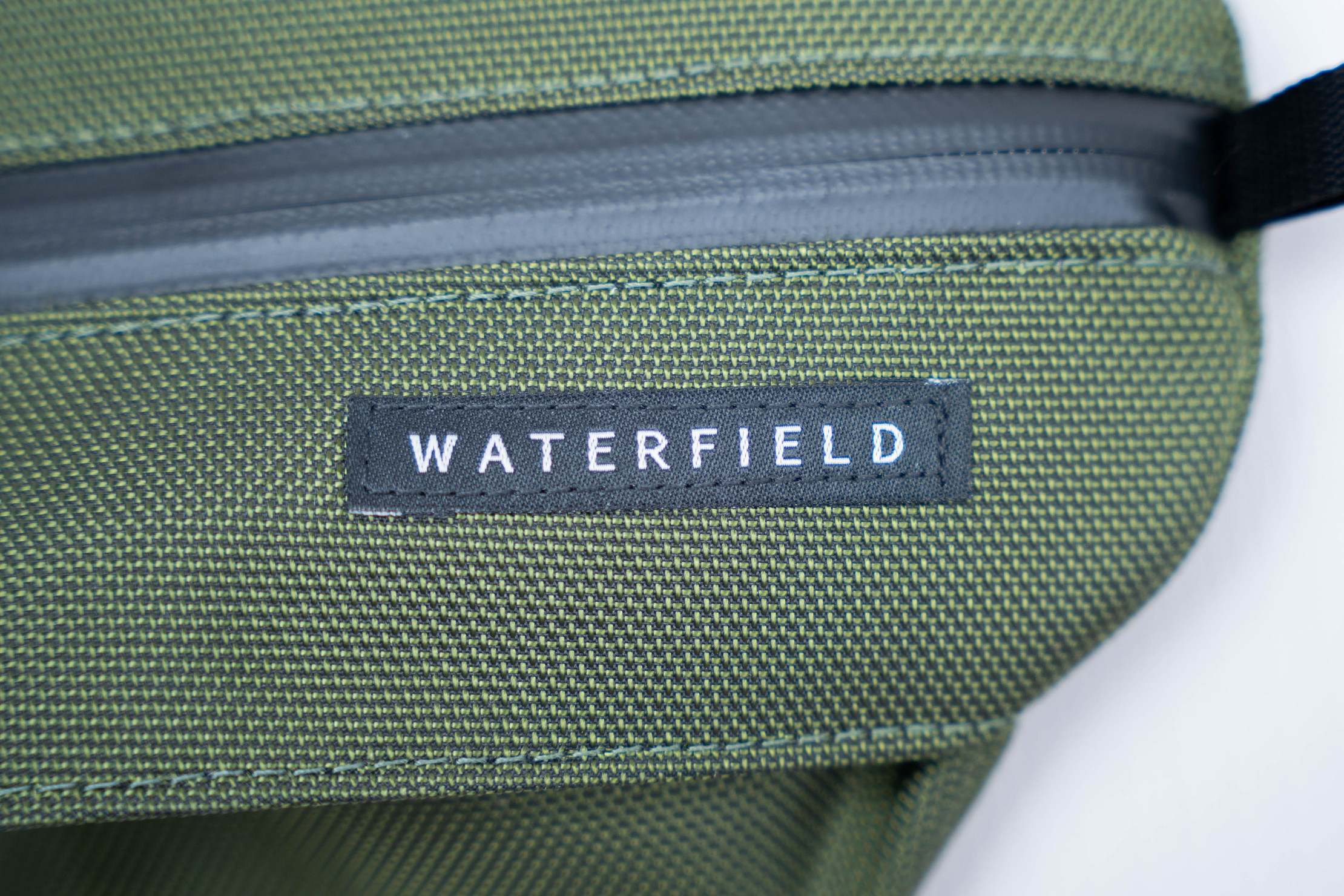 The other branding is a black patch below and to the right of the zipper with the Waterfield name stitched in white capital letters. At either end of the zippers are two black webbing loops. The loop on the right side is smaller, about an inch long, and it's handy to hold when you zip the pouch up, especially if it's packed tightly. The loop is easier to grasp than the fabric, as it may bulge depending on what's packed inside. At the other end is a 2-inch loop with the ends stitched next to each other instead of on top of one another. While you can hold it to unzip the bag, it also allows you to hang it on a hook in your hotel bathroom or with a carabiner inside your travel backpack to keep it from sliding to the bottom of your bag.
Inside The Pouch
The interior of the Waterfield Designs Travel Light Dopp Kit is coated with a water repellant to be easy to clean. When it's empty, flip it inside out and run it under water or wipe it with a damp cloth to pick up makeup, lotion, or other stains that have found their way into your bag. It dries quickly and looks good as new. The water resistance also means your other travel gear is protected if you should have a shampoo bottle mishap en route. While you'll have to rinse off everything in the Dopp Kit, your clothes should escape unscathed.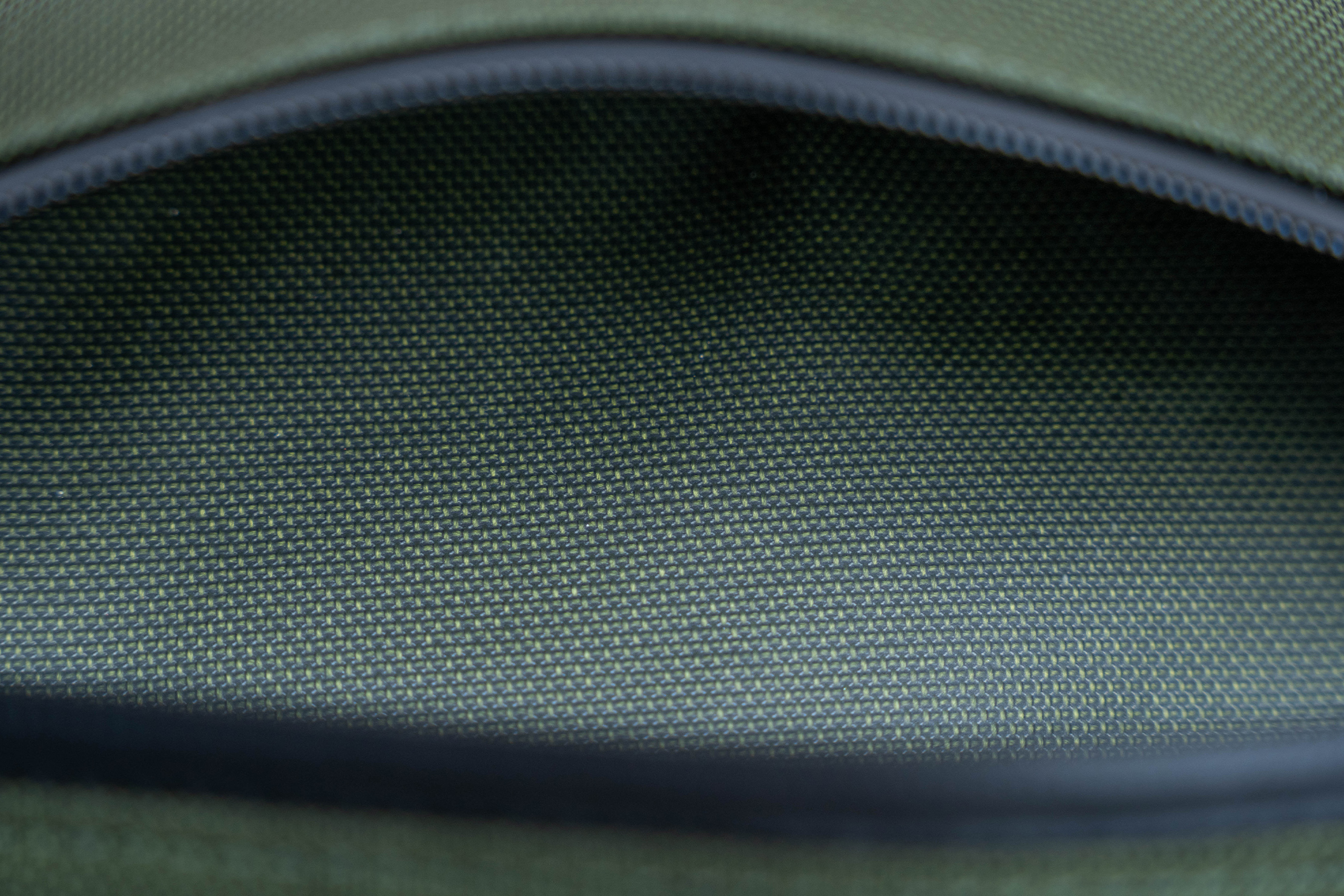 As we noted above, there's no internal organization in the Travel Light Dopp Kit. Waterfield Designs says the kits are a stylish alternative to a disposable zip-top bag, so they look better going through TSA and don't get accidentally thrown out by hotel cleaning staff. Since the smallest size still has a capacity of 2L, it doesn't meet the 1-quart or 1-liter rule set by TSA; however, there's no denying the Waterfield Designs pouch has a better aesthetic than a plastic bag.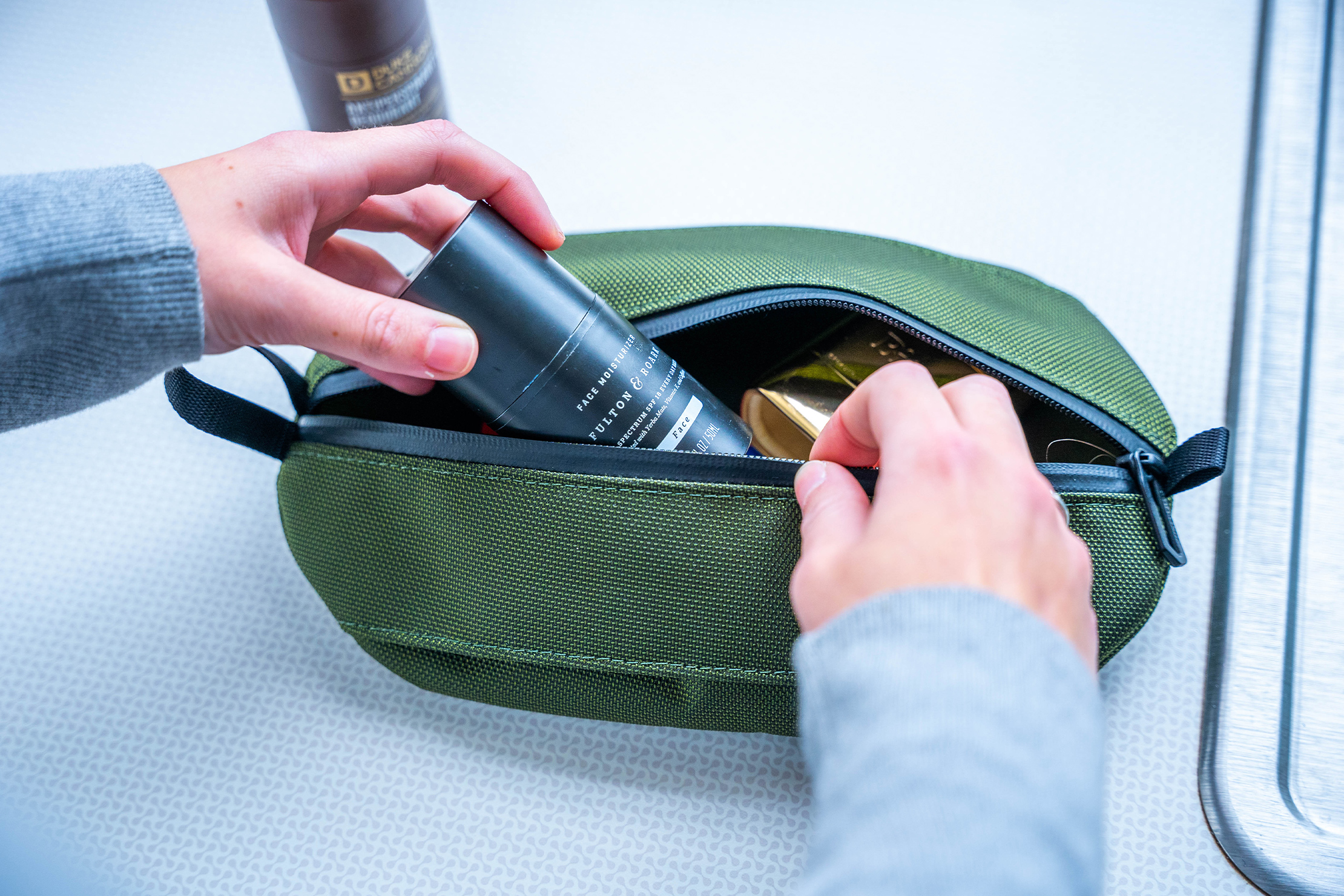 Looks aside, though, it functions similarly. Dump your gear in when packing for your trip, and then unpack it when you get there. Since the bag isn't clear and the zipper runs center down the front, it is difficult to see what tiny travel accessories and toiletries have slid to the bottom or side of the bag. It's dark in there!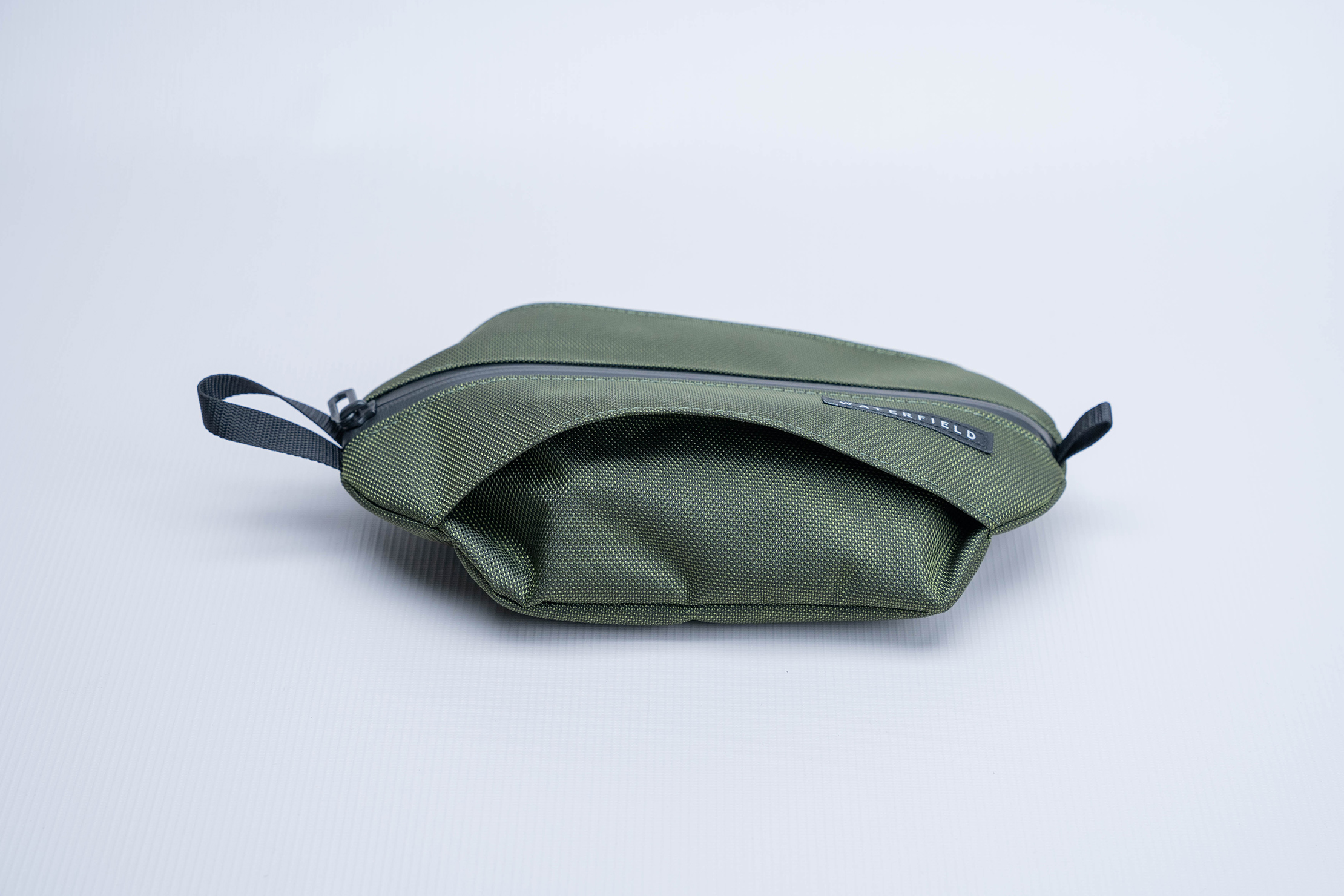 Waterfield Designs likens the kit to a microwave popcorn bag: it lies flat and expands to whatever you put inside. While that's great for stuffing it with as much gear as possible, it's not great for pawing through to find a cotton swab. The company intends for users to unpack once they get to their destination rather than living out of a Dopp kit, so if that's not how you prefer to travel, you'll want to check out a bag with internal organization that allows you to see all of your gear at once like the Peak Design Wash Pouch.
Which size is right for you? That depends on the size of your gear. If you've already got a travel-sized comb or brush, a travel toothbrush, and just a few travel containers of shampoo and soap, you can likely fit in the small Travel Light Dopp Kit. We carry travel-sized containers of deodorant, toothpaste, mouthwash, and soap, plus a regular-size toothbrush, a tiny jewelry pouch, and cotton swabs with no problem. However, a full-size hairbrush is too long for the smallest size.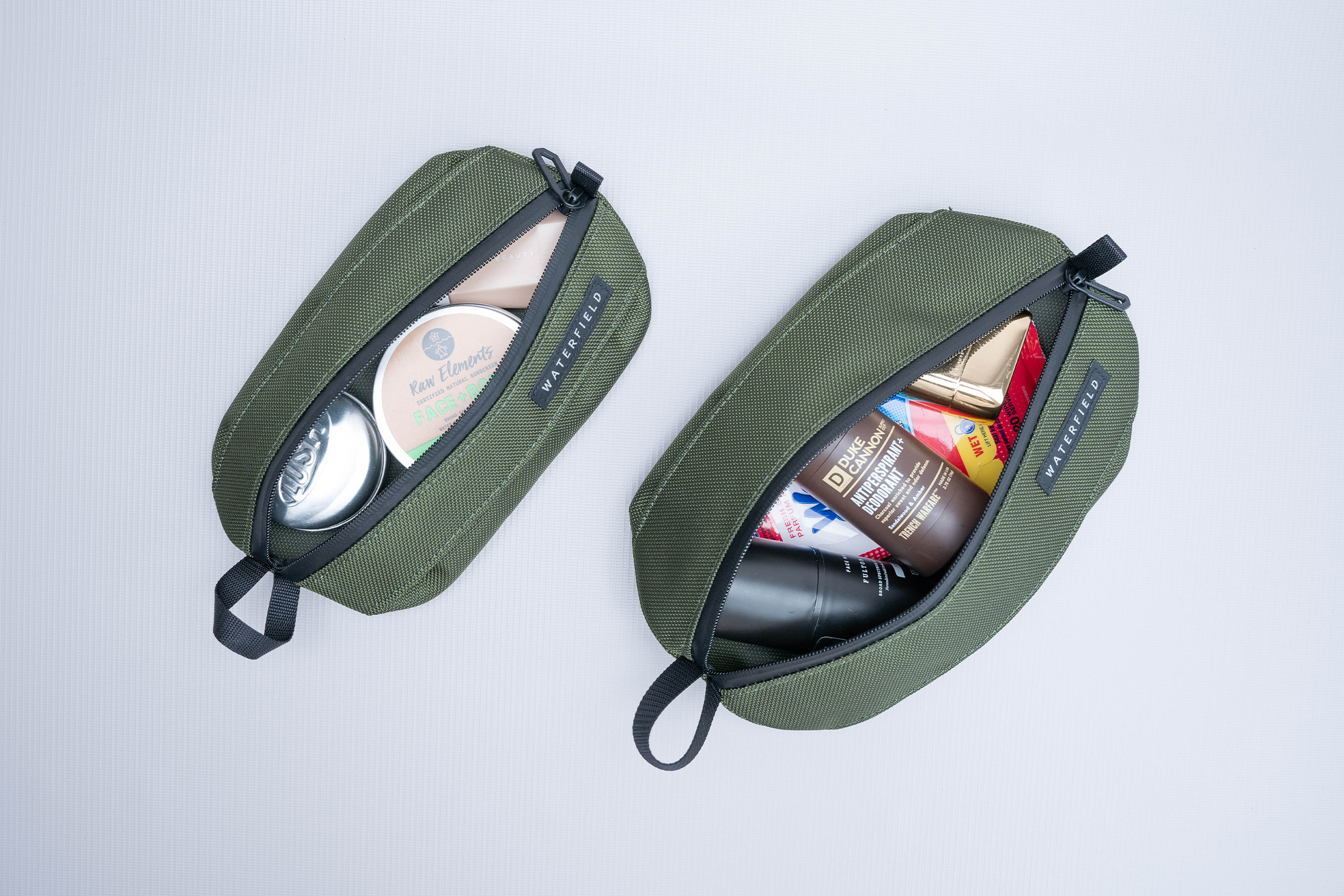 A brush does fit in the medium kit, as does a regular toothbrush, razor, small pill bottle, deodorant, travel-size toothpaste, a small jewelry box, soap or another solid toiletry for travel, lotion, and makeup (foundation, powder, eye shadow, mascara, and brushes). Packing everything inside pretty much fills it up, and it expands to several inches tall to accommodate it all. So while there is a loop to hang it up, you'll want to be careful when opening it if it's vertical since your gear is likely to tumble out if you're using all available space. While that's fine if you're staying at a hotel or Airbnb, it may not be the kit for you if you're staying at a hostel or bed and breakfast where you're sharing a bathroom.
When the pouches are empty, they flatten into a pyramid of elongated hexagons. Each is about an inch and a half larger than the next smaller size. The pleated design means they only take up as much space as the gear inside them, so you may consider purchasing a larger size if you have longer gear, like a full-size hairbrush, that you regularly pack. Wherever the bag is empty, it compresses to be about ¼-inch flat. So, while you can definitely find room for the small Travel Light Dopp Kit when you pack your carry-on bag, and you probably have room for the medium, the large may also suit your needs. That's especially true if you pack for different adventures in different-size travel backpacks and don't want a specific Dopp kit for each. However, if you go this route, be sure not to over-stuff it, or it may not fit in the available space in your pack!
Usage Timeline
Initial Usage
Condition: Excellent
Metal zipper pull is a bit jangly
Really like the green colorway
Fabric has an interesting texture
2 Weeks of Use
Condition: Excellent
Hexagonal shape can make it tricky to pack
Loops on either end helpful when zipping a very full kit
Smallest kit works well for makeup, though too short for a hairbrush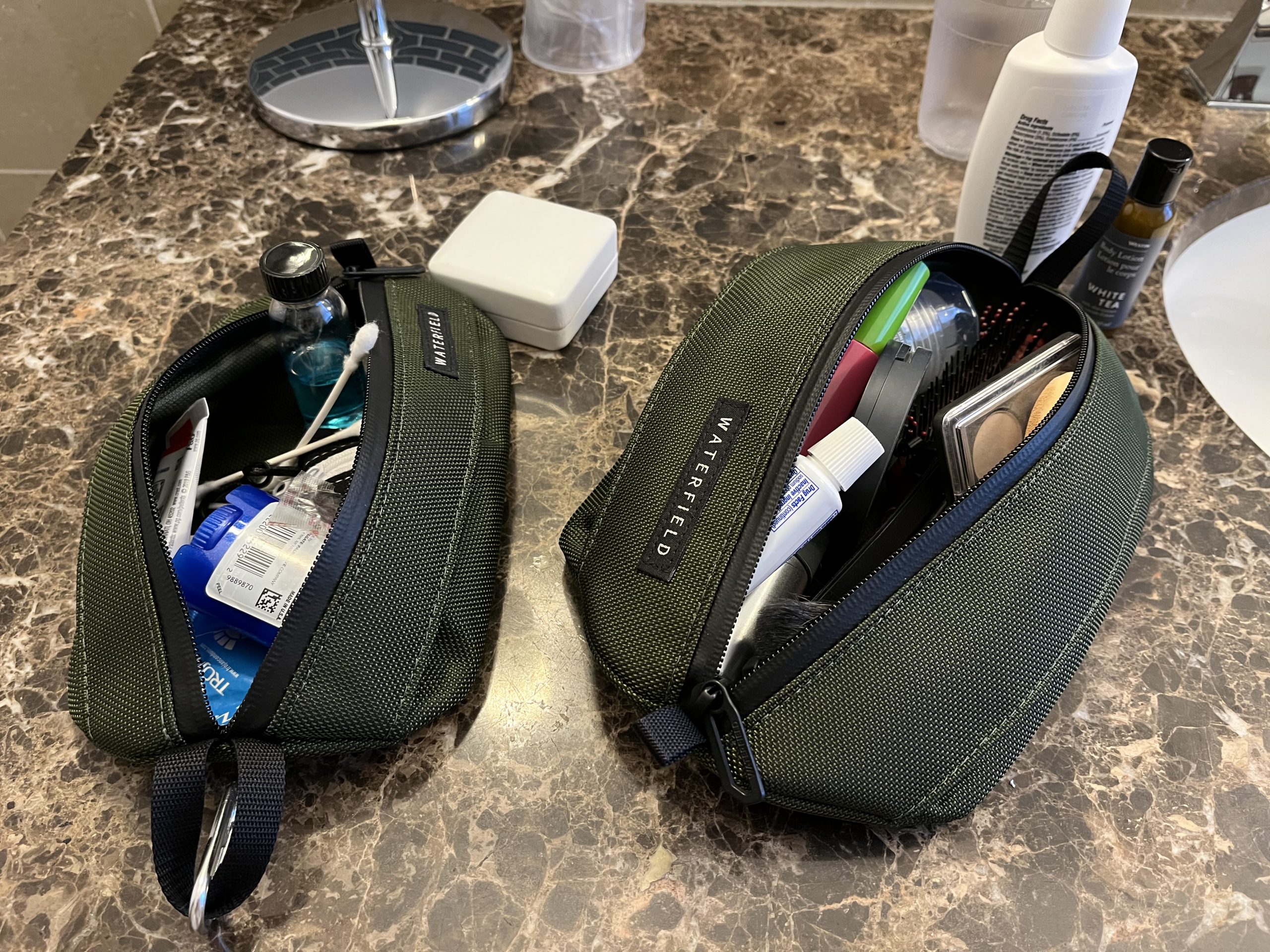 Access the Pro Community Discussion
Get your questions about the WaterField Designs Travel Light Dopp Kit answered from our team and the Pro Community right here on the page. Plus, join discussions with other members about gear, guides, and more.
Other Organizers & Pouches Reviews