WaterField Designs Gear Pouches Review
While the WaterField Designs Gear Pouches can start to look lumpy when full, their durability, versatility, and interior organization should treat you well.
Our Verdict
Unlock the Pro Summary
Save time. Get access to brief summaries of our reviews so you can browse and make decisions more efficiently.
Pros
Three sizes are nice for a variety of setups
Highly durable and made of quality materials
Golden interior makes it easy to spot your stuff
Cons
Looks lumpy when full
The front pocket can be hard to use on the small size
Leather logo tag makes it not suitable for those avoiding animal products
Recent Pack Hacker Video
Technical Details
Capacity

1.168l

Large size

Weight (oz)

5.5 oz (155.9 g)

Large size

Dimensions

6.2 in x 11.5 in x 1 in (15.7 x 29.2 x 2.5 cm)

Large size

Notable Materials

Canvas, YKK Zippers

Manufacturing Country

United States

Warranty Information
Full Review
Today, we're taking a look at the WaterField Designs Gear Pouches. These accessory pouches have been specifically designed to hold your tech essentials—all the dongles, chargers, adapters, and random wires that go hand-in-hand with working (and living) in the 21st century.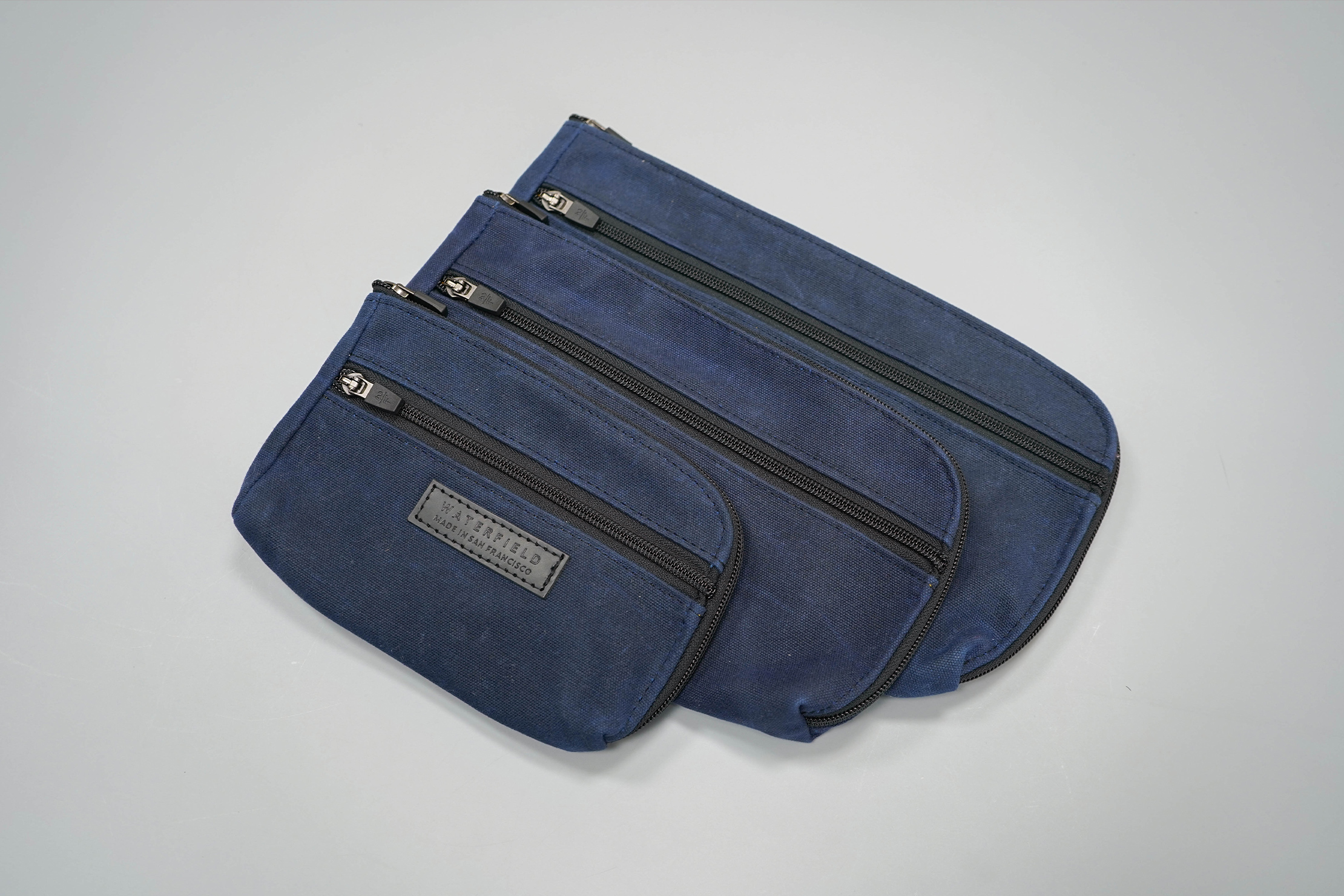 Available in three sizes—small, medium, and large—you can pick up a size that will fit your setup. Between three members of our team, we've been testing all three sizes of the WaterField Designs Gear Pouches for a combined three months, including on a trip to Belize.
So let's check them out.
Materials & Aesthetic
The WaterField Designs Gear Pouches are straightforward, classy looking pouches with a heritage vibe that we're really digging. And that's primarily due to the waxed canvas that the pouches are made from. In addition to looking nice, the waxed canvas feels solid and durable. Plus, it ages well—worn but in a good way (like aged cheese or wine).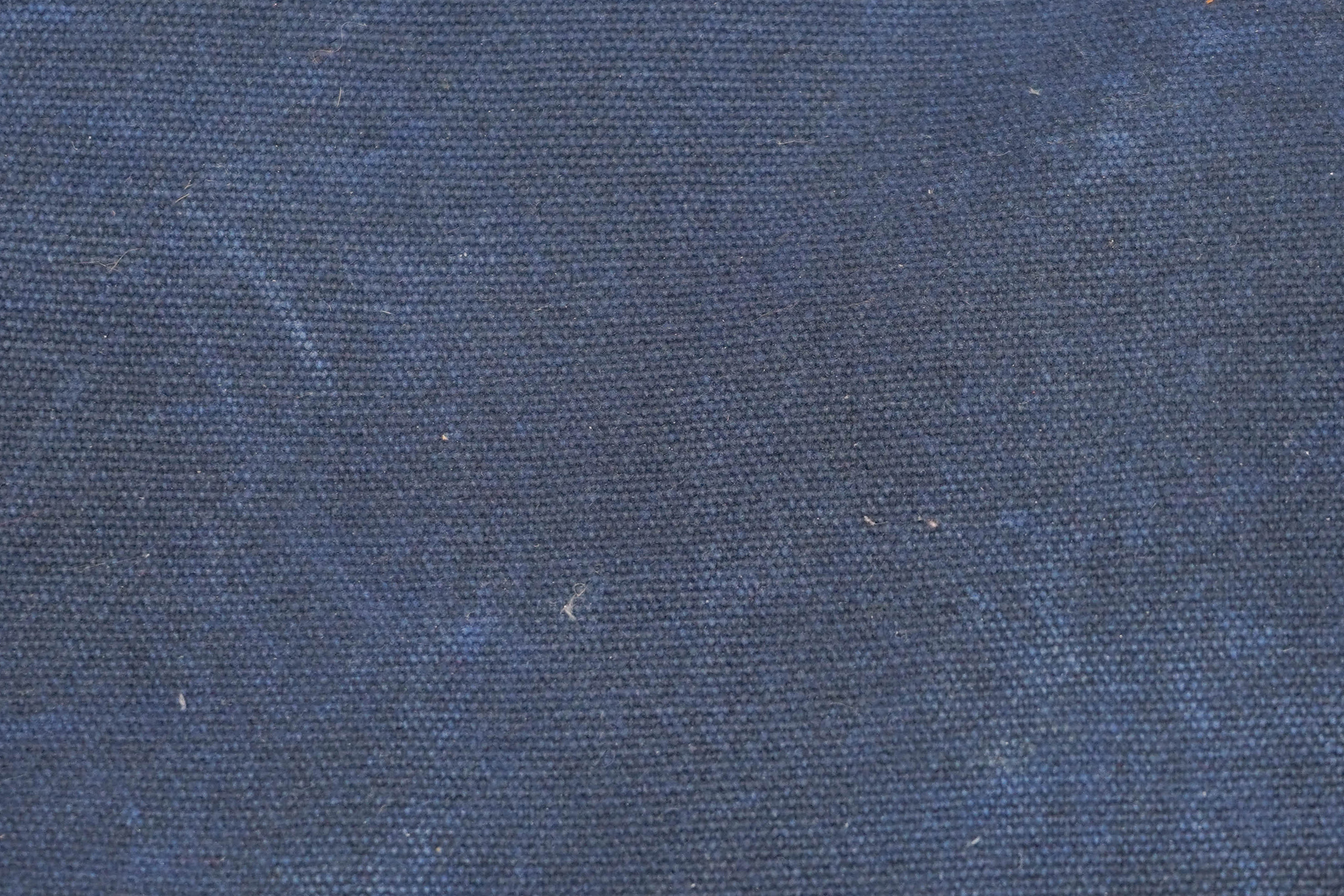 But if you prefer a modern aesthetic, great news! There's a 1050D Ballistic Nylon version of the pouch. Either way, a leather WaterField logo tag sits front and center. We like the element of sophistication it adds, but it does, of course, mean the pouches aren't suitable for our vegan friends.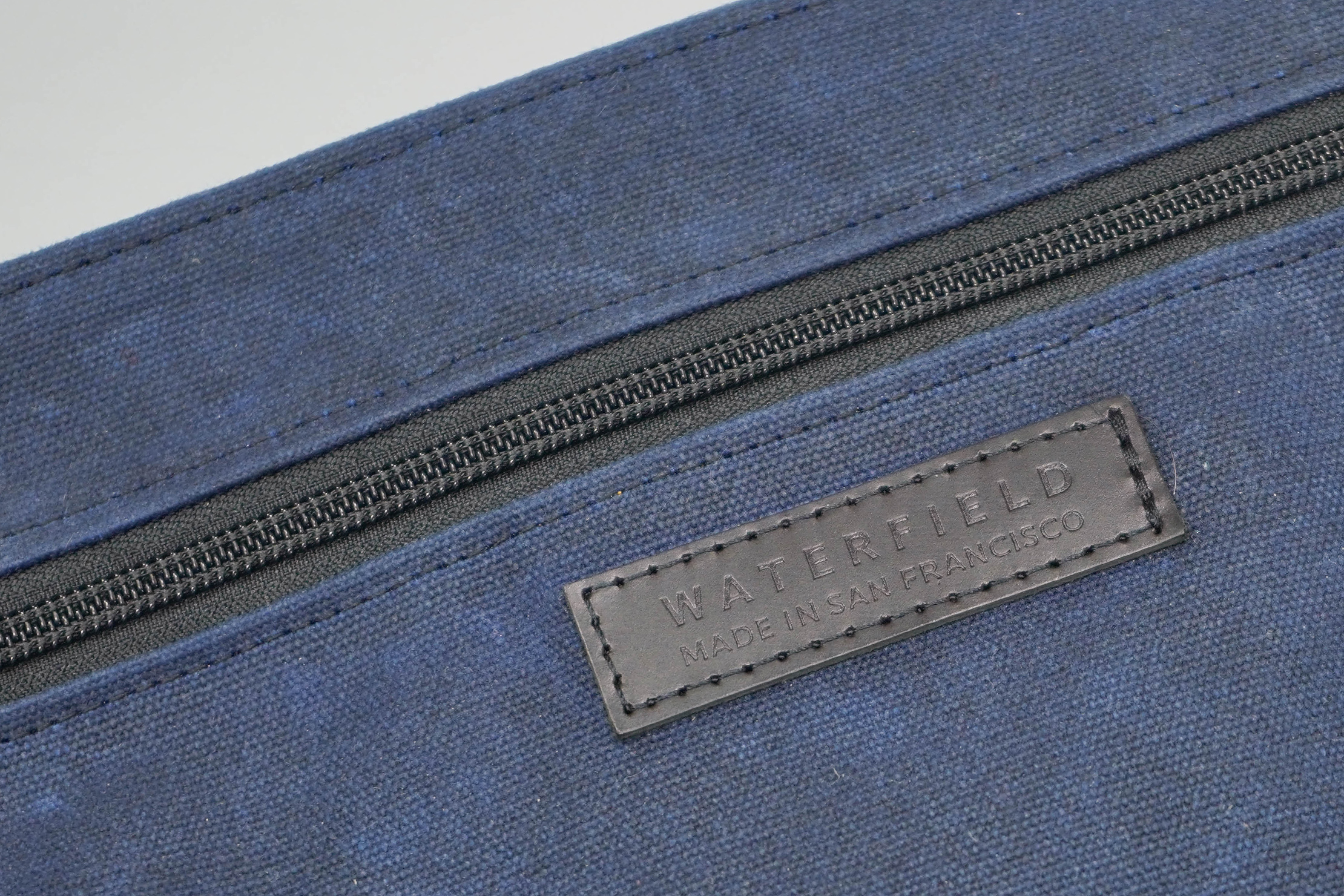 At the time of this review, the pouches are available in five colorways: Navy, Crimson, Gray, Brown, and Black Ballistic. We're feeling all of them, but we especially like the Navy we've been testing.
Finishing off the materials, there are YKK, self-locking zippers. Since they're from YKK, you should have no problems regarding durability, and the self-locking feature is far more useful than we initially anticipated (we'll talk about that more further on in this review). If you're not familiar, a self-locking zipper will easily slide down the track when you pull the tab up, but it locks in place when you put the tab down.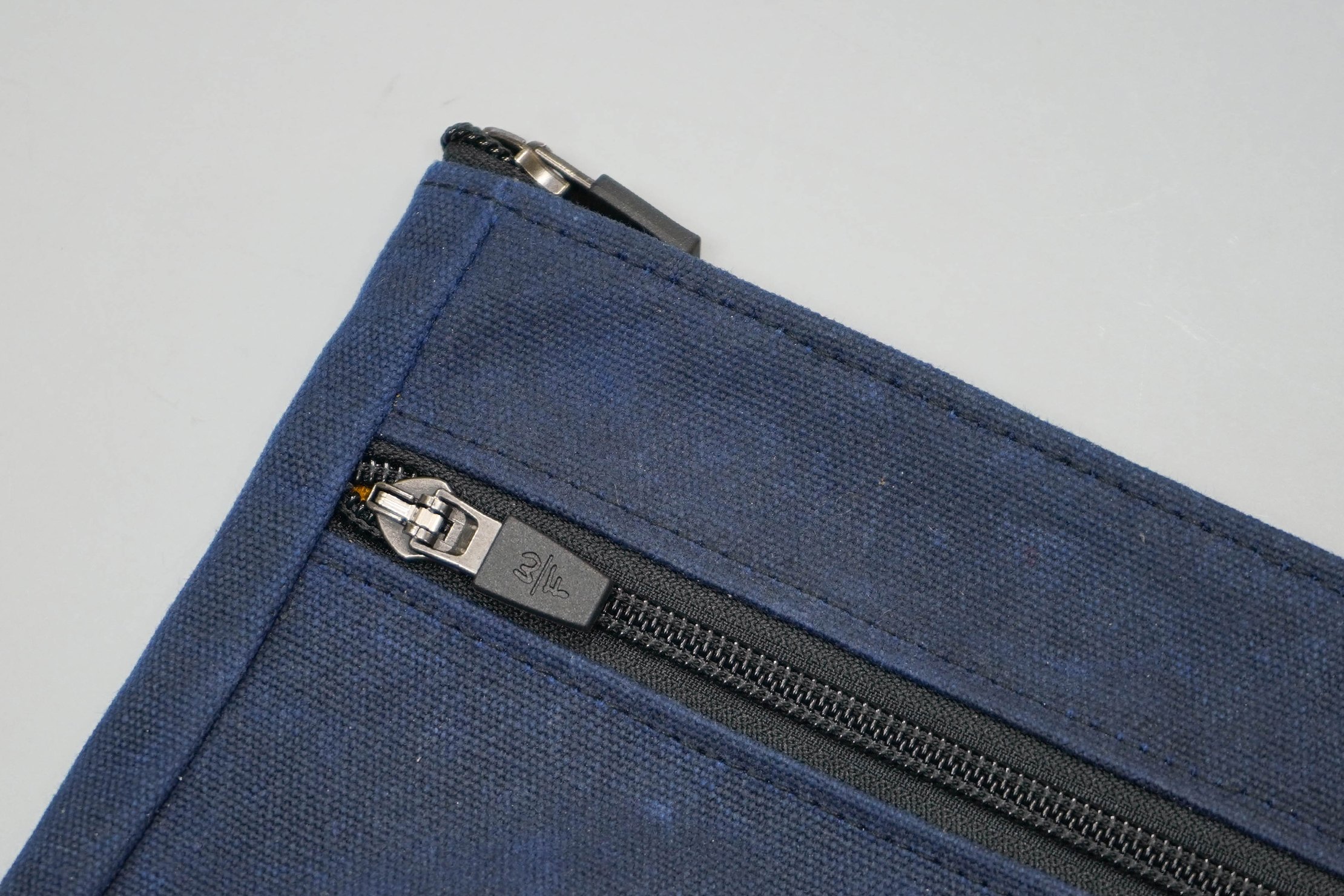 Inside the Pouch
The WaterField Designs Gear Pouches have two zippered pockets, which sets them apart from the crowd (a number of accessory pouches only have one main compartment you'll throw everything into). We love the gorgeous, golden orange interior lining that you'll find in both pockets. It's not only nice to look at, but it helps you see what's going on inside.

The front pocket has no further organization inside of it. Depending on the size of the pouch you buy, you'll have more or less room to throw those smaller accessories you'll want to quickly access.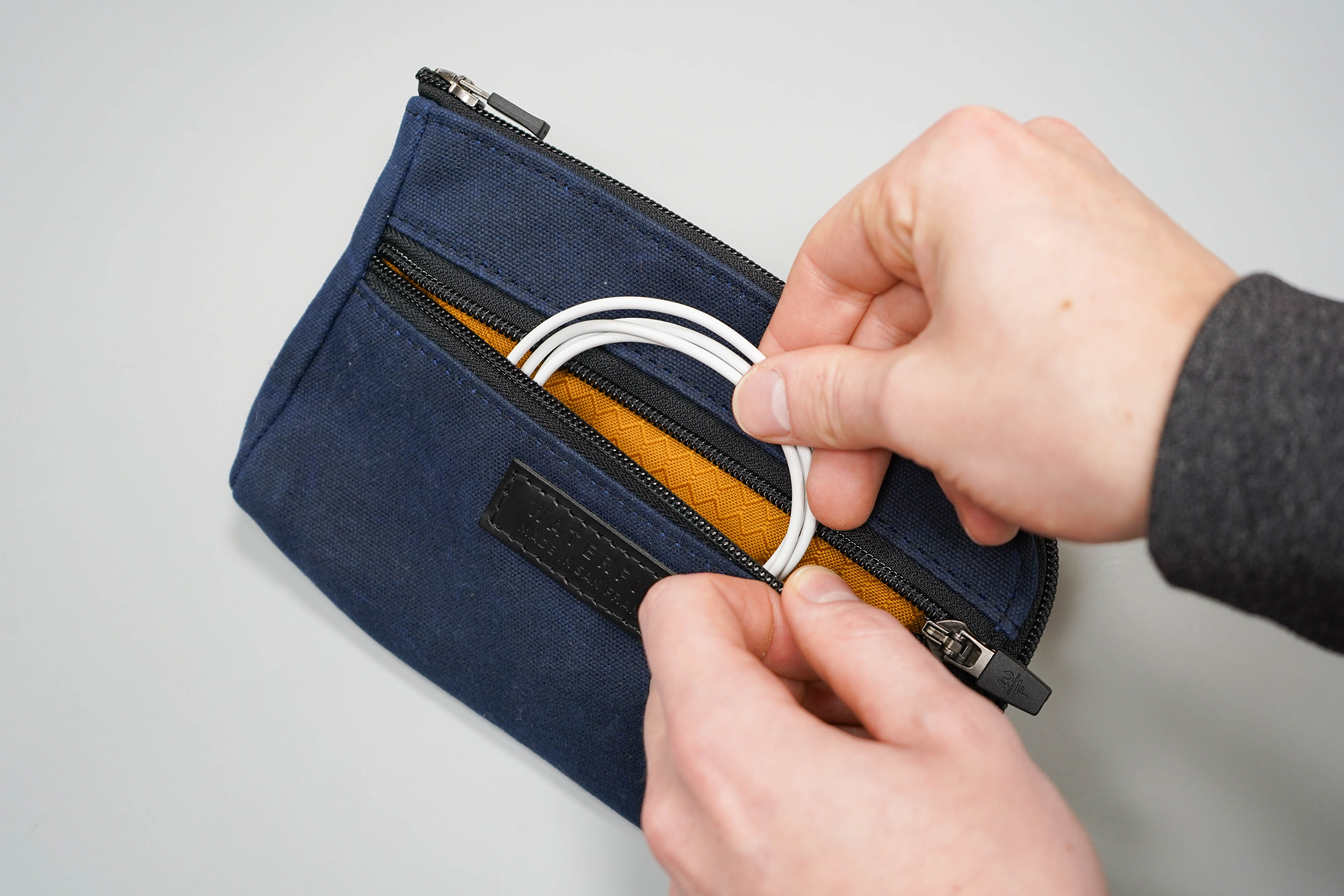 The large size has enough space for extra headphones, pens, and dongles. The medium size will hold a Field Notes notebook and James Brand The Stilwell Collapsible Pen. The smaller size, obviously, has the least amount of space. It's especially tricky to fit a lot of stuff in the front pocket of the small pouch if you've filled up the main pocket. We've put an iPhone charger here, some dongles, and that's it.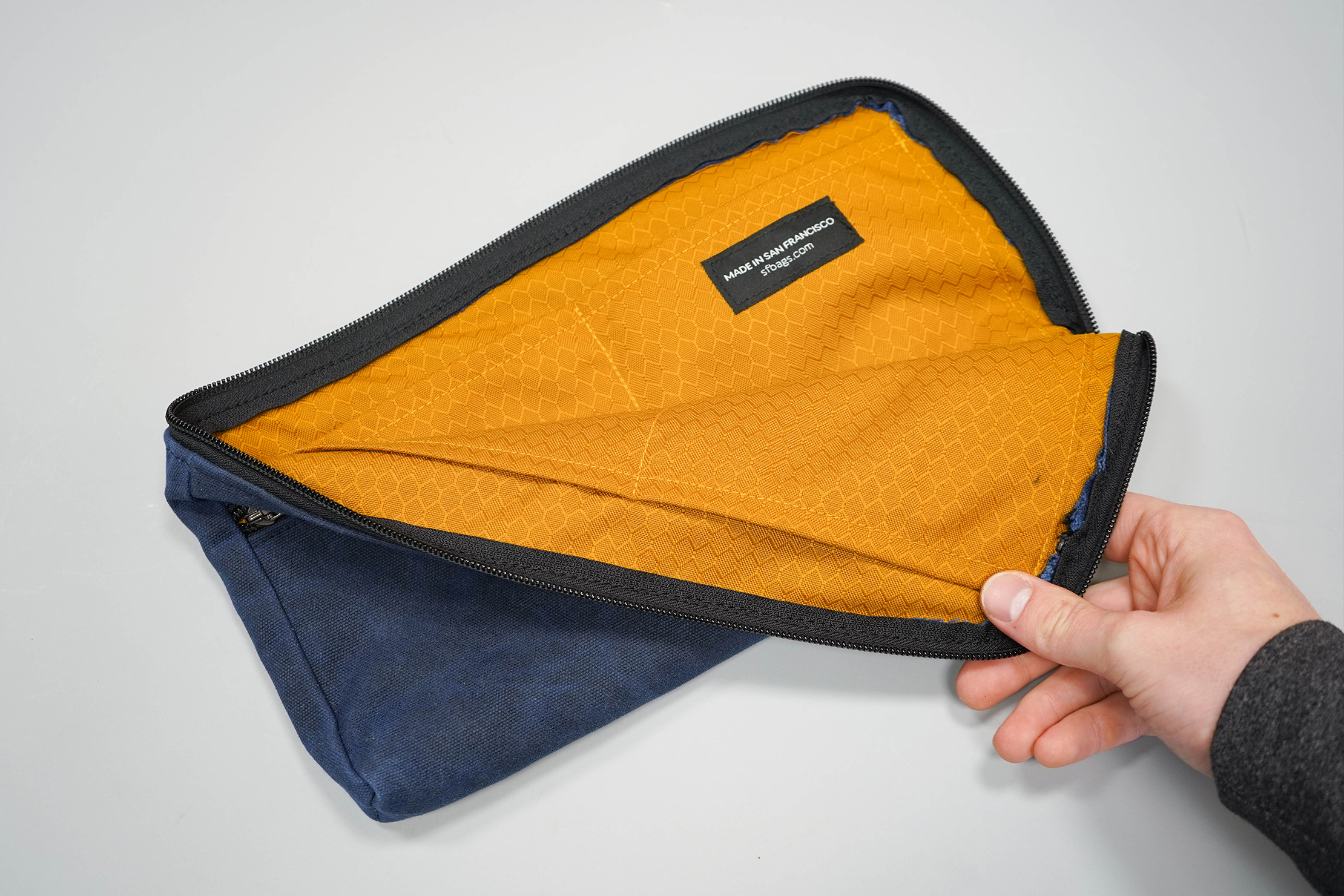 The main pocket opens up in a half clamshell-style—meaning it zips all the way down one side. We really like this style as it allows you to easily see, access, and organize all of your stuff.
And the self-locking zipper means you don't have to open it all the way when you don't want to. We've been opening just the top, locking the zipper at the corner, and using the pouch as a top-loader for super quick access. It's truly the best of both worlds.
Inside, you'll find a small amount of organization. The large and medium sizes have four divider pockets, two on each side. The small size has two divider pockets, one on each side.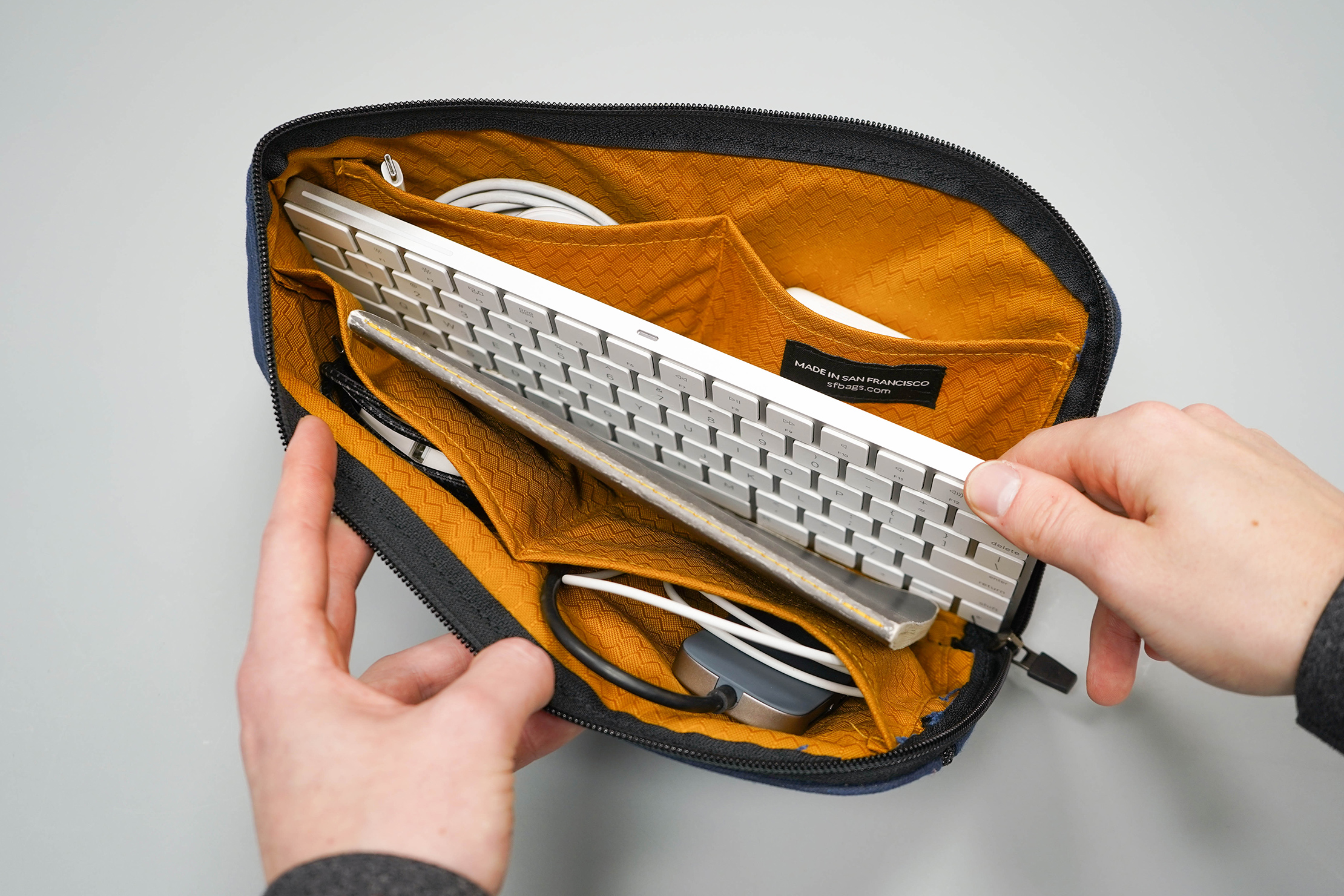 The large pouch has specifically been designed to hold an Apple Keyboard. Along with it—outside of the divider pockets—we've kept a Baron Fig Vanguard Softcover Notebook. In the pockets, we've stashed a MacBook charger, Apple Magic Mouse, USB-C hub, a phone charger, and a few more random bits and bobs.
We've really been digging the large, which allows us to keep everything we need for a productive workday in one place. You can get to wherever you're working for the day, pull out your laptop, pull out the Gear Pouch, and you're good to go.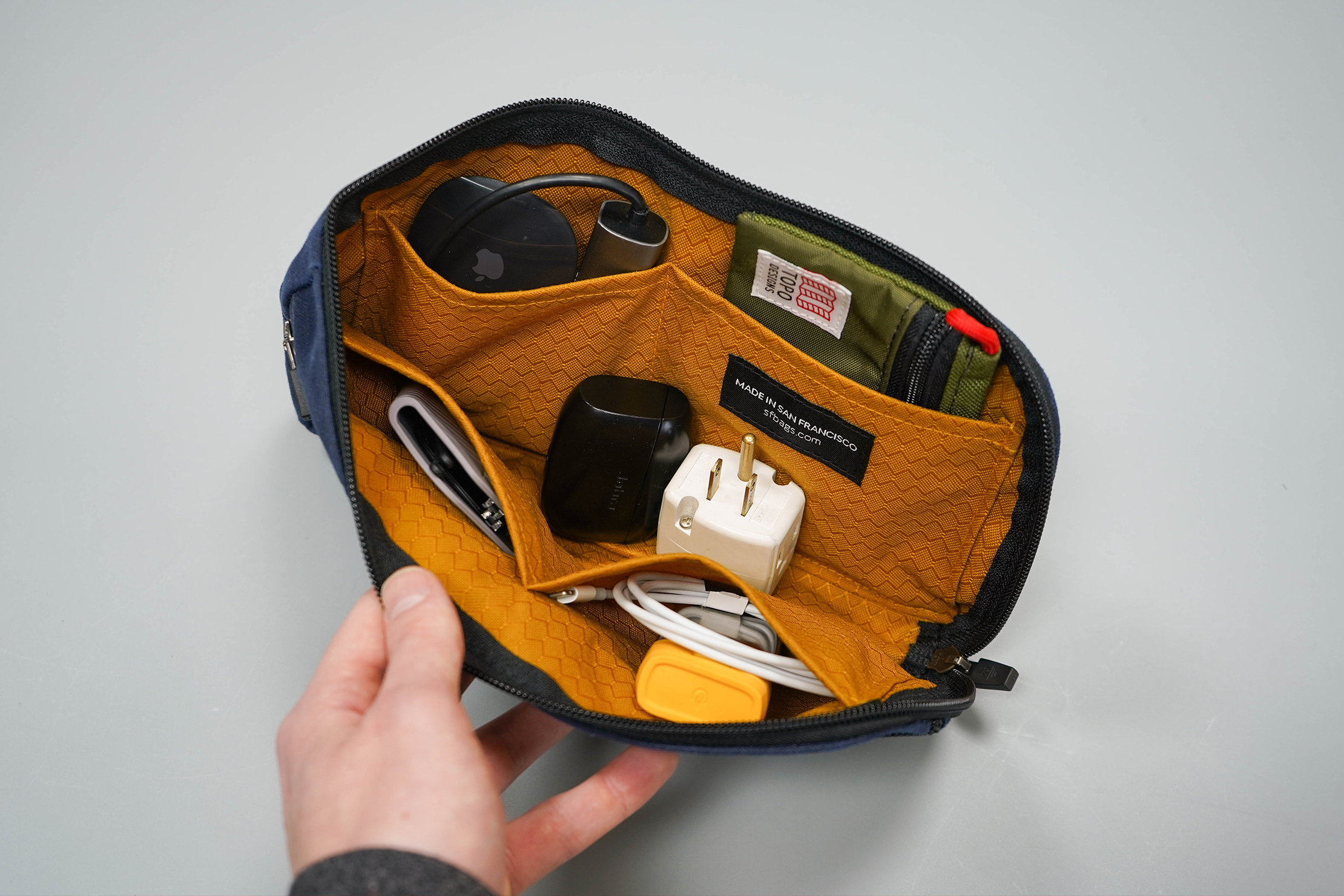 The medium pouch has been designed to fit an iPad mini and other small tablets. We've tested it with an Apple Magic Mouse, USB-C hub, 3-way outlet splitter (a great way to make friends at a coffee shop, #PackHackerProTip), headphones, the Anker PowerCore II 10,000, USB cables, ROAV sunglasses, and a micro Topo Designs Pouch to hold all of those tiny tech accessories. We've been having the most success putting the bulkiest items in the center of the pouch, outside of the divider pockets.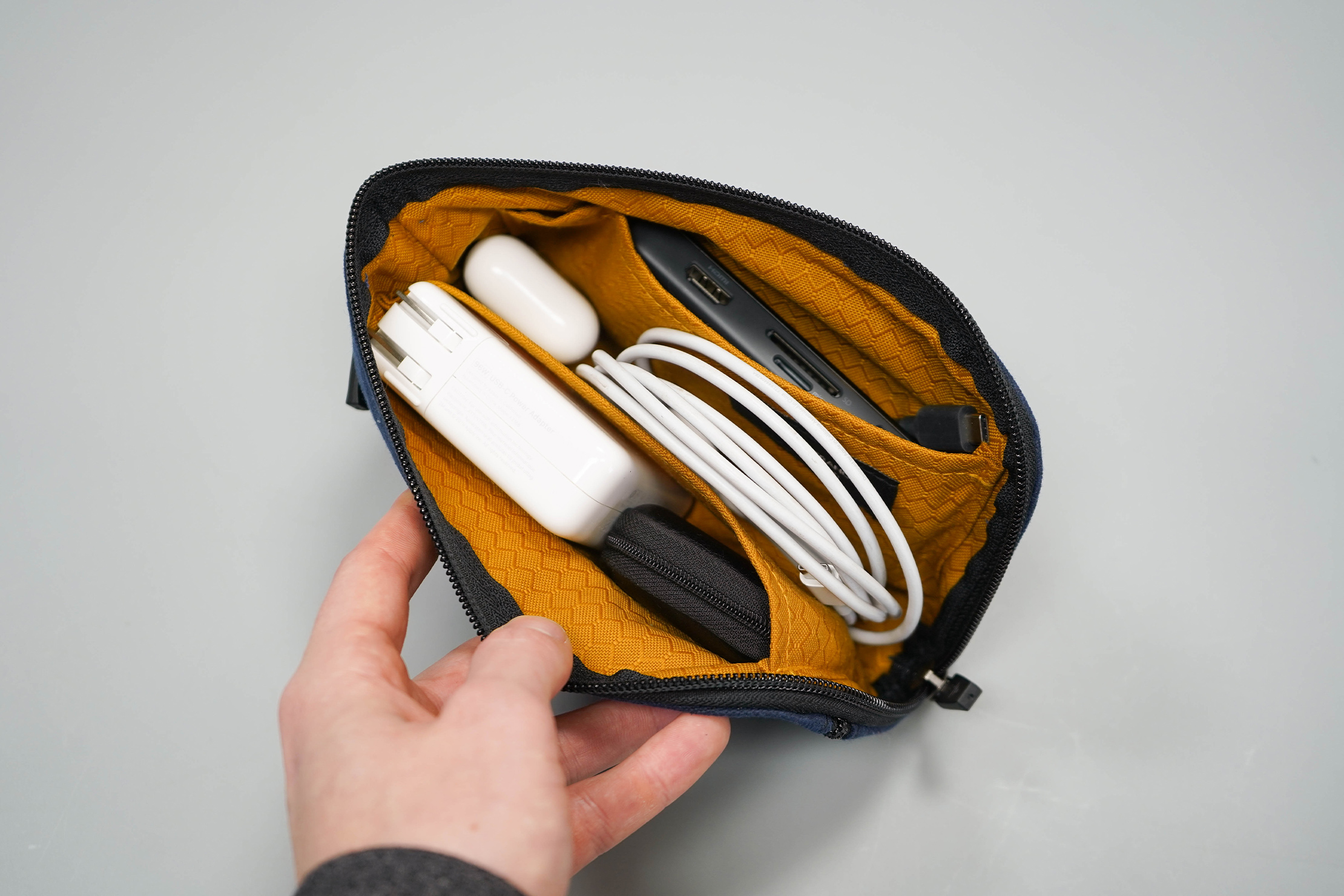 The small is for those basic tech essentials. But it can still fit a good amount of stuff inside, including a MacBook charger, Apple Magic Mouse, miscellaneous cords and dongles, AirPods, and an Anker USB-C hub.
Obviously, the size you'll want will depend on how much space you need. After all, your everyday tech setup is as unique as you are (everybody now, awww).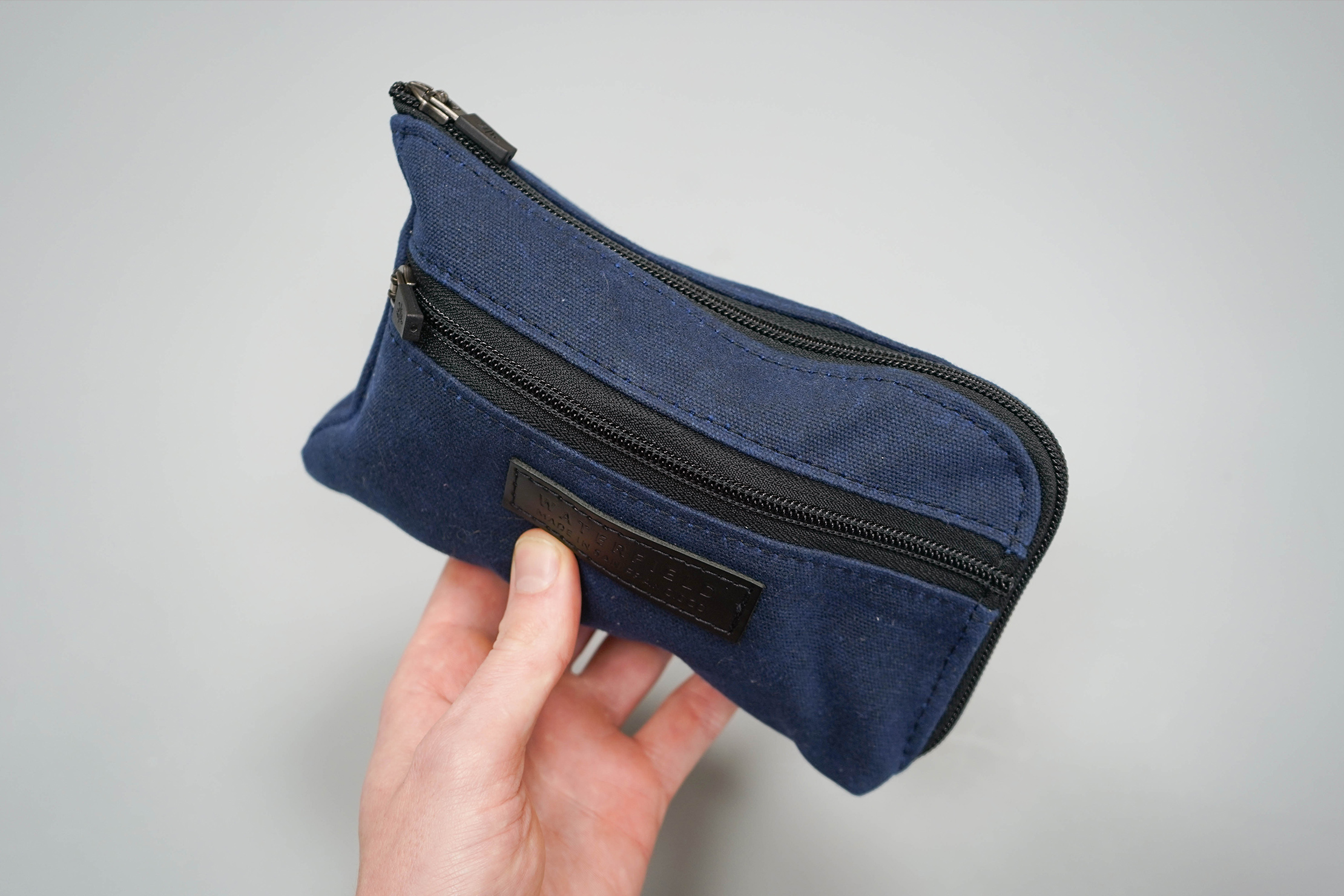 No matter the size, the pouches can start to look a little lumpy when fully loaded. The fabric conforms to your stuff, so you can see the outlines of your bulkier items (looking at you, MacBook charger). This isn't a huge deal, but it's worth noting. We've had the best luck spreading out bulkier items or keeping them in the center of the pouch.
Even lumpy, the pouches are streamlined enough to easily fit inside your daily bag.
Durability & Testing
As we mentioned at the beginning of this review, three members of the Pack Hacker team have been testing the small, medium, and large sizes of the WaterField Designs Gear Pouches for a collective three months. All in all, we've enjoyed testing them. The waxed canvas feels great and the internal organization is top-notch. Plus, the three sizes mean you can find one that works for your setup.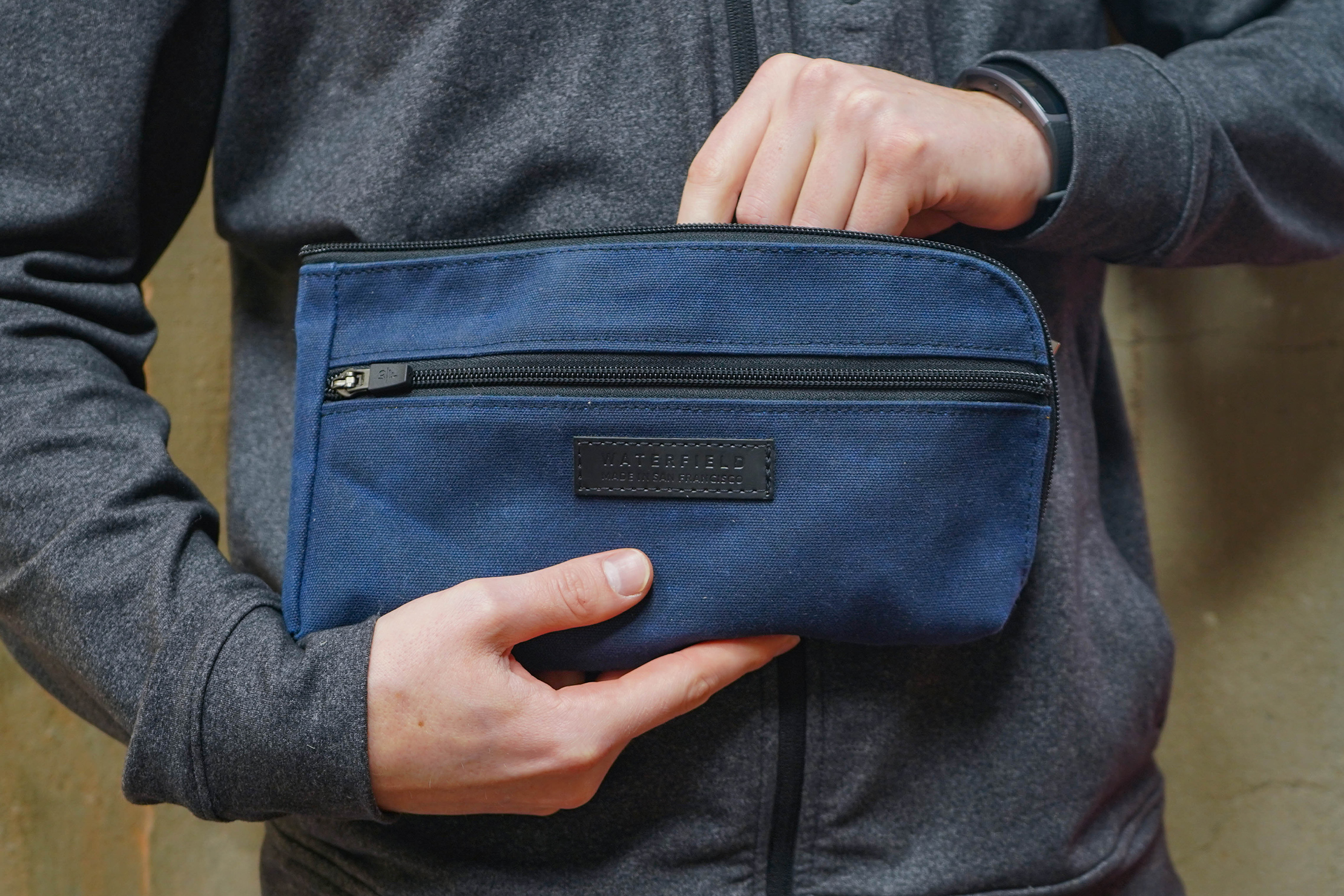 As far as durability is concerned, we have nothing to report. The waxed canvas is aging nicely.
Usage Timeline
Initial Usage
Condition: Excellent
Largest size fits an apple wireless keyboard
Bright interior makes everything easy to see
We love the heritage style and look
2 Weeks of Use
Condition: Excellent
The materials on this pouch are top-notch. The waxed canvas feels great and the lockable zipper is more useful than anticipated. We've been opening just the top, locking the zipper at the corner, and using this thing as a top-loader for extra quick access.
1 Month of Use
Condition: Excellent
Really digging how the Apple Magic Keyboard fits inside the large size. It's been great to have all of our tech stuff (keyboard included) in one place.
Access the Pro Community Discussion
Get your questions about the WaterField Designs Gear Pouches answered from our team and the Pro Community right here on the page. Plus, join discussions with other members about gear, guides, and more.
Other Organizers & Pouches Reviews