WANDRD ROAM Sling Review
The WANDRD ROAM Sling is a camera sling that can be used comfortably every day, though the all-black interior can be hard to navigate.
Our Verdict
Unlock the Pro Summary
Save time. Get access to brief summaries of our reviews so you can browse and make decisions more efficiently.
Pros
Easy to hand-carry thanks to top and side handles
Comfortable harness system with cross strap
Ample number of pockets for everyday carry
Cons
Tarpaulin is prone to scratches
Strap needs to be detached to be re-oriented
All-black liner fabric decreases visibility
Recent Pack Hacker Video
Technical Details
100 %
Carry-on Compliance
Capacity

3l

Weight (lb)

1 lb (0.5 kg)

Denier

1680D

Dimensions

6 in x 9 in x 4 in (15.2 x 22.9 x 10.2 cm)

Notable Materials

Tarpaulin, Ballistic Nylon, Polyurethane, YKK Zippers

Manufacturing Country

Vietnam

Warranty Information
Full Review
Get up to 15% off WANDRD • Join Pack Hacker Pro
We've seen the smallest of WANDRD's PRVKE series in the form of the 11-liter PRVKE Lite. We praised it for preserving the functionality we liked from the bigger PRVKE backpacks while trimming down the size. Of course, compromises were inevitable, and that's just part and parcel of downsizing. However, small doesn't have to mean terrible, as we'll see soon enough with the ROAM Sling.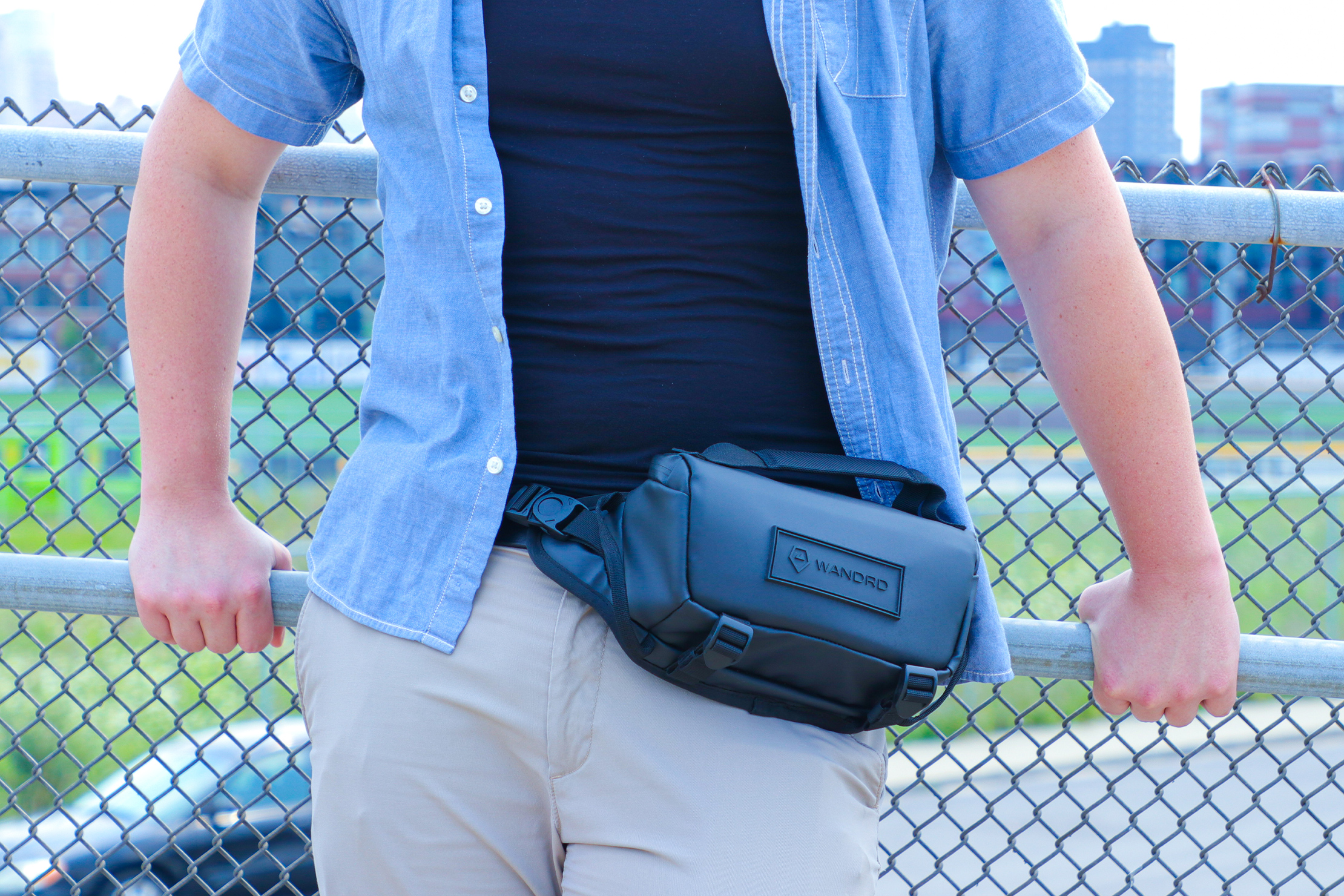 Standing at just 3 liters, though, expectations do have to be set. While it wasn't able to fit our bigger DSLR camera, a more modest but still capable, mirrorless camera is a good match for it. Organization is well-thought-out, with enough pockets to make it usable as a day-to-day sling as well. It's also comfortable to carry, striking to look at, and designed with practicality in mind. That's a pretty picture we just painted, so let's see if the ROAM Sling does indeed capture it.
Materials & Aesthetic
We're not entirely sure if WANDRD's done this on purpose, but the longer we look at the ROAM Sling, the more it resembles a handheld camcorder. You don't see it? Try squinting your eyes and imagine that the top handle is the strap you slipped your hand into. Still no? That's okay, maybe it's just the photography vibe this sling is giving off that's creating this impression.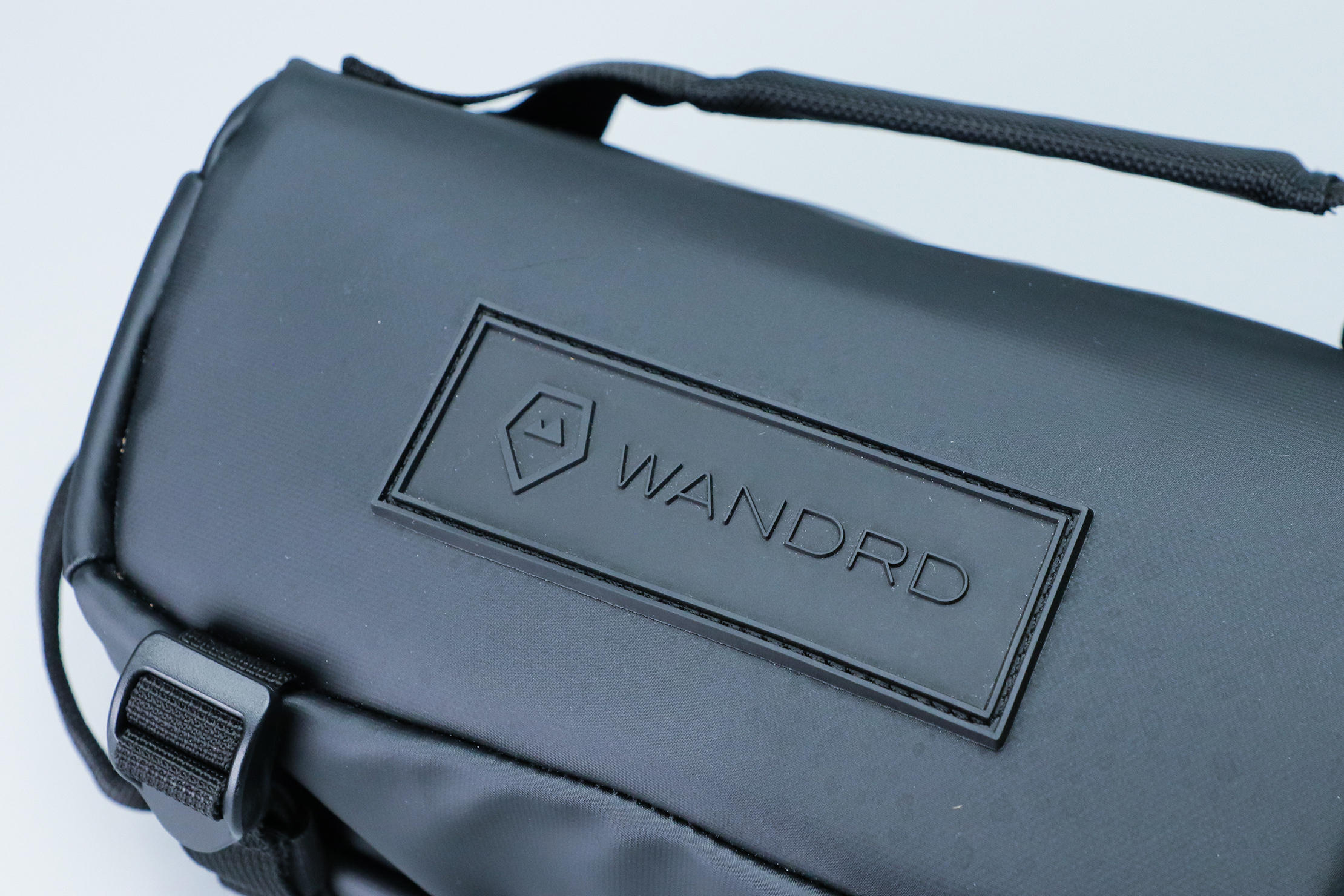 No matter how you slice it, the ROAM Sling is best served to photographers. The tarpaulin, 1680D ROBIC Ballistic Nylon, and YKK zippers come together to create a protective and water-resistant shell against the elements. A thick handle at the top tells you that this is meant to carry a hefty camera and its entourage of accessories. The bottom straps are also good hints, especially if there's a tripod already slotted inside. Then there's the long shoulder pad, lined with enough loops for nine accessories or almost each of your ten fingers.
In terms of branding, the WANDRD logo is prominently featured at the front, and although it's blacked-out, it's still legible. We dig the Black colorway on most of WANDRD's gear, like on the PRVKE backpack, and it's the same story for the ROAM Sling. The matte finish on the tarpaulin just hits differently compared to glossy black. However, at the time of writing, there's also a Yuma Tan colorway available. We're not gonna lie, it looks pretty classy, like it's made out of white chocolate, and the black WANDRD logo contrasts nicely.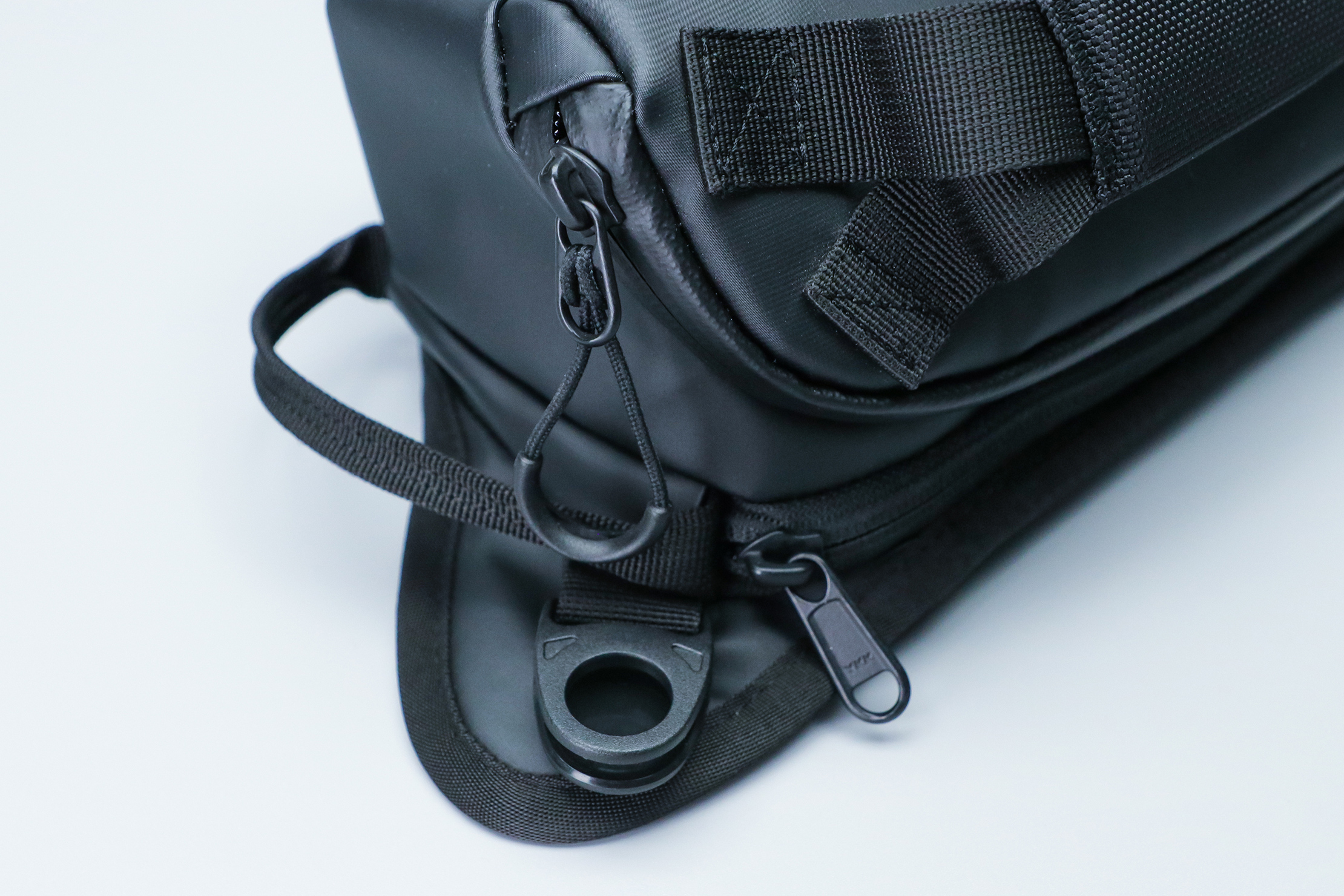 All in all, the ROAM Sling carries over WANDRD's sleek design language. The most notable caveat in the design is the tarpaulin, which we've previously noted to be somewhat scratch-prone. But aesthetics is only half the equation—less if you value function over form—so what about practical features?
External Components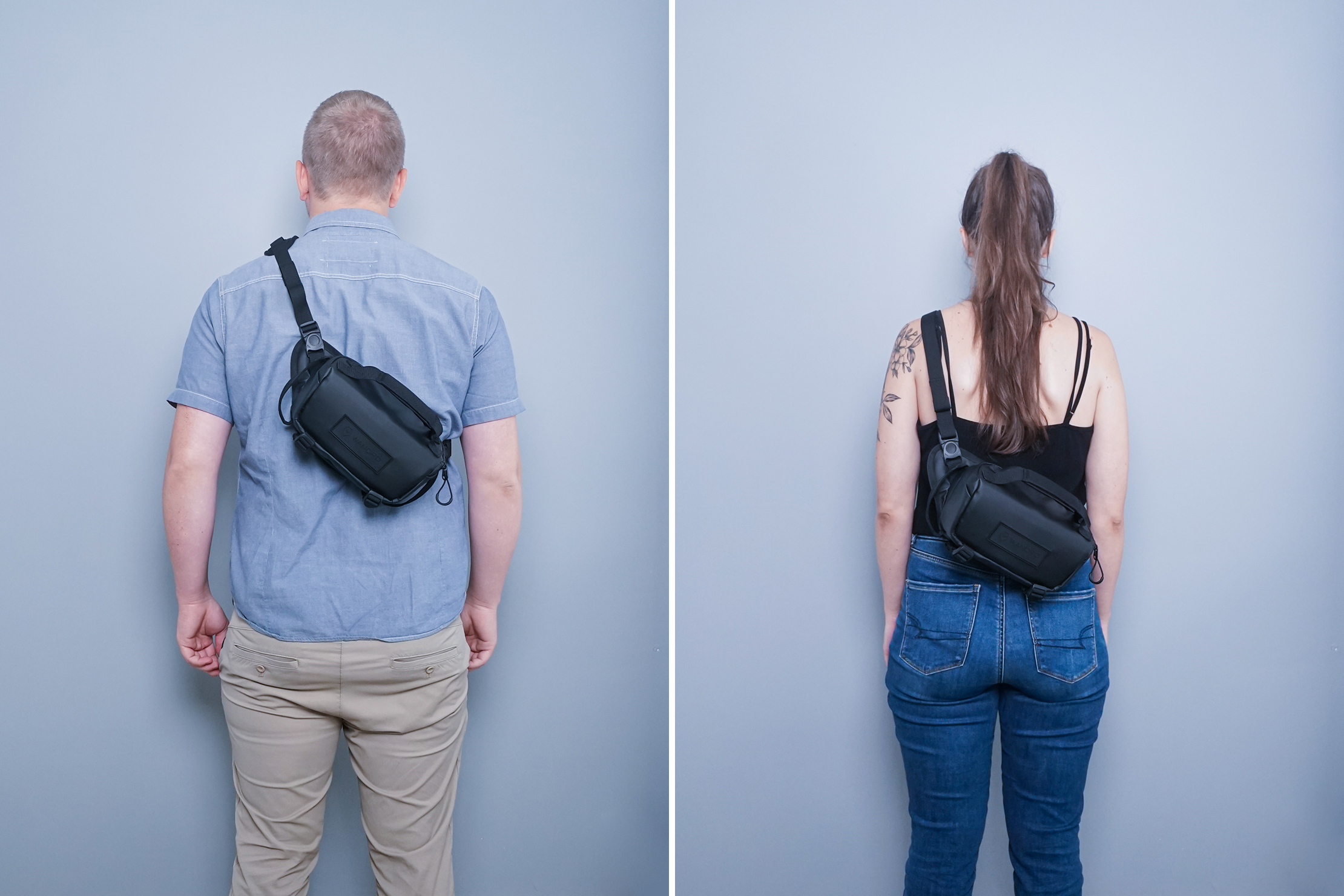 The top and side handles already tell a lot about what WANDRD is going for with the ROAM Sling. It's not strange to find one or two carrying handles or loops on slings and pouches, but the three found here are encouraging signs of the practical aspects of the bag. While the sling strap is for long-distance carrying, photographers tend to move a lot, even in one place like a studio.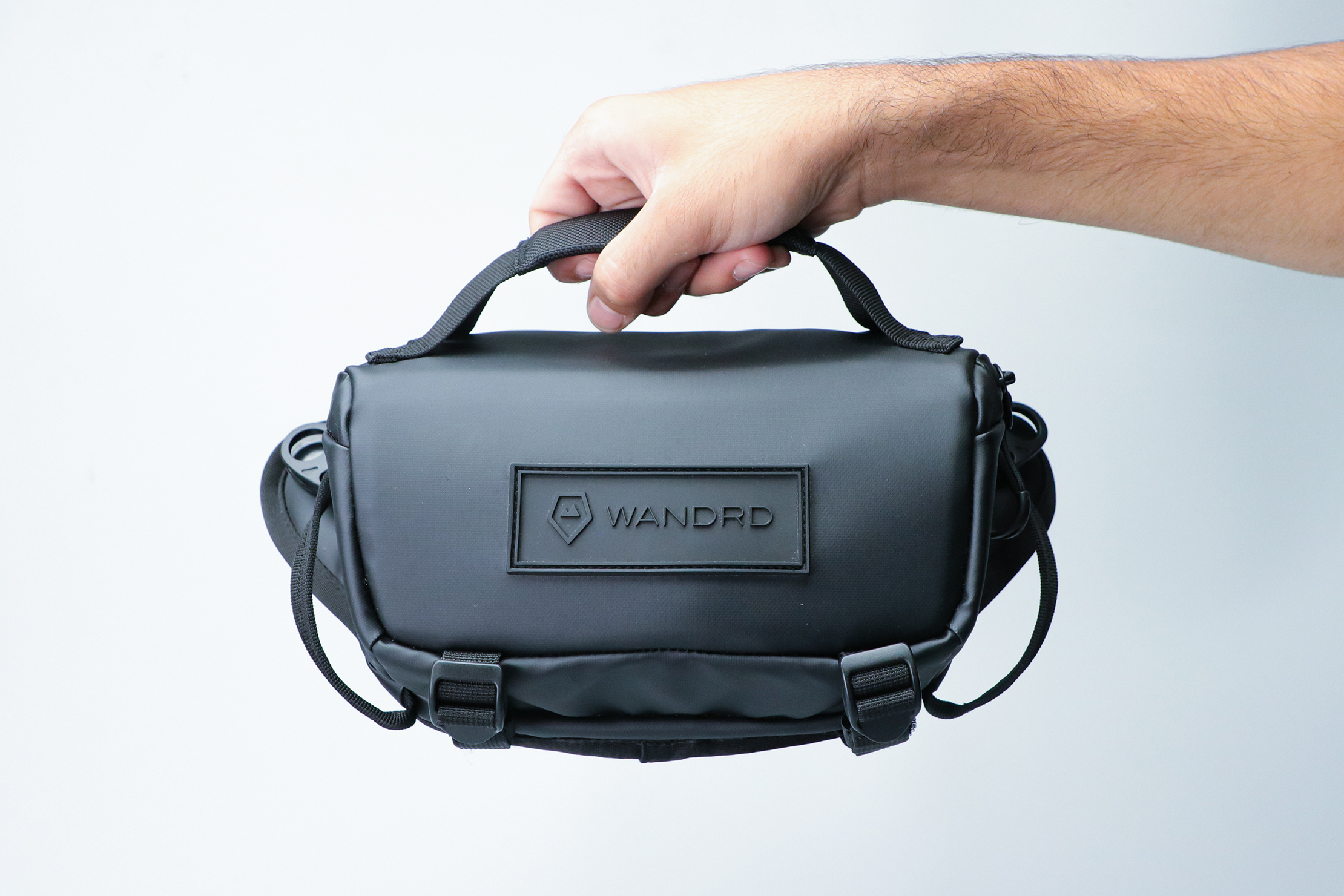 Having multiple handles makes it easier to move your equipment and tools around, avoiding awkward clutching or grabbing at the fabric directly. Sure, it's not the cleanest look, but the ROAM Sling isn't the subject; the one in front of the lens is.
The bottom attachment straps are fixed in position, meaning they're not removable. That works for us since we need them to carry our compact tripod around. They can only be loosened so you can slot a tripod, water bottle, or compact umbrella in. When not in use, they tighten up against the body of the sling cleanly.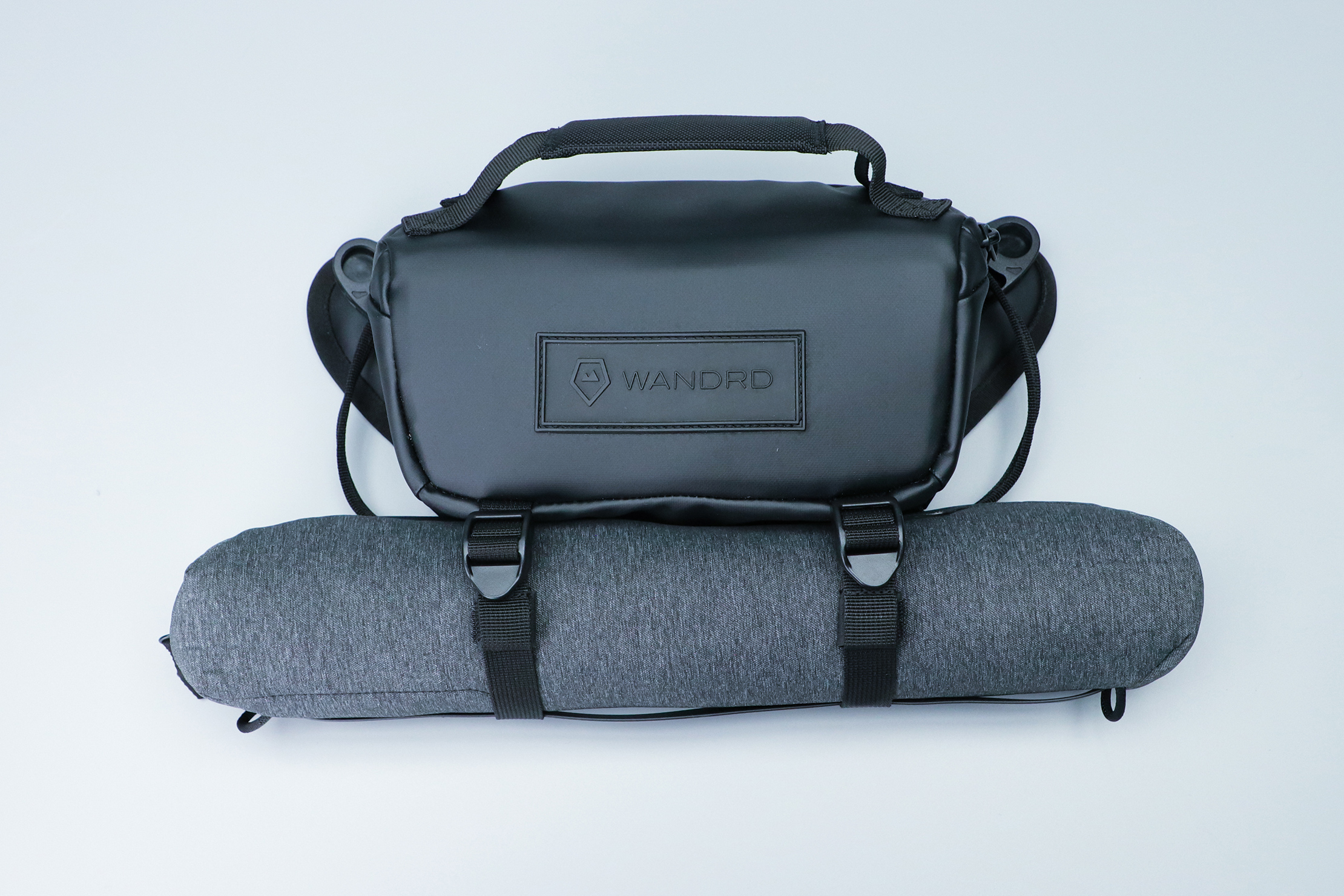 Tightening them is as simple as pulling on the slack as you would with any typical adjusting straps, but one extra feature here that keeps things extra secure is the bit of velcro wrap-around at the end of the slack. This allows you to secure the slack to the main strap. Admittedly, it's tricky to secure since you'll have to squeeze the velcro in after tightening the straps. The process would be easier with gaps in the tripod's legs where you can lock in the velcro, but our tripod comes with a fabric case.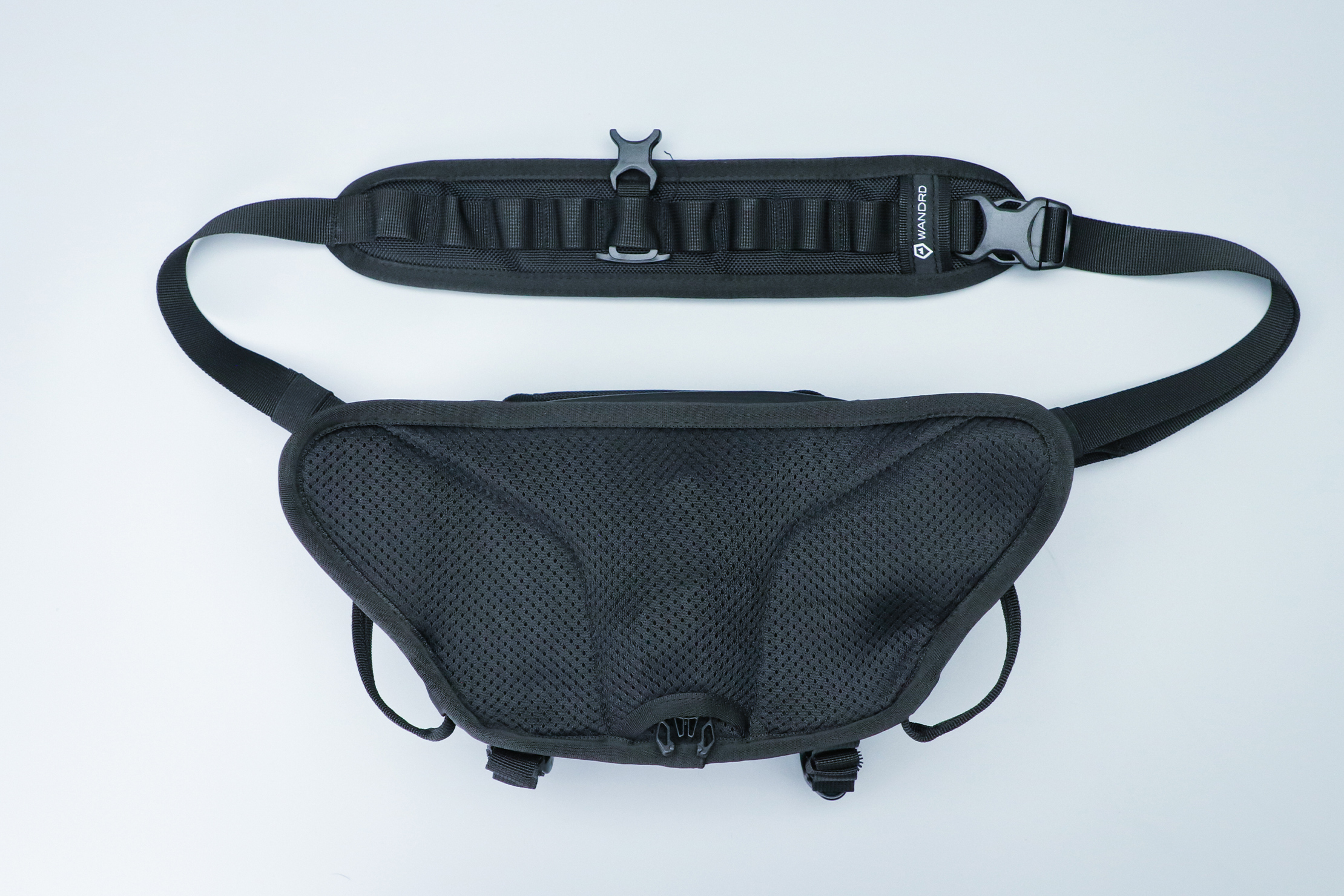 The ROAM Sling's strap is a rather eye-catching one, thanks to the lengthy shoulder strap. It's lined with nine loops, which is a bit excessive, but they're not just for accessories. These nine loops are also attachment points for the built-in cross strap that deploys from a hole near the bottom of the back panel—more on this later.
The sling strap is pivoted onto the sling's body on each end, similar to the NOMATIC McKinnon Camera Sling 8L. This allows it a degree of adjustment to go from sling to waist pack mode almost effortlessly. The difference from the McKinnon Camera Sling is that the ROAM Sling's strap is detachable. This allows you to orient the strap however you want, primarily where you want the quick-release buckle to be, whether you want it at the top or the bottom. There's technically a correct orientation, and you can tell by looking at the WANDRD logo on the strap and noting whether or not it's upside down.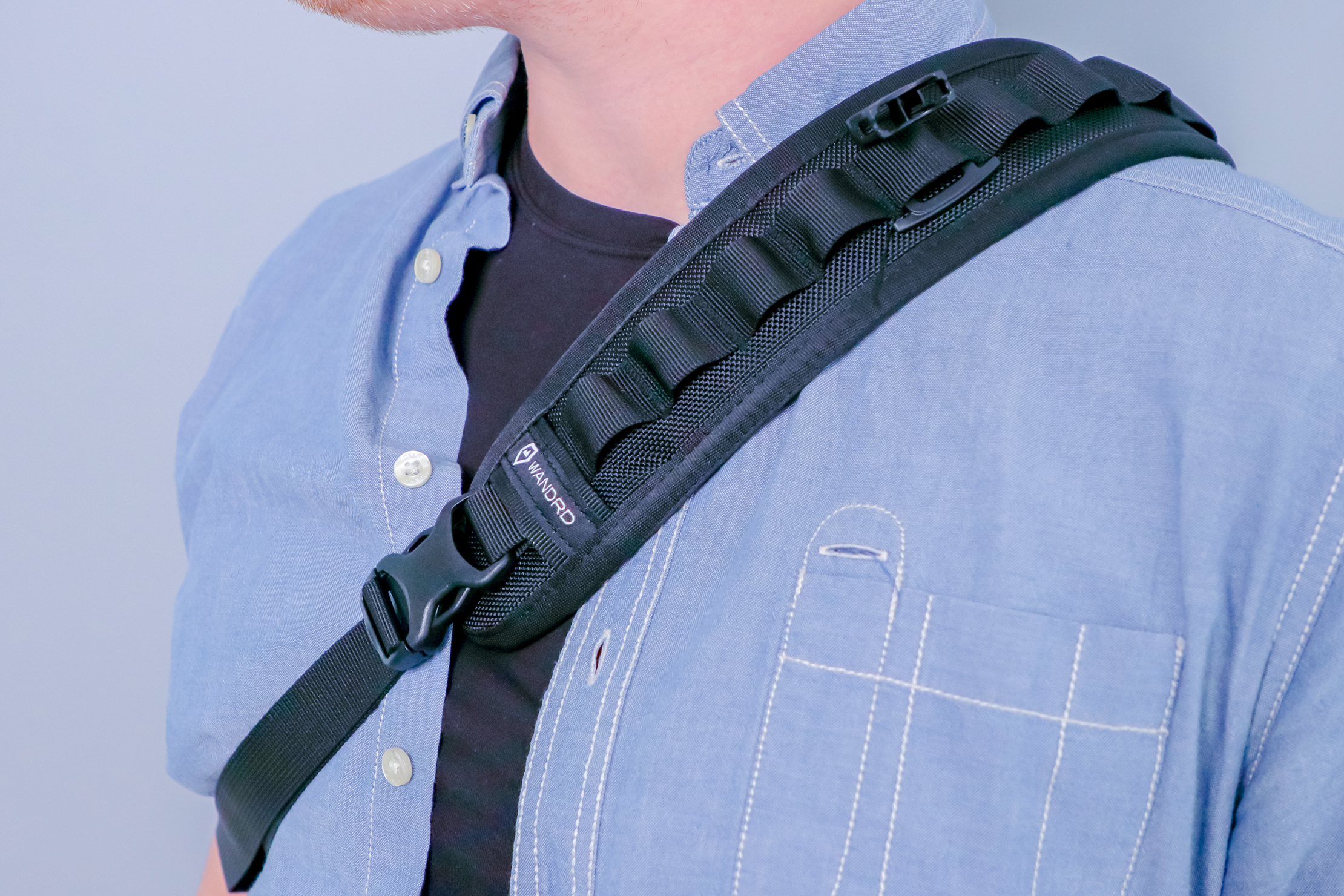 The ROAM Sling's back panel has a decent amount of padding and is completely covered in mesh material. Even at a humble 3 liters, this is a sizable sling, and it covers quite a bit of surface area. Nevertheless, it never felt uncomfortable to carry, even when sitting against our back or front.
Last but not least is the deployable cross strap. As mentioned before, it's stored in the back panel, but you can easily fish it out with some fiddling. Once it's deployed, it attaches to a provided anchor clip which, in turn, slots into one of the nine loops on the shoulder strap. The cross strap itself is relatively thin compared to the rest of the straps on the ROAM Sling. However, since this is just a stabilizer for the harness system, the width is enough to get the job done. One thing to note is that this cross strap, small as it is, needs to be stowed away carefully to avoid it bulging out of the back panel.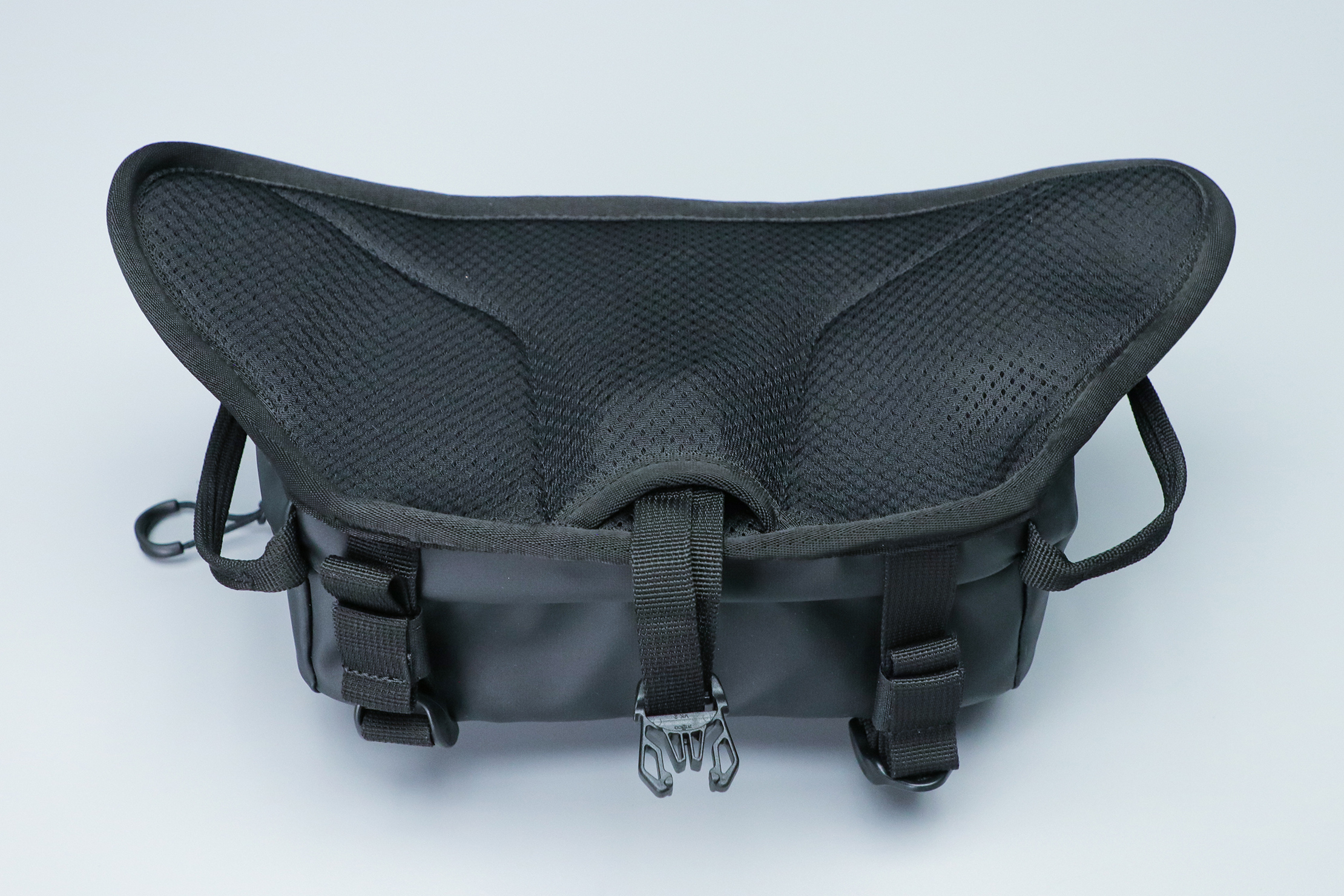 Overall, the exterior of ROAM Sling is just as functional as it is aesthetically pleasing, arguably even more. It carries comfortably thanks to a rather comprehensive harness system, which is what you want when you're a photographer that's always on the move in some way, shape, or form. But now it's time to dig into the juicier details of the ROAM Sling.
Inside The Pack
One of the few gripes we have with the NOMATIC McKinnon Camera Sling 8L is its lack of secondary pockets—that's not the case with the ROAM Sling. Even at less than half the capacity, it has a rearmost quick-grab pocket, and it's not just a tight-fitting pocket either. Inside there are two liner pockets for organization. We were able to fit our ND filter (with case) inside, with plenty of space left for some cables, extra batteries, or a small notepad.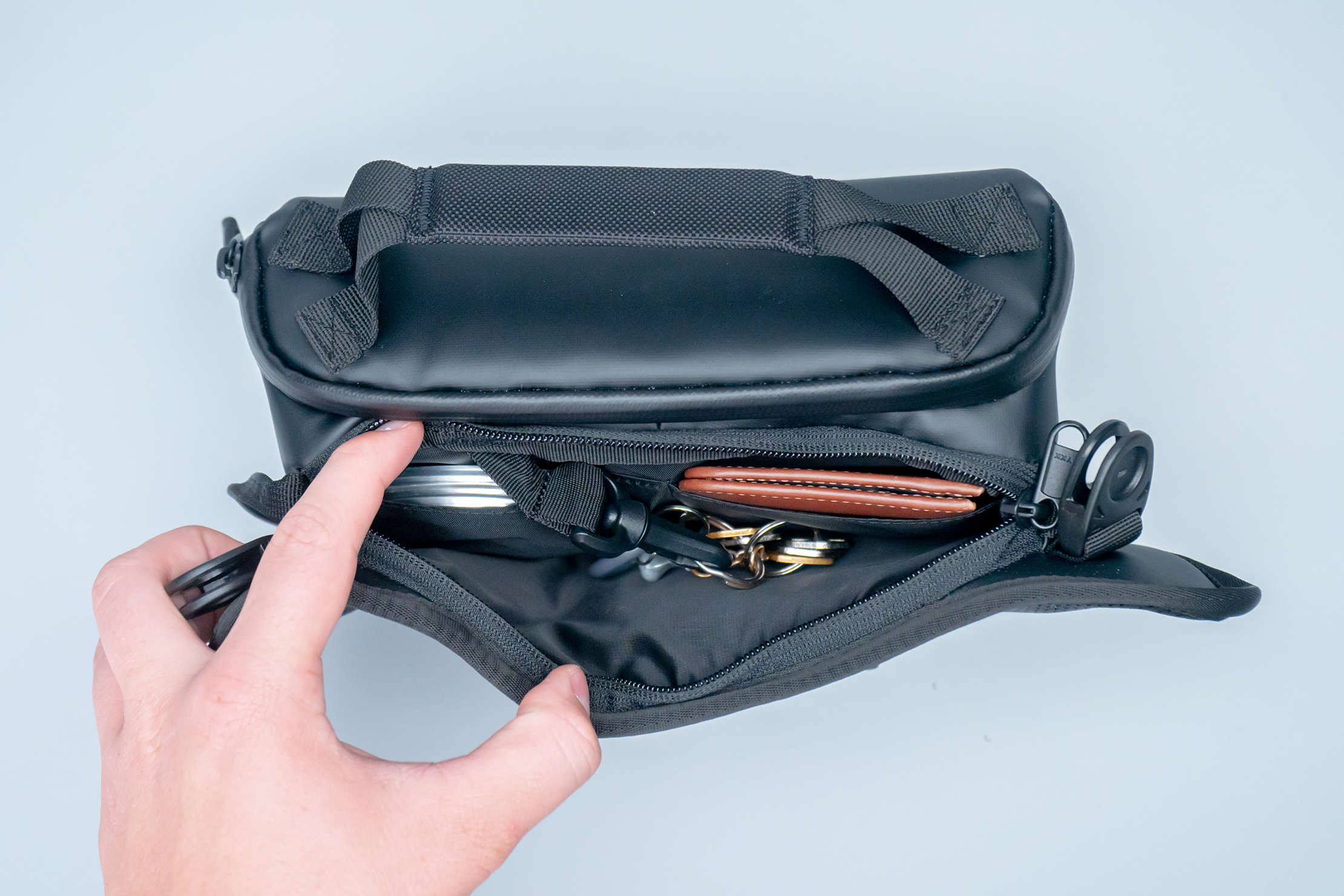 Note, however, that the interior is all black, so digging for items could pose a challenge. Then again, you're hopefully shooting in a well-lit environment. There's also a built-in key clip, so the rear pocket is not just for additional camera gear; your house keys have a home here too.
The main compartment opens up from the top via the bow-shaped zipper. The inside is designed like a mini camera cube, with a lone detachable divider inside. Not only is it detachable, but you can also place it along the space as needed. Again, the interior is quite dark, but thankfully, the hatch opens outward and away from you, making it easier to dig around if anything falls in.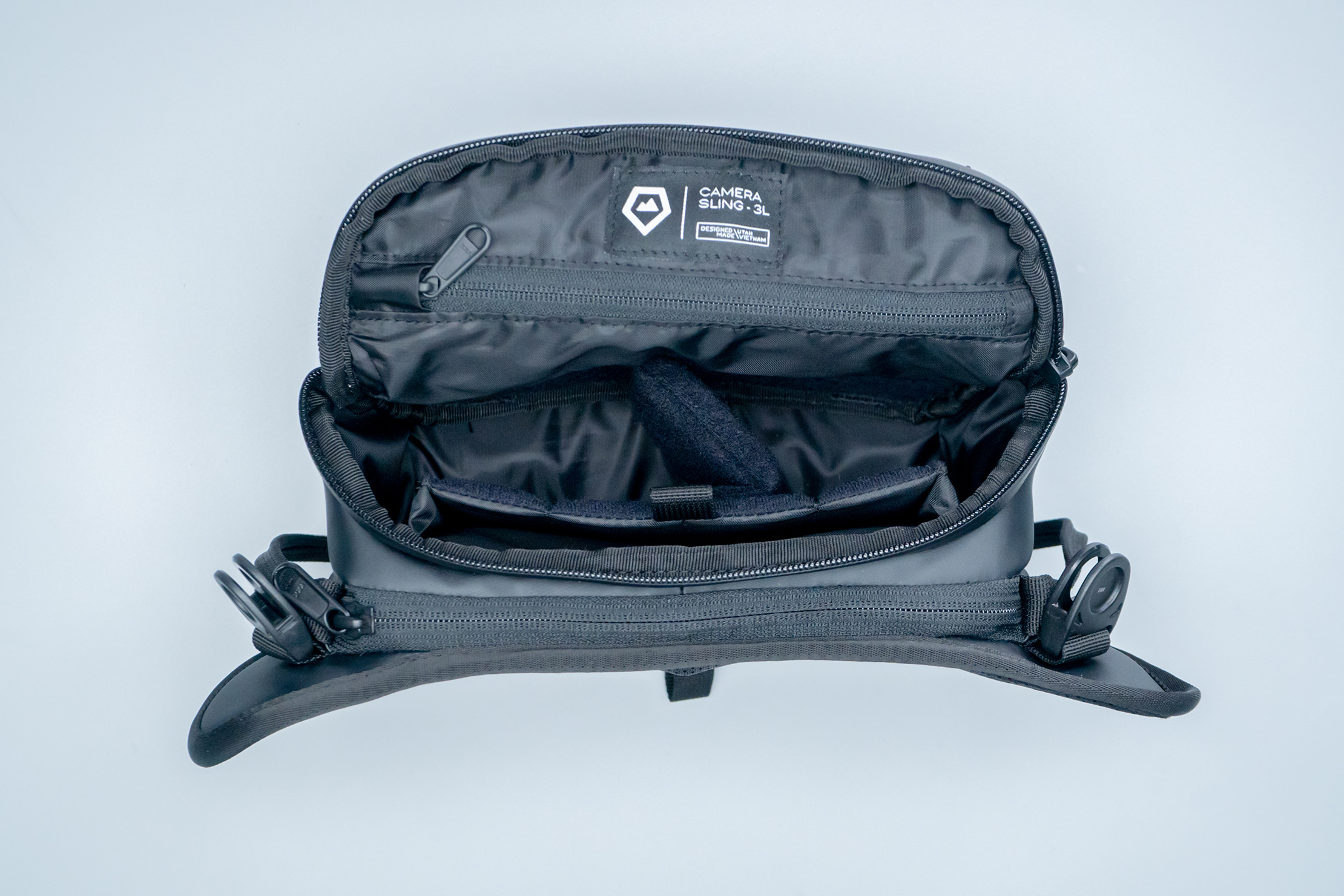 At a humble 3 liters, this ROAM Sling variant is the smallest among the range, and it's not going to fit every camera out there. For context, we tried putting our beastly Canon 80D body inside, and it doesn't fit. However, it is a good match for our trusty Sony A6500, a smaller mirrorless camera, and its accompanying lens (we typically carry a 10-18mm or 28-70mm lens).
Lastly, there's also a zippered pocket on the hatch itself for smaller accessories. The liner fabric on it is a bit baggy, so there's some room to squeeze items in, plus there's a handy little pen loop inside. Towards the rear, there's also a divider pocket just behind the spaces for the camera and lens. Smartphones fit well here, although it is located further in, so accessibility isn't too good—it's best to leave that space for least used items like extra cleaning cloths or lens caps.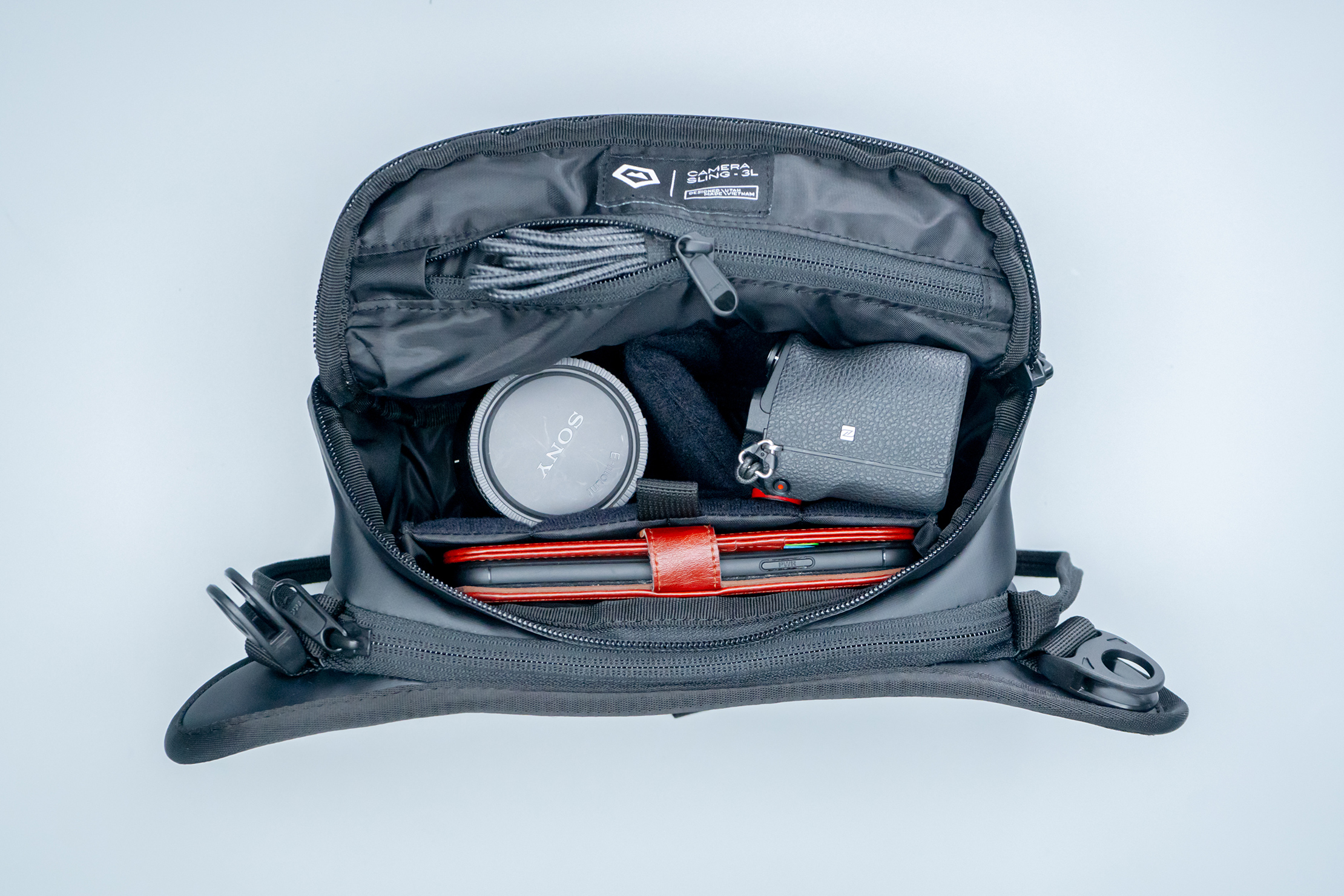 Our biggest takeaway from the ROAM Sling is that it's not only a sling for your camera; it's a sling you can use comfortably every day. There's ample organization and space inside the rear compartment for some everyday carry items while simultaneously being a capable camera sling. It's not a perfect fit for every photographer, but it's well-rounded for its size.
Usage Timeline
Initial Usage
Condition: Excellent
Plenty of organization for camera gear for the size
Good size for a mirrorless camera
Nice structure and weather resistance courtesy of the tarpaulin material
2 Weeks of Use
Condition: Good
3L is too small for a large DSLR camera such as the Canon 80D, though does fit Sony A6500 well
No noticeable damage to outside material
Shoulder straps are hard to adjust while wearing the bag
Access the Pro Community Discussion
Get your questions about the WANDRD ROAM Sling answered from our team and the Pro Community right here on the page. Plus, join discussions with other members about gear, guides, and more.
Other Bags & Luggage Reviews