NOMATIC McKinnon Camera Sling 8L Review
The NOMATIC McKinnon Camera Sling 8L lacks secondary pockets, but the main compartment's great accessibility picks up the slack.
Our Verdict
Unlock the Pro Summary
Save time. Get access to brief summaries of our reviews so you can browse and make decisions more efficiently.
Pros
Packed with camera-centric organization
Rigid and well-structured for device protection
Main compartment can close via elastic loop for quick access
Cons
No dedicated quick-grab pocket
Tarpaulin material is prone to scuffs
Can feel too stiff and rigid
Recent Pack Hacker Video
Technical Details
Capacity

8l

Weight (lb)

1.58 lb (0.7 kg)

Dimensions

13.25 in x 7.25 in x 5 in (33.7 x 18.4 x 12.7 cm)

Manufacturing Country

Vietnam

Warranty Information
Buying Options
$159.99
Full Review
Get up to 20% off NOMATIC • Join Pack Hacker Pro
The folks over at NOMATIC are on a roll with their lineup of photographer-centric gear. In partnership with the professional photographer Peter McKinnon, there's the rather large 35-liter McKinnon Camera Pack and, for those looking for something easier to wield, the smaller 25-liter McKinnon Camera Backpack. In this review, we'll be focusing on the even smaller 8-liter McKinnon Camera Sling.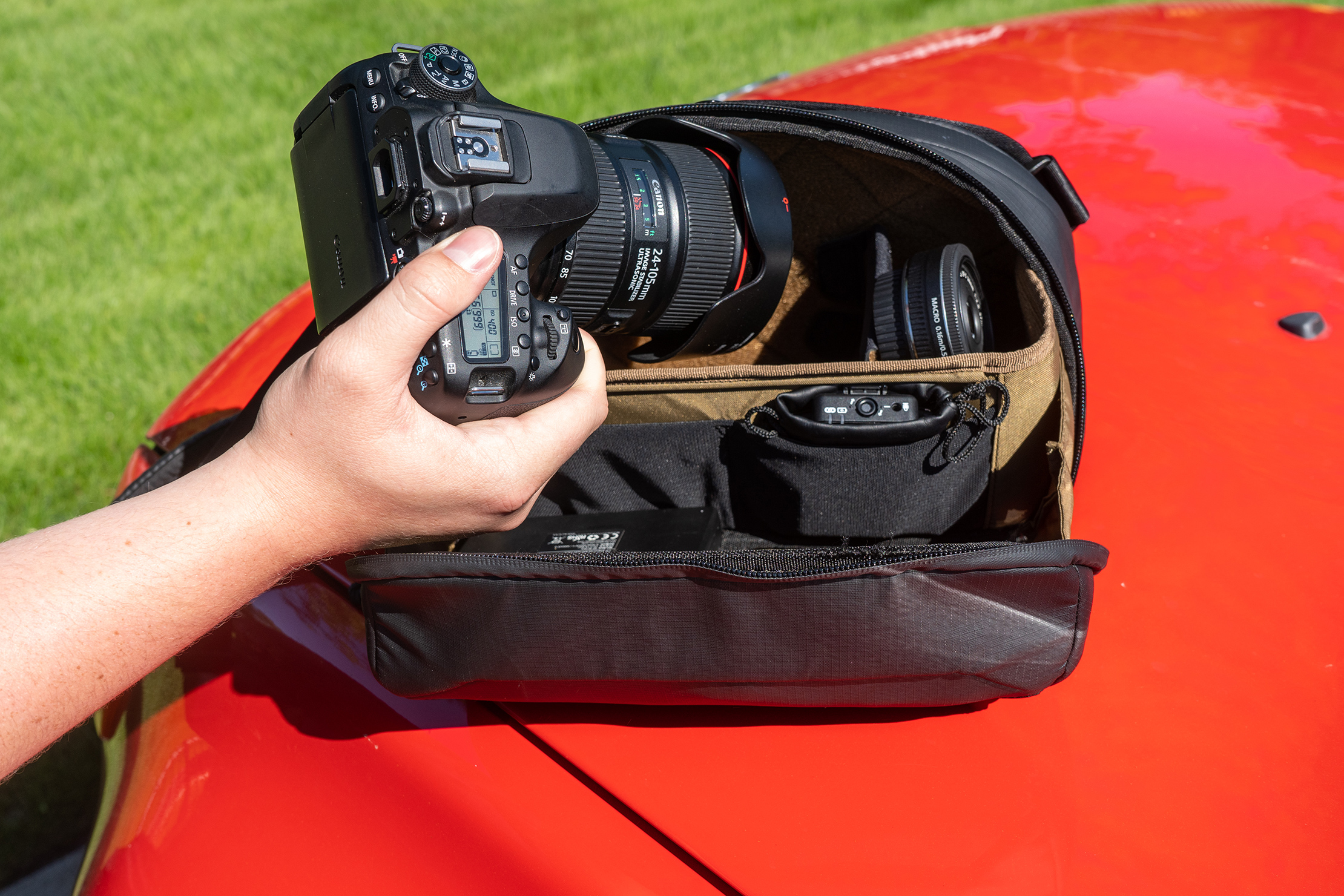 The Camera Sling features the same materials NOMATIC uses on its bigger siblings, and the features have been inherited as well. Basically, everything is more streamlined and condensed for the smaller form. The result is a sling that makes taking camera gear out in the field much easier and more convenient. By how much it improves a photographer's life is the question, and to shed some light on it is what we're here to do.
Materials & Aesthetic
It wouldn't be surprising if you had a bit of déjà vu after looking at the Camera Sling. Yes, this is unmistakably part of NOMATIC's lineup of photography-focused bags in collaboration with Peter McKinnon. The Camera Sling looks like what would happen if you took the 25L Camera Backpack and compressed it. The result is a much more streamlined look, which we think adds to the Camera Sling's aesthetic appeal.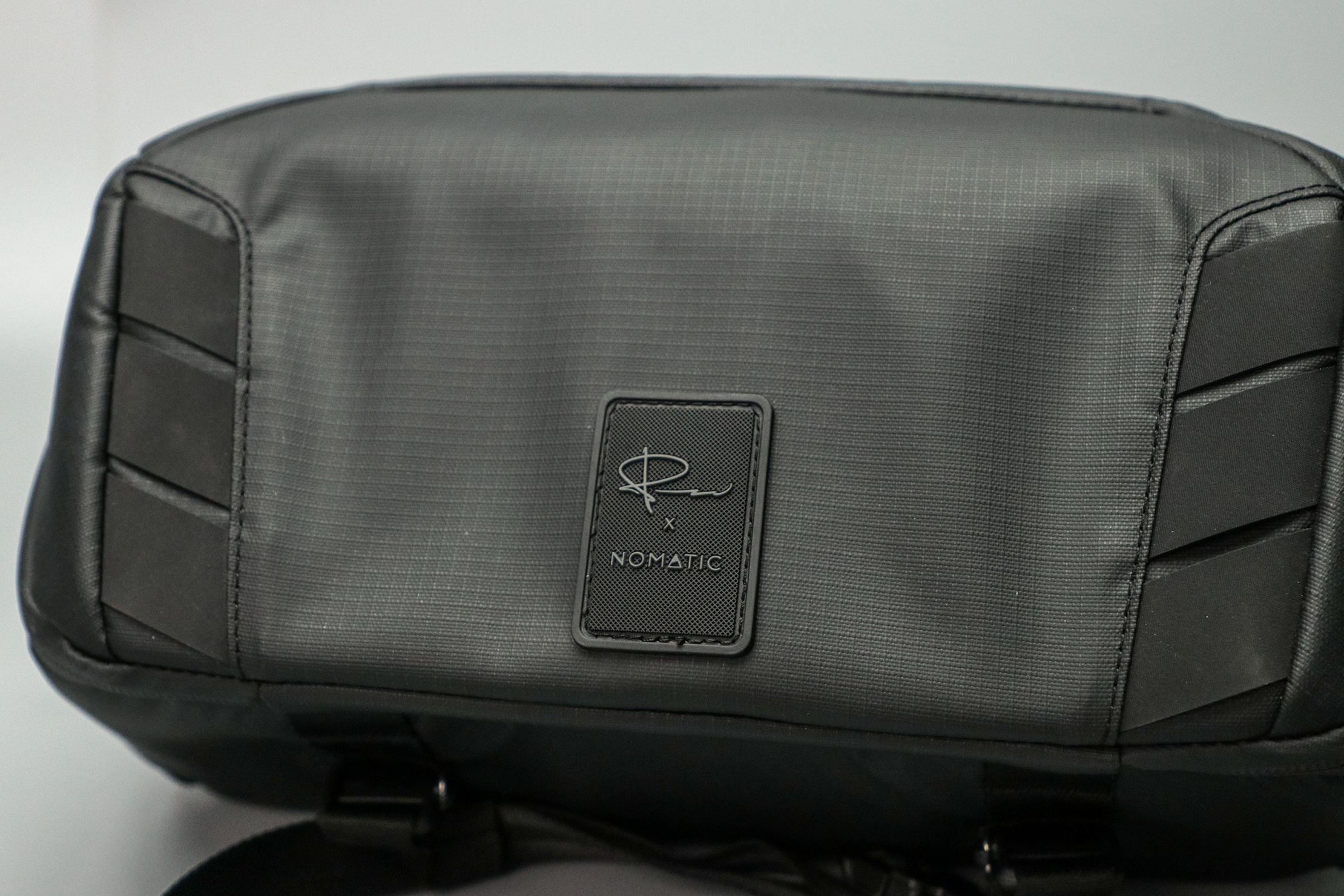 All the lines, shapes, and garnishing are concentrated on this smaller form. The Peter McKinnon x NOMATIC logo and skull design, for example, are much easier to notice here than on the larger bags. However, it's still not a flashy look and still leans more towards subtlety courtesy of the all-black colorway.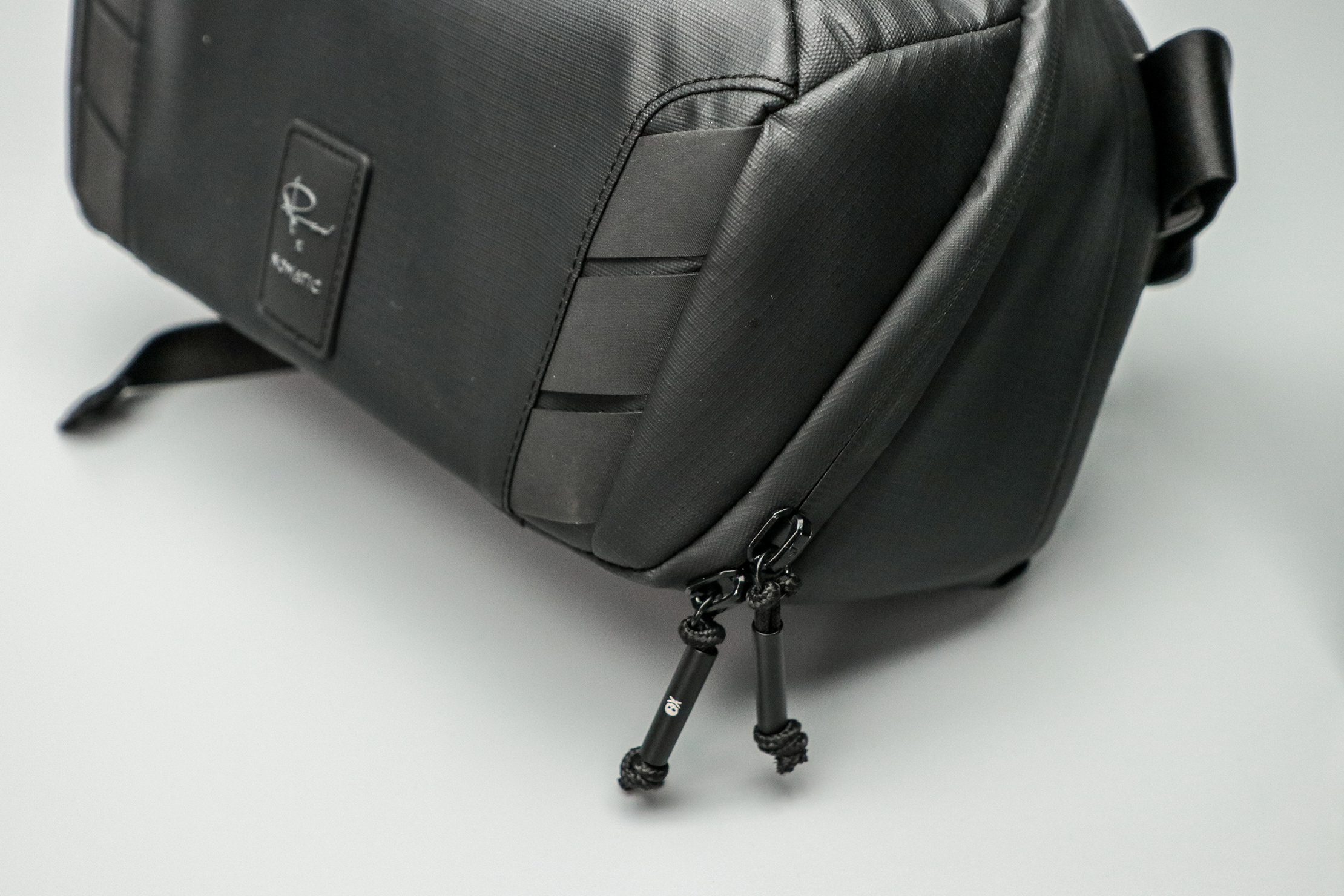 Like the rest of the lineup at the time of writing this review, the Camera Sling is currently only available through Kickstarter and in one colorway: black. Other similarities include the use of tarpaulin, ZOOM zippers, Hypalon mounting loops, and EVA foam. The overall structure of the Camera sling gives it the same solid feeling that we got from the Camera Backpack, though the tarpaulin comes with the usual caveat of being prone to scuffs. Our sample already has some marks at the front because of the outlines of our bulging gear inside.
External Components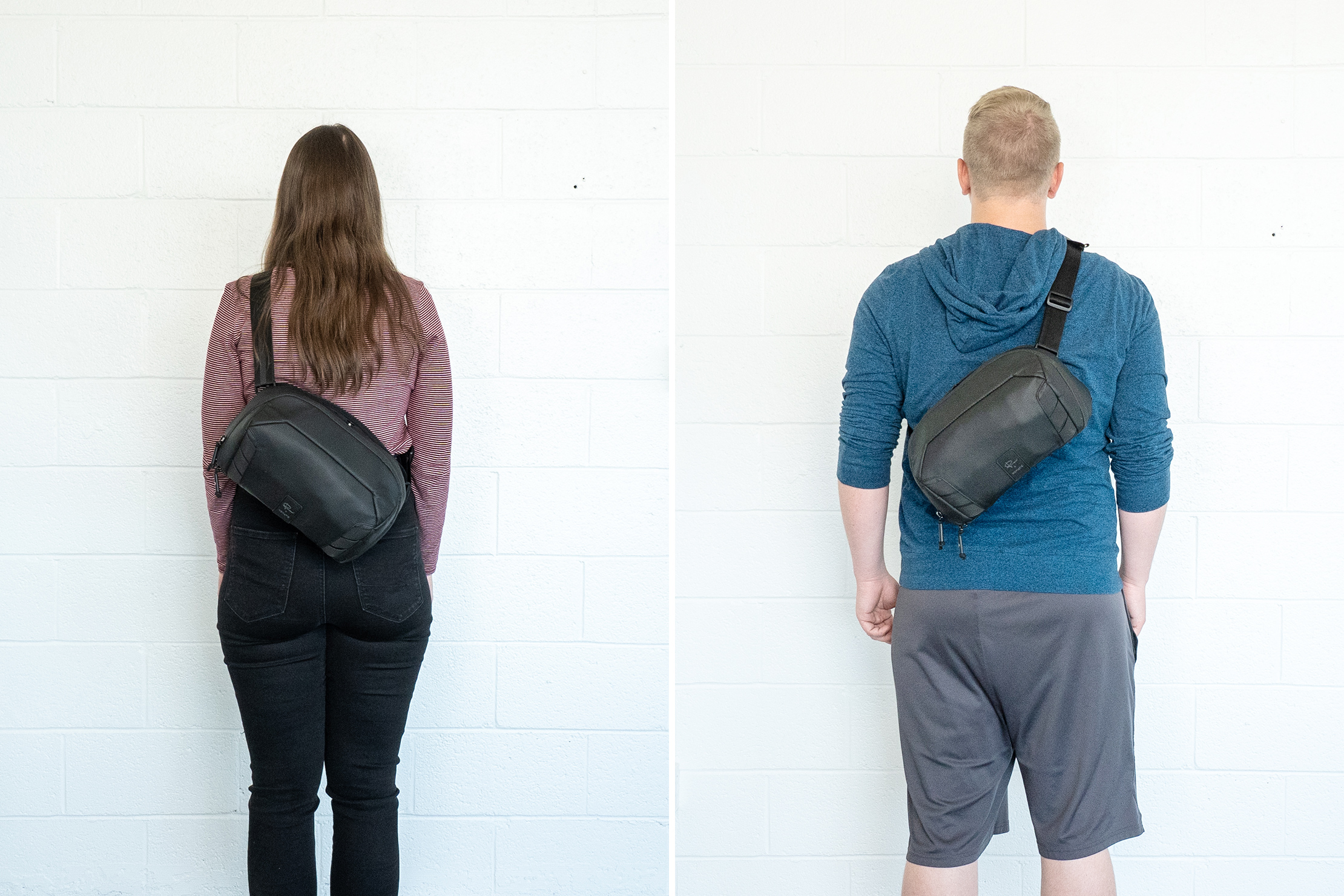 The Camera Sling is on the chunkier side of the sling spectrum, but that's to be expected since it's designed for camera gear. The main strap attaches to the bag using pivots, enabling you to adjust the fit as needed for added comfort. Apart from the usual sling-style carry, the Camera Sling can be worn like a messenger bag or crossbody.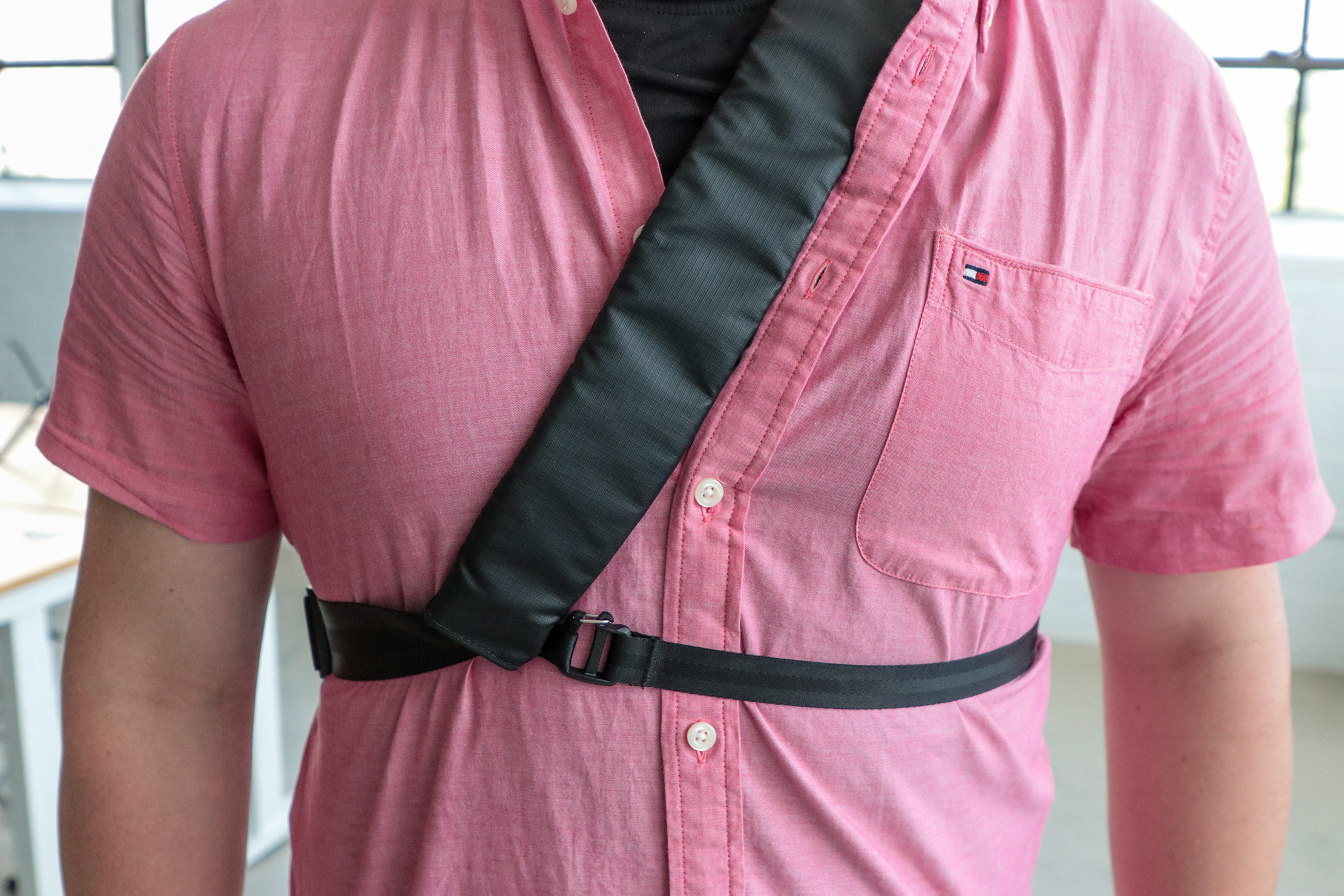 Positioning the sling to your side or at the front is ideal so that your camera is readily available. For the most part, adjusting the sling and swinging it around was easy, bearing in mind that the Camera Sling is a relatively large sling and packs a lot of heavy camera gear inside.
After a hard day's work of shooting on location, you're bound to be on the move again. For that reason, there's a handy accessory strap available. Our pre-production sample here came with one of these straps, and you can use it as a stabilizer. It attaches to the main strap and to the bottom part of the sling itself via gatekeeper-style clips. Once you're ready to start shooting again, there's a buckle so you can quickly release the strap and swing the sling where you want it.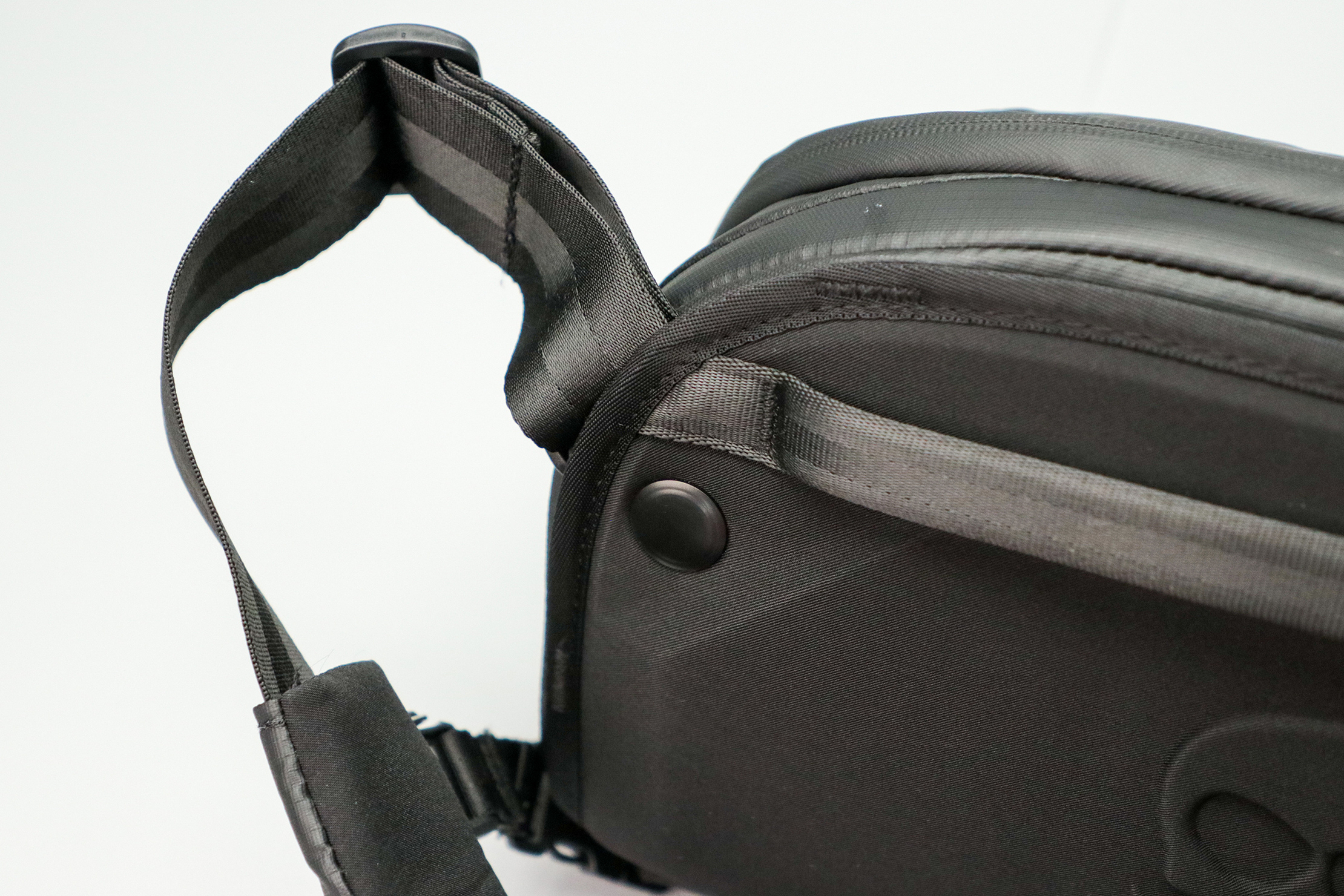 The overall carrying experience is good, considering the amount of camera gear we were able to fit inside. Though the Camera Sling is on the chunkier side, the foam-padded back panel and shoulder strap kept things comfortable. The fairly rigid structure doesn't make it a body-hugging tight fit, but it's also not like a brick hanging off to your side or back either.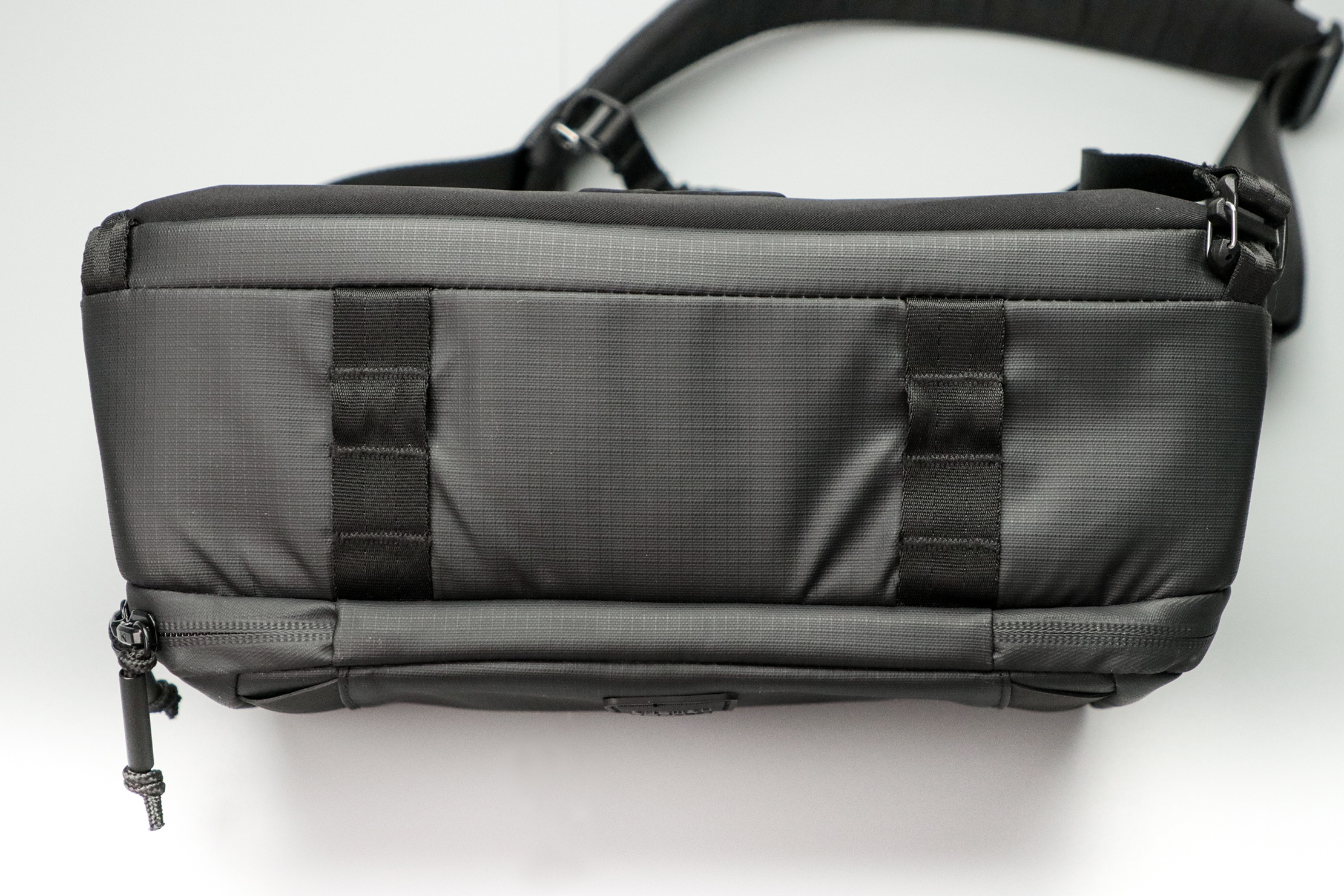 When you're not using the accessory strap as a stabilizer, it can also be used to attach gear to the two sets of nylon webbing at the bottom. Using two of these straps would be ideal so you can carry something long like a compact tripod in a more balanced way. Again, ours is a pre-production model, so depending on what options you select, what ships to you may come with different accessories. There are six Hypalon loops at the front and small loops on each bottom rear corner for other accessories. Lastly, there's a luggage pass-through which also acts as a top grab handle.
Inside The Sling
Despite the many mounting options, you won't be keeping everything on the outside. Take a peek inside the main compartment, and you'll find a rather cavernous interior. However, before we get into the details, we have to point out that the Camera Sling lacks any secondary pockets—there are no quick-grab pockets to speak of. Instead, it's just the main compartment with a little trick up its sleeve.
To make up for the missing storage, the main compartment not only zips open, but can also remain partially open using an elastic loop that hooks on a small button at the top. This way, you only have to do or undo this simple loop whenever you need access to the Camera Sling. It's a simple but useful feature that reaffirms the thought and photography experience that went into this sling's development. Still, we think an additional quick-grab pocket for small everyday carry items like keys or metro cards would be great here.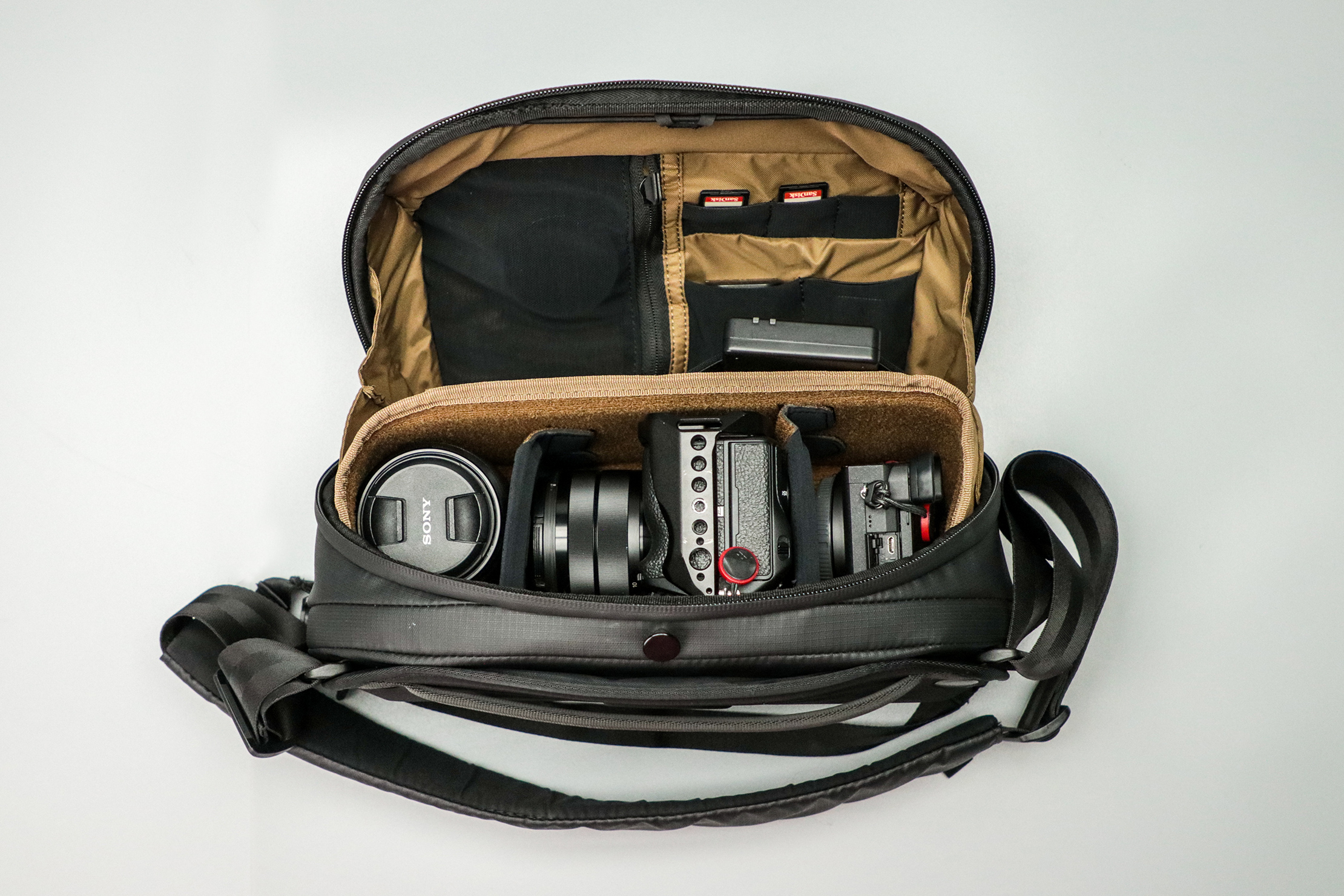 In a nutshell, accessibility is great. The main compartment opens nice and wide, and there are gussets at the sides, so you get a glove compartment-style opening. Everything is visible, whether it's inside the camera cube or the small pockets dotting the front half of the main compartment. The inside is lined with the same brown fabric that NOMATIC uses on the bags in the lineup. With the Camera Sling's smaller size and shallower depth compared to its bigger siblings, this fabric does a good job keeping things visible.
It's relatively easy to keep track of everything inside the Camera Sling too. In the front half is an assortment of different-sized pockets. The largest of these is a zippered pocket with a semi-see-through material. It has a good amount of depth, and this is where we put many of our small dongles and other short cables.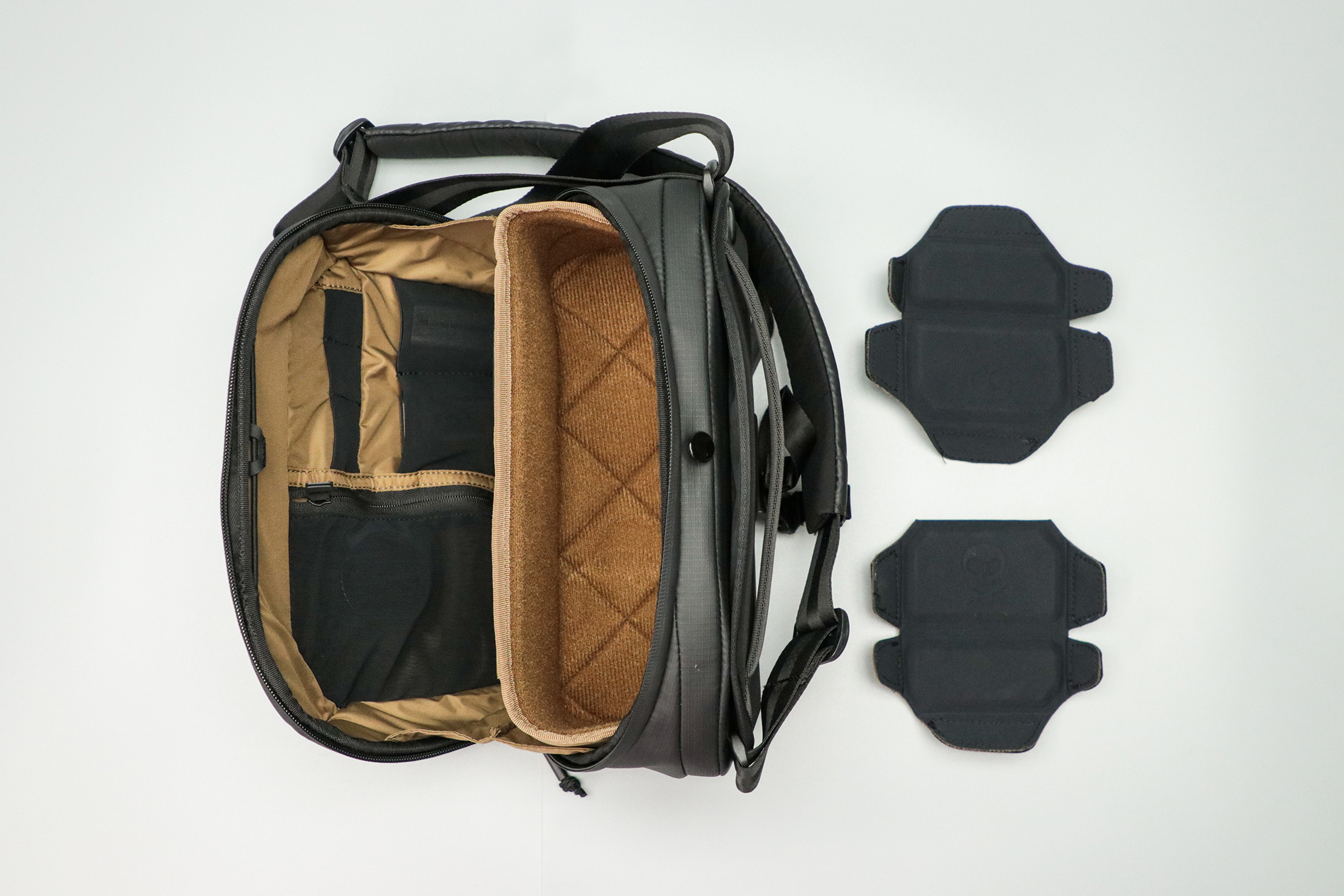 Most of the liner pockets also use the same material as the zipper pocket. The material has some stretchiness, so you can squeeze gear in and make the most out of the available space. Right next to the zipper pocket are twin slim liner pockets that are suitable for small spare batteries. On the opposite side, right against the wall of the built-in camera cube, are two more liner pockets for a slim charger and other larger accessories. Lastly, there are three slots for memory cards above the battery pockets. They're big enough for full-sized SD cards typically used with DSLRs and mirrorless cameras. It works fine, and the slots keep your memory cards easily accessible, though we still prefer to keep our memory cards in their own separate case.
Finally, just like the 25-liter Camera Backpack and 35-liter Camera Pack, the Camera Sling also gets a built-in camera cube. However, unlike the Camera Backpack, this one isn't removable, nor is there a fancy ladder system involved. Instead, two dividers are included so you can still partition the available space. For our own setup, we were able to fit our Canon 80D with a lens attached, plus an extra lens or two, as shown above.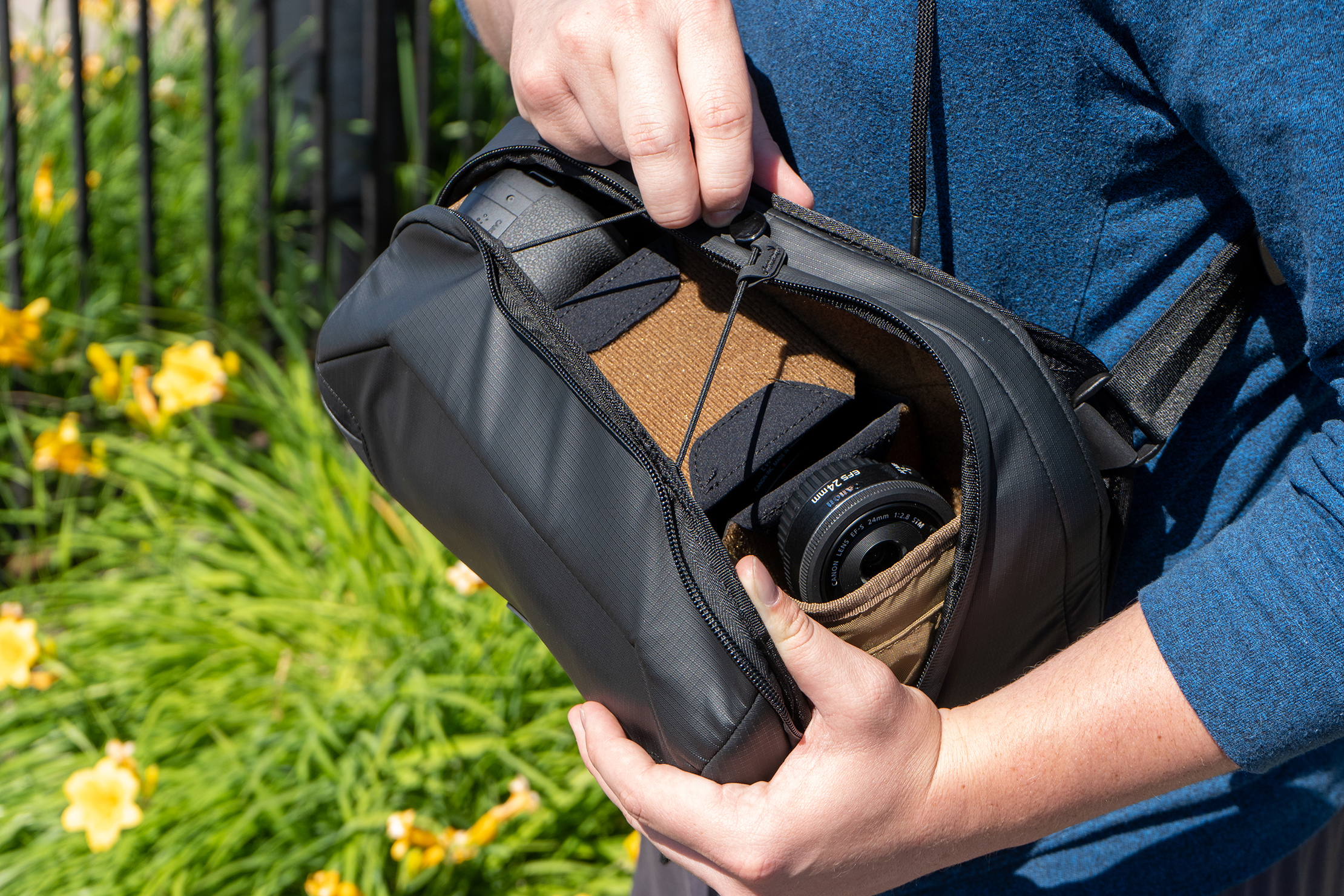 We dig the nice and subtle touches NOMATIC has put into the Camera Sling to make it photography-focused. Our shoots mostly take place inside a studio, but the accessibility of the main compartment really shone whenever we took it outside. Wherever we did take it, the Camera Sling proved capable in terms of comfort, protection, and convenience.
Usage Timeline
Initial Usage
Condition: Excellent
Feels solid and well-structured for camera gear
Compact tripods can be slung underneath via straps
Can be used as a camera cube that fits the bigger McKinnon Camera Pack 35L
2 Weeks of Use
Condition: Good
Solid build and well-structured
Some minor scuffing on the exterior flap
Nice storage features catering to camera gear but has limited space
Elastic clamp feature is very handy for secure, easy access needs
Access the Pro Community Discussion
Get your questions about the NOMATIC McKinnon Camera Sling 8L answered from our team and the Pro Community right here on the page. Plus, join discussions with other members about gear, guides, and more.
Other Bags & Luggage Reviews