WANDRD DUO Daypack Review
The WANDRD DUO Daypack is a camera-focused bag with some innovative features—although we wish it felt more cohesive.
Our Verdict
Unlock the Pro Summary
Save time. Get access to brief summaries of our reviews so you can browse and make decisions more efficiently.
Pros
Thoughtful and innovative design thinking
Harness system is comfortable for the size, although the straps pull apart a bit
Great size for smaller camera kits
Cons
Main zipper is stiff and difficult to open from any angle
Doesn't feel as premium as other bags in its class
Internal organization is not customizable, unlike other camera bags
Recent Pack Hacker Video
Technical Details
Capacity

20l

Weight (lb)

2.6 lb (1.2 kg)

Denier

840D

Main fabric

Dimensions

19.5 in x 11.5 in x 6.5 in (49.5 x 29.2 x 16.5 cm)

Notable Materials

Ballistic Nylon, YKK Zippers, Woojin Hardware

Manufacturing Country

Vietnam

Laptop Compartment Size

15"

Warranty Information
Full Review
Get up to 15% off WANDRD • Join Pack Hacker Pro
The WANDRD DUO Daypack is a 20L hybrid bag that offers great organization for photographers and some nice features for everyday carry.
Started by three brothers who set out to create the "world's best travel camera bag," the Utah-based company got its DUO Daypack off the ground after raising $650,000 for it on Kickstarter. WANDRD describes this bag as a "dawn-to-dusk daypack for photographers, travelers, commuters, and creators looking to elevate the way they carry their daily gear."
Two members of our team have been testing the WANDRD DUO for three weeks in Detroit, Michigan. We've been testing this thing primarily as a camera bag, but have also emptied out our photo/video kit to use it as a daily driver, hauling just our tech essentials.
How did it go? Let's find out.
Materials & Aesthetic
The main material on the WANDRD DUO Daypack is an 840D junior ballistic nylon, which you can see up at the top of the bag. Towards the bottom is some 1680D ballistic nylon, which is slightly more robust. The DUO is also coated with WANDRD's 5pm Coating to add some additional weather resistance.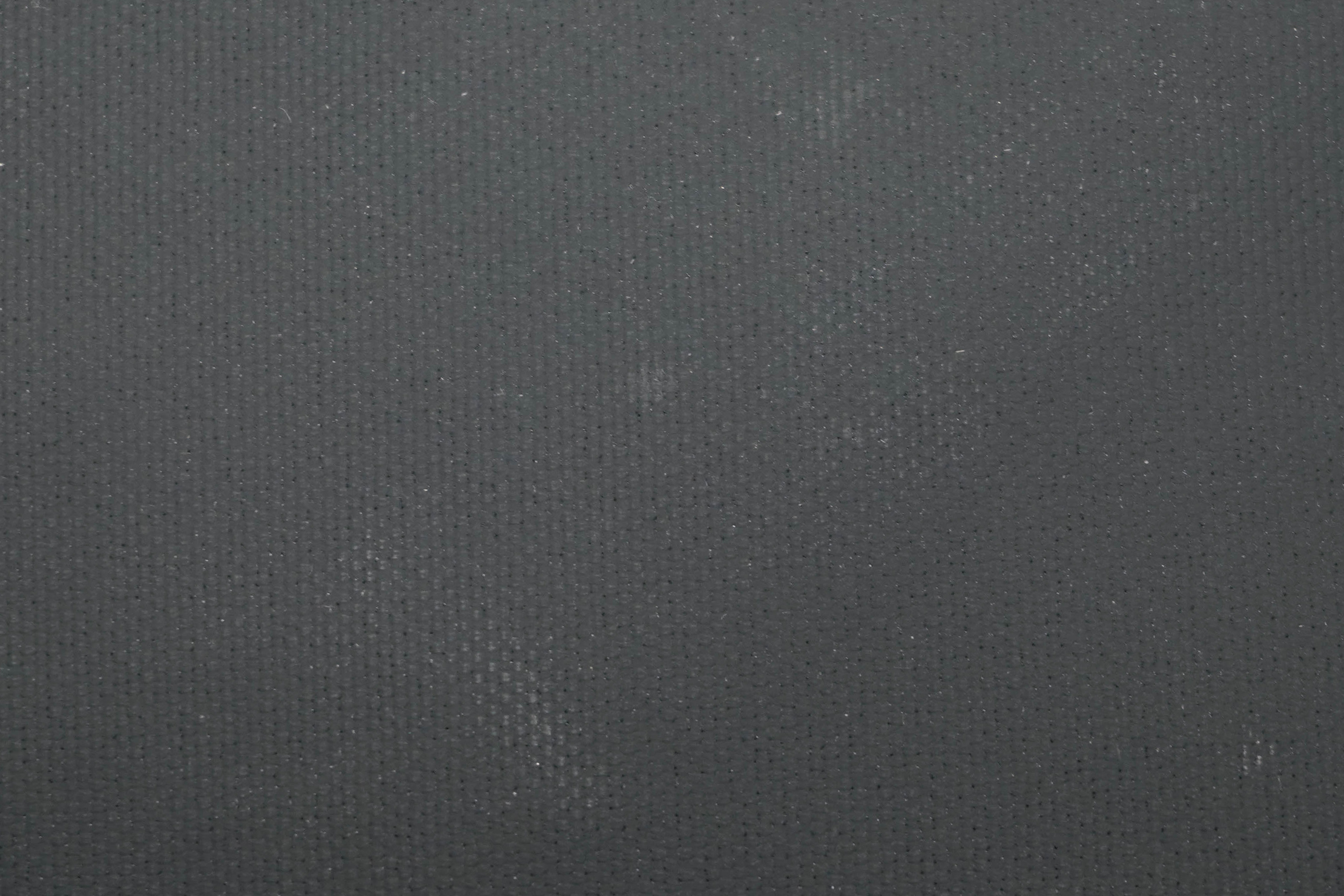 The exterior on the DUO Daypack feels similar to some tarpaulin bags we've tested, but it's marked up much less than those tarpaulin bags. Typically, we notice a lot of permanent marks and scratches on a bag like this after testing, but that is not the case with the DUO—which is refreshing.
Although this bag isn't specifically IP rated, we've found that it has solid weather-resistance—it's held up pretty great in the rain. The DUO has gotten wet and muddy on multiple bike rides to the co-working space through the rain and snow, and so far, everything has stayed completely dry inside. Plus, the material on the bag makes it easy to wipe off that splattered mud.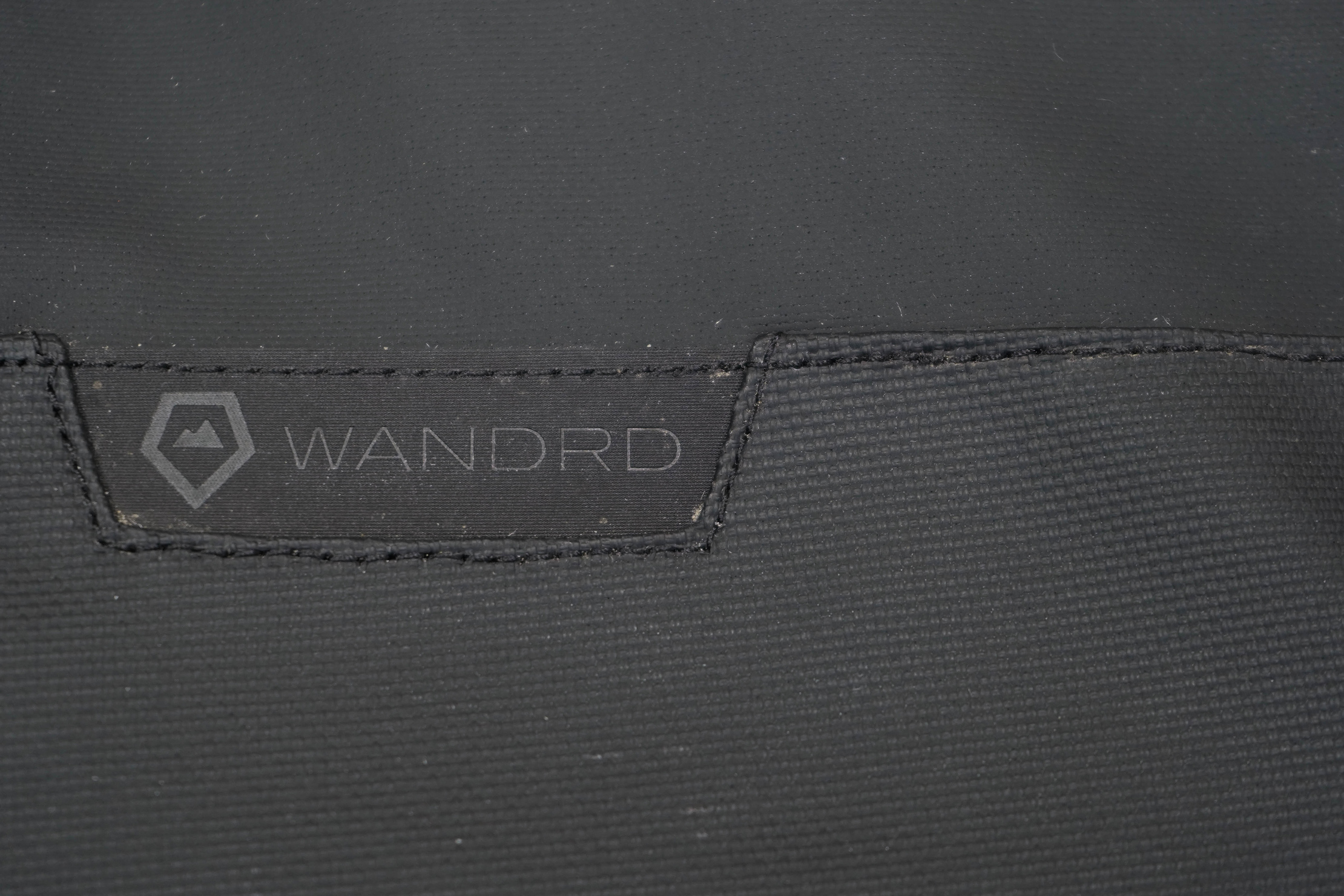 There's a lot of black-on-black going on with the WANDRD DUO Daypack, including the logos, which we dig. The bag itself looks slick when full, but it can start to look dehydrated if it's not packed out. This isn't unique to this bag—we do see it a lot in tarpaulin-esque materials—but it's still worth a mention.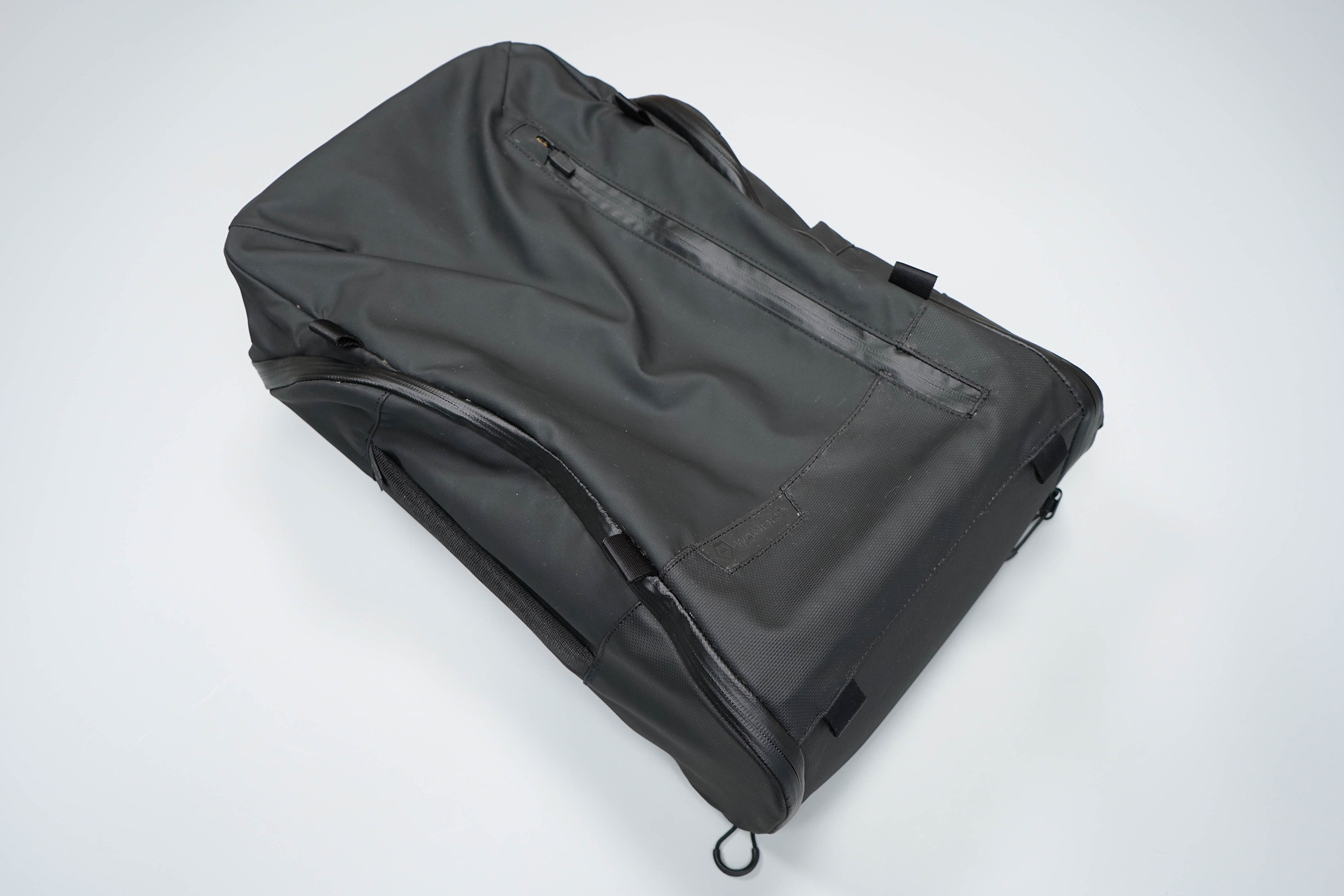 As always, we polled our Instagram audience for their take on the DUO's overall look. The results were pretty mixed with 52% of our voters giving it the nod of approval. (Make sure to check out our Instagram if you want to take part in future polls.)
Rounding out the materials, WANDRD opted for Nifco plastic hardware—a brand we've had great luck with in the past—on areas like the strap adjuster and sternum strap. Still, although the DUO Daypack uses some quality materials throughout, we have to say it doesn't feel quite as premium as other bags in its class.
Exterior Components
Let's start with the harness system on the WANDRD DUO Daypack, shall we? The straps themselves are a bit on the thin side. But they are plenty dense. Plus, there's mesh on the back to help with airflow. The padding on the straps is enough for a 20L bag and definitely comes in handy when this thing is filled up with heavy camera gear.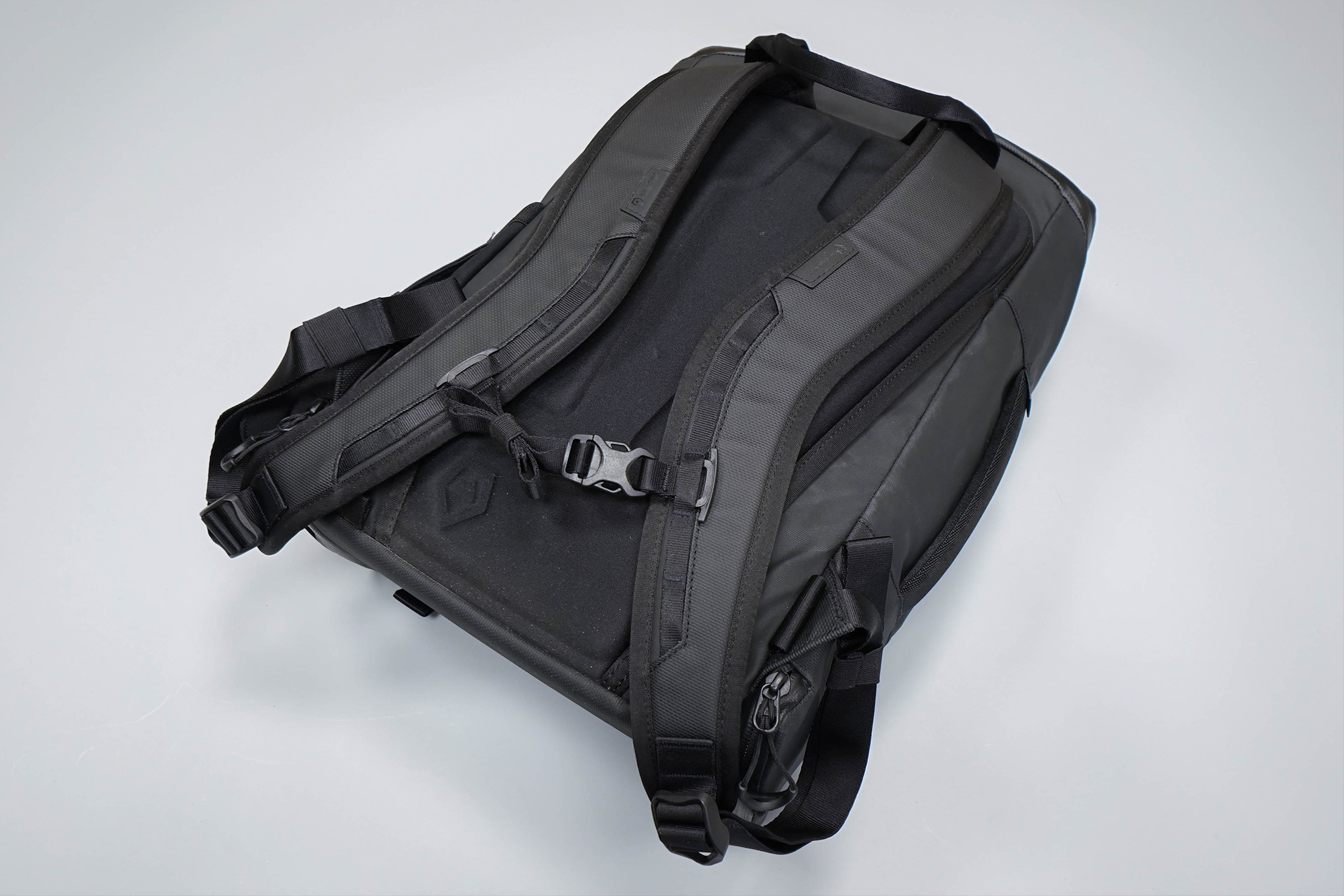 We have noticed that the straps tend to pull outward (away from each other) compared to other bags we've tested. This is especially pronounced if you're wearing a jacket that's more on the slippery side—like the Patagonia Micro Puff, for example. That slipperiness can easily be mitigated by buckling the sternum strap, however.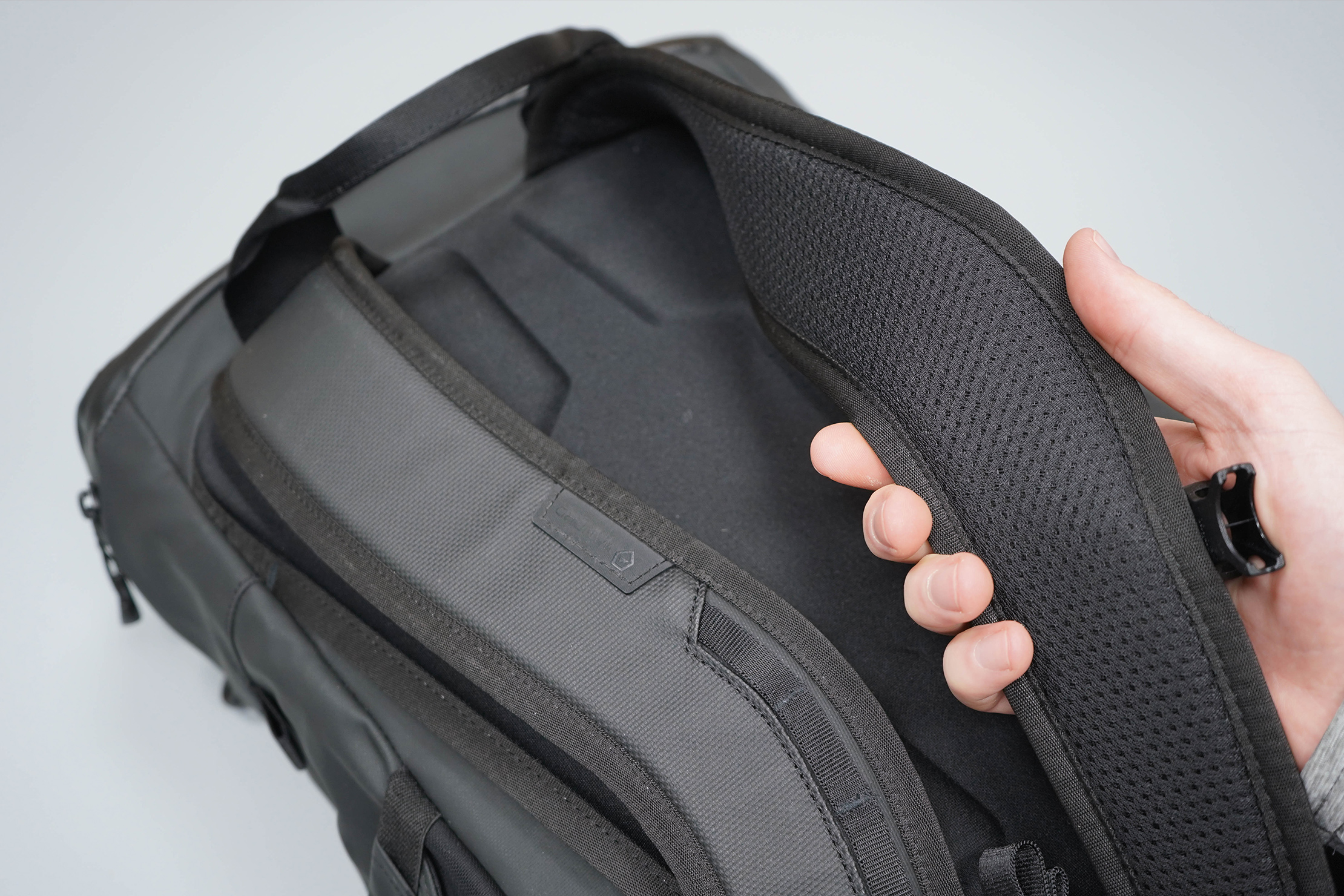 Speaking of the sternum strap, there's a nice daisy chain of loops to adjust it either up or down. And we're glad to report that it has stayed securely in place during our testing. This particular sternum strap is small and a bit thin, but it feels appropriate for a bag of this aesthetic, design, and functionality.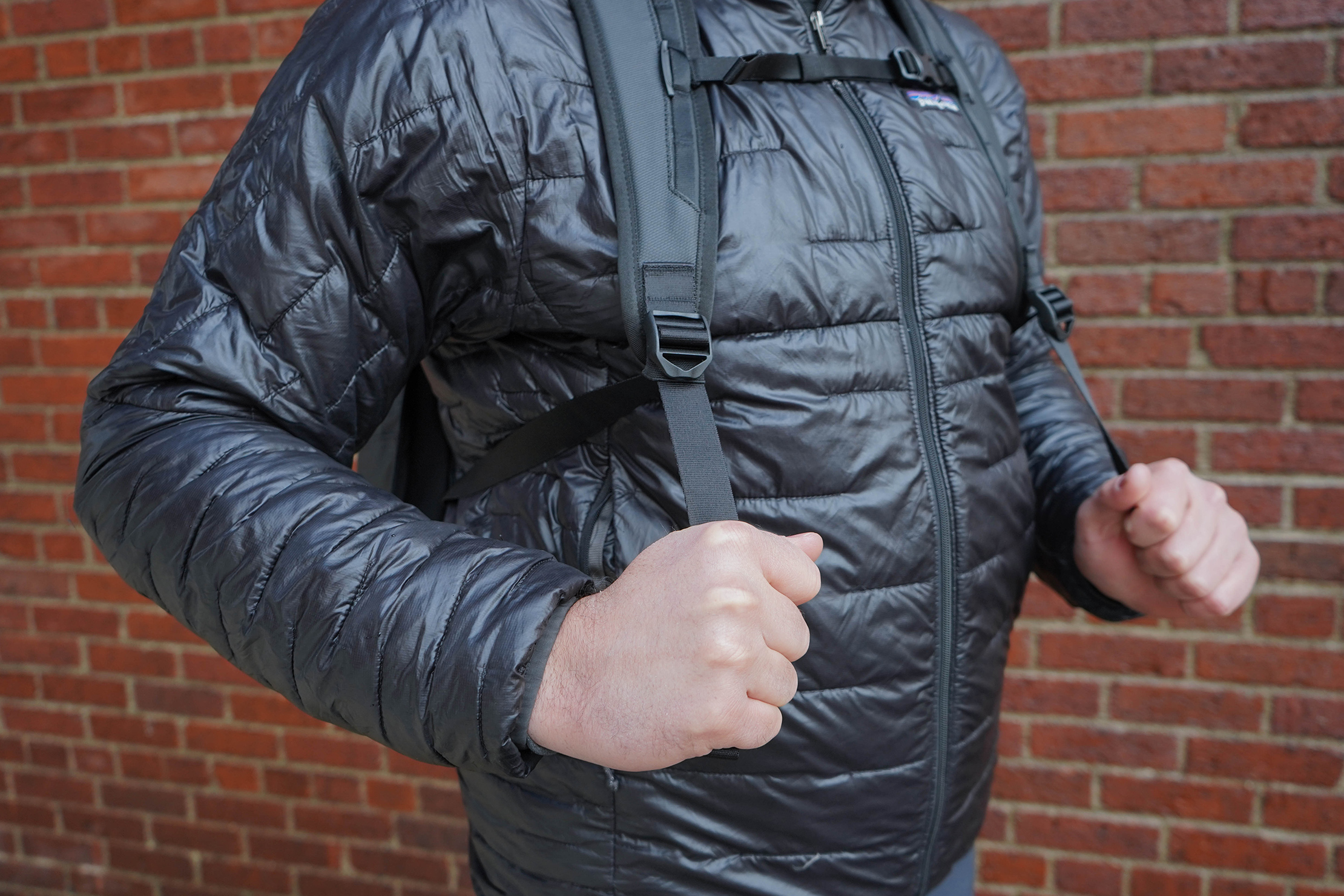 The strap adjusters on this bag, which are made of durable hardware, adjust very smoothly. And there's an elastic keeper to manage excess straps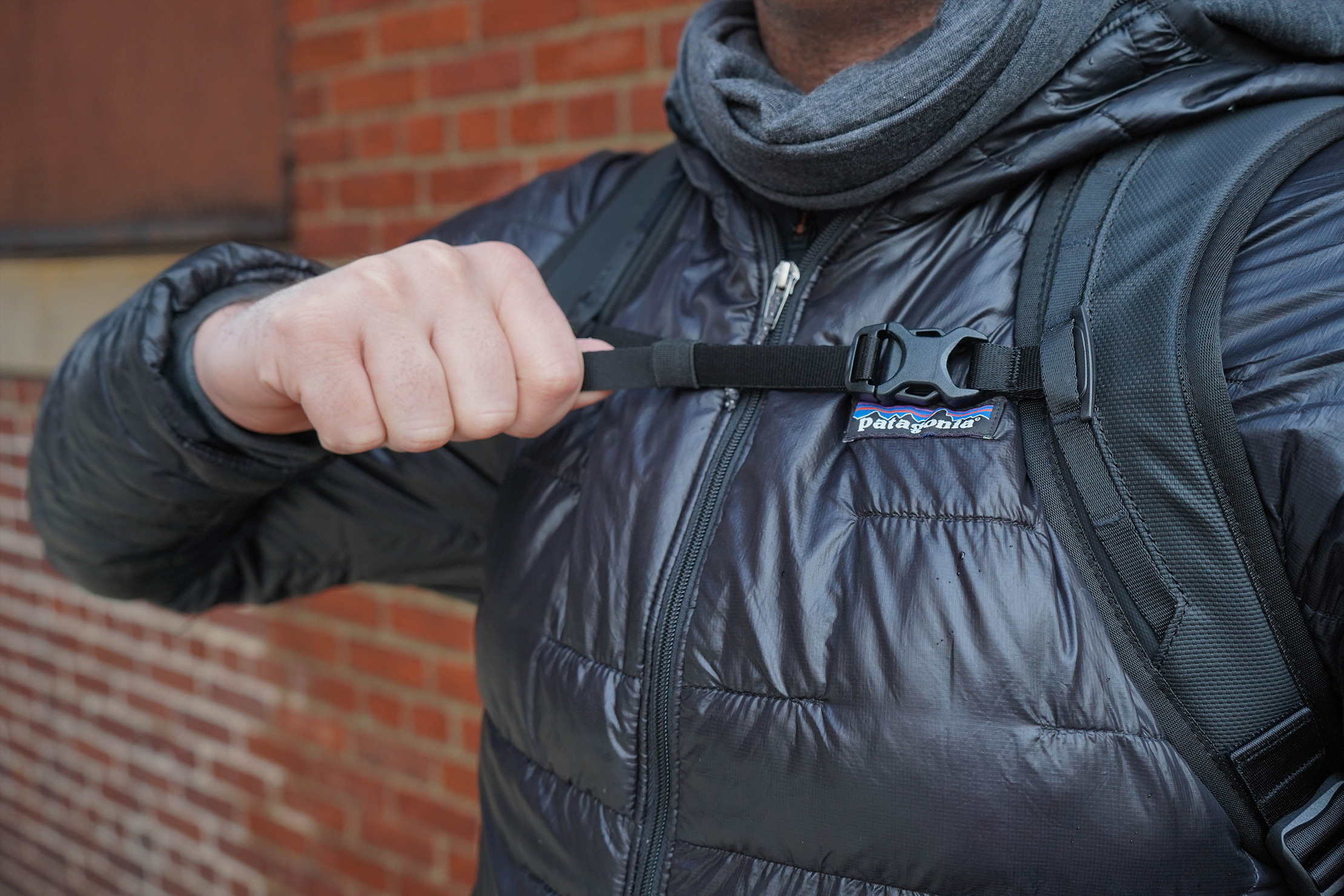 Behind the straps is a small loop for a hip belt attachment—a feature we haven't tested quite yet, but we always appreciate having as an option. Even at only 20L, a hip belt can help distribute weight if you've got this thing loaded out with heavy camera gear.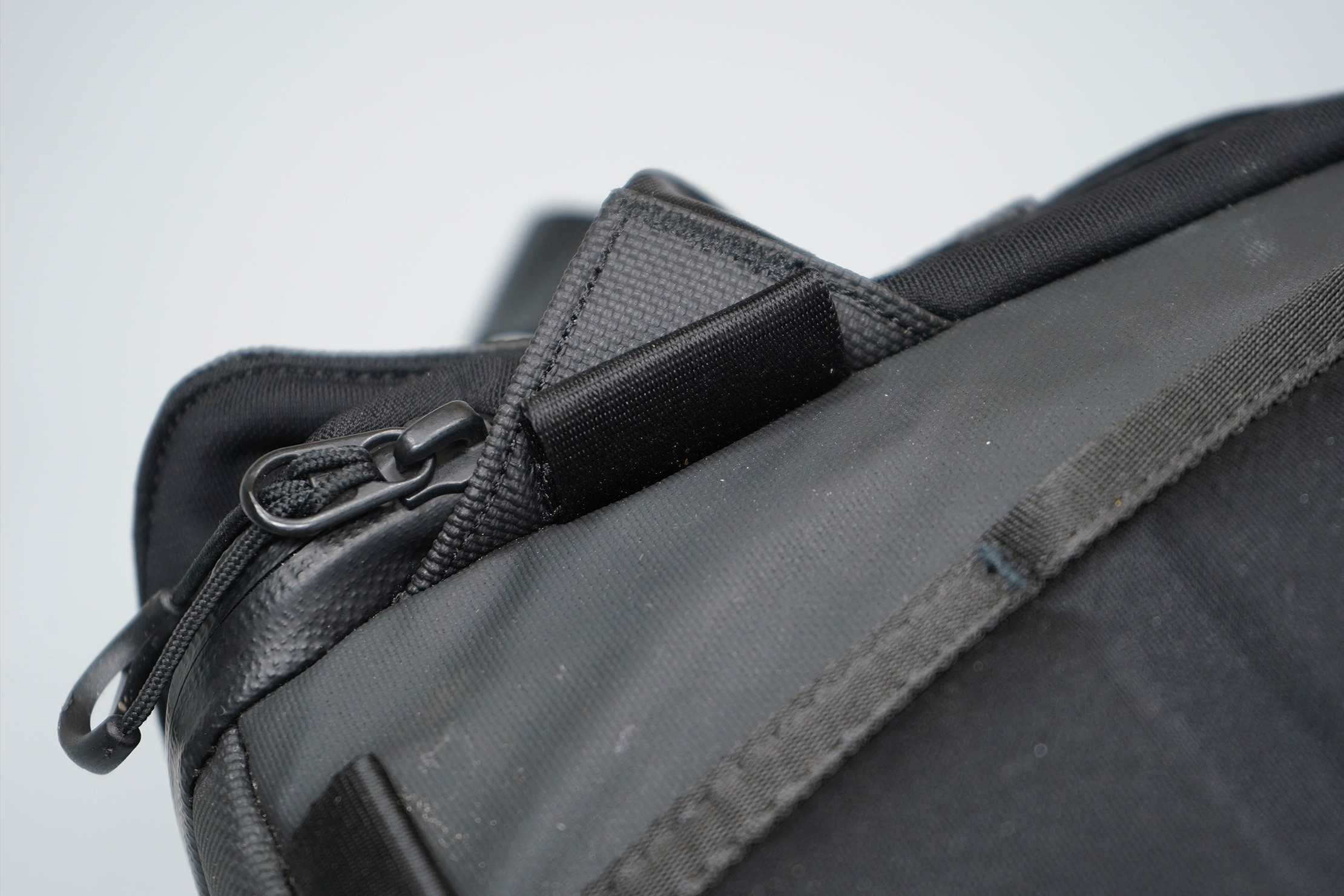 Moving on to the back panel, you'll find some pretty dense padding and a small channel for airflow. We think WANDRD really got the design and feel right here—especially if you're loading this thing up with your camera kit for a day exploring and taking photos or video. Plus, this pack has a frame sheet to help it hold its shape.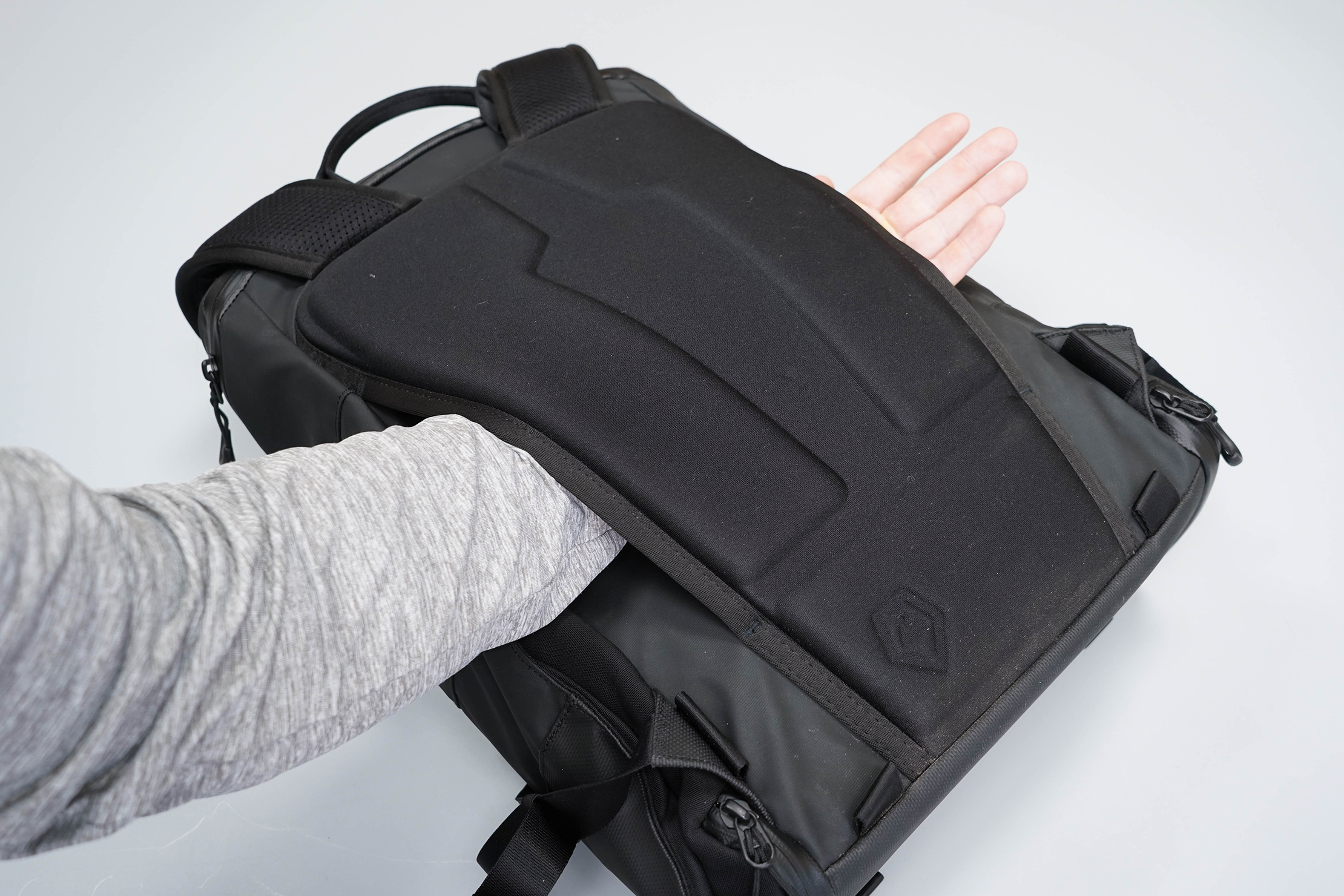 There's a luggage passthrough behind the back panel which allows you to slide the bag onto the handle of rolling luggage if that's your style.
Rounding out the harness system on the DUO Daypack, we have smooth seatbelt-like material on the top grab-handle that's been folded over so it's more comfortable to grab.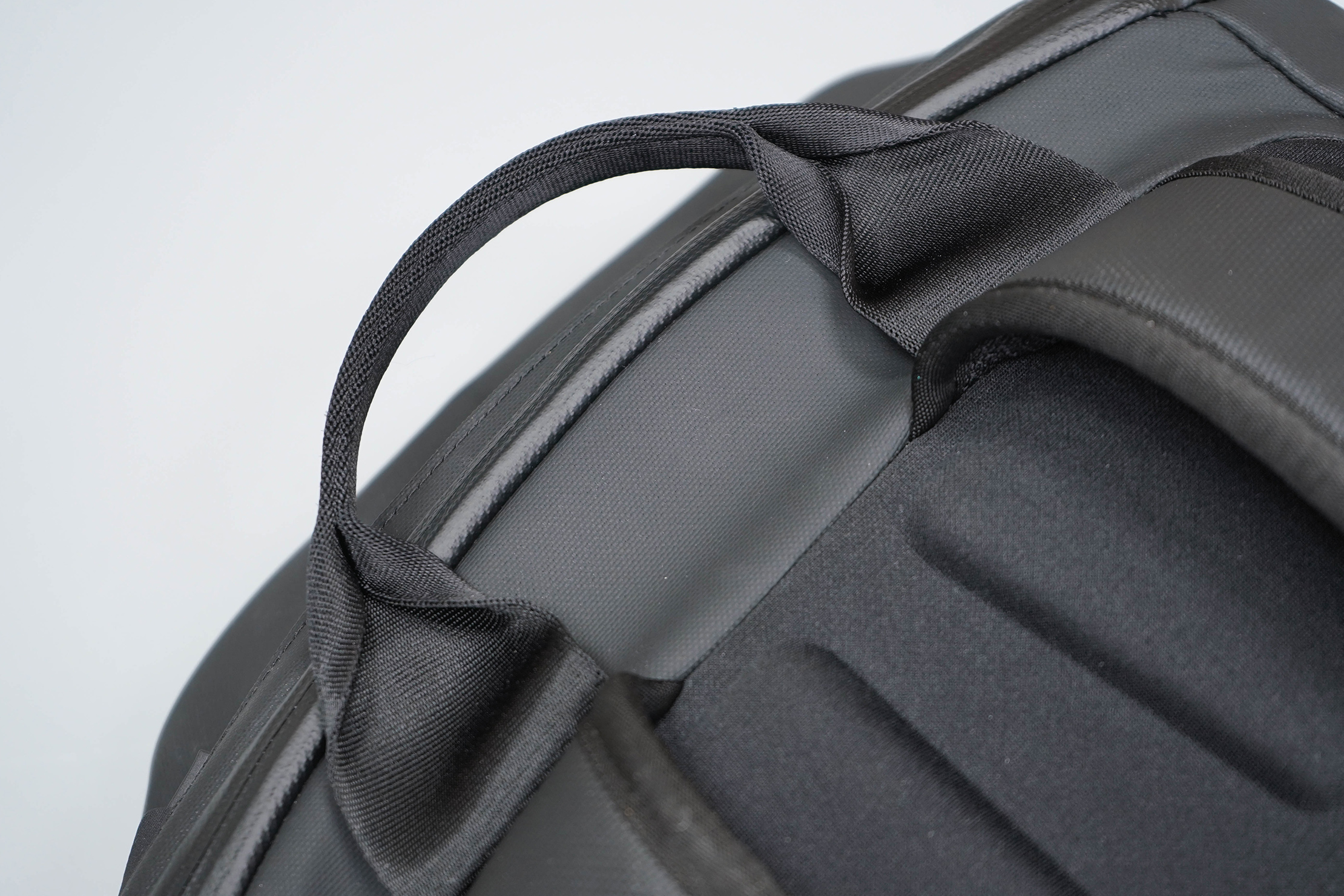 On the wearer's right side, there's a stretch water bottle pocket that works well for either a water bottle or a tripod. While you won't be able to fit your giant Nalgene in here, we did fit an 18oz YETI Rambler pretty nicely in this side pocket.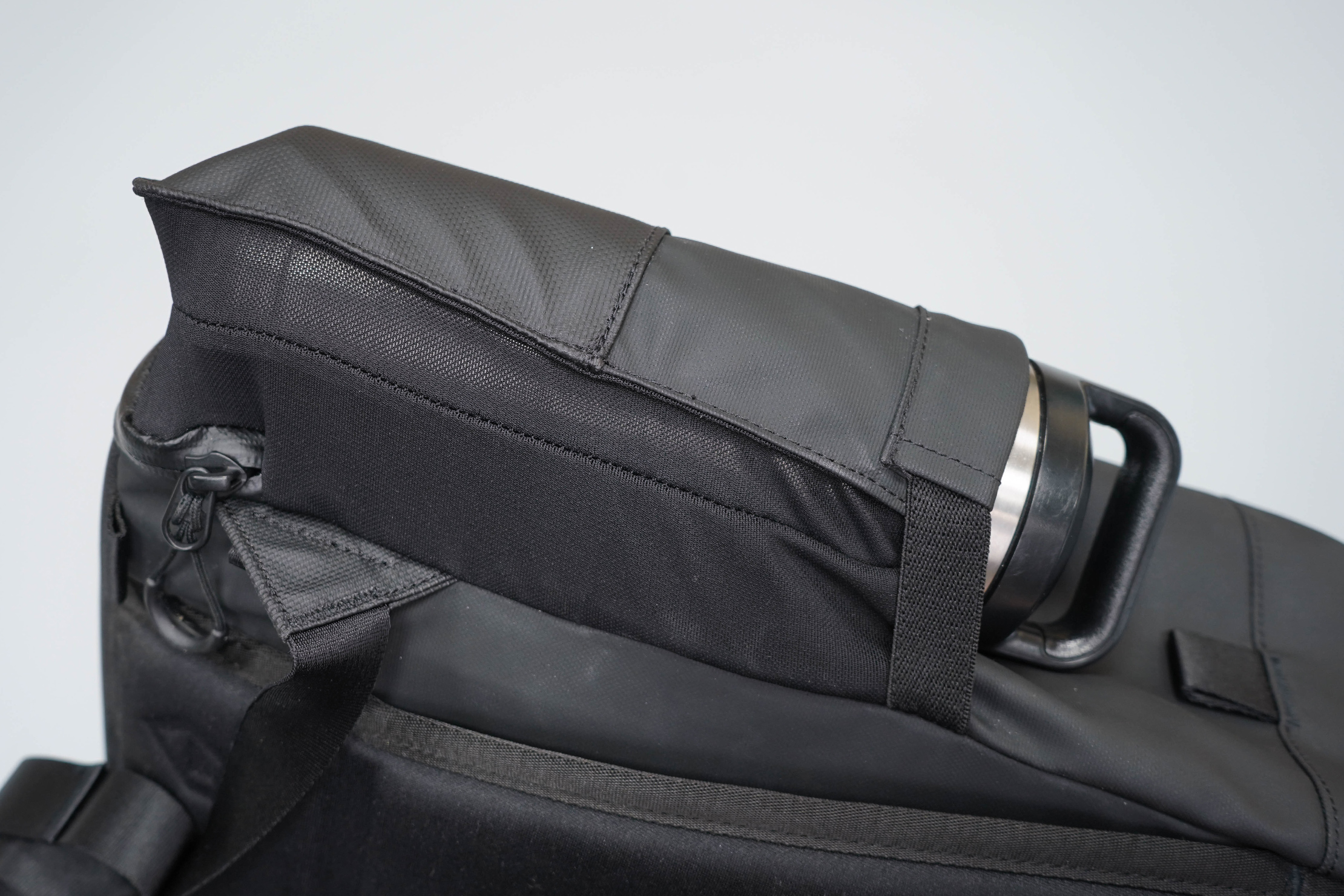 The bottom of this water bottle pocket is made of a stretchy mesh material, so, even though there aren't drain holes, any water that might leak inside can drain through the mesh at the bottom.
On the wearer's left side is a nice, padded handle with a rubbery WANDRD tab at the top. We like that this handle is densely padded, properly centered, and that the bag generally holds its shape when grabbed. It's perfect if you want to carry this thing briefcase-style for a bit.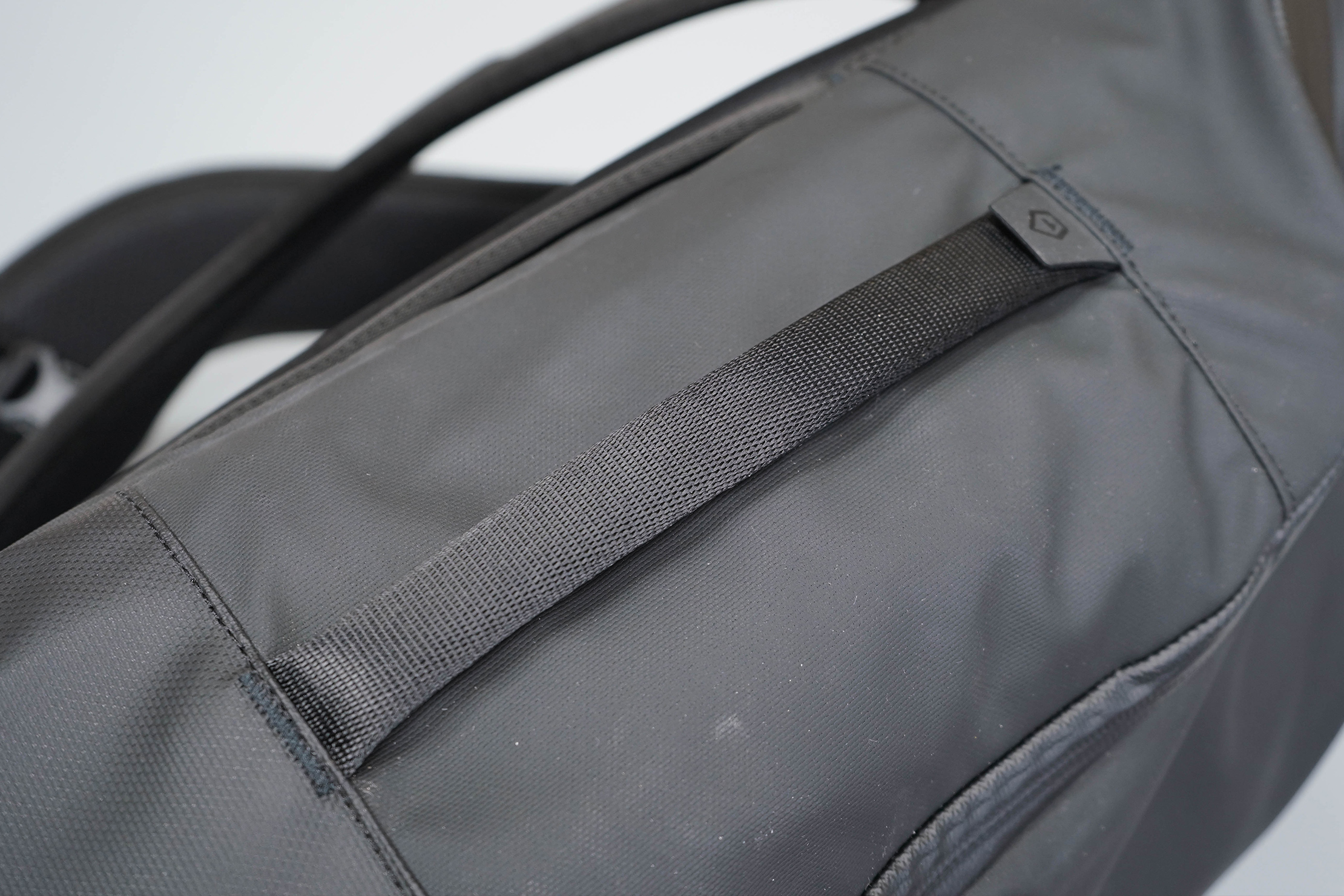 Lastly, there are some nylon tabs on the exterior of the DUO Daypack. These stick out a bit and look a little funky, however, they can be paired with WANDRD's accessory straps or your own carabiners to add some flexibility when it comes to attaching gear externally.
Overall, we like the simplicity of the DUO's exterior. The folks at WANDRD didn't go overboard with a bunch of extra bits and straps—instead, they've kept it clean, low-profile, and minimalistic.
Inside the Pack
The WANDRD DUO Daypack has a very sneaky pocket on the backside of its back panel, directly behind the frame sheet. It's a great spot for your passport. And we like that it's still easy to access—just swing the bag around to your front, unzip it, and grab your passport. We genuinely dig this pocket—it would be super hard for a pickpocket to access while you're wearing the bag, and they likely wouldn't even know where to find it if your bag is just sitting there by itself.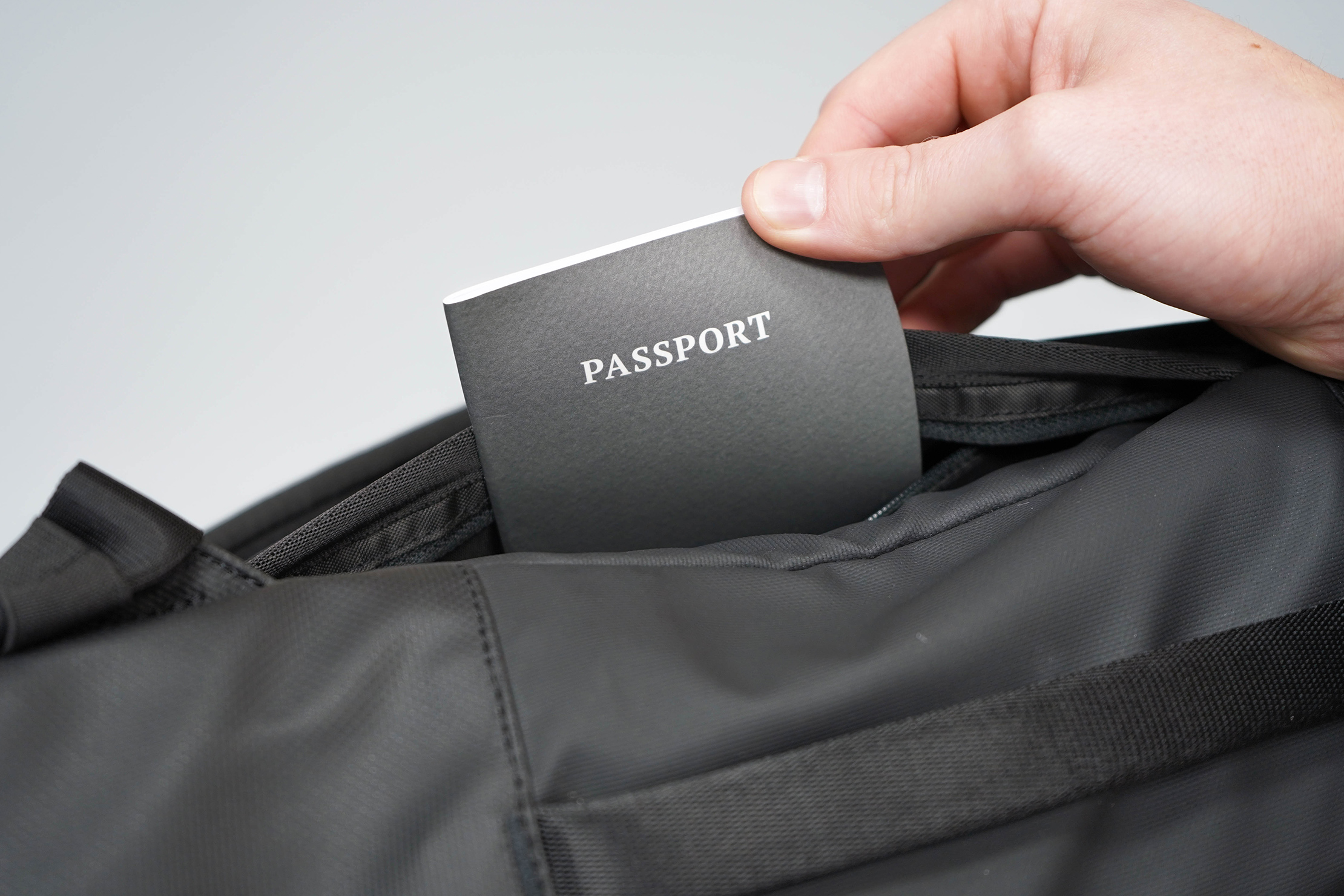 A top drop-pocket goes about the full width of the DUO and offers some decent space for a phone, wallet, keys, or anything that you want quick access to. The interior of this pocket is lined with a soft fabric, which is great for your phone or sunglasses.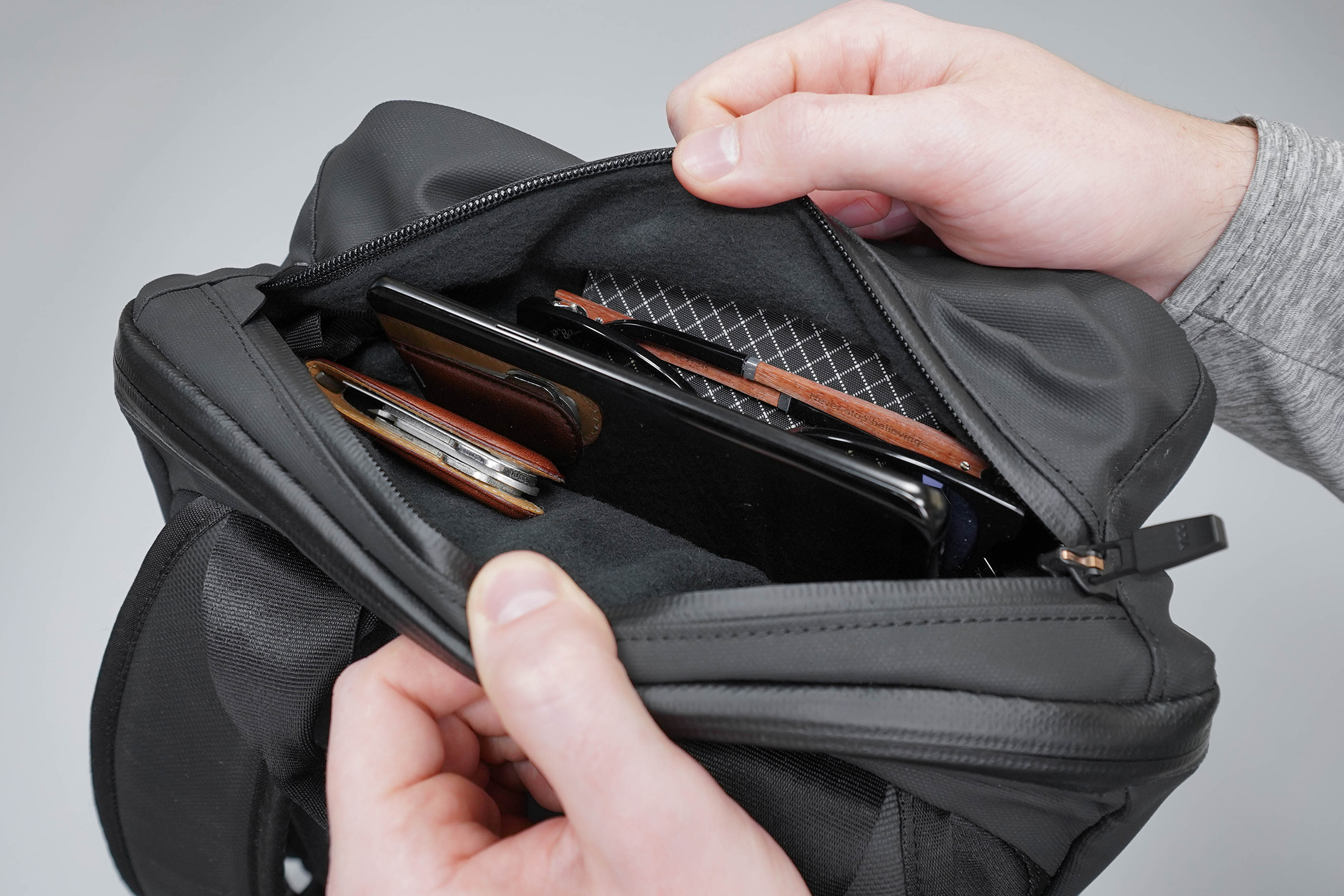 There's also a 360-degree rotating key clip inside this quick-access pocket. We like this key clip a bit more than those we've seen on other bags we've tested in the past. Although we wouldn't advise putting your keys in with the sunglasses (because scratches).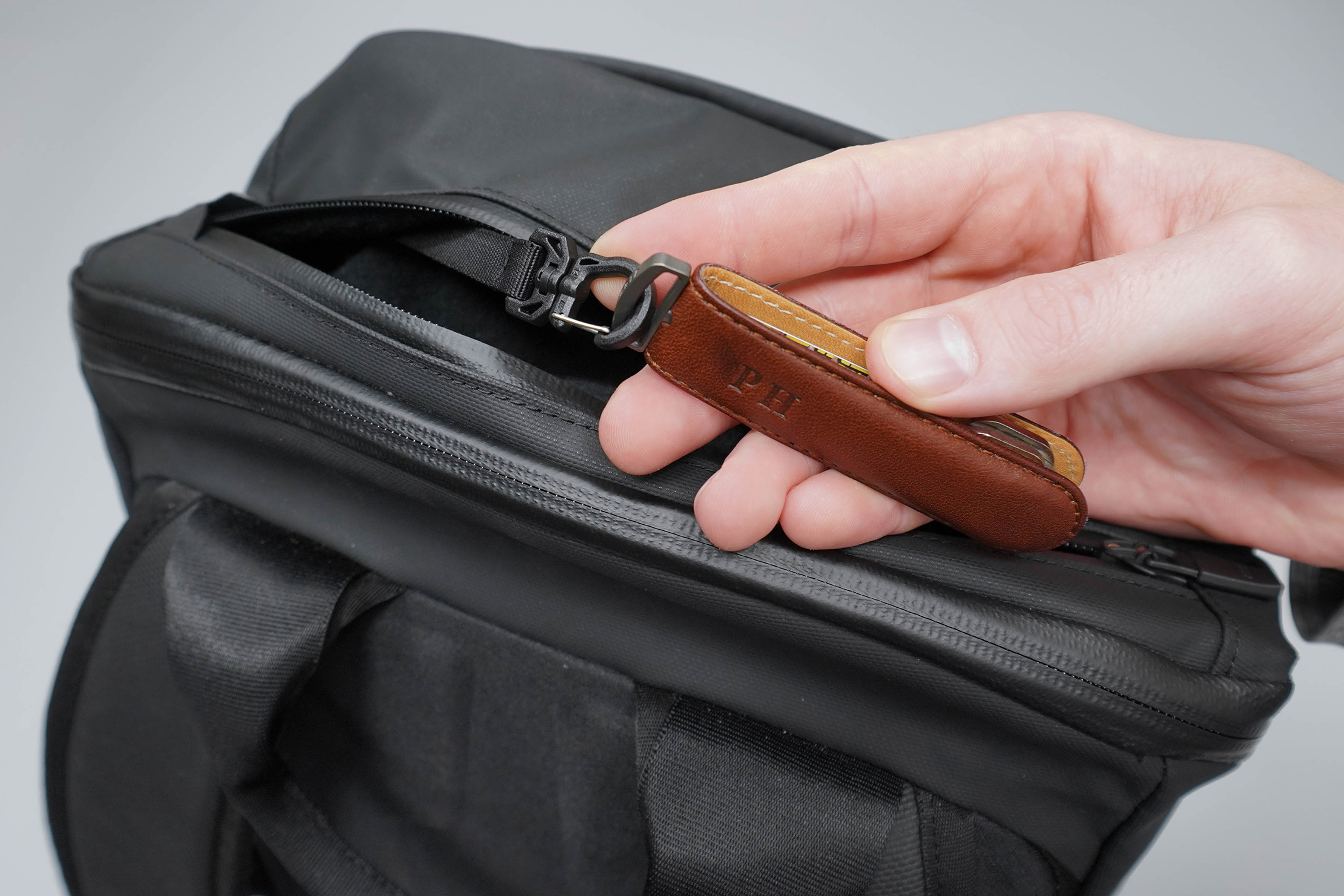 This pocket has a lay-flat, weather-resistant YKK AquaGuard zipper, which will not open when the zipper tab is flat against the bag. On top of that, there's a zipper garage that will not only keep out moisture but also has a small inlet where the zipper tab can be pulled up easily. We love the design thinking here and the way that WANDRD avoids the trap that some people run into where, without the inlet, you're fighting to get the zipper out.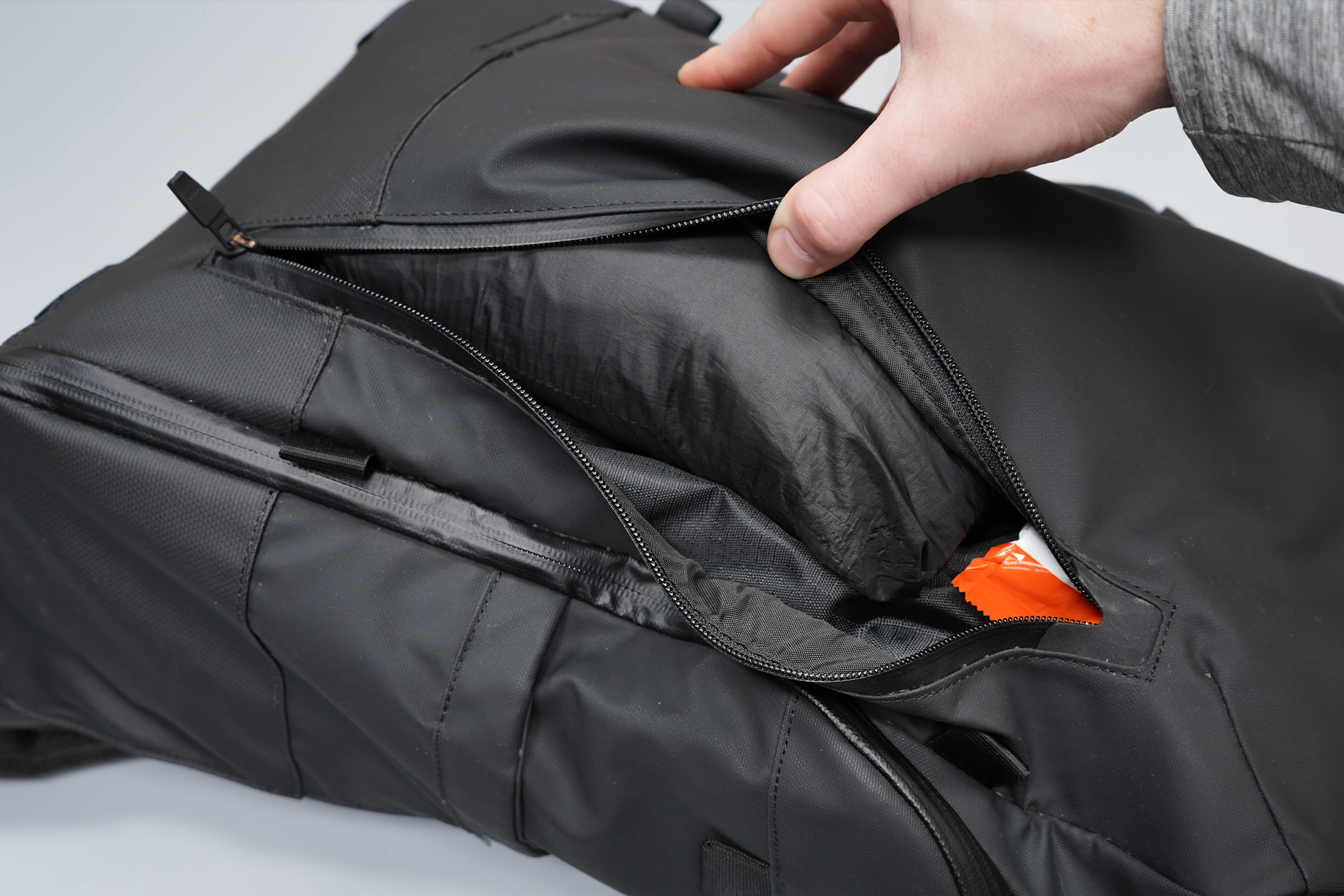 There's a very similar zipper garage set-up on the large front pocket of the DUO Daypack. Lined with ripstop-like material, this pocket is ideal for stuffing a packable jacket or snacks into and provides some extra volume if needed.
The main access of the DUO Daypack uses WANDRD's Infinite Zip system, which is pretty much one zipper coil with four zipper pulls on it.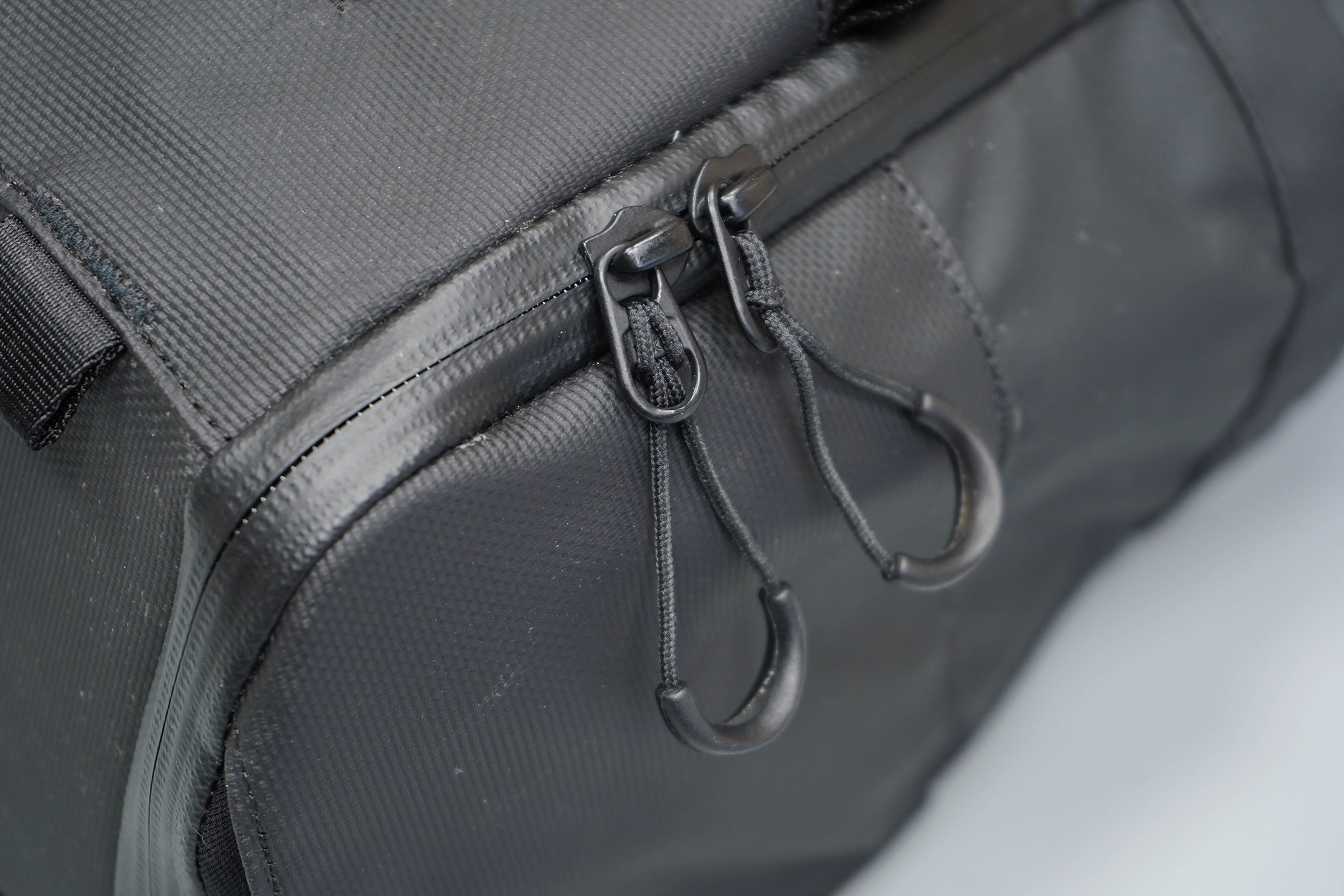 We found the best way to use this is to keep two zippers at the top in the middle and one zipper at the bottom of each side. This allows you to set the bag down and easily access it from the top zipper. You can also set the bag down on its side and unzip it to get side access. Or you could swing the bag around the front of your body and access the side nicely in front of you.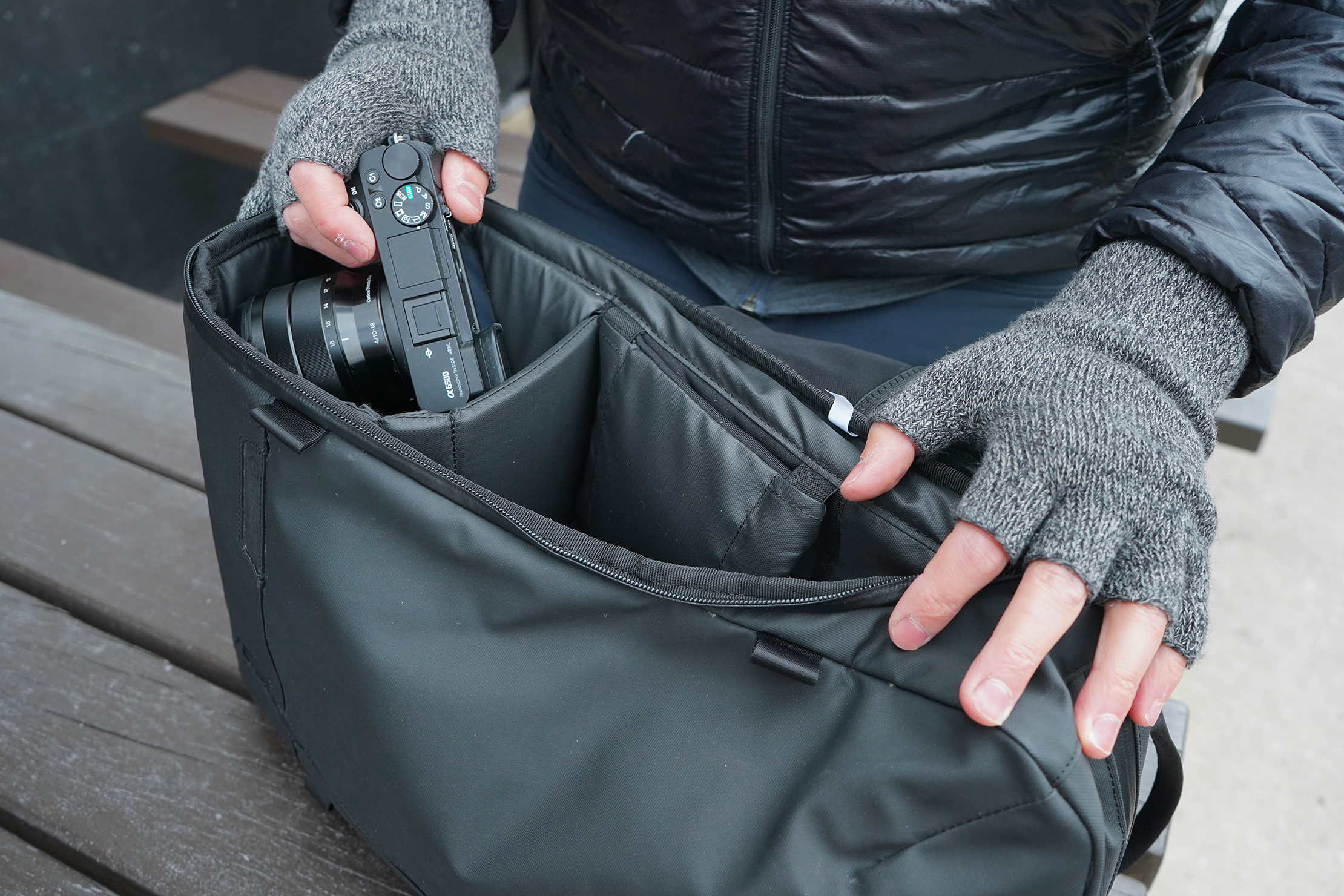 We love that this bag can be accessed from multiple angles. We have found, however, that it's often tough to open these zippers quickly. The design of the zipper coil has a lot of sharp corners—especially around the squared edges of the main opening—where the zippers tend to get caught. And the zipper coil track bunches up.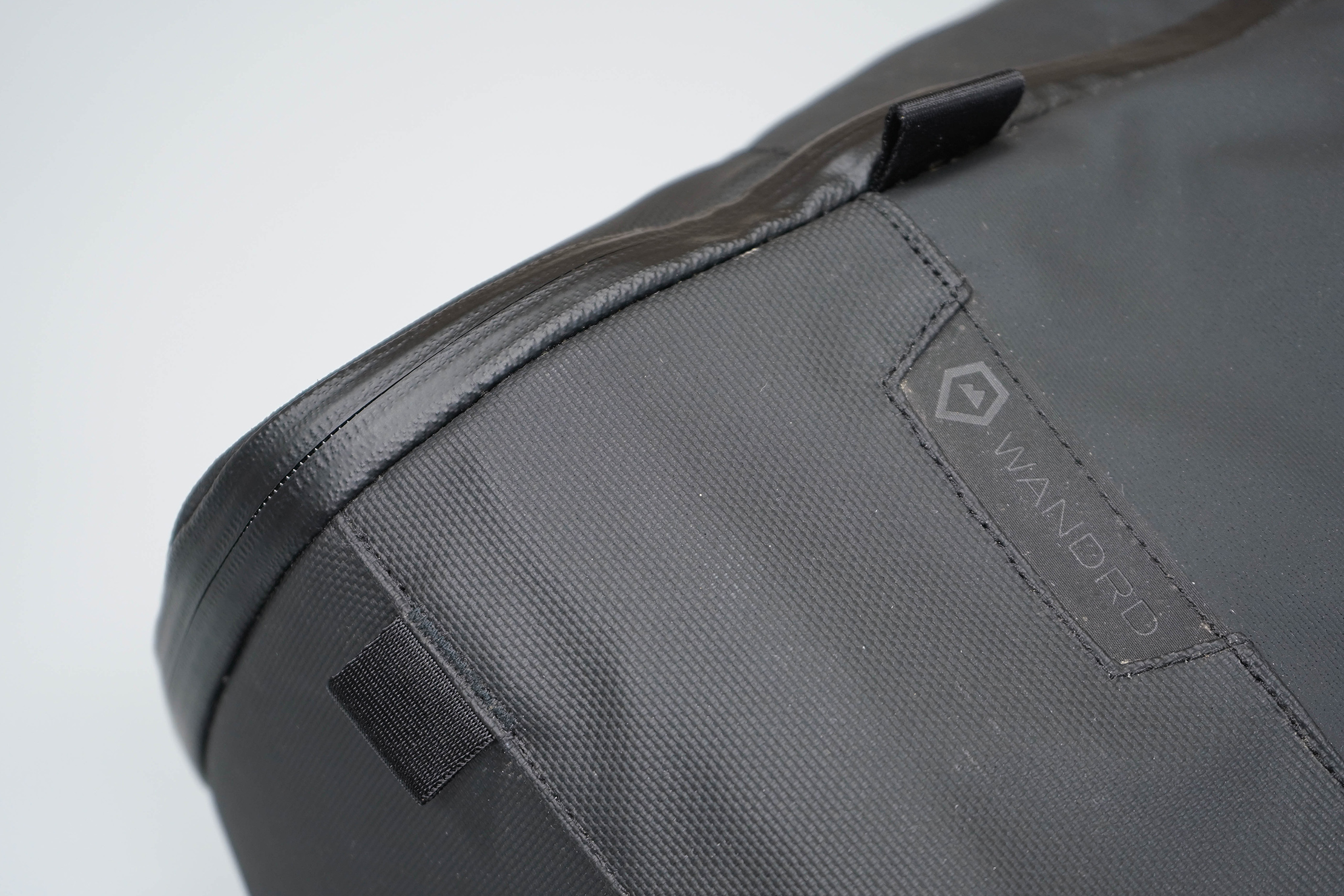 It may sound like a relatively small annoyance, but it's really added up during our testing. For instance, if you have the camera at the bottom part of the bag and you swing it around to your front to quickly get that perfect shot…well, by the time you're able to get the zipper open, your window of opportunity may have passed. Yeah, not ideal.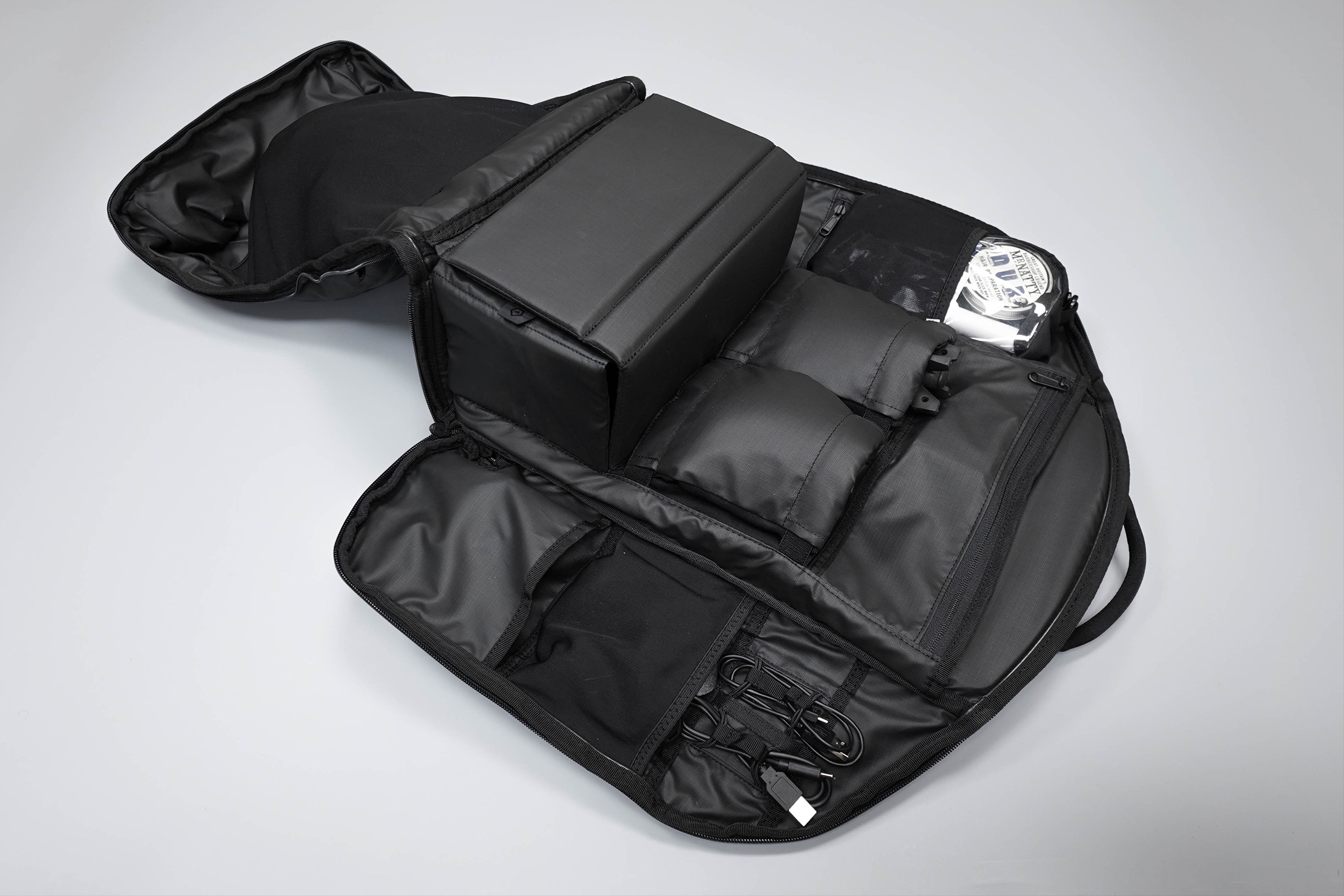 Opening the WANDRD DUO Daypack all the way up, you can start to get a feel for all of the organization on the inside.
The top flap of the bag has a mesh partition, which is great for stuffing in a hooded sweatshirt or a jacket. We've also enjoyed putting our unwieldy laptop chargers inside of this pocket. Putting heavy items in here isn't really the best idea, since they may slip out when you open this bag fully, but that's less of a concern if you're just accessing it from the top and folding the top flap over.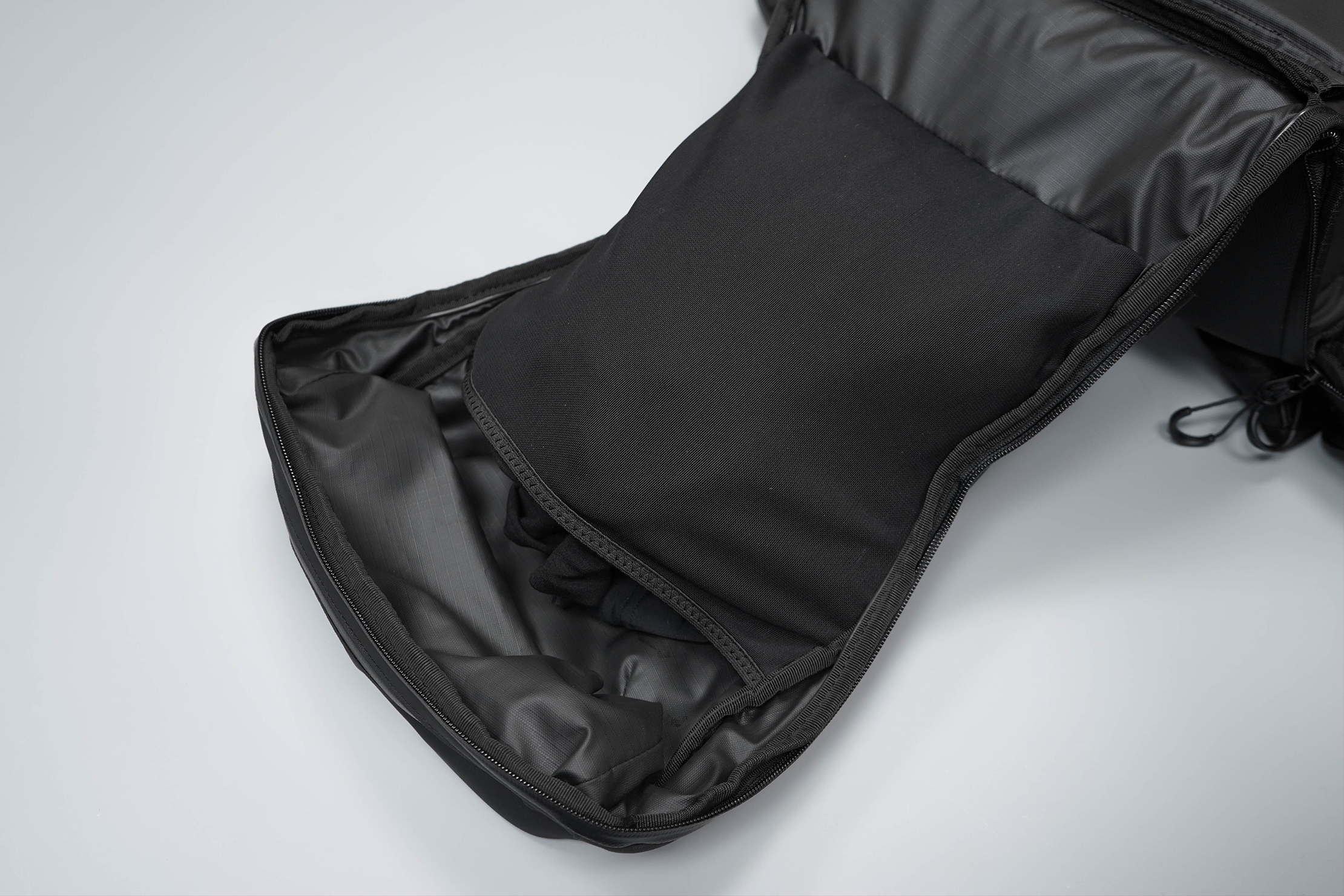 At the bottom of the main compartment is the built-in Pop Camera Cube. You can pop this cube up to carry your camera or pop it down to get more open space for packing clothes or other gear. (Really, it just kind of folds up and down.) There are also two velcro-able doors on the sides of the cube and one removable divider in the middle to give you some basic customizability. You can easily access the camera compartment from the zippers on the bottom of the bag (which is why we've positioned them there). It's a pretty neat idea.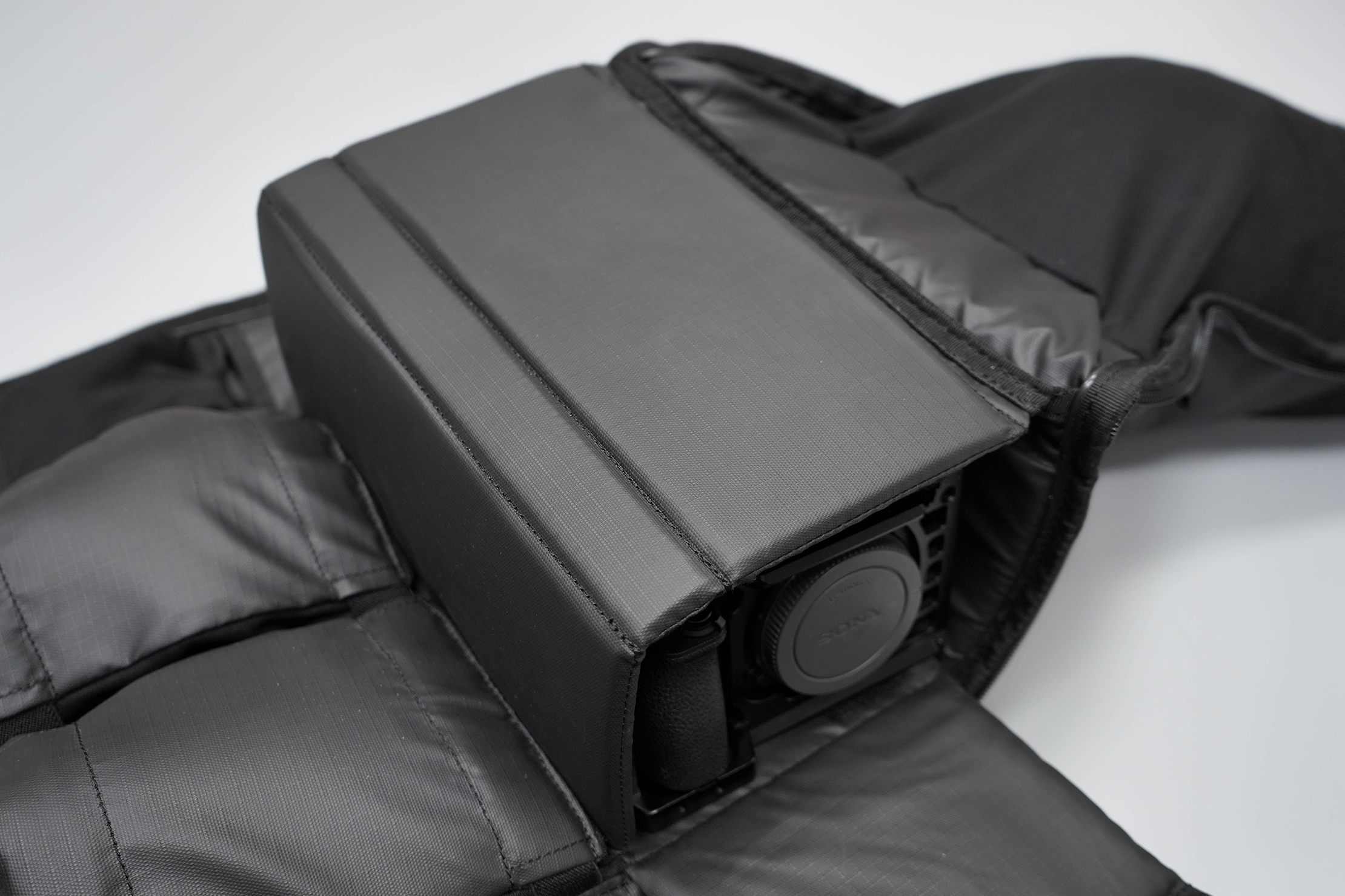 Now, setting up this Pop Camera Cube system can feel a little bit kludgy initially. And it definitely feels kludgier when you're continuously rejiggering it. That said, we like the innovative thinking going on here.

As a quick side note: when packing a backpack, you typically want the heaviest items you carry to be close to your back and towards the top of the bag. With the DUO Daypack, one of your heaviest items—your camera—will be at the very bottom of the bag, which isn't ideal for carrying.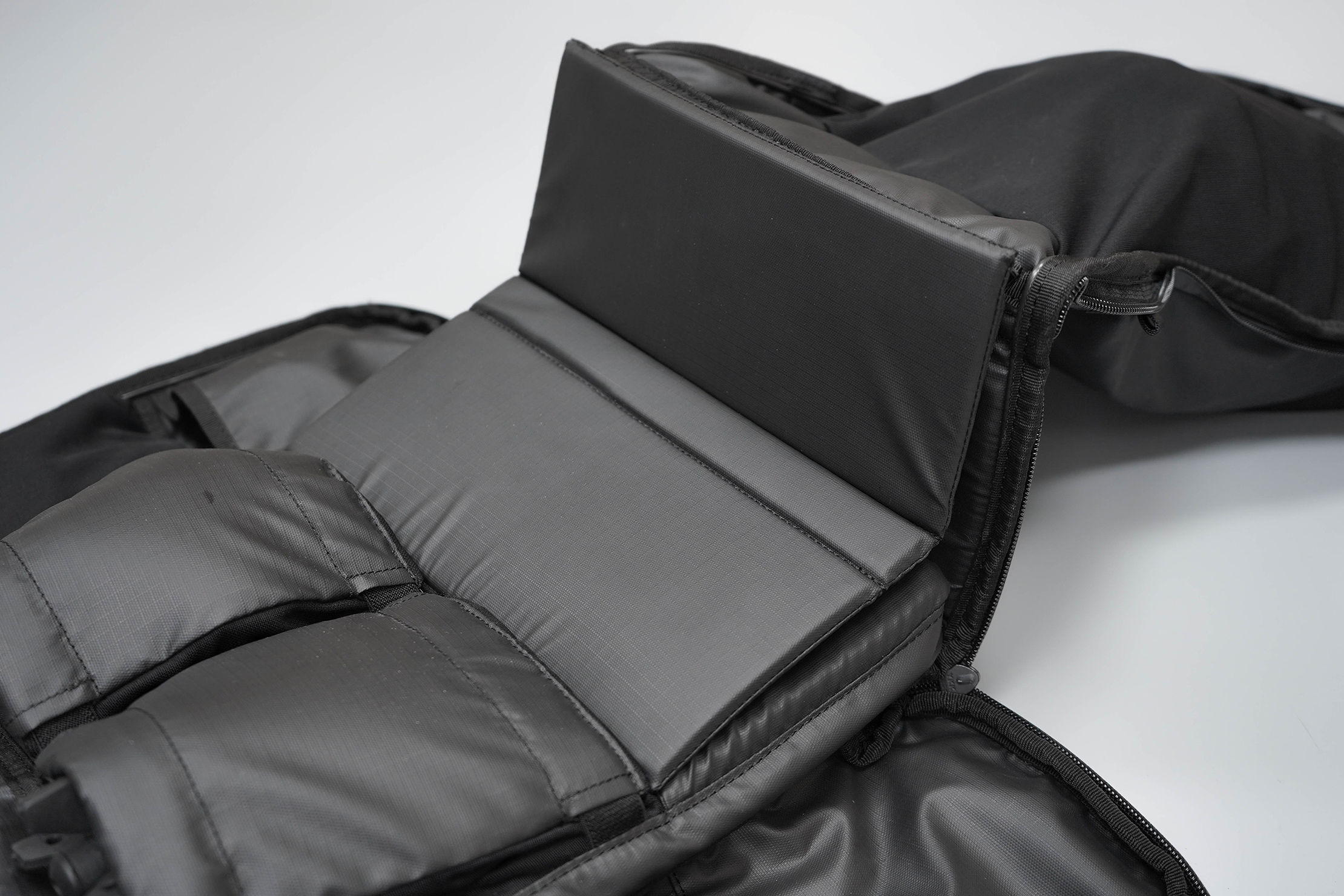 Additionally, the camera cube is not suspended. So if you drop the bag unexpectedly, your camera will be hitting the ground full force. We like when expensive or delicate gear (like a camera or laptop) is more centered inside of the bag for greater safety. Beyond that, there's not a ton of customizability with the camera cube as far as positioning and size—we'll get to more on that later in the review.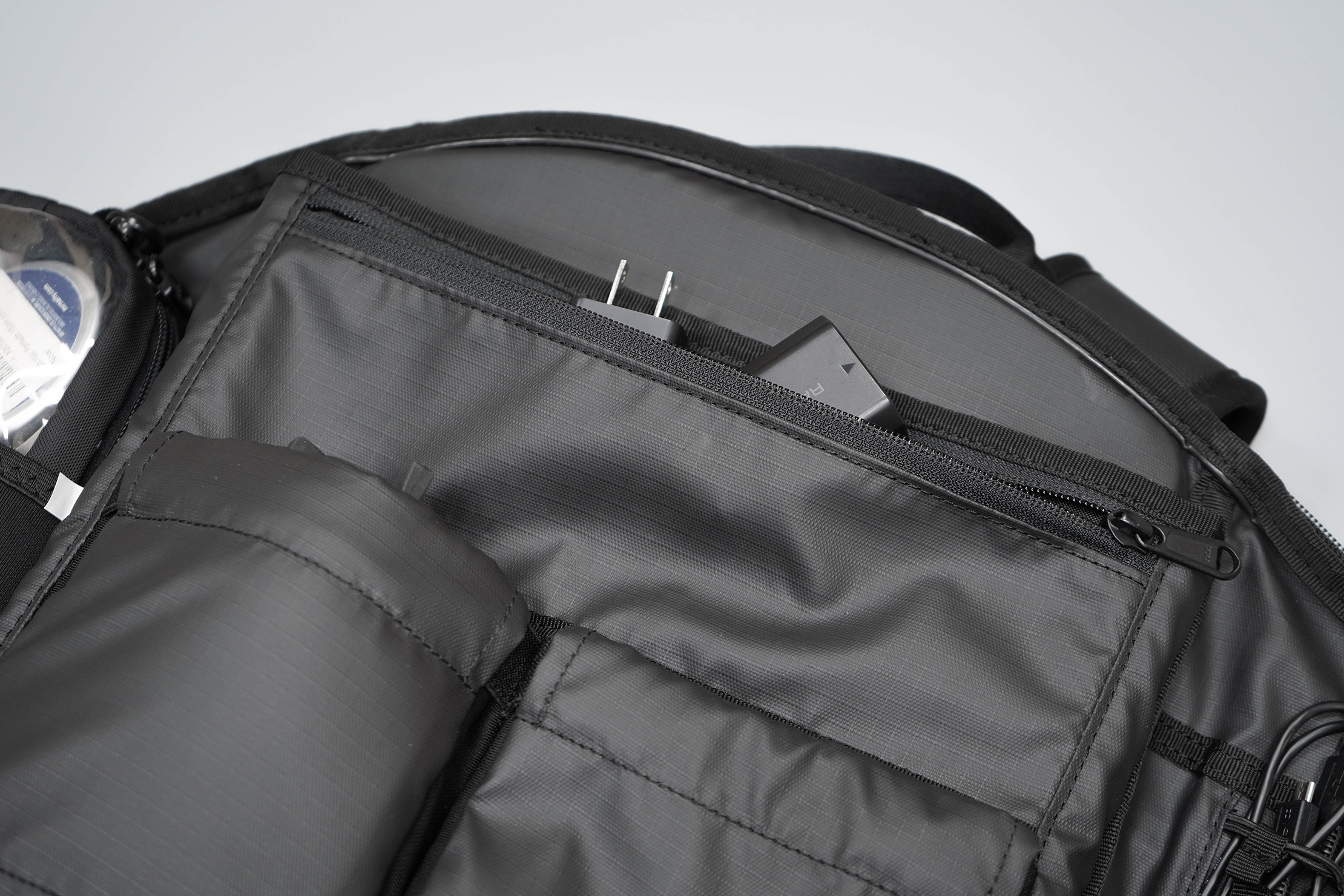 Above the Pop Camera Cube, you'll find two nicely-padded, stretchy pockets for storing lenses of various sizes. The lens pockets themselves work well, but we've found that when they're full, it's a little awkward to use the rest of the bag. They stick out into the main space.
Above the lens pockets, there's a zippered pocket that a good place to store smaller items like SD cards or extra cords.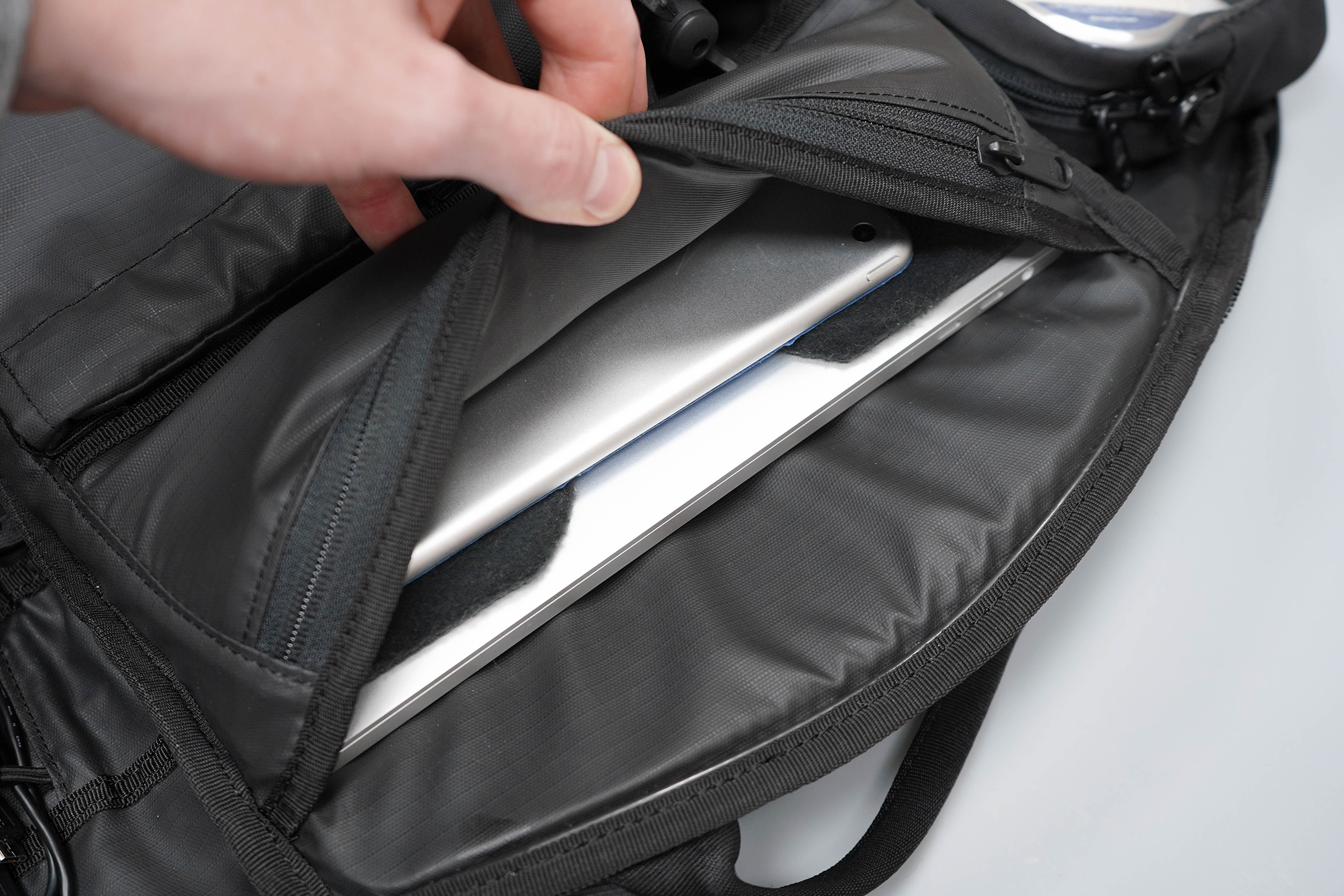 The laptop and tablet sleeve on the WANDRD DUO Daypack is pretty simple. Although the laptop compartment is padded, there is no false bottom—which brings up similar concerns that we had with the camera cube as far as unexpected drops. Inside the laptop sleeve, there's a tablet sleeve that will also work for documents or other flat items. Both use that same soft material we've seen lining the quick-access pocket.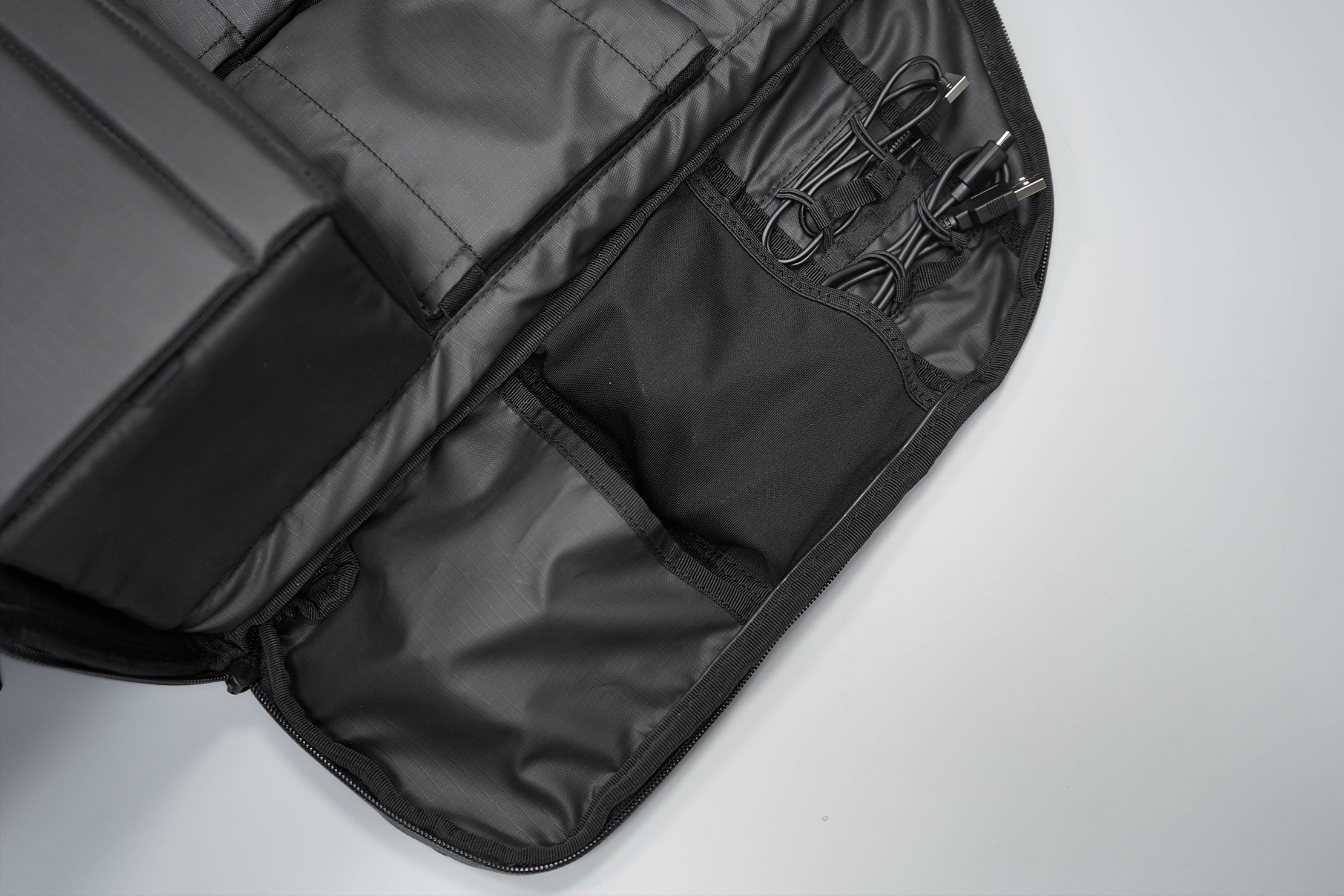 On the wearer's right-hand side, you'll find some really interesting cord keepers. They're basically four stretchy elastic bits that will hold cords into place, along with a vertical handle that you can grab and pull to easily release the cord. We think this is a nice, innovative touch. We typically use tech pouches to keep things organized, but these are great for any cords you frequently access.
Below those cord-keepers is a stretchy mesh pocket that doesn't tighten up much. There's another liner pocket below that. While you wouldn't want to put SD cards or anything smaller inside these pockets, they are nice for larger items.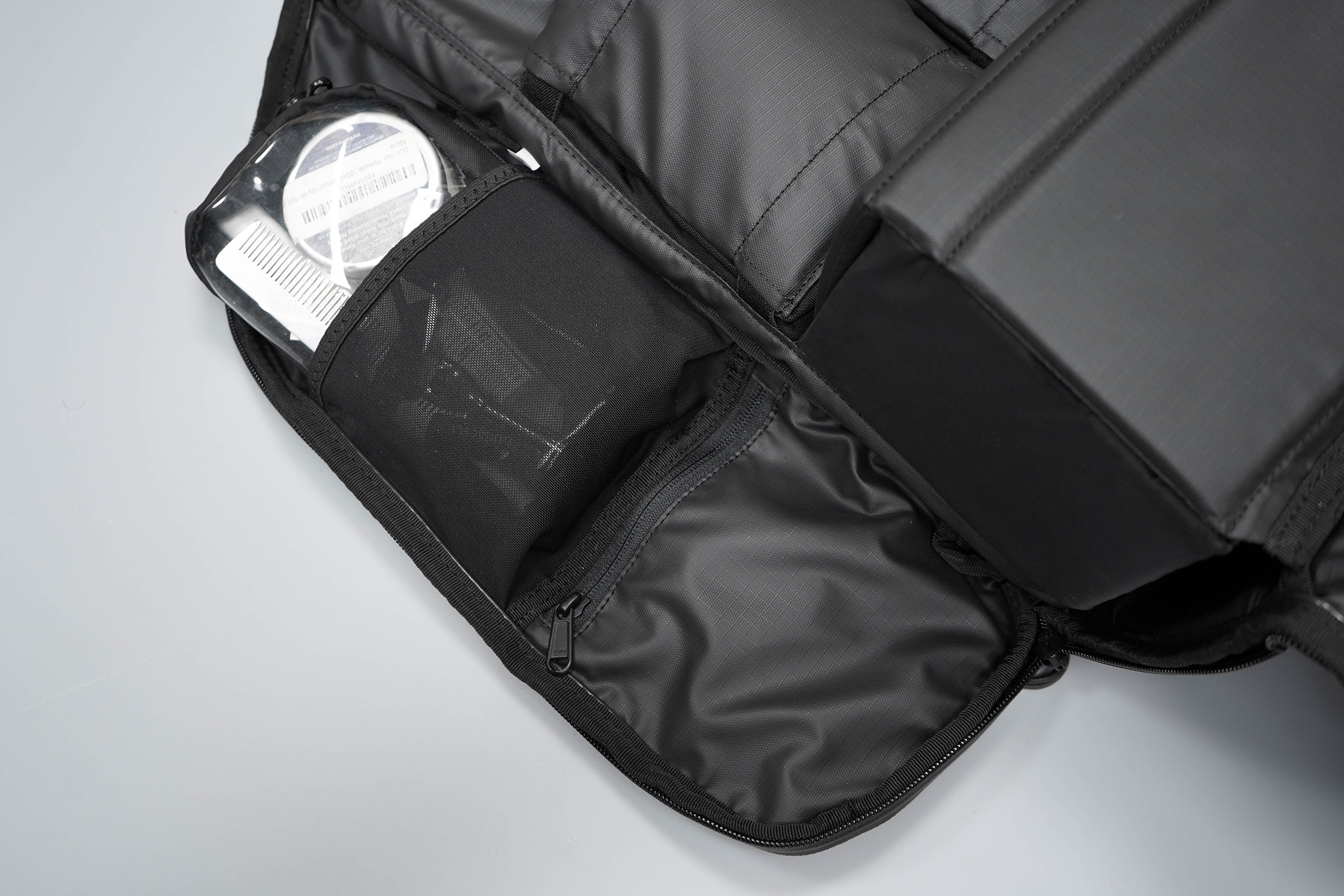 The wearer's left-hand side features a similar layout—minus the cord organizers—with a mesh pocket on top and a liner pocket on bottom. The main difference here is that the bottom pocket has a zipper. We generally prefer the zippered liner pocket on this side of the bag, especially with the saggier mesh.
Durability & Testing
Like we mentioned way back at the beginning of this review, two members of our team have been testing the WANDRD DUO Daypack for about three weeks in Detroit, Michigan.
For the first couple of weeks, we've used this thing pretty much exclusively as a camera bag (with a laptop and other accessories). And we've enjoyed it—although we do miss some of the customizability that you usually find in other camera bags. Every photographer/videographer's gear is as different as the photographer/videographer themselves, so being able to fine-tune the inside of a bag (usually with velcro dividers) to fit exactly what you need is generally preferred.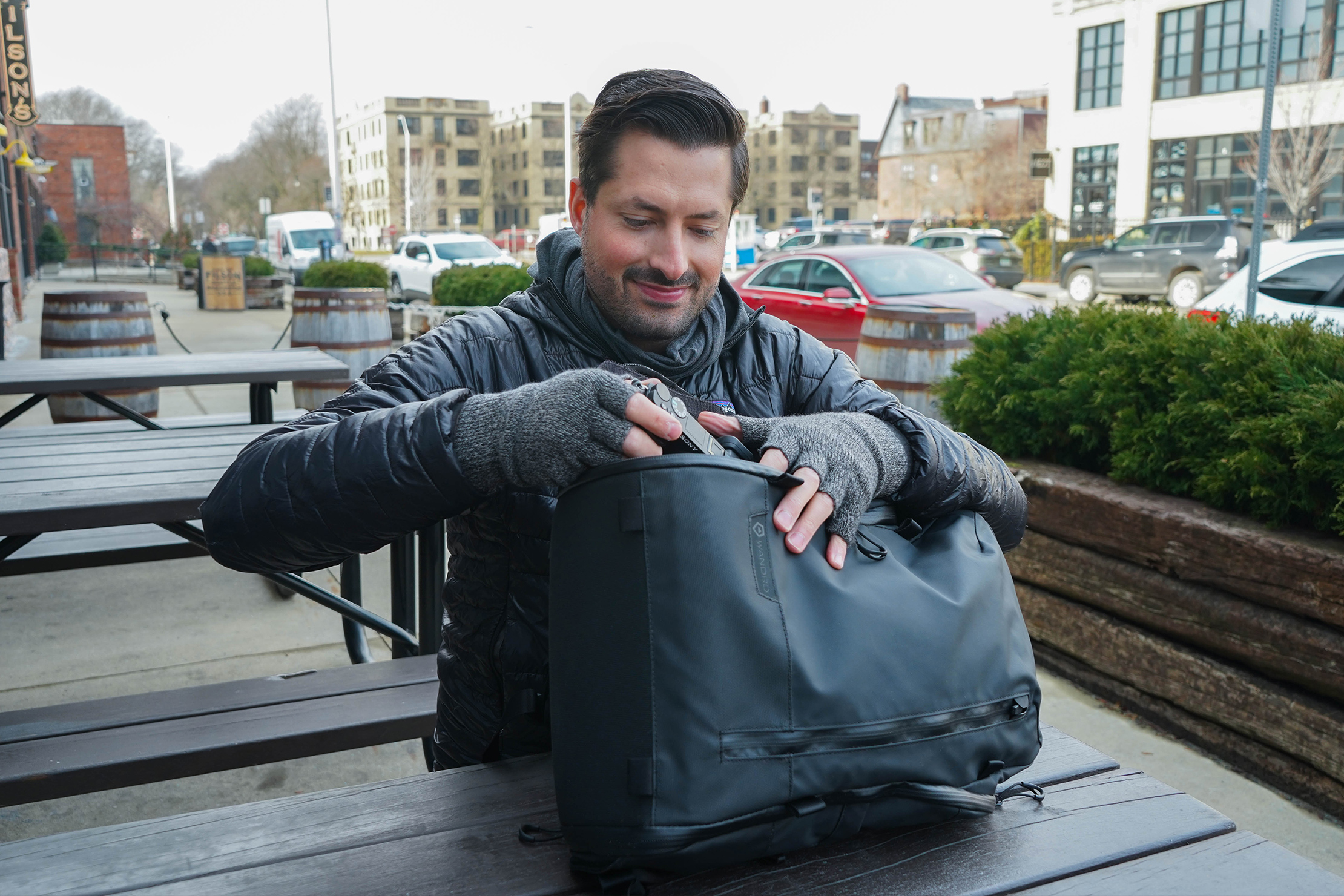 With the DUO, the only customization you have is the divider/shelf in the Pop Camera Cube. If you have longer lenses that don't fit in the lens pockets, for example, you'll basically be stuck with them floating in the main compartment of the bag, which isn't ideal.
Our main camera kit is pretty compact. We typically shoot with the Sony A7iii, a Sony 28–70mm lens, and the Sony 10–18mm lens. Fortunately for us, we were able to fit everything exactly where it's supposed to go.
The Infinite Zip system on the DUO Daypack offers great access to the camera cube and it's convenient to be able to swing the bag to your front and take out your camera without having to take off the bag completely. But the sticky zipper makes it slow. And the lens pockets are not easily accessible from the side—we've still had to take off the bag anytime we do a lens swap. You can get around this by putting a lens in the empty side of the camera cube, but you'll lose the protection and stability of the lens pockets. In general, we've had better luck putting this bag down, unzipping it all the way, and having full access to everything rather than trying to use the quick-access features.

We've also been testing this bag as an everyday carry pack—taking out our camera kit and popping the camera cube out of the way. With the cube down, there's plenty of space for everyday items. And plenty of options to organize pouches and gear inside the bag. We didn't use the bottom zippers or side access much in our day-to-day—splitting open the bag at the top works just fine. But you'll still notice the stiff zippers, which makes grabbing your stuff slower than it should be.
As mentioned earlier, we had no issues taking the WANDRD DUO Daypack through rain, snow, and mud. And we liked how easy the bag is to wash off and wipe clean. Durability-wise, it has held up nicely—not much to complain about on that front.
Usage Timeline
Initial Usage
Condition: Excellent
Specifically designed around carrying camera gear but can be used as a normal daypack
Most of the main interior compartments and pockets are well padded, especially the camera cube compartment
Opens up completely flat for easy organization and access
2 Weeks of Use
Condition: Excellent
There are some innovative organization features inside this bag—like the Pop Camera Cube and elastic cord keepers—but the stiff zipper makes accessing those features (and your gear) slow.
1 Month of Use
Condition: Excellent
We've been biking through rain, snow, and mud and so far this pack is holding up well. Plus, it's super easy to wipe it clean.
Access the Pro Community Discussion
Get your questions about the WANDRD DUO Daypack answered from our team and the Pro Community right here on the page. Plus, join discussions with other members about gear, guides, and more.
Other Bags & Luggage Reviews