Travelpro Maxlite 5 Laptop Backpack Review
Travelpro's plentiful use of gussets throughout the Maxlite 5 Laptop Backpack may feel overkill, though it makes compartment access easy and convenient.
Our Verdict
Unlock the Pro Summary
Save time. Get access to brief summaries of our reviews so you can browse and make decisions more efficiently.
Pros
Gusseted compartment design make accessibility easy
Stands on its own well thanks to its fairly rigid structure
Shoulder straps' inner edge padding cushions against the neck effectively
Cons
Back panel's padding feels too concentrated in a few areas
Bottle pockets struggle to hold tall bottles securely
Some gussets can get caught on zippers
Recent Pack Hacker Video
Technical Details
Capacity

27l

Weight (lb)

2.7 lb (1.2 kg)

Dimensions

17.5 in x 15 in x 8 in (44.5 x 38.1 x 20.3 cm)

Notable Materials

Polyester, Polyurethane, Unbranded Zippers, Unbranded Hardware

Manufacturing Country

China

Laptop Compartment Size

16"

Warranty Information
Full Review
Compartment access and layout are key factors to any bag, and it goes double for those truly geared for travel. After all, it's the process of packing that can really separate the bags which are easy to travel with and those which get on your nerves before you even leave your house. With that in mind, let's meet the subject of this review: Travelpro's Maxlite 5 Laptop Backpack.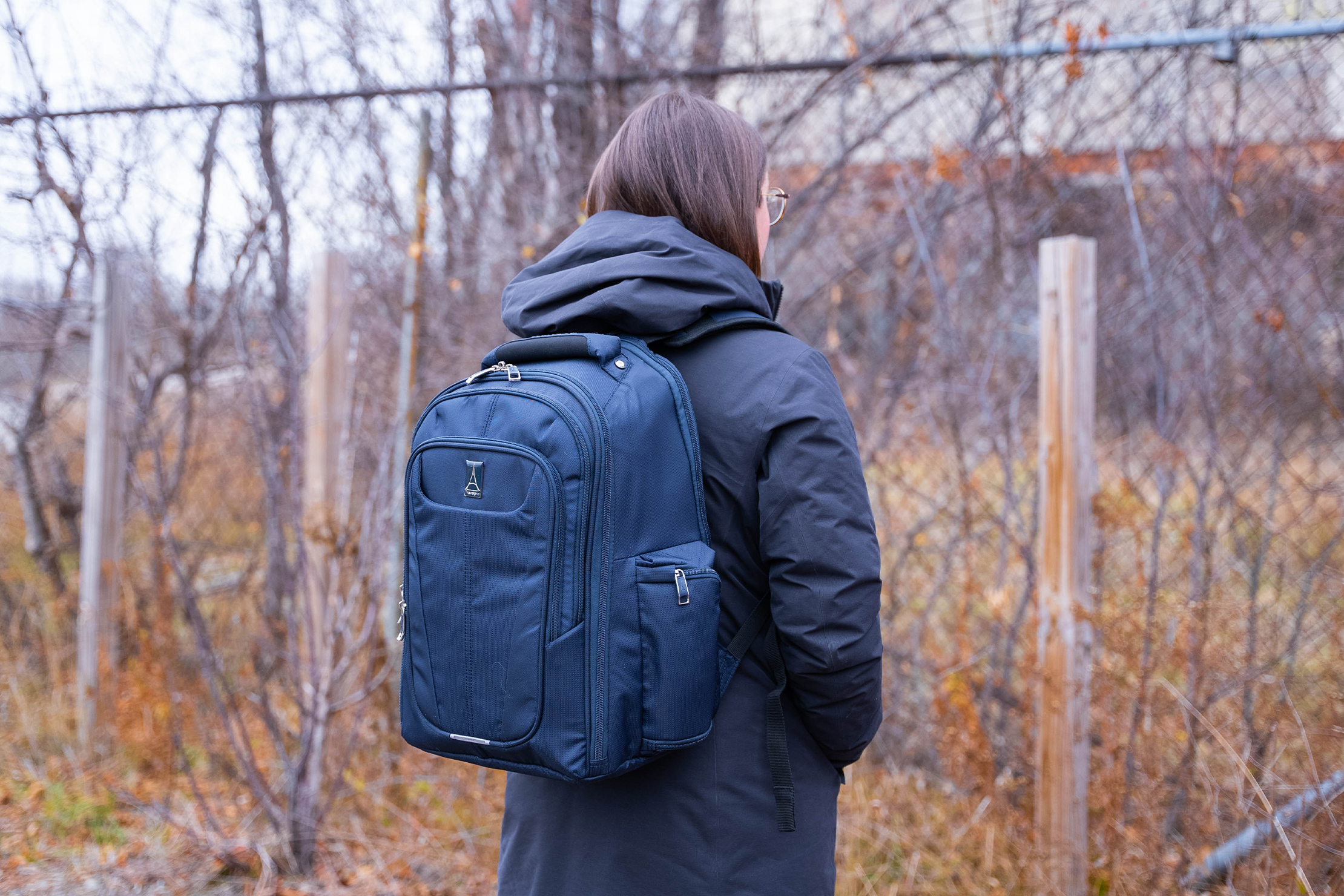 By all accounts, it looks like a bag that draws inspiration from Travelpro's luggage collection, and that's not a bad thing, per se. Its rigid structure and compartmentalized layout remind us of a few rollers we've traveled with in the past, minus the rolling part, of course. The secret ingredient? Gussets, and lots of them. In fact, they may have gone a bit too far with the number of gussets they put on the Maxlite 5. As the saying goes, "everything in moderation."
External Components
We'll start with the feature that stands out the most on the Maxlite 5: the logo. Or perhaps it's not quite right to call it a mere "logo." It's more like a badge that's very detailed and noticeable. We like to think of it like the hood ornament on a car. Whether or not this is to your liking will be down to your personal taste, though we don't particularly object to it.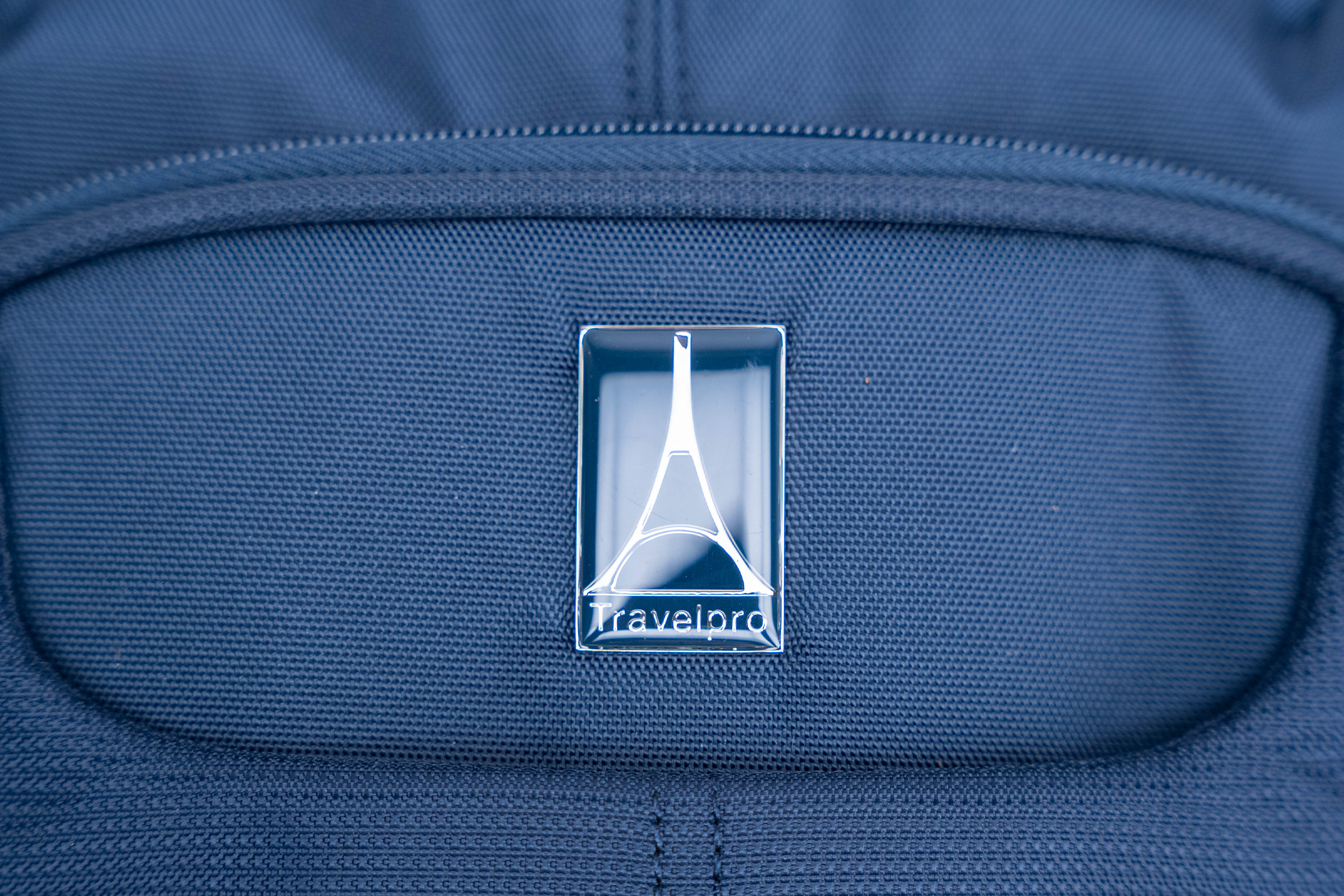 Contrary to the ornamental nature of the badge, the rest of the pack feels very substantial. The overall structure feels rigid compared to other travel backpacks we've seen, like the Aer Travel Pack 3 and Chrome Industries Volcan Backpack. This is one area where we see how the Maxlite 5 borrows some genes from Travelpro's luggage lineup. So what does a good structure mean for a travel backpack? In this case, the ability to stand up on its own regardless of whether it's packed out or empty.
The main material is polyester with a coating of DuraGuard to give it some water resistance. This is quite standard for a lot of travel backpacks, though some of them opt for nylon for the fabric. Materials aside, the main issue we have with the Maxlite 5's build quality is a few loose threads. Mind you, they're not necessarily wear-and-tear damage. Rather, they seem to be manufacturing imperfections. That is to say, they don't affect day-to-day performance in any meaningful way.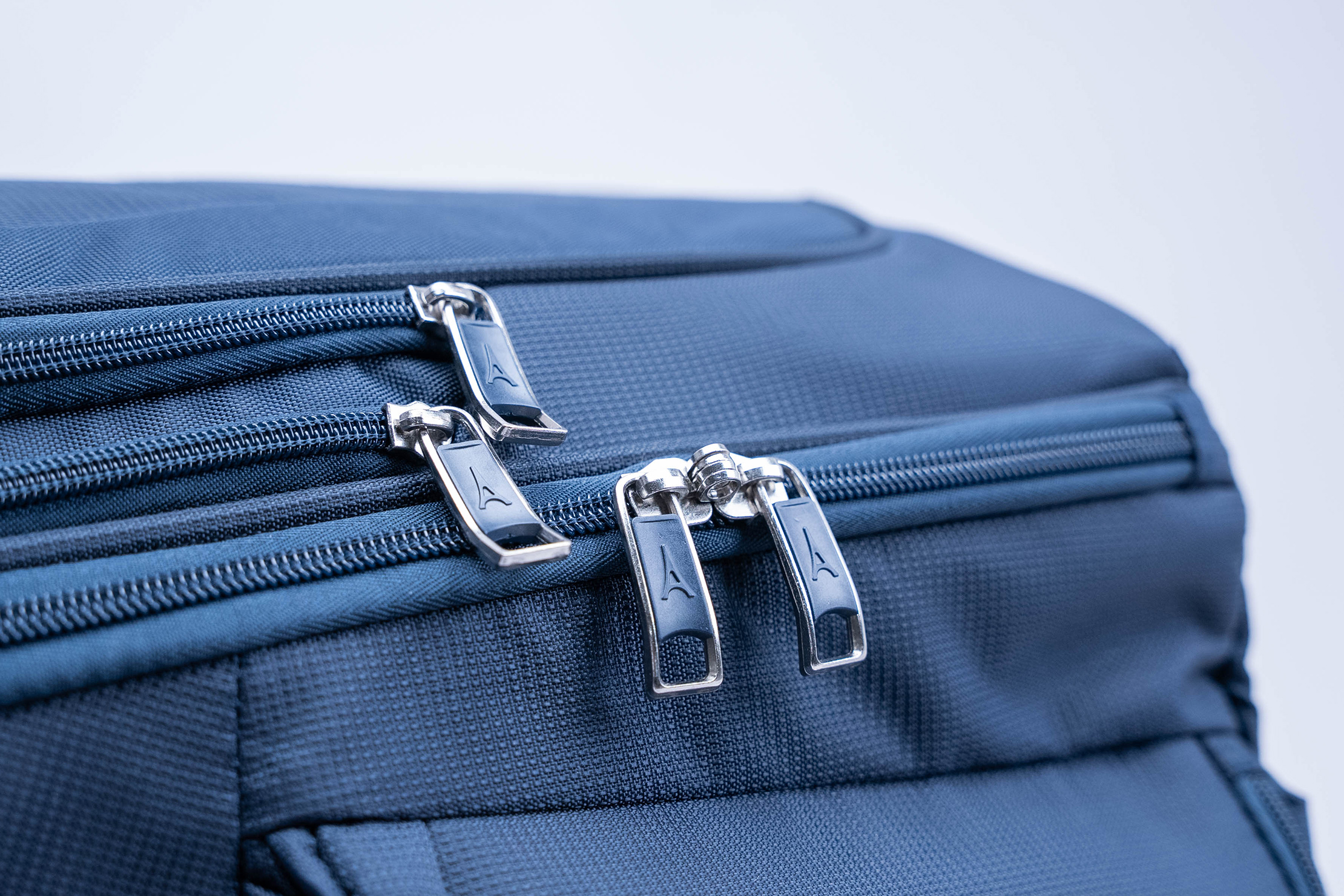 The zippers are unbranded but feature large metal pulls that are curved. They feel satisfying to use as their rigidity helps with pushing the zipper around the smooth corners. On the other hand, having metal pulls in pairs means there is some jingliness if you shake the bag hard enough. Those peeved by jingly zippers, you've been warned.
Up at the top of the Maxlite 5 is a grab handle, and it's one hefty handle. It's quite thick and close to the body itself, so there's a minimal amount of room to put your hand through. This means it's a bit awkward to use, plus its stiffness makes it all the more uninviting. This wouldn't be much of a problem for smaller backpacks, but for larger ones used for travel, a handle is very desirable. Think about it; having to sling a large backpack over your shoulder each time you have to move (even just to a different seat) is quite hassling.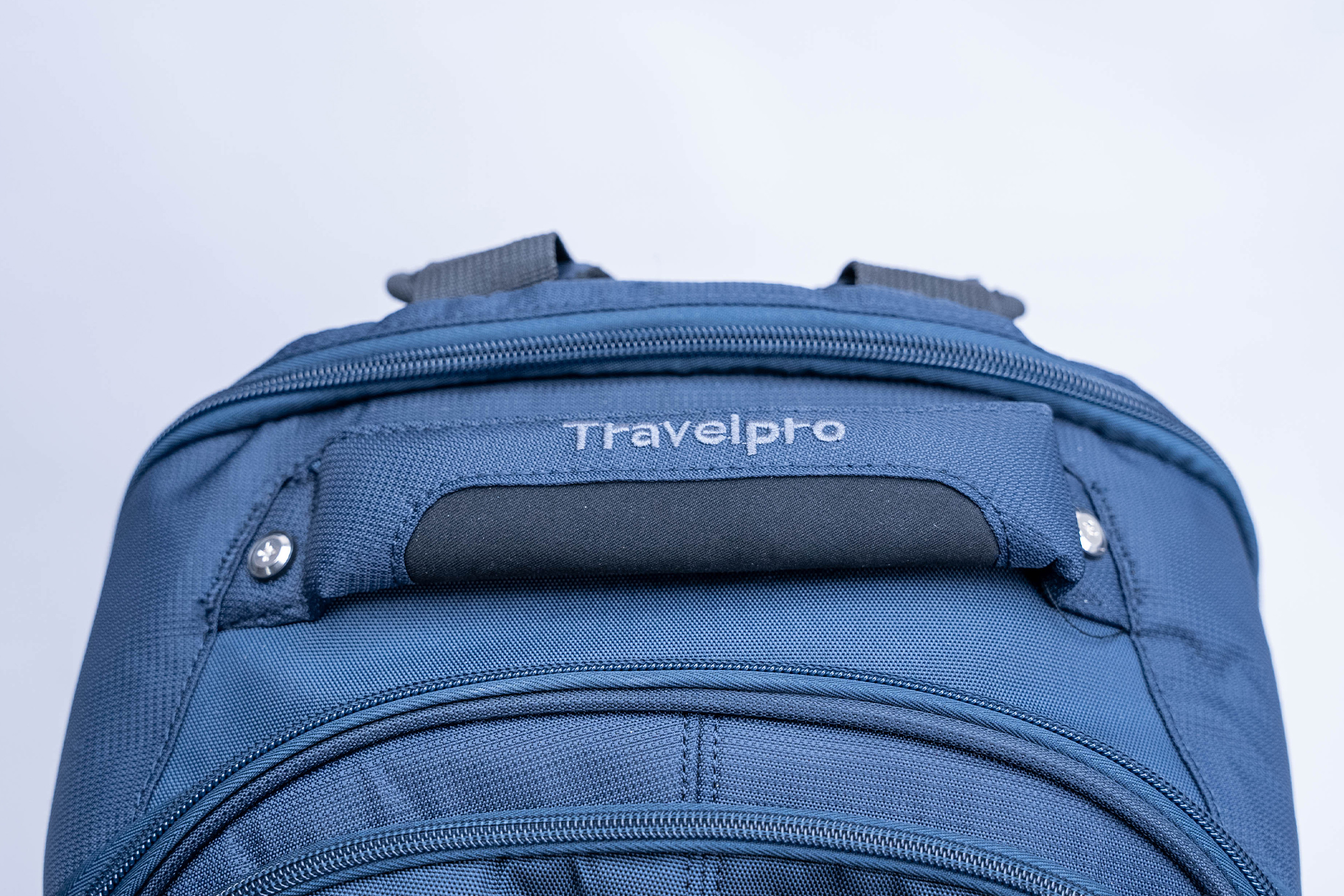 The harness system Travelpro decided to have on Maxlite 5 is a bit of an odd mix in terms of design. First, let's talk about padding. Simply put, there's a ton of it on the shoulder straps and the back panel. There's about a quarter of an inch of padding along the straps. Moreso than the amount of padding, we dig that the inner edge is actually covered by the material. It's a subtle design choice, but one that we can feel lessens discomfort around the neck area.
We also dig that the thick padding doesn't extend all throughout the shoulder straps' length. At the top, you'll see that the straps connect to the bag via thin nylon. This allows them to flex and contour to the wearer's fit depending on how broad or narrow their torso is.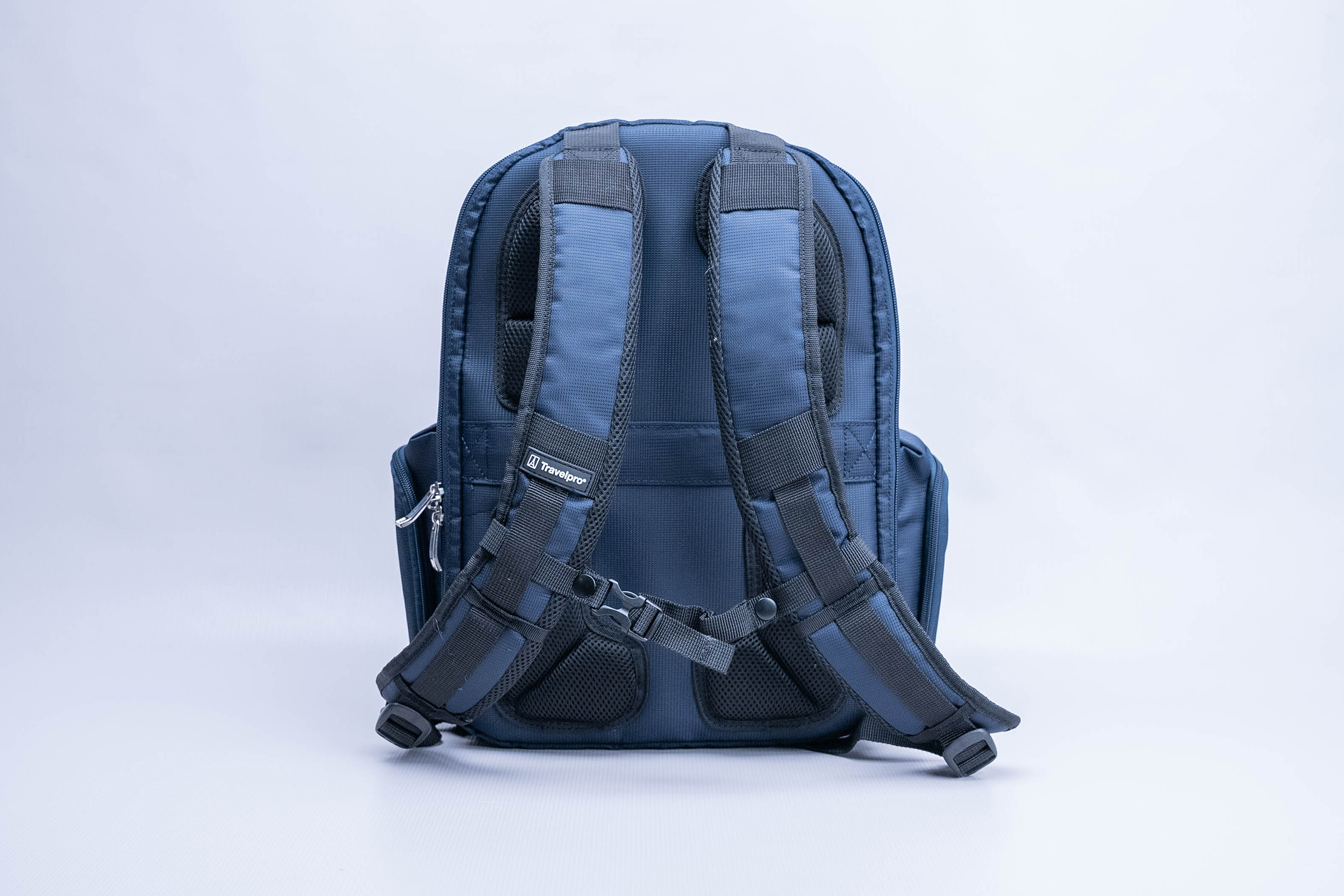 There is also a sternum strap included. However, the way Travelpro has it mounted to the shoulder straps is a bit unusual. Whereas other brands would have them on a sliding rail or hooked onto loops, the Maxlite 5's sternum strap is snap fastened around each of the shoulder straps. To be clear, it works, and you can adjust the height like you would with a sliding kind. It just feels a bit of an afterthought seeing it slung around the shoulder straps instead of being neatly integrated with them.

Then there's the back panel. There are four sections of very thick padding that serve to cushion the Maxlite 5 against your back. We're used to seeing foam padding evenly spread out and covering most, if not all, of a back panel. The impact on comfort is as you'd expect: cushioning is concentrated on a few areas, which feels strange at times. There's also a luggage pass-through built in that sits the bag vertically on rolling luggage in case you're bringing along one of those.
Fit Notes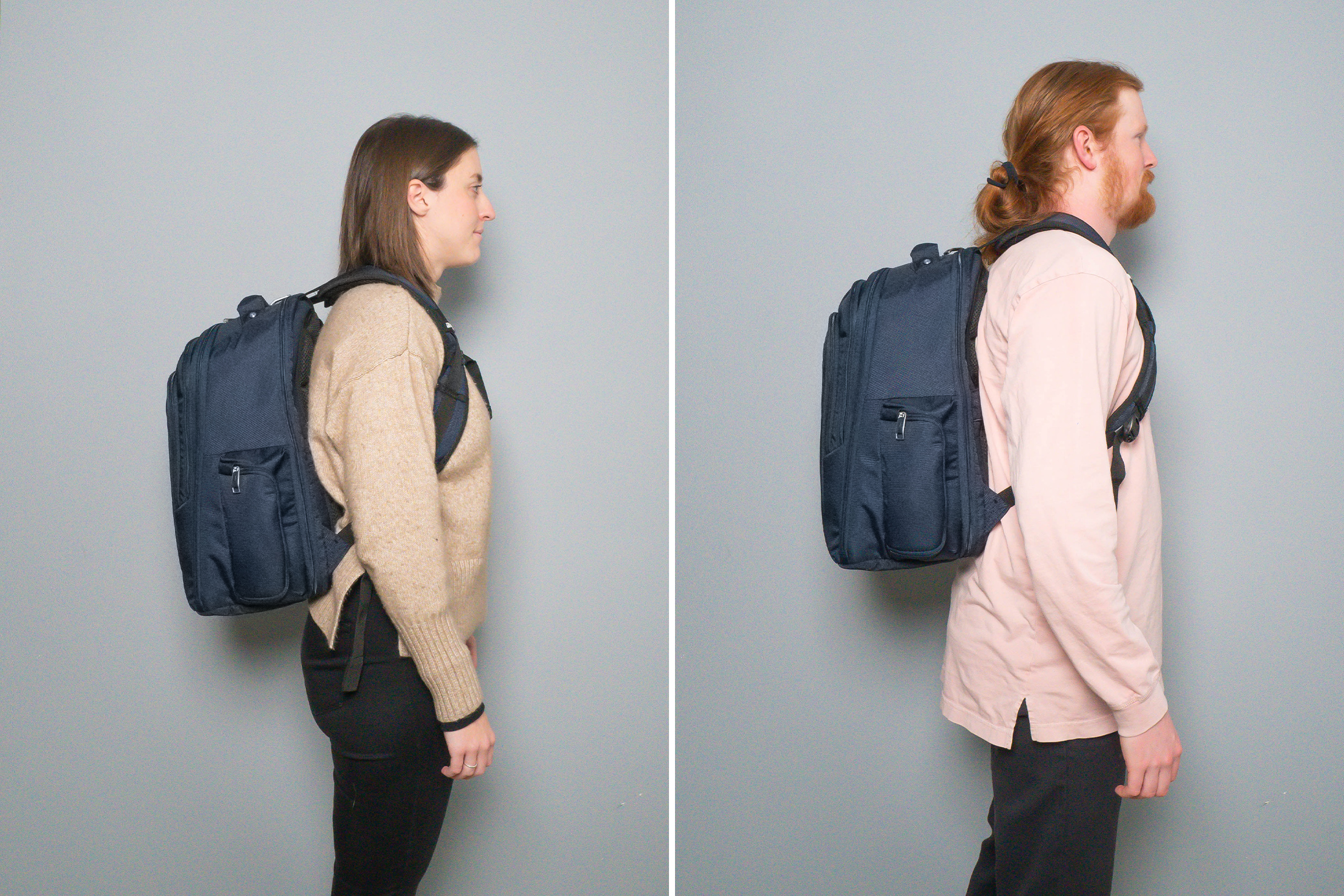 As already mentioned, the Maxlite 5's unusual back panel arrangement has the most significant impact on overall comfort. We can really feel the upper padded sections around the shoulder blade area. It's definitely something users who've been using backpacks with uniform back panel padding will notice on day one. We've tested the Maxlite 5 for two weeks, and we still haven't shaken off this feeling, by the way.
On the more positive side, the Maxlite 5 is able to maintain its shape and structure well. That's despite a full load or even when empty. Travel backpacks that have a more baggy consistency tend to feel floppy if you don't pack them full enough. That's particularly important if you're the type to use their travel backpack as a daily carry while at your destination to carry a few things you'll need while you tour the place.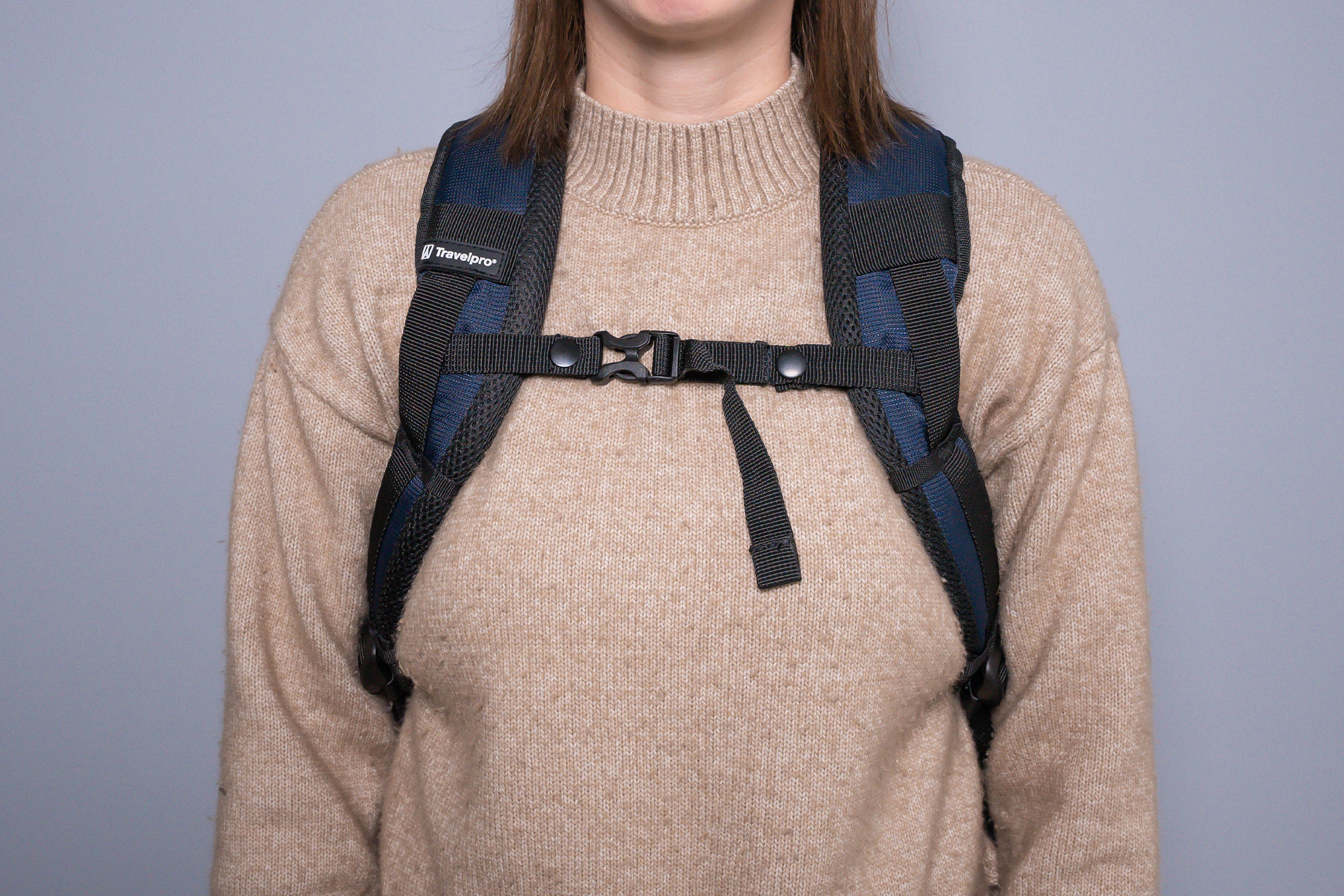 While the sternum strap does technically serve its purpose, the way it's mounted lets it down. There's too much give, letting it slide around too freely during brief moments where tension is released. A quick sit or a shudder of the shoulder can shift its position, and that might put off those who use sternum straps regularly.
Inside The Backpack
At the front of the Maxlite 5 is a slip pocket where you can quickly stash everyday items like your smartphone, wallet, and keys. Mind you, it's an open pocket (i.e., not secure), so you'll only want to do this as an "I-need-to-open-this-door-so-I'll-put-my-phone-here-for-now" solution. Technically, there is a built-in magnet as a means of closure, but it's so weak that it barely offers any resistance to opening.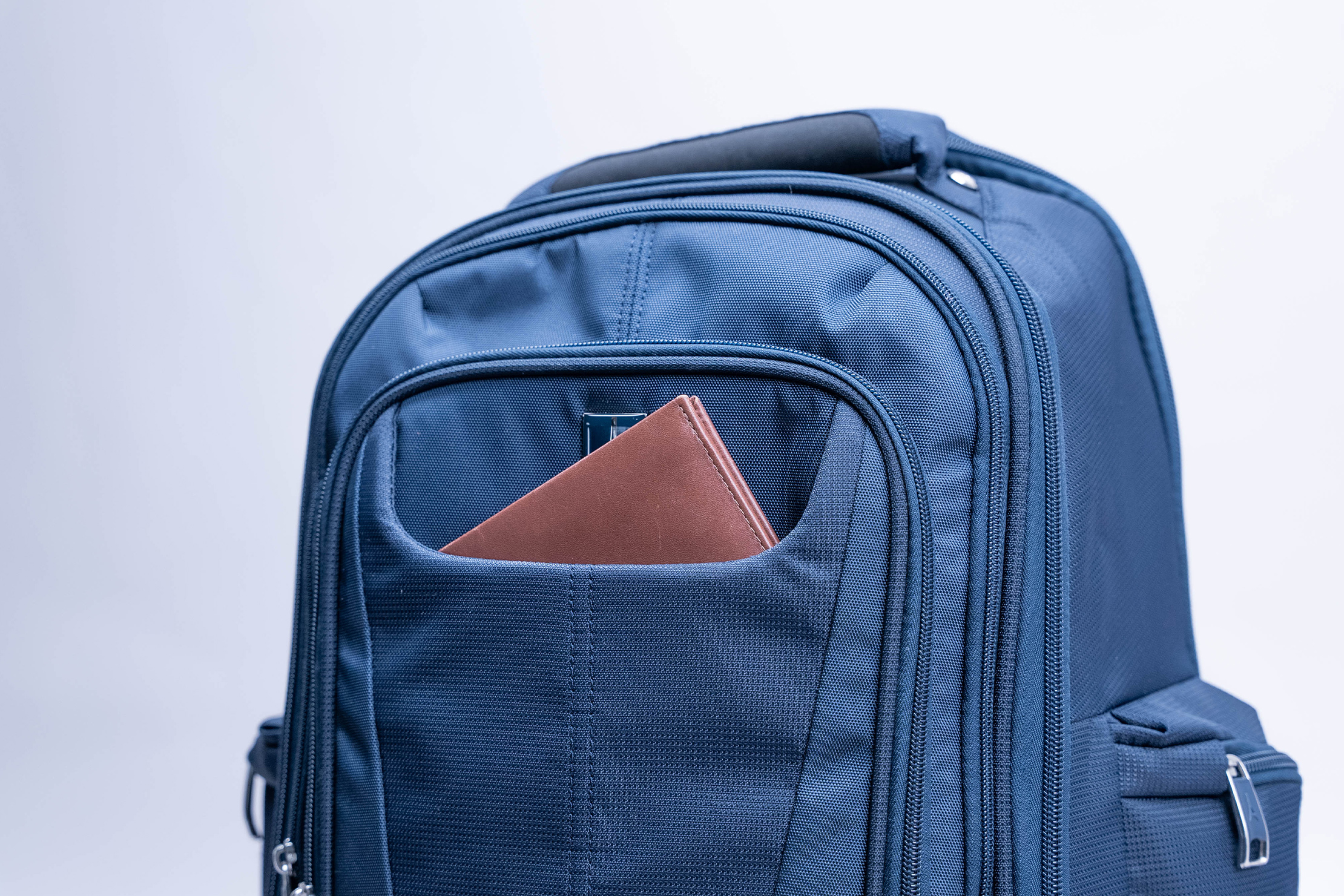 Each side of the Maxlite 5 gets a bottle pocket, but we're not quite convinced of their functionality. Both of them are zippered, and opening them reveals neoprene gussets which allow them to expand. Two problems, though: First, we couldn't find a bottle that fits if we wanted to have the zipper closed. Second, if we don't mind using them as open-top bottle pockets, the neoprene gussets are too shallow to securely hold a bottle like an 18-oz Hydro Flask—not by our standards, at least. We instead opt to use the side pockets for other everyday items like a power bank or gloves that we use when it gets cold.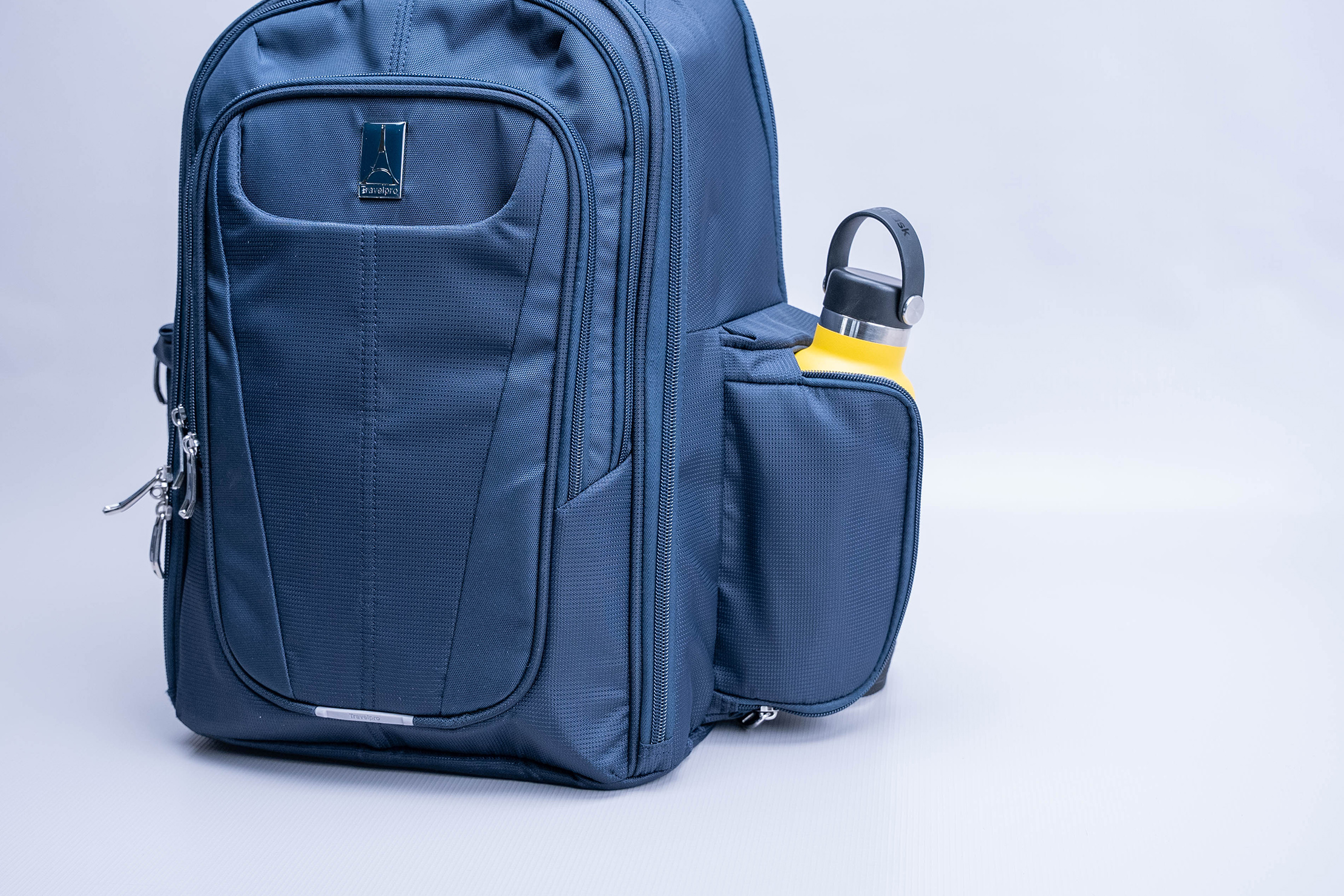 Behind the front slip pocket is a front compartment (the first of two, anyway). It's a fairly roomy compartment with only a mesh pouch for organization. It's also fairly deep, while access is wide, thanks to gussets at the sides. The downside with these gussets is that they're quite close to the zipper track, where they get caught from time to time.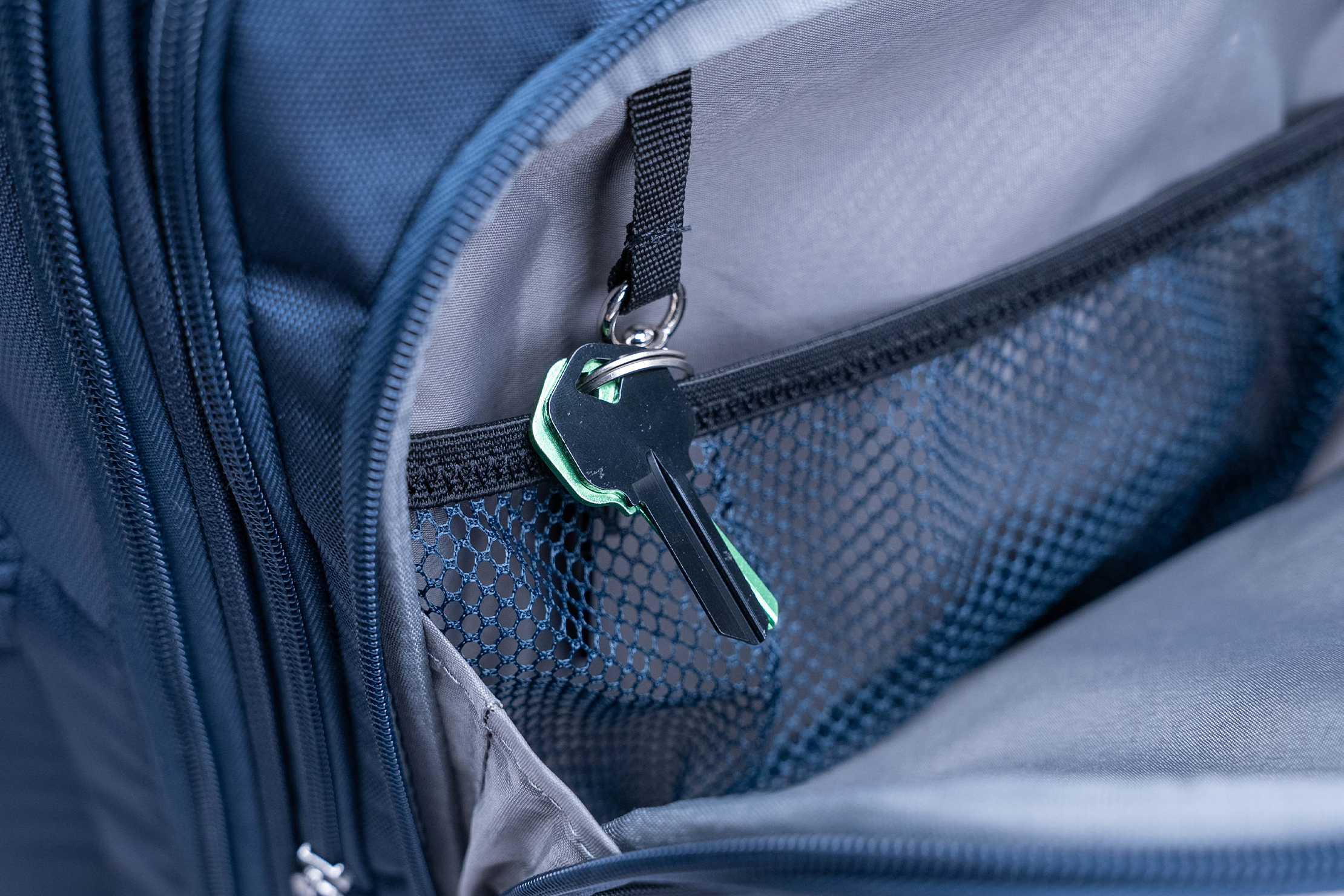 Behind that front compartment is another zippered compartment. This one features more organization by way of two zippered pockets arranged on top of each other. The bottom one is made of mesh, which is strange considering it's not very easy to see from that position, not to mention it's not easy to reach either. However, we do use the top one frequently for tech accessories like a mouse, a charger, and cables. This compartment also features a gusseted opening which, like in the previous compartment, aids with accessibility. At the same time, though, these gussets can also get caught in the zipper.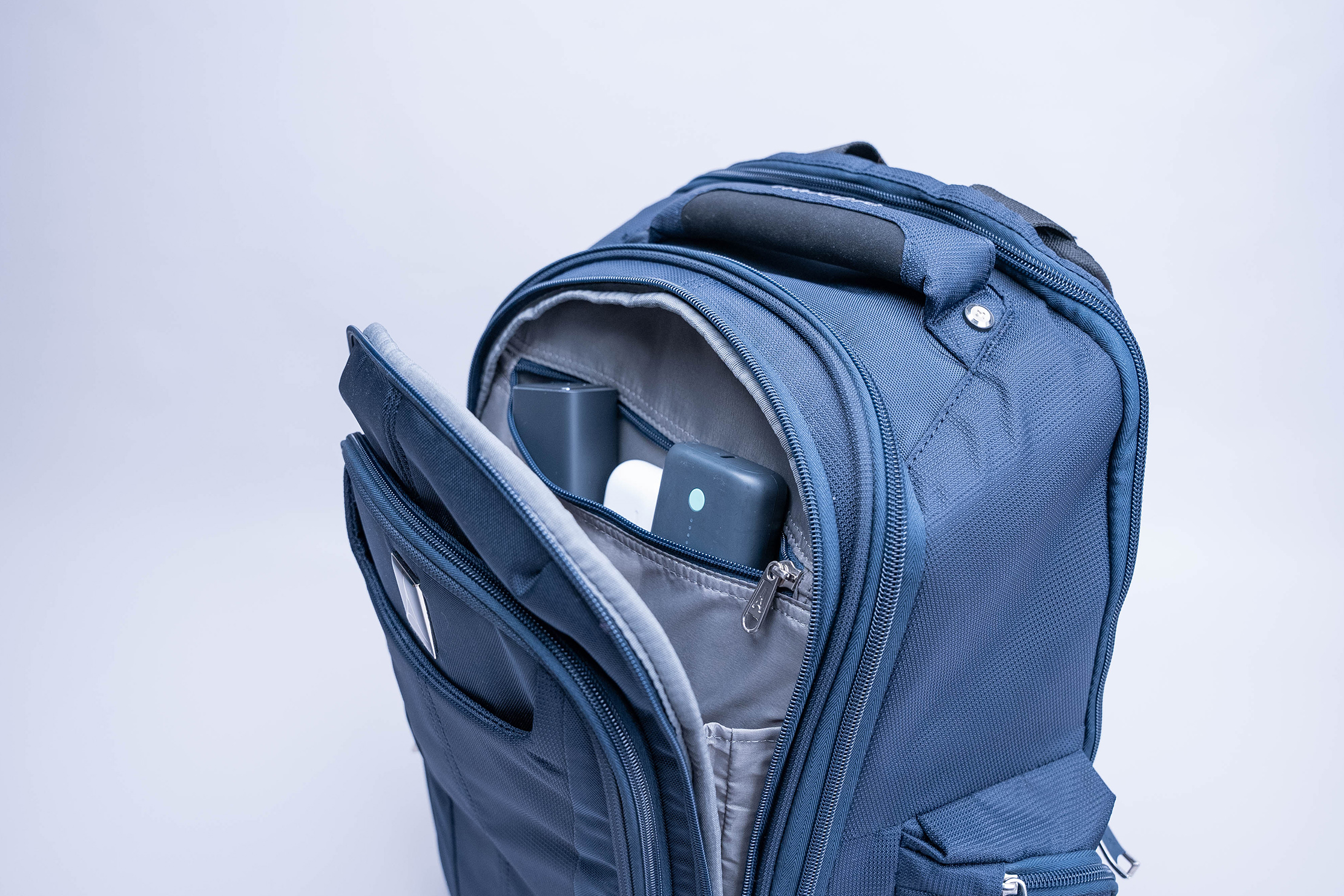 Now let's get into the main compartment. Experience would've led us to believe that the Maxlite 5 has a clamshell-style main compartment. You know the kind; the one where the front swings open like a door, as most luggage-style bags—like the Aer Travel Pack 3 or TOM BIHN Techonaut 30—do. However, Travelpro takes a more interesting route with their design.
The main compartment's zippers still go all the way to the bottom edges, but the whole front only swings out about 30 degrees thanks to—yep, you've guessed it—gussets. For those who aren't keeping score, that's five sets of gussets, and that's not going to be the last one before the review ends. Unlike the previous gussets, though, we have more positive things to say about this one.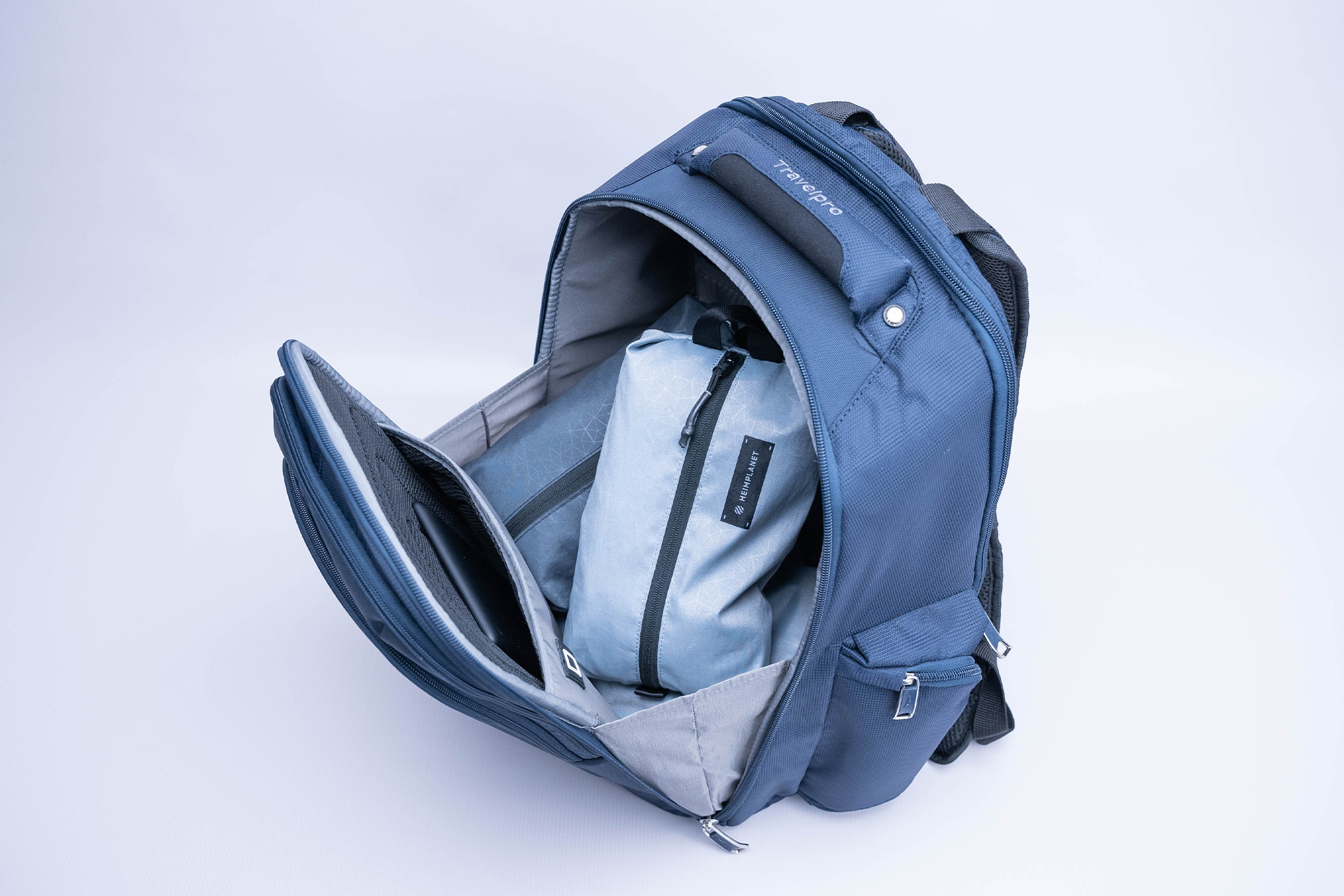 This style of opening makes it very convenient to just drop in even large packing cubes. Plus, whereas other clamshell-style travel backpacks need to be laid down for unpacking, you can do this with the Maxlite 5 while it's upright. Now, a gusseted opening does have its limitations. For example, while it's tempting to fill up all the empty space it presents, remember that you still have to close it, so you do have to leave some room unoccupied. That's not to say that the Maxlite 5 doesn't feel roomy; it's still a 27-liter backpack with plenty of space for days' worth of clothing.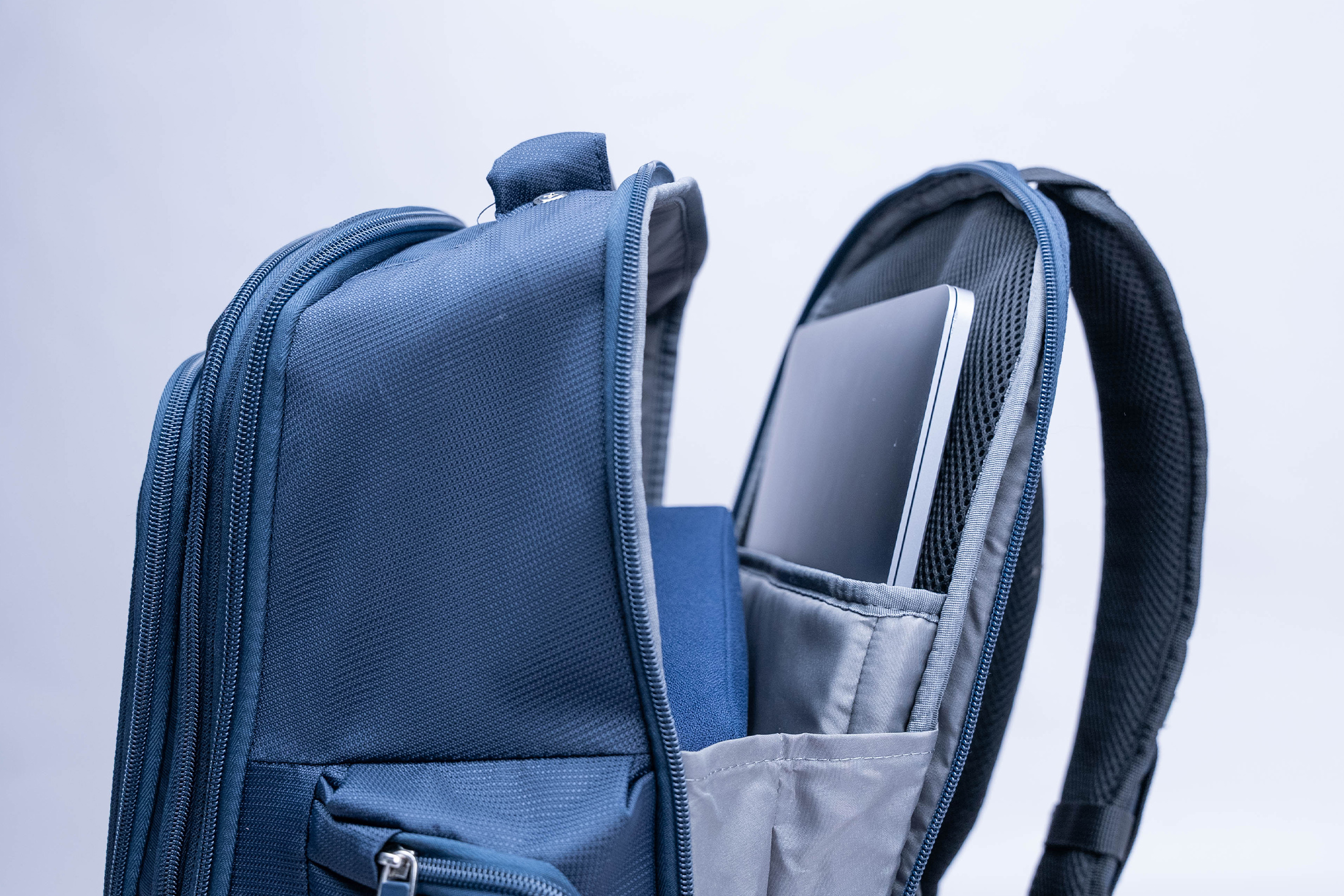 The main compartment has a built-in pocket for organization as well. At the front side is a padded tablet sleeve. We don't carry a tablet with us, so that's where we put a travel keyboard instead. It is a bit strange to have the tablet sleeve inside the main compartment instead of the laptop compartment. However, since access is fairly easy because of the gusseted opening, we're not too bothered by it.
Yes, there is a dedicated laptop compartment at the back, and yes, it also has a gusseted opening. Swing it open, and you're greeted by a padded laptop sleeve with a substantial false bottom. Travelpro has a handy device compatibility tool checklist. It's a bit rudimentary, though, and not that accurate. They say a 16-inch MacBook Pro won't fit, but the mockup we use fits with room to spare. Because of the gusseted design, there's also some room to play with here; good news if you're a digital nomad who carries a large tech pouch.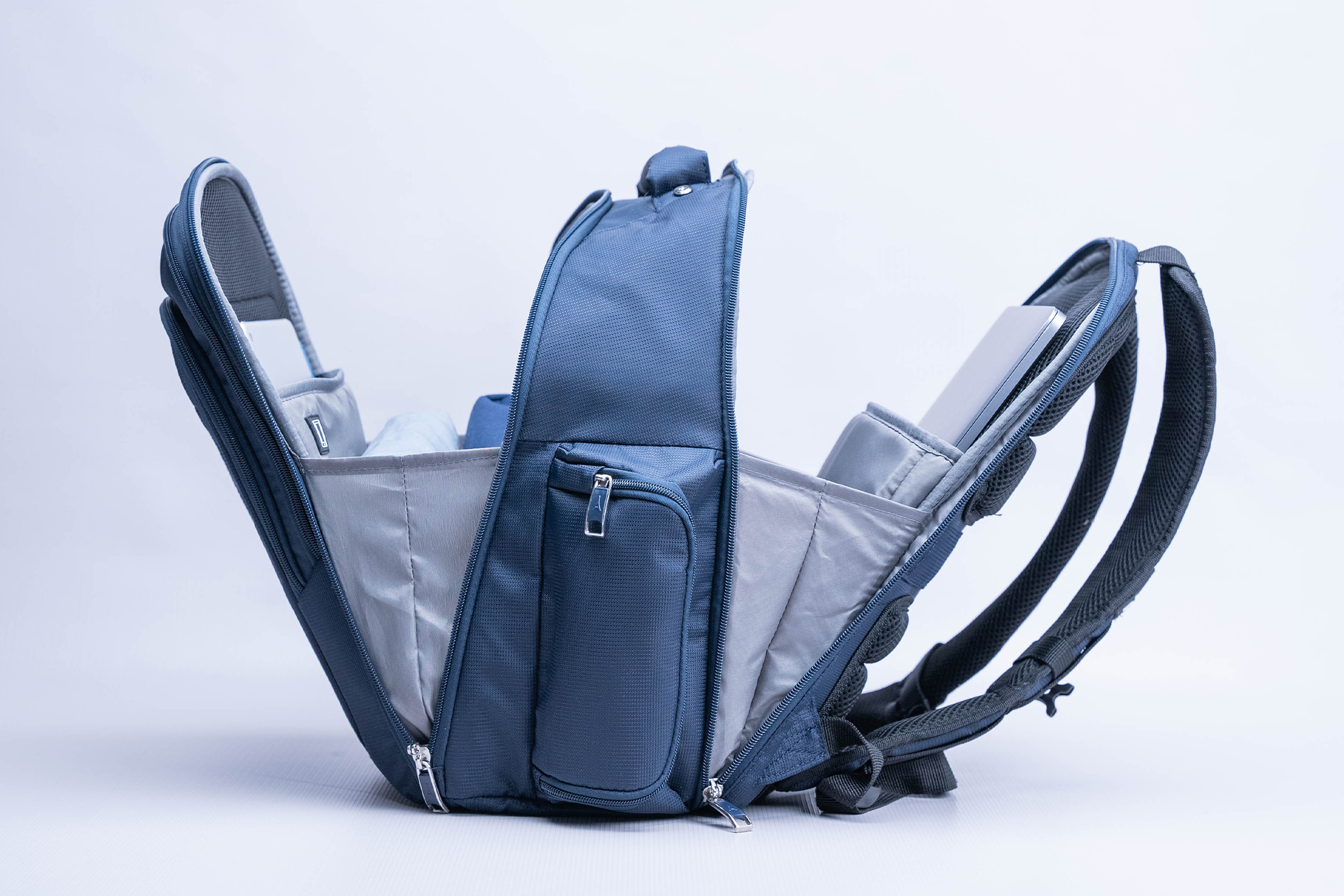 Admittedly, the whole setup looks a bit comical once you have both compartments fully open. The Maxlite 5 starts to look more like an accordion, and everything seems just a bit overkill. That said, while it does feel overboard to have a gusseted opening for the laptop and front compartments, it might feel liberating for those who're looking for space in either or both areas.
Usage Timeline
Initial Usage
Condition: Excellent
Very structured and stands up on its own
Handle is sturdy—almost too sturdy
A few fraying threads upon unboxing, though it looks like it's leftover from the stitching process—the pack is still in good shape
2 Weeks of Use
Condition: Excellent
Gusseted design feels a bit overkill, though it really helps with visibility while looking for gear
Material is still in great shape overall, and the loose threads haven't gotten worse
Spacious design, though not all the pockets are as functional as they could be
Access the Pro Community Discussion
Get your questions about the Travelpro Maxlite 5 Laptop Backpack answered from our team and the Pro Community right here on the page. Plus, join discussions with other members about gear, guides, and more.
Other Bags & Luggage Reviews