Chrome Industries Volcan Backpack Review
The Chrome Industries Volcan Backpack's distinct boxy shape and top-zip design mean easy main compartment access even for a top loader.
Our Verdict
Unlock the Pro Summary
Save time. Get access to brief summaries of our reviews so you can browse and make decisions more efficiently.
Pros
Main compartment access is relatively painless for a top loader
Rigid structure means it can stand on its own
Front pockets have generous independent volume
Cons
Sternum strap feels too big
Laptop sleeve lacks a false bottom
No easy exterior access to quick-grab pocket
Recent Pack Hacker Video
Technical Details
Capacity

31l

Weight (lb)

3.4 lb (1.5 kg)

Denier

1050D

Dimensions

19 in x 12 in x 6 in (48.3 x 30.5 x 15.2 cm)

Notable Materials

Nylon, Polyester, YKK Zippers, Duraflex Hardware, EVA Foam, Tarpaulin, Thermoplastic Polyurethane (TPU)

Laptop Compartment Size

15"

Warranty Information
Full Review
Get up to 10% off Chrome Industries • Join Pack Hacker Pro
Chrome Industries' bags can feel a bit overkill and intimidating when you first set your eyes on them. Take the Mini Kadet, for example. With a name like that, you'd expect it to be small and simple. However, the Mini Kadet is a five-liter rectangular sling that's clad in enough nylon to give it enough structure to make some daypacks blush. Oh, and it has a huge stainless steel bottle cap opener, because why not? Yet, for all of its extra-ness, the Mini Kadet feels reassuringly functional. Every feature has a use, and nothing feels like it's there for styling's sake.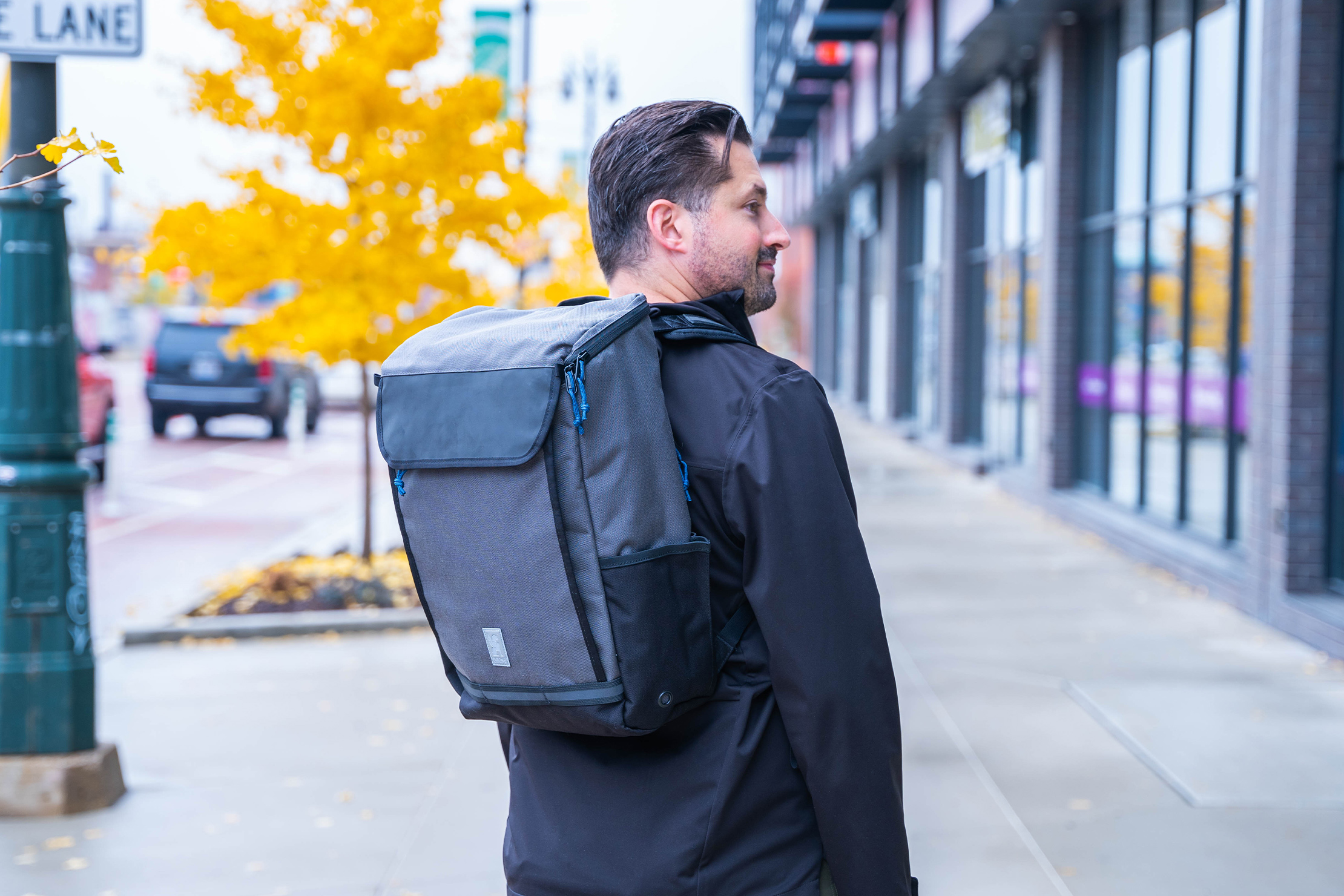 The Volcan Backpack carries on that philosophy. Sure, the boxy and rigid structure of the bag may seem unwelcoming at first, but it's actually a comfortable backpack to carry around. Furthermore, its top loader layout, courtesy of its top-zip design, may not be everyone's cup of tea, but if you decide to try it, it makes the transition easier to make. In other words, the Volcan is the kind of backpack that you can only really judge its functionality once you try it out, not just by looking at it. Fortunately, that's what we're here to do, so let's jump in.
External Components
The main fabric on the Volcan is 1050-denier nylon with 0.5mm TPU with reflective film laminate. That only applies to this colorway, though, so you'll have to double-check depending on which one you get. Anyway, the heavy denier alone should give you an idea of how structured the Volcan feels. That said, the biggest contributing factor to that structure has to be the frame sheet in the back panel. All of this structuredness isn't solely for maintaining the Volcan's boxy shape, though. It also allows the bag to stand up pretty well without the aid of a nearby chair leg to prop it up.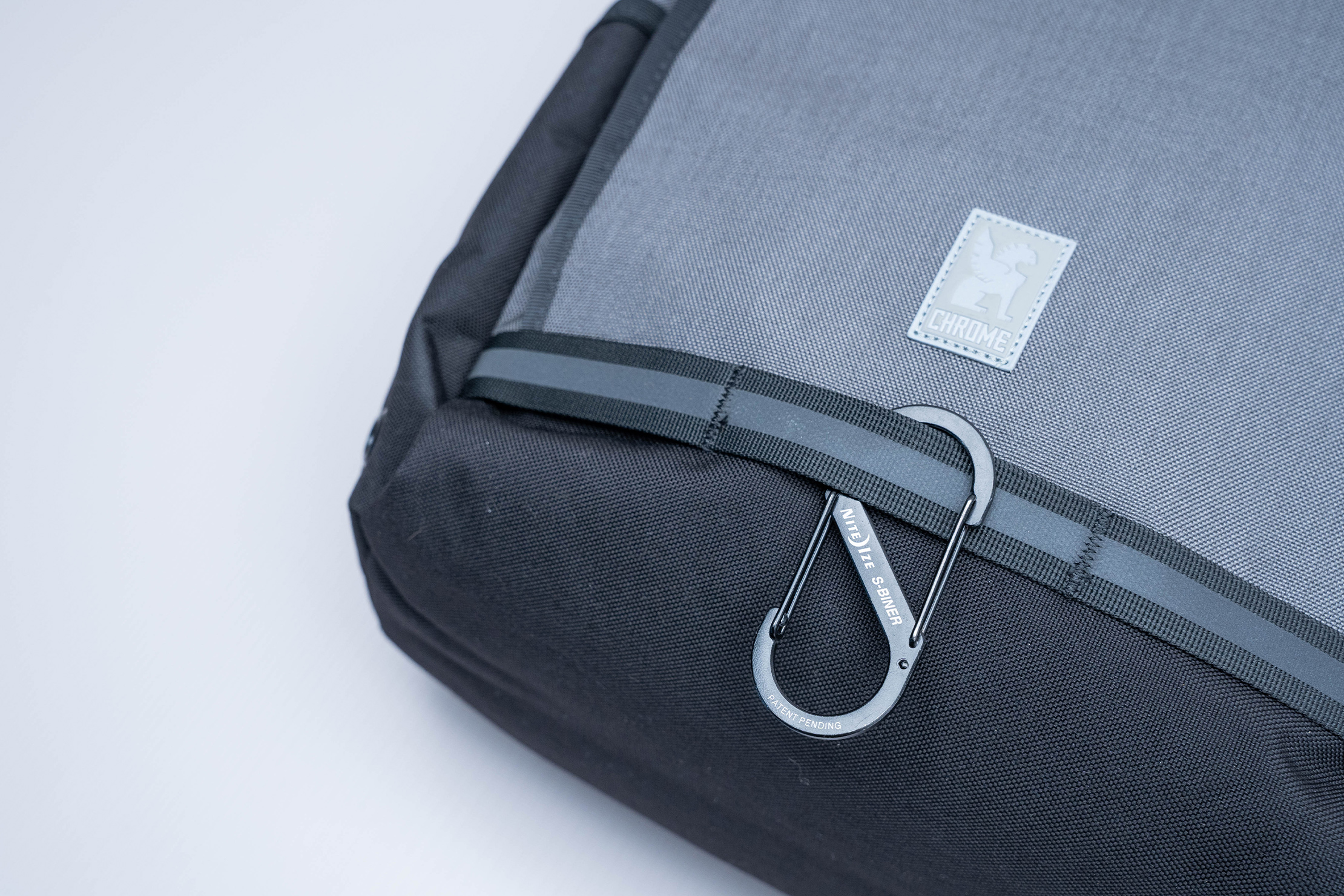 As for exterior garnishing, there's a set of webbings at the front just below the logo. Loops like these are always handy for attaching additional accessories like carabiners, bike lights, or keychains. Kudos to Chrome Industries for making them blend into the Volcan's design, too. They don't stick out and sit very flush against the bag's fabric. You also get the option of hanging accessories on the pull tabs that come with the main compartment's zippers in case the webbings aren't enough.
There are also two bottle pockets, one on each side of the Volcan. At first, these pockets don't seem to have a ton of stretch to them, and that's correct. However, they do have a bit of elastic that gives very limited expansion, but definitely not enough to hold in a slim 18-ounce Hydro Flask. There are no D-ring or attachment points nearby to anchor a bottle's handle, so we wouldn't tip the Volcan if there's a bottle in either pocket.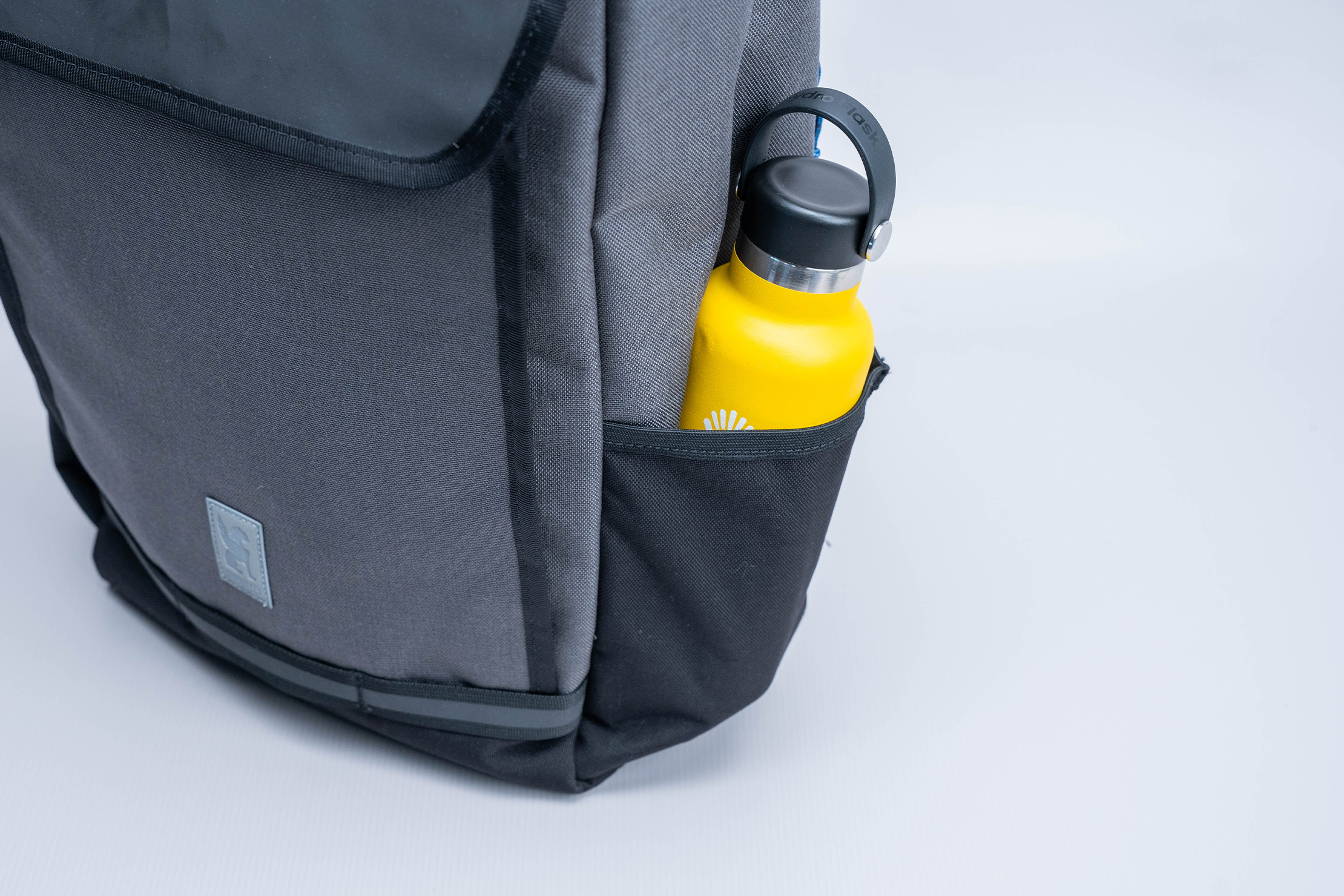 It's worth noting that the bottle pockets do have drainage holes, but they're located relatively high from the floor. This means some rainwater can still settle at the bottom, so we don't recommend relying on these holes for completely drying the pockets.
Between the shoulder straps is a small grab handle. It's a simple strip of nylon that's folded over to give it some semblance of padding for comfort. Otherwise, it's just a straightforward handle that's really only meant for carrying the bag around short distances (i.e., across a room, out of a car, from overhead bins, etc.).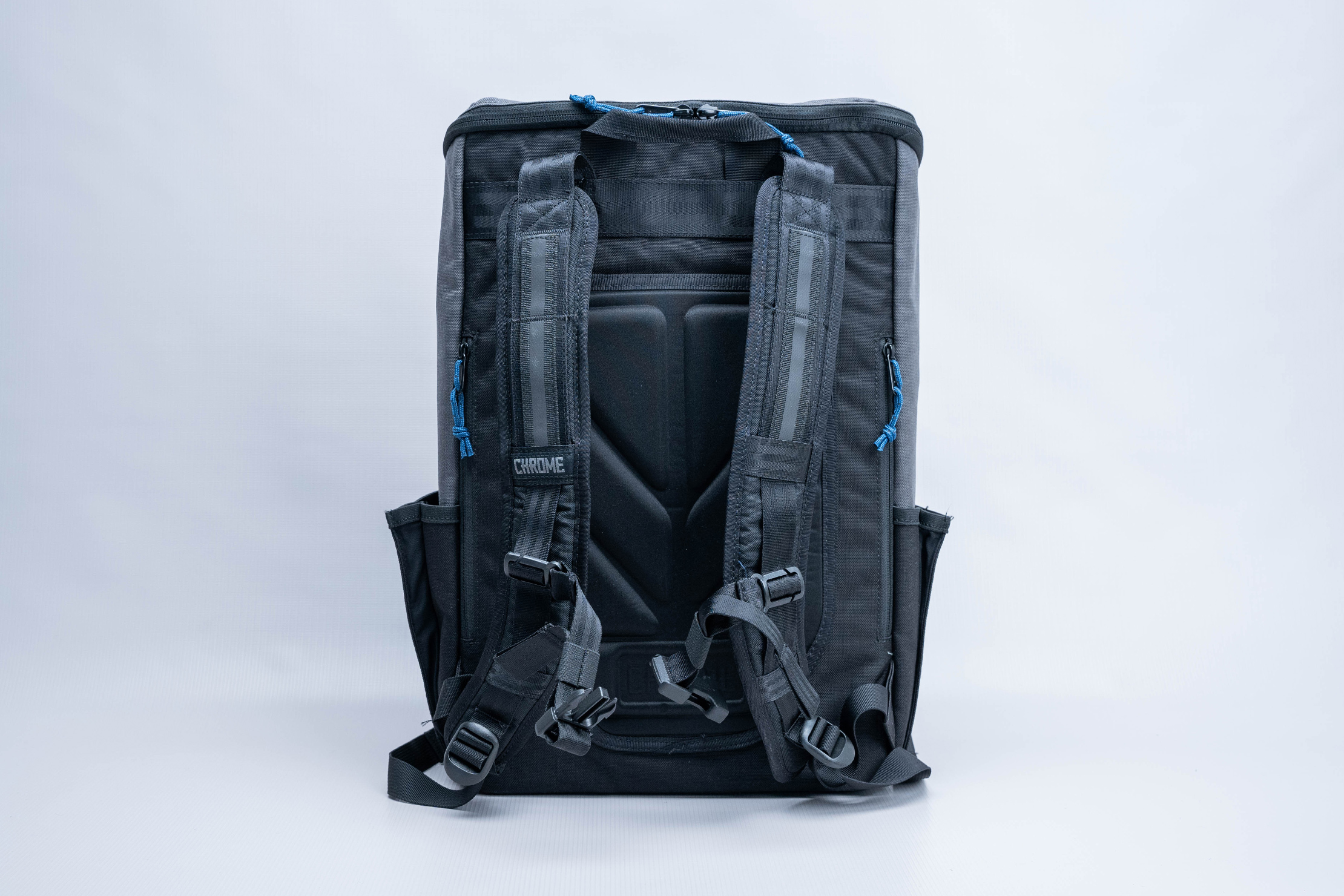 Now it's time to look at the Volcan's harness system, starting with the shoulder straps. The best thing about these straps is that, despite looking very beefy, they're anchored along the top via thin seatbelt-like material. It's the same material used for the webbings at the front, and its thinness allows the straps a wide degree of movement. It's the same technique we've seen on bags like Bellroy's Oslo and Venture Backpack 22L, and it's an effective one.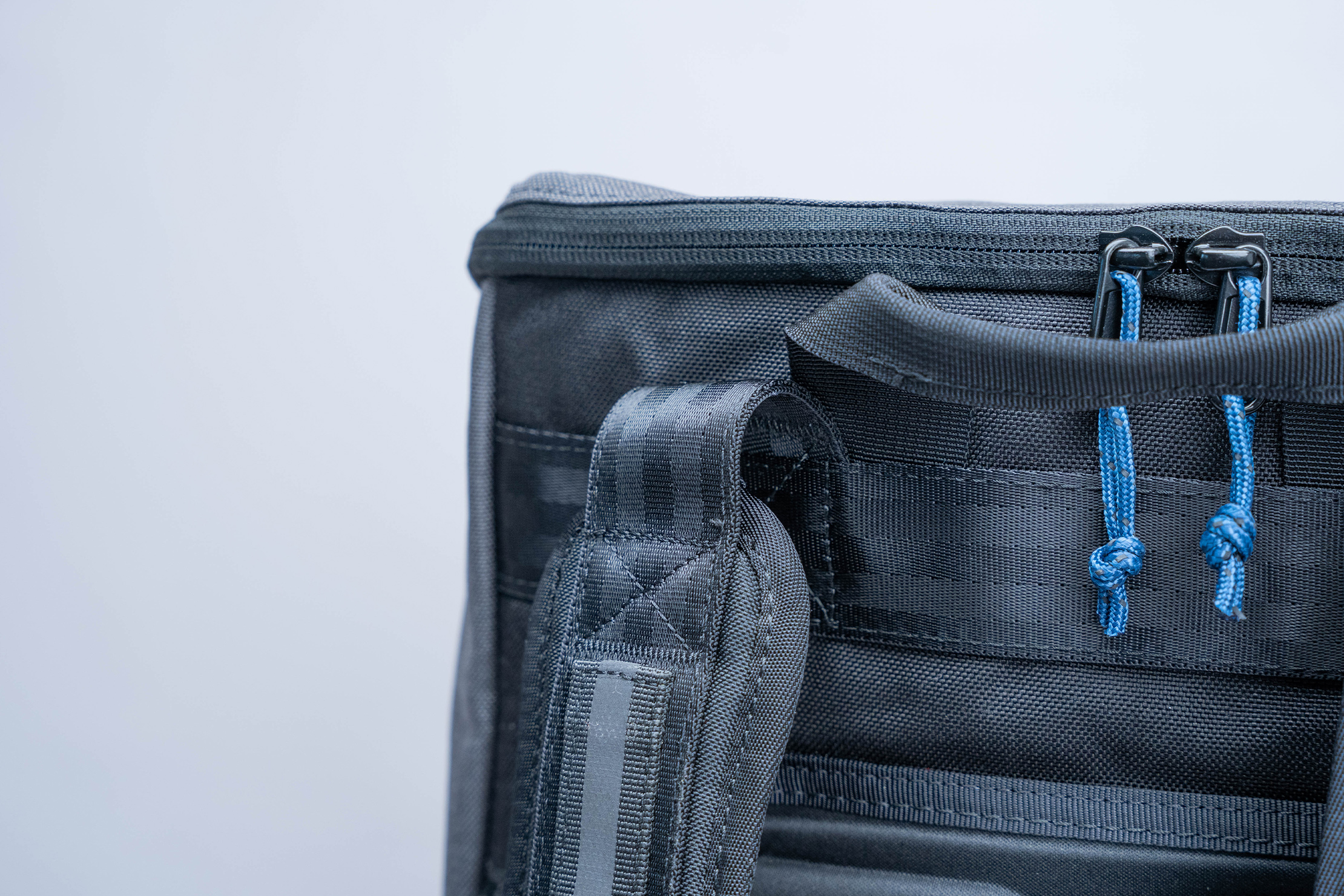 Below that is the sternum strap and its rail that is also made of seatbelt-like material, this time much thinner. While we do like this kind of sternum strap that can slide, the hardware Chrome Industries is using here is arguably overkill. Pictures may not do it justice, but believe us when we say that the buckle is very beefy. It's worth pointing out that Chrome Industries does have a habit of putting large buckles on their straps (the Kadet and Mini Kadet come to mind).
Still, it might take some time to get used to since you're very aware of its largeness when you buckle up the first time. Excess strap comes out of both sides, though strap keepers keep them managed. The result is a very thick-feeling sternum strap that makes you somewhat self-conscious like you're wearing a bowtie of sorts.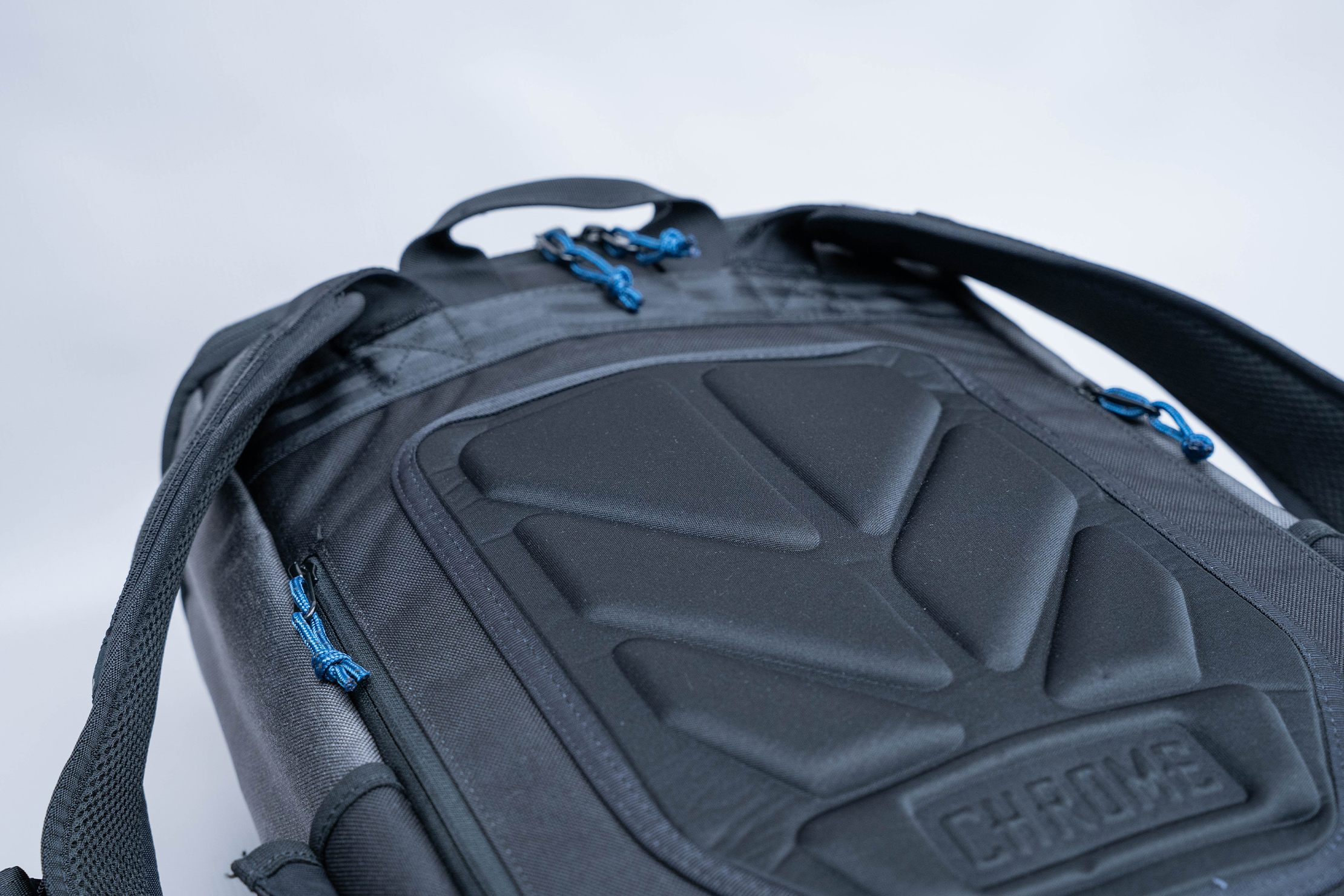 The back panel has a very distinct pattern that wouldn't look out of place on Batman's suit. Wide and narrow air channels break up the EVA foam padded sections. That said, the area that's padded covers a relatively small area of the Volcan's entire rear, so breathability isn't too much of an issue overall.
Fit Notes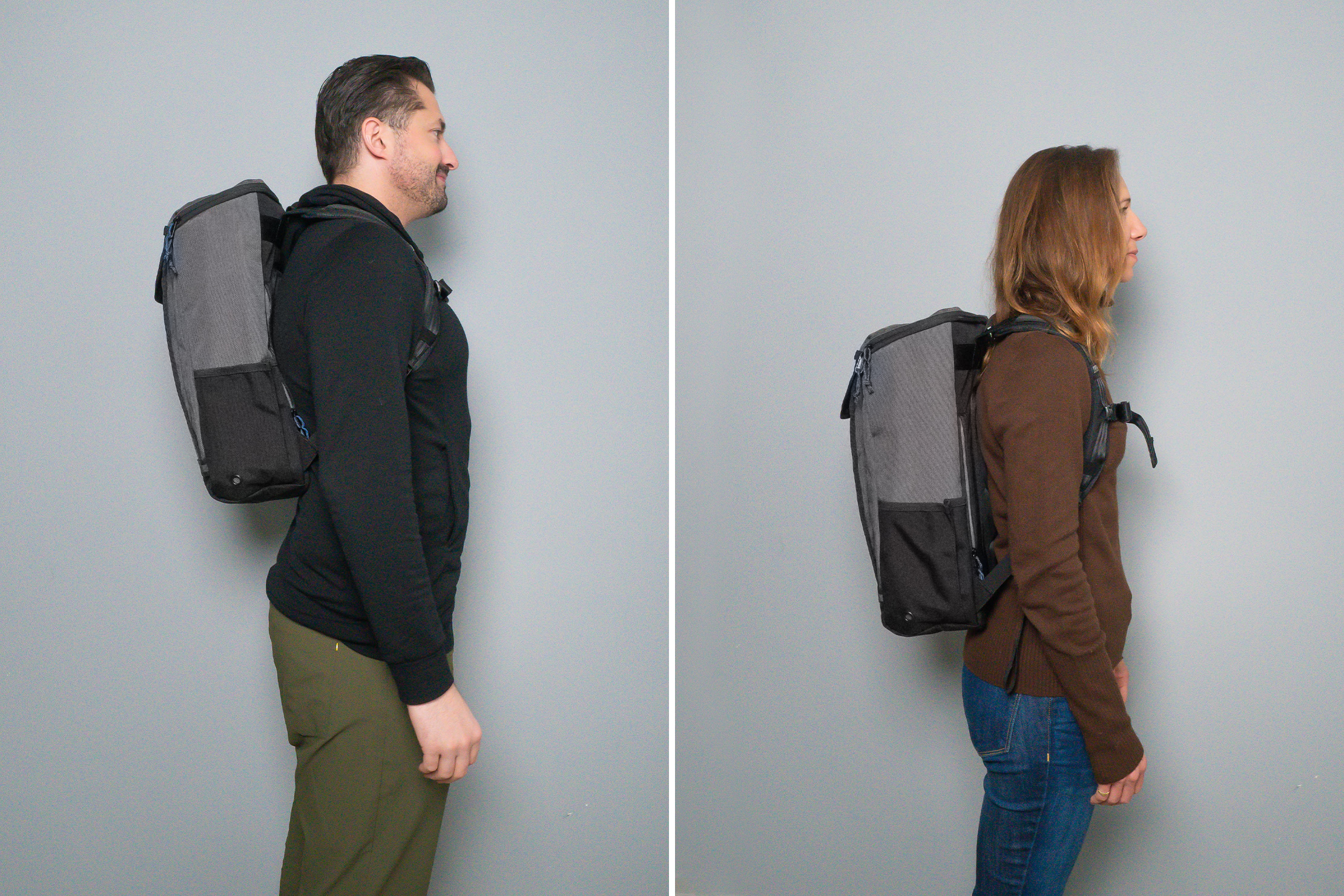 Sure, the Volcan looks like a box with a pair of shoulder straps, but we don't really mind. In fact, we think the boxy shape gives it a personality, one that easily distinguishes it from typically more rounded designs. The straps may be bristling with details, but the rest of the Volcan looks rather smart, with clean lines that don't taint its geometric look—it's simplicity that stands out.
You do get four choices of colorway at the time of writing, namely Black Tarp, Olive Branch, Black Tarp / Clear, and Fog, which is the one we're sampling in this review. The Clear variant of Black Tarp is easily the most eye-catching because it turns the front pocket into an aquarium where the fishes are your gear. The TSA would probably love it, but it's maybe not the best if you value privacy for your quick stash items.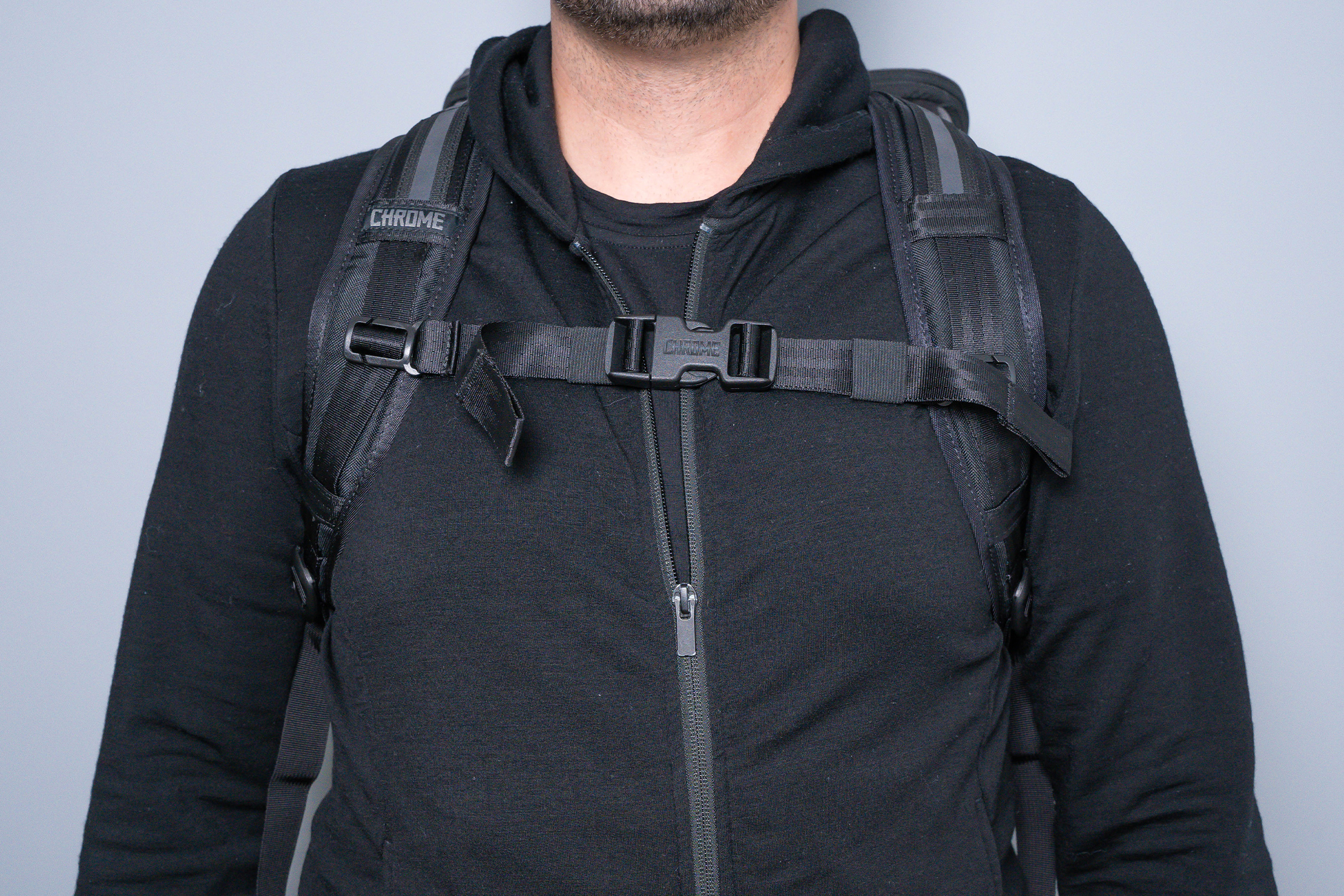 In terms of comfort, the one thing that really bothers us is the sternum strap. Don't get us wrong; it gets the job shifting the load closer. However, it really makes its presence known because of its chunkiness. It's a bit like bringing a teddy bear everywhere you go. Comfortable? Yes. Makes you self-conscious? Also yes.
Fortunately, we have zero complaints about the rest of the Volcan's harness system. The shoulder straps have more than enough padding to cushion the 31-liter pack even when we have it fully loaded. We especially appreciate the wide range of movement thanks to the thin material connecting the straps we mentioned earlier. It makes the Volcan not constricting to wear even for those with broad shoulders, which may come as a surprise given its boxy and rigid looks.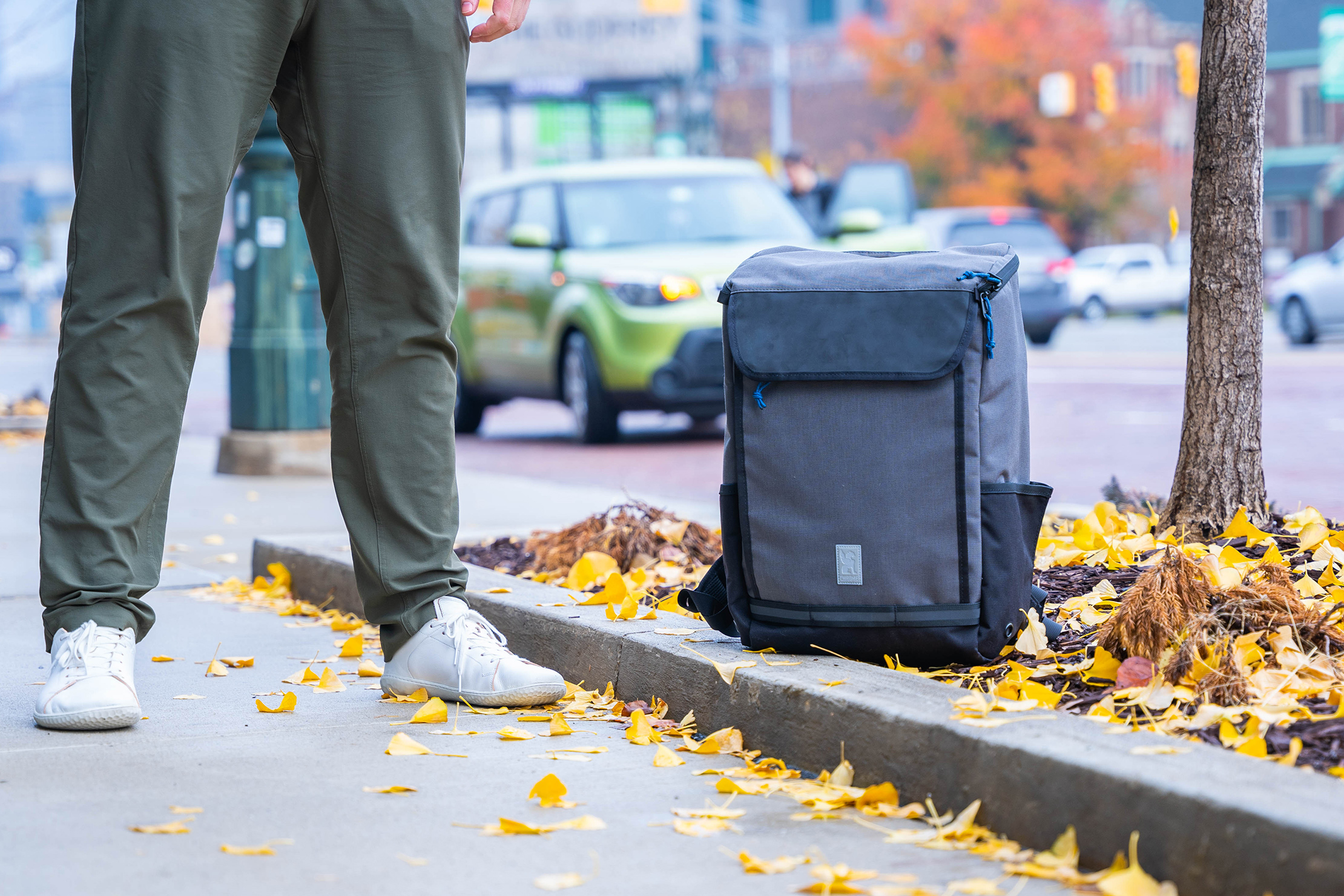 The frame sheet and the Volcan's overall structuredness are also huge factors in comfort. Some may prefer a softer and more flexible feel, but we like this just as much for the added support. It's not so stiff that it feels like we're leaning against plywood, either, in case you were wondering.
Inside The Backpack
Sticking with the back panel, there are pockets here despite not seemingly having the room or the flexibility for them. There are zippered openings on either side. This may lead you to think that it's a luggage handle pass-through. Unfortunately, they're independent slip pockets, with a 50-50 split in depth.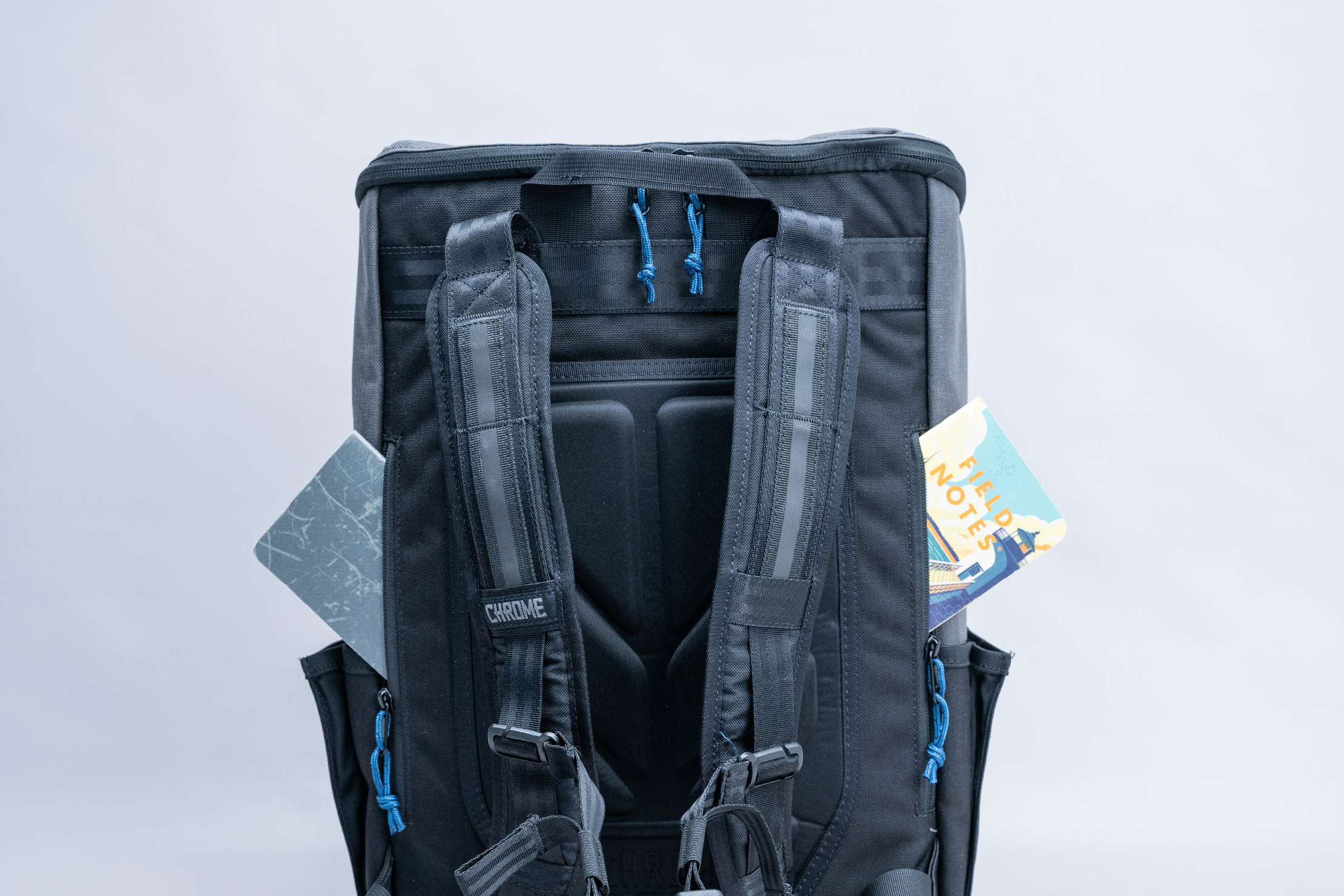 Of course, since these are pockets that are adjacent to the back panel, we wouldn't store anything bulky or misshapen. Items like keys or thick wallets can easily break the back panel's relative flatness. Instead, we'd keep flat items like tickets, passports, and cash in these pockets since their location makes them quite secure as well.
For bulkier items, you're much better served by the Volcan's front pockets. Both are secured by a hook and looped flap and share gussets at the side which gives them room to expand. The frontmost pocket has enough depth that we wouldn't drop anything too small inside of it. The good news is that the bigger compartment behind it houses an admin panel with three pen silos and a liner pocket. The liner pocket is, admittedly, a bit too big in our opinion, but it gets the job done.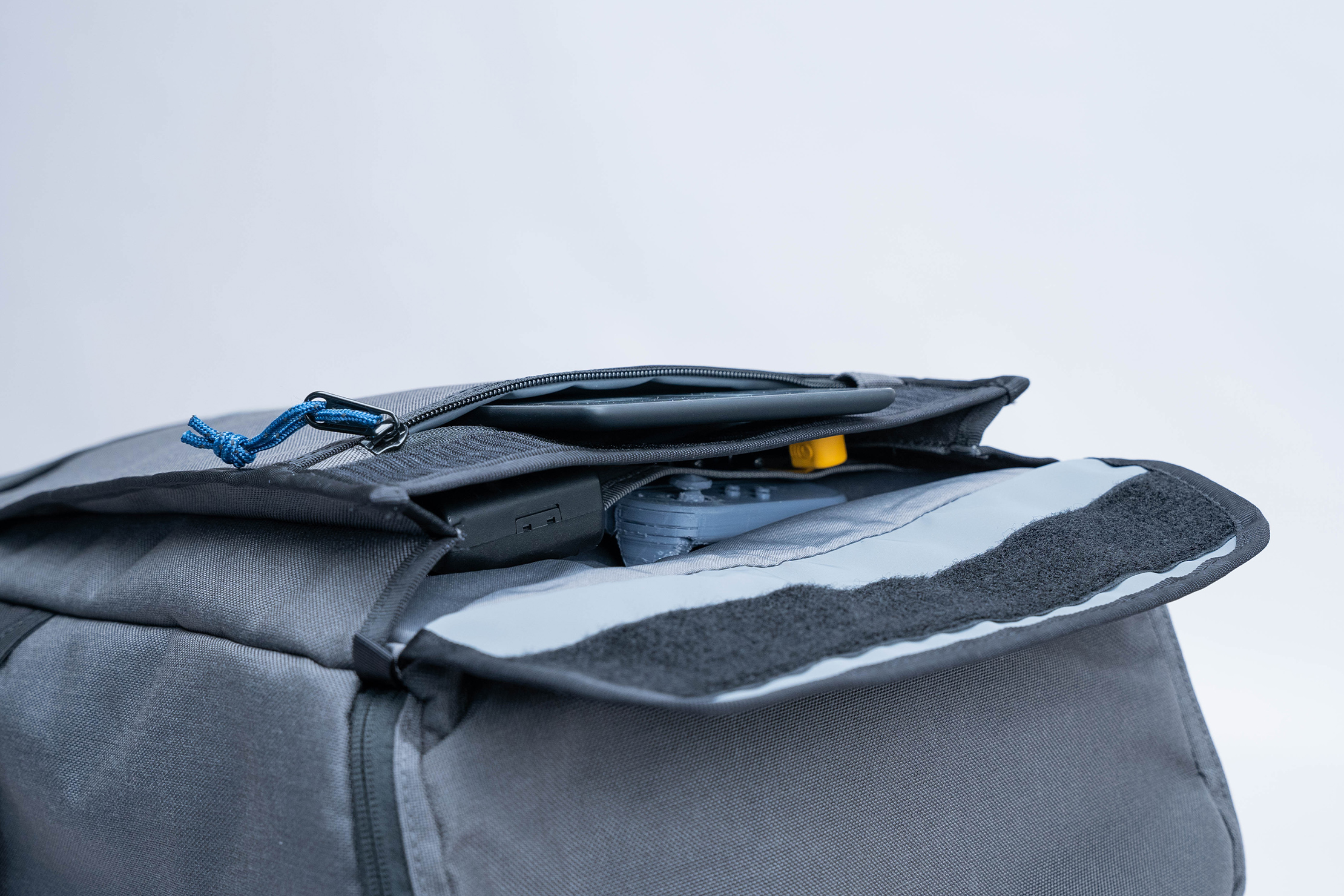 You can also slip a tablet behind the admin panel, then dump other bulky items in front. Just keep in mind that the main compartment can rob some of the space from these front pockets. As with any bag, some packing strategy is required if you want to truly maximize the available space.
The core draw of the Volcan is its top-zip style. This is different compared to the more typical horseshoe-style and clamshell-style openings, both of which arguably offer larger room to maneuver gear in and out of the bag. The advantage of a top-zip style, though, is a much more top-down viewing angle-friendly opening. If you're like us, who like having their backpacks on the ground while we type away at a desk, then you already know where this is going.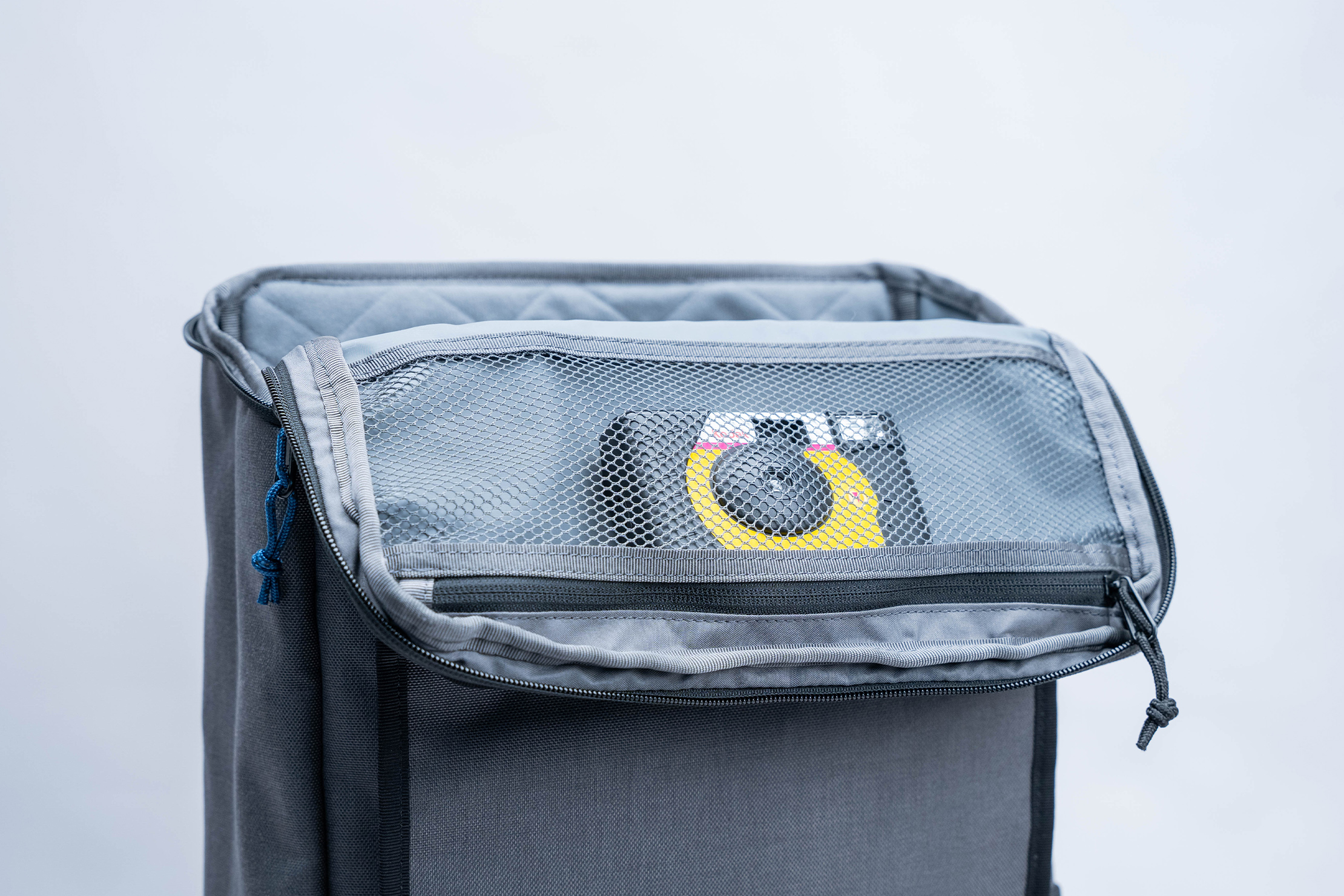 See, in a horseshoe-style opening, you're often left with the backpack's opening partly obscured by its "roof." This is particularly annoying if the backpack's laptop sleeve is in the rear of the main compartment. Case in point, it's one of our gripes with the Pacsafe X SLNT Anti-Theft Backpack, a pack with a roof that got in the way of its removable laptop sleeve.
Meanwhile, the Volcan's top-zip opening provides relatively easy access to its built-in laptop sleeve. The top-zip itself has two zippers, both of which are surprisingly easy to get around the Volcan's sharp corners. We've seen backpacks with curvier shapes that have zippers that struggle to go around them, so we're glad that isn't the case with the boxy Volcan.
Underneath the top-zip is a mesh pocket. Since the zippers are easy to operate, we've no issue using this pocket for our smaller quick-grab items like earphones, lip balm, gum, and card holders. That said, we wish there were a way to access this pocket externally since the Volcan doesn't have a quick-grab pocket of this size. The rear pockets are too slim, while the front pockets are either too deep or not as accessible.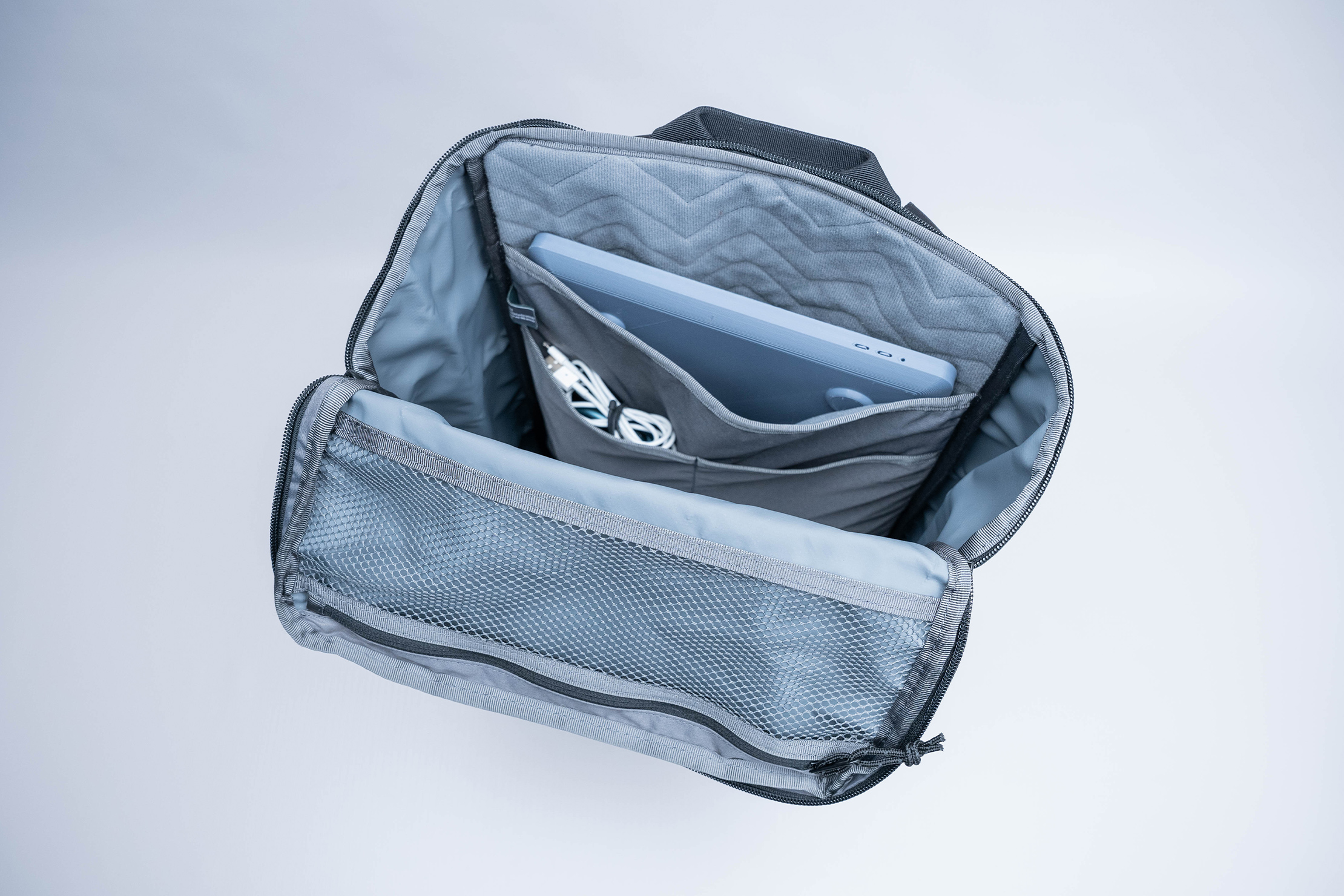 The inside of the main compartment is, unsurprisingly, rectangular. Since the Volcan is essentially a top-loading backpack with a tall aspect ratio, most of the space is vertically distributed. This means gear stacking on top of each other is more or less inevitable, and that's the caveat with a top loader like the Volcan—you'll have to take out the gear that's on top before you can take out what's underneath. Again, you'll want to pack strategically since there's a lot of space to work with, and it's easy to fall into the bad habit of just dumping loose gear inside.
Fortunately, there are pockets on the back side that help keeps items separated (at least horizontally). There's the laptop sleeve we've already mentioned (rated for 15-inches, but it fits a 16-inch MacBook Pro with no problem) and two liner pockets in front of it for accessories like a charger and mouse. Unfortunately, the laptop sleeve lacks a false bottom. We feel like this is a missed opportunity since the Volcan already has a strong frame sheet that can absorb impacts.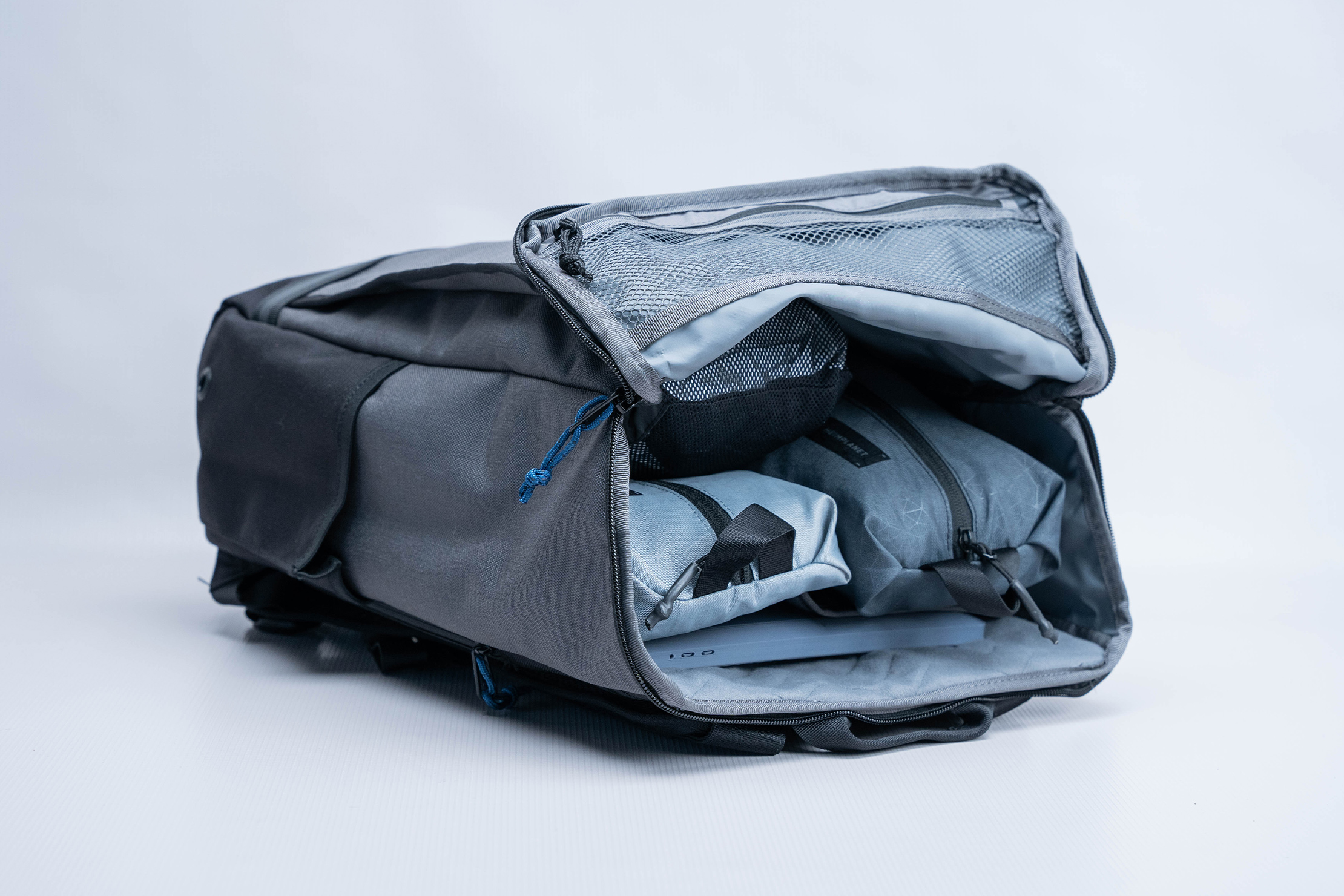 Top-loading backpacks have always been at a disadvantage because of the near-inevitability of gear piling up in their main compartments. The Volcan makes that caveat easier to live with because of its top-zip design that's easy to open—notably easier than a rolltop. It even stands on its own relatively well, which is a great feature to have if you have nothing to prop it up against. So if you've been looking into top loaders, then consider the Volcan—it won't throw you into the deep end head-first.
Usage Timeline
Initial Usage
Condition: Excellent
Bag feels tank-y so far—it's a giant box that holds it's shape, and the sternum strap is beefy
Top 3/4 zipper feels refreshingly simple though it could take a bit of getting used to—just open the bag up and dump items inside
Straps tend to twist around when getting the bag on
Bag stands up on its own very well
2 Weeks of Use
Condition: Excellent
Bag holds its shape well and the frame sheet provides a stiffer structure
Comfortable to wear—the sternum strap is pretty large though
The front pockets are a bit narrow and deep, which can make it harder to get items out
Access the Pro Community Discussion
Get your questions about the Chrome Industries Volcan Backpack answered from our team and the Pro Community right here on the page. Plus, join discussions with other members about gear, guides, and more.
Other Bags & Luggage Reviews