Tortuga Travel Backpack 40L Review
The Tortuga Travel Backpack 40L (V4) has fewer pockets than the 35L Outbreaker it replaces, though the gains in more usable space make it worthwhile.
Our Verdict
Unlock the Pro Summary
Save time. Get access to brief summaries of our reviews so you can browse and make decisions more efficiently.
Pros
Main fabric is recycled
Very supportive hip belt and comfortable shoulder straps
More spacious than its predecessor at the same weight
Cons
Adjacent compartments can rob space from each other
Main compartment's inner flap zips, unintuitively, in the opposite direction
Fewer organization options versus its predecessor
Recent Pack Hacker Video
Technical Details
Capacity

40l

Weight (lb)

4.5 lb (2 kg)

Denier

200D

Recycled polyester face fabric

Denier

70D

Recycled ripstop polyester backing fabric

Dimensions

21.7 in x 13.8 in x 7.9 in (55.1 x 35.1 x 20.1 cm)

Notable Materials

Recycled Polyester, Ripstop Polyester, DWR Coating, YKK Zippers, Woojin Hardware

Manufacturing Country

Vietnam

Laptop Compartment Size

16"

Warranty Information
Full Review
Get up to 10% off Tortuga • Join Pack Hacker Pro
The Tortuga Travel Backpack 40L's name doesn't sound particularly impressive when you first hear it. However, if you dig a little deeper into this backpack's history, you'll see it has pedigree. Four iterations should do the trick, right? Well, that depends on what you're looking for because they've made substantial changes to the Outbreaker it's replacing.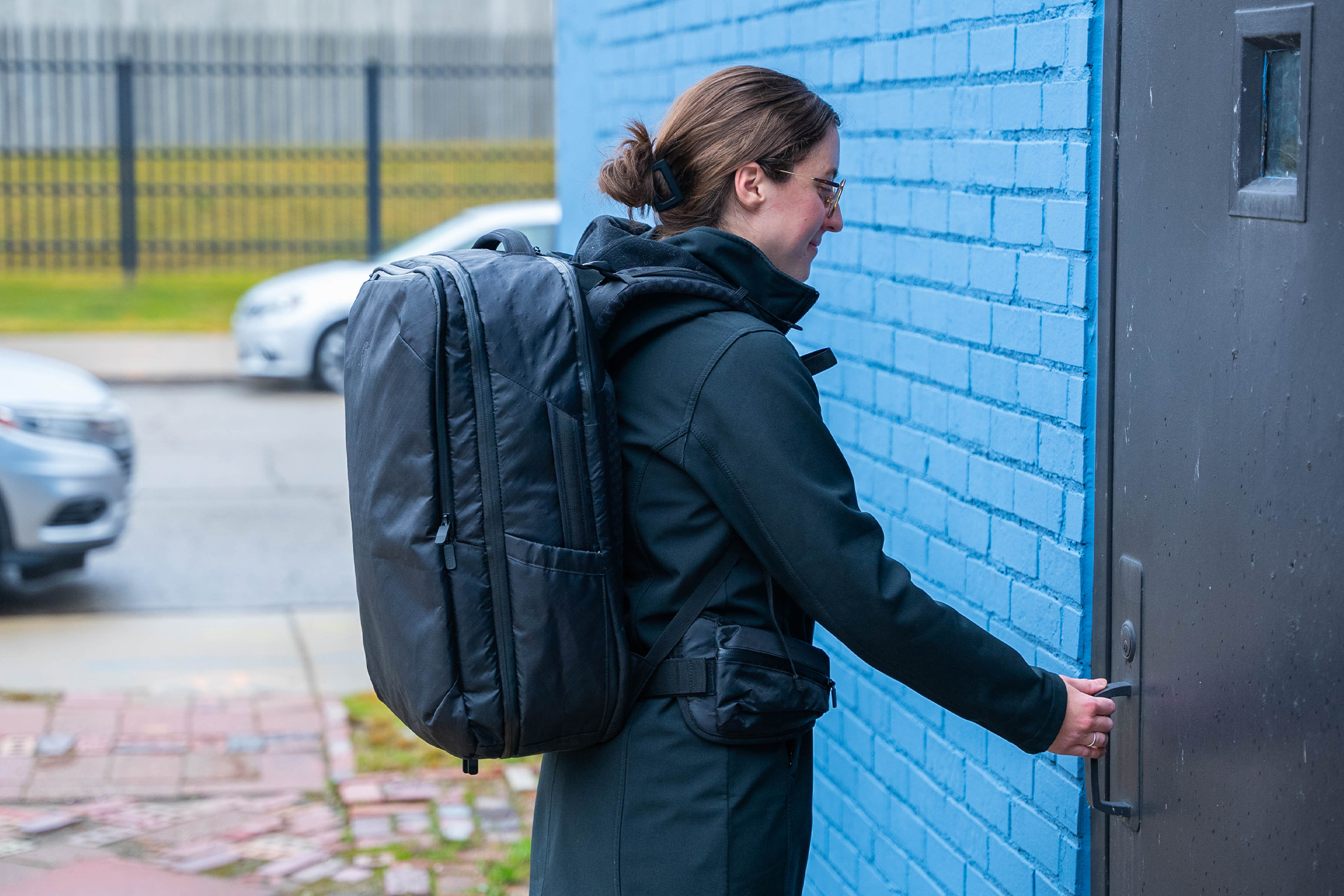 The capacity has been upped by five liters while keeping the overall weight the same. Organization takes a hit in the main compartment, which is good news for those with pouches and packing cubes because fewer zippers and flaps get in the way, though not so much for those who want built-in options. To say that the Travel Backpack 40L is more of an evolution than a derivative wouldn't be a stretch, and that will become much clearer as we dive into the details.
External Components
One of the key highlights Tortuga is keen to show off in their new Travel Backpack is the SHELL200 fabric, which we find weird. We had no issues with the 1680-denier ballistic nylon of the first and second versions or the X-Pac VX21 of the third. These are some of the better materials you'll see other brands use, and we really like them. So, what does the SHELL200 bring to the table?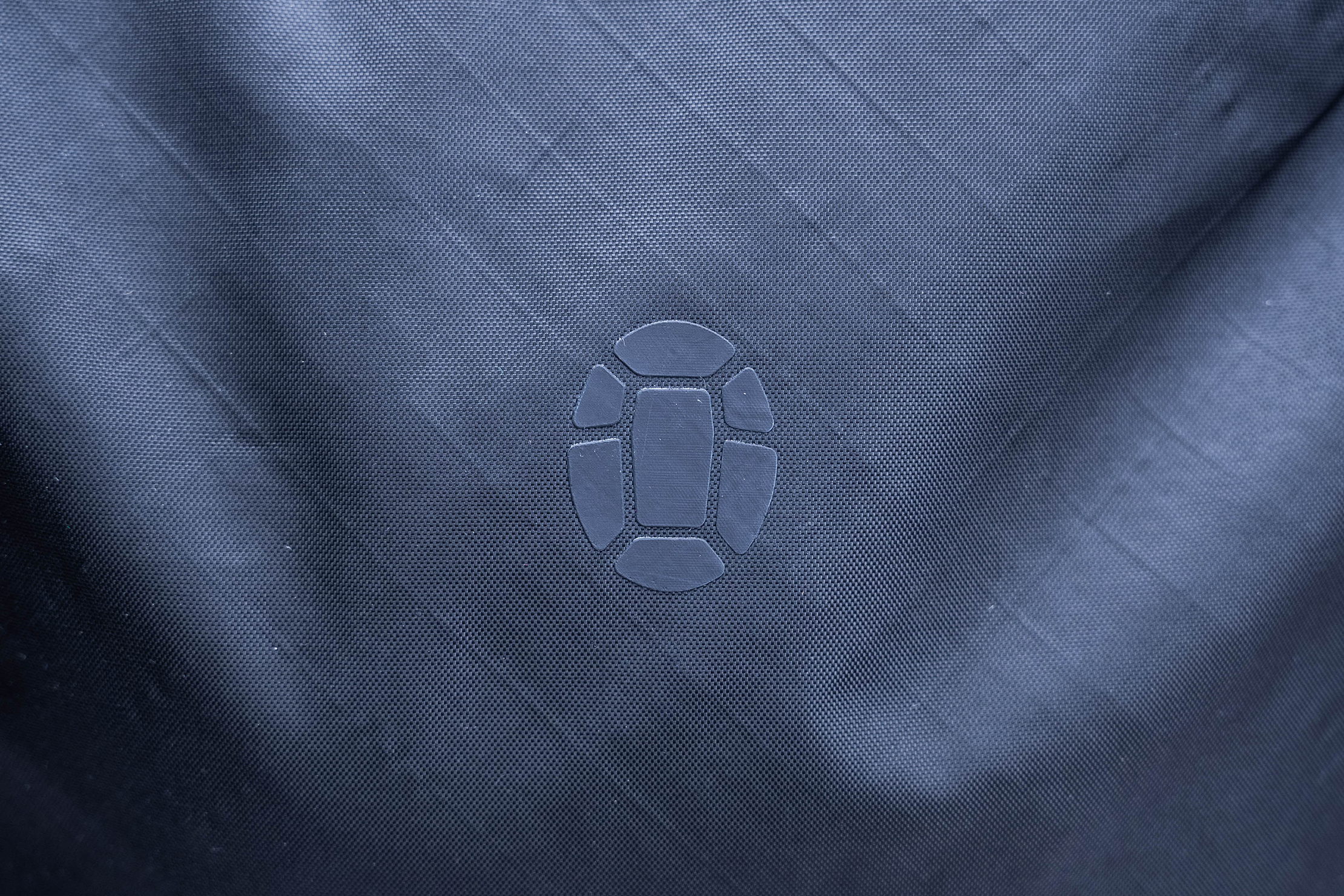 Looking at its composition more closely, it's a lot like X-Pac. Its three layers are laminated together: a 200-denier recycled polyester face, a 45° recycled polyester cross-ply, and a 70-denier recycled ripstop polyester backing. Yep, all of those are recycled, so you can bet it puts a smile on Mother Nature's face. Better still, it's waterproof, just like the X-Pac VX21 it replaces, yet at a lower overall weight. To put that into perspective, the Travel Backpack 40L weighs the same as the 35-liter Outbreaker Travel Backpack. It may be the polyester that's saving weight (VX21 uses a 210-denier nylon face), though we're not engineers, so we can't say for sure.
Visually speaking, the SHELL200 distinguishes itself as shinier than VX21 and ballistic nylon. It also has a crunchier texture, and it does make a sound. Overall, though, we like the switch since it doesn't compromise on quality. Throughout testing, the pack has held up well, and it should perform well once you take it on some light outdoor treks since polyester's quite abrasion-resistant. We have spotted some loose threads, although we're not too concerned since that's typical of pre-production samples, such as the one we have here.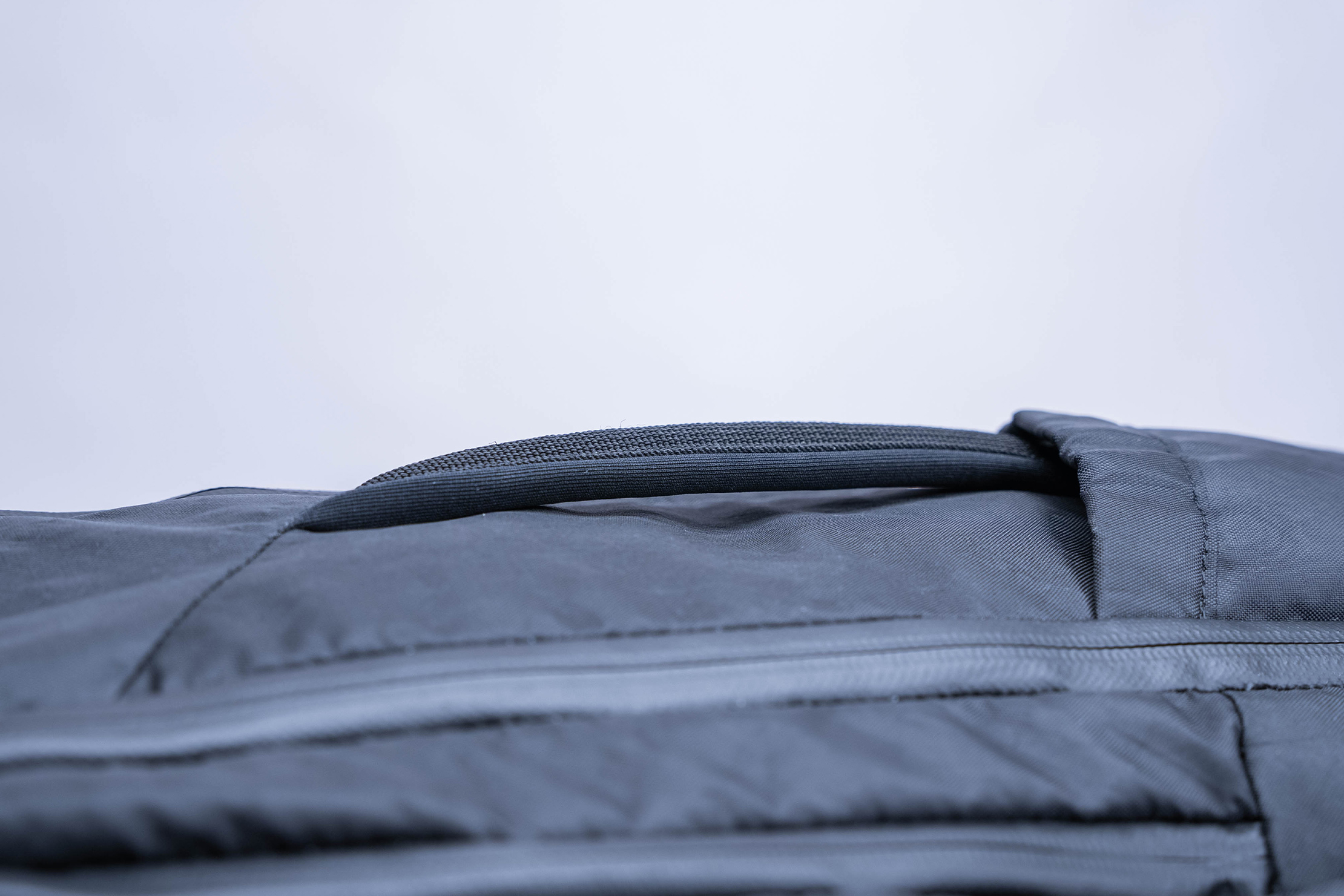 You also get some of the usual goodies featured on other travel backpacks, such as handles. There's one at the top and one on the right side. They're small and well-padded, so they're comfortable to hold. Admittedly, having just two handles is sparse, considering other brands would include a handle on each side of their travel backpacks. Fortunately, we don't think more is needed, yet it may be a feature you miss if you frequently take your bag out of tight spaces.
You may notice from the pictures that a lot of the Travel Backpack's zippers are of the AquaGuard-style, and, indeed, they are. They're from YKK (so they're almost certainly proper AquaGuards), which means they've performed reliably throughout our testing. The zippers don't feel particularly stiff, even though AquaGuard-style ones usually are, so unzipping this huge bag won't be a hassle each time.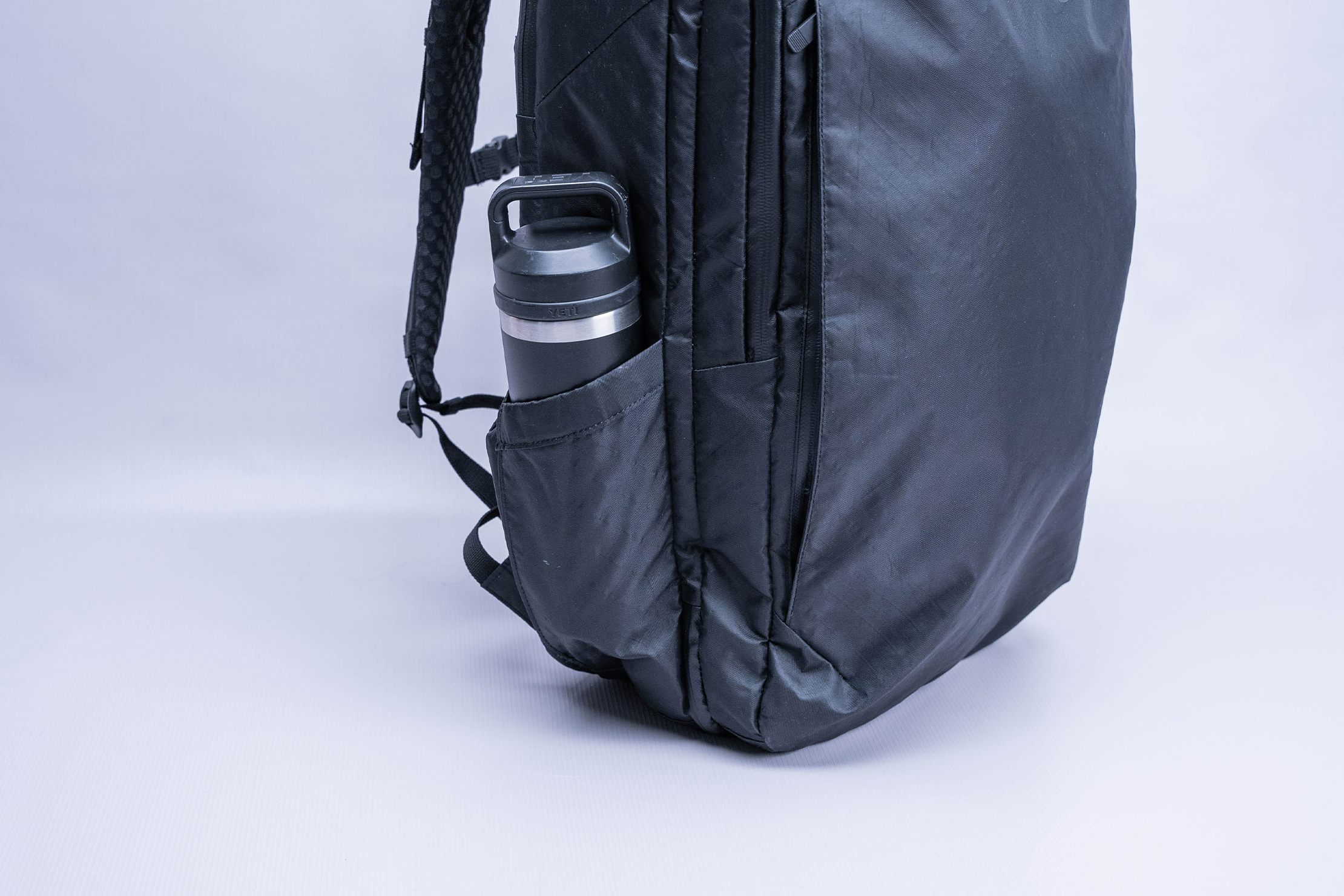 There's also a lone bottle pocket just below the side handle—those who carry their bottles can rejoice! Okay, maybe hold off on the confetti just yet. The pocket only has a simple elastic built-in, and the size isn't that big. We can fit a 26-ounce YETI Rambler, albeit tightly. The Rambler isn't a small bottle by any means, don't get us wrong. However, if you're carrying something bigger for long trips, like a 32-ounce Hydro Flask, you're out of luck.
Things get more sophisticated once we get to the harness system. Each shoulder strap is on an adjustable panel that you can shift higher or lower. Other travel backpacks (such as the Salkan Backpacker, for example) have a similar system, and for a good reason. It lets you tailor the fit to how big your torso is and, combined with the load lifters at the top, minimizes the sagginess of the carry. If you're wondering, the panel stays quite secure despite only using a (large) hook and loop fastener.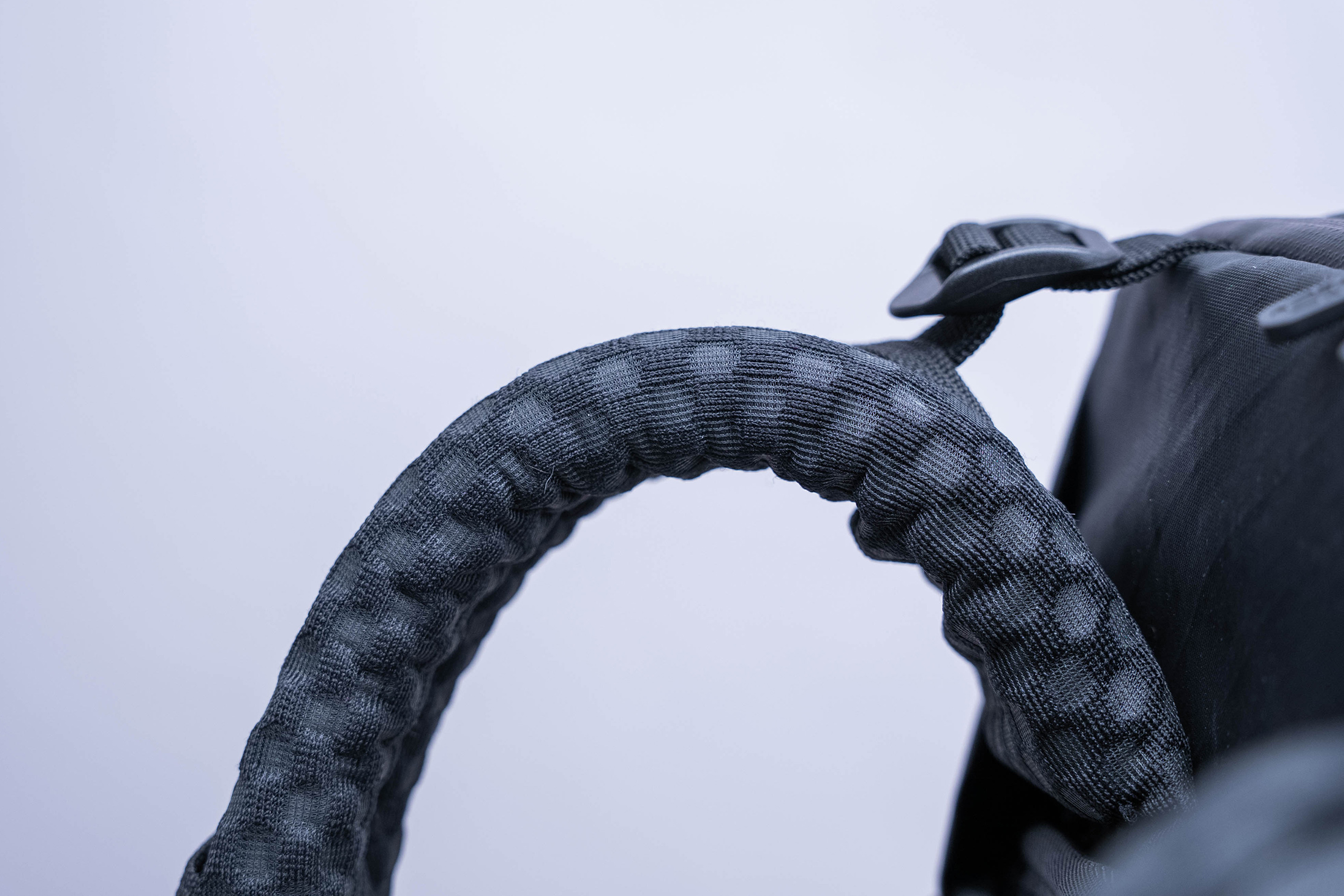 As for the shoulder straps themselves, they're as well-padded as the ones on the previous Outbreaker, so there are no complaints. There are loops to keep the load lifters' slack held down and an included sternum strap that slides up and down. The back panel shape gets a revamp; it's now flatter and more evenly distributed versus the old pattern. All of the padding is covered in mesh to make sure air gets a chance to circulate and minimize heat build-up.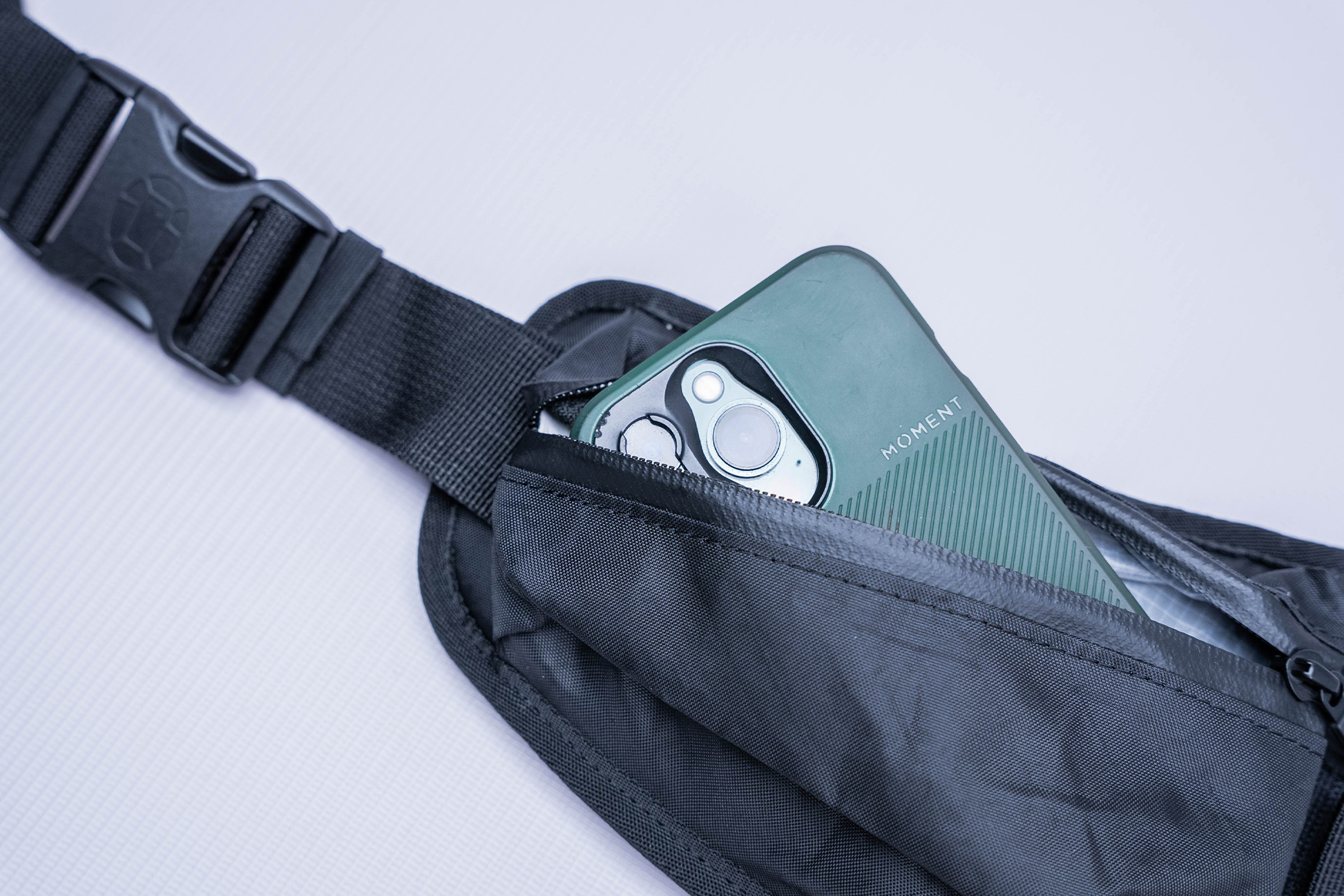 If you feel the need for extra support when carrying the Travel Backpack, don't worry. There's also a detachable hip belt with just as much padding as the shoulder straps. More than the padding and subsequent comfort, though, we like how they attach. Each half hooks on via a G-hook and secures using hook and loop fasteners—easy and fuss-free! Or at least easier than fiddling around with gatekeeper clips, one of our least favorite types.
Fit Notes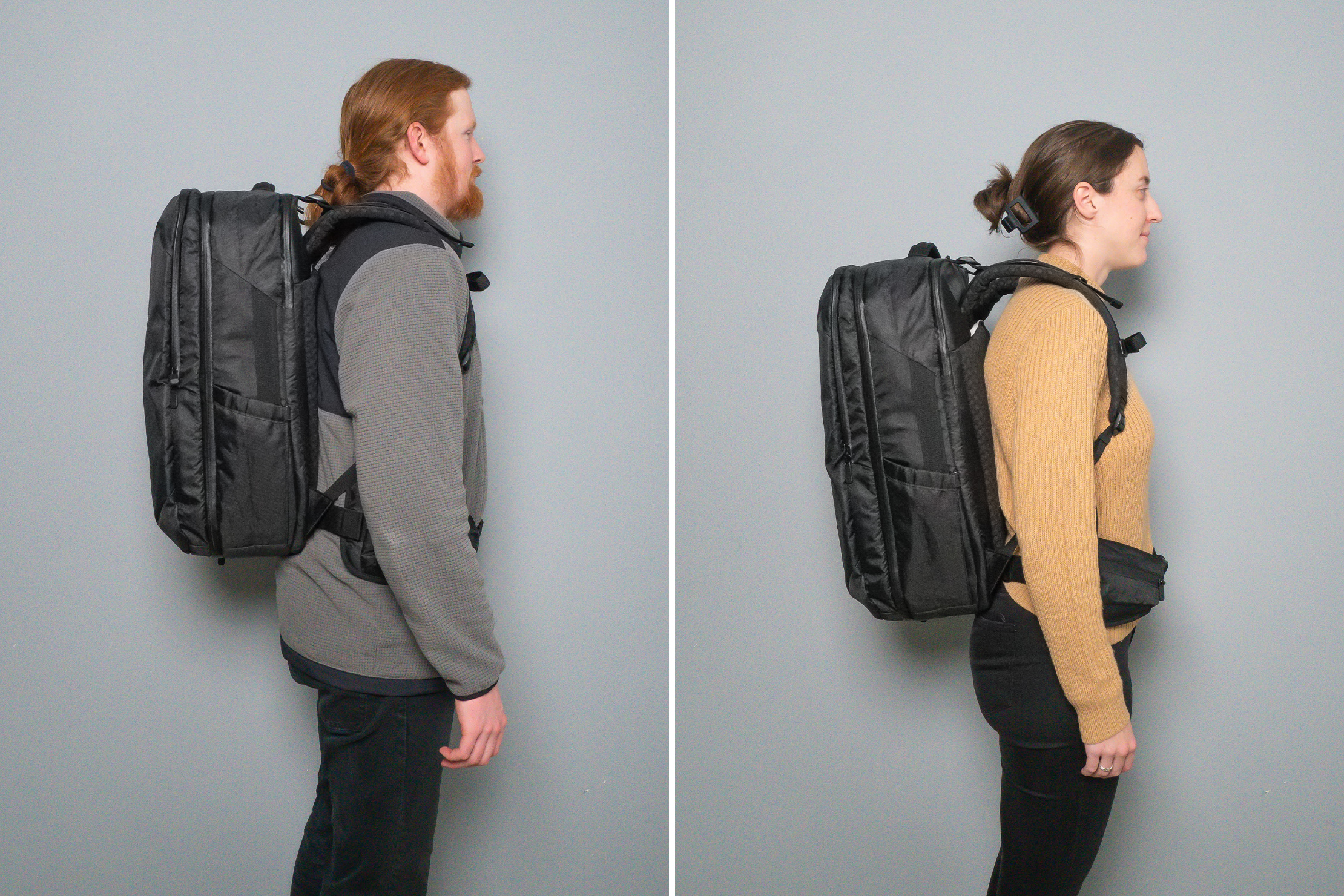 As you can see, travel backpacks tend to have a lot of moving parts when it comes to their harness system because of their sheer size. Tortuga's vision is no different, and between the load lifters, sternum strap, and adjustable panel, we can fine-tune the fit just the way we want. The result is a very comfortable carry that doesn't overwhelm you with the pack's 40-liter capacity.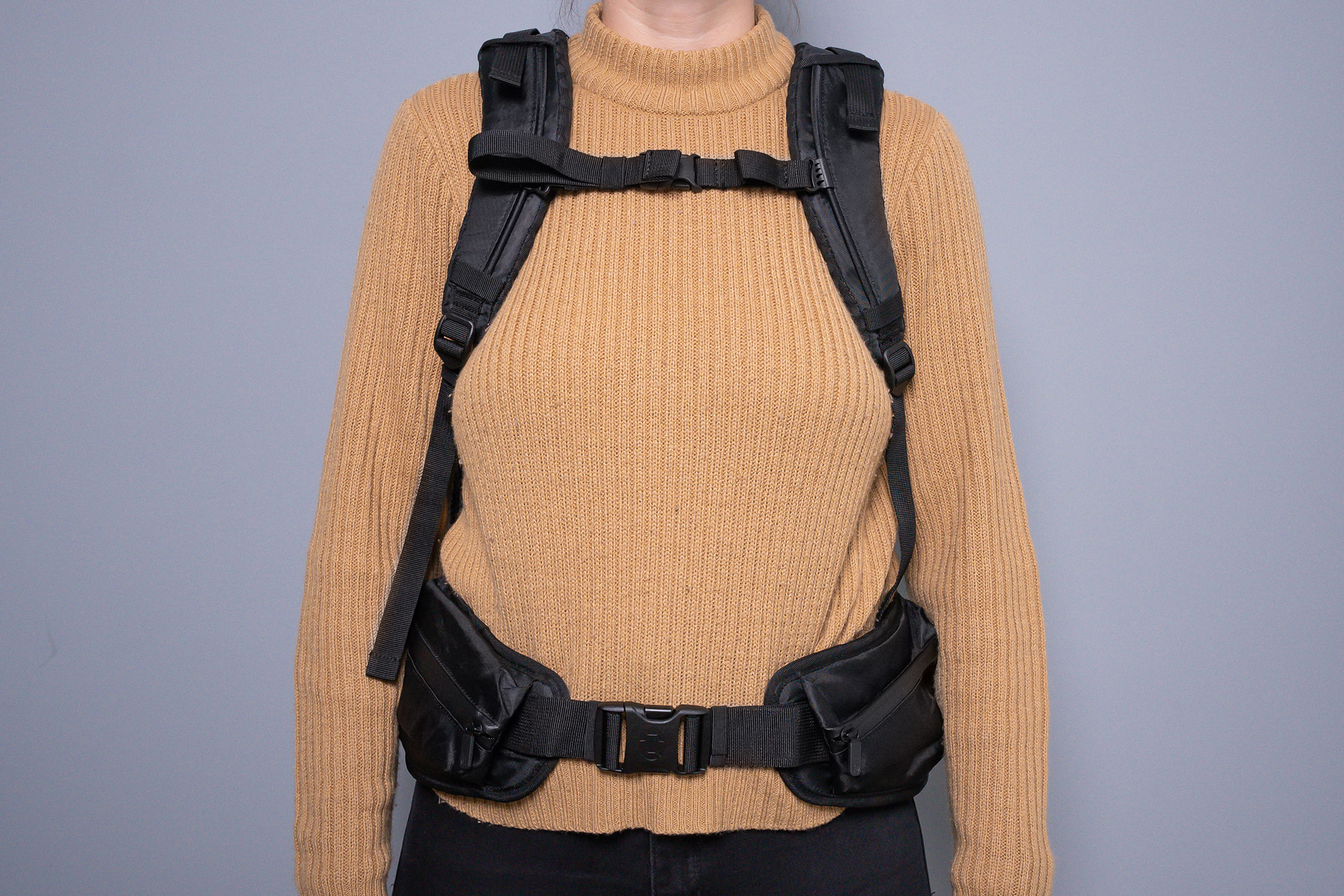 The star of the show has to be the hip belt, though. It takes so much of the load off the back that, in some instances, you can see a gap between the shoulder straps and the shoulders—that's how much weight it can shift, even with a fully packed load. Plus, pockets built into this hip belt give you a place to stuff everyday items like your smartphone or lip balm. They're easy to reach and are a good enough reason to keep using the hip belt even if you don't need the extra support.
Inside The Backpack
Starting from the front, you have a zippered stash pocket that covers about three-fourths of the area. There's nothing too special about this pocket; it works as a multi-purpose spot for dumping a bunch of gear. Keep in mind that the opening is towards the left side, so items can fall out if you open it while the pack stands.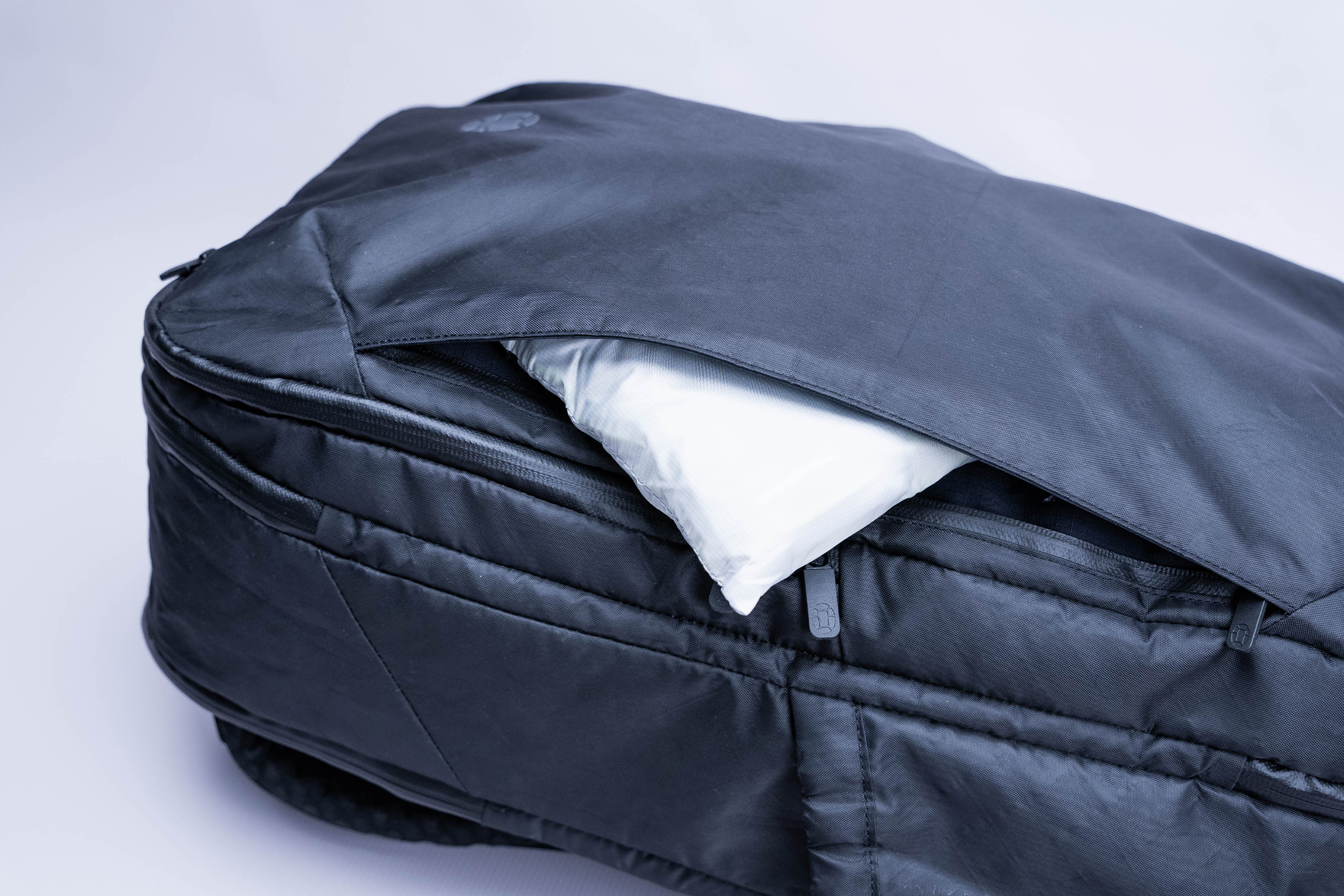 The pocket is a bit large for small accessories like some apartment keys or earphones. It's better suited for bulkier items like a pair of winter gloves or a buff. Fortunately, another pocket at the front is more suitable for smaller items, and it's located along the top. This pocket is shallower yet easier to access, and it even comes with a built-in key clip where you can put your keys away while you're on vacation. Extra credit to Tortuga for using quite a bright liner for the interior here; it always makes searching for gear easier.
The next zipper behind the top front pocket is for the admin compartment, where the bulk of the Travel Backpack's more granular organization options resides. You can fold down the entire front compartment to get better access to the interior, and you might want to since there is a bunch of space available below the fold. However, beware that packing anything stiff in the front pockets we discussed earlier may prevent you from doing this.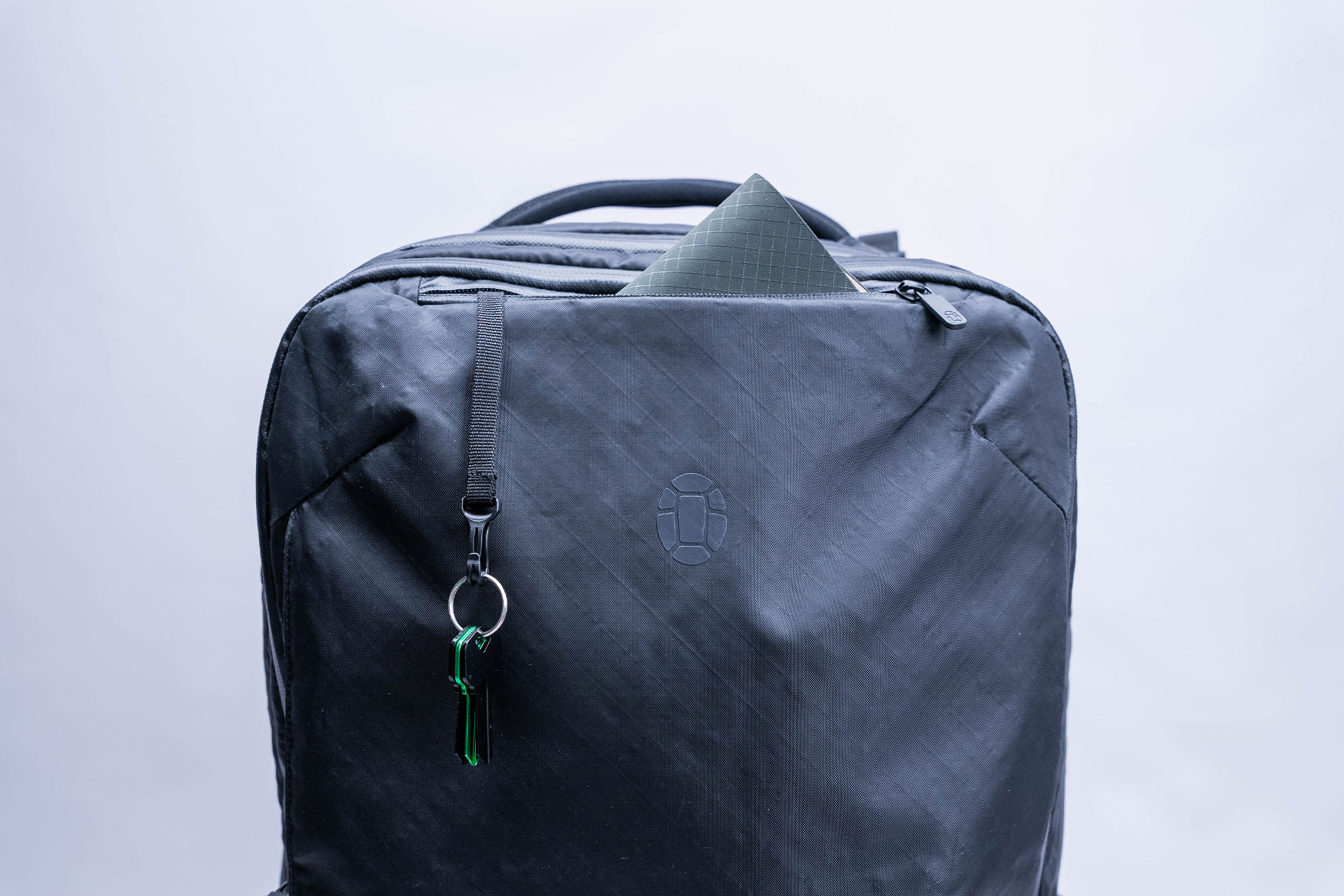 Back to those organization options. From the left, you have four horizontal card slots, two pen pockets, and a mesh pocket. Right behind those are a small tablet pocket fit for a Kindle, and below, there's a wide and shallow zippered pocket. Its shallowness is a good thing because gear would otherwise sink to the deep end of the admin compartment, where they'd be hard to reach.
There is a lot of room down there. We can hide a toiletry bag as large as the GOT BAG Shower Bag, so you shouldn't have much trouble stuffing slim tech pouches, too. As for the organization option, we like the balanced approach Tortuga takes here since there's a little bit of everything for cards, tech accessories, a small tablet, and a ton of room for one or two pouches in case you want even more organization.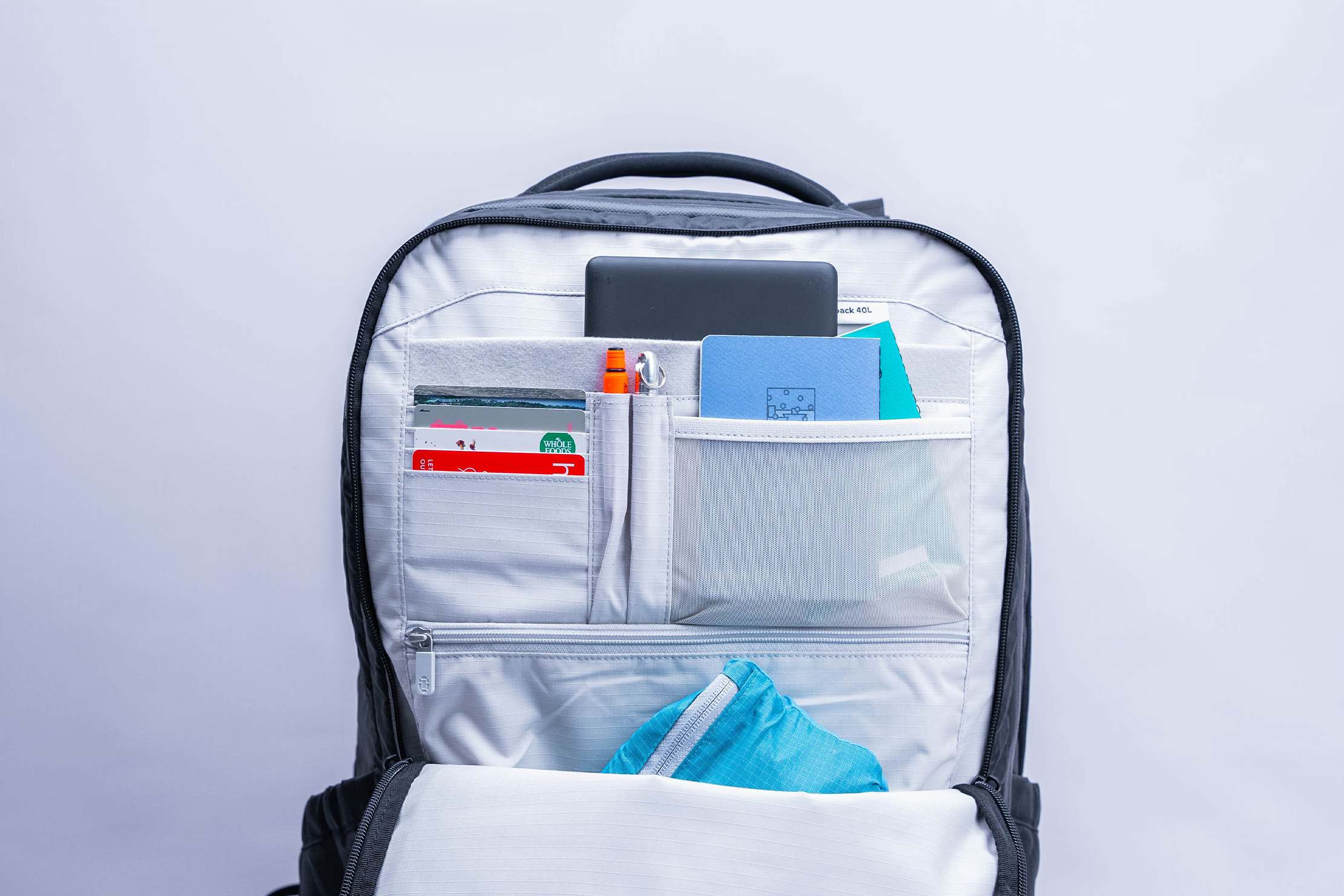 We're skipping the main compartment to look at the laptop compartment at the back. Unfortunately, this part has taken a small downgrade from the old one; it only opens in a limited horseshoe style instead of a full clamshell. Some may find that disappointing, although it's more than enough access for us.
Inside, a wide and shallow zippered pocket works well for tech accessories like your laptop's charger, mouse, and a small tech pouch. The laptop sleeve is lined with soft fleece and can fit a 16-inch MacBook Pro without a hitch. There's also a substantial false bottom, in case you were wondering. Lastly, there's also a tablet pocket in front of the laptop sleeve, which we use to store a travel-sized keyboard, because that's just how we roll.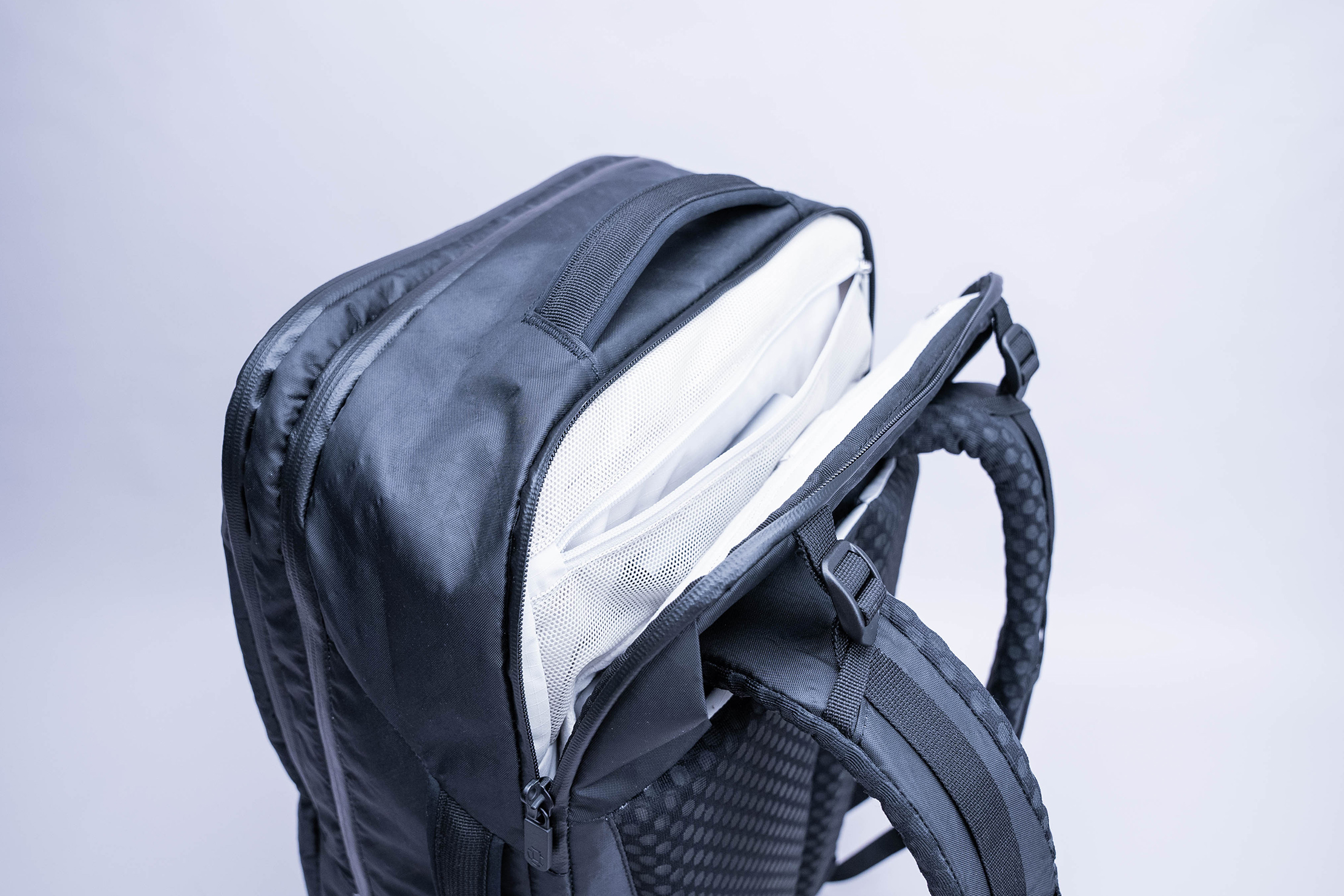 If you're coming from the Outbreaker Travel Backpack 35L and expect to find the same level of organization in the main compartment, you might be disappointed. Gone are the side pockets and two mesh pockets on the cover side; the main compartment is just empty space. It's not a big deal for those who are approaching the Travel Backpack as their first one or if you've already invested in pouches and packing cubes. On the other hand, there's undoubtedly less organization here versus its predecessor.
Granted, there is a lot of room for those packing cubes. We never felt that the Travel Backpack lacked space. A zippered flap hides even more space on the cover side of the main compartment. It's a good spot to hide away neatly folded shirts. In our case, though, we use it for dirty clothing. The main problem here is that the flap zips open in the opposite direction of the main compartment's zipper. Instead of following the edges, it zips from the edge and down toward the hinge, which is unintuitive and really catches us off guard whenever we want to quickly get at whatever's inside it. That said, it's a small inconvenience, and it does prevent your gear from falling out of the pack if you forget to close that zipper, so it's up to you if this is a dealbreaker.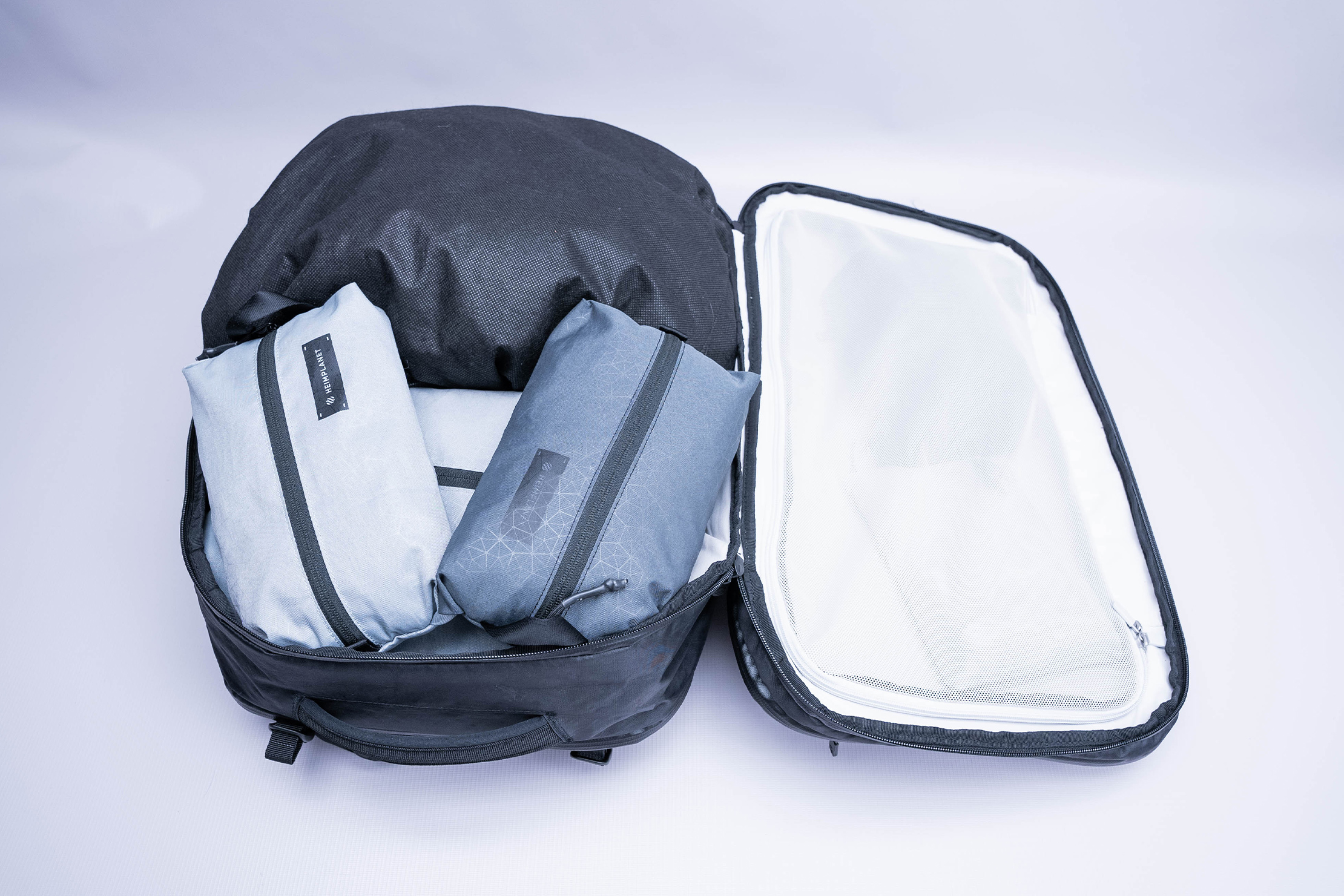 While space isn't an issue with the Travel Backpack per se, packing it does require some strategizing. Adjacent compartments tend to bulge into one another, thus robbing space. For example, you can feel the top zippered pocket in the laptop compartment inside the main compartment. Bulky items in the front stash pocket can also bulge in here. We've seen worse examples of this, though it's worth noting for the Travel Backpack if you want the most efficient use of space.
Usage Timeline
Initial Usage
Condition: Excellent
Materials feel durable
Satisfying built-in organization
Digging the adjustable harness system
2 Weeks of Use
Condition: Excellent
A few loose threads, but we'll chalk that up to being a pre-production sample
Really digging that each pocket is roomy, though they can compete for space when packed out fully
Material is still in great shape
Access the Pro Community Discussion
Get your questions about the Tortuga Travel Backpack 40L answered from our team and the Pro Community right here on the page. Plus, join discussions with other members about gear, guides, and more.
Other Bags & Luggage Reviews