Tortuga Outbreaker Daypack Review
Despite the laptop compartment not reaching our expectations, if you're looking for a packable daypack, the sleek-looking Tortuga Outbreaker Daypack is a great option.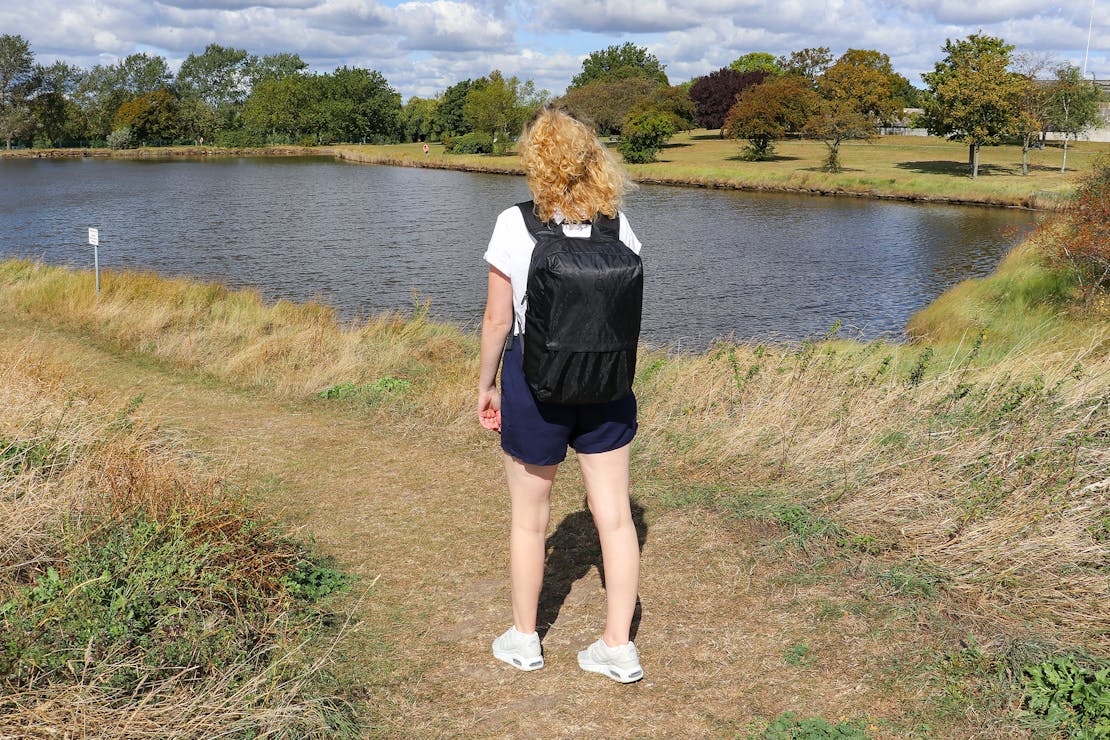 Our Verdict
Unlock the Pro Summary
Save time. Get access to brief summaries of our reviews so you can browse and make decisions more efficiently.
Pros
Comfortable harness system for a daypack
Lightweight and packable
The quick access pocket on the front is super handy
Cons
Laptop compartment is not padded and cannot hold a 15" laptop with a case
The water bottle pockets are compromised if the pack is at full capacity
The material is slightly "crunchy"
Recent Pack Hacker Video
Technical Details
Capacity

21l

Weight (lb)

1.1 lb (0.5 kg)

Denier

210D

Dimensions

17 in x 11 in x 6.5 in (43.2 x 27.9 x 16.5 cm)

Notable Materials

Duraflex Hardware, YKK Zippers

Manufacturing Country

China

Laptop Compartment Size

15"

Warranty Information
Full Review
Get up to 10% off Tortuga • Join Pack Hacker Pro
Famous in the travel world for their one bag travel packs, Tortuga have impressed us with their range of backpacks that work well—whether you're hitting the co-working spaces around New York or sunning yourself on a beach in Miami. Plus after testing out the Outbreaker Backpack, we couldn't wait to see what its slightly smaller associate, the Outbreaker Daypack, had to offer.
Having tested the Outbreaker Daypack for just over two months in Detroit, Miami, and the UK, we've had some time to get a feel for how this pack works in the real world. So, let's jump into the review and find out how this daypack performs.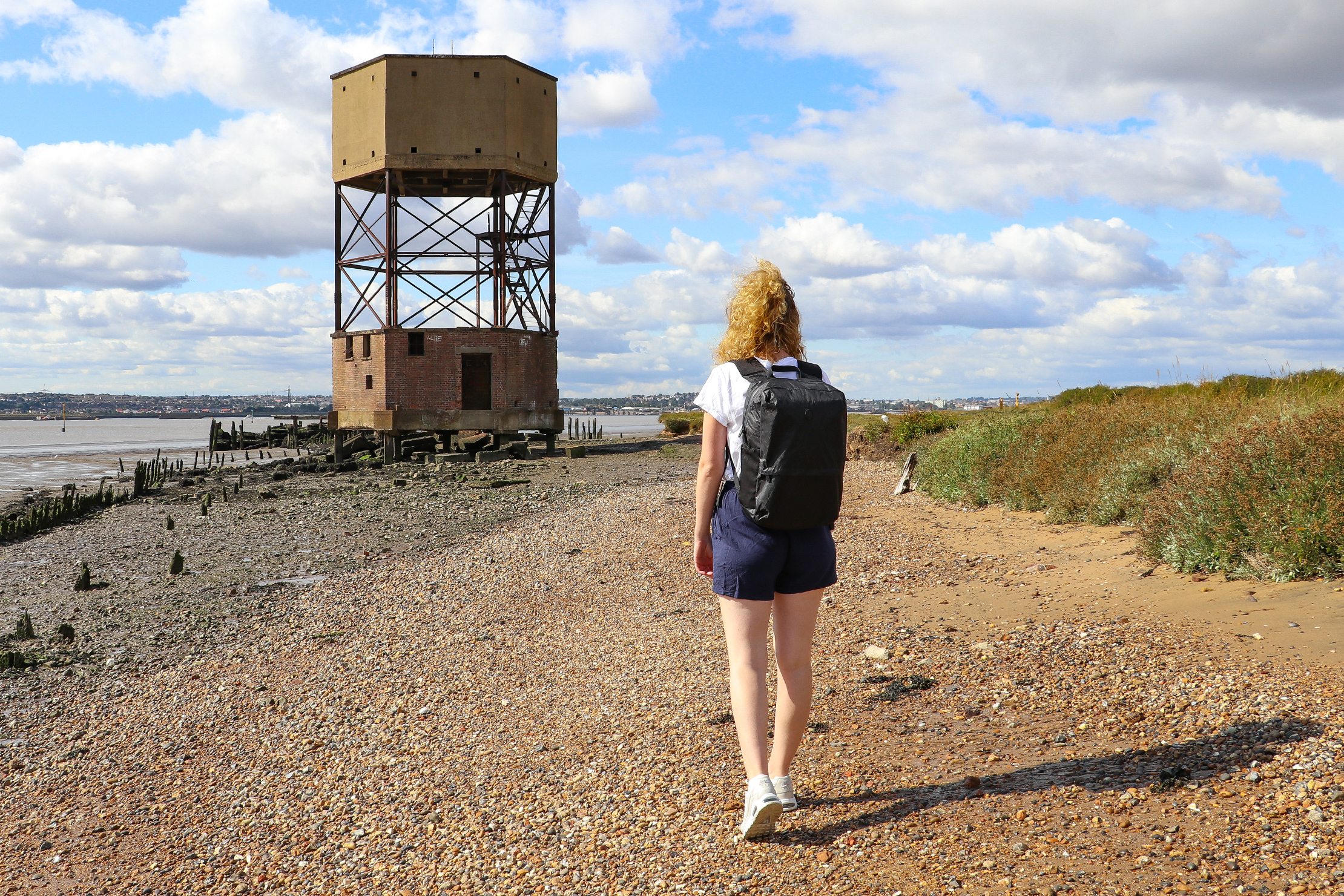 Materials & Aesthetic
Initially, we were pretty divided over the aesthetics here at Pack Hacker HQ. Similar to the Outbreaker Backpack, this pack looks a little boxy and shiny on first impressions—and it sounds pretty crunchy too. On the other hand, this daypack is also minimal, sleek, and super smart. But, like they say, beauty is in the eye of the beholder right?
Now, let's talk about the colors⁠—this won't take long. You can choose between black or…black. As you've probably already guessed, the lack of variety wasn't an issue for us. But if you prefer a pop of color, or a wider selection, check out our Daypack Guide for more options.
The branding on this pack is discreet, which we really like. On the front of the pack, there's a black-on-black logo that you'll probably forget is even there (we did anyway). There's also a Tortuga logo on the buckle and zipper pulls. When you open the pack up, you'll see the words "On Your Terms" and "Tortuga Outbreaker" on the laptop sleeve.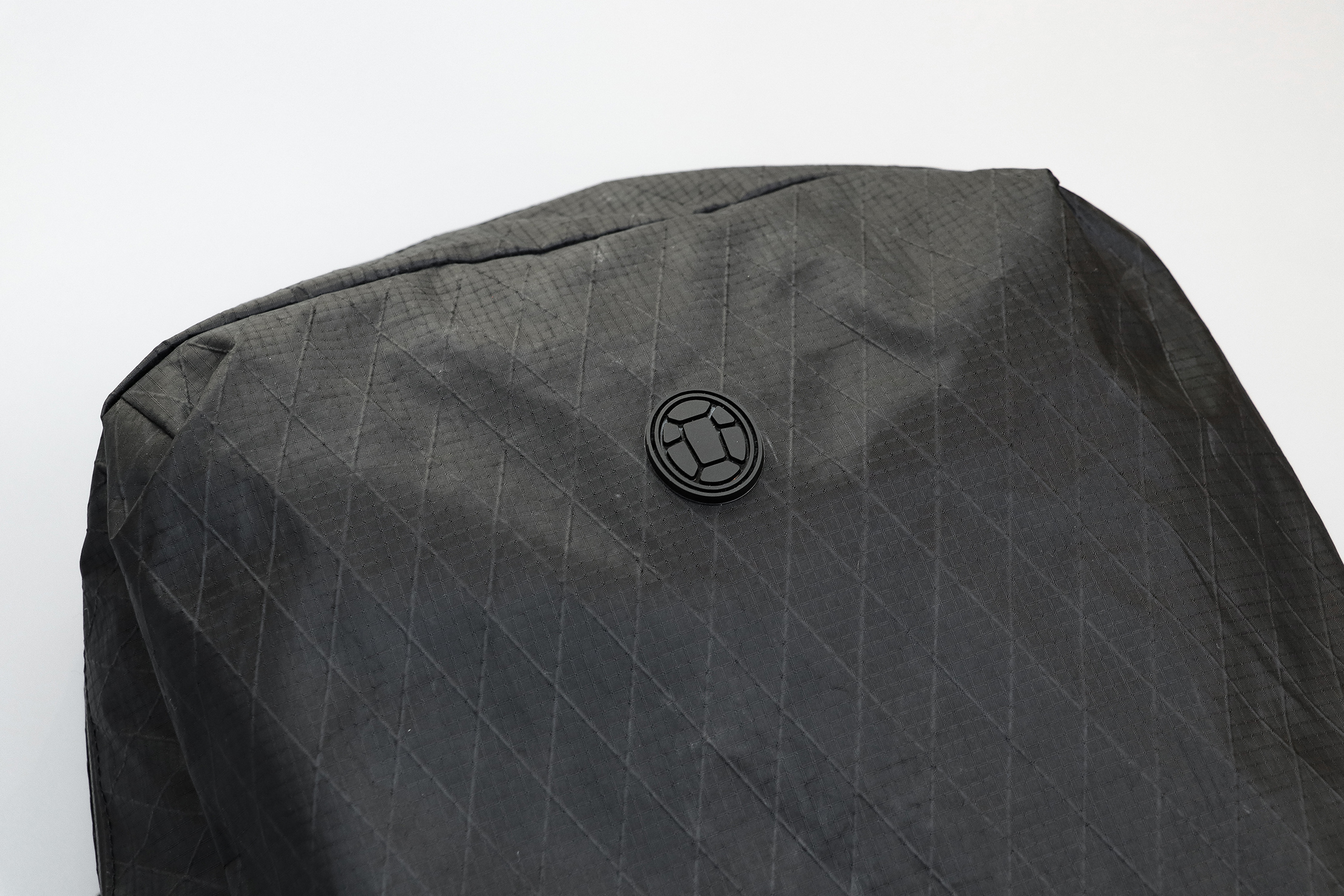 Now, let's dive into the materials. The main fabric of this pack is VX03 sailcloth which is similar to the material used for the Tortuga Outbreaker Backpack. It's durable, lightweight, and offers some good weather-resistance.
Durability is a must if you're looking for a pack that'll keep up with you on your adventures. And with this sailcloth being lightweight, it adds to its packability meaning you'll save you some weight when packing your carry-on bag (woohoo!). While this pack isn't going to hold up in torrential downpours⁠—as it's not completely waterproof⁠—it will offer some peace of mind if you get caught in a shower.
If you look closely you'll see the diamond Ripstop, making it look similar to the Aer X-Pac Collection. Whether you find it aesthetically pleasing or not, this pack should hold its own. While this material will not prevent the pack from getting damaged, it should prevent any potential rips or tears from getting bigger.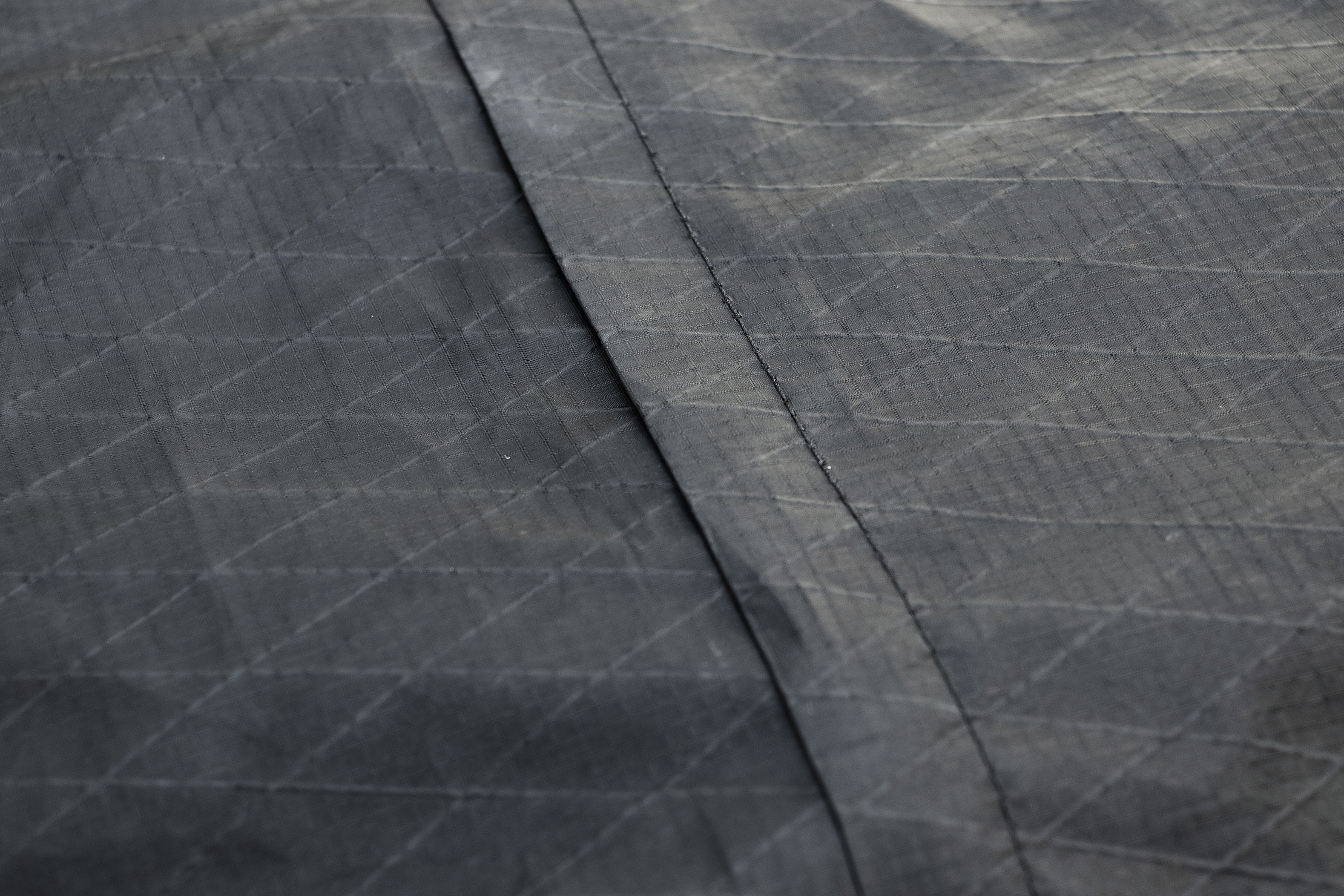 The DWR coating and PET film that makes this material, shall we say "crunchy," also makes it rigid—which turns out is a great feature as it creates a firm structure that helps this bag will hold its shape.
On the back panel and shoulder straps, you'll find Ariaprene foam. This material is soft, comfortable, breathable, and hypoallergenic (bonus points). Plus, (another bonus) this padding is sweat-wicking and non-abrasive. We've found that you can wear this pack with a tank top and not have to worry about it rubbing—the mesh over the padding will offer some great breathability too.
Both of the zippers on this pack are YKK, with extra water-resistance. So, although these zippers aren't waterproof, they will give you some extra weather-protection compared to a regular zipper. Having a zipper you can trust is essential for travel and these YKK zippers are strong a durable and up for the task.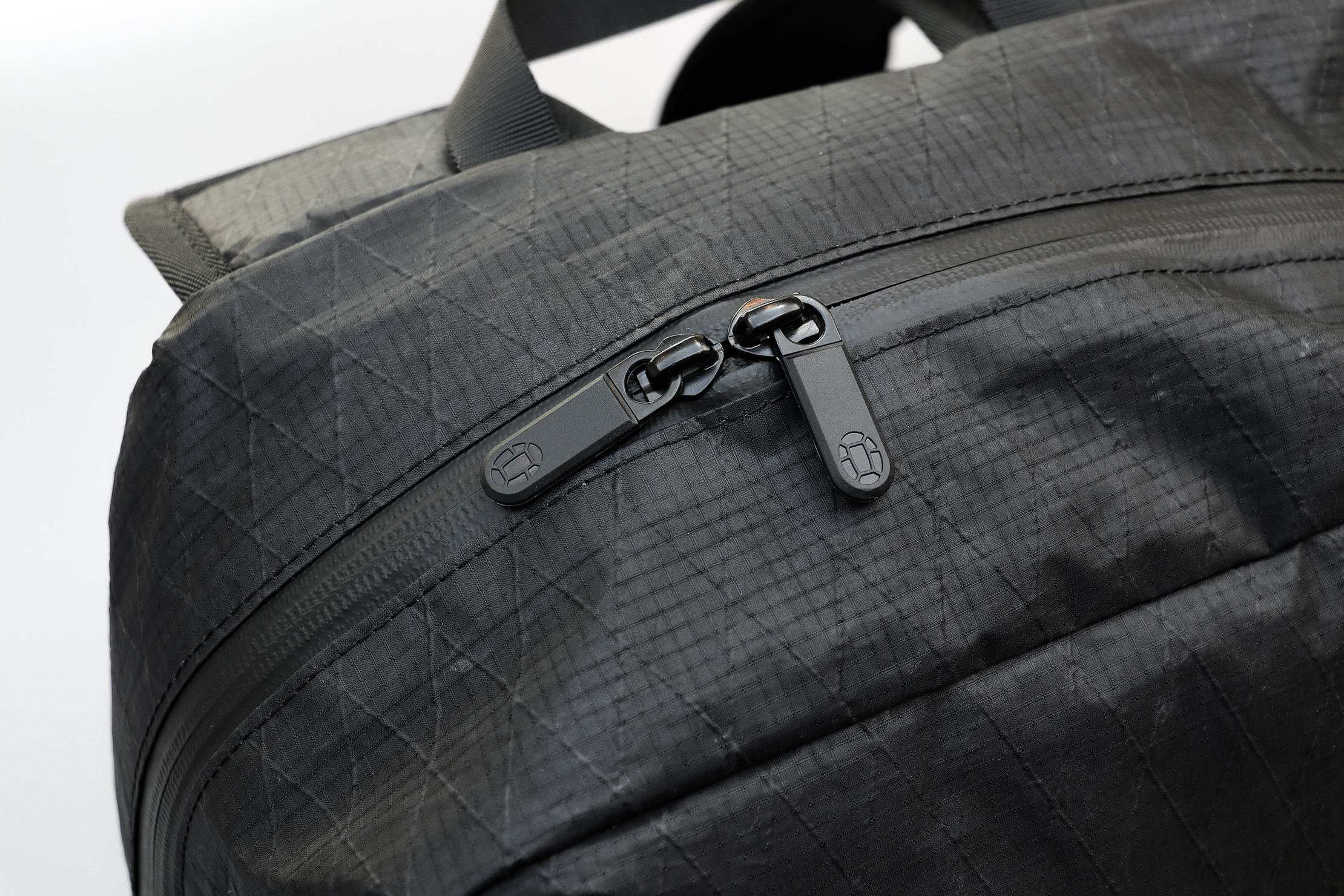 Moving onto the hardware, which is all Duraflex. Duraflex buckles are strong, reliable, and durable. We've had good luck with Duraflex hardware in the past, so you shouldn't have much to worry about when you're on the road.
External Components
Let's talk about the harness system. Like most daypacks that have a pack-flat design, it's pretty simple.
Starting with the back panel, the Ariaprene foam offers some great protection and comfort. We mentioned all of the benefits of this padding in the section above, but it's important to note that the padding on this backpack works well. As this pack is not compressible like the Osprey Ultralight Stuff Sack, so there's enough padding on here to give this pack a comfortable carry even when it's at full capacity. Plus, the padding is thick enough to provide some ventilation and breathability—which is always welcomed.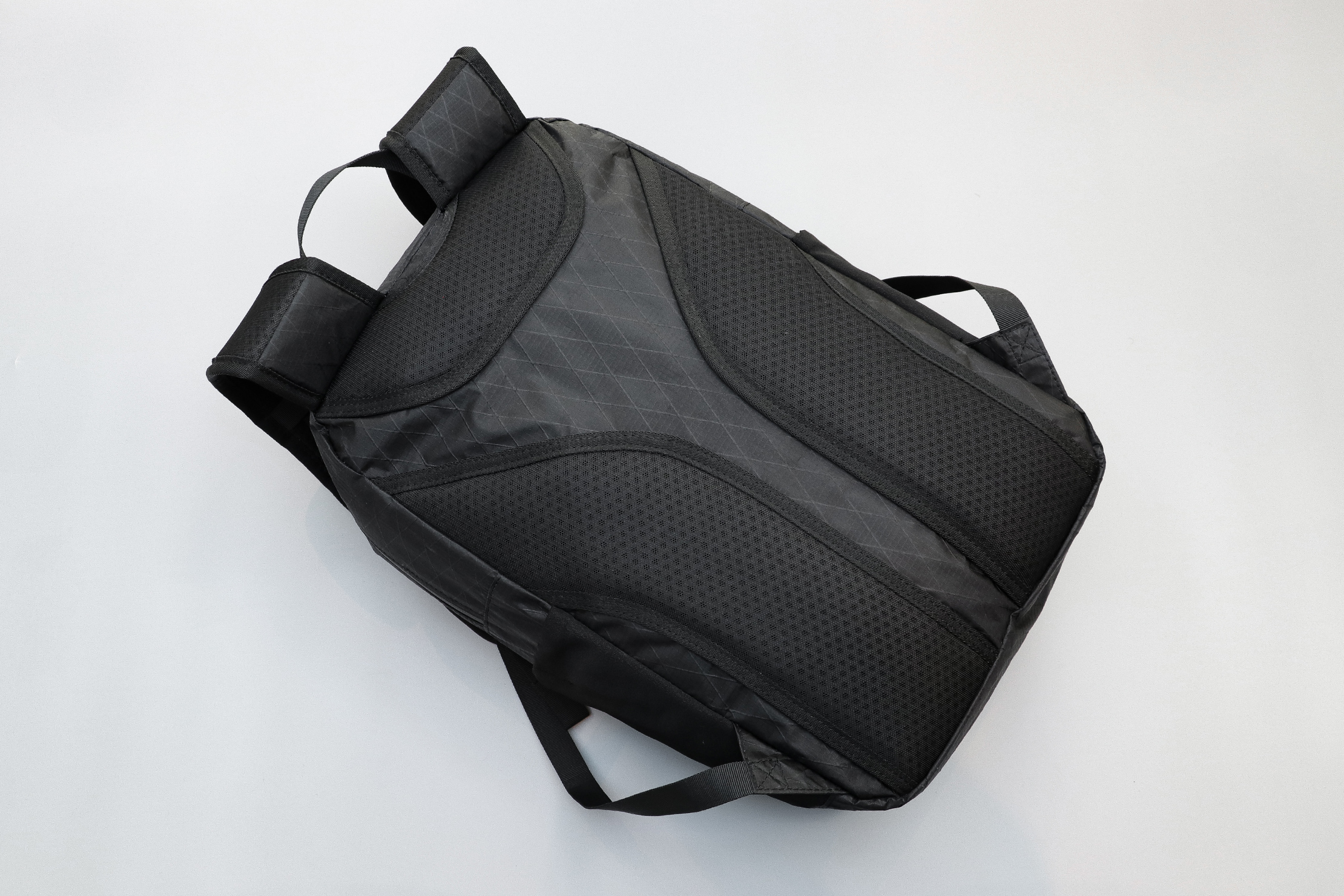 The shoulder straps also have some light padding which is extremely well ventilated. Perforations in the padding and the mesh over the top offer great breathability, just like the back panel. Although there aren't any load lifters⁠—for a pack of this size (21L) not having them isn't an issue⁠— the shoulder straps are adjustable at the bottom.
Initially, we were a little wary of the width of the shoulder straps because we were unsure whether they'd be too wide for a smaller frame. But, turns out, the wide straps distribute the weight of the pack across your shoulders, keeping this pack comfy for long stretches.
On the shoulder straps, Tortuga included an adjustable sternum strap, which you can easily move up or down to find the right fit for you. There's some elastic on the sternum strap as well, which flexes when you're moving, adding to the comfort. Plus, there's also an elasticated band to keep the straps tidy and a small strap across the shoulder straps to hideaway the sternum strap if you want it out of the way. And you know we love a #danglefreeexperience.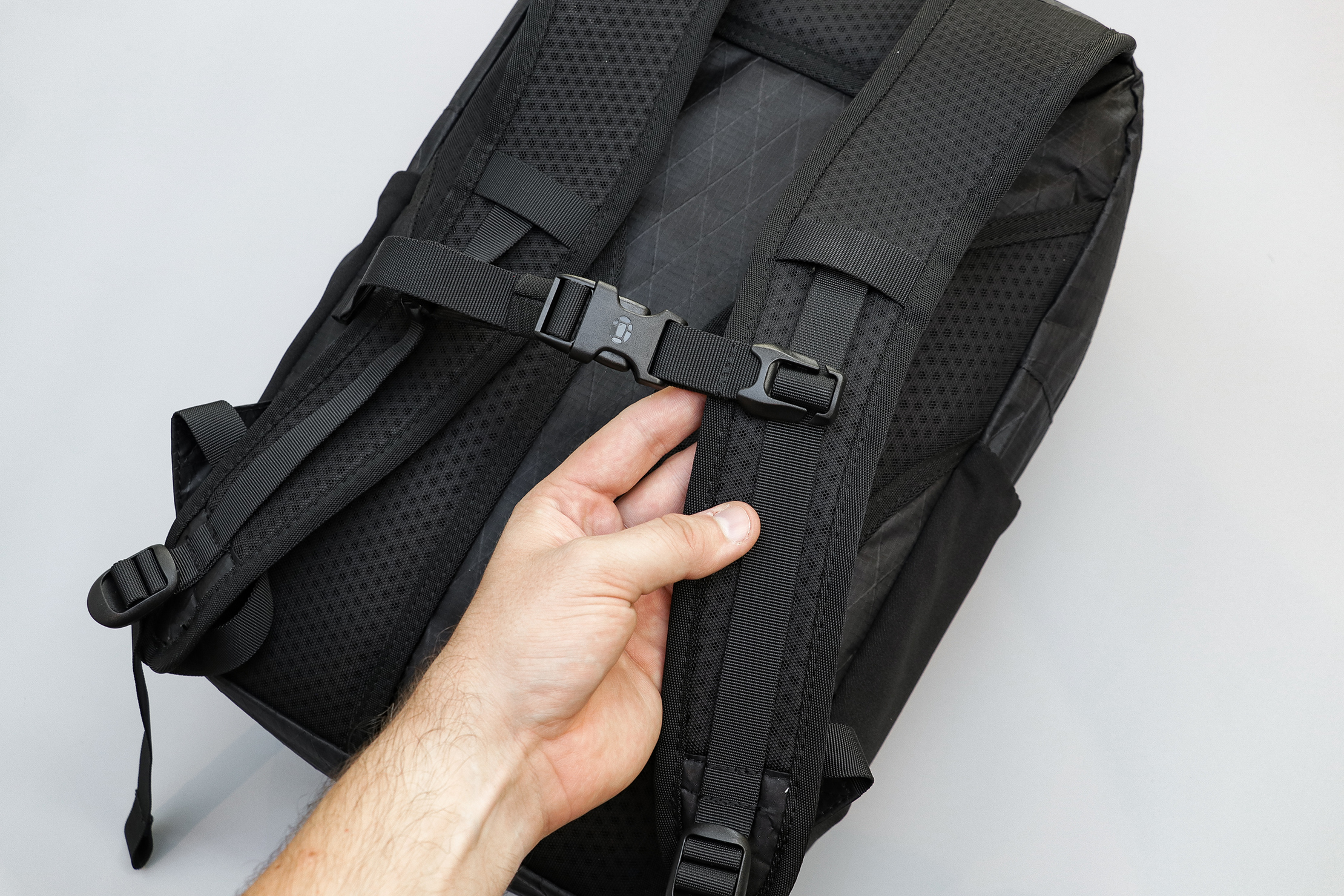 In between the shoulder straps, you'll find a small quick-grab handle. There isn't any padding on this and it's not necessary for a pack of this size. While we didn't utilize this handle as a way to carry this bag, it did come in handy when you need to pick this thing up quickly on the bus or train.
There are two water bottle pockets—one on either side of the pack. These are a great size and can hold the Hydro Flask 18 oz Wide Mouth Bottle. However, it is important to note that if your pack is at full capacity, this will compromise the space you have in these pockets.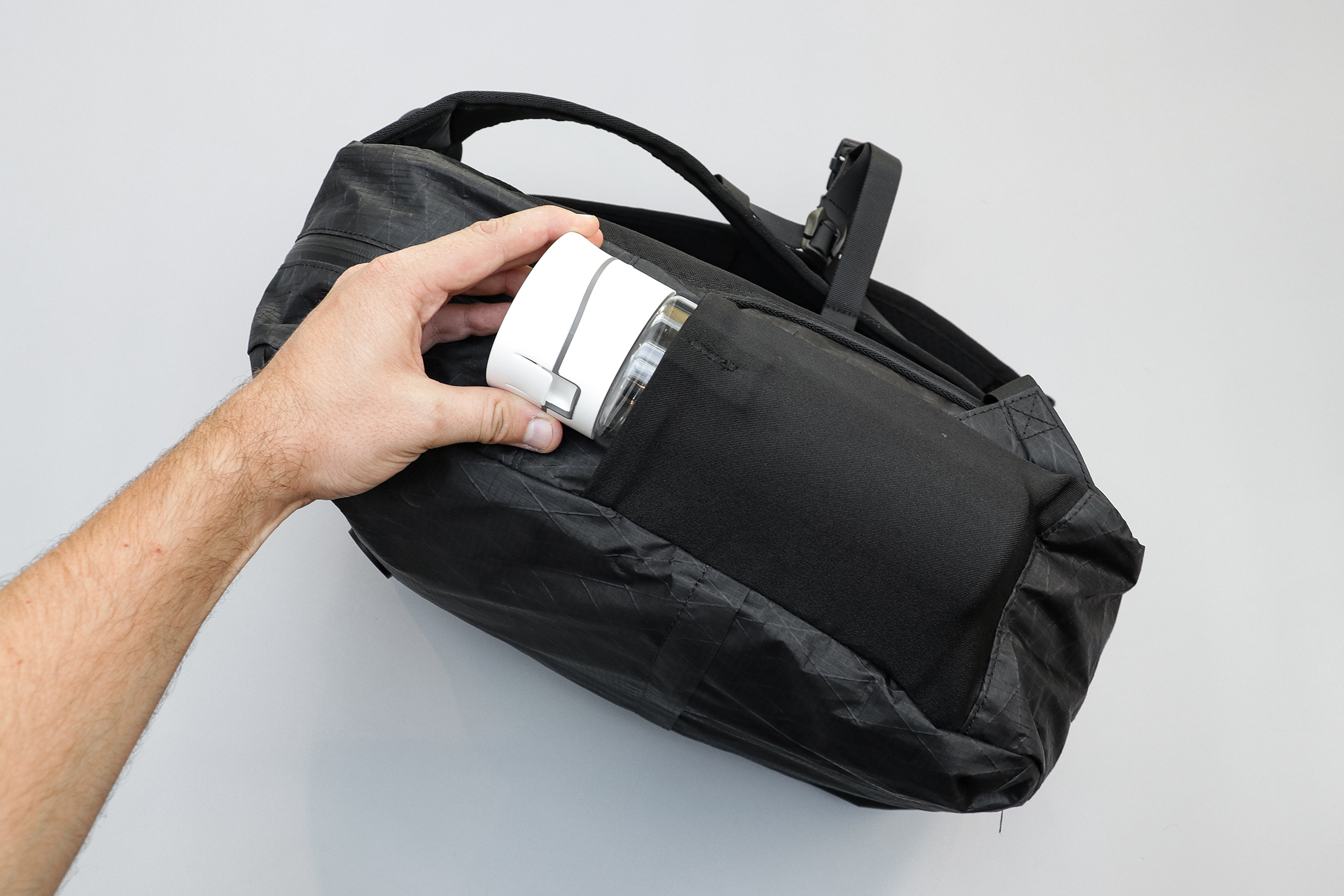 Moving onto the front of the pack, you'll find a quick-grab pocket. This is a great size for all of those essential items (you know, keys, phone, candy). Although this pocket isn't secure, the zipper cover makes this pocket look much more discreet while also adding some water-resistance.
Inside this pocket is a key clip, which is secure and easy to use. We found this to be a great feature for our keys when we were out and about. It gives you some added security, plus it means you don't have to go digging around this pocket looking for your keys *panic-mode setting in that they've fallen out when getting out your phone to Instagram that Cronut*⁠—that's not just us right?!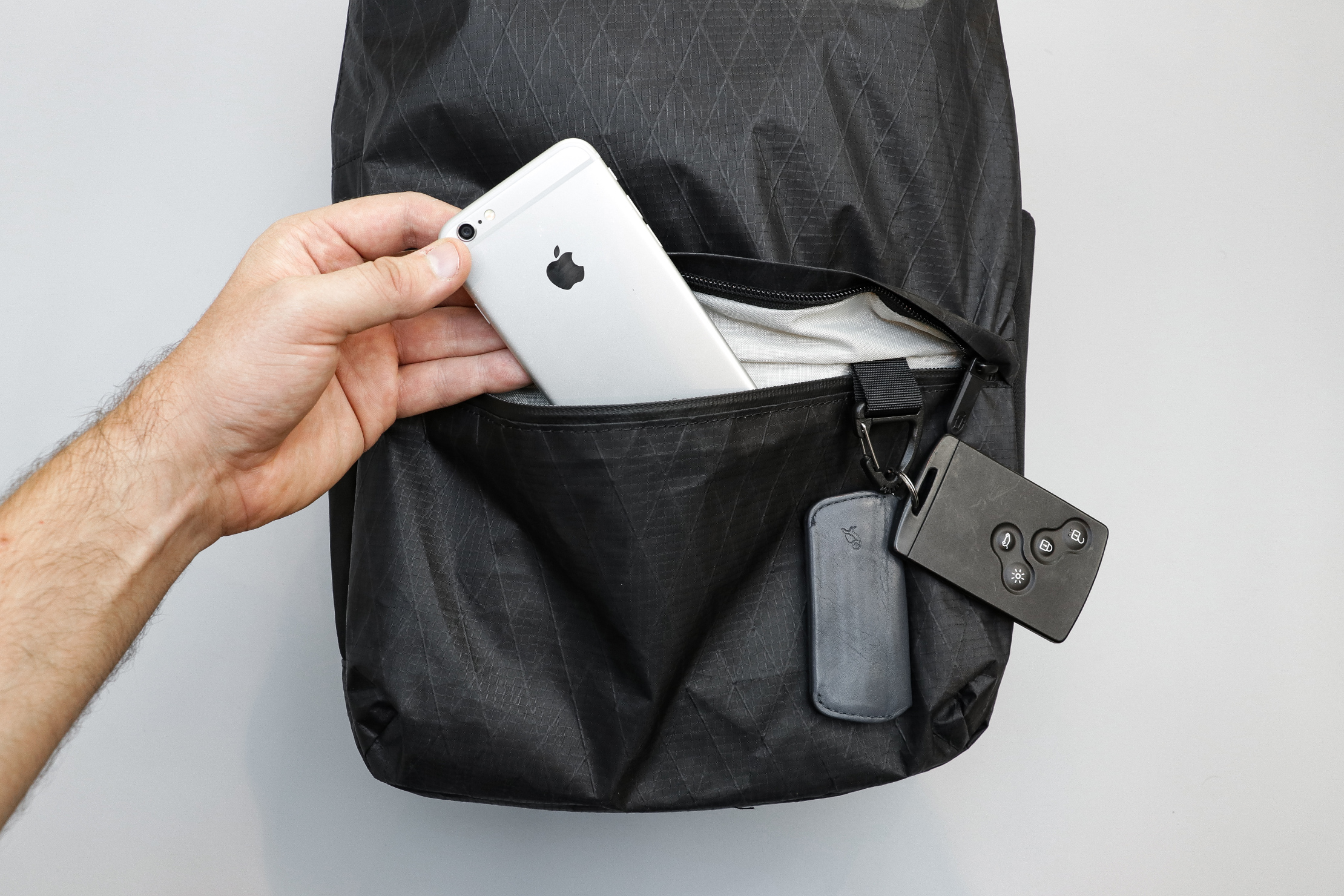 Inside The Pack
Now, let dive inside this pack. Starting with the main compartment, you'll be greeted with a horse-shoe style design which opens up into a large bucket for you to throw all of your stuff into. Due to this design, we recommend using small packing cubes and pouches to add organization—and so you can access your items quicker. The lining inside the pack is a light gray, which improves the visibility inside the pack.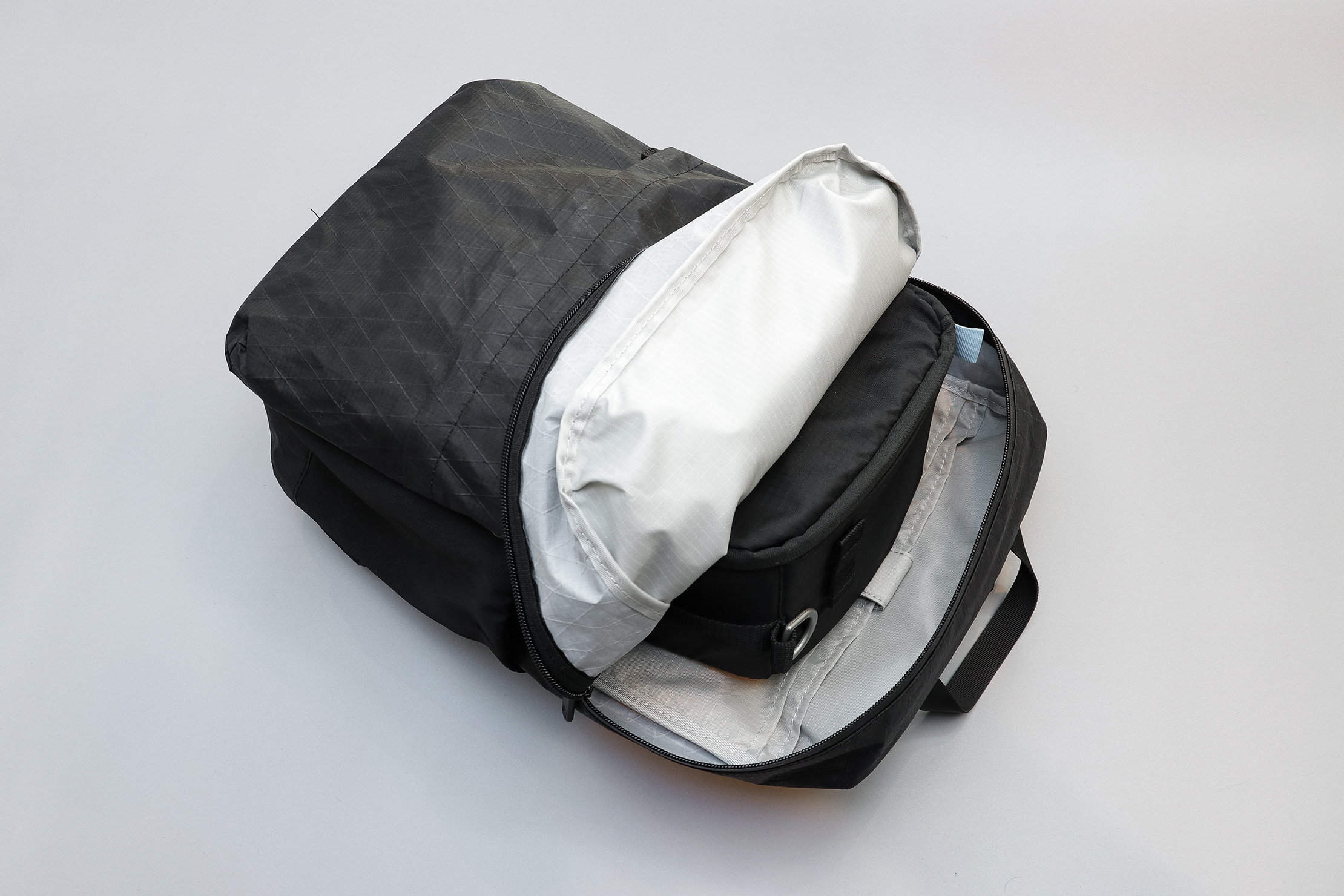 Inside the main compartment, you'll find two sleeves. While these sleeves aren't padded, the back panel will give some extra protection here. Tortuga says that this laptop sleeve will hold a 15" laptop and while this is true, it will only hold it without a case. We usually recommend using a laptop case—especially when you rely on your laptop as much as we do—and even more so when your pack offers little padding like this one. So without a case, this pocket will hold a 15" laptop and with a case, a 13" laptop should fit just fine.
In front of the laptop sleeve, there's another sleeve for tablets up for 9.7". Again, it's important to note the lack of padding, but depending on the size of your tablet, you can also just about fit a case in this compartment. For extra security, there's a Velcro strap that comes over these compartments to hold your items inside—but if you're using cases for these items, it will not reach across.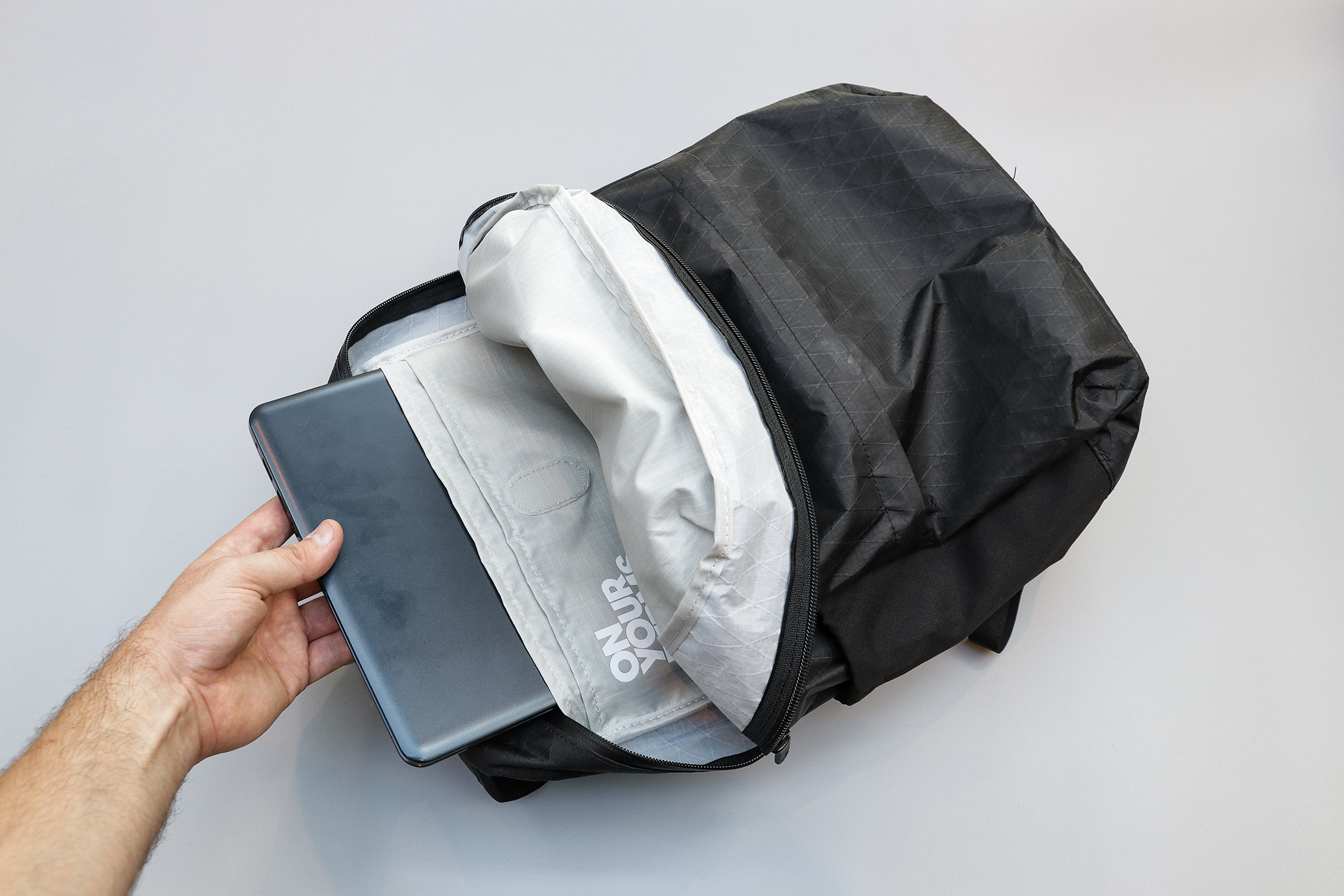 Durability & Testing
After two months of adventures with this pack in Detroit, Miami, and the UK, we're pleased to say that the Tortuga Outbreaker Daypack has held up to the test. Currently, there are no signs of wear and tear. And we're pretty confident that this bag will continue to hold up well in the future too.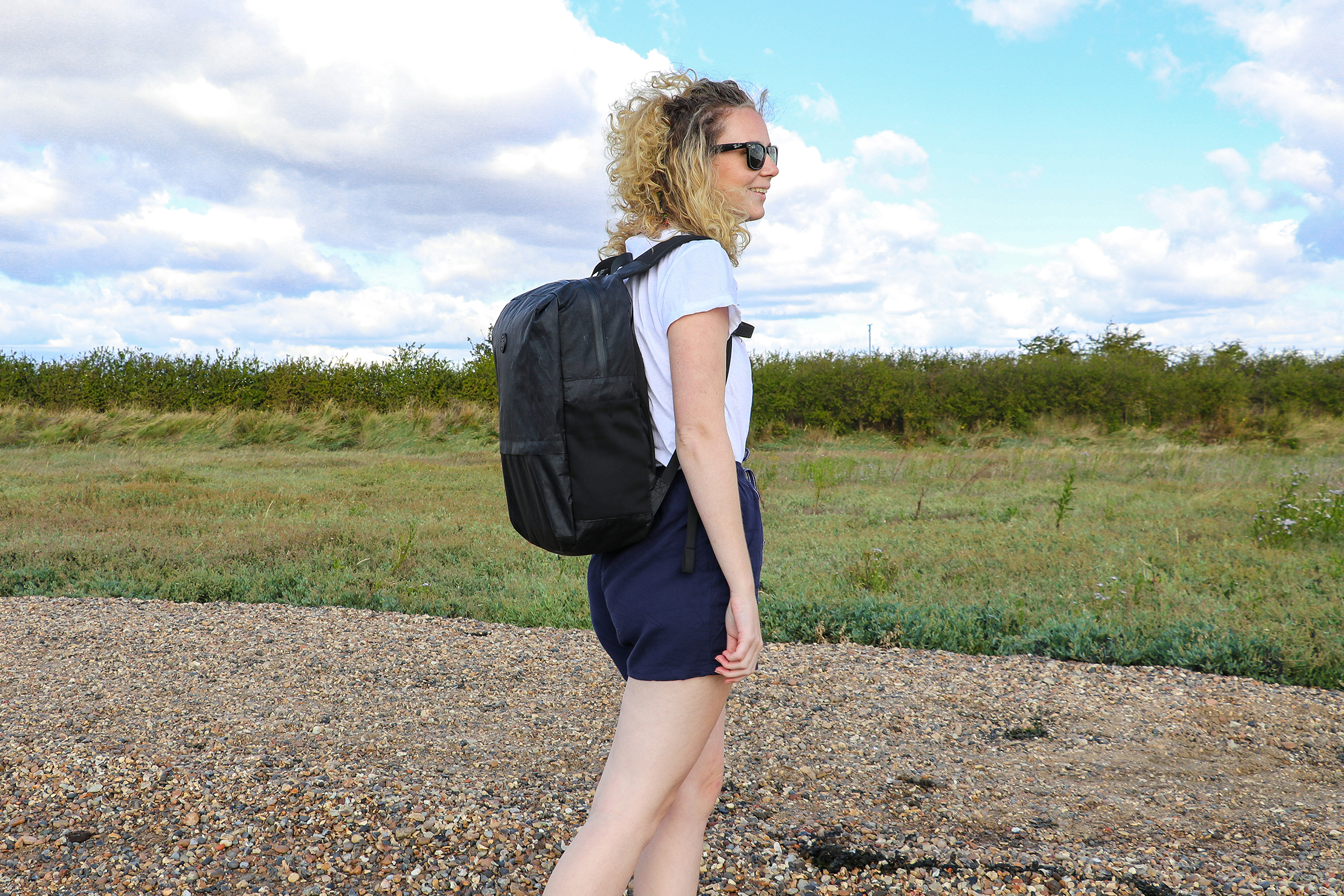 While this pack isn't compressible, it is packable—meaning that you can pack this bag flat in your larger travel bag. With a compressible bag, you have to compromise on the harness system—but that isn't the case here. And, although this harness system isn't going to support you like the Osprey Daylite Plus, it's still comfortable.

Although the lack of padding on the laptop sleeve isn't too much of an issue, the fact that putting a case on your laptop and still using the sleeve isn't an option, is slightly disappointing. That being said, if you don't carry a laptop, it does mean that these sleeves will lay flat and be completely out of the way when not in use.
Usage Timeline
Initial Usage
Condition: Excellent
The laptop sleeve doesn't have any padding on the front of the compartment
The material is loud and crinkly
This bag is lightweight and packs pretty flat
2 Weeks of Use
Condition: Excellent
Pretty "crunchy" but a sleek looking pack
1 Month of Use
Condition: Excellent
Laptop sleeve isn't big enough to carry a 15" laptop with a case
2 Months of Use
Condition: Excellent
Super comfortable to carry and the quick access pocket and water bottle pockets are very handy
Access the Pro Community Discussion
Get your questions about the Tortuga Outbreaker Daypack answered from our team and the Pro Community right here on the page. Plus, join discussions with other members about gear, guides, and more.
Other Bags & Luggage Reviews