Topo Designs TopoLite Cinch Pack 16L Review
While it packs down small, the Topo Designs TopoLite Cinch Pack 16L's flexible design leaves some structure to be desired.
Our Verdict
Unlock the Pro Summary
Save time. Get access to brief summaries of our reviews so you can browse and make decisions more efficiently.
Pros
Compresses into its own pocket
Water-resistant material works well
Lots of pockets for gear storage
Cons
Lack of structure prevents the bag from staying upright
Straps flopping around outside can be unwieldy
Slow access to main compartment
Recent Pack Hacker Video
Technical Details
Capacity

16l

Weight (lb)

0.4 lb (0.2 kg)

Dimensions

16 in x 11 in x 7 in (40.6 x 27.9 x 17.8 cm)

Notable Materials

Recycled Nylon, YKK Zippers, Woojin Hardware

Manufacturing Country

Vietnam

Warranty Information
Buying Options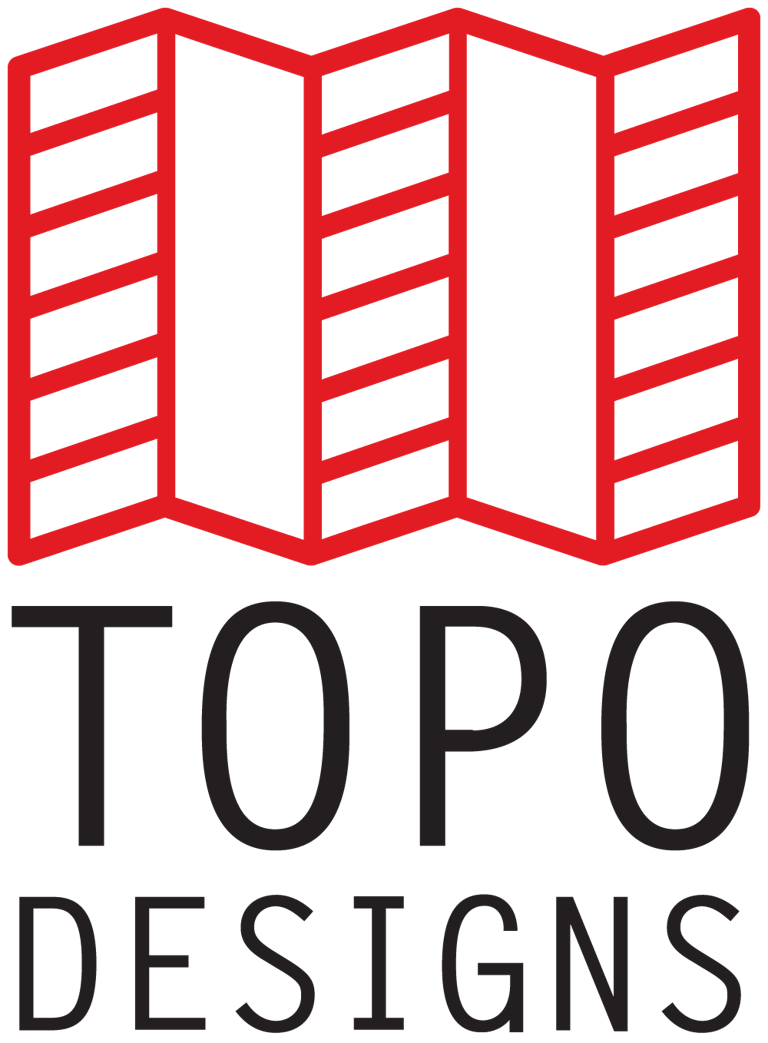 $79.00

$79.00
Full Review
Get up to 15% off Topo Designs • Join Pack Hacker Pro
Here at Pack Hacker, we love a good packable bag. They're helpful to toss in your travel backpack for a daypack when you reach your destination. They're also a way to carry back groceries, souvenirs, and other essentials to your lodging when the store doesn't provide disposable bags or you want to be an Earth-friendly and sustainable packer who says no to plastic.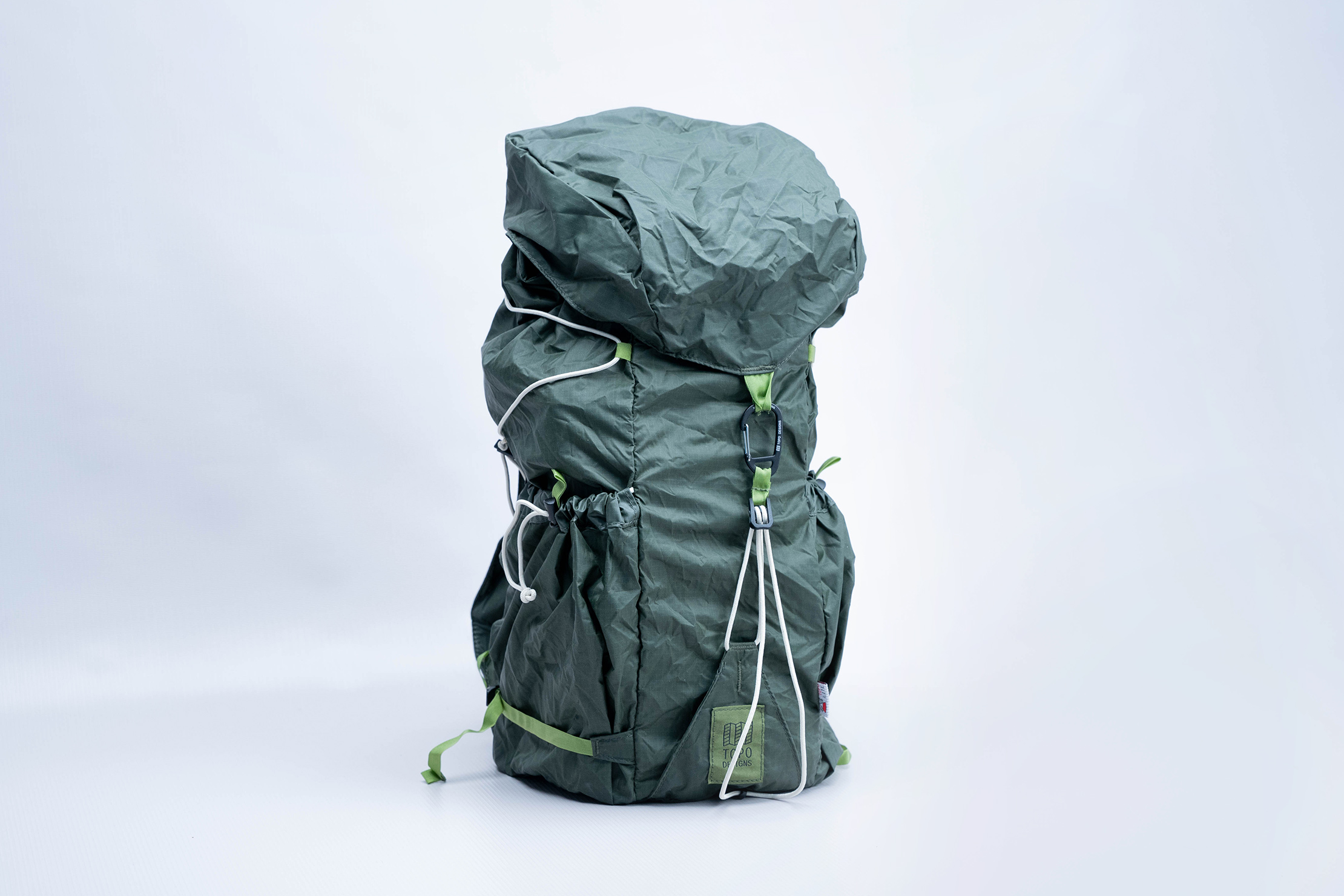 The best packable bags compress to be small enough to fit in a daypack yet come in handy when you reach your destination. Does Topo Designs' TopoLite Cinch Pack 16L fit the bill? Let's find out.
External Components
The Topo Designs TopoLite Cinch Pack 16L is a compressible backpack with 40D recycled ripstop nylon. It has a water-resistant silicone coating that gets the job done—an unfortunate leak from a travel water bottle didn't lead to dampness inside the bag, so it's a win.
We're testing the Olive colorway, though as of this writing, it also comes in Pond Blue or Black. While the Black is monochrome, the Olive and Pond Blue have white cords, plus coordinating lighter hues on the compression straps and accents scattered around the bag.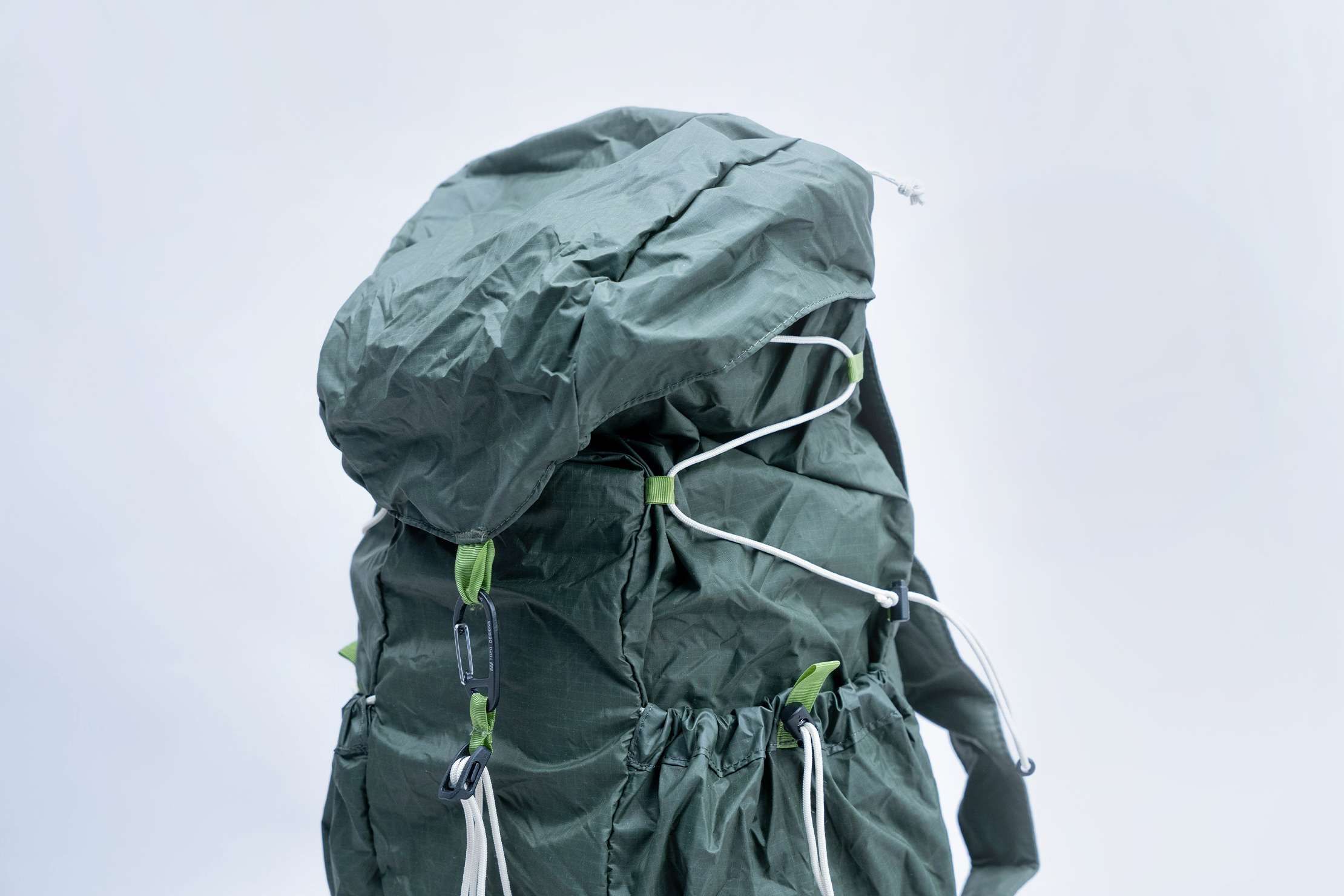 Let's talk about the straps, shall we? There are a lot of cords and straps hanging out around this bag. Cords span the sides of the bag to cinch it tight when you're carrying less gear inside the pack, locking with Woojin Hardware cord locks. However, doing so leaves a tiny opening to get into the main compartment, so you have to undo these cords when you need to get into the bag, further slowing an already-slow process, as we'll get to later.
Nevertheless, maybe you prefer to compress the bag down to the size of what you're carrying. There are two other compression straps to help you that span the bottom of the water bottle pockets. These "straps" are ribbons that tighten through Woojin slides—which work well. The ribbons get in the way of any bottle you try to slide into the pocket, so you have to use two hands to put something in the side pocket: one to hold the ribbon out and the second to slide the object in. Once something is in, it will stay put thanks to cords that cinch at the top of the pocket and the ribbon strap at the bottom.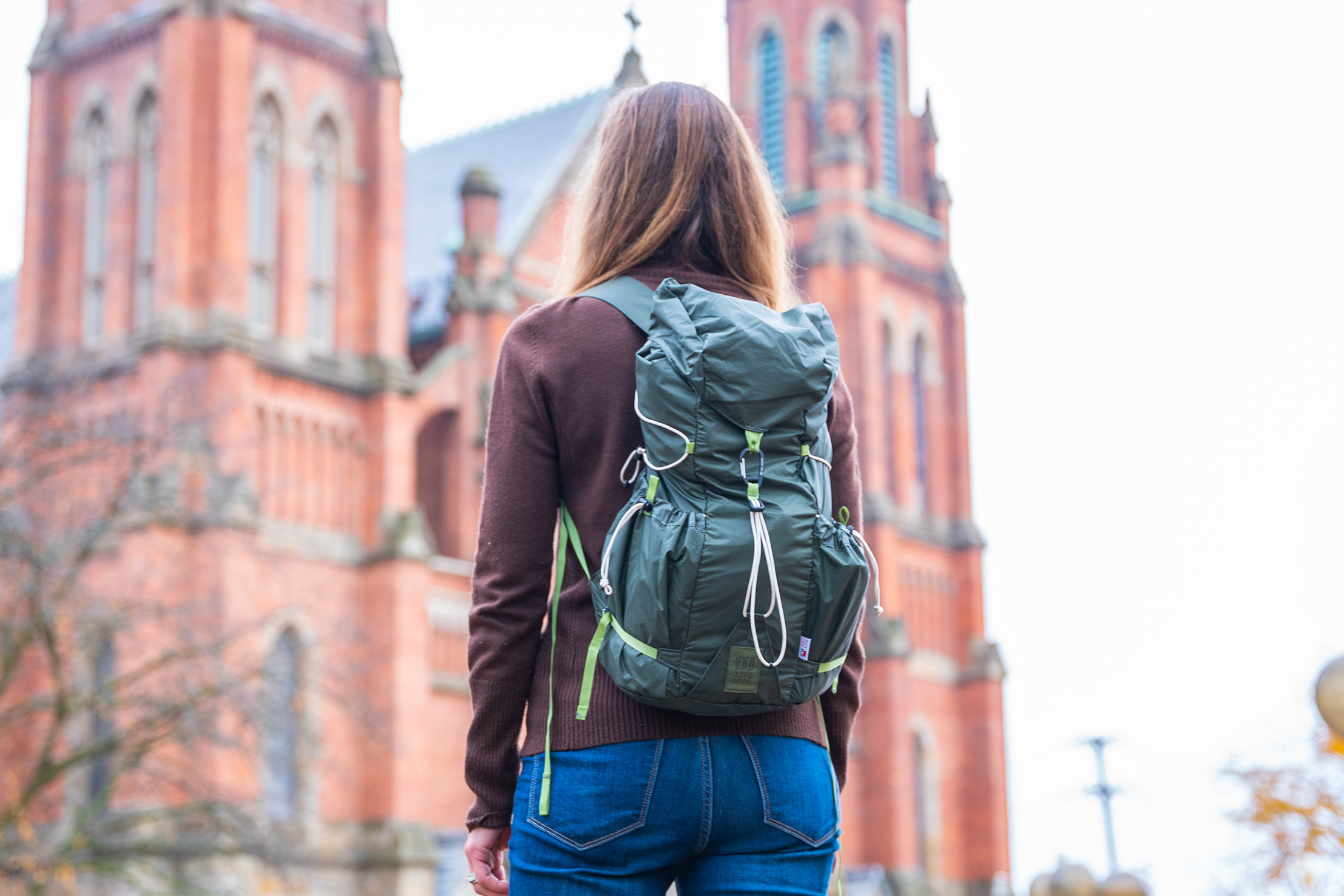 Dialing all of this in tightly and adjusting the harness system leaves you with the potential to have 10 straps hanging from the pack. While the cats of Pack Hacker team members have certainly enjoyed it, it's not something we prefer for aesthetic reasons—though that's not an issue if it's something you're into. The carry handle is also the same ribbony material, although it's twice as wide. The materials are undoubtedly light. However, we would have liked to see something a little more sturdy here.
Along with the Woojin Hardware, Topo Designs uses YKK zippers on this pack in the two spots that open that way, and they work well. As for branding, there is a Topo Designs patch centered near the bottom of the bag and a little white tab that says TopoLite near it, and that's it.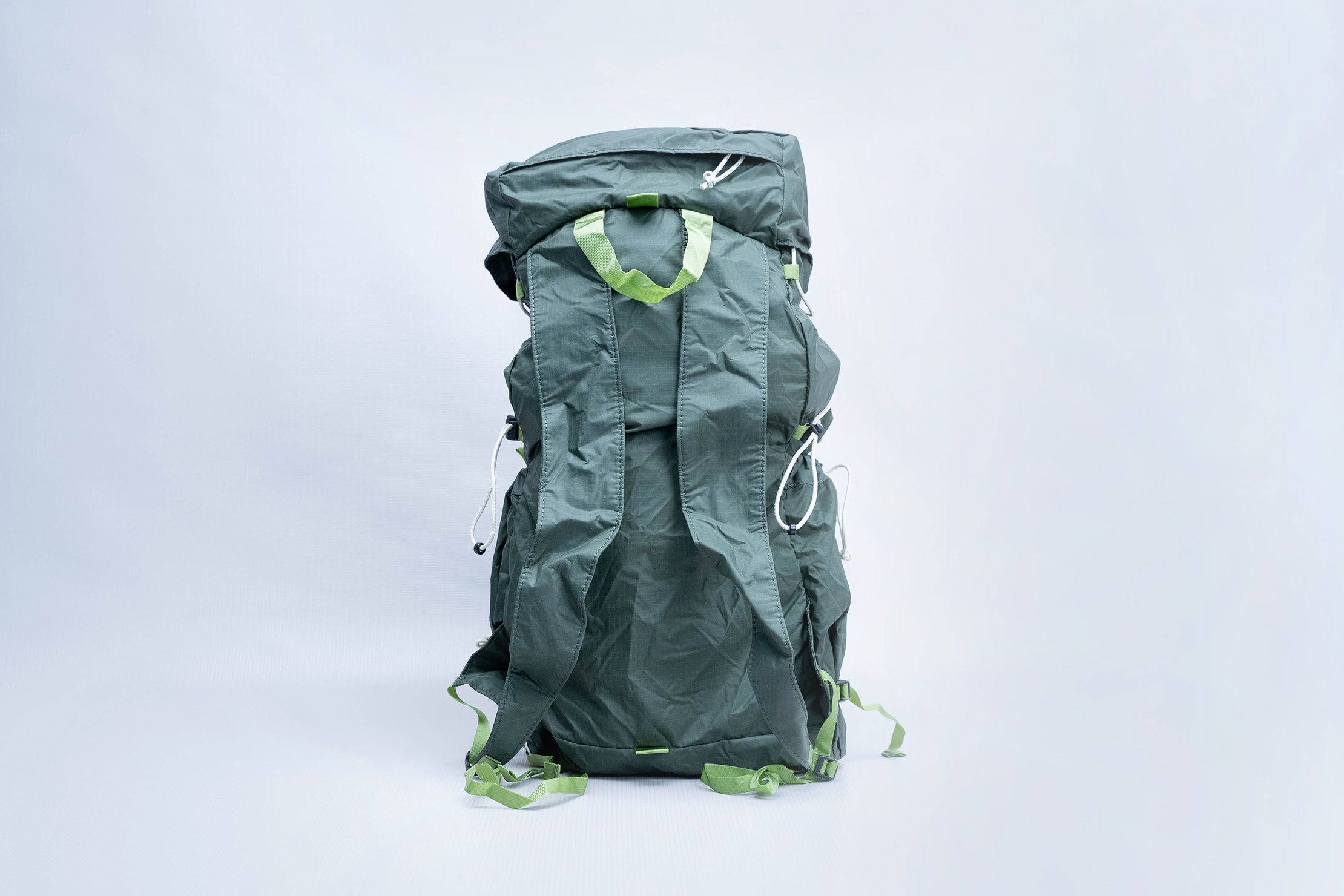 Once it's out of its 7.5-by-5.75-inch pocket, the Topo Designs TopoLite Cinch Pack 16L is a backpack. While it lacks any back panel structure, let alone padding, it has shoulder straps that adjust with the same type of ribbon that spans the bottle pockets.
The straps are the same recycled ripstop nylon as the remainder of the pack. There's no padding here, though we don't find them uncomfortable. Their 2.25-inch width distributes the pack's weight across your shoulders, and that's not much since this is only a 16L bag.
Fit Notes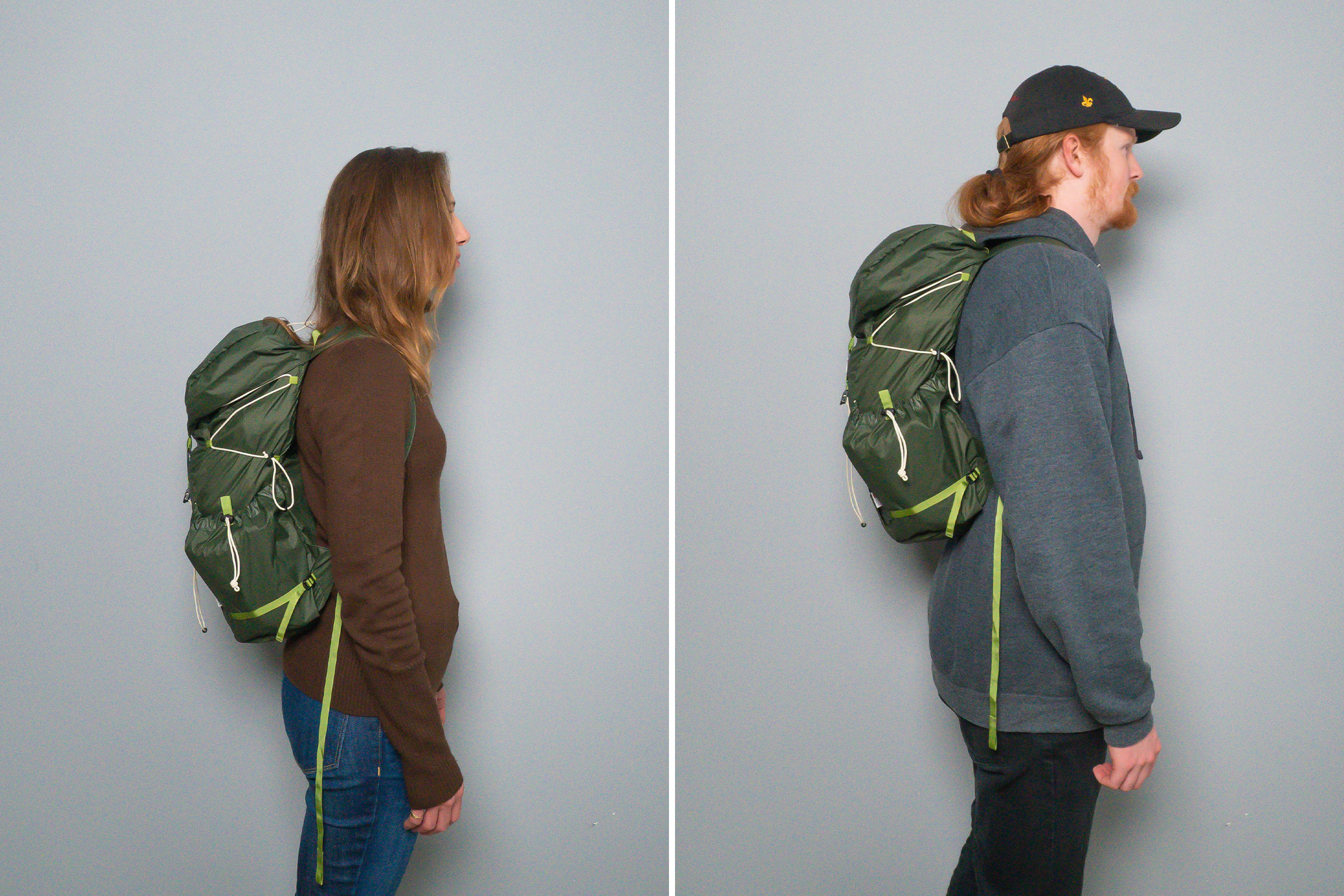 How the bag looks as you carry it correlates to what's inside. Since it has no structure, the bag sags and hangs around what's inside. Suppose you've only tossed a book, a phone, and a wallet inside because you only needed to stroll to the nearest cafe for an afternoon snack. In that case, it can look squashed, especially if you load anything heavy into the top quick-access pocket without packing out the main compartment. However, if you stuff a picnic lunch, a picnic blanket, and a few travel jackets inside, the exterior looks like a nice, casual hiking pack. It also minimizes the number of straps dangling around since you'll have to loosen all the cords to fit everything inside. In short, this pack sacrificies structure for packability, which has an impact on its aesthetic depending on how much gear is packed inside.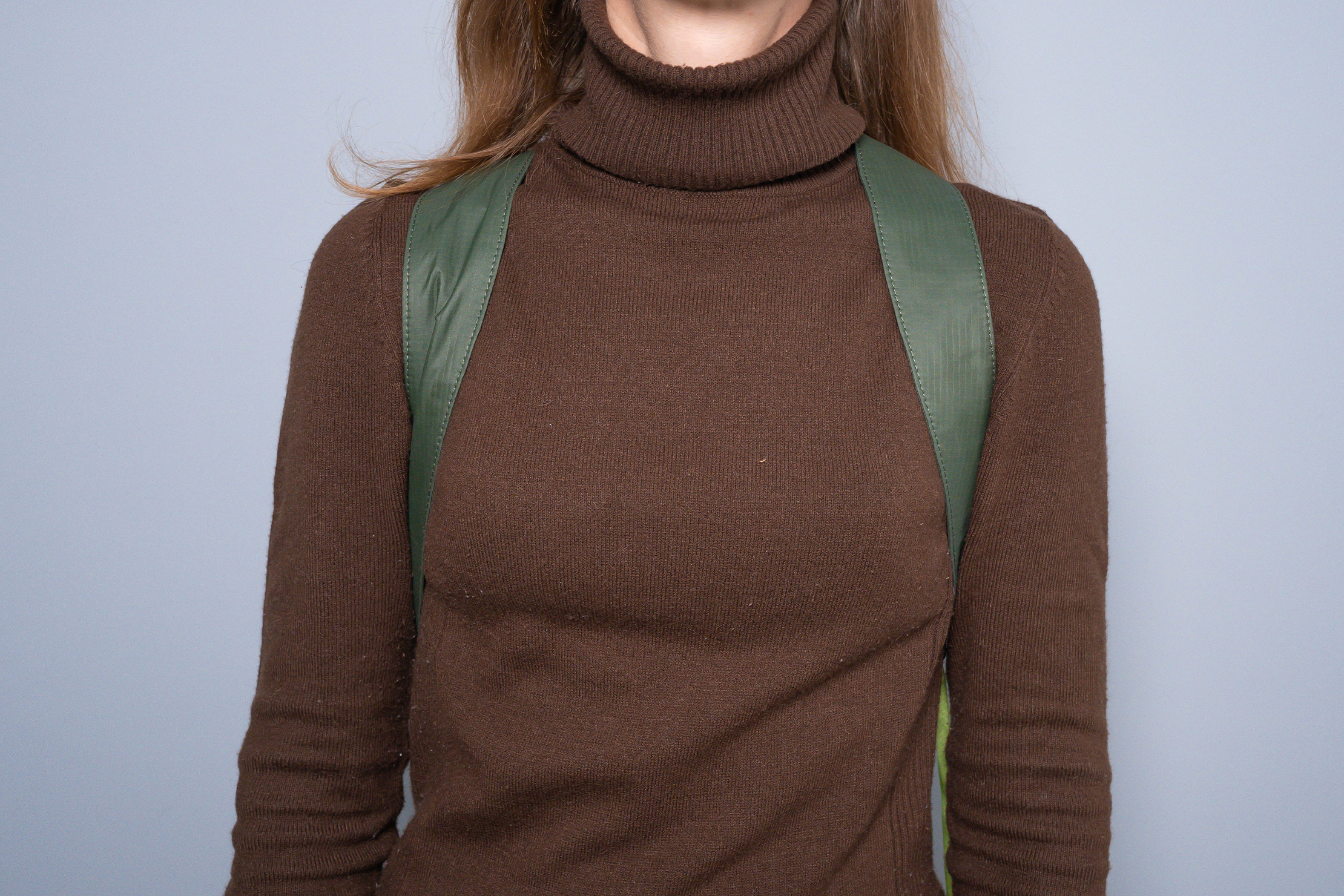 That said, the bag is comfortable enough to carry. Because of the extreme flexibility, the straps accommodate a wide range of users, although they can twist as you put them on due to their thinness.
It is also relatively easy to pack the bag into its pocket, unlike some compressible gear you have to wrestle with to get back in the container they came in. On the outside of the pouch is a corded loop so you can hook it with a carabiner outside another backpack for easy transport.
Inside The Pack
The Topo Designs TopoLite Cinch Pack 16L has quite a few external pockets for a packable bag that you're unlikely to use daily. At the top, a zippered pocket spans the hood of the pack. It's convenient for your phone, wallet, AirPods, and other small gear, though packing anything in here makes the pocket extremely floppy and prone to sagging into the main compartment.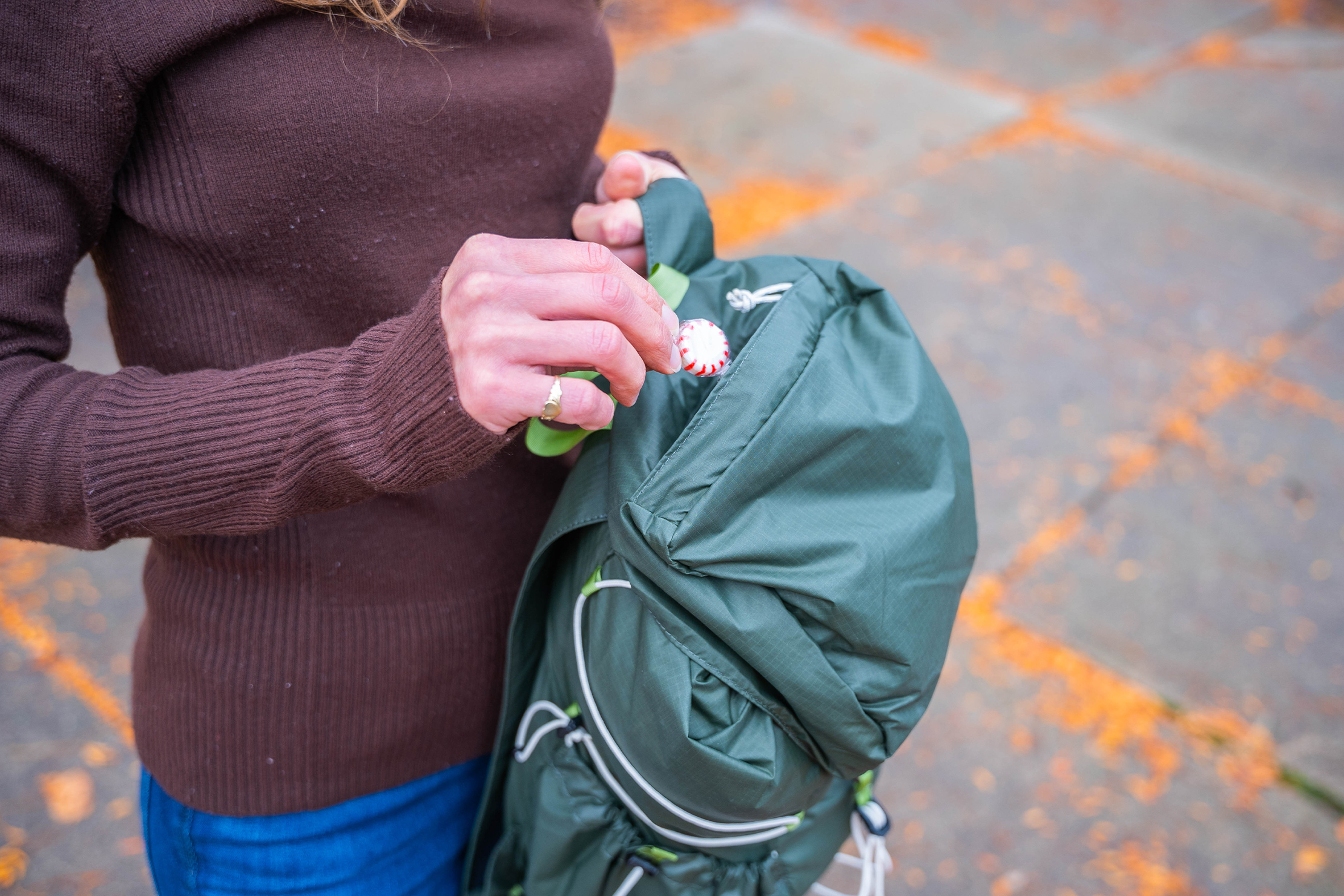 There are also two water bottle pockets, one on each side, that accommodate various sizes with their nearly 8-inch diameter. As noted above, using them isn't as easy as just sliding a bottle in, especially when the bag is on your back, since the pocket collapses down into or next to the bag. When you slide a bottle in, there's no guarantee that it will remain standing when you set the pack down on the ground. Instead, as the pack slumps to the side like a traveler who's nodded off in the middle seat with no place to rest their head, your bottle will tip and fall on its side, so make sure it's a bottle you trust not to leak.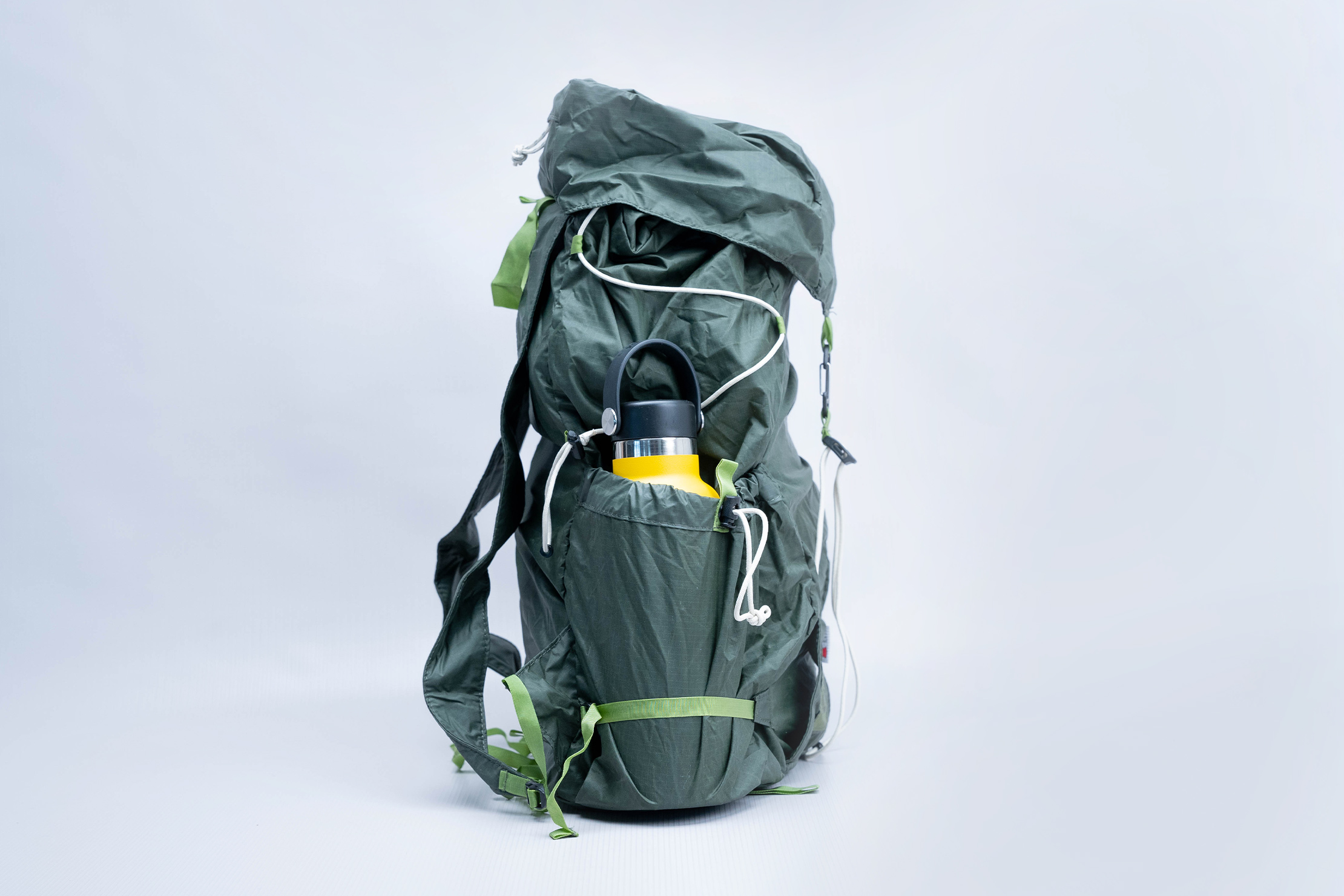 These pockets are good for more than just bottles, though. Since access to the main compartment is slow, and there is not much organization for small to medium-sized items inside, these pockets do well for carrying snacks and small pouches of gear you want to access quickly. The top of the pockets cinches shut completely, so you don't have to worry about your apple rolling away when the bag falls sideways.

Now, onto the main compartment. The front flap or hood folds over the cinch's primary opening, connecting with a Topo Designs carabiner attached just above the brand patch on the front. It's connected with a cord that slides to loosen, allowing the bag to expand upward if it's stuffed with gear or tighten when there's not much inside.
Unclip the carabiner from a folded ribbon loop at the bottom of the front flap to get into the main compartment. There is a notch at the end of the carabiner where the clasp snaps. The combination of the two is unwieldy as the folded ribbon gets caught on the hook as you try to unhook it.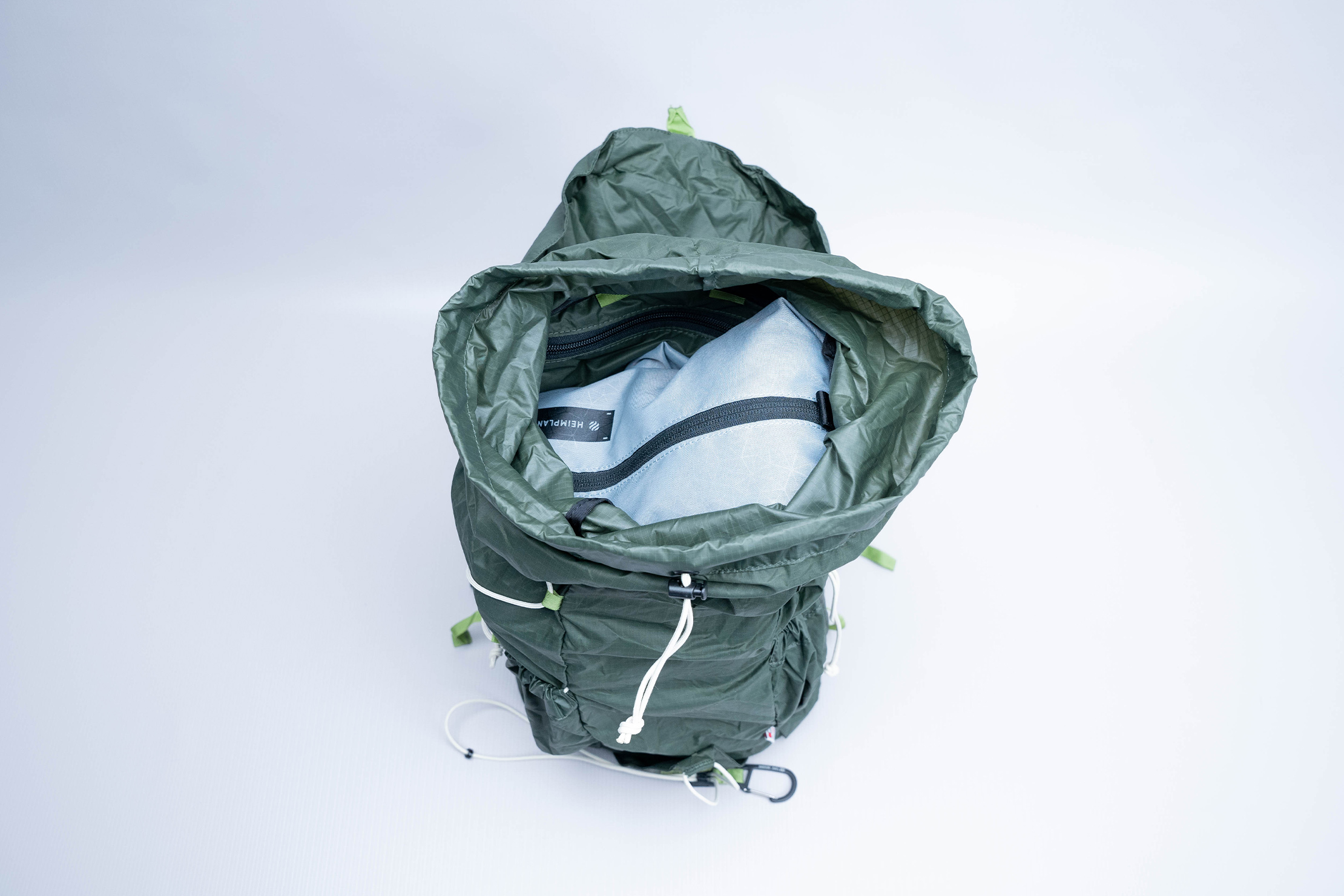 Once you do so, the main compartment opens by sliding a cord lock down its length to loosen it. Provided the side cords are loose, you look into the large opening of the cavernous main compartment. The 16-inch height of the bag is entirely open except for a zipper pocket at the top. This pocket is how you compress the bag. However, when unpacked, it doubles as a pouch for small gear. Anything you toss in here will have to come out when you want to compress the bag back into its pouch, though that is true for every pocket on the bag. We use it for pens, mostly, as anything else we want to access quickly is better off outside the main compartment.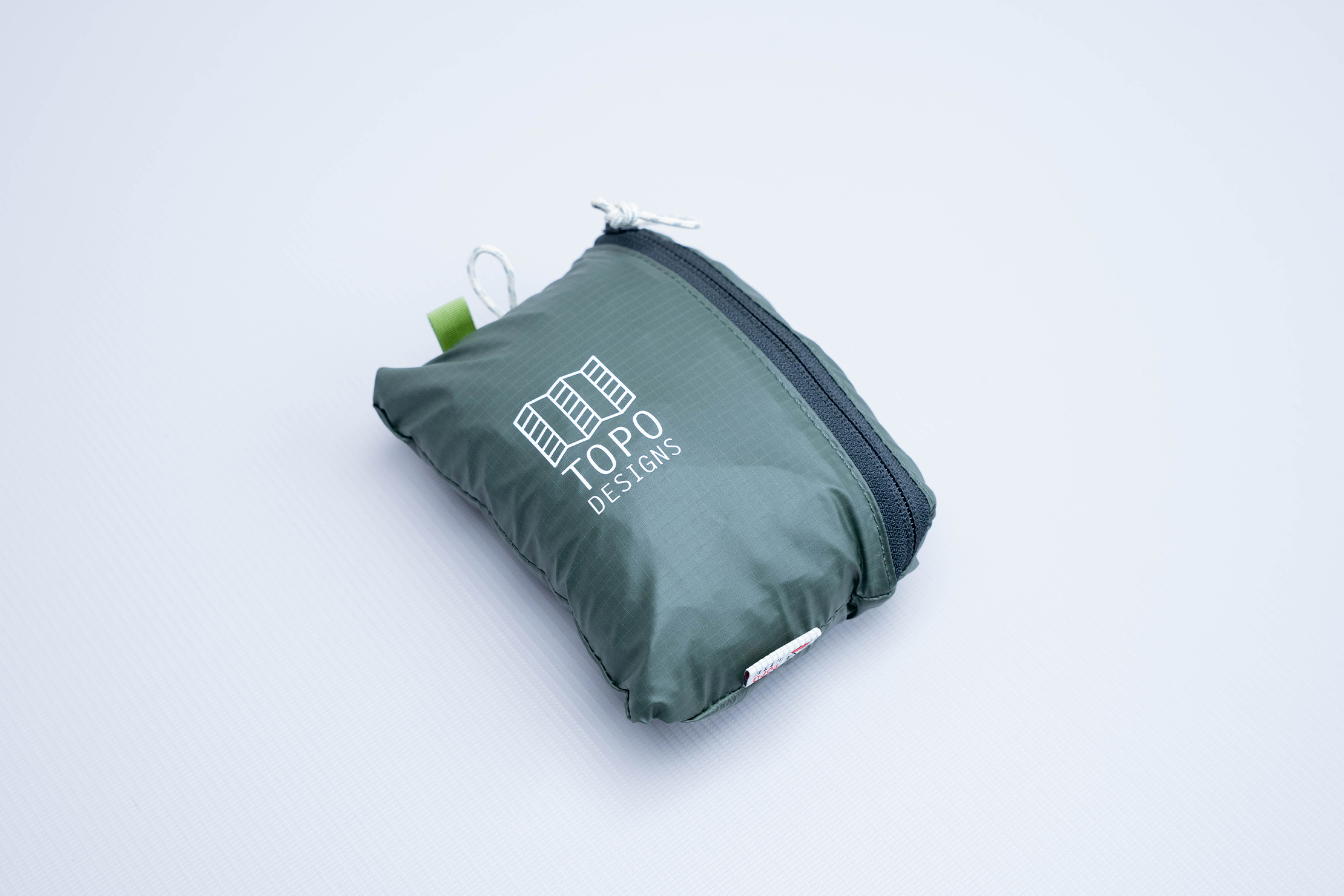 If you want to use this as a personal item bag or a daypack, be sure to employ cubes in this pack and ensure what you need most is near the top since it's easy to forget what's at the bottom of the chute. And be careful what you pack—pointy gear or items with odd edges can quite literally rub you the wrong way due to the lack of padding anywhere on this pack. Still, this may be the packable bag for you if you want one that packs into a small, flattish pouch.
Usage Timeline
Initial Usage
Condition: Excellent
Fabric is very crinkly
Excited to see how well bottle pocket compression straps function
Lots of extra straps hanging off this bag
2 Weeks of Use
Condition: Excellent
Shoulder straps can flip around when you put it on
Holds tight to bottles thanks to cinch pockets
Tons of straps flopping around
Access the Pro Community Discussion
Get your questions about the Topo Designs TopoLite Cinch Pack 16L answered from our team and the Pro Community right here on the page. Plus, join discussions with other members about gear, guides, and more.
Other Bags & Luggage Reviews