TOM BIHN Side Hustle Review
The TOM BIHN Side Hustle has high-quality materials and ample storage space; however, some organization feels better suited for a pack of smaller proportions.
Our Verdict
Unlock the Pro Summary
Save time. Get access to brief summaries of our reviews so you can browse and make decisions more efficiently.
Pros
Customizable and modular interior
Durable materials hold up over time
Plentiful colorway options
Cons
Organization feels borrowed from a smaller pack
No padding or aeration on the strap or back panel
Lacks external attachment loops
Recent Pack Hacker Video
Technical Details
Capacity

5.8l

Weight (oz)

13.2 oz (374.2 g)

Dimensions

12.6 in x 7.5 in x 4.7 in (32 x 19.1 x 11.9 cm)

Notable Materials

Ballistic Nylon, Ripstop Nylon, YKK Zippers, Duraflex Hardware

Manufacturing Country

United States

Warranty Information
Full Review
If this messenger bag looks familiar, you're probably a fan of TOM BIHN. Coming in at 5.8 liters, the Side Hustle is between the 3-liter Side Kick and the 6.5-liter Packing Cube Shoulder Bag and takes design elements from both. Will this transformation be delicious or taste awful like Polyjuice Potion? Let's find out.
External Components
The exterior of this messenger bag is bluesign® certified High-Tenacity 2×2 Ballistic nylon. In typical TOM BIHN fashion, you can expect a lot from the materials, and the product page will let you know exactly what you're getting, which we appreciate.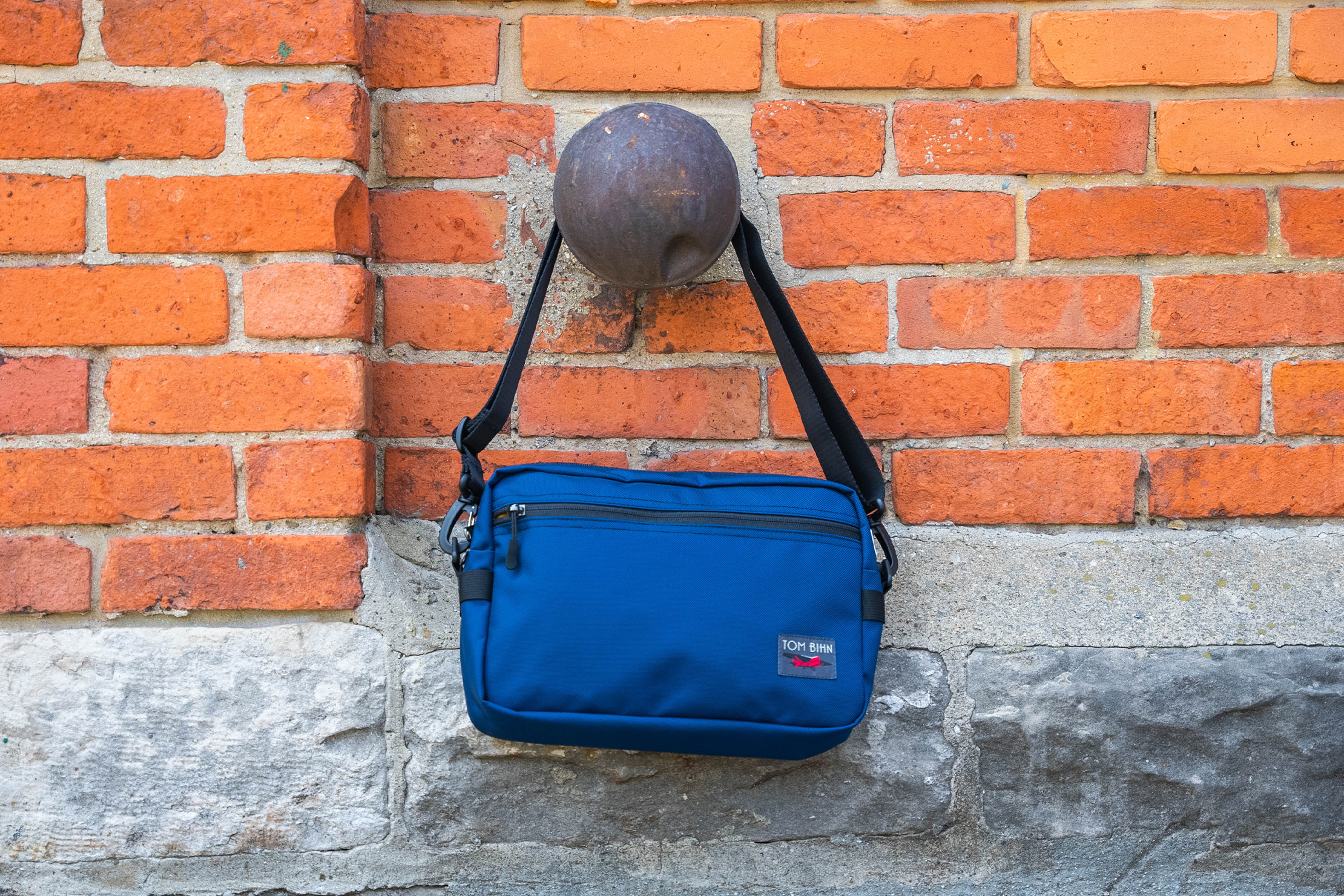 There are a ton of colorways to choose from. We've got theDeep Blue Ballistic/Marigold 210 Cerylon on hand, which looks similar to other TOM BIHN packs we've tested. The logo has its trademark heritage styling, and overall, the pack feels durable, water-resistant, and versatile.
The zippers are from YKK and feel adequate for the job at hand. Extra pulls are included with the purchase, so you can switch things up if you so choose.
The hardware that attaches the strap is from Duraflex and works as we expect it to. It has a swivel and is easy to pop on and off. It doesn't come unclipped when you don't want it to, which is vital. There isn't much else to report on that.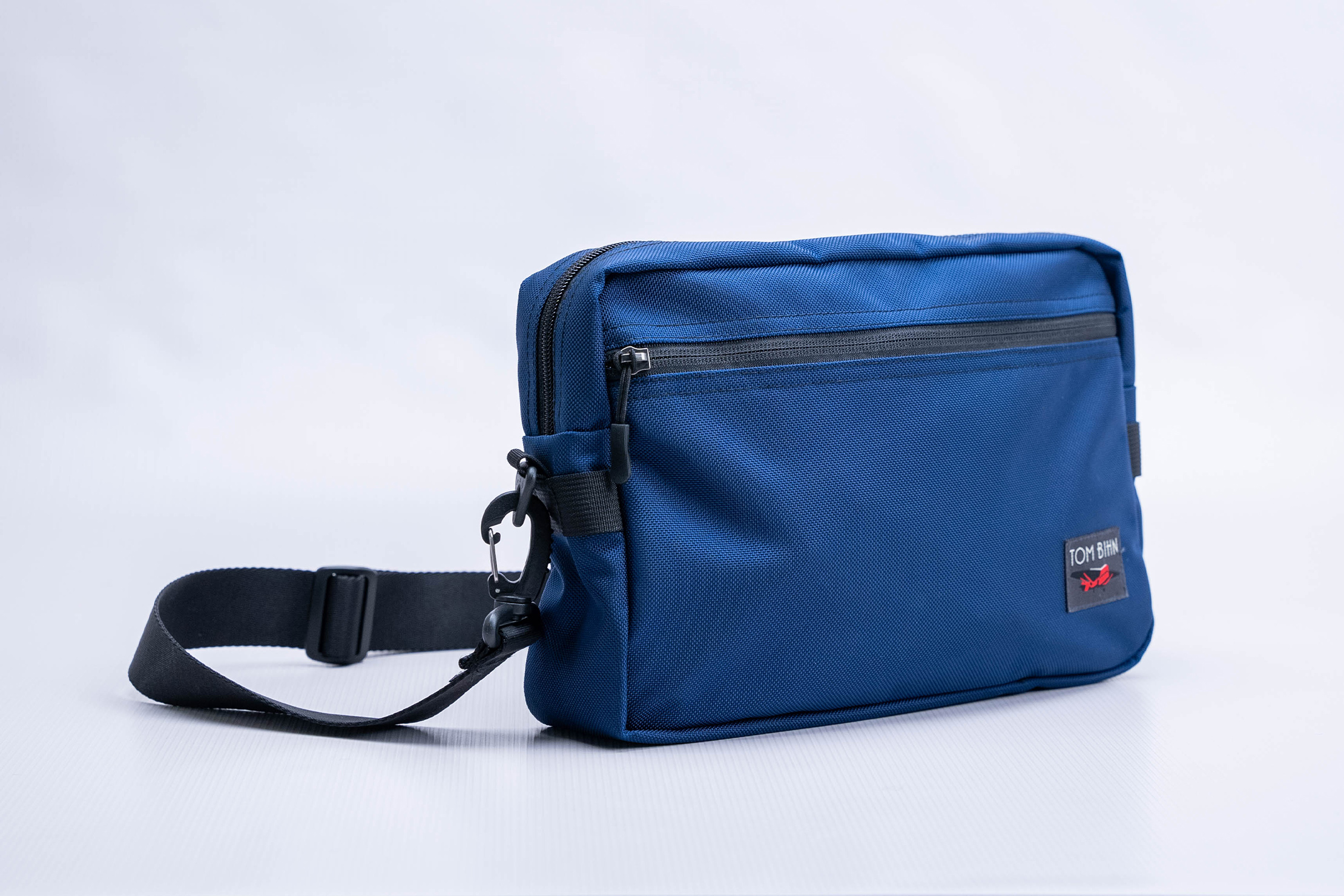 There isn't a ton going on externally here. It's a simple-looking pack, and that isn't a diss. It's sleek and stays out of your way while you're wearing it, which is saying something because it is relatively large. It isn't very deep; however, the footprint is more significant than expected for a 5.8-liter messenger bag.
Below where the strap attaches, there's a small attachment loop where you could hook a carabiner. It doesn't appear to be for that purpose, but you can use it that way if you want.
Fit Notes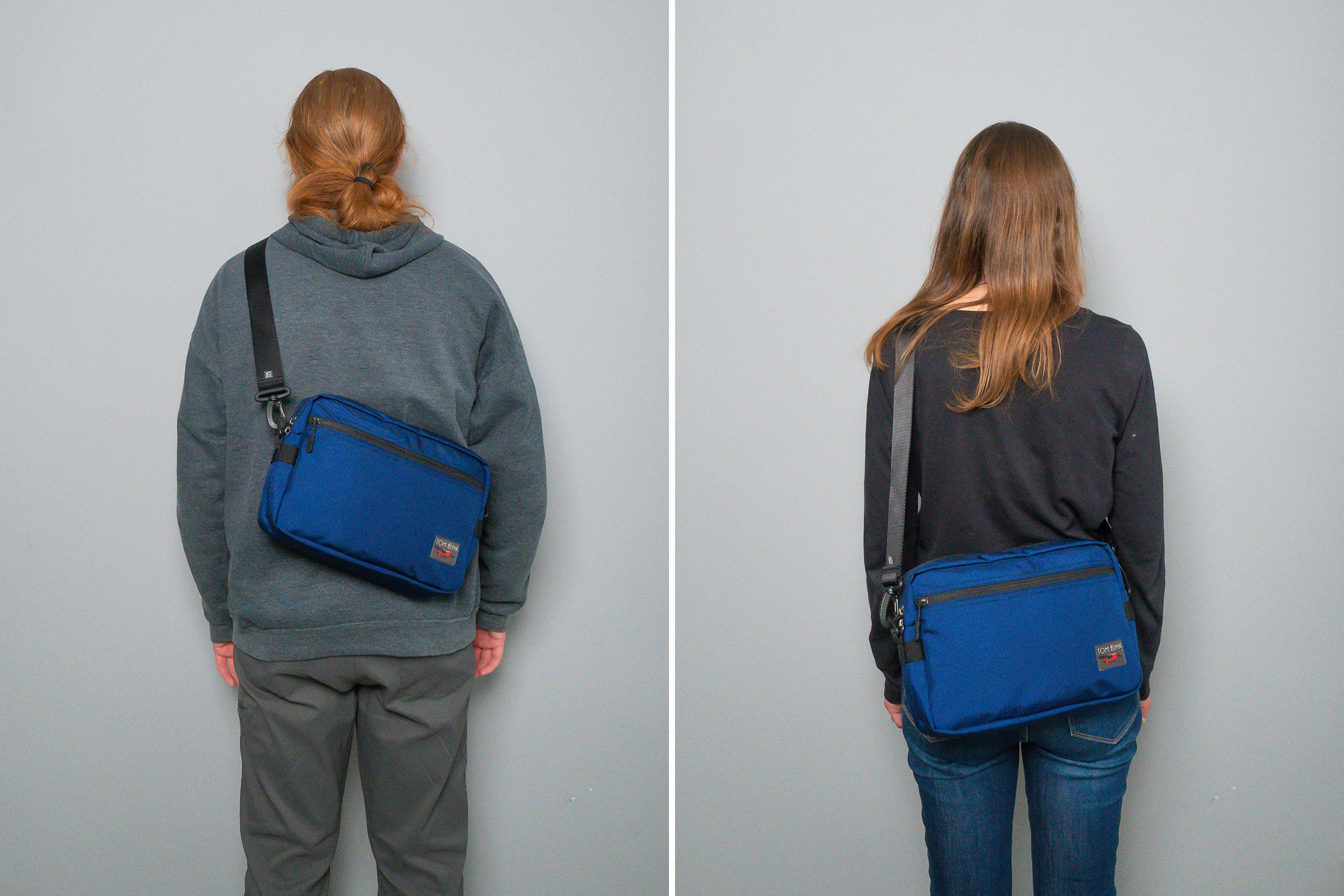 The strap has no padding or aeration; however, it's reasonably comfortable, even when the pack is fully loaded. The clips are on a swivel, so adjusting the strap is easy if it gets tangled. However, because of the swivel, we've found that it gets tangled up easier, too. The strap is roughly 53 inches (134.62 cm) long when fully extended.
There's no padding or aeration on the back panel, but we've still found that to be comfortable. It can get a bit warm, especially on hot days, but because of the design, it isn't as bad as other packs we've tested. Because it's a messenger bag, it isn't typically in one place for an extended period, so the heat can't build up. If this were a daypack on your back for longer, it might be a bit too hot.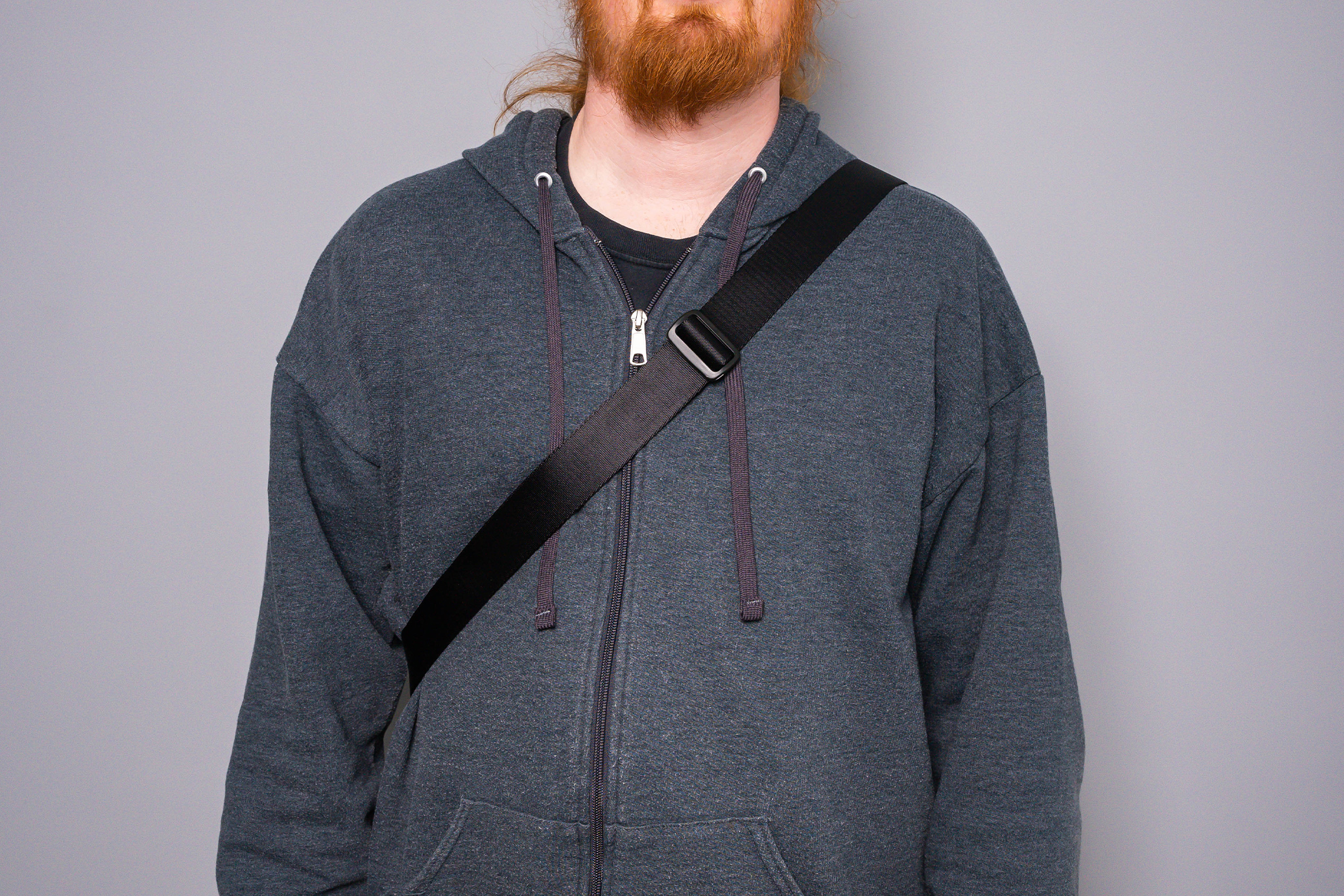 The materials aren't thick, so you can sometimes feel your gear stowed inside. This is especially true when you've got a lot of items loaded inside, so they're protruding slightly. For the most part, it remains comfortable.
Inside The Messenger Bag
On the backside of the pack, there's a compartment to stow gear. It's a slip pocket with no closure, so it's ideal for flat items like a book you might want quick access to on public transit or a walk through the park without going into the main pocket. However, because there's no cover, it's best to slide your gear into the main or front compartments in inclement weather. Anything you slide in here can be felt on your back, side, or front while wearing the pack, so flat items do best to maintain a comfortable fit.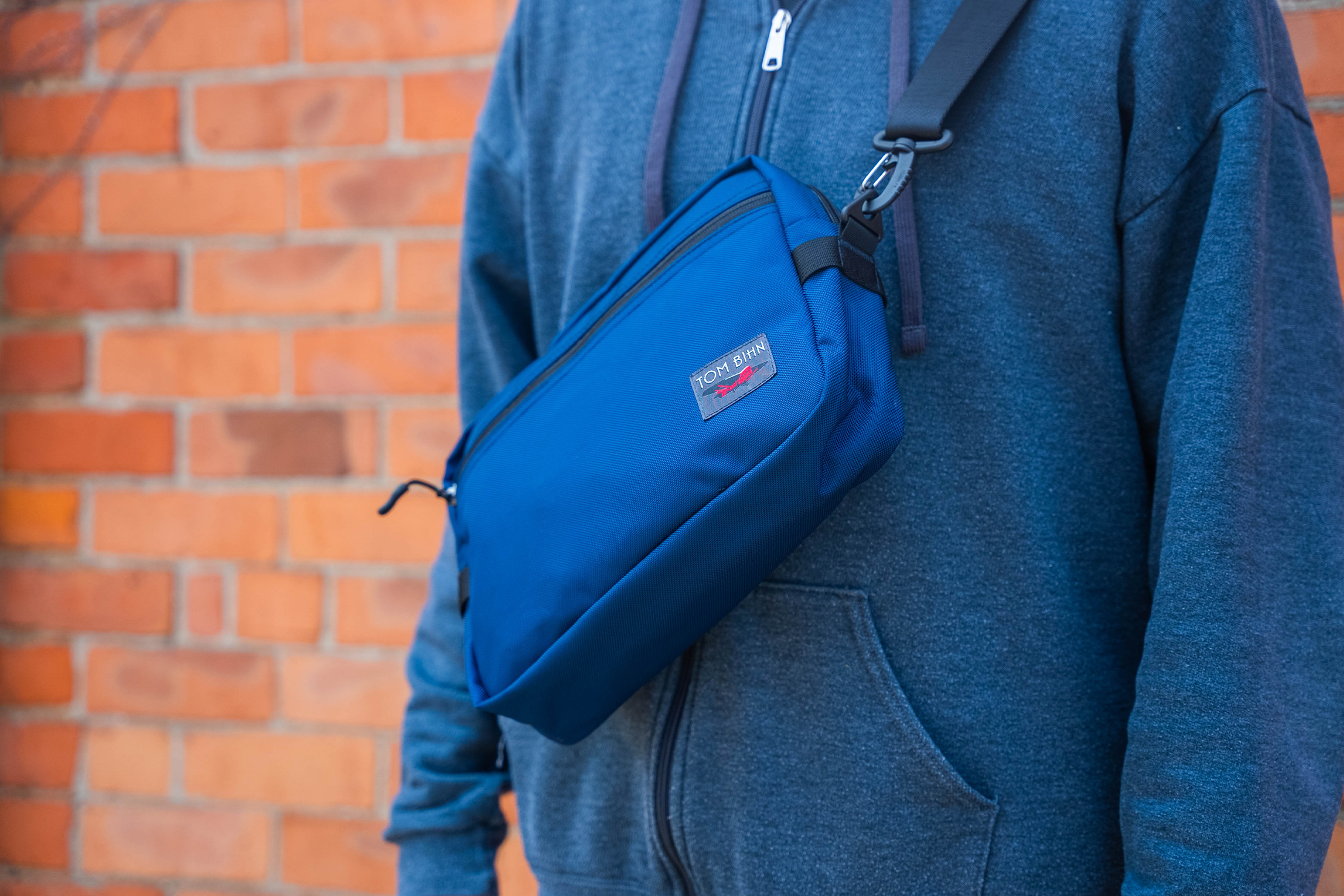 Before we dive inside, the color and material of the liner depend on which colorway you go with. There are two options: bluesign® and OEKO-TEX® certified 200-denier Halcyon/nylon ripstop and bluesign® certified 210-denier Cerylon 6,6 Ripstop nylon. The model we have on hand is yellow Cerylon, which makes finding gear easier due to the bright colorway. Both the front and main compartments utilize this liner.
A slash pocket on the front of the pack works well for the quick-use gear you want to ensure has a topper, unlike the compartment on the backside. There's no organization inside here—just open space. It's ideal for stowing more oversized items, like a packable travel jacket, but it doesn't work as well for smaller items not contained in a tech pouch or other organizer. The pocket takes up the entire front face of the pack so that you can stow a solid amount of gear here.
There's one O-ring on the top of the compartment that comes with a key leash attached. You can move this to another O-ring or remove it completely if you so choose.
Moving into the main compartment, we've got more organization and, in typical TOM BIHN fashion, more O-rings.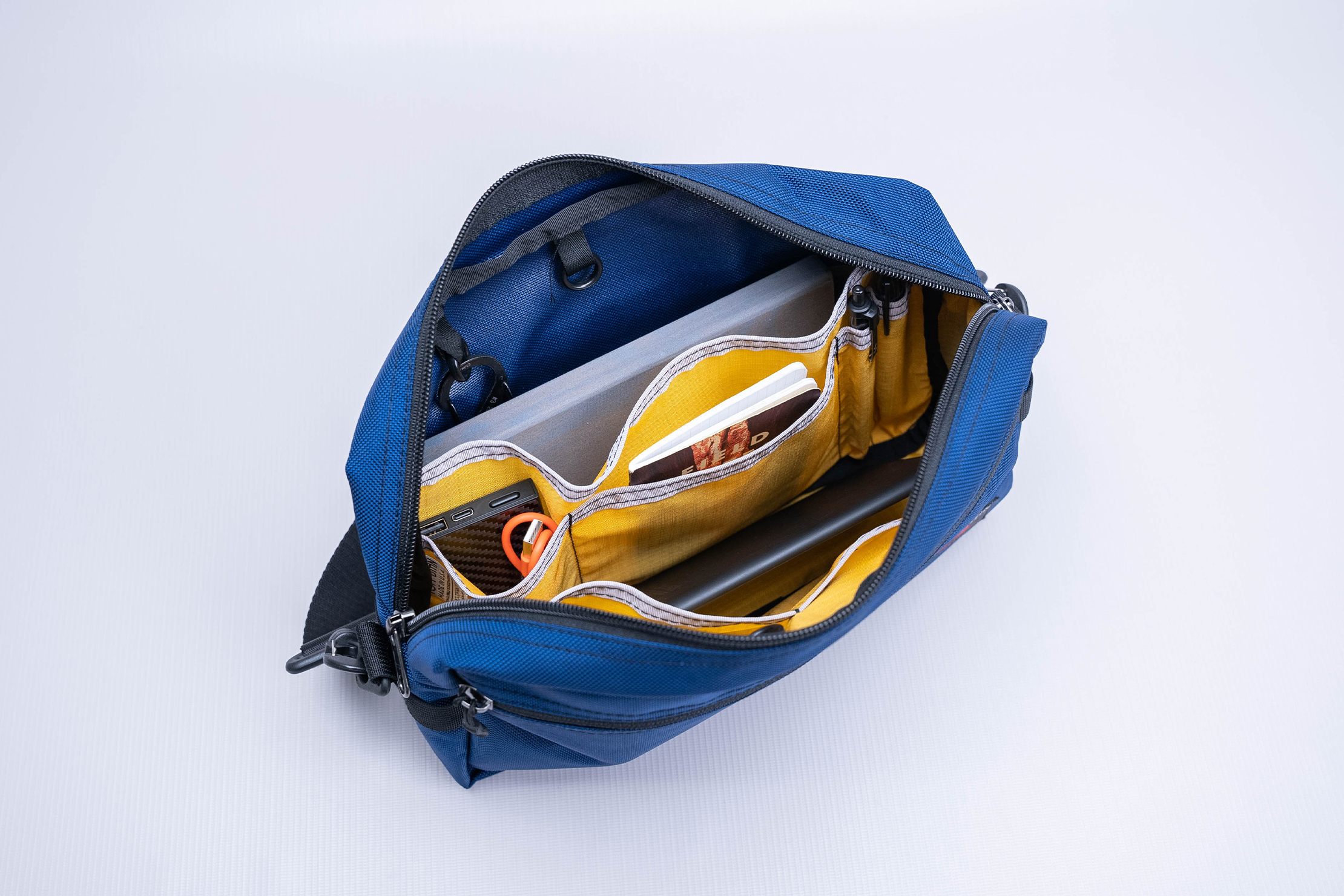 The rings here are on the top of the compartment, too. There are two on either side, which brings the total for this messenger bag to five, which isn't half bad. If you're into math, that's an O-ring for every 1.16 liters of the pack!
The front side has two large liner pockets. You can fit more oversized gear here—think a TI-84 calculator, Nintendo DS, or modern devices like a smaller Kindle. Neither one has a closure, so equipment can extend out of the top, which is helpful.
On the backside, there's more organization. There's a large liner pocket that can stow up to an 11-inch tablet, another pocket similar in size to those on the opposite side, a smaller one next door that works for a normal-sized phone, and two pen sliders that are large enough to accommodate a stylus for that tablet you stowed earlier. This organization is thoughtful but not necessarily dynamic.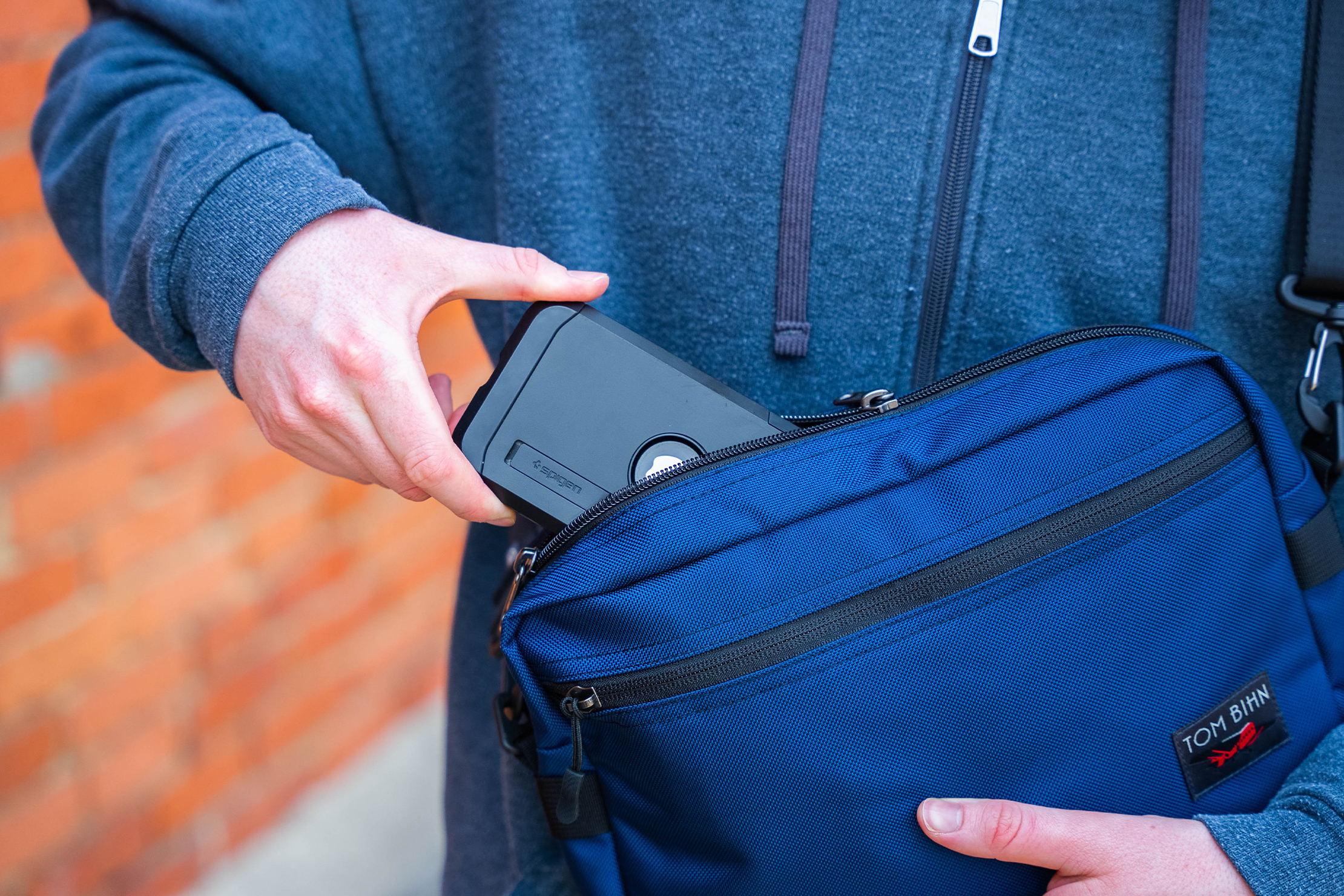 The area that fits a tablet lacks padding, so you'll need a case to feel safe putting your device there. If you have a plus-sized phone, there isn't a pocket perfectly designed to fit it, so it'll either be a tight or loose fit, depending on where you put it.
That said, the organization works well for various gear and can accommodate just about anything. However, nothing feels designed with specific pieces of gear in mind.
The rest of the area is wide open. There's a lot of space to work with, but it can be challenging to make the most of it. It's tall and skinny, so, odds are, you'll be stacking gear on top of other stuff to make it fit, making accessing gear on the bottom of the pack harder. It'll work, but getting to it isn't always easy.
The organization inside the main compartment feels as if it would work well if the sling was smaller. We loved the Side Kick, but the organizational details made more sense at 3 liters than at 5.8. We dig this pack; it just doesn't feel as friendly or dynamic as other TOM BIHN gear.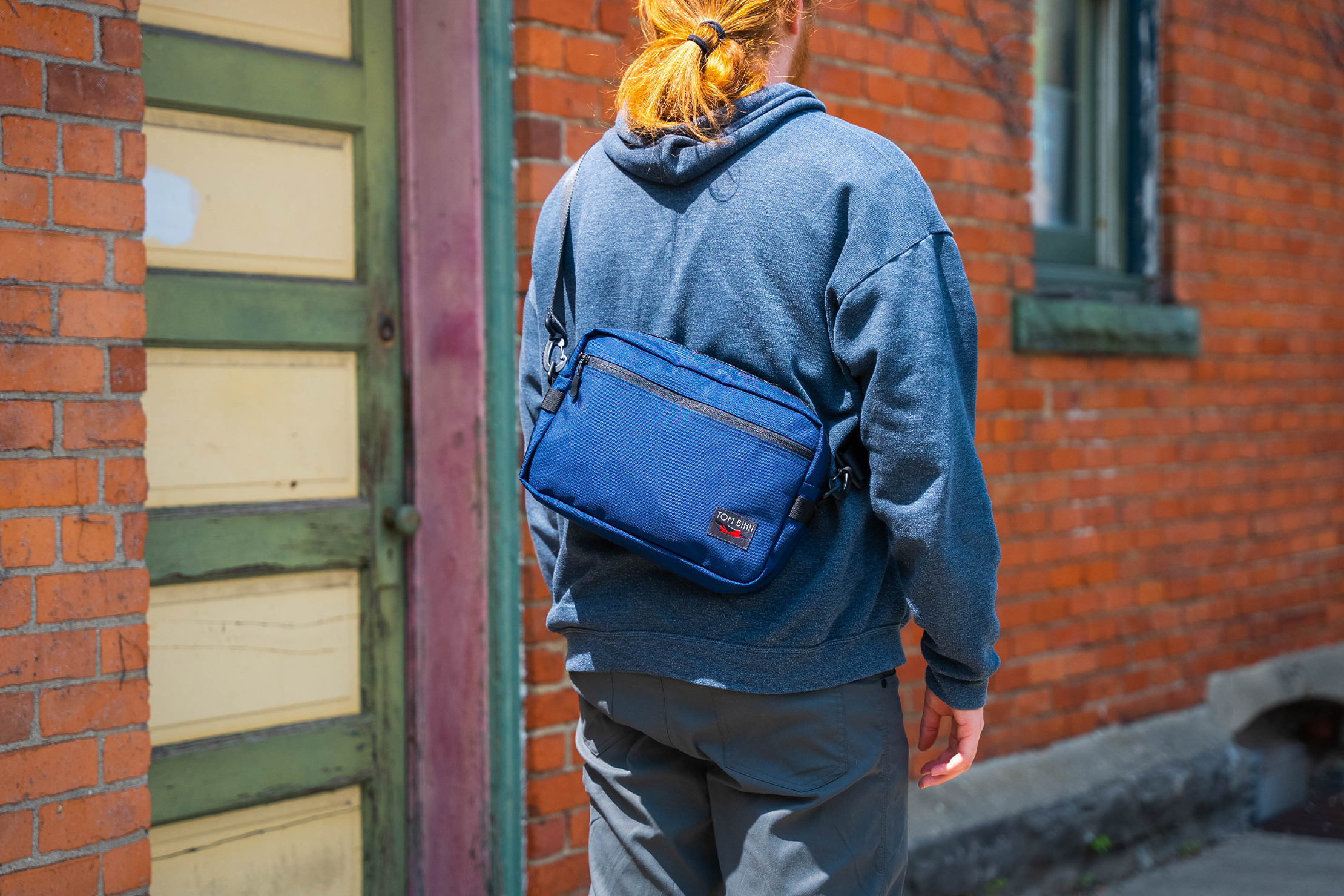 If you dig pockets, customization, and durable materials, this might be the messenger bag for you!
Usage Timeline
Initial Usage
Condition: Excellent
In typical TOM BIHN fashion, the materials are durable and practical
The hardware feels reliable and easy to use
There's no padding on the strap, which we're excited to try
2 Weeks of Use
Condition: Excellent
Materials and hardware have held up well in the usual TOM BIHN fashion
Even without padding, the pack is comfortable to carry
The internal organization doesn't work as well as we'd hoped for a variety of gear
Access the Pro Community Discussion
Get your questions about the TOM BIHN Side Hustle answered from our team and the Pro Community right here on the page. Plus, join discussions with other members about gear, guides, and more.
Other Bags & Luggage Reviews