TOM BIHN Cambiata Review
The Tom Bihn Cambiata's size and top loader design make it a good carry-on for air travel, but comfort has some room for improvement.
Our Verdict
Unlock the Pro Summary
Save time. Get access to brief summaries of our reviews so you can browse and make decisions more efficiently.
Pros
Fairly rigid structure allows it to stand on its own
Plenty of pockets without being excessive
Includes a crossbody strap for tote-style carry
Cons
Its base juts into our lower back even with the straps fully tightened
Tricky to squeeze in a bottle once the main compartment's packed out
Crossbody strap lacks padding
Recent Pack Hacker Video
Technical Details
Capacity

21l

Weight (lb)

2.06 lb (0.9 kg)

Dimensions

15.9 in x 12.8 in x 7.5 in (40.4 x 32.5 x 19.1 cm)

Notable Materials

Ballistic Nylon, Ripstop Nylon, YKK Zippers, Duraflex Hardware, Woojin Hardware

Manufacturing Country

United States

Laptop Compartment Size

16"

Warranty Information
Full Review
A "cambiata" is a musical term that refers to "a non-harmonic note of a melody reached by a skip of a third and resolved step." That's the dictionary definition, and for Tom Bihn, that translates to "changing of notes." So what's the connection with their bag, the Cambiata?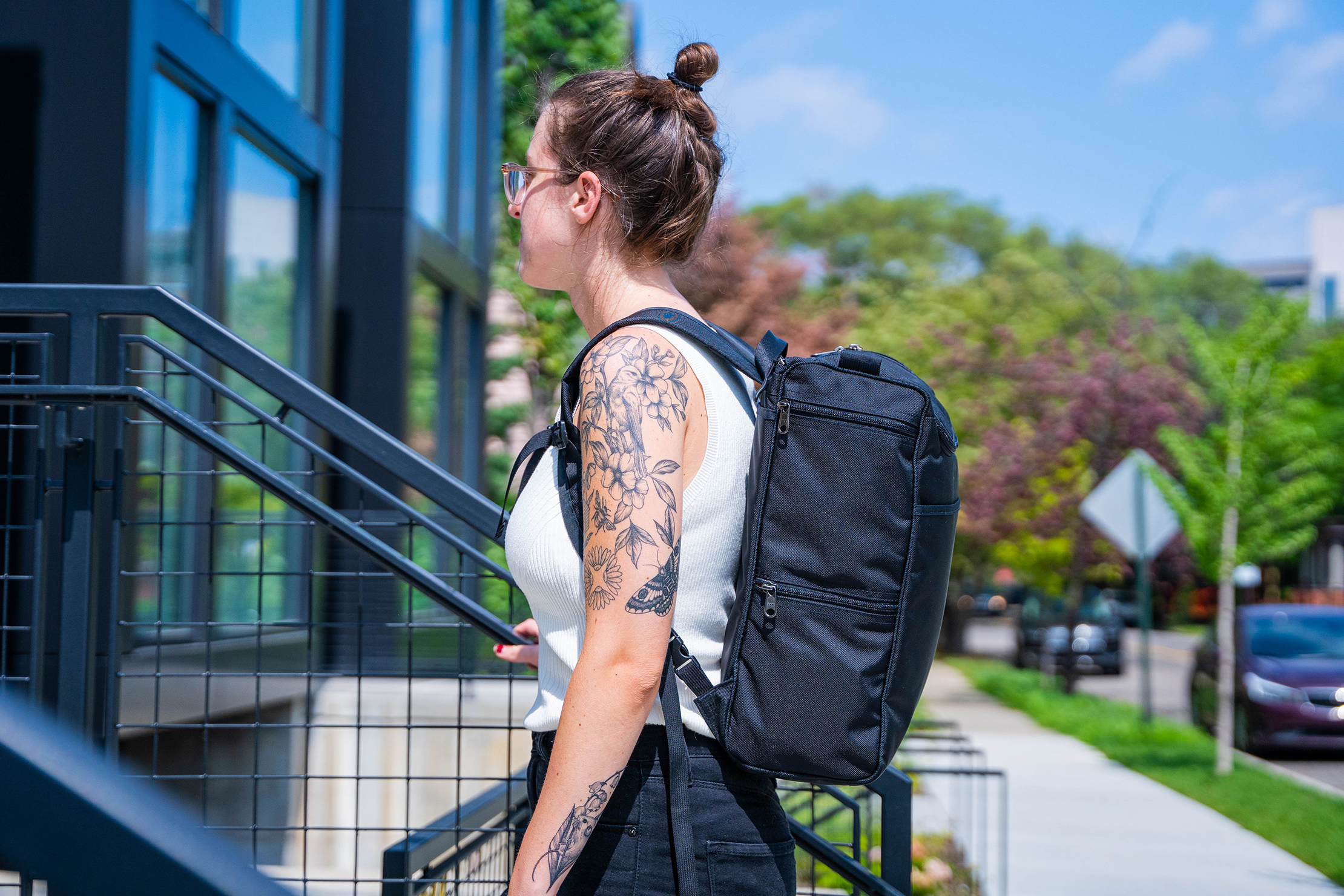 Well, it's because it's a two-in-one bag—a backpack and a tote bag—meaning it's versatile and transformative. It wouldn't be a Tom Bihn bag if it were just a clever name and feature, though. It's also a really well-fitting bag to take on a flight since it's easy to slide under a seat. Its top loader-style main compartment is easy to access and easy to pack during a flight as well. By most measures, it's your typical Tom Bihn bag; well-designed and well-built, though it's not without flaws.
External Components
The Cambiata doesn't have much in the way of external features. Sure, there's the logo, and some ergonomic zipper pulls, but that's about it. Then again, Tom Bihn isn't really a brand that decks out their bags' exteriors with superfluous features, and we like it that way. The bag's pretty minimal, and its plain boxy, ballistic nylon-laden appearance emphasizes that.
With that out of the way, let's talk about the Cambiata's harness system.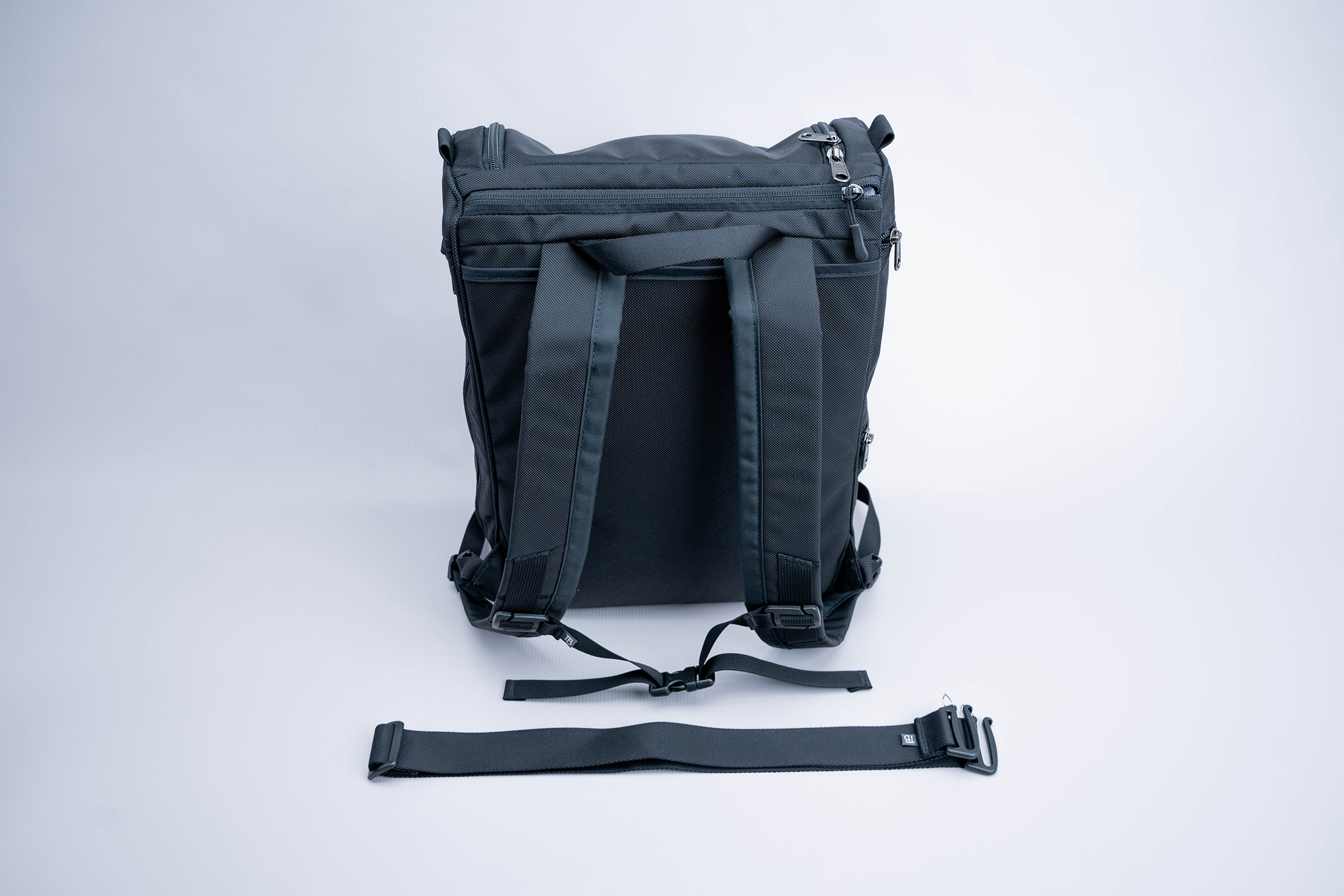 Tom Bihn's kept the Cambiata's harness system simple, as they tend to do with many of their daypacks. A sternum strap accompanies a pair of straight-shaped and well-padded shoulder straps. To the brand's credit, that is really all you need for a backpack of this size. Extra straps, like waist straps and load lifters, are best suited for travel backpacks in the 30+ liter range.
The sternum strap slides on adjustable rails, making it easy to raise it lower or higher depending on your preference. It's our favorite kind of adjustment, though if we had to nitpick, it's the fact that the adjustment is relatively minimal since the rails are pretty short. It's just enough for us, though, and we really didn't have to fuss with it too much right out of the box.
Those who like to put their backpacks in tight spaces will be happy to know that you can stow the shoulder straps away. There are clips at the bottom ends of the straps to unhook them from the bag, and there's a slip pocket behind the back panel to store them. Before you put the straps in, you have to fold them in half since they're longer than the pocket itself. It's worth the trouble, though, if dangling straps are the sort of thing that annoys you.
Tom Bihn gets extra credit for having small slots for storing the other halves of the clips. This means there's no chance for these to dangle and get caught. We've seen backpacks with detachable straps omit this tiny detail, so we're happy to see that's not the case here.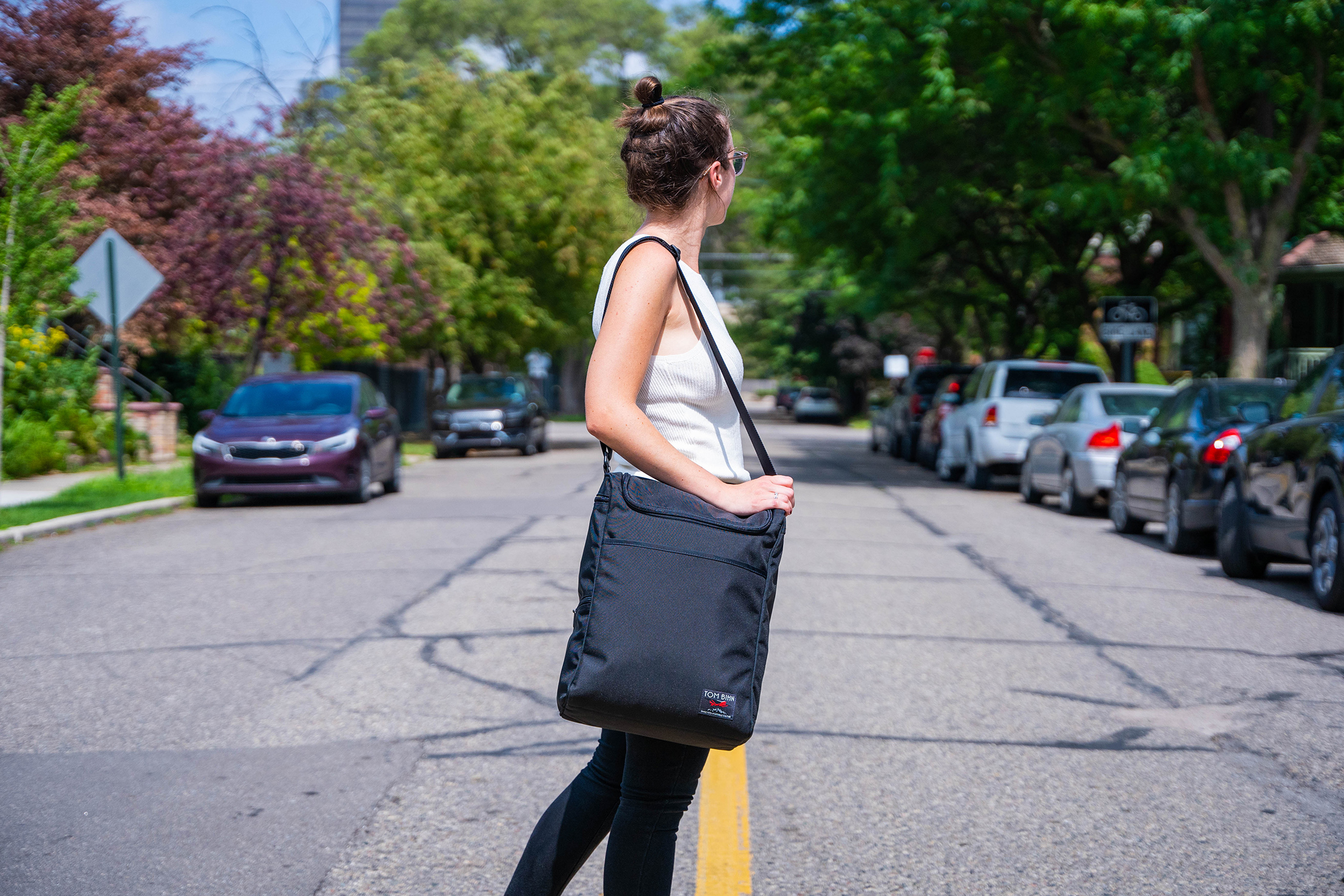 The main reason to stow the shoulder straps, though, is to carry the Cambiata like a tote. There's an included crossbody strap that attaches via gatekeeper clips. Many convertible backpacks attach their crossbody strap to the side. The Cambiata, however, has attachment points along the top, resulting in a style much more similar to a tote bag.
Fit Notes
That said, carrying the Cambiata as a crossbody tote wouldn't be our first choice. Even at just 21 liters, the bag feels bulky for a person with a smaller build. We can feel the strap pull diagonally because of the shape and weight. It doesn't help that the crossbody strap doesn't have any padding whatsoever. Carrying it on one shoulder is a little better, but this is still best reserved for lighter loads.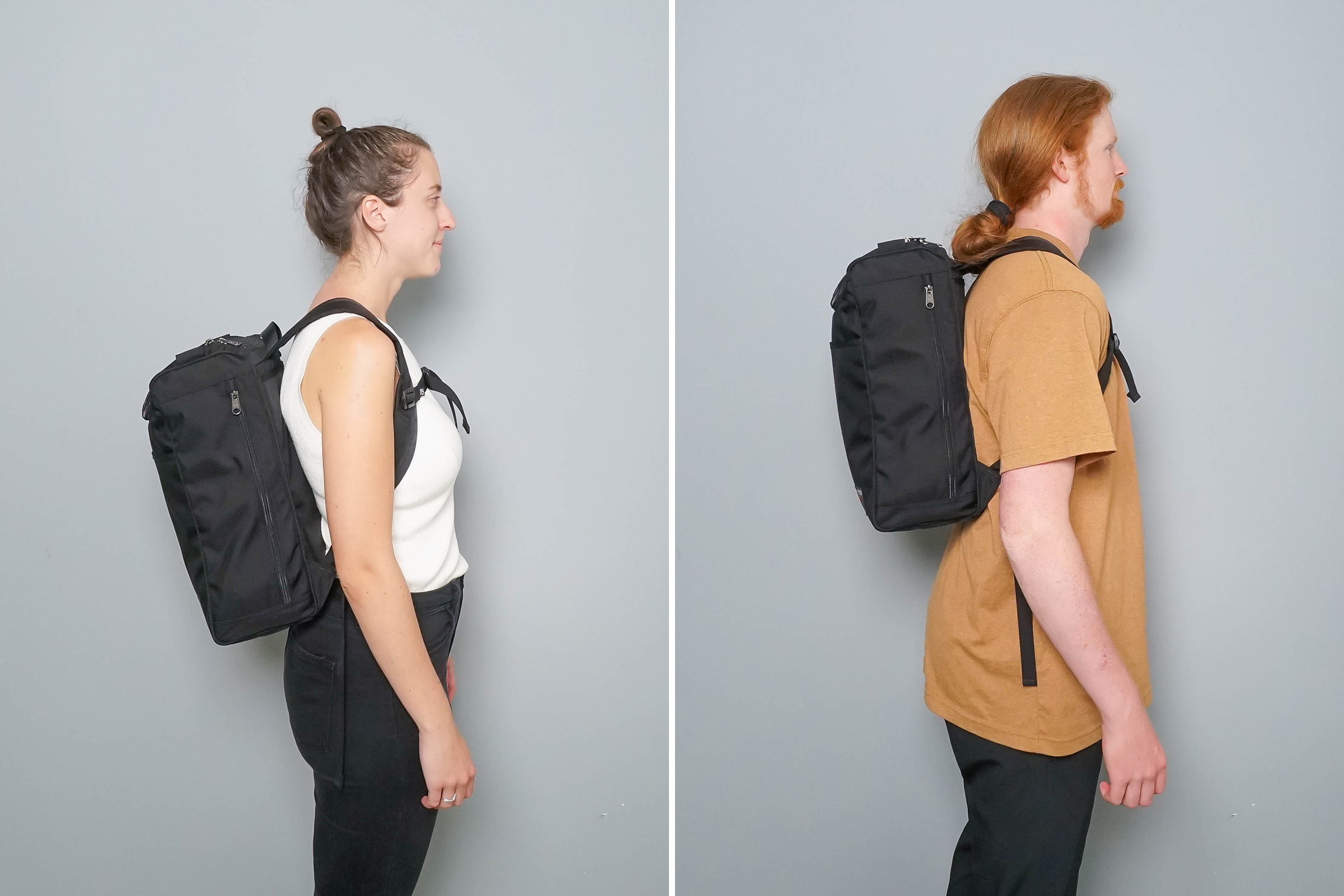 Our go-to choice would still be the Cambiata's shoulder straps. The straps, though thin-looking in some regards, are still comfortable to use. And while the sternum strap does only have limited adjustment, it's still enough for our use case. Still, the Cambiata's carrying comfort isn't perfect.
Even at the shoulder straps' tightest adjustment, the Cambiata still hangs relatively low, leading to the bag's base jutting into our lower back. It's hard not to notice after a while. The sternum strap somewhat alleviates the problem by pulling the straps slightly forward and raising the bag just a tiny bit. Still, we wish the Cambiata sat higher to avoid the jutting altogether.
Inside The Backpack
Picking up from where we left off, that feeling is more noticeable when there's a laptop in the dedicated compartment. It is a separate one at the back of the bag, with its opening along the top.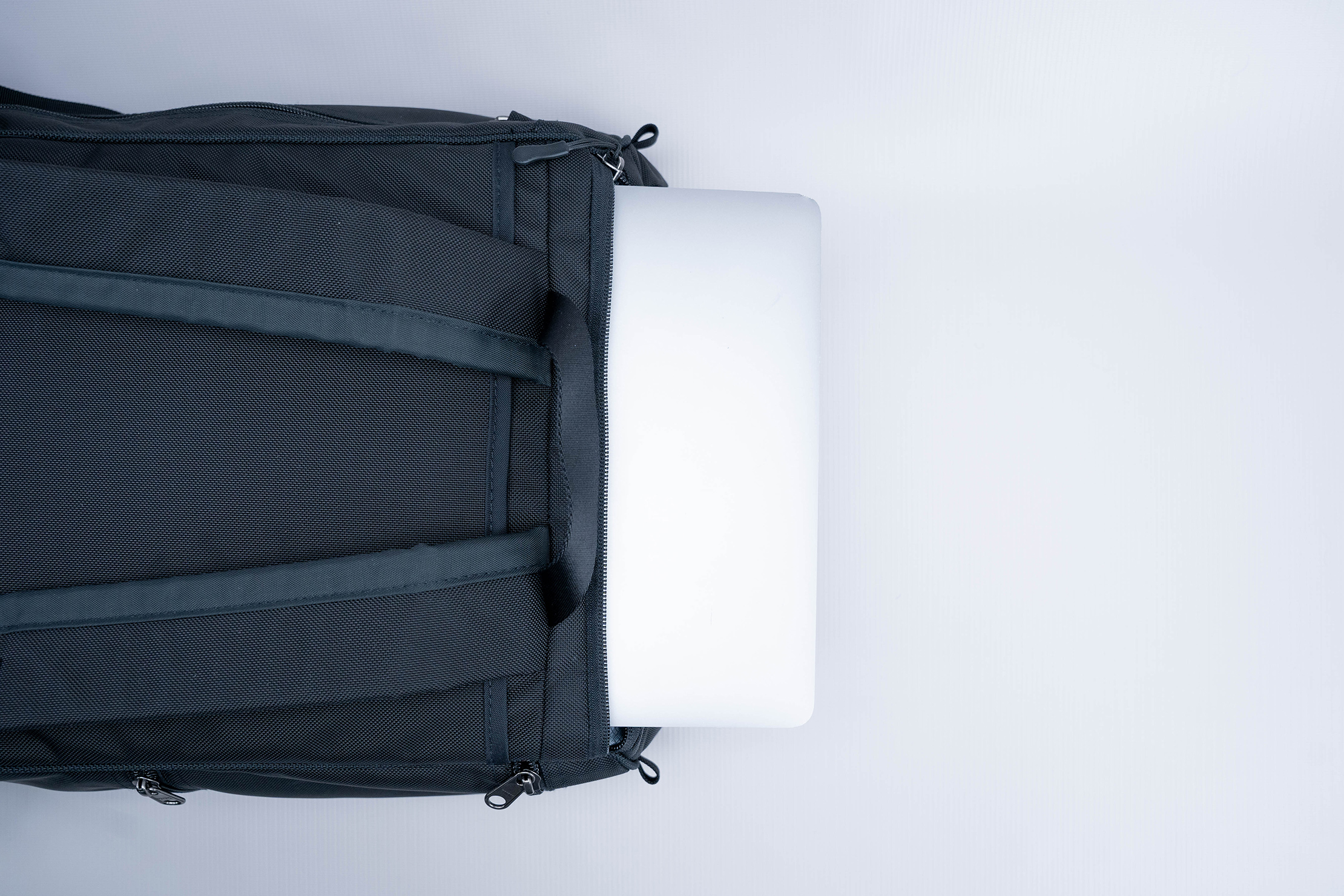 There's adequate padding on the compartment's front and back sides for protection. Even so, we can still feel our laptop dig into our lower back, so that's bad news if you're the type to carry a laptop around often, as we do.
For those wondering, Tom Bihn raised the compartment to create a false bottom, which is a gap between a compartment's floor and the bag's base. This minimizes the shock to your device receives if and when you drop the bag sharply on a surface.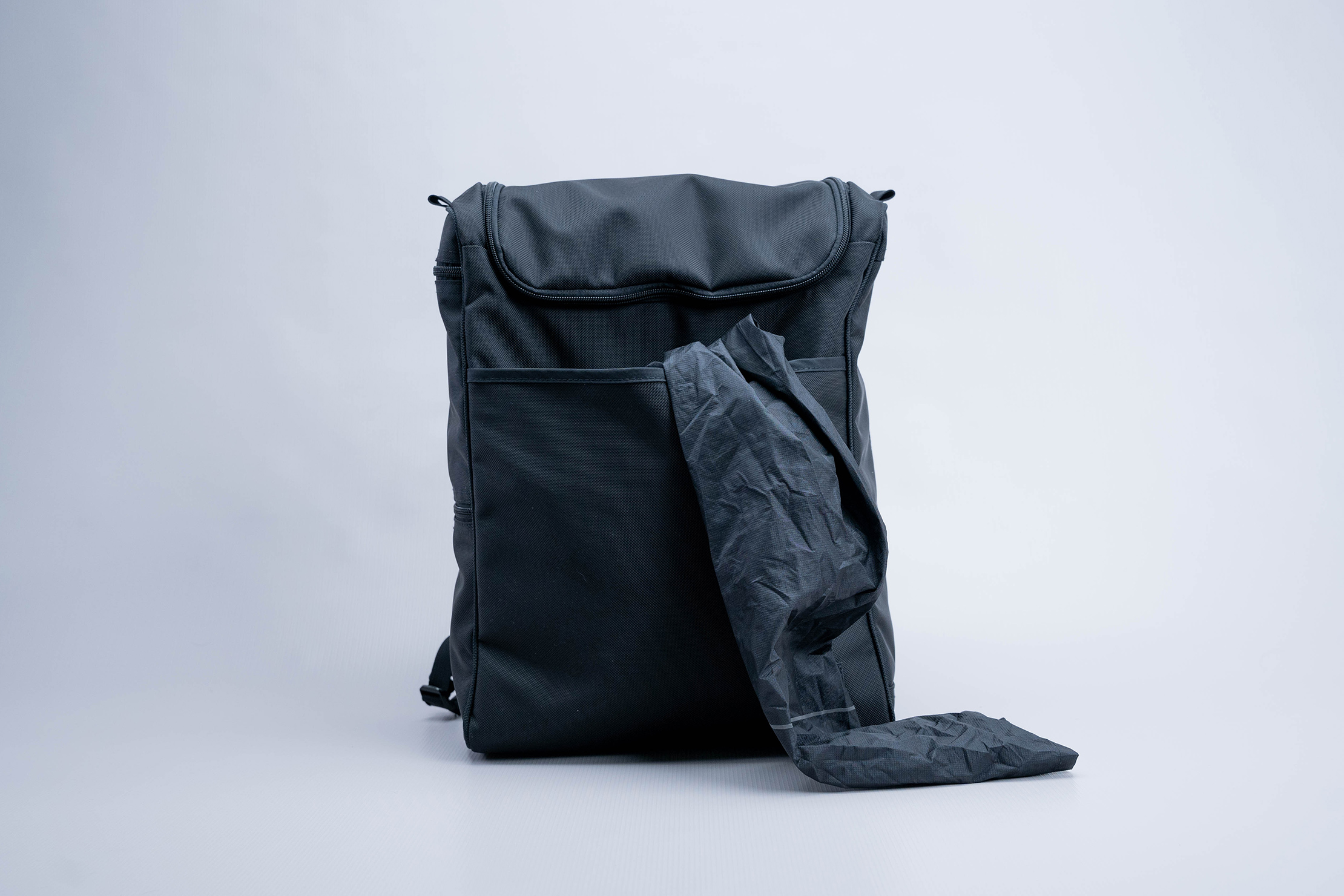 At the front is a deep slip pocket, similar to the one at the back used to store the shoulder straps. We don't have a ton of use for this pocket other than the included crossbody strap and similarly bulky gear. It is a great dump pocket for that purpose, though because it's not sealed, rain and dirt can get in.
You get two small zippered pockets on the left side of the bag, which act as the Cambiata's quick-grab pockets. Both have a decent amount of space to fit a wallet and a smartphone easily. There's also a key leash inside the upper one. The leash is long enough that we don't have to detach our keys whenever we have to unlock a door.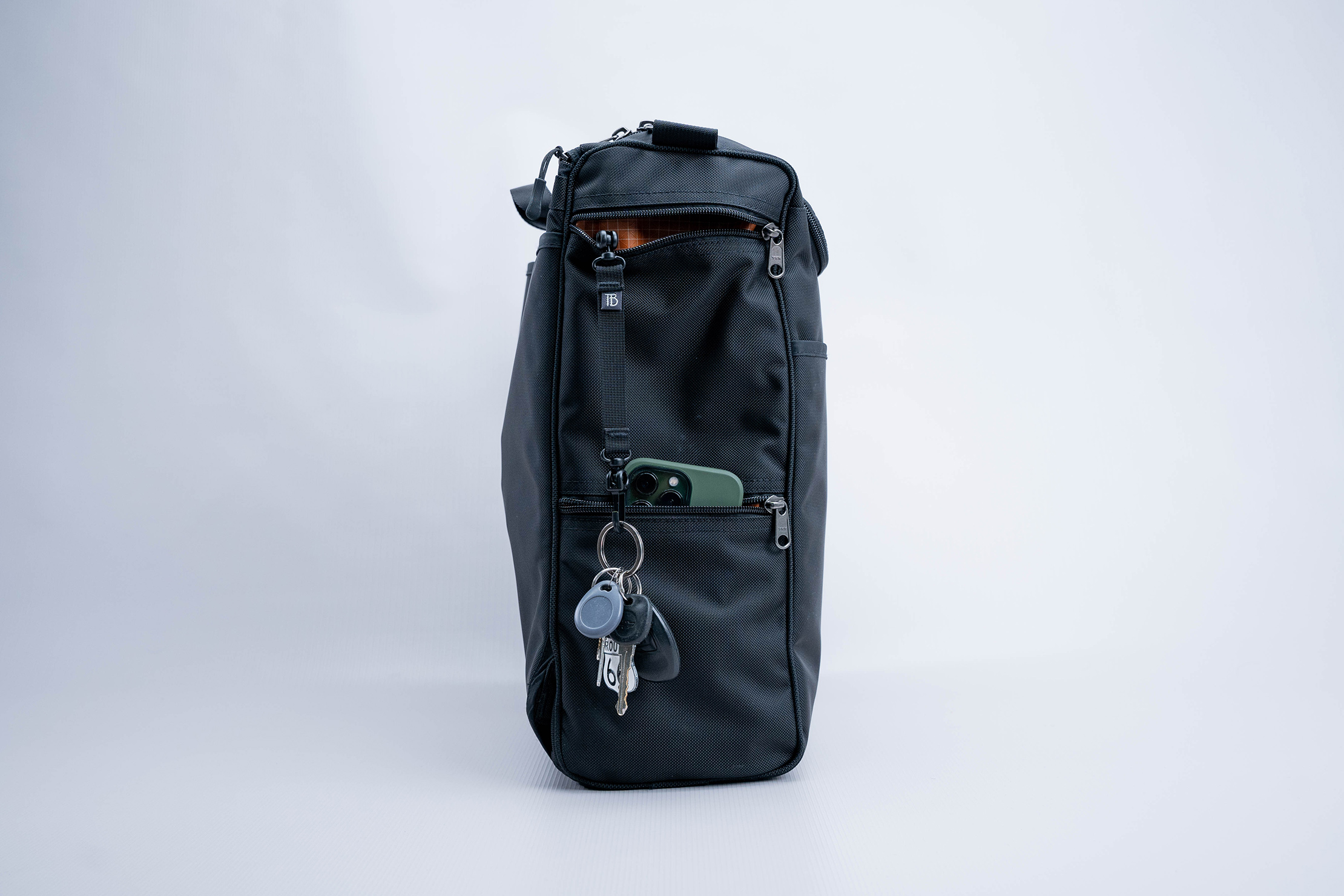 The leash is attached to one of the many O-rings in the Cambiata, a staple feature of Tom Bihn bags. We like the idea of having plenty of these around as it gives us the flexibility to attach even third-party accessories wherever we see fit.
You can find the O-rings throughout the bag:
Two in the front open pocket
One in each of the left pockets
One in the water bottle pocket
Two above the rear interior sleeve
One above each of the interior side pockets
One in the interior mesh pocket
You can use your imagination on how to utilize these O-rings best. Given that they're O-rings and not toggles as other brands use, it should be easier to find accessories that can attach to them.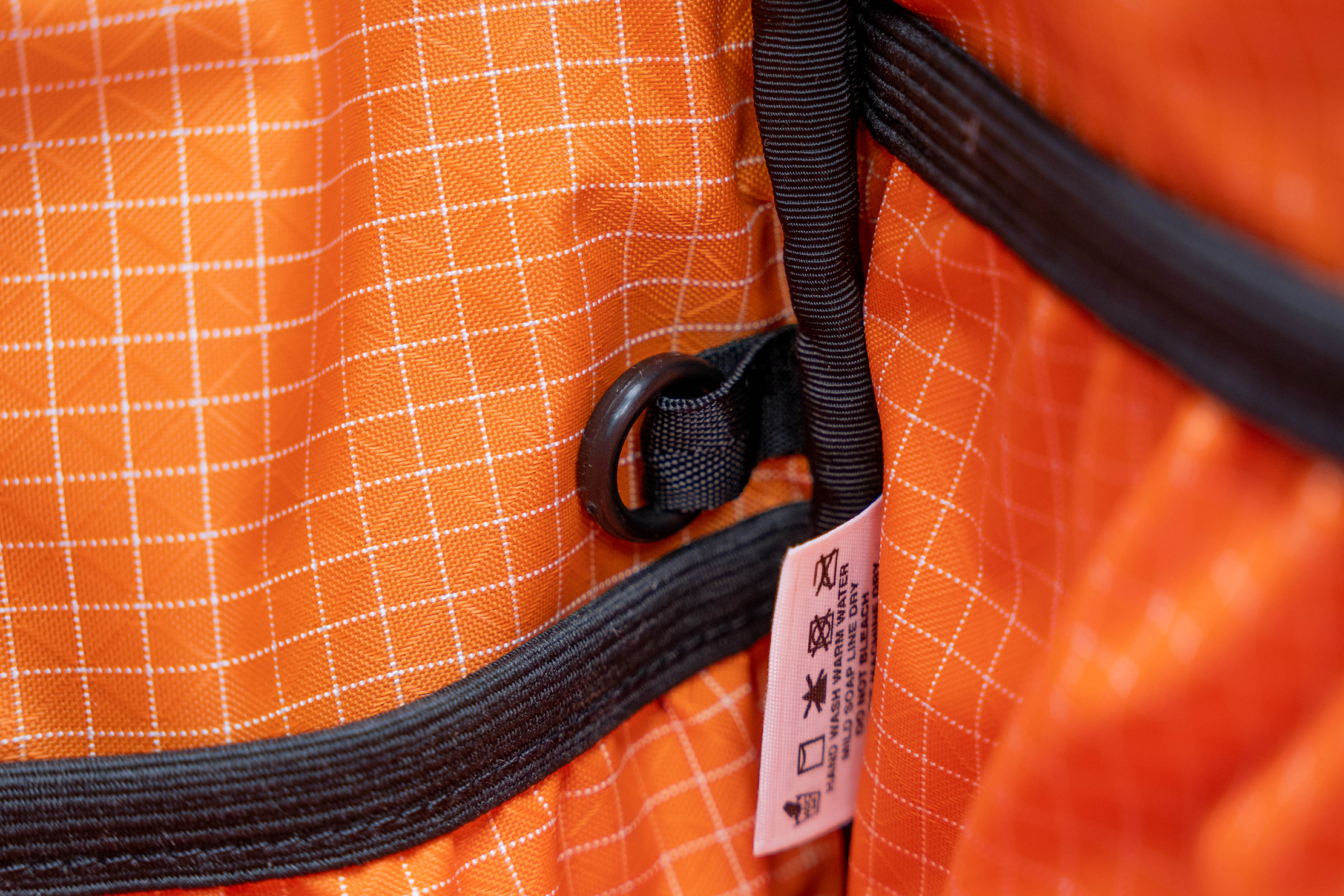 Moving onto the right side of the Cambiata, we find the integrated water bottle pocket. The advantage of a water bottle pocket like this is that you preserve the bag's streamlined profile at the cost of interior space—more on that later. On another note, we're happy to see that Tom Bihn used a bright orange liner for the interior of the Cambiata.
Your mileage may vary, though, since Tom Bihn usually uses a different colored liner for each colorway on a given bag (ours is Black Ballistic with Zest 200 Halcyon liner).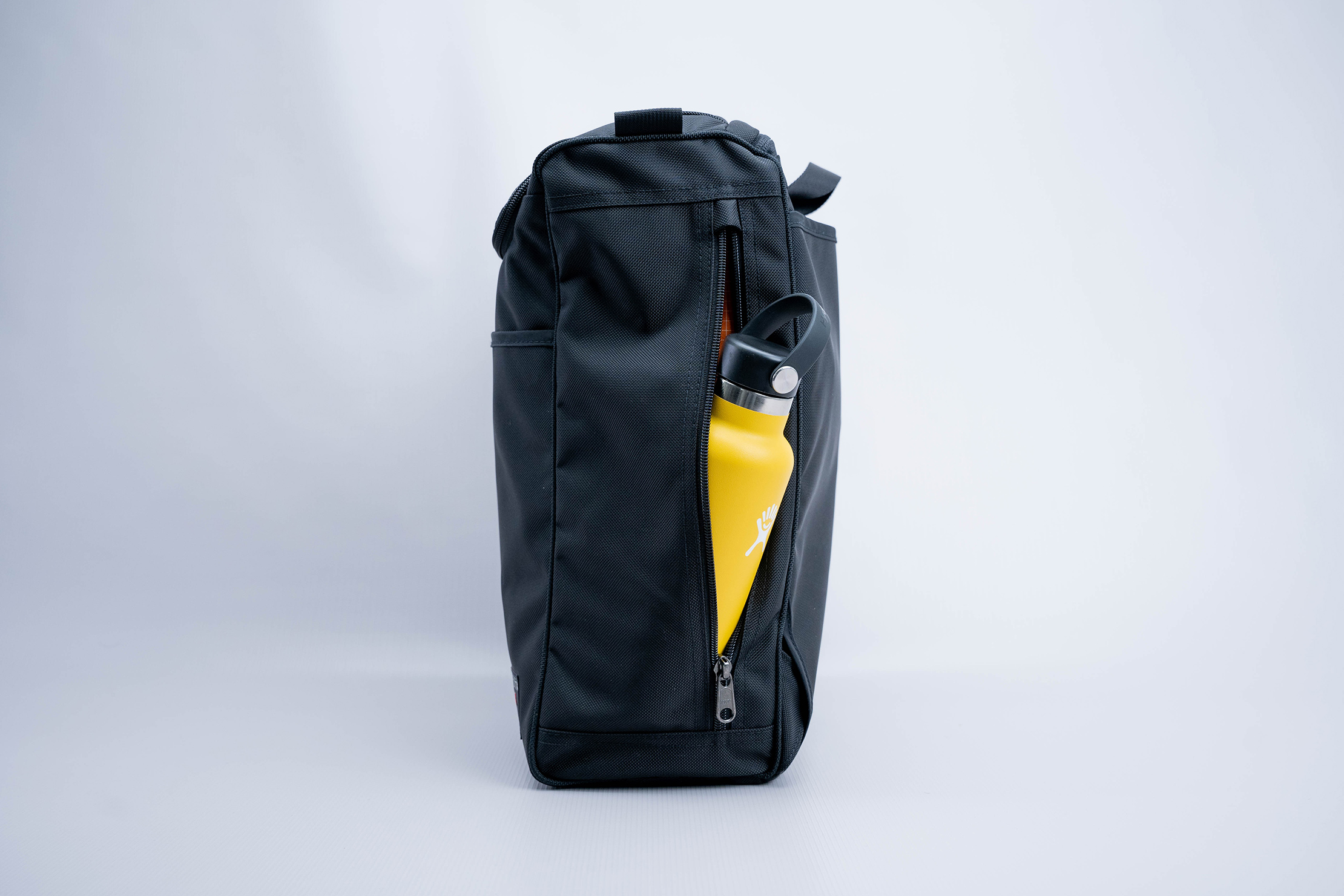 The zipper on the water bottle pocket has a small garage up at the top to prevent moisture from seeping in. It's a small detail, but given the gap that sometimes occurs between the zipper and the end of the track, it's nice to have that there.
Before getting into the Cambiata's main compartment, we have to discuss its structure. Based on the photos we've shown, we don't blame you for thinking it looks like a camera cube or a cooler. Some Pack Hacker team members think so, too. It's easy to poke fun from an aesthetic point of view, though that boxy appearance has the benefit of providing good structure.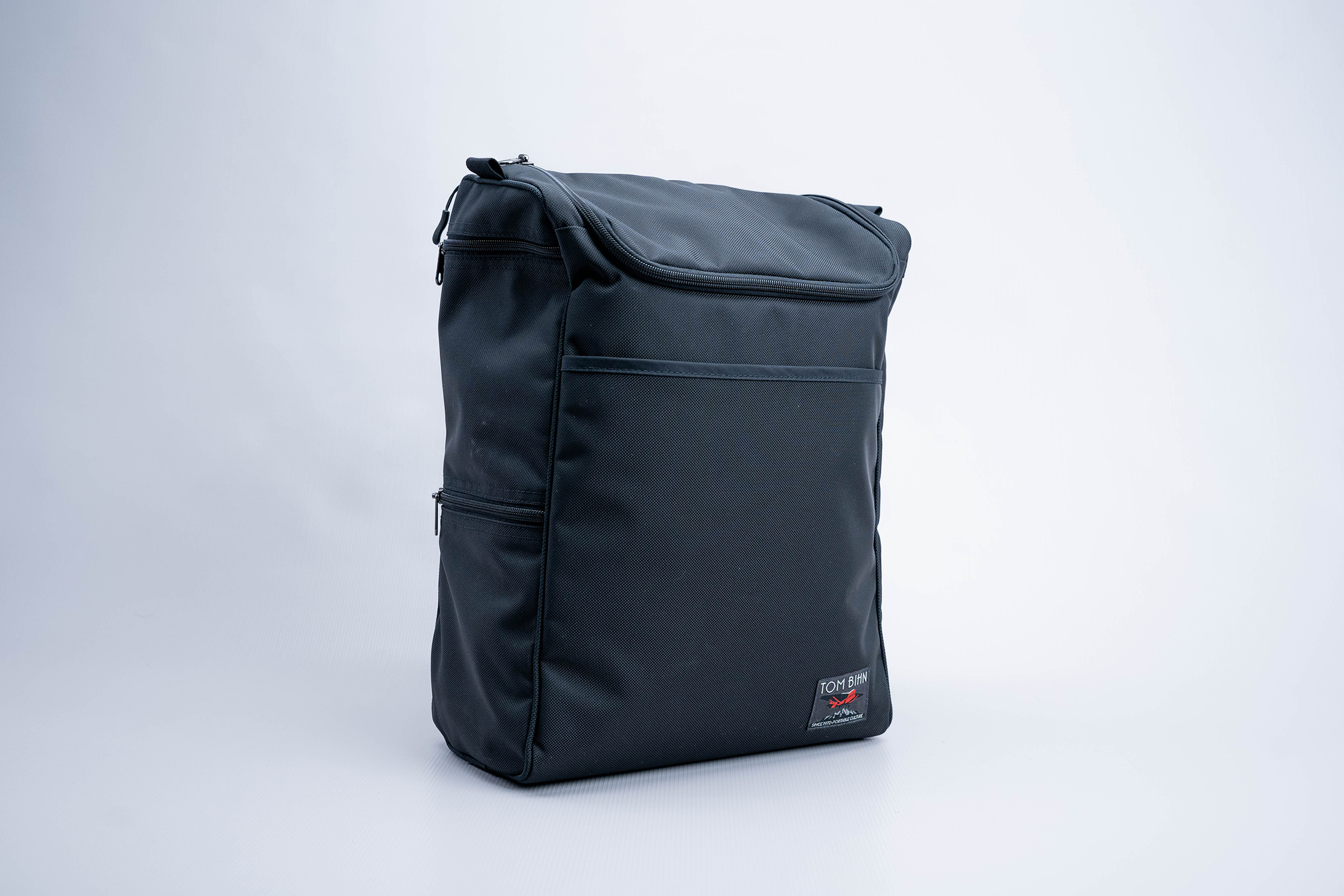 The Cambiata can stand easily on its own, whether empty or packed. You can feel the foam and reinforcement on each side that works to keep the bag upright. This makes packing easy, and even just putting the bag on the floor is less of a hassle since it's unlikely to tip over.
The fact that the Cambiata can stand isn't just convenient; it's also an important design feature for its top loader opening. At the top is a zippered lid that acts as the main compartment's hatch. Top loader bags can also be closed with a drawstring cinch, rolltop, and knapsack-style flap. Those can be finicky, though, and the Cambiata's zippered approach is comparatively simple.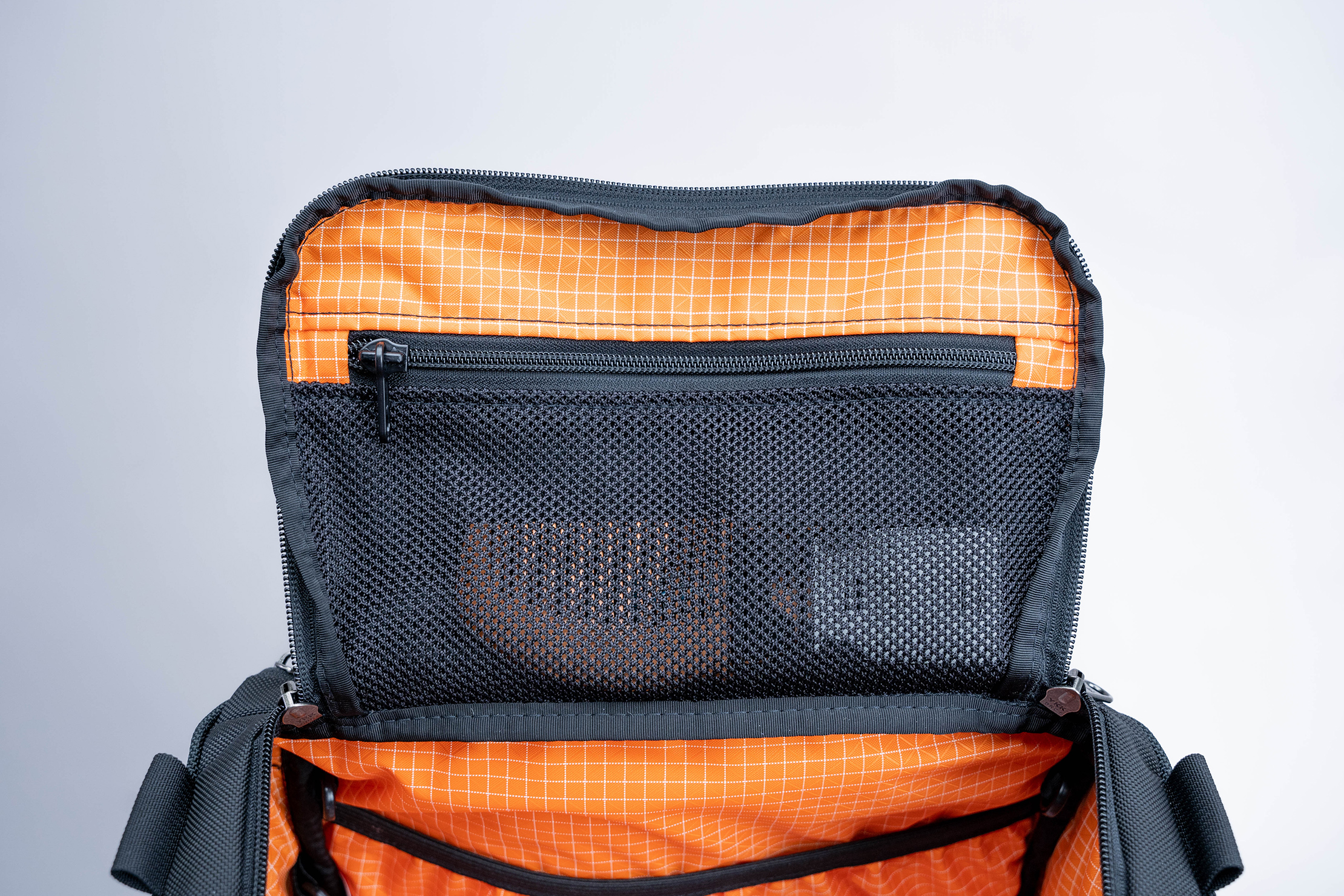 Under the lid is a zippered mesh pocket. Its opening is noticeably narrower than the pocket itself. Conversely, it has more room than what you might expect, so you can look at it both ways. However, note that there's also some room above the opening where gear can fall when you flip the lid over. Be sure to check there before cave diving under your airline seat if you lose track of your tiny travel accessories.
You get more of that bright orange liner in the main compartment and a bunch more pockets for storing gear. At the back is a sleeve where you can put a tablet or similarly flat items like a travel-sized keyboard or notebook—or maybe a backup laptop if you're the always-ready type.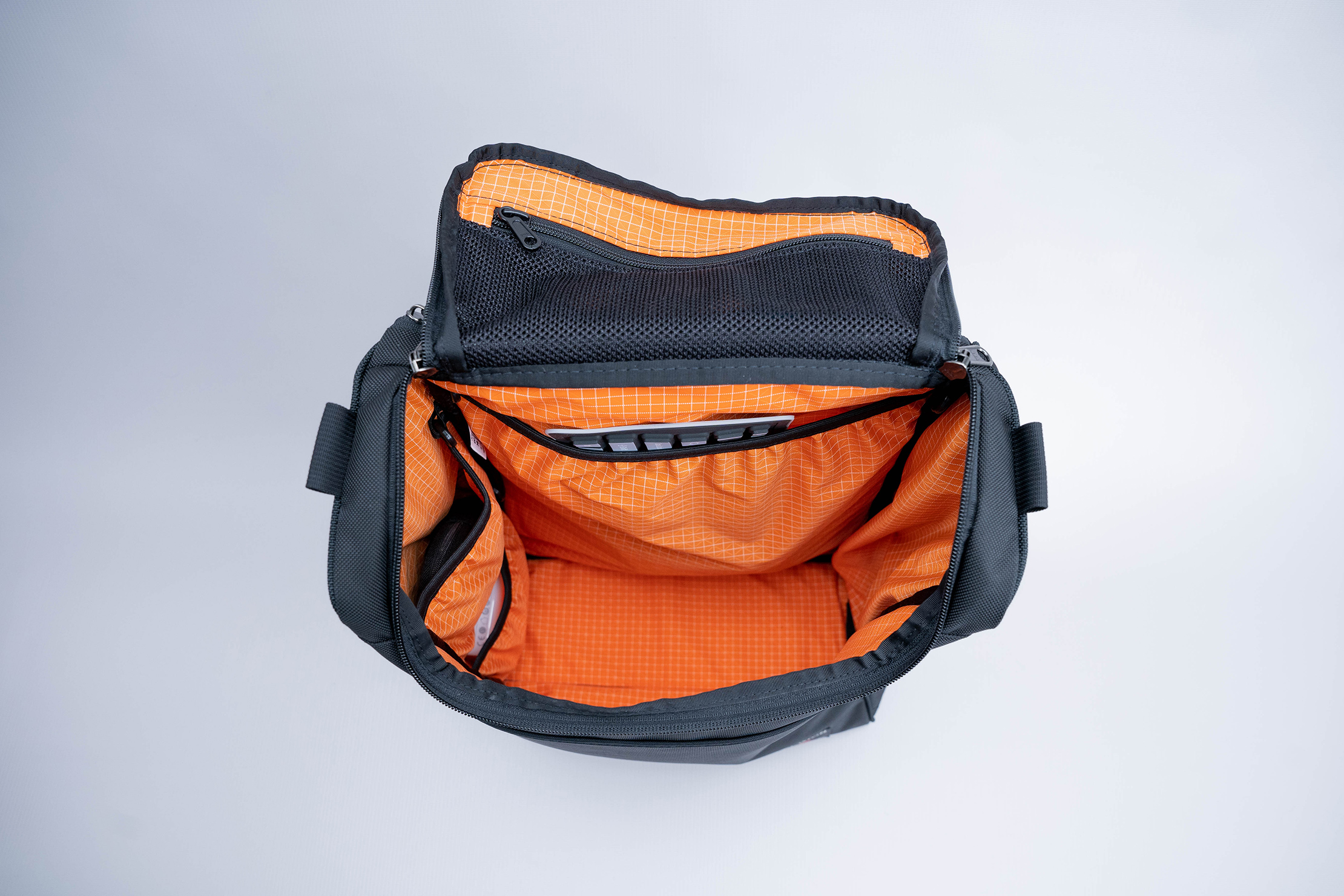 On the left side are a pair of zippered pockets. And before you say it, yes, they're adjacent to the twin pockets on the outside. Like their exterior counterparts, they act as dump pockets for smaller gear. We recommend putting gear you'll access more often in the upper pocket rather than the lower one since that's harder to get at once the bag's fully packed.
The right side of the interior is left blank, and rightfully so since that's adjacent to the integrated water bottle pocket. Once that pocket's occupied, it cuts into the main compartment, so any pocket that would have been there would be cramped.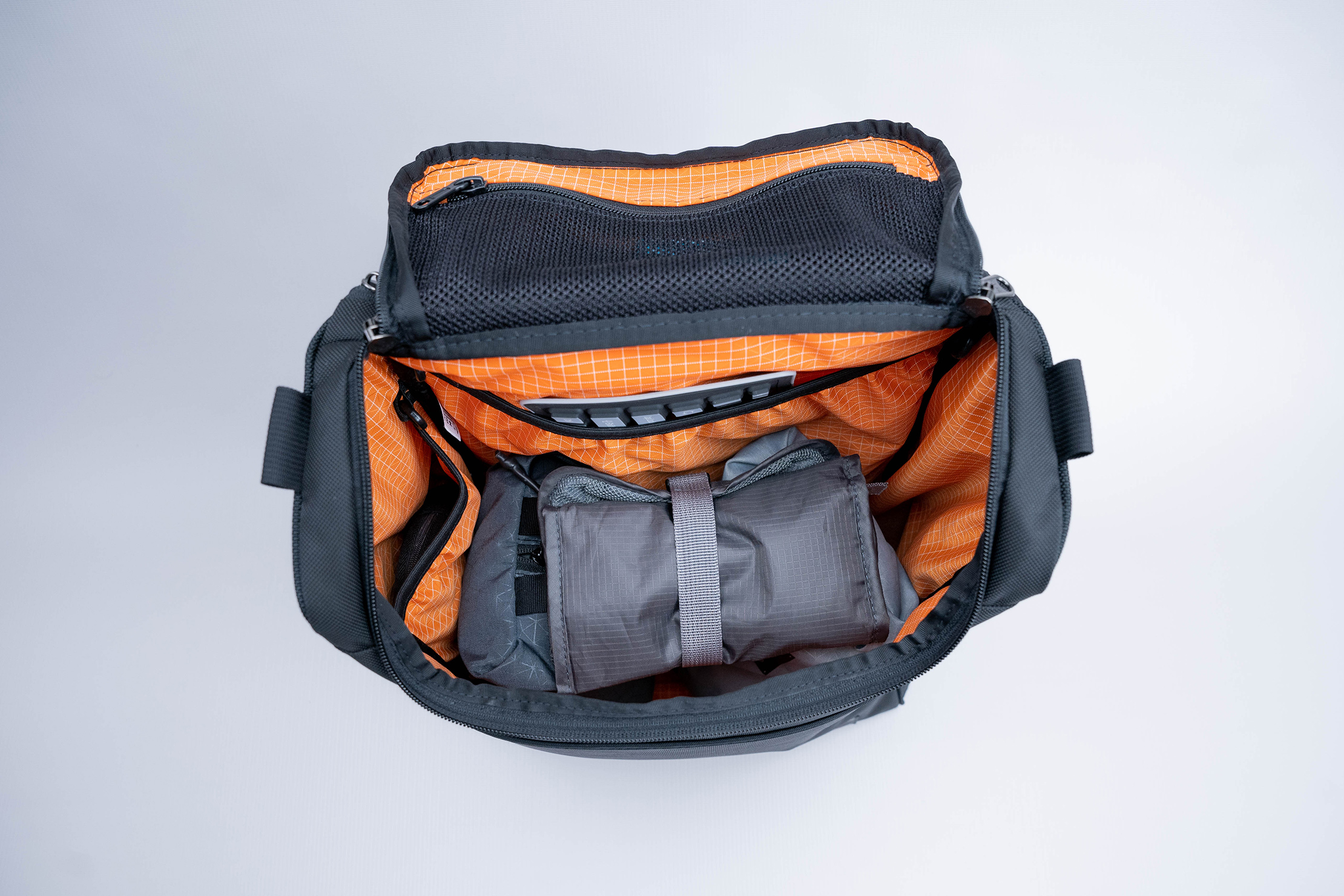 As for the main compartment's space, well, there's plenty of it. At 21 liters, it looks surprisingly roomy thanks to the bright liner and the squared-off shape. It's super easy to pack with packing cubes and pouched, so long as your Tetris skills aren't too rusty. Plus, because of the Cambiata's sound structure, the opening is wide and accessible while you're packing, too.
Speaking of packing, we found it easier to put your water bottle in its pocket first before you pack the main compartment. It's tricky to do it the other way because there's little to no flexibility between the pocket and the main compartment to squeeze a bottle. It's a minor flaw in the otherwise easy-to-pack Cambiata, so just keep that in mind.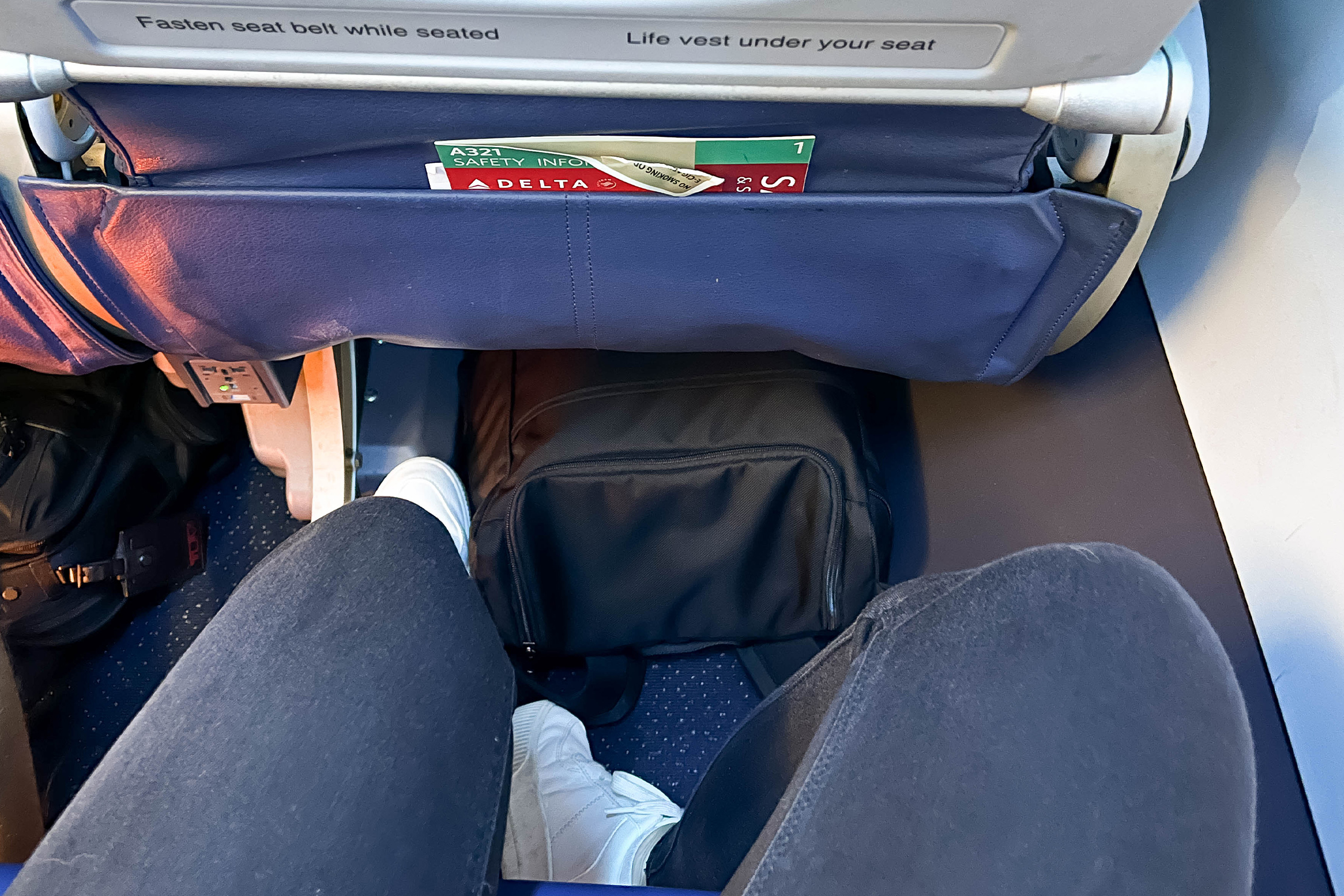 We got a bit nuanced on that last part, but once you've packed the Cambiata properly, it's a nice bag for travel. It's just the right size to meet many carry-on compliance requirements, and access to its main compartment works well for the job. We are a bit disappointed with how it carries, though, since it's arguably a byproduct of the bag's shape and solid structure (both of which we dig otherwise).
Usage Timeline
Initial Usage
Condition: Excellent
Laptop compartment is well-padded
Plenty of external pockets for storage
Curious to see if thin straps are comfortable with a heavy bag
2 Weeks of Use
Condition: Excellent
Incredibly easy to pack since it stands up on its own
Looks a bit like a cooler
Digging internal storage options
Handy that it's personal-item sized for most airlines—it fit great under a Delta seat
Access the Pro Community Discussion
Get your questions about the TOM BIHN Cambiata answered from our team and the Pro Community right here on the page. Plus, join discussions with other members about gear, guides, and more.
Other Bags & Luggage Reviews