TOM BIHN Bummer Review
The TOM BIHN Bummer is simplicity at its finest. However, that's not to say there isn't extreme attention to detail on every aspect of this sling.
Our Verdict
Unlock the Pro Summary
Save time. Get access to brief summaries of our reviews so you can browse and make decisions more efficiently.
Pros
Materials are durable and vibrant
Back panel is comfortable in all carry modes
Stands up on its own, making for a neat desk companion
Cons
No padding or aeration on the strap
Not much internal organization for its capacity
Materials are on the heavy side for a smaller sling
Recent Pack Hacker Video
Technical Details
100 %
Carry-on Compliance
Capacity

2l

Weight (oz)

8.3 oz (235.3 g)

Ballistic | 7.2 oz - Halcyon

Dimensions

9.4 in x 5.5 in x 4.9 in (23.9 x 14 x 12.4 cm)

Notable Materials

Ballistic Nylon, Ripstop Nylon, YKK Zippers, Duraflex Hardware

Manufacturing Country

United States

Warranty Information
Full Review
On our first examination, the TOM BIHN Bummer gives us Le Petit Derriere vibes in a smaller package and without the extras on the exterior. We found in our testing of the Derriere that the lack of internal organization hinders what is otherwise a very capable hip pack. We're curious if the Bummer will suffer the same fate or if its small size will push it forward. Let's find out!
External Components
To be as specific as possible, the model we have on hand has an exterior crafted from bluesign® certified High-Tenacity 2×2 Ballistic nylon. To make that easier to understand—it's sustainably sourced strong nylon. There aren't any knicks or bumps from our testing, so the highly technical materials are working for TOM BIHN again. They're always adding new options, too, so be sure to check out their site for more info on all of the choices.

As far as colorways go, there are quite a few ways you can go at the time of writing, and the model we have on hand is Wilderness Ballistic. As always, we're impressed with the number of options TOM BIHN gives their customers.
The pack uses YKK zippers throughout its construction, and we have no issues using them. The compartments are quick to open, and in typical TOM BIHN fashion, extra zipper pulls are included so you can change out the metal tabs that come stock.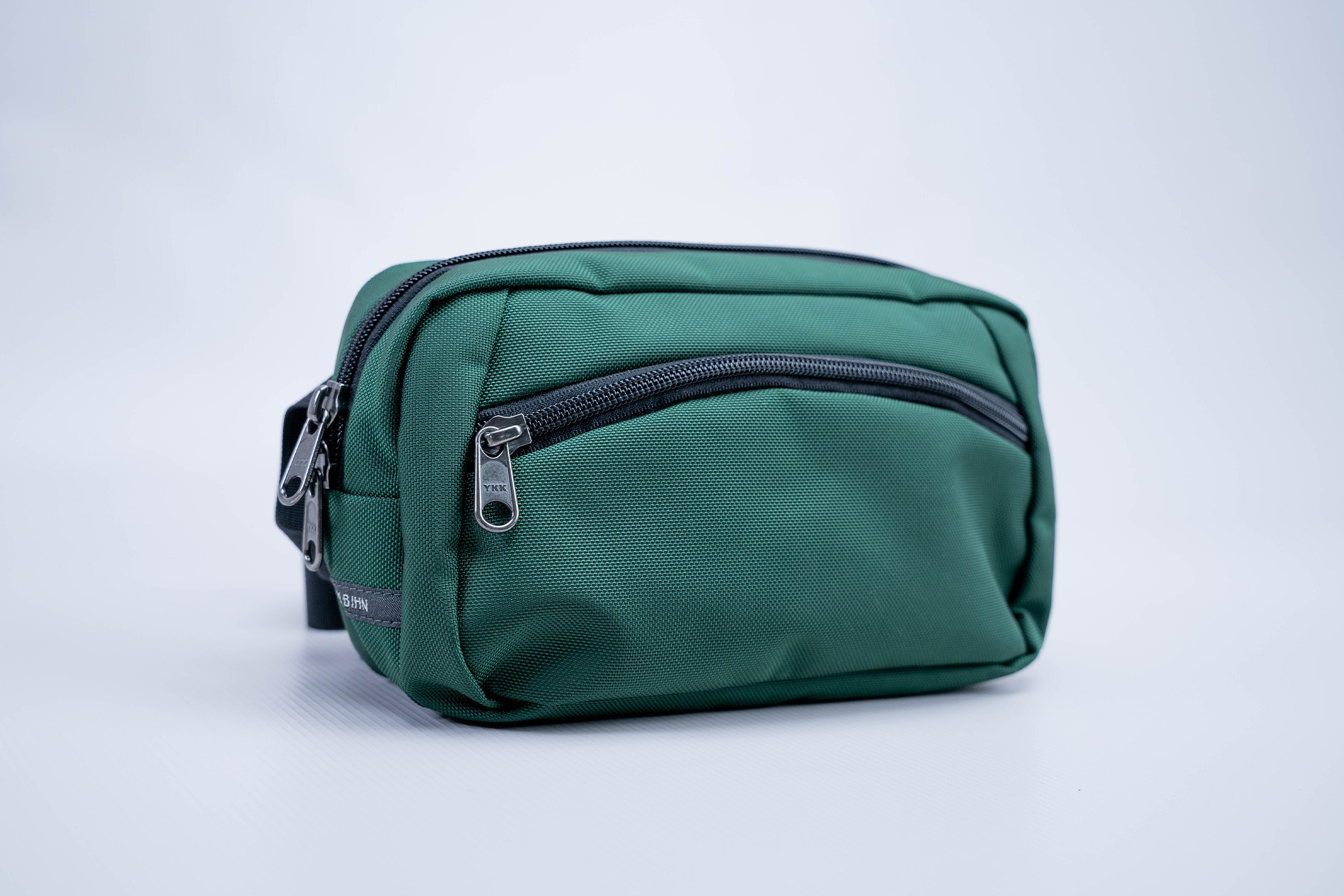 On the left and right sides of the sling, there are loops that make hanging the pack easier. You can attach a carabiner on here easily (go with the Heroclip Hybrid Carabiner Clip, it's fantastic), and having one on both sides is a nice touch.
The strap is pretty wide, but there isn't any padding or aeration. The buckle is a Duraflex Stealth Warrior, which seems a little large for the sling's size, but it does the job well. After all, it's like we've always said: there's nothing like a stealthy fanny pack! The rest of the adjustment hardware is from Duraflex and operates smoothly and quickly. There are strap keepers to stay on top of unruly straps, which is a thoughtful inclusion.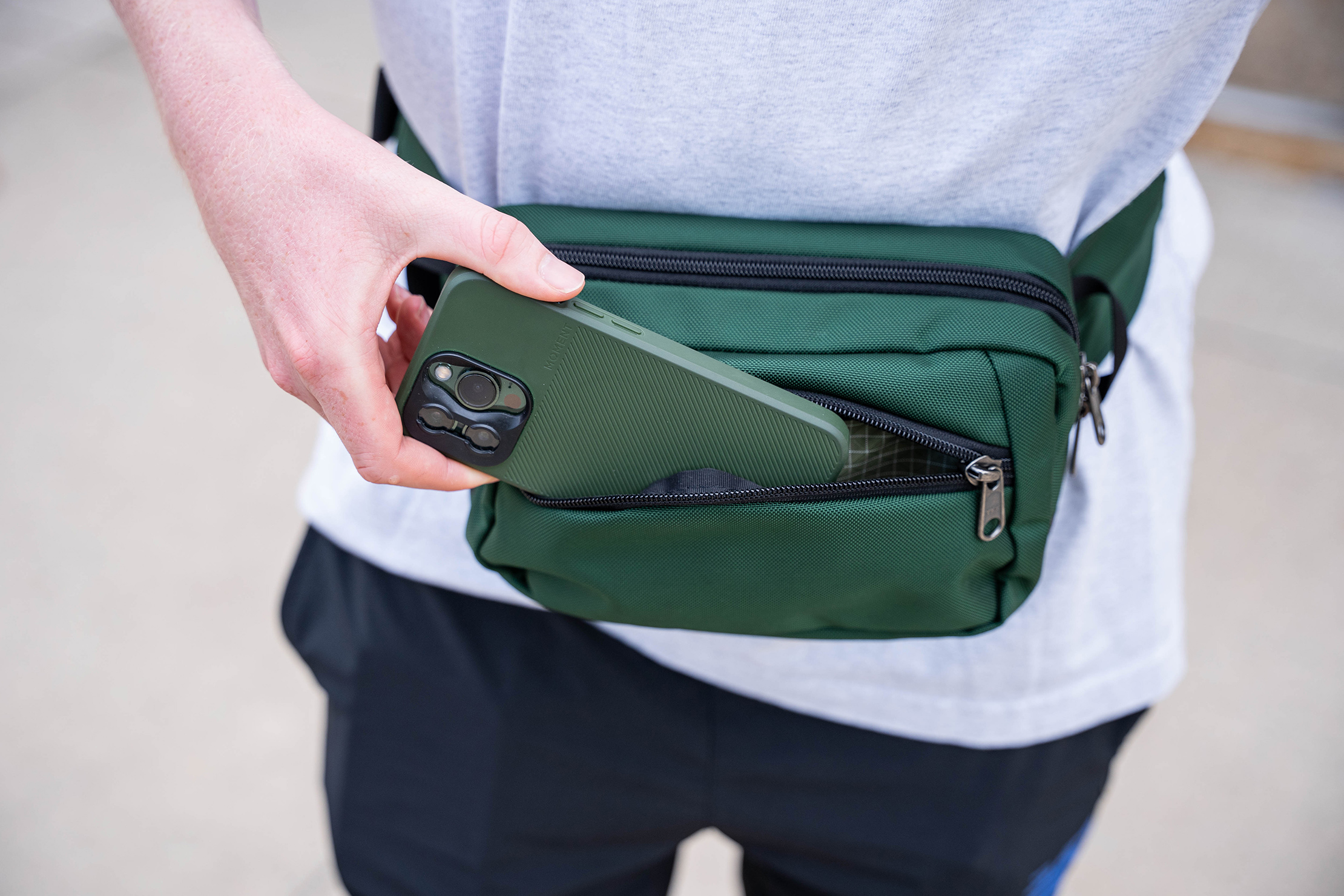 There's a fair amount of padding on the back panel as far as fanny packs are concerned. It uses the same thickness of padding you might expect to find on a travel daypack. It keeps things comfortable and stops items on the interior from poking your back, chest, or stomach, which is ideal.
Fit Notes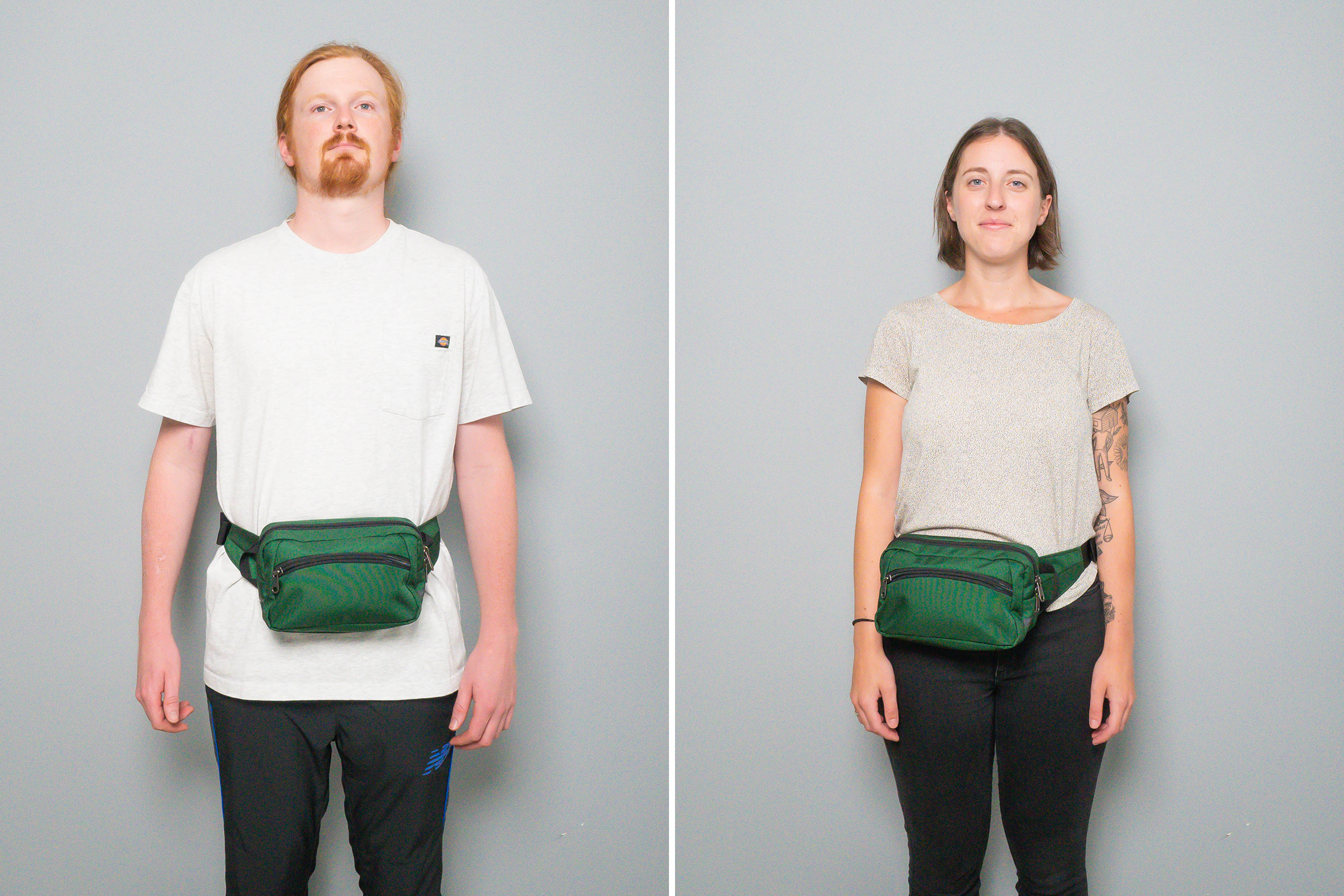 In fanny mode, the strap is comfortable and manageable. We find similar results in sling mode, but if you're wearing a thin shirt or tank top while the pack is stuffed to the brim and heavy, you can start to feel the strap rubbing ever so slightly. It isn't painful, but it's noticeable.
If you leave the Bummer just as fully packed and transition to fanny mode, it's comfortable, but you can feel the weight drooping while you're carrying it. You can remedy this by tightening the strap, but you risk feeling suffocated by a taut harness system. Again, it isn't painful, but it's noticeable.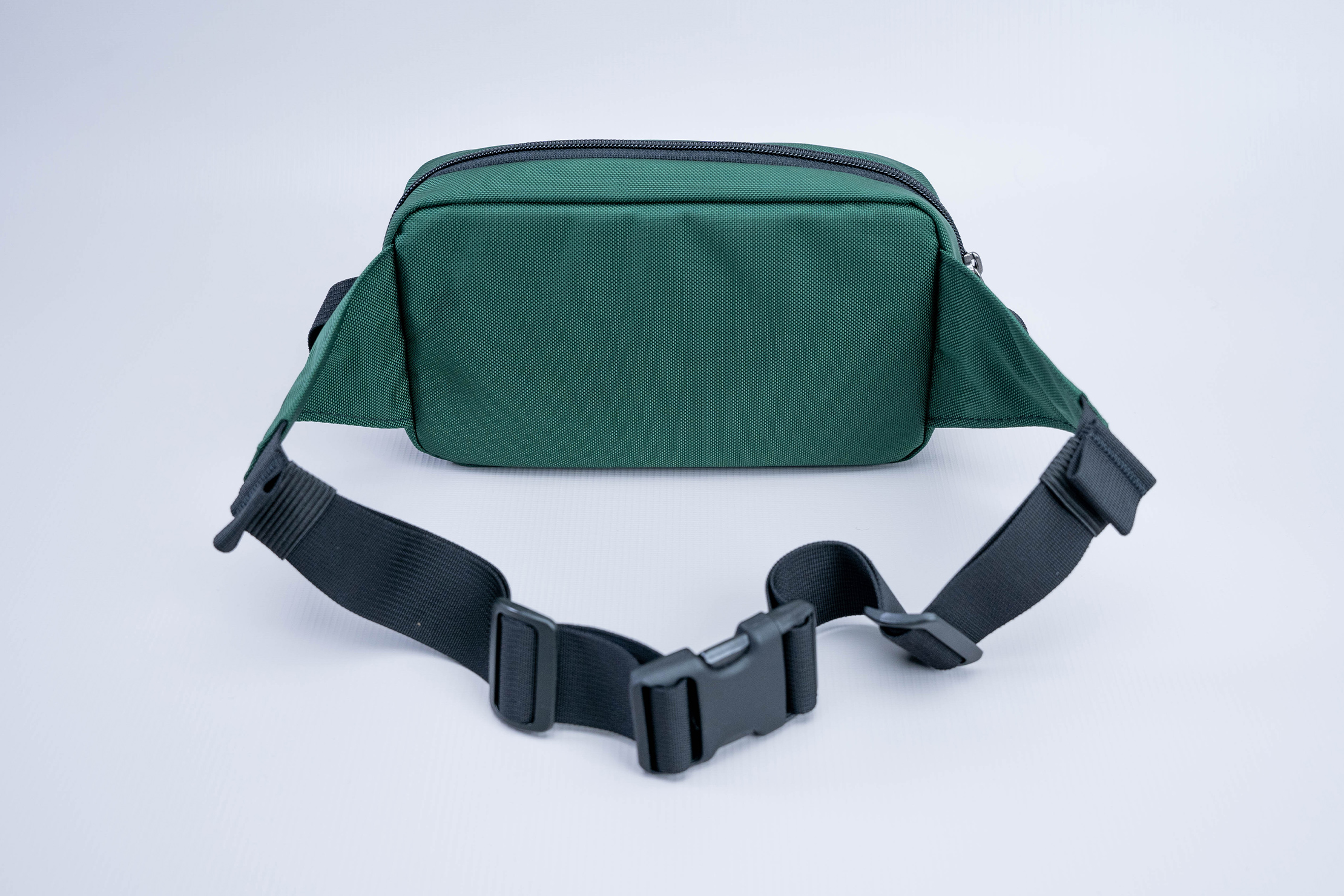 The Bummer transitions easily from front to back while in use as a sling, which is ideal for fast-paced adventures or grabbing gear while you're wearing it on your back. Back carry is comfortable, but front carry can feel like too much due to the size of the sling.
Inside The Pack
To get technical again for a moment, the lining on the Bummer is bluesign® and OEKO-TEX® certified 200 denier Halcyon/nylon ripstop. Similar to other TOM BIHN products, you have multiple options on that front when you choose your colorway, too. The liner is sturdy and feels up to the job it's tasked with. Plus, it looks like graph paper, which is either a fun reminder from math class or a stress-inducing similarity to family games of Blokus that you used to get clobbered at.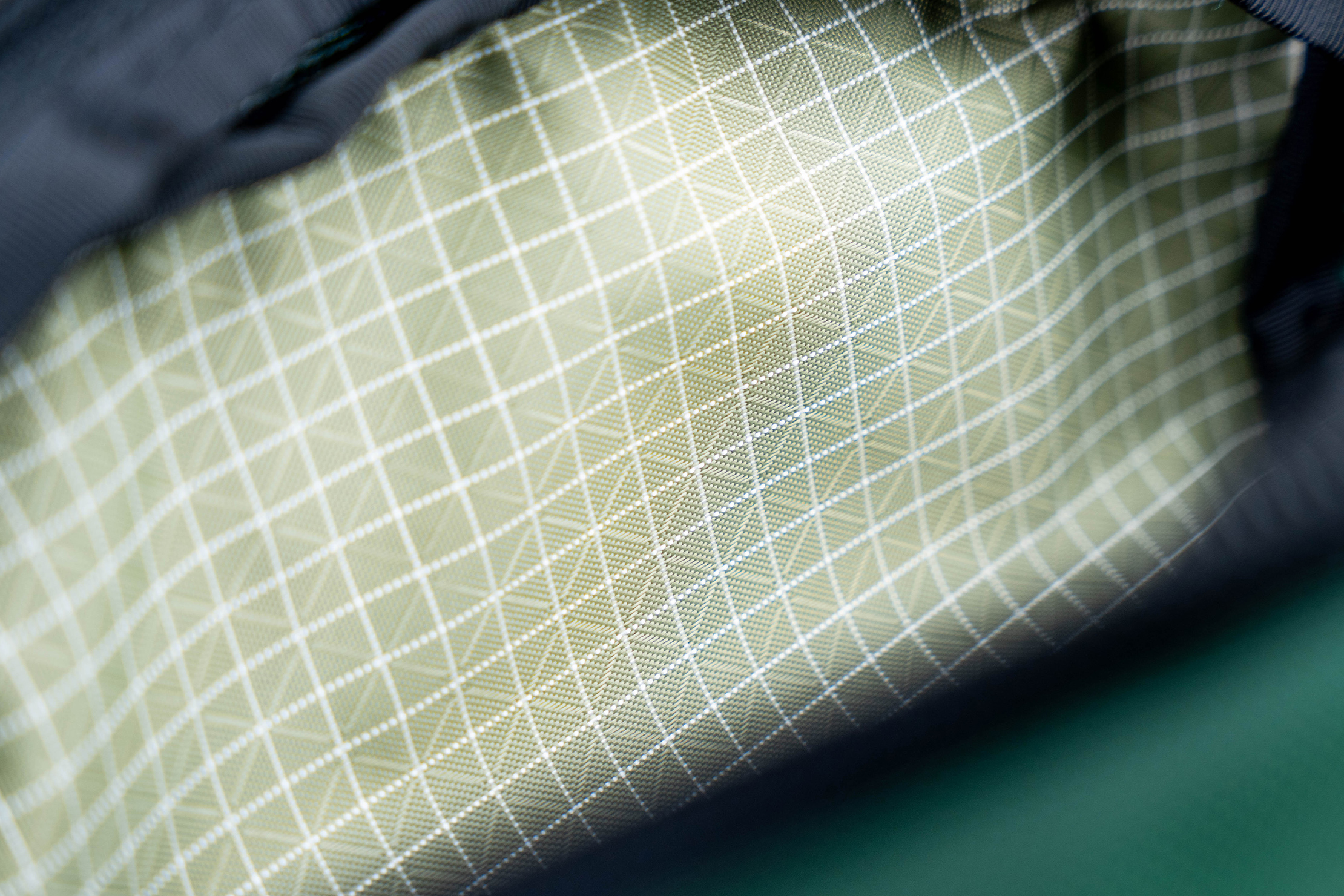 The front compartment is basic—no internal organization or pockets. There are two O-rings on the top left and right and a longer key ring extension that you can add to either side or remove altogether. It's long enough to use your keys while they're still on the ring, which we dig. The compartment is excellent for a phone, wallet, or other similarly sized flat items. It backs up to the main compartment, so there isn't much extra space here.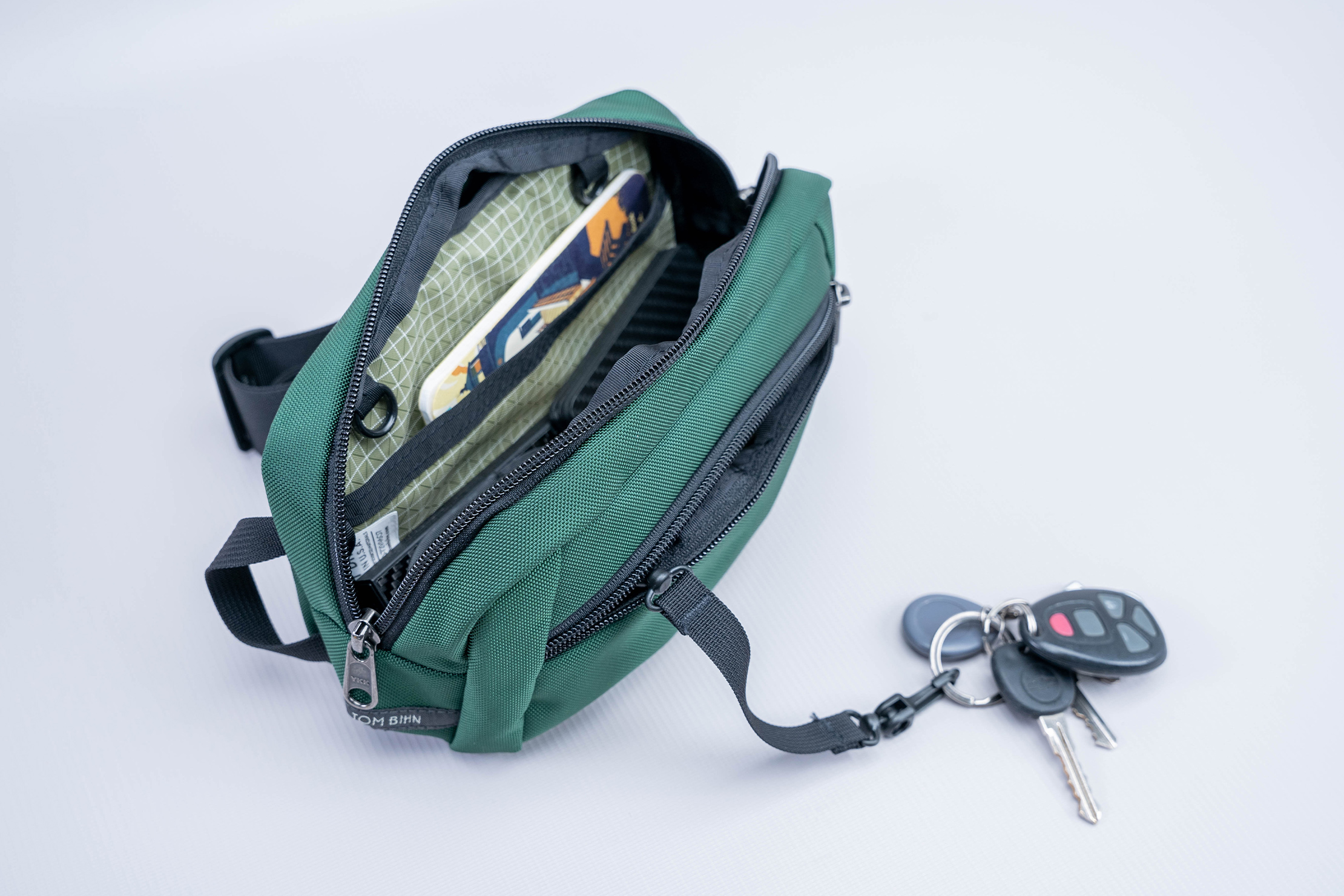 Speaking of the main compartment, it's pretty basic as well. There's a large open area for storing bigger gear, a backside liner pocket, and two O-rings in similar placements as the front compartment. The backside pocket doesn't have any padding on the front, but the back panel offers protection for more sensitive gear on the opposite side. You can attach things to the O-rings or move the key ring from the front area back here. They don't get in the way when they aren't in use, which is ideal. The bottom of this compartment is flat, which enables you to stack gear easily and the Bummer to stand on its own feet.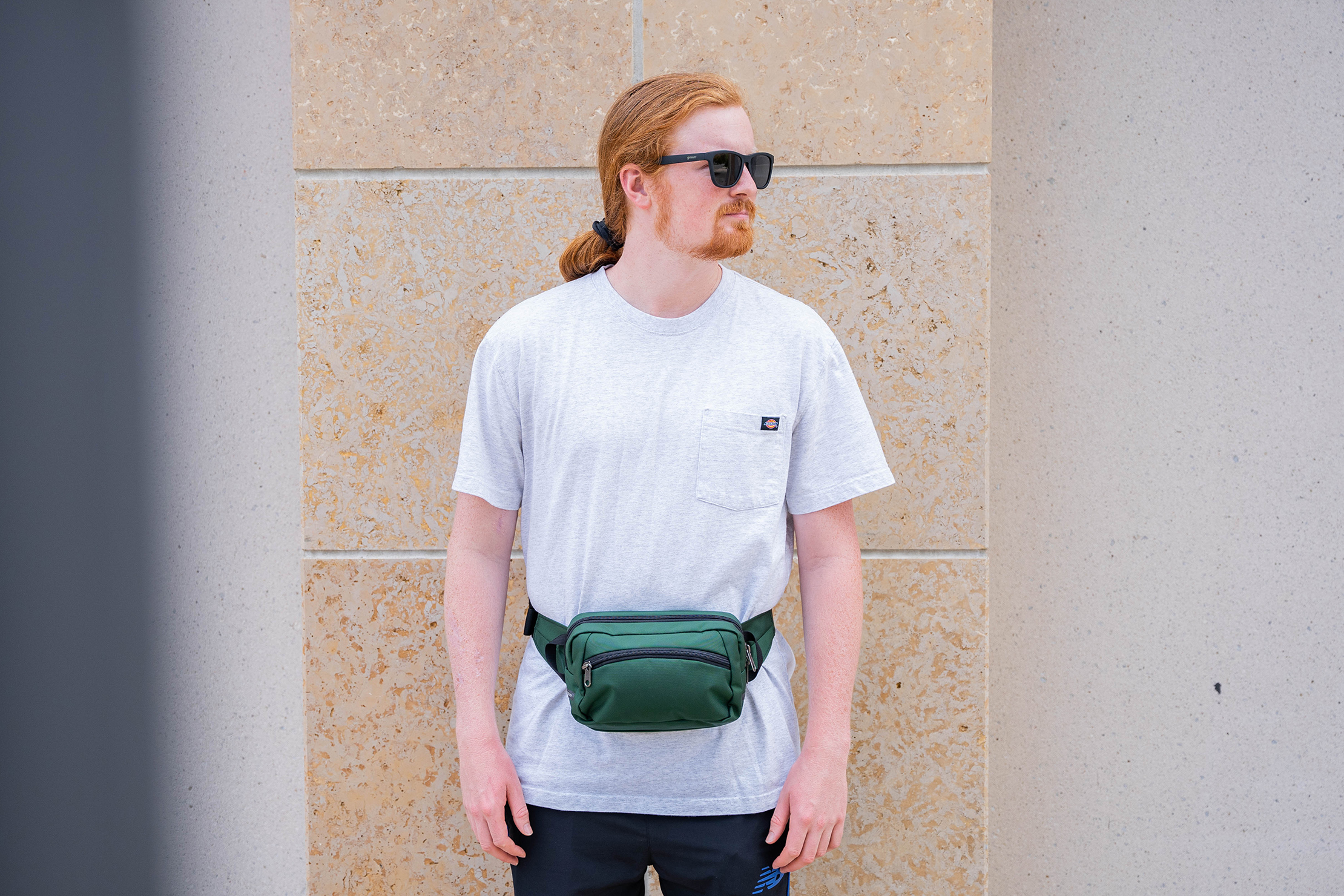 Because you can set this pack up and it won't fall over, it feels at home on your desk or a coffee shop table. Load it up with the tech gear you need for the day, and the Bummer will be a capable make-shift tech kit and won't look out of place. The pack looks nice and has a lot of space to make what you want out of it, making this a capable travel and EDC companion.
Usage Timeline
Initial Usage
Condition: Excellent
Quality and durable hardware, from the YKK zippers to Duraflex hardware
Exterior has a simple yet effective design for accessing gear
We're curious whether the strap will be comfortable when it's fully packed out
2 Weeks of Use
Condition: Excellent
No issues with the zippers or hardware—they work as they should
The strap is comfortable for most loads but can dig in while you're wearing thin clothing
The loops are great for attaching gear and hanging the sling up
Access the Pro Community Discussion
Get your questions about the TOM BIHN Bummer answered from our team and the Pro Community right here on the page. Plus, join discussions with other members about gear, guides, and more.
Other Bags & Luggage Reviews