TOM BIHN Le Petit Derriere Review
The Tom Bihn Le Petit Derriere brings back 1990s practical style, but it can be a little awkward to wear in practice.
Our Verdict
Unlock the Pro Summary
Save time. Get access to brief summaries of our reviews so you can browse and make decisions more efficiently.
Pros
Ample sized main compartment
Can carry four different ways
Front pockets great for quick-access items
Cons
Lacks aeration for warm days
Zipper occasionally slows around corners
Interior lacks organization
Recent Pack Hacker Video
Technical Details
100 %
Carry-on Compliance
Capacity

4.6l

Weight (oz)

13.8 oz (391.2 g)

525D Ballistic | 12 oz 400D Halcyon | 12.7 oz 630D Recycled Nylon | 13.6 oz 1000D CORDURA

Dimensions

6.9 in x 11 in x 4.7 in (17.5 x 27.9 x 11.9 cm)

Notable Materials

CORDURA® Nylon, Recycled Nylon, Ripstop Nylon, Ballistic Nylon, YKK Zippers, Duraflex Hardware

Manufacturing Country

United States

Warranty Information
Full Review
Ahmad, one of our content creators, speaks French. When we asked him what Le Petit Derriere means in English, he told us that it translates to "The Little Butt." Google Translate was a little more old-fashioned, telling us that it means "The Little Behind," but either way, you get the picture.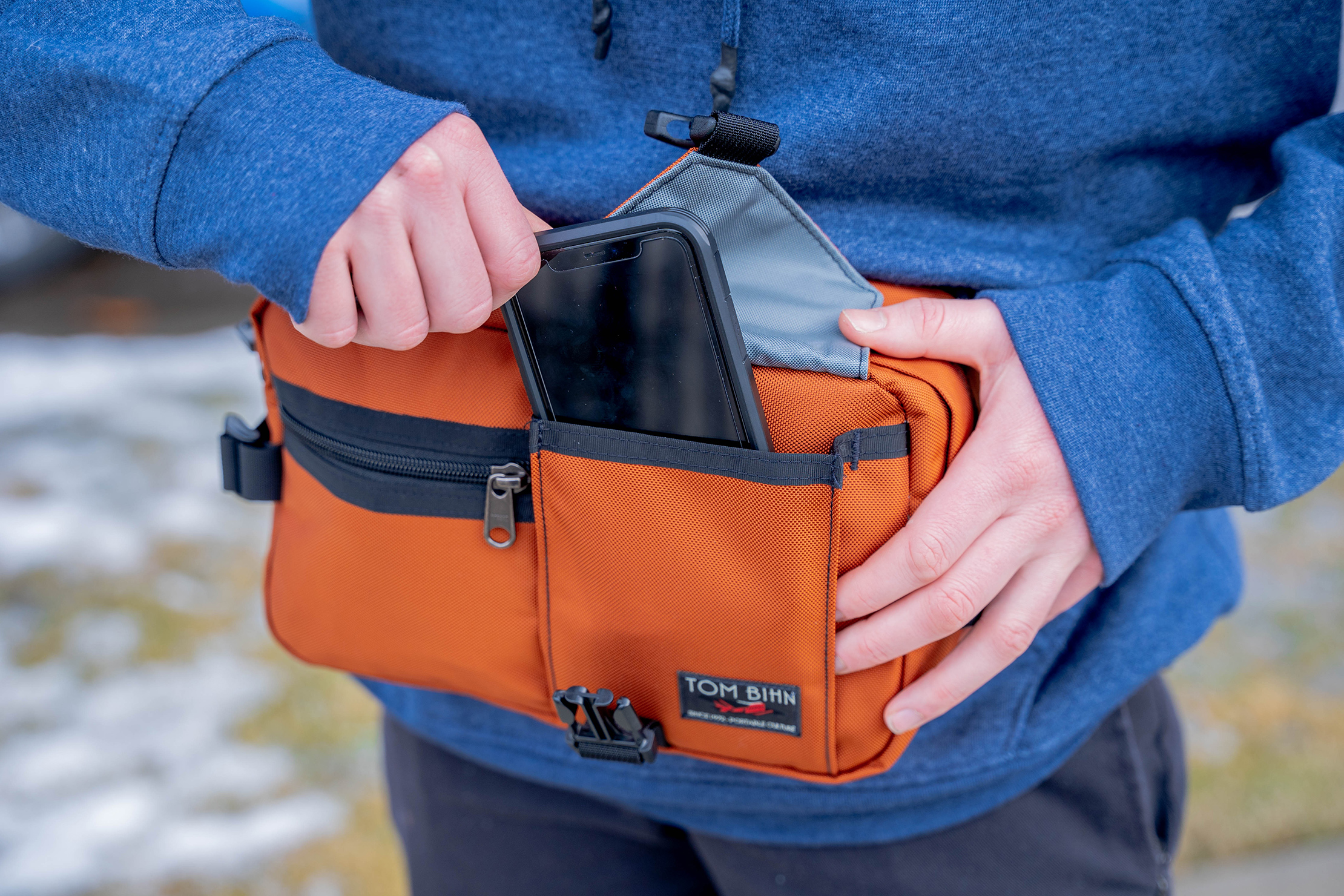 Right from the get-go, you can't help but feel this pack's throwback aura. The Le Petit Derriere is a smaller version of the Le Grande Derriere, which Tom Bihn first designed and manufactured in the 1990s. They decided to bring it back and invent a younger sibling in a smaller size, too. It may feel like a blast from the past, but was it worth bringing back? Let's dive in and find out.
Materials & Aesthetic
As always, materials are king with Tom Bihn. The Derriere we have on hand is crafted from Burnt Orange 525D Ballistic Nylon. Similar to other packs we've had shipped out from Tom Bihn's warehouses in Seattle over the years, there are many options for colorways and materials. Depending on what colorway you opt for, there are a few different materials you might end up with. As always, Tom Bihn is very transparent about this on the product page.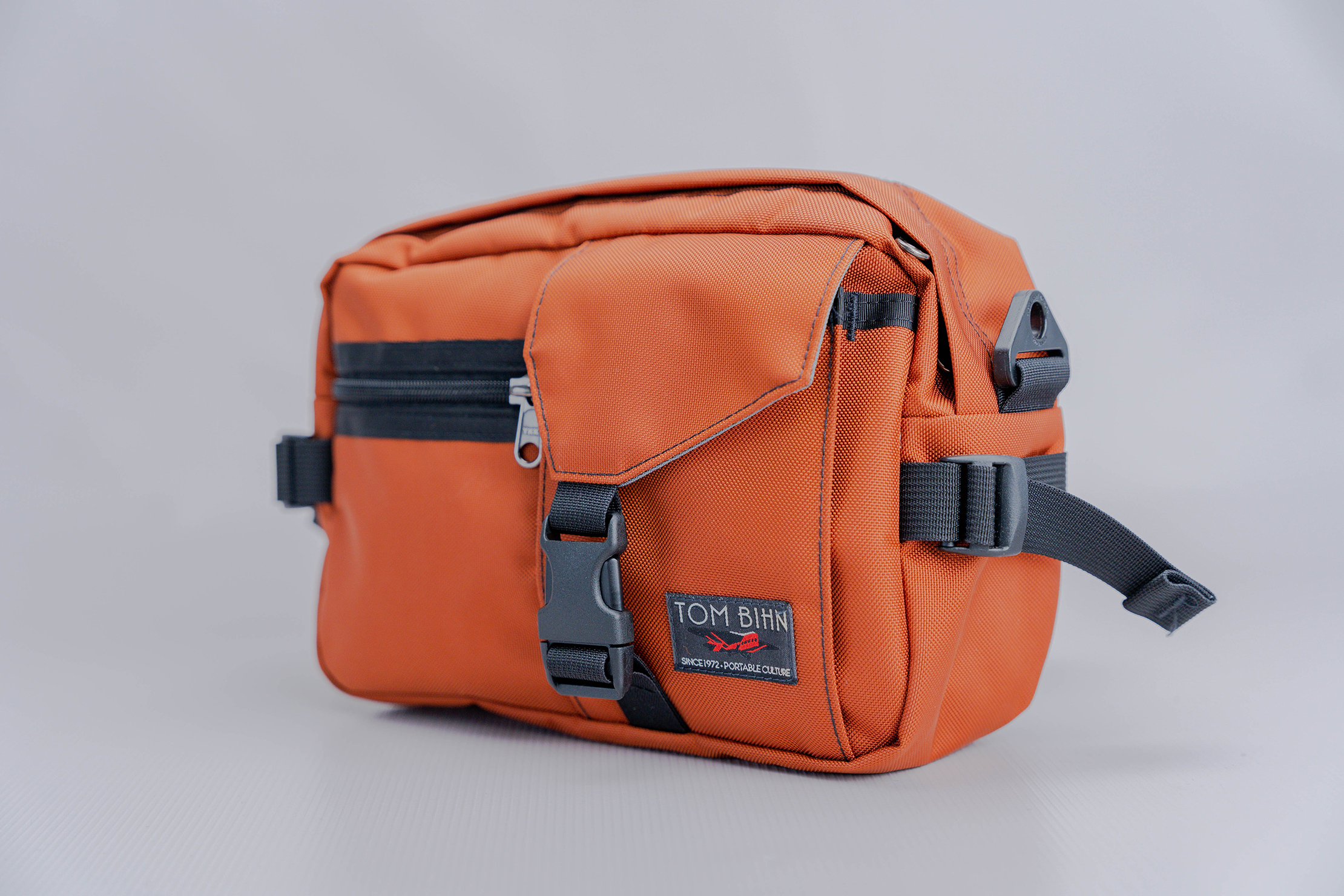 The interior of the pack we have on hand is Cloud 210D Ballistic Nylon. Both the interior and exterior nylon are bluesign® certified, which means that the materials are sustainably sourced. Tom Bihn often uses certified sustainable materials, which is a great shout. Go, environment, go!
The Ballistic Nylon is a little rough but not uncomfortable to touch or hold. The material is extremely durable and looks nearly the same as when it first arrived here in Detroit. There aren't any rips, tears, or punctures visible with the naked eye.
If you have read our reviews before, you know that we like minimalism. The Le Petit Derriere's design isn't very muted, but it's clean, and we love the earthy tone of the Burnt Orange colorway. It looks and feels like it was born in the 90s, and we're here for it.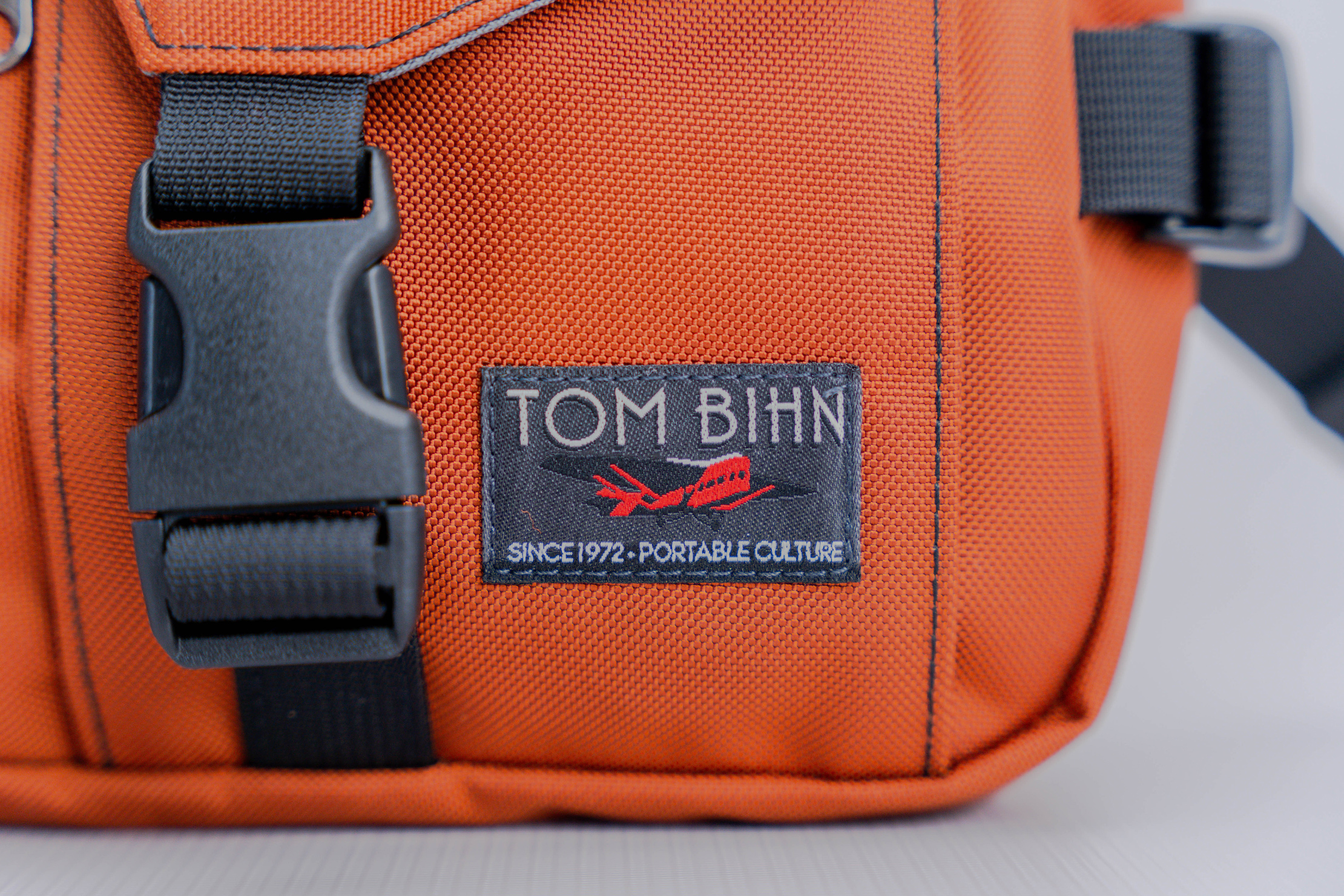 The Tom Bihn logo is in the bottom right-hand corner, and seeing as we aren't striving for minimalism with this pack, we don't mind the amount of real estate it takes up. At this point, it feels as classic as the Jansport Logo on the first day of school; you just expect it. The logo material feels durable, and the stitching is tight. It doesn't show any signs of wearing or coming loose, which is positive.
As far as components go, the Le Petit Derriere is quality. The sturdy main strap buckle and compression strap loop are both from National Molding. The clip on the strap is pretty large, which is a little comical because it has "stealth warrior" imprinted in tiny letters on the interior. There's nothing stealthy about this hearty buckle, but it gets the job done, which is essential.
One of the two front pockets has a Duraflex buckle on it. As always, there isn't anything negative to say. It gets the job done, looks nice, and feels durable.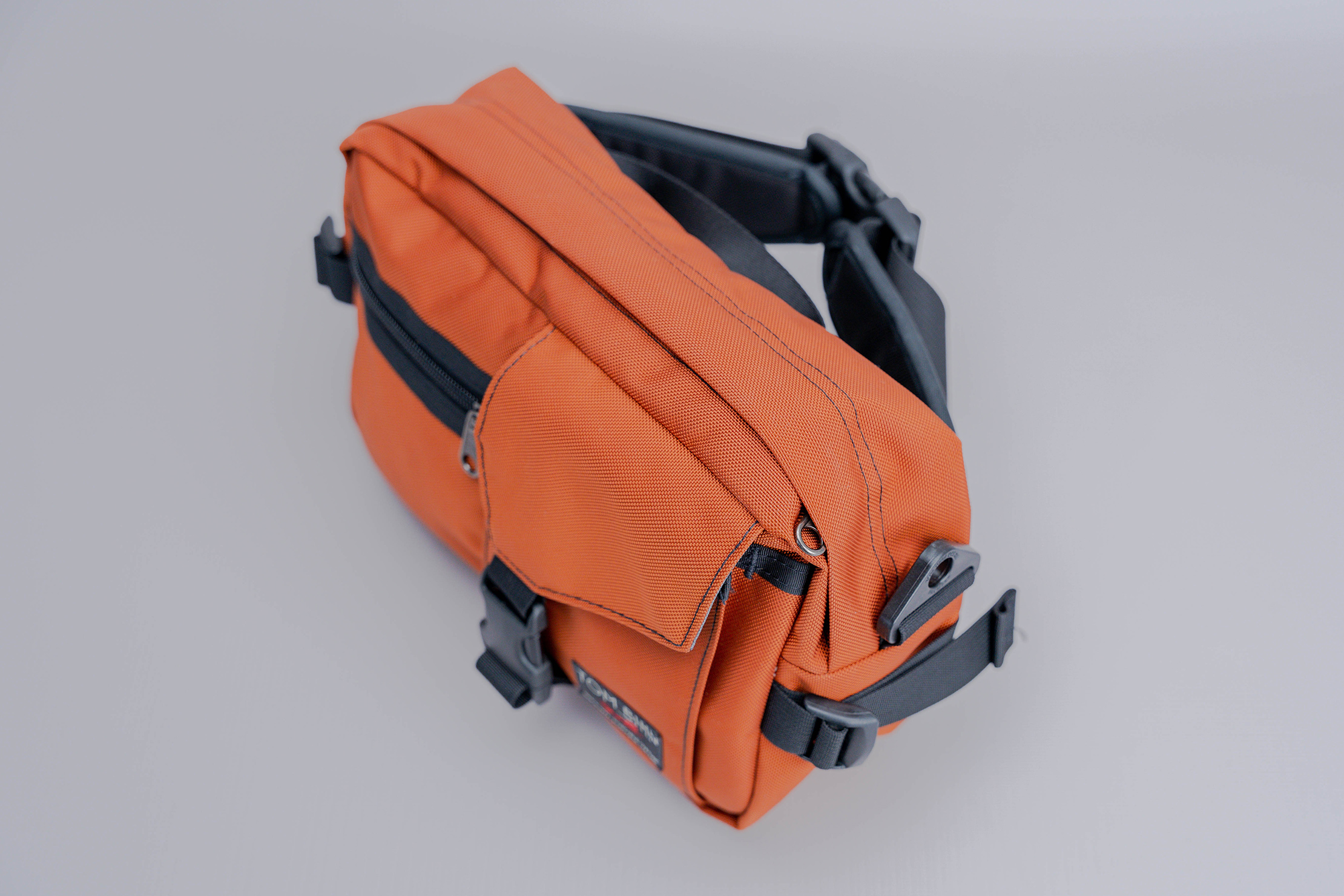 The side loops where you can attach a shoulder strap are hard plastic and have "TOM BIHN DESIGN – MADE IN U.S.A." imprinted on them. There isn't too much these have to do other than not break, but they're easy to clip onto and feel durable, so we'll give them a passing grade.
All of the zippers on the pack are YKK #8 models. They're smooth and easy to maneuver, even when fully packed. Tom Bihn includes zipper pulls you can assemble in a small bag in the front pocket, which we didn't opt for attaching. They make accessing the zippers easier, but we don't find them necessary. The main compartment zipper can be a little tricky, but not in a way that we feel the pull would assist us in.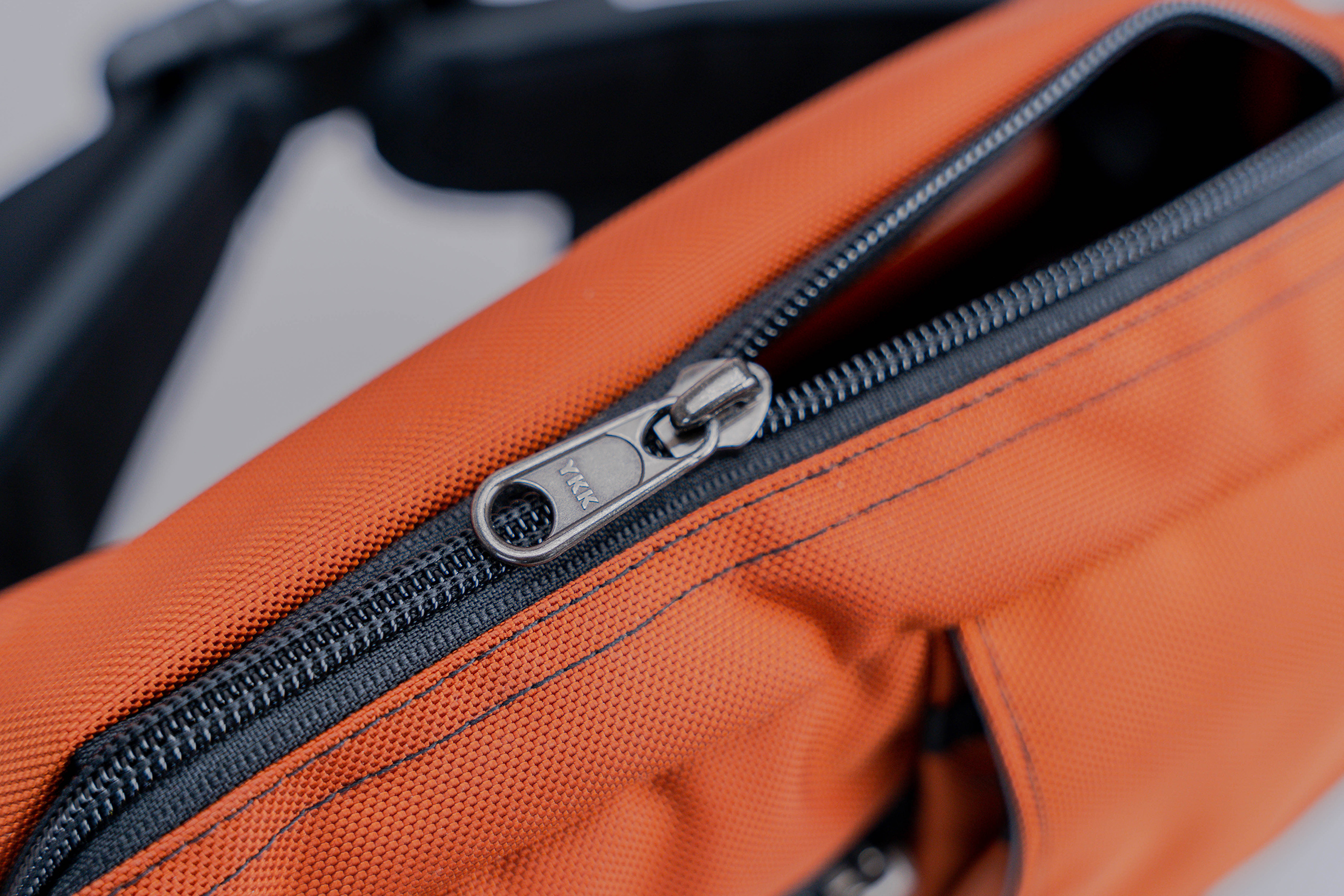 A fabric welt covers the main compartment zipper, which is great for weatherproofing, but it does add some awkwardness to the first corner the zipper track goes around. Whether you're coming or going, it just feels a little awkward sometimes to get around that corner. It isn't as much of an issue when the pack is full because there are fewer fabric peaks and valleys to traverse, but it can still be a little slow. It's easy enough to get the hang of, but getting slowed down by the zipper is a little annoying when you're in a hurry.
External Components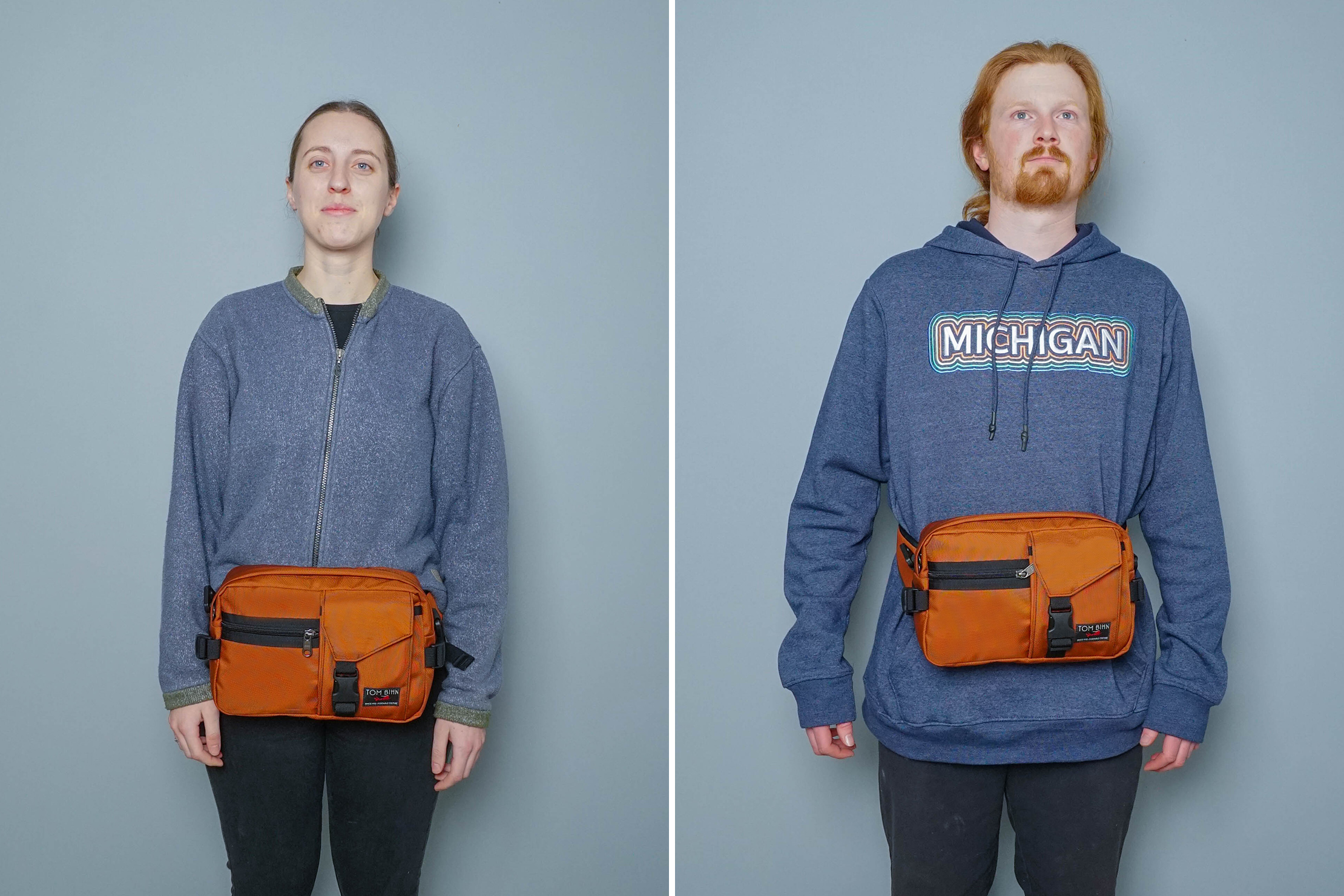 Coming in at 4.6 liters, this pack can stow a lot of gear compared to smaller slings and waist packs, so it has a large and in charge strap to carry all that weight. Instead of connecting directly to the side, it features padding covered with Ballistic Nylon that extends off the side of the pack and connects to the strap and buckle. This adds a bit of comfort, especially when the Derriere is fully packed.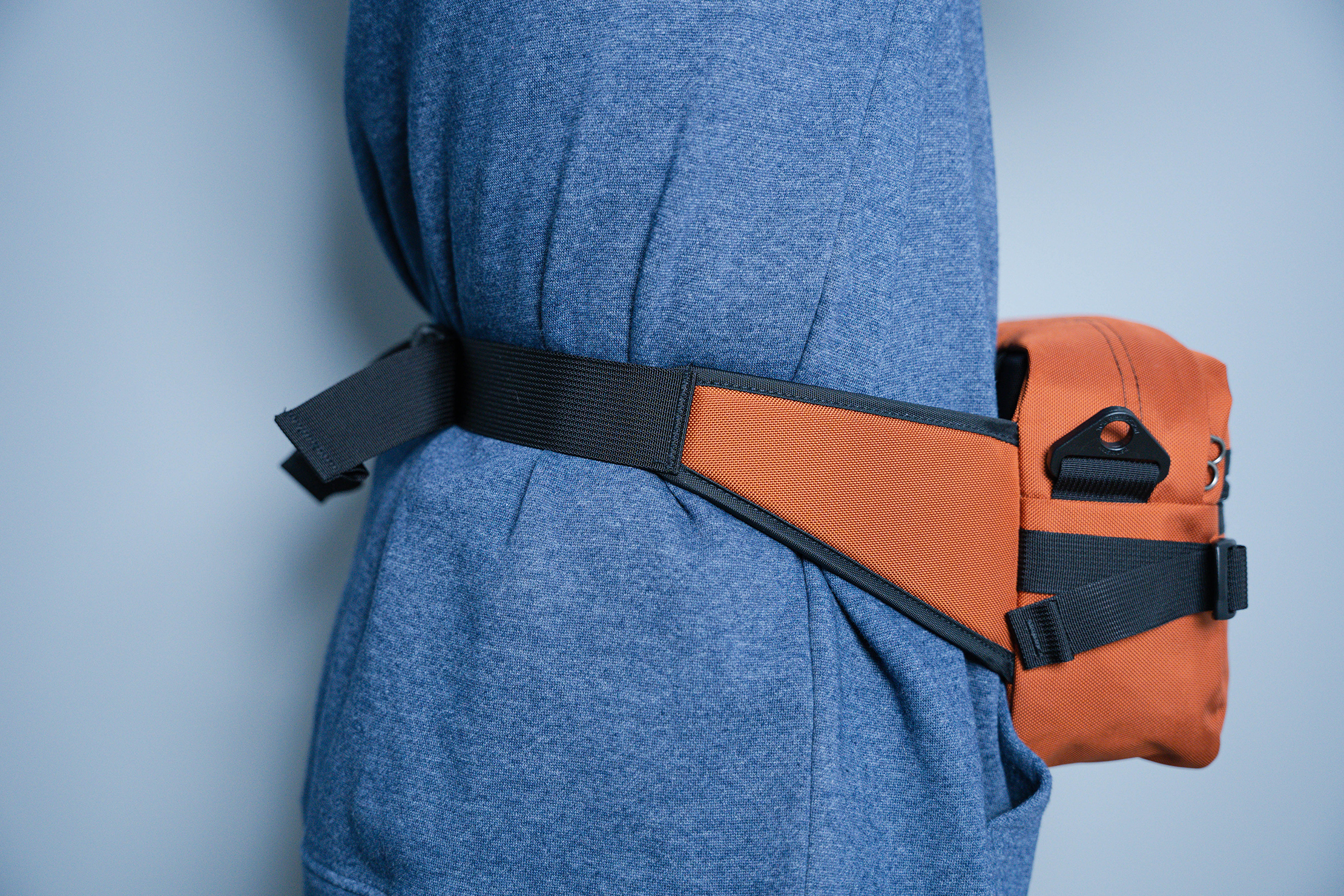 The extension doesn't have any aeration or mesh and doesn't breathe very well, so it does get a little sweaty on warmer days. It feels like a constant hug, which is comforting, but I don't think anyone is looking for a few-hour embrace once it's above 60 °F (15.5° C).
The back panel isn't super thick, but it's very dense and adds quite a bit of comfort. When paired with the Ballistic Nylon, it has enough rigidity to stop gear on the interior from poking into you while you wear it. There isn't any aeration or mesh, similar to the strap, so it can get a little warm.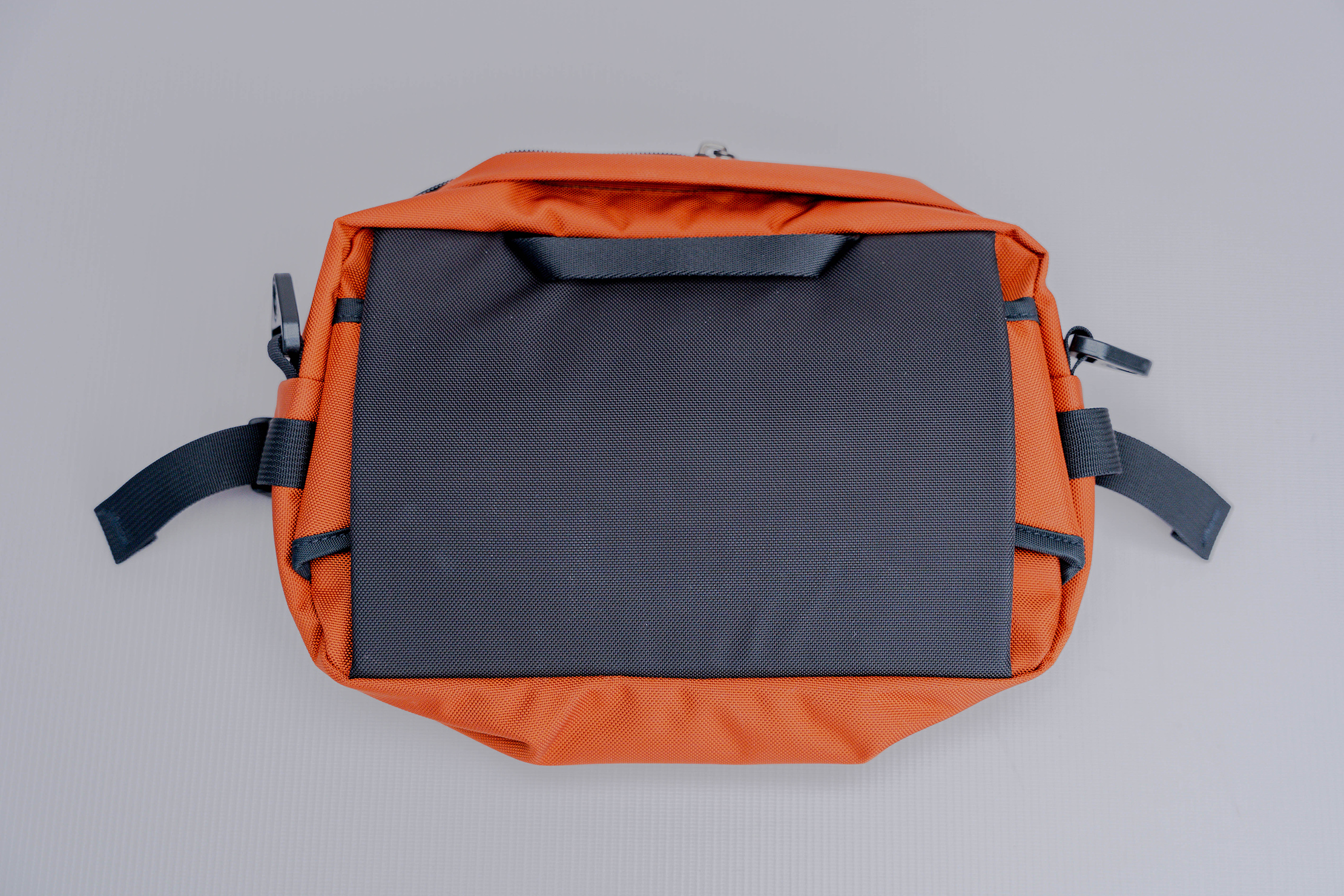 You're able to stow the strap underneath the back panel, which is nice if you want to carry it with the top handle or attach your own strap. However, it's pretty bulky when stowed, which you can feel when wearing it.
Luckily, you can wear the Le Petit Derriere in quite a few unique ways. First and foremost, it's a waist pack, or as we called them in the 1990s, a fanny pack. Our preferred method of carrying for the most functionality is on the front. It gives you quick access to the main compartment and both front pockets. It's just as comfortable on your back, but you can't access your gear. Sliding it around is a little awkward because the extensions on the strap tend to get caught on clothing.
It can be worn as a shoulder pack, too. We didn't mind wearing it backward because it's a comfortable way to get from point A to point B when you don't need constant access to your gear.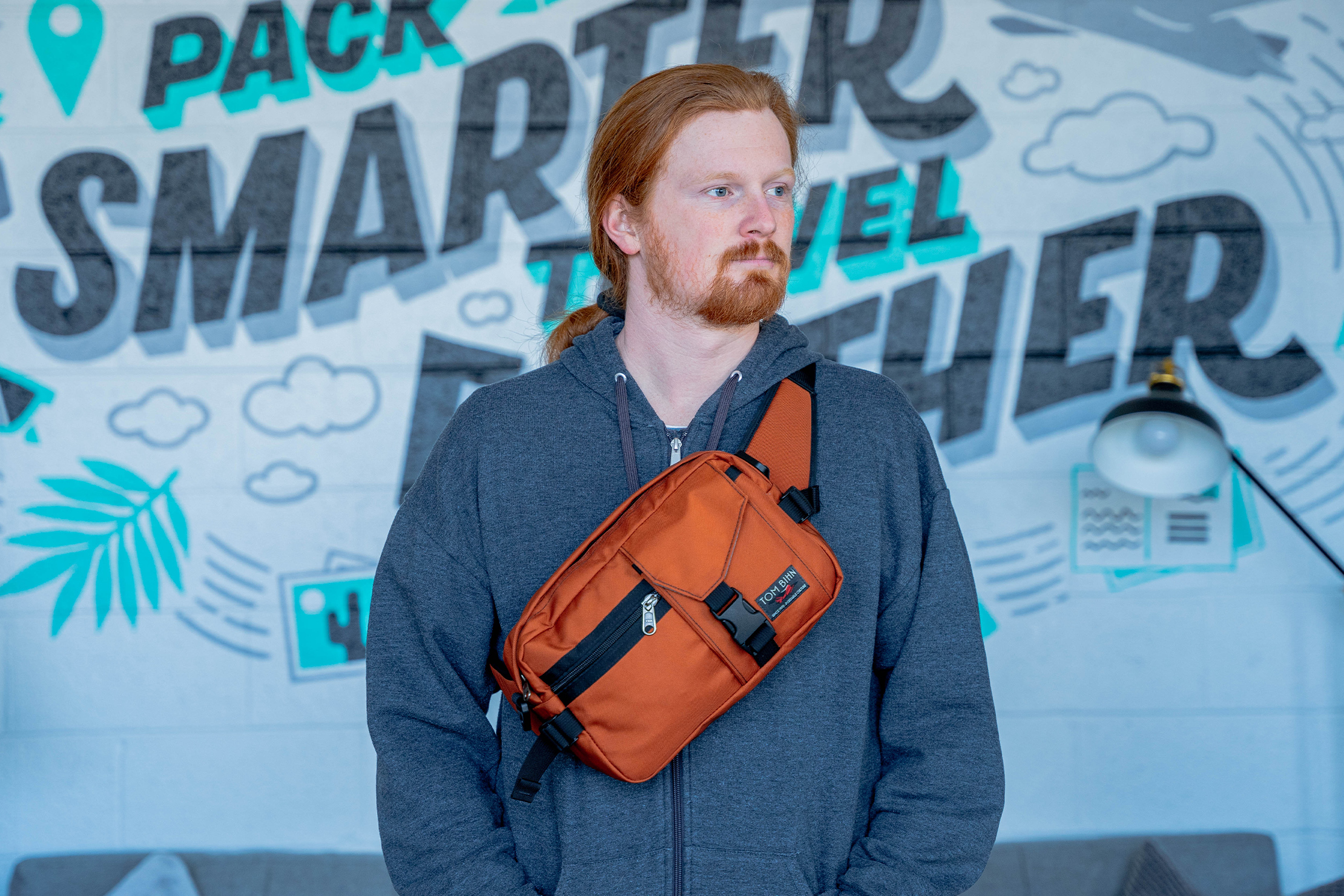 All that said, we think it's also a bit awkward to wear in the front. For us, the point of this pack is to bring a ton of gear you would normally leave behind, whether that be a camera, Nintendo Switch, water bottle, snacks, or mini-tablet. When you wear it on your chest and try to access gear, it almost feels like things will fall out since the opening is on a sharp angle. Instead of sitting horizontally, the main compartment zipper sits at a 45° angle, and if you have a lot packed away, it can feel a little unnerving. It's worth noting that this hasn't happened, but it's especially stress-inducing with camera gear.
The last included carry method is the top handle. It's pretty thin and doesn't have any padding, so it can get uncomfortable quickly, especially when the main compartment is loaded with gear. Having the option to just grab and go is nice, and this is an addition that the 1990s model did not have. If you were in the airport, you could use this to get through the TSA security line a bit quicker, as you wouldn't have to bother with unclipping the strap and taking it off.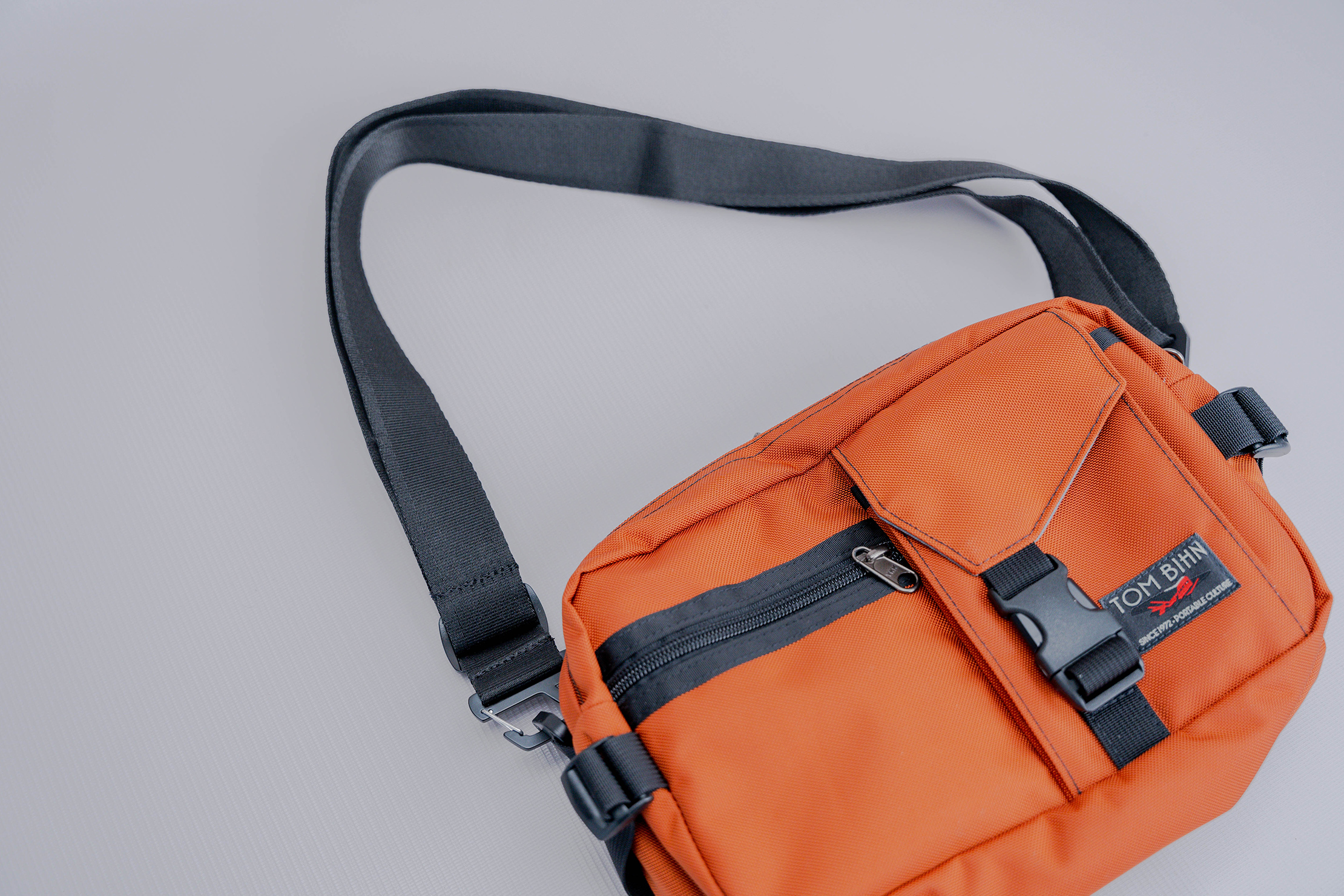 As we mentioned earlier, there are two hard plastic side loops to attach your own strap. We recently tested the NOMATIC Tech Case, so we grabbed the strap off of that and threw it onto the Le Petit Derriere to see how it carried, however, Tom Bihn sells their own shoulder straps as well if you want to keep it brand consistent. Surprisingly, it handles pretty well as a shoulder bag. It can feel a bit awkward at times because of how large it is—almost like you have an NFL-sized football as a shoulder bag—but it's nice to have the option to do something different.
The last external component we need to mention is the compression straps. They're located just below the loops we just mentioned and can be used to cinch down the pack when it isn't full. It gets rid of some of the extra fabric and makes the front of the pack look a little nicer, but the side angle does look a little weird because the fabric doesn't fold nicely, it just crunches together.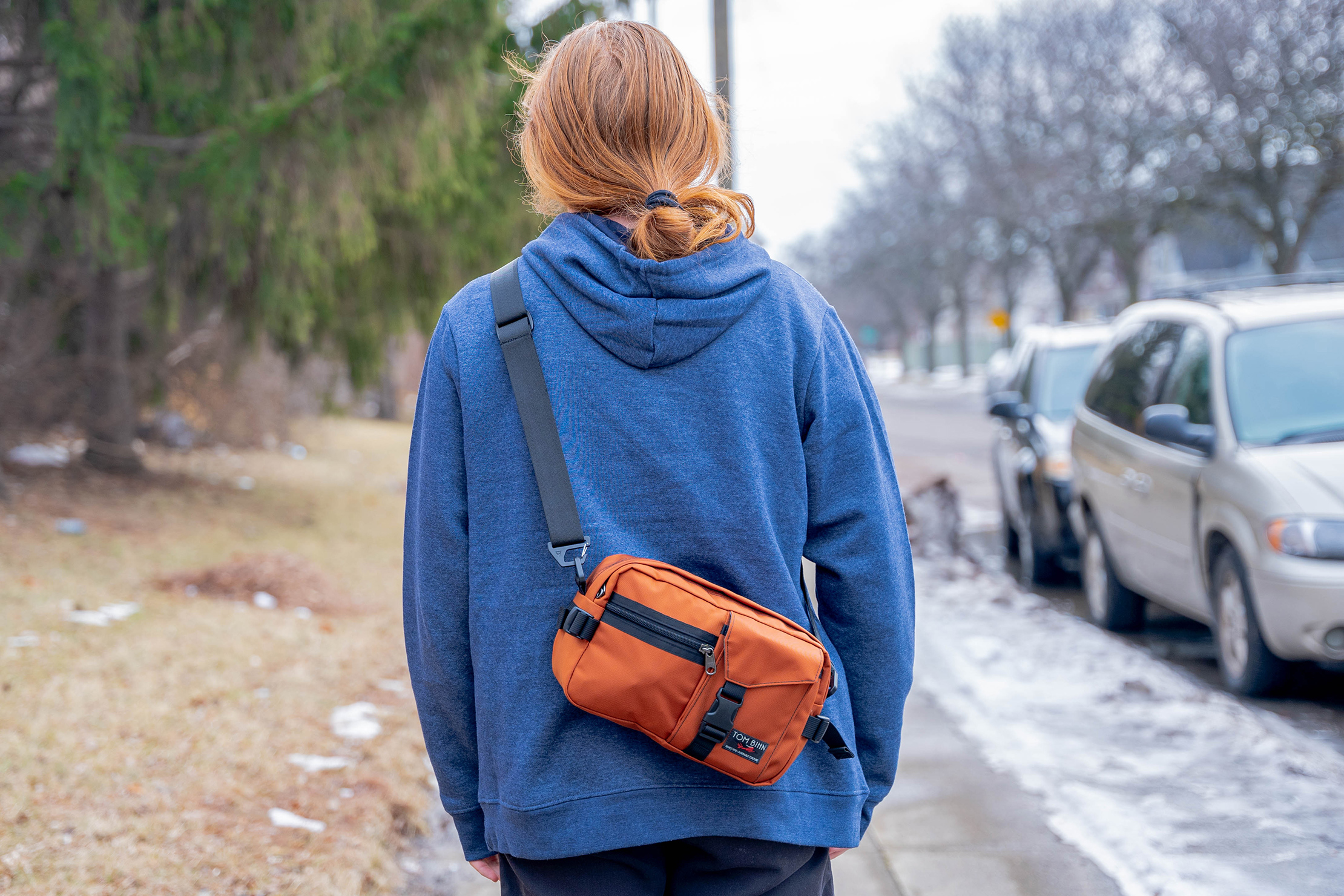 They're most useful when you have a smaller oblong-shaped item inside the waist pack, like a compact camera or a Nintendo Switch. If you don't tighten the compression straps, those items can bounce around inside and, in theory, break. By tightening the compression straps, your gear won't move around so much.
Inside The Pack
Moving inside the Le Petit Derriere, we have two front pockets and the main compartment. The first front pocket is a zippered pocket on the left side of the pack. It's a pretty basic compartment without much depth and is an excellent place for a wallet, set of keys, or smaller items like a pair of headphones or a charging cable. It shares space with the main compartment, so it can be hard to get items in and out at times.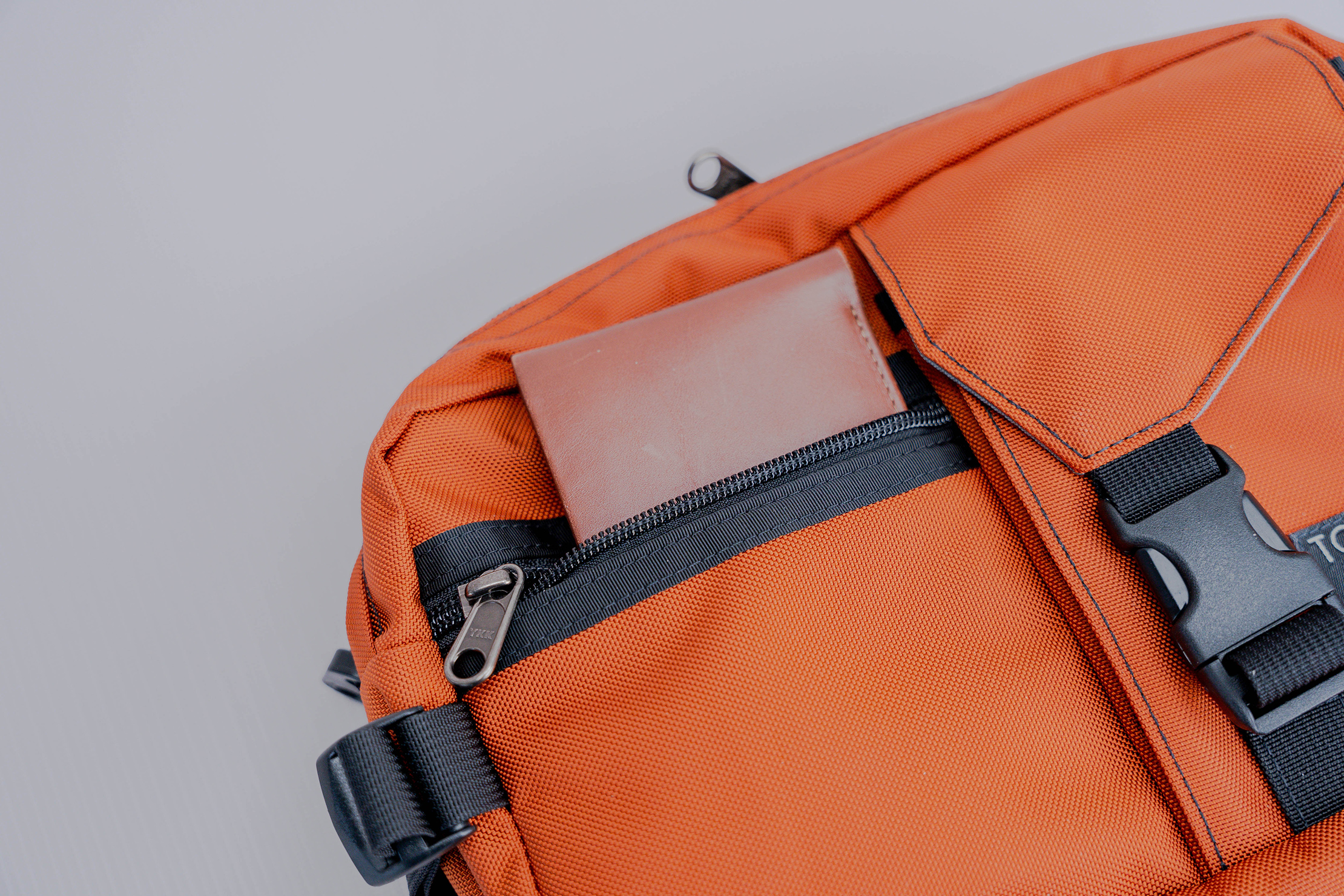 To the right of the zippered pocket is a buckle pocket. Inside is a dangling O-Ring with a key clip attached to it that's as long as the pocket, which can make grabbing your keys out a little tricky, especially if you have other items inside that get in the way. The length is nice for opening your door without taking the keys off, though. This is a good feature for when using an Airbnb key as if you remove it from your pack, you're more likely to lose it.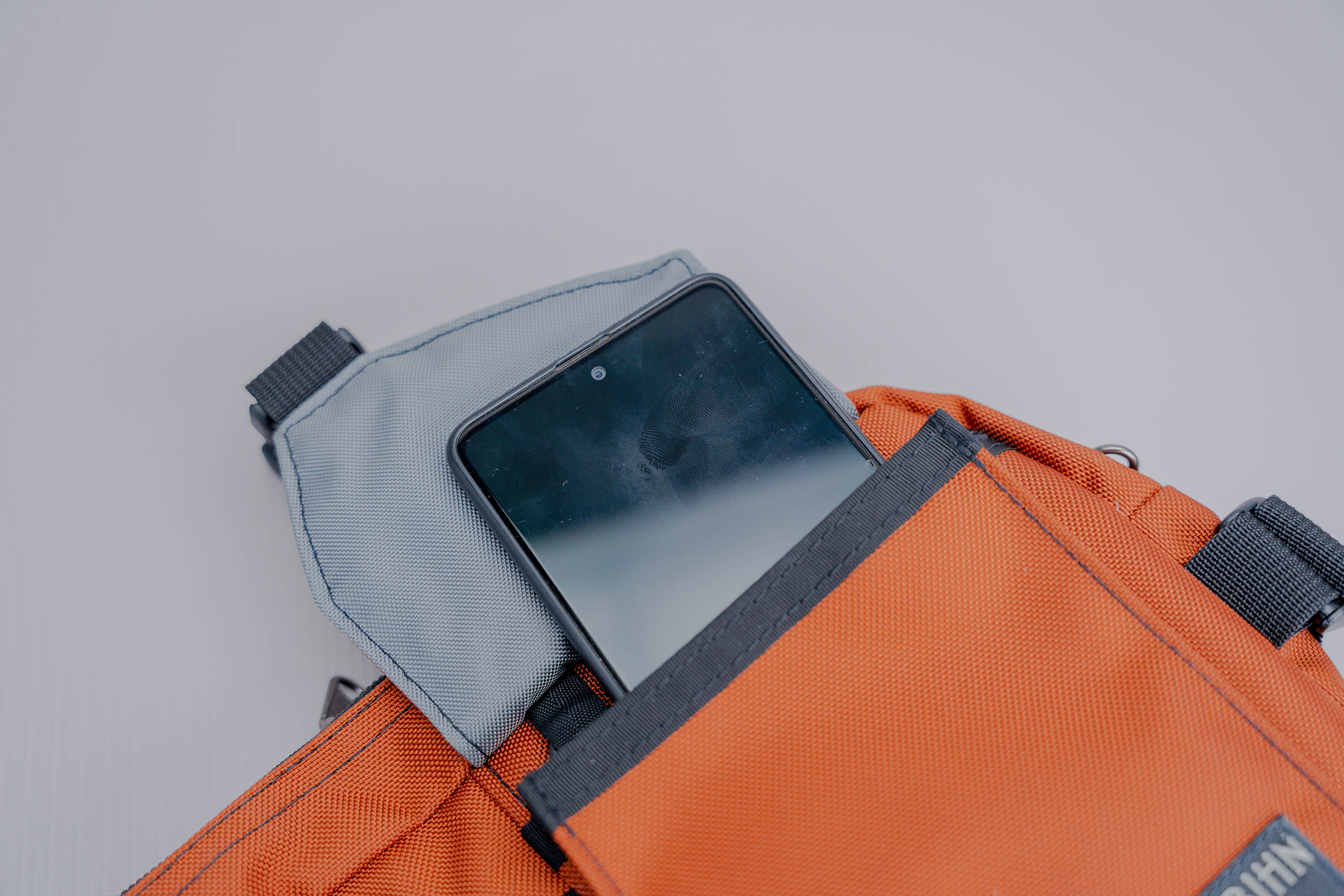 The pocket feels like it was made for a phone, but it can be a tight squeeze, especially if you have a case. Every smartphone we have fit inside, including the iPhone 11 and 13, some just protrude out of the top end a little more than we would like. The pocket does have a little bit more depth than its zippered neighbor, but it still can be a little difficult to maneuver items in and out when the main compartment is bulging outwards.
For the most part, the main compartment is a free for all. It's a huge area without any real organization, so it's what you make of it. To give you a better idea of its size, we could stuff a large packing cube into it and still close the zipper.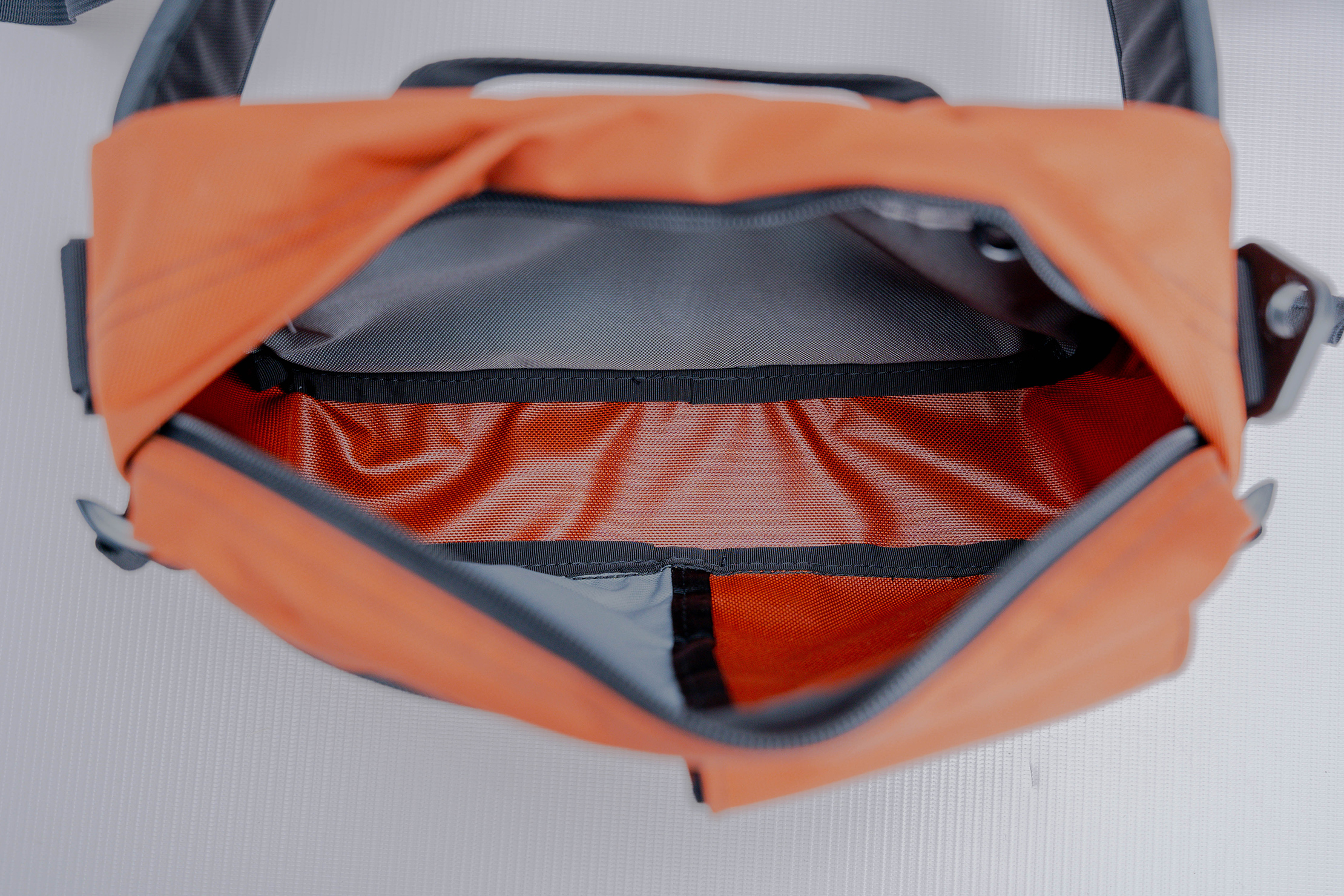 Without the packing cube, we could also fit a Fuji X-T3 with a 15-45mm lens attached, a Fuji 55-200mm lens, a camera battery charger, and a small JOBY GorillaPod, with room to spare.
A single liner pocket on the backside of the compartment is a nice place for a phone or anything you want to keep out of the oversized main compartment. It doesn't close, but things tend to stay put.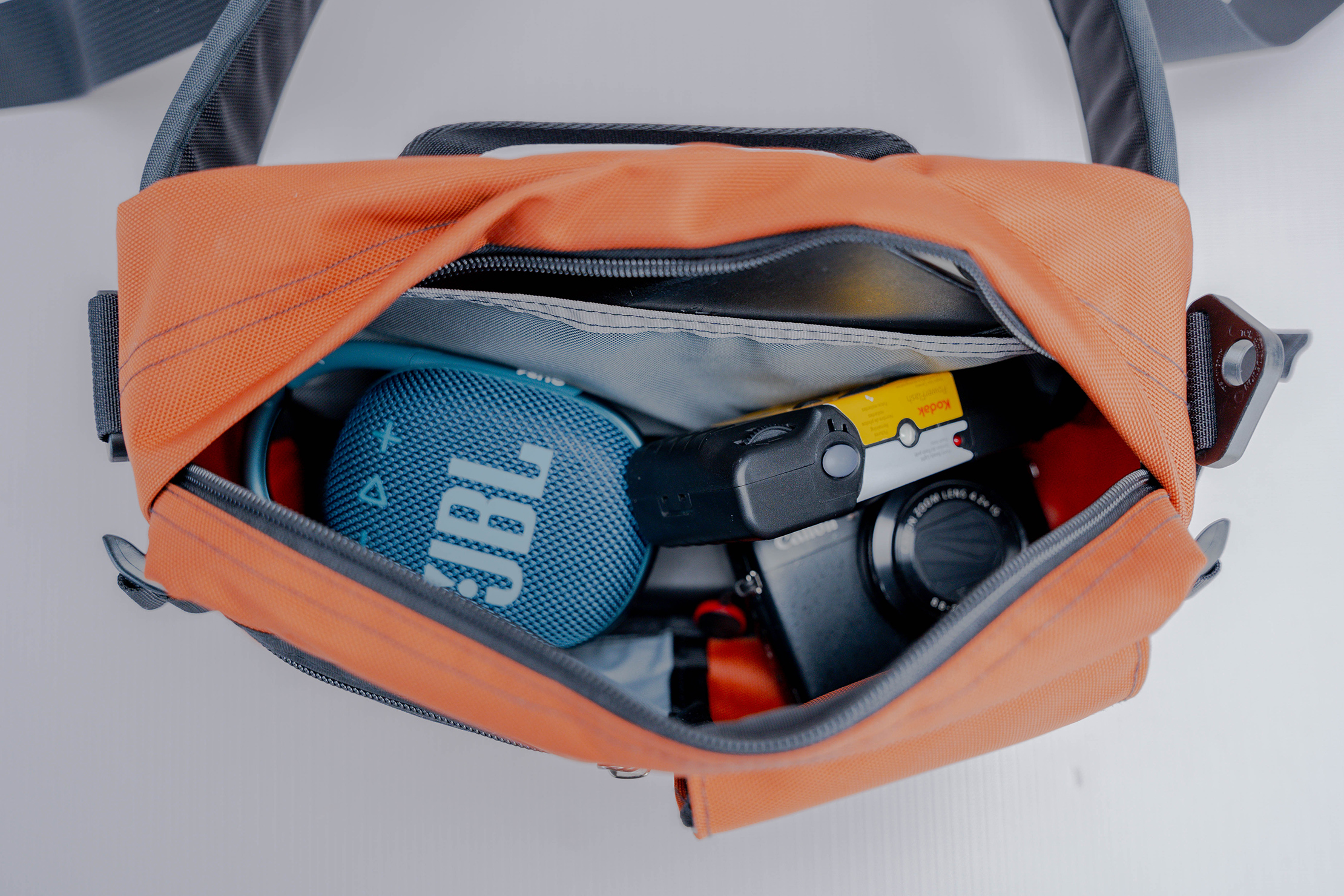 There are four O-Rings, two on the front and two on the backside of the main compartment, so you can attach additional Tom Bihn accessories inside if you want to, however we found the pack large enough to store all our necessities without warranting extra organization attachments. Having the option is a plus, though.
Although the main compartment doesn't have the organization we've come to expect from Tom Bihn, we enjoy using the Le Petit Derriere. It feels awkward at times, but overall, it's size is advantageous. If you're someone who constantly worries about not being able to bring gear along on even the shortest journeys, this pack will give you the peace of mind to fit everything you might want to carry. It might be a little warm for longer trips, but hey, you'll have your gear!
Usage Timeline
Initial Usage
Condition: Excellent
Pockets are varied and distinct from one another
Good structure, even when empty
Still relatively big for a waist pack
2 Weeks of Use
Condition: Excellent
Exterior still looks brand new
Main zipper can be a little tough to get around corners
Buckles are sturdy and clip easily
Access the Pro Community Discussion
Get your questions about the TOM BIHN Le Petit Derriere answered from our team and the Pro Community right here on the page. Plus, join discussions with other members about gear, guides, and more.
Other Bags & Luggage Reviews