TOM BIHN Brain Bag Review
While we're not loving the look or laptop cache integration of the Tom Bihn Brain Bag, we do appreciate its ample storage and unique, efficient features.
Our Verdict
Unlock the Pro Summary
Save time. Get access to brief summaries of our reviews so you can browse and make decisions more efficiently.
Pros
Tons of straightforward storage
Comfortable harness system
Unique external storage options
Cons
Not much organization in larger compartments
Laptop cache integration doesn't feel as secure as a dedicated sleeve
No elasticity to water bottle pocket
Recent Pack Hacker Video
Technical Details
Capacity

36l

Weight (lb)

2.94 lb (1.3 kg)

Denier

525D

Dimensions

18.1 in x 14 in x 9.1 in (46 x 35.6 x 23.1 cm)

Notable Materials

Ballistic Nylon, Duraflex Hardware, ITW Hardware, Woojin Hardware, YKK Zippers

Manufacturing Country

United States

Laptop Compartment Size

17"

Warranty Information
Full Review
If you consider yourself a bag enthusiast, you're probably familiar with the brand Tom Bihn. They've been making quality gear for the last 40 years and counting—and we've had plenty of positive experiences with their packs, totes and other products.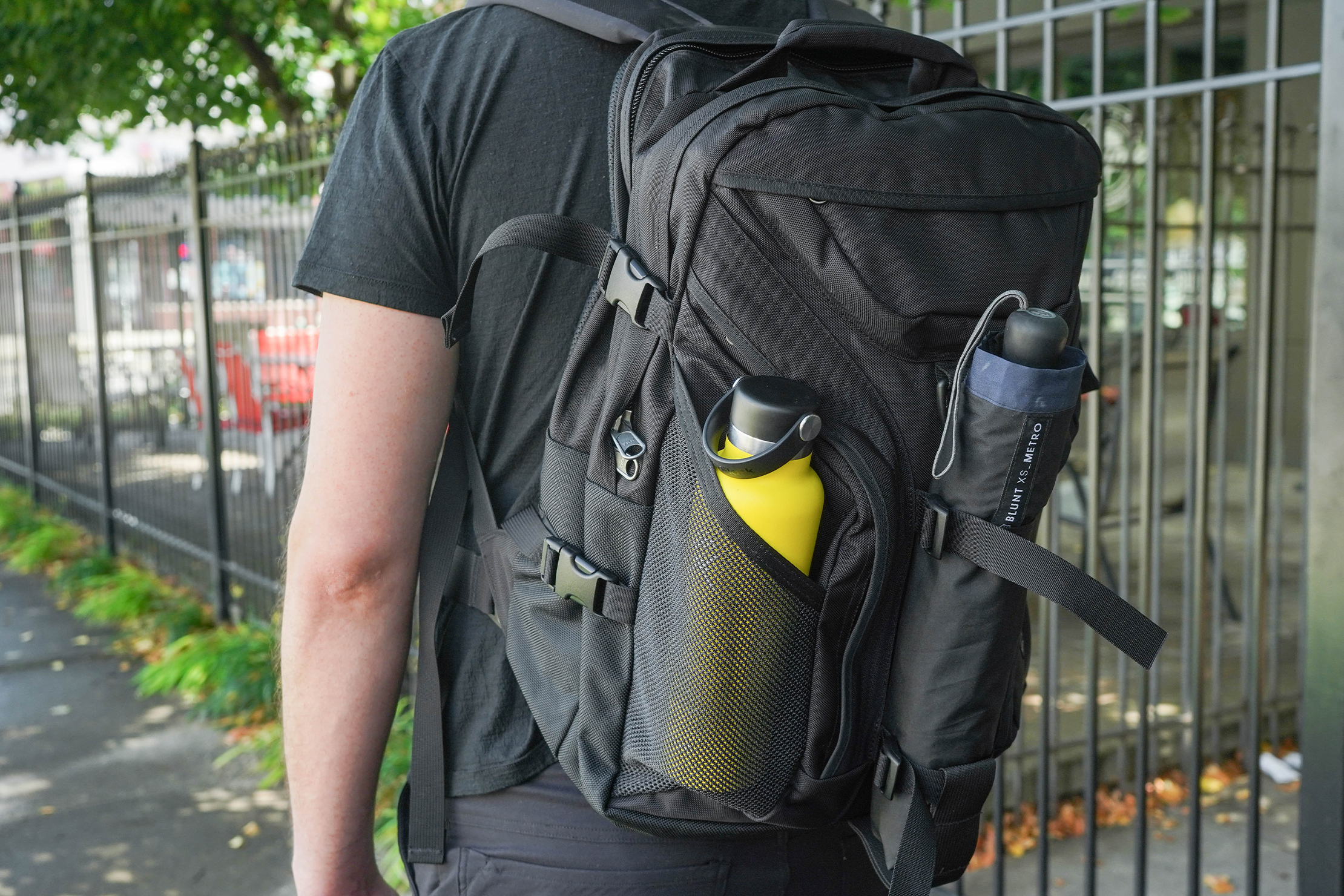 Fortunately, we can also add the Tom Bihn Brain Bag to this list. At 36L, you can pack this thing out for travel—and we've been digging the unique features that it has to offer, like the lash system on the front of the bag (which we'll get to later on).
We have two weeks of testing down, and we're ready to share our thoughts—let's do it.
Materials & Aesthetic
While this pack and the Tom Bihn Synik 30 are from the same brand, as far as looks go, they're unique in their own way. The Brain Bag is a big bag, and as a result, it can look pretty bulky when worn. There's also a lot of excess strap on the outside of this pack, so it's not the cleanest bag we've ever tested, whereas the Synik 30 is far more streamlined.
If you're familiar with us here at Pack Hacker, you shouldn't be surprised to learn we've been testing the classic Black colorway of this bag. Again, this bag is a tank, but we feel this colorway helps tone down the look some. If black just isn't your vibe, note that at the time of this review, the Brain Bag is available in five different colorways (with five more in production). You should be able to find one that works for you.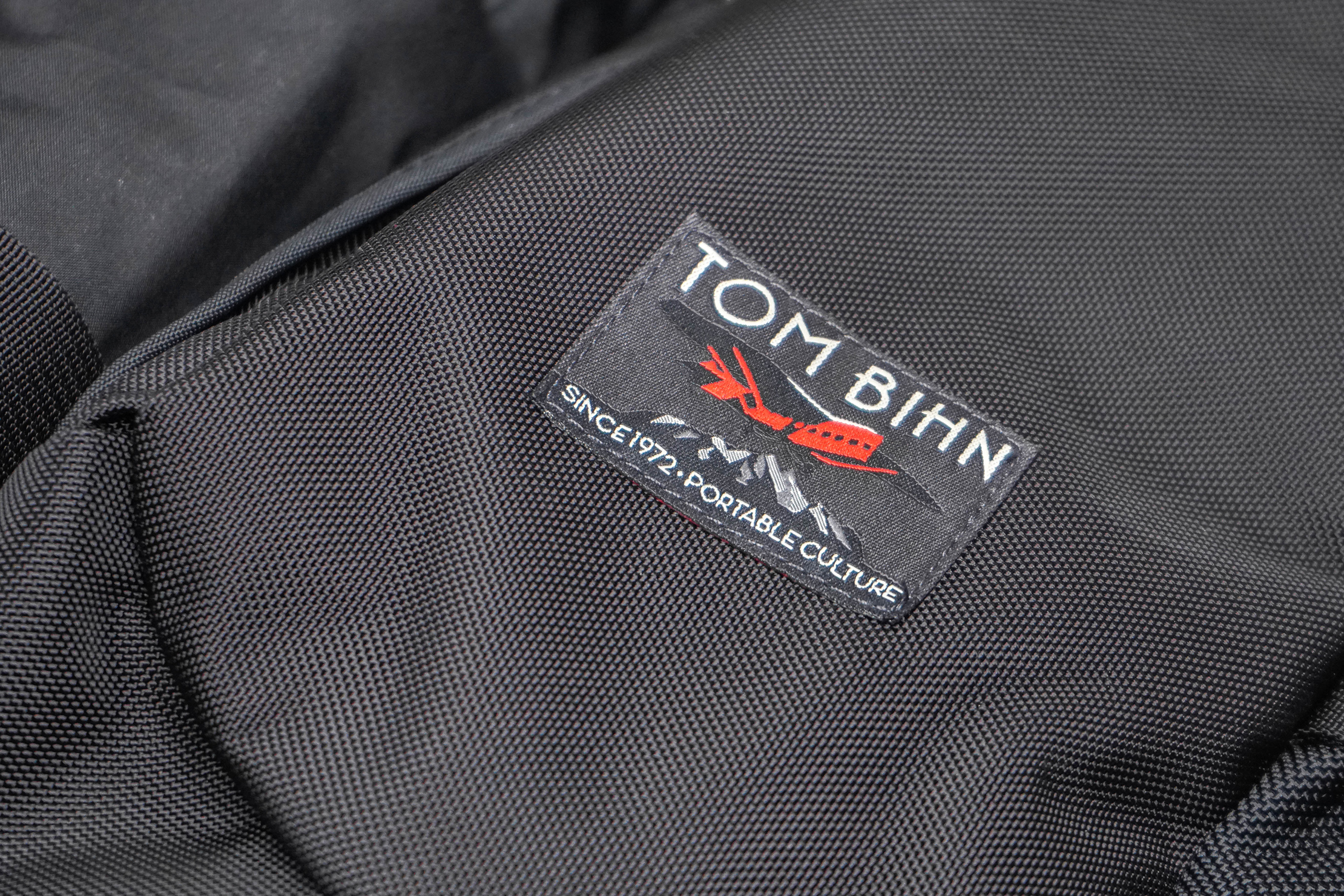 It's not a Tom Bihn bag without their wordmark and signature airplane sewn on the front. It's subtle enough that it's not an eyesore but noticeable enough to be a nice, small accent—and when people see it, they'll know you're wearing a durable, well-built bag.
As for materials, the Brain Bag is constructed with 525D Ballistic nylon, with a 210D Ballistic nylon exterior lining. Essentially, this fabric is an especially tight and dense weave of nylon that makes it highly durable and abrasion-resistant. You'll find this fabric used on lots of Tom Bihn products, and that's because it's up to the task of protecting your gear, and lasting quite a long time.
You'll also find some 1050D Ballistic nylon on the bottom of the bag. It has more tensile strength to deal with all the wear & tear on a high-traffic part of the bag—from being set down on the ground, to holding together all your gear. Both fabrics are manufactured with a bluesign® approved process, so this pack is also eco-groovy, which we can get behind.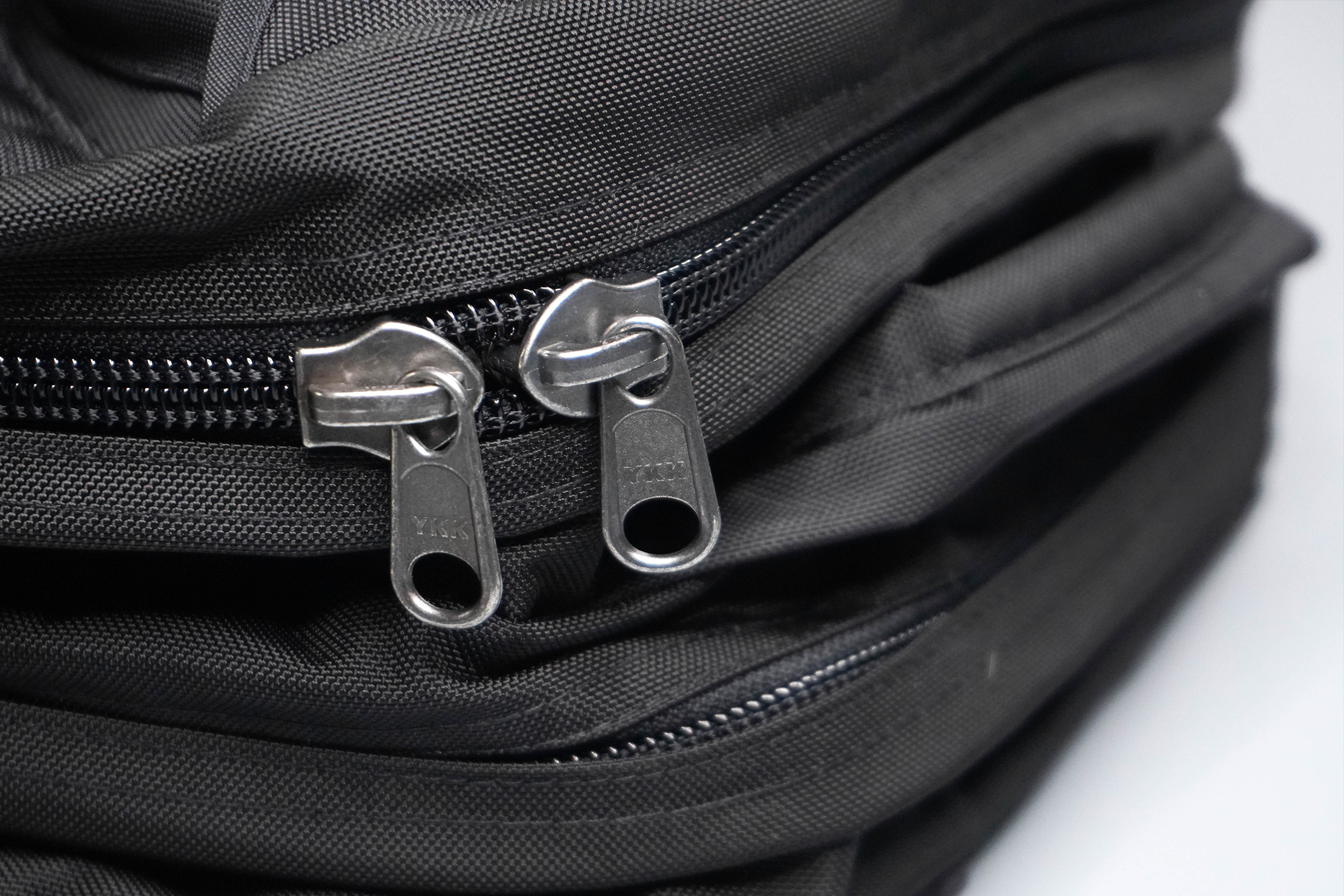 There are #10 YKK zippers that secure the main compartment, and #8 YKK zippers on the pockets. They feel robust in the hand and have been working smoothly for the most part during our testing—though the zippers on the front pockets have been a little hard to grab, which can slow down our access some. The good news is, Tom Bihn includes Cord Zipper Pulls with most of their bags, which helps mitigate this issue.
To wrap up materials, Tom Bihn uses up to three different brands of hardware on their bags—Duraflex, ITW, and Woojin. We've had positive experiences with all three in the past, and are happy to report that everything is working as it should be.
External Components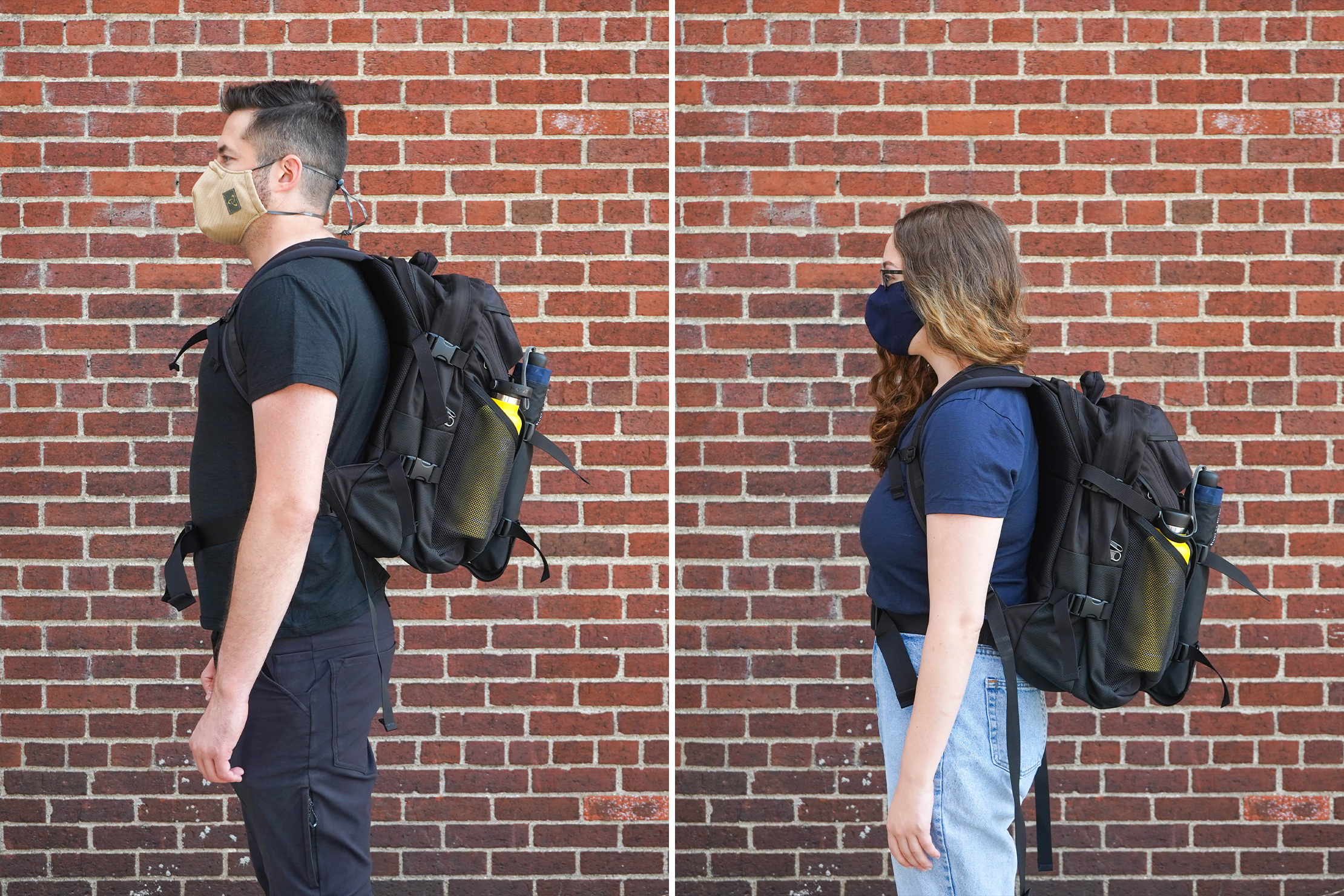 There's quite a bit going on with the outside of this pack, but don't worry. We're here to take you through all of it, starting with the harness system—which, overall, we've found to be pretty comfortable, but a little saggy.
The shoulder straps are densely padded with EVA foam that makes them comfortable to wear. There aren't any strap keepers on here to keep excess strap managed, but Tom Bihn does offer strap keepers that you can purchase separately if you're on a quest for that #DangleFreeExperience.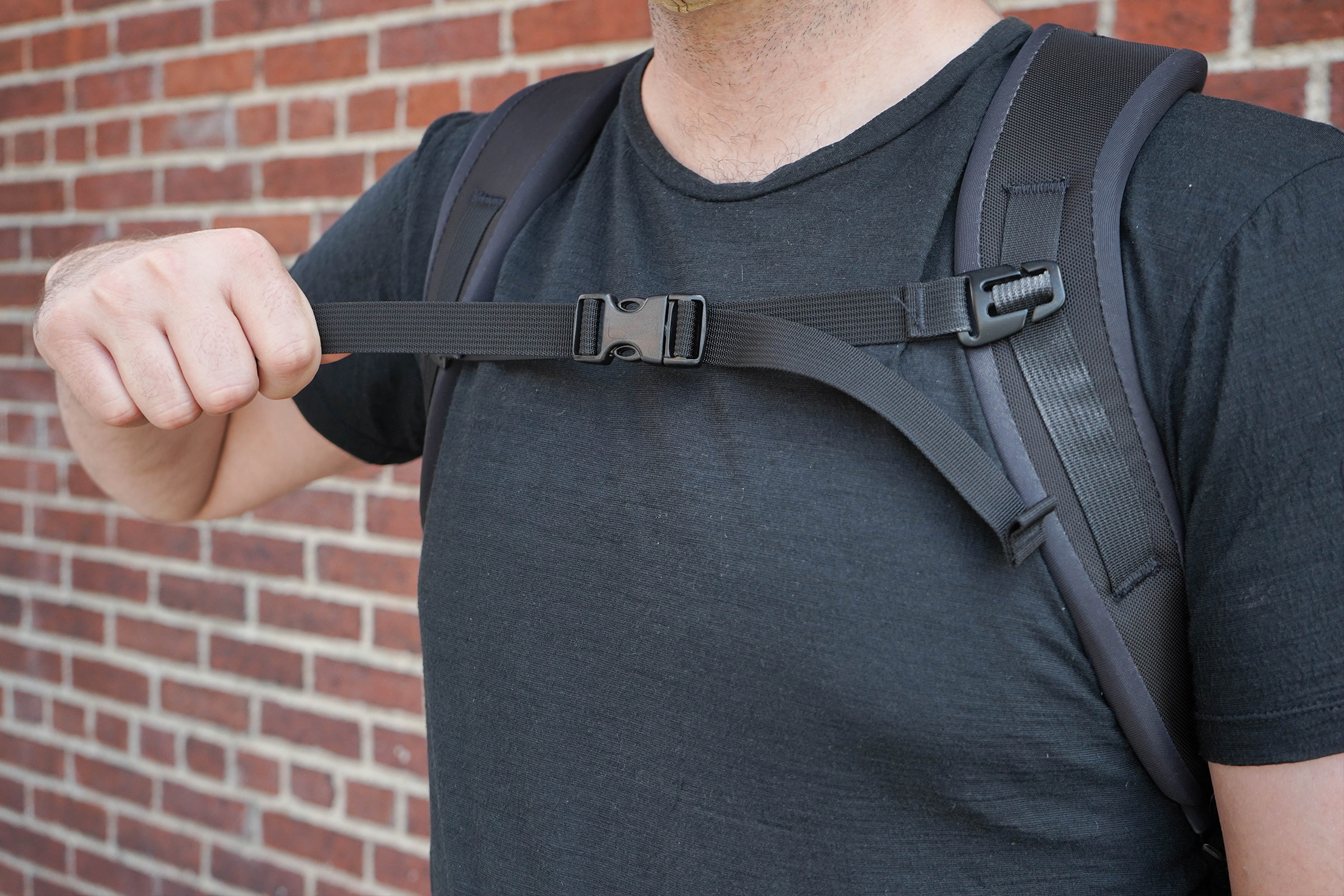 Then, you have a basic, no-frills sternum strap that you can easily adjust by sliding it up and down to wherever it feels comfortable. The attachment is secure so we're not worried about it coming undone and us losing it, also, which we appreciate. Again, no elastic keeper on here so depending on how tightly you have it cinched, the excess strap may be bouncing around as you walk (or giving you a constant high five on your chest, depending on how you want to look at it).
The hip belt on this bag is more of a waist strap—or a stomach strap, we should say, as this thing sits higher up than we'd like it to. It's not very padded either, so it doesn't help with weight distribution as much as it just keeps the bag closer to the body. It's attached via gatekeeper clips that feel secure, and allow you to remove the waist (stomach) strap when needed/if desired. No elastic keepers though, so you're going to have to deal with some dangle when you are using it.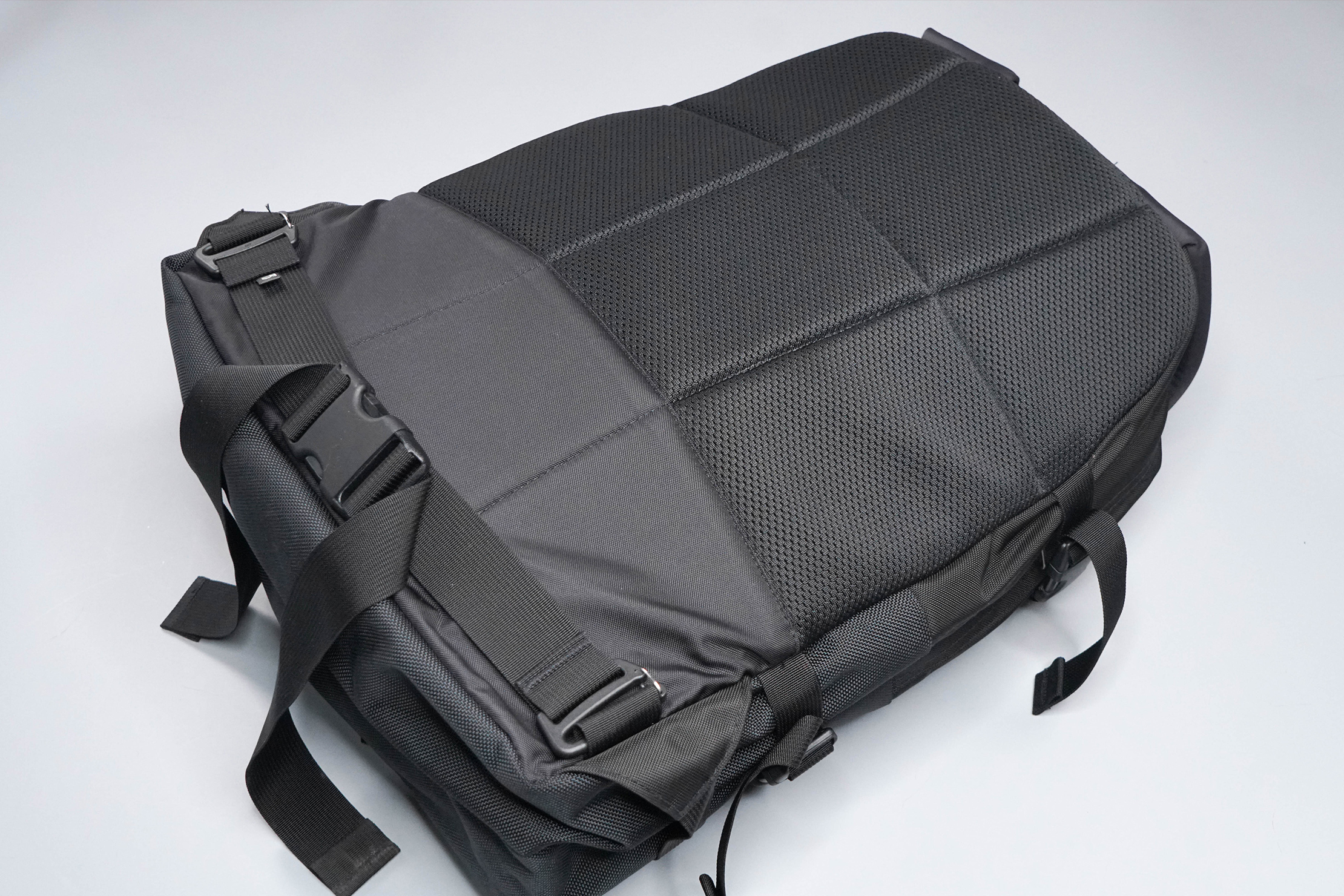 Flipping it over, the back panel is lined with some mesh for added breathability, which is appreciated on an all-black colorway like this one. There's no stiff frame sheet, so there's some sag—especially when the bag is fully loaded. Pair that with the absence of load lifters, and things can get slouchy quickly.
You have a standard top handle on this pack that's convenient for grabbing and hanging the bag when needed. It's nice and densely padded, so it's comfortable in hand which we dig (especially since this bag can get pretty heavy when fully packed).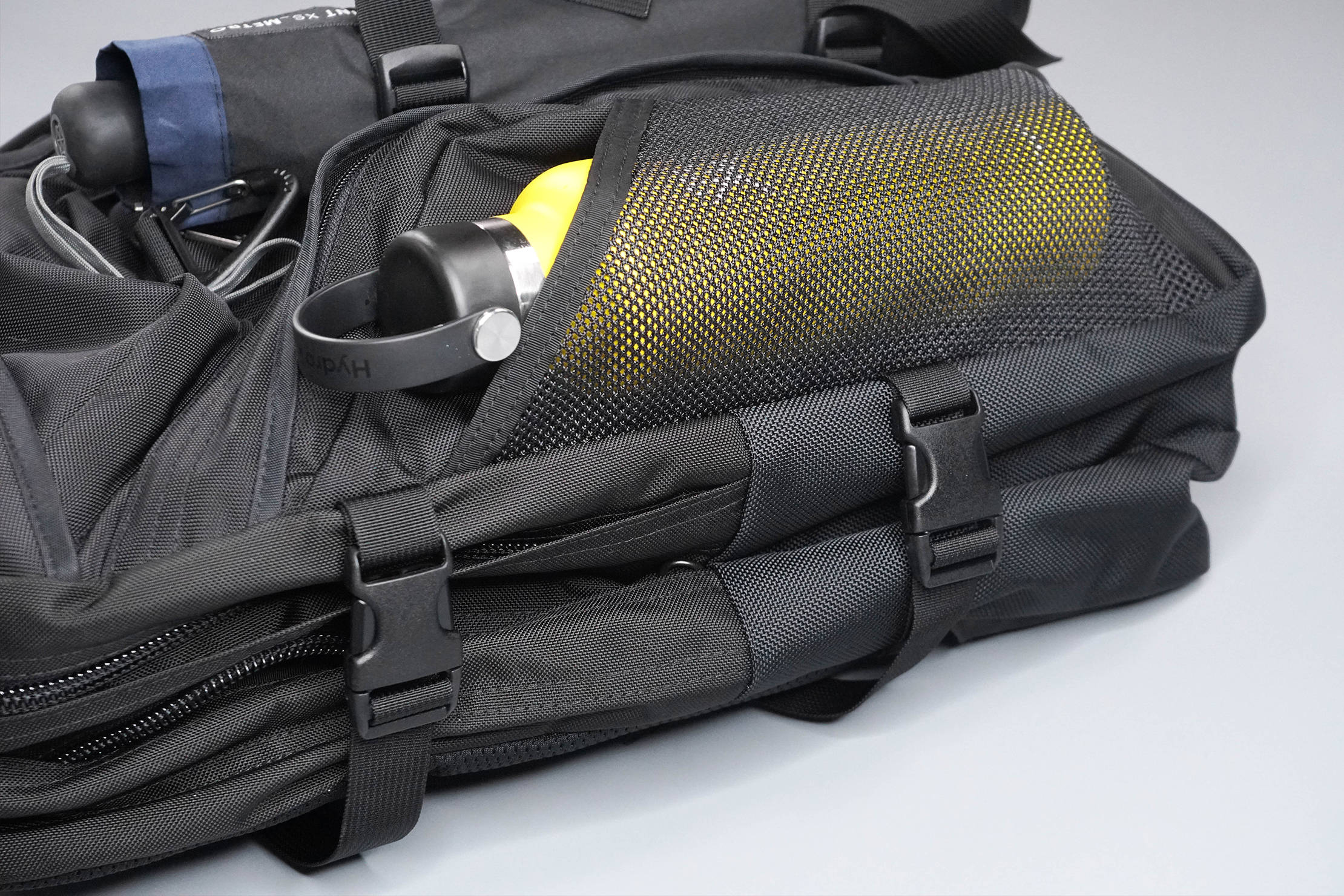 There are also two compression straps on each side of this bag that work for cinching the bag down when it's not fully packed, to keep it as minimal as possible. They can also be used for external storage if you want to secure something like a yoga mat, tripod, or a rain jacket.
When these compression straps are cinched down, we've noticed that they kind of pull the back panel away from the back. This can cause the pack to feel a little farther away from the back around the sides, but in our experience, it hasn't created any discomfort.
As for the external pockets, the first one we'll focus on is the mesh water bottle pocket. We've been able to fit a YETI Rambler 18 oz Bottle easily enough—though something we want to note here is that there's no elasticity to this pocket. So if your bottle is on the slimmer side like this one, it's not as tightly secured, and can fall out if the bag gets jostled around or overturned. That said, it's not a huge pocket, so you can't fit anything too large in here either. Your water bottle or item size needs to be just right to take full advantage of this pocket.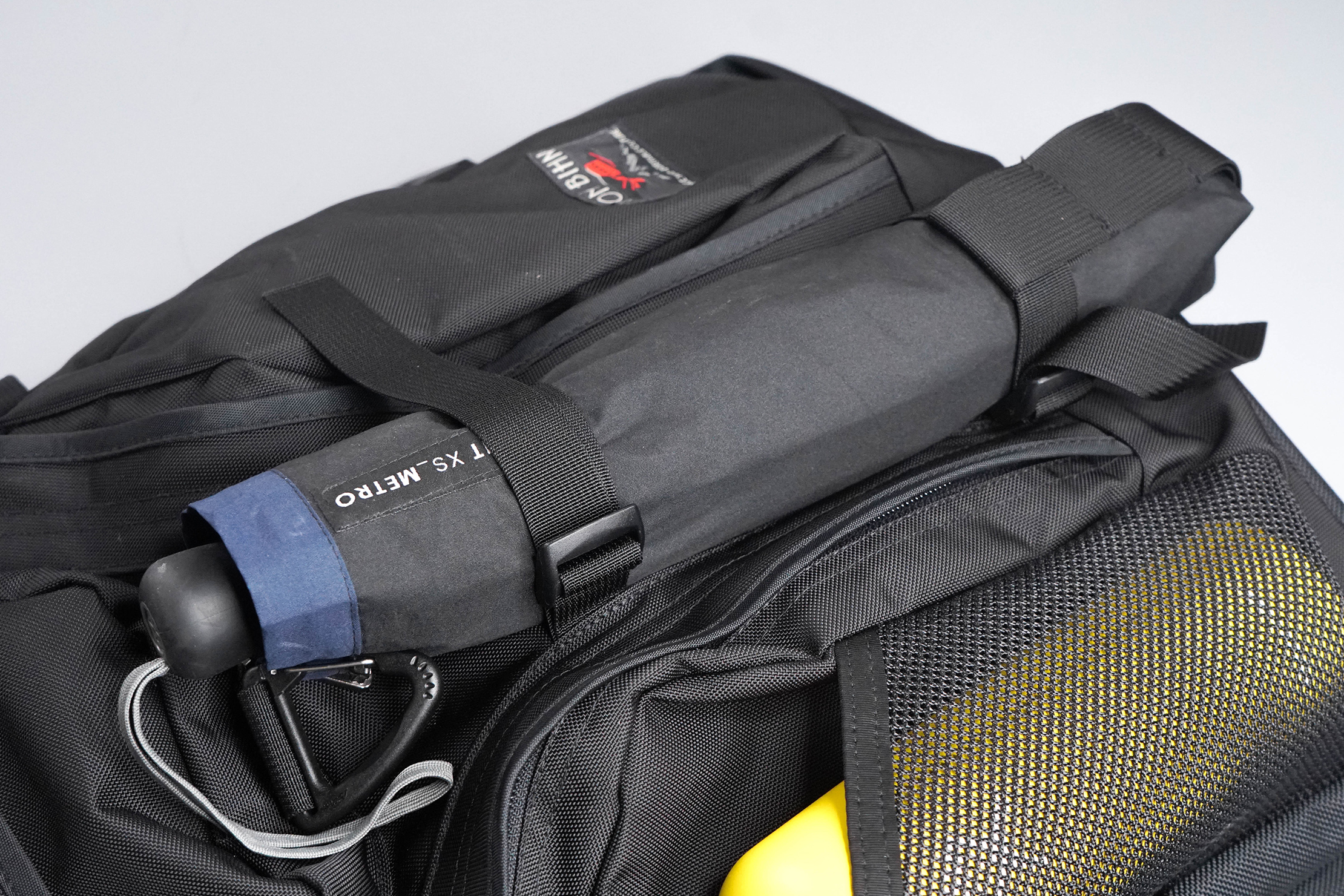 We can't exactly call this next one a pocket per se, but smack dab in the middle of this thing is a system of straps. There's one at the top that runs across, and at the bottom, you have a strap with several loops that you can feed another strap through to create a kind of basket for what you're storing—so if you have cylindrical items like an umbrella or even a light jacket, you can secure them to the outside. This way, they're handy and not taking up space inside your pack.
During testing, we've been keeping the Blunt Metro Umbrella in this spot—we've found that we can easily cinch down these straps to keep it nice and secure. This is a unique feature that we haven't seen on many bags before, and we appreciate the modularity it offers.
Just above these straps is a built-in carabiner clip. We're digging this integration, as we're often clipping carabiners to attachment points on the outside of bags when possible—Tom Bihn is just one step ahead of us here. We've been using it to secure a hat when we're biking, or if we get caught in some particularly windy weather.
Inside The Pack
Phew! We made it through the outside. Now, it's time to get inside this pack. First up? The front pockets.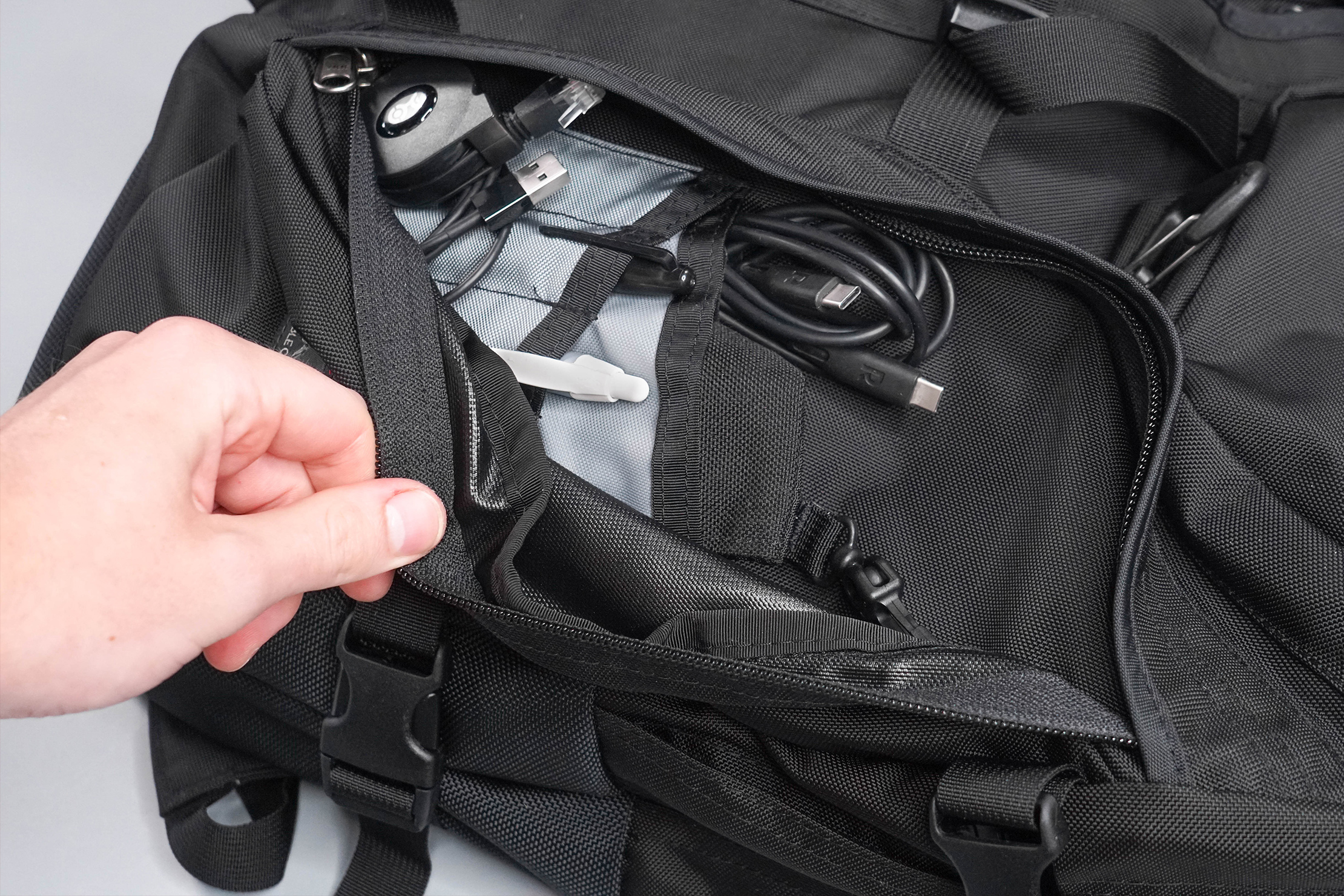 You have two tall, medium-sized pockets on the front of this bag. They're secured by zippers which we've found to be a little tricky to grab without adding the cord pulls. In each one, there's a pocket against the back wall that works well for smaller gear—we've been using it for a small notebook and a spork (for all those snack emergencies) in one, and tech accessories in the other. In front of this pocket are also four sleeves that you can use to keep pens, pencils, or even a stylus handy.
If that's not enough organization for you, there's also an O-ring in each of these pockets where you can attach pouches and other accessories. Dealer's choice? A Tom Bihn Color Zipper Ghost Whale Organized Pouch to hold smaller gear like corded headphones. It attaches to the O-ring easily and adds even more segmentation so your gear isn't getting mixed together.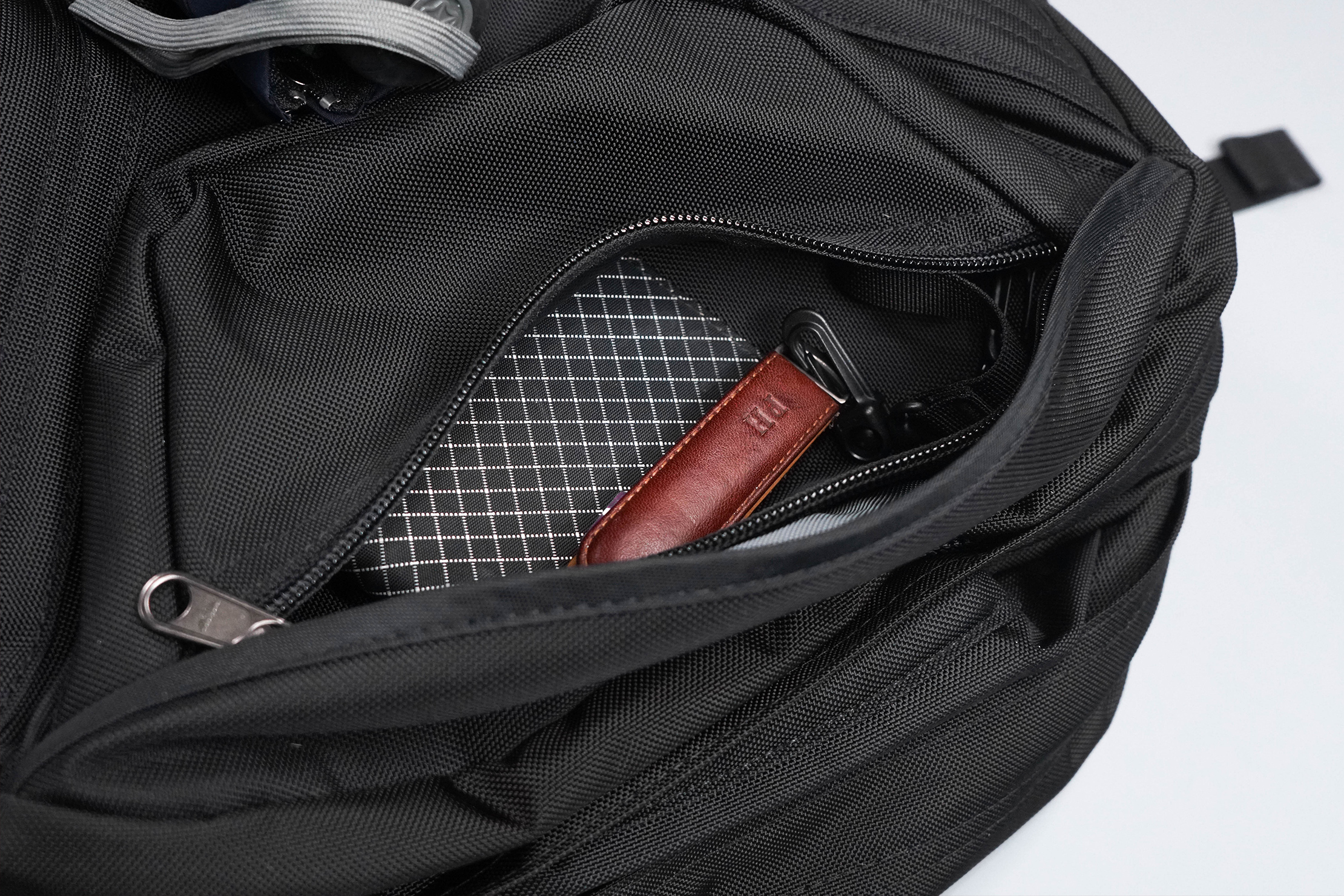 There's also a quick-grab pocket at the top of this pack that's great for keeping your most frequently-used gear handy—things like your wallet, or phone. There's a dedicated key leash to clip your keys to also, so they're not all mixed up with your other gear. A fabric welt sits over the zipper to this pocket as well, which creates some added water-resistance that we appreciate. That, and it promotes a clean look—which we also dig.
It's a black-on-black pocket, so your visibility is pretty limited—it's harder to see where your stuff is in here. Certain colorways of this and other Tom Bihn bags feature a brighter liner material which helps with visibility, but that's not the case with this pack.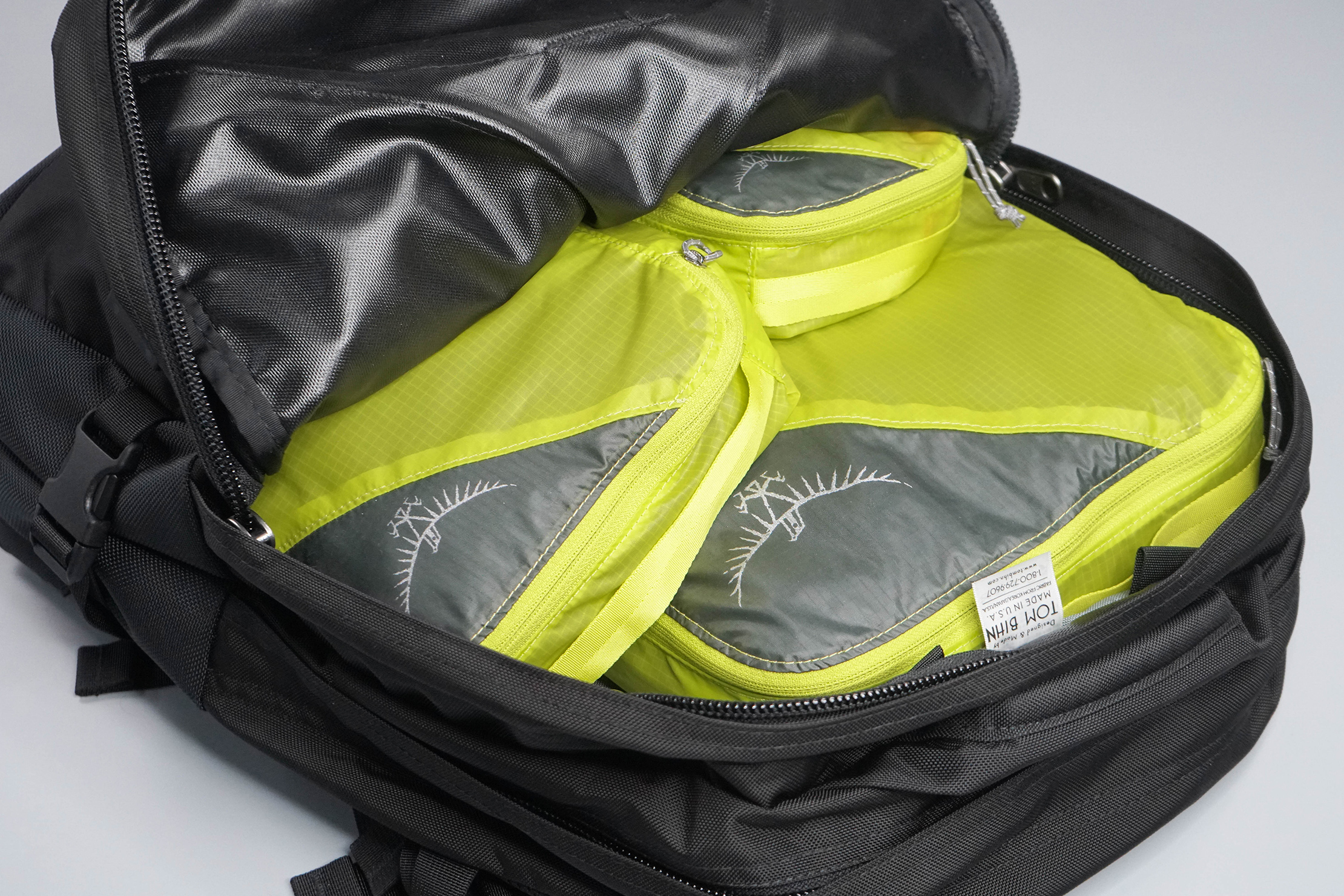 Moving on to the front compartment. The compression straps on the side of the bag can inhibit the zippers, so it's easier to undo them when you need to get inside. Once you do have those out of the way, this compartment opens up about halfway down in regular horseshoe-fashion, which still offers quick access to your stuff.
There's not much organization inside, but you do have the option to create your own with pouches and/or packing cubes to help keep your gear separated. You also have three O-rings at the top of the bag that you can use to clip other Tom Bihn accessories, as well as two loops to attach a Tom Bihn Cache to hold your laptop—which we've been keeping primarily in the main compartment. (Though you can fit up to four laptops total in this pack, in case you need to recreate that classic 90's sequence of breaking into a bad guy's mainframe. You know, priorities.)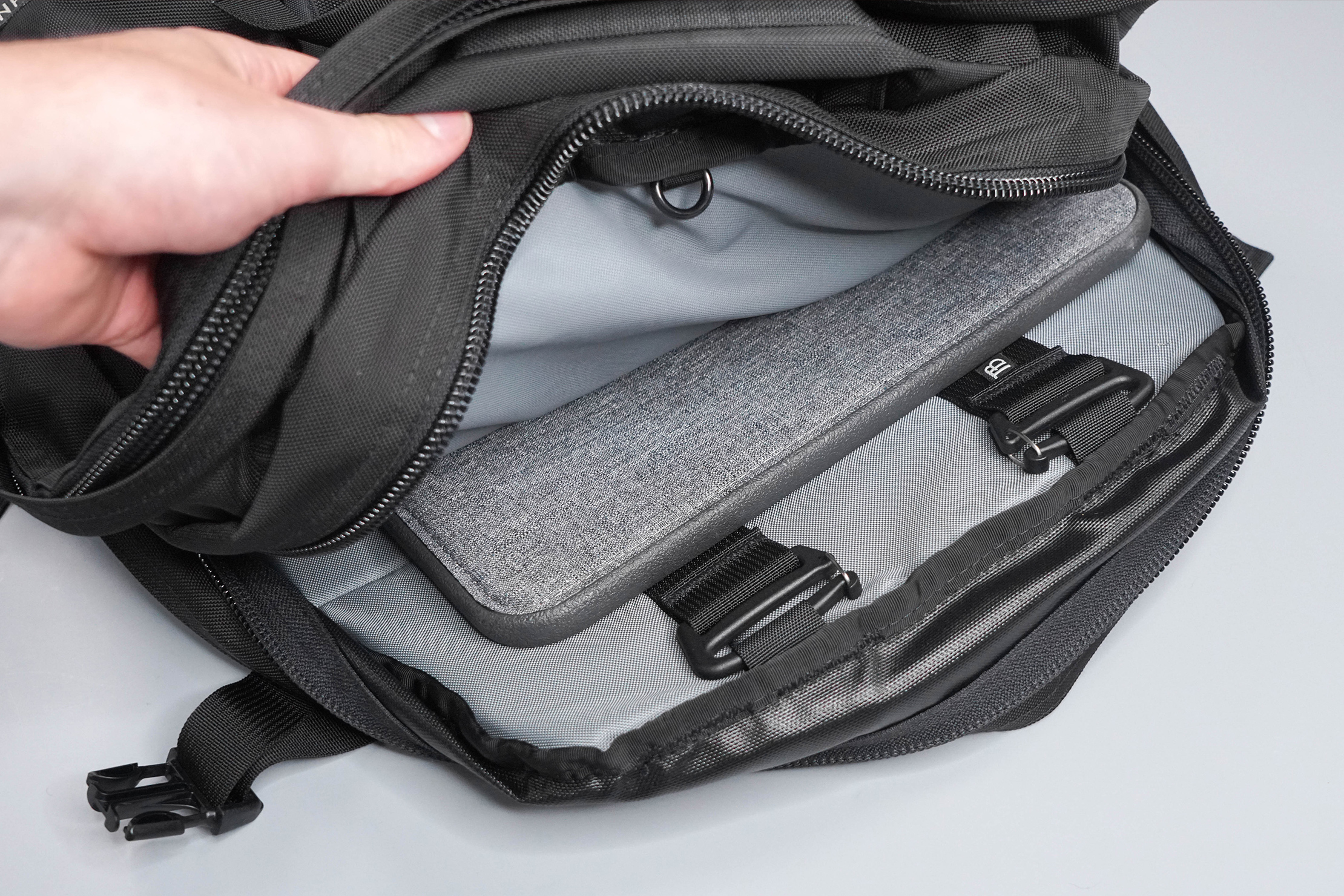 The main compartment also has a horseshoe-style opening, and zero organization. It does have three more O-rings along the top of the front flap to attach even more Tom Bihn accessories, though, as well as two other loops against the back wall that we've used to attach the laptop cache. The caches' themselves are sold in most laptop sizes (even as big as 17"), so if you get the exact size for yours, it's a bit of a snug fit. Plus, if you trade up to a new size, you have to get a whole new cache.
The loops keep the cache suspended in the compartment, which we appreciate when the bag is getting shuffled around, set down, or accidentally dropped. (Nobody's perfect) It's also TSA compliant, meaning as long as everything else in this compartment is easy to slide out on the rails, it's pretty convenient to take out when going through security (if the TSA agent allows you to keep it attached to the bag).
That said, we're not sure how much we're liking this setup—our tech is almost free-floating inside. We would've appreciated a dedicated laptop sleeve built directly into the bag, but this integration does make for smooth, quick access (and we can dig that if nothing else).
Usage Timeline
Initial Usage
Condition: Excellent
Does not have a dedicated laptop compartment but has loops to attach Tom Bihn Laptop Caches to
This bag fits a lot—there's a ton of great organization all over this bag, plus areas to add other Tom Bihn accessories
2 Weeks of Use
Condition: Excellent
The bag feels like a tank when in use—two big main compartments paired with three external pockets with various organization options feels like the right mix
The water bottle pocket on the outside is non-stretchy, which works decently if your bottle is the right size, but it's not going to hold anything too secure
The innovative umbrella holder between the two exterior pockets is pleasant to use
Access the Pro Community Discussion
Get your questions about the TOM BIHN Brain Bag answered from our team and the Pro Community right here on the page. Plus, join discussions with other members about gear, guides, and more.
Other Bags & Luggage Reviews