The North Face Borealis Sling Review
The North Face Borealis Sling is a more condensed version of its backpack sibling, featuring tons of organization and a space-efficient design.
Our Verdict
Unlock the Pro Summary
Save time. Get access to brief summaries of our reviews so you can browse and make decisions more efficiently.
Pros
Space-efficient compartments
Loaded with external attachment points
Well-padded harness system ensures comfort
Cons
Water bottle pocket too small for most bottles
Strap's device pocket a tight fit for an iPhone 13
Non-ambidextrous strap design limits carrying styles
Recent Pack Hacker Video
Technical Details
Capacity

6l

Weight (oz)

10.6 oz (300.5 g)

Dimensions

12.99 in x 7.28 in x 4.72 in (33 x 18.5 x 12 cm)

Notable Materials

Recycled Nylon, Recycled Polyester, Ripstop Nylon, DWR Coating, YKK Zippers, Duraflex Hardware

Manufacturing Country

Indonesia

Warranty Information
Full Review
We've noted The North Face Borealis Backpack for the great value it brings. It has a good mix of storage options, solid build quality, and it delivers a reasonably comfortable carrying experience. While it may not be perfect, it's a bag-for-you-buck option from a reputable brand, making it a safe choice for a lot of users who want a reliable daypack to fit their needs. So naturally, how well that trickles down in sling form is an interesting proposition for those looking for one.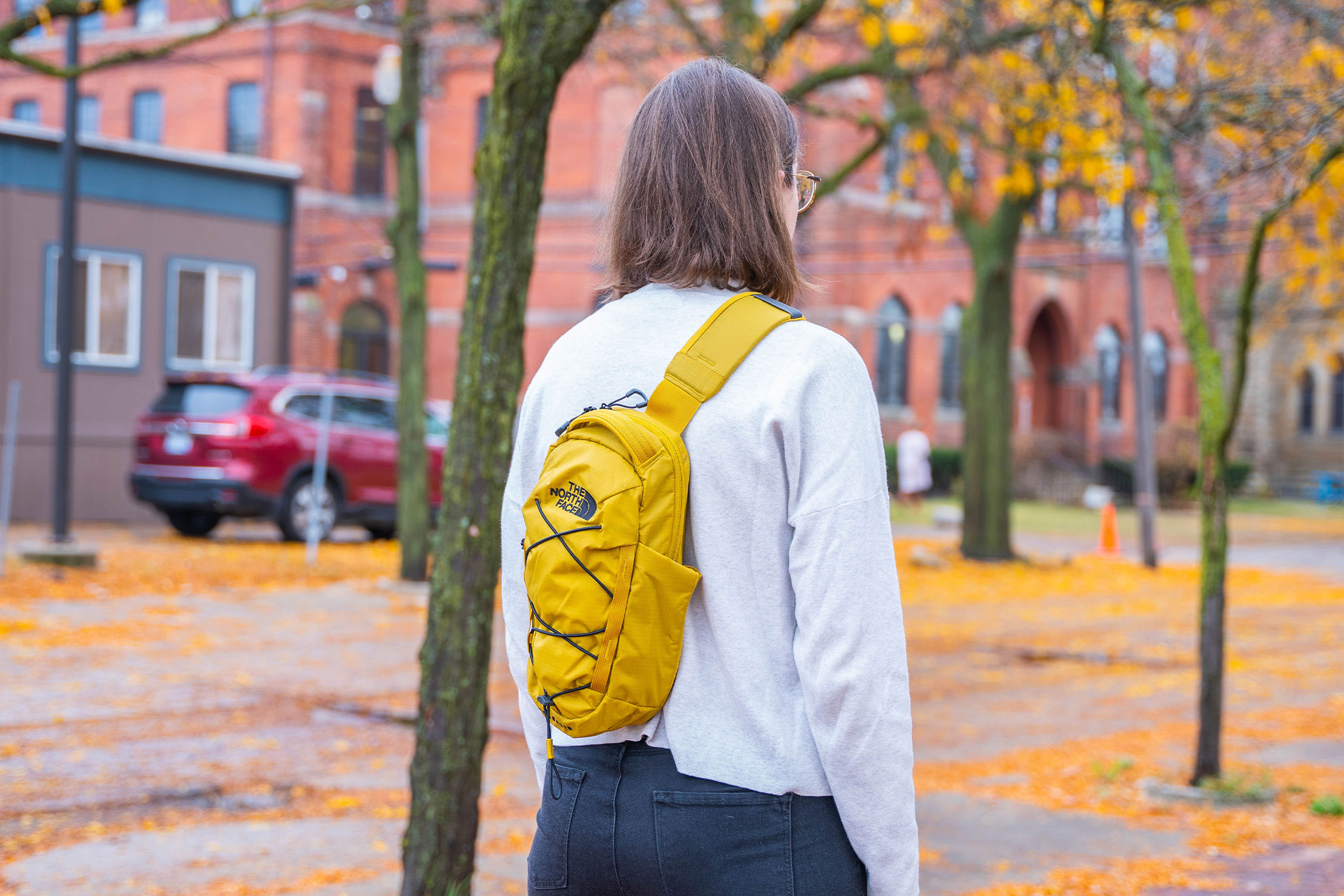 The Borealis Sling very much looks like a minified Borealis Backpack, sans one of the shoulder straps. Other than that exclusion, though, The North Face manages to cram a lot of features into a relatively small sling-sized package. There's a bungee system at the front, a water bottle pocket, two quick-grab pockets, and even a back panel that's not without padding. Needless to say, the Borealis Sling is shaping up to be a value-packed option like its backpack sibling, but where are those imperfections? Let's find out!
External Components
Let's start with the most obvious feature of the Borealis Sling: the bungee. Now, this isn't necessarily the first sling to feature a bungee system, but it's not something common to the form factor, either. You can adjust it through the cinch at the bottom, but there's not too much slack to work with. You certainly shouldn't expect it to handle something as bulky as a pair of sneakers, but it'll do for a packable jacket or some gloves.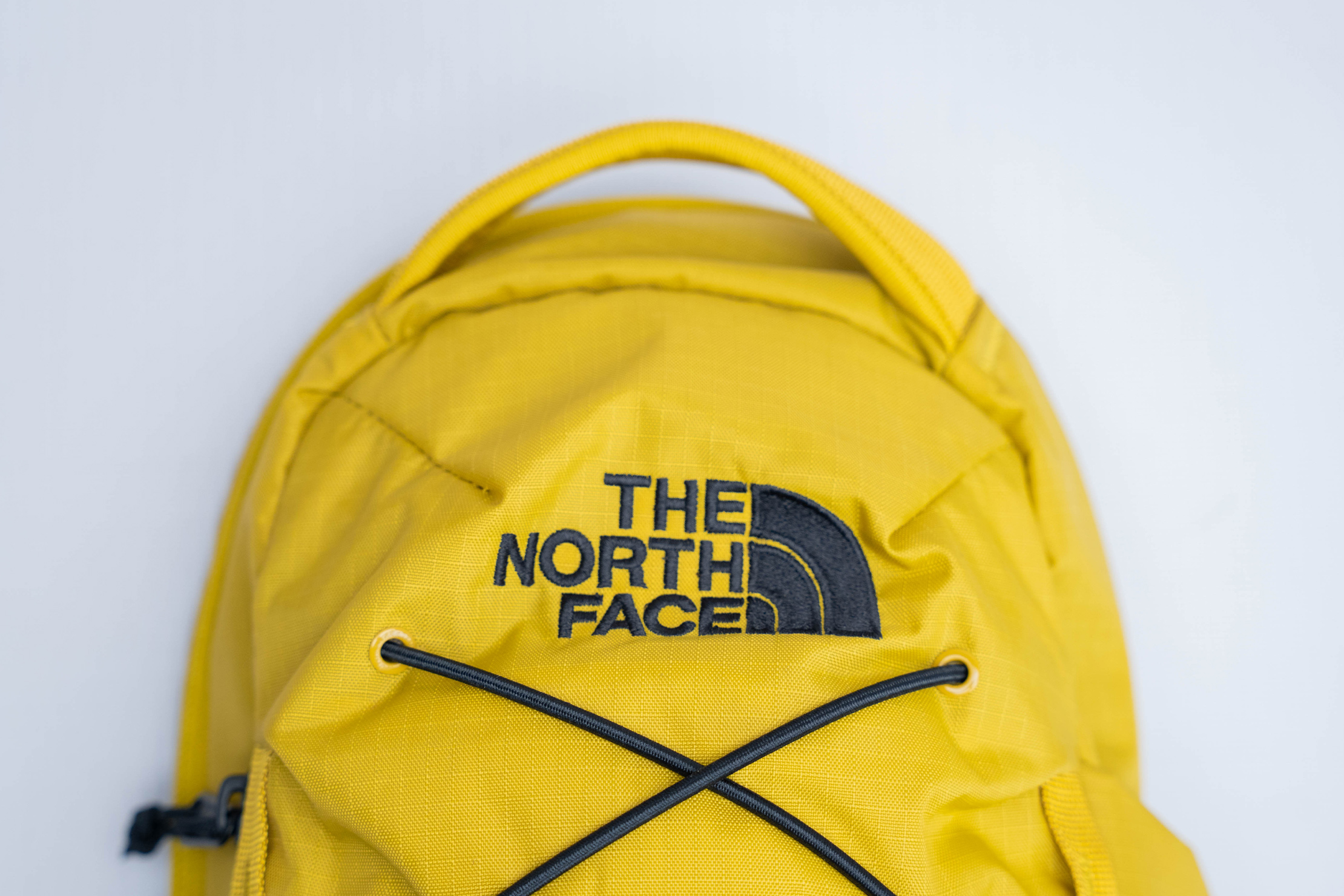 If you look closely at the sides, you'll also find webbings flanking the bungee system. You get three loops on each side, with the top and bottom ones being small, for a total of six. The size of the loops probably doesn't matter as much as the fact that they're there at all. We're glad to see this many external attachment points for a sling of this size, and we're sure some of you will find creative uses for them.
Next on the Borealis Sling's features list is the top grab handle. It's relatively thick, soft, and padded, meaning it's actually comfortable to hold, especially for a sling of this size. This may be one of the more interesting features of the bag despite its rather mundane nature. If you think about it, there are daypacks out there that come with thinner and smaller handles. You know, the kind that's just a loop between the shoulder straps? The Borealis Sling's handle puts those to shame.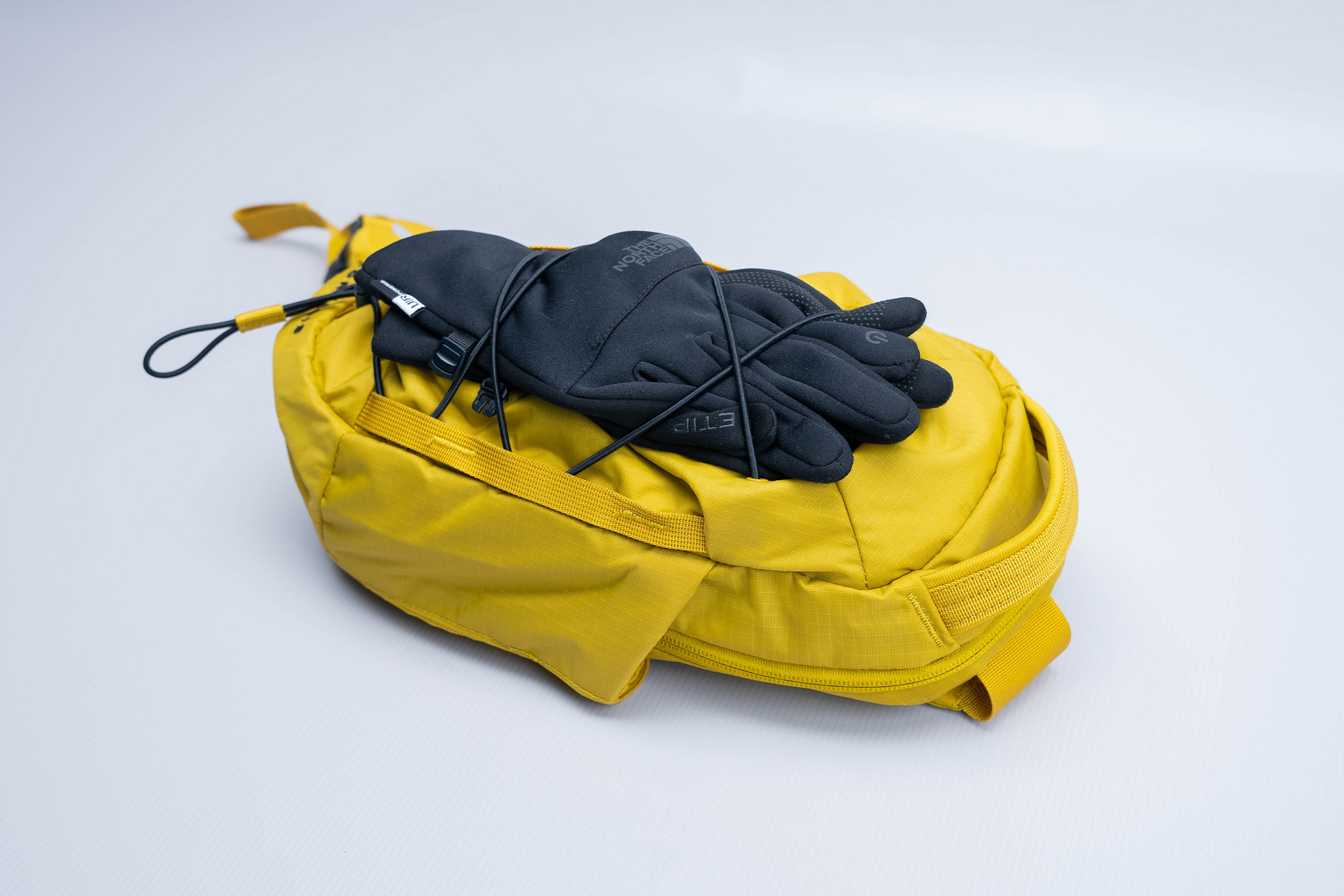 The North Face also put a side bottle pocket on the Borealis Sling. That said, this is definitely one of the weaker parts of the pack. To put it bluntly, it's too small for most bottles, like the 18-ounce Hydro Flask we usually test bags with. What does fit are those convenience store bottles of water and/or snacks. Our favorite use for it, though, is to hold a smartphone. If you don't mind using an open pocket for your smartphone holstering needs, this is a good option.
The harness system on the Borealis Sling is rather beefy, but that's expected, given the potential heft you can load onto it. The strap and the back panel both get a lot of padding, the latter having two panels of foam. The gap in the middle lets the back panel bend and contour to the user's back, plus it lets air through for breathability.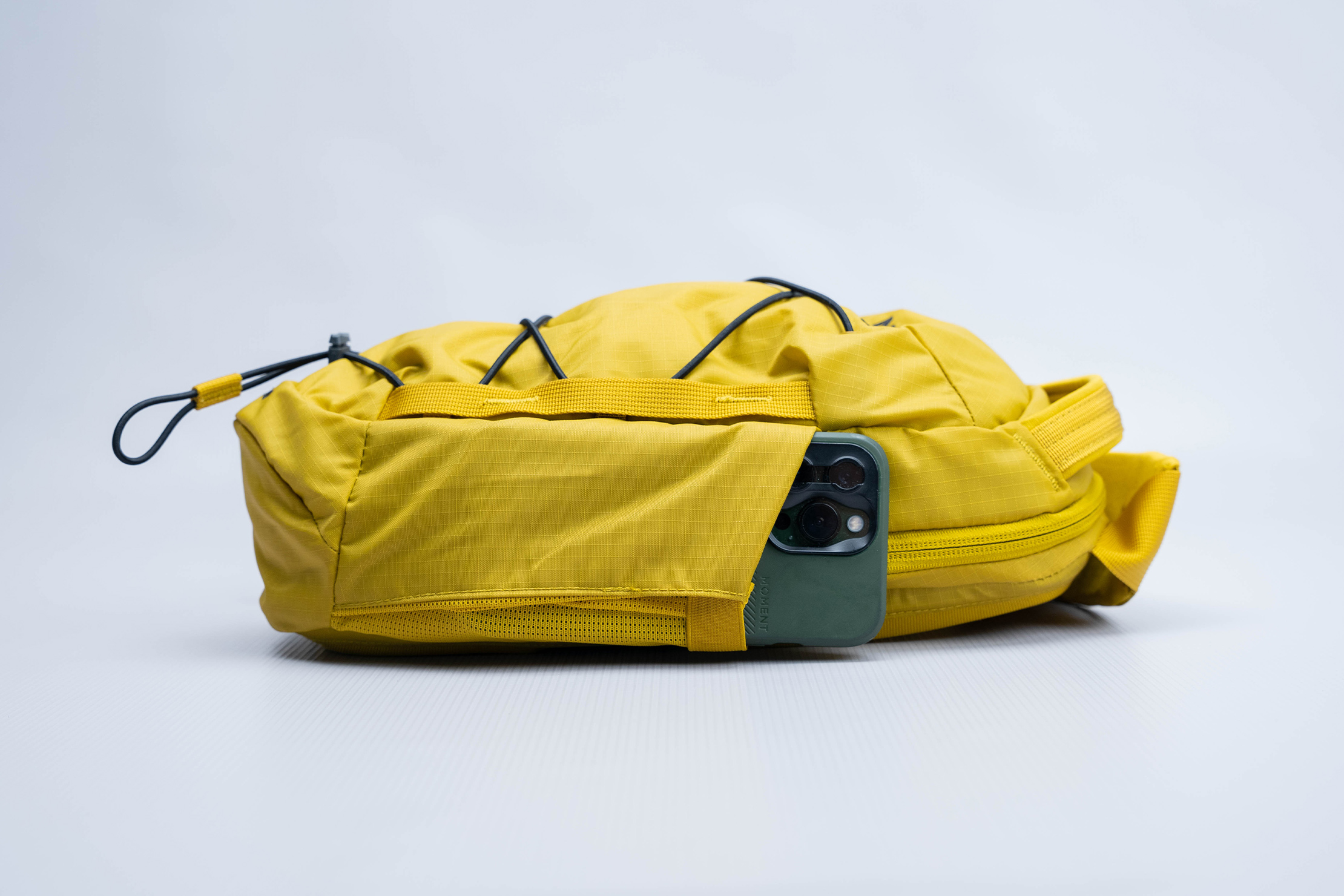 The strap itself deserves praise for its flexible design. The amount of padding is just right, but The North Face went the extra mile and used thin seatbelt-like material to anchor it along the top. This lets the strap swing more freely, depending on the user's fit. In case this feature seems familiar, you've probably seen it on other bags like Bellroy's Oslo and Venture Backpack 22L, where it proves effective.
You also get two additional loops along the strap, one at the top and one near the bottom of the padded section. In case you weren't keeping count, that's now a total of eight loops if you count the six at the front (more if you count the bungee and the grab handle).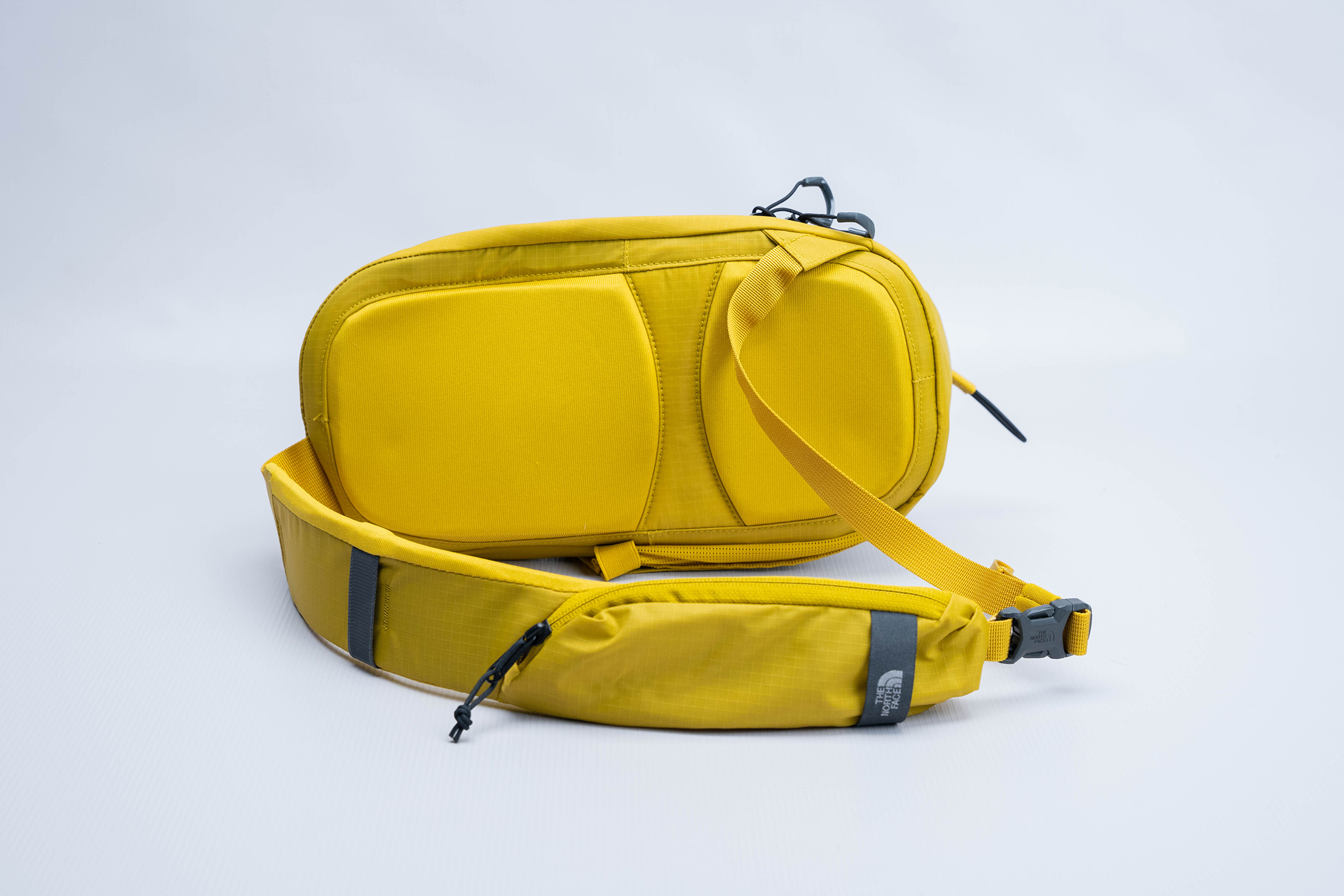 Unfortunately, the strap does have a weakness: it's non-ambidextrous. Whereas other slings of this style can have their straps anchored on either bottom corner, the Borealis Sling's strap is permanently attached to the bottom right.
Fit Notes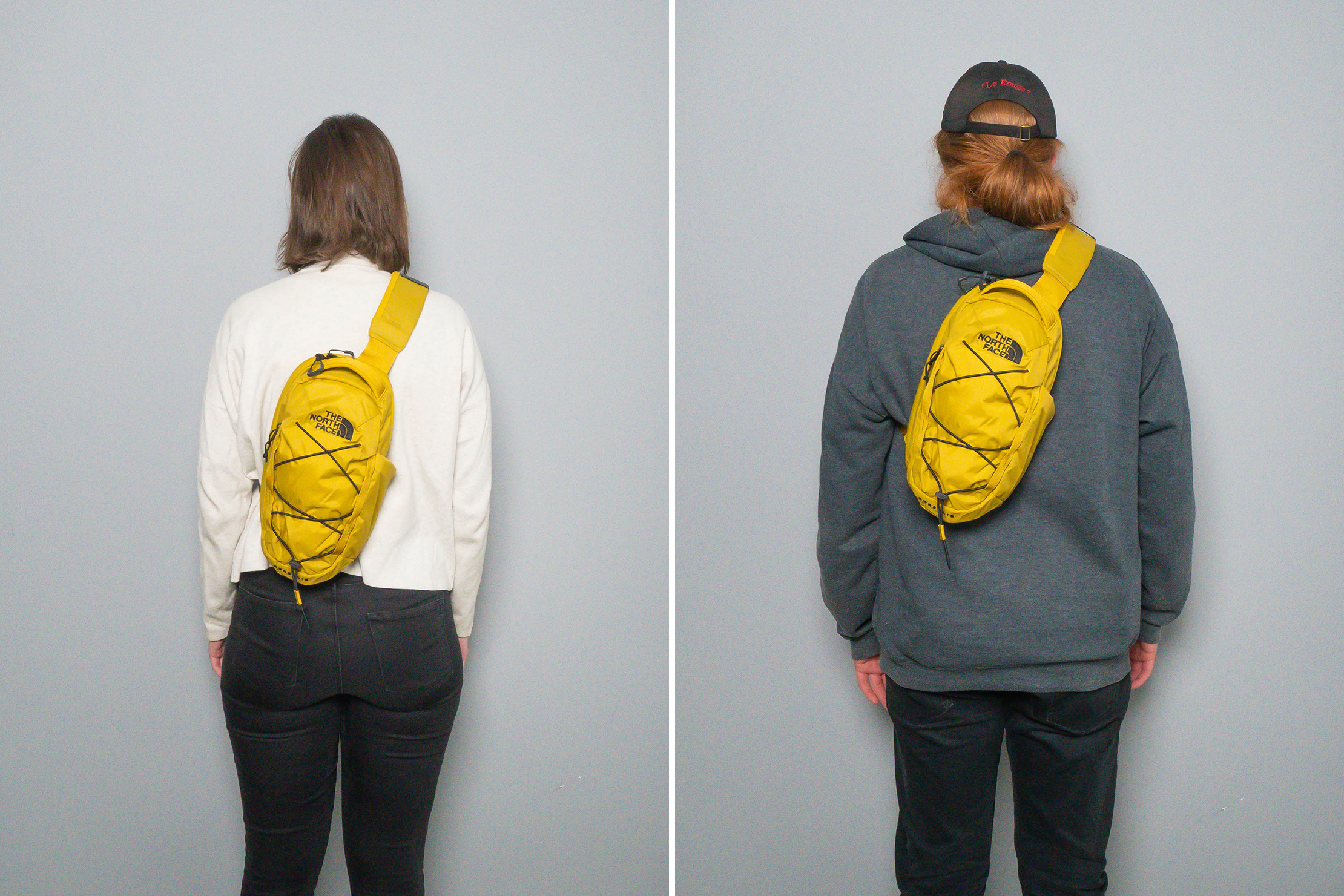 (Smooth transition) This means you can only really wear the Borealis Sling on your right shoulder if you want it on your back or over your left if you want it at the front. Horizontal orientations are supported when you simply swing the pack around. The Borealis Sling is particularly nice to carry when you have it on your right shoulder and slung across the front. This puts it in a shelf-like position in front of you where it's easy to access most of the compartments.
It's also worth noting that the strap does have a quick-release buckle just below its padded section. A lot of slings have one of these, but it's particularly useful on the Borealis, given its relatively large size for a sling.

You can also technically carry the Borealis Sling on one side and one shoulder. However, since the strap is oriented diagonally, it gets in the way if you carry it in this style. In other words, it's only really meant to be carried crossbody-style or by the handle that we mentioned earlier. Fortunately, both methods are comfortable, and we don't find a reason to carry it any other way.
Inside The Sling
The first pocket we're taking a look at is the front quick-grab pocket. Its opening is off to the left side, meaning it's easily accessible when the pack's sitting horizontally in front, as we suggested earlier. The interior is lined with soft fleece to prevent damage to easily-scratched items like smartphones and sunglasses.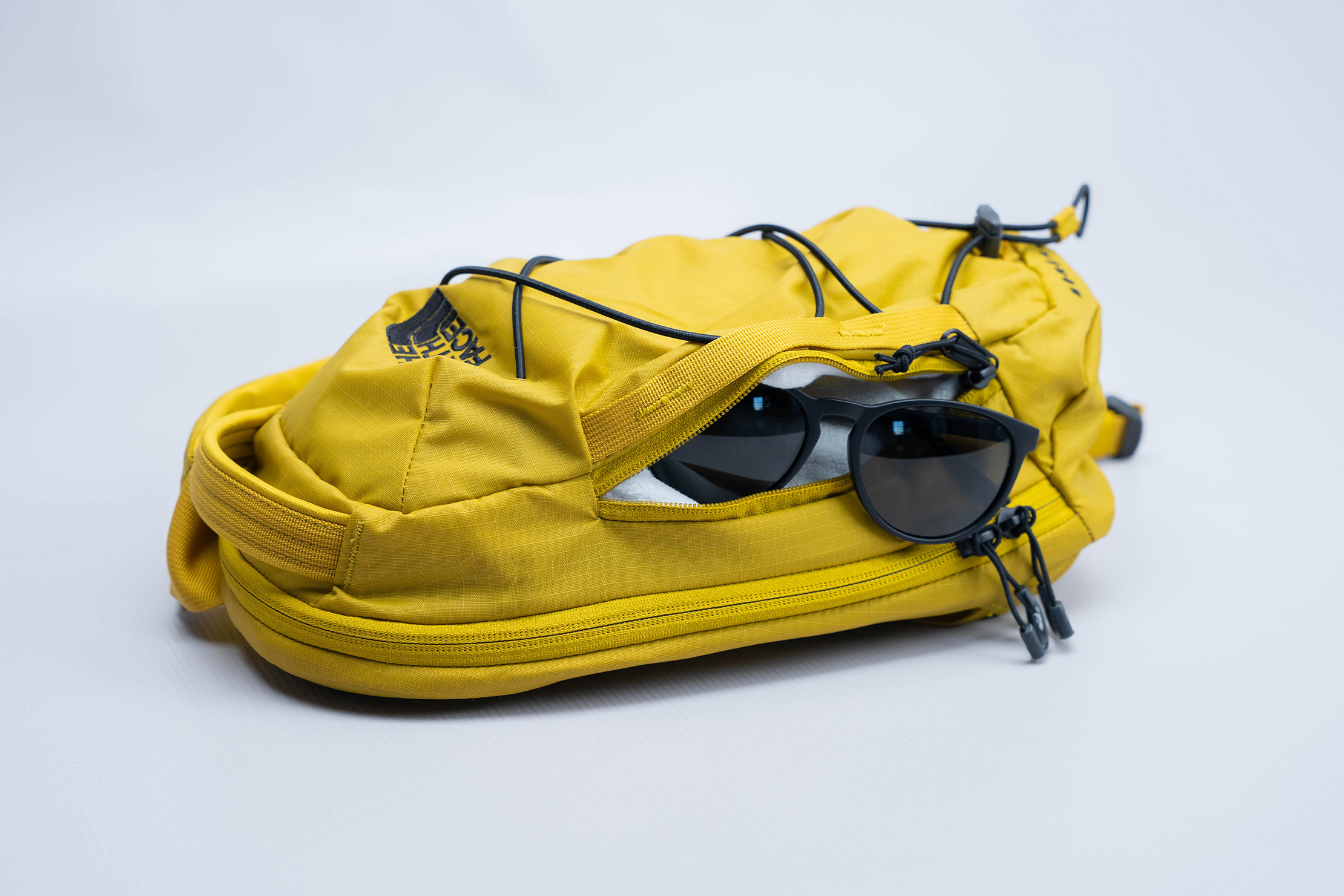 The space spans the width of the Borealis Sling. Moreover, the space doesn't jut into the main compartment, rather it expands outwards in the direction of the bungee. This is a good sign of thoughtfulness in the Borealis Sling's design, one that means conflict between compartments isn't that big of an issue compared to other slings.
There's also a zippered pocket on the strap itself. This pocket is designed to fit a phone, though, in practice, an iPhone 13 fits too awkwardly for our liking because of its width. Instead, we think that this pocket is more suited to smaller everyday carry items like lip balm, tickets, cards, cash, and even a second pair of sunglasses if there's already one in the front pocket.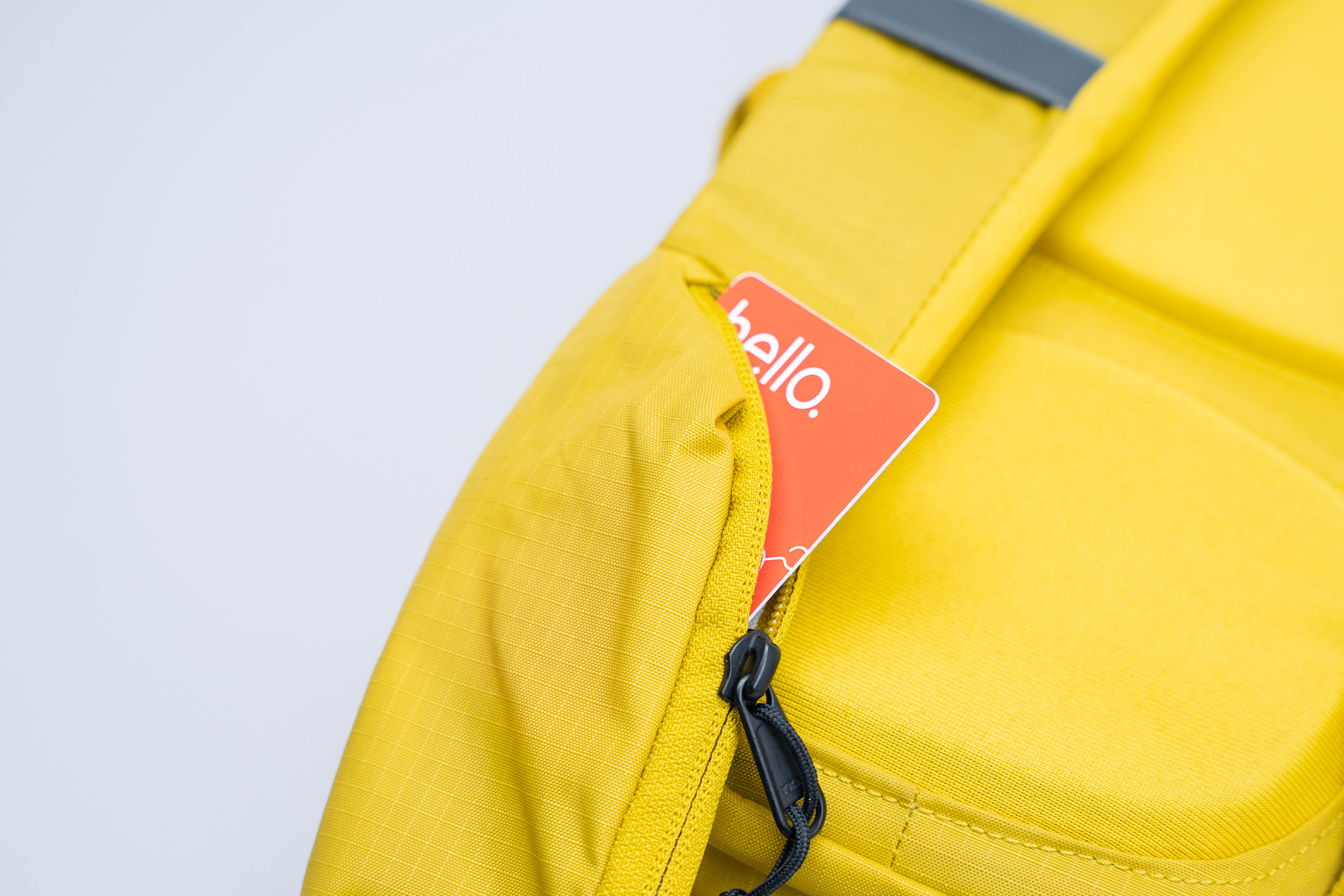 The main compartment opens in a half-moon shape, with the zipper going from the bottom left corner to where the bottle pocket starts. Combined with a dual-zippered opening, this grants you both a wide opening and one which you can have all along the zipper track. We prefer to put them in the bottom left corner so that they're easy to reach when we have the Borealis Sling in a front horizontal position.
The main compartment has its own pockets for getting gear organized. Towards the back is a tablet sleeve that can fit a full-size Nintendo Switch (Joy-Cons attached). On the front side is a zippered mesh pocket that goes about halfway down the length of the pack. This pocket is a good spot for any additional small everyday carry items you don't need to access frequently. There's also a built-in key leash, though we would've preferred to have it on one of the secondary pockets where it'd be easier to reach.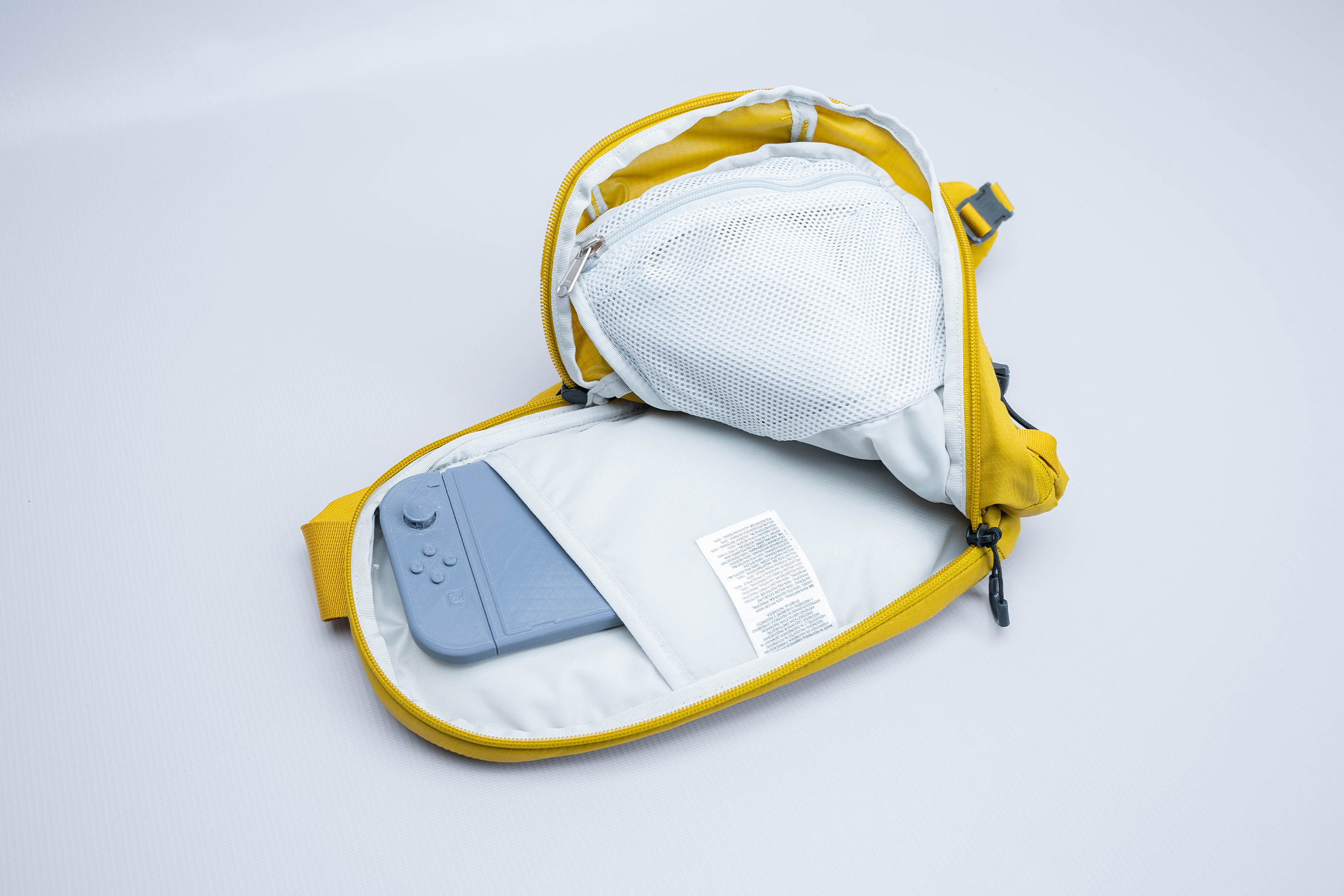 In terms of space, the Borealis Sling's main compartment remains surprisingly roomy even once you have the other pockets loaded up. Most of them are designed to bulge outwards and not take space away from the main compartment. We've already said it, but we're happy to see this much thought put into the design as it more efficiently maximizes the pack's limited space.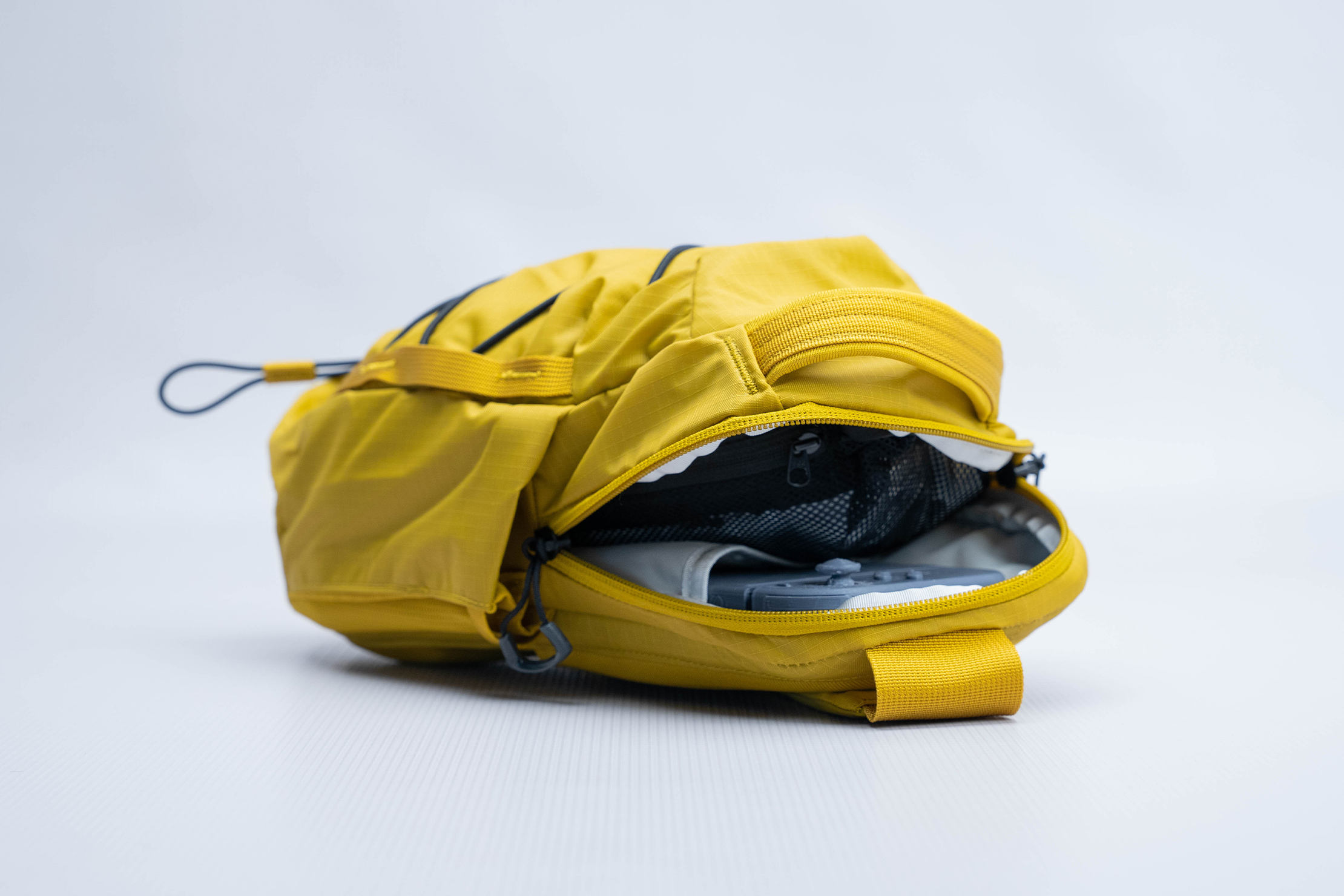 Overall, we're happy with how feature dense the Borealis Sling is. We sometimes see backpacks, slings, totes, and other bags that don't quite maximize the available space they have, and it can come off as missed opportunities. We're not saying all bags should be loaded to the brim with features, but if its value you're after, it's a factor that's hard to ignore—and the Borealis Sling manages to hit that.
Usage Timeline
Initial Usage
Condition: Excellent
Digging the external pockets
Back panel is extremely cushy
Interested to see how water bottle pocket holds up in use
2 Weeks of Use
Condition: Excellent
A few loose threads where the shoulder strap attaches—nothing looks horrible, but not great to see
Really digging the convenient and intuitive storage
Super comfortable back panel, though we wish the shoulder strap was the same
Access the Pro Community Discussion
Get your questions about the The North Face Borealis Sling answered from our team and the Pro Community right here on the page. Plus, join discussions with other members about gear, guides, and more.
Other Bags & Luggage Reviews