Targus Newport Ultra Slim Backpack Review
The Targus Newport Ultra Slim Backpack's harness system may be thin, but the bag's slim profile and small size ensure acceptable carrying comfort.
Our Verdict
Unlock the Pro Summary
Save time. Get access to brief summaries of our reviews so you can browse and make decisions more efficiently.
Pros
Compartments lined with bright orange fabric to add visibility
Stylish and minimal straps are well-mated to the pack's slim design
Shoulder straps stow away to prevent tangles
Cons
Front pocket's tight welt obscures access
Shoulder straps lose adjustment fairly easily
No false bottom underneath laptop sleeve
Recent Pack Hacker Video
Technical Details
Capacity

12l

Weight (lb)

1.23 lb (0.6 kg)

Dimensions

11.22 in x 17.9 in x 3.15 in (28.5 x 45.5 x 8 cm)

Notable Materials

Nylon, Polyester, Unbranded Zippers

Manufacturing Country

China

Laptop Compartment Size

15"

Warranty Information
Full Review
The Targus Newport Ultra Slim Backpack isn't the most spacious backpack nor the most functional. It is designed to carry a laptop and features a slim and plain exterior design, a boxy interior without too much space, and thin straps for a harness system. It's a formula that works for those going for a very minimalist setup or those willing to cut back on the bulk they're carrying.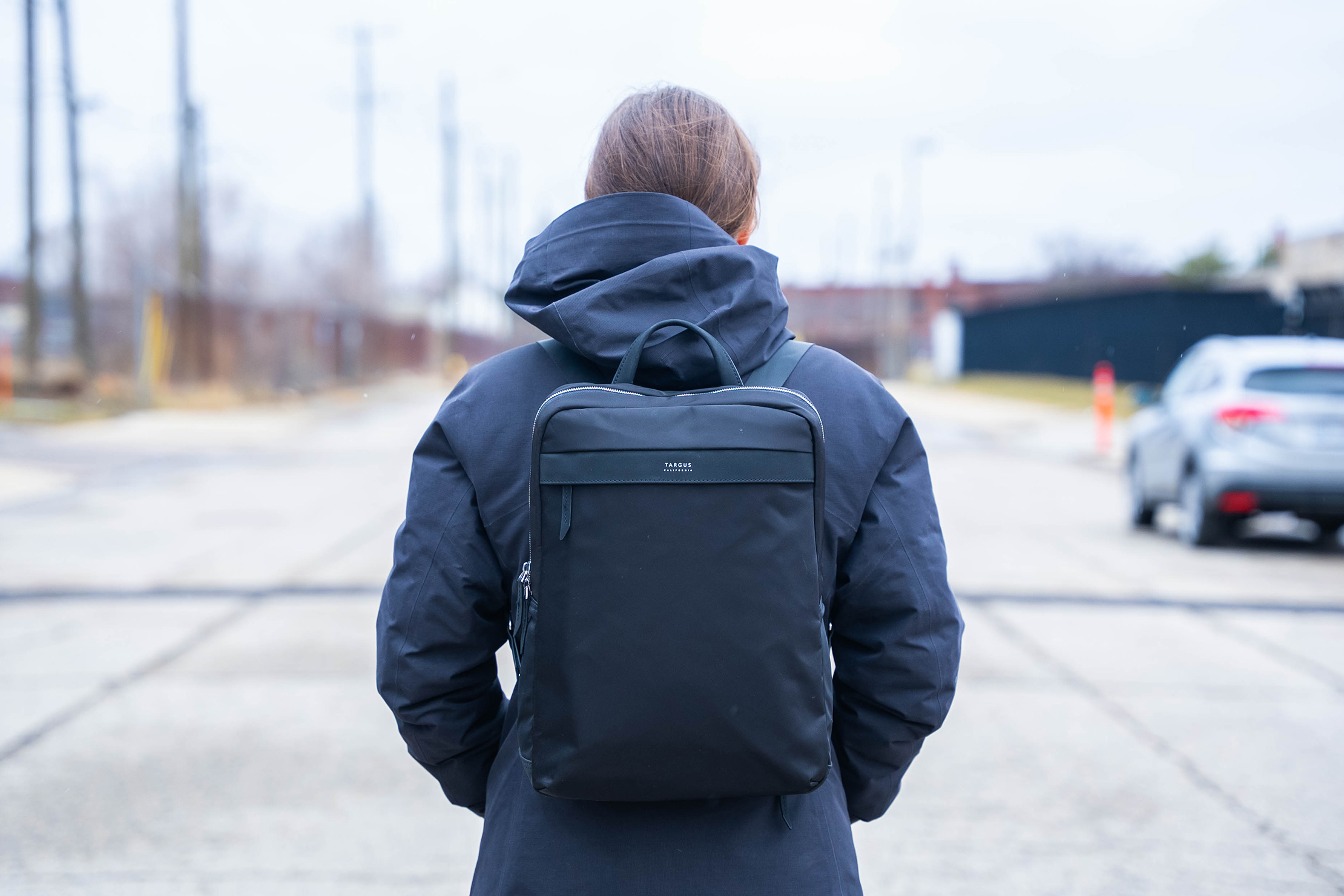 It's not all sacrifices, though. Because the Newport Ultra Slim is, in fact, ultra slim, it doesn't get heavy enough to warrant thicker straps. And if you're not hauling very bulky gear, you're treated to an interior lit up by a bright orange liner—perfect for finding those small dongles that are always hiding in plain sight. So you see, it does have its merits. The question is, are they persuasive enough? More importantly, how well does it protect and carry a laptop? Let's find out.
External Components
The Newport Ultra Slim Backpack looks as its name suggests. To put it bluntly, it's not far-fetched to say it's a beefed-up, backpack-ified laptop sleeve because of its very rectangular shape—not that it's disparaging to say so. It's clearly meant to hold a laptop, and we like it. It's sleek and minimal, though the blingy metal zipper track can, understandably, put off those who want a completely blacked-out design.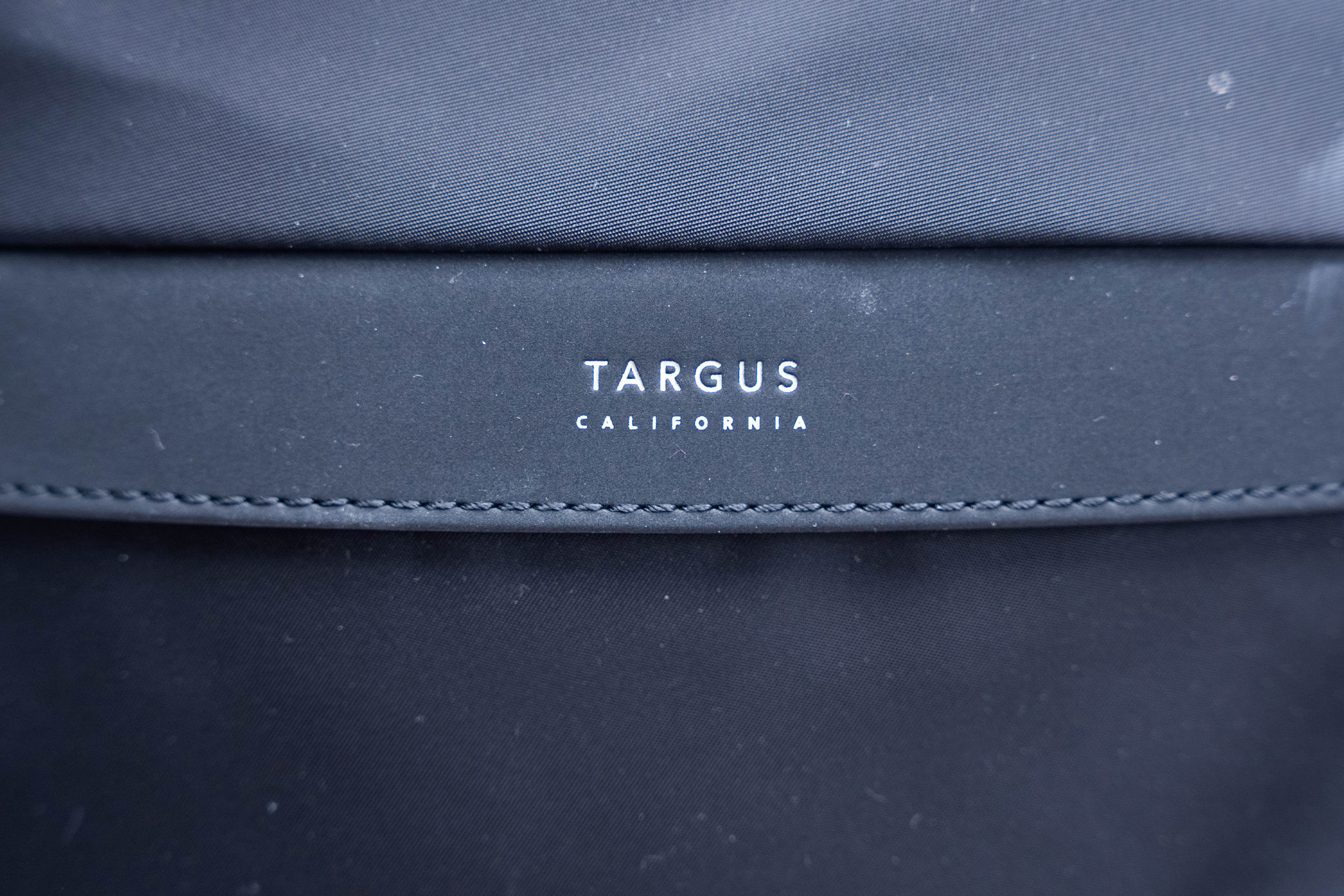 The main material is high-density water-repellent twill nylon. That sounds impressive, and it is, but the critical thing is the water-repellent part. In practice, you can probably shrug off a light rain shower without an umbrella, and your laptop will be fine. Even better, stains—at least the ones we've had—are easily wiped away with some warm water and some elbow grease.
The zippers are unbranded, which was worrying at first. However, they've operated smoothly since day one and still do, so they get a pass. The only part we're even slightly apprehensive about is some small loose threads on the leatherette pulls—nothing a quick snip with scissors can't fix, though.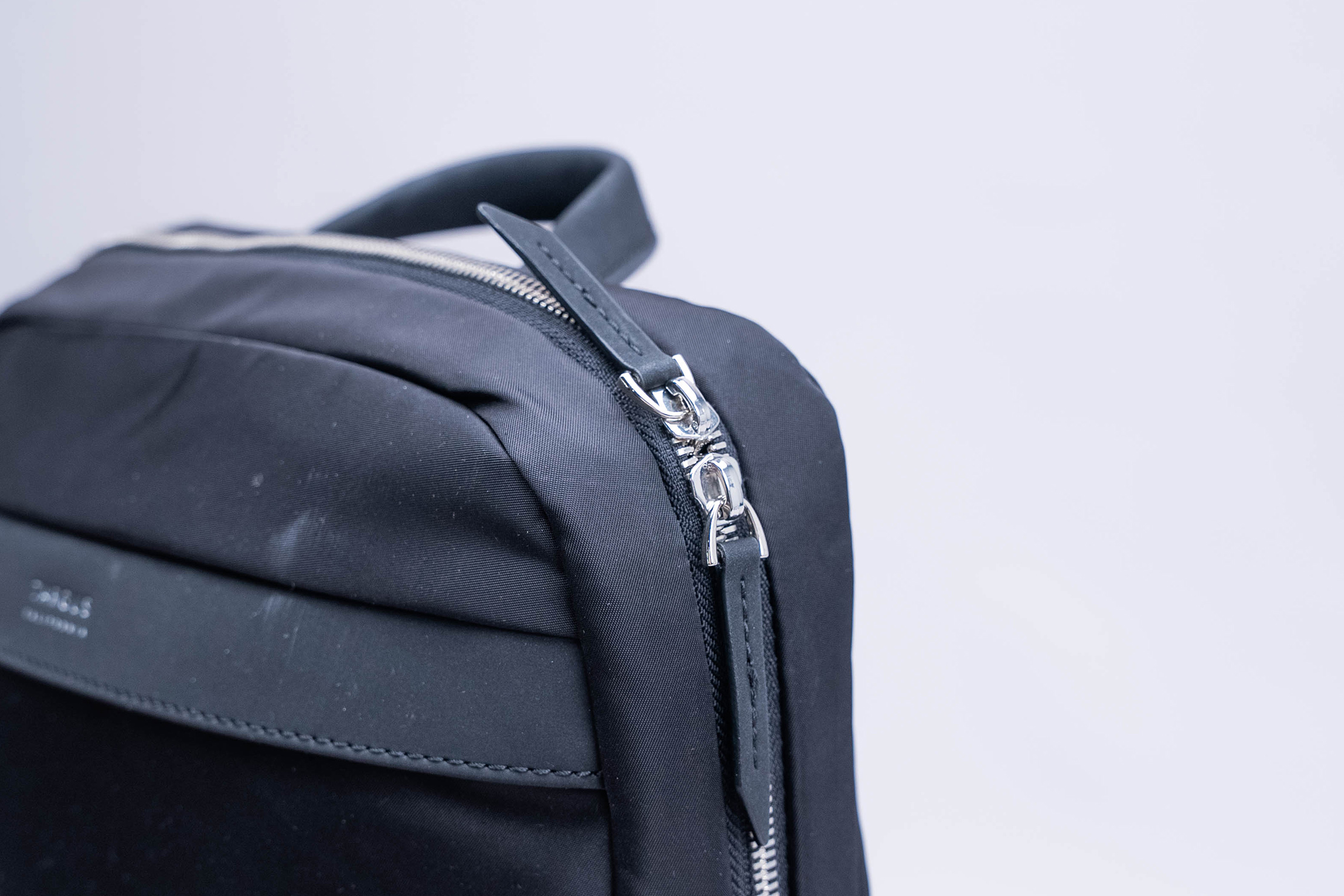 Up at the top is the Newport's only handle. It's also made of the same leatherette material as the zipper pulls, only thicker and with no loose threads. It's a simple handle a bit thicker than the typical strips of nylon cheaper backpacks have, making it slightly comfier to hold for extended periods.
You can describe the Newport's harness system as simple, and we'd agree with you. They're thin straps with metal adjusters and not much else. That said, you could say it's as tuned for style as much as stripped down for simplicity. The smooth and flat straps add a touch of class when combined with the pack's overall thin profile and sleek look. The cherry on top? Comfort isn't really affected, though we'll elaborate later in the fit notes section.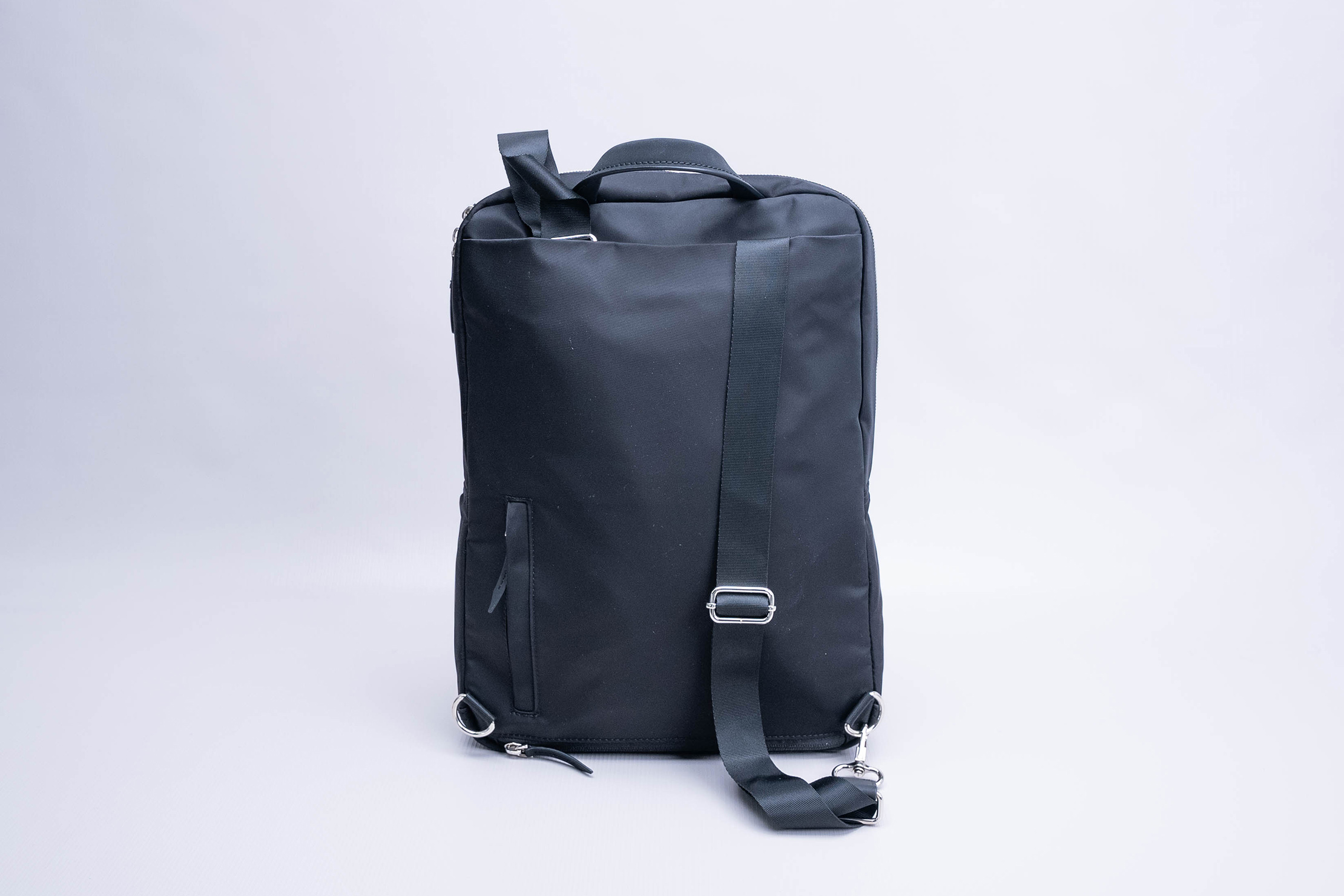 The shoulder straps have clips at their ends that allow them to detach and stow behind the back panel. There's an opening along the top where you can stash them, helpfully highlighted by the orange liner. The opening is sealed by a built-in magnet to keep the straps from slipping out. You can unzip the bottom side of the back panel to make it a full pass-through in case you want to place the Newport on rolling luggage.
Given their lack of structure, we like that Targus made the shoulder straps stowable. They just flop around if you leave them hanging, and that's a problem when traveling by plane. Imagine trying to detangle the straps if they catch on another person's bag; it's an unnecessary headache, that's for sure.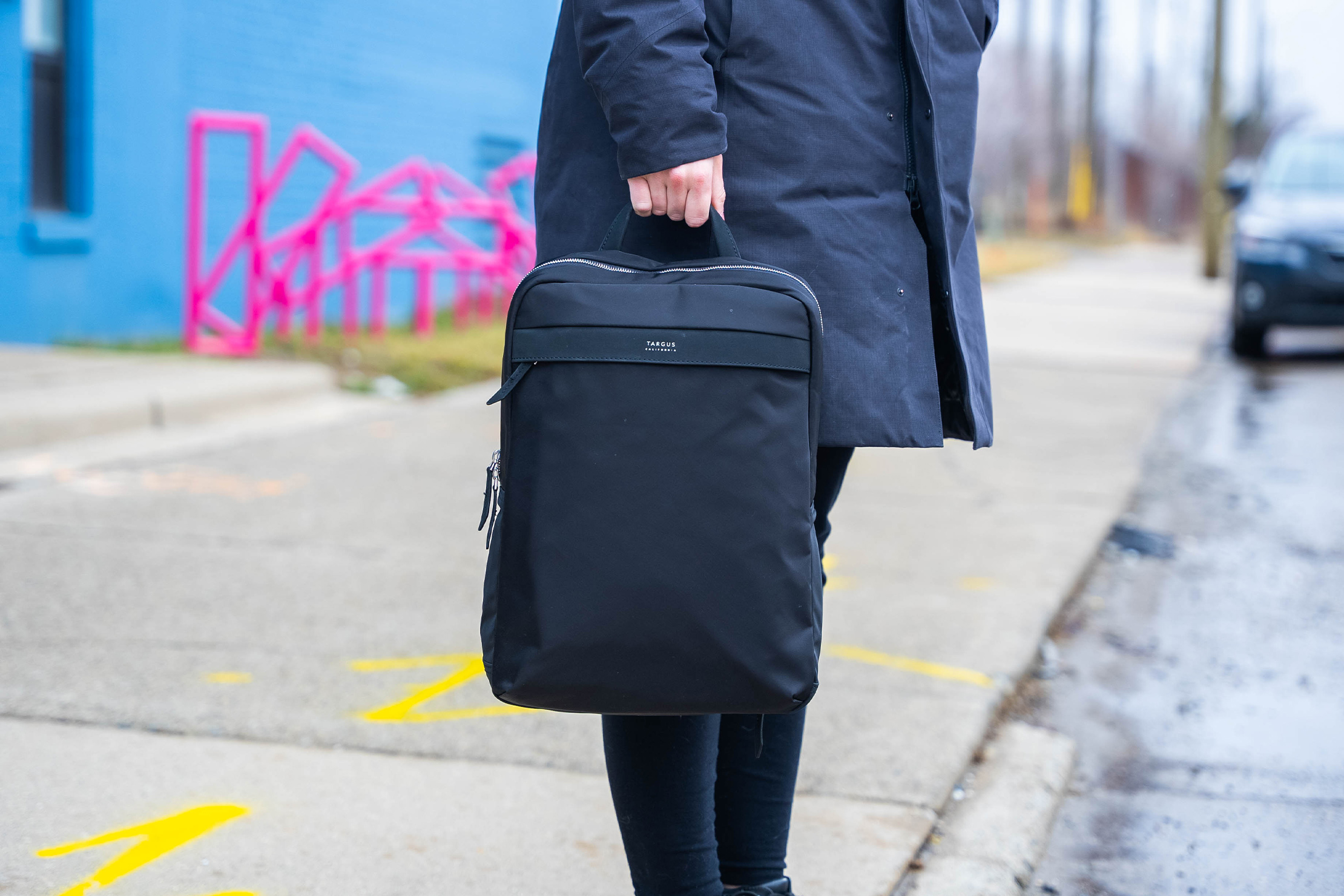 So apart from the harness system and handle, the Newport doesn't have many external features. There are no water bottle pockets, nor are there any attachment points. It's very minimalist on the outside, much like the Day Owl Slim Backpack and TOM BIHN Zeitgeist. There's nothing wrong with that, of course, but it is worth considering if you're looking for more external extras for extra functionality.
Fit Notes

As we've hinted earlier, the thin straps of the Newport don't perform as poorly as their appearance might first suggest. Carrying the Ultra Slim Backpack around feels decently comfortable, even for extended periods. The key consideration here is the bag's overall size. It's simply too slim to pack anything hefty enough to make us want thick padding, contoured straps, or extra hardware. Even the leatherette handle doesn't get too uncomfortable to hold while waiting in line at the airport. But alas, there is a catch, as usual.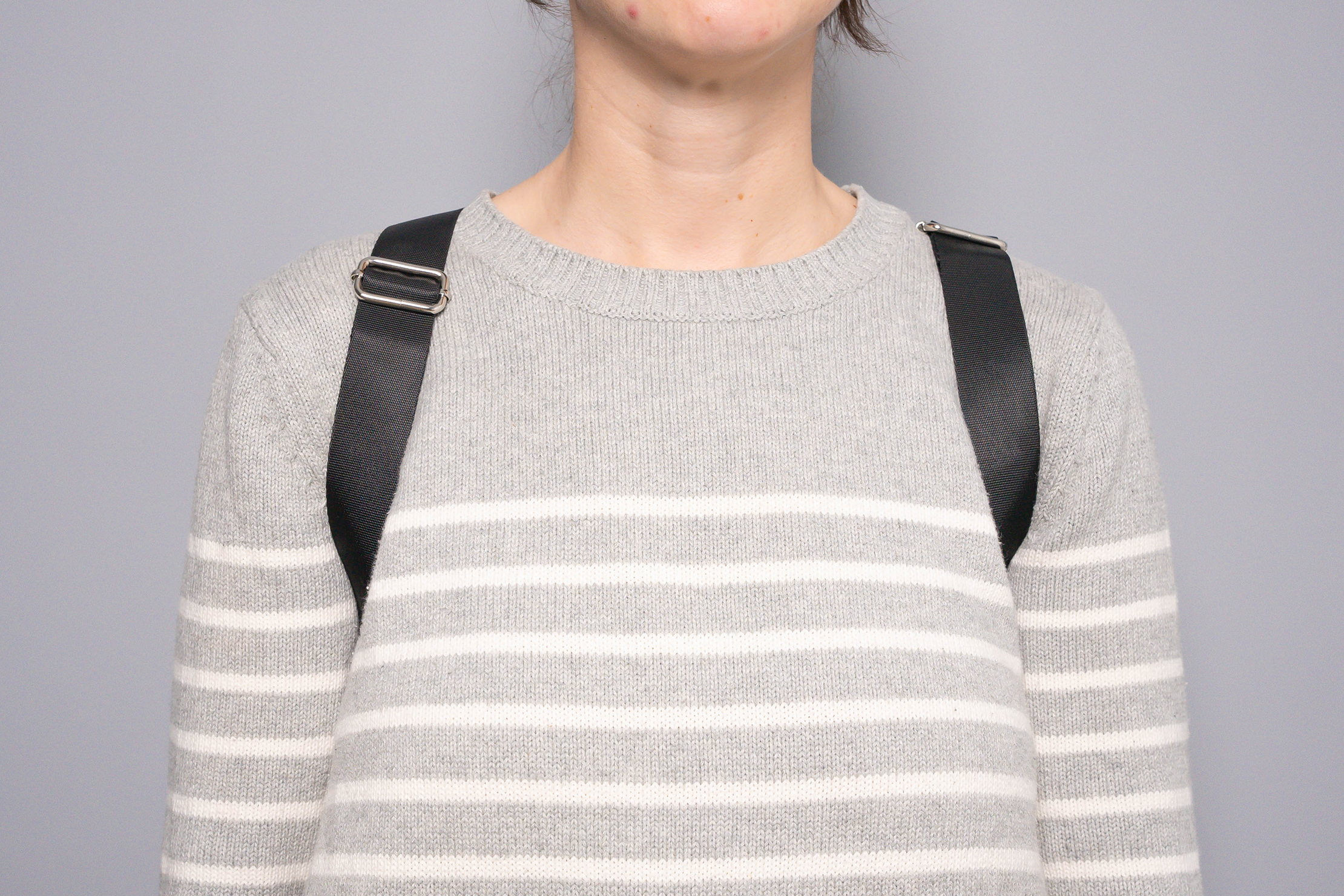 While the harness system provides a good carrying experience, day-to-day convenience still suffers. Even slight tugs on the strap while wearing the pack can cause them to adjust unnecessarily. It doesn't happen when you're simply walking around or even under vigorous speed walking, but even just trying to shift the straps closer to your chest can move the adjuster by inches. Sure, readjusting them is pretty easy, but it's an inconvenience we'd rather not have to deal with frequently. The culprit seems to be the metal adjusters; they're too slippery for the already slick and smooth straps, so we wish Targus put a lock or something similar to hold the adjustment in place more securely.
Inside The Backpack
The Newport's front pocket is stealthily hidden underneath the fabric welt that bears the Targus logo. We have nothing against fabric welts and think they're an effective means of protecting zippered openings from the elements. However said, some implementations are less than ideal. In the Newport's case, the welt is too close to the zipper track, and the overlap means you have to use your fingers to pry out the opening.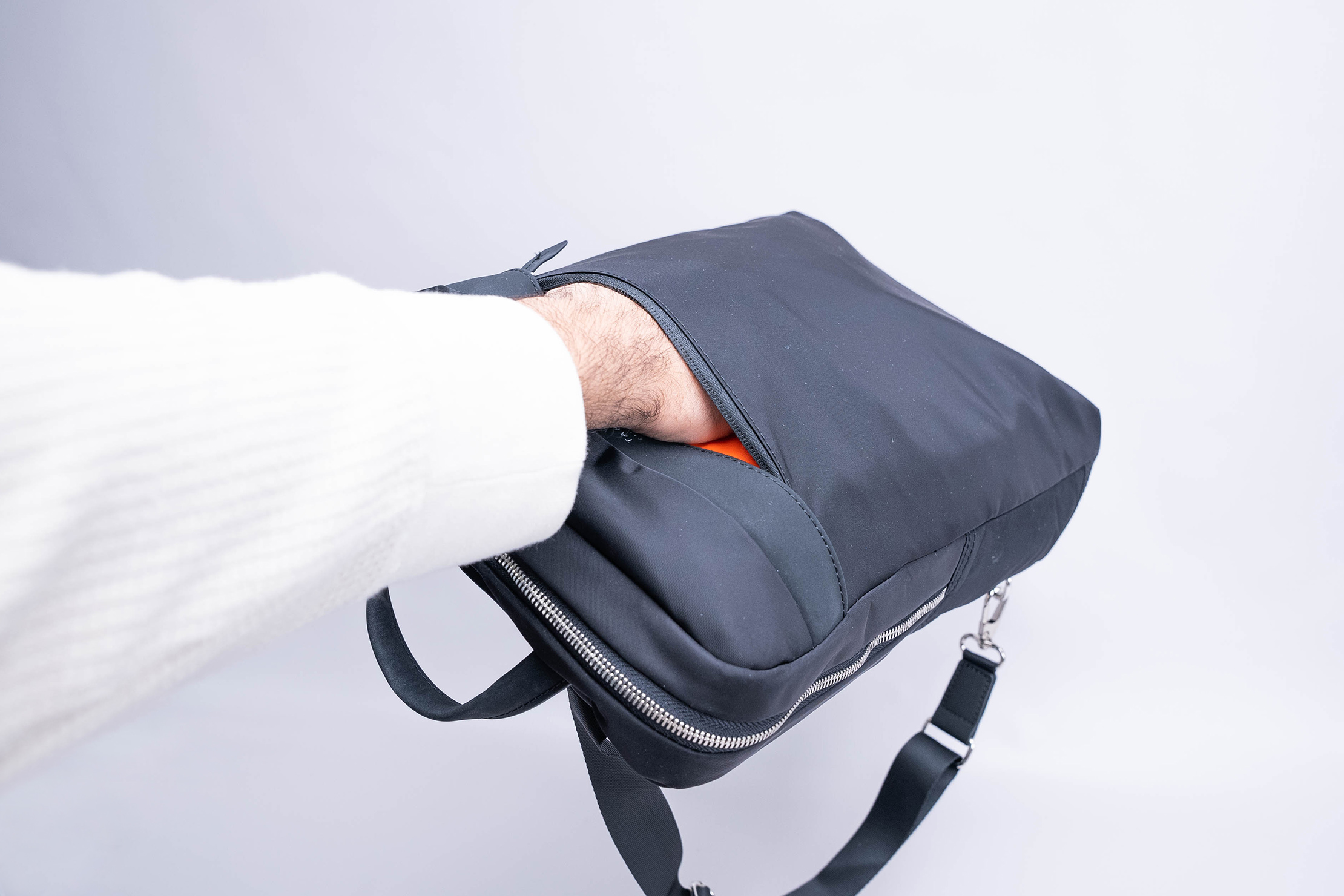 Needless to say, access to the front pocket is rather tight. It's a shame, too, since the front pocket is deep, and a big opening would've paired well with it. Instead, small items that have settled down along the bottom of the pocket are tricky to recover, let alone sort. Accessibility suffers, even with the benefit of a bright orange liner. We recommend using organizers and small pouches to store small gear here.
There's also a security pocket at the back with a sideways opening. There's less space here than in the front pocket, and it's built into the back panel, so it can easily bulge against your back. This pocket works well for flat items like a wallet, identity cards, or a smartphone.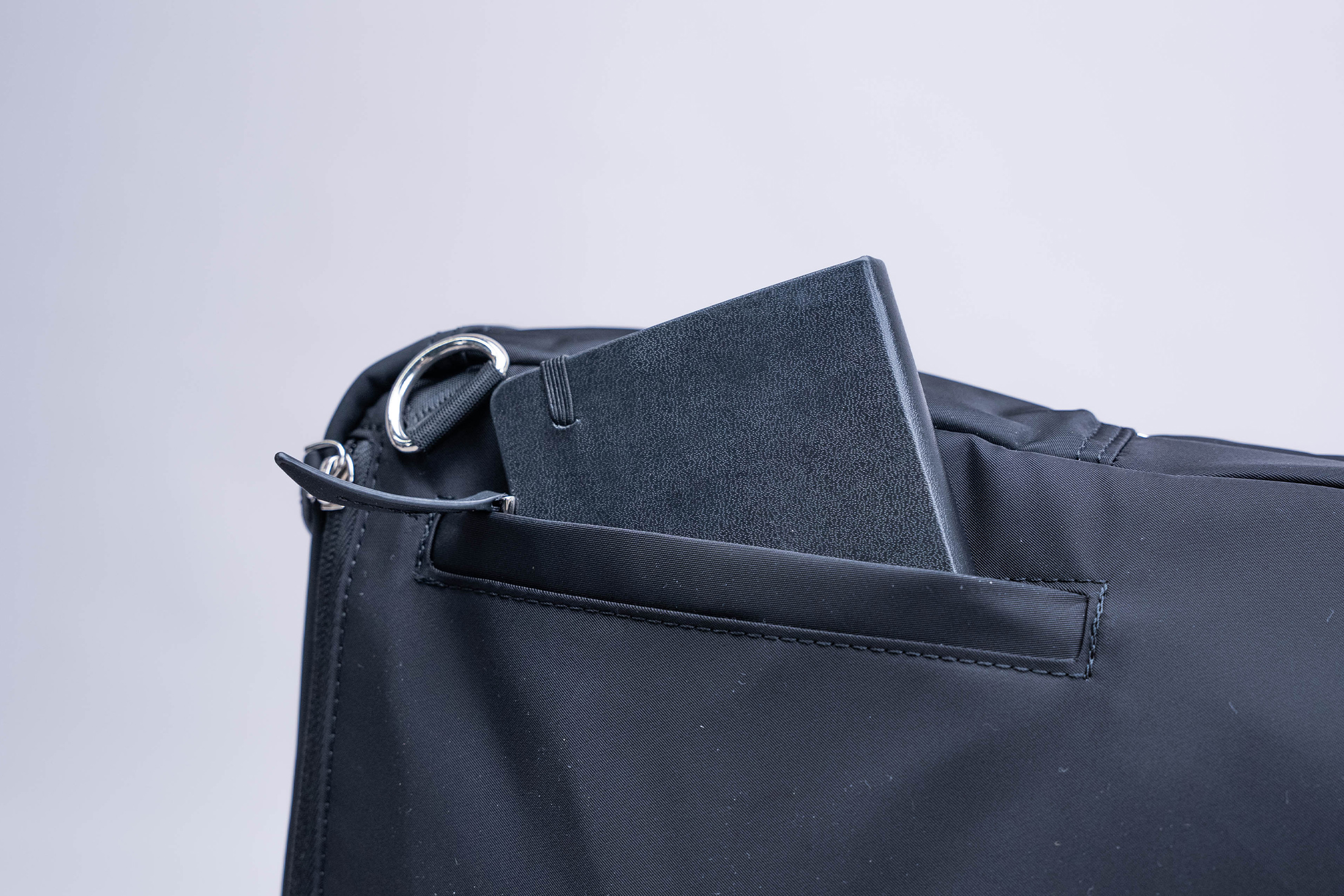 The bulk of the Newport 12-liter capacity is in the main compartment. It's where the orange liner really shines, brightening up the interior and contrasting well against the dark-colored tech gear we typically carry. Kudos to Targus for not going with an all-black liner for the sake of the typical tech aesthetic of black-on-black.
Based on the boxy exterior, you've probably already guessed that the inside is similarly squared off. Unfortunately, this means large round items like high-capacity water bottles noticeably bulk out and misshapen the pack's profile. You'll have to go for smaller packing cubes and slimmer pouches like the Aer Slim Pouch. For hydration, boxy flask-like containers like memobottle's A6 do exist, so you have some options there as well.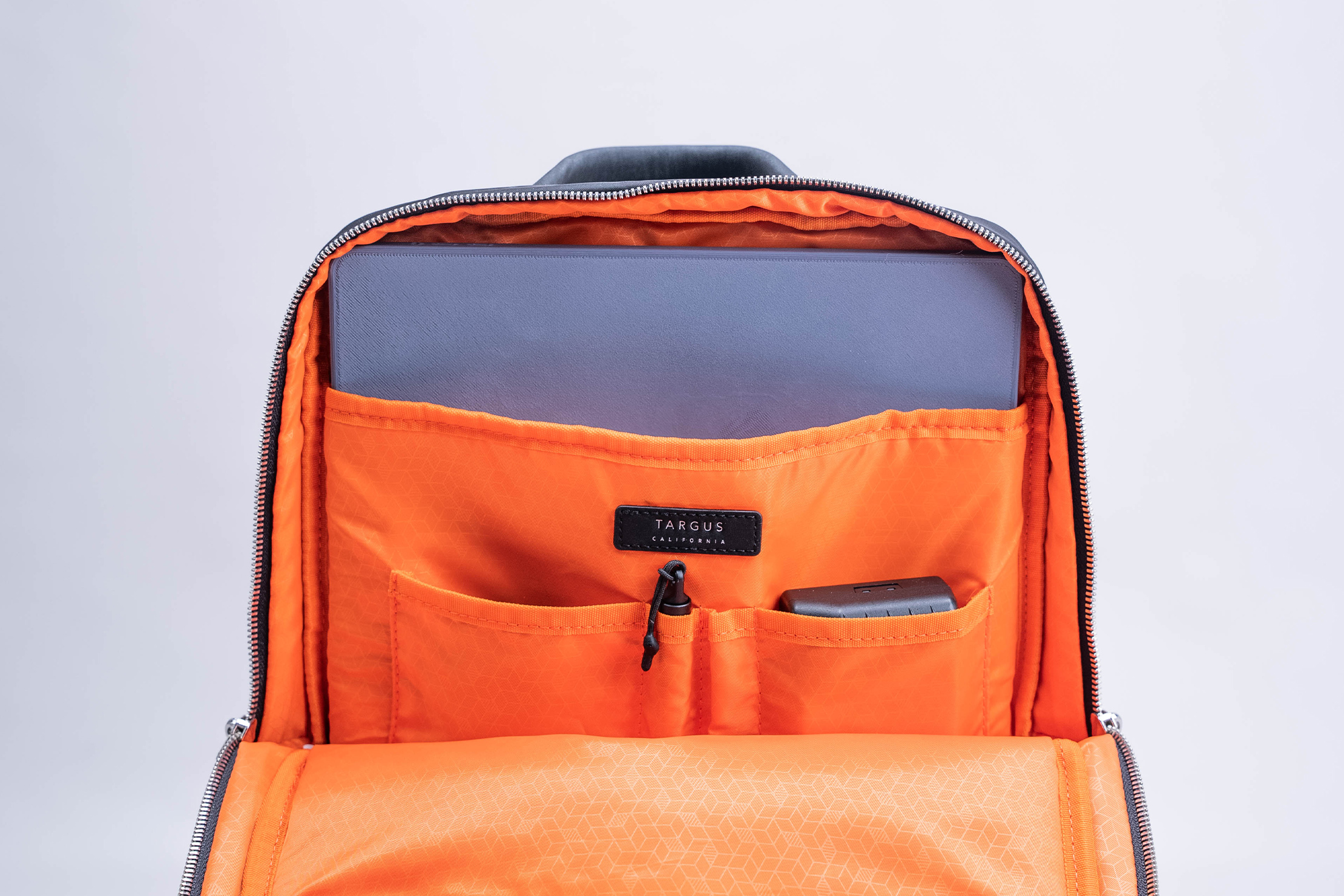 Organization-wise, there is a zippered pocket on the front side for small and loose gear like toiletries, or dongles and wires (although you probably shouldn't store both together). At the back side are your liner pockets. Two passport-sized liner pockets flank two pen pockets in the middle. Unfortunately, none of the liner pockets have any elastic or mesh to hold items in place, so gear can jostle out with sufficient force.
Behind all those small pockets is the laptop sleeve rated for up to a 15-inch device. Here's a little tip, though: our testing shows a 16-inch MacBook Pro also fits, once again proving that screen size isn't entirely accurate for a laptop sleeve's compatibility (but that's a whole different topic altogether).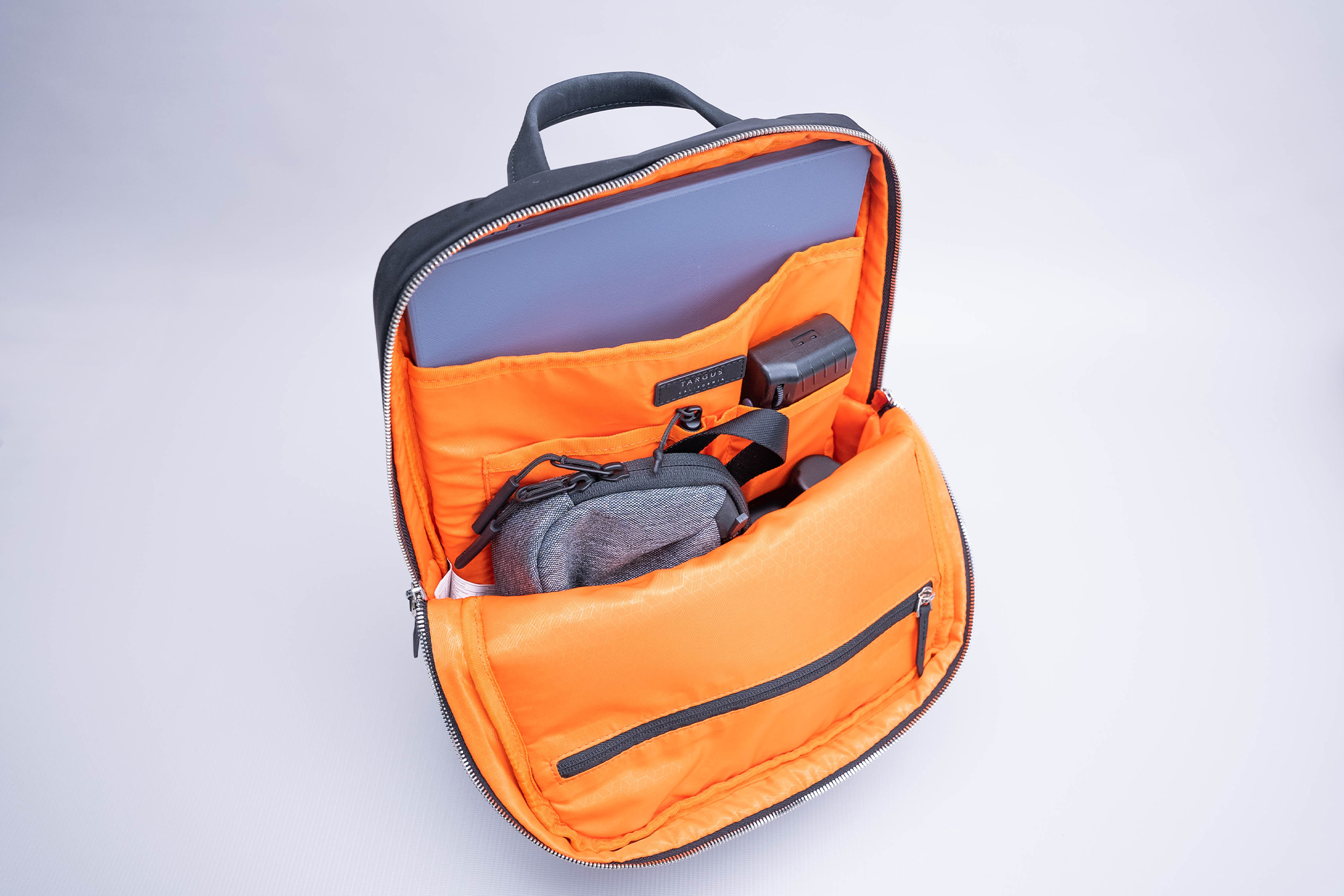 Device protection is mixed, at best. You get some padding extending from the back side of the sleeve and down toward the base. However, there's no false bottom whatsoever, meaning there's no buffer space between the floor of the sleeve and the pack's actual base. We usually see this feature in tech-oriented bags, so we're surprised Targus hasn't caught on with this trend. Consequently, you'll have to be careful to set the Newport down gently on hard surfaces each time.
Usage Timeline
Initial Usage
Condition: Excellent
Digging the sleek, slim design
Backpack straps are a bit thin—interested to see how it impacts comfort
Decent amount of internal organization for its size
2 Weeks of Use
Condition: Excellent
Material is holding up well and is easy to clean
Definitely best suited for thin items—slim design is easy to bulk out
Comfortable fit even when packed to the fullest
Access the Pro Community Discussion
Get your questions about the Targus Newport Ultra Slim Backpack answered from our team and the Pro Community right here on the page. Plus, join discussions with other members about gear, guides, and more.
Other Bags & Luggage Reviews