memobottle A6 (with Silicone Sleeve) Review
Though it looks like a flask, the memobottle A6 is indeed a water bottle. It's handy when you're tight on space but won't keep your water cold.
Our Verdict
Unlock the Pro Summary
Save time. Get access to brief summaries of our reviews so you can browse and make decisions more efficiently.
Pros
Flat profile is useful for bags with no water bottle sleeve
Has a minimalist look and feel
Silicone sleeve adds insulation & grip
Cons
Doesn't keep water cold or hot without sleeve
Spout pours out very quickly
Unconventional shape may garner some weird looks while using it
Recent Pack Hacker Video
Technical Details
Capacity

12oz

Weight (lb)

0.5 lb (0.2 kg)

Dimensions

7.68 in x 4.41 in x 1.18 in (19.5 x 11.2 x 3 cm)

Notable Materials

Silicone, Plastic

Manufacturing Country

China

Warranty Information
Buying Options

$28.00
$31.00
Full Review
Get up to 20% off memobottle • Join Pack Hacker Pro
Is that a flask or a bottle of medicine? Neither, we're afraid. Despite its unconventional looks, the memobottle A6 is just a water bottle. Although, we've had several people mistake it for both a flask and a medicine bottle, leading to some interesting misunderstandings. Beyond being a conversation starter, the memobottle A6 is handy when your bag doesn't have a water bottle pocket. It's dishwasher safe and can hold hot drinks if you opt for the additional silicone sleeve. However, since the bottle itself is not insulated, it won't keep your water cold for very long.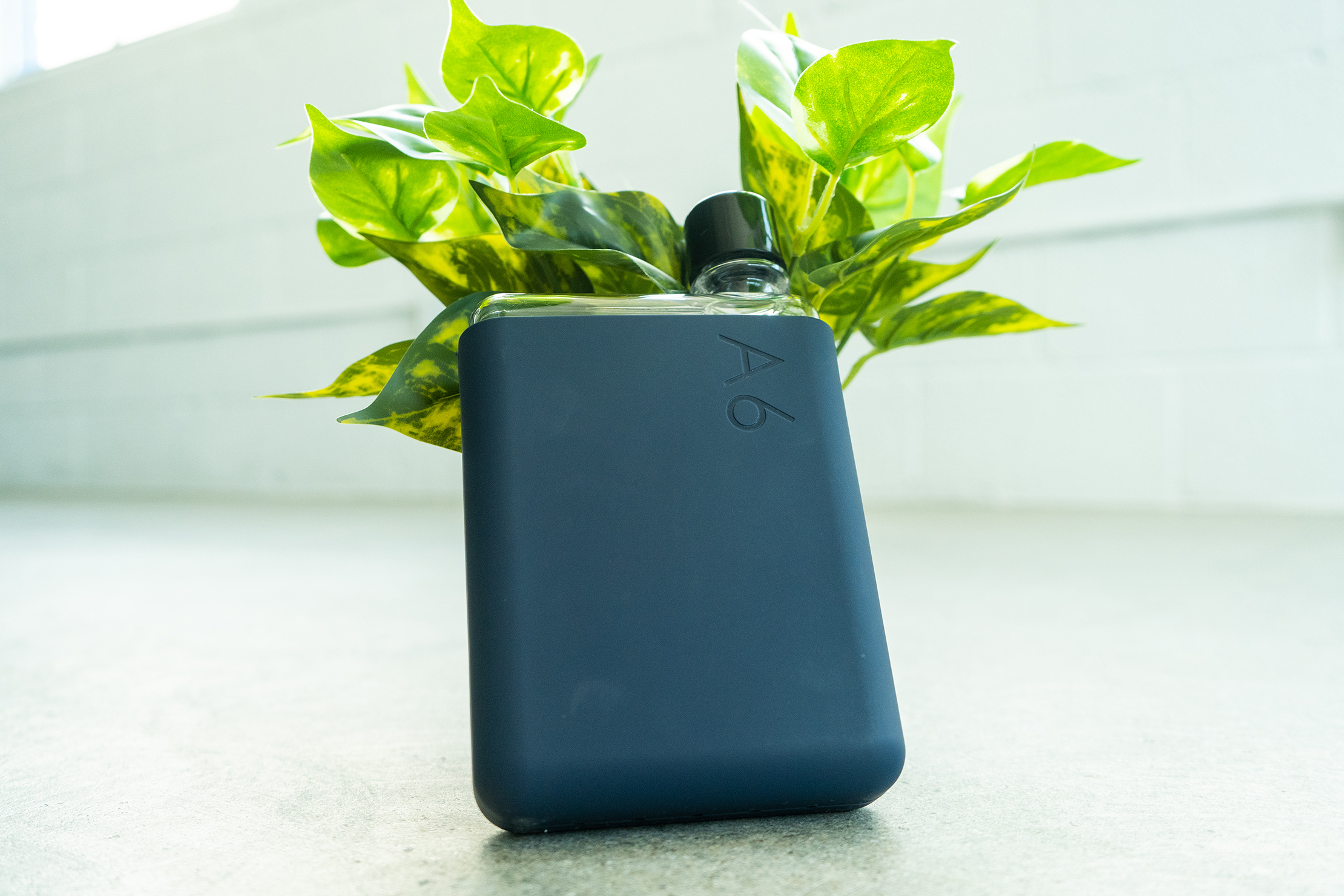 On their website, memobottle says their products are suitable for most liquids, including alcohol, so it really could be a flask if you wanted. When it comes to hot drinks, though, memobottle's website has some slightly confusing information. Luckily we read the fine print, so you don't have to. Memobottle says all their bottles are "hot water safe" for up to 100 degrees celsius. So they're safe in your dishwasher, but the brand doesn't really recommend carrying hot liquid inside. They also note, "for coffee or other strong staining liquids, we advise to wash out the bottles more frequently to avoid staining." When it comes down to it, our experience was that hot coffee and tea are okay inside the memobottle A6 if you're using it with the silicone case. It's not great in just the bottle alone, which we'll talk more about in the next section.
The one thing you should absolutely not put in the memobottle is a carbonated drink. In cylindrical bottles, the pressure from carbonation can be more evenly distributed, but that isn't the case here since the memobottles are square-shaped. Basically, unless you want to see your bottle explode, don't do it. Sorry to all the sparkling water lovers out there.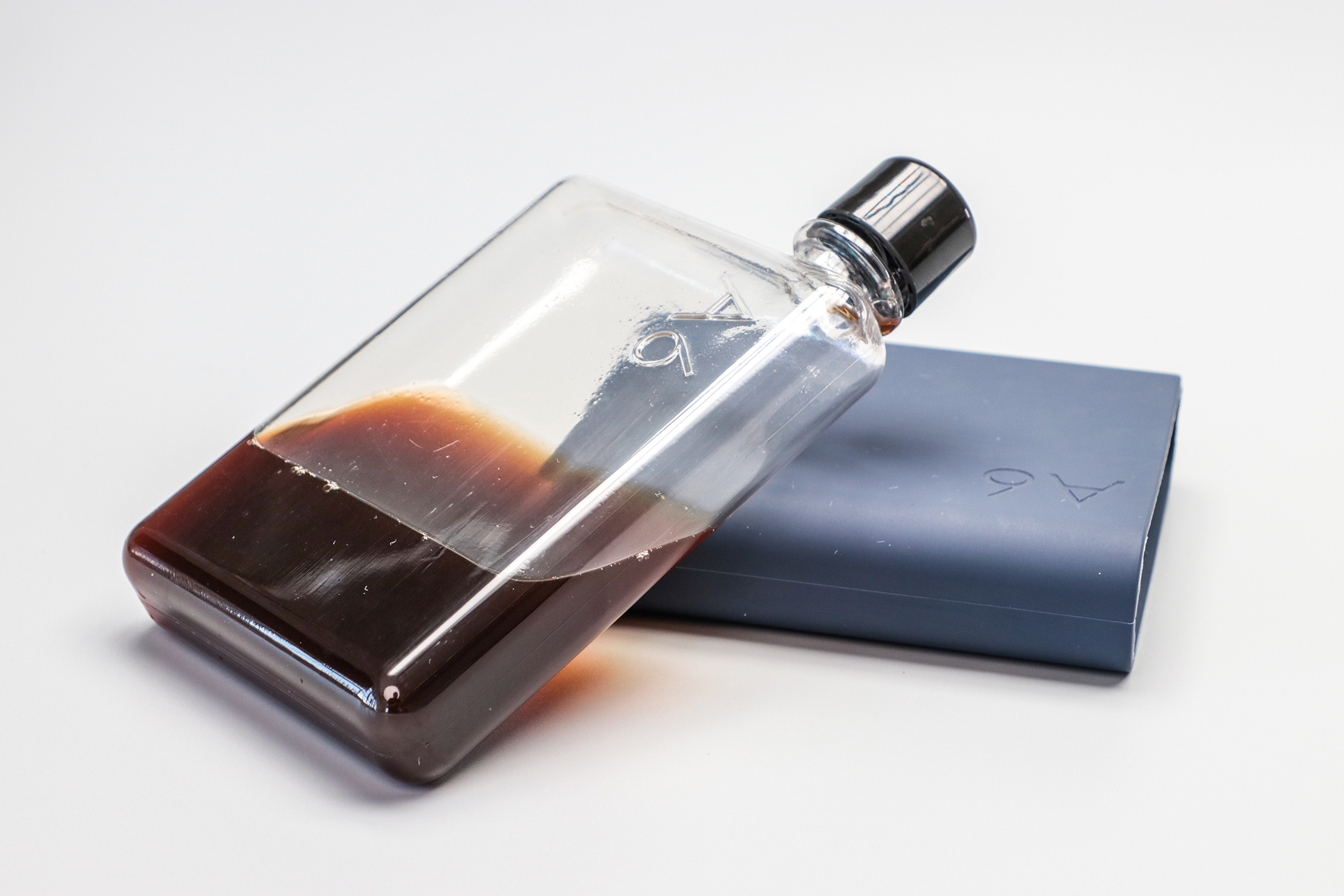 In case you were wondering, the memobottle A6 is named after the paper size. It seems like memobottle has a thing for paper because most of their bottles are designed and named this way. Besides the A6, there's the A5 which is significantly larger (think a standard piece of letter paper), and the A7, which is palm size. The only one that isn't paper-sized is the Slim, which is long like a traditional water bottle but still relatively thin. The A6 holds about 12 ounces of liquid, which is pretty standard.
We're used to travel water bottles made of stainless steel or something similar, but the memobottle A6 is more like an actual plastic water bottle. It's made of a BPA-free PET. No, it doesn't have anything to do with your cat or dog; PET stands for polyethylene terephthalate. It's the stuff that peanut butter jars, shampoo, and cooking oil bottles are made of. It's also the material used in regular old plastic water bottles, but memobottle uses a higher grade that's much thicker. We've read other reviews that say the seam holding the bottle together can crack and cause leaks easily if dropped on the ground. We didn't have any issues during the three weeks that we tested it, but we used it almost exclusively with the silicone sleeve which adds a barrier of protection.
Features & Usage
Now that you know where the memobottle A6 name comes from, you're probably wondering why you'd want a tiny paper-sized bottle in the first place. If it were up to some of us on the Pack Hacker team, all backpacks would have water bottle sleeves, but the sad reality is this isn't always the case. That's where the A6 comes in handy. You can slide it right up against a notebook in your daypack.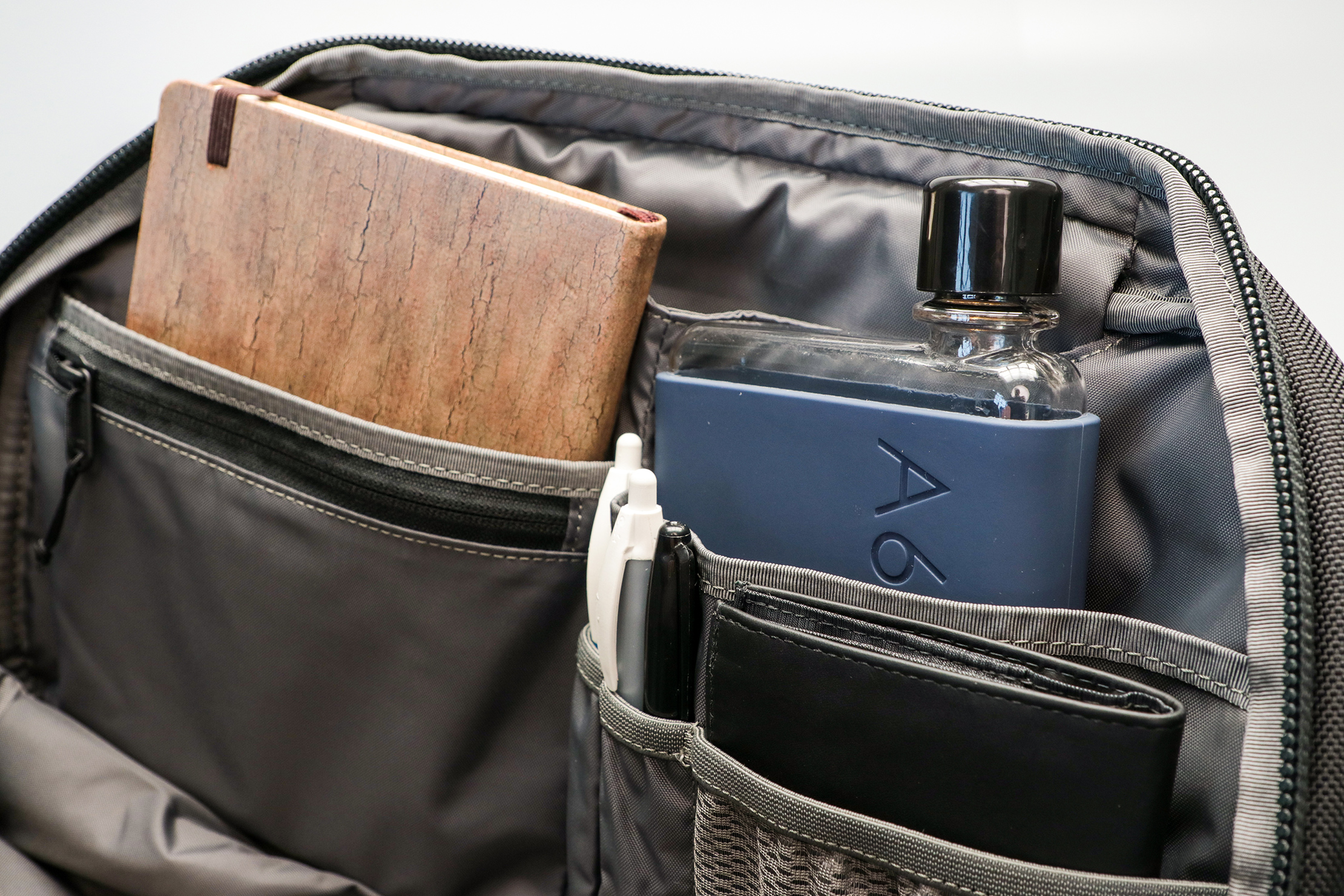 Even if your bag does have a water bottle sleeve, sometimes a round bottle sticking out one side looks bulky. If you're tight on space, you could always clip a bottle to the outside of your bag, but do you really want it bouncing around as you walk? The memobottle A6 is compact and thin, so you're bound to have some room or even a small pocket inside your bag to squeeze it in.
Let's talk for a bit about the silicone sleeve. It's sold separately, but there are a few reasons why you may want to opt for it. As we mentioned above, the sleeve is ideal if you plan on using the memobottle for hot liquids. The memobottle is not insulated, and the outside gets hot pretty quickly. So unless scorching your hands on blazing plastic is your idea of a good time, the silicone sleeve is the way to go. Scorching may be a bit of an overstatement, but the bottle itself is not comfortable to touch when it's filled with hot coffee—trust us. The sleeve adds insulation that keeps you from burning your hands and keeps your coffee warm.
Even if you just plan on using the memobottle for simply water, the sleeve gives it a bit of style. The bottle itself is minimal by design—it's literally a thick plastic water bottle that's shaped like a piece of paper. Putting the sleeve on top makes it look a little more interesting. There's even a leather sleeve option with a small pocket for an ID or credit card. A water bottle seems like a weird place to put your ID, but go for it if that's your thing.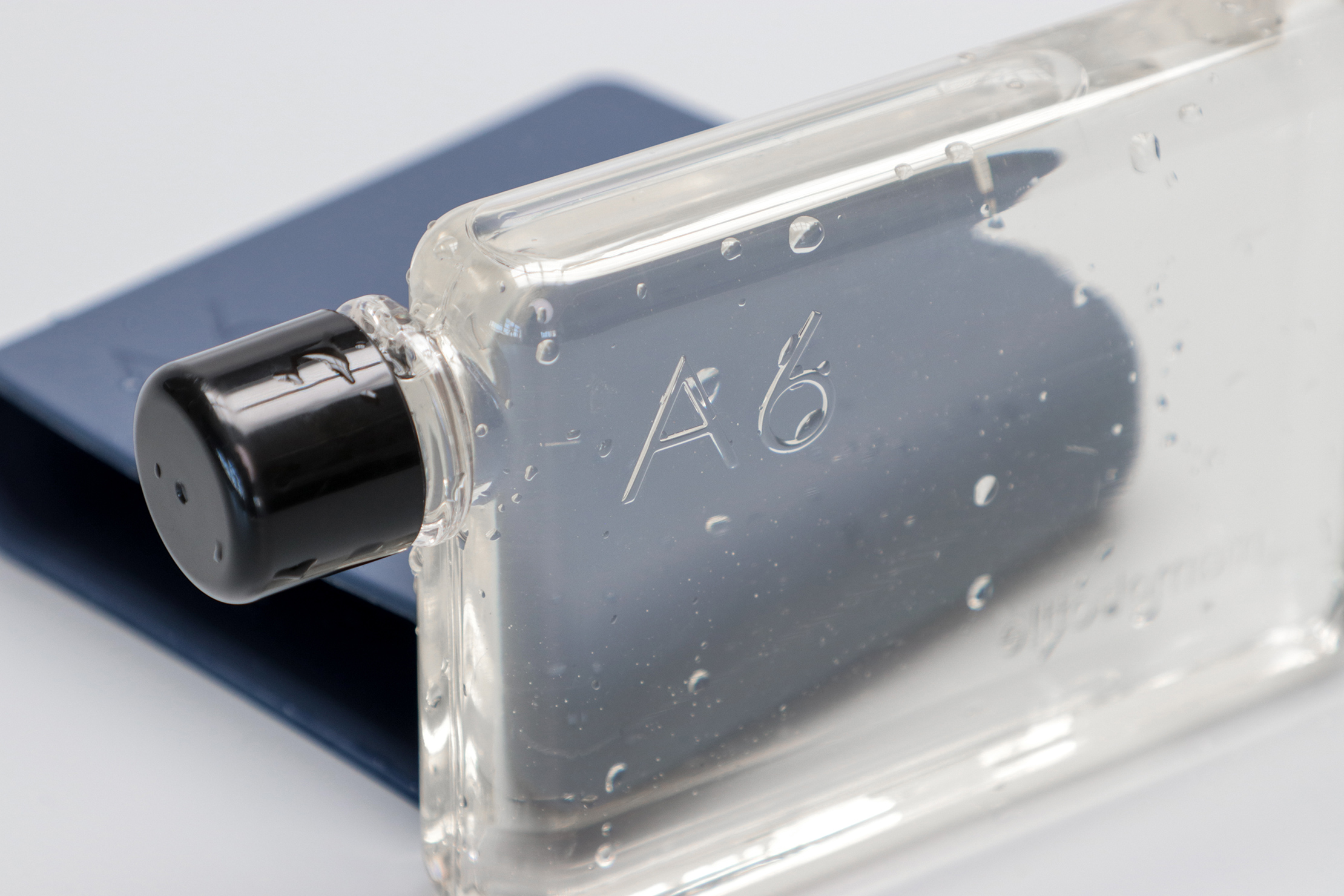 We do dig the pared-down and simplistic look of the memobottle A6 itself. It's totally see-through with "A6" imprinted on the front and "memobottle" on the back. The sleeve actually has the same layout but comes in a couple different colors to spice it up. It comes with both a black and white cap, so you can choose whichever one suits your mood that day. For the days you're feeling extra funky, there are also metallic lids in copper, stainless steel, matte black, and gloss white, which are all sold separately.
When it comes to the actual drinking experience, the spout is also similar to a standard disposable water bottle. However, its position on one side of the bottle makes it awkward to drink out of. We found that the spout also pours out liquid pretty quickly. We're pretty serious about hydration and tend to drink around a gallon of water a day. That coupled with the spout pouring out so quickly meant we had to refill the bottle a lot. This is fine if you're using the memobottle A6 for everyday carry, but when you're traveling in humid climates where staying hydrated is even more important, it could be slightly problematic. Especially if you're going somewhere more remote where there aren't many fountains or refill stations around.
We enjoyed using the memobottle A6 for daily carry but would probably opt for something bigger for travel. Ultimately it comes down to two things—how much water you tend to drink and whether you're okay with it being room temperature. If you're in the cold water camp, you may want to consider a different bottle, as the memobottle's lack of insulation means cool water at best.
Usage Timeline
Initial Usage
Condition: Excellent
Comes with both a black and white cap
Sans the spout, it's about the size of A6 paper and it's also quite slim
There's also a separate silicone sleeve option; adds better grip and insulation
1 Month of Use
Condition: Excellent
Bottle gets a bit warm when using with hot beverages like coffee, so the silicone sleeve is recommended
Looks like a flask or medicine bottle and has been mistaken for one several times
Water pours out of the spout very quickly
Access the Pro Community Discussion
Get your questions about the memobottle A6 (with Silicone Sleeve) answered from our team and the Pro Community right here on the page. Plus, join discussions with other members about gear, guides, and more.
Other Miscellaneous Reviews