Stasher Go Bag Review
The carabiner on the Stasher Go Bag is handy for carrying gear on the outside of a bag, though we wish the Pinch-Loc™ closure was more secure.
Our Verdict
Unlock the Pro Summary
Save time. Get access to brief summaries of our reviews so you can browse and make decisions more efficiently.
Pros
Silicone is easy to clean
Comes with carabiner to attach to outside of backpack
Dishwasher, microwave, and freezer safe
Cons
Silicone easily picks up dirt and pet hair
Opening is a little tight, making it hard to get things out
Difficult to thoroughly clean
Recent Pack Hacker Video
Technical Details
Capacity

18oz

Weight (oz)

3.1 oz (87.9 g)

Dimensions

5 in x 8.5 in x 1.5 in (12.7 x 21.6 x 3.8 cm)

Notable Materials

Silicone, Aluminum

Manufacturing Country

China

Warranty Information
Full Review
When you've got a few inches of space left in your bag, you want to be sure that every item you pack is as useful as possible. The Stasher Go Bag is something that adds value to your space rather than taking away from it. Designed to fit everyday items like your cell phone, sunglasses, or snacks that keep your energy up, this reusable pouch keeps your stuff close at hand and safe from moisture.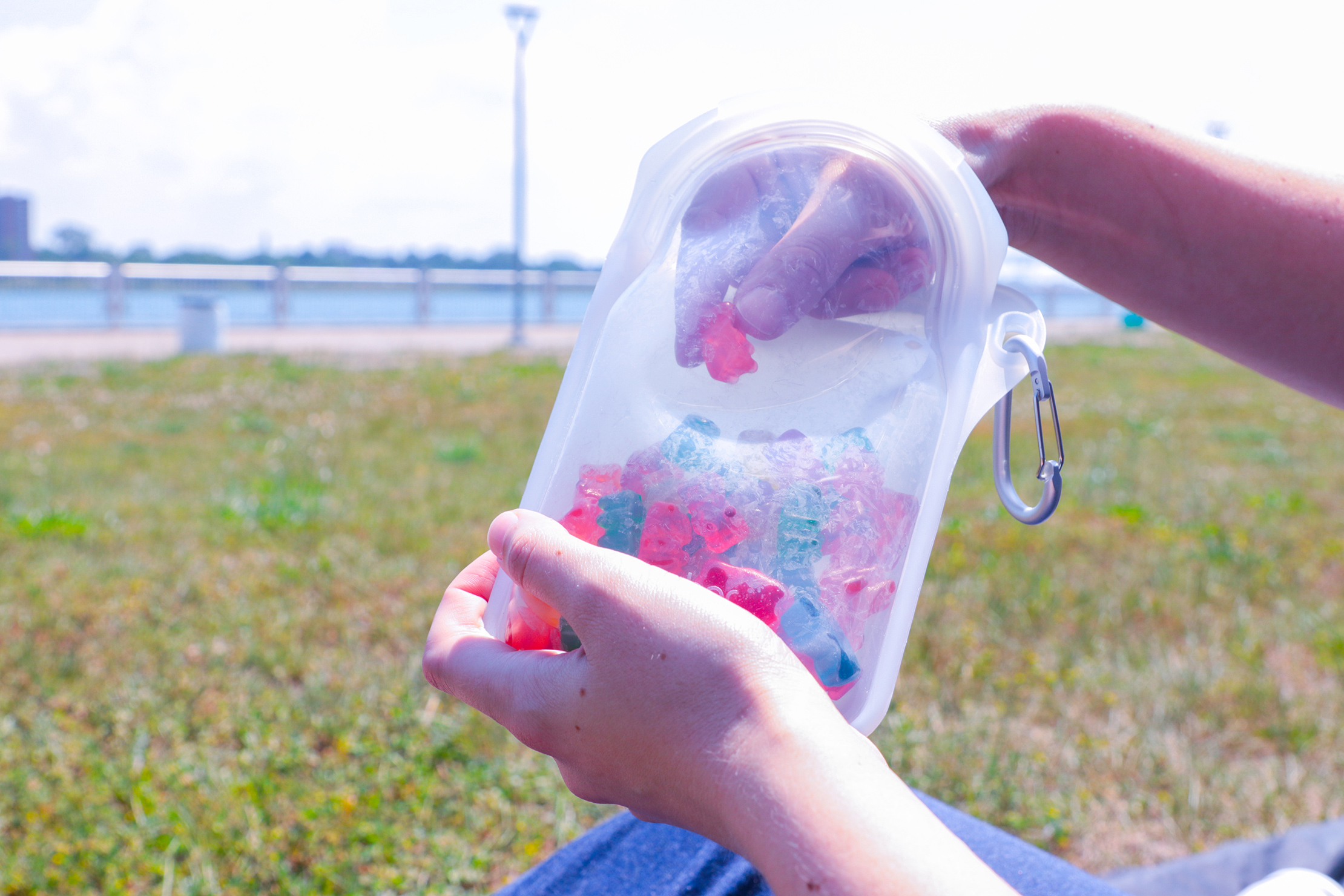 Stasher has other items like pouches that stand up on their own, sandwich baggies (think: Ziploc), pocket-sized snack pouches, and more. However, in this review, we'll be focusing specifically on their Go Bag, which has a few added features and a unique shape.
Materials & Aesthetic
Like the rest of Stasher's items, the Go Bag is made with non-toxic silicone so that you can give Mother Earth a break and take one more step away from single-use plastic. We're big fans of being sustainable when possible, and this pouch can hold food, a phone, sunglasses, or any other small items that we want quick access to on the go.
It also includes an aluminum carabiner for hooking to the outside of a pack—saving space inside can be crucial. Or, if you're more of an outdoorsy type, the Pinch-Loc™ seal and waterproof silicone keep moisture from creeping in when you hit mile six of your hike and the sky opens up.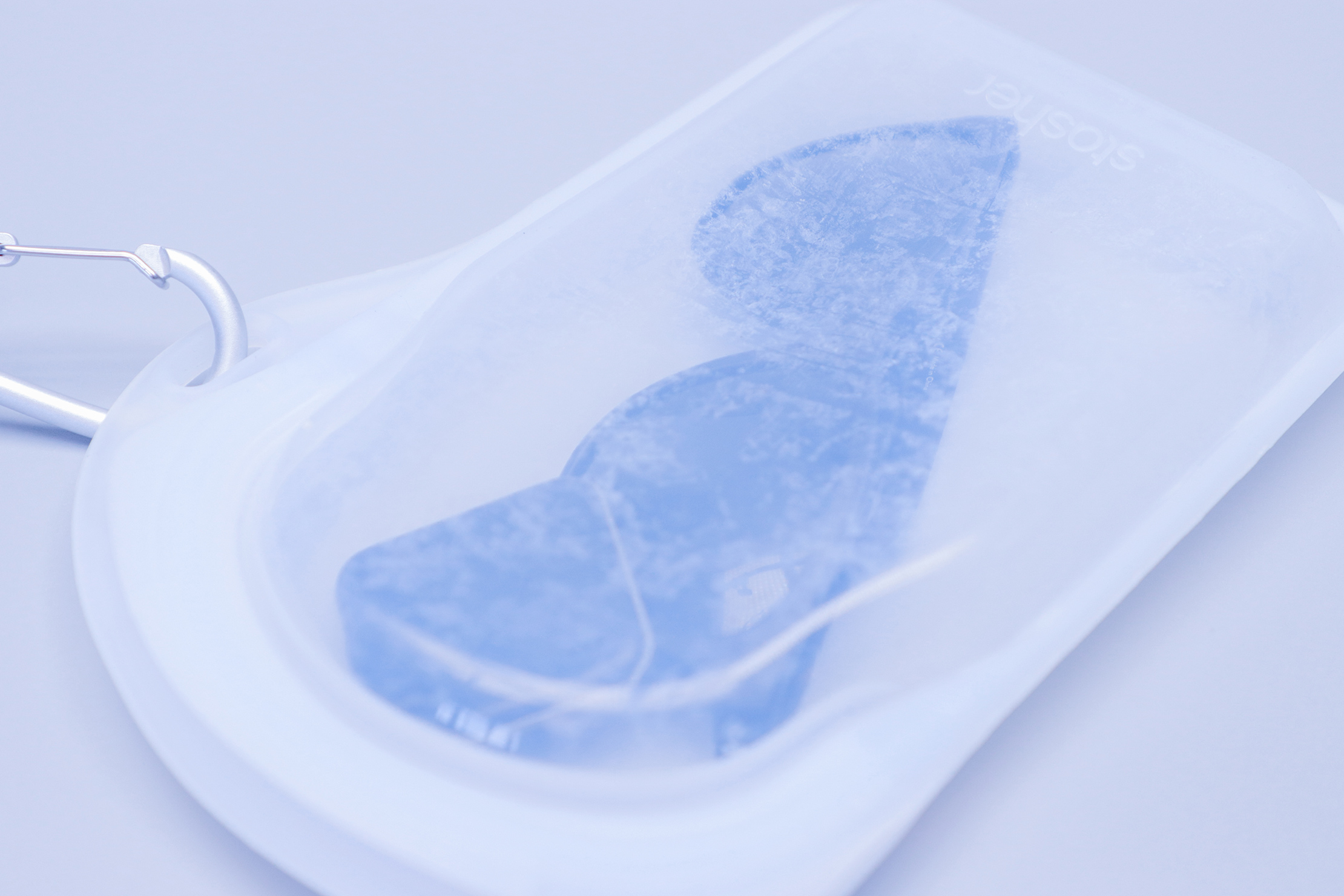 There are a handful of colors available depending on your style preference. Though we can only vouch for the clear (because that's the one we tested), one side is more transparent while the other has an almost frosted glass look to it. This adds a bit of privacy, but you can still see what's in there by peeking through on the other side when you need to. The frosted side isn't completely opaque, though, so keep that in mind that it's not a fool-proof security system.
As for the silicone itself, one of our main issues with the Go Bag is how easily it collects dust, dirt, and pet hair. While we expect this because of our experience with the Reusable Silicone Bags, it's still a sensation that takes some getting used to. The inside of the pouch is also silicone, so it has a similar response to dirt and food remains, though it stays clean longer because it's not constantly exposed to outside elements.
With 18oz of space, this pouch is bigger than it looks. But the most important question is: how well does it actually hold what it says it can?
Features & Usage
Whether you carry it by the carabiner or give it a designated spot in your backpack, the Stasher Go Bag can carry a fair amount of gear. Its shape does limit it, however, and we found that the more we packed in, the harder it was to get things back out.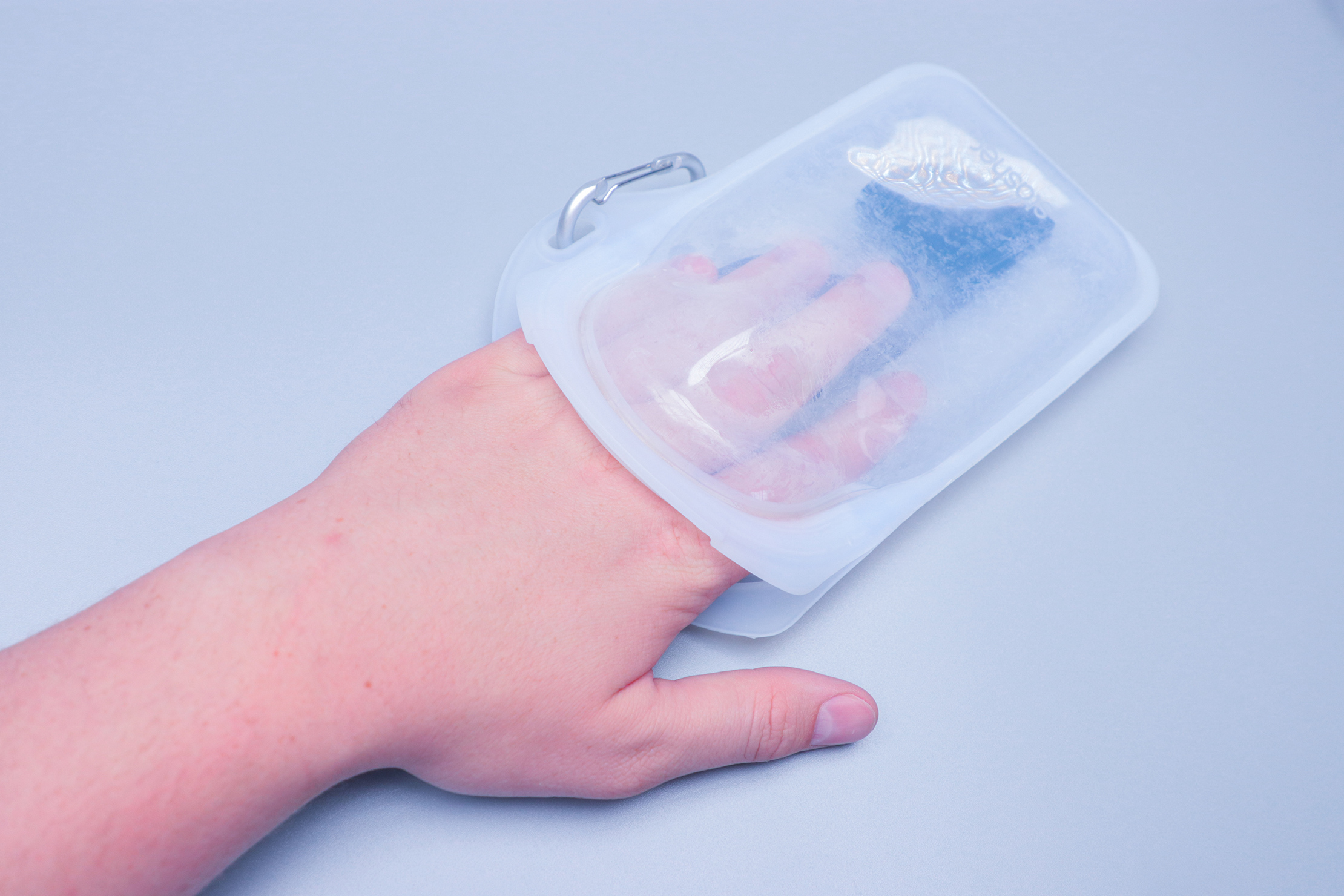 It's wider at the base than at the top, so if we were carrying a phone, thinner wallet, and sunglasses, only two of the three items would comfortably fit inside. The silicone is sleek, but it catches on certain materials like a rubber phone case or leather wallet. Putting things in or taking them out isn't as easy as if you were using, say, a regular plastic sandwich baggie.
The opening also isn't very large, and even those on our team with smaller hands had trouble getting all the way in there. Granted, this isn't a major issue if you've got taller items that reach the top anyway, but if you're trying to get to that last pretzel, it takes a bit more effort to reach it.
We're big fans of how easy it is to close the Pinch-Loc™ seal. We did have to pass over it a couple of times with our fingers to get every inch of it snapped together, but it feels secure once it's closed, and our stuff wasn't coming out any time soon. However, one thing to note is that if you squeeze the pouch too hard, it'll break the seal by forcing air through it.
That being said, we didn't get into a situation where we were like, "I would love to carry this gazpacho with me," so it wasn't an issue for us. If you're looking for something to carry your shampoo or body wash, we recommend checking out the humangear GoToob+ instead. There's also the Food Bunker if you can't stomach leaving your soup behind. We could also see this becoming an issue if you plan to use it as a makeshift drybag, as it only takes a slight break in the seal for water to seep in and ruin whatever is inside.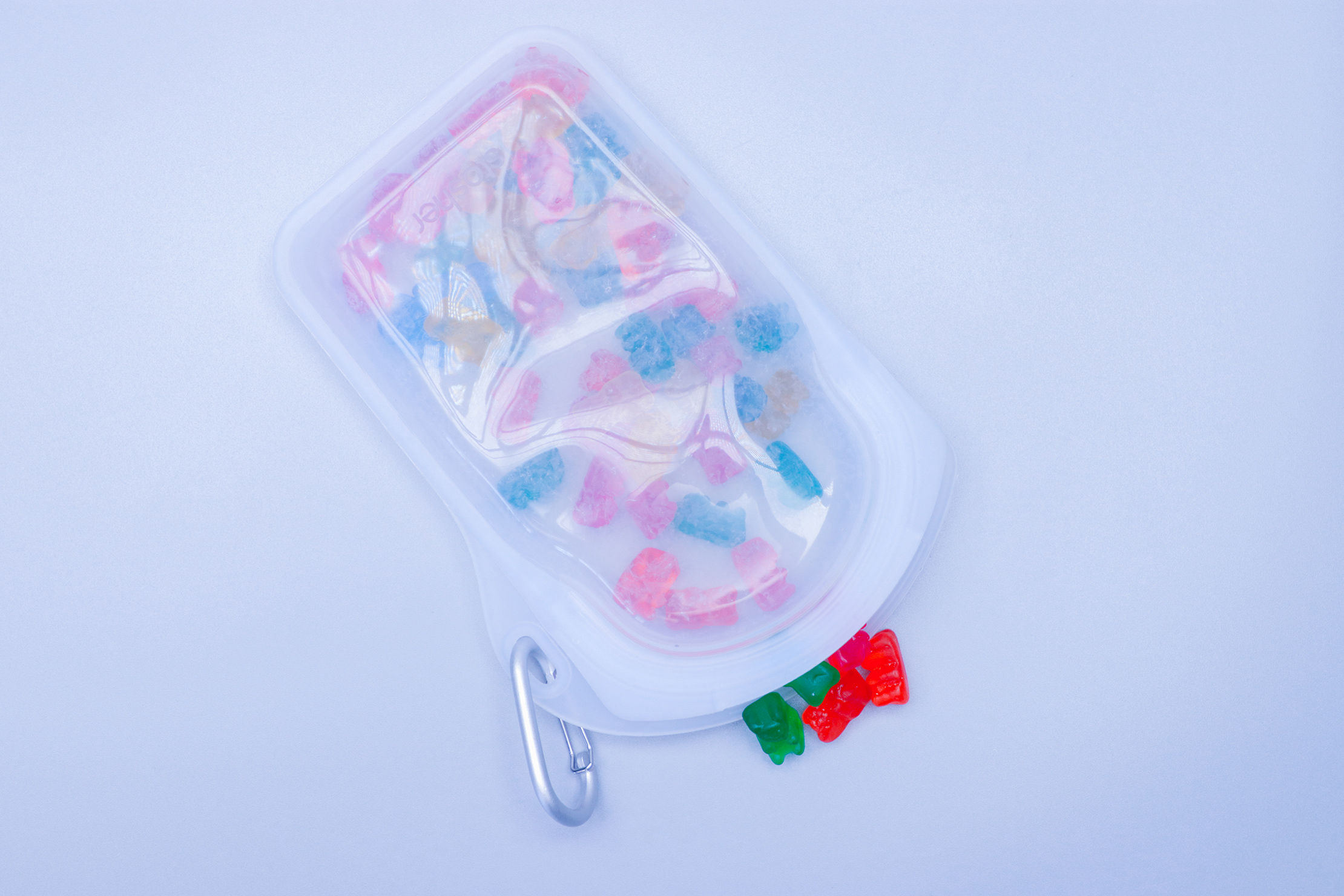 Because the Stasher Go Bag is microwave and freezer safe, you can confidently put in any other food that's a little more on the solid side. You can also write on the bag with a pen to label what's inside.
We recommend cleaning it between uses because the inside silicone will hold onto dirt just like the outside. For example, we used it to carry carrots and pretzels (separately, of course, we're not monsters), and after using each, there was a bit of food leftover, whether it was carrot juice or salty pretzel dust.
In order to get this out, all you need to do is throw it in the dishwasher or wash it by hand with a handled brush. The inside takes a bit longer to dry regardless of how you wash it, so plan on spending a little more time letting it air dry after the dishwasher or wiping it out with a towel—though we did find some towel fibers left behind, so air drying is ideal.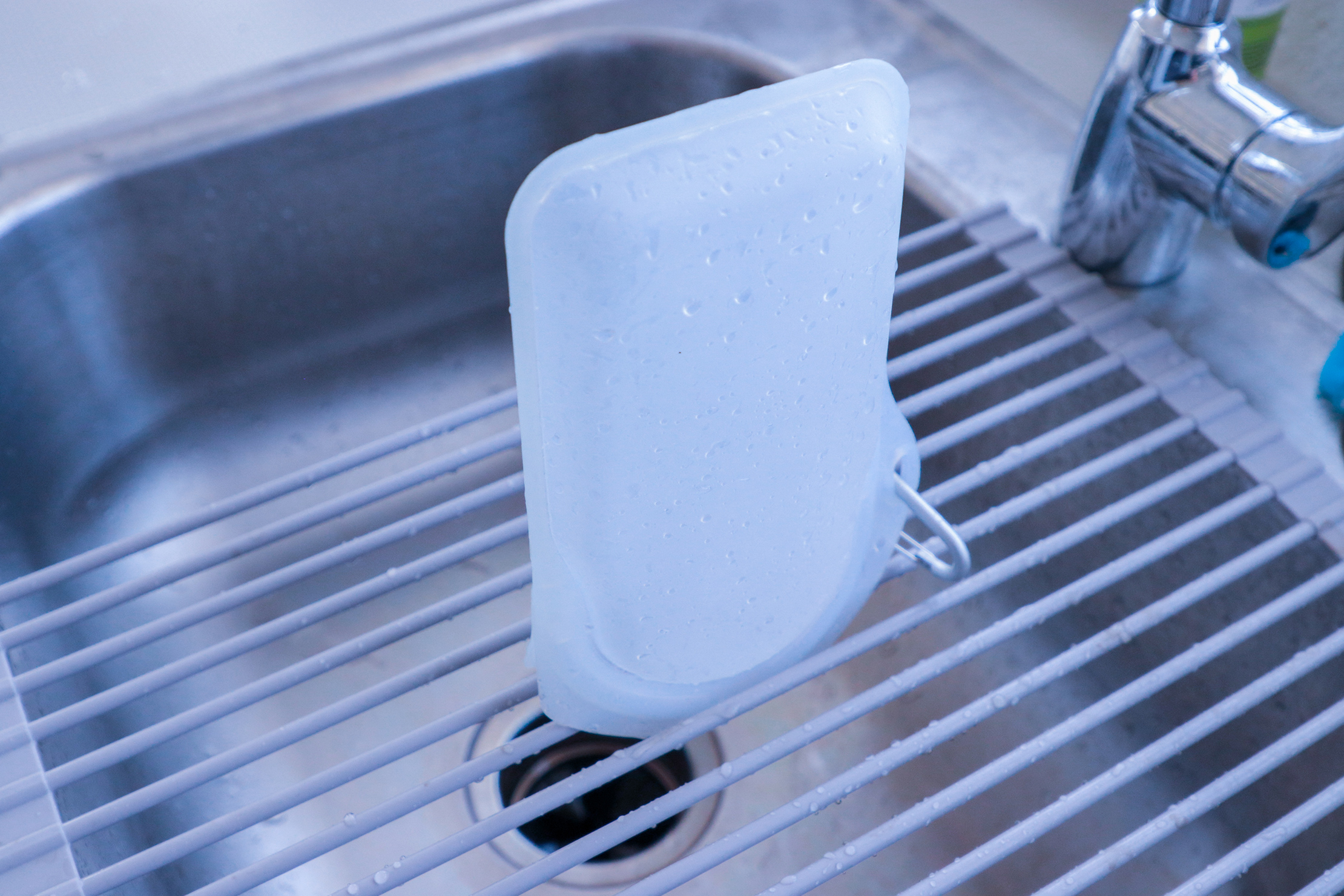 However, if you do manage to get some nasty gunk in there or want to clean it out real good after a day full of munching, it can put up a bit of a fight. Unlike the Reusable Silicone Bags, which are easy to flip inside out, the Go Bag's narrow, tall design is best left to the dishwasher or washing by hand with a brush. Just be sure to remove the carabiner before putting it in the dishwasher, freezer, or microwave.
All in all, this bag was great to have on hand for extra waterproofing confidence. We often used it for food, yes, but it also efficiently carried a wallet and phone if we didn't want to carry a full daypack but still wanted to keep our hands as free as possible. We also used it as additional waterproofing inside a drybag (because it's better safe than sorry). The carabiner is a nice touch for quick access to our gear, though we wish the closure was more secure.
Usage Timeline
Initial Usage
Condition: Excellent
It's about twice the size of the pocket-sized variant
The Pinch-Loc seal is easy to use and similar to their other reasuable bags
Good size for a standard size smartphone or sunglasses
2 Weeks of Use
Condition: Excellent
Silicone exterior easily collects hair, dust, and dirt
Inside is easy to clean but sticky like the outside, which is a problem if whatever you're storing tracks in dirt
Top is easy to shut but takes a few pass-overs to completely close all the gaps
Carabiner makes carrying on the outside of a pack simple
Versatile design works with food and small items that don't quite fill up a packing cube
Too much pressure on the bag can push the air out of the seal, which in turn opens up the pouch
Access the Pro Community Discussion
Get your questions about the Stasher Go Bag answered from our team and the Pro Community right here on the page. Plus, join discussions with other members about gear, guides, and more.
Other Organizers & Pouches Reviews