Rolling Square TAU Review
The Rolling Square TAU is a pocket-sized battery bank packing just enough juice to keep your phone going when there's no outlet around.
Our Verdict
Unlock the Pro Summary
Save time. Get access to brief summaries of our reviews so you can browse and make decisions more efficiently.
Pros
Portable size fits on a keychain
Flexible set of connectors (USB C, Micro USB, and Lightning)
Dock acts as a convenient key holder by the door
Cons
Small 1,400 mAh capacity
Battery and dock combo is big despite small charge capacity
Metal hook is finicky to open and lock
Technical Details
Weight (oz)

1.4 oz (39.7 g)

Dimensions

2.32 in x 1.77 in x 0.47 in (5.9 x 4.5 x 1.2 cm)

Manufacturing Country

China

Warranty Information
Full Review
Get up to 20% off Rolling Square • Join Pack Hacker Pro
Whenever we find ourselves in the scenic streets of a bustling city, we can't help but take a photo or two with our smartphones. By the end of the day, we have dozens of shots coupled with enough footage of sizzling street food to treasure the tasteful memories. Apart from storage, though, there's one other thing stopping us from taking more: battery life. This makes battery banks almost indispensable when traveling.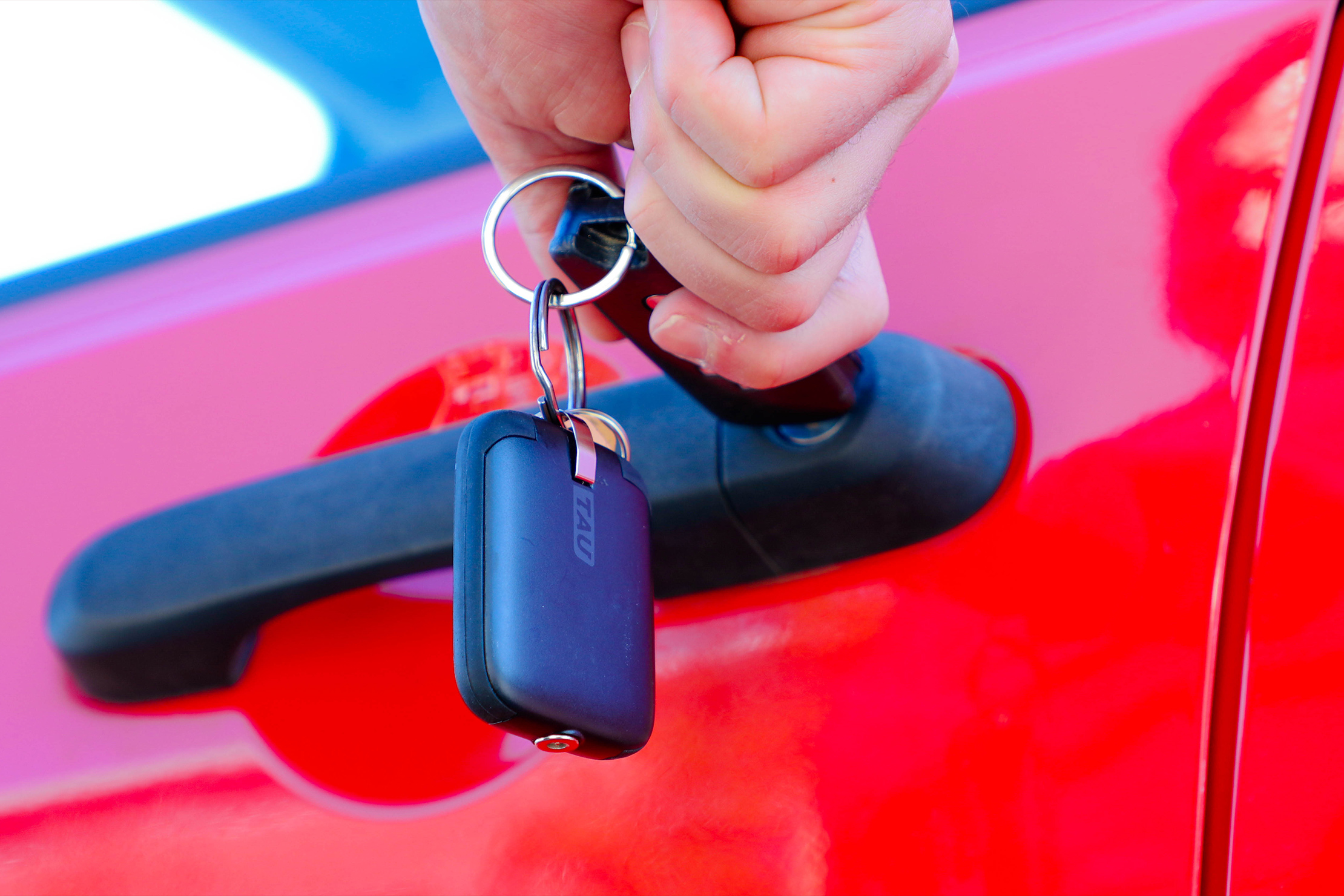 Battery banks are portable charging stations, and they come in all shapes and sizes to fit different needs. For Rolling Square, going small is the way to go, and they've really doubled down on this approach with the TAU. It's only a bit bigger than a car key fob, so it won't require a separate backpack or sling. It's also fairly easy to use day-to-day, courtesy of its magnetic dock and flexible set of connectors. Though, that small size comes with some downsides, which places the TAU in a special but fitting role.
Materials & Aesthetic
As with most small tech accessories we use, the TAU doesn't stand out too much. It's black, plastic, and square. But, here's the kicker: it fits just about everywhere. Translation: it's small, remarkably small for a battery bank. While the techy looks aren't unique, it's also not a very distracting gadget to hang off a keychain, being just a tad bigger than a car key fob.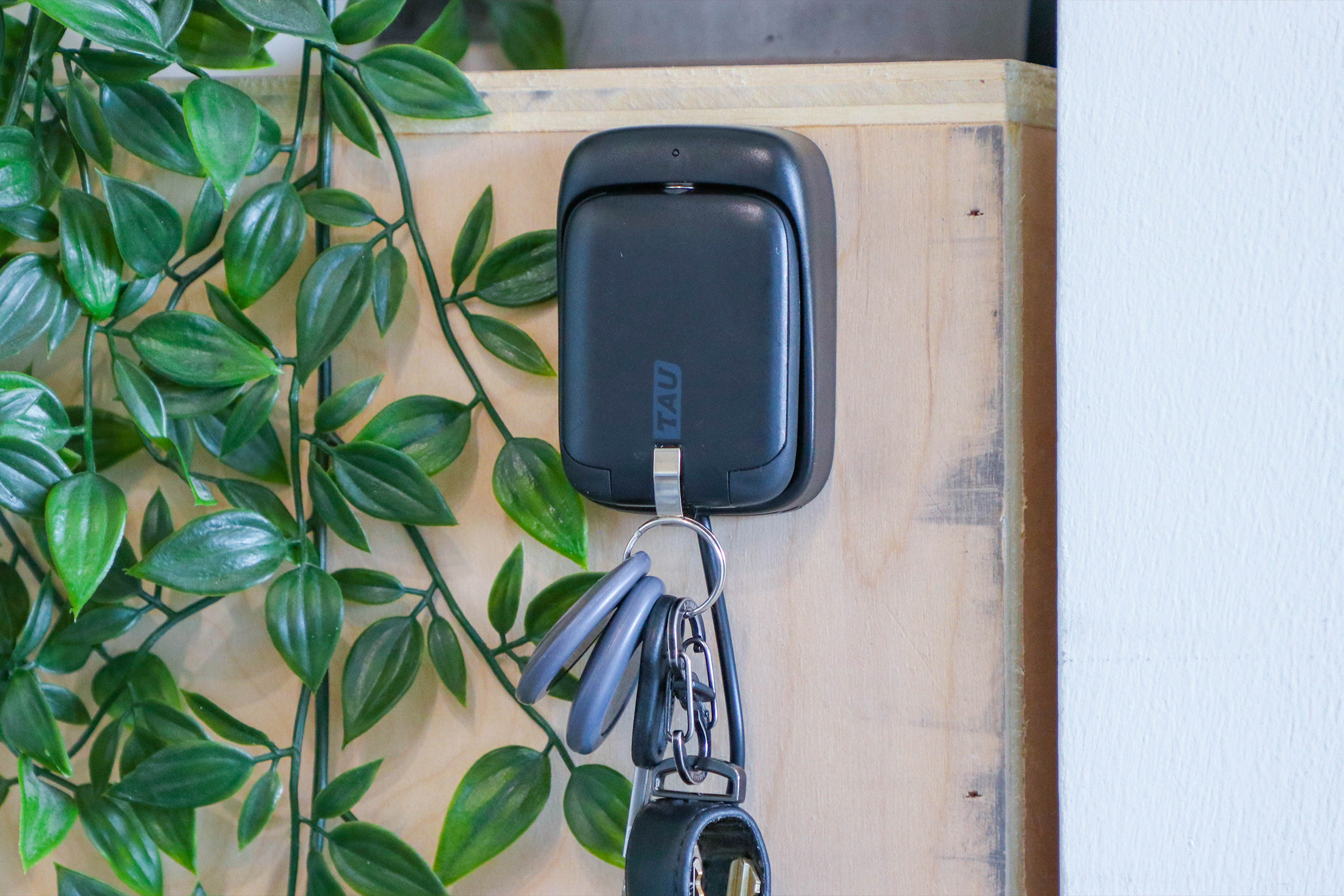 Okay, it might be a little weird having two fobs hanging off one keychain, especially if you're the type to hang one off a belt loop. That's a matter of taste, though. In our case, we keep our keys in our pockets or pants, so it's not a problem. Small as it is, the TAU dwarfs everything else on our Orbitkey Clip Organiser. Fortunately, the TAU's techy looks are on the smoother side of things.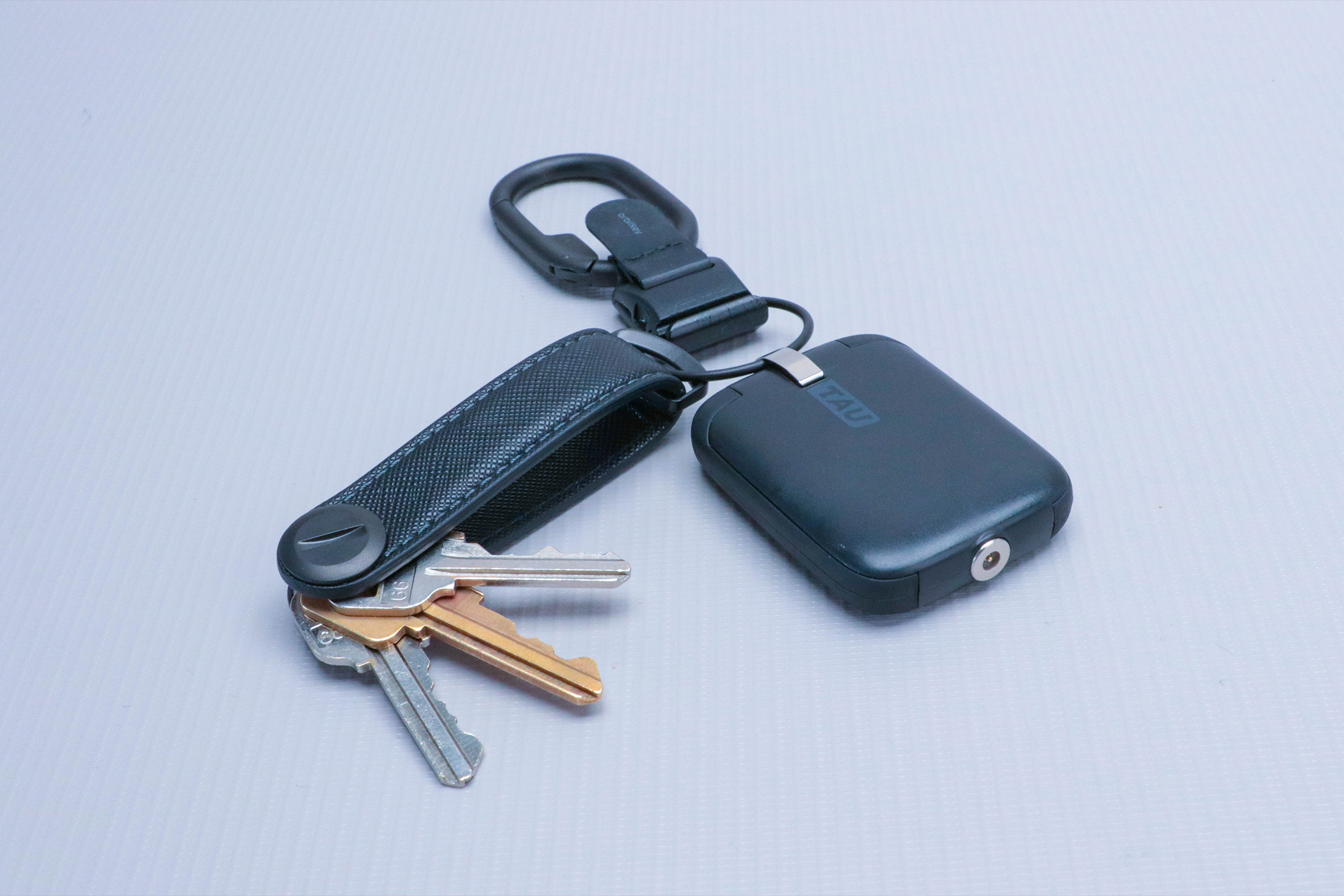 The pebble-like shape is easy to hold against the back of our iPhone with just one hand, though it is a bit dangly at the same time. It also lends the TAU a sleek profile, tastefully accented by a lone metal hook at the top. We also kinda dig how the TAU logo extends from this metal hook. It's subtle, but it plays well with the minimalist design.
Usage & Features
The biggest strength of the TAU is its small size. Whereas most battery banks range from modestly-sized 5,000 mAh capacities all the way up to 20,000 mAh high capacity ones and beyond, the TAU makes do with just 1,400 mAh. Here it is next to an Anker PowerCore Magnetic 5K and Anker PowerCore Speed PD Portable Charger. Capacity isn't a strict indicator of physical size, so it's still important to visualize just how the TAU stacks up against its fellow battery banks.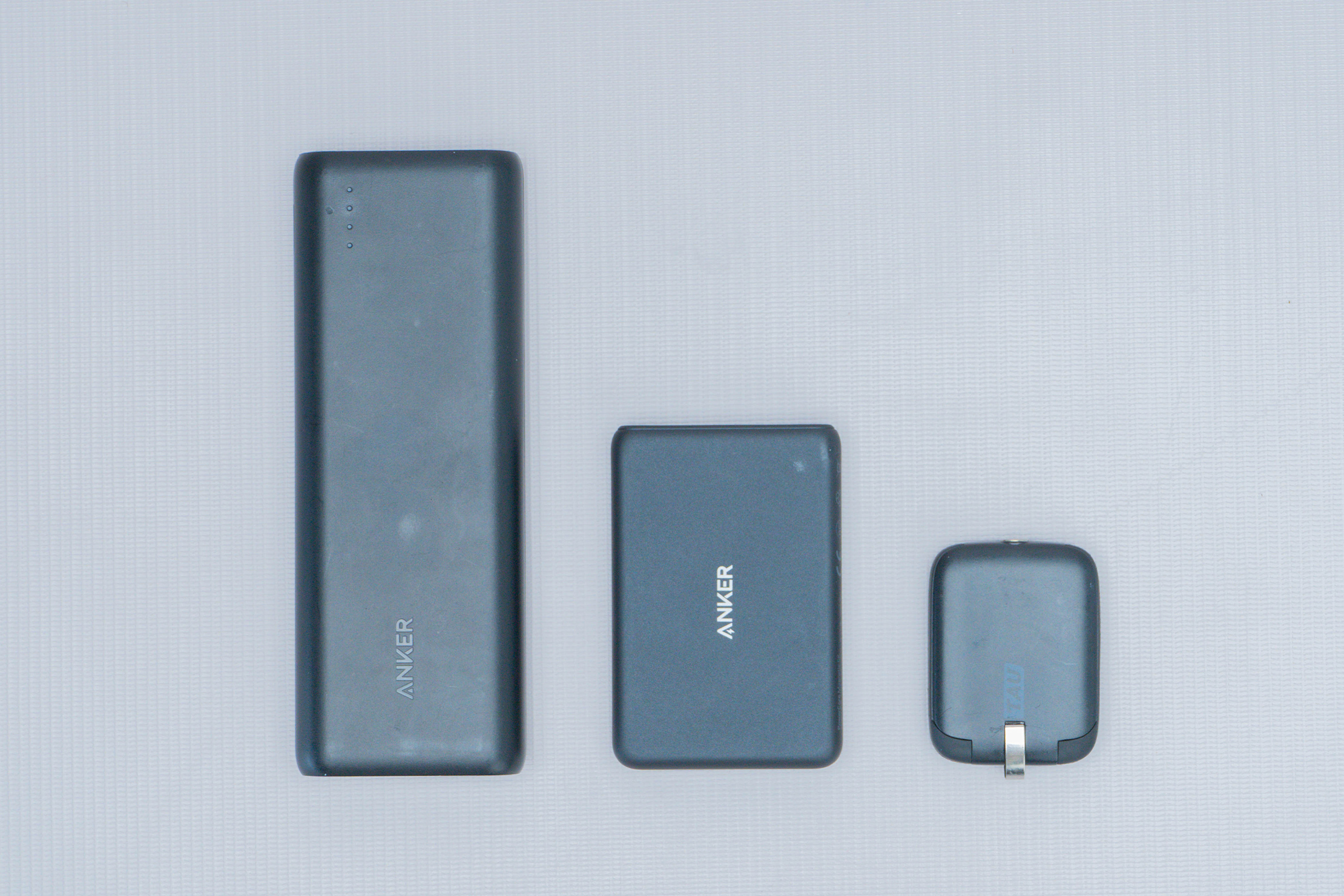 To put the TAU's 1,400 mAh capacity into better context, our iPhone 13 Pro Max has a 4,352 mAh battery. That's about a third of our phone's total capacity. This is okay, though, because the TAU isn't meant to be an outright charger replacement. Rather, it's for those emergency top-ups on the go.
Rolling Square makes the experience of using the TAU a thoughtful one. It comes with a dock that connects to the TAU via a magnetic prong at the bottom. The magnet is quite small, but the dock holds onto it well even when we shake it. The idea is that you mount it somewhere convenient where you can grab the TAU—and the keys attached to it—on your way out.
The dock itself is quite simple, with only an LED power indicator to signal its status. It's powered via an included Micro USB cable that connects to a port at the back underneath a panel that sticks the wall using adhesive or screws. This rear panel slips on and off the dock like the battery cover of a TV remote. This makes the dock easy to unmount from the wall when we need to take it on a trip, as the TAU cannot be charged directly with a cable.
The day-to-day process of docking, charging, undocking, and using the TAU is a relatively quick and smooth one. But, there are weaknesses in this process.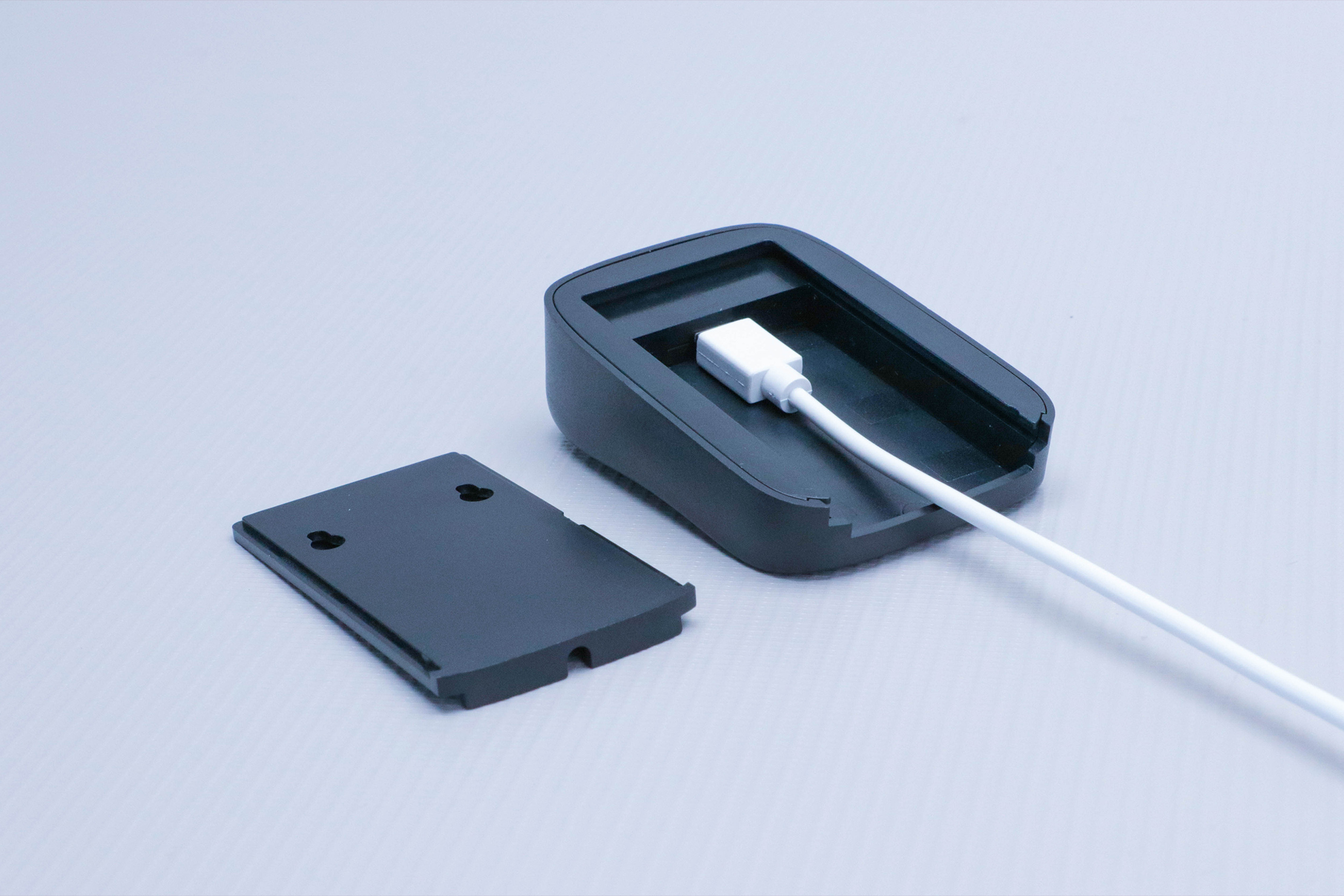 As we mentioned, the TAU cannot be charged directly via a cable and requires the dock to charge. While the dock does easily slip out of the rear panel, it's a bulky solution comparable in size to, say, a 5,000 mAh battery bank that doesn't require a separate dock. This extra bulk is not ideal for travel, and we'd rather just go with a bigger (and more powerful) battery bank.
It's also worth noting that the included cable for the dock isn't that long. It's about two feet long, which may or may not be long enough, depending on how far away the nearest socket or USB port is. Oh, and while the cable is included, we have to supply our own wall adapter.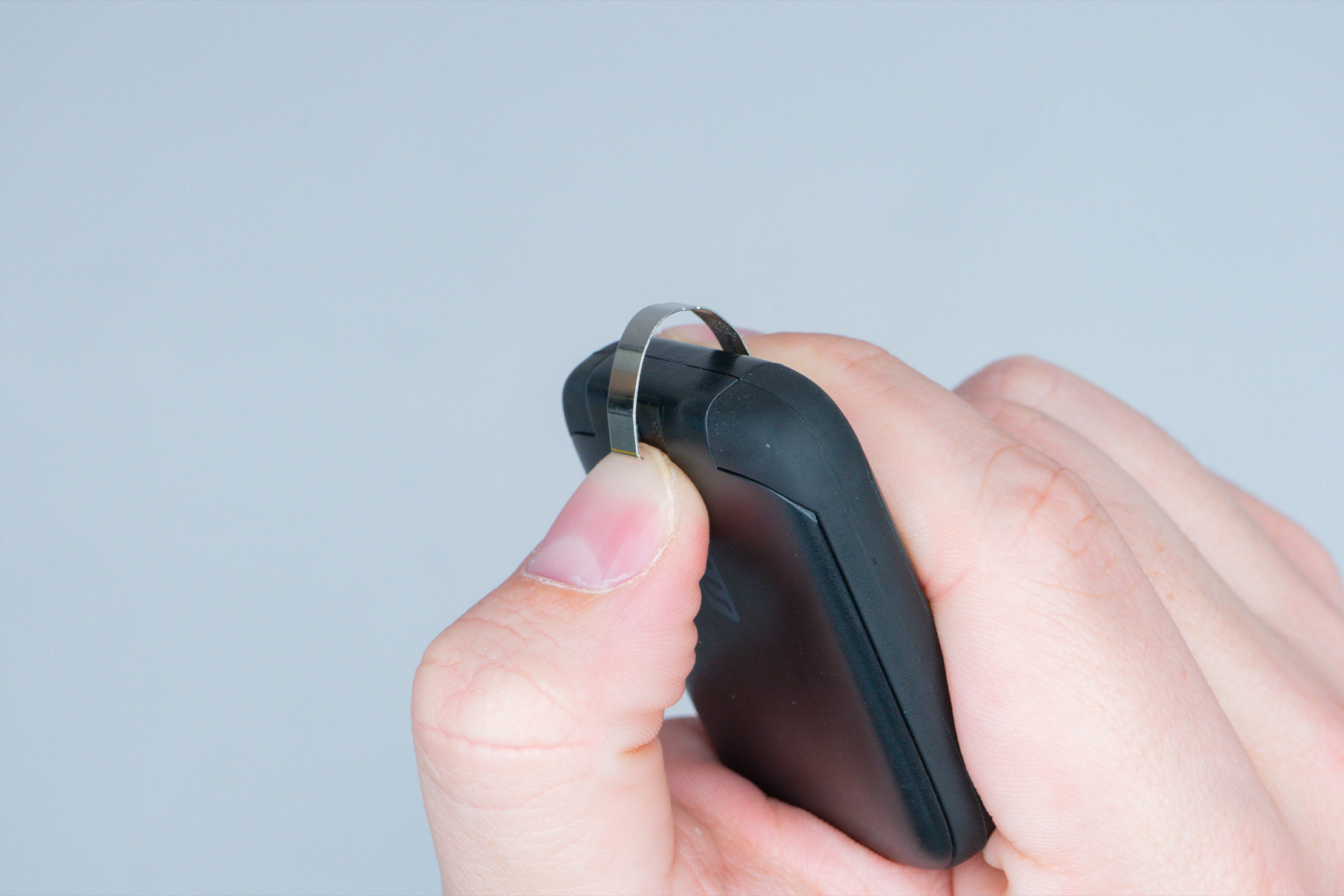 Next, the metal hook's locking mechanism is quite finicky to use. To open, you have to push it outward to unhook it from a tiny indent. Since the hook is held in place by sheer tension, it has to be held open while it's being attached to a keyring. Furthermore, the small indent is shallow enough that the hook sometimes unlocks accidentally, which makes us warier of the TAU than we'd like. In fact, the TAU fell off our keychain many times during the testing phase, way more than our acceptable standard of "never fall off at all."
Finally, there's the charging itself. The small 1,400 mAh capacity is only able to charge our iPhone 13 Pro Max by about 25%. Yes, that's less than what you'd expect from a 1,400 mAh battery charging a 4,352 mAh one. But remember, our iPhone is on (and therefore using juice while it's charging), and charging itself isn't a 100% efficient process, so there's gonna be some loss along the way. The printed power delivery spec on the TAU is quoted at 1A at 5V, so it's actually quite slow, sitting at a mere 5 watts.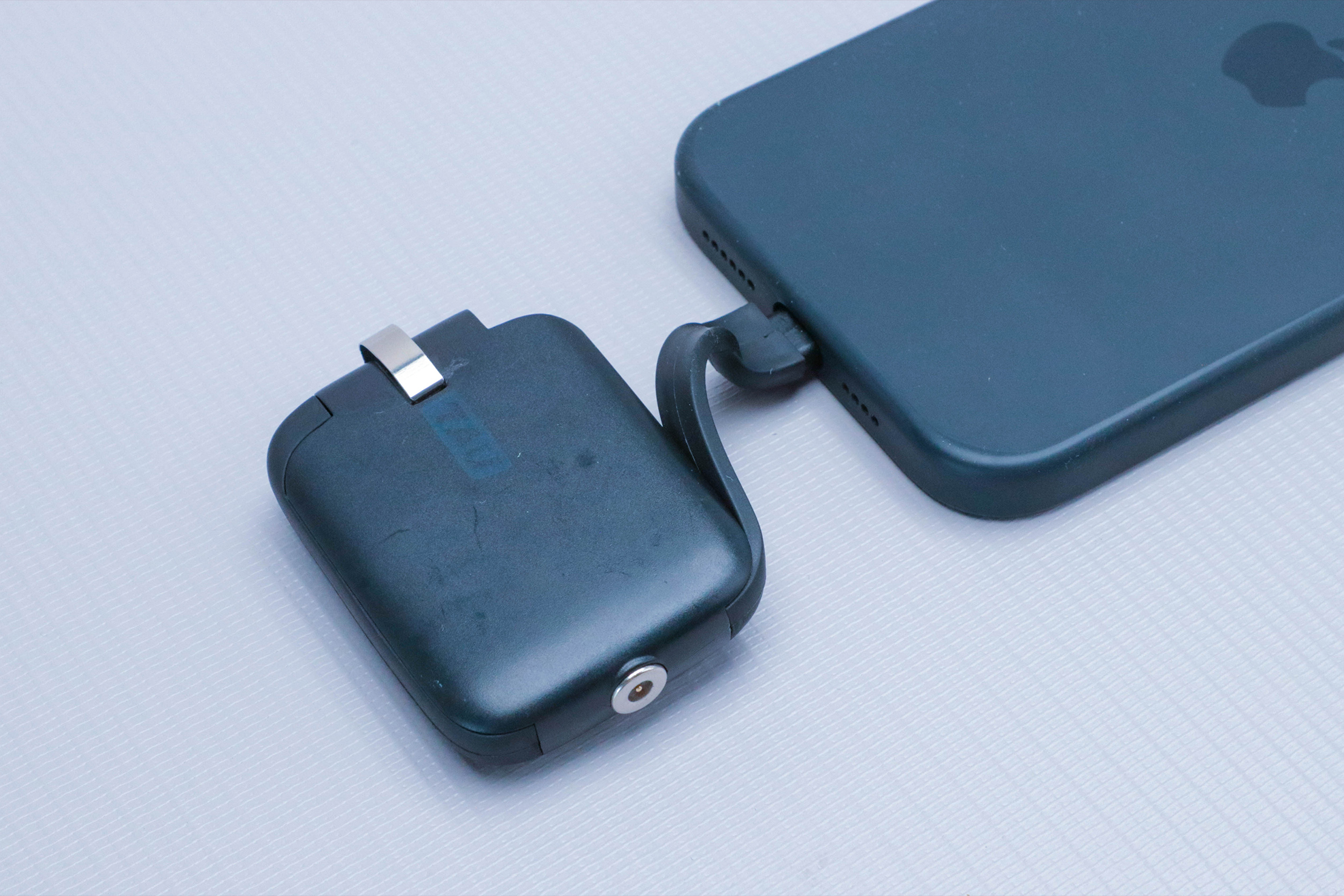 All of that said, 25% is nothing to scoff at when the alternative is a dead phone while you're in the middle of nowhere. Your mileage may vary depending on what phone you're using and how big its battery is. Regardless, the small top-up is quite handy in an emergency situation. In day-to-day use, just having the pocket-sized TAU as an accessory conveniently attached to our keychain—always charged through the magnetic dock—is reassuring.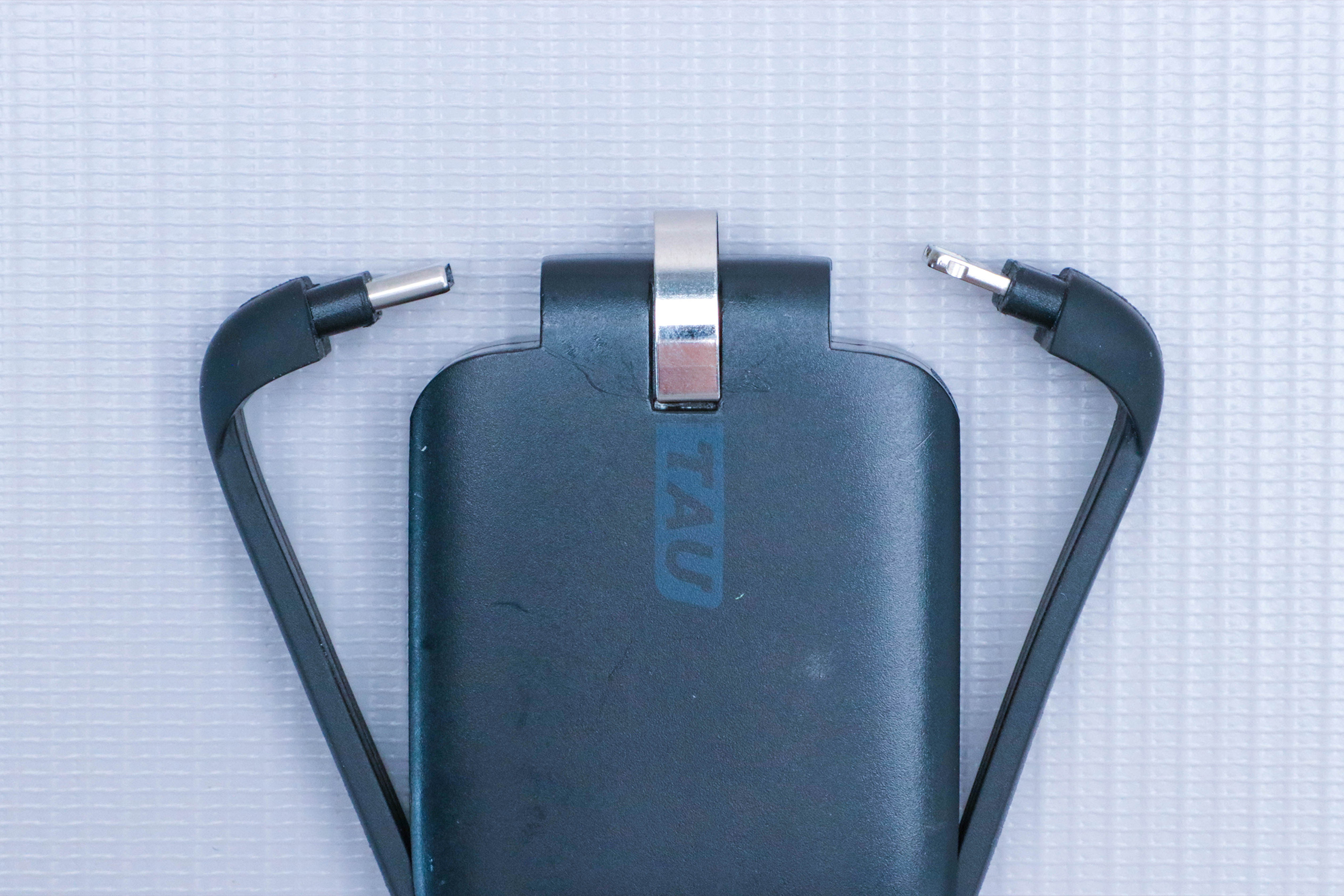 The TAU's quite flexible and easy to share, too. It's equipped with a fixed set of connectors that covers an extensive range of devices. This includes USB Type-C, Lightning, and Micro USB. We're particularly fans of the Lightning/Micro USB combo connector since it's a neat 2-in-1 cable. We've seen Rolling Square use the same connector in their inCharge 6 and inCharge X charging cables, and it's proven useful each time we needed it since.
The left cable peels away from the side to reveal the USB Type-C cable, its connector hidden away inside the housing at the top. The right cable peels away in the same fashion, but this one has the Lightning/Micro USB connector. We have one gripe with this arrangement: the connectors are pointing upwards, arguably the most crowded portion of a busy keychain.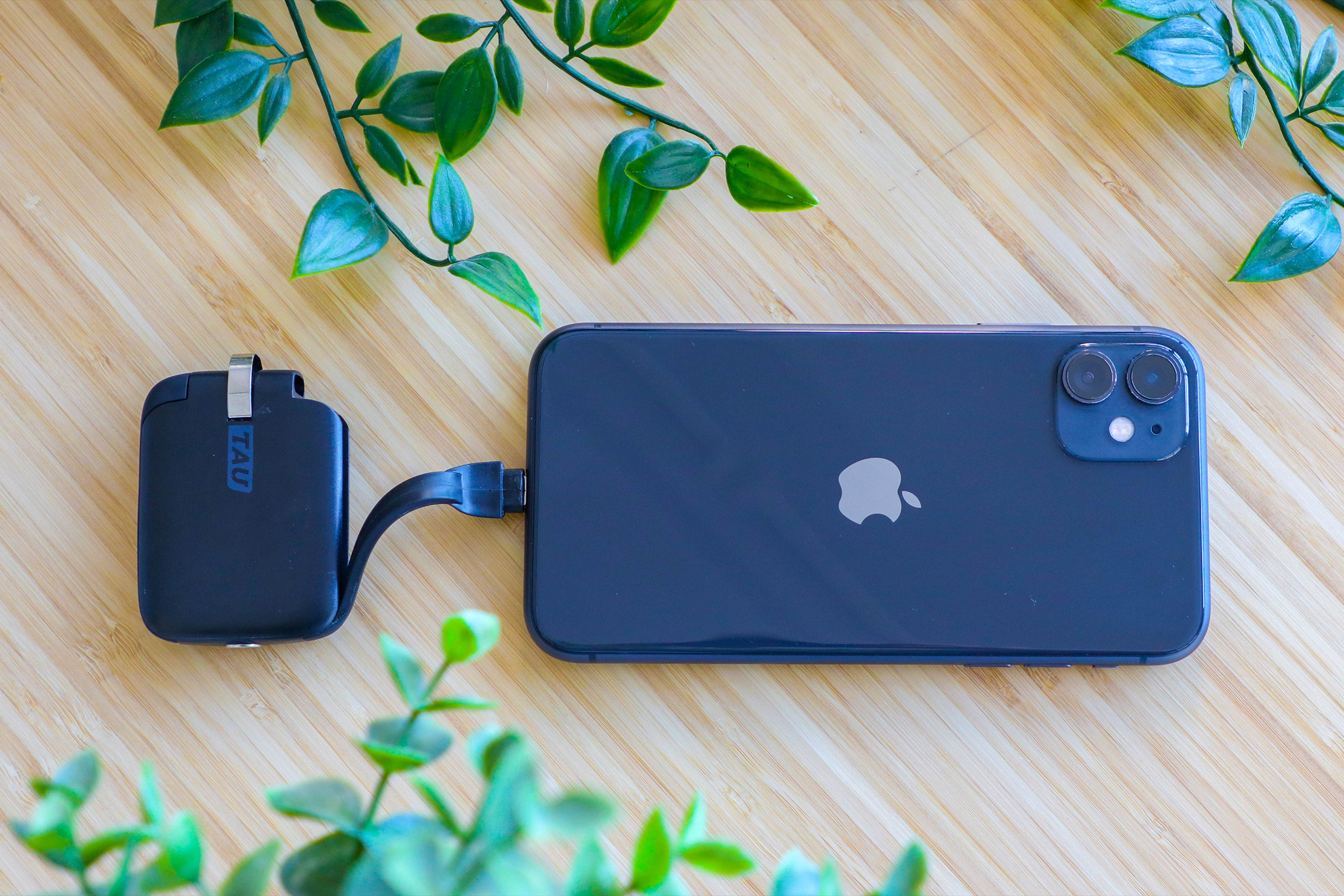 The small size of the TAU is an interesting take on the classic battery bank, going all-in on portability instead of capacity. It doesn't quite cut it as a substitute for a high-capacity one, and it's a bit rough around the edges in areas like the metal hook and the dock system. Nonetheless, the TAU fulfills its role as a backup battery bank and is a nice pocket-sized boost when you're far from a socket.
Usage Timeline
Initial Usage
Condition: Excellent
Comes with its own charging dock
About the size of a car keyfob
The 1400 mAh battery is small, so it's not a full charge for most smartphones
2 Weeks of Use
Condition: Excellent
Dig the small form of the battery bank
Charges an iPhone 13 Pro Max about 1/4 of the way, so it's best for emergency charging
The keyring doesn't hold super well—it fell off and dropped to the floor a few times during testing
Wall charger works well and integrates with a daily routine, though the cord needs to be managed if you place it on the wall
Access the Pro Community Discussion
Get your questions about the Rolling Square TAU answered from our team and the Pro Community right here on the page. Plus, join discussions with other members about gear, guides, and more.
Other Productivity & Tech Reviews