REI Shower Roll (Small) Review
Despite its name, the REI Shower Roll (Small) is big and bulky. While that's not great for packability, it can fit a ton of toiletries for at home or on the go.
Our Verdict
Unlock the Pro Summary
Save time. Get access to brief summaries of our reviews so you can browse and make decisions more efficiently.
Pros
Enough storage for most of your daily toiletries
Just-right level of organization
Hangs up
Cons
This thing is large (especially for a "small" size)
Gets extra bulky when fully packed (doesn't roll tightly)
Mirror isn't the best quality
Recent Pack Hacker Video
Technical Details
Weight (oz)

13 oz (368.5 g)

Dimensions

6 in x 9.75 in x 4 in (15.2 x 24.8 x 10.2 cm)

Rolled

Notable Materials

Ripstop Nylon

Manufacturing Country

Vietnam

Warranty Information
Full Review
Arguably some of the most important things you pack when you're traveling are your toiletries. After all, they keep you looking and feeling (and smelling) your best—so it's important to have a Dopp kit that can keep them all organized.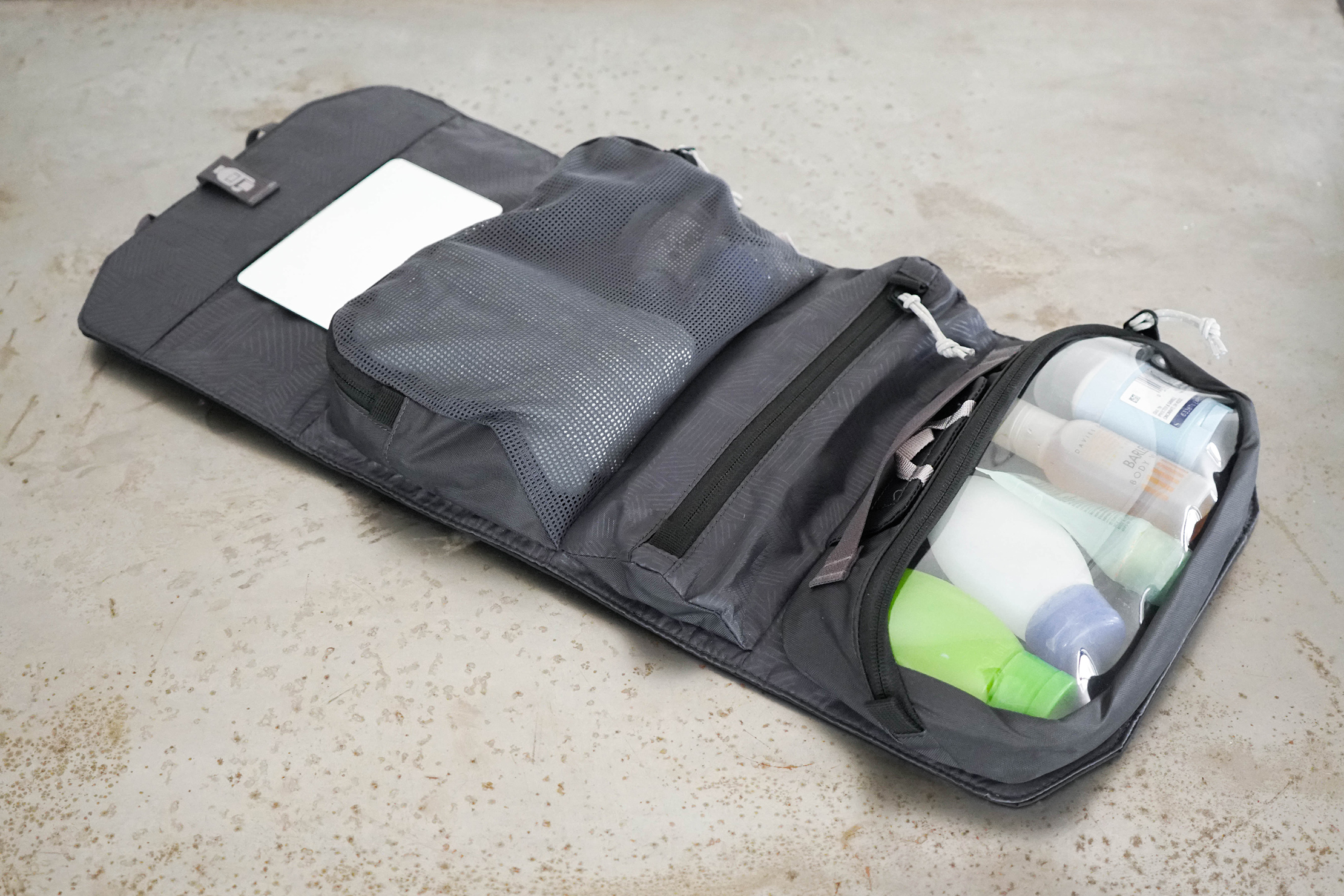 Enter the REI Shower Roll (Small). It has a unique design that mimics a tool roll—you just slip in all of your toiletries, roll it up, pack it away, and enjoy all the comfort of your bathroom with you wherever you go.
Now, the REI Shower Roll (Small) is convenient for taking your toiletries on-the-go. But we've also been using this bag every day around the house for the last two months, taking it to and from the bathroom each morning and night. Do we have some things to say? Yes. Should we dive in? Also yes.
Materials & Aesthetic
The REI logo appears on the front of the Shower Roll on the right-hand side—it's small and subtle, which we appreciate. This branding is also part of what gives the roll its outdoorsy aesthetic. (The logo features a tree and mountain range, so how much more outdoorsy can you get?)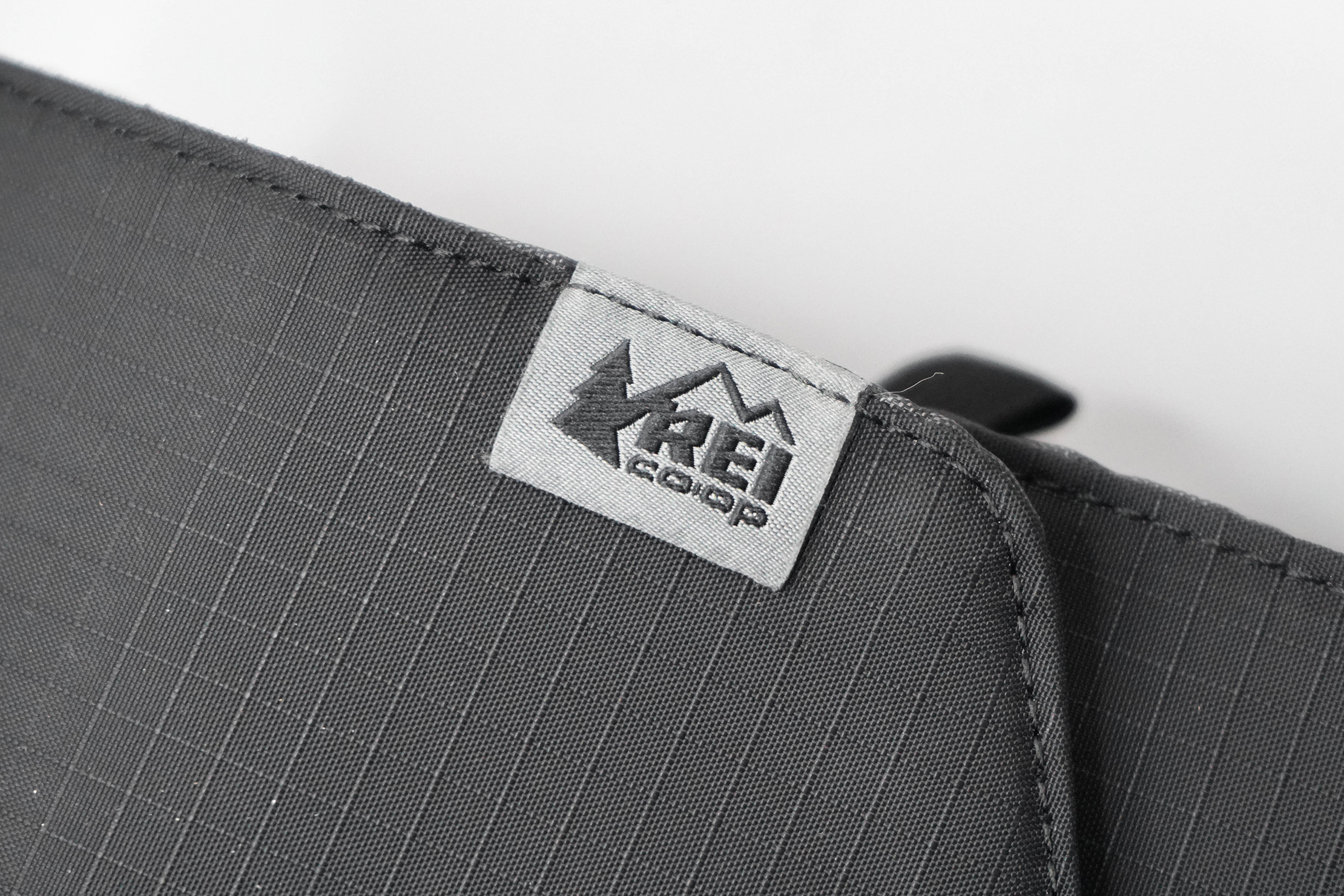 At the time of this review, the REI Shower Roll (Small) is available in two colorways—Canyon Ridge and Willow, which both sport quite the outdoorsy vibe. But this selection could change depending on when you're reading this review—for example, we've been testing with a Black colorway, and like that it fits in with more settings.
Now, before we get too far, we need to mention that the "small" in REI Shower Roll (Small) is a bit misleading—and by a bit, we mean a lot. This thing is big. And stuffing it to the brim makes it even bigger (and bulkier) which can be hard for when you're trying to pack it along with your other gear. The trade-off here is that it holds just about every toiletry you need (it has for us, anyway). Of course, it all depends on what you typically pack for toiletries—it could be just enough storage or still too little.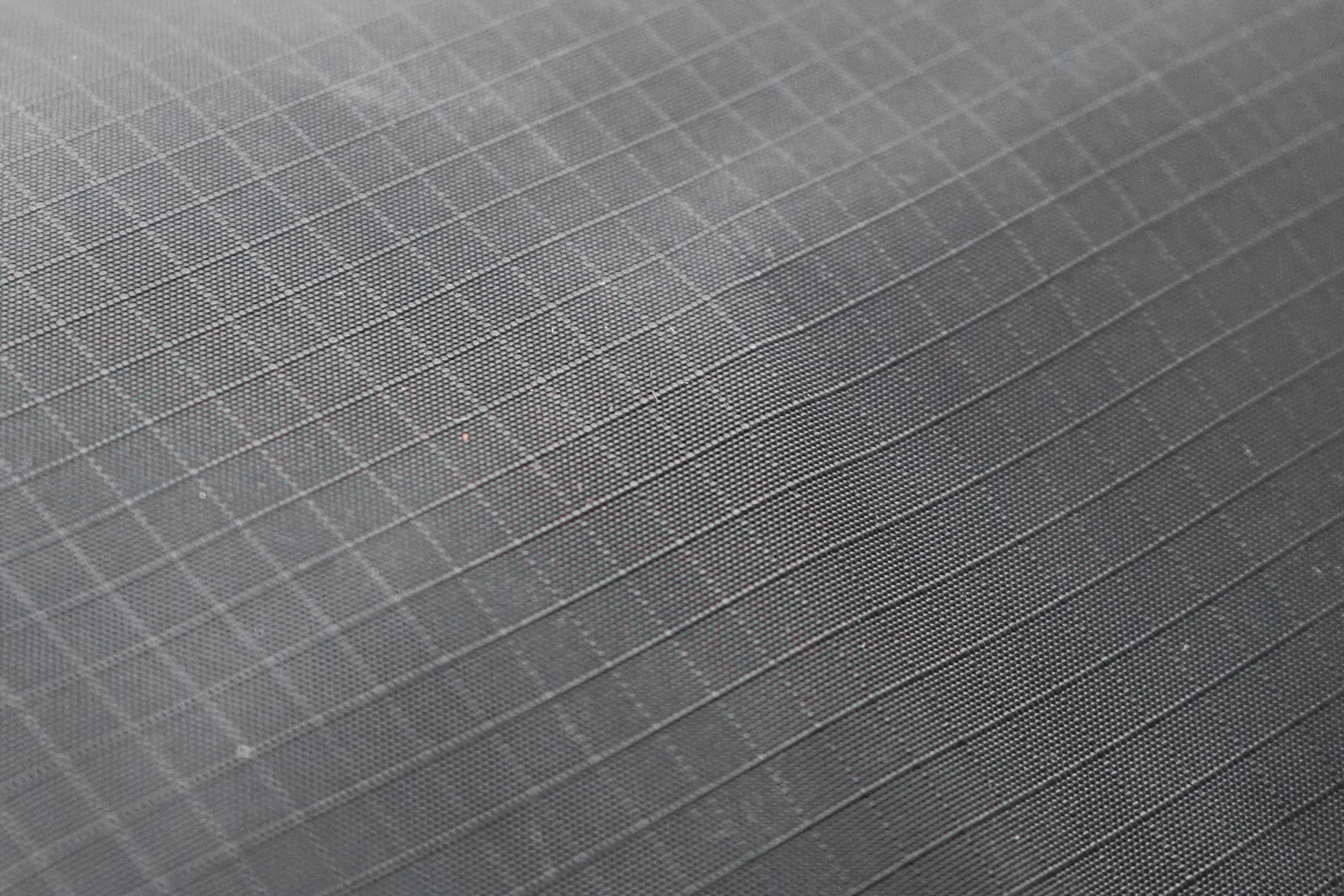 This Shower Roll is made with ripstop nylon which has proven to be pretty water-resistant in our testing—so you can keep this thing near the sink and shower and not have to worry if it gets a little wet. And if it also gets a little dirty, it's easy to wipe off, which we appreciate.
You'll also find some YKK zippers on here—#5 reverse coil YKK zippers, to be exact. And as expected, they've been working smoothly throughout our testing.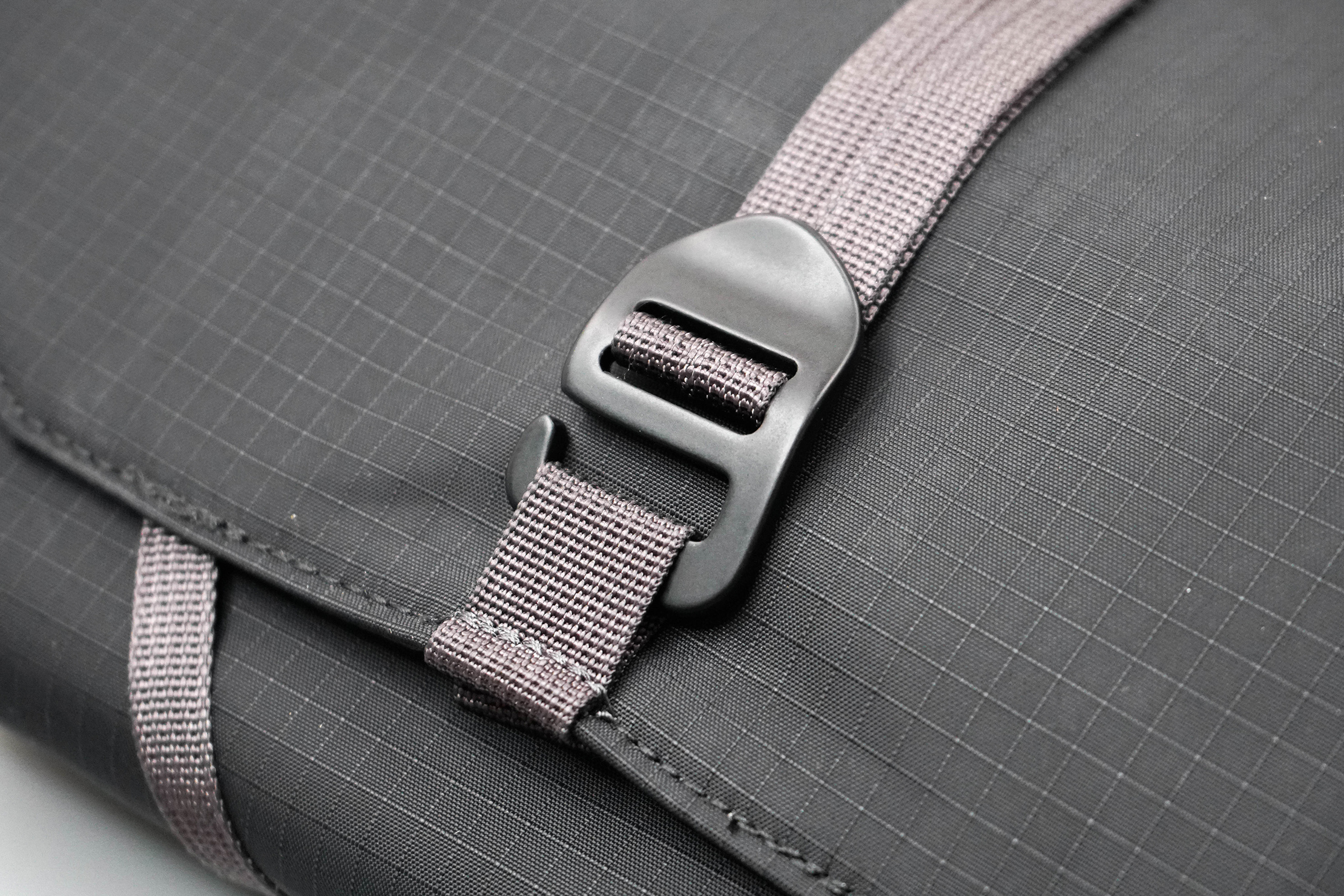 And to wrap up materials, there's also some aluminum hardware on this thing, in the form of an external G-hook that keeps it secure and can be used to hang up the Shower Roll. It's been working well for us so far in our testing.
External Components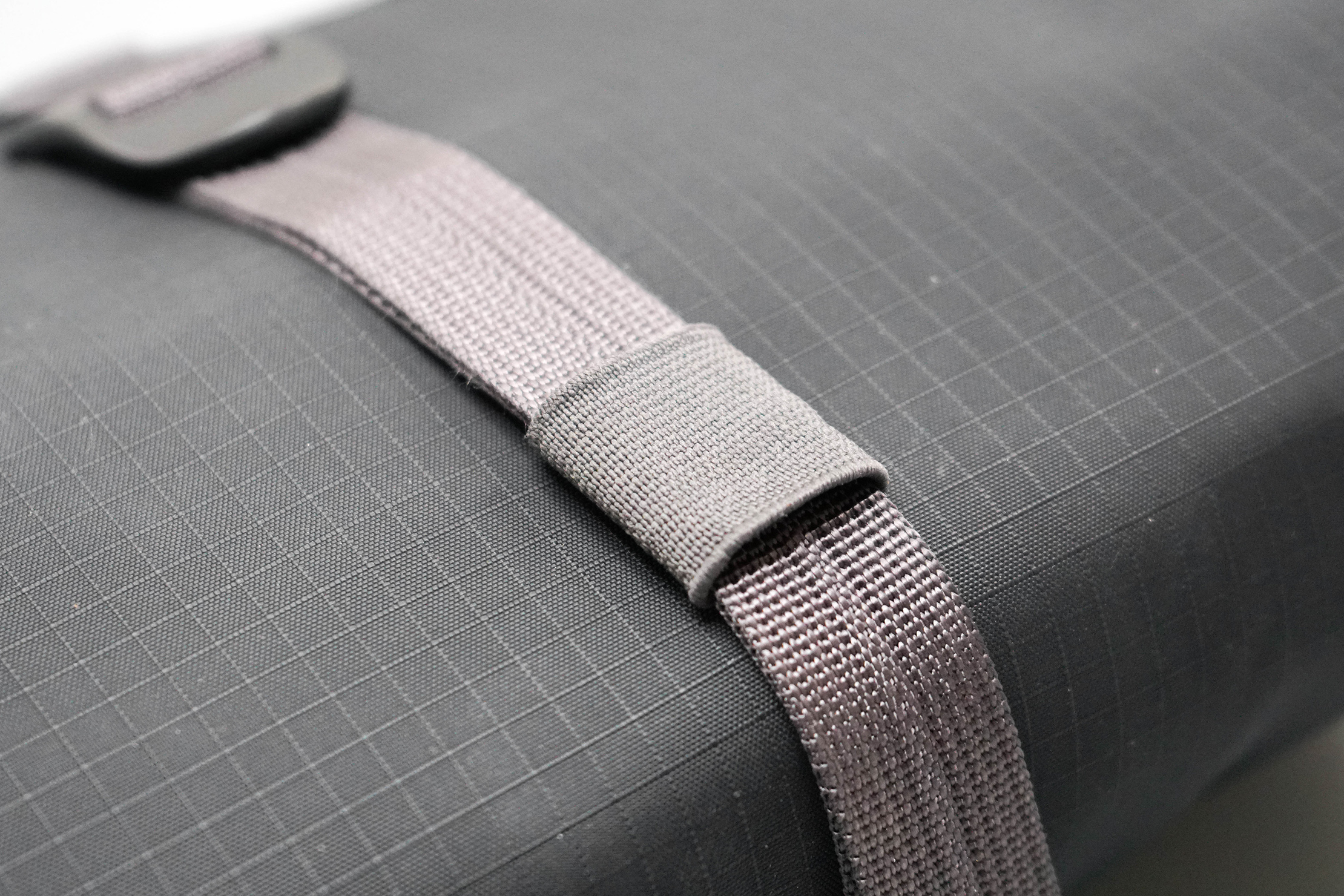 There's not too much going on with the outside of this Shower Roll—and there doesn't need to be. Most of the utility comes from the inside. What you will see is the external hook system which includes a long, adjustable strap, with an elastic keeper to ensure you're getting a #DangleFreeExperience all the way down to your Dopp kit. There's a G-hook at the end that slips into a loop to keep the roll closed—it feels sturdy in the hand and we haven't had any issues with it unhinging during our testing, which is good. Initially, we were not excited about having to constantly roll and unroll this kit to get inside, but it actually offers pretty easy access—it's just a quick unfold.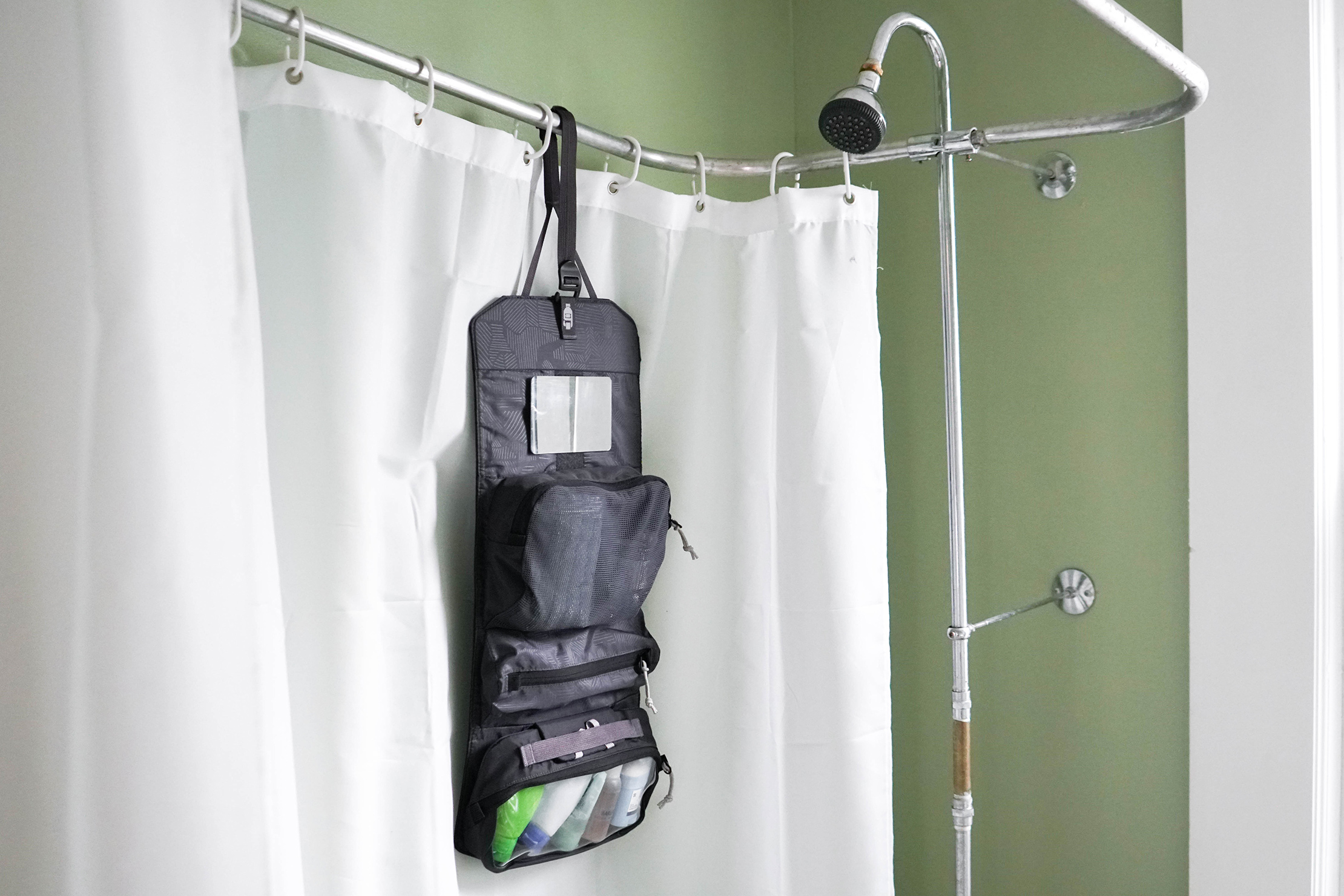 The hook system is also great for when you want or need to hang the bag up. There's a loop on the inside at the very top with a picture of the G-hook on it (…in case you forget where it goes). Just slip the hook through there and hang. Plus, its height is adjustable—you can tighten the strap to raise the whole bag (toward whatever you're hanging it on) or loosen it to drop it down.
The nice thing here is that most of the pockets are accessed at the top, so you can still get inside them when the roll is hung up—and you don't have to worry about our stuff falling out. We appreciate this functionality. The compartments in some other toiletry bags we've tested are not as easy to use when hanging up.
Inside the Kit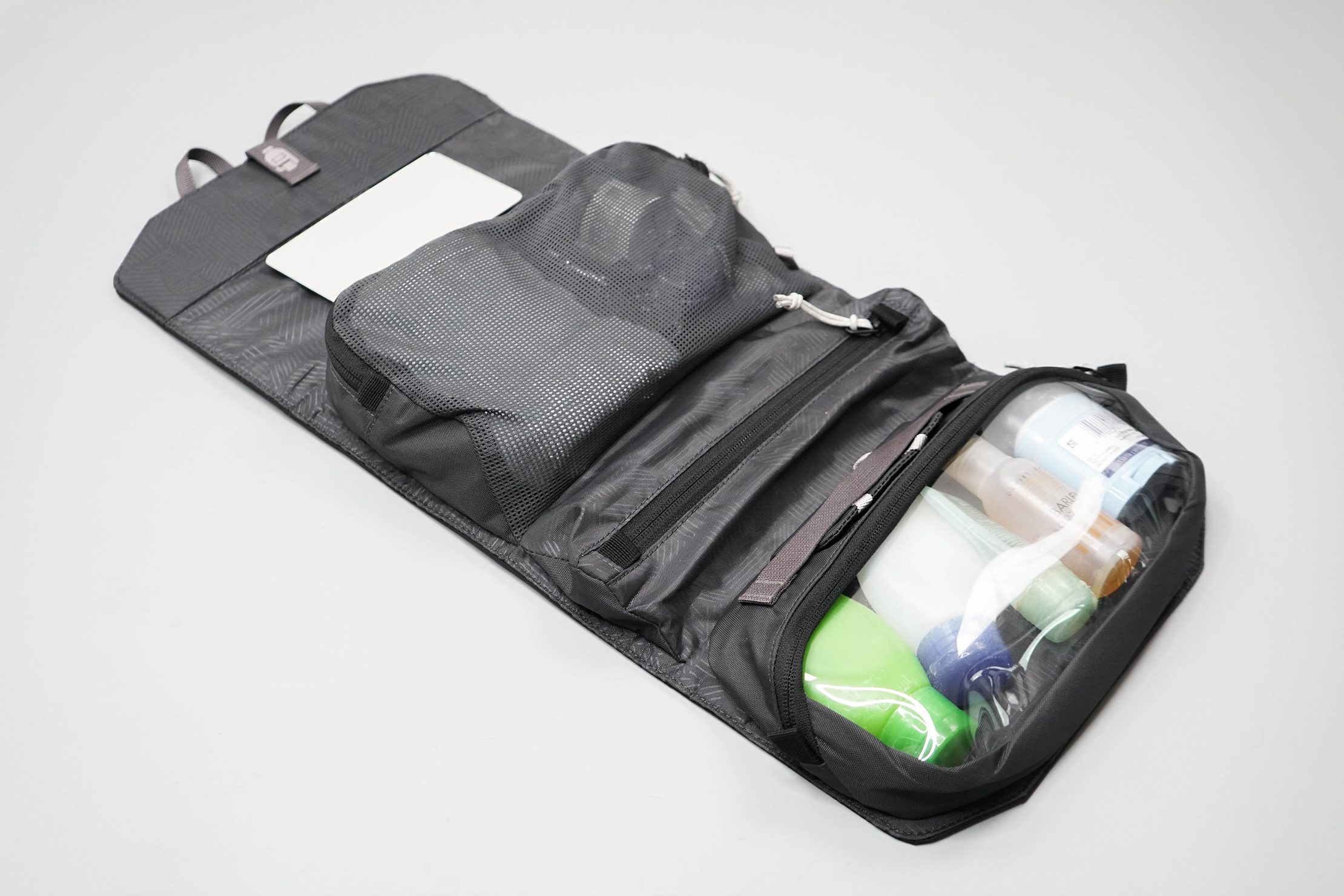 When it comes to organization, Dopp kits tend to vary—some have a pocket for every individual toiletry (like the Gravel Explorer PLUS Toiletry Bag), while others are an empty bucket free-for-all, like the Topo Designs Dopp Kit. The REI Shower Roll (Small) falls somewhere in between. For us, this is the just-right amount of organization, but your mileage may vary based on your specific items.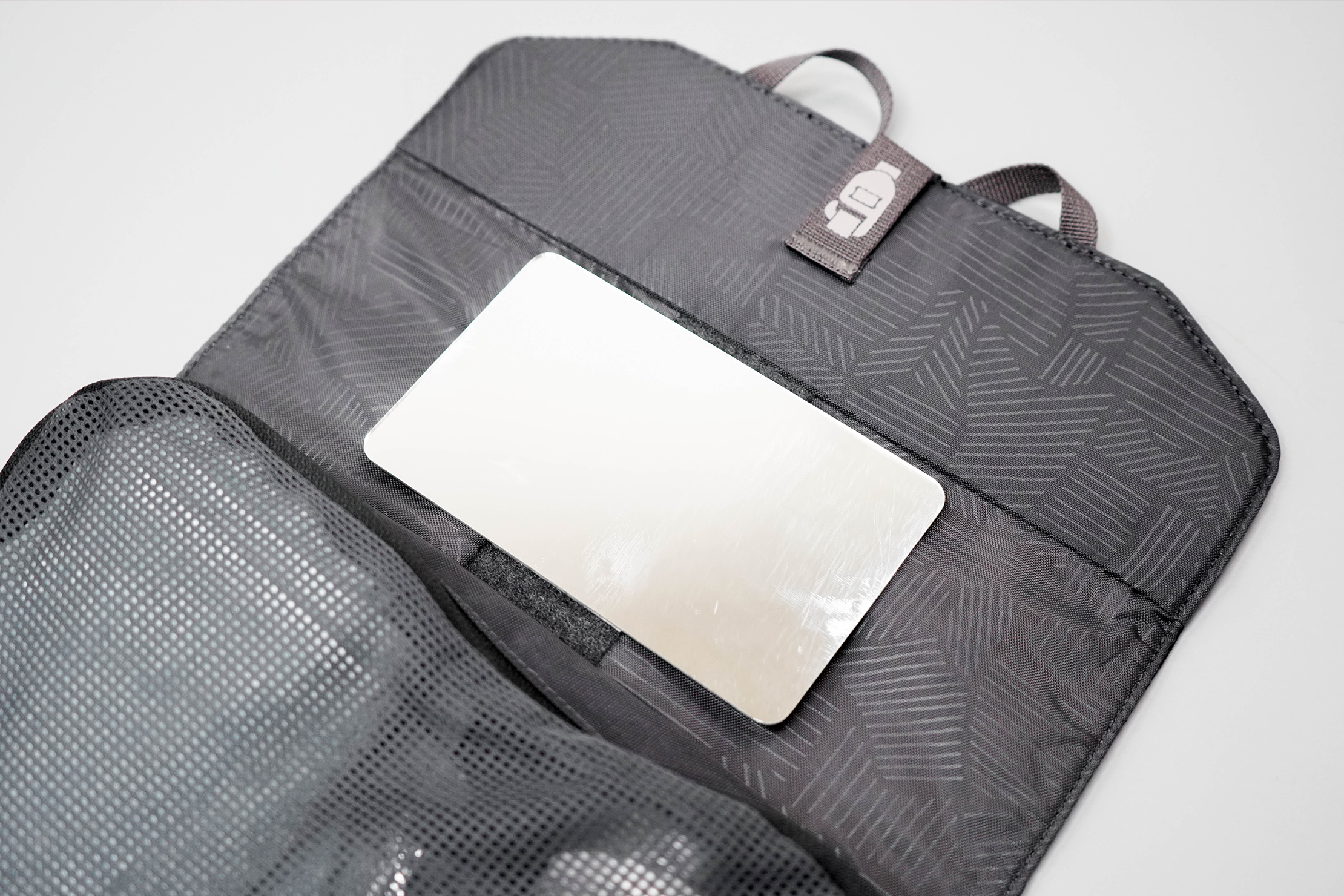 When you unroll this thing, you'll find four sections. On the top flap, there's a small mirror inside of here. It's secured by a line of velcro on the backside so you can attach and detach it as you please (for shaving, tweezing, or any other grooming that it may be convenient for).
It's made of a more plastic material which gives it some flexibility—and where it's located, it doesn't get in the way when you close the roll or inhibit getting into any of the pockets. But it's not the highest quality mirror as it's not super clear/reflective. That said, it comes in handy—it works well enough when there's not another bigger/better mirror around (like if you're camping, for example).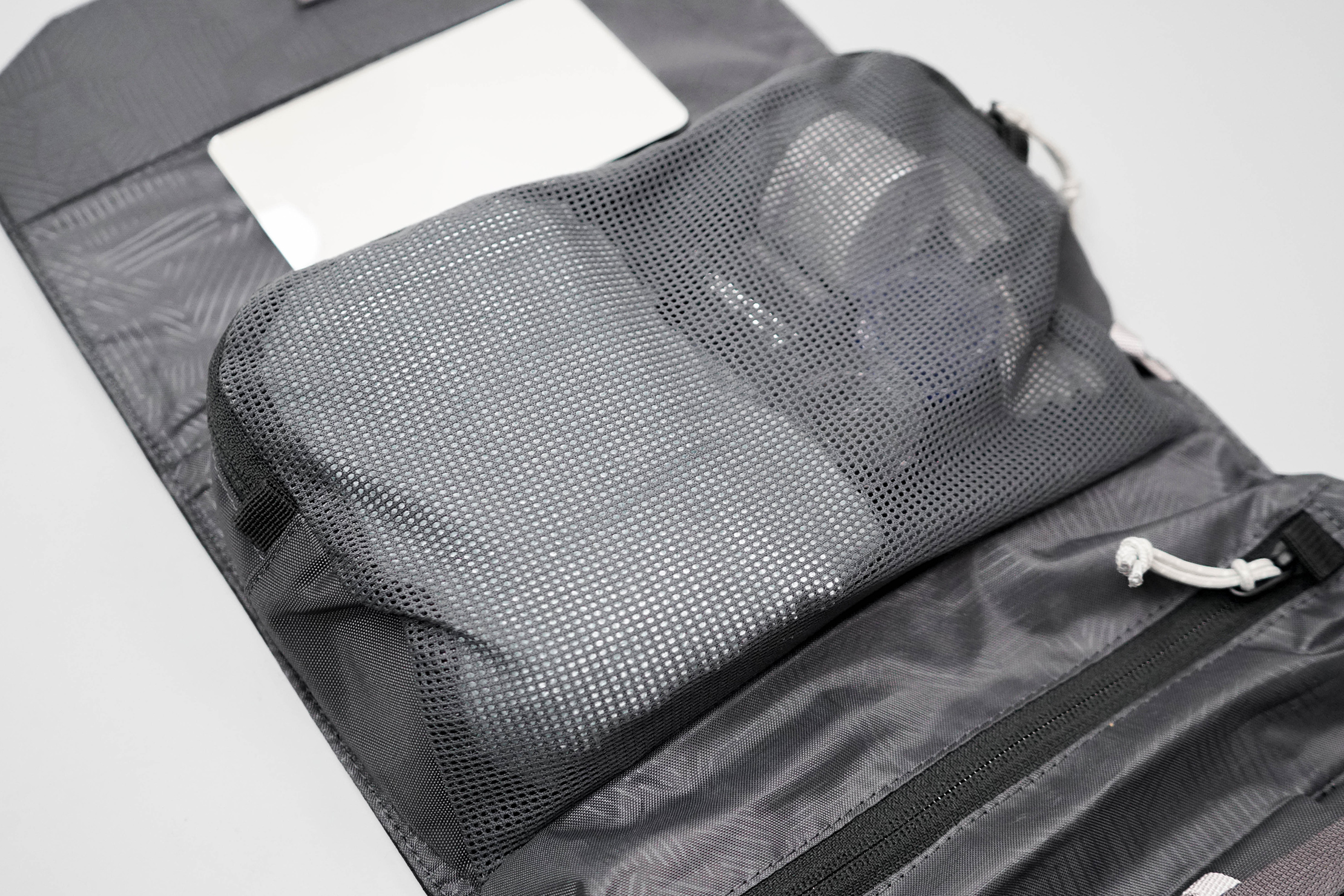 Then there are three compartments—none of which have any internal organization. The first is a mesh pocket at the top of the roll, just below the mirror. It's pretty big with some built-in dimension. And the mesh has a little bit of stretch to it. We've been using it as a kind of catch-all for our more miscellaneous toiletries. Things like Fulton & Roark Solid Cologne, hair pomade, a comb, lip balm, nail clippers, etc fit in here no problem. However, since there's no organization to it, everything you keep in here will get jumbled around when you're moving the roll—which is something to keep in mind.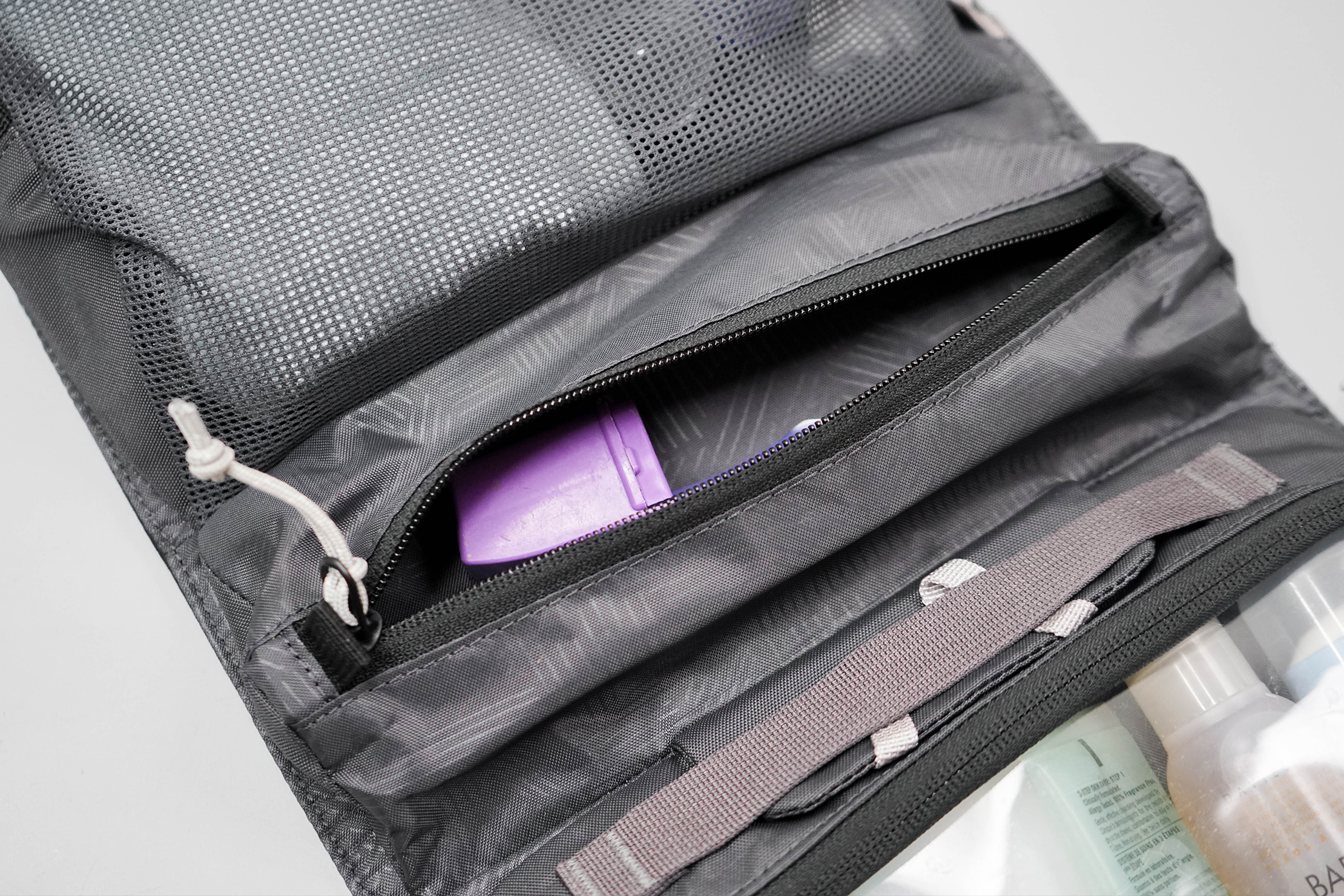 In the middle, there's a zippered pocket that's big enough to fit a full-size tube of toothpaste along with two toothbrushes. This is great if you are looking to use one Dopp kit for two people and don't have to worry about any liquid allowances. That said, if you are putting your toothbrush inside, placing some kind of protector on the head will help prevent the bristles from brushing against anything you don't want them to.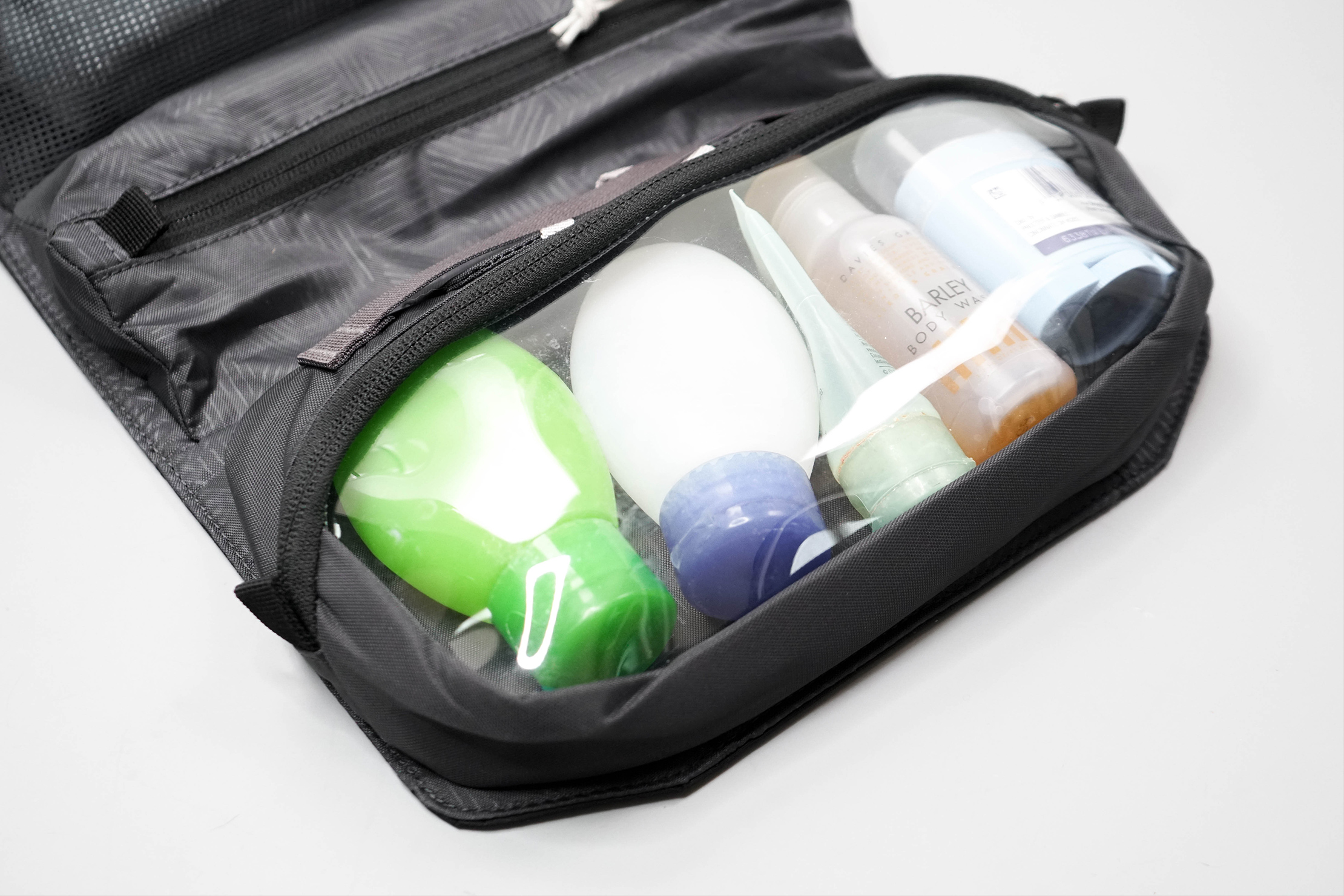 And lastly, there's the clear-windowed pouch at the bottom. You can use this to store all your liquids—your shampoo, conditioner, body wash, a stick of deodorant, etc. It's made of PU (polyurethane) material that's more water-resistant than the other pockets, so it does a better job of keeping liquids out (or in, if something inside spills). Especially compared to the mesh on the top pocket (duh).
You can also detach this compartment if you are looking for a more minimal carry (say if you're going on a quick trip), making it a kind of modular system. It's secured in the roll by velcro and a small stay that slides under a sleeve on the back of the pouch. This is also great for if you're going through airport security, as you can just remove this compartment and use it as your 3-1-1 pouch, and not have to deal with the entire Dopp kit. There's even a convenient handle on top that you can carry it by.
Durability & Testing
We've been using and traveling with the REI Shower Roll (Small) for about two months. Like we said before, this thing is big—the size/bulkiness hasn't been as big an issue when testing around the house since we're not having to cram it in a pack or suitcase every day. But it becomes more of an issue when trying to pack it up, like for a short trip up to Northern Michigan that we took—it takes up quite a bit of space in our packs. But that's why the clear-windowed pouch is so handy—if you're going on a short trip like this, you can always detach it and use it for just the essentials. It's smaller and less bulky, so it takes up much less space in your bag.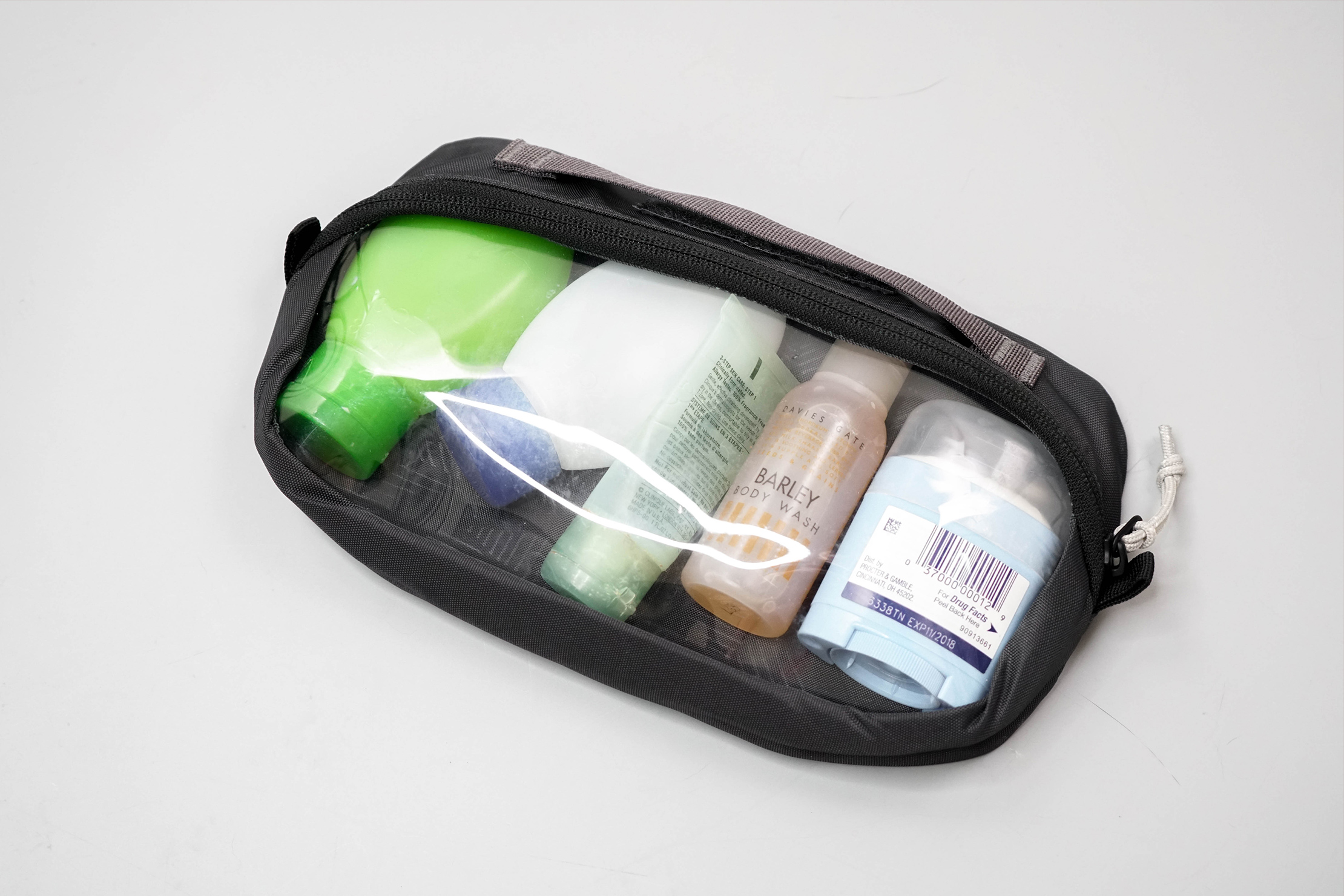 That said, we do like that the Shower Roll holds just about all the toiletries we need to keep fresh, so we don't have to sacrifice any personal care routines while on the road. And it has a good amount of organization—our toiletries aren't bouncing around in open space, but there are not too many small compartments either. One of the handiest features has been the ability to hang this thing up. We've found ourselves doing so whenever possible since it gives us quick and easy access to our stuff.
Durability wise, this Shower Roll is holding its own—no damage to report.
Usage Timeline
Initial Usage
Condition: Excellent
This is basically a packable medicine cabinet including a small mirror
The variety of pocket styles, one mesh, one solid fabric, and one water-resistant
Rolling strap can be used to hang it up
2 Weeks of Use
Condition: Excellent
A little surprised by the big and bulky size of this Dopp kit—especially for being the "small" size. It does, however, fit just about all of our toiletries.
1 Month of Use
Condition: Excellent
It works great for hanging up. And it's height-adjustable—tighten the strap to raise the whole bag up (toward whatever you're hanging it on) or loosen it to drop it down. If you can get Shower Roll high enough, you'll have a built-in, hands-free mirror wherever you go (although it's not the best mirror around).
2 Months of Use
Condition: Excellent
Took this on a short trip to Northern Michigan. The bulky size makes it a little difficult to pack. (You could remove the clear-windowed pouch and just use that if you're packing minimally.) Durability-wise, everything is looking good. Nothing new to report.
Access the Pro Community Discussion
Get your questions about the REI Shower Roll (Small) answered from our team and the Pro Community right here on the page. Plus, join discussions with other members about gear, guides, and more.
Other Organizers & Pouches Reviews