Quechua NH Escape 500 Review
You can see where Quechua cuts corners on the budget-friendly NH Escape 500 Backpack, yet it still performs well for shorter trips of all varieties.
Our Verdict
Unlock the Pro Summary
Save time. Get access to brief summaries of our reviews so you can browse and make decisions more efficiently.
Pros
The reinforced and water-resistant to handle the knocks of travel
Dual water bottle pockets can handle large bottles
Budget-friendly zippers and buckles have held up well
Cons
Zipper pulls can be hard to grasp
Pack doesn't retain its shape very well when not fully packed
Some of the pockets feel like add-ons and don't have a specific use
Recent Pack Hacker Video
Technical Details
Capacity

32l

Weight (lb)

2.43 lb (1.1 kg)

Dimensions

19.7 in x 11.02 in x 9.84 in (50 x 28 x 25 cm)

Notable Materials

Polyester, Polypropylene, Polyurethane, SBS Zippers

Manufacturing Country

Tunisia

Laptop Compartment Size

17"

Warranty Information
Full Review
While studying abroad in Spain, one of our Pack Hacker Team Members purchased a lot of gear from Decathlon to go on hiking trips, urban adventures, and weekend getaways. Their offerings are budget-friendly but still have various uses, from cold-weather camping to all-day city adventures. We're curious whether the Quechua NH Escape 500 Backpack 32L is as appealing to wear as its price is to look at—or whether we'll notice the corners cut to save cash from a mile away. Let's dive in!
External Components
According to Decathalon's site, the main fabric and lining are 100% polyester, and the webbing and coating are 100% polyurethane. The materials don't have much structure, so the bag tends to sag a bit when not fully packed out. However, once filled up, it holds its shape well.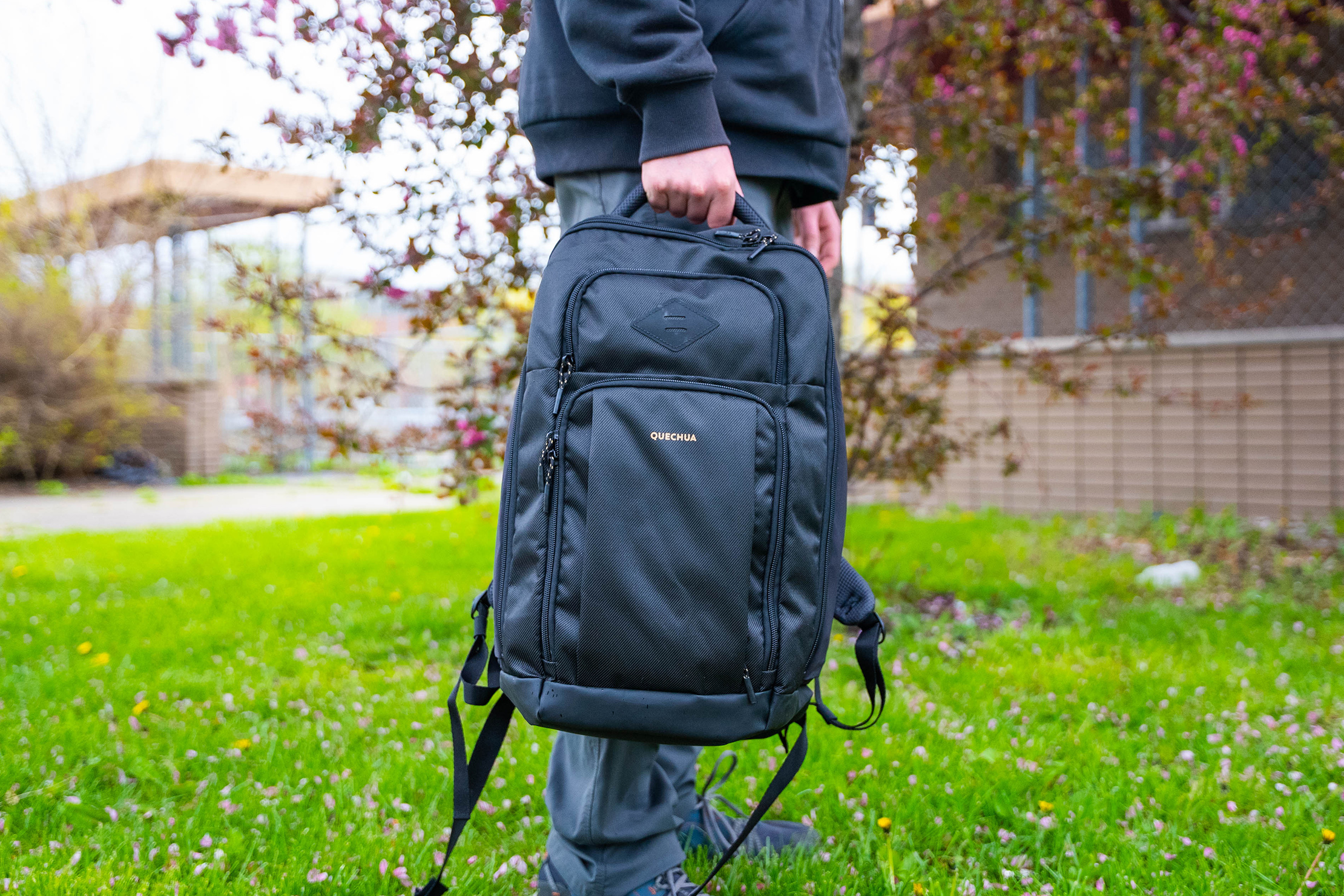 The look feels like a cross between a travel daypack and something more sporty to take to the gym. It isn't a style that will suit everyone, but it's hard to be picky for the price. The bottom of the pack has a more durable material with more water resistance, which is ideal as that's a high abrasion zone that comes into contact with the elements more often.
The zippers are from SBS, a budget brand we've dealt with previously. They aren't as high quality as YKK, but there are no issues to report. The pulls are short and hard to grab onto; however, they hide nicely on the track for a clean look.
The buckles on the sternum strap and hip belt say "Duralon," which is new to us. They feel a bit cheap, but apart from that, they work as they should.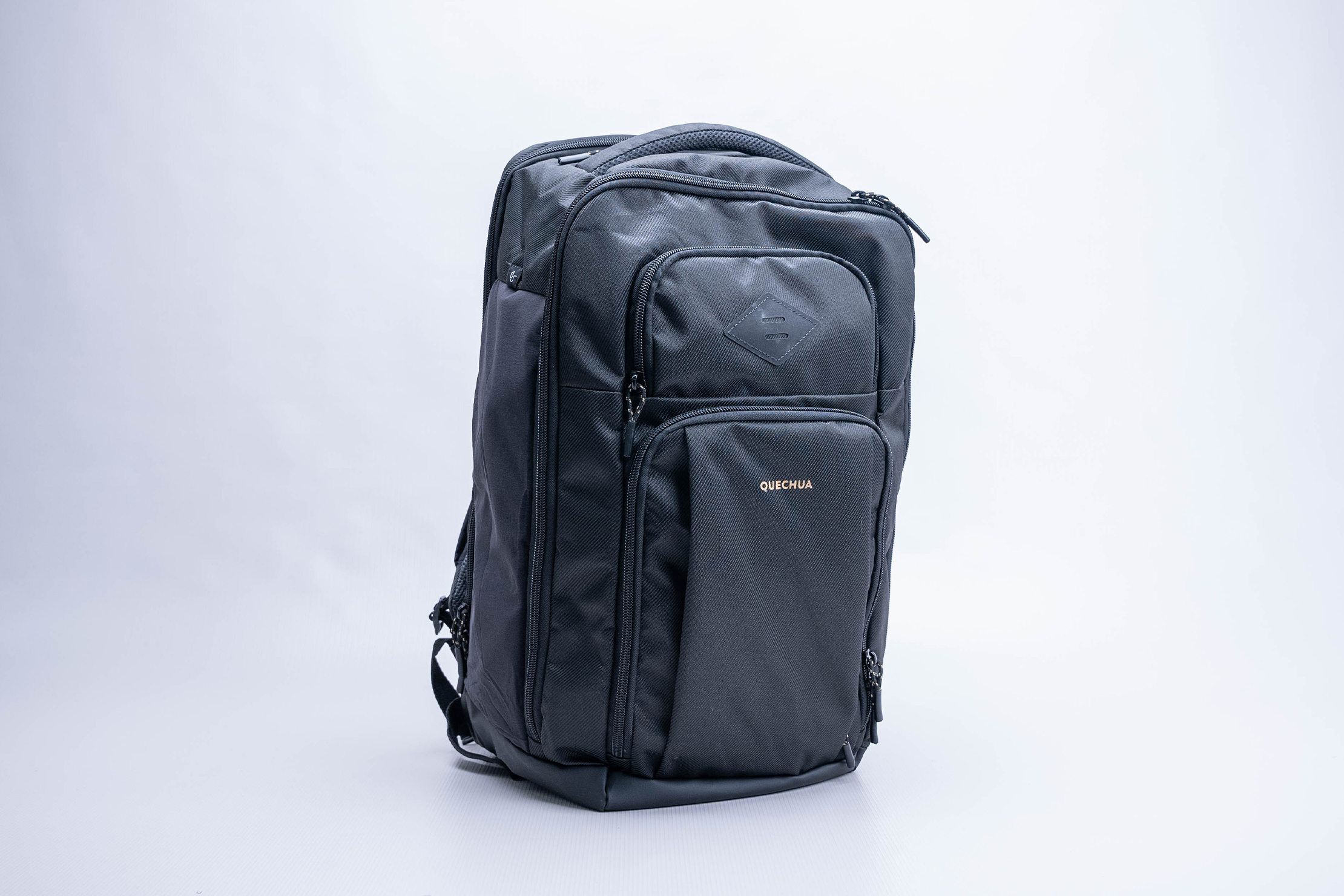 A mesh pocket on either side of the pack can accept even the largest water bottles. We dig this design because it can hold everything from huge to tiny travel water bottles.
In addition to hydration storage, you can stow other items inside. A small travel tripod, a travel jacket, and even some shoes will fit inside. Including these pockets makes this pack's exterior far more dynamic, from water to footwear.
On the front face of the pack, there's a pig nose so you can attach gear, like wet shoes or a travel towel, onto the exterior. It adds some design flair, too, which we dig.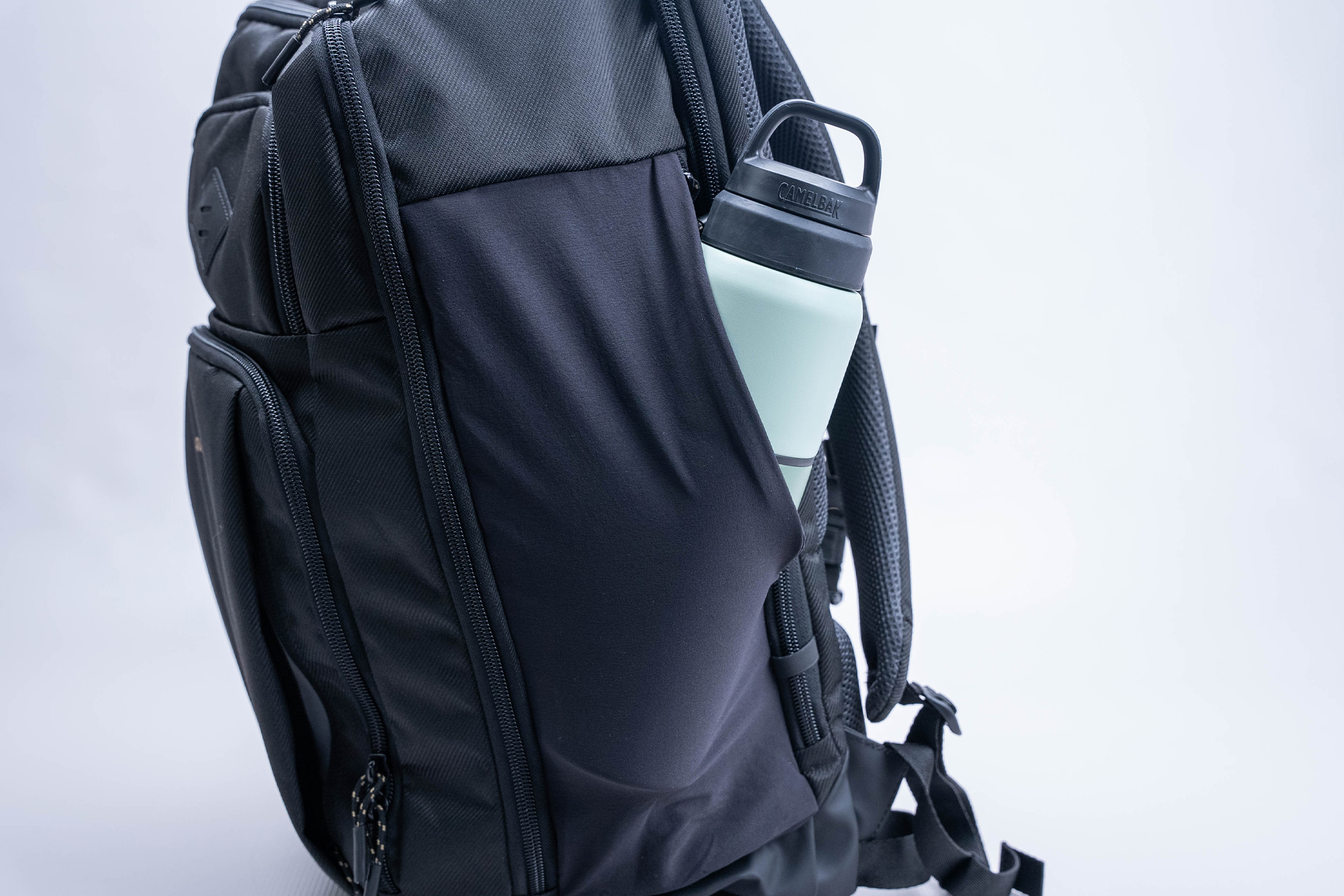 We've got two handles to work with. The one on the top of the pack has ample padding and aeration, which is comfortable to use while waiting in the security line or on public transit. There's another tiny one at the top of the back panel that you can use to hang the pack up on a hook or other small protrusion.
We're into this because it can be hard to hang some backpacks up if their top handles are too large or rigid. This one works with almost every hook we've come into contact with, and it doesn't get in the way otherwise.
Fit Notes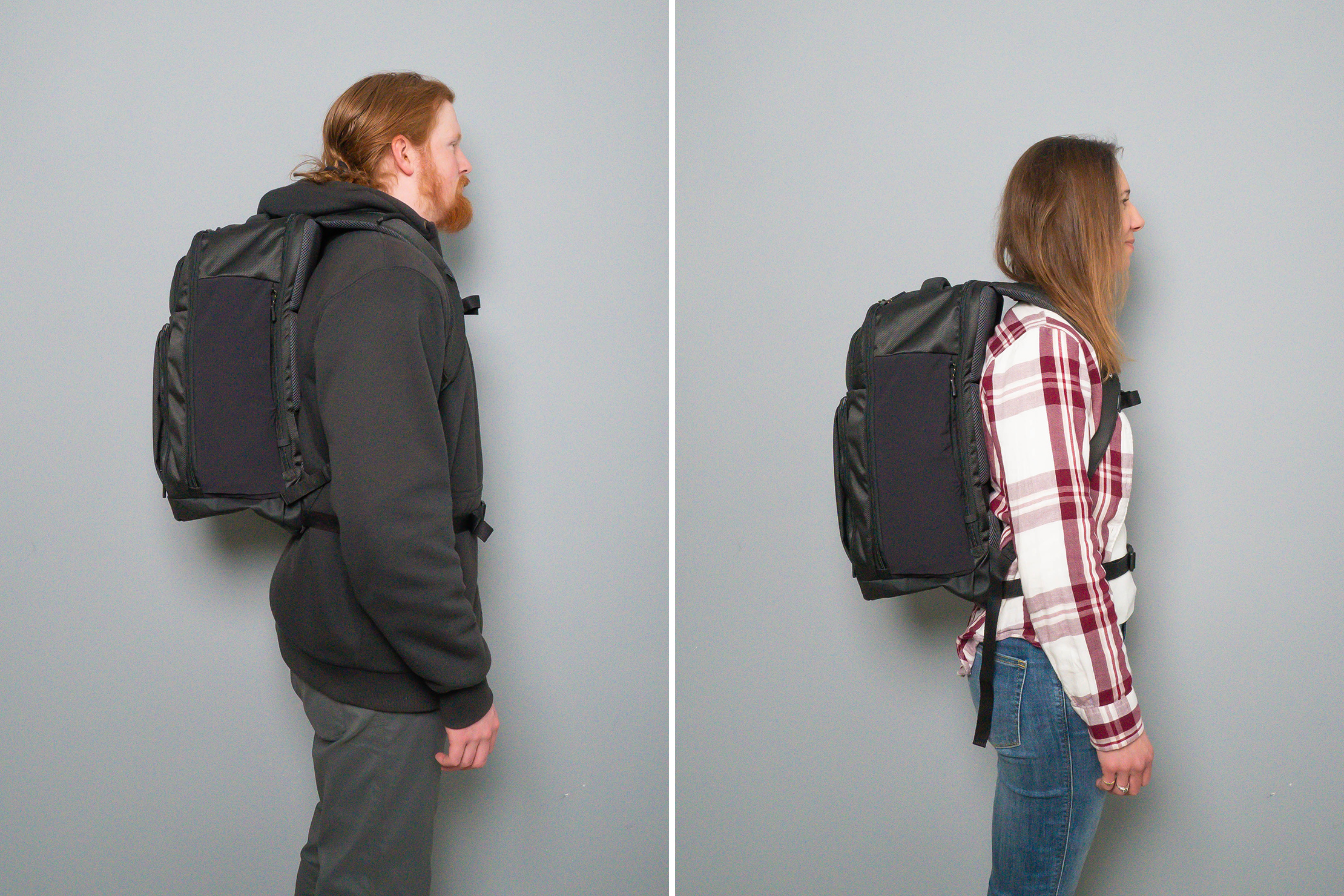 The back panel has substantial padding and additional mesh aeration to keep things cool. It's relatively comfortable, but the design is odd. There's a large area in the center without padding or mesh to help with airflow, but you can sometimes feel it on your back, especially on a long day's journey. It isn't uncomfortable; it just seems like an odd design choice. Cutting corners on such a cheap pack is expected, so this might be a cost-saving design area.
We've got a luggage pass-through on the lower portion of the back panel, which operates as you'd expect. It's a bit thin and flimsy, which doesn't feel super secure, but it works well. No complaints here!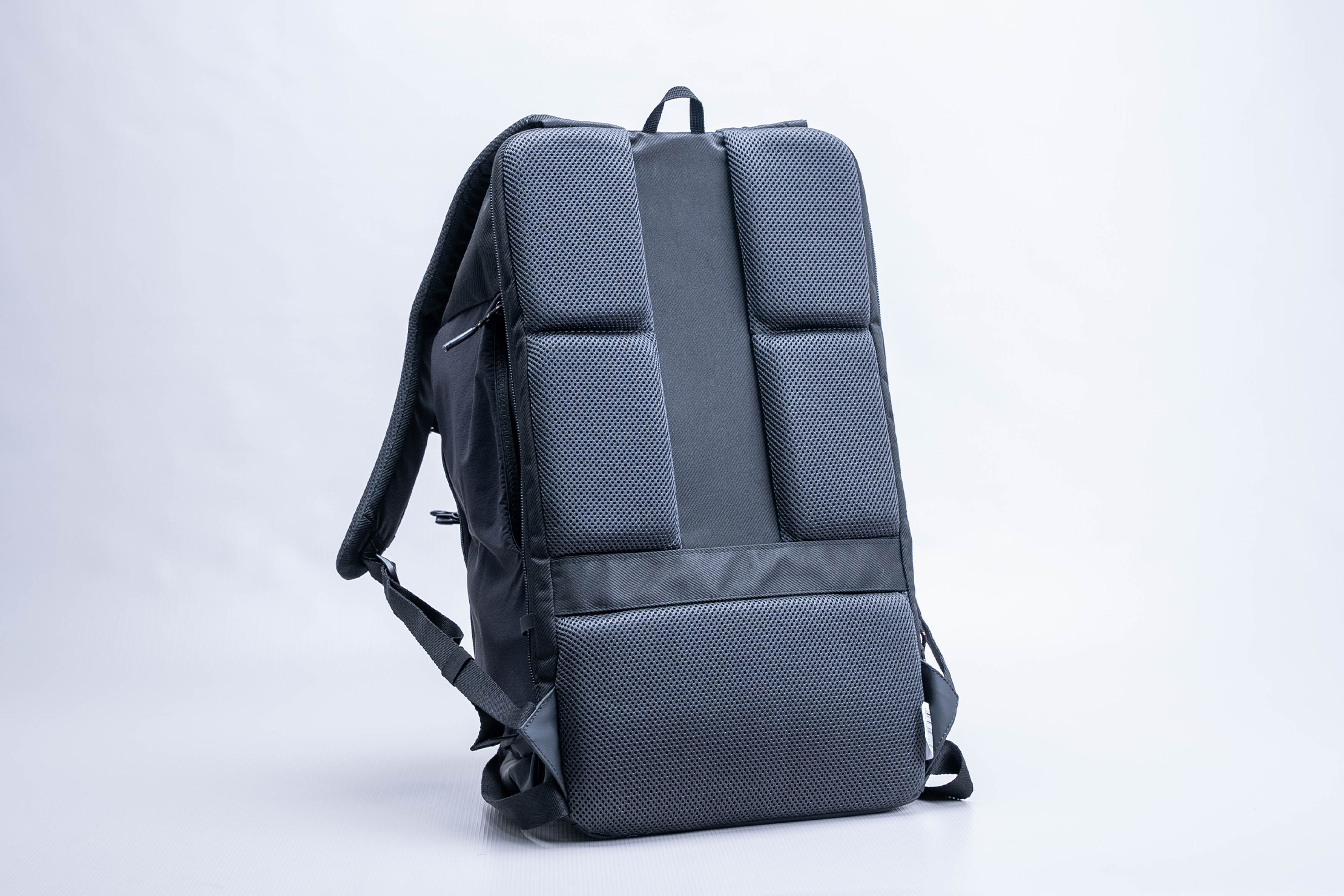 The shoulder straps are padded and have aeration, too. The straps have a fair amount of curvature, which helps them form to your body. Depending on the size of your shoulders, you may find that the straps come together a little close on the top end. It can be noticeably tight for larger frames but not uncomfortable.
The bottom has strap keepers to ensure there isn't material flying around in the wind, which is a worthy addition. It's the small things, you know?
On the left shoulder strap, a mesh pocket is supposed to fit a phone, but it is too small for a modern smartphone. You can stow a snack, headphones, or a smaller device here.
The sternum strap is on a rail and is adjustable, which we dig. It moves a little easily for our liking, but not so much that it's unusable.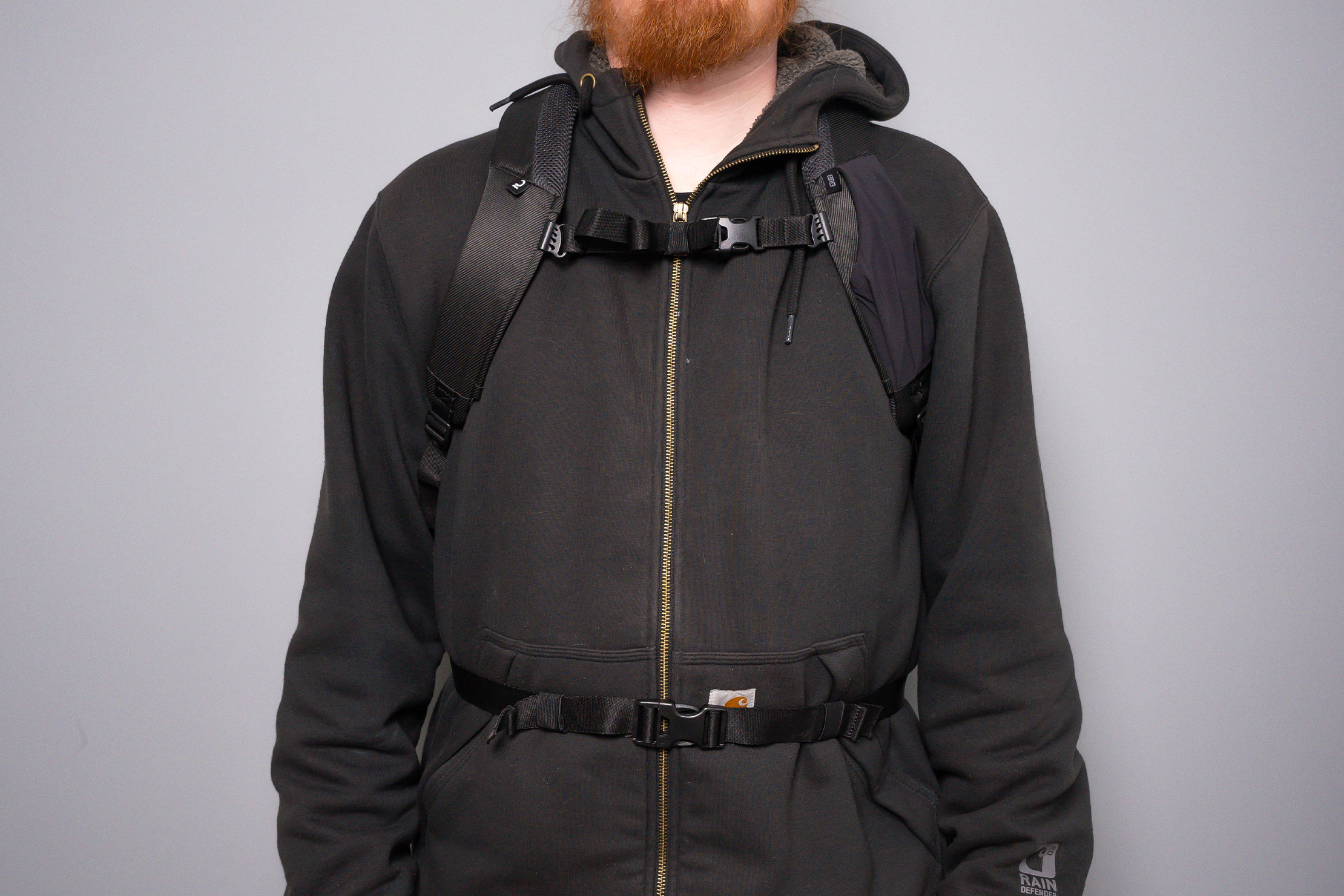 The hip belt is minimalistic—it's just a strap with a buckle. There's no padding, mesh, or aeration to speak of. While this saves weight and costs, it tends to dig in after using it for a while. It helps spread the weight but can be uncomfortable on longer treks. Loosening it helps but defeats the purpose because it doesn't shift around the weight. It's helpful, just not for long periods. If you're wearing a jacket, this is negated.
Inside The Pack
We've got a lot of pockets to go over, so buckle up; it's going to be a bumpy ride.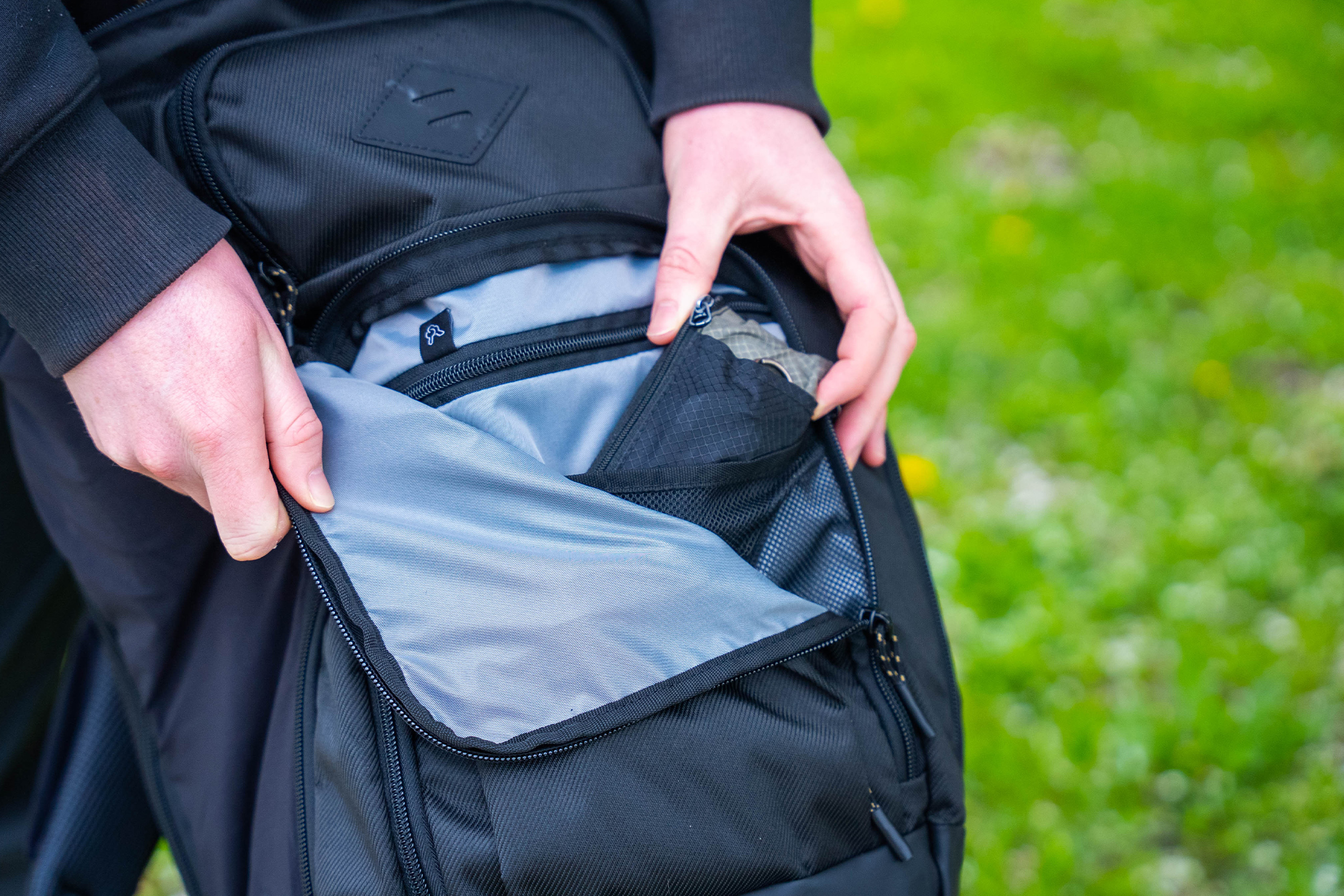 The lower front zippered pocket is large and has some organization inside. There's one large mesh pocket and two pen sliders, which offer an excellent way to segment some of your smaller gear from the size of the space overall. There's also a zippered compartment above those with a key leash inside. It isn't long enough to open your door without removing the keys, but the clip is easy to use.
There's a small hidden pocket on top of that one with zippered side access. It's a small space, so you won't be able to fit a ton of gear here. However, you can access it by taking the pack off your left shoulder and swinging it forward. It's a good spot for smaller items you might want on your journey, like headphones or a packable bag.
Moving further up the pack, we've got a small zippered pocket that's the perfect size for a pair of sunglasses or a glasses case. There isn't much padding, so you'll want something to protect your glasses while stowed inside. There isn't anything to hold onto the glasses, so be careful when opening this pocket. If you aren't paying attention, they'll fall out as soon as you open it because, you know, gravity.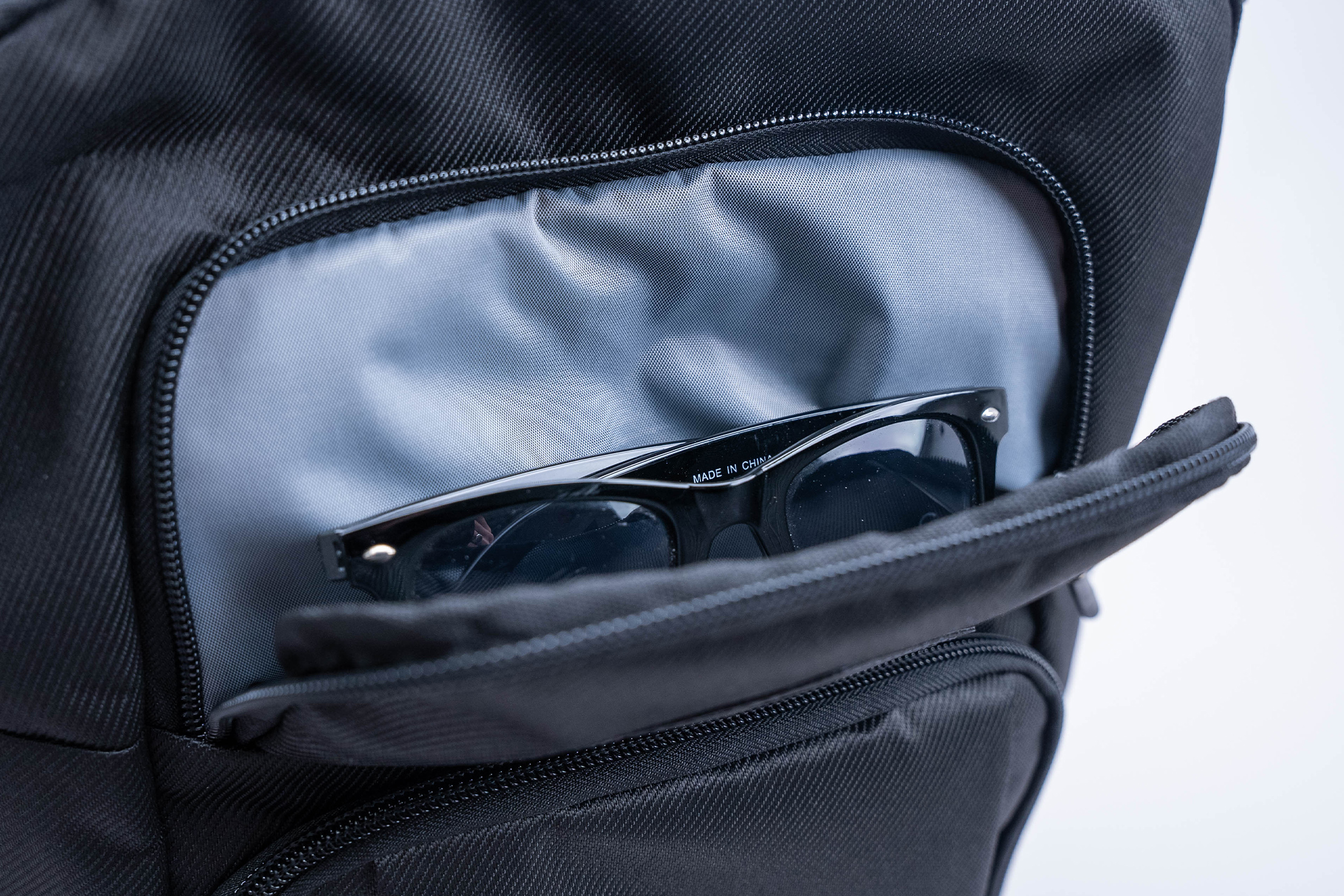 On one side, there's a hidden pocket behind the water bottle mesh, a handy flat compartment where you can 'hide' things because the zipper is pretty discreet. However, it's accessible to anyone behind you, so keep that in mind.
On the top of the pack is a small compartment without any organization. It's simple and to the point, so it's an excellent spot for quick-use items like your phone, wallet, or keys.
Ah, finally, the last secondary compartment. Near the backside of the pack, we've got a zipper that runs three-fourths of the way around the side. Once inside, there's a spot for up to a 17-inch laptop and a 15-inch tablet. The slider for the tablet has a fuzzy liner, which will keep your touch screen safe. While both tech spots have good padding, you still might want a case on your iPad.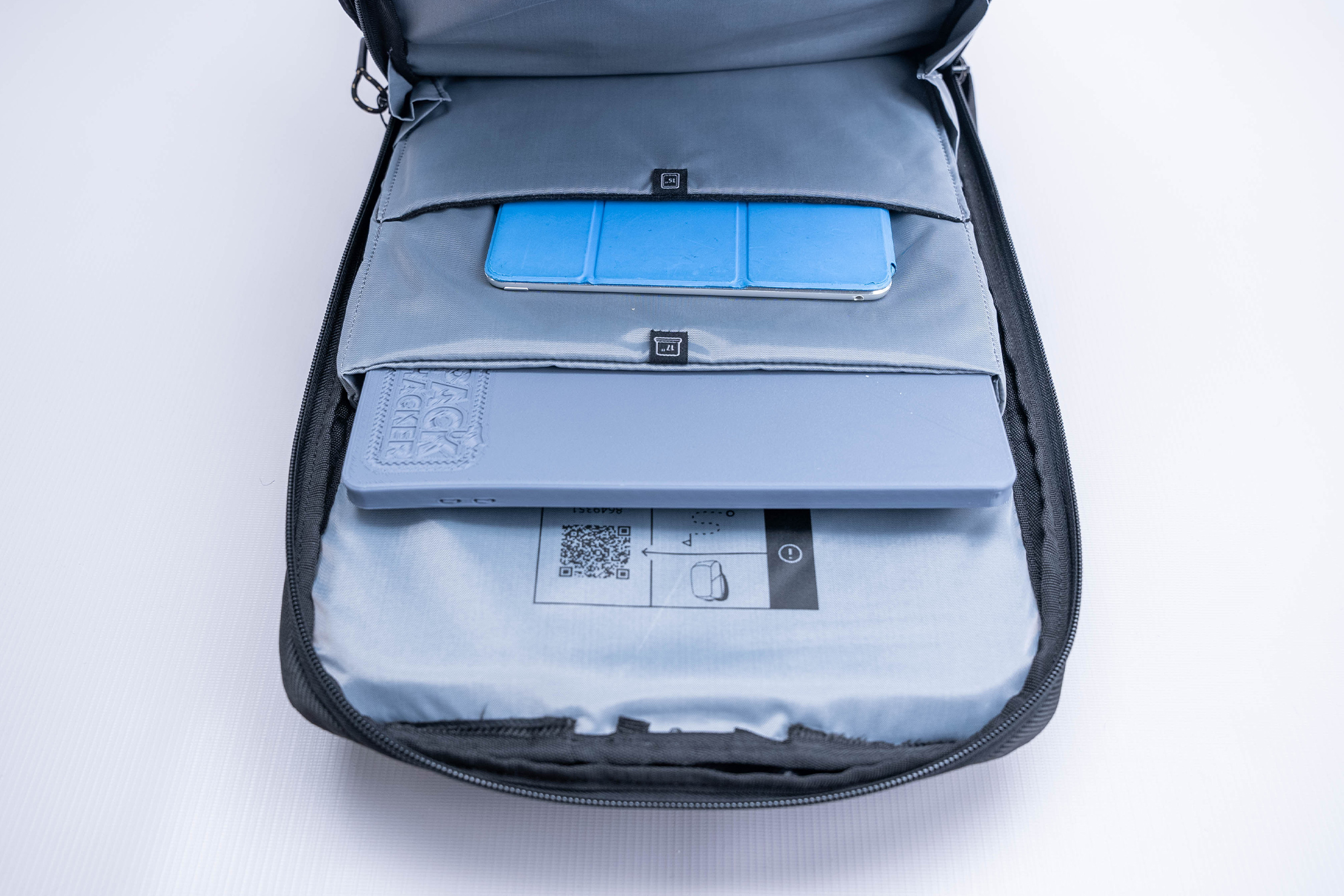 There's some extra space in the middle of the pocket where you can throw a notebook, a book, or other flat items. It's a large space, so you can fit a lot here. On the opposite side, a zippered mesh pocket is perfect for stowing laptop and tablet accessories. You can see through the mesh, so you know what's in there when you open the compartment.
We've finally made it—the main compartment. How do you feel? Older, probably, that was a lot of secondary pockets and compartments. Let's dive in!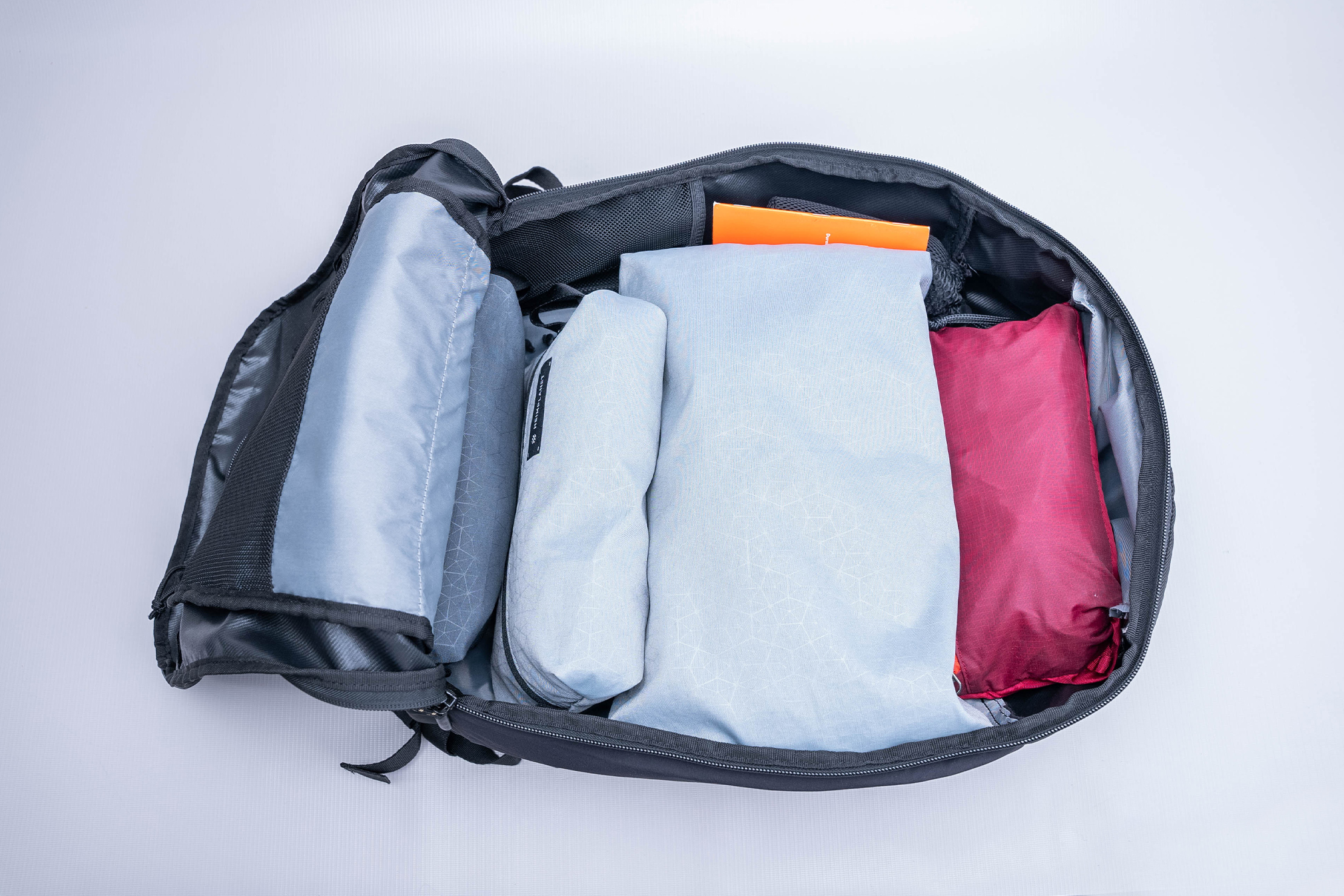 Once inside, you'll notice there isn't much organization here. The lid has one mesh zippered compartment that's good for locking down the gear you don't want to get lost elsewhere. A liner pocket is on the back wall, and there's a mesh compartment on the side tailored for a battery bank. Just above it is a pass-through to the outside of the pack where you can wire a cable to charge your phone while keeping it in your pocket or the water bottle compartment. We dig this iteration because it doesn't get in your way or leave a gaping hole when unused.
The rest of the space is wide-open for you to tackle. Because there's so much real estate, we recommend packing cubes and other organizers, like a tech pouch. If you aren't familiar with the latter, we did a public live stream where Pack Hacker Pro Members got to ask the team questions and help choose the gear. They're a great way to stay organized and be ready to take on any technological endeavor you may run into while abroad!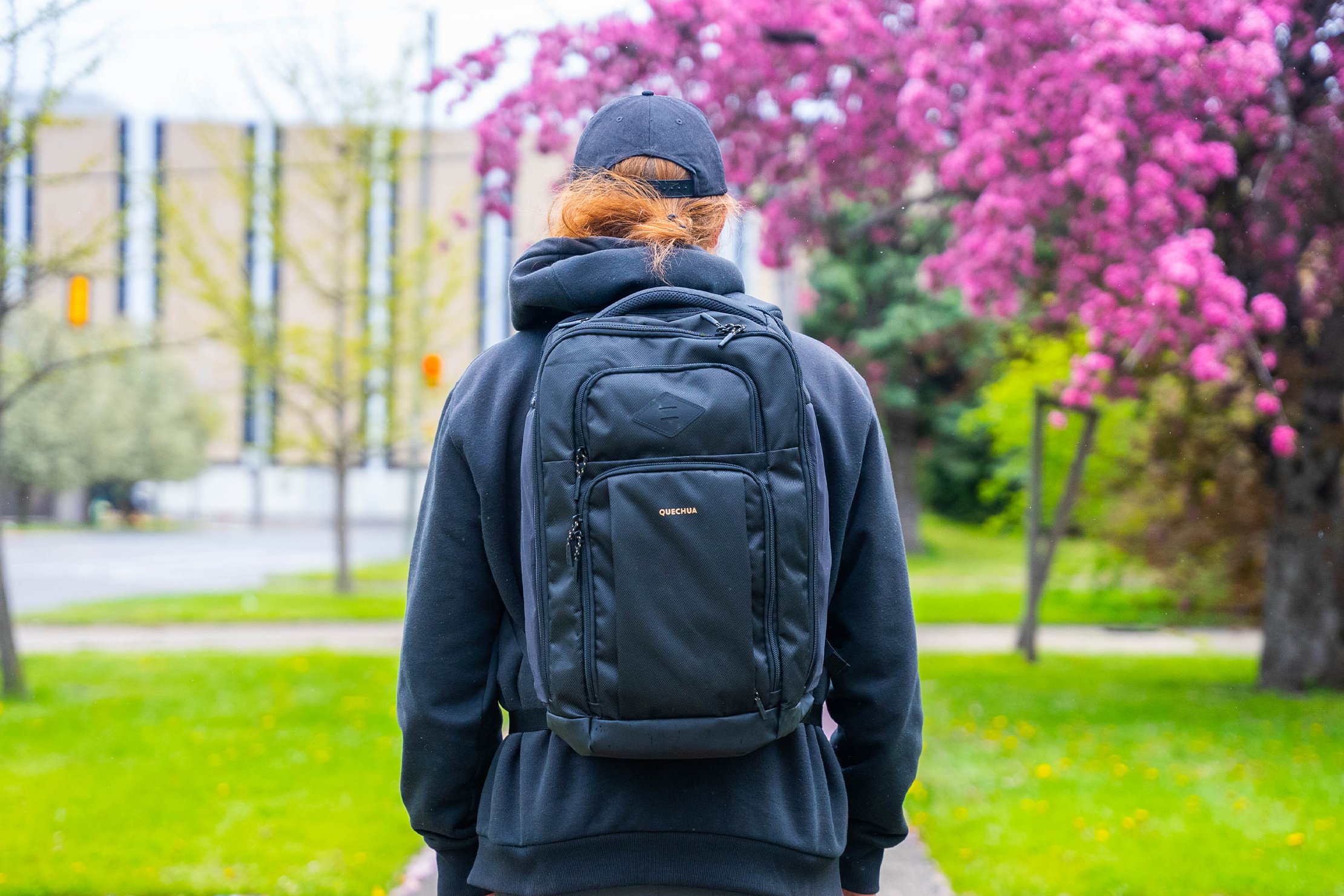 Overall, for the price, we dig this pack. However, some of the features feel like they were thrown on just to say they were there. The hip belt digs in because of the design, some pockets don't have a proper function, and minor changes to the styling could make the back panel more comfortable.
Again, for the price, it's hard to complain. Making the switch might be a challenge if you're used to all the comforts of a more expensive bag. However, if you're looking for a durable pack that will get you there for a low price, this might be the best pack for you!
Usage Timeline
Initial Usage
Condition: Excellent
Materials don't feel the most durable, so we're excited to put them to the test
The back panel has ample support, but we're curious how hot it will get
Lots of organization and pockets—every piece of gear will have a home
2 Weeks of Use
Condition: Excellent
The zipper leaks liquids easily, which feels like a huge miss
Silicone is durable and waterproof, which works well for toiletries
The materials don't hold their shape well when not fully packed, which can look goofy
Access the Pro Community Discussion
Get your questions about the Quechua NH Escape 500 answered from our team and the Pro Community right here on the page. Plus, join discussions with other members about gear, guides, and more.
Other Bags & Luggage Reviews