Pokka Pens Classic Pen Review
The Pokka Pens Classic works as a lightweight, packable option for travel and everyday use—but its accessories can be easy to lose since they're so small.
Our Verdict
Unlock the Pro Summary
Save time. Get access to brief summaries of our reviews so you can browse and make decisions more efficiently.
Pros
Small and lightweight, easy to pack
Pen has a satisfying "pop" to it
Part of a greater ecosystem
Cons
Small size can make it easy to misplace
Less premium feel than more expensive, metal pens
Have to purchase all other accessories separately
Recent Pack Hacker Video
Technical Details
Weight (oz)

0.39 oz (11.1 g)

Dimensions

3.3 in x .4 in x .4 in (8.4 x 1 x 1 cm)

Packed

Notable Materials

Plastic

Manufacturing Country

United States

Warranty Information
Full Review
Get up to 15% off Pokka Pens • Join Pack Hacker Pro
If you're planning on picking up a new pen, a possible place to start is the Pokka Pens Classic Pen. With its small size and lightweight material, you can put all of your ideas to paper without the bulk and weight of other writing utensils in its category.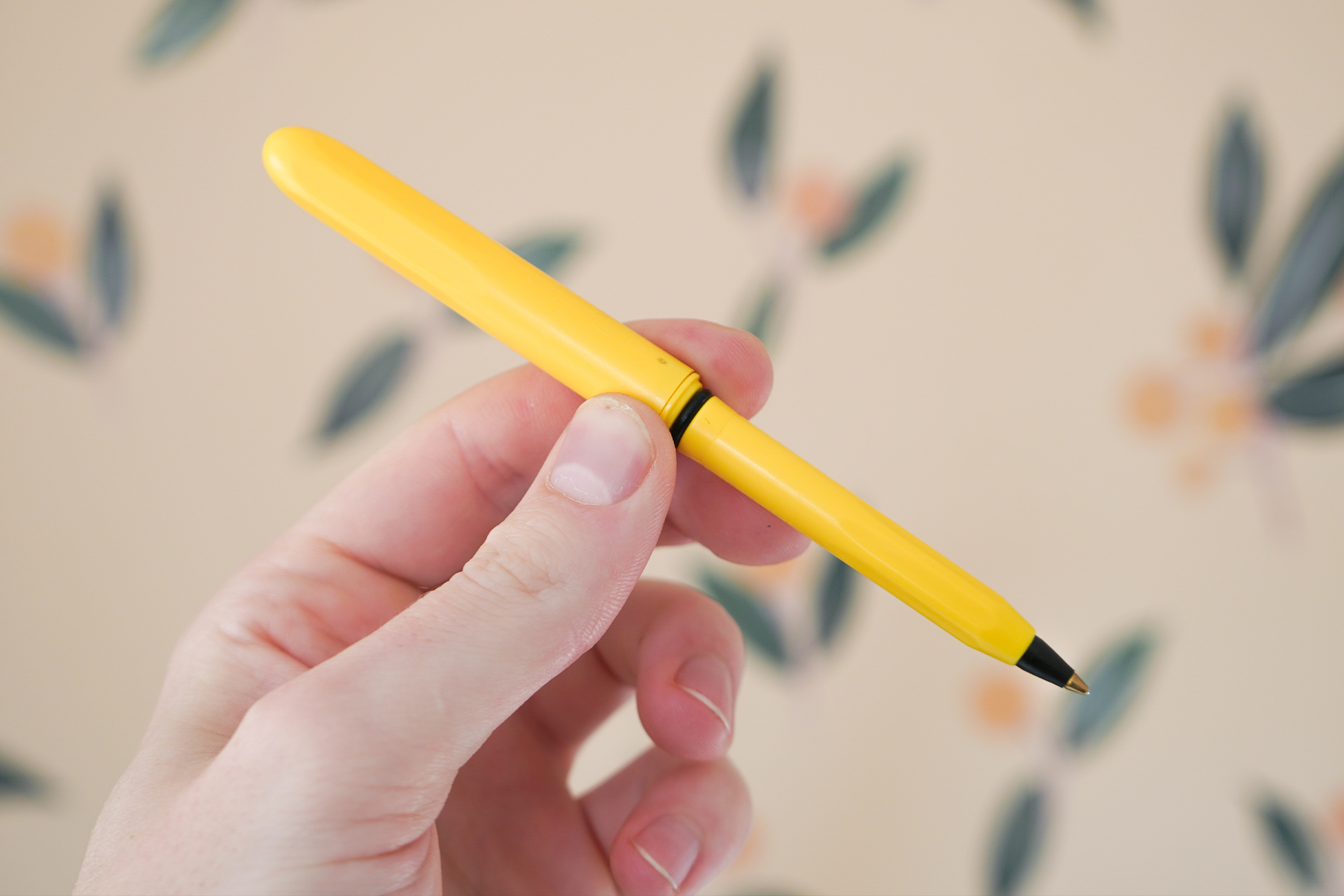 If not for you, then this pen also makes for an excellent gift for the writer, world traveler, or always-on-the-go person in your life. It's plastic and preferable for travel as it's painless to pack in a pouch or pocket when not in use (#AlliterationNation).
After a whole month of writing with this pen, we've also written a detailed review of it—check it out below!
Materials & Aesthetic
There aren't any Pokka Pens logos or wordmarks that appear on this pen, which is about as subtle as branding can get. What's not subtle, though, is the Kanary Yellow colorway we've been testing. It's bright, which you may not like, but its color is what makes it easy to spot in packs and pockets.
Fortunately, if you're not a fan of this color, there are five others to choose from at the time of this review, including Blakk, Earth, Midnight Blue, Silver, and Blaze Orange. You can also opt for a variety pack if you want a pen color for every occasion (or if you're just indecisive).
As you've likely noticed, this brand replaces the letter "c" with "k" in applicable product names, colorways, and sections of their website ("Blakk," "Jakket," and our personal favorite, "Kontakt"). This seems to be just consonance for consonance sake—konsanance, excuse us.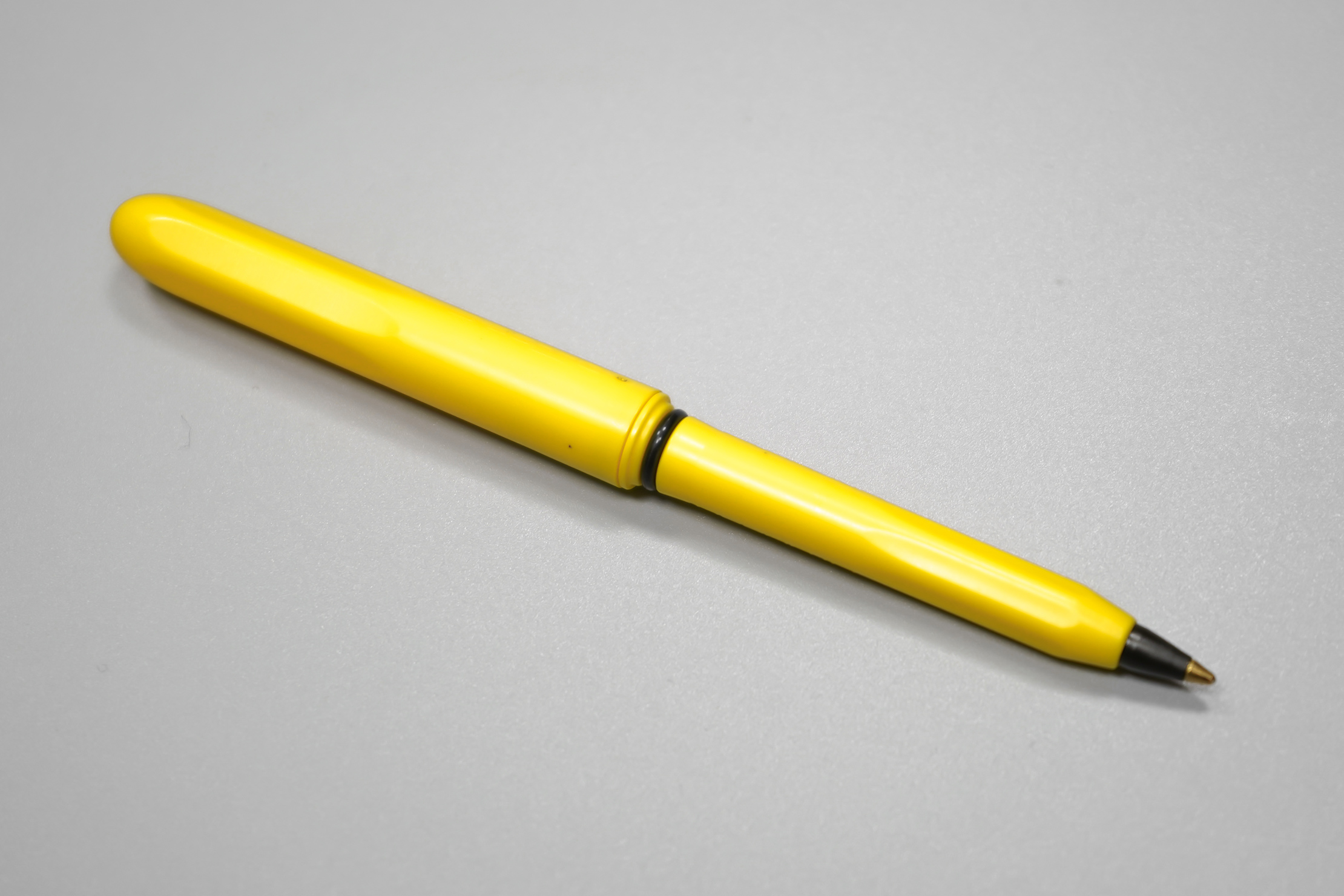 Unlike other more expensive travel pens we've used, the Classic Pen is made with plastic rather than steel, like the Baronfig Squire Rollerball Pen or Fisher Backpacker Space Pen we've also tested. As a result, this pen doesn't feel quite as nice in hand but is much more lightweight. Its small size (about three inches when not in use) and lightweight nature make this thing great for travel, as it won't take up a ton of space or weight in your bag.
Plus, you'll be a lot less upset if you lose this pen versus a much higher quality pen (between 80 and 100 bucks in some cases). So, this pen is one to consider if you're particularly clumsy or prone to misplacing tinier stuff (or just stuff in general). On the other hand, if you're writing or traveling on a tight budget, then heading to your local supermarket to grab a standard Bic or Pilot pen is an even quicker, cheaper option.
Of course, perhaps the most crucial aspect of a pen is its ink. At the time of this review, the Classic Pen writes in black ink with a medium standard ballpoint, but Pokka sells refills in blue and red as well. Just note that twisting off the point of the pen to replace the cartridge is no easy feat when done by hand—you'll need a tool like pliers or something similar to get this thing off. To give an example. we've been using the Leatherman Style PS Multi-Tool during testing and it's worked well for this job.
Feature & Usage
This pen is pretty simple in its standard design. You just remove the cap and click it into place on the other end, at which point you can enjoy the satisfying snap (crackle) and pop it makes; it reminds us of an iconic Zippo lighter in this way.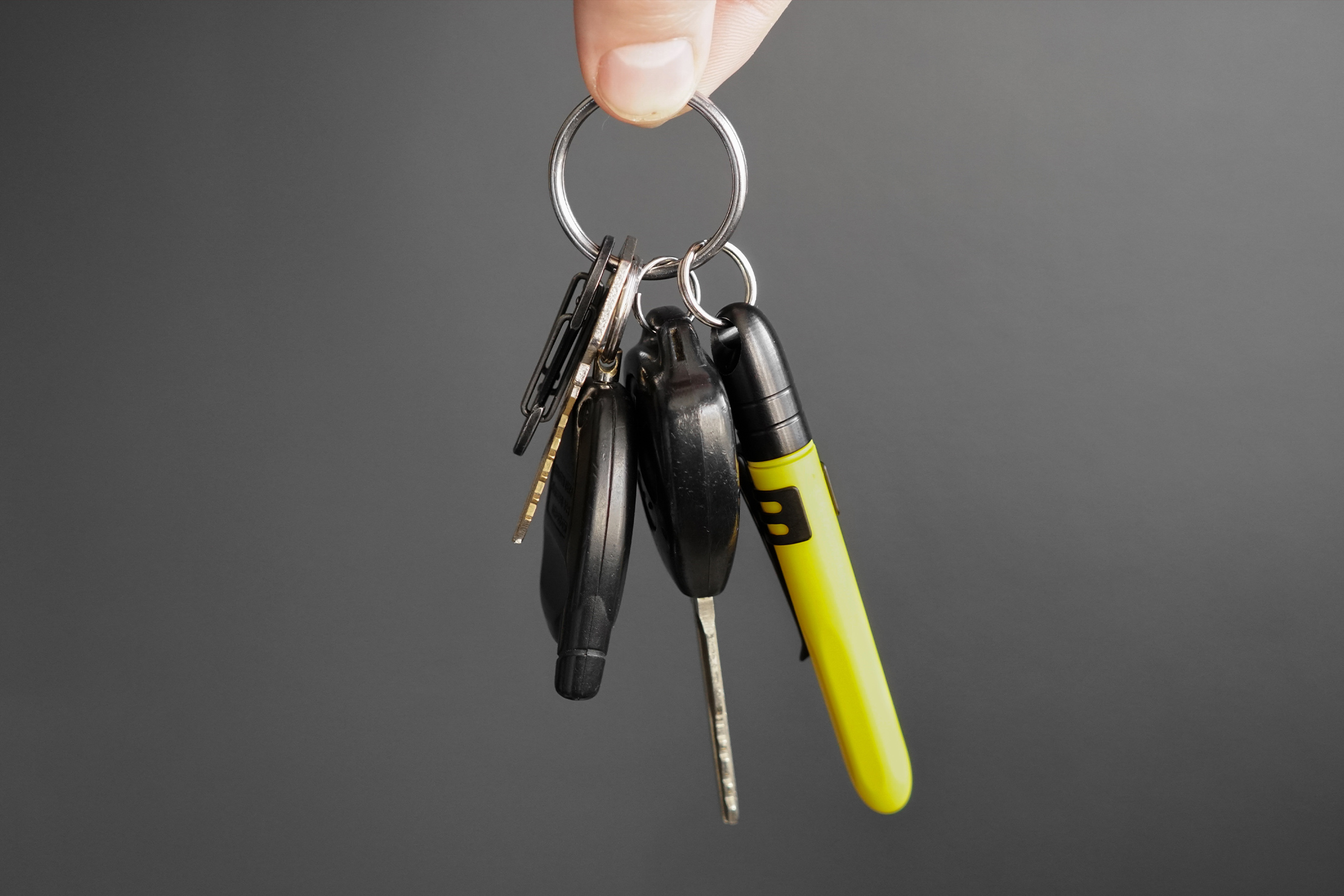 You can use the Classic Pen on its own, but Pokka also offers other accessories that expand its convenience and functionality. The first of these features is the Pokka Dokk, an aluminum dock with a steel ring that you can use to clip the pen to your pack, your keys, or even your belt loop.
Attaching this to the end of your pen and then clipping to any one of these spots keeps it secure and handy when you need it—the only downside here is that you will have to remove it to secure the cap on the end of the pen. Because the dock is so tiny, it can also be easy to misplace if it's not attached to something with the included keyring.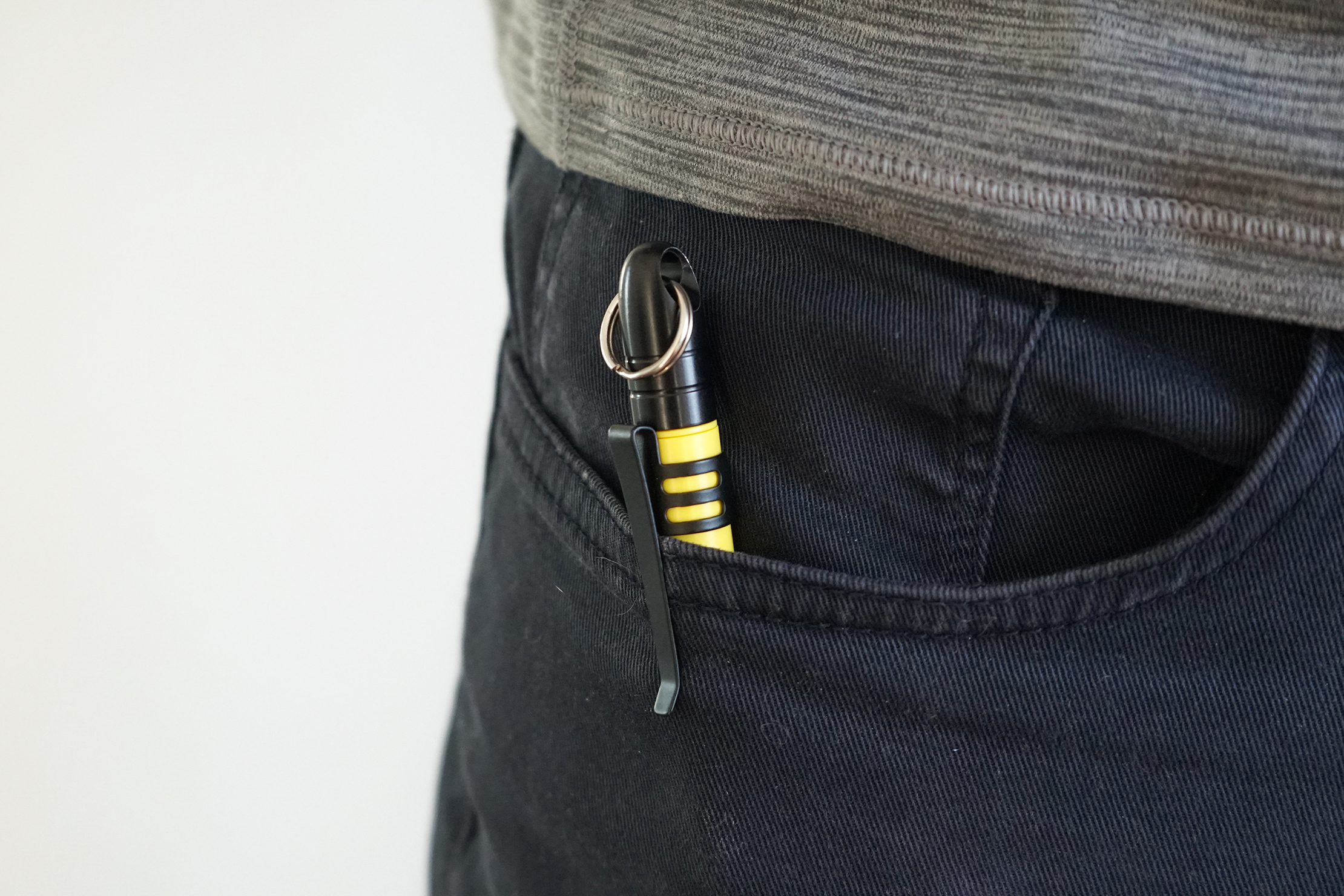 This isn't an issue with the Pokka Klip, another accessory at your disposal. Also made of aluminum, it slides onto your pen and can be positioned wherever you'd like to allow you to clip your pen to sleeves, pockets, papers, and anything else you'd like. We've preferred this feature as it doesn't inhibit our use of the pen at all, though your mileage may vary.
There's also the Pokka Pens MicroNotes that you can pick up, a small, 20-page notebook that can fit into a credit card sleeve. It's a great addition to your pen ecosystem, as it doesn't take up much space and comes in handy for jotting stuff down on the fly. Our only note is that it's a little challenging to write on unless it has some support behind it. We've been keeping the back flap of the notebook inside a card sleeve and flipping the front flap up detective-style when we're using it. This way, the wallet adds some structure and makes the notebook easier to write in.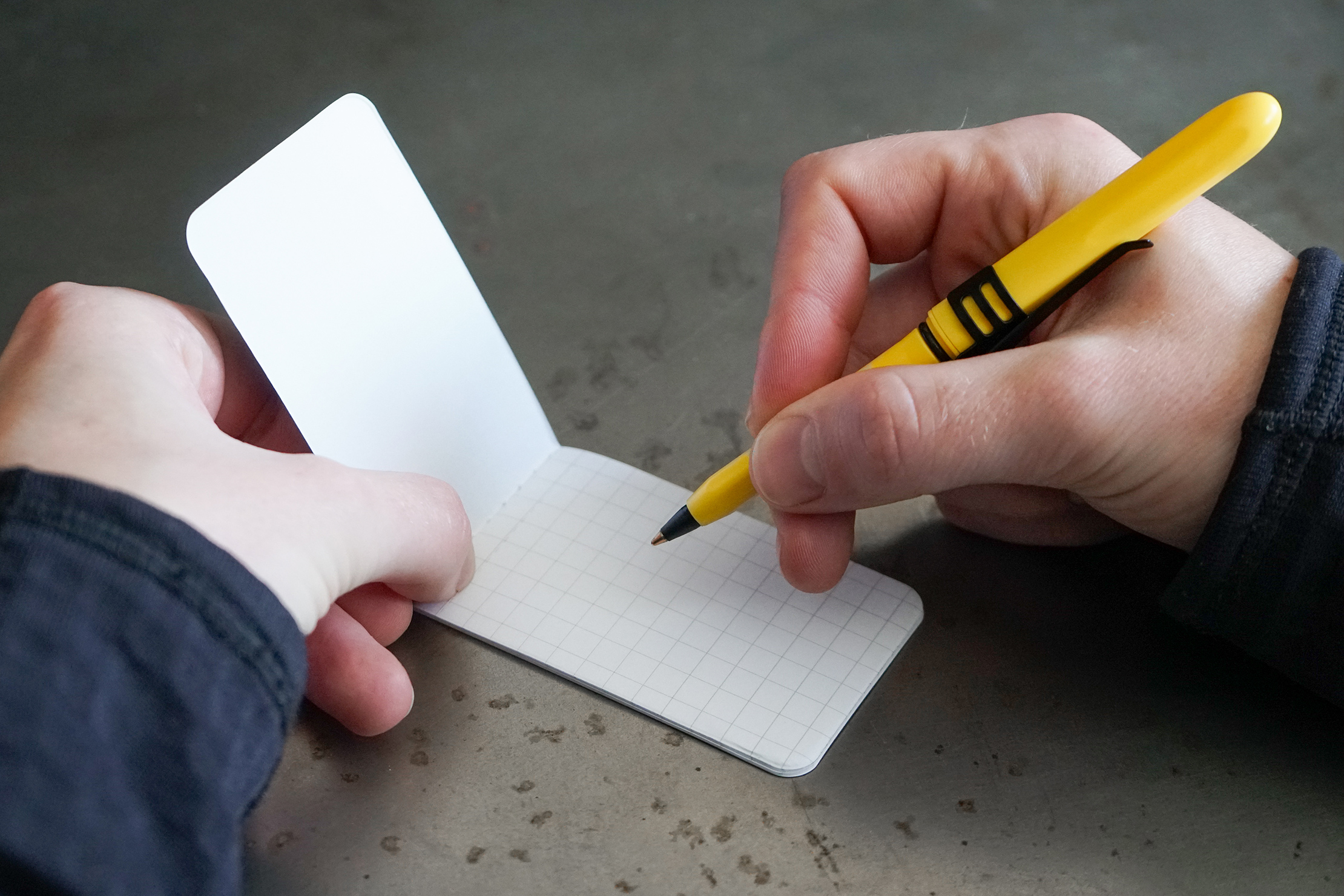 If you're really searching for a way to upgrade the look of this pen, opting for a different Pokka Jakket is also one way to do this—and by "jakket," they mean cap. Like the dock, you can choose from either a black or aluminum cap to add a more professional, premium vibe to the pen overall.
Keep in mind that you have to purchase all of these components separately, which will incur some added cost. As we noted above, you're more than welcome to grab something disposable from the store if you're not looking to dish out excess dollars on a pen. But, if this an area you want to splurge in, then the Classic Pen is a definite contender.
Usage Timeline
Initial Usage
Condition: Excellent
Packs down small and fits in your pocket
Lightweight and water-resistant
Disposable style pen so no refills but they are very affordable
2 Weeks of Use
Condition: Excellent
This pen has been working great, it's easy to throw into your pocket or bag without a second thought. The plastic doesn't feel as nice as some of our more solid, metal travel pens, but it's still comfortable to write with. We've also found ourselves bringing it with us more than its expensive counterparts because if we lose it, we're only out a couple of dollars versus being out 100 bucks. So if you're an accident-prone traveler or tend to misplace things, you might be better off buying ten of these pens over one more expensive pen.
1 Month of Use
Condition: Excellent
Still holding up great, no problems to report so far.
Access the Pro Community Discussion
Get your questions about the Pokka Pens Classic Pen answered from our team and the Pro Community right here on the page. Plus, join discussions with other members about gear, guides, and more.
Other Productivity & Tech Reviews