Patagonia Macro Puff Hoody Review
The Patagonia Macro Puff Hoody's PlumaFill keeps us warm and agile despite the jacket's featherweight lightness.
Our Verdict
Unlock the Pro Summary
Save time. Get access to brief summaries of our reviews so you can browse and make decisions more efficiently.
Pros
Maintains good warmth despite being relatively lightweight
Large hood can fit a helmet
Compresses into its own pocket
Cons
Not completely waterproof, though it has DWR coating
Hood's rear cinch is a bit tricky to adjust
Compressing takes notable effort
Recent Pack Hacker Video
Technical Details
Weight (oz)

15 oz (425.2 g)

Denier

10D

100% recycled nylon ripstop

Notable Materials

YKK Zippers, Recycled Polyester, Recycled Nylon, DWR Coating

Manufacturing Country

Vietnam

Warranty Information
Full Review
Where there's snow, there are puffy jackets. Even before that first snowflake drifts down to the ground, it's unsurprising to see people adorning their favorite warm jacket. After a while, they all start to look the same. It's when you put them on that you get a good feel of how they all differ. The main goal is to keep you warm, but other aspects to consider include ergonomics, weight, and durability.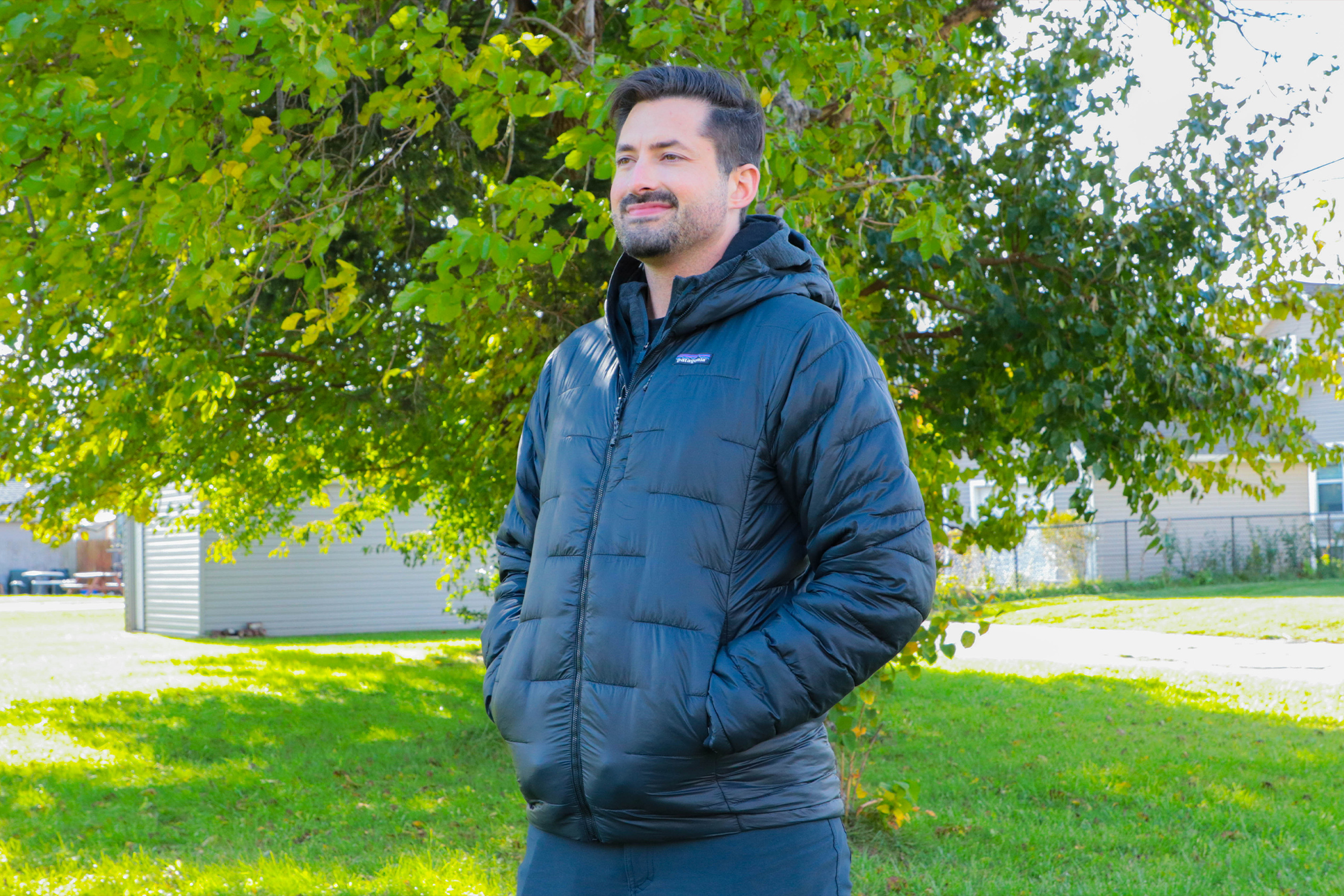 The main differentiating factor for Patagonia's Macro Puff Hoody is its lightness. Weighing in at a featherweight 15.3 ounces, it sounds like it won't be able to keep us warm at freezing temperatures. Spoiler alert: it can keep up without the excess bulk of heavier jackets. Extra spoiler alert: Even the much lighter Micro Puff Hoody does well in this regard. The Macro Puff Hoody still has its limits, though, and we'll be checking them out in the review below.
Materials & Aesthetic
On the surface, the Macro Puff Hoody doesn't look all that different from typical cold weather jackets. It has all the hallmarks of one, most notably the horizontal stitching. But unlike the continuous parallel lines of other jackets, the Macro Puff Hoody's are broken up in a staggered pattern, and there's a good reason for this.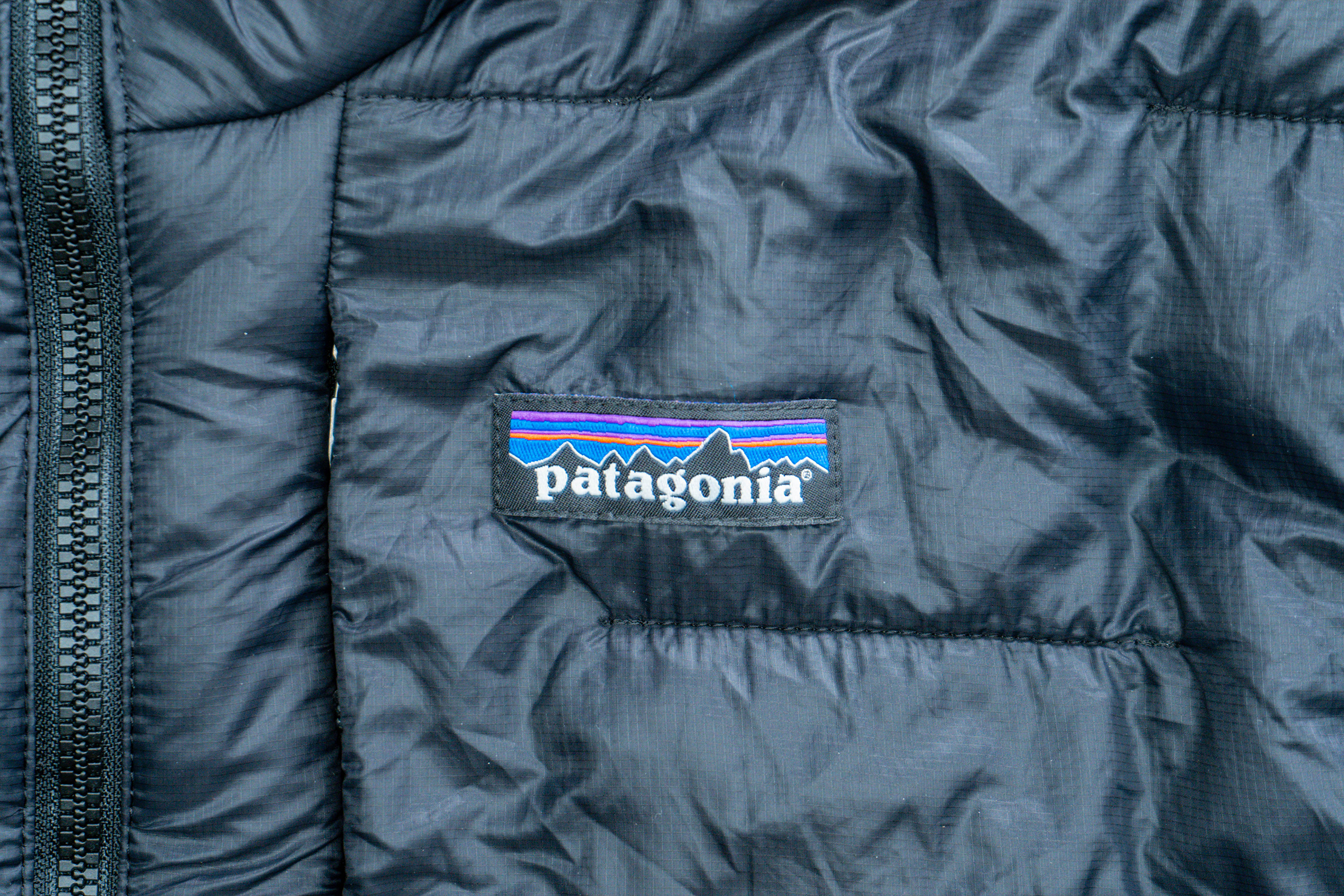 It's not just an aesthetic choice on Patagonia's part. The insulation on the Macro Puff Hoody is the brand's own PlumaFill, a synthetic material that's different from the usual down, which is made from feathers. Traditional down requires the use of baffles—that's the rectangular segments on jackets—to keep the material in place. The advantage of a synthetic material like PlumaFill is that it can be made as a single panel that doesn't need the compartmentalization baffles offer—not to mention it doesn't use animal products. So then, why does the Macro Puff Hoody still have those lines? The answer is to keep the PlumaFill in place. This is similar to how you'd hold your shirt's sleeve with your hand while putting on a jacket, so it doesn't bunch up near the elbow.
The reduced lines make for a slightly cleaner look. But once the jacket is all wrinkled up, as all jackets kinda do, the Macro Puff Hoody ends up blending in with the crowd rather than standing out. That may be a pro or a con depending on how you look at it. We don't mind that it's not in-your-face, and long-time readers may have already surmised that from our usual colorway pick of black. In any case, we're more interested in how something performs, but tasteful styling is certainly always welcome. For those who want it, other colorways are available at the time of writing: Smolder Blue and Superior Blue, with the latter being the punchiest of the bunch.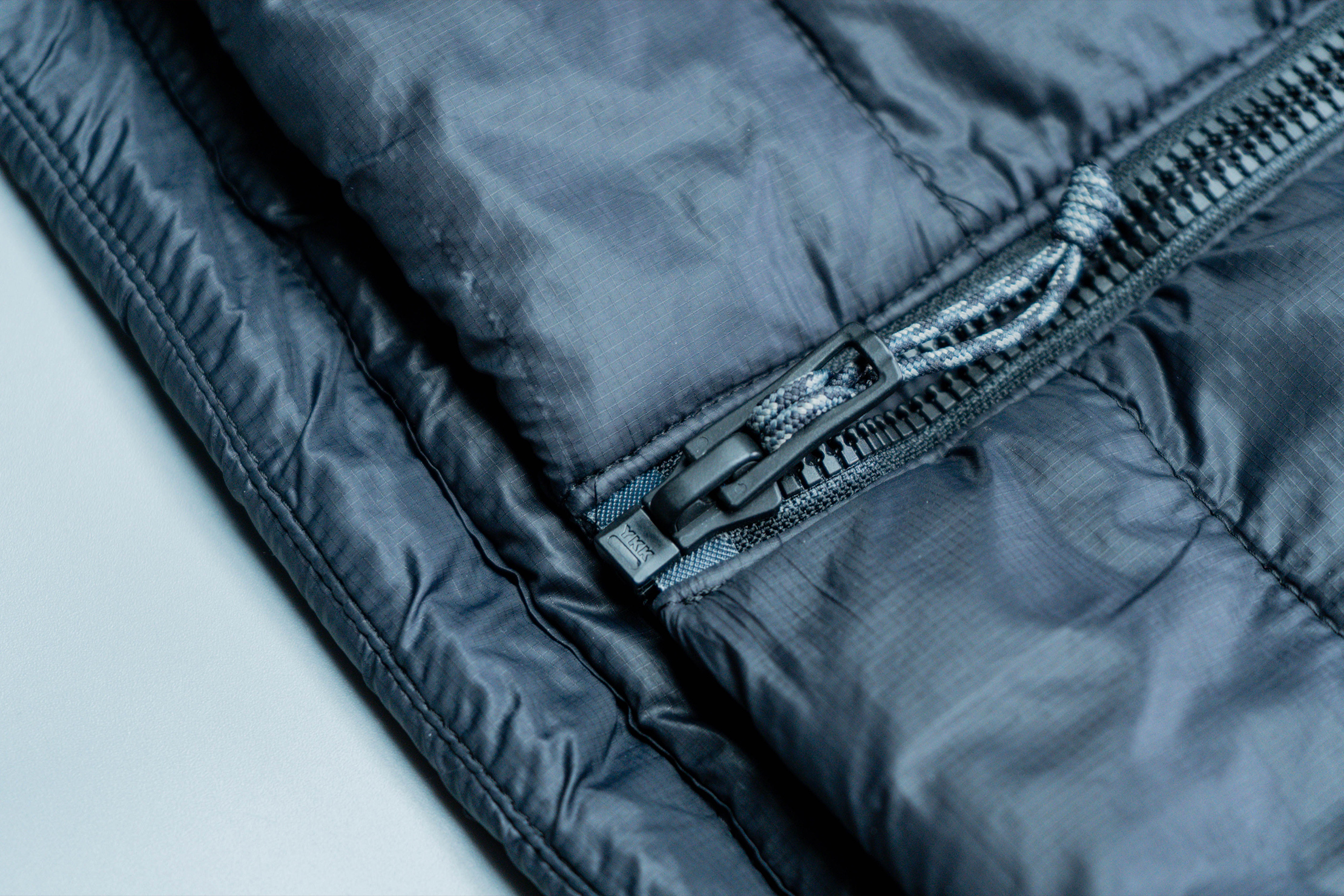 The main fabric is 10-denier 100% recycled ripstop nylon, a material we often associate with bags, emphasizing lightness. This pays dividends for the Macro Puff Hoody, as we'll discuss later on. For now, the key thing to remember is ripstop fabric does what the name suggests. Any tear that develops is stopped in its tracks thanks to grid pattern reinforcement. That said, the Macro Puff Hoody's fabric doesn't have that signature grid look—it's subtle enough that you won't notice unless you look closely. It's also coated with DWR (durable water repellent). But while it can withstand light precipitation, it's not completely waterproof, so partnering this with a rain shell is still recommended.
Lastly, all the zippers on the Macro Puff Hoody are YKK-branded. We almost never run into problems with their zippers, and the same can be said here. They're easy to operate combined with the thin cord pulls. We've yet to see or feel them jam awkwardly, whether it's the main zipper or the smaller ones for the pockets.
Usage & Features
First impressions with the Macro Puff Hoody are great, with weight being what's most striking. Patagonia specs the weight at 434 grams or 15.3 ounces, which is notably light for a cold-weather jacket. Once we're wearing it, it feels exceptionally light on the shoulders. There's very little of that dragging feeling we get from heavier jackets, though that may change over time as the jacket soaks in some moisture from the body or environment.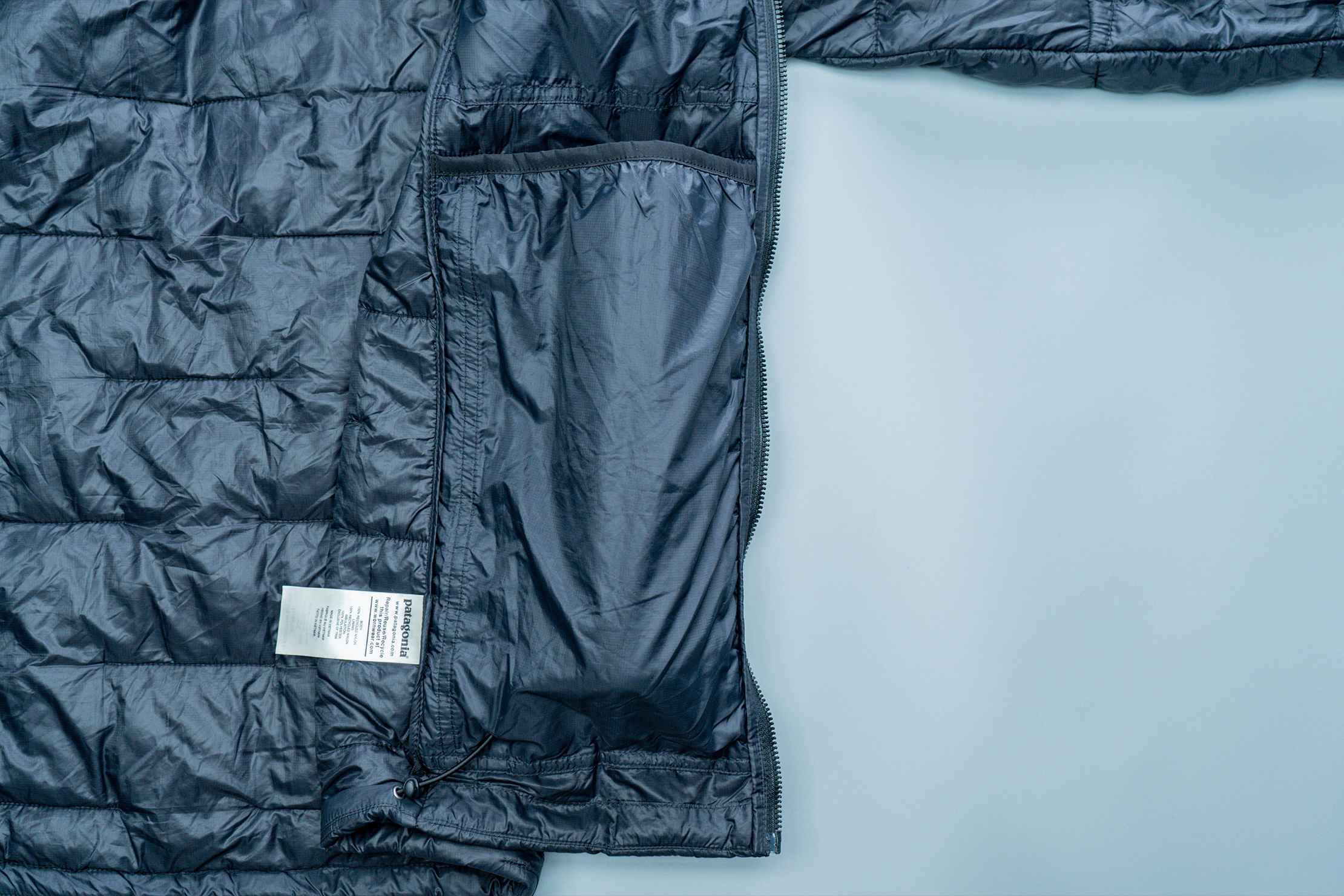 The sleeves and sides get 90 grams of the PlumaFill, while 135 grams go to the main body. Again, not a ton of the stuff compared to heavier jackets. However, we find it sufficient to keep ourselves warm in 25°F (-3.88°C) weather conditions. It's not quite arctic-level, but for light winter trekking and exploring the city's snowy streets, it's definitely enough.
The lightweight and slim profile is also easy to move around in. Not that we're trying to do Olympic movements in it; it's just not as cumbersome as puffier jackets that are borderline spacesuits.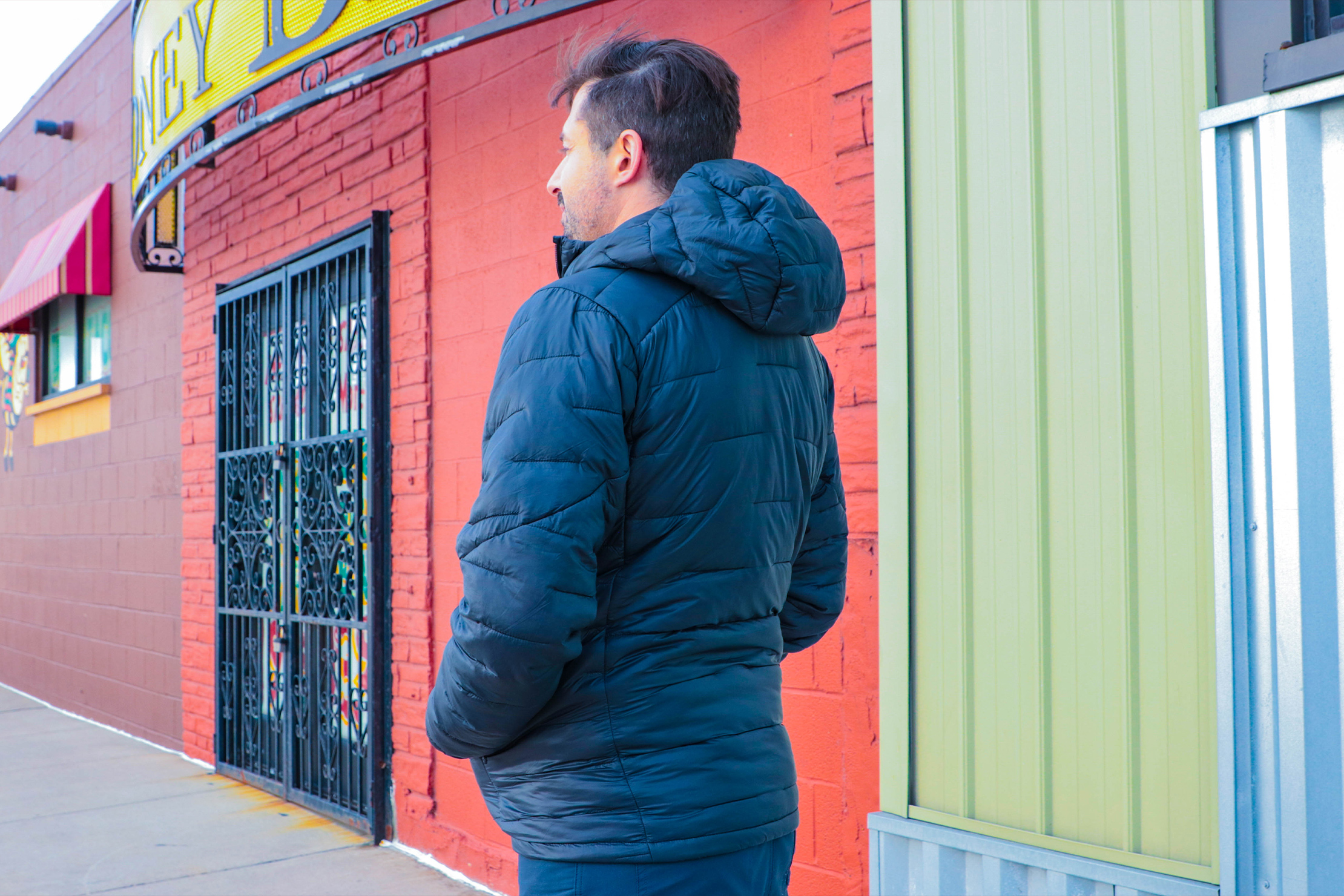 One other thing Patagonia claims about PlumaFill is how it performs better than traditional down when it soaks up moisture. Moisture can come from many sources, chiefly from sweat and precipitation. In our testing, the Macro Puff Hoody remains consistent in keeping us warm over an extended period outdoors, with similar performance to other down-based jackets (we'd have to be nitpicking to really notice the difference in 25-degree weather). Your mileage may vary depending on how low of a temperature you're taking the jacket to and the quality of down you're comparing it against.
One aspect that's kind of nice, but probably not the most necessary, is the large adjustment of the hood. The cinch is located at the back, where it's somewhat tricky to get a hold of, though not impossible. We're able to loosen it up so much that we can slip it over our bike helmet as well, which is an intentional design from Patagonia. This way, if you already have a tight-fitting helmet, there's no need to stuff the hood inside. We weren't able to do this with the Micro Puff Hoody and the Nano Puff Hoody, as those jackets' hoods are designed to go under helmets rather than over. (For a detailed comparison between the Macro, Micro, and Nano, check out our YouTube Channel.)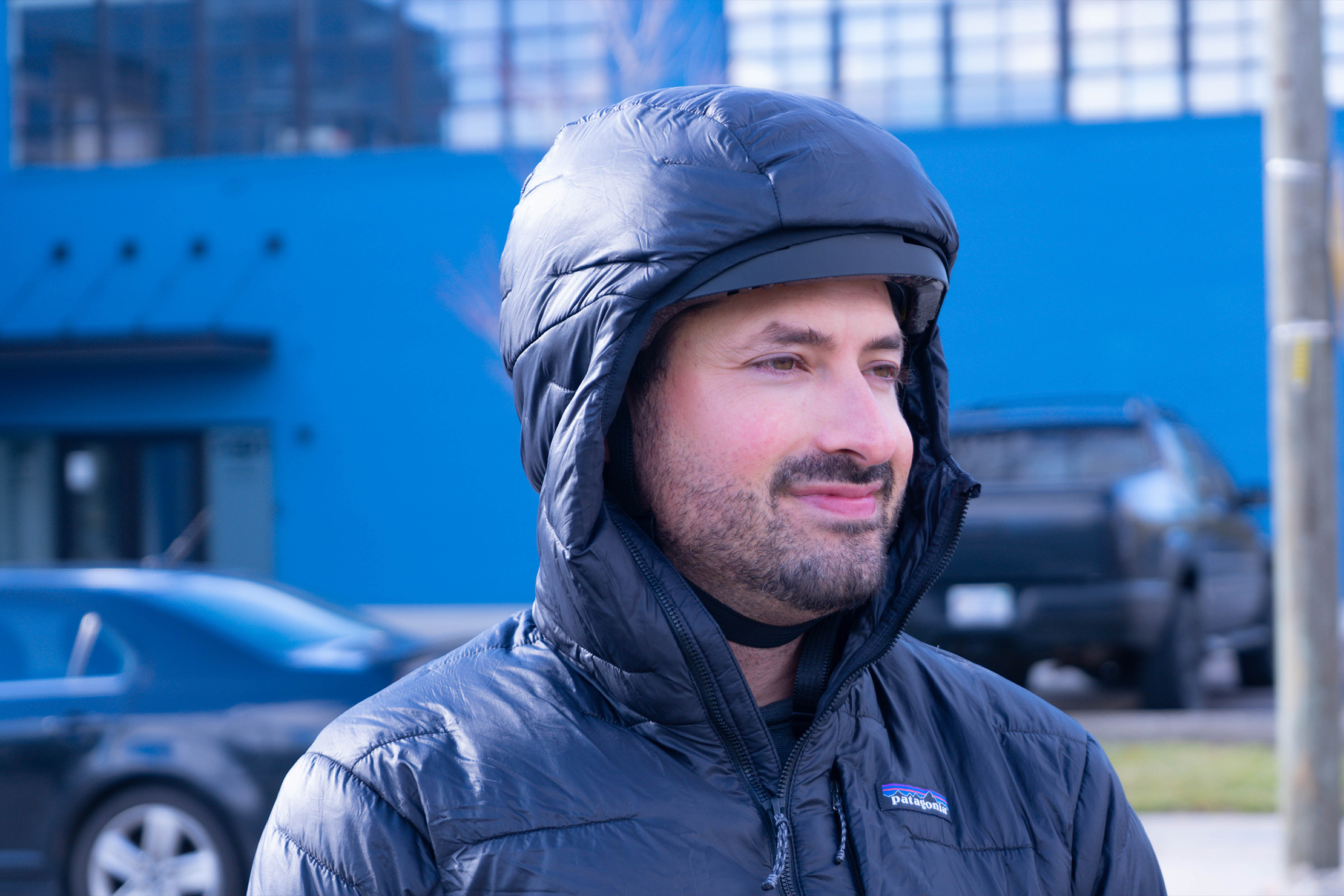 Both the cuffs and the hood share the same kind of elastic rim. It's not too harsh against the wrist, even while doing rapid arm movements on a bike, and it's relatively comfortable. Your mileage may vary in this regard depending on your wrist size and aversion to scratchy sensations.
There's a total of three pockets on the outside, one chest pocket, and two handwarmer pockets. The chest pocket is surprisingly deep, reaching all the way up to the corner of our left shoulder and down about midway of the body. There's enough room to fit our iPhone 13 Pro Max or a thick wallet. It's not the best for heavy items because it's high up, so we reserve it for lighter items like IDs, cards, cash, or snacks. Like all of the pockets, this one is zippered, so items don't fall out by accident.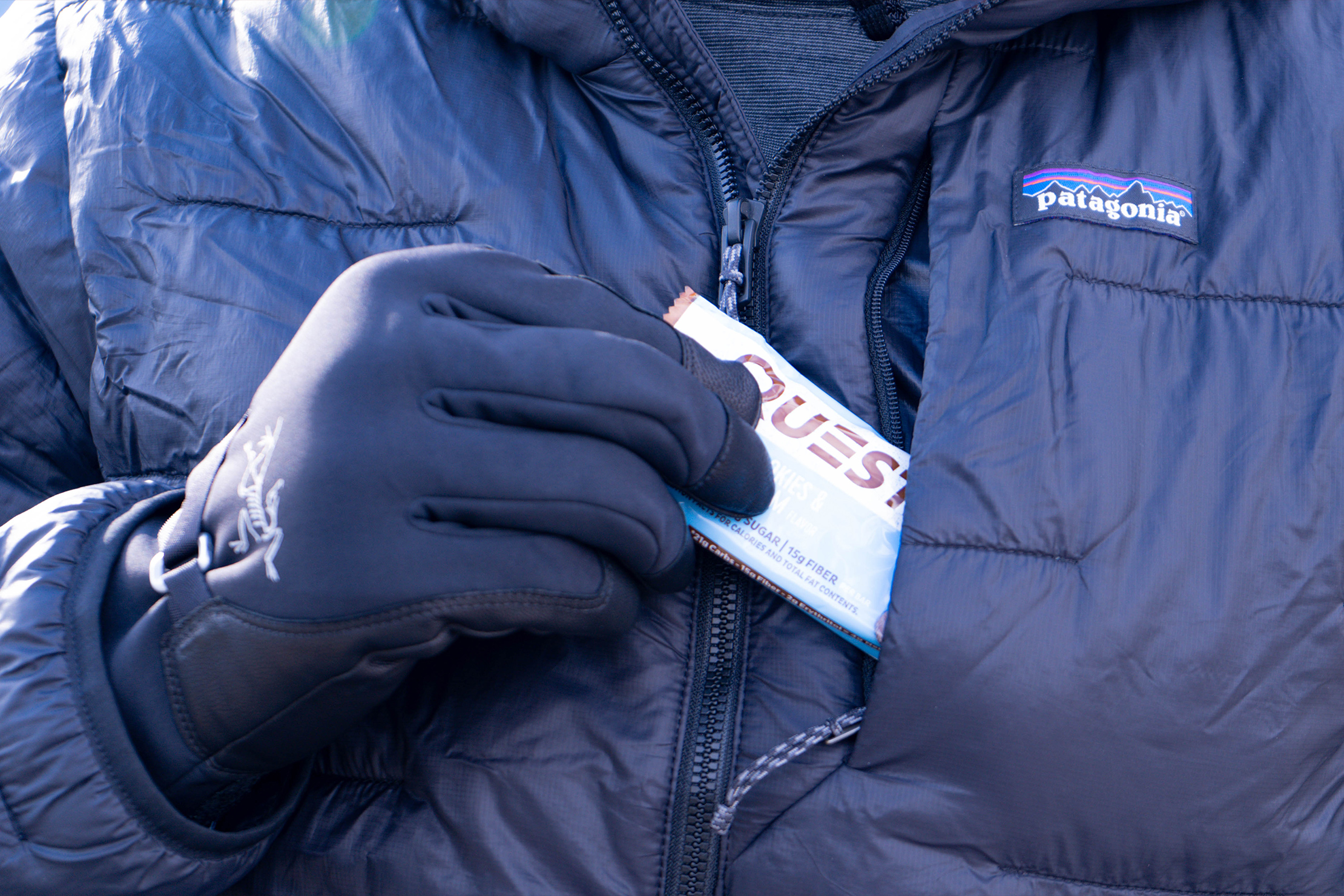 The handwarmer pockets have a fair bit of space for some everyday carry items as well, reaching up to where the chest pocket ends. Our phones and wallets occupy these pockets most of the time because they're easily accessible. A smartphone with apps running in the background does produce heat, which is a welcome addition to one of these two pockets. One other feature of the handwarmer pockets is that the right pocket is where the Macro Puff Hoody stuffs into. It gets a slightly softer liner fabric that has a bit more stretch than the rest of the jacket.
The base of the Macro Puff Hoody is also adjustable via bungees that feed into each of the pockets. The bungees are pulled from the inside and outside simultaneously to tighten. There's a cinch for locking and loosening up as desired. It's a bit finicky to do at first, but we got the hang of it easily. We only had to make this adjustment once for each day we wore the jacket, as the cinch has a pretty firm hold on the bungee.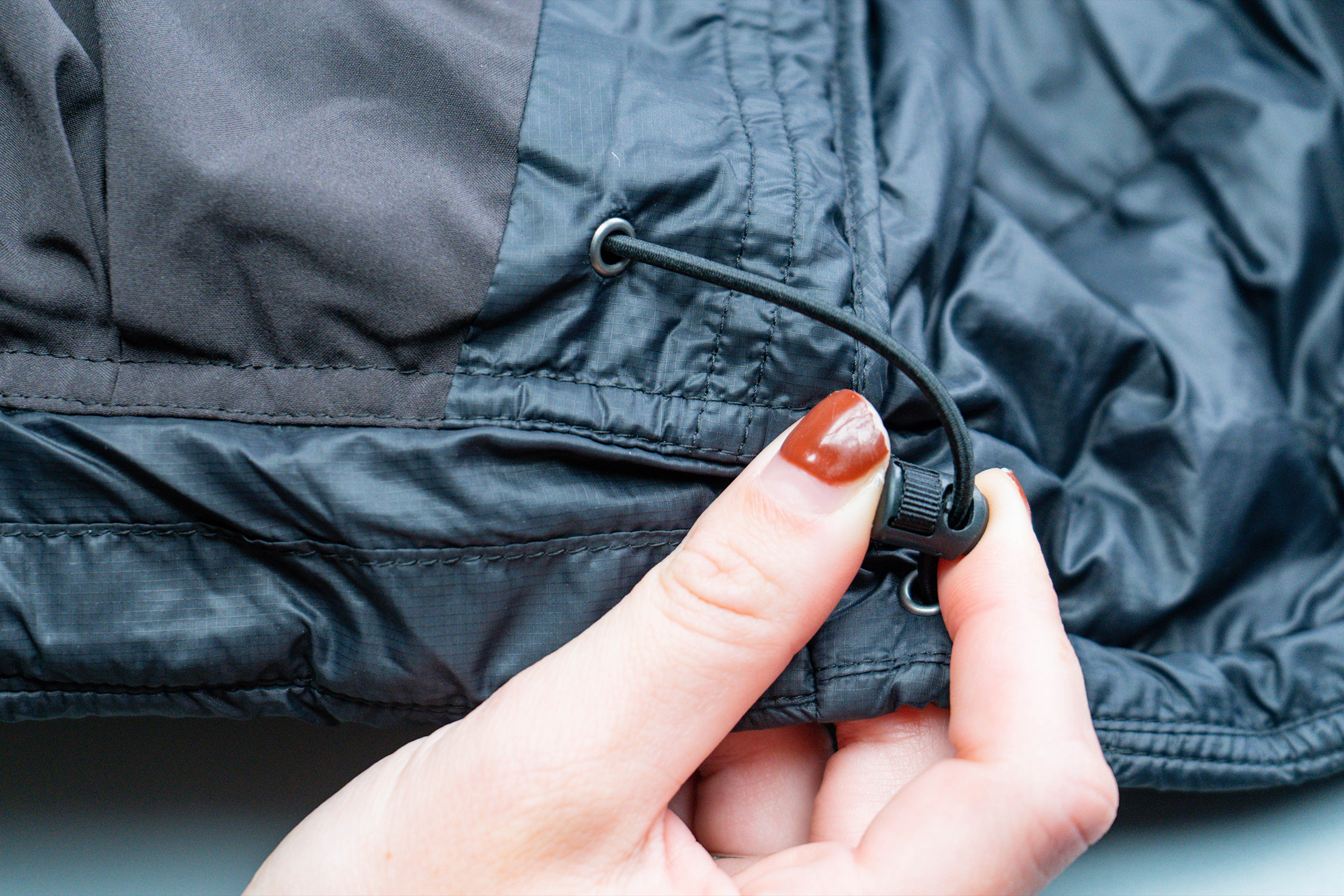 The rest of the interior is made up mostly of the same ripstop material as the exterior. There's no fancy liner that would spoil the lightweight nature of the Macro Puff Hoody. If that's more your thing, this isn't it, chief. That said, we think it's a fair trade to swap out a fancier liner for the sake of weight reduction—it certainly has its merits in ease of movement.
Also inside the Macro Puff Hoody is an additional pair of drop pockets. These are large enough to accommodate a bottle. For context, we're able to store our 18-ounce YETI Rambler with a bit of wiggle room to spare. Drop pockets like these are always handy to have because it's a good alternative to bringing a sling for a few accessories.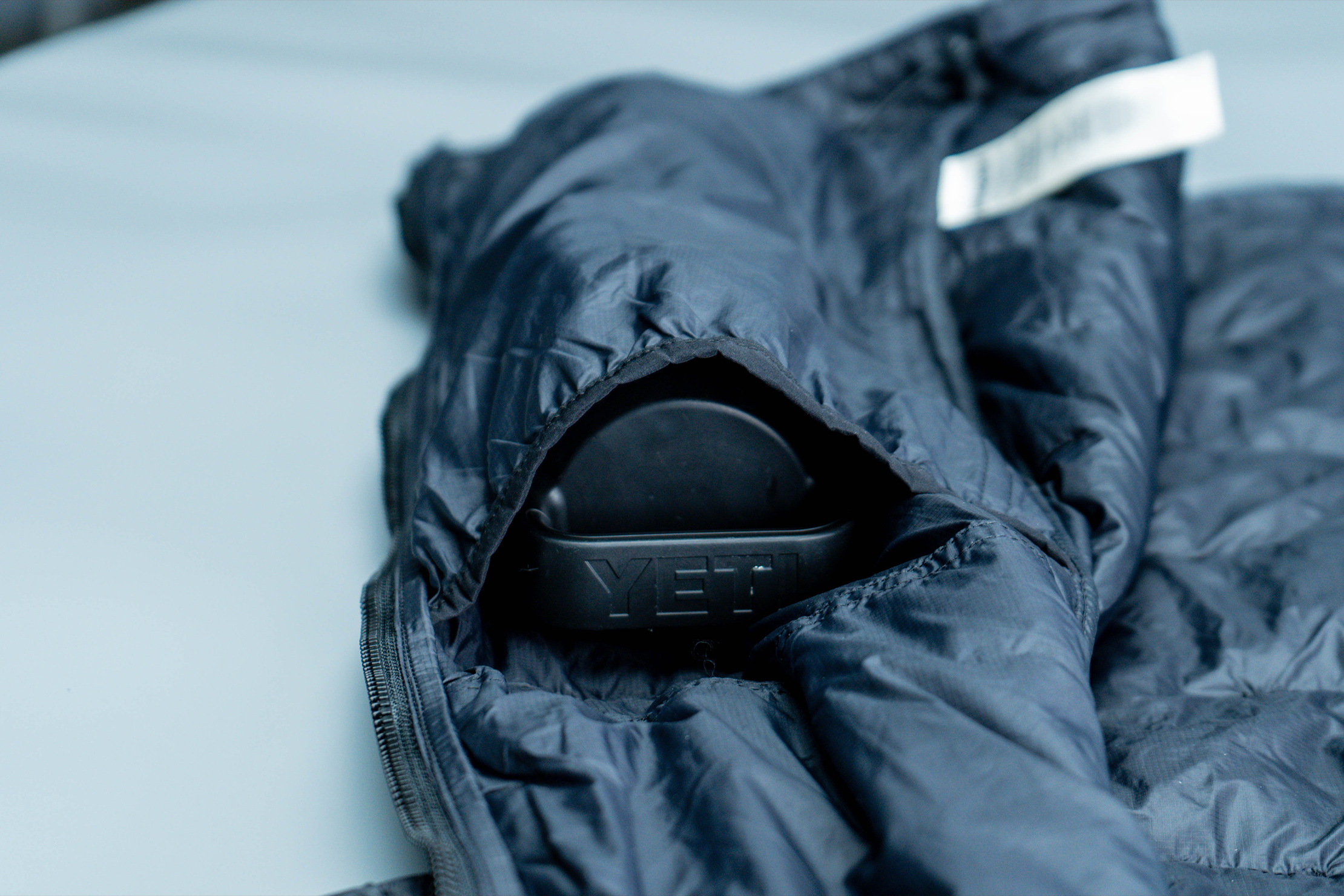 One area where we struggle with the Macro Puff Hoody is with its compressibility. The jacket stuffs from the inner side of the right handwarmer pocket. This pushes out the inner liner, half of which is the soft one, resulting in a small two-tone pillow-like form after it's fully compressed. The size is just a tad bigger than a standard football, and it comes with a small loop for hanging. The compression itself is tricky, and it doesn't get substantially quicker even after a few practices.
Using the Macro Puff Hoody is a breeze for casual purposes. The sheer lightness of the jacket is by far its greatest asset in terms of comfort, with the added benefit of easier movement. It's probably not the best for colder temperatures than we tested, as the relatively thin PlumaFill insulation can only maintain its warmth up to a certain point. It has its limits, though within them, it's a compelling choice.
Usage Timeline
Initial Usage
Condition: Excellent
Packs into bag about the size of a small jug
Inner pocket is quite roomy
Zippers come with a handy cord pull
2 Weeks of Use
Condition: Excellent
The warmest compared to Patagonia's Nano and Micro Puff—it's comfortable down to about 25°F (-4°C)
The hood works well over a helmet or to cinch down on your head
The jacket takes quite a bit of work to stuff itself inside of its own pocket but can be used as a pillow in a pinch
Much larger with more loft than the Nano Puff and Micro Puff
Hem of jacket can tighten to lock in warmth, which we've found useful
Access the Pro Community Discussion
Get your questions about the Patagonia Macro Puff Hoody answered from our team and the Pro Community right here on the page. Plus, join discussions with other members about gear, guides, and more.
Other Clothing & Accessories Reviews