Osprey Daylite Carry-On Travel Pack 44 Review
The Osprey Daylite Carry-On Travel Pack 44's suitcase-style main compartment is easy to pack, though the shoulder strap attachment points are tricky.
Our Verdict
Unlock the Pro Summary
Save time. Get access to brief summaries of our reviews so you can browse and make decisions more efficiently.
Pros
Easy-to-pack suitcase-style main compartment
Relatively lightweight for its size
Laptop compartment has a sizeable false bottom
Cons
Shoulder straps' clips can unintentionally disengage
Has a floppy structure except when full
Lacks a hip belt option
Recent Pack Hacker Video
Technical Details
Capacity

44l

Weight (lb)

2.33 lb (1.1 kg)

Denier

600D

Dimensions

21.5 in x 14 in x 9 in (54.6 x 35.6 x 22.9 cm)

Notable Materials

Recycled Polyester

Manufacturing Country

Vietnam

Laptop Compartment Size

16"

Warranty Information
Full Review
A lot of Osprey's gear make it across our desks, and if we had to summarize them, it'd be that they're very capable daily carries. They have a ton of straps, pockets, and even specialized features like their LidLock bike helmet attachment system. They're helpful features for sure, but sometimes we want something simple. Minding which pocket is in charge of what gear or which of the many straps to adjust can be a slight pain.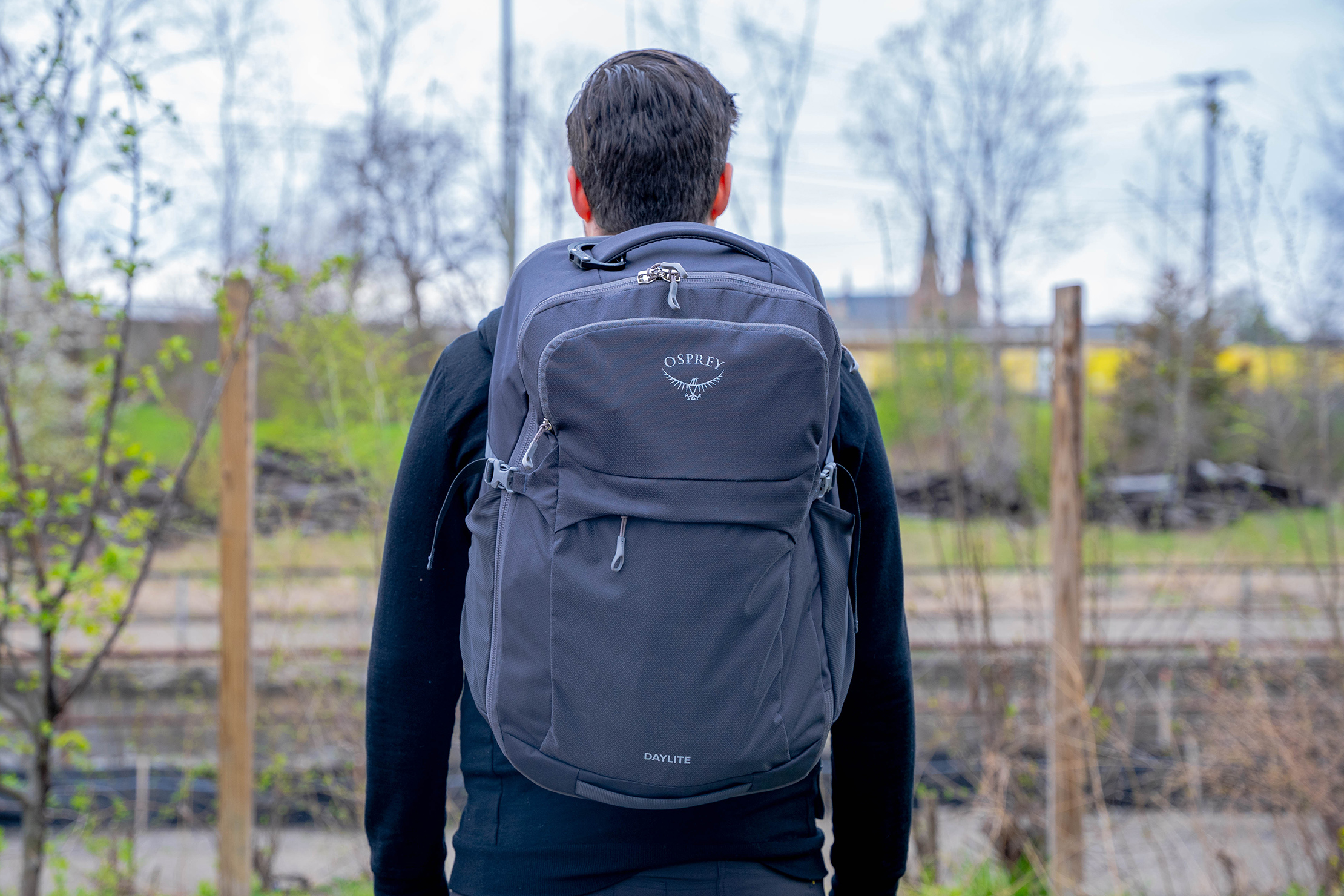 Osprey's Daylite Carry-On Travel Pack 44 gets the memo. Its suitcase-style main compartment is spacious and easy to pack. Granted, there are not a ton of pockets to get things organized, but it has just enough for a simple vacation packing list. Its biggest drawback is its detachable shoulder straps, which are finicky and occasionally uncouple from their attachment points. Still, it maintains a very functional vibe Osprey is known for, so let's see how well it fares.
Materials & Aesthetic
Like most Osprey gear, the Daylite Carry-On manages to pull off a clean design that's also functional. There are a lot of seams around the bag, but it's all well placed. For example, the compression straps flow and join towards the front of the bag. Other bags would be content with just having them directly stitched to the sides, but Osprey's made an effort to make them part of the aesthetic.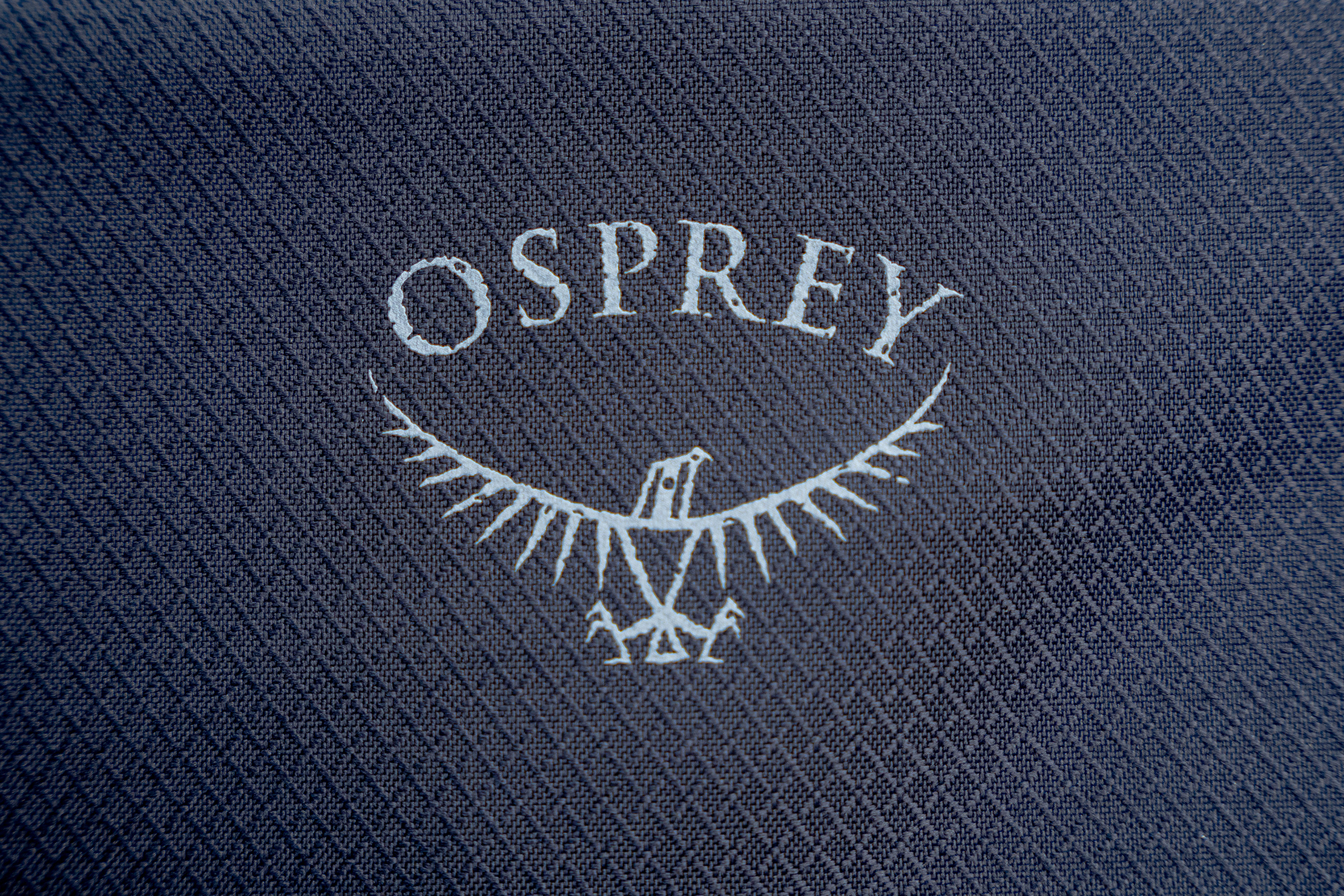 If you've been following our reviews of Osprey's other bags, you'll notice that the Daylite Carry-On is overall less strap-y. Compared to the Nova and the METRON, this bag's easier to tame in terms of straps. As such, the lack of any strap keepers is less of an issue here, both aesthetically and functionally.
The usual Pack Hacker choice of colorway is, of course, black. Black just goes well with anything we can think of (yes, even that banana Halloween costume that's in the back of your mind). If black is not your thing, there are two other options to choose from. At the time of writing, there's Wave Blue and Night Arches Green. We think the latter option is pretty eye-catching. Its two-tone design and oil painting-like pattern certainly lend it a classy persona.
The Daylite Carry-On uses two different deniers of DWR-coated (durable water repellent) polyester for its construction. The main sections are made up of 300-denier polyester, while the accents and the bottom are 600-denier. This makes sense, given that the bottom of a bag deals with a lot more abrasion. However, the overall structure feels floppy. Do note that a floppy structure doesn't necessarily mean sloppy quality.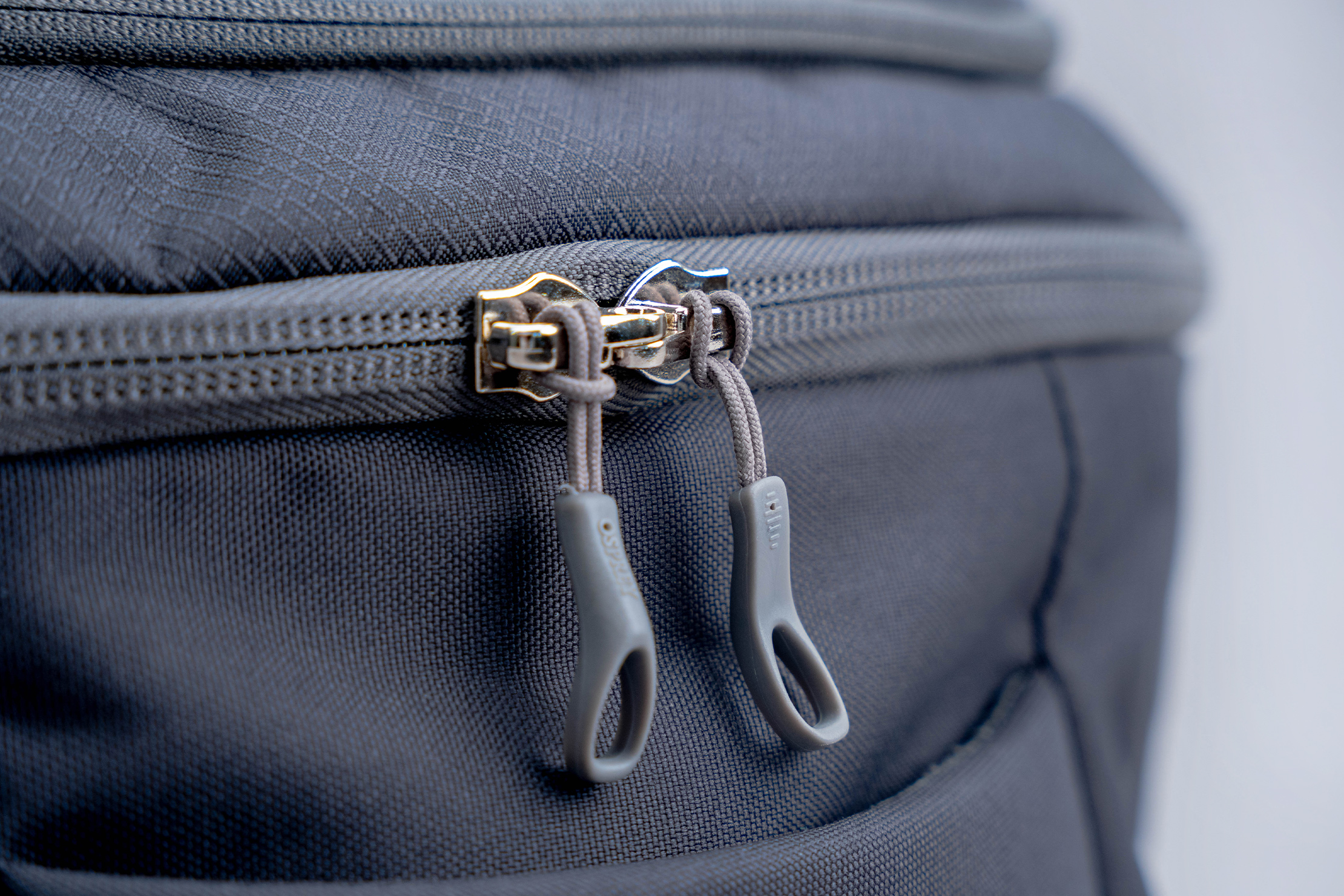 Osprey's gear typically has an excellent build quality, and the Daylite Carry-On is no exception. There are no loose threads, nor have any of the respectable YKK-branded zippers jammed on us. The hardware (buckles, clips, adjusters, etc.) worked smoothly, but we do have some gripes with them.
External Components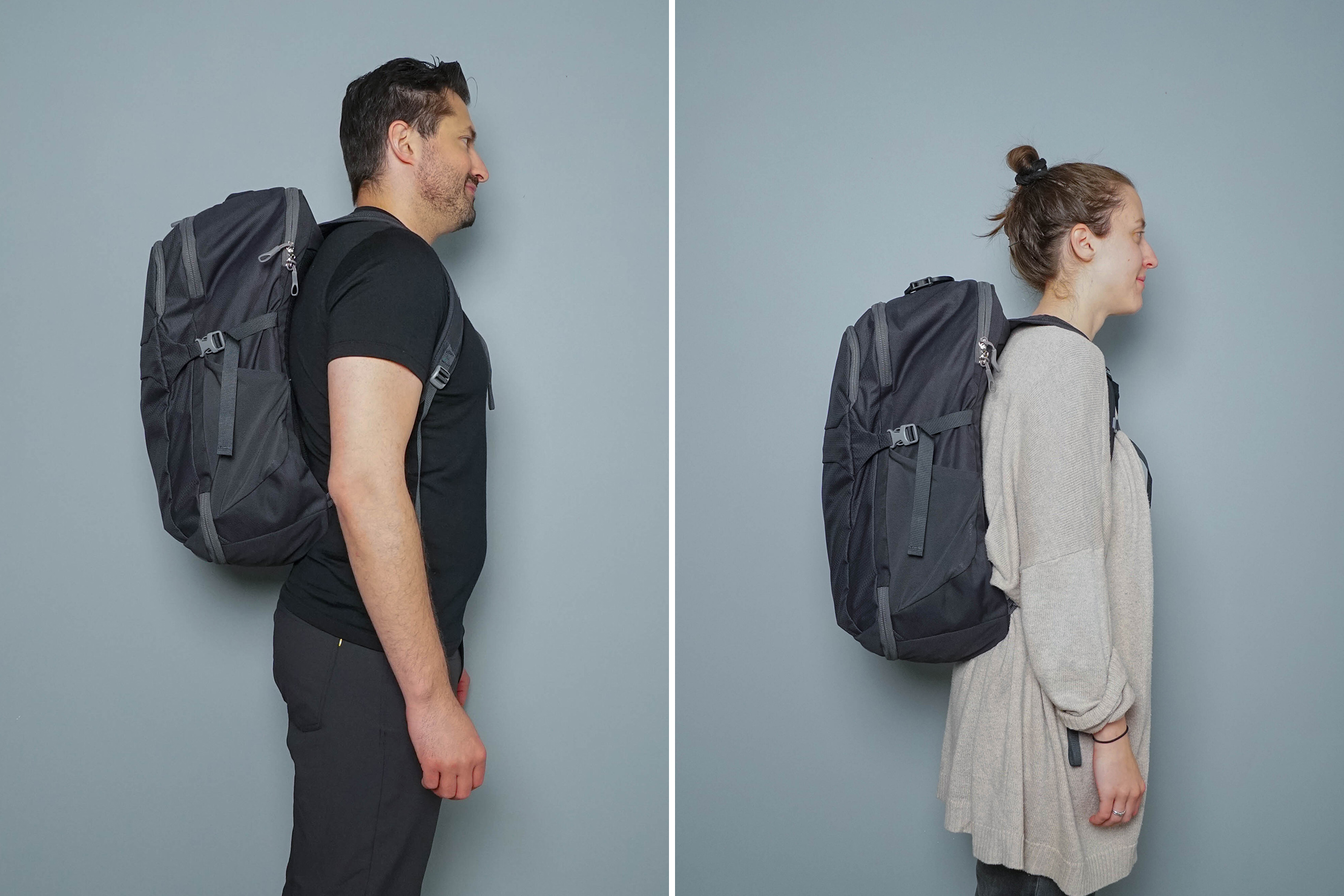 The bread and butter of any good backpack are its shoulder straps, and that goes double for a travel backpack. The weight of a fully-packed 44-liter bag requires some serious support. The good news is that the Daylite Carry-On's shoulder straps are spongy and dense enough to cushion the weight. Their top sections are even ventilated with mesh and triangle cutouts for good measure.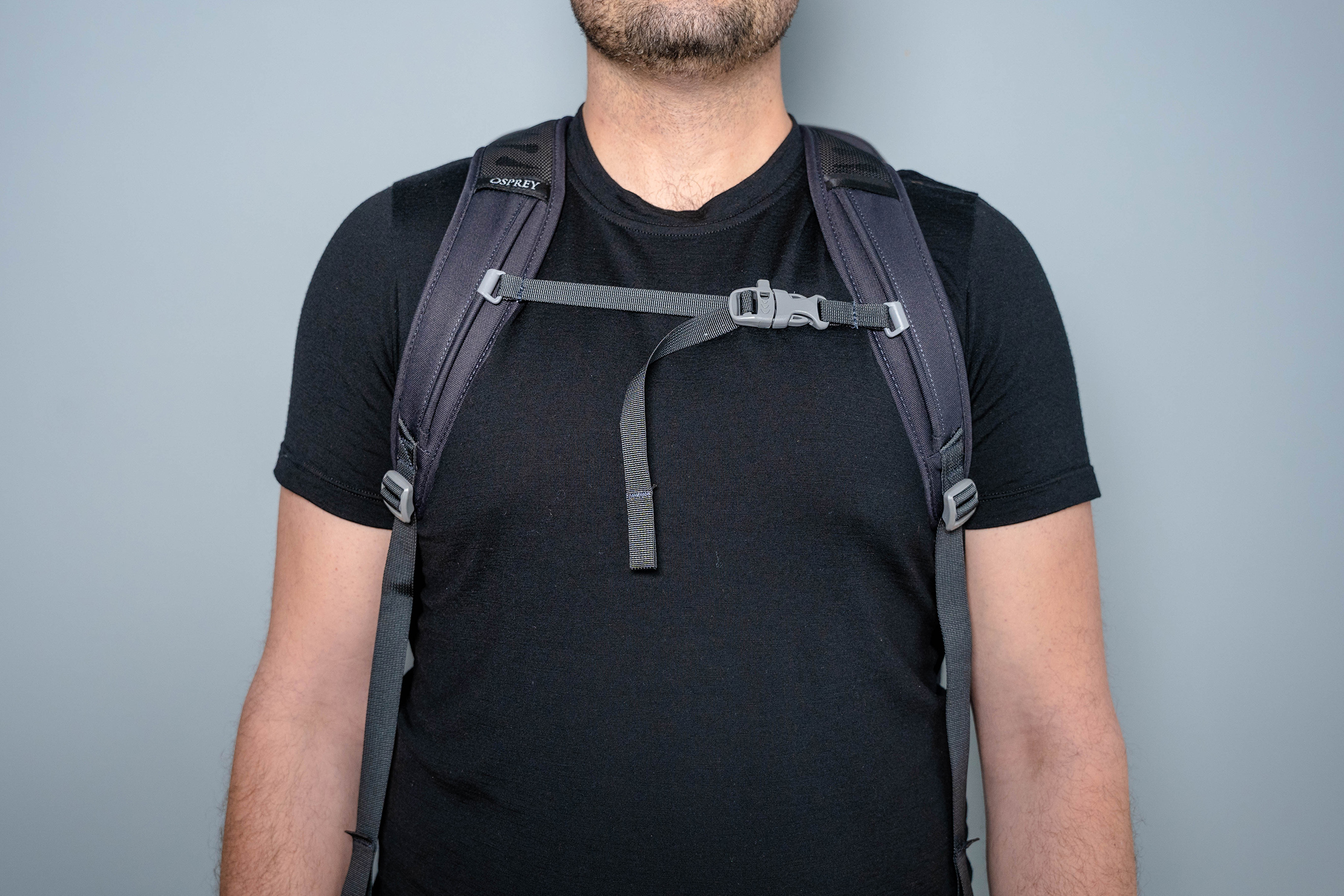 The sternum strap is mounted on rails, allowing it to slide and giving it a very granular degree of adjustment. While this may be our favorite kind of sternum strap, this particular one does have its weakness. More specifically, the strap itself feels a bit slippery and loose, so it easily readjusts even with just a slight tug. Fortunately, this looseness isn't shared with the shoulder straps' adjusters.
Silver lining: the sternum strap has a built-in whistle in case you need to call someone's attention. This is a feature more typically seen with outdoor adventure backpacks for safety reasons. While the Daylite Carry-On may not be the ideal outdoor backpack, its inclusion is appreciated.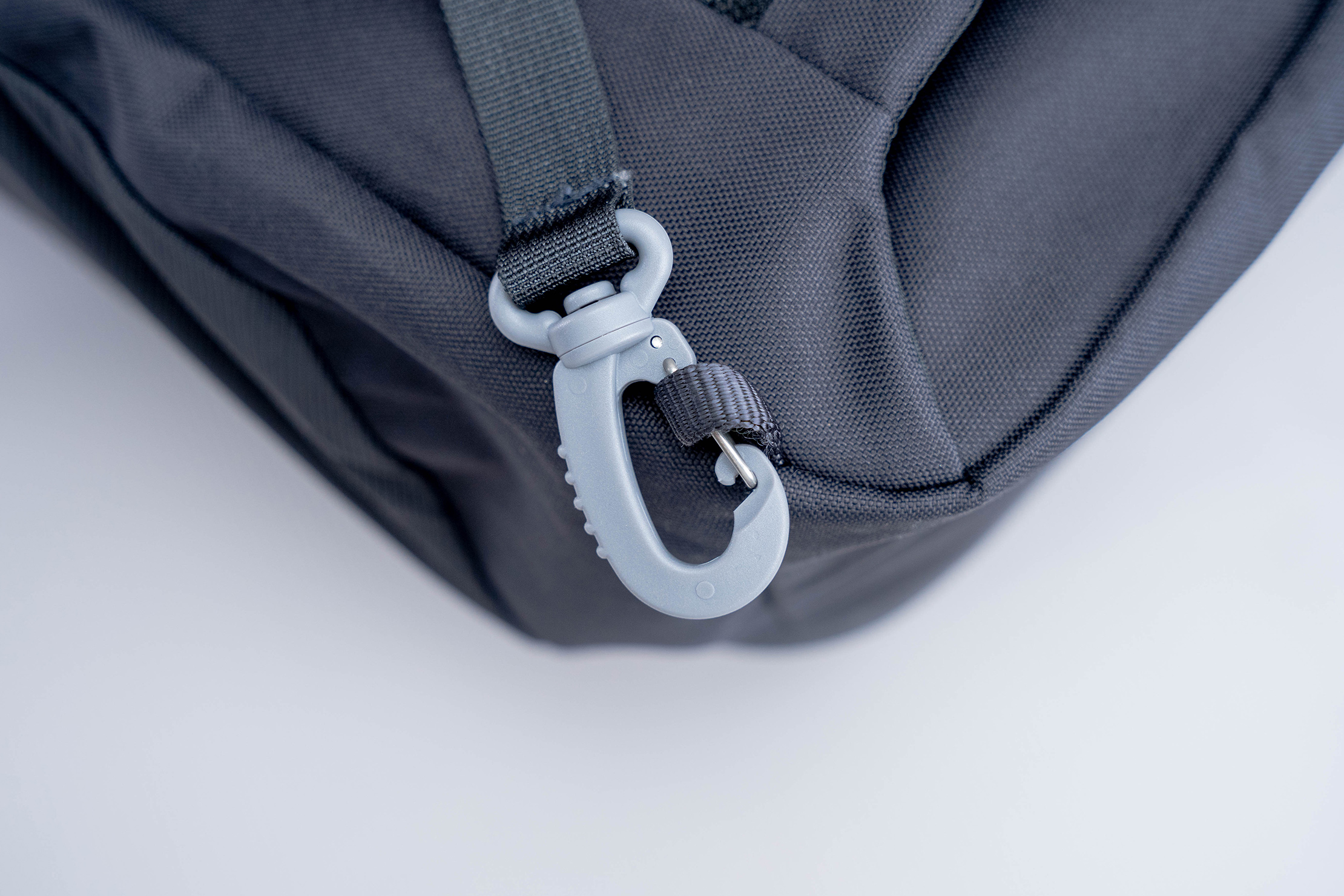 The shoulder straps are detachable via swivel snap hook clips. On paper, this is a good idea because you can stow the straps behind the back panel when you don't need them (there's a pouch inside to catch them, too). This avoids those awkwardly dangling straps when you're trying to put the bag in an overhead bin or sliding it across a car's trunk. However, based on our experience, the clips used for this feature can disengage unintentionally.
In the case of the Daylite Carry-On, this happened on three separate occasions within two weeks of testing: Once while trying to wear it, once while trying to pick it up, and once while packing it up. Needless to say, it's far from ideal, especially when you consider that those three scenarios encompass what you generally do with a backpack. In a somewhat ironic twist, the clips themselves are tricky to disengage deliberately because the loops they're mounted to are relatively small, and the fabric can get caught up in the clip.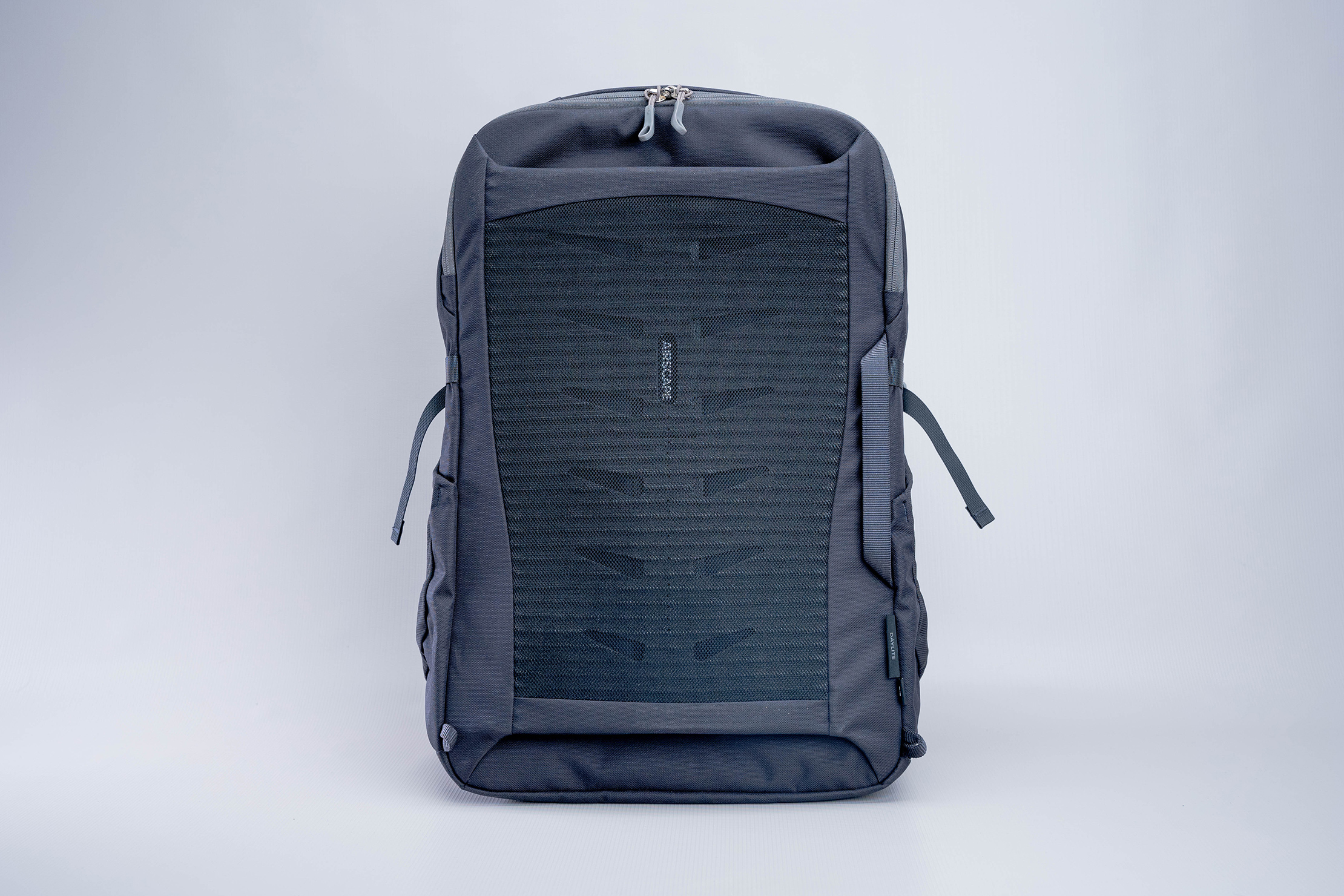 The back panel features Osprey's very breathable AirScape design. Underneath the layer of mesh fabric is a fairly rigid panel that has a set of cutouts to further aid airflow. Still, these aids won't necessarily stop you from sweating, especially during summer, so keep that in mind.
Side note: The back panel also acts as a vertical luggage pass-through apart from being the shoulder straps' stowage area.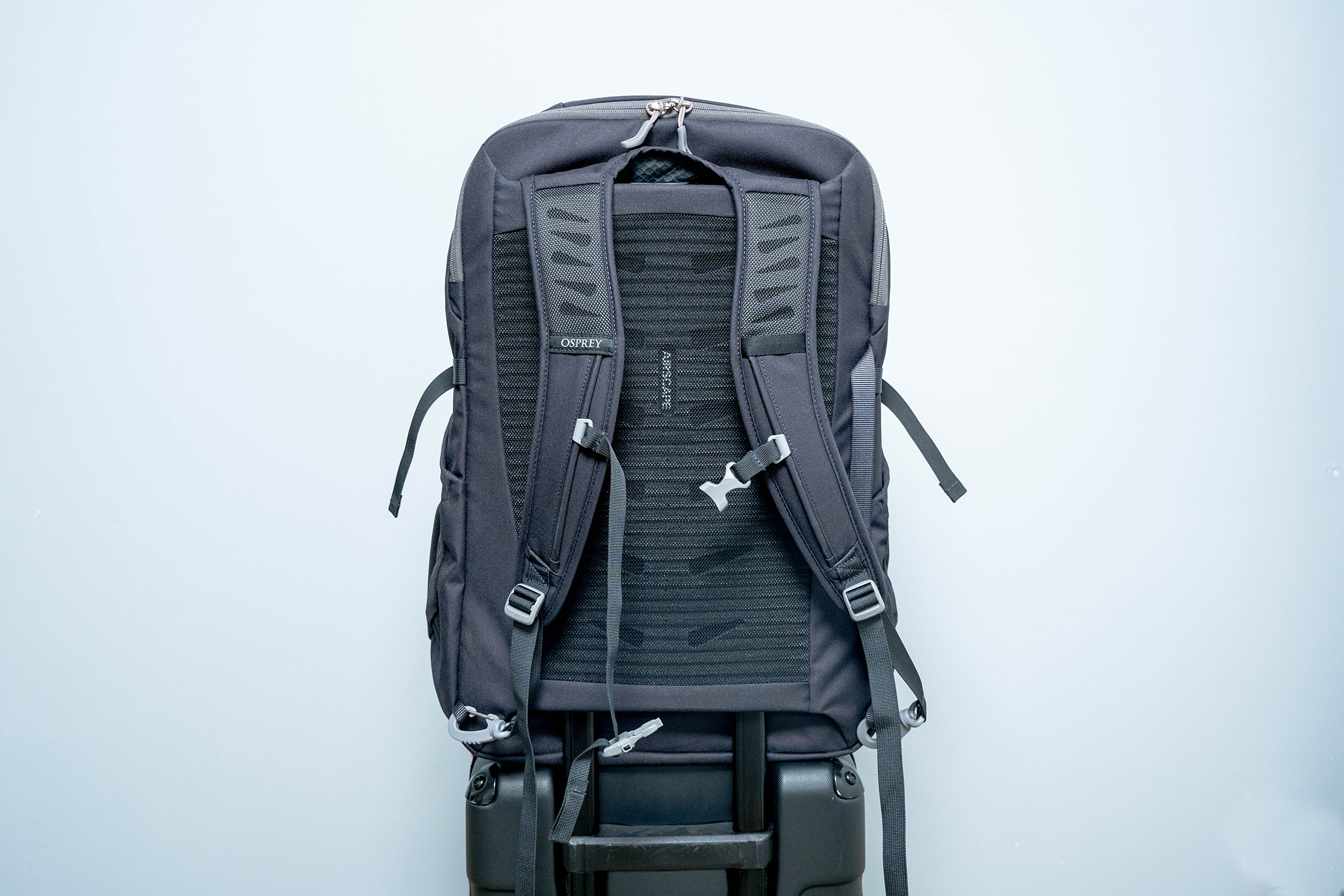 The Daylite Carry-On's fit is relatively comfortable considering that it only has the basics to work with. Unintended disengagements aside, the shoulder straps do a good job supporting the weight on our shoulders, even when fully packed out.
How packed up the Daylite Carry-On also affects how it carries. When empty, the bag's structure feels notably floppy, which is understandable given the size. Conversely, once we load it up with gear and have both compression straps tightened, the bag gains decent structure, which improves carry comfort.
The most noteworthy omission from the harness system is a hip belt. There's no built-in hip belt, nor are there attachment points to add one. We think this is a missed opportunity. 35 liters is about the size we feel a hip belt is helpful. 44 liters is well beyond that threshold. The shoulder straps work, but a hip belt would do wonders when carrying the bag for more extended periods.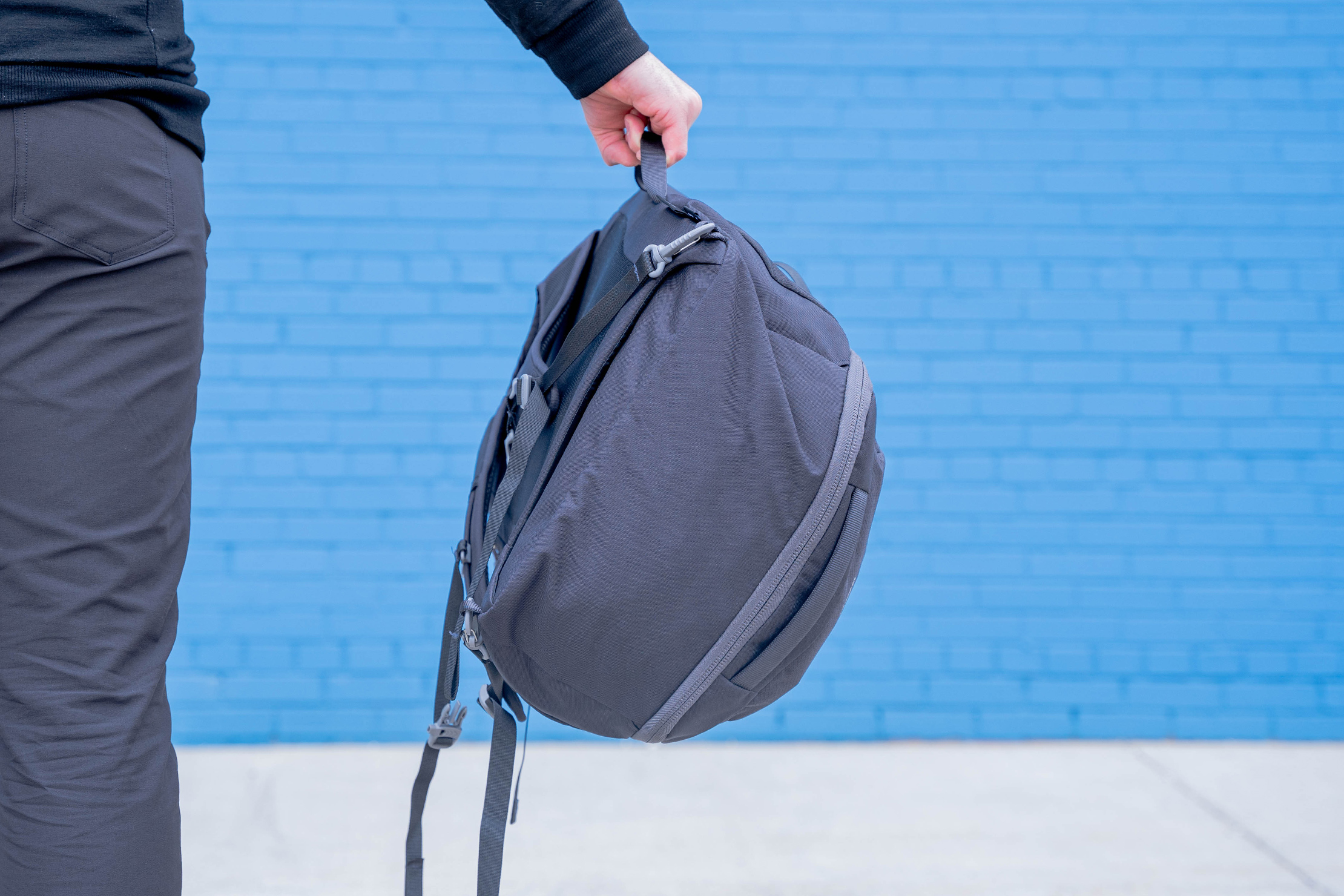 As secondary means of carrying, the Daylite Carry-On has a total of three handles. There's a bottom handle at the front for pulling the bag out of overhead bins, or it can be used as an attachment point for something like a bike light.
The top handle is well-padded with a textured underside for extra grip. It's soft and comfortable to hold, considering it's supporting a 44-liter backpack. Meanwhile, we're less happy with the side handle because of its positioning. It's located further towards the back, and that makes it somewhat unbalanced; in other words, not the ideal backpack to carry briefcase-style.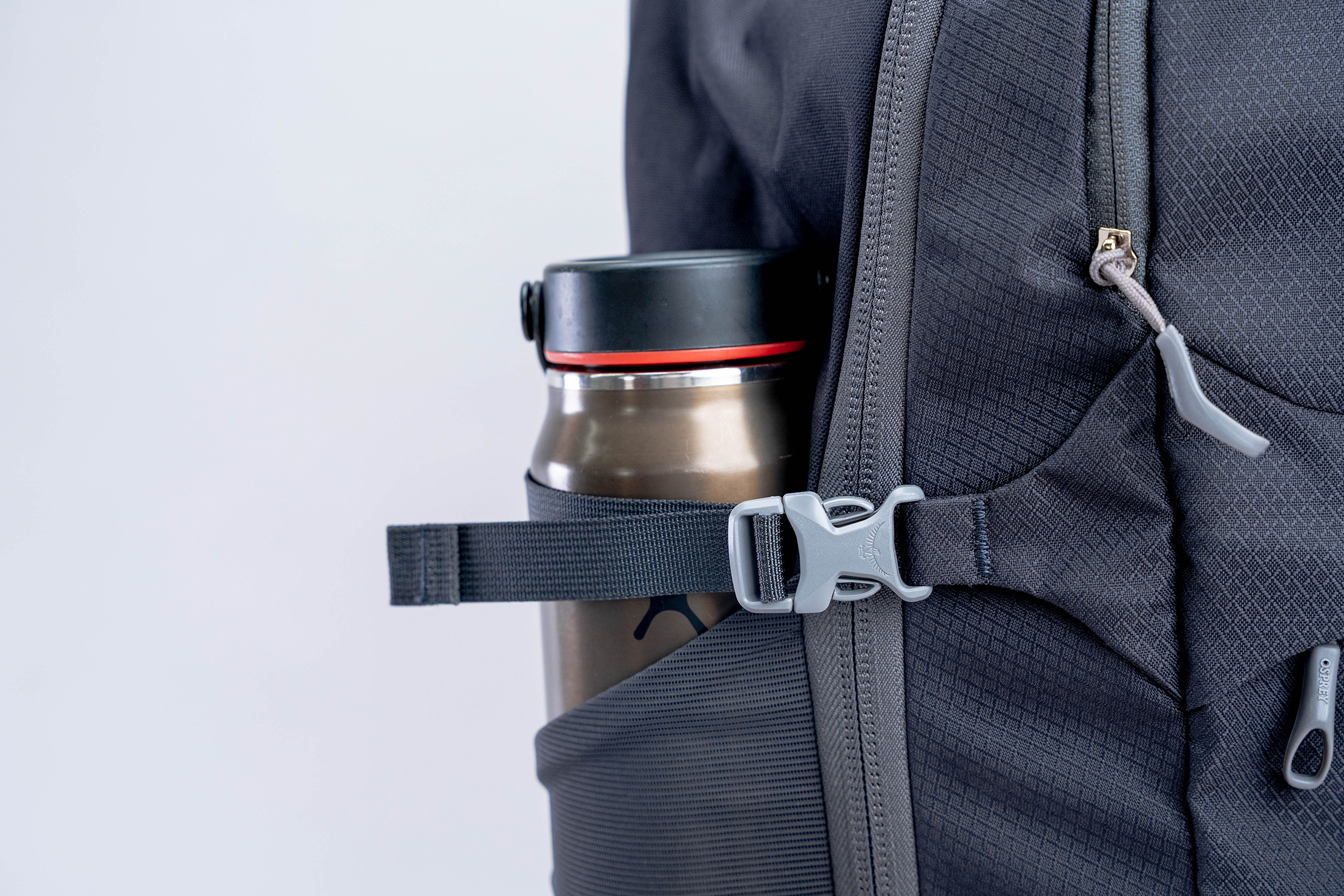 Last but not least are the twin water bottle pockets. These use simple stretchy mesh to grip bottles with no additional hardware like buckles or zippers. Our 32-ounce Nalgene Wide Mouth Tritan fits pretty securely, though we typically thread the compression strap through the handle just to make sure it stays put. The mesh has a harder time gripping slicker and slimmer bottles like our 18-ounce Hydro Flask. They won't fly out during regular use, but they certainly can if the bag is flipped upside down or jostled around in transit.
Inside The Backpack
The first of the pockets—aside from the water bottle pockets—is the top quick-grab pocket. It has a wide horseshoe-style opening that goes about halfway down the sides of the bag.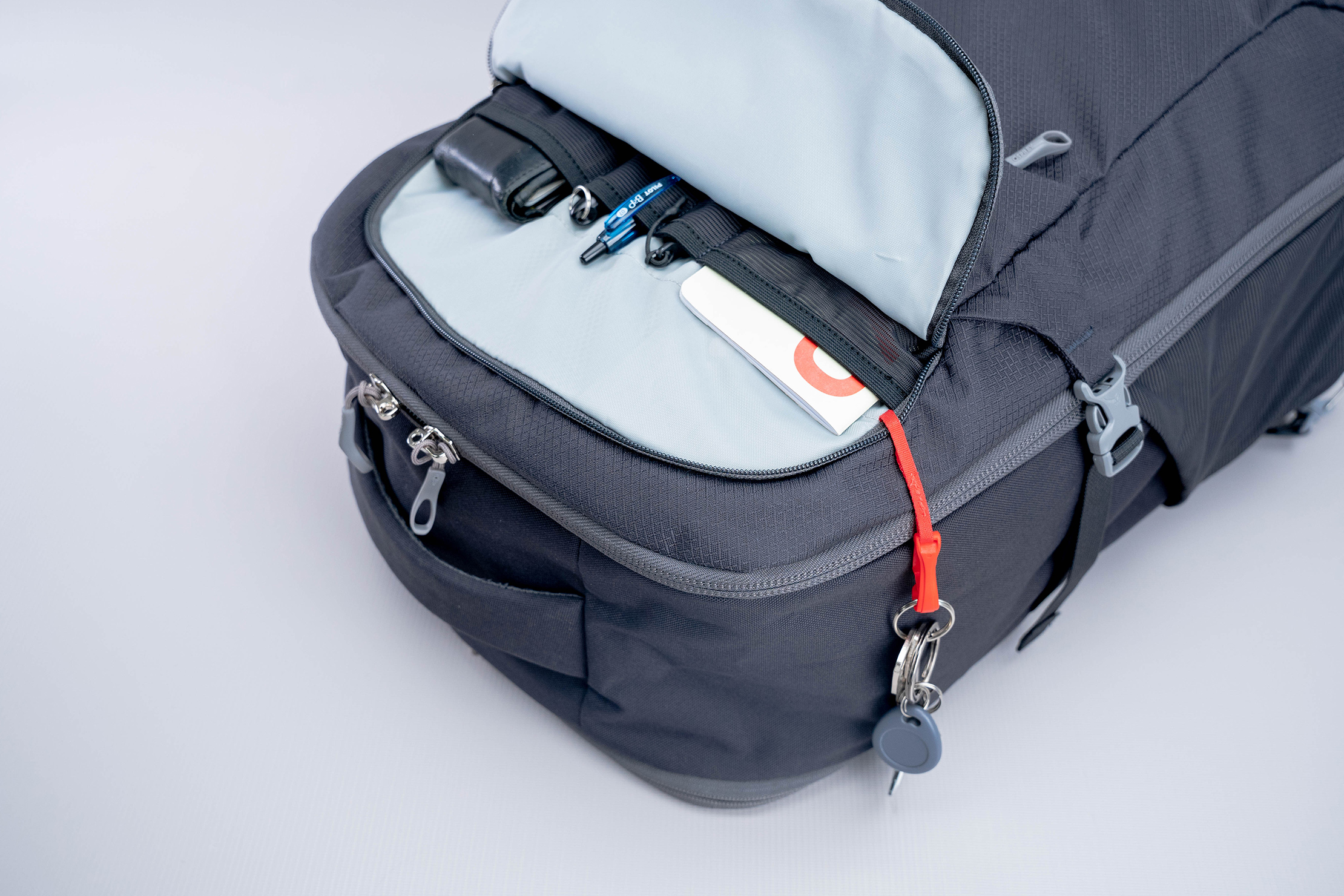 Inside, you get two pen pockets flanked by two passport-sized pockets and a key strap. All of them use stretchy mesh material. The free-floating space is enough for a large power bank, but anything bulkier is best put away in the next pocket. Spoiler alert: this pocket carries the majority of the bag's organization. The rest of the compartments are empty spaces with minimal means of organization.
Below the top pocket you'll find another pocket for bulkier, quick-stash items. If you can't see it, that's because the pocket's opening is well-hidden by a fabric gusset. Despite the gusset, accessibility is relatively quick. It's a good spot for stashing toiletries that you may need to take out quickly while going through airport security.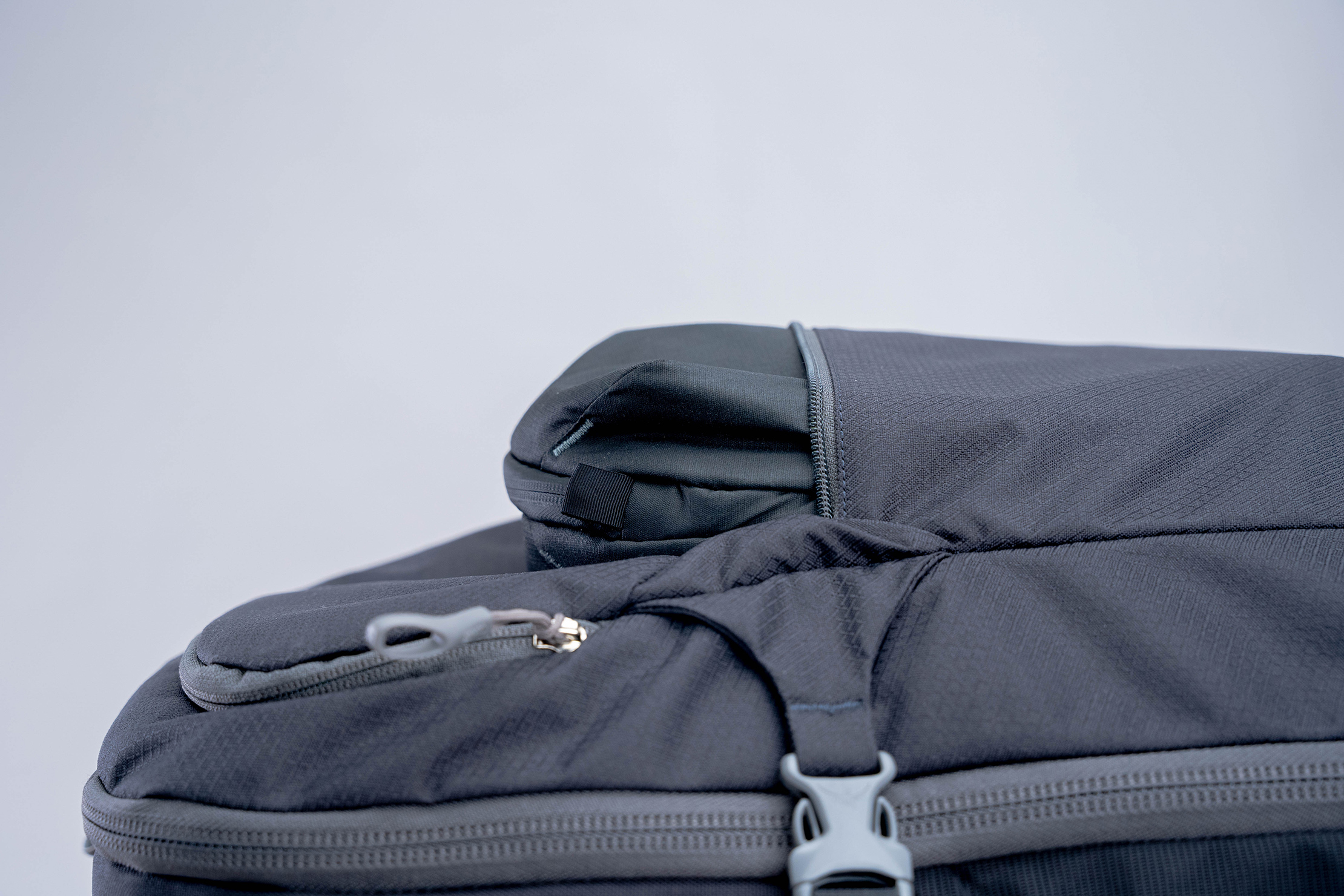 We were able to fit our Aer Slim Pouch inside, so space really isn't much of a problem with this pocket. As we said earlier, organization doesn't get very granular with this bag, so we do recommend using pouches like tech kits and toiletry bags.
The Daylite Carry-On's main draw is arguably the suitcase-style opening. For those of you wondering, it's a similar design to that of a clamshell opening; only the hinge is at the side, butterfly style. Either way, it does make for a more straightforward packing process since you can really open it up to reveal the buck-like space.
Mind you, it won't be as easy to open for mischievous people who want to get in the bag. The zippers here are lockable, so you have the option to put on your own TSA-approved lock.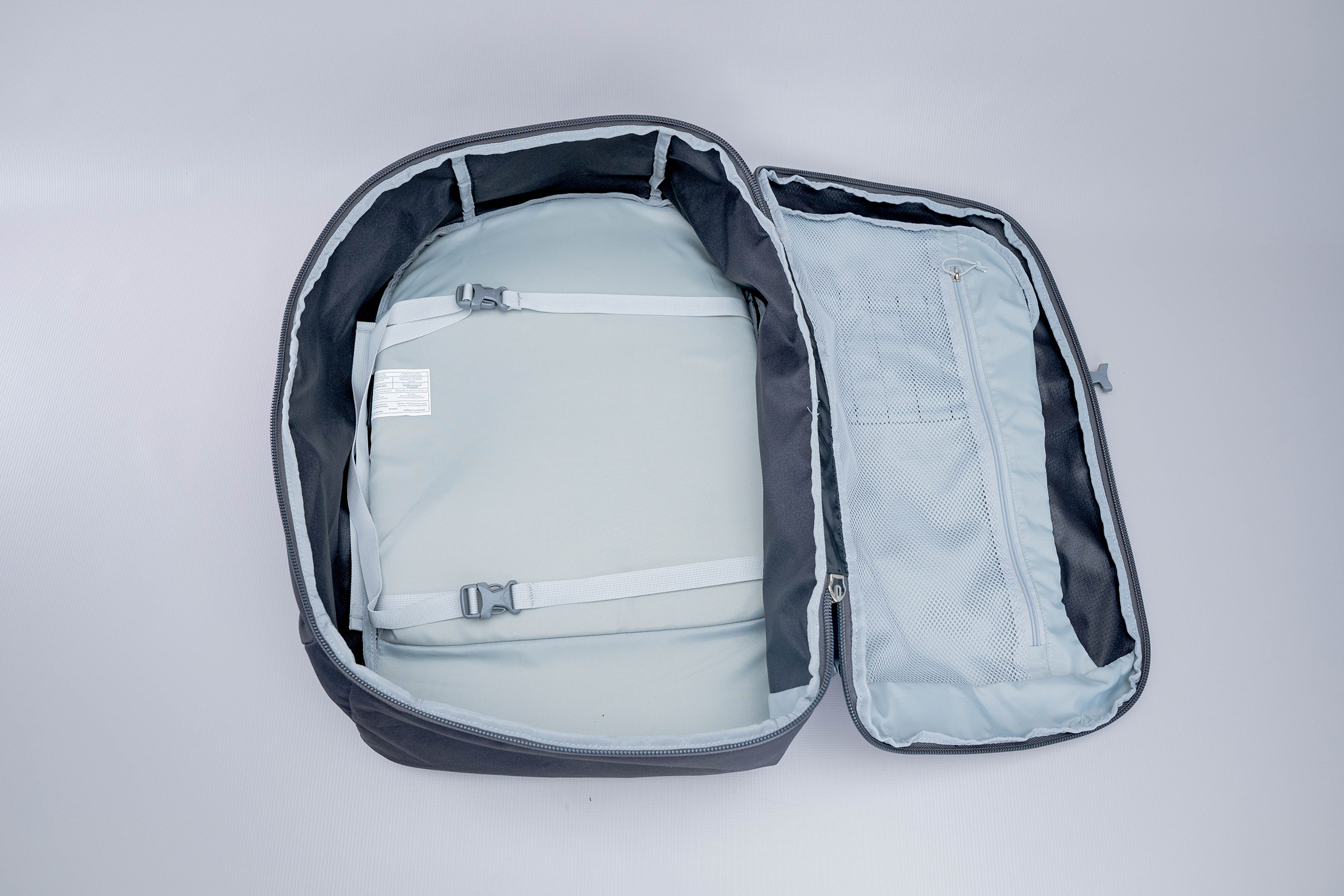 It gets better. While a lot of travel backpacks feature a bucket-style main compartment, they sometimes don't have built-in tie-down straps. Now, this isn't an issue if you use packing cubes to organize your clothing like us. However, tie-down straps are a must-have for those who put their clothes directly to prevent them from sloshing around in transit. Oh, and if you use the tie-down straps with packing cubes (and you really cinch the compression straps), it makes for a very stable load.
On the opposite side of the main compartment (the lid side) is a large mesh pocket. This is really the only built-in means of organization. You can see some stitching inside, but those are just for the mesh dividers in the top pocket from before. That's okay because it leaves us with plenty of space to use as a dump pocket for our socks, gloves, and foldable hat. This mesh pocket is basically where smaller clothing and accessories go.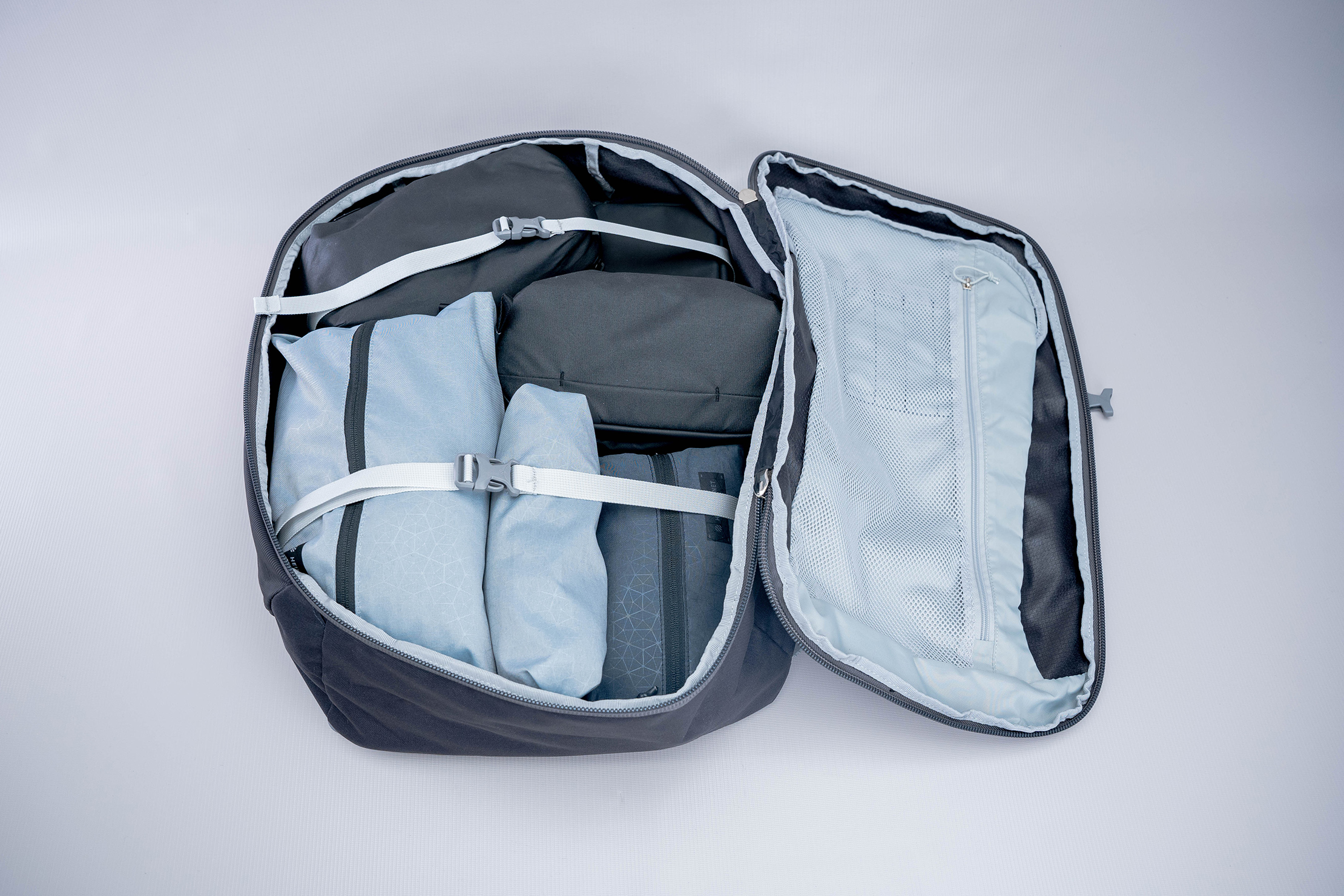 Last but not least is the 16-inch laptop compartment. There's not much to say about this one, but that's okay—it gets the job done. The most noteworthy aspect of this compartment is the amount of false bottom it has.
There are about two inches worth of space and padding starting from the compartment's floor down towards the edge of the bag's bottom. We're usually satisfied with just one inch, but two is a lot better for peace of mind. We've seen backpacks with no cushioning whatsoever, requiring us to use a dedicated laptop sleeve for protection, so we're not taking it for granted here.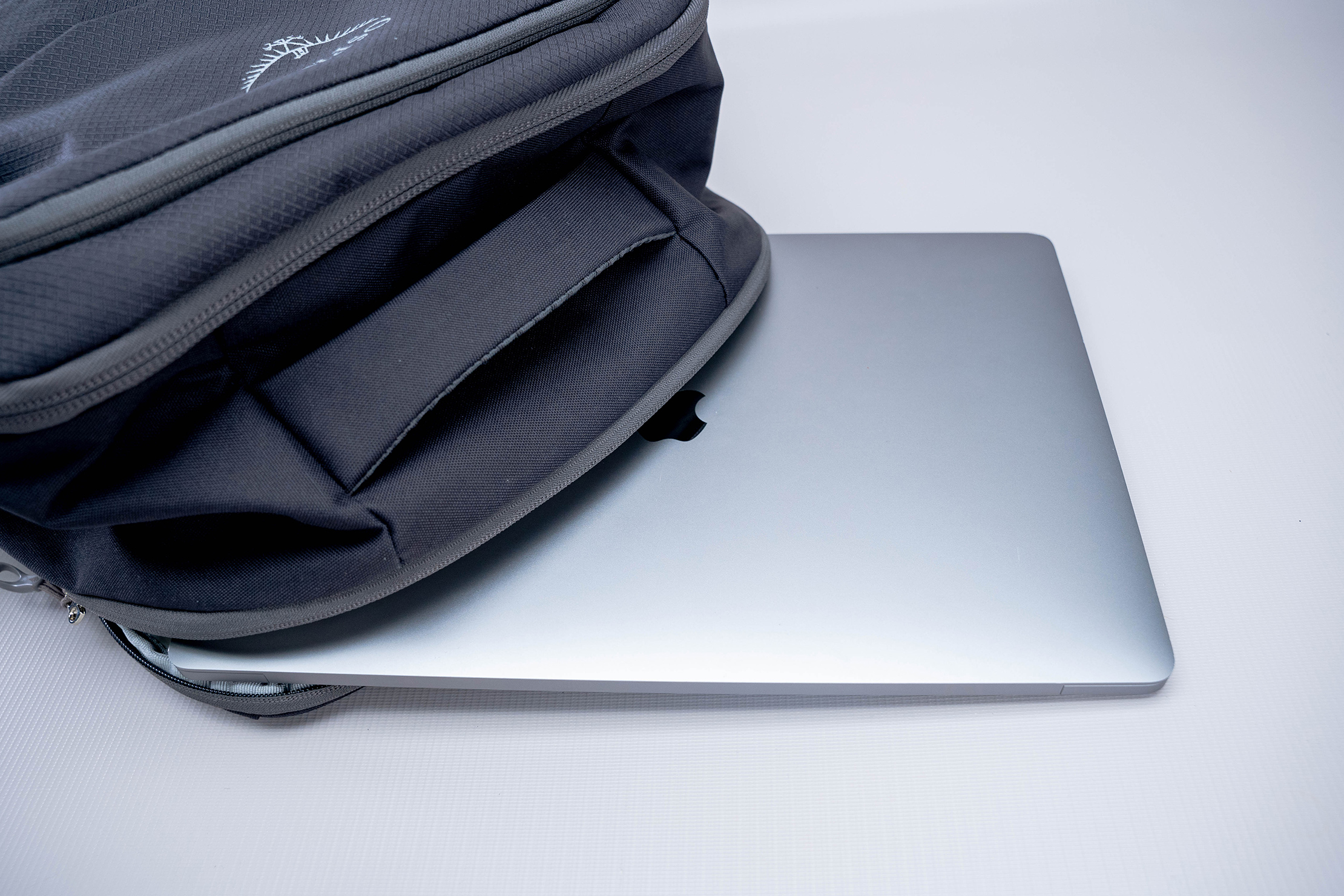 The Daylite Carry-On's strengths lie in its simple and lightweight design. The minimal amount of organization could be seen as a weakness, but it works well for those wanting big open spaces for packing cubes and pouches. There aren't 100 internal pockets we need to think about how to fill—it just has enough to get us through.
Usage Timeline
Initial Usage
Condition: Excellent
Shoulder straps can be tucked away for easier storage
Compression straps also lack strap keepers like with the Radial
Side handle feels a little too thin for the bag's large size
2 Weeks of Use
Condition: Excellent
Took this on a trip from DTW to TPA and back again—overall it performed well
The shoulder strap disengaged from the pack a couple of times, which isn't great
Light weight of the bag is great, but it is floppy if not filled up
Really enjoyed the suitcase-style packing and minimal organization for a simple vacation packing list
Access the Pro Community Discussion
Get your questions about the Osprey Daylite Carry-On Travel Pack 44 answered from our team and the Pro Community right here on the page. Plus, join discussions with other members about gear, guides, and more.
Other Bags & Luggage Reviews